Craft whiskeys are not exactly anything new. Another small-batch craft spirit on the market? Yawn. In such a competitive market, it takes something rather special for such a whisky to stand out from the crowd, and Maker's Mark has quite clearly, absolutely nailed it.
Distilling the small-batch whisky had been a favored pastime of the Samuels family for centuries, moving their craft from Scotland to Pennsylvania, and finally to the bourbon capital of America: Kentucky.
If Kentucky is the beating heart of American whiskey production, Maker's Mark is the blood that's pumped through its ventricles. Maker's Mark bourbon is lovingly distilled in those ever-popular handmade small batches, in the fittingly small town of Loretto, in the north of the state.
Today, Maker's Mark is a hugely popular spirit, adored for its sweet vanilla, caramel undertones, which are a product of a unique recipe.
No, it's not just the rustic, totally vintage vibe of the wax-dipped bottle decor that makes Maker's Mark so appealing– it's the whisky's inherent sweetness that makes it so deliciously palatable. But, it wasn't always that way.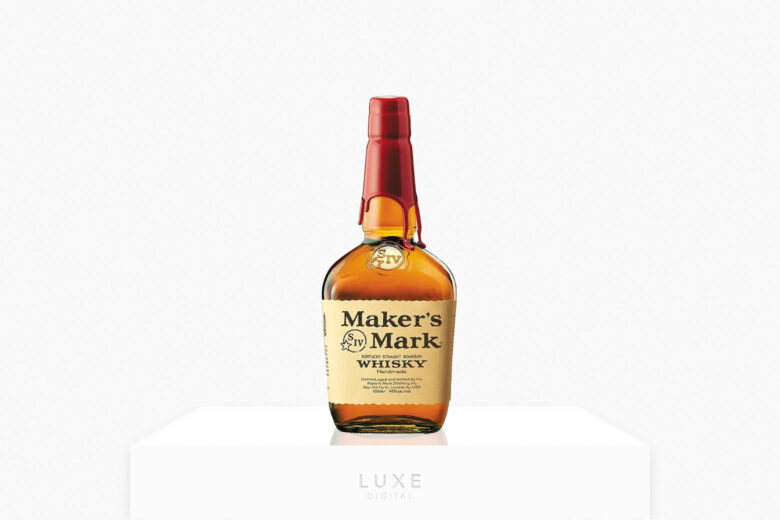 Maker's Mark bottle sizes and prices
| Bottle | Size | Price (USD) |
| --- | --- | --- |
| Maker's Mark Bourbon Whisky | 750ml | $32 |
| Maker's Mark Bourbon Whisky | 1 liter | $50 |
| Maker's Mark 46 | 700ml | $66 |
| Maker's Mark Gold Label VIP | 750ml | $530 |
The fascinating story of Maker's Mark whisky
Yeah, not quite the glowing endorsement you'd expect from like, an actual family member. Admittedly, he was referring to the family whisky prior to its total reinvention, spearheaded by Bill Samuels Sr. But apparently, 'awful' was exactly how the whisky tasted. And not just one batch, either. It had tasted bad for centuries.
So, although the Samuels family had been making and serving terrible whisky (presumably much to the dismay of visiting family and friends) since 1783, the stuff was 'best avoided' until Bill Samuels Sr stormed onto the scene in the 1950s.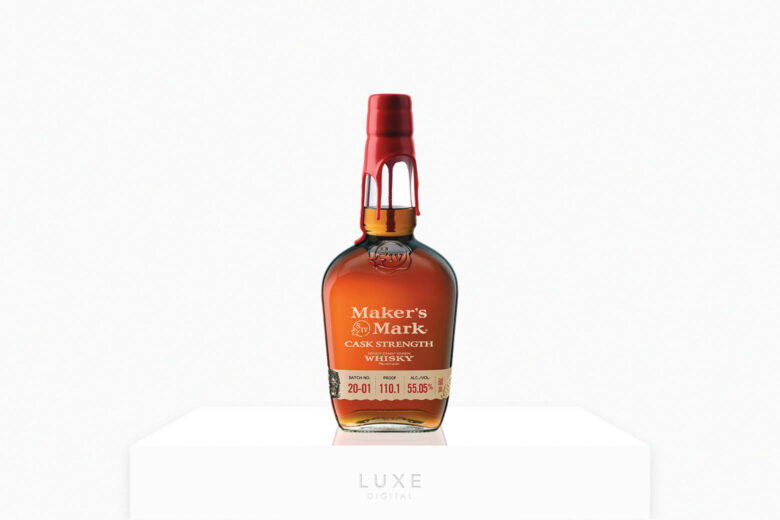 Already, this brand was pretty unique
Clearly, the abysmal quality of the Samuels family whisky offended Bill Samuels Sr to the point of no return. In 1953, the year he and his wife Margie decided to make a go of it with whisky distillation, Bill did something, um, rather controversial.
He tossed the 170-year-old family legacy– the only copy of the Samuels family whisky recipe– into the fire.
No longer weighed down by family tradition, Bill Samuels Sr was free to approach whisky distillation with brand-new eyes.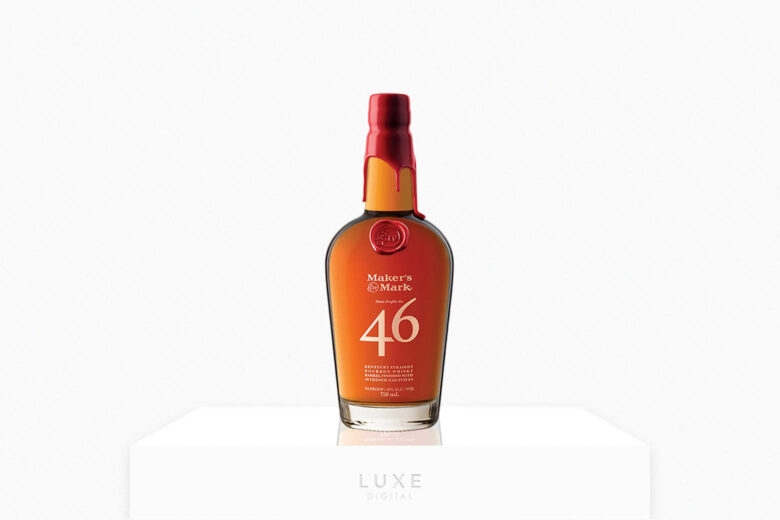 Reinventing the Samuels whisky: Making Maker's Mark
Of course, we don't know what the original family recipe looked like. But evidently, that's not a bad thing.
What we do know is that Bill Samuels Sr went back to the drawing board and created a brand new whisky that's blossomed into a world favorite.
Bill Samuels Sr and his wife Margie started out with little money, but lots of passion, and big dreams. And it was under the starry skies of Loretto, Kentucky, that those dreams became a reality.
They purchased Burk's distillery, which had been closed since Prohibition, as well as some land on the outskirts of town which he dubbed Starhill Farm.
Then, like all amateur distillers, they headed straight for the kitchen.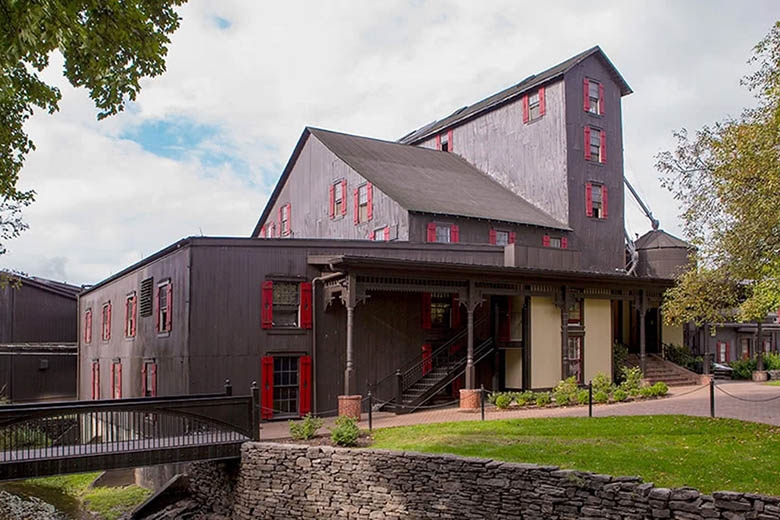 Seven loaves of bread later
Instead of using a distiller, as would be the conventional approach, Bill and Margie experimented with different recipes using an oven.
Yes, with the aim of sparing themselves years of whisky-aging that would stall their production, the innovative couple took to baking bread with their desired ingredients to ascertain how their whisky would taste.
So, after baking only seven loaves, they settled with red winter wheat, as opposed to the traditional rye wheat. It was this recipe tweak that makes Maker's Mark so well-loved today.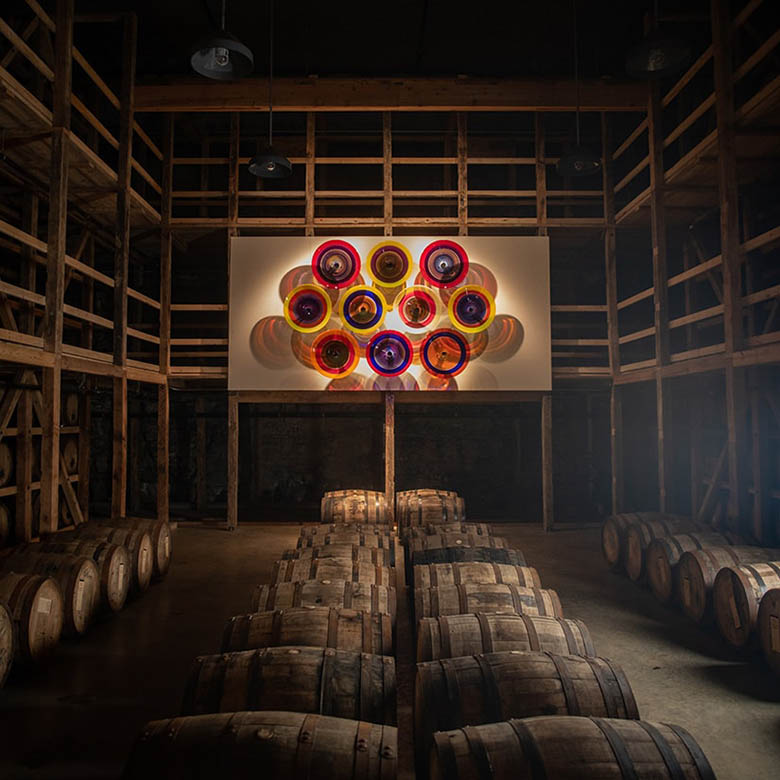 Maker's Mark vs Jack Daniels
Both spirits are American-made superstars of the whiskey world. Both are extremely popular, however, there are a few fundamental differences:
Maker's Mark is made with red winter wheat, while Jack Daniel's is crafted from rye.
While both are aged in the same type of oak barrels, Maker's Mark is aged for 6 years, while Jack Daniel's is aged for 4.
Both are technically bourbons, but Maker's Mark is a bourbon whiskey, while Jack Daniel's is classified as a Tennessee whiskey.
Both whiskeys are known for their sweetness, but Maker's Mark's characteristic sweet taste is by virtue of the red winter wheat, while Jack Daniel's is down to the distilleries maple charcoal filtration process.
Maker's Mark boasts an ABV of 45%, while Jack Daniel's comes in at a slightly less dizzy-making 40%.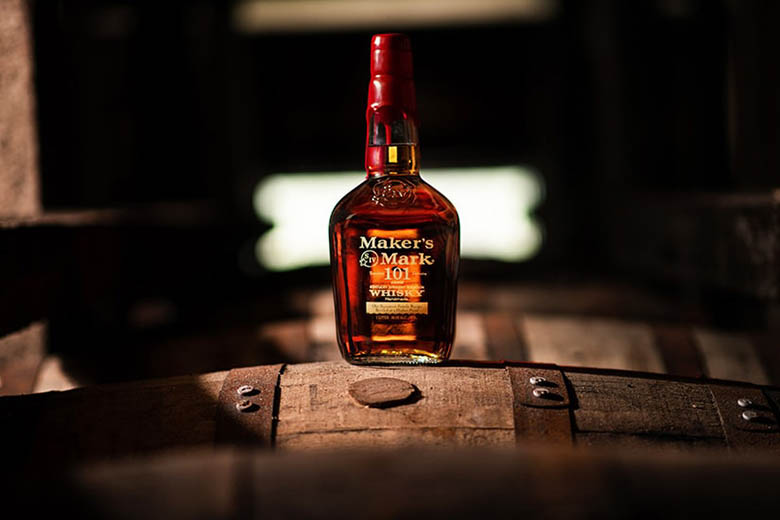 Maker's Mark types
The Maker's Mark distillery appears to hold the attitude of 'do one thing, and do it well'. Thus, on the market, you'll find two main choices:
Maker's Mark Kentucky Straight Bourbon Whisky, and Maker's Mark 46. The latter is aged for slightly longer, in addition to having French oak staves steeped into the spirit towards the end of the aging process. It's also a rather startling 47% ABV.
However, the recent release of Maker's Mark VIP Gold Label is crafted in tiny batches of 20 bottles, each encased in a bottle dipped in gold-colored wax. Fancy.
How to drink Maker's Mark whisky
Despite being a great addition to many cocktails, in order to properly appreciate the complex flavors of Maker's Mark, it should be enjoyed neat, and at room temperature.
Simply pour yourself 60ml of the whisky into a good whiskey glass, and sip.
Best cocktails to make with Maker's Mark whisky
Maker's Mark smooth and rich flavors make it a perfect foundation for bourbon-based cocktails. Here are the best cocktails to mix with Maker's Mark.
Maker's Sour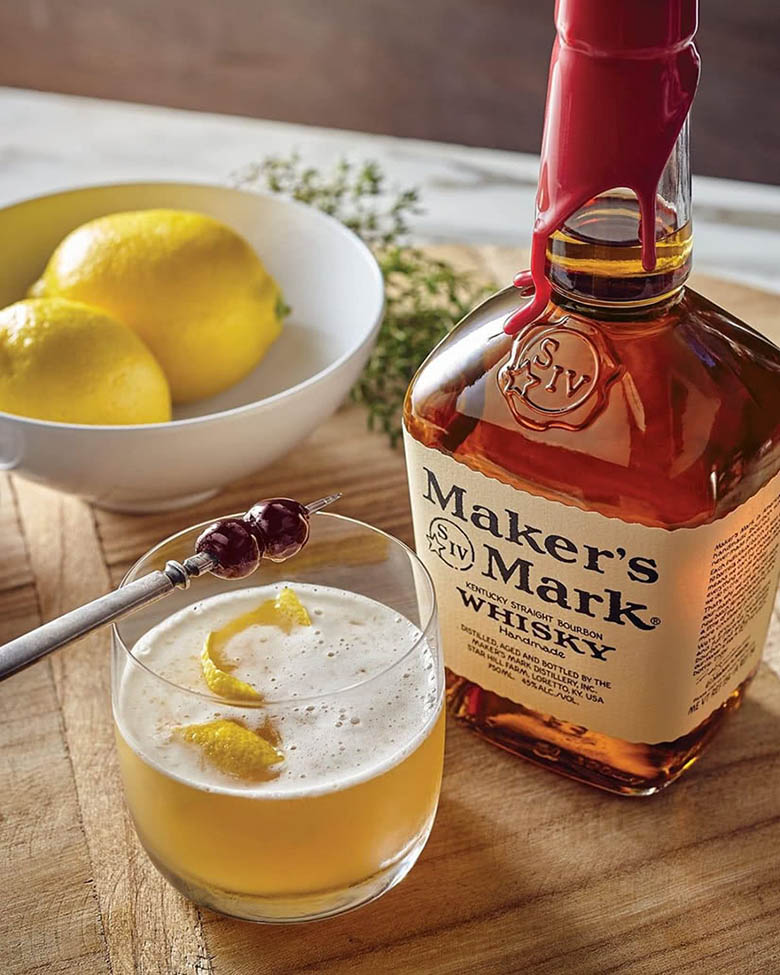 Ingredients:
60ml Maker's Mark whisky
15ml sugar syrup
30ml lemon juice
Cherry and lemon peel
Cocktail recipes: Add all ingredients except the cherry and lemon peel to a cocktail shaker with ice and shake well. Strain into a chilled rocks glass over ice and garnish with cherry and lemon peel.
Maker's Mark Old Fashioned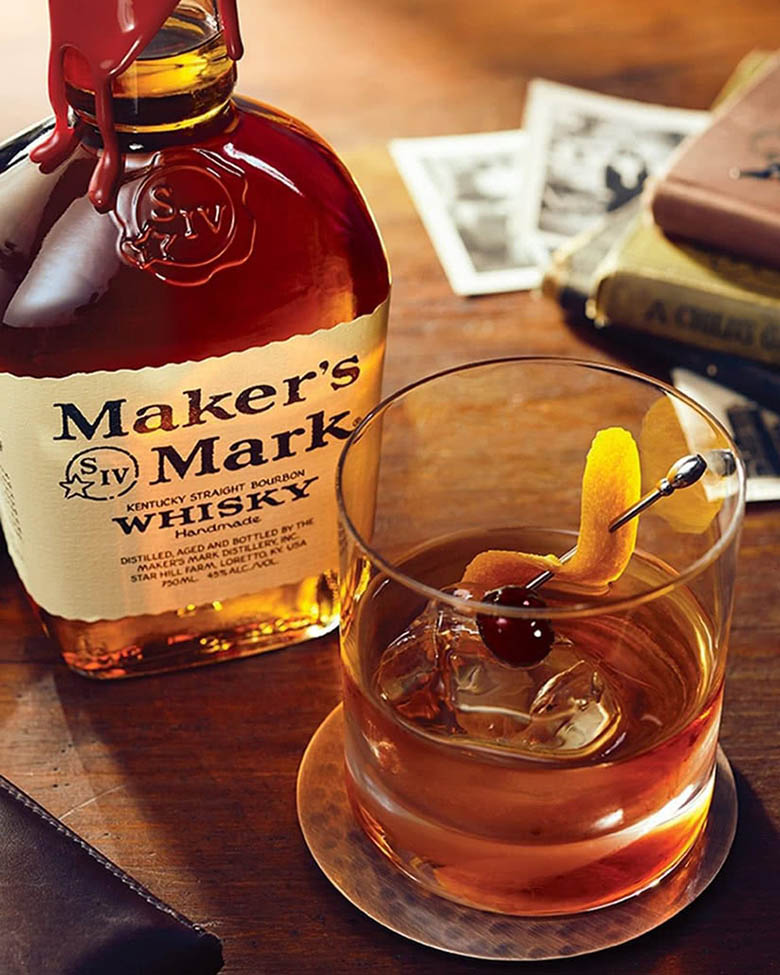 Ingredients:
45ml Maker's Mark whisky
2 dashes Angostura bitters
1 tsp sugar
Cherry and orange peel
Cocktail recipes: Muddle sugar with a splash of water in an Old Fashioned glass. Fill glass ¾ with ice, then add Maker's Mark and bitters. Stir well, and garnish with orange peel and cherry.
Maker's and Ginger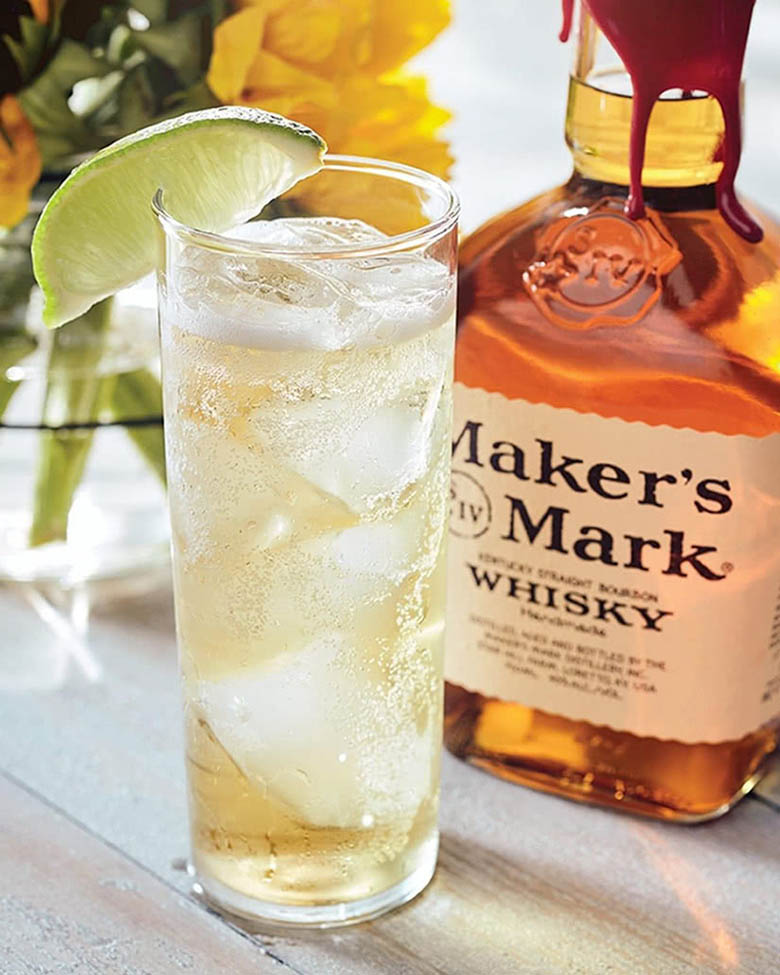 Ingredients:
45ml Maker's Mark whisky
200ml ginger ale
Lime wedge
Cocktail recipes: Fill a rocks glass with ice. Add Maker's Mark, and top up with ginger ale. Garnish with the lime slice.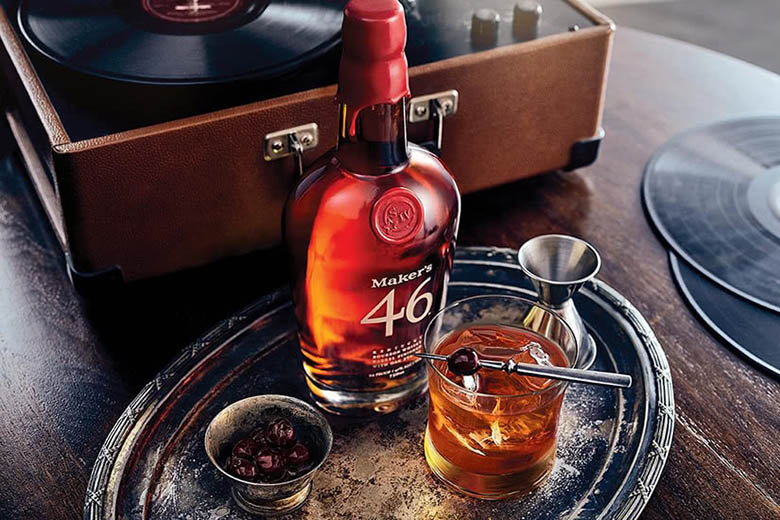 Frequently asked questions about Maker's Mark
Is Maker's Mark good whiskey?
Maker's Mark is thought to be the archetypal Kentucky bourbon whiskey. It's known for its smooth flavor palate and subtle sweetness. Maker's Mark is best enjoyed neat, at room temperature, and is a great addition to countless cocktails.
What does Maker's Mark taste like?
Maker's Mark whisky has a distinctive, smooth flavor with notes of vanilla and caramel. It's less fiery than other popular whiskey's, which is one of the reasons it's popular.
How expensive is Maker's Mark?
A bottle of Maker's Mark Straight Kentucky Bourbon costs roughly $30-$40, but be prepared to splash out around $350 for the Maker's Mark Gold Label VIP.
Why is whiskey spelled wrong on Maker's Mark?
On the Maker's Mark bottles, whiskey is spelled without the 'e', as a tribute to the Samuels family's Scottish roots. In Scotland, the typical spelling of whiskey is to omit the 'e'.