Grab your best Buggy Buddy and head for the untamed outdoors. Rough riding UTV-style is a colossal amount of fun, and the only way it can get better is by sharing it with a friend. Well, that and making sure you have the very best UTV for your particular situation.
It's perfectly understandable if you find the UTV market a bit confusing. It's an addictive pastime, and a lot of manufacturers want to grab their piece of the mudder market. So that means there are a lot of UTVs built for a bevy of off-road scenarios, which is a good thing. The downside is that it can take some studying to figure out which UTV is the best for you.
Today's list is designed to help take some of the headache out of your UTV homework. We'll examine the top UTVs on the market today to compare power, handling, reliability, and the all-important fun factor.
Let's see if we can set you up for the best side-by-side UTV for farm work. Or how about the best side-by-side UTV for family fun? We'll get into the most reliable of side-by-side buggies, and for those concerned with getting the best bang for your buggy buck a.k.a. the best side-by-side for the money. Strap in, and let's roll!
15 best side-by-side UTVs
Polaris General 1000 Premium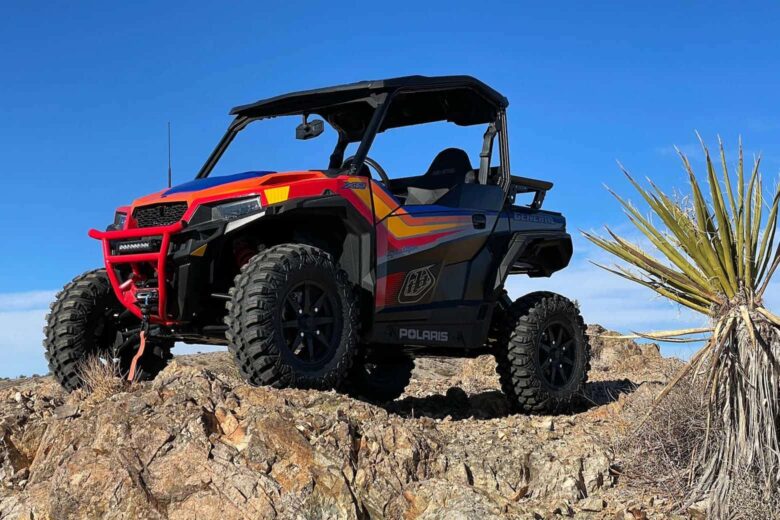 Here's a workhorse for when you've got stuff that needs to get done off in the untrodden woods. Polaris' General 1000 Premium has a ton of muscle geared for hauling: a 600 lb dumpable cargo box on back, a towing capacity of 1,500 lbs, and a total payload capacity clocking in at an impressive 1,100 lbs. This is the side-by-side you want for hauling stuff out or into the roughest terrain.
Best for: Taming the wilds with strength to spare.
Color: Titanium Metallic
Can-Am Maverick X3 X RS Turbo RR 72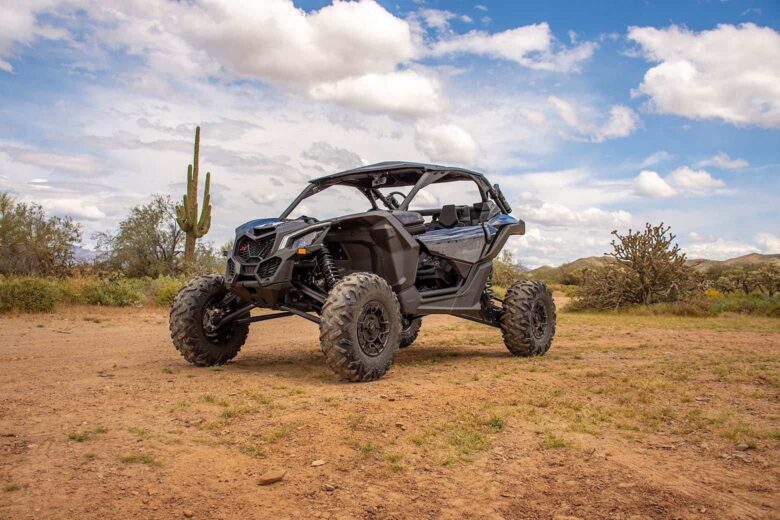 If old-school rock n' roll was a UTV, it would be the Maverick X3 X RS Turbo RR 72 from Can-Am. Maybe the very best side-by-side for trail riding, Can-Am packs a whole lot of fun into this package. Sleek as a speed-demon car, the roof can flip up to let the sound from the installed waterproof 6-speaker system play out the soundtrack to your rough-riding adventures.
Best for: Rockin' out amongst the rocks.
Colors: Red, Beige/Black, Blue
Kawasaki Teryx KRX 1000 eS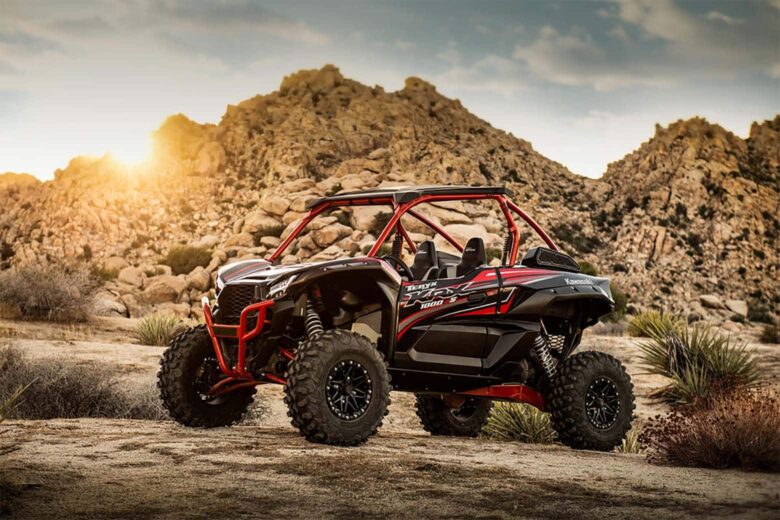 Feeling the need for speed? Kawasaki's Teryx KRX 1000 eS is a flashy number that we'd put up there with zippy 3-wheel motorcycles or sportier electric cars when it comes to figuring in the fun factor. The engine, which is a 4-stroke, DOHC (Dual Overhead Camshaft), 8-valve parallel-twin, liquid-cooled monster, will have you flying right along. Just make sure you don't run out of wilderness before you realize it.
Best for: Chasing the sun and standing a good chance of catching it.
Color: Metallic Onyx Black
Hisun Strike 1000 EPS
Hisun Motors' Strike 1000 EPS comfortably straddles the line between a recreational and utilitarian UTV. And while the 4-Stroke V-Twin Cylinder OHC gives plenty of oomph for an under-$15k engine, what's perhaps most impressive is how much Hisun packs in as standard at that price. A roof, aluminum rims, winch, windshield, and side mirrors are considered chargeable extras by many other manufacturers but come as stock standard on the Strike 1000 EPS.
Best for: Asking for more and getting it.
Colors: Black, Blue, Beige + More
Yamaha Wolverine X2 850 R-Spec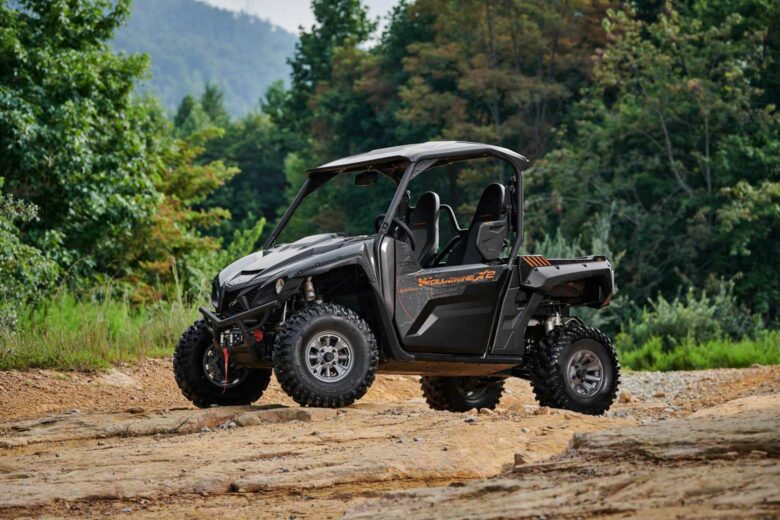 Sometimes you want a transition vehicle, something that will comfortably take you from your world of slick electric motorcycles or luxury SUVs into the rougher realm of UTVs. We think Yamaha's Wolverine X2 850 R-Spec turns that particular trick just fine. Easy to handle, the Ultramatic CVT drive system will help you handle the power output from the 847cc Twin-Cylinder Powerplant engine, which shares design goals with Yamaha's famous sports bike line.
Best for: Kicking down the doors into the UTV world.
Colors: Armor Gray/Yellow, Realtree Edge
Nikola NZT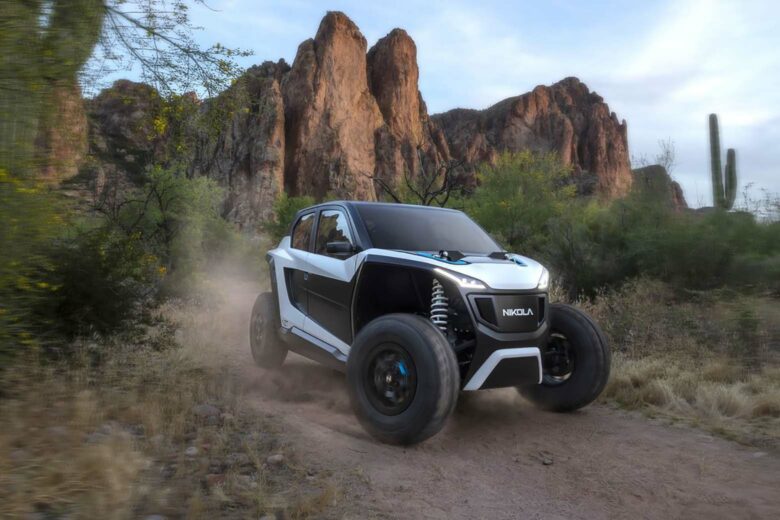 So a Nikola exec walks into the lunch room and says to the designers, "Okay guys, I want to redefine what it means to be the best mid-size side-by-side UTV on the market today. It needs to be electric, should have 775 lbs of torque, launch up to 60 mph in 4 seconds, contain 590 horsepower, and last for up to 150 miles. Oh, and it should look like it came from a hundred years in the future." The designers got to work, and boy, did they deliver with Nikola's NZT. On top of all that, the electronics update over the air, and you log into instead of turning on your ride, negating the fear of losing your keys in the wilds.
Best for: Electrifying the wilderness.
Colors: Black and White
Segway Villain SX10 H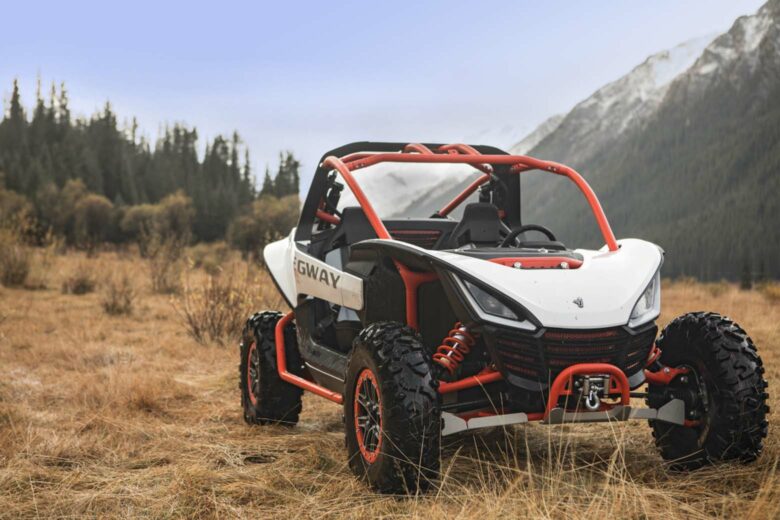 Segway's Villain SX10 H is built to look like an apex predator. Looked at front-on, the headlights form fierce glowing eyes, the fender and winch gear make a snarling mouth. The whole thing looks built to go, and go fast. But in the UTV world, looks aren't everything, in fact, looks take a back seat to performance. So… can the Villain deliver some power to back up the profile?
Heck yes. The Villain boasts the powersports industry's very first hybrid engine, which delivers 196 HP via the 1000+cc parallel twin-cylinder, 4-stroke, 8 valve, DOHC.
Best for: Looking like you mean it.
Colors: Electric White/Tensive O&R, Bold Black/Dream Green
Honda Talon 1000R Special Edition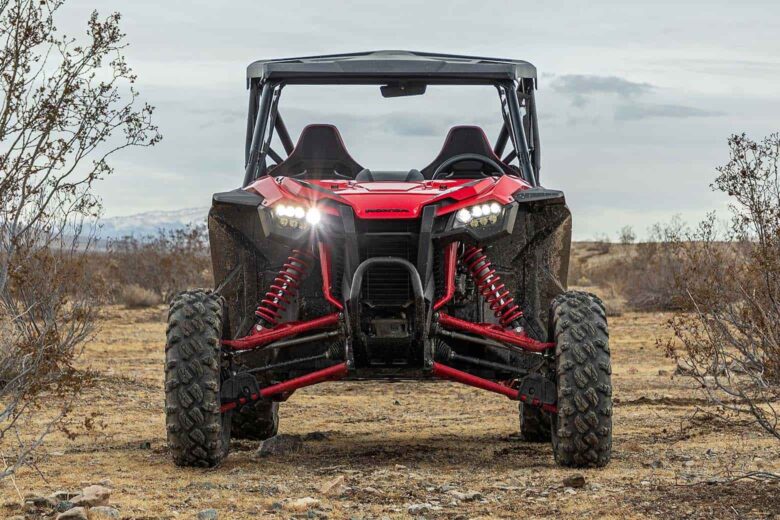 What makes the Honda Talon 1000R Special Edition so special? It comes equipped with Honda's exclusive Fox Live Valve Suspension, which is a suspension system that adjusts on the fly to your situation. Instead of pre-selecting a cruise setting with softer shock settings, or a stiffer setting to avoid bottoming out over rough terrain, the Fox Live Valve Suspension system adjusts in real-time to exactly what you need.
Best for: Leaving behind the jolts and jarring of pre-select suspension systems. 
Color: Viper Urban Camo
Arctic Cat Wildcat XX SE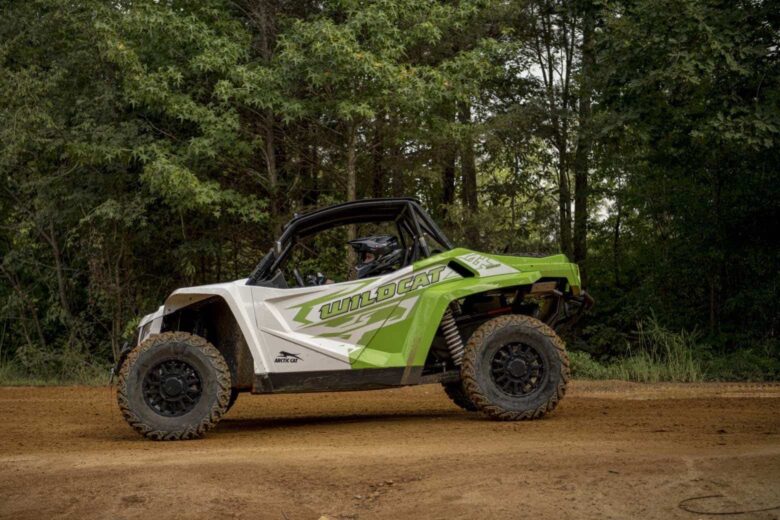 Arctic Cat built the Wildcat XX SE with a bring it on attitude. Stuck? Pull yourself free with the included 3,500 lb winch. Hit a rocky patch? Sail through with your Premium FOX 2.5 PODIUM QS3 Shocks with Bottom-Out Control and your 15-inch clearance off the ground. Other UTVs left you feeling turtle-slow? Blast through the outback with the Wildcat's 130 HP beast of an engine, a leader of its class.
Best for: When nature growls at you, you growl back.
Color: Fossil
Polaris Ranger XP Kinetic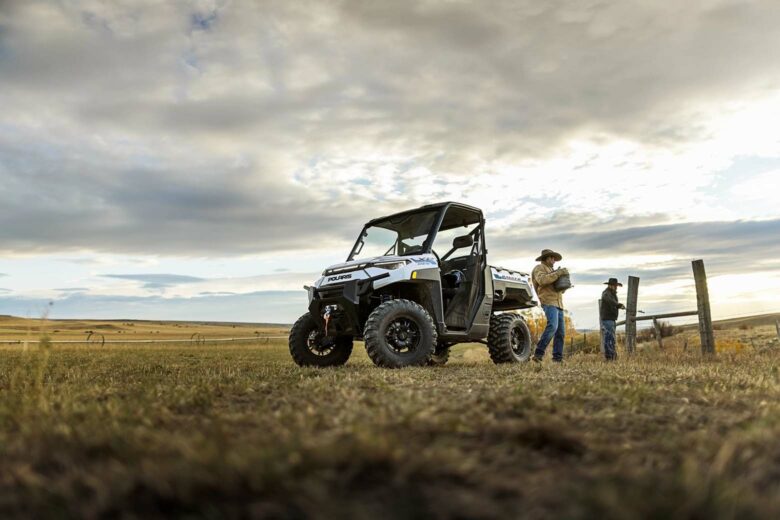 Do you have a luxury travel trailer that needs a lift somewhere exotic? Or a stubborn tree stump that needs to be pulled and escorted off the property? Polaris' Ranger XP Kinetic is likely the best utility side-by-side workhorse for the job. The electric powertrain (with fewer moving parts to wear out) delivers 110 HP and 140 lb-ft of torque, giving you hauling power to the industry-exclusive tune of 1,250 lbs, and towing power of a jaw-dropping 2,500 lbs.
Best for: Letting absolutely nothing hold you back.
Colors: Icy White Pearl, Polaris Pursuit Camo
John Deere XUV560E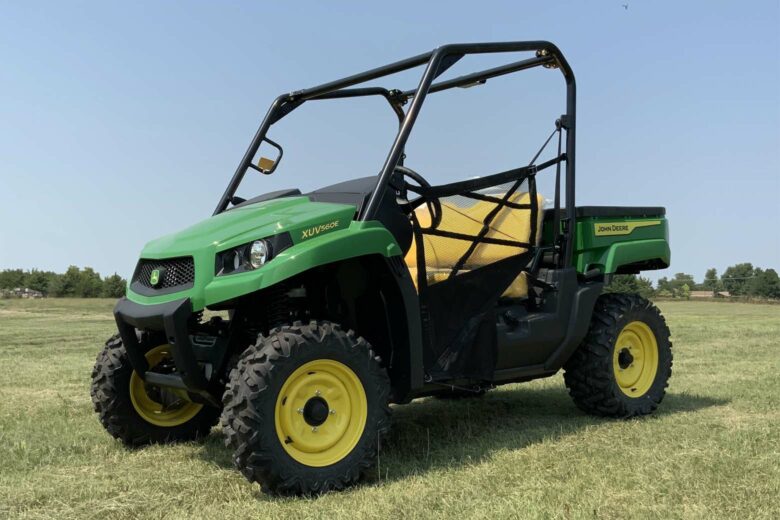 Let's talk about pure utility for a moment. John Deere's XUV560E is built entirely around what the working man or woman needs to get their daily to-do list done. The independent 4-wheel suspension smooths out the ride for both you and your cargo, and the electric 4WD switch makes powering up into 4-wheel mode a breeze. And the back bin is made from high-density polyethylene copolymer composite material, which is not only rust and dent resistant, but also eliminates a lot of noise from shifting cargo, which makes for a pleasanter workday.
Best for: Making your workday easier. 
Color: John Deere Green
Yamaha Viking VI EPS Ranch Edition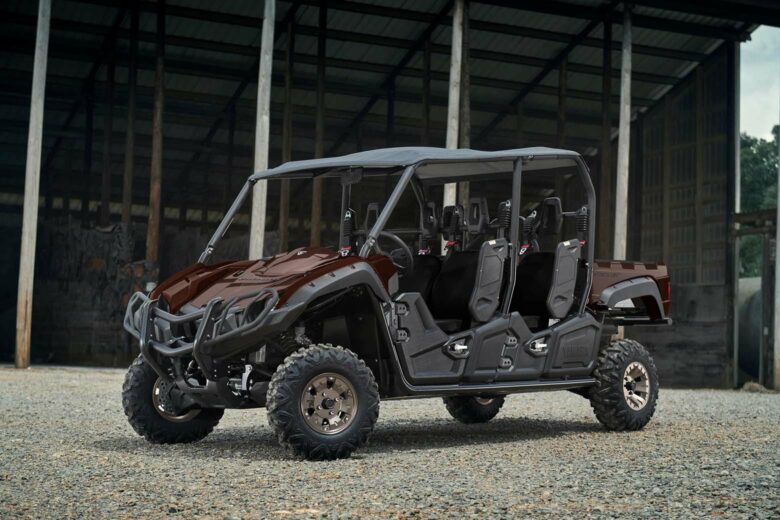 Some jobs require all hands on deck. Yamaha's Viking VI EPS Ranch Edition is a six-seater with a dumpable cargo bed on the back, making it both a utility and personnel carrier vehicle. Yamaha boasts that the Ultramatic transmission with Hi/Lo drive plus reverse is the most advanced drive system around. And that cargo bed in the back? Yeah, it can carry up to 600 pounds of whatever you care to throw at it.
Best for: Bringing the entire crew in on the action.
Color: Copper Metallic
Hisun Motors Sector E1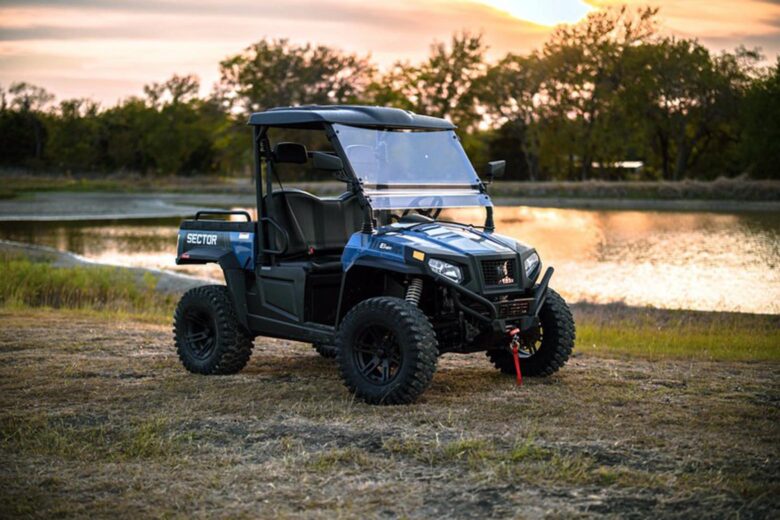 The 48-volt 27 HP heart of Hisun Motors Sector E1 derives its power from the maintenance-free Discover dry cell battery. Like other Hisun models, the Sector E1 features a winch, roof, and windshield as part of the stock body, whereas other manufacturers will charge extra. Those features will come in handy as you'll be out all day, with the battery giving you approximately 42 miles in range before it needs a well-earned recharge.
Best for: A UTV that helps you out instead of holding you back.
Colors: Camo, Black, Red +More
Tracker Off Road EV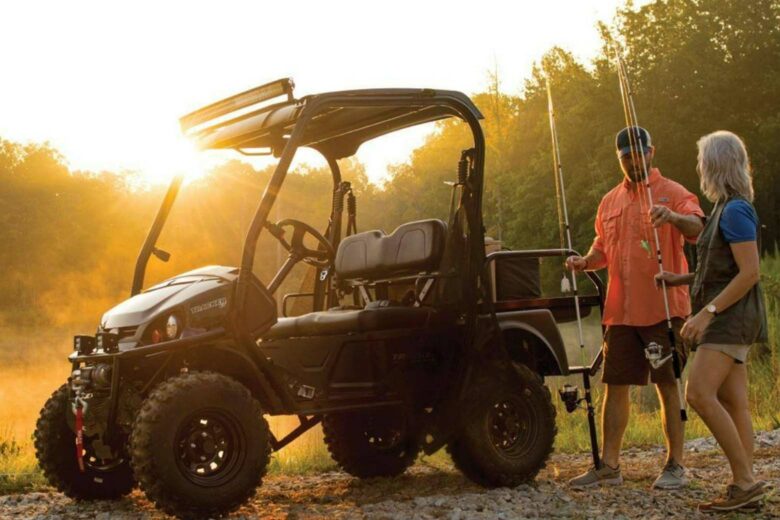 Crazy thought, but sometimes it would be nice to head out into nature and hear, you know, the sounds of nature. Traditional fuel-based engines can make a whack of noise, drowning out whatever Mother Nature might have to say. But Tracker Off Road's EV runs nice and quiet thanks to its 72V AC electric drive train. Add on a fold-down cargo deck, and a towing capacity of 1,000 lb, and you're all set up for a day of enjoying the wilderness.
Best for: Joining nature, not disturbing it. 
Colors: Black, TrueTimber STRATA Camo
Honda Pioneer 1000-5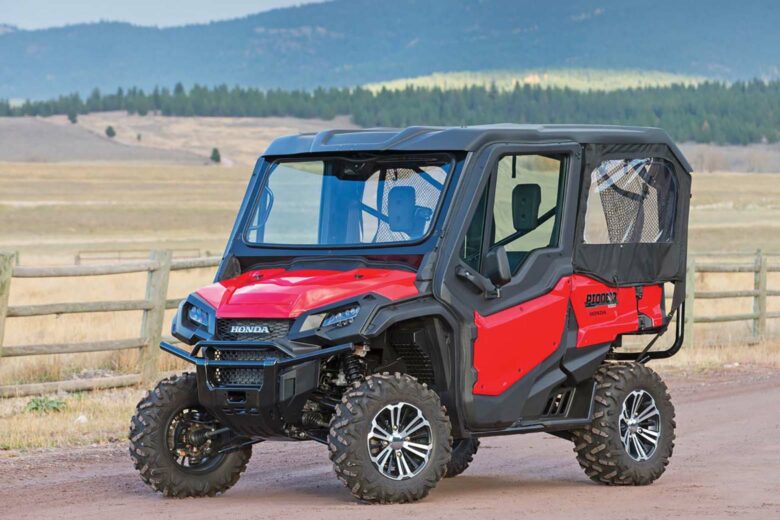 Honda has gone all in with customizing their Pioneer 1000-5 line for just about every situation a side-by-side UTV can come across. They started out with the 1000-5 base and Deluxe models, and now they've added Trail and Forest editions, specifically kitted out for those specific environments. The cargo bed quickly flips down to add additional seating, meaning you can cart 5 people out to whatever landscape you choose with ease.
Best for: Getting the right UTV for the right situation.
Colors: Red, Olive, reactor Blue +More
Frequently asked questions about side-by-side UTVs