You mount up and blast off, leaving your cares behind you on the shore. You and your jet ski rocket across the still surface of a lake, or take on the challenge of ocean-born waves. You become a combination of speed and intent, and in the very best moments, it feels like you're flying.
Sounds like a great way to spend the summer, doesn't it? But then you take a look at the jet ski market and realize there are a whole lot of choices out there. You start investigating new and used jet skis for sale and all of a sudden you're in over your head.
Today's list of the best jet skis of 2023 is here to help you clarify which choice is best for you. First things first. "Jet ski" is actually a brand name that has kind of taken over the market, like "Band Aid" did for bandages or "Dumpster" did for garbage bins. "Jet Ski" is actually the brand name of Kawasaki, while "Wave Runners" are built by Yamaha and "Sea-Doos" come from Polaris.
With that out of the way, let's get down into the nitty-gritty of the personal watercraft. Which is the fastest? How about the most reliable? Which gives the most bang for your buck, and which is the most expensive?
Slip on your swimming trunks and let's go for a ride!
(Note: the prices listed below are starting prices. Optional accessories will cost extra.)
The 15 best jet skis of 2023
Yamaha EXR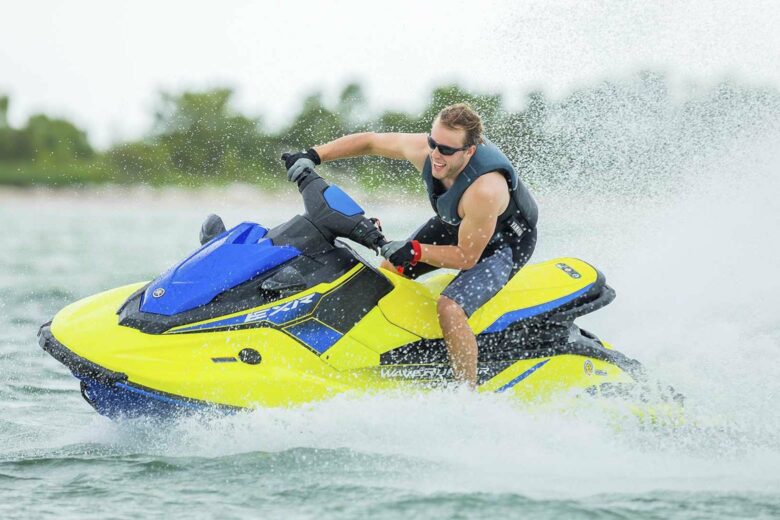 If this is your first time dipping your toes into personal watercraft waters, you should definitely consider trying out a Yamaha EXR. The R in the EXR stands for "racing inspiration", which means this jet ski is built for speed. But first-timers, don't let that intimidate you. Yamaha EXR jet skis are surprisingly friendly towards newbies, offering easy-to-ride LED info panels and even a left-hand reverse-thrust throttle, which makes the EXR easy to dock. 
| | |
| --- | --- |
| Price: | $9,500 |
| Engine: | 1,049cc Inline-Three |
| Power: | 100 hp |
| Length: | 123.6" |
| Weight: | 540 lbs |
| Top speed: | 54 mph |
Kawasaki Jet Ski Ultra 310LX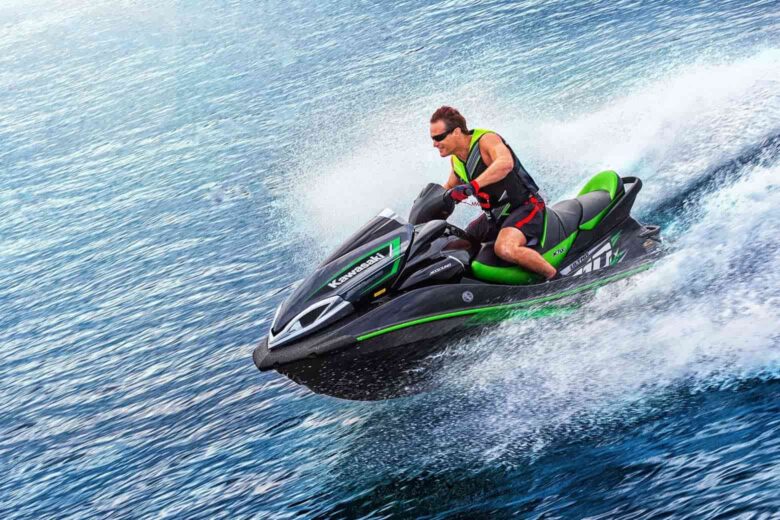 If you have a forceful side-by-side UTV or perhaps a muscle-bound ATV in your garage, you're likely the kind of rider that likes a whole lot of power under the hood. If oomph is the name of the game when it comes to your preference in vehicles, then Kawasaki's Jet Ski Ultra 310LX is likely the personal watercraft for you. The supercharged engine has a beast-level 310hp just waiting for you to take charge of it.
| | |
| --- | --- |
| Price: | $19,999 |
| Engine: | Supercharged 1,498cc Inline-Four |
| Power: | 310hp |
| Length: | 132.7" |
| Weight: | 1,047 lbs |
| Top speed: | 67 mph |
Sea-Doo RXP-X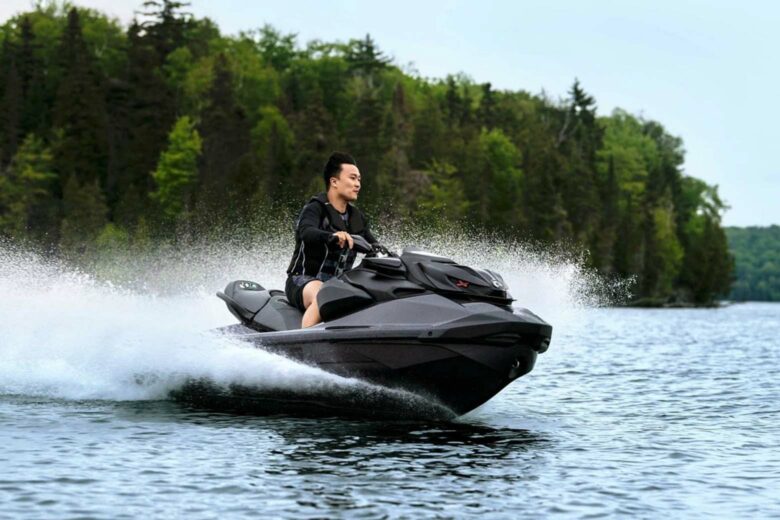 Speed addicts, start your engines. We bet you're the type to drool over the sleekest electric motorcycles or the zoomiest expensive cars. Well, get ready to add one of the fastest jet skis around to your must-have list, the Sea-Doo RXP-X. And here's the best part—even though the RXP-X looks like it's flying even when it's standing still, it's actually surprisingly comfortable with its reversible saddle and three-passenger seating arrangement.
| | |
| --- | --- |
| Price: | $16,099 |
| Engine: | Supercharged 1,630cc Inline-Three |
| Power: | 300hp |
| Length: | 130.6" |
| Weight: | 847 lbs |
| Top speed: | 67 mph |
Taiga Motors Orca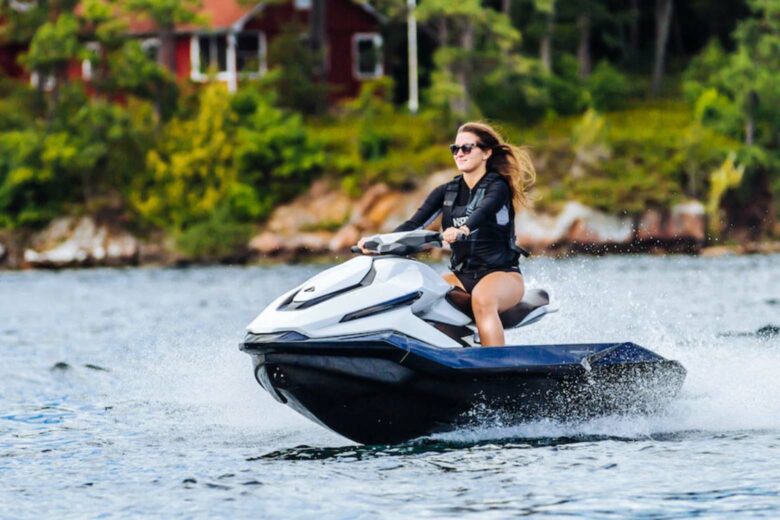 Electric motors are becoming the norm, found in everything from the very best electric cars right through to children's electric cars. It makes sense… we head out on trips to enjoy nature, and if we want to keep enjoying it, we have to keep Mother Nature healthy. Canadian company Taiga Motors is doing its part by releasing the Orca series of electric personal watercraft. Taiga has adapted their electric snowmobile engines to the water, and it has really paid off… there's nothing like slipping through a waterscape with only the sound of the water rippling beneath you.
| | |
| --- | --- |
| Price: | $17,490 |
| Engine: | Electric |
| Power: | 160hp |
| Length: | 117.6" |
| Weight: | 588 lbs |
| Top speed: | 65 mph |
Yamaha Superjet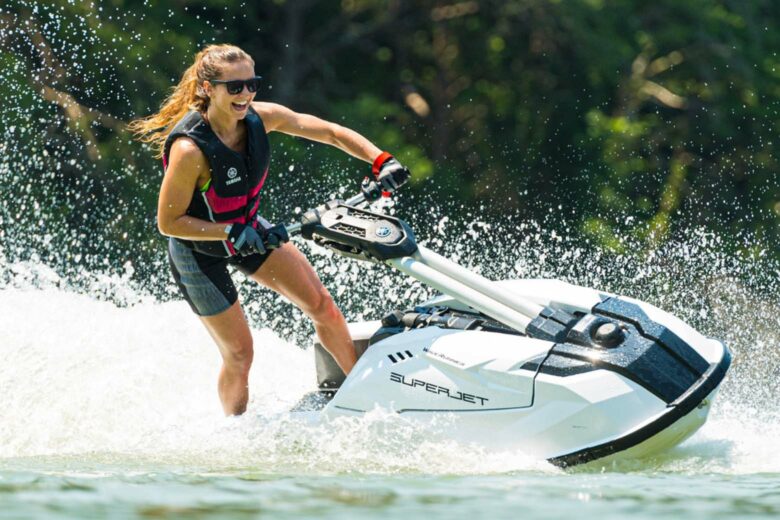 The venerable Yamaha Superjet has been around for thirty years now. One of the original personal watercraft speed demons, the Superjet has been re-tuned so that the latest model is also more user-friendly than previous generations, with rear foot-chocks for stability when in the upright position, lightweight performance handlebars, and an electric trim that can be tuned by the rider for bespoke handling. Also, its light weight makes the Superjet one of the easier personal watercraft to haul out to the lake behind your camper van or luxury SUV.
| | |
| --- | --- |
| Price: | $9,499 |
| Engine: | 1,049cc Inline-Three |
| Power: | 100hp |
| Length: | 95.7" |
| Weight: | 375 lbs |
| Top speed: | 54 mph |
Kawasaki SX-R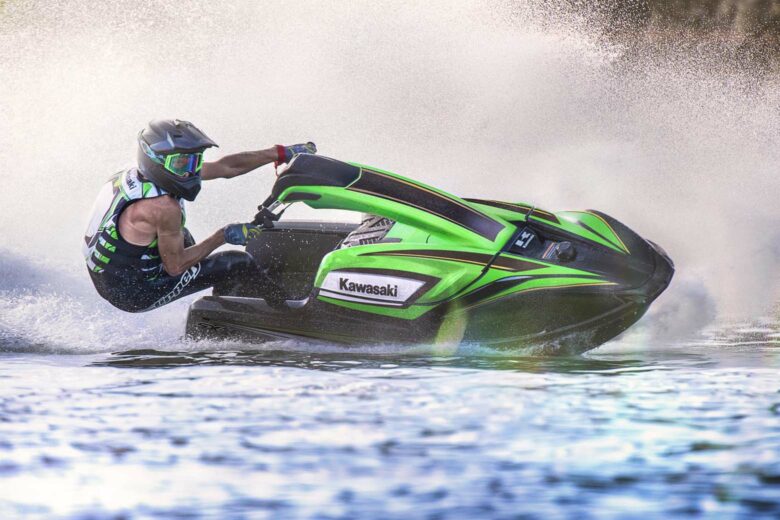 The Kawasaki SX-R Jet Ski is a beefier member of the stand-up watercraft family. The additional weight and size compared to some other stand-ups add a lot of stability and stay-in-the-water control, which makes this a dandy model if you're looking to get into some stand-up fun without your ride whipping itself out of control under you. Consider the SX-R your friendly entry into the world of trick-inspiring water stand-ups.
| | |
| --- | --- |
| Price: | $11,099 |
| Engine: | 1,498cc Inline-Four |
| Power: | 160hp |
| Length: | 104.5" |
| Weight: | 550 lbs |
| Top speed: | 62 mph |
Sea-Doo Spark Trixx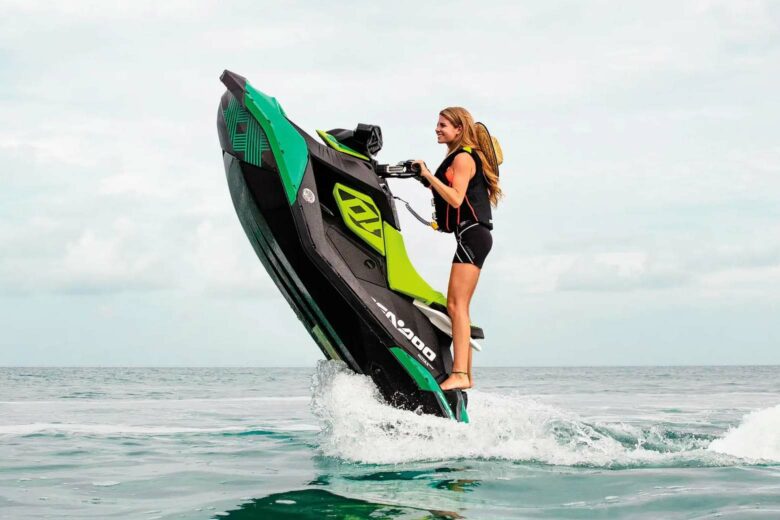 It's called "Trixx" for a reason. Sea-Doo's Spark Trixx is the water equivalent of a couple of muddy dirt-bikes being hauled off-trail behind an off-road camping trailer. You might be sneaking a peek at the specs down below and thinking this Sea-Doo jet ski is fairly low-powered in terms of horsepower and speed, and that coupled with the low price makes the Trixx an entry-level watercraft. But the 90hp is actually more than enough to send the Trixx flying because of its lightweight Polytec body, and the Variable Trim System features a wheelie-mode. How long do you think you'll be able to resist showing off?
| | |
| --- | --- |
| Price: | $7,899 |
| Engine: | 899cc Inline-Three |
| Power: | 90hp |
| Length: | 110" |
| Weight: | 428 lbs |
| Top speed: | 48 mph |
Nikola Wav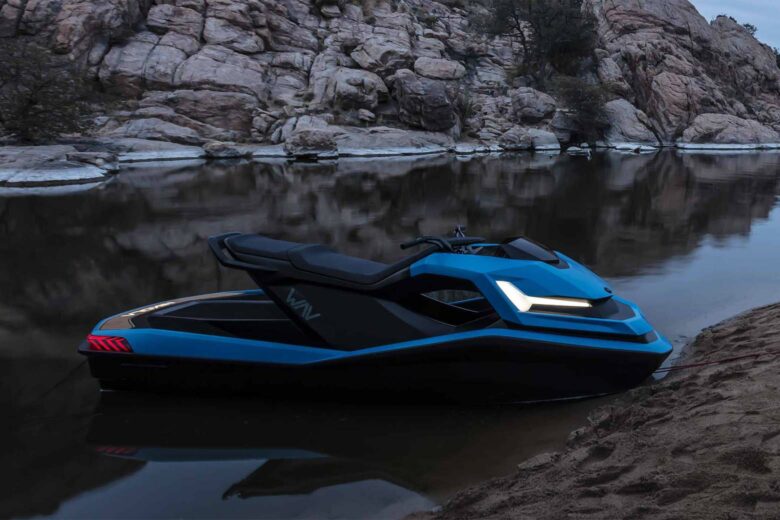 Let's look to the future. Not a lot of specifics are known about the upcoming Nikola Wav (pronounced "wave"), which is taking orders now, and is set to start shipping in the mid 2020s. Pricing guesses range anywhere from $20,000 to $80,000. What we do know is that the Wav's shape is based on the ergonomics of sport bikes, it's full of futuristic-looking LED lighting, it features a waterproof 4k info screen, and it will look cool nestled up next to a sleek travel trailer.
| | |
| --- | --- |
| Price: | Not yet available |
| Engine: | Electric |
| Power: | Not yet available |
| Length: | Not yet available |
| Weight: | Not yet available |
| Top speed: | 60 mph |
Yamaha FX Limited SVHO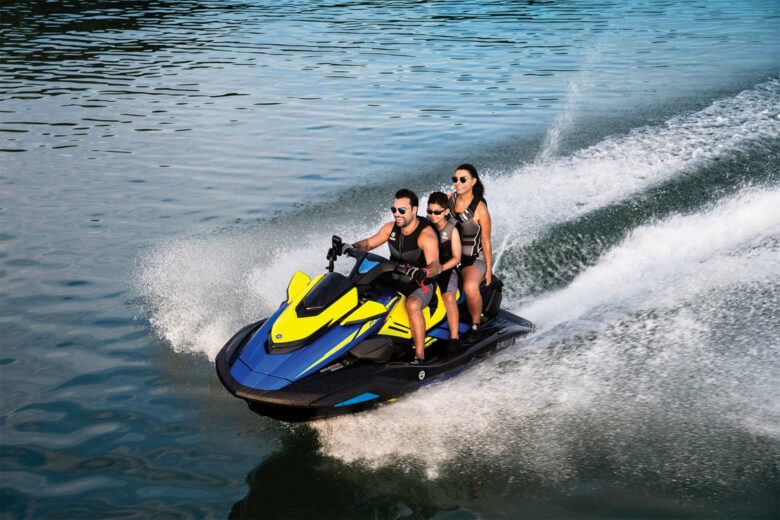 Here's a personal watercraft for the fishing-enthusiasts among us. Yamaha's FX Limited SVHO leans more towards the utility side of watercraft, even though it still delivers a lot of fun zippiness. The SVHO boasts a large watertight glovebox, a built-in cooler in the bow, a tube inflator and tube holder, and even a built-in Garmin Striker GPS fish finder with a custom transducer and mount. You can take practically your whole summer with you out on the water.
| | |
| --- | --- |
| Price: | $19,099 |
| Engine: | Supercharged 1,812cc Inline-Four |
| Power: | 250hp |
| Length: | 140.9" |
| Weight: | 877 lbs |
| Top speed: | 70 mph |
Sea-Doo GTI SE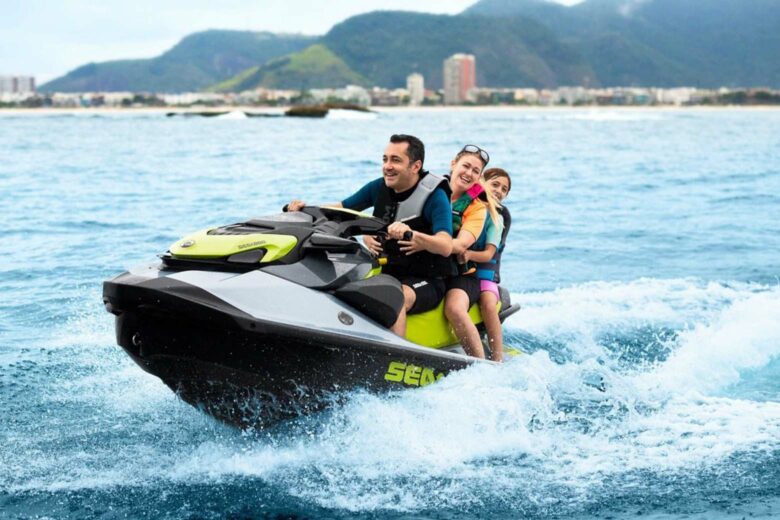 Sea-Doo's GTI SE is all about taking it easy out on the water. A cruiser more than a bruiser, the GTI offers a heap of features designed to keep you and your family and friends happy by the seaside. A touring seat, variable trim, Bluetooth audio, increased stability, the most storage space in its class, and a large swimming platform all blend together to create a ride that makes it easy to enjoy your summer.
| | |
| --- | --- |
| Price: | $11,099 |
| Engine: | Supercharged 1,630cc Inline-Three |
| Power: | 170hp |
| Length: | 130.6" |
| Weight: | 739 lbs |
| Top speed: | 56 mph |
Narke GT95 Electrojet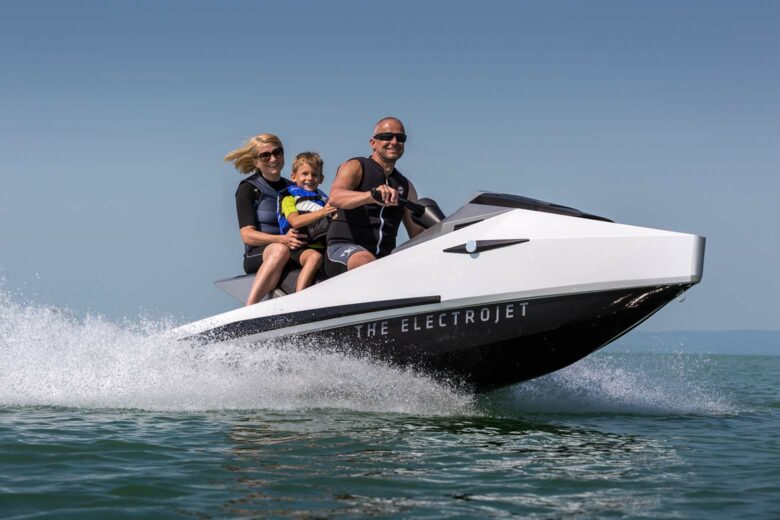 Hungarian-made Narke GT95 Electrojets are a hot-ticket item in the jet ski world. You can see why… they look like a piece of the future transported to the here-and-now. This fully electric PWC (Personal Watercraft) will carry you for about 30 miles before it needs a recharge. The 7" display will let you know when it's time to power up, and it can even receive calls. Recharge time takes six hours with a standard household power line (1.5 hours with a supercharger).
| | |
| --- | --- |
| Price: | $47,000 |
| Engine: | Three-Phase Asynchronous Electric Motor |
| Power: | 95hp |
| Length: | 158.26" |
| Weight: | 926 lbs |
| Top speed: | 47 mph |
Kawasaki STX 160LX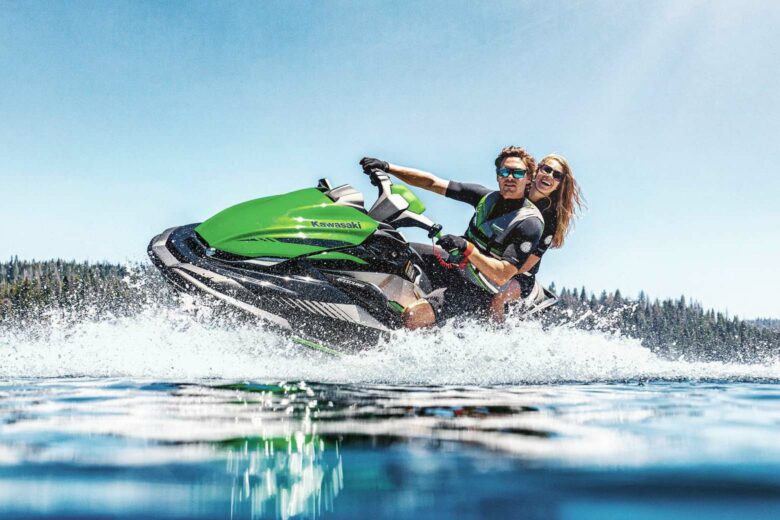 Kawasaki has introduced an interesting approach to entry-level jet skiing. The Kawasaki STX 160LX has a two-key ignition system. The first key works just like a normal ignition key works, but the second key turns on the STX's SLO, which stands for Smart Learning Operation. With SLO turned on, the STX reduces its maximum power output by 30%. So if you're just learning how to drive a personal watercraft yourself, or you have friends or family members that want an easy introduction, the STX comes with a built-in learner's mode.
| | |
| --- | --- |
| Price: | $13,499 |
| Engine: | 1,498cc 4-cylinder inline |
| Power: | 160hp |
| Length: | 124.1" |
| Weight: | 877.6 lbs |
| Top speed: | 60 mph |
Strand Craft V8 Wet Rod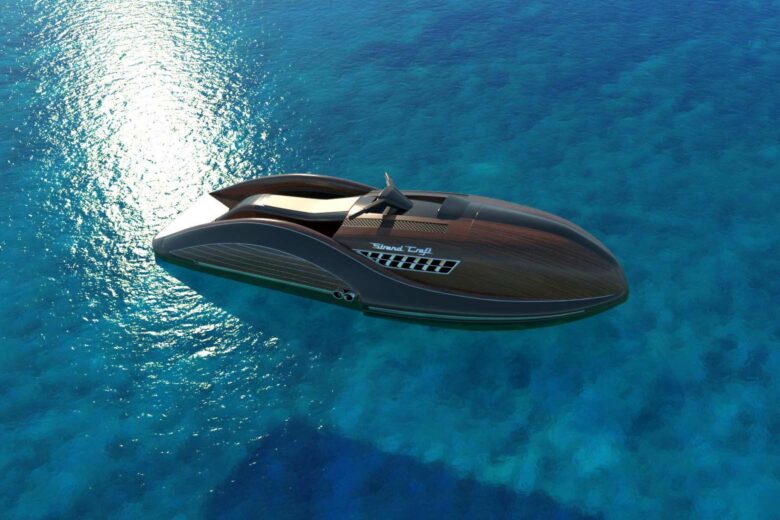 And now for something completely different. The website for Strand Craft's V8 Wet Rod bills this personal watercraft as "The Luxury Yacht of Watercraft", and you can see why. The Wet Rod looks like an old-school wooden yacht, and offers a luxurious list of accessory options like a teak wood deck, 3D gold or silver wrap, a custom wrap, custom paint, carbon inlays, an underwater camera, and wood inlays.
| | |
| --- | --- |
| Price: | $49,000 |
| Engine: | Aluminum V8 6.2L Supercharged |
| Power: | 300hp |
| Length: | 200" |
| Weight: | 1,250 lbs |
| Top speed: | 65 mph |
Sea-Doo RXT-X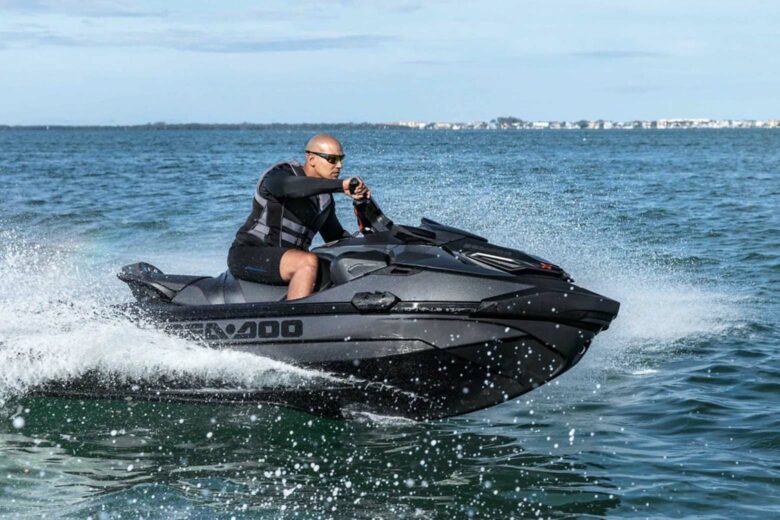 Sea-Doo's RXT-X boasts the most powerful engine in the Sea-Doo line-up. That supercharged 1,630cc engine gives a heck of a lot of acceleration (not to mention adrenaline) as you crank the throttle. But the RXT-X isn't just a speed beast, it also offers up a lot of stabilization that makes it one of the top personal watercraft for handling rougher off-shore waters. The craft also features a rear deck that can be changed from seating to a platform that can be used for chilling out.
| | |
| --- | --- |
| Price: | $17,499 |
| Engine: | Supercharged 1,630cc Inline-Three |
| Power: | 300hp |
| Length: | 130.6" |
| Weight: | 847 lbs |
| Top speed: | 67 mph |
Mansory Black Marlin 550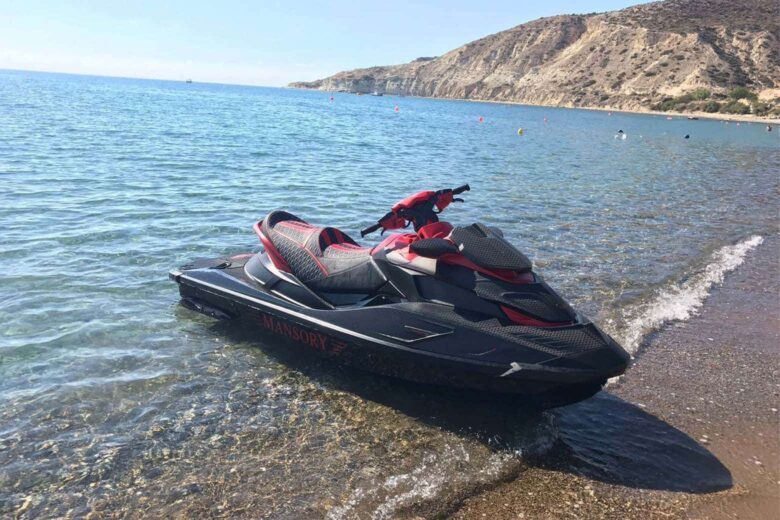 Founded by Kourosh Mansory in 1989, Mansory is a company dedicated to making luxury vehicles even more luxurious. They spend their days dreaming up ways to level up Mercedes, Ferraris, Bentleys, and the like. Now they've turned all that luxury engineering know-how into their Mansory Black Marlin 550, the most expensive jet ski on the market (until the Nikola Wav and Supermarine MM01 overtake it on release). There's no doubt about it, the Black Marlin is a beautiful personal watercraft, but it's also racing-speeds fast with its whopping 550hp suped-up engine which was built up from Sea-Doo's already juicy RXT-X 260RS. The Black Marlin is a beauty and a beast, rolled into one.
| | |
| --- | --- |
| Price: | $62,600 |
| Engine: | Supercharged 1,494cc Inline-Three |
| Power: | 550hp |
| Length: | 139″ |
| Weight: | 833 lbs |
| Top speed: | 80 mph |
Buyers guide for best jet skis
Jet skis are generally put into one of four different categories, although there can certainly be quite a bit of crossover.
Types of jet ski
Light recreational jet skis
Light recreational jet skis are built with light hulls, which allow for a fun range of tricks. However, because of their light weight, they don't perform particularly well in rougher waters.
Recreational jet skis
Recreational jet skis are mid-weight, and this is the category where we start to see a wider range of accessories and luxury features like braking, reversing, speed control, and they can be used to tow water skiers, wakeboarders, and inner-tubes.
Performance jet skis
Performance jet skis are the units you see in races. They feature amped-up engines and steering, and require some skill and experience to get them to perform properly. If you're new to jet skis, it would probably be best to avoid this category, at least for a while until you get more experience.
Luxury jet skis
Luxury jet skis, like Mansory's Black Marlin 550 or Strand Craft's V8 Wet Rod are the "luxury yachts" of the jet ski world. They offer all sorts of customizable items and accessories to make them more luxurious. But that doesn't mean they don't deliver some get up and go; for example, the Black Marlin has 550 hp under the hood, giving you a top speed of over 80 mph.
Jet ski features
Stand-up handlebars
Jet skis offer a wide range of options that let you customize your experience. The first option is whether you want a stand-up jet ski. The stand-up option allows you to stand while driving, allowing you more personal maneuverability so you can perform tricks aided by shifting your bodyweight.
Handling
Handling makes a difference in a number of ways. It makes all the difference if you're looking to do tricks. Handling also matters if you intend to head out into rough waters, especially at high speeds. Also, easy handling can make a lot of difference to beginners who are getting their first taste of steering a PWC.
Horsepower
The higher the horsepower, the more "giddy up and go" your jet ski will have. If you're new to jet skis, don't be afraid to ask for something with less horsepower so you have a gentler learning curve.
Kill switches
You're going to fall at some point when you're on a jet ski. You're likely to fall a lot if you're new to the activity. But don't worry, your jet ski isn't going to go jetting off without you. Pretty much all jet skis come with a "kill switch" system of some kind, which means that when you fall, you automatically flip the ignition switch, turning off the jet ski.
Seating
How many people are you going to be carrying on one jet ski? Light recreational jet skis are generally only intended for one person, so that leaves them out if you're bringing along a passenger or two. If you have buddies along for the ride, look at recreational or luxury jet skis, so you have enough seats for everyone.
Frequently asked questions about jet skis