You've watched the camper van conversion documentaries, you've scrolled through the #VanLife Instagram hashtag, and you've intricately chosen your interiors and mapped your route.
What's left? Oh, just selecting which of the best camper vans you'd like to house your next adventure in.
Where to start with van living? Just like the best travel trailers and best offroad camping trailers, there are more off-grid adventure vans than you could ever possibly drive around the world, even if you carefully mapped out your journey with no end in sight.
Regardless of whether you're heading off to delve deep into the depths of Europe or for a quick jaunt around your local North American neighborhood, you'll want a travel van filled to the brim with the possibility of adventure.
It doesn't matter your destination: all routes are pointing to camping vans. Set the GPS, it's time to take on the world with an RV van.
The 21 best camper van brands
Check our special camper van buyers' guide after the list to see exactly what you should pay attention to when looking at the best camper van brands on the market.
Airstream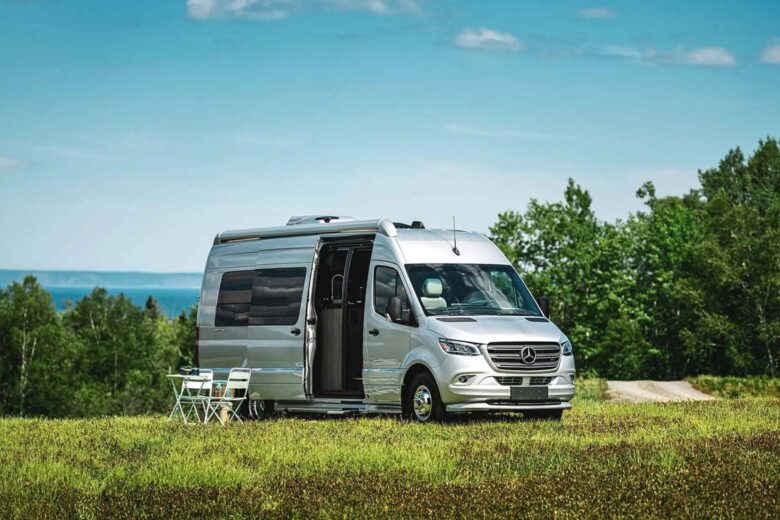 Think of American camper van life and you'll think of Airstream. This iconic brand is renowned for its aerodynamic vans, fusing comfort, technology and convenience into stylish vehicles that bring your road trip dreams to life. Travel in an Airstream and you'll travel with the knowledge that you're safely exploring one of the best of the best.
These RV vans are just as stylish inside as they are on the outside, ideal for groups up to eight people and kitted out with all the essentials and more. Their premium price is more than justified when you've taken a deep dive into Airstream's endless amenities.
Best for: Effortlessly changing gear into vanlife.
Mercedes-Benz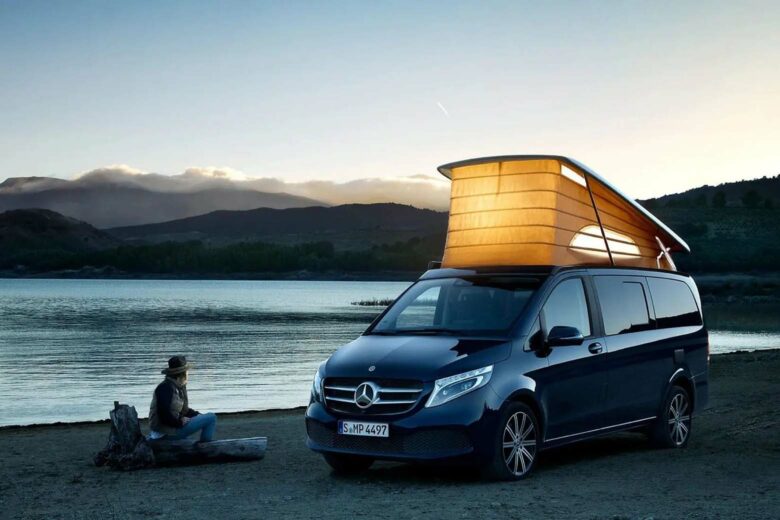 Mercedes-Benz camper vans are camper vans for those who want to taste the outdoors without forgoing luxury. Elevating the camper van scene with rugged elegance and charm, the Mercedes Sprinter Camper van offers a new taste of freedom that'll more than encourage you to book your next adventure.
These vans come with all of the necessary parts and bolts, but with additional benefits: LED lights, bicycle racks and roof rack systems. And, of course, these camper vans come with all of the best qualities that Mercedes-Benz is known for: superb engineering and innovative design.
Best for: Life on the road, luxury edition.
Boho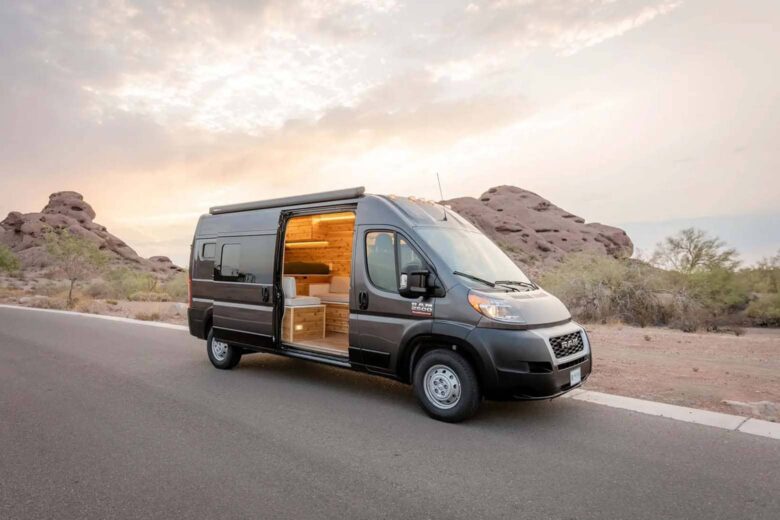 Boho doesn't produce camper vans, it produces Adventure Vehicles – capitalization definitely deserved. Step inside one of Boho's unique, stripped-back, thoroughly wooden vehicles and find yourself transported into a world where nature reigns supreme. Built in Arizona, Boho's camper vans are crafted from the ground up, using your inspiration every step of the way.
The beauty of buying from this brand comes from its bespoke style: either design the van yourself, perfectly tailored to your adventures or rent one of Boho's existing vans for a temporary taste of freedom. Better yet, Boho also supports local businesses and charities, as well as offering trip upgrades that donate towards national parks.
Best for: Scheming up your first trip before you've even seen the finished product.
Volkswagen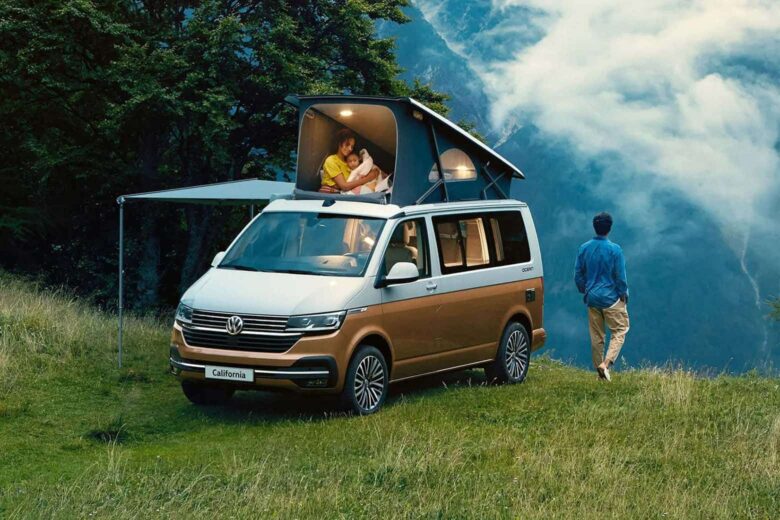 Put your mind at rest by exploring the world in a Volkswagen camper van. Strong and sturdy like everything the brand produces, these tough vehicles are designed to last and stand their ground. Reassurance comes paired with vintage-inspired designs and colors, putting you and your family into your own, postcard-perfect adventure.
Efficient engines, high-quality interior fittings, modern infotainment and driver assistance systems bring everything together for an ideal family holiday. There's a good reason millions of people opt for Volkswagen cars: buy a Volkswagen camper van and you'll realise they're equally as dependable as their smaller siblings.
Best for: Families who want all bases covered.
Winnebago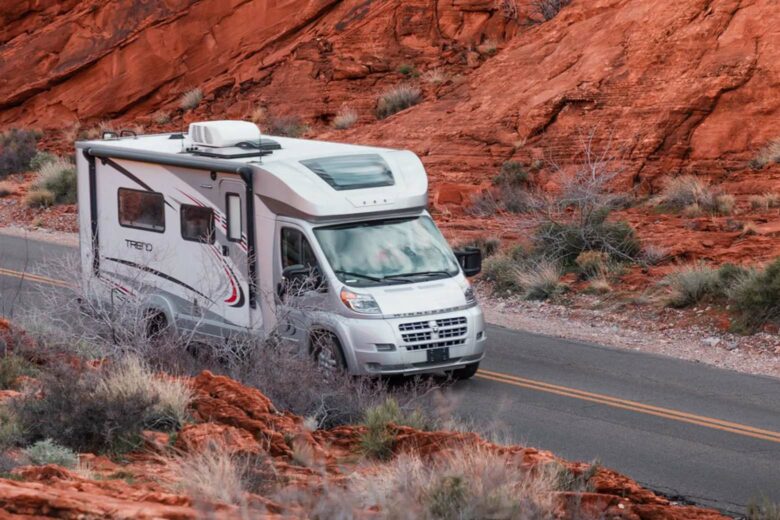 Another iconic name in the world of camper vans, a Winnebago motorhome or camper van is almost always going to be one of your first choices. Because it's hard to fault the brand: once you go Winnebago, you rarely go back. Quality craftsmanship and an almost guarantee of pure, undiluted fun, means you'll find yourself with automatic friends if or when you stumble upon another Winnebago camper van on the road.
Industry-first technology and an advanced parts supply system keep this camper van brand ahead of the game. This, when paired with its decades of knowledge and experience, means a Winnebago camper van is always a good idea.
Best for: Joining the Winnebago club and finding new friends around the world.
Thor Motor Coach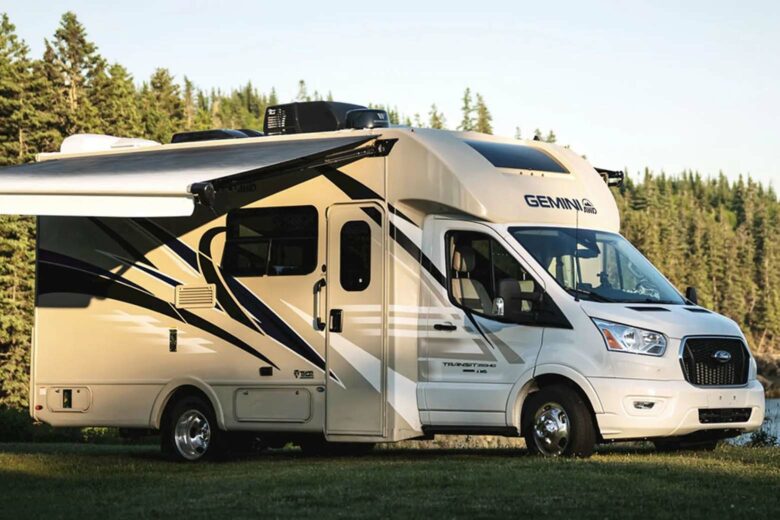 Thor: Viking god known for strength, power, protection and strength. Thor Motor Coach: basically the same thing. A firm favorite in the world of camper vans, Thor Motor Coach sells a wide range of vans suitable for all kinds of trips. Regarded as North America's number one motorhome brand manufacturer of Class A RVs, Class C RVs, Class B RVs and luxury motorhomes, a conversation van with Thor Motor Coach almost always ends with success.
Unlike some brands which may specialize in one or two types of camper van, Thor Motor Coach offers a little from column A, a little from column B and a little from the rest of the alphabet, too.
Best for: Being a safe bet for families, couples, and friend group adventures.
Antero Adventure Motors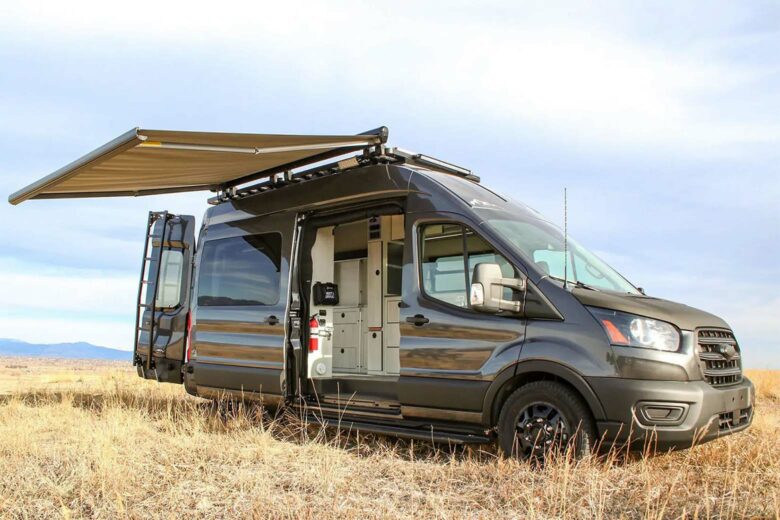 Antero Adventure Motors produces vans that get the most out of their lifespan by being challenged. You could simply drive them down country roads and through the forests, but they (and you) would have much more fun taking them slightly more off-terrain.
You'll hear lots of words ending with "ility" when buying your first Antero Adventure Motor vehicle. "Usability, flexibility and durability" are all some of this brand's proudest traits, fitted into powerful, spacious vehicles with impressive off-the-grid systems that make longer journeys a breeze. They're also designed for spontaneous journeys, with flexible living spaces and in-built camper van toilets.
Best for: Vans that'll jump at the opportunity to show off their skills.
Outside Van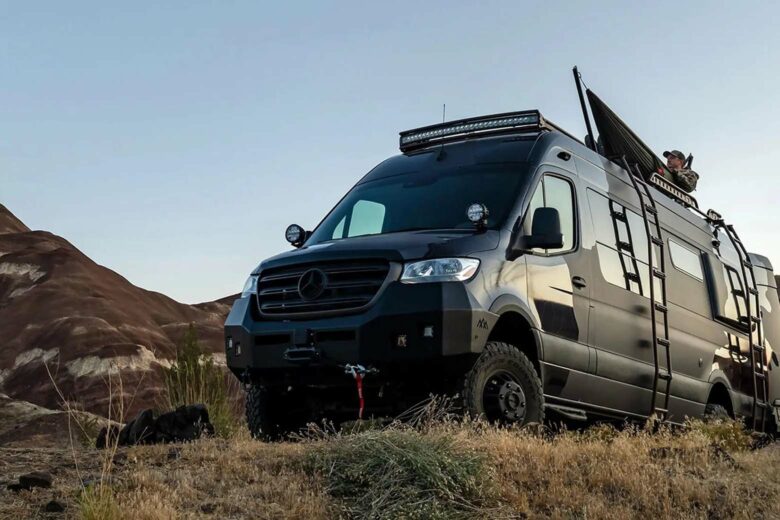 A fusion van might sound more intricate than needed, but Outside Van's fully customizable vehicles will ensure you choose a fusion van for all of your adventures from now on. These purpose-built vehicles come with bespoke features so all space is properly maximized.
Wave goodbye to unnecessary amenities that don't benefit you or your camping companions and instead say hello to van conversions that you'll rave about to all of your van-life-loving friends and anyone else who'll listen. This conversion company also takes the stress out of designing your own van, while ensuring it's still a seriously fun part of your journey. Just without the fear of having to fix it all up yourself.
Best for: Bringing all of your campervan dreams to life.
Benchmark Vehicles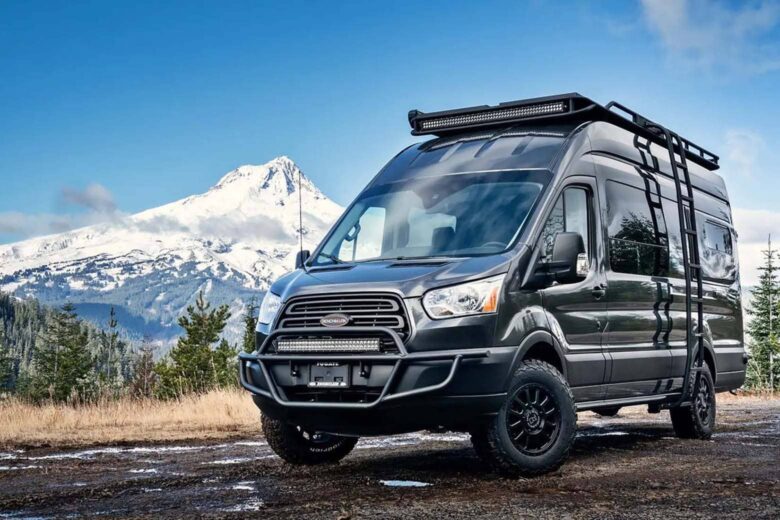 You'll want to spend some time plotting your perfect camper van before speaking to Benchmark Vehicles. From the floor plan to the colors, textures, and any other little extras, these camper vans are curated specifically for your requirements. It also doesn't matter how outlandish your ideas are: it's likely that Benchmark Vehicles has produced something similar before.
Your dream ultimate escape vessel comes to life, ready for rugged terrains and drives through the mountains. They're also not restricted by location: whether you're hoping to drive from one coast of the USA to the other or would prefer a lengthy road trip around Europe, your Benchmark Vehicle can come to you.
Best for: Proving that the sky's the limit, camper van style.
Vanlife Customs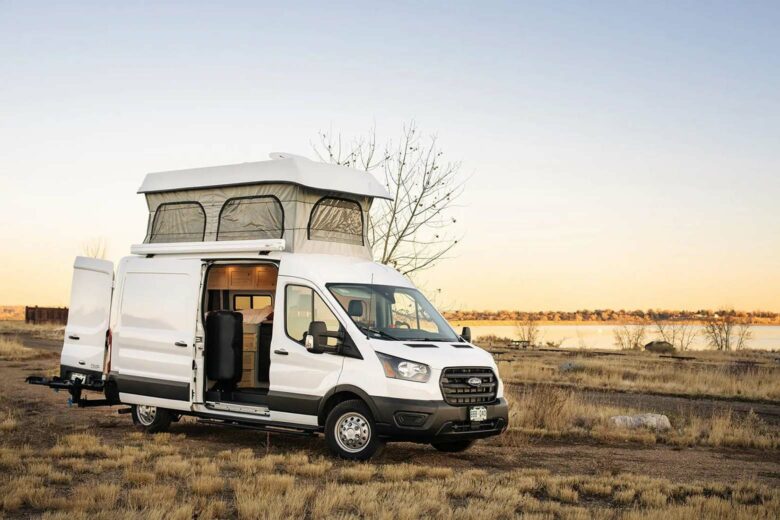 Based in Denver, Colorado, VanLife Customs is the brand you'll find yourself mindlessly scrolling through, daydreaming about quitting your job and traveling on a permanent basis. And it's a company designed to make that happen, easily, without any stress whatsoever.
This custom van dealer works in various ways: either designing your camper van from scratch, sourcing and selling you individual parts and services according to your needs, or just acting as a knowledgeable friend in the form of DIY consulting to help you create your own van with just a few words of advice. They work with Sprinter, Transit and Promaster vans, no limitations necessary.
Best for: The oracle of the vanlife world.
Boulder Campervans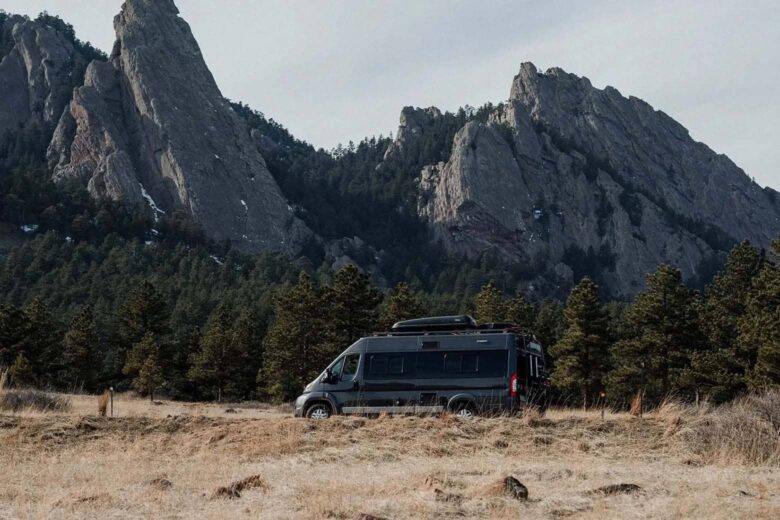 Work with Boulder Campervans to design your perfect van and you'll feel more like you're building it with a friend rather than a faceless company. Every single camper van built through Boulder Campervans is hand-crafted, promising expert levels of focus and unbeatable care and attention.
This is also arguably the closest you'll get to building a camper van yourself without having to get your hands dirty: this brand specializes in crafting your dream van almost side by side, listening to your thoughts and suggestions along the way. By the time you're finished, you'll almost want to invite them along for the adventure.
Best for: Sending postcards to your building team, mid-adventure.
Ready.Set.Van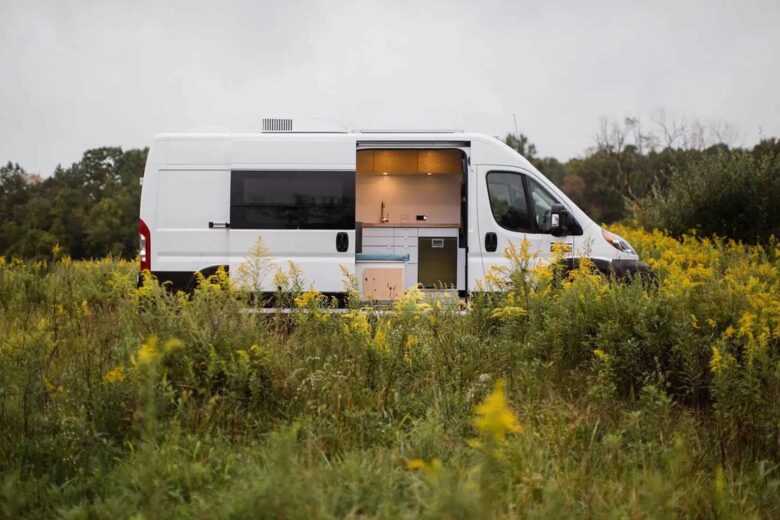 Ready.Set.Van threw itself in the deep end with its first creation: a bus fit for the mega-festival, Burning Man. And if a brand can create something suitable for a place with no freshwater, electricity or air conditioning in sight, you'd imagine it could also pretty competently create something for any standard van life intrepid trip. And you'd be correct.
Ready.Set.Van's custom adventure vans are beautiful to look at and even more beautiful to holiday in. These aren't your standard vans: they come with commercial-induction cooktops, 80L fridges and deep stainless sinks. Flawless interior design will have you feeling like you've won a free upgrade.
Best for: Coming prepared for just about every eventuality.
Sportsmobile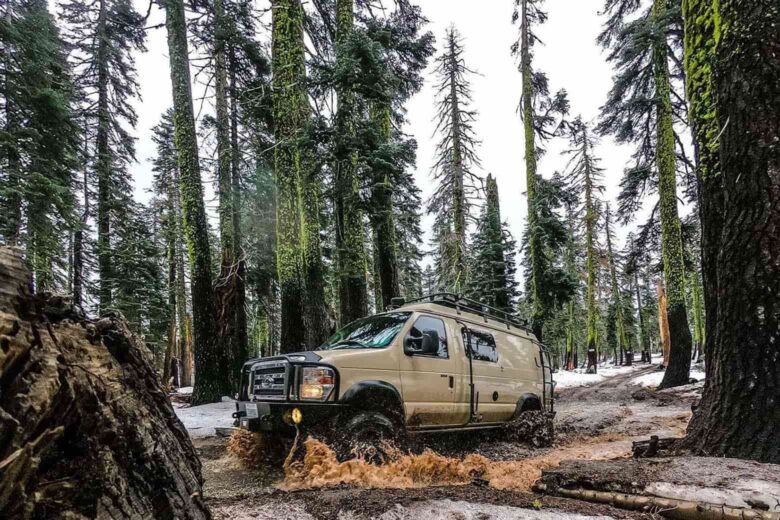 Looking for a camper van that doubles as a second family vehicle and is just as simple to park? Look no further than Sportsmobile. The cool, calm elder sibling of the camper van industry, these vehicles are built for stability in every sense of the word. Smaller in size, they're suitable for weekends away, spontaneous journeys and anything that doesn't require double-checking the tow restrictions.
Sure, they're smaller, but they're not limited in scope. Sportsmobile vans have been around for more than 60 years and have the expertise to match. Look out for all the most-loved brands and you'll spy some very impressive, family-friendly conversions.
Best for: The cool "dad" trainers in campervan form.
Storyteller Overland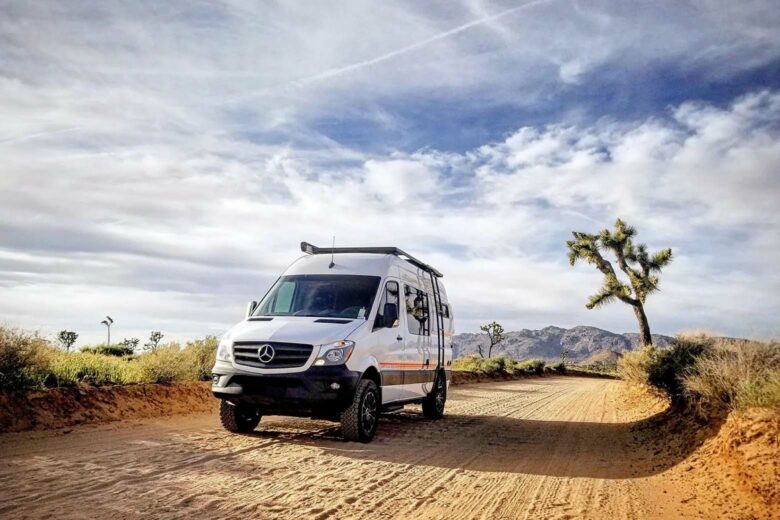 Aptly named, Storyteller Overland produces camper vans that you'll almost instantly fill with travel tales. Both those that stem from long, reminiscent conversations behind the wheel but also those that occur on the journey itself. This premium brand has a range of different camper vans, ranging from Mode LT, its smallest and most budget-friendly van, right up to Beast Mode.
The former, built on the Ford Transit, comes with all of the necessities, combined with Ford's trustworthiness. The latter is a hefty 4×4, designed for longer journeys with more people in tow. Regardless of which size you choose, you'll have a thoughtful, uncluttered, intuitive design in every corner.
Best for: All kinds of on-the-road stories no matter how big or small.
Texino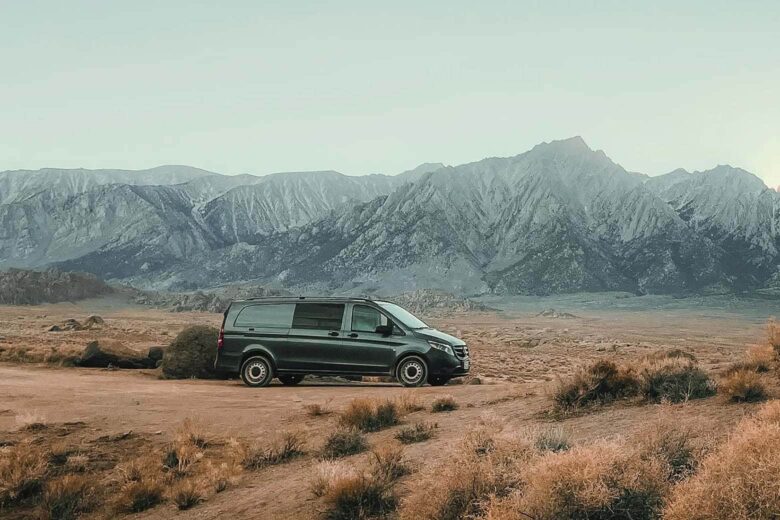 Texino offers the perfect solution if you're on the hunt for a part-time van life and part-time home life. These camper vans are designed exactly to your preferences and then rented out when you're not using them. Of course, you could just rent out your campervan without any external help, but doing so via Texino comes with the added benefit of not having to clean it afterward, too.
Functionality meets hospitality in Texino's existing archive of vans, with remote-controlled features and comfort throughout. One of the younger brands in the world of camper vans, Texino doesn't hold back with its impressiveness. 
Best for: Optimum 50:50 living on the road and in your house.
TouRig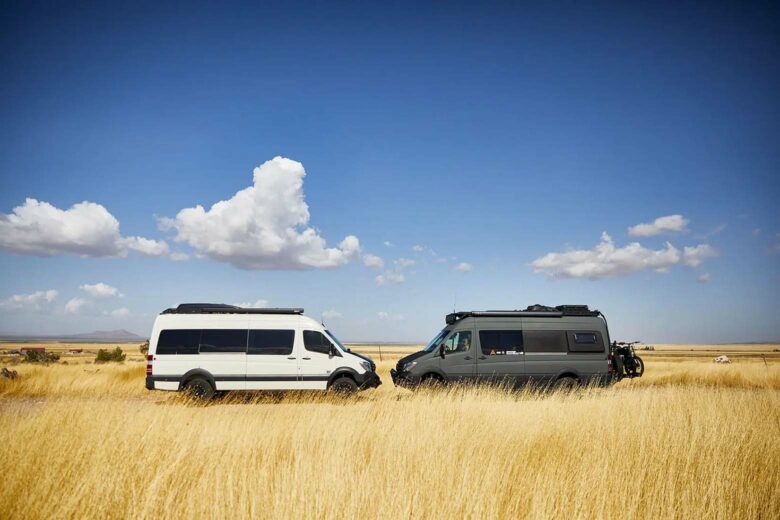 Some of TouRig's craftsmen started their careers in the marine, transportation and construction trades, which means they're top of the pile when it comes to technical knowledge and high standards for living on the road. This USA-based company produces a range of high-performance vehicles, equipped with strong foundations and even stronger driving power.
These are camper vans taking no prisoners on the journey: come rain or shine, hail or snow or almost any other kind of treacherous conditions, and these vans will still casually saunter along, undeterred. TouRig was founded to encourage the spirit of adventure while ensuring sustainability along the way. Almost all of its materials were chosen with long-lasting durability and environmental impact in mind.
Best for: Almost challenging problems to make themselves known.
La Strada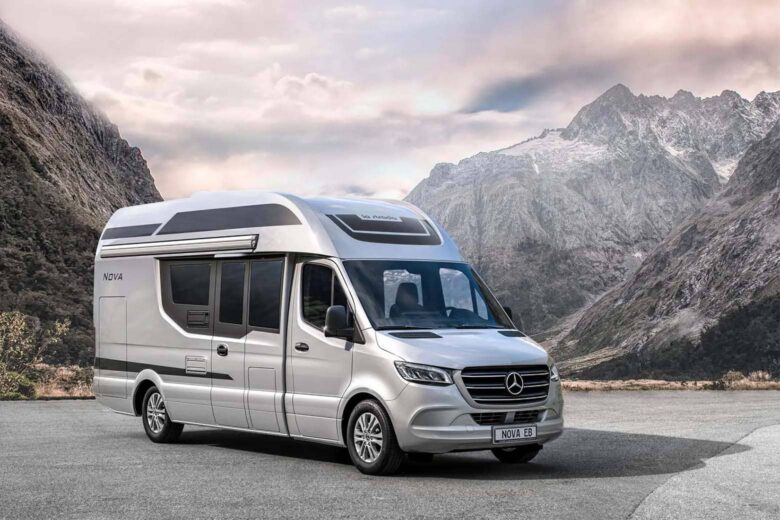 Built in Germany but found all over the world, La Strada's campervans are fun and innovative, using clever design and a hefty dose of freedom to create some of the most impressive camper vans on the market. These compact vans squeeze a lot of impressive features into their small packages, suitable for couples right through to families.
It's not often you'll step foot inside a camper van and remark on its surprising, unparalleled spaciousness, but that's exactly what you'll find with La Strada. Proving that German engineering is an unbeatable trade, these vans promote bespoke usability, well-balanced interiors, and ease of driving all in one.
Best for: Interiors shopping without limitations.
Caravan Outfitter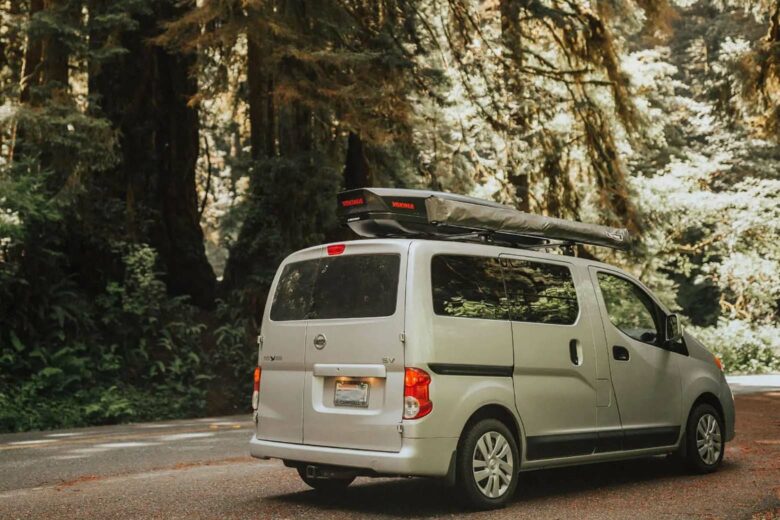 You'll feel free as a bird sitting behind the wheel in a Caravan Outfitter camper van. A brand inspired by the golden age of the Volkswagen camper in the USA, it aims to fuse that era of travel with the 21st century's electronics and technology. But without setting you back a fortune.
These Caravan Outfitter's camper vans are both stylish yet affordable: vans that aim to save you a little money on the actual build, which you can then put towards your adventures inside the van, instead. Every van Caravan Outfitter sells comes about from trial and error, ensuring top-quality precision and a guarantee of fun along the way.
Best for: Traditional look, modern methods.
Freedom Vans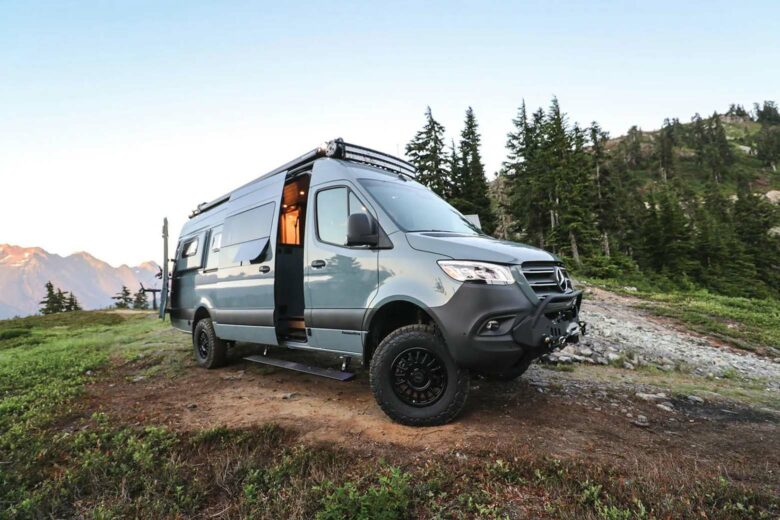 The clue's in the name when it comes to Freedom Vans: you'll set off on your first adventure and wonder whether you really do need to return home at the end or not. Solar-powered energy is the magic inside these vehicles, allowing you to properly go off the grid without stressing over energy allowances and the nearest facilities.
It's a camper van brand that's thought of everything you could need before it even enters your mind. Struggling with floor plans, custom conversions, single installs or accessories? Freedom Vans is one of the best companies in Washington State with the knowledge and experience to either point you in the right direction, or to simply do it themselves.
Best for: Taking the stress out of design.
Glampervan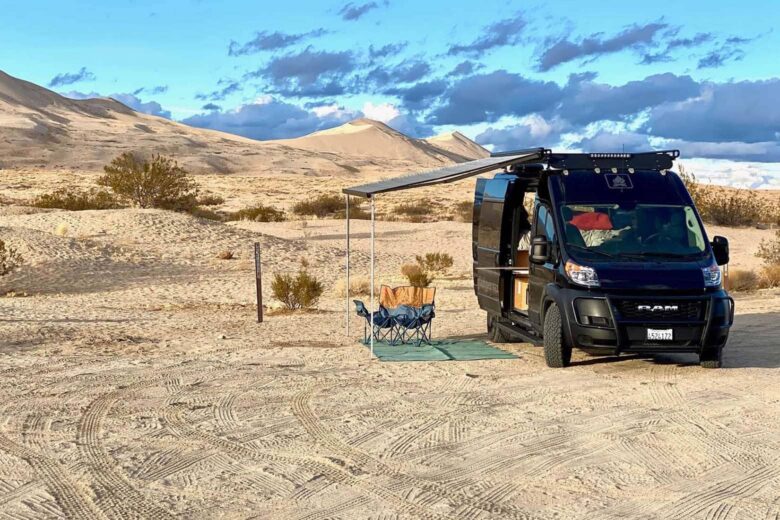 Glampervan's archive list of existing builds might not be a traditional menu as such, but it'll get your mouth watering almost the same way a food and drink menu would. This relative newcomer to the camper van world, Glampervan has wasted no time getting up close and personal with fixed up vans ready to take on the world.
This is also a brand that doesn't shy away from color: have a scroll through their builds to see pops of coral, vibrant blue and lilac interiors. Or, if you prefer, it's also possible to stick with the more neutral wooden shades favored by much of the industry.
Best for: Injecting your own personality into your van.
Oasis Campervans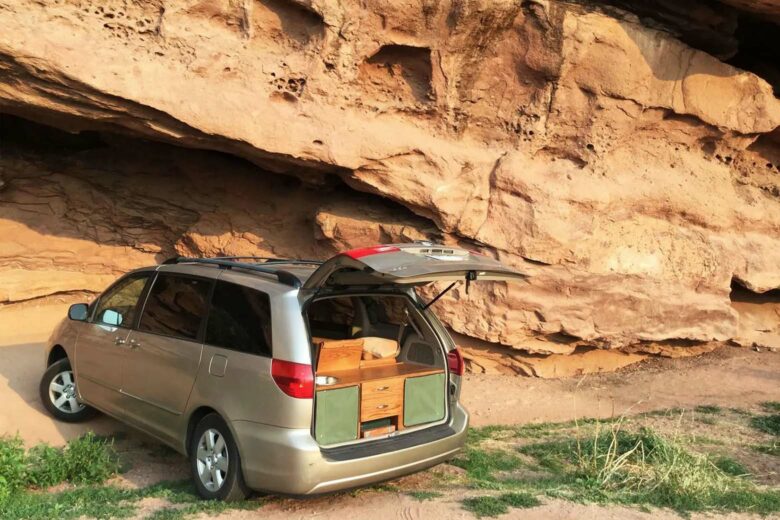 Build your own little portable oasis and take on the world with the help of Oasis Campervans. You'll have to move fast if you want a bespoke van made from this brand, as they only work on a set number of projects per month. While that might be frustrating if you're looking to transition into #vanlife as soon as possible, it's beneficial in the sense that it guarantees hand-picked designs and attention to detail.
Oasis Campervans takes it one step further with customer care: you'll be assigned one particular employee to work with you to bring your dream van to life. It's the best option for perfectionists.
Best for: Oasis Campervans by name, oasis campervans by nature.
Buyers guide to the best camper vans
Van life might seem like an idyllic dream but you'll want to keep a few things in mind before buying your new camper van and hitting the road.
Who are you traveling with?
If you're heading off for a romantic weekend away with your other half, space isn't so much of an issue. As long as you've got a cozy double bed and somewhere to relax, you're fine.
But if you're traveling as a family or in a larger group, you'll want a bigger van with more capacity. As well as ensuring there's enough room for all of you to comfortably breathe, you'll also want to check there's adequate space for all of your bags.
How often are you traveling?
You don't need a huge camper van if you're only taking it out every so often. Sure, a larger van might seem more spacious but comes with added costs and more to look after. If you're taking your camper van out a few times a year, you can likely make do with a smaller vehicle for less stress on the road.
However, if you're planning on bringing your van life dreams into reality and living full time (or at least, for a longer period of time) in your van, it's wise to invest in a larger vehicle to avoid – literal – cabin fever.
Class A, Class B, Class C
Class A is the largest style of camper van, with the most room (some with up to space for 10 people) and the highest cost. Think commercial trucks, heavy-duty motor vehicles or converted buses. These often require different licenses to drive.
If you're looking for luxury, you'll likely opt for a Class A camper van. Class B is a smaller option that still comes with separate sleeping and relaxing areas. This is an ideal midpoint if you're taking your camper van out multiple times a year.
Traveling as a couple? Contrary to what you might expect, a Class C camper van isn't the smallest option or the most economical. It's generally used to describe a camper van with an over-the-cab sleeping area. They're smaller than Class As, but bigger than Class Bs.
Essential packing
As well as a bed, you'll want a camper van with a table, travel seats, a leisure battery with a minimum of 12 Volts and a fridge. Good quality camper vans also come with portable toilets (chemical or otherwise), some kind of cooking facilities, heating and running water. Other camper vans may come with specialized facilities depending on your requirements.
Where are you going?
You'll be able to speak to your brand of choice about your travel plans but it's wise to have a vague idea in mind before you select your new campervan. If you're planning on tackling uneven terrain or varying landscapes, you'll want a camper van with the ability to tie down all essentials.
You'll also likely want specialized tires and brakes depending on what you've got planned. If you're also looking to stay mostly off grid, you'll want a camper van with a large battery as well as solar-powered options, like panels on the roof. If you're designing a bespoke van from scratch, these are likely things your dealer may suggest at the beginning.
Frequently asked questions about camper vans
What is the most reliable campervan?
Some of the most reliable campervans come from Winnebago, Ford, Mercedes Benz and Airstream. Read our full guide to discover the best camper van for you.
What is the most economical camper van?
The Winnebago Rialta and The Boho Camper Conversion are two of the most economical camper vans. Check out our full guide to the best camper vans to see which camper van brand is best for you.
Are camper vans worth the money?
Camper vans are definitely worth the money if you're someone who loves rural holidays on the road without having to source accommodation every step of the way.