This article is part of a series on the future of wellness in luxury.
Discover how rising wellness aspirations are profoundly transforming luxury and redefining affluent consumers' expectations. See what you should do to successfully connect with your audience.
The Opportunity
Growth in the beauty industry is set to accelerate in the coming years, driven by modern consumers' desire to look good at all times.
Clean and natural beauty brands that participate in a broader healthy lifestyle will benefit the most from that growth.
The Problem
Beauty is a dynamic industry particularly sensitive to changing consumer trends. Beauty brands need to stay nimble and adapt to their consumers' evolving expectations.
Sales of new digital-first beauty brands are growing four times faster than legacy companies. Incumbents have to adapt to stay relevant.
Digital marketing and social media are revolutionising the way consumers engage with brands and shop for beauty products.
The Solution
Beauty brands must embrace digital marketing, social media influencers and data to gain insights into their customers.
Successful beauty marketing campaigns will use some of the six critical trends described in this report to appeal to their wellness-driven customers.
The global beauty and personal care industry is estimated to be worth US$1,127 Billion in 2018 and is expected to continue growing strongly over the coming years.
If large beauty legacy brands have historically ruled the industry, digital-first brands are increasingly gaining modern consumers' attention and achieving cult-favourite status amongst younger shoppers.[1]
The growth in the premium beauty segment, in particular, outpaces its mass counterpart as middle-income consumers buy more high-end cosmetics.
Within the premium beauty space, skincare and colour cosmetics are especially lucrative segments. The two categories saw 7% and 9% growth in 2017, respectively.
The recent obsession with wellness — an industry valued at $4.2 trillion worldwide — has contributed to the growth of the beauty industry. Beauty products and experiences are merging with the fitness and wellness worlds, transforming the face of beauty.
The colour cosmetic segment outperformed all the other beauty categories globally, benefiting from "social media appeal, a desire for self-expression and technolo­gically-enabled make-over experiences.[2]"
What does it mean for the future of beauty?
The following report identifies rising trends and growth drivers for the beauty industry. You will learn what these changes mean for the future of luxury beauty. You will also see what the most successful luxury beauty brands are doing to capitalise on shifting consumer attitudes and technological innovations to drive long-term growth.
Let's dive in.
6 Beauty innovations to win the modern affluent consumers
Luxury beauty brands need a new approach to win over the heart and mind of the modern affluent consumer. Successful beauty marketing campaigns will tap into these six critical trends to appeal to wellness-driven customers:
1. Improve discoverability and desirability by working with social media influencers and investing in digital storytelling
As consumers increasingly spend more time searching for information about their beauty routines online, social media plays an important role in the beauty purchase journey online. Digital communities are indeed facilitating new product and brand discovery among modern consumers.
Growth in the beauty market is partly fuelled by the desire to be selfie-ready, and the impact of beauty digital influencers and social media platforms on beauty ideals. Modern affluent consumers, especially Millennials and Gen Z shoppers are influenced by, and value the opinions of, the online community.
Beauty vlogging isn't new, but beauty brands have rapidly ramped up their involvement with YouTube personalities who attract massive audiences with their makeup tutorials and how-to videos.
With its shoppable features, Instagram is also emerging as a social network of choice for affluent beauty shoppers, bringing the point-of-sale right to the point-of-discovery.
In this modern context, digital storytelling has become essential for legacy beauty brands and startups alike.
2. Tap into crowdsourcing to develop new beauty products
Crowdsourcing is taking the beauty industry, especially indie beauty brands, to a whole new frontier by redefining the way beauty products are conceptualised, produced and sold.
Innovative beauty challengers (such as Glossier) use their online communities via social media to solicit consumers' input and feedback.
By empowering consumers to become co-creators, Indie beauty brands can foster emotional attachments and thus build early customer loyalty, giving new brands an edge over legacy brands.
Case in point:
Founded in 2015, Volition is a community-centric beauty brand with crowdsourcing at the heart of its business model. People submit their ideas for new beauty products, which if deemed viable by the Volition team are put to the public vote and produced.
Once the product is retailed, voters who participated are offered 40% off the retail price.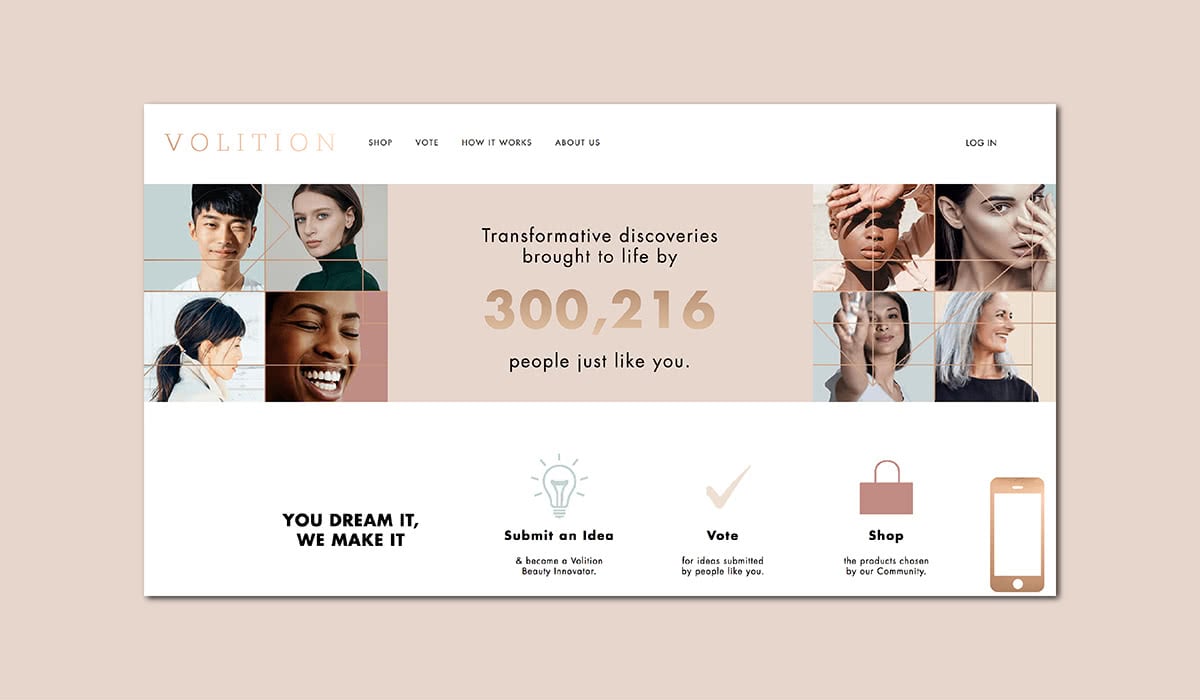 3. Deliver a holistic beauty experience through cross-segment wellness collaboration
Fighting urban pollution. Protecting your skin from damaging blue light. Caring for your face with toxin-free products. The quest for wellness and a healthier lifestyle is transforming attitudes towards the beauty industry. We expect to see increased crossover and collaborations between beauty, fitness and wellness brands playing in these adjacent sectors.
When beauty and fitness converge: The rise of the athleisure beauty category
Gyms and boutique fitness studios have become trendy social gathering places. There was a time not long ago when taking a photo at the gym was considered inappropriate, but now Instagram is flooded with workout selfies.
In this context, it's no wonder that athleisure beauty is gaining in popularity — from lightweight, sweat-proof cosmetics designed to be worn while exercising to post-workout clean makeup.
Beauty brands cater to consumers' exercise regimens:
The athleisure beauty trend has spurred a new crop of innovative beauty brands: Sweat Cosmetics, Rae Cosmetics and Birchbox's Arrow Line are great examples.
Traditional beauty brands are adapting their offering: Clinique, for example, jumped on the athleisure trend with its CliniqueFit line of products that cater to pre- and post-workout (from mattifying powder to sweat-proof mascara).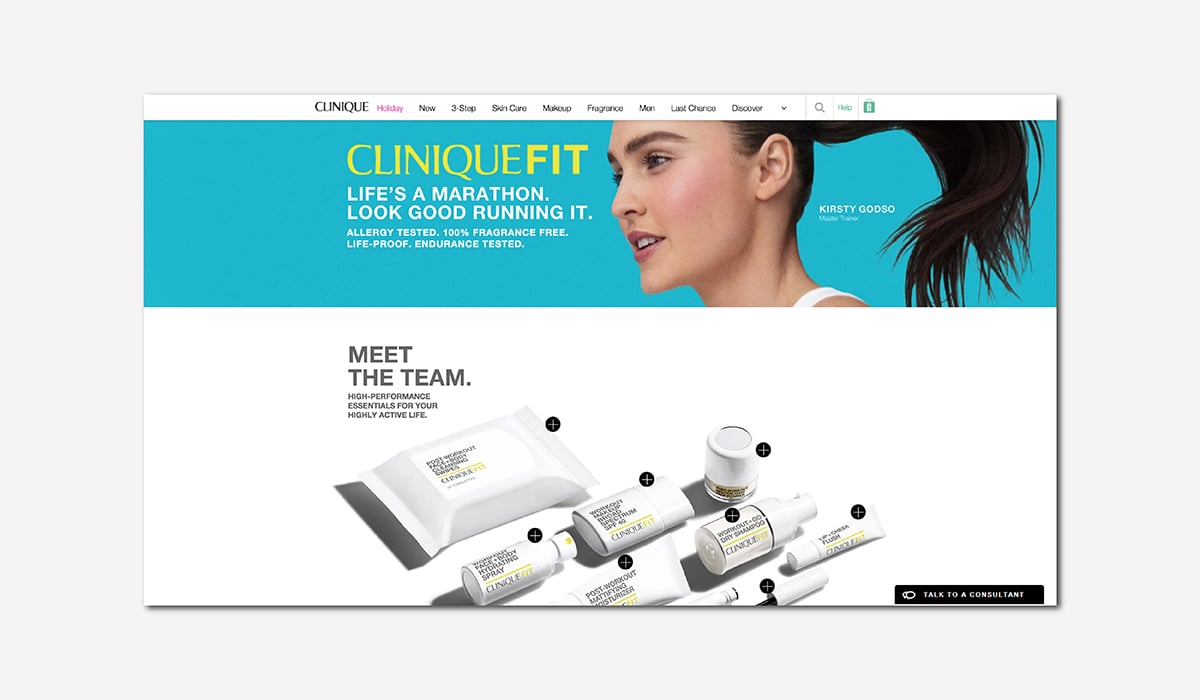 As the line between fitness and beauty continues to blur, partnerships between beauty and fitness brands have seen traction. Many fitness studios are partnering with luxury beauty brands to offer amenities tailored for active lifestyles.
For example, luxury fitness chain Equinox partnered with cult beauty brand Glossier in early 2018 allowing Equinox members to try on Glossier products after workout classes.
For boutique fitness studios, in-studio beauty products are also becoming just as important as the workouts themselves to offer a premium fitness experience. Equinox, for example, offers Kiehl's products in its lockers.
Some fitness centres are going even further by experimenting with on-demand beauty and wellness offerings, from cryotherapy to facial treatments.
Beauty grows natural: Clean makeup and safer ingredients boom
The growth of the natural beauty category continues to outperform conventional beauty categories.
The increasing number of modern affluent consumers looking for cleaner, safer, better beauty is driving the natural beauty movement. The contribution of products featuring natural claims in the beauty industry grew by 50 percent between 2013 and 2017.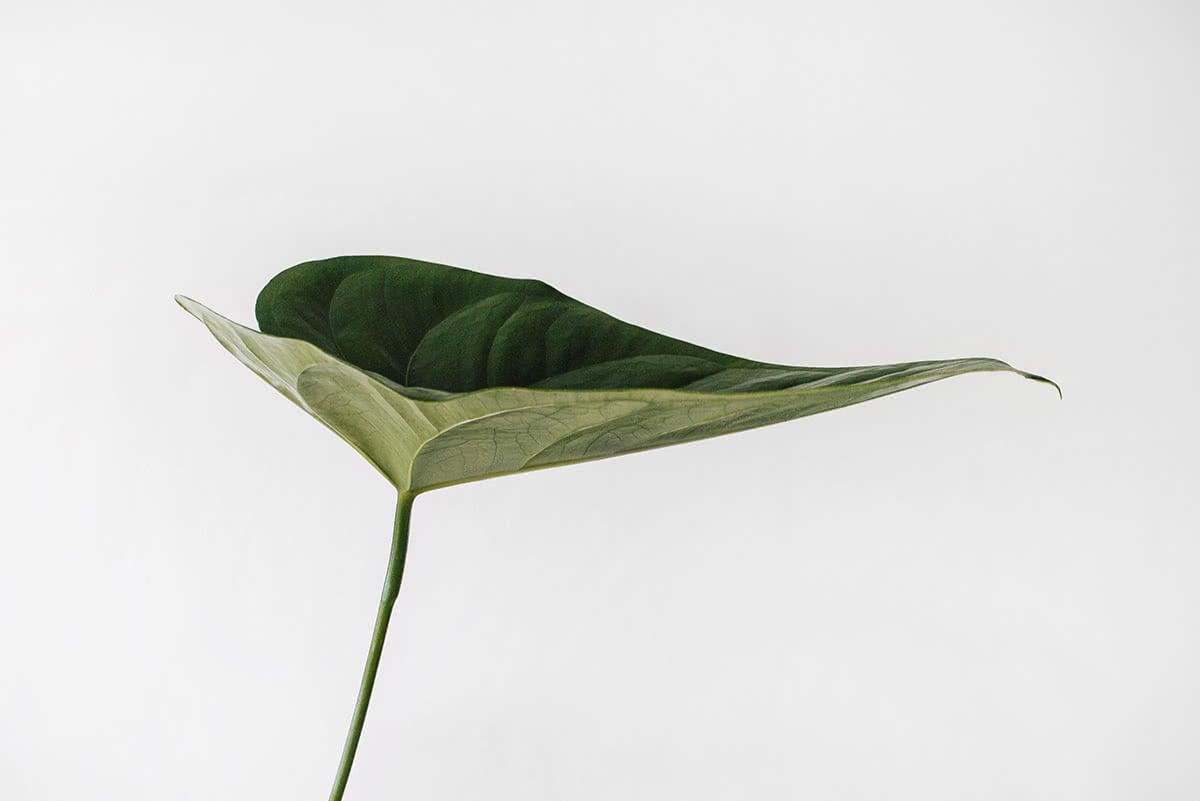 The increasing evidence that certain harmful ingredients in personal care products are linked to a range of health concerns is influencing more shoppers to vet the ingredients used in their product by reading natural beauty reviews online. And natural beauty is increasingly about what's not (absence of undesirable ingredients) in products. Think paraben-free, fragrance-free and synthetic colourants-free.
Younger affluent generations take it one step further, by favouring beauty brands that are eco-friendly and socially responsible to align with their personal values.
Particularly appealing to the selfie generation because of their visual nature, the colour cosmetics category (colour-cosmetics challenger brands in particular) is especially growing.
Growing beyond makeup artistry and aesthetics, clean colour cosmetics are now able to truly compete with mainstream makeup brands by offering long-lasting bold colours and full coverage foundations but without nasty chemicals.
It's no longer enough for beauty brands to claim they're natural. Modern affluent consumers want transparency from beauty brands. To accommodate the new wellness-minded consumers, beauty brands are thus upping their game by demystifying ingredients and further educating consumers.
Case in point:
E-commerce beauty site and subscription service Birchbox, for example, has an "Ingredient Conscious" shop category that features clean beauty products free of parabens, phthalates, sulfates, and petrochemicals — four ingredients customers are most concerned about.
Capitalising on the beauty industry trend toward organic and health-focused products, LVMH-owned Sephora launched in June 2018 its "Clean at Sephora" category on sephora.com (clearly marked with a special seal). The Clean at Sephora section is a curated edit of clean beauty products "free of" ingredients such as sulfates SLS and SLES, parabens, mineral oils and other pro-wellness no-nos.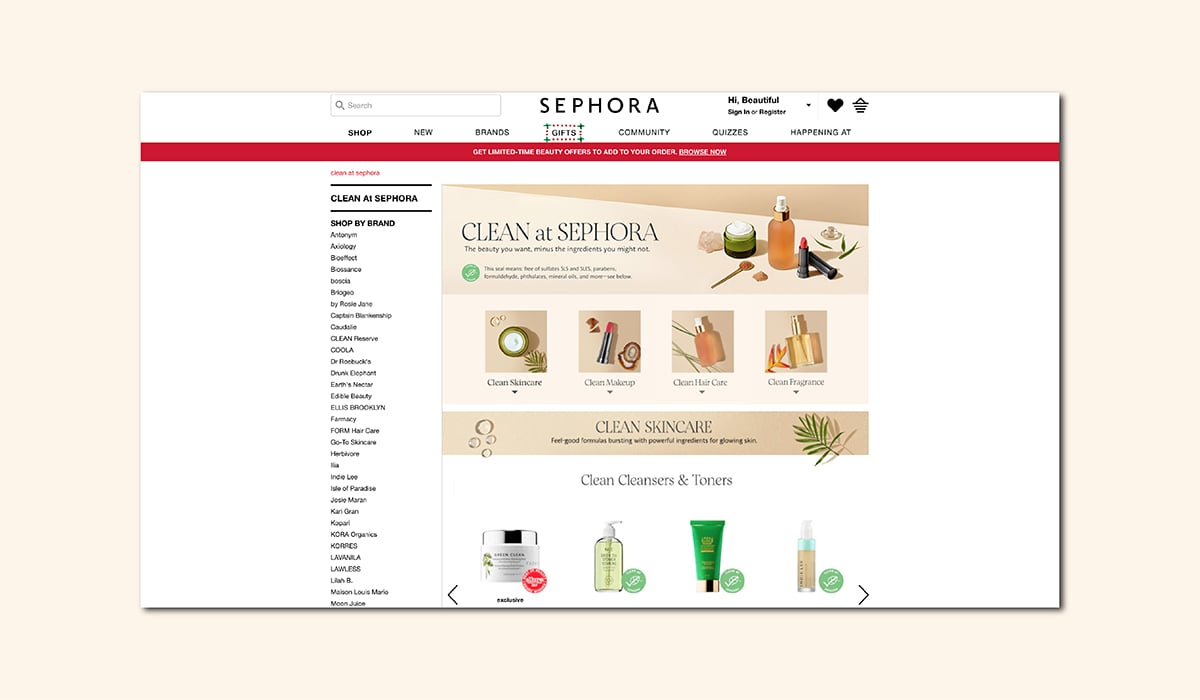 As ingredient awareness increases among consumers, Clean at Sephora offers more transparency and makes it easier to shop for clean beauty products. Sephora also features display online buying guides and education sections as well as dedicated in-store Clean Skincare and Wellness-themed product walls.
Inside-out beauty further blurs the line between wellness and beauty
As awareness of what we put on our bodies rises, so does the popularity of the inside-out approach to beauty (read: nutricosmetics or ingestible beauty products).
As modern affluent consumers adopt a more holistic approach to wellness, they are increasingly tackling their beauty concerns from the inside out — from beauty supplements to superfood and collagen inner beauty powders that deliver internal health benefits while promising beauty benefits such as weight loss, clearer skin, and stronger hair.
Case in point:
Launched by Australian supermodel, Elle Macpherson, WelleCo offers a premium line of plant-based ingestible beauty products and dietary supplements. The Australian wellness brand has an online quiz to help find the elixir to suit your health and beauty goals.
The beauty and wellness brand Moon Juice offers an assortment of adaptogenic (made of nontoxic herbs) beauty powders focused on hair and skin.
The Nue Co. offers luxury-focused vitamins and supplements.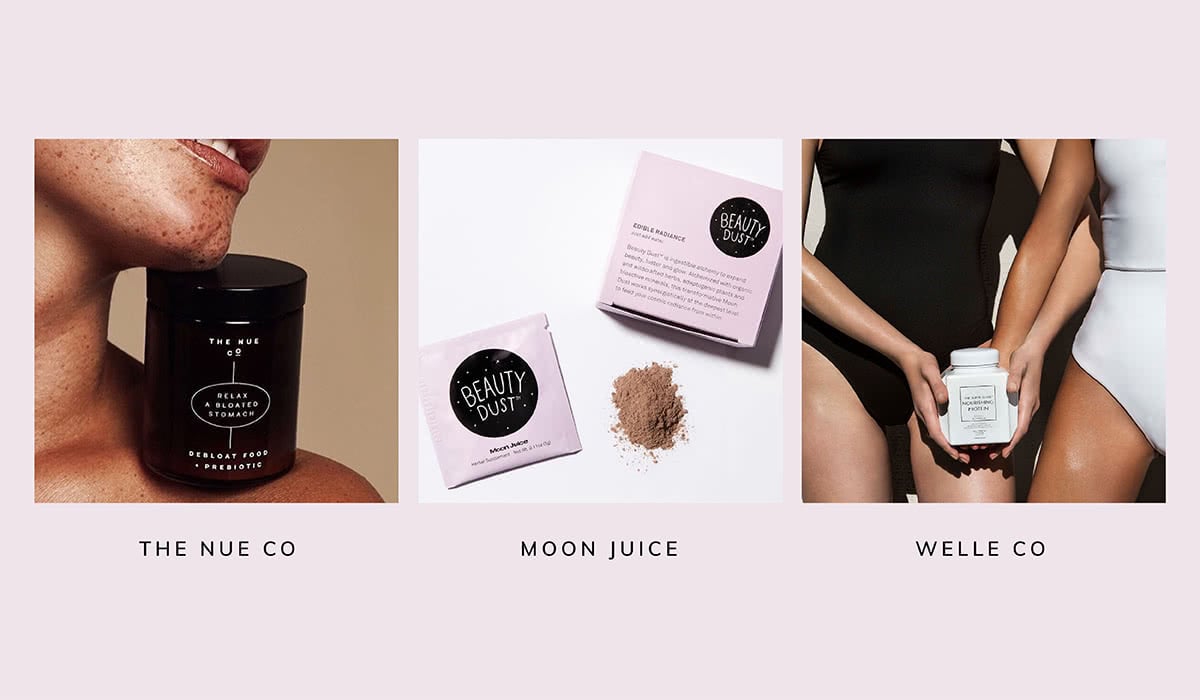 From Net-a-Porter to Nordstrom and Sephora, luxury retailers are doubling down on the ingestible beauty opportunity. They all have a dedicated online space that curates these wellness inner beauty products.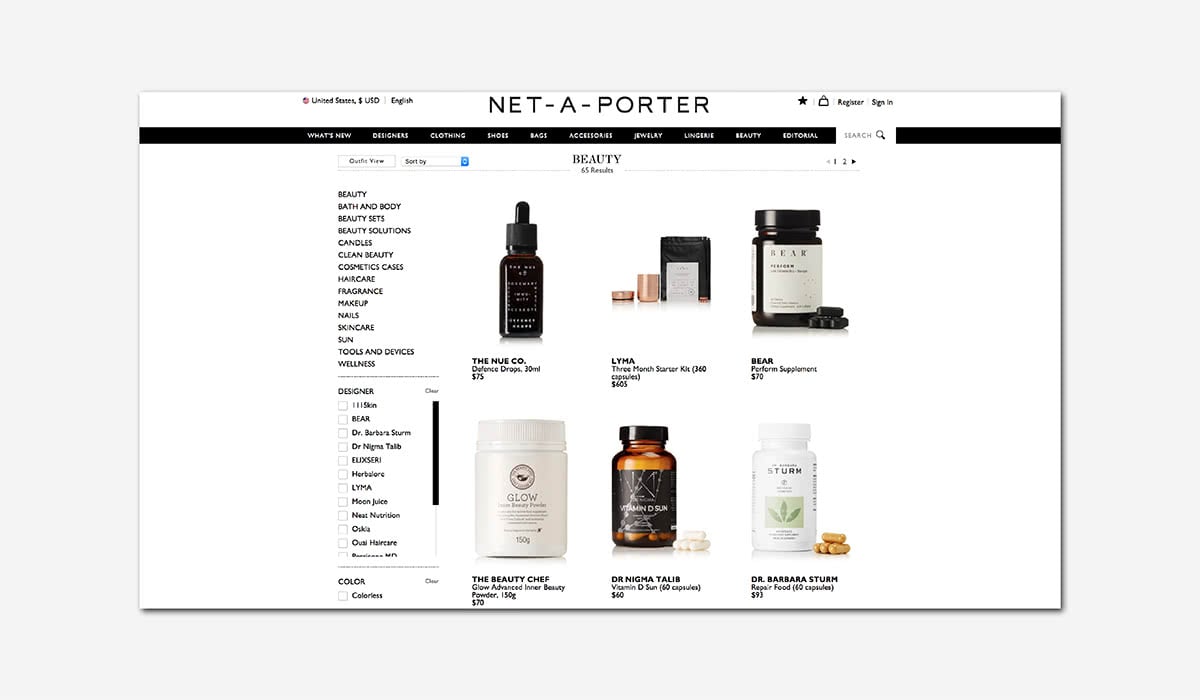 4. Digital enables personalised beauty solutions at scale
Technology allows beauty brands to be authentically relevant to individuals, at scale.
A growing number of beauty brands and retailers are thus harnessing the power of data and technology — such as artificial intelligence (AI) and augmented reality (AR), algorithms, apps and scanners — to offer consumers an unprecedented level of product personalisation according to consumers' skin types and their personal needs. But while beauty shoppers tend to be ahead of the Fast-Moving Consumer Goods (FMCG) curve in online shopping, we're still very early in the development of truly connected beauty.[3]
Case in point:
L'Oréal's Makeup Genius app uses Augmented Reality to enable customers to try out virtual cosmetics before buying them.
Inspired by digitally native Millennials, the beauty industry is also embracing the Internet of Things. Shiseido released an IoT skincare system that tracks mood, weather, environment, and biological changes to come up with specific serums and moisturizers that suit the present condition of the skin.
Skincare company Proven uses machine learning algorithms to create bespoke products that match crowdsourced learnings from its database of AI-distilled testimonials to what an individual customer shares about their individual needs. After filling out a short questionnaire on Proven's website (answering questions about things like their age, ethnicity, skin type and their skincare priorities), customers receive custom products they can buy.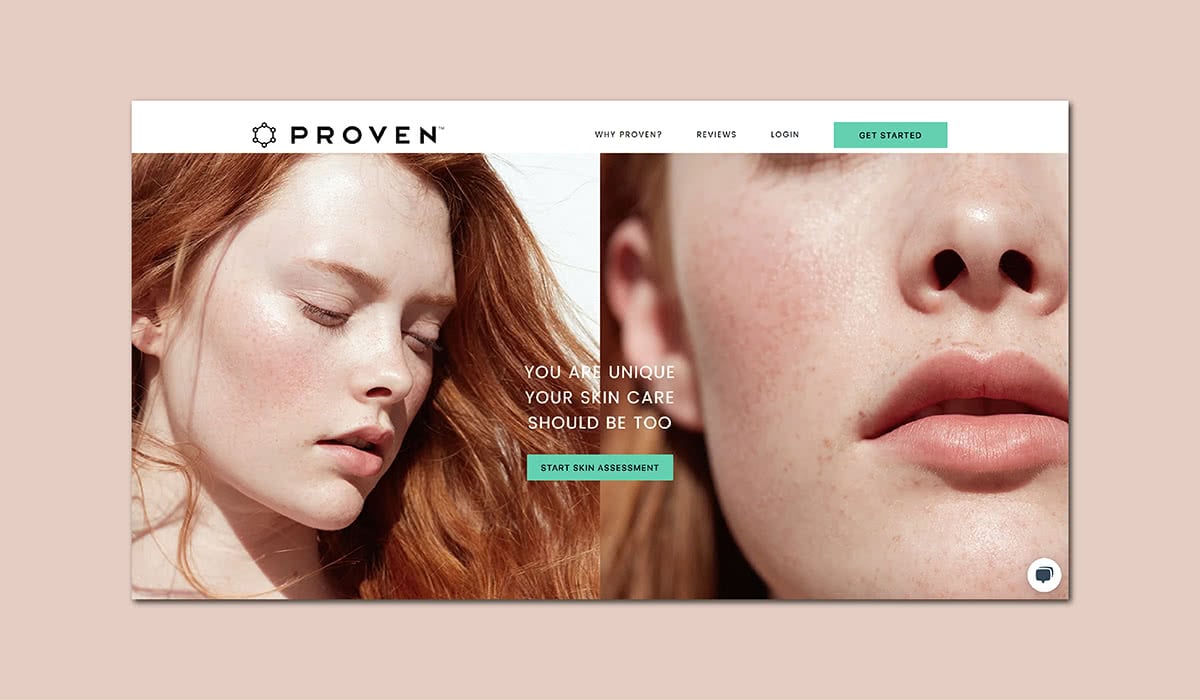 5. Beauty inclusivity: Embrace diversity and become genderless
The men's beauty category is often cited as a high-growth beauty market segment, as image-conscious male consumers are showing increasing enthusiasm for grooming and beauty product categories.
Case in point:
Chanel debuted its men's makeup line, Boy de Chanel, in September 2018 in South Korea. The collection will be rolled out worldwide in November 2018 on Chanel's e-commerce platforms and debuts in Chanel boutiques, beginning January 2019.
Now that an iconic legacy brand has entered the men makeup space, the rest of the industry is likely to follow suit. And that's a step toward a more inclusive beauty industry.
(Noteworthy: A notable early pioneer, Tom Ford released male cosmetics in 2013).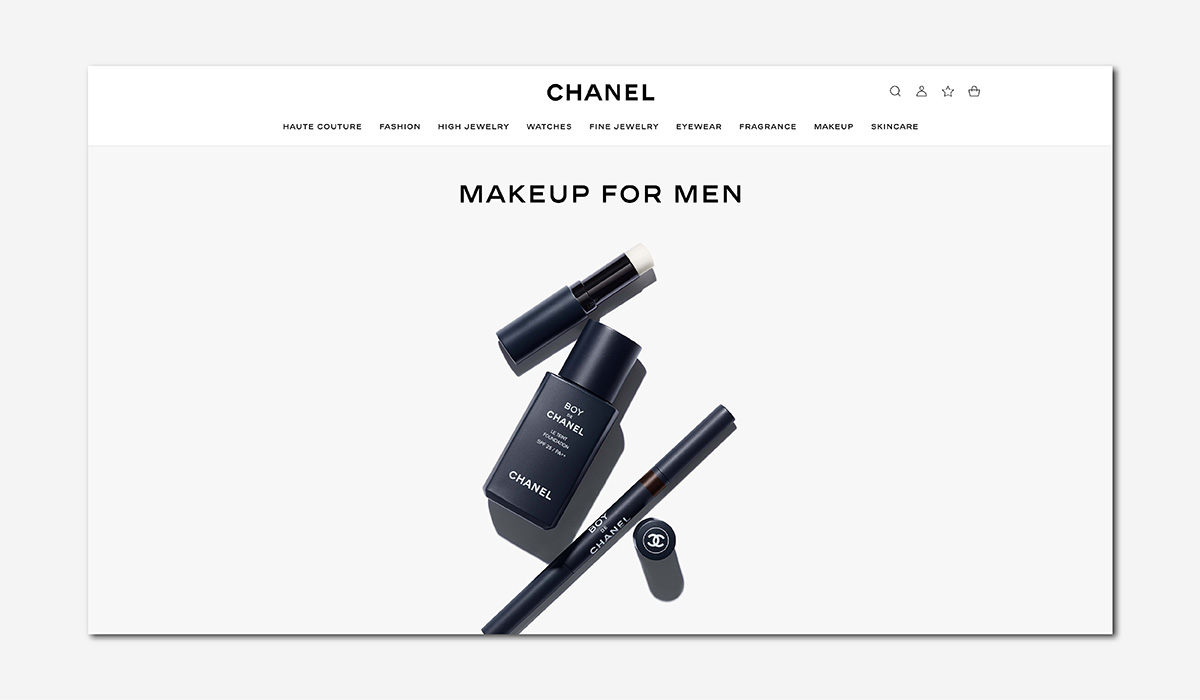 But beyond male grooming, the cosmetics industry starts to focus on total inclusivity as consumers increasingly seek products that match their ethnicity and individuality. There are thus great opportunities for brands that welcome and care for people of all shapes, ages, colours, and lifestyles.
Case in point:
Rihanna's Fenty Beauty, for example, addresses diversity by offering an inclusive range of 'shades for all' complexion products across skin tones. Fenty Beauty launched with 40 different Pro Filt'r foundation colours — from the fairest to the deepest — in 17 countries all at once (which is somewhat unprecedented for a new brand).
If the makeup brand wasn't the first to offer such a wide range of shades (M.A.C and Make Up For Ever already sold expansive shade ranges), Fenty Beauty put an unprecedented spotlight on the need for diverse beauty products. Fenty Beauty's marketing campaigns are an unabashed celebration of diversity.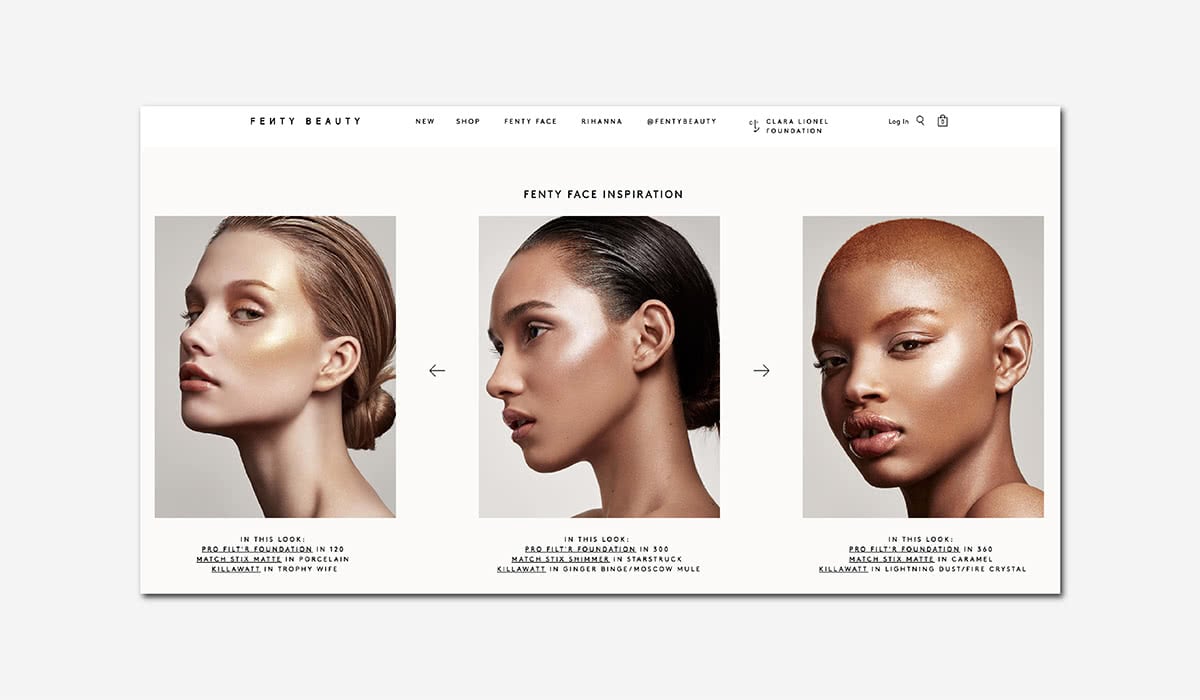 Luxury heritage brands have followed suit. Dior, for example, announced at its Cruise 2019 show the launch of a new liquid foundation with 40 shades under its Dior Backstage's line.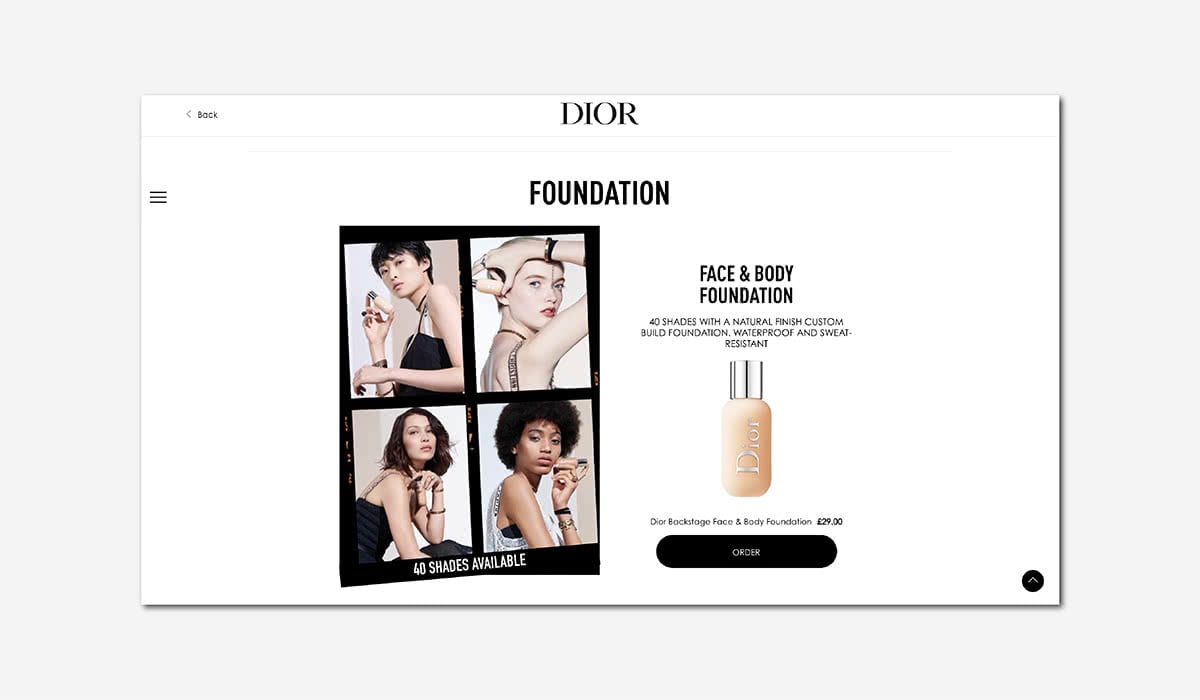 Brands are also becoming increasingly aware of the gender blurring barriers and starting to promote unisex beauty such as skincare brand Context. According to Mintel, as consumers increasingly demand personalised beauty product, brands will embrace inclusivity by looking beyond age, gender, sexuality and body type.[4]
Case in point:
Launched in January 2018, Fluide is a line of cosmetics that celebrates diverse beauty by offering makeup "for everyone — for all gender expressions and skin tones". In addition to their inclusive message, the new beauty brand also donates a percentage of their proceeds to LGBTQ organisations.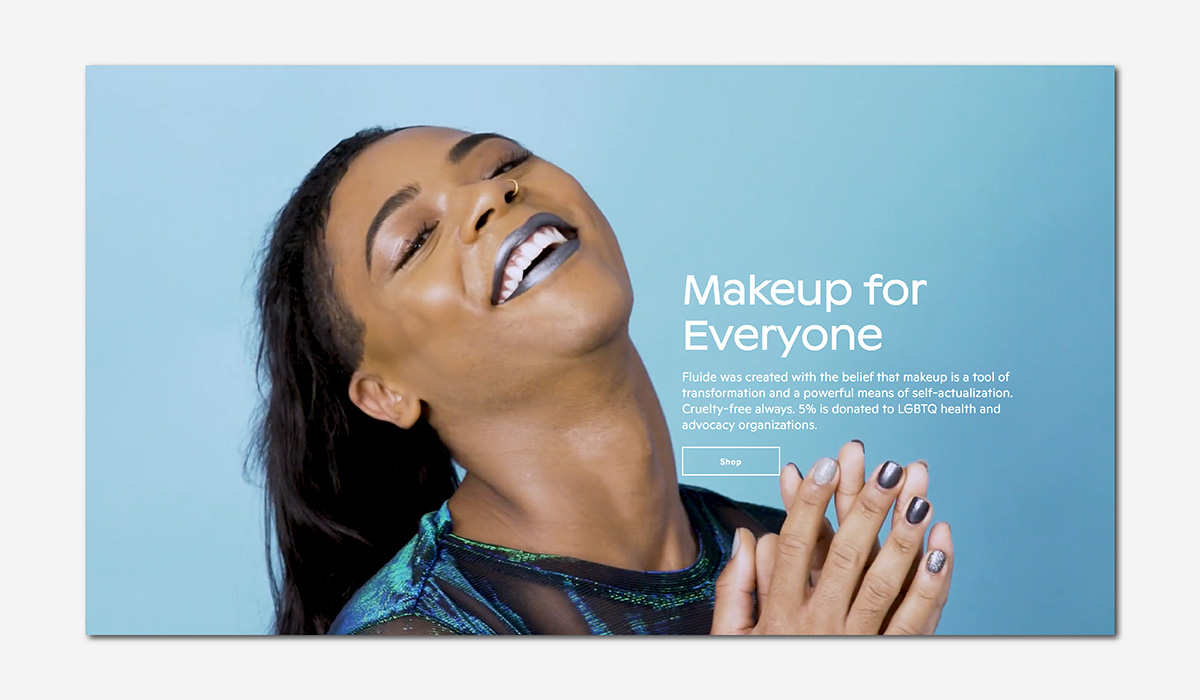 We expect beauty brands to explore how to best champion inclusive imagery and gender-neutral campaigns, diversify their narrative and launch an increasing number of genderless or genderfluid products in 2019 that act to support a more diverse and inclusive approach to beauty.
6. A new attitude: Forget anti-ageing, think healthy ageing
Ageing demographic trends and the increasing desire to retain youthful appearances have groomed the cosmetics industry, worldwide. This growing consumer segment deserves brands' attention.
In parallel, wellness-focused Millennial consumers approach ageing with a desire for healthy prejuvenation. Luxury beauty brands should leverage this momentum to promote preventative skincare and holistic skin maintenance beauty products — including skin protection features such as air and digital pollution.
To appeal to the modern affluent consumers, luxury brands need to move away from the negatively connotated anti-ageing language and embrace ageing gracefully instead. Brands' narratives will need to adapt to reflect these modern pro-age and wellness values.
Case in point:
Blue light (also referred to as High Energy Visible or HEV light) exposure from digital devices is a new emerging skin concern. Luxury beauty brands are taking notice.
Estée Lauder, for example, turns off the blue light with its new Advanced Night Repair Eye Supercharged Complex Synchronized Recovery. According to Estée Lauder, the treatment is designed to help repair and prevent the "visible impact on skin of modern-day assaults including lack of sleep, UV, pollution, even exposure to blue light."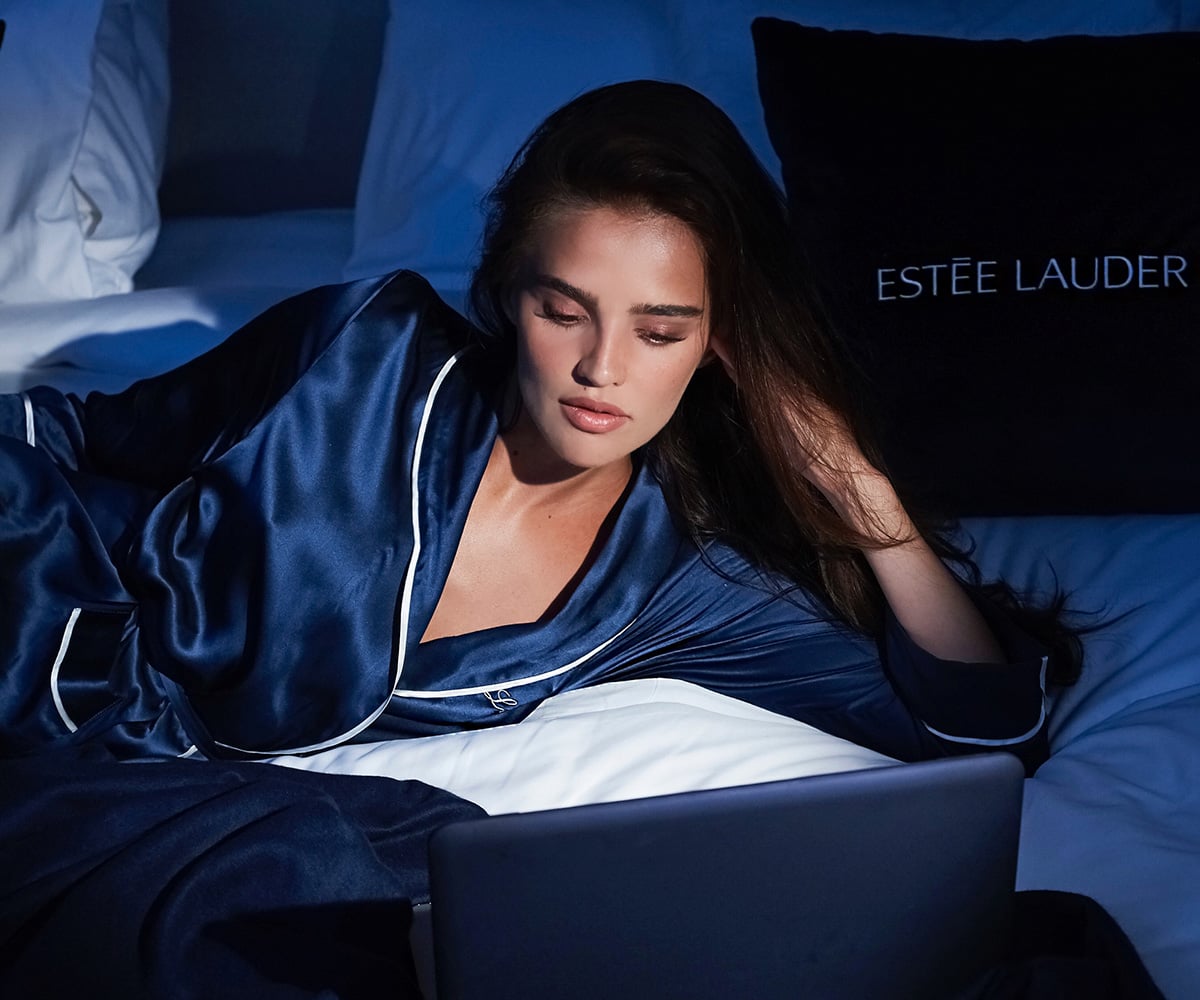 The future of high-end beauty
Modern affluent beauty consumers are more wellness-focused, more diverse and more technologically-empowered than ever. They are quick to try new beauty products and expect transparency from the beauty brands they buy into.
To be successful, luxury brands need to be authentic and demonstrate a deeper emotional understanding of their customers' identity. Brands need to be flexible in order to stay relevant to a diverse consumer community. Beauty brands also need to harness digital technologies and online media to deliver product personalisation at scale.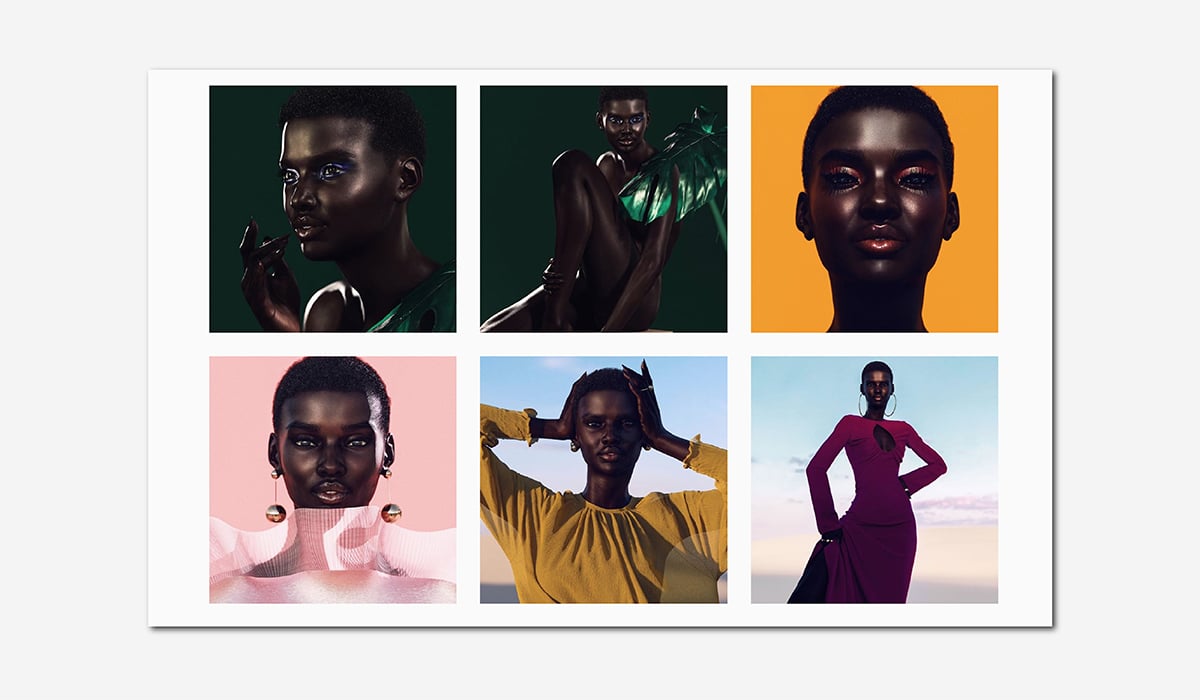 As the global beauty industry continues to shift towards a holistic cross-sector convergence between cosmetics and well-being, the balance of power between legacy beauty brands and digital-first beauty challengers is shifting.
Beauty shoppers seek inspiration and shopping solutions online. The playbook for building and sustaining brand loyalty is thus changing.
Authentic digital storytelling, personalised experiences and a fast-fashion approach to innovation are key. Brands that are failing at adapting will increasingly lose their footing and relevance in this modern context.
---
What beauty players can teach the consumer sector about digital disruption, by Sara Hudson, Aimee Kim, and Jessica Moulton, McKinsey, April 2018.
Five Key Insights from Euromonitor International's Beauty and Personal Care 2018, by Irina Barbalova, Euromonitor International, May 3, 2018.
The Future of Beauty, by The Nielsen Company, 2018.
2018 Global Beauty and Personal Care Trends, by Lauren Goodsitt, Mintel, 2018.