​​The online popularity of the best luxury car brands in the world is a reliable predictor of future sales and the trends that are shaping the global automobile industry. But bringing new vehicles to market is no easy task. Years of research, development, and testing are required, even for models that fit the mold. The bar is even higher for new luxury electric models, where consistent progress is a prerequisite and must be paired with extreme comfort, performance, and an X factor to stand out from the crowd.
In 2022, even that is no longer enough. As the world begins to take responsibility for our impact, people demand innovative new options. Ones that incorporate the latest technology to allow for a more sustainable lifestyle and future. Luxury electric vehicles (EVs) are getting more and more exciting to drive. Most luxury car brands are now well into the full electrification of their entire vehicle lineup.
The global luxury car industry is a growing market, projected to reach $665 billion by 2027. While European car manufacturers dominate the top of our list with Mercedes-Benz, BMW, and Volvo, the United States is fast catching up with Tesla gaining two points to rank second in 2022. Japan only has one brand in the top 15 with Lexus, the premium offshoot of Toyota. The rest of our ranking is filled by other European brands from Germany (​​Audi and Porsche), Italy (Lamborghini and Ferrari), the United Kingdom (Land Rover, Jaguar, and Aston Martin), and France (Bugatti).
Take what you know about the best car brands and throw it out the window. It's time to get you up to speed on the best luxury car brands of 2022. This article will help you understand what is coming down the pipeline and the brands positioned to be part of it.
This is the second year that we apply our rigorous online popularity ranking to the car market. The methodology has indeed proven its usefulness with our list of the best luxury brands online.
The 15 Most Popular Luxury Car Brands Online 2022
Questions? See our methodology, definitions, and frequently asked questions at the end of this article.
1. Mercedes-Benz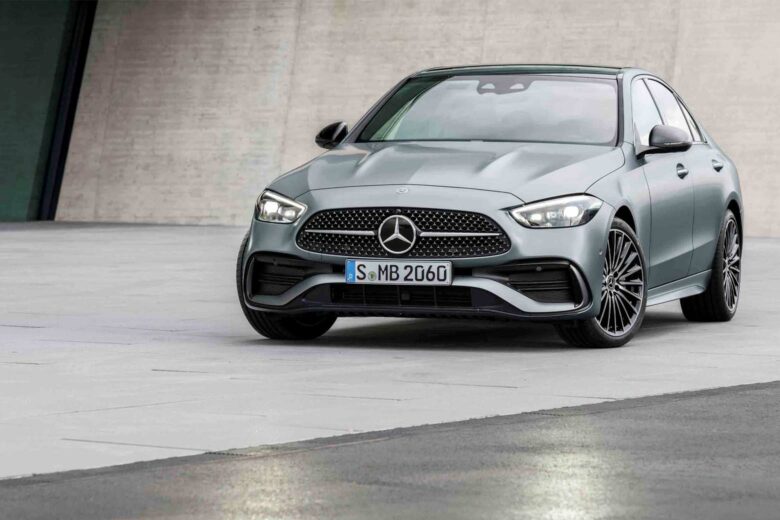 There are two choices in this world, change with the times or get left behind. For Mercedes-Benz, 2022 marks the year it decided to bring in a new era. Its rapid expansion of an electric lineup brings Mercedes-Benz from number 2 in 2021 to the top of the list in 2022. The only thing eating dust are the internal combustion engines lagging behind.
The electric flagship Mercedes-Benz EQS is filled with S-Class luxury and produces up to 516 horsepower and 631 lb-ft of torque. It's no wonder this made it to the top of our list of the best electric cars.
But that's not nearly enough for one of the top car brands in the world. Mercedes-Benz is also pushing the limits of futuristic designs with the jaw-dropping Vision AMG and Vision EQXX. Both concepts will cause Sci-Fi fans and Hollywood directors to drool.
| | |
| --- | --- |
| Country of origin | Germany |
| Most popular models: | Mercedes-Benz EQS, Mercedes-Benz EQE AMG, Mercedes-Benz G Wagon |
| Average starting price: | $60,000 |
Online interest for Mercedes-Benz over time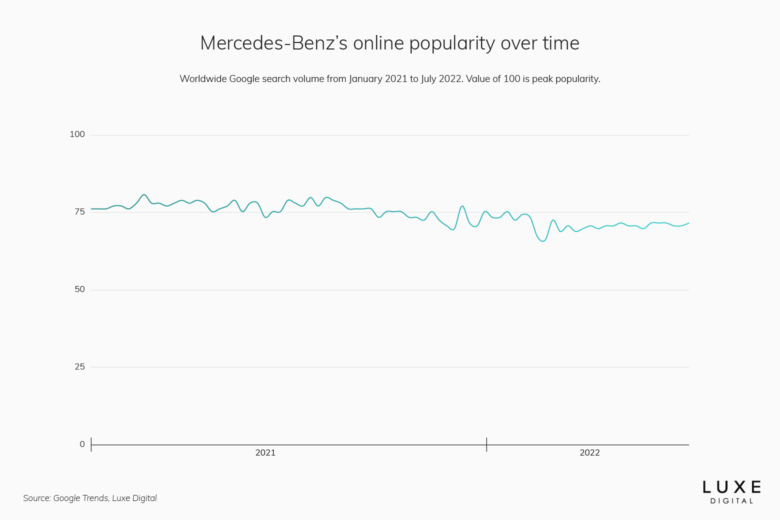 2. Tesla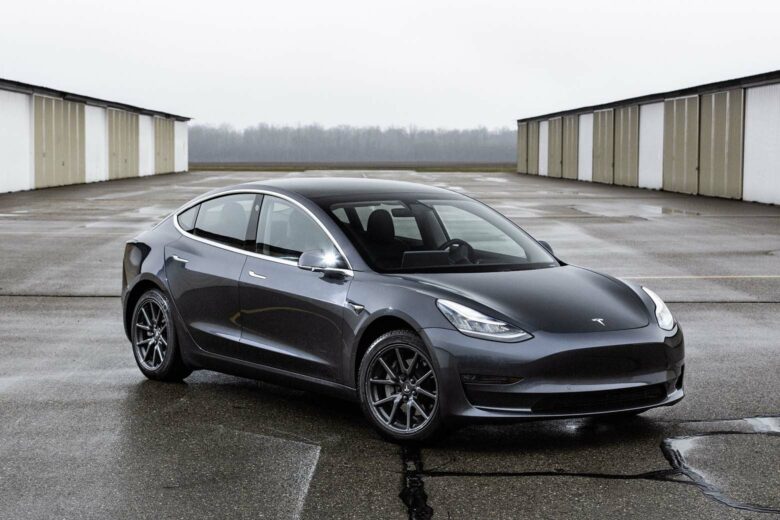 Tesla isn't a newcomer to EV technology, and yet it still makes serious advancements across its lineup. The flagship Model S Plaid will now come with a tri-motor powertrain with a whopping 1,020 hp and 1,050 lb-ft of torque, and the Model 3 packs a punch with performance equal to other EVs double its price.
But that's not why Tesla has jumped up two spots in this list.
Unless you've been living under a rock, you've probably noticed that Tesla's co-founder and CEO, Elon Musk, has been making a splash in headlines worldwide. Unfortunately for Tesla, the spike in online search interest might not translate to future sales increases like the rest on this list.
| | |
| --- | --- |
| Country of origin | United States |
| Most popular models: | Tesla Model 3, Tesla Model Y, Tesla Model S |
| Average starting price: | $115,000 |
Online interest for Tesla over time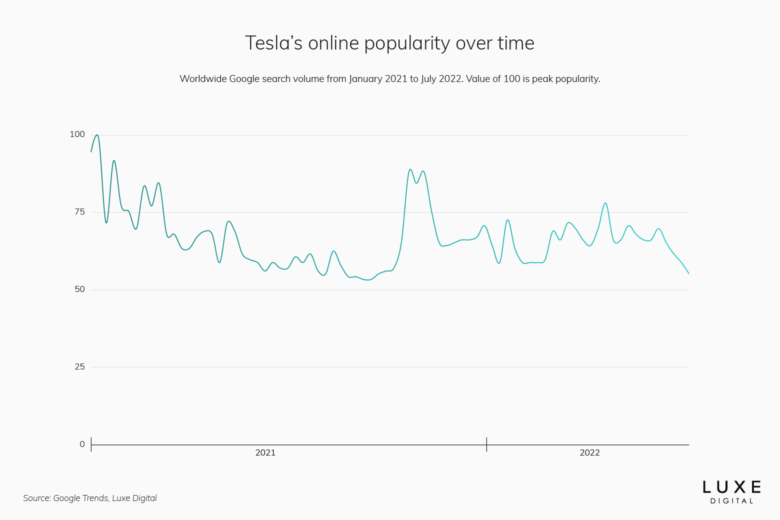 3. BMW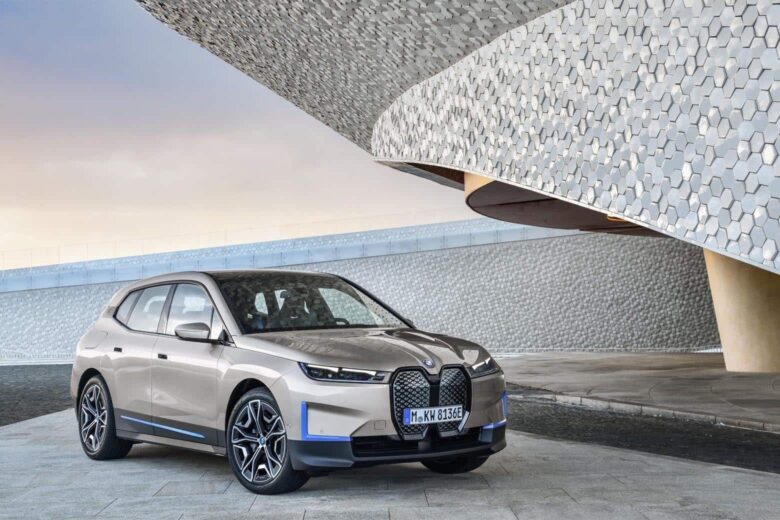 Staying at the forefront of the top car brands is not easy. For BMW, their lack of significant shakeups in 2022 takes them off the top spot and down to number three. Nonetheless, BMW is still well-positioned with many EV offerings, plus an extensive lineup of hybrid and ICE vehicles to fit any desire.
As the first electric SUV from BMW, one of the most reliable luxury car brands, the BMW iX is poised to increase sales in the ever-growing crossover SUV segment. It comes on a dual-motor AWD platform and is ready to compete with the best. The all-new BMW i4 sport sedan adds to BMW's new EV fleet.
Other BMW's 2022 highlights include a redesigned 2 Series, a first-time AWD 3 Series, and a 627-horsepower M5 CS. Not to mention that this brand is still making some of the fastest motorcycles in the world.
| | |
| --- | --- |
| Country of origin | Germany |
| Most popular models: | BMW 3 Series, BMW X5, BMW 1 Series |
| Average starting price: | $45,600 |
Online interest for BMW over time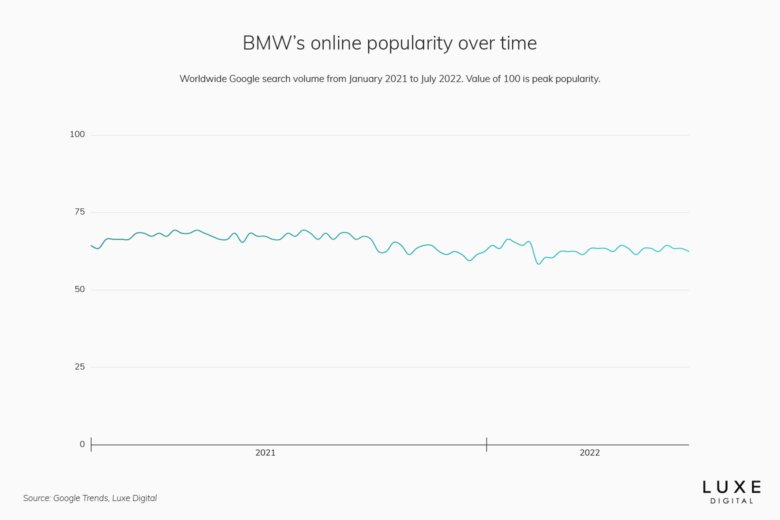 4. Volvo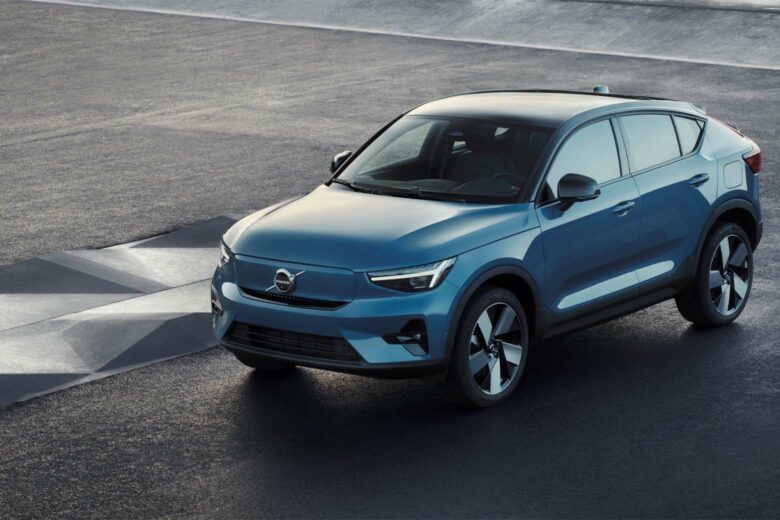 From the addition of five more of its models to the IIHS Top Safety Pick Plus list, to its increased paid parental leave and a strong rise in sales across the first quarter of the year, it's safe to say that Volvo is ticking all the boxes when it comes to starting conversations online. The latter two points are somewhat connected: as Volvo aims to increase its market share in the electric vehicle industry, it also hopes to boost retention rates and talent acquisition through a range of encouraging new policies.
Together, the goal is to become an all-electric vehicle manufacturer by 2030, according to Volvo's CEO. The brand's shift towards the luxury vehicle market, combining Scandinavian minimalism with electric power, encourages a wider conversation about making luxe vehicles environmentally friendly and safe.
| | |
| --- | --- |
| Country of origin | Sweden |
| Most popular models: | Volvo XC60, Volvo XC40, Volvo XC90 |
| Average starting price: | $45,000 |
Online interest for Volvo over time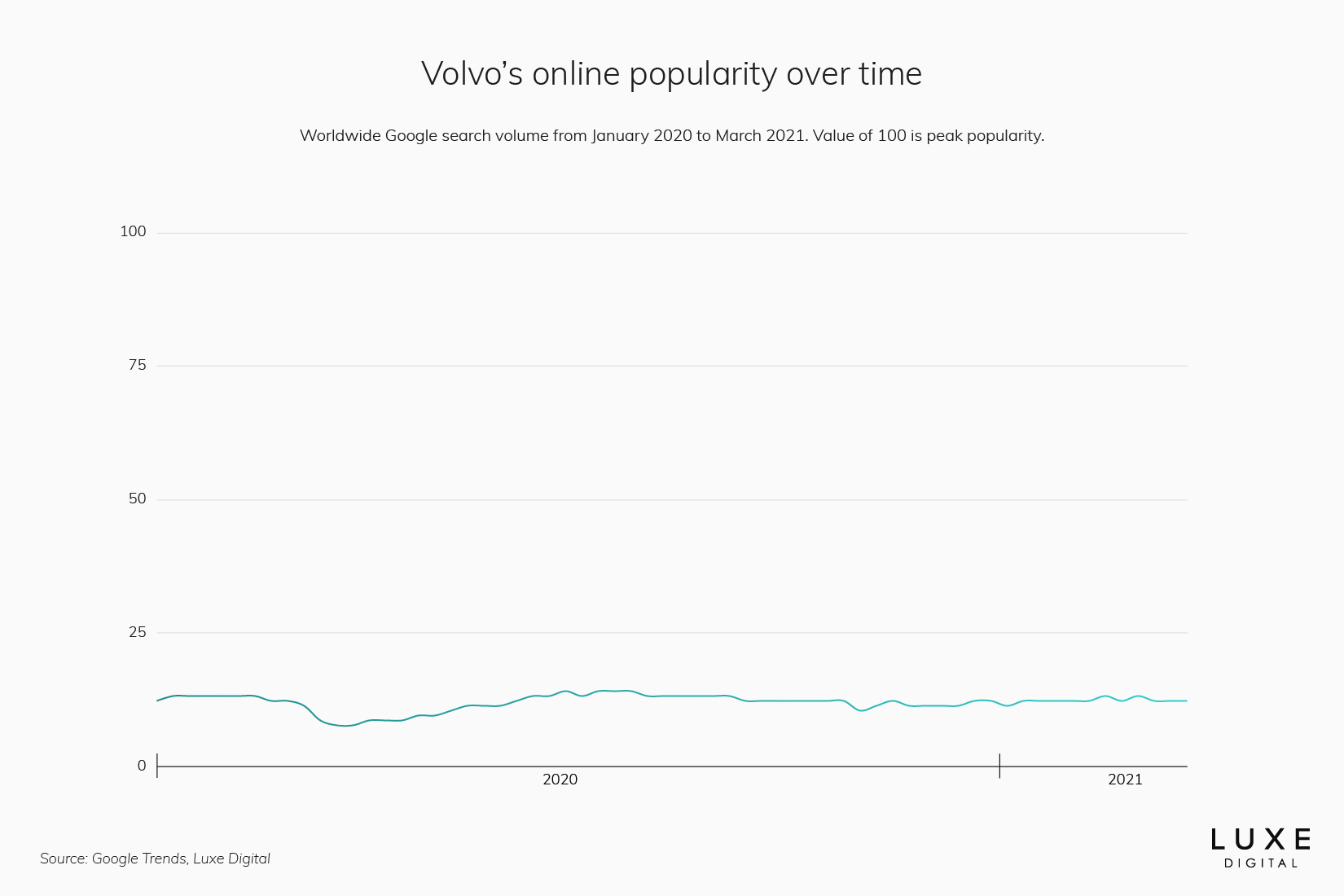 5. Audi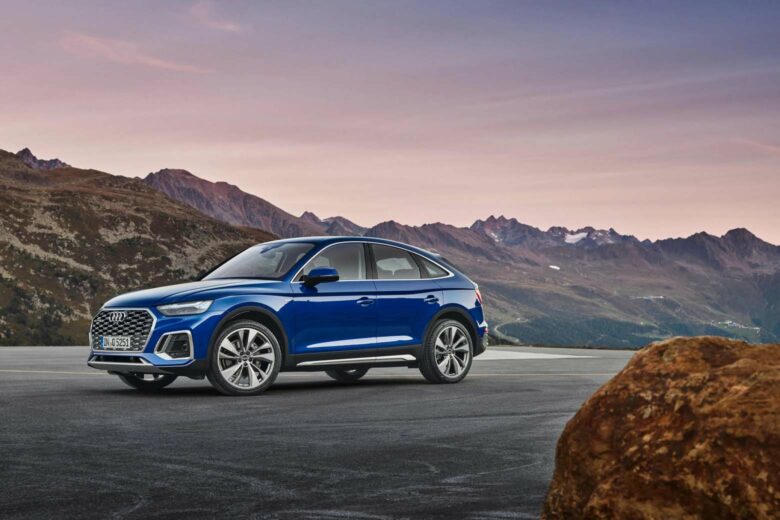 Dropping two spots from last year, Audi remains high on the list by emphasizing its EV offerings and innovative tech features. The release of the Audi Q4 E-tron crossover SUV adds to the existing Audi E-tron SUV and E-tron GT sedan. There is now an Audi EV option in the most popular body styles.
Audi is rolling out Amazon Alex integration, allowing you to control your at-home functions from your vehicle, as well as an enhanced version of Audi's Personalization 2.0, bringing a customized profile with control climate control, locking, lighting, and seat settings to any Audi vehicle.
And if you're sick of waiting at red lights, Audi has another trick up its sleeve called Traffic Light Information (TLI). By leveraging vehicle-to-infrastructure (V2I) swarm technology, your vehicle can accurately predict the proper speed to see nothing but a wave of green lights ahead.
| | |
| --- | --- |
| Country of origin | Germany |
| Most popular models: | Audi A3, Audi A4, Audi Q5 |
| Average starting price: | $70,000 |
Online interest for Audi over time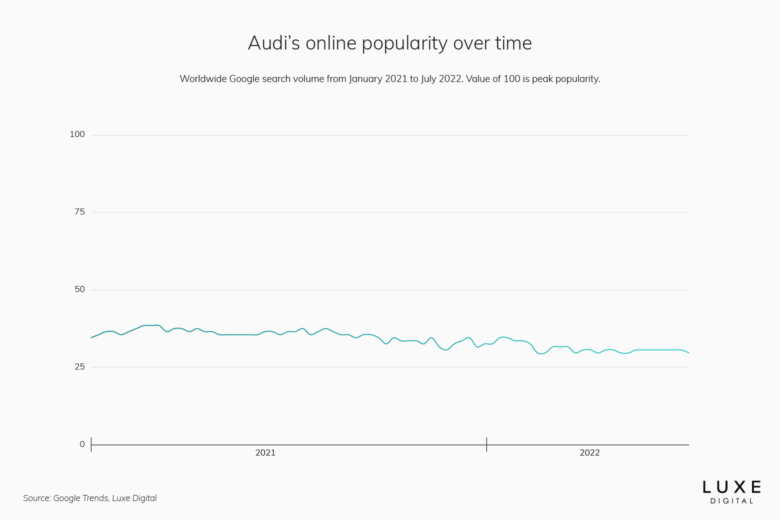 6. Porsche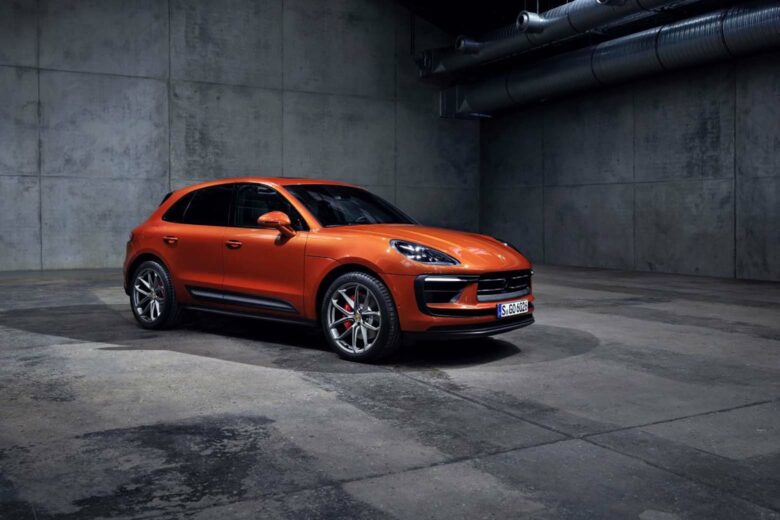 Some unknown luxury car brands have to stick to cookie-cutter practices. Porsche, on the other hand, provides the ultimate customization across its host of thrilling sports cars, electric vehicles, and SUVs, keeping the brand high on the list but dropping one place from last year.
How does Porsche do it? Maybe by releasing an all-new 2022 Porsche 911 GT3 aimed at providing the most rewarding drive experience available. Or perhaps by taking that same flat-six engine and stuffing it into the 2022 Cayman GT4 RS with a 0 to 60 mph time of just 3.2 seconds. Either way, power-hungry enthusiasts are still going to be blown away.
But Porsche wouldn't stay on the list of the top 20 luxury car brands in the world without incorporating technology and EV updates. The Porsche Taycan EV is now available as a GTS model with improved handling and 590 horsepower. Additionally, many advancements have been added to the Porsche Connect voice-controlled system to make your life easier in any of their models.
| | |
| --- | --- |
| Country of origin | Germany |
| Most popular models: | Porsche Macan, Porsche 911, Porsche Cayenne |
| Average starting price: | $175,000 |
Online interest for Porsche over time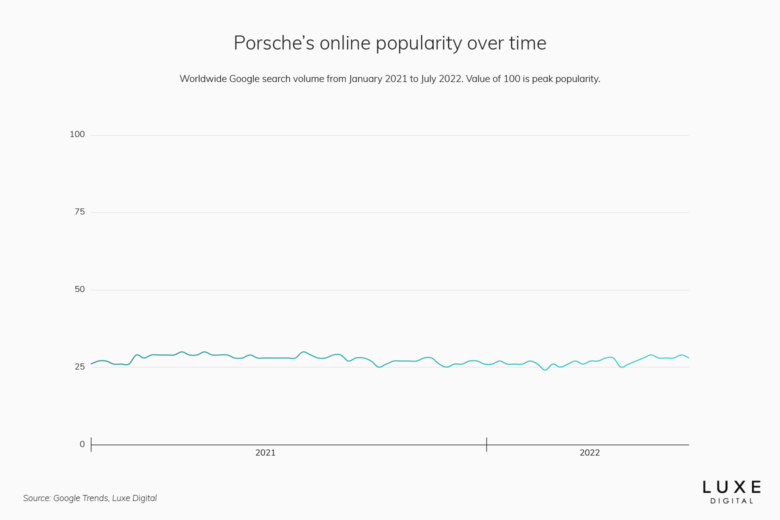 7. Lexus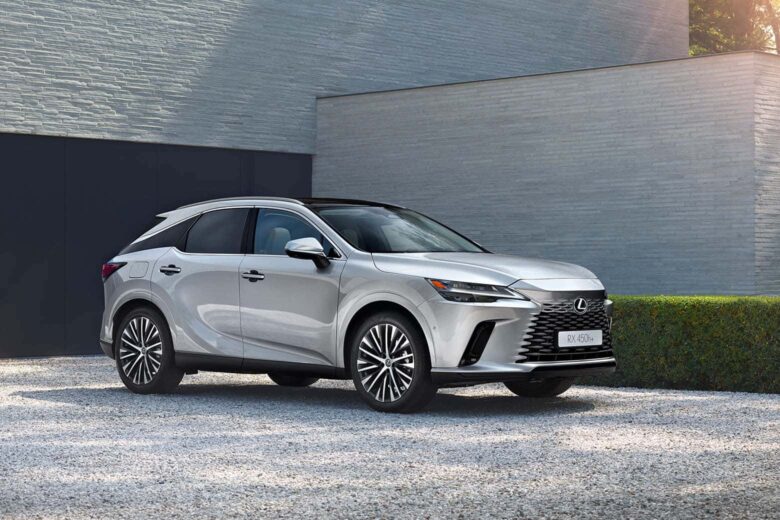 Sitting near the middle of the pack of the top 15 luxury car brands and down one from last year, Lexus has made continuous progress forward without shaking things up too much. Its stated goal of carbon neutrality by 2050 is noteworthy, but the 2035 goal of becoming fully battery electric is a lofty target for a brand that is barely making it to the scene.
The Lexus RX is set to receive a thorough overhaul and has brought a lot of positive attention to the table, but the only EV in the lineup, the new RZ 450e, is the first sign that Lexus might be able to transition into the future of cars.
Let's not forget that Lexus continually prioritizes fuel efficiency and offers many hybrid vehicles. At the same time, the popular F Sport performance package provides top performance for those who want it.
| | |
| --- | --- |
| Country of origin | Japan |
| Most popular models: | Lexus RX, Lexus CT 200h, Lexus LS |
| Average starting price: | $63,000 |
Online interest for Lexus over time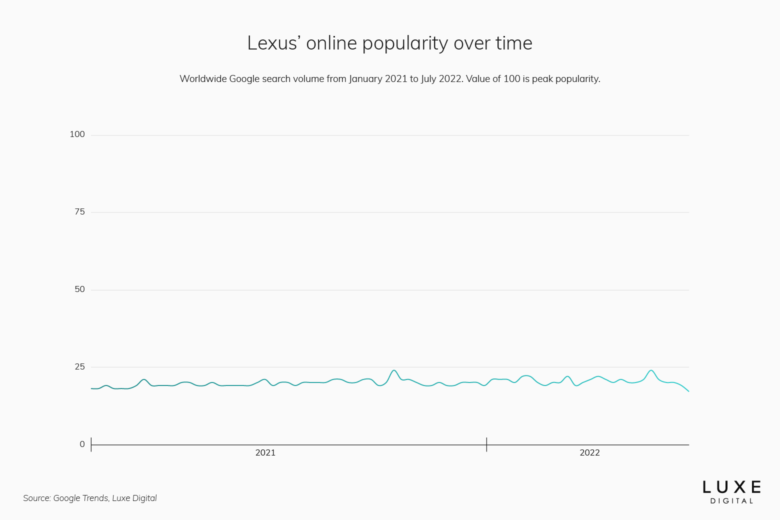 8. Lamborghini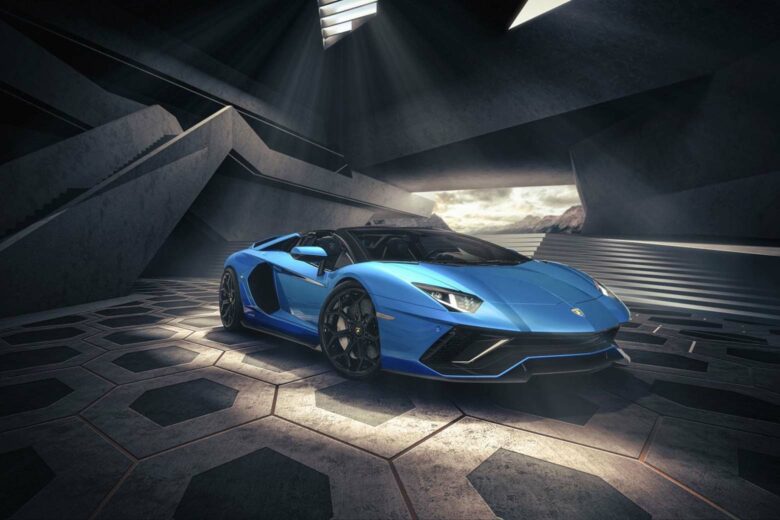 There was once a time when oversized engines ruled the automotive world. But those times are fading like denim from the 80s.
That's not to say that the giant V10 and V12 engines sitting in the incredible Lamborghini offerings aren't in demand, but soon enough, all luxury car brand's logos will be on EVs. And we don't just mean electric cars for kids. Lamborghini has announced that it won't get left behind, keeping it at number eight on this list.
2022 is going to be the final year that Lamborghini vehicles use exclusively internal combustion engine power. A plug-in hybrid Aventador is around the corner, with other models following shortly.
To get a glimpse into the future of these expensive luxury cars, turn to the Lamborghini Terzo Millennio concept car, pairing an electric drivetrain with the aggressive styling and insane performance ubiquitous to the Lamborghini name. It's sure to shake up the supercar world and make even the best electric motorcycles seem tame in comparison.
| | |
| --- | --- |
| Country of origin | Italy |
| Most popular models: | Lamborghini Huracan, Lamborghini Gallardo, Lamborghini Aventador |
| Average starting price: | $340,000 |
Online interest for Lamborghini over time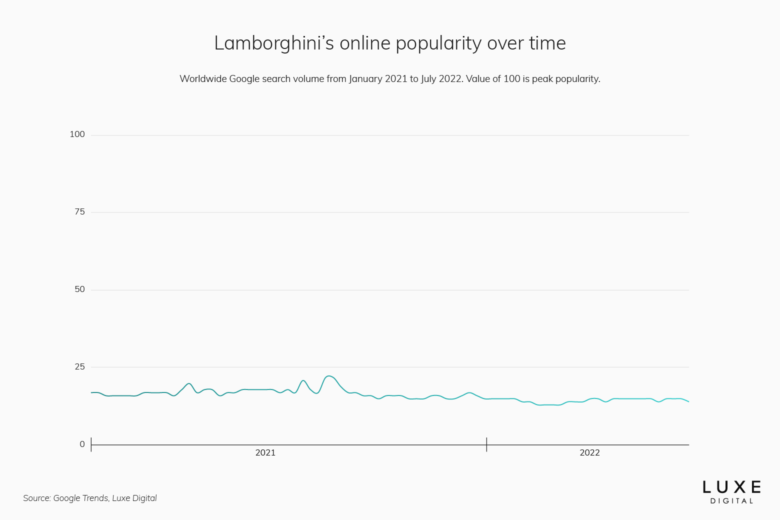 9. Ferrari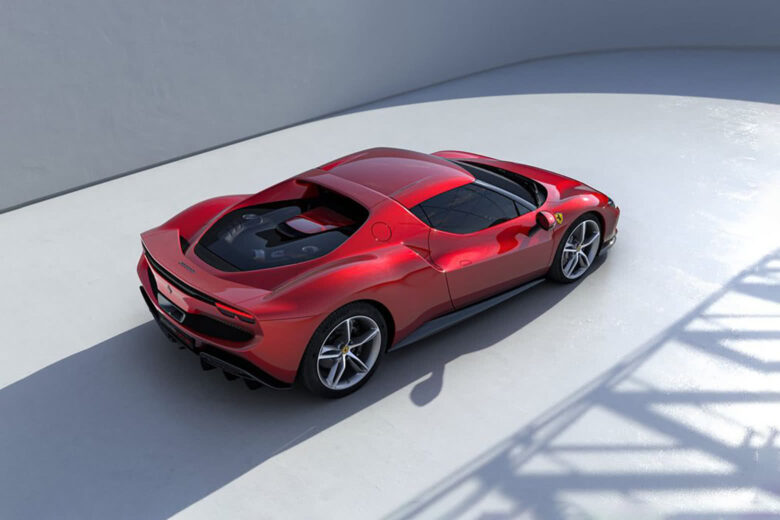 Holding onto its number nine position, Ferrari has not only been reaching forward with three plug-in hybrid models but also is racing ahead with a host of lofty green goals, including a battery electric vehicle by 2025 and carbon neutral production by 2030.
Yet Ferrari has built an empire on high displacement vehicles, including the most expensive car in the world, and isn't quite ready to abandon them entirely. The recent release of the Ferrari Purosangue (Italian for "Thoroughbred") sticks to the tried and true formula of sticking a roaring V12 engine under the hood, even though it is the first-ever luxury SUV for the automaker.
Ferrari expects to release fifteen new models before 2026, ensuring that the Ferrari name will meet market demands. Pushing forward with innovation while placing sustainability at the forefront is likely to pay dividends for Ferrari, one of the top car brands in the world. Check our in-depth Ferrari price list and cars collection to learn more about the Italian luxury car brand.
| | |
| --- | --- |
| Country of origin | Italy |
| Most popular models: | Ferrari Dino, Ferrari 365 GTB/4 Daytona, Ferrari F40 |
| Average starting price: | $410,000 |
Online interest for Ferrari over time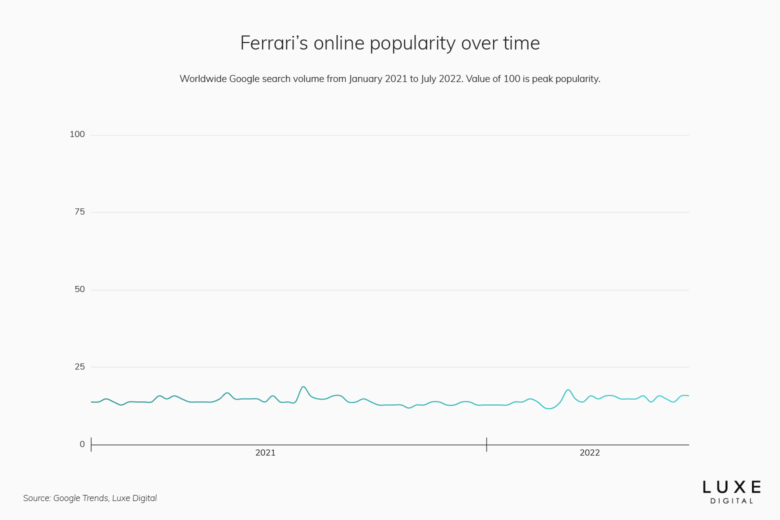 10. Land Rover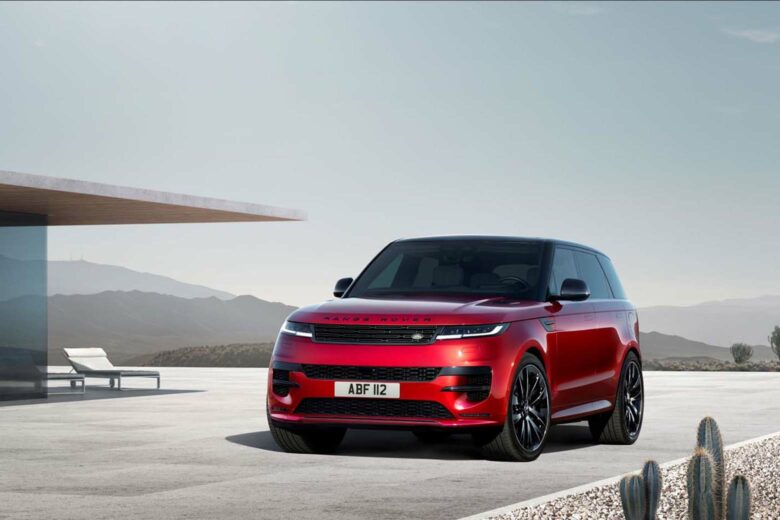 When you think of luxury vehicles, off-road capable models might not be the first thing that comes to mind. Unless you're talking about Land Rover.
This luxury car brand has made a name for itself as the leader in vehicles that can conquer the world while filling the interior with opulence and comfort. And like many other top car brands, Land Rover is preparing for the future with a host of electric and hybrid models, allowing it to stay in the number ten position.
Seven new models are to be released within the next three years, adding to the extensive lineup of the most luxurious Range Rover, the crossover Evoque, and the trail-focused Defender series. The first fully electric offering will come on a Range Rover with an expected range of 300 miles or more.
Fans of the popular Defender should also be brimming with excitement as Land Rover has announced two new models, including a larger Defender 130 with room for eight passengers and a more luxurious option.
| | |
| --- | --- |
| Country of origin | United Kingdom |
| Most popular models: | Land Rover Discovery Sport, Land Rover Range Rover, Land Rover Defender |
| Average starting price: | $145,000 |
Online interest for Land Rover over time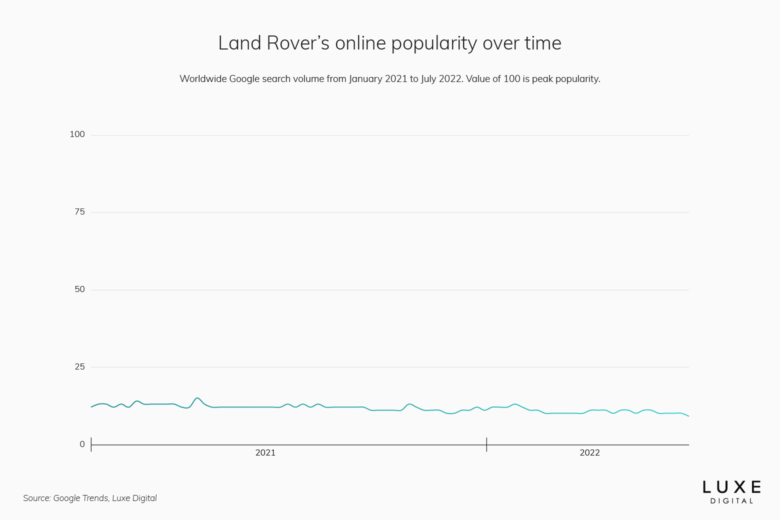 11. Cadillac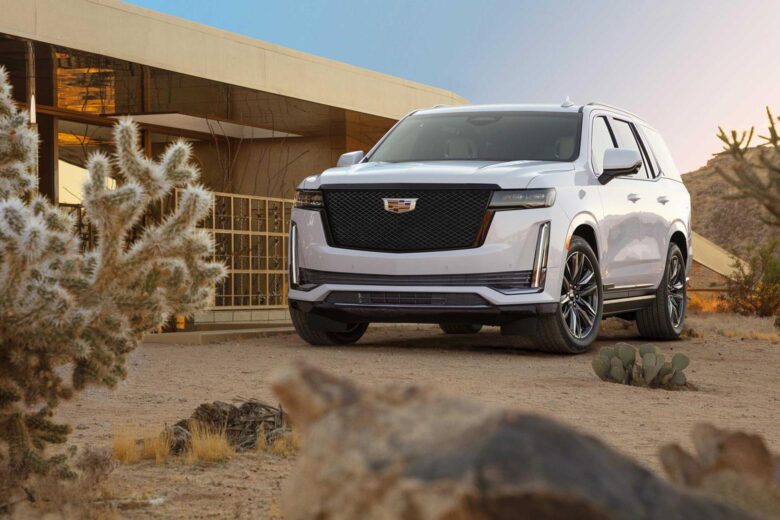 Once known for its soft-riding sedans, Cadillac has transformed away from sedans into the SUV segment. The introduction of the Cadillac Lyriq, a five-person electric SUV, has exemplified its desire to push forward and brings the brand up one spot from last year's list.
By utilizing General Motors' Ultium electric drive technology, the Lyriq is reported to be the first in a wave of changes expected from Cadillac. One away from internal combustion engines and toward a green future with battery electric vehicles.
For now, Cadillac still brings some gasoline-fueled power to the table in its CT5-V Blackwing, packing an enormous 6.2L supercharged V8 with 668 horsepower and 659 lb-ft of torque. The world will have to wait to see what is ahead for this luxury car brand.
| | |
| --- | --- |
| Country of origin | United States |
| Most popular models: | Cadillac XT5, Cadillac Escalade, Cadillac SRX |
| Average starting price: | $55,000 |
Online interest for Cadillac over time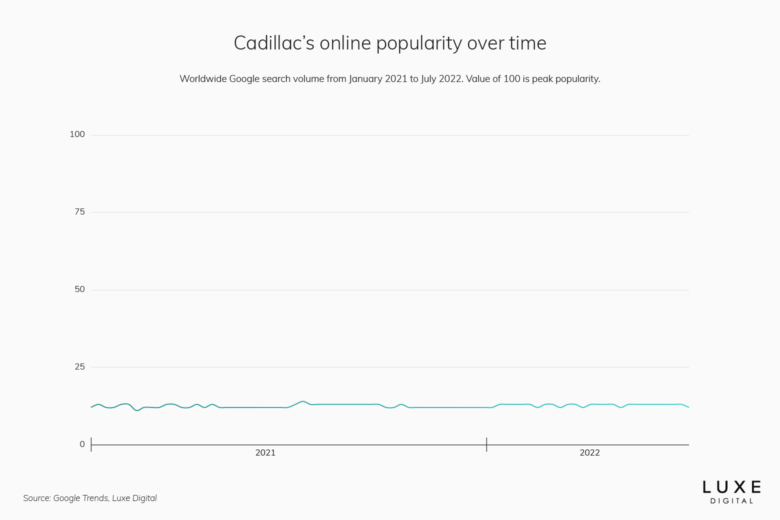 12. Jaguar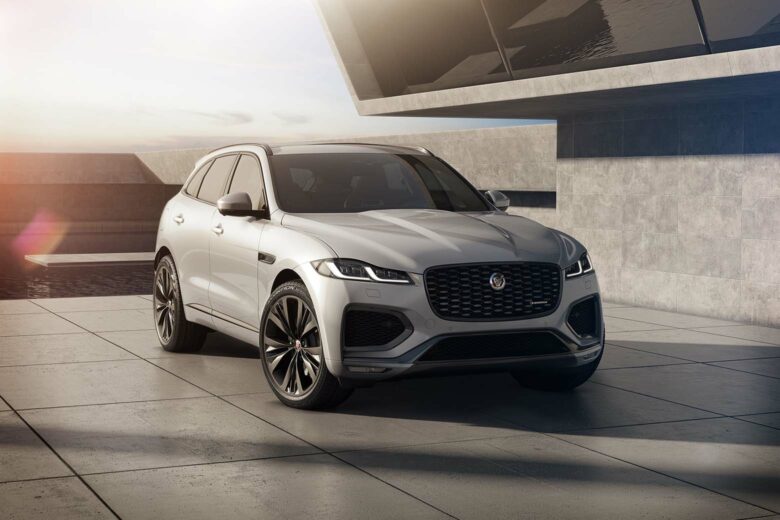 Dropping down one position from last year, Jaguar is beginning to make people wonder what the future of these luxury cars looks like. Back in 2021, the brand announced that it would not be releasing any new models before 2025. Instead, they would take a step back to reimagine their offerings.
Rather than compete against the likes of other high-volume brands like BMW and Mercedes-Benz, Jaguar executives have indicated their desire to reach upmarket and compete with more luxurious brands such as Maserati and Bentley.
What does this mean exactly? No one knows for sure, at least outside of the secretive company. Most expect Jaguar to follow the electric trend. But for now, it's sticking with internal combustion engine offerings, including the popular Jaguar F-Type with an available supercharged V8 producing up to 575 horsepower.
| | |
| --- | --- |
| Country of origin | United Kingdom |
| Most popular models: | Jaguar F-PACE, Jaguar XF, Jaguar E-Pace |
| Average starting price: | $65,000 |
Online interest for Jaguar over time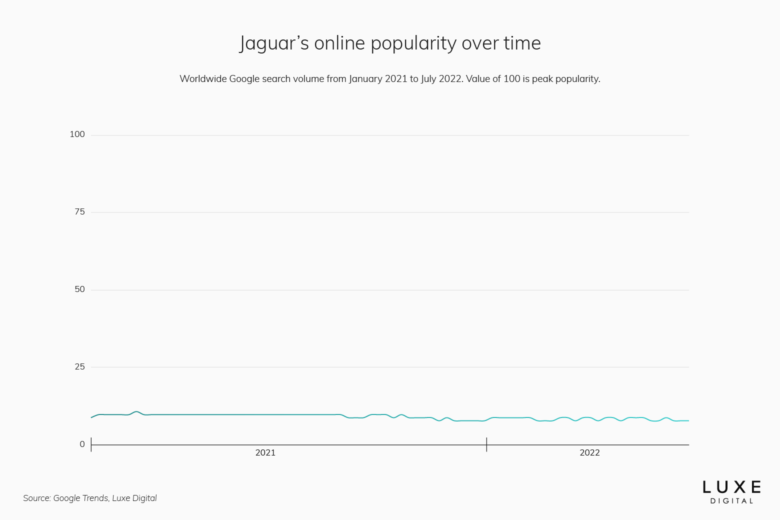 13. Rolls-Royce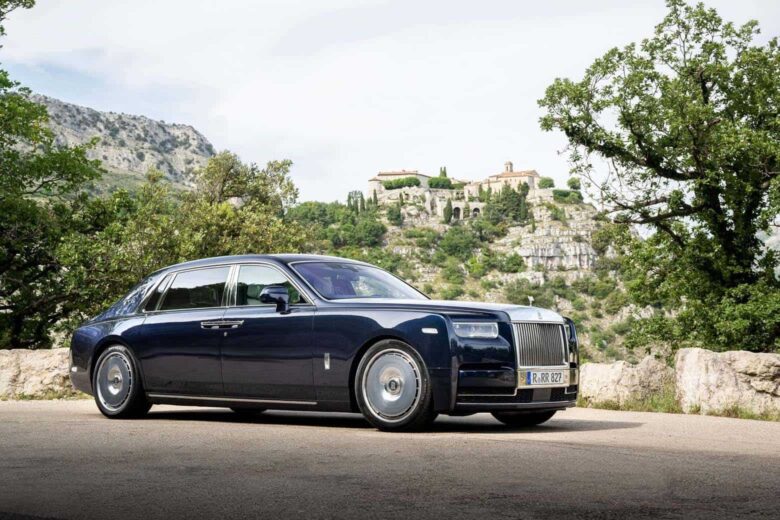 With one of the most iconic luxury car brand logos, Rolls-Royce holds onto its position as 13 on this list with a record-breaking year in 2021, selling 5,586 cars globally.
Pampered luxury and extreme indulgence are always part of the Rolls-Royce package, where you are likely to find some of the most expensive license plates tacked on, but the Phantom is the epitome of its lineup, and in Rolls-Royce's own words, "the undisputed king of luxury sedans."
There is no doubting Rolls-Royce stays far away from semi-luxury car brands. And that's true even when it's branched out into new segments like the Rolls-Royce Cullinan SUV with its 6.8L twin-turbocharged V12 engine.
As for the future of this car maker, the Rolls-Royce 103EX concept has been turning heads worldwide since debuting in 2016 and is a peek into a future where electric cars drive themselves to preset destinations. The occupants can forget about the hassles of the road and enjoy the ride.
| | |
| --- | --- |
| Country of origin | United Kingdom |
| Most popular models: | Rolls-Royce Phantom, Rolls-Royce Ghost, Rolls-Royce Cullinan |
| Average starting price: | $410,000 |
Online interest for Rolls-Royce over time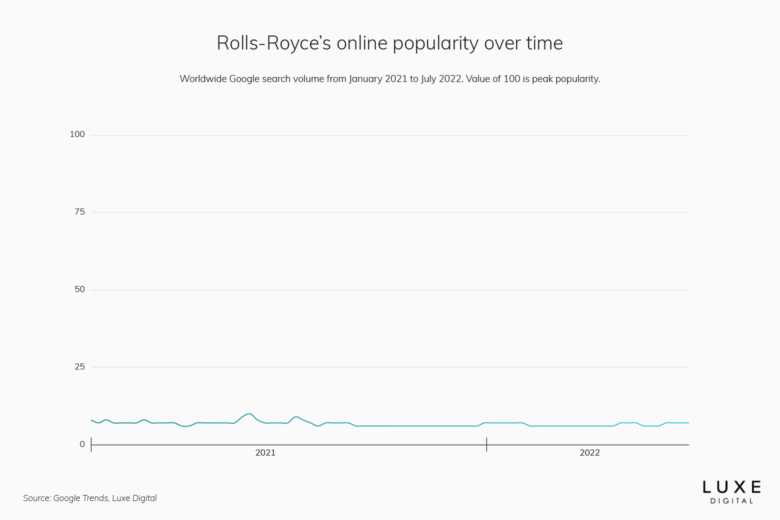 14. Bugatti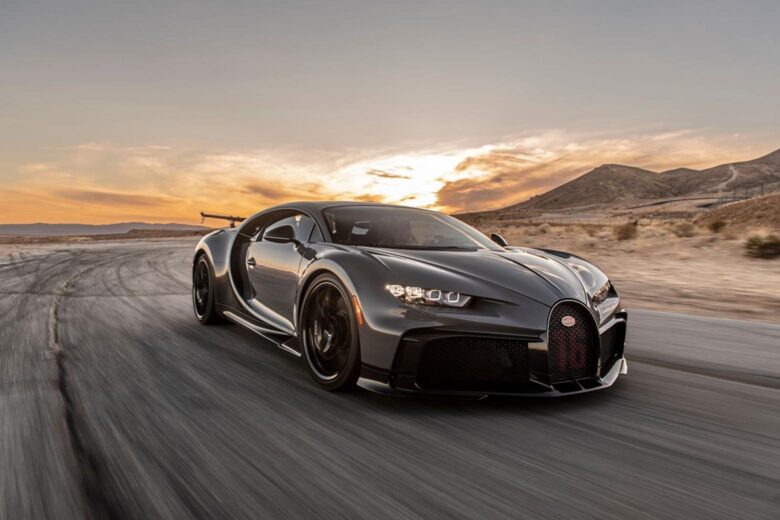 Something special is brewing. Bugatti's rich history has merged with Rimac, an electric car manufacturer making one of the world's fastest cars, the 1,900+ horsepower Rimac Nevera. The result is sure to be spectacular, even if still currently unknown, and has boosted Bugatti up one from last year's list.
Mate Rimac, CEO of the Bugatti Rimac joint venture, has indicated that even though he is an electric supercar specialist, he sees the Bugatti brand retaining internal combustion engines for the time being to stay true to the brand.
Bugatti still brings the awe-inspiring quad-turbo 8.0L W16 engine in the Veyron and Chiron models, and the popularity is not to be understated. Bugatti is completely sold out until 2025, but you can check out the full Bugatti price list to get some materials for your wildest dreams.
It is reported that the most loyal Bugatti customers will get a glimpse into the future of the brand over the next year or so, while the rest of the world might have to wait three years or more. What's to be expected? Nothing in particular. And perhaps everything.
| | |
| --- | --- |
| Country of origin | France |
| Most popular models: | Bugatti Chiron, Bugatti Veyron, Bugatti Divo |
| Average starting price: | $7.4 mil |
Online interest for Bugatti over time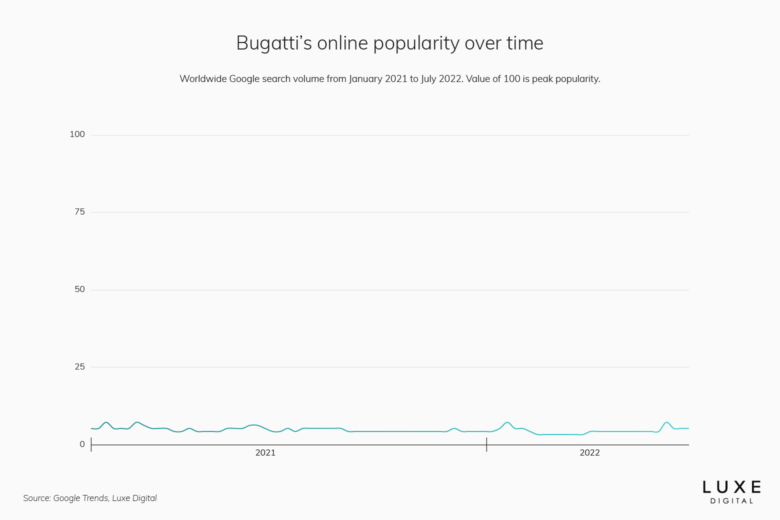 15. Aston Martin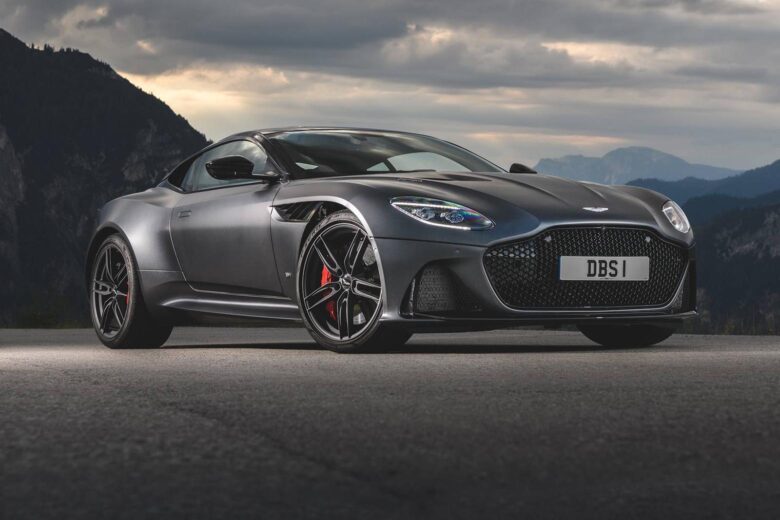 While Maserati has dropped off the list, its replacement is joining the electric trend and jumping onto this list of the top luxury car brands online in 2022. While Aston Martin hasn't disclosed details on all-electric models, the 2024 release of the Aston Martin Valhalla is sure to incorporate a hybrid design into a mid-engine supercar.
Aston Martin has made some of the best classic cars around. But it's not stopping there. The all-new 2022 Aston Martin Valkyrie showcases their future-forward thinking. The F-1-derived aerodynamics and styling scream at the world as its 1,139 horsepower V12 engine growls by.
The DBX competes with the best in the world of luxury SUVs, while the DB11 slams anyone to the back of the seat with a V12 under the hood. But the most stylish award for the Aston Martin lineup goes to the DBS, which the brand decided to leave essentially untouched from last year.
| | |
| --- | --- |
| Country of origin | United Kingdom |
| Most popular models: | Aston Martin DBS, Aston Martin DB11, Aston Martin DBX |
| Average starting price: | $210,000 |
Online interest for Aston Martin over time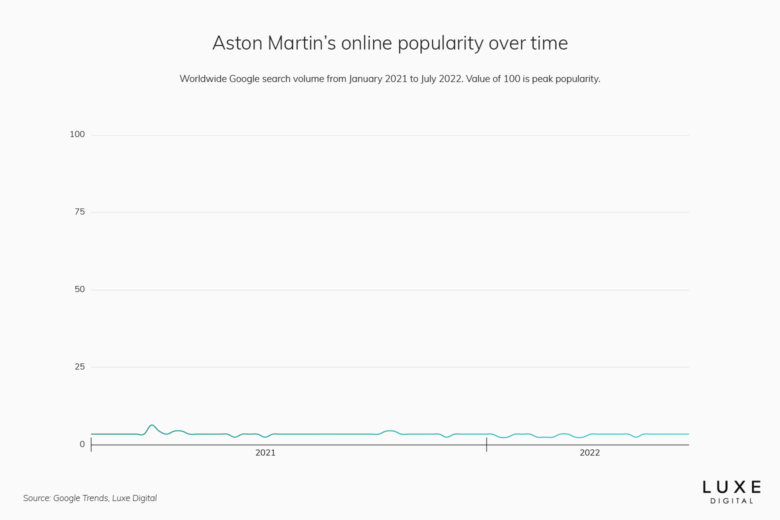 Methodology and sources: How we rank the best luxury car brands of the year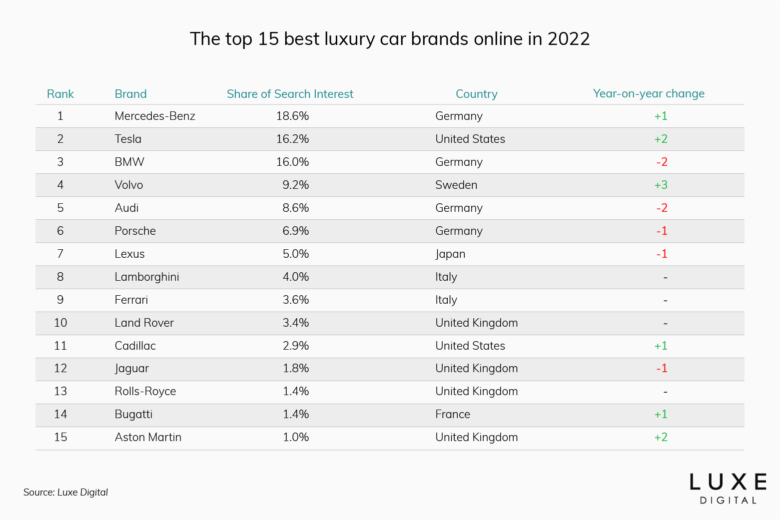 Luxe Digital's luxury car brands ranking aims to provide a real-time and insightful analysis of the most popular luxury automobile brands online. Our ranking offers a clear picture of how each brand is performing online and can help predict future growth.
To create this ranking, we start our analysis by using Google Trends to compare online search interest for all the luxury car brands in the world. This year, Mercedes-Benz dominates the share of search, so we use the brand as the standard against which we measure all the other brands to have a single comparison point.
After observing a significant concentration of the share of search interest among the top 15 luxury car brands on our list, we summed up their individual score to get a baseline of the total search interest across all brands combined. We then calculated a ratio for each brand against that total to get their share of the total search interest.
Definitions
Our summary table at the top of this article refers to the following terms:
Share of search interest is calculated based on worldwide Google Trends data. We measure the absolute search interest for each of the top luxury car brands during the period, then calculate how much attention they receive compared to the other brands in our ranking as a percentage of the total search interest for luxury brands.
Social media audience is calculated based on Rival IQ reports for each brand as of July 2022. It represents the sum of Facebook Fans, Instagram Followers, Twitter Followers, and YouTube Subscribers.
Social media engagement rate is calculated based on Rival IQ reports for each brand as of July 2022. It represents the total number of engagement actions across all tracked social channels, combining comments, likes and shares, and divided by the total audience.