Lots of watch brands talk about breaking rules and shaking up the status quo. But while many talk the talk, few walk the walk like Roger Dubuis. In its short but spectacular history, one thing is clear. This convention-busting luxury watch manufacturer has always had a disdain for the ordinary and a passion for defying and disrupting.
You have to respect Roger Dubuis watches simply for their sheer refusal to conform. Plus, they've got the ultimate seal of approval. The Geneva seal, to be precise.
At a glance
| | |
| --- | --- |
| | |
| Industry: Watches | Founded: 1995 |
| Headquarters: Switzerland | Founder: Roger Dubuis and Carlos Dias |
| Watch Collections: dress watches, sports watches, and women's watches | Parent organization: The Richemont Group |
| Annual Revenue: $56.7 million USD | Website: rogerdubuis.com |
Roger Dubuis watch price
How much does a Roger Dubuis watch cost?
Roger Dubuis watches are expensive, even by high-end watchmaking standards. The starting price for an entry-level Roger Dubuis watch is $50,500 for a Roger Dubuis Excalibur Spider. Roger Dubuis watch prices for an Excalibur start at $64,000. Roger Dubuis women's watch prices begin at $41,000. At the other end of the price spectrum, some Roger Dubuis watches retail for more than $600,000.
What is the most expensive Roger Dubuis watch?
The most expensive Roger Dubuis watch is the Roger Dubuis 2013 Excalibur Quatuor Silicon, at $1.1 million. Surprisingly, it doesn't feature any precious metals or gemstones. In fact, the case is made of silicon. The reason for the price? It features four sprung balances and took 2,400 hours to build, following 7 years of research.
See how this compares to the world's most expensive watches.
What is the cheapest Roger Dubuis watch?
The cheapest Roger Dubuis watch is a Roger Dubuis Velvet women's watch, currently retailing for $41,000. You can also pick up a Roger Dubuis Excalibur Spider for $50,500.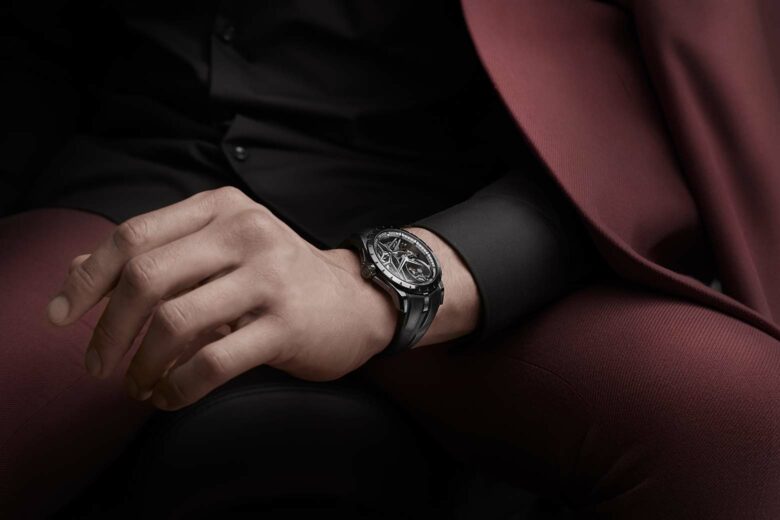 About Roger Dubuis watches
History of Roger Dubuis
The story of Roger Dubuis starts with co-founder Roger Dubuis himself, an experienced Swiss watchmaker who built up a wealth of experience working for watchmaker Longines during the 1950s, as well as Patek Philippe.
In the early 1990s, Dubuis met Carlos Dias, a Portuguese creator with a passion for unconventional design, who was working as a waiter at a Genevan cafe. The two connected over their love for high-end watches.
The Roger Dubuis watch brand was born in 1995.
The first two models were the Roger Dubuis Sympathie—a complex bi-retrograde perpetual calendar and chronograph with an eye-catching cushion-shaped case—and the Roger Dubuis Hommage, a more classic and traditional timepiece.
Dubuis retired in 2003 and Carlos Dias' vision began to dominate the company. What followed were unorthodox and flamboyant collections with names such as Too Much, Much More, and Follow Me.
In 2005, the watch company released the iconic Roger Dubuis Excalibur collection, with its skeletonized displays and streamlined movements.
During this time, Roger Dubuis expanded rapidly but the breakneck speed was not sustainable. By 2008, it was in debt and losing money. That same year, the Richemont Group bought the watch brand and initiated a total restructuring. From then on, all Roger Dubuis movements were certified by the COSC, the official Swiss chronometer testing institute.
Interesting facts about Roger Dubuis
The Roger Dubuis Excalibur Glow Me Up watch features 60 baguette-cut diamonds with grooves filled with Super-LumiNova, creating diamonds that literally glow in the dark.
Roger Dubuis has collaborated with the likes of luxury motorsports brands, Lamborghini and Pirelli.
The luxury watch brand has also partnered with the Goodwood Festival of Speed, an annual motorsport festival held in the UK. To mark this partnership, Roger Dubuis released the Excalibur Spider Huracán MB, inspired by the Huracán GT3 EVO2, a top-tier racing car, and with a caliber that echoes the car's hexagonal dashboard.
Roger Dubuis brand ambassadors include actor Gerard Butler and designer Daphne Guinness, as well as Roger Dubuis himself, who returned as brand ambassador in 2011 after retiring in 2004.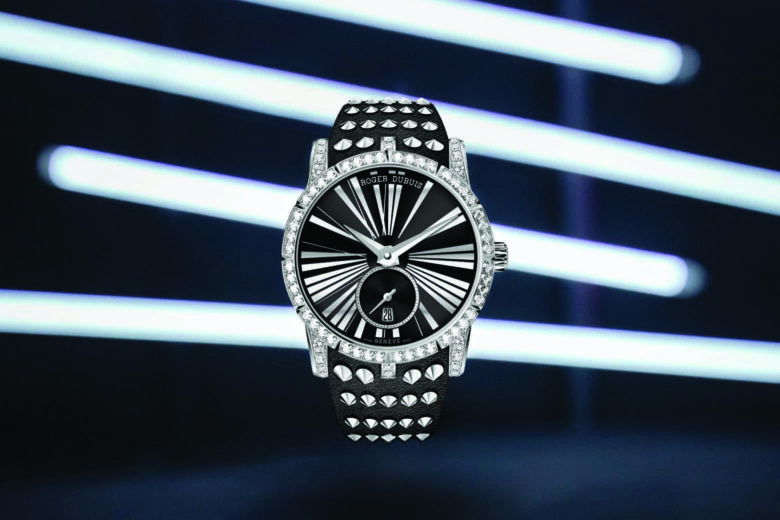 Roger Dubuis product range
Roger Dubuis watches are grouped into five collections.
First, you have the brand's most well-known timepieces: the Roger Dubis Excalibur and the Roger Dubuis Excalibur Spider. Both showcase the brand's famously daring aesthetic and cutting-edge technology, but the Excalibur Spider is distinguished by skeletonized designs.
Next, there's the brand's range of Hyper Watches—haute horology watches demonstrating exceptional technical prowess and extraordinary levels of complexity.
Similarly extreme in terms of aesthetics and engineering is the Roger Dubuis Knights of the Round Table collection. These watches feature 12 miniature medieval knights to mark the hours.
Finally, there's Roger Dubuis' range of women's watches, known as the Velvet collection.
Signature materials and craftsmanship
Roger Dubuis watches are defined by their combination of traditional horology and avant-garde design. Building on Roger Dubuis' lengthy experience crafting complications for the likes of Patek Philippe, the company continues to incorporate centuries-old watchmaking know-how alongside cutting-edge techniques and aesthetics, particularly radically skeletonized architecture.
Take the Knights of the Round Table Monotourbillon, for example, released for Watches & Wonders 2022. The watch features 12 miniature knight figures sculpted from pink gold to represent each hour of the day. It also uses Murano glass, an ancient glass-making technique from Murano Island in Venice, Italy.
Roger Dubuis undertakes significant research and development to allow it to consistently push the boundaries of what's possible in watchmaking, with innovations in materials such as diamond-set rubber and silicon. There's also the Roger Dubuis Excalibur Quatuor RD101, an astonishing movement with four sprung balances and five differentials.
Every movement to leave the Roger Dubuis workshop bears the Geneva Seal (Poinçon de Genève), a prestigious distinction that testifies to the tremendous amount of care and attention to detail that goes into making each component. Roger Dubuis watches also feature additional finishing techniques, such as shot-blasted plates and bridges with 5N or NAC coating.
Roger Dubuis is a member of the Responsible Jewellery Council, which promotes responsible, ethical, social, and environmental practices across the supply chain. It also only uses animal skins from suppliers that respect the CITES (Convention on International Trade in Endangered Species of Wild Fauna and Flora) agreement.
Where is Roger Dubuis made?
Roger Dubuis watches are made at the company's facility in Meyrin on the outskirts of Geneva. Around 5,000 Roger Dubuis watches are made each year. The building was inaugurated in 2001 and houses the entire range of skills required to create the luxury watch brand's timepieces, allowing it to officially assume the status of Manufacture.
Brand values
| | |
| --- | --- |
| Vegan options: | No |
| Carbon-neutral: | No |
| Gives back: | Yes |
Roger Dubuis watches
Excalibur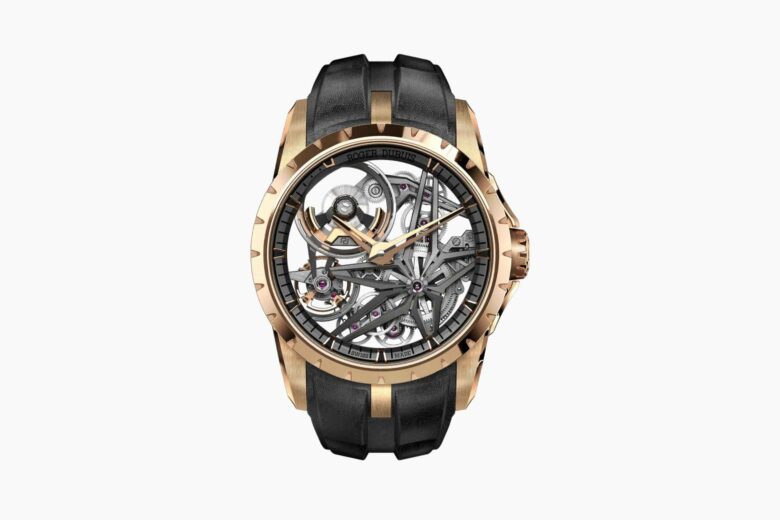 This is Roger Dubuis' most iconic collection and tells you all you need to know about the brand's watches. In other words, it's bold, dramatic, ultra-assertive, and totally uncompromising. With a wide range of sizes and materials on offer, including gold, the watch brand's patented EON gold, and ceramic, you're bound to find the perfect talking-point timepiece in this collection.
| | |
| --- | --- |
| Price: | $64,000 – $645,500 |
| First release year: | 2005 |
| Current case size: | 36 mm – 35 mm |
| Movement: | Automatic and manual |
| Water resistance: | 30 m – 100 m |
| Crystal: | Sapphire |
Excalibur Spider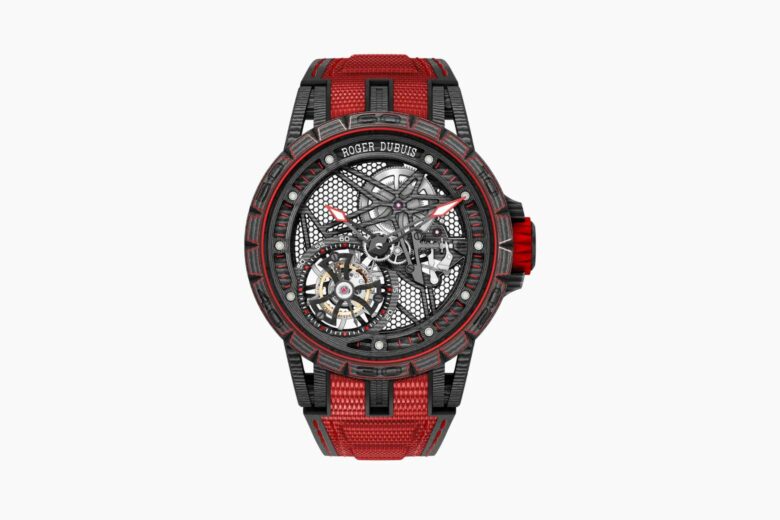 The Roger Dubuis Excalibur Spider collection offers the same daring mood as the Excalibur watch series but dials up the adrenaline by a factor of 100. These are all skeletonized watches and are imbued with the speed-hungry spirit of extreme sports and racing. Look out for the Roger Dubuis Excalibur Spider Carbon. It weighs just 39.28g, compared to 100g for your average timepiece. There's also the Roger Dubuis Excaliber Spider Pierelli, with straps manufactured from winning Pirelli tire rubber.
| | |
| --- | --- |
| Price: | $50,500 – $815,000 |
| First release year: | 2016 |
| Current case size: | 39 mm – 47 mm |
| Movement: | Automatic and manual |
| Water resistance: | 30 m – 100 m |
| Crystal: | Sapphire |
Hyper Watches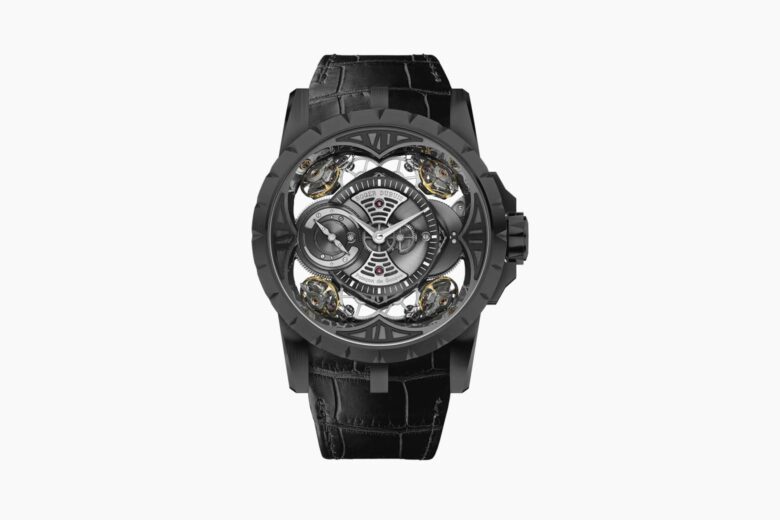 This Roger Dubuis watch series showcases what the brand has dubbed Hyper™ Horology—haute horology watchmaking alongside ultra-innovative mechanisms, featuring some truly mindblowing complications. Take the Roger Dubuis Excalibur Diabolus in Machina, for example, a chunky skeletonized flying tourbillon in a patented scratch-resistant metal combined with a minute repeater. Complex is an understatement.
| | |
| --- | --- |
| Price: | $588,500 – $422,000 |
| Current case size: | 45 mm – 48 mm |
| Movement: | Automatic and manual |
| Water resistance: | 30 m – 50 m |
| Crystal: | Sapphire |
Knights of the Round Table
This is an exclusive collection of one-of-a-kind timepieces by a brand that's made its name with never-before-seen innovations. The Roger Dubuis Knights of the Round Table watches riff on the Arthurian romance theme that inspired the Excalibur with 12 miniature knights sitting around the dial. One of the most intriguing models is the Chinese Zodiac version, where the knights have been swapped for 12 micro-sculpted pink-gold animal heads. Note the use of Murano glass, a material known for its ability to refract and reflect light in unique ways.
| | |
| --- | --- |
| Price: | Price on request |
| First release year: | 2013 |
| Current case size: | 45 mm |
| Movement: | Automatic and manual |
| Water resistance: | 30 m |
| Crystal: | Sapphire |
Velvet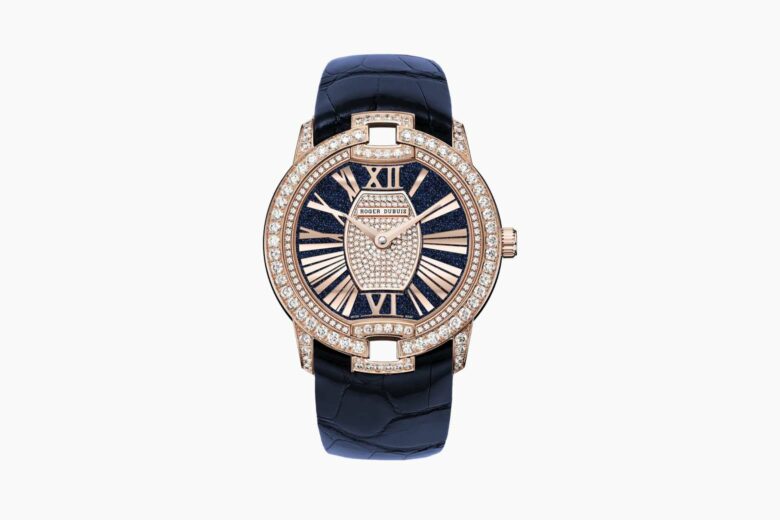 The Roger Dubuis Velvet collection is for both men and women and is the dream accompaniment to formal attire. Expect split-level dials, elongated Roman numerals, intricately decorated lugs, and of course, plenty of diamonds. Check out the superbly extravagant high-jewelry model, in particular, limited to just 8 pieces and featuring 813 colorless diamonds and 6 different setting techniques.
| | |
| --- | --- |
| Price: | $41,000 – $1,397,000 |
| First release year: | 2018 |
| Current case size: | 36 mm – 38 mm |
| Movement: | Automatic |
| Water resistance: | 30 m |
| Crystal: | Sapphire |
Where to buy Roger Dubuis watches
You can buy Roger Dubuis watches online from the watch company's eCommerce boutique or in-person from one of the stores listed here. You can also place orders over the phone. Orders can be modified or canceled until they are shipped.
You can also buy Roger Dubuis watches from trusted online retailers like Mr Porter and FARFETCH where the authenticity of the timepiece is guaranteed.
For more, see our guide to buying a luxury watch .
Roger Dubuis shipping
In the USA, any Roger Dubuis watch will be delivered to a boutique or to your personal address by the quickest delivery option possible. Delivery is complimentary and the delivery time varies according to location. You will receive a tracking number in your email confirmation. Roger Dubuis also ships to most European countries too.
FARFETCH and Mr Porter both ship internationally for different fees depending on the country.
Roger Dubuis return policy
Roger Dubuis watches can be returned within 30 days from the date of delivery as long as you haven't removed the protective film or worn the watch and it remains in perfect condition. Simply contact the Roger Dubuis Customer Relations Department for help processing your return. FARFETCH accepts returns within 14 days for a full refund and Mr Porter allows returns within 28 days.
Roger Dubuis customer service number
If you are experiencing any issues with your Roger Dubuis watch order or need help with any queries, contact the company's customer service department on +1-833-738-2847.
Roger Dubuis social media profiles
Frequently asked questions about Roger Dubuis watches
Is Roger Dubuis a good watch?
Roger Dubuis is a good watch brand for those seeking an ultra-high-end timepiece from a brand known for combining haute horology complications with bold designs. Roger Dubuis watches feature the Geneva Seal, a testament to their superlative quality.
Is Roger Dubuis a luxury brand?
Roger Dubuis is a luxury brand known for crafting extravagant watches, particularly timepieces featuring skeletonized dials and complex mechanisms. Roger Dubuis watches are very expensive, even by high-end watchmaking standards. 
How many Roger Dubuis watches are made each year?
Roger Dubuis makes around 4,000 watches per year. This is compared to around 1 million watches made by Rolex each year and 60,000 made by Patek Philippe annually. For more about the luxury watch brand, see our Roger Dubuis guide.