In the world of dive watches, beefy and bold is the name of the game. But Panerai takes it to the next level with its ultra-robust cases, some of which reach 60 mm. No surprise, then, that these luxury watch behemoths are favored by Hollywood's most muscular stars, including Sylvester Stallone and Arnold Schwarzenegger.
But as any member of the brand's cult-like fan following will tell you, Panerai is so much more than chunky dive watches. These timepieces have an intriguing history as wartime instruments. Plus, Panerai watches are too handsome to be purely utilitarian.
From the most overtly brawny Panerai watches to its more elegant and retro timekeepers, here's what you need to know about these men's watches.
At a glance
| | |
| --- | --- |
| | |
| Industry: Watches | Founded: 1860 |
| Headquarters: Switzerland | Founder: Giovanni Panerai |
| Watch Collections: dive watches and dress watches | Parent organization: The Richemont Group |
| Annual Revenue: $218 million | Website: panerai.com |
Panerai watch price
How much does a Panerai watch cost?
Panerai watch prices start at $4,700 for an entry-level Panerai Radiomir. Panerai prices for a Panerai Luminor start at $5,200. At the other end of the price spectrum, you have Panerai Luminor models that can reach $180,000.
What is the most expensive Panerai watch?
The most expensive Panerai watch is the Panerai Kampfschwimmer Watch at $1 million. The timepiece has a brown dial and alligator bracelet and features a manual movement designed by Rolex.
Check out how this compares to the world's most expensive watches.
What is the cheapest Panerai watch?
The cheapest Panerai watch is a Radiomir Base Logo PAM00753, currently retailing for around $4,700. Expect to pay at least $5,200 for a Panerai Luminor and $6,400 for a Panerai Luminor Due. Panerai watch prices start at $9,300 for a Panerai Submersible.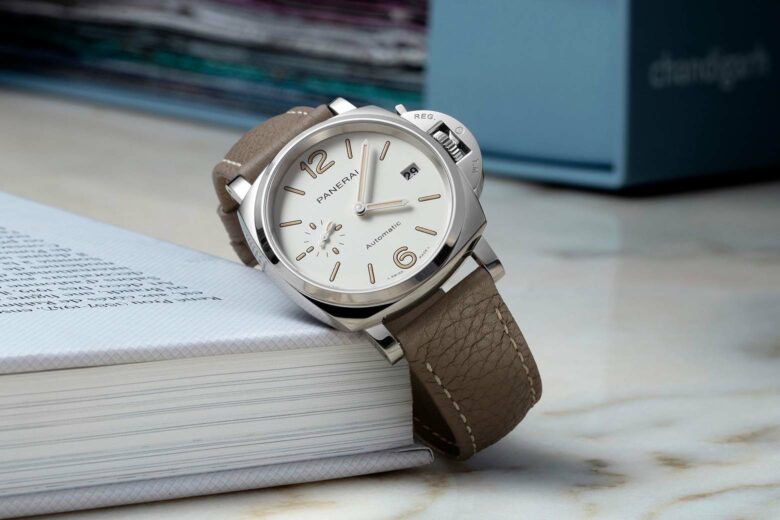 About Panerai
History of Panerai
Panerai was founded by Giovanni Panerai in 1860 in Florence, Italy. From his tiny store, he sold popular imported Swiss watches. These watches were often sent unassembled so he had to create a workshop and learn the basics of watchmaking.
When his sons took over the business, they were approached by the Royal Italian Navy who wanted to capitalize on their skills for military tools. By the start of WW1, Panerai was making mine triggers, submersible navigation instruments, and mechanized computing devices.
The Radiomir was created in 1936, featuring a radium-based powder with luminous properties for Italian Navy frogmen and their stealth missions.
Once the radioactivity of Radiomir was established, it was replaced by the Luminor in 1949 with its safer and brighter tritium-based luminous substance. The Luminor also had a crown-protecting device that boosted its water resistance to 200 meters.
In 1956, the Egyptian Navy commissioned a Panerai watch known as the Big Egiziano, which featured an enormous 60 mm case.
In 1972, Dino Zei, a retired Navy Colonel, took over Panerai and renamed it Officine Panerai. In 1993, the company presented a collection of limited edition watches inspired by its historical commando models: the Luminor, Luminor Marina, and the Mare Nostrum. These were Panerai's first civilian timepieces.
In 1997, the brand was acquired by the Richemont Group. This signaled the end of its military production, and, in 2005, the company created its first in-house movement.
In 2011 came the much-coveted Panerai Bronzo, setting a trend for bronze watch cases that continues to this day.
And, in 2017, one of the brand's most cutting-edge inventions was released: the Panerai Lab-ID Luminor 1950 Carbotech, made of a combination of carbon and tantalum-based ceramic with a range of proprietary coatings. Inside, the caliber P.3001/C can run for 50 years without service.
Interesting facts about Panerai
The luminosity of Radiomir was so bright that at night, commandos had to smear mud or seaweed on the dials to stop from being spotted.
The Panerai Radiomir watch was the first professional underwater military watch in history.
It was actually Rolex who made both the movement and case for the original Panerai Radiomir watches.
Sylvester Stallone wore a Panerai watch in the 1996 film Daylight, helping to catapult Panerai into the public eye.
The watch's loyal following of fans was a first in the watchmaking world—and also one of the first times the Internet was used for brand promotion.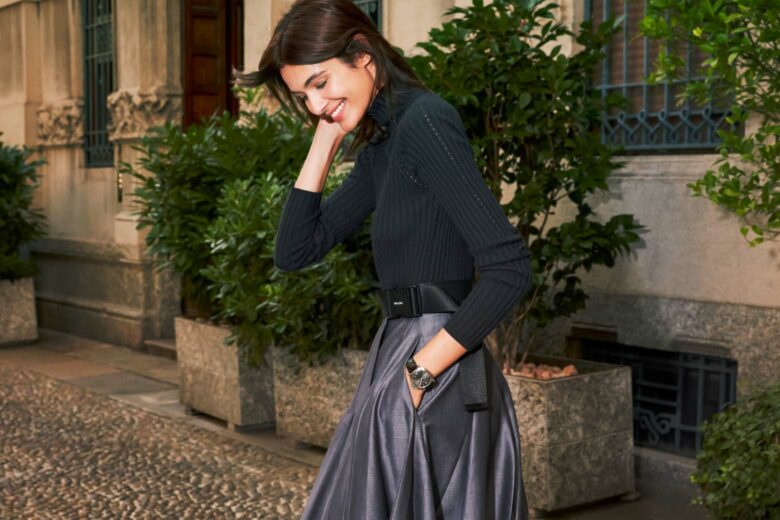 Panerai product range
Panerai's product range centers on re-interpretations of historic models. The Luminor and Radiomor are the two central Panerai collections. Both are based on the original watch technologies of the same name, dating from the mid-20th century.
In addition, you have the Panerai Submersible collection, the brand's selection of dedicated dive watches with the necessary water resistance and rotating bezel.
Then there's the Luminor Due, a variation on the Luminor, with some of the same design codes but slimmer and more elegant.
Panerai also regularly releases limited editions and special models, usually references to particular innovations in its historic catalog, and always to the delight of its dedicated fan base.
Signature materials and craftsmanship
Panerai is best known for its Radiomir and Luminor watches, although technically both these names refer to the patented luminescence technology, not the watch itself.
The Radiomir is recognizable for its large case, luminescent numerals and indexes, and sandwich dial—overlapping plates to make the luminescence more readable. The Radiomir also originally featured Plexiglas, a thermoplastic compound, revolutionary at the time for being shatter-resistant.
The Luminor refers to a patent filed by Panerai in 1949 for a luminescent material fuelled by tritium. The Luminor watch was also innovative for its crown which was closed by means of a lever over the top that would clamp it in place as well as protect the crown from knocks. This remains a feature on Luminor models today.
The brand's motto is Laboratorio di Idee, or 'laboratory of ideas', a reference to its dedication to research and innovation. Indeed, the watch brand has been a pioneer in ultra-resistant materials. For example, Carbotech, created from carbon fiber layers reinforced by polymers, as well as high-tech ceramic, titanium coated in black DLC, and BMG-Tech, a metallic glass.
Panerai watches undergo extreme tests to verify their durability, including a mouton pendula, or pendulum ram impact testing machine. Traction and torsion tests are carried out on straps and bracelets and there are machines to simulate decades of wear and use too. Plus, each watch is tested to ensure a 25% higher water resistance than what is stated in the specifications.
Panerai's Manufacture has been designed to reduce carbon dioxide emissions to zero and is equipped with devices for energy saving. Materials are recycled and reused wherever possible and Panerai is also a member of the Responsible Jewelry Council to ensure the ethical and responsible sourcing of materials for all Panerai watches.
Where is Panerai made?
Panerai headquarters are in Italy where the brand was founded but watch production takes place in a 10,000-square-meter Manufacture just outside Neuchâtel, Switzerland. This new Manufacture was opened in 2014 and is where the brand's 250-strong team carries out their work.
Brand values
| | |
| --- | --- |
| Vegan options: | No |
| Carbon-neutral: | No but partial offset (carbon neutral manufacture) |
| Gives back: | Yes |
Panerai watches
Panerai Submersible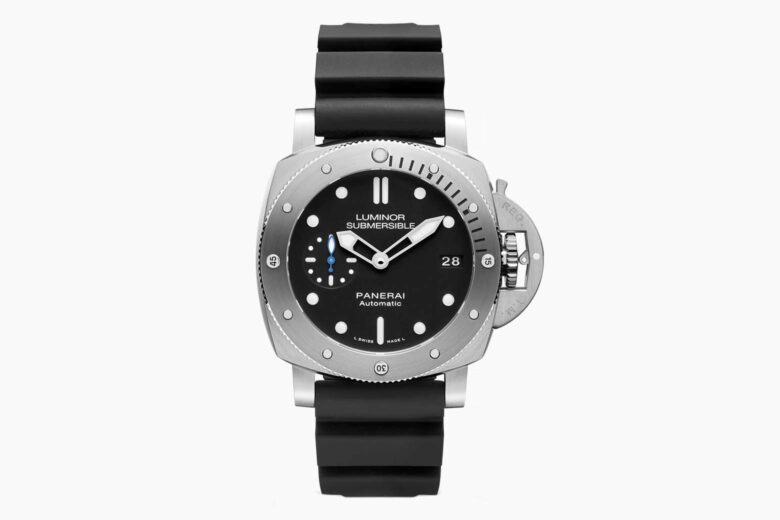 Panerai Submersible watches are the brand's dedicated dive watches and feature all the trademarks of high-quality dive watches like rotating bezels. Other distinguishing features include skeletonized hands and dot-shaped hour markers. Like all Panerai watches, these are chunky timepieces but models are available with a 42 mm case if you prefer. Look out for the Panerai Luminor Submersible Bronzo with its gleaming bronze case for serious retro cool.
| | |
| --- | --- |
| Price: | $9,300 – $62,500 |
| First release year: | 1998 |
| Current case size: | 42 mm – 47 mm |
| Movement: | AutomaticAutomatic |
| Water resistance: | 300 m |
| Crystal: | Sapphire |
Panerai Luminor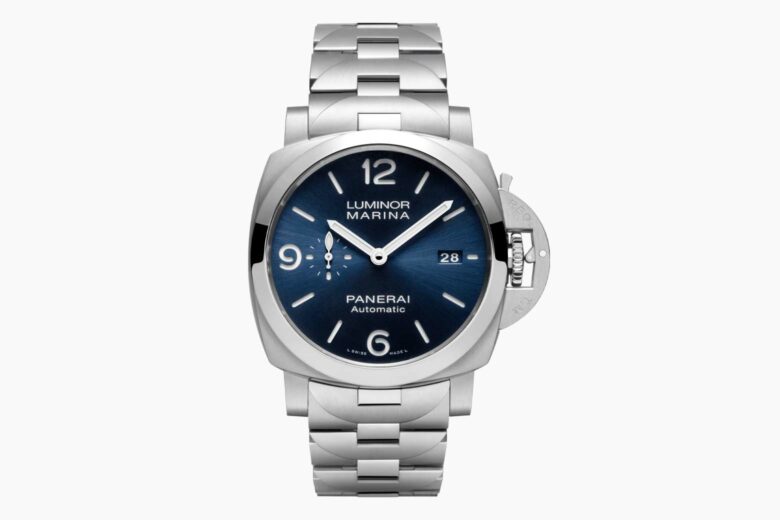 The Panerai Luminor cemented the brand's status as a top contender in military dive watches. Originally featuring Panerai's patented tritium-based mixture and with a signature crown lock, the Luminor is an iconic tool watch, up there with the Omega Seamaster and Rolex Explorer. Models of note include the Panerai Luminor PAM 432, with complications like GMTs and flyback chronographs, and then there's the beast that is the Luminor LAB-ID Carbotech™ with its Vantablack dial and 50-year guarantee.
| | |
| --- | --- |
| Price: | $5,200 – $180,000 |
| First release year: | 1949 |
| Current case size: | 40 mm – 49 mm |
| Movement: | Manual and automatic |
| Water resistance: | 50 m – 300 m |
| Crystal: | Sapphire |
Panerai Luminor Due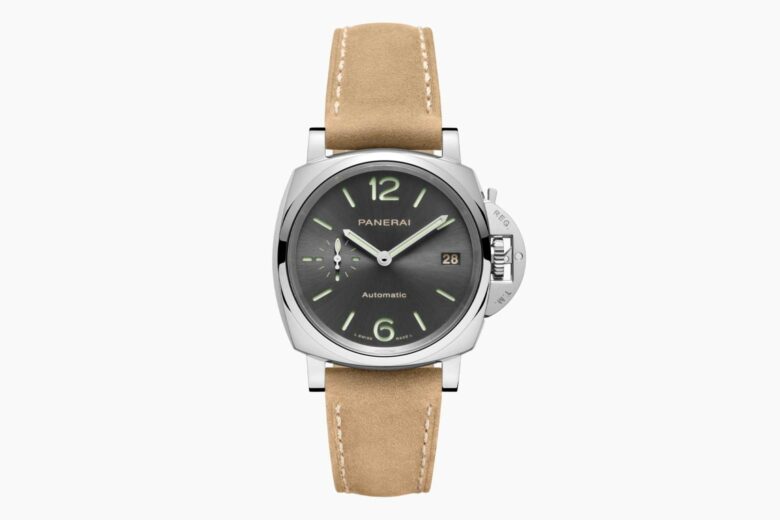 The Luminor Due's sleeker, slimmer, and more stylish sibling, the Luminor Due features the same crown-guard lock and dial design but doesn't have the same dive watch water-resistance. Instead, it caters to watch wearers seeking something black-tie-appropriate or even to accompany business casual. The Panerai Luminor Due is only 10.8 mm thick and comes in luxurious materials including rose gold, titanium, and the brand's proprietary gold alloy, Goldtech.
| | |
| --- | --- |
| Price: | $6,400 – $37,700 |
| First release year: | 2016 |
| Current case size: | 38 mm |
| Movement: | Automatic and manual |
| Water resistance: | 30 m – 50 m |
| Crystal: | Sapphire |
Panerai Radiomir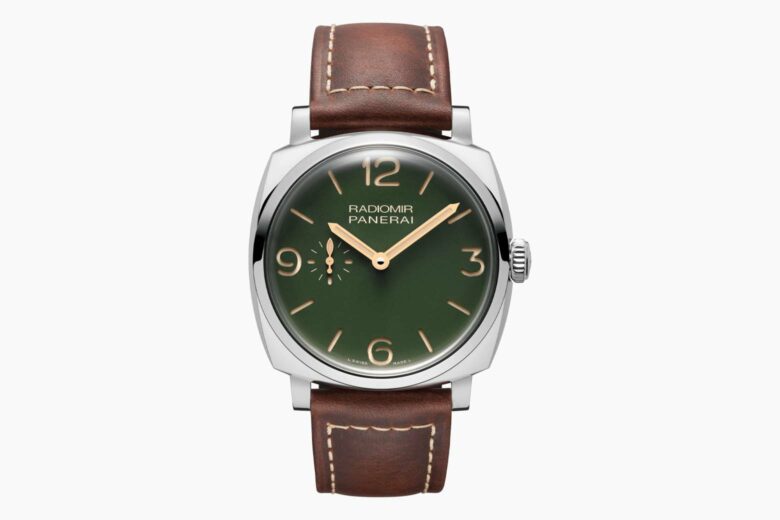 The Panerai Radiomir was one of the brand's earliest military watches. Although the name is now inextricably linked to radioactivity, the Radiomir remains a legendary timepiece and the brand's contemporary reissues have cult appeal. With retro allure and a variety of colors, you'll also find California dials, tourbillon and GMT complications, and massive cases that reach 49 mm across. Look out for the Radiomir 8 Days with its whopping 8-day power reserve.
| | |
| --- | --- |
| Price: | $4,700 – $17,800 |
| First release year: | 1939 |
| Current case size: | 45 mm – 49 mm |
| Movement: | Mechanical |
| Water resistance: | 30 m – 100 m |
| Crystal: | Sapphire |
Where to buy Panerai watches
You can buy Panerai watches online from the company's website or in person from one of the brand's boutiques or authorized dealers. Extend your warranty online for up to 8 years for extra protection for your timepiece.
You can also buy new Panerai watches from Mr Porter or pre-owned Panerai watches from trusted online retailers like FARFETCH or Jomashop where the authenticity can be guaranteed. 
For more about buying a luxury watch, see our watch guide.
Panerai shipping
Panerai offers five methods of delivery within the US: Standard, Urgent, Expedite, or Boutique. You can also request a boutique pick-up for certain locations. Panerai also ships to many countries in Europe too.
Jomashop offers international delivery for a flat fee of $150, not including taxes and custom charges, while Mr Porter and FARFETCH charge different rates depending on the country. 
Panerai return policy
Panerai offers free returns for all Panerai watch orders within 30 days of receipt. Return shipping is free of charge. All returns are subject to quality control. Only orders that were shipped using the Boutique Pick-Up service can be returned in-store.
Jomashop allows returns within 3 days. FARFETCH accepts returns within 14 days for a full refund and Mr Porter allows returns within 28 days. 
Panerai customer service number
For help with your order or any other queries, contact Panerai's customer service department on +1 877-726-3724.
Panerai social media profiles
Frequently asked questions about Panerai watches
Is Panerai made by Rolex?
Panerai is no longer made by Rolex but in the past, Rolex supplied Panerai with its watch cases and movements when Panerai needed waterproof cases for its timepieces for the Italian Navy. For more about Panerai watches, see our Panerai guide.
Is Panerai worth buying?
Panerai watches are worth buying if you appreciate high-quality and robust timepieces with a fascinating history. Panerai watches have an intriguing military heritage while also featuring cutting-edge materials and technology.
What type of person wears Panerai?
The type of person who wears Panerai watches includes those who enjoy timepieces with history and character. In fact, Panerai watches have their own fanbase known as the Paneristi. Fans of Panerai include Arnold Schwarzenegger and Ralph Lauren.
Do Panerai watches hold their value?
Panerai watches can hold their value thanks to the brand's loyal fanbase which means demand is high, especially for unusual and limited edition models. For more about Panerai, including history, prices, and watch models, see our Panerai guide.