From exclusive Gentlemen's clubs to everyone's go-to shoe, New Republic is bringing power to the people with high quality and low price points. Casual but classy, the fashion collective is next level drip (as the Millennials say.) The contemporary brand's tiny-batch production is making small (yet impactful) steps towards a more sustainable future. And hand-stitched details speak to the careful attention to detail paid to every sole—we're all for spreading that kind of love.
At a glance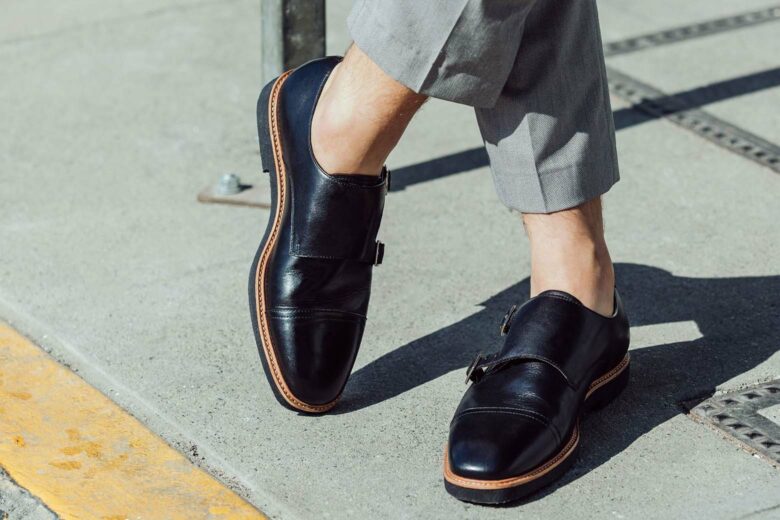 Behind the brand
History of New Republic
New Republic's premise is simple: classic, quality shoes at an attainable price point. However, the journey the brand took to get there was not so straightforward. New Republic was originally incubated inside the iconic men's subscription box, The Menlo Club, by the founders of Five Four Group. The brand was a huge success amongst club members and so the founders, Dee Murthy and Andres Izquieta, saw the opportunity to spin it off into a separate brand.
In 2016, New Republic was launched in Los Angeles, California by an innovative team appointed by Dee and Andres. Before launching, they approached Josh Kaplan with the footwear concept. With many years of experience as a venture capitalist and fashion entrepreneur, Josh took up the role of CEO. Together with lead designer, Mark McNairy, Josh established the brand that would appeal and represent the modern Millennial. Because New Republic was worn by Menlo Club Members before it was launched separately, it had unique intel of what worked and what didn't. The New Republic team used customer feedback to perfect the silhouettes, and they were able to speak directly to what Millenials wanted.
Supported and worn by celebrities and athletes such as Mark Wahlberg and Baker Mayfield, New Republic shoes focused on reinventing classic silhouettes with innovative materials and selling them directly to consumers at more accessible price points. Unsurprisingly, this combination was a winning one and the burgeoning brand catapulted to cult-favorite status and Insta-fame.
Interesting facts about New Republic
New Republic was named after a famous store in New York many years ago—also, New Republic. The former New Republic was a leading fashion destination and one of the most iconic clothing stores in the Big Apple. When the trademark expired, the Four Five Group grabbed the opportunity. The nostalgic name pays homage to the boutique stores that initiated the fashion revolution and reminds us that classical silhouettes never go out of style.
Like the former New Republic, the brand's name is also rooted in the definition of "republic." A republic is a state in which power is held by the people. With affordable luxury at the heart of the brand, New Republic embodies this idea by being approachable to many. But accessible price points aren't the only way that New Republic gives power to the people. The thoughtful brand takes customer feedback seriously and is eager to implement customer suggestions wherever possible.
Because New Republic was incubated inside The Menlo Club before it was launched privately, lead designer, Mark McNairy, had the unique opportunity to onboard all customer feedback before New Republic shoes hit the stores. Mark had also collaborated with big names such as Adidas, Pharrell, Timberland and North Face, so he knew exactly what the market was missing at the time. Harnessing his years of experience and innovative mindset, the well-known designer hit the holy trinity of fashion attributes. New Republic shoes were (and still are): inexpensive, high-quality and equally fashionable—making them a raging success amongst trailblazing Millennials and old-school sartorialists alike.
Along with empowering its loyal fanbase, New Republic also aims to empower low income communities by making shoe donations easy. Partnering with Soles4Souls, the brand is helping people donate their gently-used shoes to people fighting poverty around the world. Instead of sending your old shoes to landfills, New Republic invites you to recycle them sustainably and responsibly.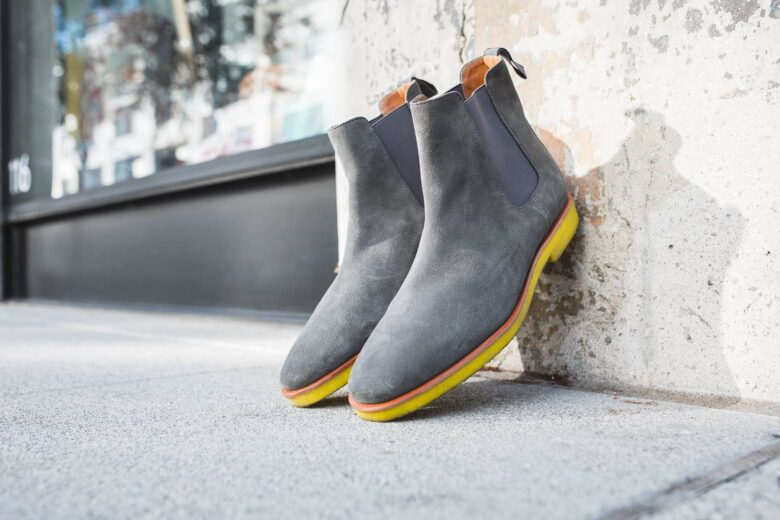 New Republic product range
New Republic is most popular for its stylish selection of simple sneakers and shoes, but the brand's clothing basics are just as essential. The range of New Republic sneakers includes casual canvas sneakers and suede platforms, as well as the best selling New Republic Kurt sneaker in a variety of fabrics and hues. The brand is also known for its boot selection and classical drivers.
When it comes to apparel and accessories, New Republic's menswear and womenswear are designed for everyday comfort. Hoodies, sweats and tees are the brand's clothing specialties. While minimalist caps and totes are New Republic's most coveted accessories.
Signature materials and craftsmanship
Whilst New Republic isn't necessarily considered an eco-brand, it is committed to moving towards a more sustainable future through eco-friendly materials and manufacturing. The first way in which the brand is achieving this is through small-batch production. Small-batch production may seem—well, small—but considering the horrifying stats regarding fast fashion waste, it's a small step with an enormous impact.
Small-batch production hugely reduces both textile and retail waste. And it ensures that all New Republic shoes are hand-stitched to the brand's highest standards for quality. Yep, every sole and every tongue is stitched by hand with immaculate attention to detail.
When it comes to materials, all New Republic sneakers also have Tencel mesh footbeds. What makes Tencel so special? Well, not only is it effortlessly comfortable and breathable, but it's also renowned as one of the most sustainable materials. Tencel is made from a rapidly renewable resource, eucalyptus trees. And manufactured in a closed-loop system, the fully-biodegradable fabric recycles most of the chemicals used during production.
New Republic uses genuine leather for many of its shoes. And while we understand the vegan's reticence towards this, we commend the brand for sourcing the highest quality leather sustainably. The brand's ethical leather is a byproduct of the meat industry, meaning that no animal is killed for the sake of a shoe. It is then specially crafted to be water-repellent and wrinkle-resistant, making it one of the most durable, action leathers for all-day wear.
Want to take your environmental responsibility one step further? In 2023, the brand launched the Stanton Recycled Suede Leather Sneaker—a shoe made from recycled suede and cotton canvas. And we're pretty sure there's a lot more to come.
Where is New Republic made?
New Republic shoes are designed in Los Angeles and manufactured in China. Redefining the "Made in China" cachet, the brand only handcrafts its shoes in high-grade, low-production factories. And sourcing premium material from established suppliers, New Republic is proving that shoes made in China can rival affluent labels in terms of quality and social responsibility. All New Republic's partnered factories are thoroughly audited to ensure good working conditions and fair pay.
Brand values
| | |
| --- | --- |
| Vegan options | No |
| Carbon-neutral | No |
| Gives back | Yes |
Our favorite finds from New Republic
New Republic Kurt Sneaker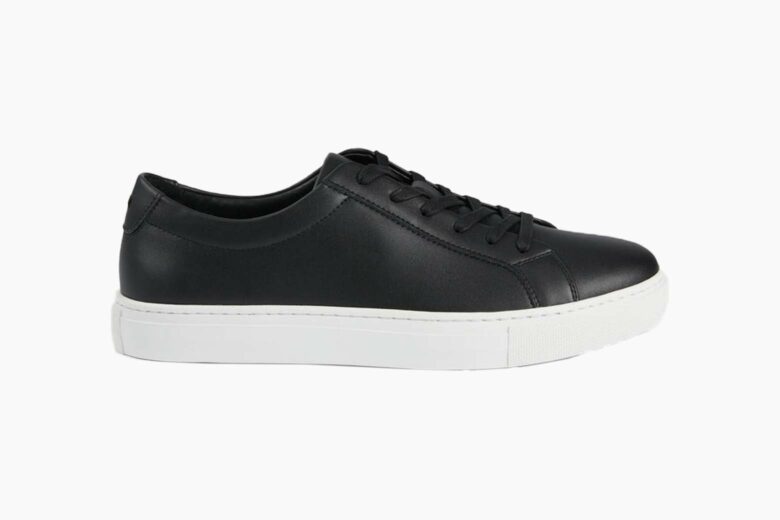 The best white sneakers for men are your blank canvas to endless styling options. But make them the best luxury sneakers too—and your chosen look is guaranteed to have that much-sought-after sophisticated edge. Enter: the best selling New Republic Kurt Sneaker. Commonly referred to as the most accessible (sub $100) alternative to the Common Projects Achilles sneaker ($400 plus), this triple white leather sneaker is a masterclass in affordable luxury. Yep, even affordable enough for more than one pair.
New Republic Chelsea Boots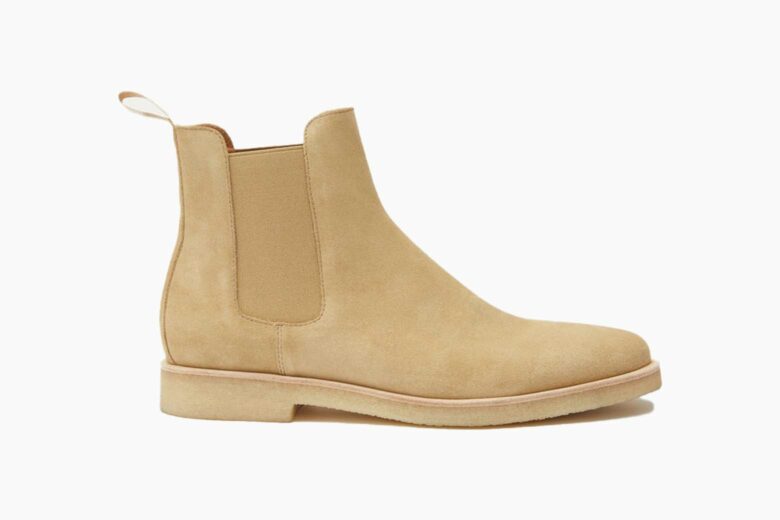 Not only are these New Republic boots some of the best Chelsea Boots for men, but they're also some of our favorite casual shoes altogether. As one of the most versatile silhouettes, these New Republic Chelsea boots are a quintessential transitional staple. Dress them up with chinos and blazers or keep them casual with denims and linens. Either way, we can't get enough of just how comfortable they are to walk in.
New Republic Malibu Platform Sneaker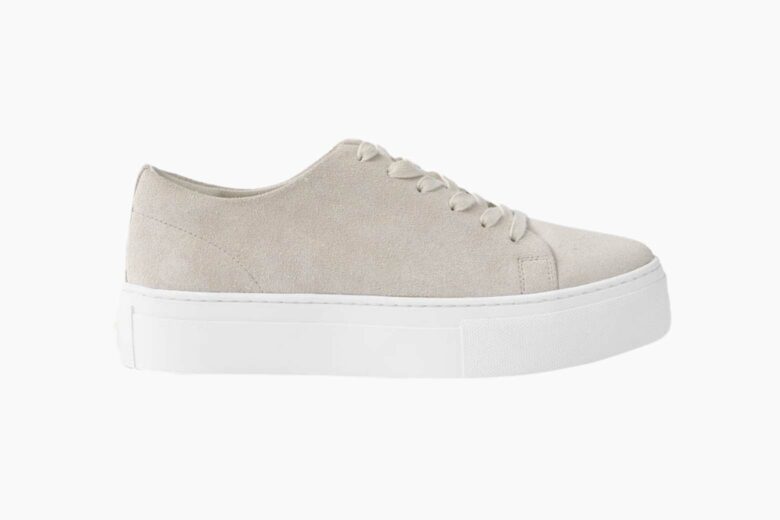 Platform sneakers epitomize elevated essentials—especially this pair by New Republic. The chunky platform sole gives any ensemble the lift it needs without compromising walkability. The classic lace-up suede silhouette is both timeless and trendy. And with a cushioned tongue and Tencel mesh footbed, these Malibu sneakers are also breathable and comfortable, making them some of our best sneakers for women.
New Republic Monaco Suede Driver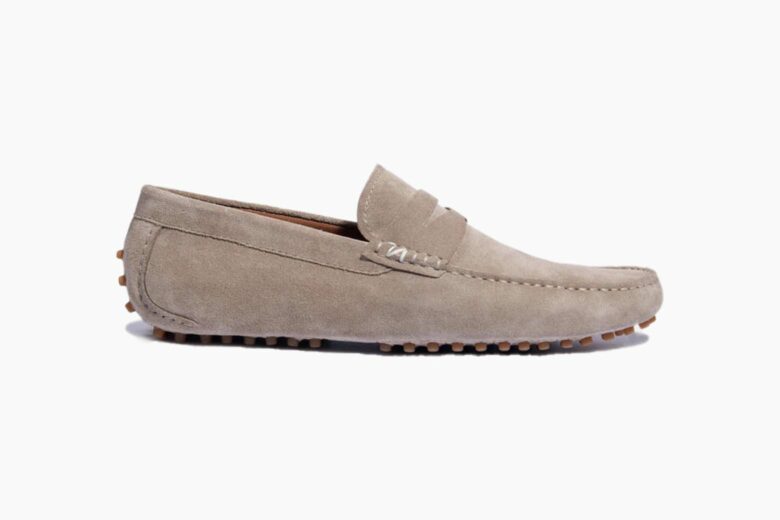 Lightweight and luxurious, these New Republic shoes are carefully designed for a life in motion. Perfect from the get-go (no break in needed), the Monaco Suede Driver takes the wheel when it comes to comfort and versatility. Classical and elegant, they fit right into a boujee brunch. While the sumptuous slip-on style makes them feel like an out-the-house slipper.
New Republic price
New Republic has a remarkable quality-to-price ratio. Although New Republic shoes are hand stitched from premium materials with impeccable attention to detail, they are a lot more affordable than other brands of similar quality. New Republic sneakers are priced between $45 and $98. The brand's boots are priced between $128 and $148. And its drivers are priced at $108.
Where to buy New Republic
The best option for the brand's full collection of footwear, apparel and accessories is the official New Republic online store. However, Amazon also stocks many of the brand's best sellers.
New Republic discount code
The brand's sale page on the official website has many New Republic shoes, clothes and accessories offered at huge discounts.
New Republic shipping
New Republic offers free shipping to anywhere in the U.S on all orders over $75. The online brand also offers international shipping to most European and other countries. However the cost of shipping will depend on where the order is being shipped. Domestic orders typically take between 7-10 business days to be delivered once ordered. While international orders can take between 10-14 business days.
New Republic return policy
New Republic accepts returns up to 14 days once received. However, all returns are subject to a $9 restocking fee. In order to receive a refund, items must be returned unworn and in their original packaging with the dust bag. Once New Republic has received the returned item, it takes 5-10 days to process a refund. All final sale items are not eligible for refunds, exchanges or store credit. And all international returns will incur shipping costs.
Frequently asked questions about New Republic
How good is New Republic?
New Republic shoes are high quality, fashionable and affordable. Hand-stitched from premium materials, they showcase impeccable craftsmanship and attention to detail. While versatile, durable silhouettes make them the perfect brand for all-day, everyday wear.
Who owns New Republic shoes?
New Republic was originally incubated inside the famed men's subscription box, the Menlo Club, by the Four Five Group. After receiving rave reviews from members of the club, the founders of the Four Five Group decided to launch the brand privately. They approached lead designer, Mark McNairy, and future New Republic CEO, Josh Kaplan, who launched the brand in 2016 in California. Check our article to learn more about the story behind New Republic.
Where are New Republic shoes made?
New Republic shoes are designed in the brand's headquarters in Los Angeles, California and manufactured in China. However, unlike many other brands manufactured in China, New Republic only hand-stitches its shoes from premium materials in low-production factories. The brand also conducts frequent audits to ensure safe and comfortable working conditions and fair pay.
Does New Republic have free returns?
New Republic does accept returns within 14 days of delivery. However, all returns are subject to a $9 restocking fee. When it comes to return shipping costs, domestic return shipping is free, but international returns will incur shipping costs. The brand's return policy excludes worn items, unpackaged items and final sale items—all of which are not eligible for a refund.