Innovative: if there's one word that best describes Glenmorangie, it's that. And for many reasons, starting from its seriously tall towering stills that are proudly described firstly as being the tallest in Scotland and secondly as being the same height as a fully grown giraffe.
This industry leader was one of the first to put Scotch whisky on the map, with a range of smooth, fruity, honeyed offerings that remain firm favorites across the world, no matter how many new distilleries enter the space.
Fusing together the old and the new, Glenmorangie has kept many things the same throughout its centuries of whisky production. For a start, it uses the same long-necked stills it first ordered from John Taylor's gin distillery in 1887. And you'll struggle to find many other distilleries that still refer to their staff members as "Men of Tain."
But at least part of its success comes from looking towards the future, too. Like branching out into different casks for some of its bottles, or producing a range of limited edition offerings with unique qualities and aromas. Versatile enough for both newbies and experts to enjoy, Glenmorangie promises a delicious experience from first to final sip.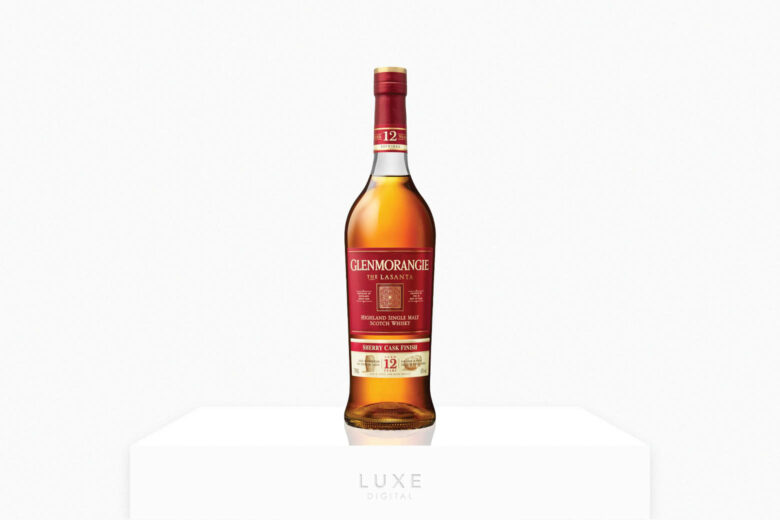 Glenmorangie Whisky price and bottle sizes
| Bottle | Size | Price (USD) |
| --- | --- | --- |
| Glenmorangie Original 10 Year Old Single Malt Whisky | 750ml | $45 |
| Glenmorangie 12 Year Old Sherry Cask Finish – Lasanta Single Malt Whisky | 750ml | $58 |
| Glenmorangie 14 Year Old Port Cask Finish – Quinta Ruban Single Malt Whisky | 750ml | $63 |
| Glenmorangie 18 Year Old Single Malt Whisky | 750ml | $135 |
| Glenmorangie Signet Single Malt Whisky | 750ml | $250 |
| Glenmorangie 25 Year Old Single Malt Whisky | 750ml | $600 |
| Glenmorangie Grand Vintage 1990 Single Malt Whisky | 750ml | $800 |
| Glenmorangie Pride 1978 | 750ml | $5,300 |
The secret ingredient to its unique taste? Wood.
That sweet fruitiness you taste when drinking Glenmorangie? That's a combination of how it's distilled and how it's aged.
Glenmorangie has used the same casks since its beginning, made from slow-growth American white oak from north-facing slopes in Missouri.
Once distilled, Glenmorangie's offerings spend their time in those air-dried ex-American oak casks. If they're not bottled immediately, they're transferred to ex-fortified wine like Port or Sherry or still wine like Sauternes, Burgundy, or Super-Tuscan casks.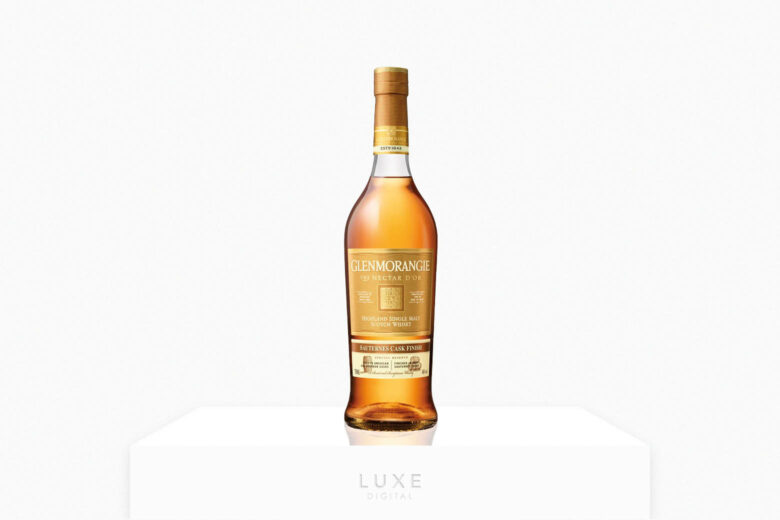 Some distilleries reuse their casks as many as six times, but Glenmorangie has a firm "twice only" rule. A large amount of the whisky's depth and complexity can be attributed to these casks and Glenmorangie will almost always be revered as being one of the first to put this into practice.
As one of the pioneers of this technique, as well as pioneers of the Scotch industry as a whole, it's fair to say that buying a bottle of Glenmorangie will never be a bad idea.
Glenmorangie's water comes from the distillery's Tarlogie Springs, which is one of the only hard water sites in Scotland. It's the brand's most prized possession and is the result of rain that's forced its way through layers of limestone and sandstone for a hundred years.
It's another of those individually Scottish elements that you just can't replicate. And, as the world of Scotch whisky grows and grows, Glenmorangie promises to sit at the helm, steering the way with one innovative idea after the other.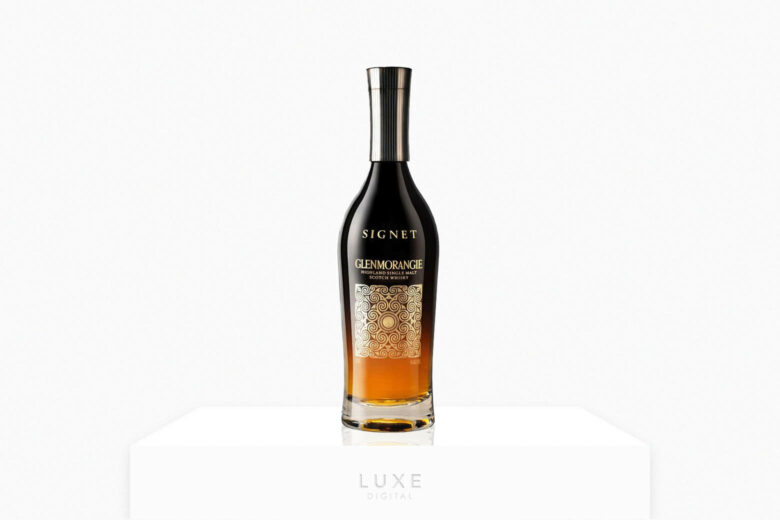 How to drink Glenmorangie Whisky
The best way to drink Glenmorangie whisky depends on which bottle you're sipping from. As with all spirits, the older the bottle, the more you'll want to savor it. Luckily, Glenmorangie comes in a variety of ages, which means it's a great choice no matter whether you're looking for a neat whisky to enjoy drop by drop or an evening of cocktails with a limitless approach.
If you're drinking an older bottle of Glenmorangie (anything aged for 14 years or longer) we'd recommend enjoying it the traditional way: with the correct glassware and the right accompaniments. That means a Brandy Snifter glass and clear ice cubes made from filtered water.
If you're looking to go all out, you can even bring out the pipette for dropping in more water throughout your drinking experience. If you're looking to mix your Glenmorangie, keep it simple with club soda, water, or ginger ale to begin with.
Once you've sampled its tasting notes, you'll know exactly how to craft the best cocktails with it. These aren't restricted to any particular form of glassware, and you'll find a few top choices below if you're looking to get the most out of Glenmorangie's unique aromas and flavor notes in cocktail form.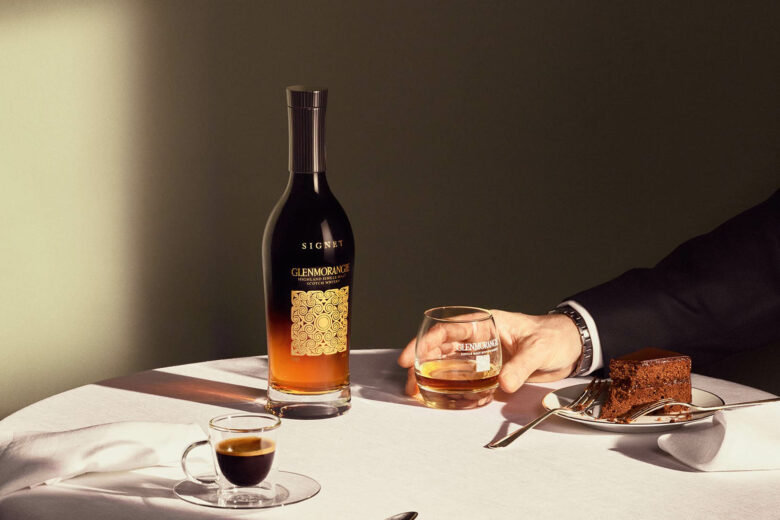 The best cocktails to make with Glenmorangie Whisky
Glenmorangie is a long, fruity, gentle Scotch whisky and goes great in a lot of cocktails. You can either keep it simple by mixing it with soda water or ginger ale or mix it up into long drinks with a variety of flavor notes. When crafting cocktails using Glenmorangie, you'll want to stick to more budget-friendly offerings, like Glenmorangie Original 10-Year-Old Single Malt Whisky.
Scotch Manhattan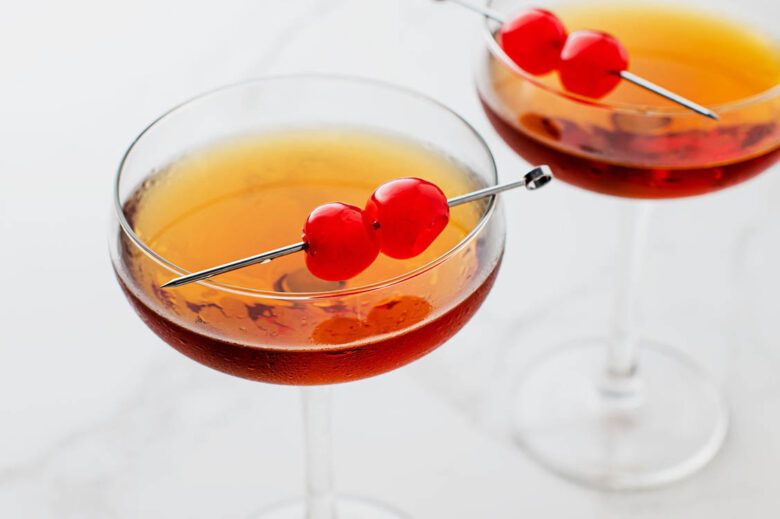 Ingredients:
45 ml Glenmorangie Original 10-Year-Old Single Malt Whisky
22 ml Sweet Vermouth
2 dashes bitters
Maraschino cherry for garnishing
Ice
Cocktail recipes: Also known as a Rob Roy, a Scotch Manhattan is smoky, rich, and alluring. Make one by pouring the whisky, vermouth, and bitters into a mixing glass filled with ice and stir gently. Strain into a chilled cocktail glass and garnish with the Maraschino cherry before serving.
Smoked Rose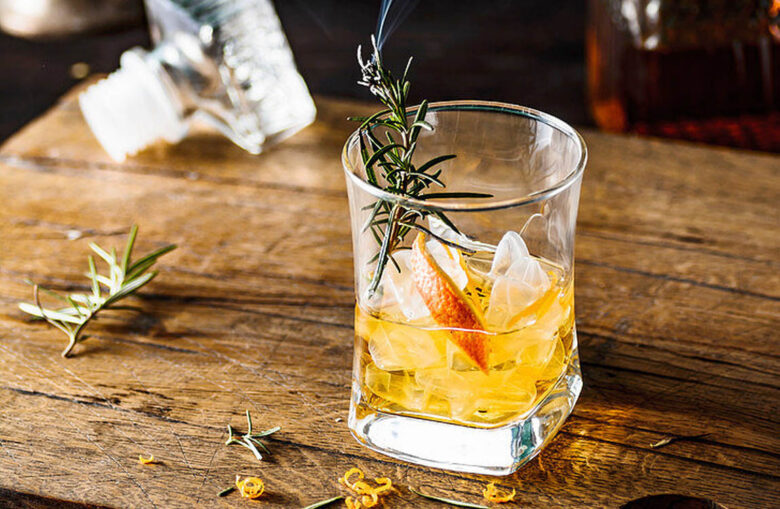 Ingredients:
60 ml Glenmorangie Original 10-Year-Old Single Malt Whisky
15 ml Green Chartreuse liqueur
7.5 ml rosemary syrup
1 sprig dried rosemary
Ice
Cocktail recipes: The first step to making this aromatic cocktail is to make the rosemary syrup, by stirring water, sugar, and rosemary sprigs together until suitably infused. Then, craft the rest of your drink by pouring the scotch, Green Chartreuse, and rosemary syrup into a mixing glass filled with ice. Stir well and pour into a smoked Coupe glass before garnishing with another rosemary sprig and serving.
Mint julep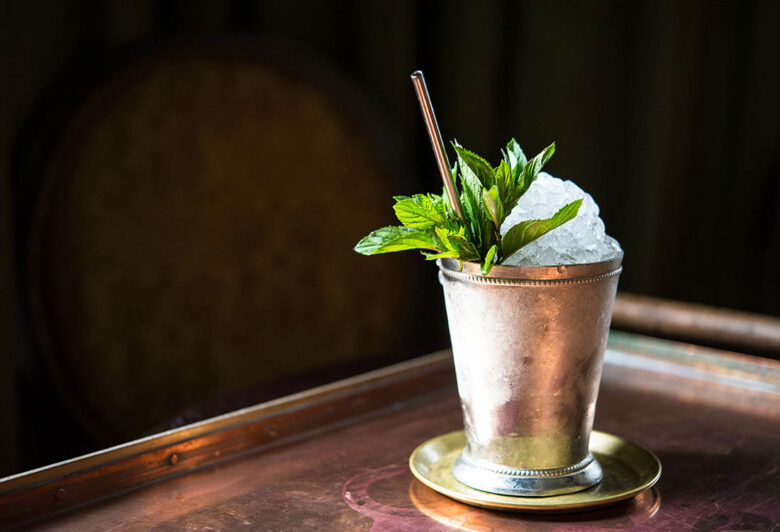 Ingredients:
65 ml Glenmorangie Original 10-Year-Old Single Malt Whisky
12.5 ml sugar syrup
10 mint leaves
Ice, cubes, and crushed
1 sprig of mint for garnishing
Cocktail recipes: A Mint Julep is a great whisky cocktail for those who claim not to like the smoky spirit. Blending the intricacies of Glenmorangie with a refreshing twist, this cocktail always goes down a treat. To make, mix the bourbon, mint leaves, and sugar syrup together with ice in a glass and strain into a Julep tin filled with crushed ice. Stir gently and garnish with the mint sprig before serving.
Frequently asked questions about Glenmorangie Whisky
How much is Glenmorangie whiskey?
Glenmorangie starts at $44.99 for a 750 ml bottle of Glenmorangie Original 10-Year-Old Single Malt Whisky and goes up to thousands of dollars for rarer offerings, like Glenmorangie Pride 1978. A standard bottle costs around the same amount as a bottle from Macallan or Buchanan's.
Who owns Glenmorangie?
Glenmorangie is owned by The Glenmorangie Company Ltd, which is one of the alcohol companies owned by Moët Hennessy-Louis Vuitton (LVMH).
Is Glenmorangie a good Whisky?
Glenmorangie is one of the world's most popular whisky brands and is the best selling single malt in Scotland. It sells around 10 million bottles every year. Some other popular whiskies include Johnnie Walker and Jameson.
Is Glenmorangie better than Glenfiddich?
Both whiskies are known for being very good. Glenmorangie is often called a smoother and sweeter whisky, while Glenfiddich makes better cocktails. Glenfiddich is the best-selling single malt whisky in the globe but Glenmorangie is also very popular, especially in the UK.