There's good whisky, great whisky, critically acclaimed whisky, and then there's Macallan. A whisky that broke records after going on sale for nearly $2 million.
The secret to the brand's success and to their whisky? A commitment to superior craftsmanship, a peerless attention to detail, and an estate by the famous River Spey in Scotland.
From the accessible and easygoing Macallan 12 to bottles over 50 years old that are auctioned off at eye-watering prices, plus a flavor range that includes dried fruit, toffee, nuts, smoke, and spice, this is a brand that does whisky like no one else.
Whether you choose to drink it straight, with ice, or in any number of addictively tasty cocktails, when you drink Macallan, you're drinking something imbued with centuries of history, tradition, and prestige.
Here's what makes Macallan whisky so special, so sought-after, and, of course, so expensive.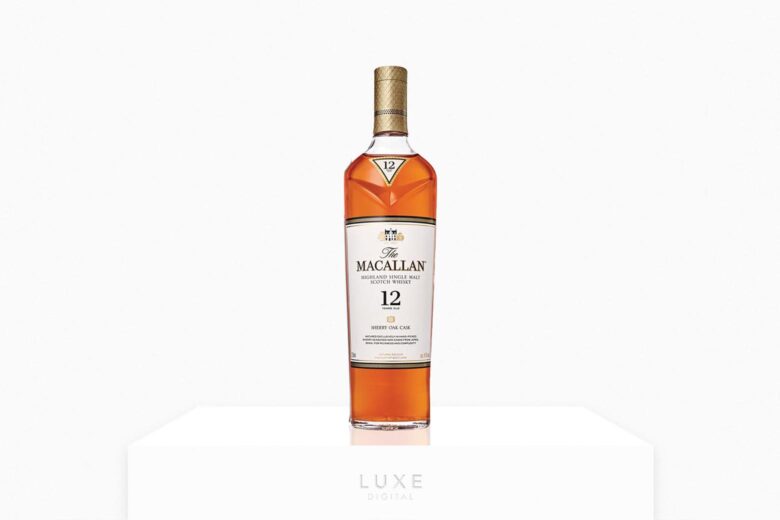 Macallan bottle sizes and prices
| Bottle | Size | Price (USD) |
| --- | --- | --- |
| Macallan 12 Year Old Sherry Oak | 750 ml | $86 |
| Macallan 12 Year Old Double Cask | 750 ml | $80 |
| Macallan 10 Year Old Fine Oak | 750 ml | $60 |
| Macallan 18 Year Old Fine Oak | 750 ml | $314 |
| Macallan 20 Year Old | 750 ml | $450 |
| Macallan 21 Year Old Fine Oak | 750 ml | $599 |
| Macallan 25 Year Old | 750 ml | $2500 |
| Macallan 30 Year Old | 750 ml | $5100 |
Macallan: the story behind the brand
What makes a Macallan whisky?
Macallan was founded in 1824 by Alexander Reid, a barley farmer, and school teacher. The distillery was one of the first to receive a legal license in Scotland. 
Located on a 390-acre estate in the Scottish Highlands and by the River Spey, Macallan is a Speyside whisky: a single malt Scotch distilled in Strathspey. Speyside whiskies are known for their lightness and sweetness, more approachable than peat-heavy Islay whiskies, and with unique apple, pear, honey, vanilla, and spice notes.
Distillation takes place in 25 copper stills—the smallest to be found in Speyside, holding 3,900 liters each. This reduced size allows the maximum surface contact between the alcohol and the copper, lending the drink a distinct richness and body.
Only 16% of the distilled spirit is used. By picking just the finest cut, the distillery can ensure that famously smooth and viscous mouth-feel and that fruity aroma and flavor.
Next, the question of barrels. At Macallan, the emphasis is firmly on the casks. In fact, they are the only Scotch distillers with a designated Master of Wood whose job it is to source the barrels from trees in the US and Spain, after which they are dried, shaped, and seasoned.
Today, Macallan spends more per cask than any other distillery.
In terms of color, Macallan whisky is quite light—but don't let that put you off. Many whiskies get their golden hue from artificial colorings and so Macallan's lighter shade is actually proof of its superior quality.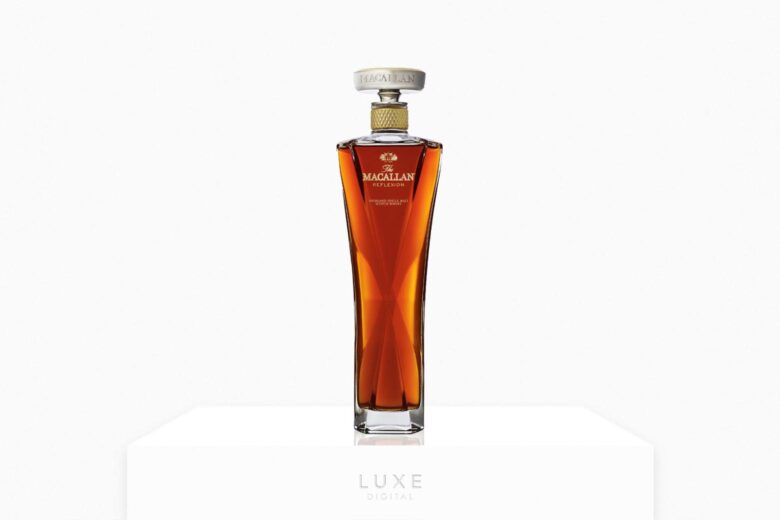 Endless choice: the different Macallans explained
Macallan's sherry oak single malts are aged in Oloroso seasoned oak casks which makes for a sweet whisky that gets richer over time. More recently, the brand has introduced its Fine Oak series with some of the whiskies matured in bourbon oak casks.
Macallan Double Cask whiskies are aged in two different casks to create a spirit with mixed character. Macallan's Double Cask Gold, for example, has a sweet and citrusy taste with notes of boiled sweets while the Double Cask 12 Year Old has honey and ginger flavors.
Then there's Macallan's Triple Cask whisky where yet another cask is used to create even greater depth and complexity.
Beyond that, there's Macallan's Quest Collection, where whisky casks are sourced from around the world. For example, the Macallan Lumina, sherry seasoned in European and American oak casks, or the Macallan Terra, matured in oak casks from America and Europe.
The best Macallan whisky if you're just beginning your affair with Scotch? The Macallan 10. Another option is the Macallan Sherry Oak 18 Years, for that classic Macallan fruit cake flavor.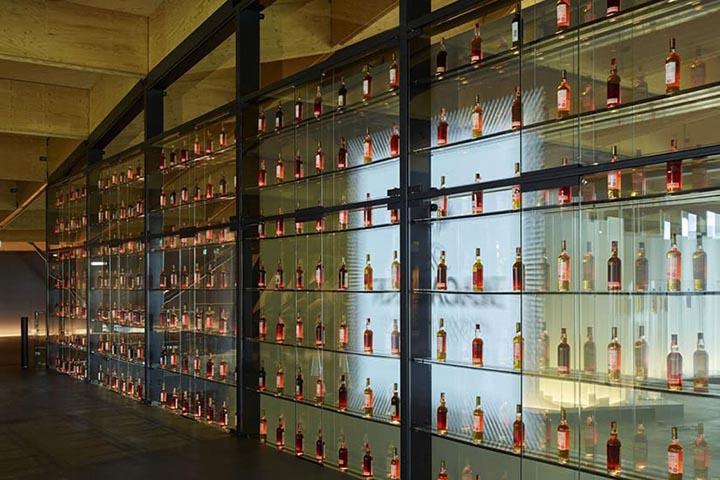 A Speyside success story
Today, Macallan is considered one of the world's best Scotches and represents one-third of the world's single malt whisky market, selling around 700,000 bottles a year. It's somewhat of a Scottish icon, too, with images of Macallan's copper stills appearing on Bank of Scotland £10 notes.
Macallan has also grown to be associated with all things suave, sophisticated, and successful. For one thing, Daniel Craig as James Bond drinks Macallan whisky in Spectre.
It's also the Official Scotch of the UK House of Commons, which is slightly less cool but still impressive.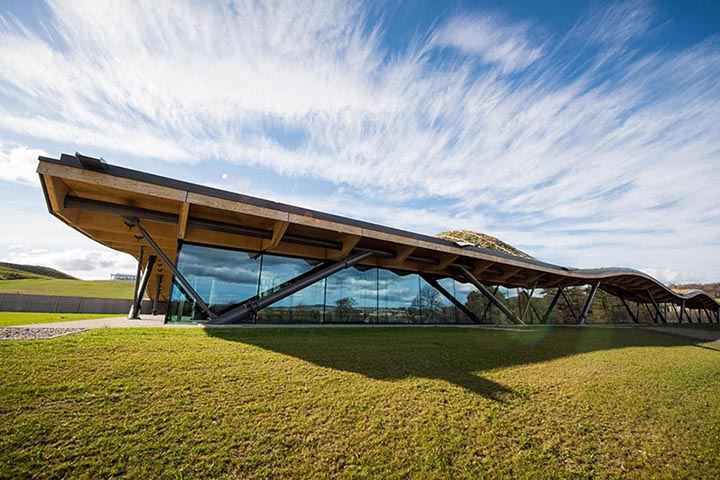 There have been collaborations with the likes of Lalique, the French luxury glassmaker. In fact, in 2017, a Macallan Lalique 50 Year Old sold for more than $460,000. And, in 2018, 600 bottles of Macallan Lalique 72 Year Old — The Genesis Decanter went on sale for $60,000 each.
Indeed, the price of Macallan whisky has escalated rapidly due to increased demand. In 2018, a bottle of 60-year-old Macallan 1926 whisky sold for just over $1.1 million. This record was broken again by Macallan in 2019, after a bottle of the brand's Fine and Rare 60 Year Old 1926 sold for $1.9 million. That's around half the price of a Bugatti.
Of course, highly-coveted whiskies like this are more akin to a Rolex—for display rather than drinking. Luckily, Macallan also produces whiskies that you can actually afford to consume, and the brand is increasingly popular with young whisky drinkers in particular.
How to drink Macallan: the choice is yours
There's a lot of snobbery and social convention around the best way to drink whisky but it's really a matter of individual preference. Here, however, are a few tips to get the most out of the experience.
Scotch whisky like Macallan is best enjoyed at room temperature rather than chilled. And, to maximize flavor, you want the right whisky glassware — a tumbler, lowball, or a tulip-shaped snifter.
We recommend trying it neat to begin with, to really understand the taste. But water or ice can be used to lower the ABV, especially with high-proof whiskies, softening what can otherwise be a real sensory overload. If you do add ice, opt for large cubes that melt more slowly, so you can enjoy a long but chilled drink.
Before sampling, swirl the whisky around the glass and take a good sniff or two. Then take a sip and roll it around your mouth to detect different notes. When you swallow, breathe in through your nose for the full flavor whirlwind.
If you fancy venturing off the beaten path, why not add a mixer? Lemon or bitters are a good option. Ginger ale is another favorite. Or you could try soda water for a simple whisky highball.
Macallan cocktail recipes
Macallan whisky is the perfect base for some unforgettable cocktails. The complex flavors of the spirit are brought out by the addition of other ingredients, revealing what a versatile drink Macallan can be. The following are three whisky classics for you to try. Order a bottle of Macallan whisky online and get mixing.
The Godfather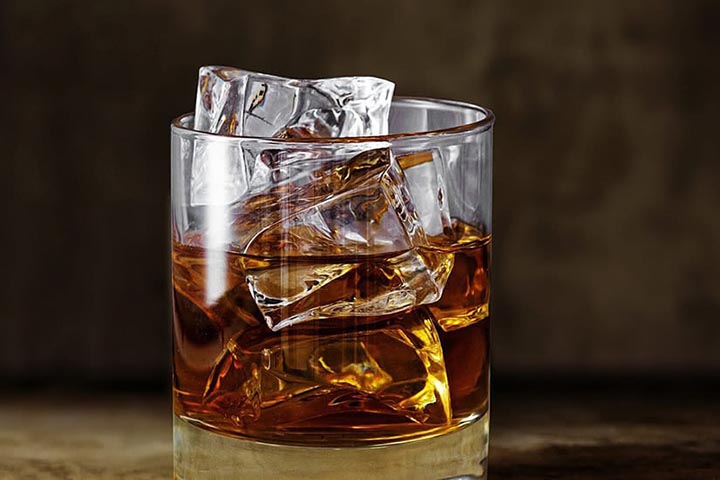 Emerging on the mixology scene around the same time as the film of the same name, this one's ultra-simple to make and ideal for after a long day at work. The almond amaretto dilutes and sweetens the Scotch.
Ingredients
60 ml Macallan Double Cask 12
20 ml Disaronno amaretto
Cocktail recipes: Fill a glass two thirds full with ice. Add the whisky and amaretto. Stir until chilled, then strain into a tumbler with ice. 
Rob Roy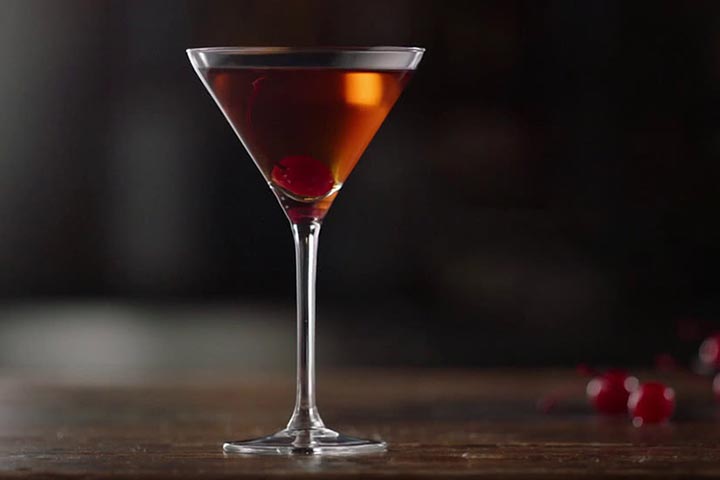 Like a Manhattan but made with Scotch rather than bourbon or rye, the Rob Roy is named after a Broadway show about the Scottish folk hero, Robert Roy MacGregor.
Ingredients
50 ml Macallan Sherry Oak 12
30 ml sweet vermouth
2 dashes Angostura bitters
Maraschino cherry for garnishing
Cocktail recipes: Fill a glass with ice to chill. Meanwhile, add all the ingredients to another glass with ice and stir for around 30 seconds. Strain into the first glass and garnish. 
The Blood and Sand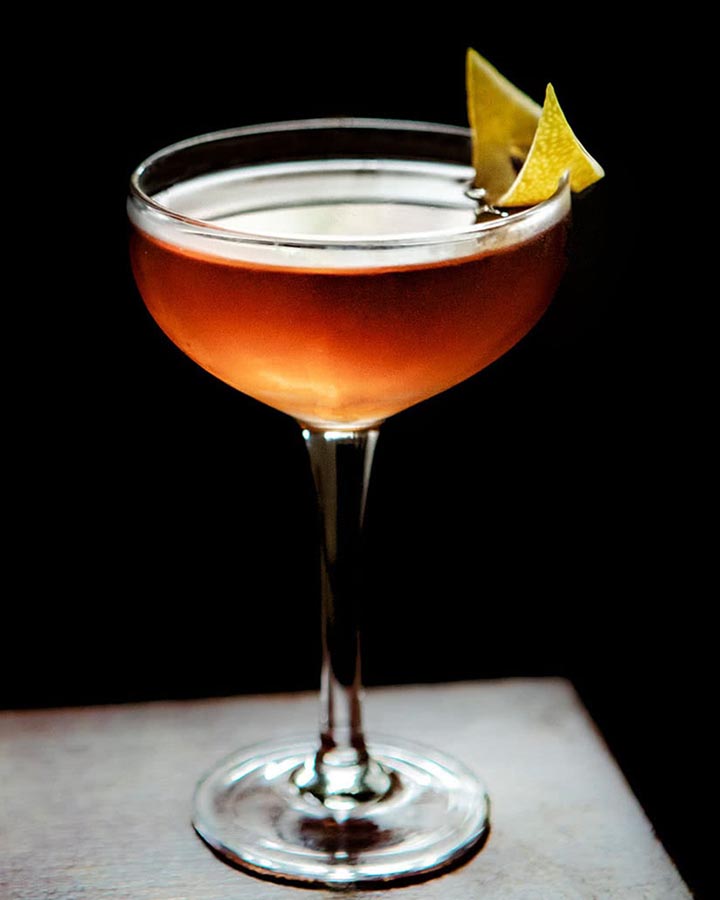 The Blood and Sand is the perfect cocktail for those who still aren't convinced they like whisky. It's sweet and more-ish, and includes a powerful combination of whisky, brandy, and vermouth. If you find it too sweet, add more orange juice and whisky.
Ingredients
22.5 ml Macallan Double Cask 12
22.5 ml cherry brandy
25.5 sweet vermouth
22.5 ml orange juice
Orange peel to garnish
Cocktail recipes: Add the Scotch, brandy, vermouth, and orange juice to a cocktail shaker with ice. Shake, then strain into a chilled glass and garnish. Passion fruit makes for a great alternative to orange.
Frequently asked questions about Macallan
How much is a bottle of Macallan 12 Year?
A bottle of Macallan 12 Year Sherry Oak costs around $40 while the Macallan 12 Year Double Cask costs around $50. The reason for the slight difference in price is that the latter has been aged in two different casks for added flavor complexity.
Why is Macallan expensive?
Macallan is expensive, firstly, because of the production process, including the copper stills—some of the smallest in whisky-making—and the painstaking task of sourcing the perfect casks. Plus, with some Macallan expressions, there are only a few bottles in existence. This drives demand, which, in turn, drives prices.
How much is Macallan at Costco?
At Costco, you can pick up a bottle of Macallan 18 for between $60 and $80. When Macallan has made too much whisky in the past, they've sold it to other merchants who take the casks and mature them in their own warehouses before bottling. The Macallan 18 is sold under Costco's Kirkland label.
What is the most expensive Macallan?
The most expensive Macallan ever sold was a bottle of Macallan Fine and Rare 60 Year Old 1926 from cask number 263, sold in 2019 for $1.9 million. This works out as about $63,000 per 25 ml—or per shot.