Perhaps it's succumbing to the temptation to hit snooze. Perhaps it's ending the day, dragon-slaying fiction in hand and a young one curled up on your lap. Perhaps it's replacing your early morning HIIT session with slow-brewed tea. Or perhaps it's a glass of wine in the evening sidled up to a roaring fire.
Eberjey is all about slowing down enough to embrace the softer side of life with comfort and confidence. It's a side where "the outside world fades and your inner voice reigns." A side where you allow yourself to set aside routine and commitments for a moment and allow yourself those small but significant indulgences.
At a glance
| | |
| --- | --- |
| Brand: Eberjey | |
| Founded: 1996 | Founders: Ali Mejia and Mariela Rovito |
| Origin: United States | Industry: Fashion |
| Collections: Women's, men's and kid's sleepwear, loungewear and accessories | Website: eberjey.com |
| Shipping: International | Headquarters: Miami, United States |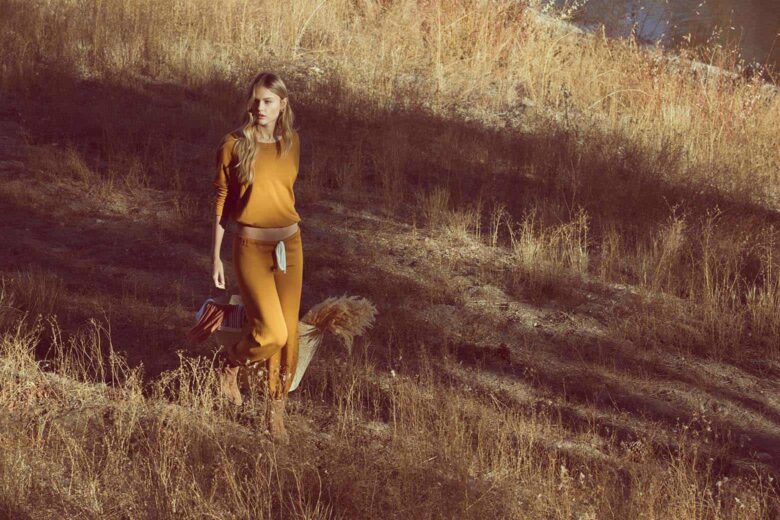 Behind Eberjey
History of Eberjey
Founded in Miami in 1996, Eberjey launched to empower women through luxurious pajamas. From a young age, co-founder Ali Mjia was obsessed with altering her clothing. And she frequently visited her local seamstress to perfect her latest pieces for optimum comfort and style. When she met co-founder Mariela Rovito, they bonded over their personal nightmare struggles with the lingerie market at the time. Ali and Mariela were both tired of the sleepwear and lingerie world that was dominated by the male-gaze with sexy-but-uncomfortable sets. And after working together in advertising, they teamed up to create Eberjey—a luxury sleepwear label with women's needs and desires at its core.
From the get-go, the female-led brand was far more interested in how the women wearing their pajamas felt, rather than how they were perceived by men. Eberjey's sumptuous silhouettes were designed to pamper women at the end of a hard day's work. Their sultry sets were pieced together to induce the feeling of indulgence that derives from doing something entirely for yourself. And their sustainable natural materials were carefully chosen with both the planet and longevity in mind.
Taking social media by storm with raving Eberjey reviews, they built on their early success in women's lingerie and extended their line to include menswear and kidswear. Twenty-five years later with a focus on family, they continue to encourage consumers to slow down and appreciate the small things—like sleeping in and breakfast in bed. Because in a world that demands so much from us, be it physically or digitally, we could all do with a bit more of that.
Interesting facts about Eberjey
Eberjey is named after the Nigerian word for joy—a moniker lived up to in every sense of the word. And as the thoughtful label makes its way into our nourishing nightly rituals, it strives to spread smiles in a myriad of different ways. Not only do they elevate our favorite part of each day, but it does so with an outward approach.
Our favorite part of our days? Cuddling up with our children and watching their faces light up as the heroine slays the dragon in our latest fantasy escape. And whilst encouraging our young ones to fall in love with books and stories speaks Eberjey's slow down philosophy, it also serves a greater purpose.
Literacy is one of life's most fundamental skills and one that many children fail to learn through no fault of their own. Eberjey acknowledges this as deeply concerning by partnering with RIF through their Line by Line initiative. RIF is a non-profit that works with skills and communities to teach children to read. And with the help of Eberjey's generous book donations, they give these curious minds a chance to succeed—"line by line, book by book and pj by pj".
Whether it's Eberjey's unprecedented soft fabrics, their soft-hearted approach to philanthropy or more likely a combination of both, the dreamy brand has crawled its way into the evening routines of many A-list celebs. And with names like Meghan Markle, Kylie Jenner, Emma Watson, and Oprah signing off on the sumptuous sleepwear sets, it's safe to say they're good enough for us—especially as one of the more affordable celebrity-loved labels. Plus their personalized monogramming kind of makes us feel like a big shot too, even if we never have to chase away paparazzi.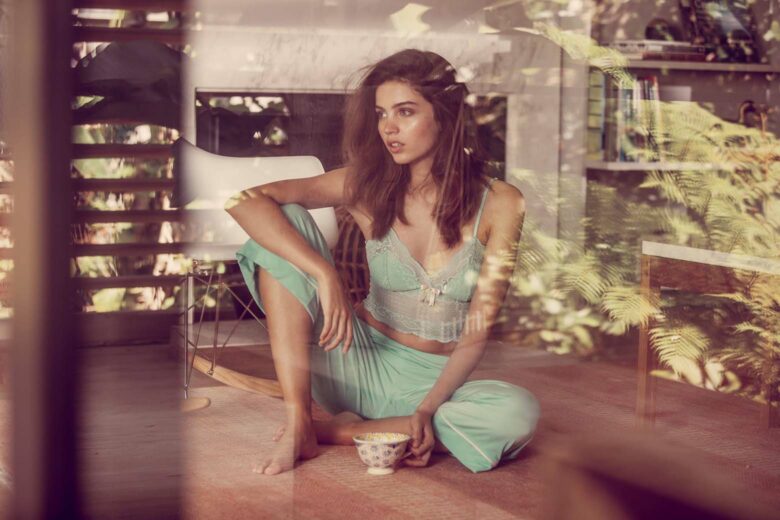 Eberjey product range
The female-led brand may have started out in women's lingerie, but these days they're dressing just about anyone in anything—from aspirational celebs to loving families. Along with their hallmark collection of superlative sleepwear, their line of womenswear now includes Eberjey activewear, apparel, Eberjey swim, accessories and underwear (trust us when we say that every woman needs an Eberjey bra).
It's no secret that we adore the luxury brand and they've already made their way into many of our carefully curated lists. Their linen white maxi dress has been listed amongst our best white dresses for women. As one of our go-to swimsuit brands, we're big fans of their textured one-pieces. Their yoga pants are a personal favorite. And as one of our best robes, an Eberjey robe remains a quintessential part of our evening routines.
Whilst womenswear will always be the brand's signature, they felt too bad to leave our men and kids out of the fun altogether. And we think their range of incredibly soft men's and kid's sleepwear is the perfect excuse to kit out the family in matching sets. Everyone needs a cringe family Christmas card, right?
Signature materials and craftsmanship
Eberjey is dedicated to sourcing the finest materials—for you and the planet. Whilst comfort is the foundation of the luxury brand, Eberjey material achieves this without compromising the Earth.
TENCEL Modal is one of the brand's signature sustainable fabrics and is used in many of their best-sellers. Made from beech tree pulp, Modal is renowned for its ability to retain its shape, its breathability, and its resistance to pilling. Produced by one of the most eco-friendly manufacturers, it derives from a closed-loop system where most of the water and chemicals used are infinitely recycled.
Washable silk is another one of the brand's eco-warriors and luxury heroes. This fabric is biodegradable, renewable, and sourced in a way that doesn't harm the silkworms. It is also naturally thermoregulating and hypoallergenic, making it a dream to sleep in. But whilst most silks require hand washing, Eberjey's silk pieces can be machine washed—a small but impactful detail.
Eberjey also uses linen for many of its Summer staples. As one of the oldest fabrics, the natural material was discovered by Ancient Egyptians for its breathability and durability. And centuries later, it is prized as one of the most eco-conscious fibers. Naturally plant-based, the biodegradable fiber derives from flax plants. Flax plants are effortlessly renewable as they grow incredibly quickly with minimal water and a high carbon absorption rate. Furthermore, the whole plant is used in the manufacturing process, resulting in zero waste and making linen one of the most sustainable fabrics in fashion.
Where is Eberjey made?
Eberjey apparel is thought up and designed in the palm-lined streets of Miami. And whilst the brand's decadent designs speak to the city's luxuriously indulgent lifestyle, they are actually manufactured around the world. A lot of Eberjey's products are made by ethically-certified factories in Peru and China. The Eberjey swim collection is produced in the Dominican Republic. Whilst most of their fabric comes from Europe. And more specifically, they come from Austria, where Lenzing Modal—the world's most reputable sustainable textile company—is based.
Brand values
| | |
| --- | --- |
| Vegan options | Yes |
| Carbon-neutral | No |
| Gives back | Yes |
Our favorite finds from Eberjey
Eberjey Gisele pajamas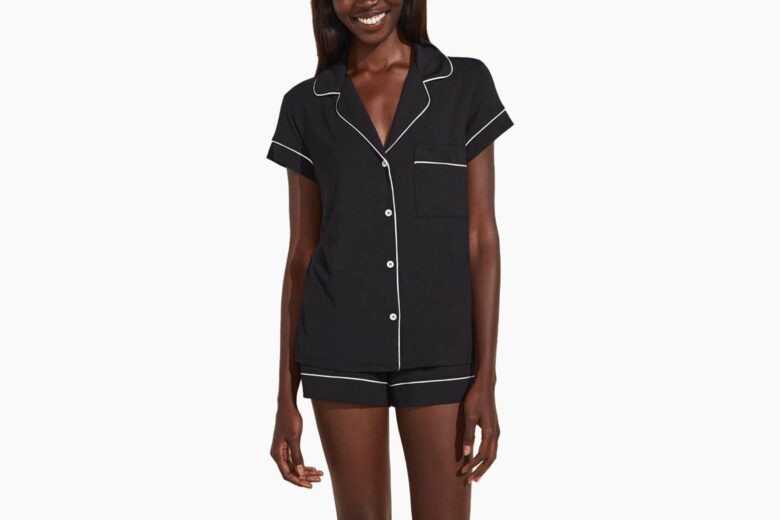 So often we aspire to wear beautiful matching pajama sets. And after one night, elastics digging into our waists and feeling stifled in synthetic fabrics we resort back to our stained-yet-snug oversized cotton tee. But wait, before you give up on the idea of cute-but-comfortable sleepwear, we implore you to try Eberyjey's signature set. Listed as our overall best pajamas for women, the Eberjey Gisele pajamas are unrivaled in softness. We mean it, you may find an Amazon pair that looks similar to a classical button-down collar, but you won't find a pair that feels nearly as soft. Plus, the fact that it's made from beech tree fibers means that it's effortlessly light and breathable—perfect for those warm Miami nights.
Long silk Eberjey PJ set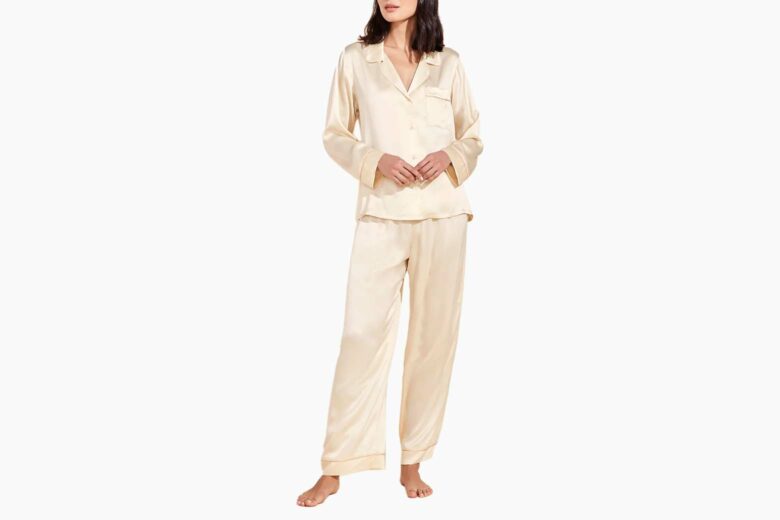 Listed as our number one lingerie brand, Eberjey is centered around how women feel whilst wearing their products. This long silk Eberjey pj set epitomizes elegance empowered by comfort, confidence, and convenience. Stepping into the long sumptuous silhouette is like stepping into the softest, smoothest cocoon. But at the same time, it kind of feels like slipping on a luxurious designer ball gown. And the fact that the silky set is machine washable—well, for us that just seals the deal. Because in the modern century, what woman really has time to labor over hand wash-only labels?
Eberjey Sherpa Slippers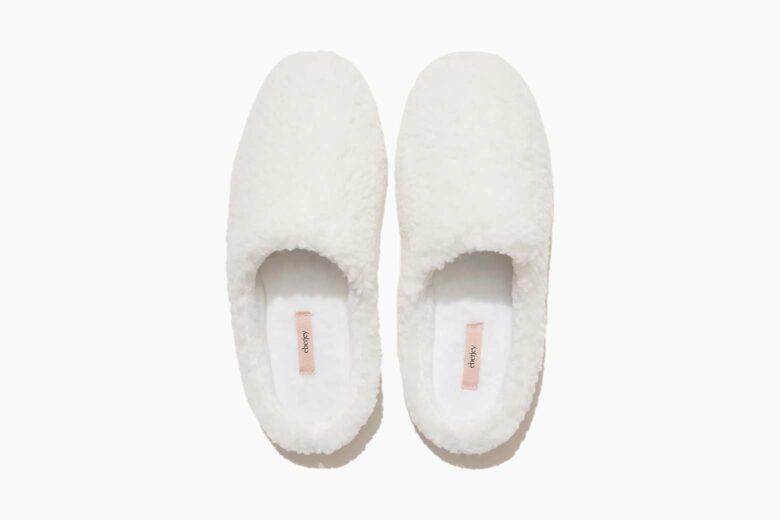 These ivory slip-ons are some of our best slippers for many reasons. But perhaps the most significant is the super snug silhouette. Made from faux sherpa, these sumptuous slippers are both vegan-friendly and impossibly soft. They are engineered with impeccable attention to detail and include touches like a cushioned insole for cloud-like comfort. The rubber outsole also means that you can run outside to collect your next delivery (maybe an Eberjey sleep shirt?) And whilst that may seem small, we've all been in the predicament where the doorbell rings, and we're faced with the dilemma of baring the cold barefoot or risking ruining our slippers.
Where to buy Eberjey
Eberjey is stocked by many reputable e-retailers such as Net-a-Porter, Selfridges, Nordstrom, and The Outnet. But our best place to shop the luxury brand remains the Eberjey official site. It is always well stocked with the brand's full range of styles, colors, and sizes—preventing buyer's remorse. And it is easy to navigate and filter through to find exactly what you're looking for. You'll also find Eberjey sale items at unnecessary-but-much-appreciated reduced prices.
Eberjey price
Eberjey is l a lot more affordable than other celebrity-loved labels. Smaller purchases such as Eberjey intimates cost around $30. Modal Eberjey pj sets are priced around $150. And silk Eberjey pj sets are priced around $300. Whilst Eberjey sale items can be reduced to as little as $34.
Eberjey shipping
For deliveries within the U.S: standard shipping is free on orders over $100. On orders under $100 dollars, standard shipping costs $7. In both cases, orders should be received within 4-8 business days. Unless your order includes monogramming, in which case you should allow for an extra 7-10 business days. If you would like your purchase to arrive sooner, express shipping (2-3 business days) costs $17, whilst overnight shipping costs $28.
For international deliveries: standard shipping costs $15 and the time of delivery depends on the destination. But you should expect it to take around 7-10 business days.
Eberjey return policy
Eberjey offers a full money-back guarantee on products returned unworn with all tags attached within 45 days of your order date. Eberjey returns are seamless through the brand's official site. And the only products that cannot be returned are final sale items, opened intimates, beauty products, and monogrammed items.
Eberjey social media profiles