Travis Scott is a renaissance man. Growing up with his grandmother in a rough neighborhood of Houston, Texas, Scott was imbued with a drive to always be expanding and improving upon himself. That quest has led him to eight Grammy nominations, acting roles, a special meal from McDonald's, the creation of a foundation to provide education for youths, and yes, a collaboration with Nike shoes.
His ambition and drive is laudable. But wanting to create sneaker art and delivering on it are two different things. The big question—doTravis Scott's shoes actually manage to live up to the hype?
We certainly think so. Scott isn't just a gimmick, he has a real talent for shoe design. If he keeps it up, we fully expect to see his work eventually make its way onto our sneakers 'best-of' list.
While not all Travis Scott Nike shoes are created equal, Scott has created more than his fair share of eye-catching kicks, ready to be paired with your favorite fashion trends. We invite you to peruse this list of what we consider to be the top 11 of the Travis Scott Jordan collab and decide for yourself—total hype or totally hip footwear?
(It should be noted that these shoes are usually limited edition, and are being sold by collectors. The prices listed below are based on average bid prices.)
The 11 best of all Travis Scott shoes
Nike Air Max 1 Travis Scott Cactus Jack Baroque Brown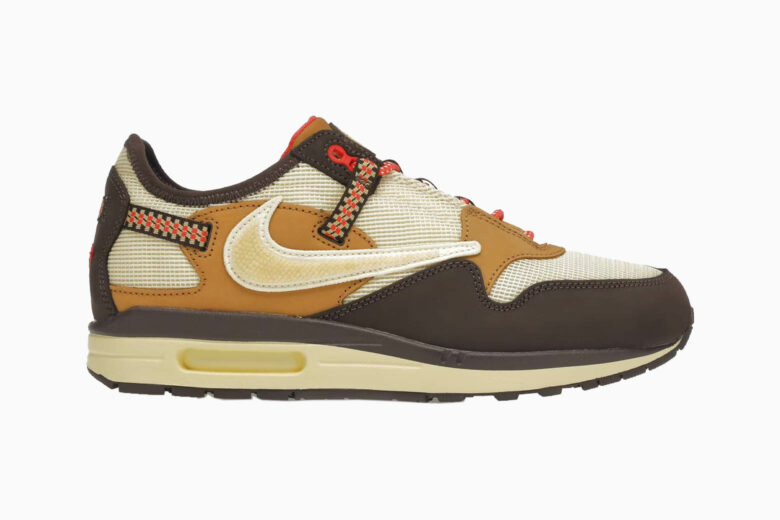 Named after his recording label, "Cactus Jack Records", the Baroque Browns utilize one of the gentler color palettes in the collection of Cactus Jack Shoes. The configuration looks like a classic runner, but the shoe is matched with laces that are usually associated with hiking boots.
The color combination of a cream-colored upper mesh descending down into darker tan overlays and a brown mudguard, brings up memories of hiking into nature, well away from the beaten path. We'll leave it up to you as to whether or not you want to get your Cactus Jack Baroque Browns muddy or not.
Release Date: 2021
Colors: Baroque Brown, Lemon Drop Yellow, Chile Red
Price: $1,300
Jordan 4 Retro Travis Scott Cactus Jack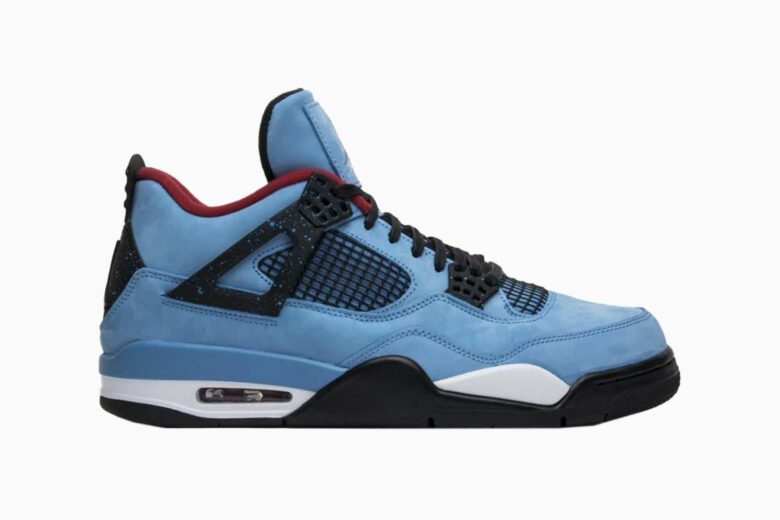 Scott put out two tributes in one shoe with his Jordan 4 Retros. The first tribute is to the mighty Air Jordan itself, the king of endorsed sneakers. The second tribute is delivered via the shoe's coloring, the blue and red of Scott's childhood hometown team, the now defunct NFL Houston Oilers.
The colors are solid, the blue taking up almost all of the shoe's body above its black base, while the unbroken red leads to the interior. To keep the design lively he added black mesh panels, laces, heels, and side structures.
Launched at a concert that had such a massive response that the police had to pull the plug, the Cactus Jack Jordan 4 Retros were an instant must-have on release.
Release Date: 2018
Colors: University Blue, Black, Varsity Red
Price: $1,100
Nike SB Dunk Low Travis Scott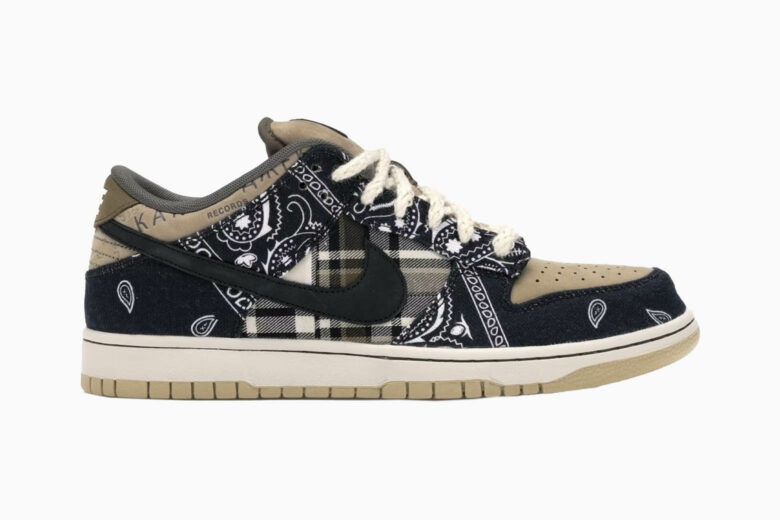 Nike has been working hard at capturing more of the skateboarding market (hence the "SB" in "Nike SB"), and they tapped Scott to add to their skateboarding catalog.
By description alone, the Dunk Low sounds like it might be too frantic—plaid siding backing a bold Nike Swoop, topped with paisley canvas. As the paisley wears off with use, it reveals a playful underprint of elephants.
It sounds like a mishmash of patterns and styles… but it actually all comes together in a crisp combination that attracts the eye. Reminiscent of youthful rebellion, Scott's Nike SB Dunk Lows are not for shy retiring types.
Release Date: 2020
Colors: Black, Beige, Brown
Price: $2,000
Jordan 1 Retro Low OG SP Travis Scott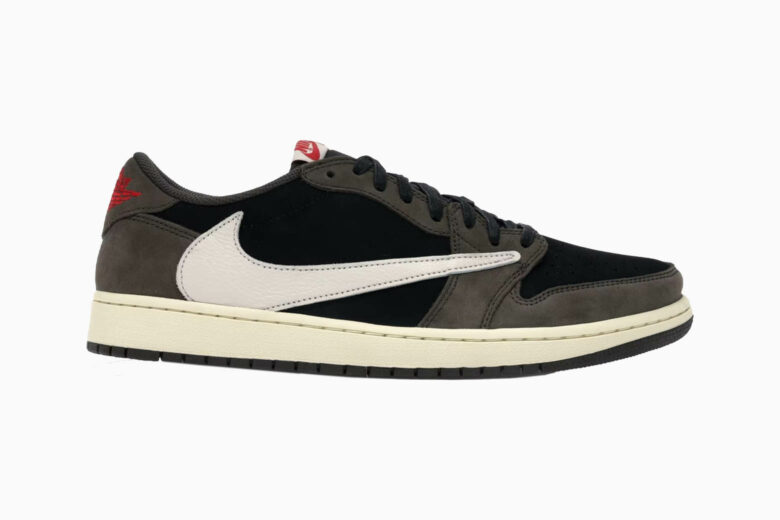 Travis Scott teased the Retro Lows for months during his Astroworld tour, cranking up sneaker aficionados' anticipation to fever pitches. When they finally debuted on July 19, 2019, they sold like wildfire off of Scott's own website and Nike's SNKRS site.
Not as challenging as the AF1s or the Dunk Lows, Scott's Jordan 1 Retro Low OG SPs go for a much more clean and minimalist look with the side-paneling and muted colors to match, setting off the bright red logo on the back. There's an extra hint of color with the Cactus Jack logo printed down the side, partially hidden by Nike's swoop.
Release Date: 2019
Colors: Black, Dark Mocha, University Red
Price: $1,515
Jordan 1 High OG SP Fragment x Travis Scott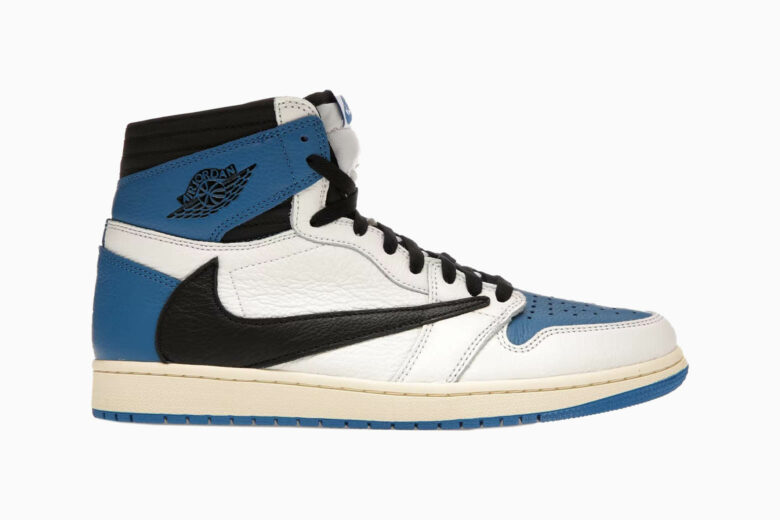 This entry in our list is actually a three-way collaboration between Nike, Travis Scott, and Japanese musician/entrepreneur Hiroshi Fujiwara's brand "Fragment". It's unclear who was responsible for which design choices, but we like it as one of Scott's simpler sneaker collaborations.
This is about as simple as a Travis Scott shoe design gets. Building on a classic Jordan high-top silhouette, we're treated to a simple three-color combination of blue, white, and black. No pre-aging, no snaps or covers, the Jordan 1 High OG SP is a palette-cleanser in the Travis Scott buffet.
Release Date: 2021
Colors: Sail White, Military Black, Blue
Price: $3,300
Nike Air Force 1 Low Travis Scott Cactus Jack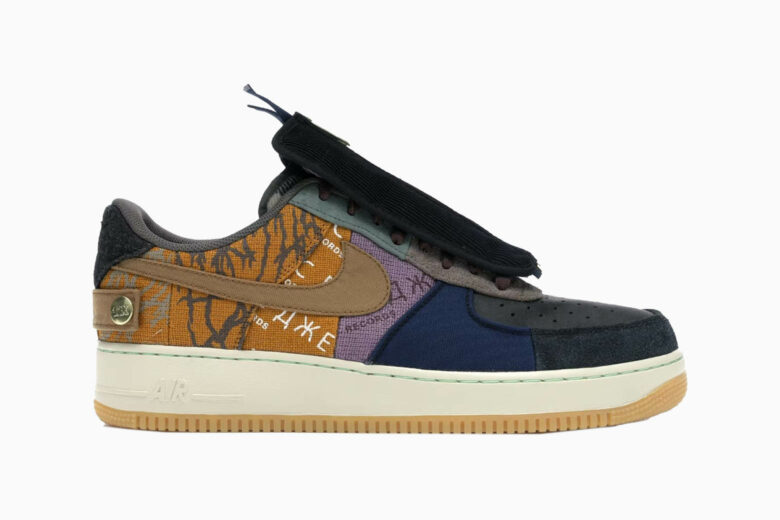 Another of Scott's more detailed designs, the AF 1s require some study to take it all in. Composed of corduroy, flannel, suede, wool, canvas, and leather, the tops consist of just as many muted colors.
And it's not just the colors and materials that set off the Cactus Jack version of the AF1s. There are also the snap band around the heel, and the dominant corduroy covering over the laces. If your interior fashion cop is blowing the whistle at that eye-arresting covering, that's okay, it's detachable.
Like the Dunk Low, the Cactus Jack AF1's heavy detailing isn't going to grab everyone the same way. But we think it's made a definite impact in the shoe design arena, and it makes us curious about what we're going to see on new Travis Scotts coming down the line.
Release Date: 2019
Colors: Muted Bronze, Dark Blue, Light Purple +More
Price: $580

Nike Air Max 270 React ENG Travis Scott Cactus Trails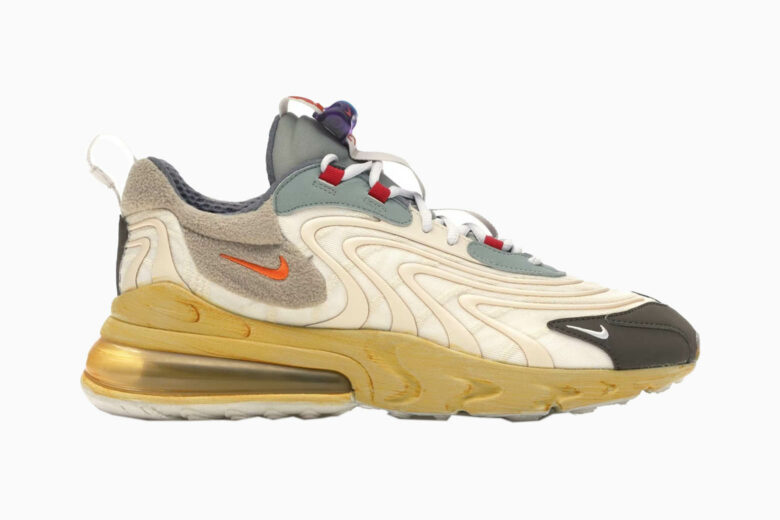 No one is ever going to accuse Travis Scott of doing the same thing twice. It's hard to decide what is the dominant feature here. The fleece collar? The aged-looking sole? Or the energy lines rearing back along the top that speak of power and a get-up-and-go attitude?
Whatever grabs your attention first, it's nice to see Scott exploring new dimensions and influences with every design that he releases. The Air Max Reacts are a solid addition to Scott's output, merging an aged color palette with futuristic tailoring.
Release Date: 2020
Colors: Light Cream, Dark Hazel, Starfish Green
Price: $460
Jordan 6 Retro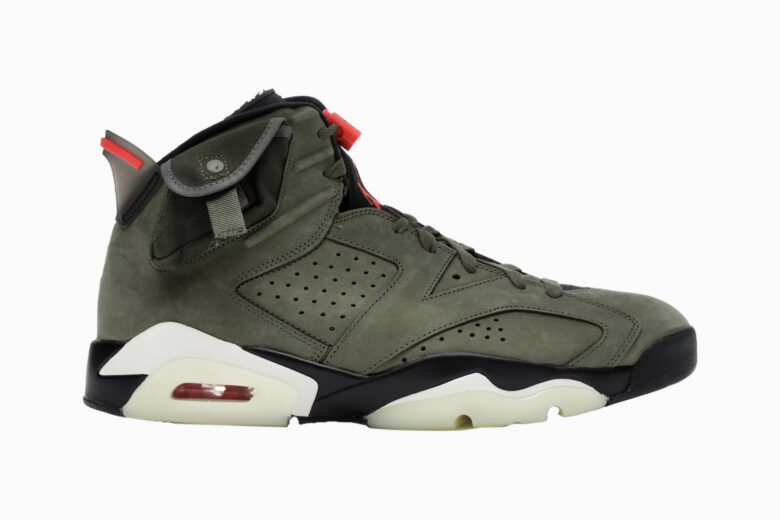 It's the half-time show of Superbowl 53 in 2019, featuring Maroon 5, Big Boi, and none other than the man himself, Travis Scott, sporting his Jordan 6 Retros. The 6s are one of our favorite of Scott's designs because of the strength of their styling—the firm wide base, and a supportive comfortable neck, both of which are broadcast by Scott's choice of solid colors and panels.
A special Travis Scott touch is the small pouch added to the high top. They give Scott's version of the Jordan 6s a bit more of a military/utilitarian feel than traditional 6s. We'll leave it up to you to decide what to carry in those pouches.
Release Date: 2019
Colors: Medium Olive, Black, University Red
Price: $620
Jordan 1 Retro High Travis Scott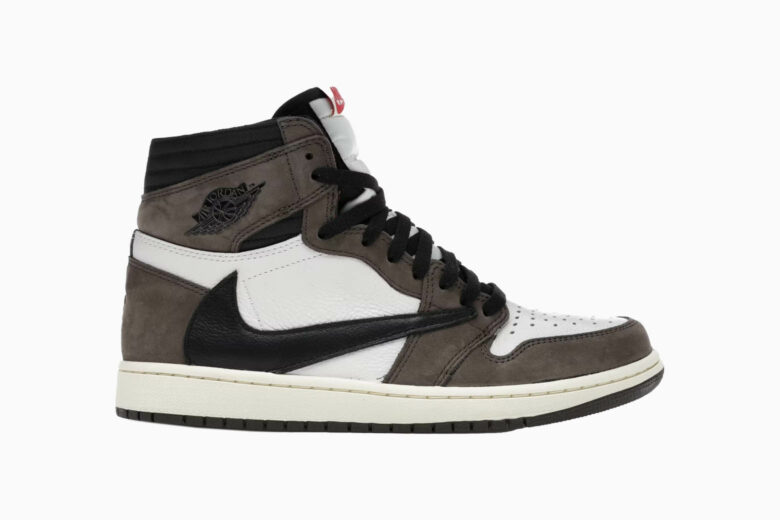 Scott had his fans (and sneaker-lovers in general) drooling for these high-topped bad boys for a full year before they were released to the public. He wore them at concerts during his Astroworld tour, raising eyebrows and interest to a fever pitch before they finally dropped in 2019.
The Jordan 1 Retro Highs are easily one of the most popular of Scott's retouches, and it's easy to see why. Possibly Scott's most handsome look, the simple earth tones mixed with the white and that classic Jordan high-top chassis made them accessible to just about everyone who wanted to get their hands on a designer kick.
Whether you can get your hands on a pair these days is a whole other matter.
Release Date: 2019
Colors: Sail White, Dark Mocha, University Red
Price: $1,850
Jordan 1 Low Fragment x Travis Scott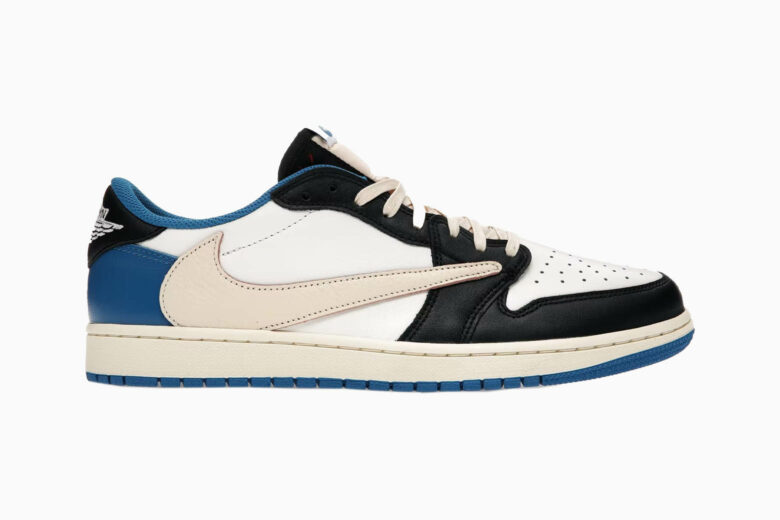 Another three-way collaboration between Scott, Fragment, and Nike, the Jordan 1 Low just looks straight-up cool. Much like the previous collaboration between the three on our list, the Lows utilize clean color-blocking with white, cream, black, and that electric blue.
We like the Jordan 1 Lows slightly more than the Highs because the coloring seems a bit more balanced. The black and white take up the front of the shoe, while the brightness of the blue hangs back until the heel, as opposed to the high-top version which pushed the blue a lot more.
Aside from the coloring, you're still treated to the comfortable look and feel of a low-cut Jordan, which boasts top-level comfort in their gear. It's up to you if you want to sport their basic design, or if you want to have a Travis Scott-designed conversation-starter wrapped around your feet.
Release Date: 2021
Colors: Royal Blue, Black, White
Price: $1,400
Jordan 6 Retro Travis Scott British Khaki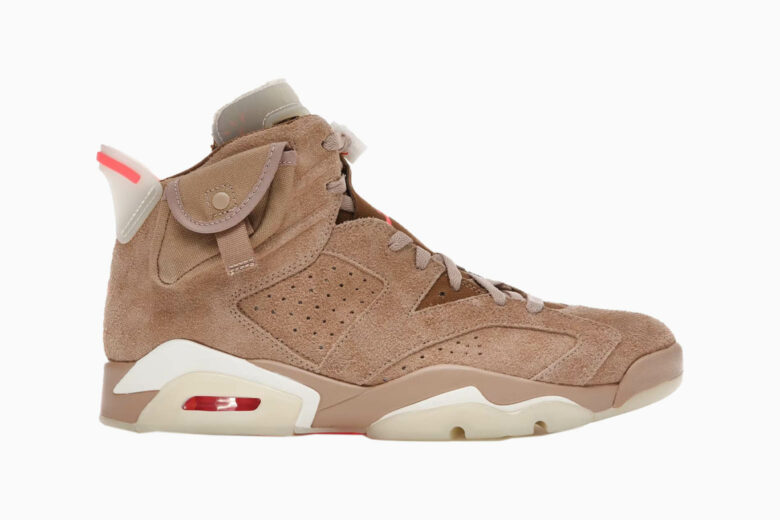 Scott returned to the Jordan 6 with a new color palette to produce the British Khaki Retro 6. Coming out 2 years after the first Jordan 6 Retro, this version features much more earthy tones for its base coloring.
There are no specific women Travis Scott Shoes, but the Jordan 6 Retro British Khakis do seem to be one of the more popular sneakers amongst the ladies. Perhaps it's because the coloring is a little less reminiscent of military coloring, like the previous Jordan 6 Retros, while still sporting the same style and those handy little side-pouches.
On top of the pleasant coloring, the outsole glows in the dark, adding a sense of fun to the functional styling of the shoe.
Release Date: 2021
Colors: British Khaki, Bright Crimson
Price: $520
Frequently asked question about Travis Scott shoes
What are Travis Scott's favorite shoes?
Travis Scott is a fan of Nike shoes. He sports a variety of Nikes out in public, and while on tour he's often seen wearing Nike's that he's co-designed. Check our round-up of the best Travis Scott shoes to see the most popular sneakers.
How much do the Travis Scott shoes cost?
Travis Scott has collaborated on a number of shoes, and their cost depends on the shoe's availability and the style itself. Original retail prices were usually in the $130 to $250 range, but collector resales have skyrocketed the prices of some shoes into the thousands.
What shoes did Travis Scott wear?
Travis Scott is part of Nike's Jordan designer family and is often seen sporting different limited-release Nikes at his concerts, basketball games, or other events.
Do Travis Scott shoes glow in the dark?
Some of the shoes Travis Scott has designed feature components that glow in the dark. For example, the Jordan 6 Retros and the Retro Khakis have glow-in-the-dark outsoles.