The rise of e-commerce brands combined with the surge in recent store closures from iconic brands and retail landmarks has caused widespread misconception regarding the value of investing in brick-and-mortar stores. Some go as far as talking about a 'retail apocalypse'.
In 2019, the US retail industry alone saw over 9,300 stores close — more than double the 4,454 store openings that occurred during the same period, according to the latest estimates from Coresight Research.
But don't let the headlines skew your perspective — physical retail isn't dead.
Rather, retail is undergoing a renaissance.
The physical store is still a key component of the retail equation. When done right.
But in today's digital world where many brands are starting online, and brand discovery often happens on Instagram, modern retailers need to not only focus on offering a unique customer experience but also rethink the role of the store itself.
There's no exact formula to brick-and-mortar success for digital-native brands. But there are some winning elements that help brands increase sales, customer acquisition and retention. So how exactly are digital native brands breathing a new life into brick and mortar retail?
1. Trendy location: Location is still everything
Unsurprisingly, digital-native brands leverage online data to pick the best locations for their physical retail— using what they've learned about their consumers online to cater to those in-person.
But they also tend to pick trendy, up and coming locations that fit with their innovative thinking.
Commercial real estate firm JLL forecasts that online retailers will open the doors to a minimum of 850 stores by 2023 in the US alone. New York (SoHo in particular) emerges as the top city for both pop-ups and first permanent locations for digital-native brands.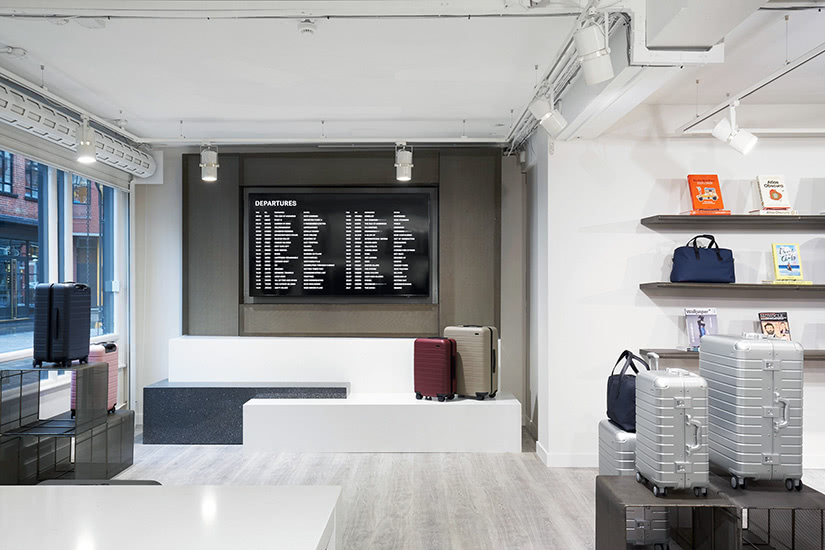 2. Instagrammable stores: Digital-first luxury brands design artfully curated retail spaces that are share-worthy
In today's image-conscious culture, an increased number of (Millennial and Generation Z) consumers are making purchasing decisions based on what they see on their social media feed. 75 percent of Instagram users take action, such as visiting a website or store location, after viewing a brand's post.
Noteworthy: Having an "Instagram-worthy" retail space is becoming fundamental
With Instagram becoming a core element of retailers' marketing strategies, modern brick-and-mortar stores are now designed to encourage in-store photos and get shoppers to share their experience beyond the (now standard) changing-room selfie.
By making their store a 'must-visit destination' and creating a visually appealing environment customers want to share on Instagram, luxury retailers hope to leverage the social platform's 1 billion+ active users to draw people to their store and build brand awareness.
Making life moments "Instagrammable" affairs that are visually appealing and experience-led is a popular trend among young, affluent consumers across various industries, from fashion to fine dining.
(Tip: Provide a shareable call-to-action by indicating good photo opportunities to shoppers.)
In this new context, making your luxury retail store picture-perfect (and thus share-worthy) is a smart investment. Encouraging customers to post photos of a retailer's space can increase its brand awareness and foot traffic, drive more sales, and last but not least provide quality user-generated content that can be repurposed in future marketing activities.
Cases in point
Glossier
From a makeup blog (dubbed Into The Gloss) to eCommerce unicorn, digitally native skincare and beauty brand Glossier owes much of its success to social media and millennial-friendly branding. After building a cult following through online and social media platforms, experimenting with successful pop-up shops and multi-sensory installations, Glossier has opened its first flagship store in New York City in Novembre 2018.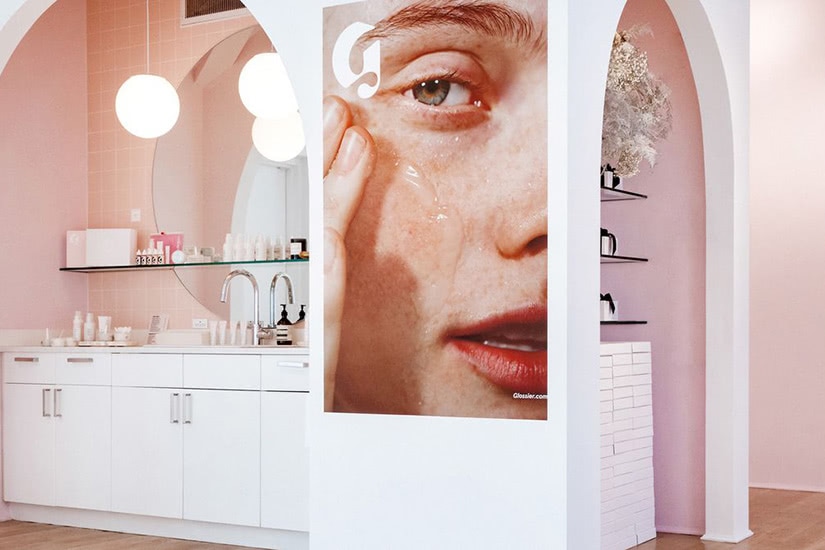 The Glossier trendy showroom mimics Glossier's rose-tinted website and is as artfully curated as its social media feed, each corner worthy of an Instagram post. The store is filled with sinks and mirrors, relaxing sitting places and photo-ready features.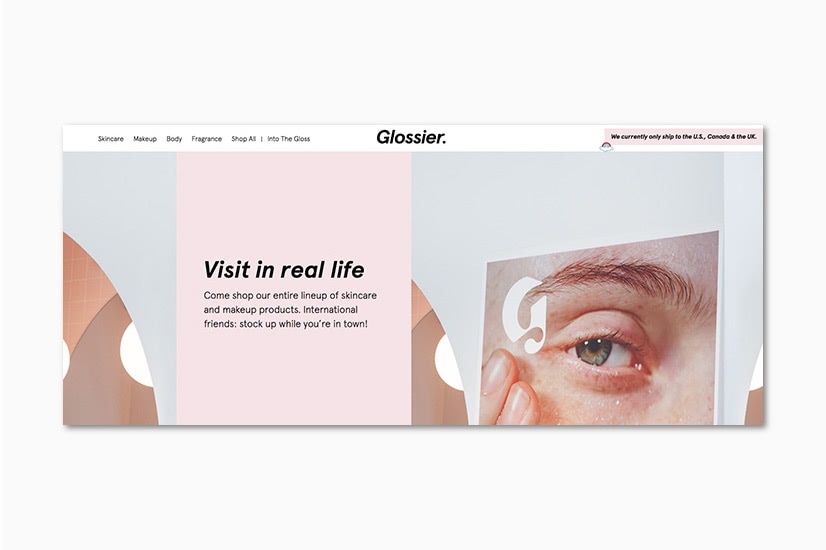 Warby Parker
Similarly, online-native, direct-to-consumer eyewear brand Warby Parker offers unique experiences and has included in-store Instagrammable properties (such as its 'Green Room' where anyone can shoot 15-second films on a variety of entertaining backdrops), encouraging consumers to share their shopping experience on their social media channels.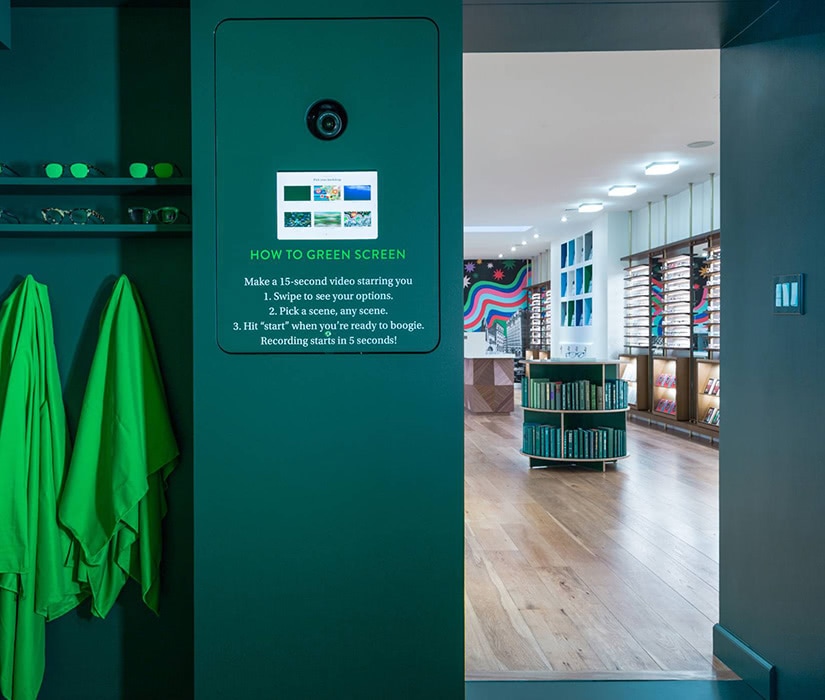 Burrow creates the ultimate couch potato experience
Luxury home furniture brand Burrow's New York showroom, called Burrow House, is split into four distinct sections – Shop, Relax, Play, and Watch (see how three out of four sections are purely experiential rather than focused on sales?).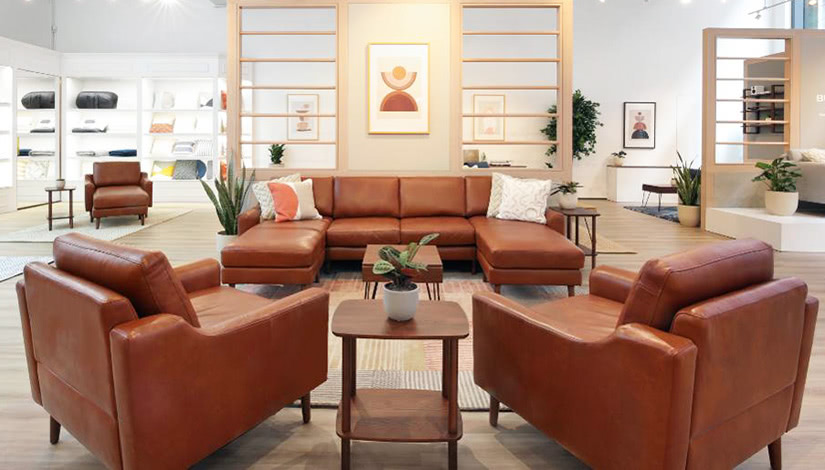 Burrow offers customers a place to hang out and lounge in Burrow's luxurious furnishings. Burrow also provides an area designed especially for Instagram. Customers can sit on a sofa in front of a green screen with moving backgrounds to take pictures or make short movies that can be shared on social media.
3. Digital native brands offer in-store brand experiences that bring their story to life
Even the names digital-native brands are giving to their physical stores hint at new definitions of the role of brick-and-mortar beyond mere transaction: Dreamery by Casper, The Whitespace by Snowe, The Leesa Dream Gallery, L'Appartement Sezane.
"Jessica McCormack, the luxury, hand-crafted jewellery company, recognized the consumer expectation that jewellery is always shown in sterile boxes made for viewing only," says Molly Rowan-Hamilton, Senior Strategist at Pearlfisher. "Thus, Jessica McCormack broke the mould by curating a townhouse that functions as a studio, a showroom and workshop. Not only does it rationalize the product in a personal way, but it feels like an aspirational place to be in.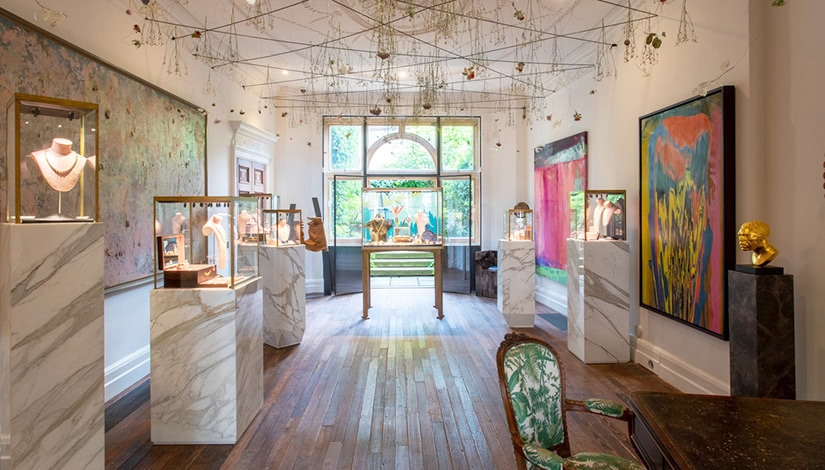 Prioritising experiences over shelf space
Modern affluent consumers don't just buy products. They buy inspiring stories and meaningful missions and they are increasingly drawn to physical spaces where they can engage with brands in a more memorable way.
No wonder then that most successful digital-native brands fill their precious real estate with experiences more than products. Physical retail is designed to maximise space to experience the brand rather than display products for sale. Sometimes more than half of the square footage of stores are dedicated to experiences.
Cases in point: Casper
Mattress brand Casper dedicates more than half of its store's space to experiences.
The store features interactive exhibits highlighting the quality of Casper's products and small bedrooms where customers are encouraged to test the mattresses for themselves.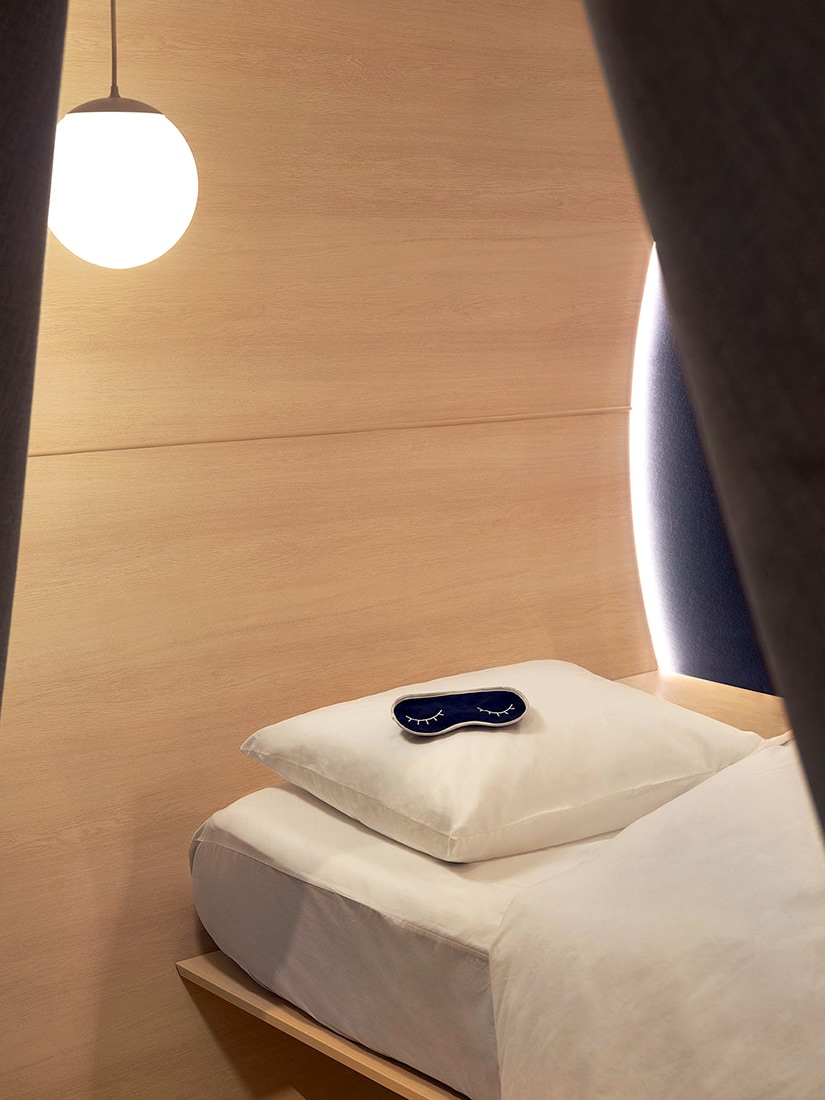 Casper went even further with its Dreamery nap centre in New York where for $25, customers can hire a sleeping pod for a 45-minute power nap, with fresh sheets, pyjamas, premium skincare products, and even audio tracks from meditation app Headspace.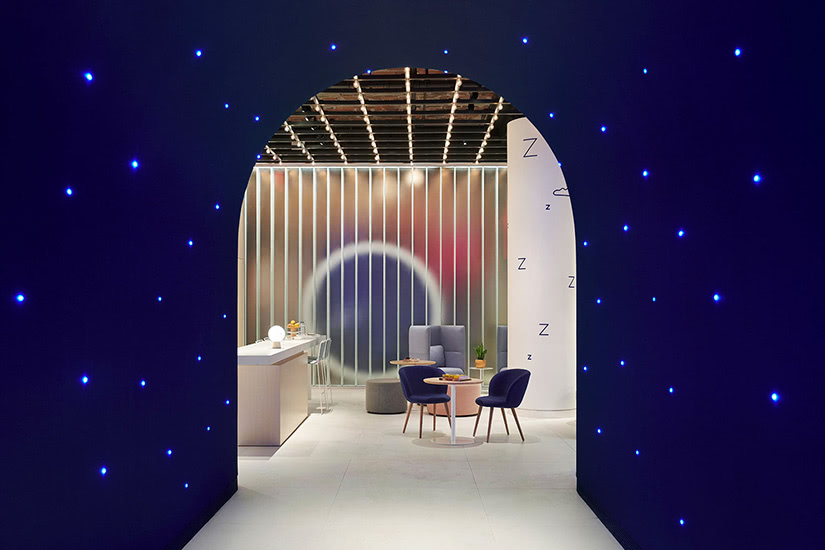 4. Digital-first luxury brands leverage online data to offer a personalised experience offline
Digital-first players tend to have a much better handle on customer data (from web analytics like tracking of user habits, click patterns, search queries) than traditional retailers.
Learning from their online store experiences and tapping e-commerce data, digital-first brands are well equipped to customise every aspect of the brick-and-mortar space and to design innovative physical stores in alignment with their customers' needs.
"Shopping online is already the perfect experience," said Lauren Santo Domingo, co-founder of Moda Operandi and a contributing editor at Vogue. "How are we adding to that?
For Moda Operandi and other high-end online retailers, the answer is in data. The luxury website can identify its best customers, who spend an average of $1,200 per order with an average of seven to eight orders per year, to extend the online experience offline.
With eCommerce data, luxury e-tailers are able to make informed decisions — from where to open their physical stores, to curating the content of their stores for individual shoppers.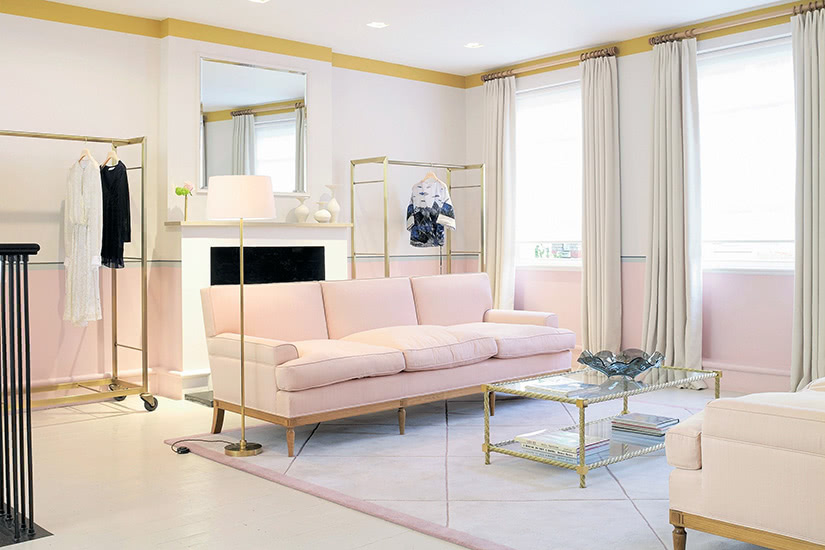 In its 'dedicated private showroom', luxury online fashion retail Moda Operandi curates its products according to the data the company gleans from online customer behaviours (what they bought, browsed, bookmarked). By leveraging data, Moda Operandi is able to offer each of its customers a highly personalised store experience with a selection of goods that are customised to their sizes, tastes and shopping habits.
Amazon follows a similar strategy by leveraging its data-driven findings from its online shop to inform the presentation of its products offline. From displaying reader recommendations to organising its product categories according to products that are commonly purchased together. Amazon will be the focus of one of our next deep dives.
5. Digital native brands embrace multiple physical retail store formats
Digital native brands are used to grow incrementally online by building upon what works. Their approach to physical retail is very similar.
Pop-ups are great ways to test the waters of physical retail and learn before opening permanent stores.
Many digital native brands such as Allbirds, Everlane, and Glossier have first launched their brick and mortar strategy with temporary pop-up shops and converted them into permanent stores after experiencing positive responses and finding fertile ground for their brick-and-mortar.
Pop-ups create a sense of novelty and scarcity (constant reinvention) and are designed to be shareable online. Pop-ups also can serve as learning spaces to gather insights and a chance to learn what works and what doesn't.
Interestingly, the lines between temporary and permanent physical stores are becoming increasingly blurry. These temporary locations have now become a mainstay of digital-native brands' retail mix, and many digital-native brands have transitioned temporary stores into permanent locations.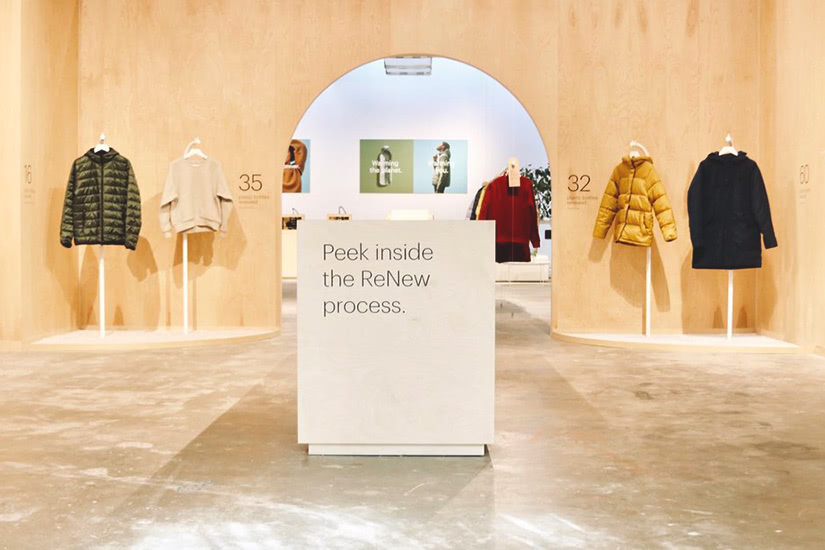 Owned permanent stores
Customised flagship spaces provide the opportunity for digital-native brands to grow their visibility on the high street and to engage with their consumers in a meaningful way.
No inventory: Digital native luxury brands use stores as pure showrooms
Many digital-first brands are treating their stores as showrooms (or guide shops) for consumers to experience the products.
But in contrast with more traditional brick-and-mortar, many do not keep any inventory in-store. Showrooms offer only samples of products for customers to try out. Just like with their corresponding eCommerce sites, purchases are delivered to customers afterwards.
Products are showcased, but purchases have to be done online, be it directly from an in-store laptop or tablet or later on ar home.
Case in point: M-Gemi
Luxury Italian shoe retailer M-Gemi opened "fit shops" in New York and Boston based on data about customer demand that was obtained from its online site. In-store, customers can try on different styles and sizes. Then in-store stylists that are equipped with iPads & app stylists can assist customers with putting the selected shoes into the shoppers' online account. Once purchased, M-Gemi shoes are shipped directly to the customer's delivery address.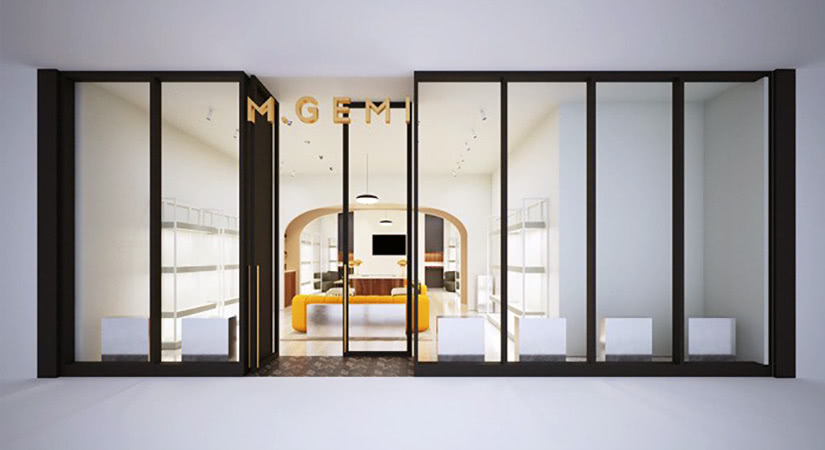 Fully-fledged brick-and-mortar stores
Some digital-native brands are launching their own permanent stores where you can shop the entire lineup and sometimes, in-store exclusives.
Case in point: Away
After dipping their toe in the pop-up shop space in New York's NoHo, digital-native lifestyle travel brand Away expanded their retail footprint.
The brand now boasts eight permanent brick-and-mortar stores (in key U.S. markets such as New York City, Los Angeles, San Francisco, Austin, Chicago, Houston, Boston, and now globally with a first international store in London), with more on the horizon. All of its physical locations are experience and brand-driven rather than sales-focused.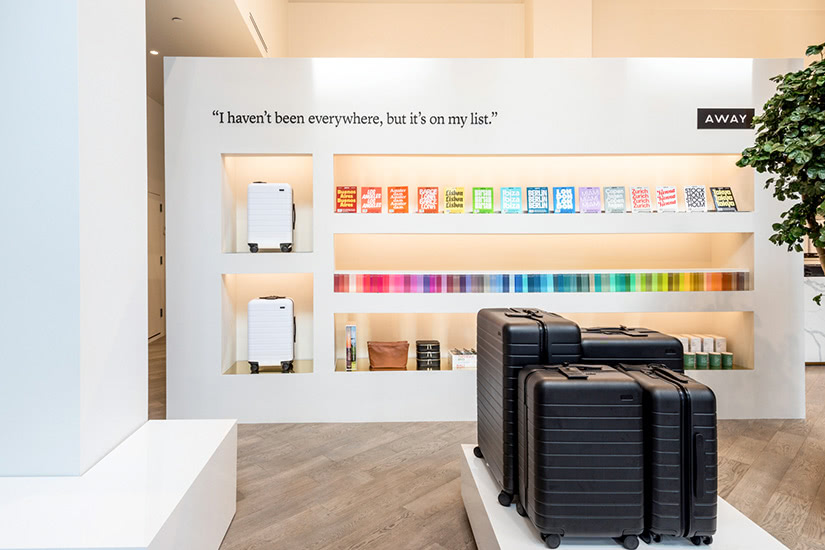 Partnerships with major retailers: Formerly pure-play ecommerce brands are finding homes in multi-brand stores
To grow brand awareness and drive sales, Direct to consumer (DTC) and digital-first brands are increasingly broadening their sales channels to include wholesale partnerships – short term and long-term store-in-store experiences.
Both Sephora and Ulta have banked on partnerships with digitally native brands. In June 2019, Sephora debuted "The Next Big Thing" — an in-store space dedicated to displaying emerging makeup brands. Similarly, Ulta and its SPARKED is giving prime-time exposure to "indie" beauty brands spanning the hair, skincare and makeup categories.
But this strategy of bringing in digitally native brands to drive a sense of discovery and (hopefully) in-store foot traffic isn't unique to the beauty sector — working with sought after digital-native brands is becoming a strategic move for department stores and big retailers alike (Signaling a balancing of power in wholesale retailer). The newly developed Hudson Yards in Manhattan, New York, for example, has a Floor of Discovery dedicated to digital native and new-to-New York global brands.
Case in point: Rent the Runway x Nordstrom
In June 2019, the popular clothing rental service Rent the Runway partnered with heritage department store Nordstrom to allow quick and easy drop-offs of rental returns at selected Nordstrom locations. Nordstrom is also now contributing clothing to Rent the Runway's inventory to extend the lifecycle of their own collections.
Rent the Runway members are entitled to exclusive services from Nordstrom, including styling services and gift wrapping.
In January 2020, the partnership went further with Rent the Runway introducing RTR Revive, a new retail collaboration that sees Nordstrom selling previously rented garments in its off-price Nordstrom Rack stores.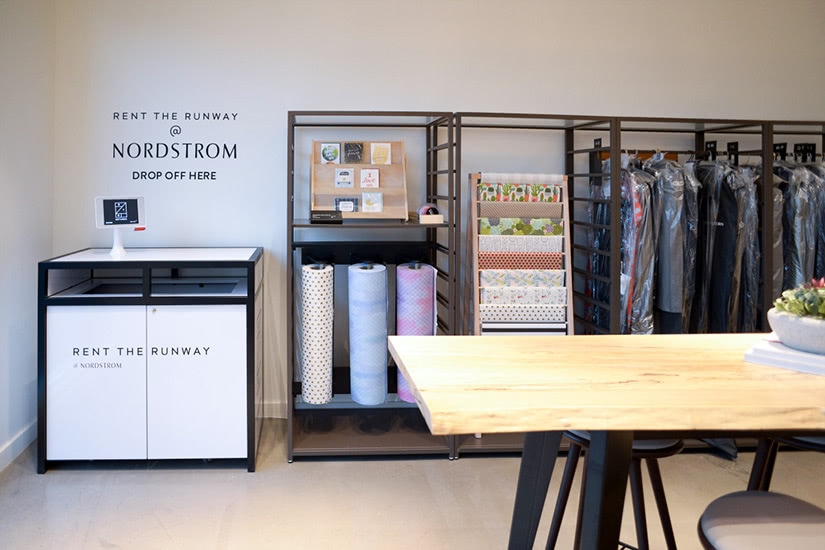 Case in point: Glossier x Nordstrom
Beauty DTC brand Glossier entered its first wholesale retail partnership in December 2019 by opening temporary pop-up shops inside select Nordstrom locations around the US to promote the brand's Glossier You fragrance.
The luxury department store already hosts products from many online-born retailers and direct-to-consumer brands within its New York flagship. The department store has worked previously with other successful online retailers, including Reformation, Everlane, and Away.
Retail as a service (RAAS)
Building an effective brick-and-mortar presence can be costly and risky, especially for digital-native brands.
As the physical store earns back its reputation as an essential retail channel, and more digital-native brands seek to embrace the unfamiliar brick-and-mortar space, a growing number of companies are offering collaborative spaces and retail as a service to lower the barrier to entry into physical retail and the often tedious operational processes necessary to run a store.
These are just some of the companies making it possible for digital-native brands to experiment with physical retail while minimising risks and costs.
Part retail, part art exhibition and part community space, Showfields creates completely customised high impact experiential pop-up spaces. In exchange for a reasonable rent, Showfields manages the entire retail process for the digital-native brands, from design to staffing.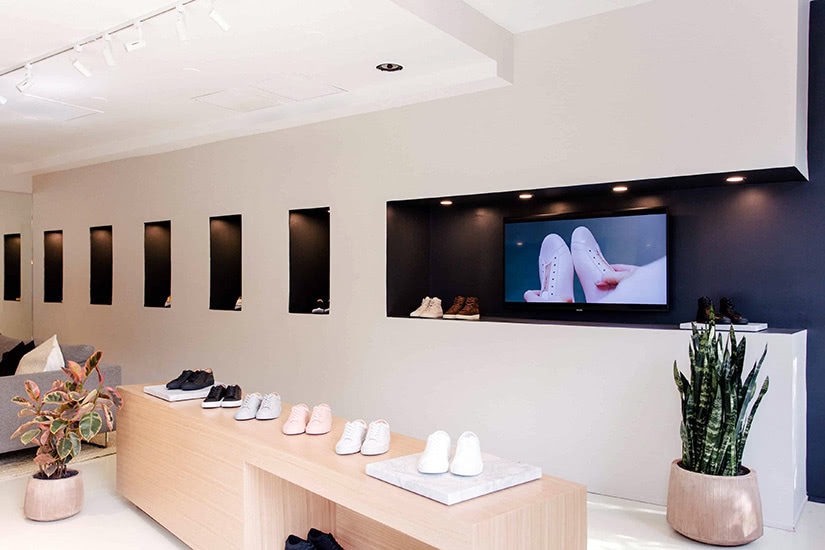 Similarly, but for permanent stores, Leap offers a full-service retail-as-service platform covering all aspects of physical store development and day-to-day operations. Luxury sneaker brand Koio for example, used Leap's turnkey service to supplement its existing physical strategy and support its brick-and-mortar expansion.
6. Modern retail: Store management
Digital native brands bring their lean and efficient customer relationship processes to physical retail.

Bridging clicks and bricks: the primary intent of store in the consumer journey
An omnichannel approach is critical for modern retailing. Modern affluent consumers are channel-agnostic, seamlessly moving from one retail touchpoint to another on the path to purchase. Brick-and-mortar stores can serve multiple goals that can be categorised in four main categories that are not mutually exclusive.
Showrooming: Consumers come in-store to test and feel the product before making the purchase online.
Webrooming: Consumers research online (price comparison, reviews, social media validation,…) and after a final evaluation, ultimately buy in-store.
Store-driven support to online sales: Consumers buy products online but pick-up or return in-store. Physical retail acts as a customer service centre for online retail.
In-store sales: Consumers test and buy the products in-store.
From URL to IRL: Digital native brands use integrated technology and data-driven customer insights to transform the in-store experience
The demand for a seamless and convenient shopping experience across all channels is prompting modern retailers to innovate and embrace new technologies.
From mobile checkout with digital payment methods to Augmented Reality applications, interactive displays, voice recognition, and social media integration, new technologies are being embraced by retailers to bridge the online and in-store shopping experience and make it as seamless and friction-free as possible.
Shopify has become the eCommerce solution of reference for many digital-native brands— Shopify has powered fast-growing DTC brands such as Away, Senreve, Koio, M.Gemi, Summersalt, Allbirds, Brooklinen and the likes. Shopify is now also acting as a backend bridge for online stores going offline.
Shopify is now also offering in-store technology like point-of-sale hardware and a Tap & Chip Reader for contactless payment.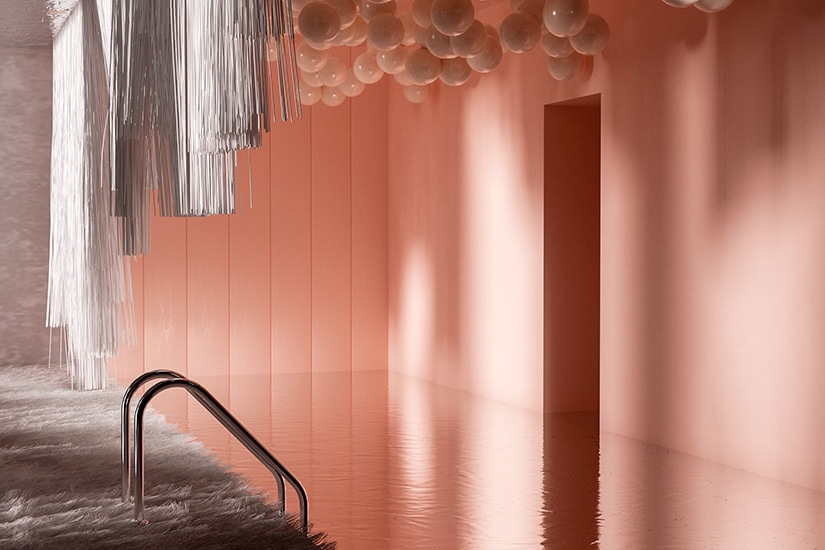 Final Thoughts
For many digital native direct-to-consumer brands, physical retail has become critical for growth.
One of the main advantages of digital-native brands over traditional retailers is their nimbleness.
Digital native brands do not have legacy foundations holding them back. Instead, they are very much in continuous learning mode, testing different retail formats and understanding what the right setup is to delight their customers. As they continue their (fast) expansion into brick-and-mortar, it will be interesting to see how they manage to stay hyper-focused on customer experience and avoid some of the mistakes previously made by legacy retailers.