You have an idea for a new product that could solve a real consumer pain point or answer an important user need. Or maybe you don't quite know yet what your product will be but you want to start your own business and launch an ecommerce.
It has never been easier to launch an online business than it is today. But the path to success is filled with obstacles and challenges.
It's for entrepreneurs like you that we've written this step-by-step guide to launching and growing a direct-to-consumer (DTC or D2C) brand.
In this starter's guide to D2C, you'll learn exactly what the best tools and platforms to support you along the way are. This guide is broken down by business development phases to help you focus on what's most important to you at each step of the process.
Launching a new brand isn't easy, even when done exclusively online. We hope that this step-by-step DTC playbook will help you in your journey.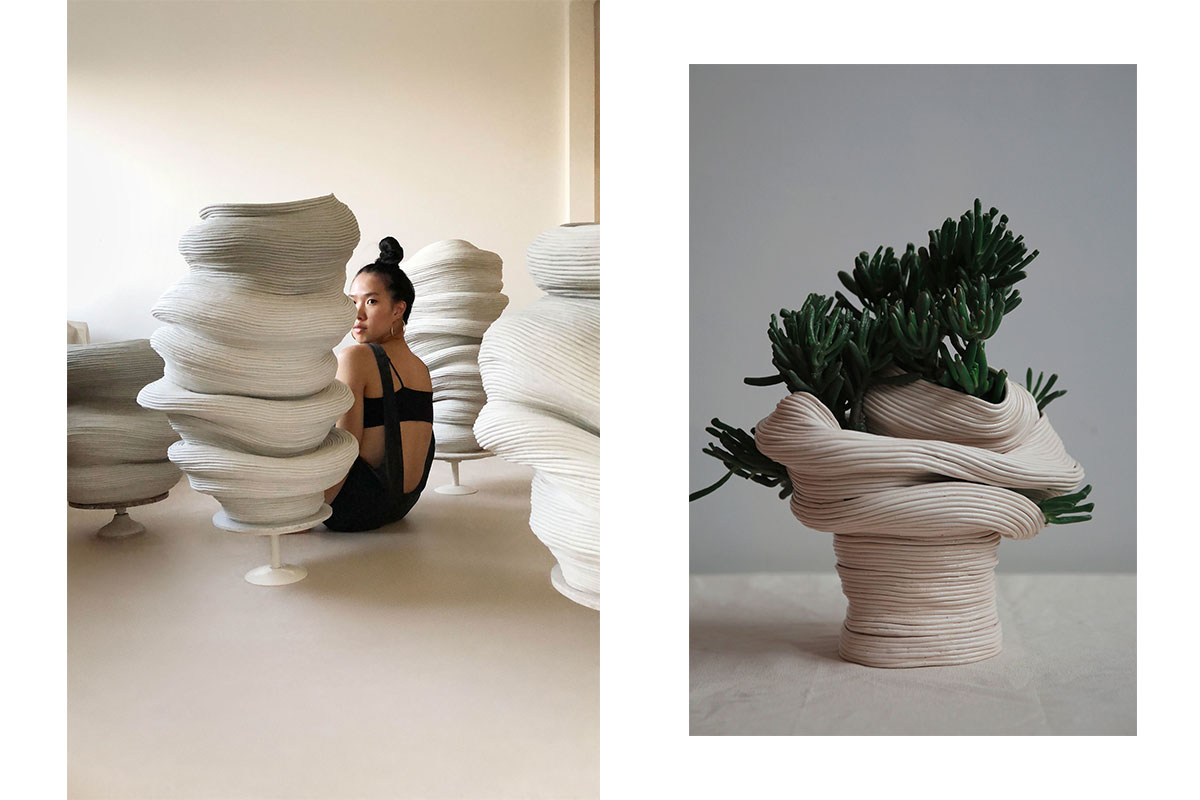 Why this is the perfect time to launch your Direct-to-Consumer brand?
Direct-to-Consumer brands, also sometimes called D2C or DTC for short, are growing fast. Recent research estimates that ecommerce will make up more than 17 per cent of all worldwide retail sales by 2021. That number will be even higher in developed economies in North America, Europe, and Asia.[1]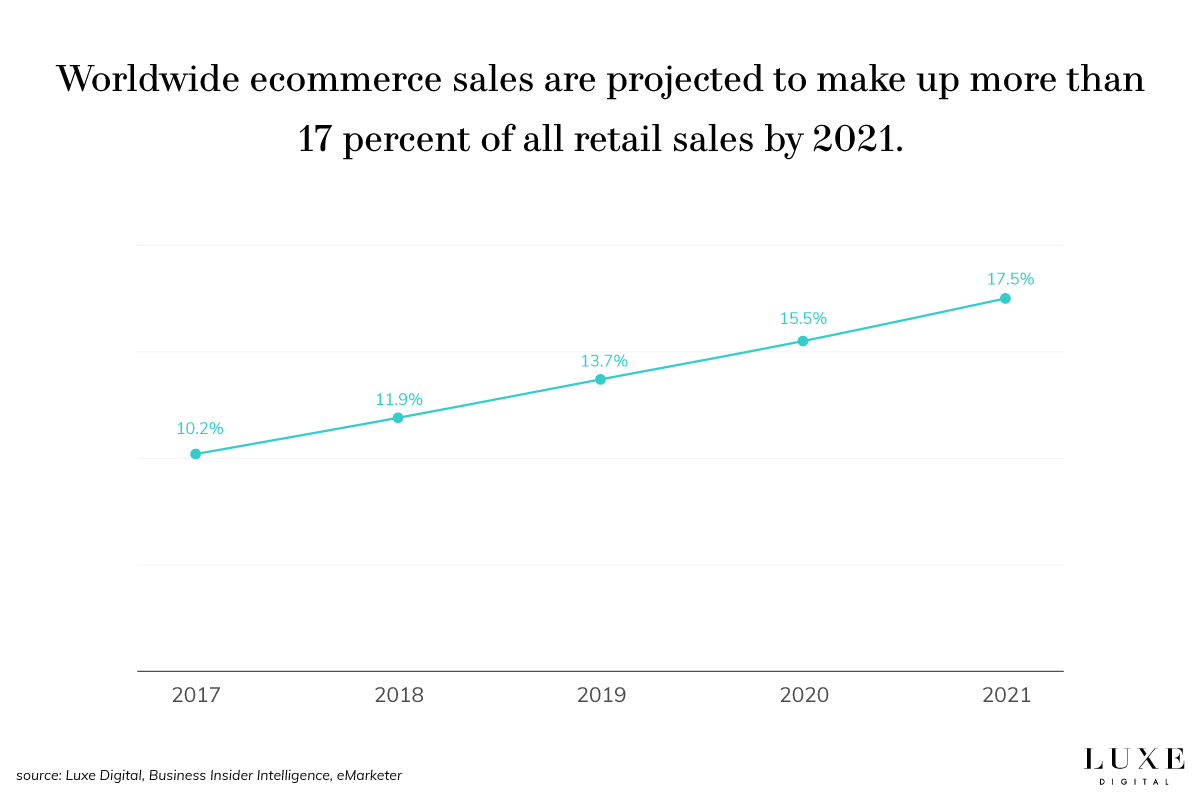 Because barriers to entry are lower, new brands are able to rapidly launch and scale online. The internet is indeed levelling the playing field for everyone. You can now start selling your product online for less than $25,000 in total.[2]
There are two main advantages for brands to sell directly to their consumers:
D2C brands own the relationship with their customers. By selling directly to customers, D2C businesses receive incredibly valuable data. They can see immediately what sells and what doesn't and they can engage in a new and authentic way with their most valuable customers.
No middleman means lower distribution costs. By selling online, D2C brands can earn more while at the same time selling at a lower price point if they want to. There are not any intermediary to inflate business expenses.
But having lower barriers to entry also means that there are more failures and unsuccessful attempts to launch new brands online.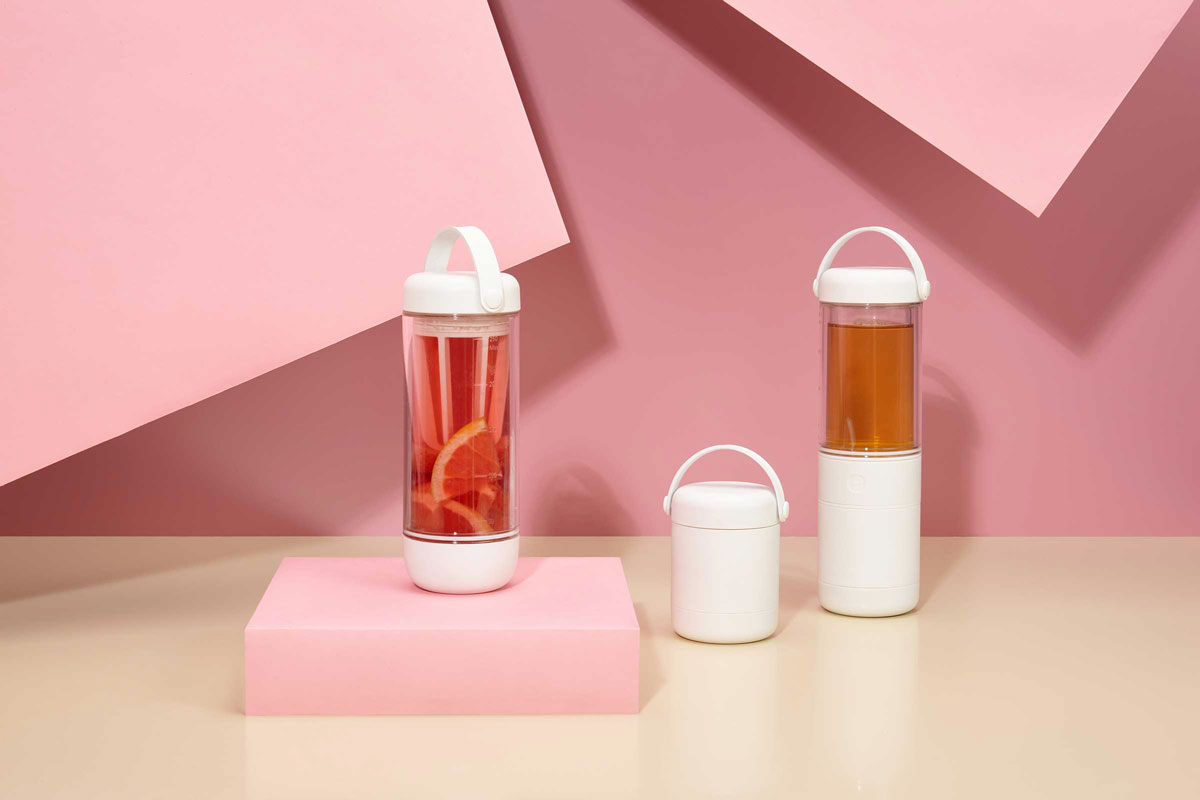 While it's easier than ever to launch your D2C startup, you will be competing against retail giants such as Amazon and Walmart who have significant resources and brand recognition. Amazon is driving most of the ecommerce growth shown above.
So if you want to launch your own brand online, you need to know how to compete against Amazon.
In general, however, most direct-to-consumer business failures are due to bad planning and poor execution.
Every business starts with a great idea, so to help you make the best of it, our editorial team created the ultimate roadmap to launch and grow your brand online. Technology is at the heart of the D2C revolution. Winning companies know how to take advantage of new technologies and digital solutions to compete against established players and win over customers.
With this guide, you'll discover the best solutions to support your ecommerce business every step of the way.
Imagine being able to control your consumer experience. Now more than ever before, brands have the power to own their customer relationships. Digital platforms and tools are empowering brands to open new channels and broaden their customer reach – driving increased revenue streams, profits, and financial performance."
– Jake Gregory, Deloitte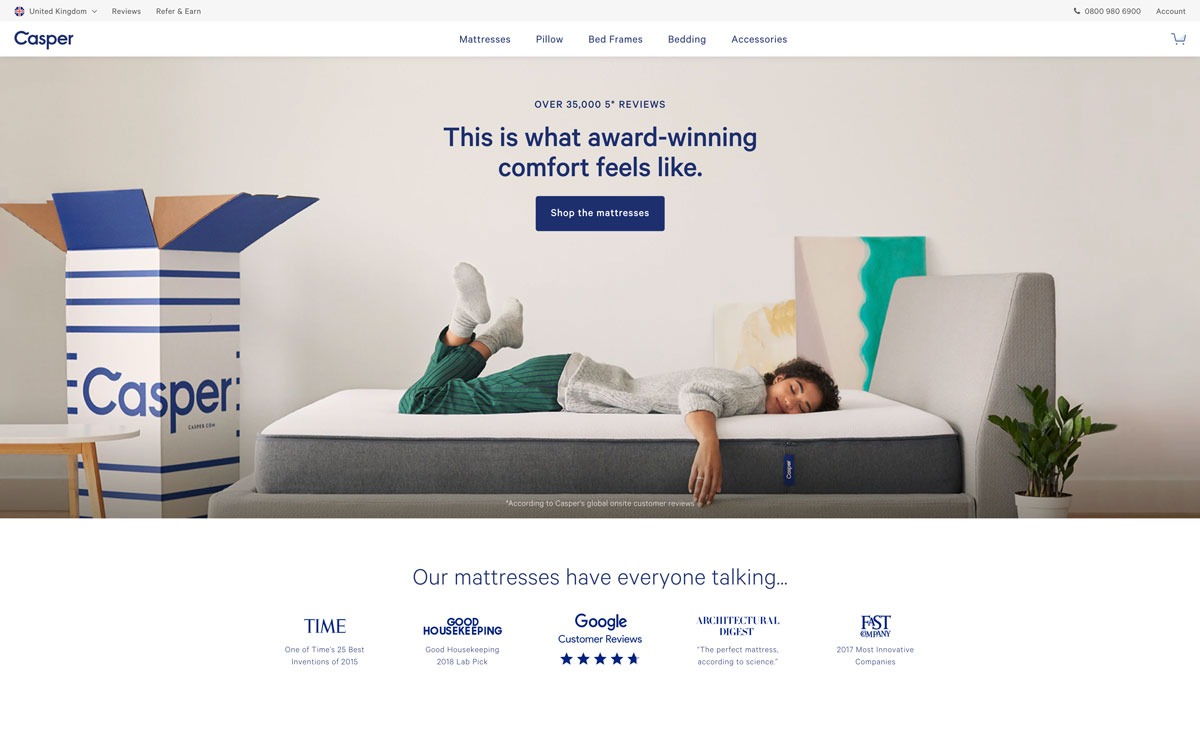 Step 1: Planning your direct-to-consumer business
Every journey starts with a roadmap. The same applies to launching your D2C brand. Because a great idea alone isn't enough, you will need strong and sustainable foundations to succeed online.
In this first step to launching your D2C business, you will see exactly how to create a simple yet impactful business plan and how to articulate your brand value to succeed.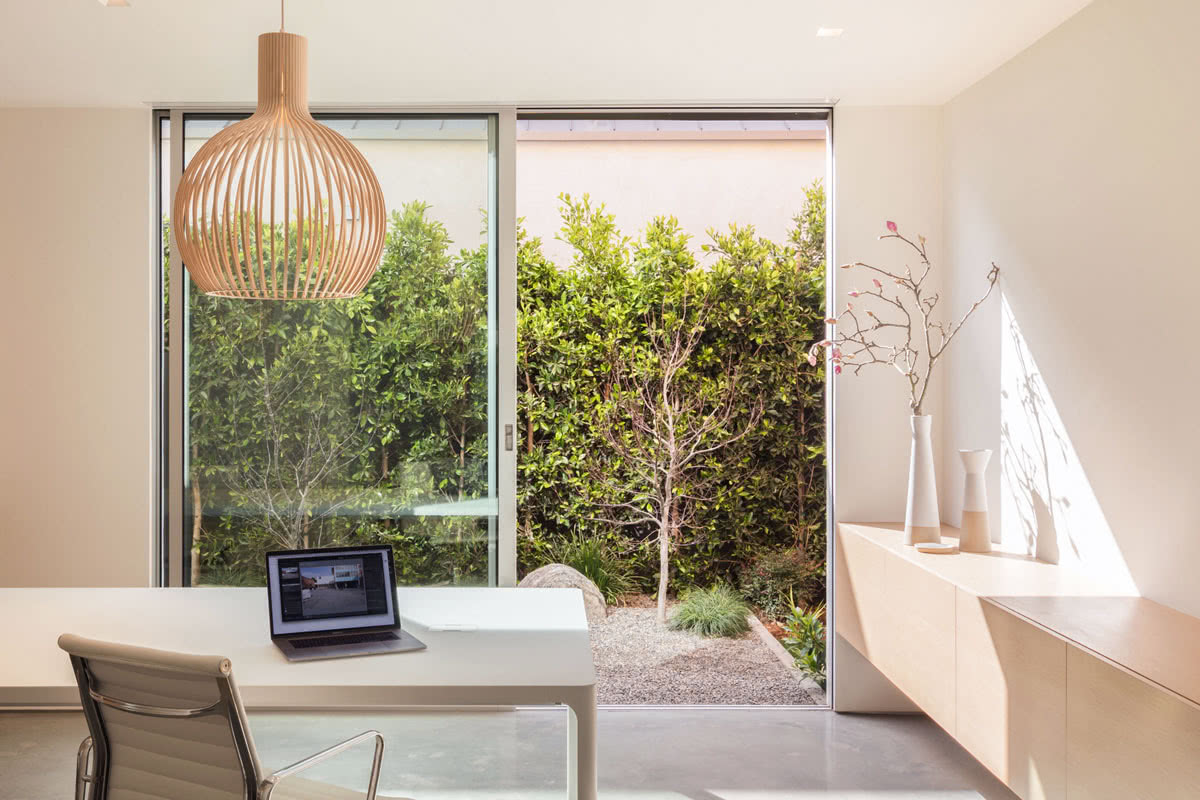 Start with a business plan: What's your strategy?
A business plan is often the very first step to launching a successful direct to consumer brand. Entrepreneurs who skip this important step often face significant problems further down the line. To avoid challenges that could have been easily anticipated, you simply need to invest a bit of time before launching your product to create your D2C business plan.
Your business plan doesn't need to be complicated or lengthy. In fact, simple and concise business plans are best as they are easier to follow. Simple doesn't mean easy, however. Here's how you should proceed when creating your first business plan for your D2C brand.
Why is it important?
A business plan will help you understand the market potential, identify opportunities and challenges, define the appropriate product pricing strategy, and prioritise every step that follows.
How to use your business plan?
After completing your business plan, you'll have an actionable roadmap to launch your brand online. Your business plan should also include important milestones to help you evaluate success against your goals.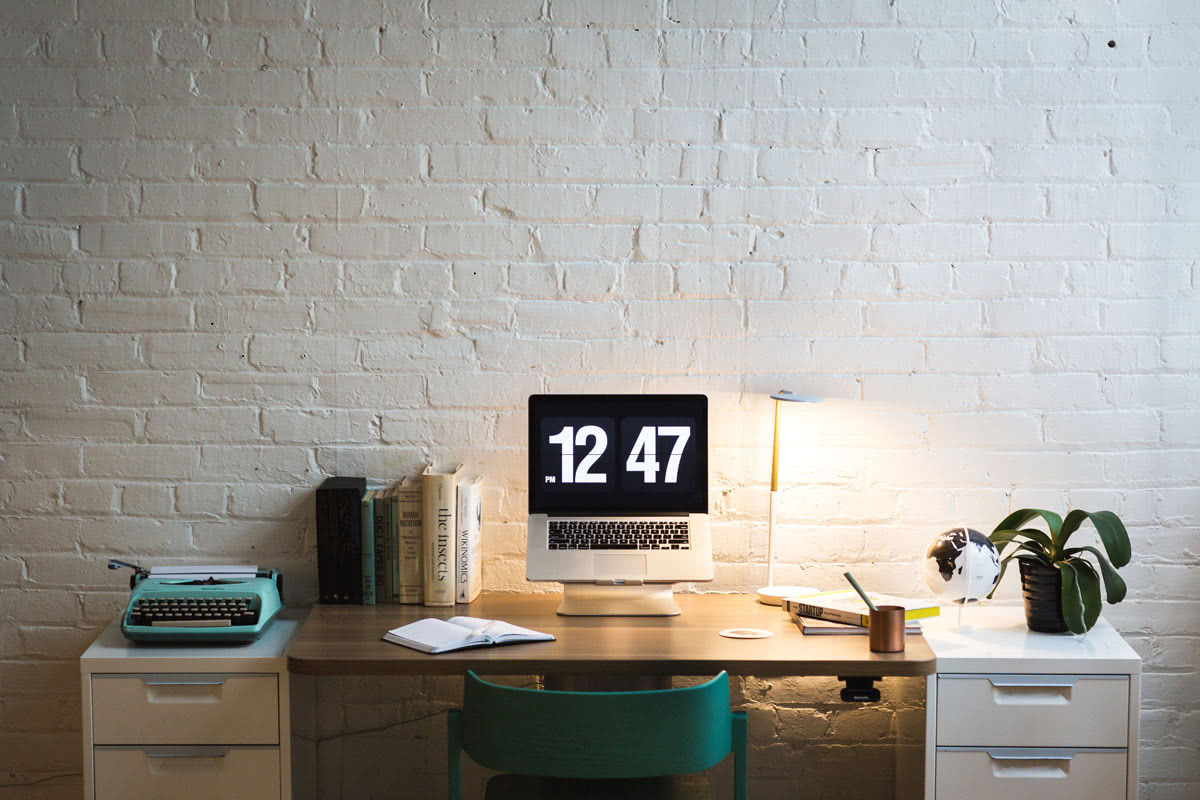 What should be included in your D2C business plan?
To be useful, your business plan should include the following sections:
An overview of your business
What will the nature of your business be and how will you structure your organisation? What is your vision for the future and what are the measurable objectives that you want to achieve over the coming months and years?
An analysis of your market
What is the total size of the market you want to penetrate? Who will be your main competitors and how are they doing? What are the key opportunities and challenges that you will face when launching a new product in that market?
An introduction to your products or services
What is the elevator pitch to introduce your product to potential customers or investors?
A segmentation of your customers
D2C brands succeed when they are customer-centric, so this is a critical section to clearly define who your customers are and why your product will be relevant to them.
Your marketing plan
Launching a D2C product is great, being able to captivate potential buyers and sell your product is even better. Your marketing plan should clearly articulate how you will introduce your product to your audience.
Your logistics and operations plan
This is the nuts and bolts of business operations. You need to figure out before your product market launch how you will source, produce, store, fulfil, and deliver your goods.
Your budget and financial plan
Finally, this last section should include your financial projections for the first few quarters of your business. How much money will you need to start? When will you become financially profitable? How will you ensure the sustainability of your business?
Tools to do it right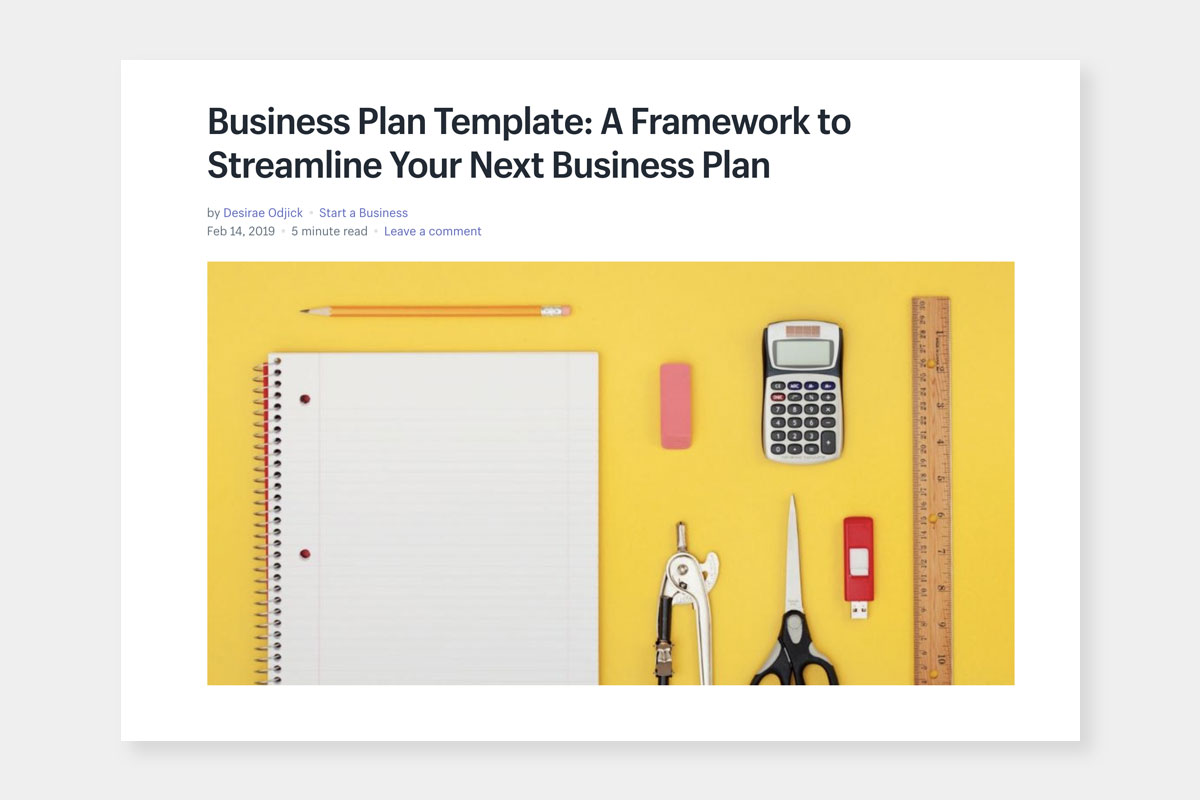 To help you get started, ecommerce platform Shopify created a simple 10-page business plan template that you can download for free from their website. It is created especially for D2C brands so you won't have to waste time on areas that are irrelevant to ecommerce. You can download the free business plan template here.
Define your brand purpose: What makes you special?
Once your business plan is completed, you should have a pretty good idea of the market potential for your product. This will guide the next step in the planning of your D2C brand: defining your brand purpose.
Why is it important?
This will be the foundation of your direct to consumer brand. Why does your brand exist and why should consumers care? What will success look like for your brand? What are the key values that your brand will embody?
How to use your brand purpose?
Your brand purpose will be the angular stone to everything that you do thereafter. It will dictate how to position your brand in the market, how to articulate your marketing message. It will also help decide what to do when you're ready to grow and explore new product categories or partnerships.
The freedom from retail distributors has enabled D2C brands to take control of their customer journey and purchase experience, making the ways in which consumers experience a product itself, whether physically or digitally, critical to a brand's success."
– Tomer Tagrin, Yotpo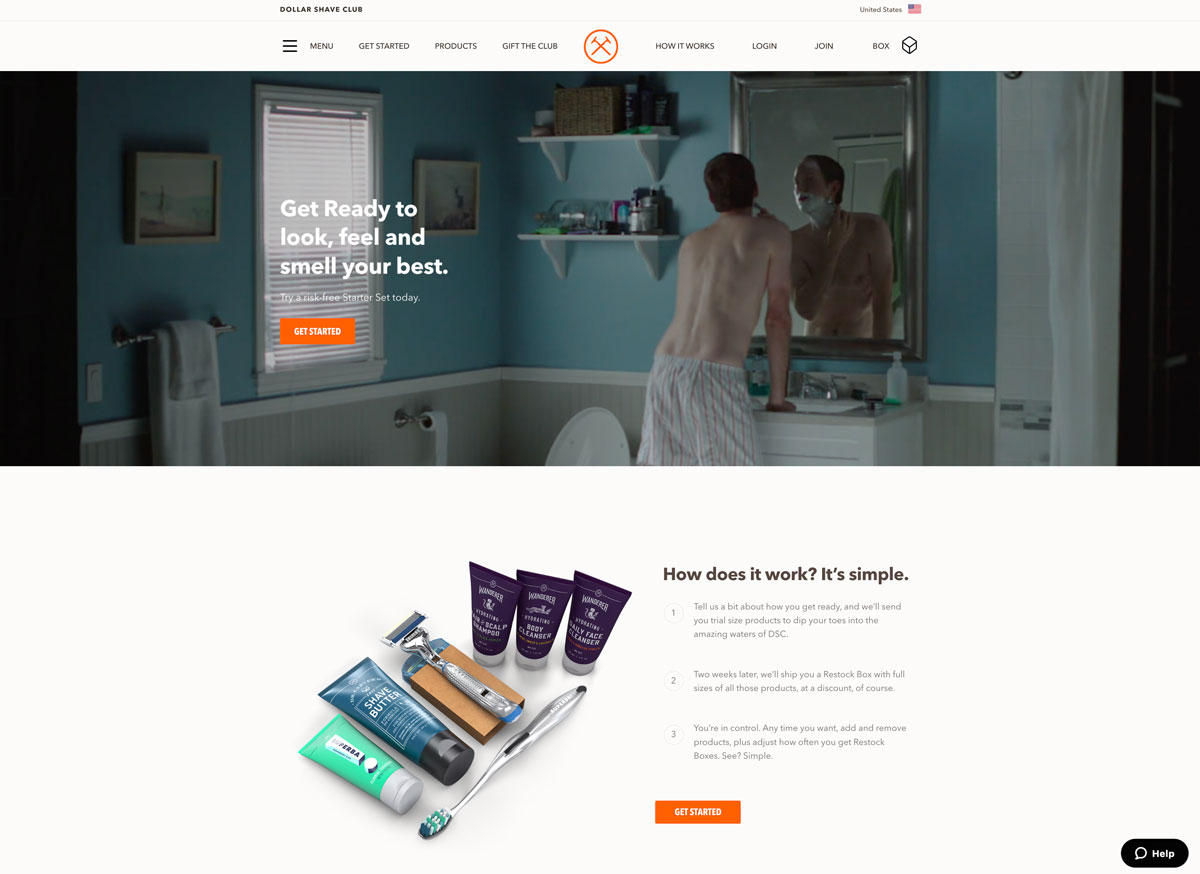 Step 2: Launch your direct to consumer brand online
Now that the foundations are in place, it's time to put your business plan in motion and execute your plan.
The second step of launching your D2C brand focuses on setting up your business operations, designing your brand experience, and launching your online store.
Let's be honest, setting up your business operations is probably the most tedious and least exciting thing to do on your roadmap. You might be tempted to skip it at the beginning because you haven't even sold anything yet and it will be easy to keep track of a few sales manually at the beginning. Don't!
Why is it important?
The right business operation foundations are what will enable your D2C brand to scale in the future. Mess this up, and you'll quickly find yourself spending more time working for your business instead of on your business.
How to use your business operations?
As an entrepreneur, your time is precious. So make sure that you have the right business operations in place to manage your D2C brand efficiently and at lower costs. Your objective at this stage is to find the right tools and platforms to quickly get your product to market and minimise the time you have to spend managing your operations.
The best tools and platforms to manage your D2C operations
Because operations can be complex, we'll break down this section in the four most important areas that you'll need to take care of: supplier and inventory management, payment, order fulfilment, and accounting.
1. Supplier and inventory management
You'll need a tool to help you manage your relationship with your vendor to optimise your supply chain and keep track of your inventory. The best tool will also help you estimate future inventory needs so you don't run out of supplies or overstock on products.
Best D2C supplier and inventory management solution: TradeGecko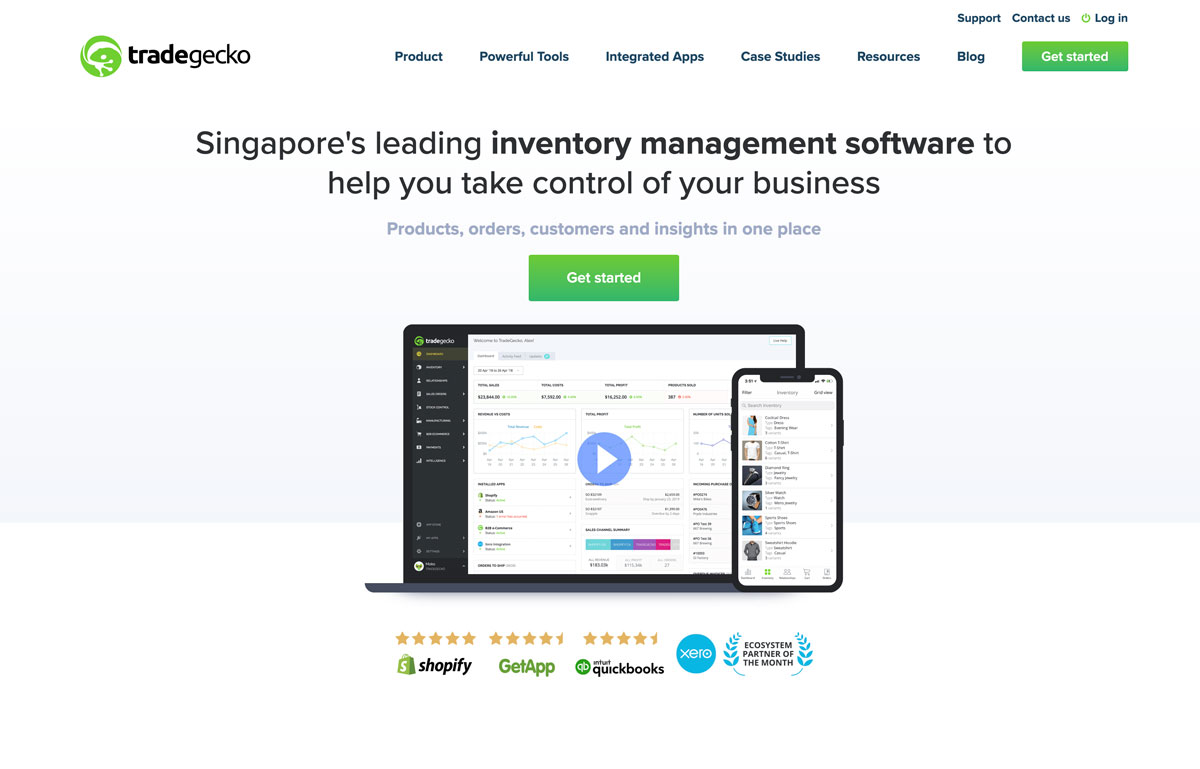 TradeGecko is a multi-channel inventory, production and order management solution for small and medium businesses. It's perfect for D2C brands as it is easily integrated with ecommerce store Shopify and accounting service QuickBooks (more on both below).
Pricing starts from $39 per month and they offer a 14-day free trial.
Other supplier and inventory management solutions worth exploring:
ChannelApe: Connect multiple sales channels, vendors, and partners quickly and easily.
2. Payment infrastructure
Managing and processing payments is such a complex and expensive process to execute well that we recommend using a solution that is already integrated into your ecommerce platform. That will ensure the safety of your users' information and the security of your transactions.
Best D2C payment solution: Shopify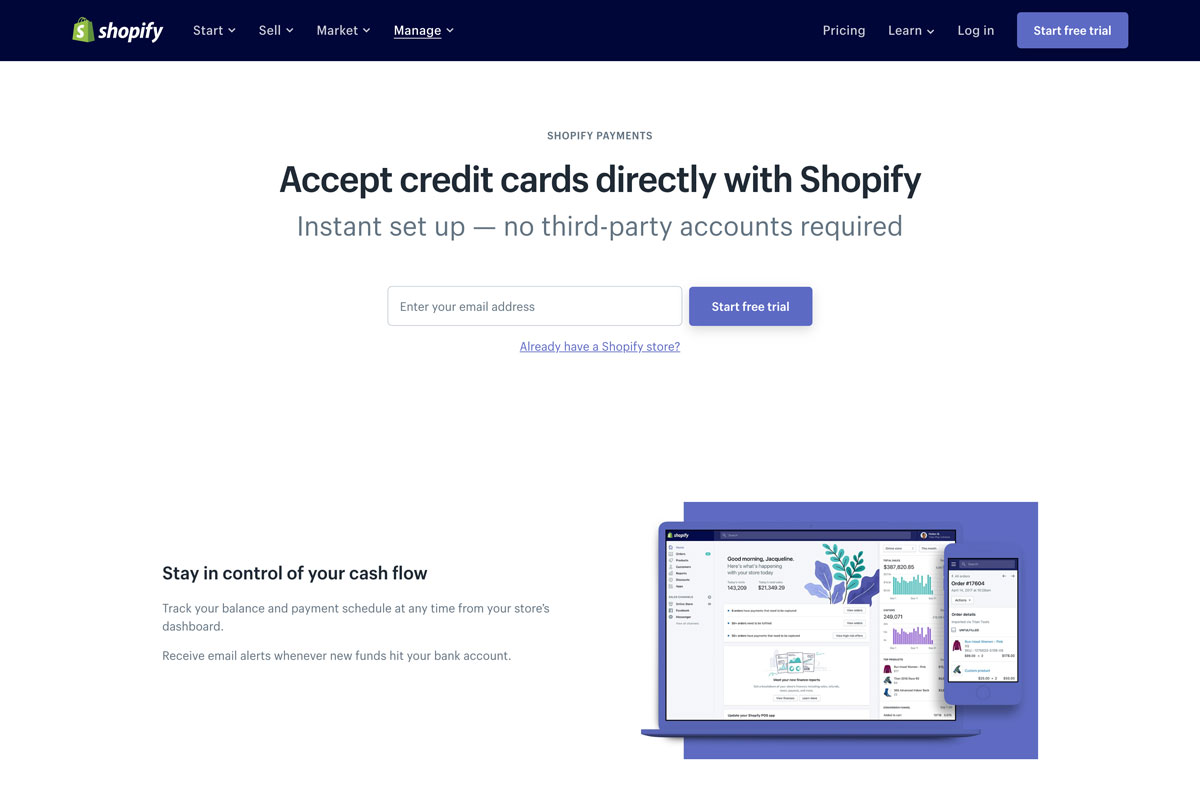 With Shopify's integrated payment solution, you can instantly accept credit card payments for your D2C store. There is no need for additional third-party solutions. It's the fastest and most secure way to start selling online.
Pricing starts from $29 per month and they offer a 14-day free trial.
3. Order fulfillment and product shipping solutions
Once your first orders will start coming in, you'll need to be able to quickly and efficiently process those orders and send goods to your customers. The logistics of order fulfilment and shipping can be very complex.
Best D2C order fulfilment and product shipping solution: Fulfillrite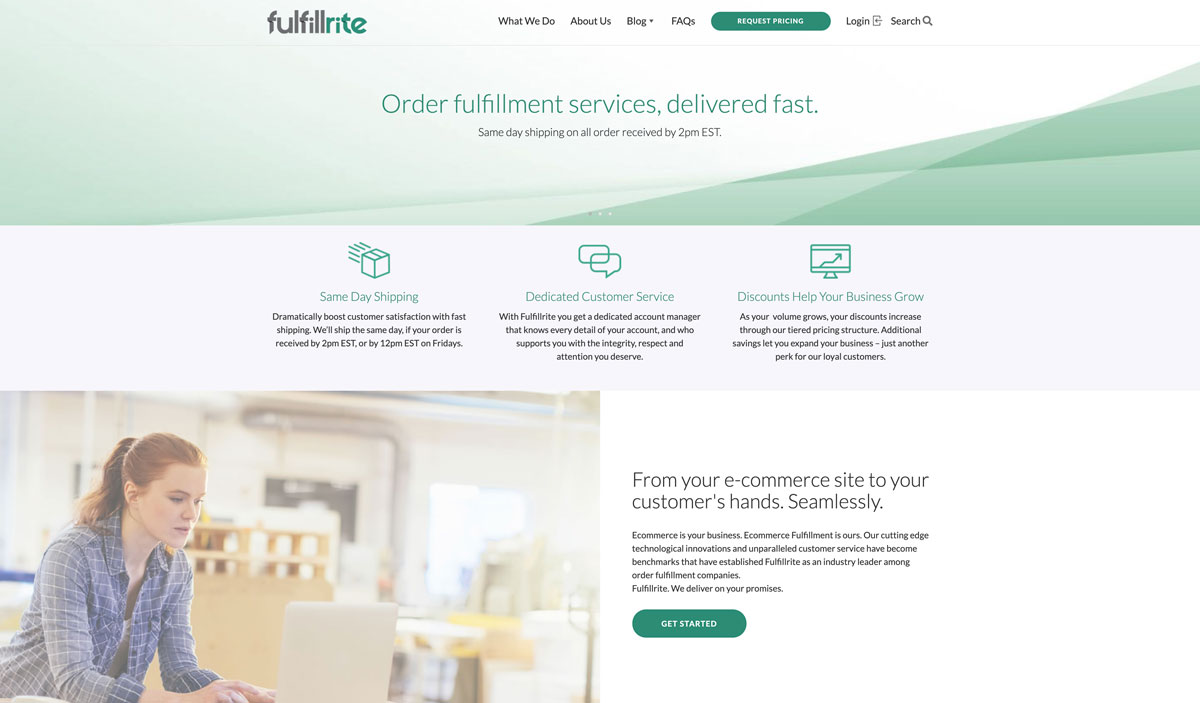 Fulfillrite will take care of picking products from your warehouse, packing them, and shipping them to your customers for you. They also manage returns and can ship the same day if your order arrives on time.
Pricing varies based on your requirements.
Other order fulfilment and product shipping solutions worth exploring:
ShipBob: Provide same-day shipping for ecommerce companies of all sizes. They take care of storing, picking, packing, and shipping your products with simple, fast, and affordable order fulfilment services.
Shippo: They'll help you connect with USPS and DHL Express to get discounted rates.
4. Accounting and taxes software
The final important block to run your business operations efficiently is an accounting software that can seamlessly integrate with your other tools and platforms. It might not be the most glamorous aspect of ecommerce but it is essential to manage your finances.
Best D2C accounting and taxes software: Quickbooks
Quickbooks is easily the most widely used accounting service for digital entrepreneurs, especially online retailers. You can connect your bank account with the service to automatically import and categorise your transactions. It integrates with all the most popular ecommerce platforms, including Shopify, Magento and WordPress. And it includes a powerful invoicing system.
Pricing starts from $10 per month and they offer a 30-day free trial.
Other accounting software worth exploring:
Xero: It's another solid accounting software to manage your invoices and day-to-day financial operations. It also integrates seamlessly with Shopify to keep everything in sync.
Designing the brand system to inspire and build trust
After articulating your brand purpose and vision in the first step, it's now time to execute on your concept and design a brand identity for your business. This is the fun part!
Depending on your budget and design skills, you can do it yourself or hire a design studio to do it for you. If you want to keep your expenses low, however, we found a few free online tools to help you do it yourself.
Best D2C free logo design: Hatchful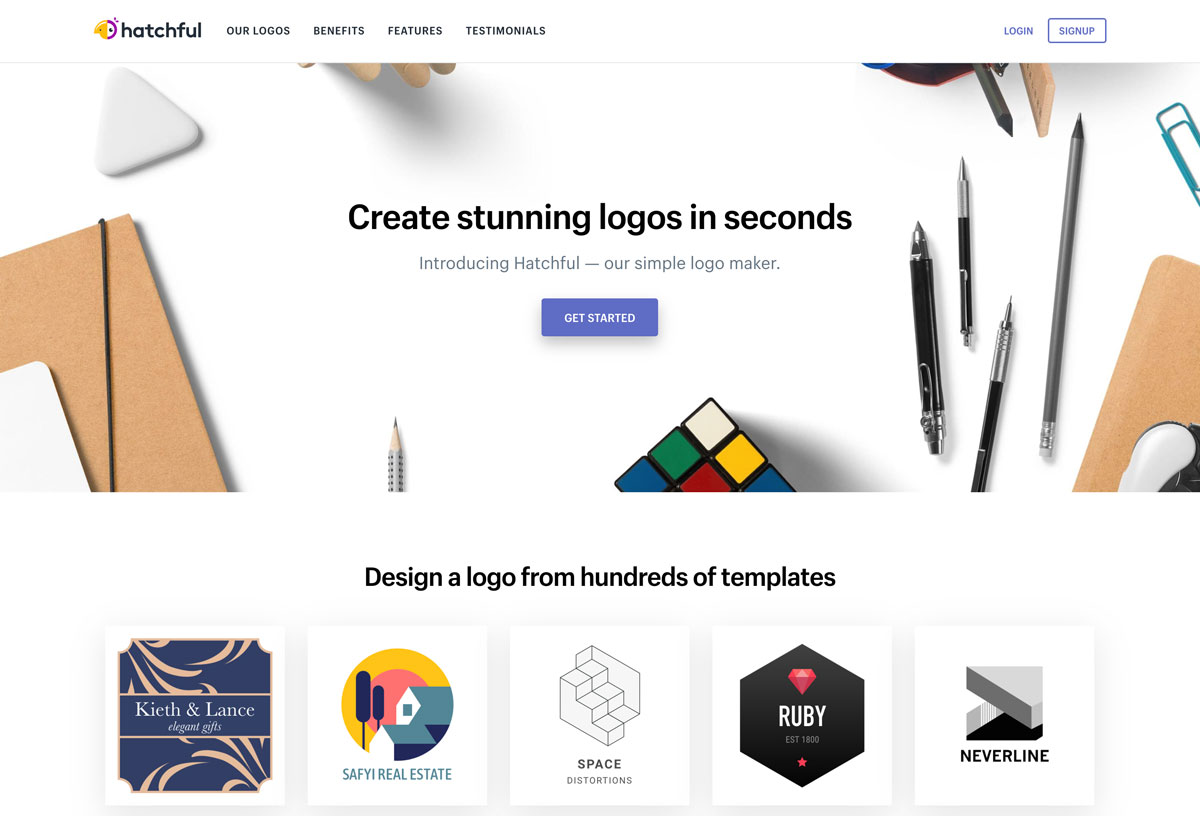 If you have more time and budget, you can also hire a professional designer on a platform such as 99designs.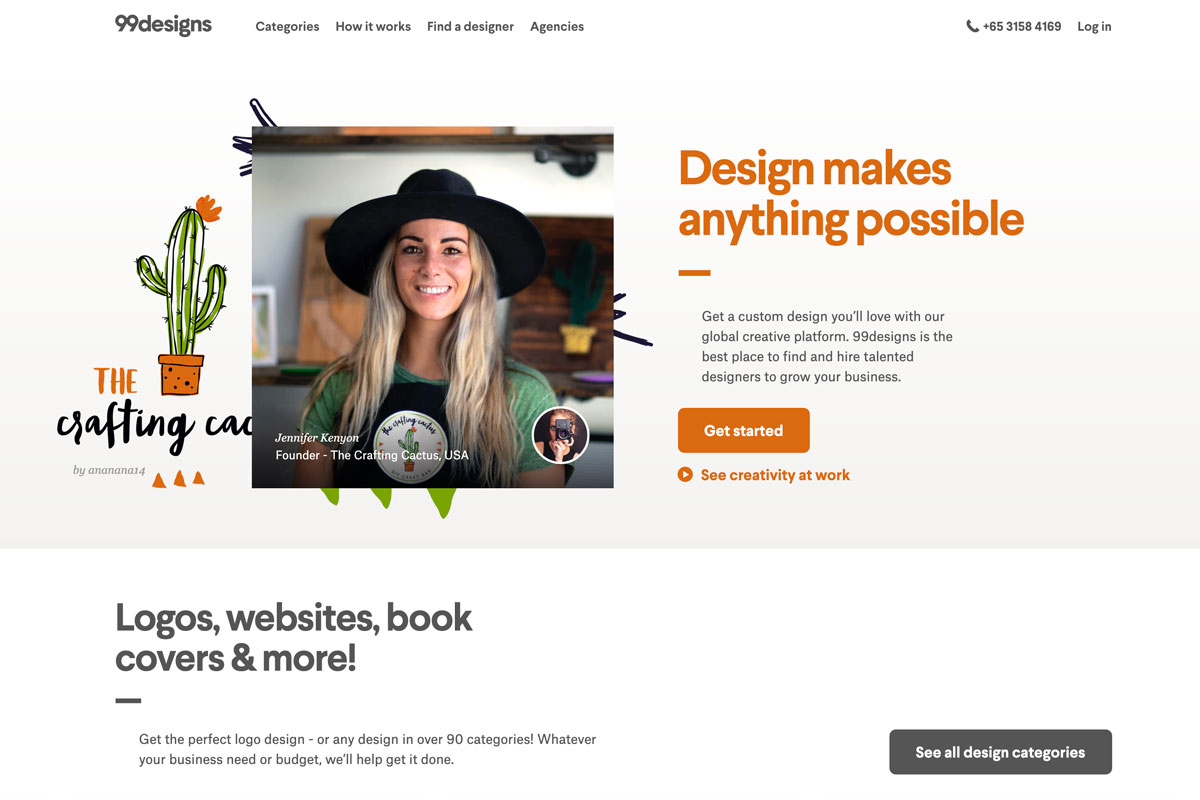 With 99designs, you can easily request designs from hundreds of freelance designers and only pay for the one you like.
Best D2C free brand name generator: Shopify name generator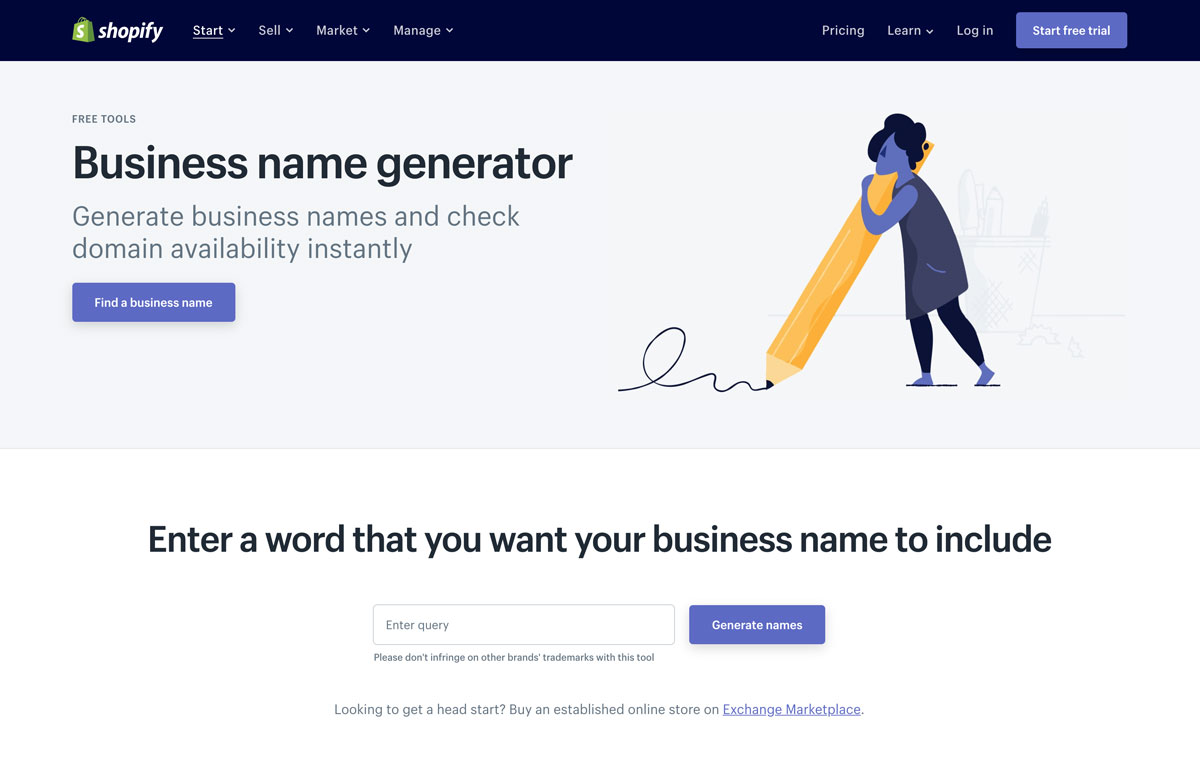 This free service from Shopify lets you easily find and create a unique brand name by suggesting words combinations. The free service also helps you quickly verify that your preferred business name is available as a domain for your website.
Start selling online: How to launch a D2C store?
Your business operations are in place and your brand has been articulated, you're now ready to tie it all together with your very own website. Your D2C website is the single most important aspect of your business. This is where customers will experience your brand and see your product. This is also where you'll be able to sell and make money.
Think of your website as a traditional retail store. It needs to inspire and delight. But it also has to be trustworthy and easy to find and navigate.
There are two broad approaches that you can choose from to start selling online and set up your own ecommerce website.
The first one is to do everything by yourself using platforms such as WordPress and Magento. The running expenses will be lower but the development and maintenance costs will be higher. Those are best reserved for people with sufficient time and technical know-how.
The second option is to use managed-ecommerce platforms such as Shopify and Squarespace. You'll need to pay a monthly fee to use their services but you'll be able to instantly launch a fully functional ecommerce platform with a secure payment gateway.
There is no bad option here, it really depends on your level of comfort with technology and the time that you have available to launch your online business.
From our experience, starting with Shopify is usually the best solution for new niche brands. It enables you to rapidly get your product in front of your customers. You'll make sales and collect invaluable customer feedback. You can always launch your own ecommerce website on WordPress with WooCommerce at a later stage if you need to.
While there are several ecommerce platforms available, such as Squarespace, BigCommerce, and Wix, Shopify is the fastest growing platform with the largest user base and community. That's very important because you don't want to create your business on a platform that might shut down in the near future.
Shopify is also very easy to use, with thousands of beautiful themes that you can customise to fit your brand. And it's one of the least expensive platforms, starting from $9 per month, to run your D2C business online.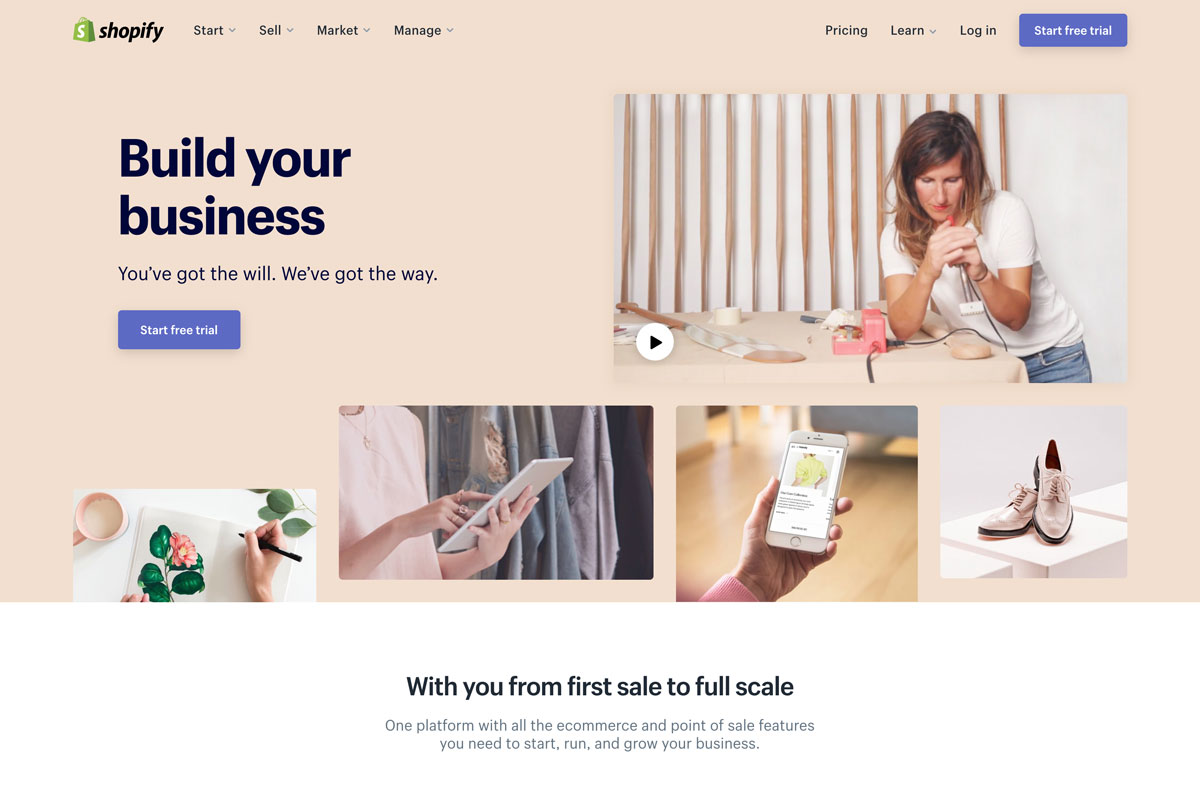 Most of these platforms offer 14-days free trial, so you can sign up and compare the experience.
To begin with your D2C brand online, you'll need a domain name. This is the address of your website on the internet. It's also what customers will see in the URL bar of their browser when visiting your website.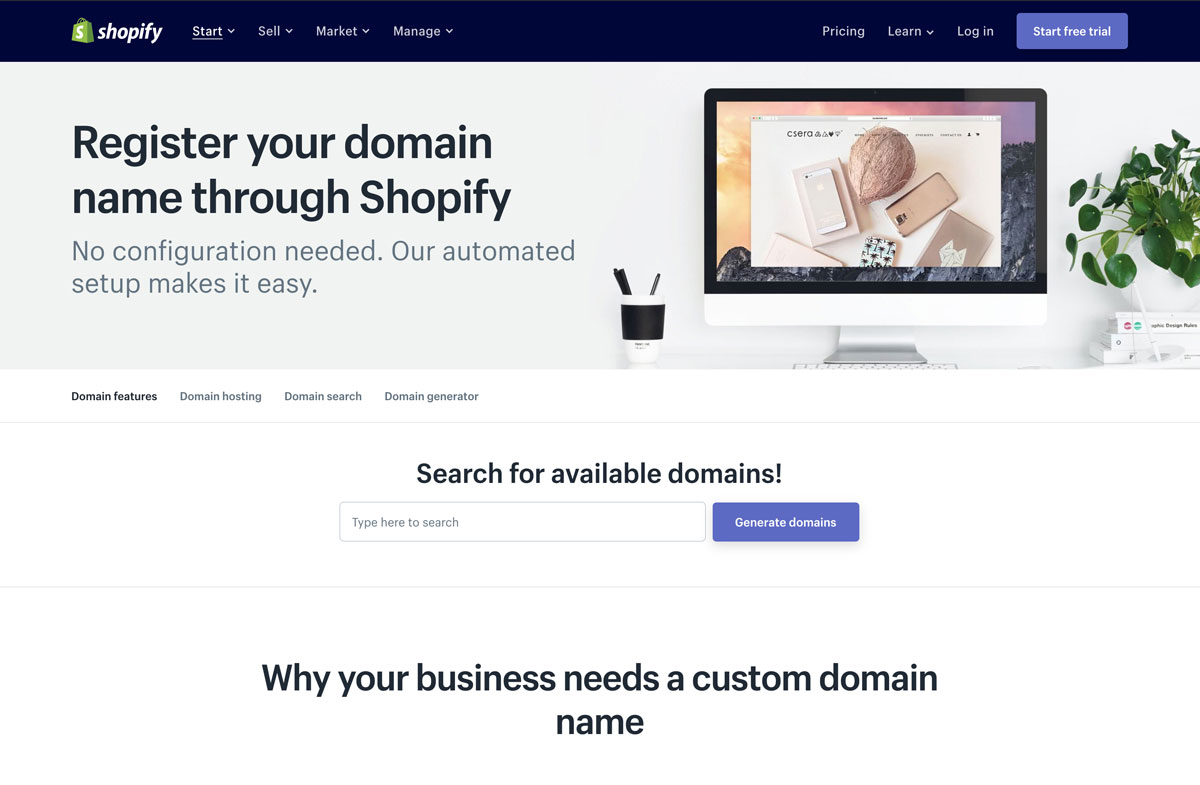 If you're using Shopify, buying your domain name is very easy. The platform will help you set up everything automatically so you don't have to worry about connecting your domain name with your host. You can keep your domain name for as long as you want, even if you decide to leave Shopify at a later stage.
Alternatively, you can use a domain registrar like GoDaddy to buy your domain name and then point it to your store on Shopify or anywhere else. GoDaddy is one of the least expensive and most stable domain name providers worldwide.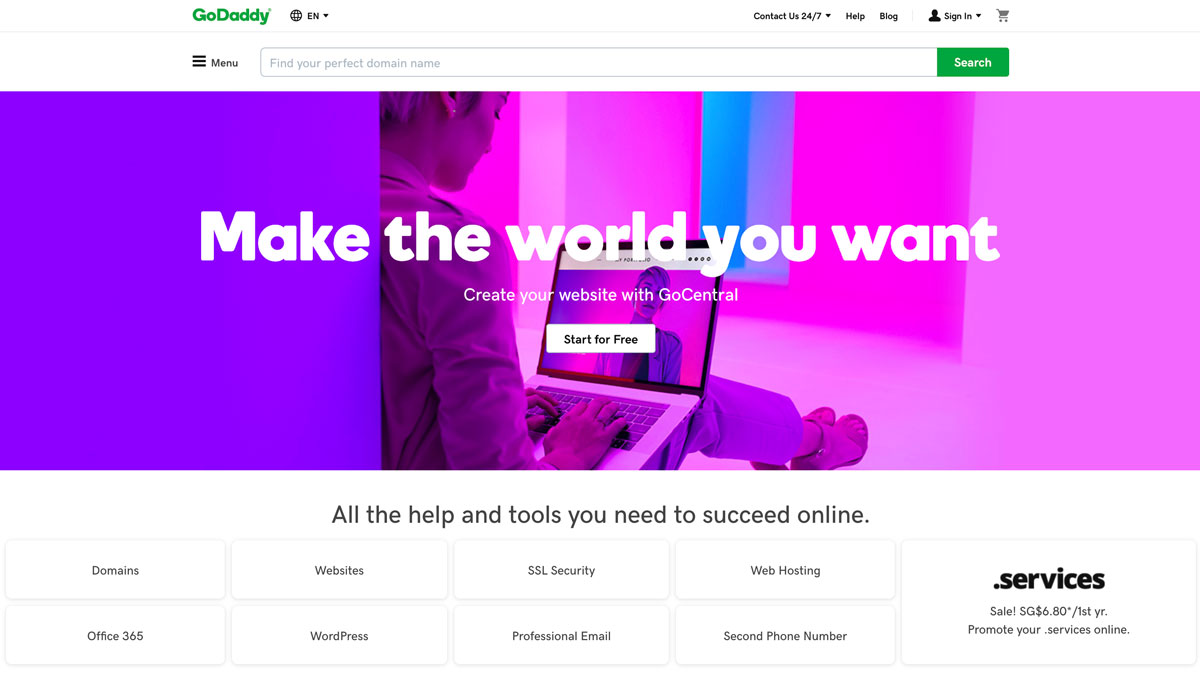 Buying a domain name on GoDaddy is quick and easy. You'll just need to create an account and GoDaddy will help you find a domain name to match your business.
Once you've purchased your domain name, you'll be able to point it to your website host.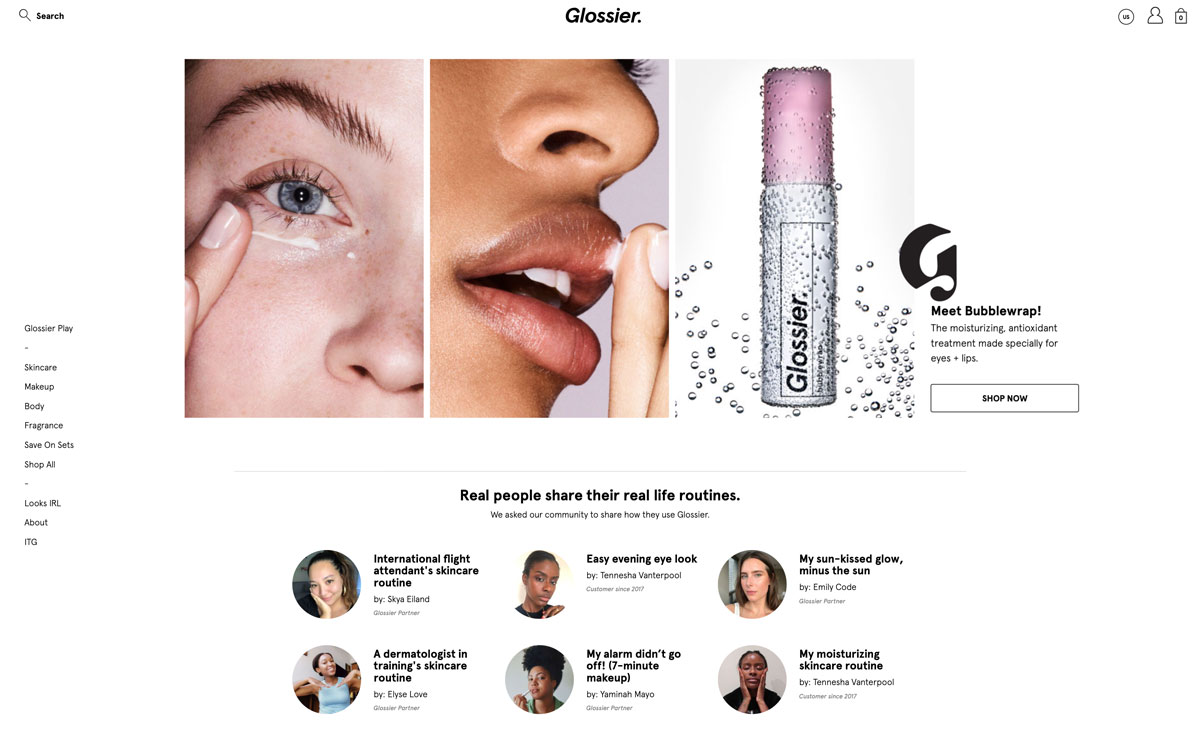 Step 3: Growing your direct to consumer sales
Now that your website is online, you need to start driving traffic to it. It's time to turn your attention to implementing your growth strategy!
In this section, you'll see exactly how to increase traffic to your ecommerce website with online advertising, social media, content marketing, a newsletter and customer reviews. All these elements are essential to guarantee the sustainable success of your brand.
Keep in mind that you don't need to do everything at once. In fact, you'll drive more impact by focusing your attention on mastering one marketing channel at a time. Once you have a good grasp of how that channel works and what it can do for your business, you can turn your attention to the next channel.
Online advertising: Promote your D2C brand on Google and Facebook
Online advertising is the quickest way to start your ecommerce marketing strategy. Setting up your ad campaign on Google and Facebook takes just a few minutes and you can start from just $5 per month if you want. We recommend that you gradually increase your budget as you start to see positive results.
Direct to consumer advertising is an essential pillar of any online store. If you're using Shopify, this step will be even easier to implement. Shopify comes with a built-in advertising platform called Kit. Kit helps you promote your store on Facebook and Instagram. It can also connect with your email marketing platform (see why building-up a newsletter is important below).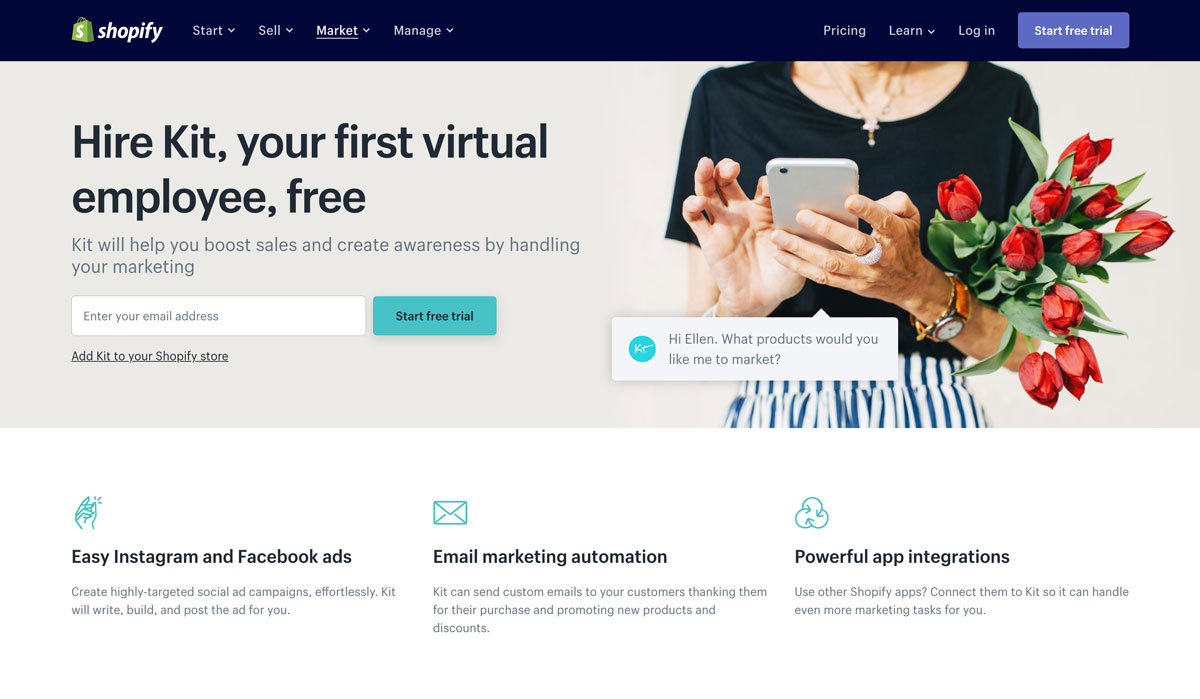 You can also expand the capabilities of Shopify Kit by taking advantage of the large ecosystem of apps available on the platform. As your D2C business grows and you gain more insights into your customers, these apps will help you amplify your advertising campaign.
Social media and influencer marketing: Increase your organic reach and engagement online
Social media and word of mouth marketing can be a powerful tool in your arsenal. While Facebook, Instagram, and Twitter don't drive as much organic traffic to ecommerce as they used to, they are still important channels to build a community of brand fans. Pinterest, on the other hand, is increasingly growing as a social media platform that contributes to your traffic if you have the right content marketing strategy in place (see next step).
You should start by creating your social media profile on each platform. Once you're ready to invest more resources behind your channels, it's worth experimenting with influencer marketing.
A great tool to find the best influencers for you to work with is Heepsy. Heepsy will help you identify influencers that can help you build brand awareness among your audience. The platform will also filter out fake accounts (or influencers with too many fake followers), so you're sure to only collaborate with genuine people.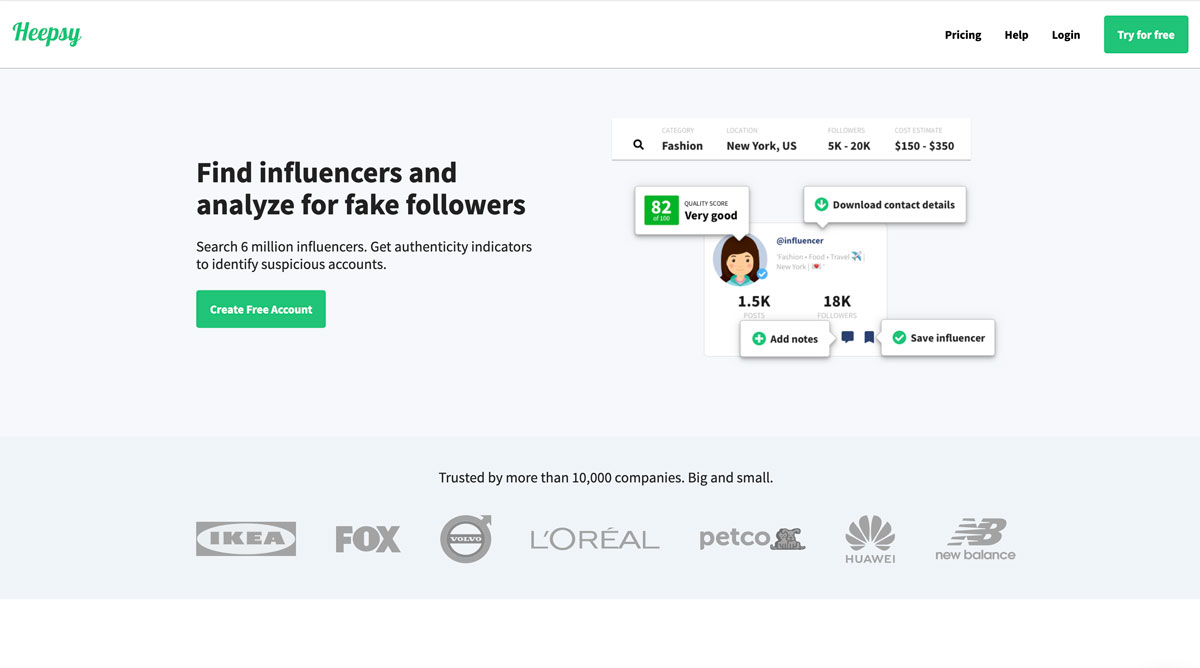 Best of all, you can use Heepsy for free and only purchase a premium plan if you need the extra features.
Content marketing and SEO: Build a brand authority in your market
If you want your online store to appear on Google and receive free organic traffic every month, you will have to invest time publishing interesting and original content. It's called content marketing and it will have a significant impact on your business over the long run as part of your search engine optimisation strategy (SEO).
SEO is a broad and complex subject, so we recommend that you start by writing about what your customers care most about and how your product helps them resolve a particular problem.
When writing, we love to use Grammarly to make sure that our copy is impactful and mistake-free. Grammarly is the smartest grammar checker around. It uses artificial intelligence to correct your errors but also recommends better ways to improve your style.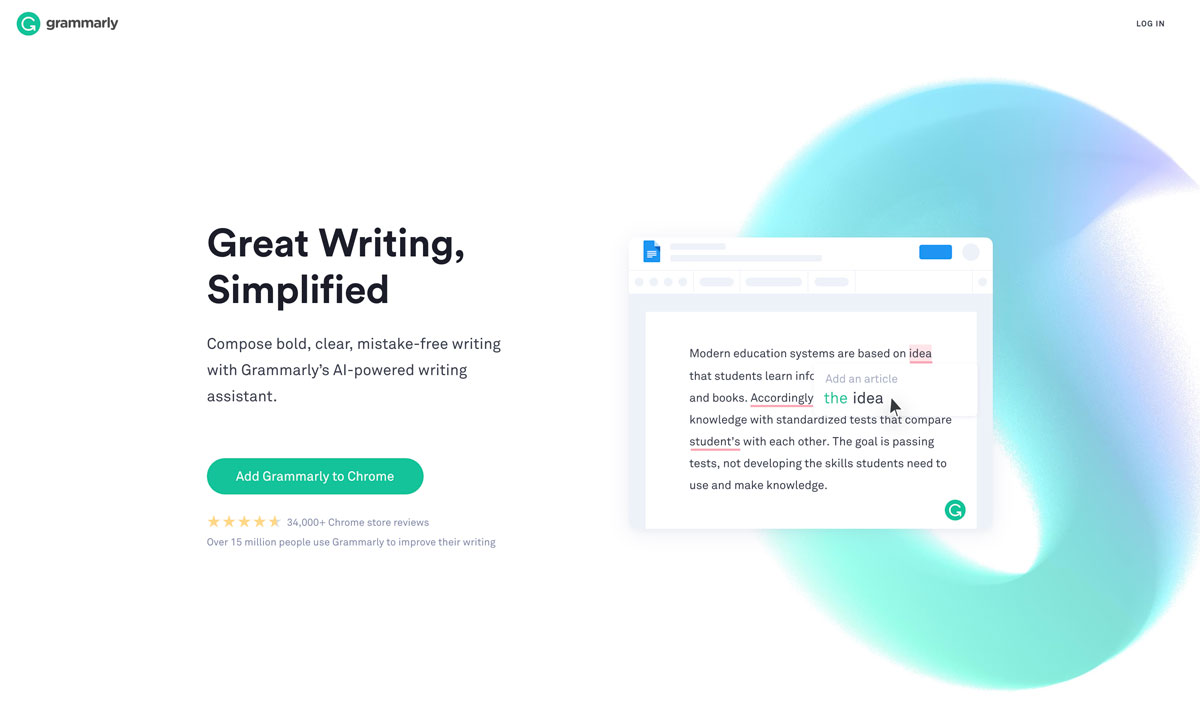 You can use Grammarly completely free if you want the basic version but we think that for $11 per month their premium version is absolutely worth it. It will help you find way more errors but also recommend better ways for you to write.
Newsletter: Build your own list of followers
Next on your list of ecommerce marketing opportunities should be to build your newsletter and email automation. Some level of email automation should be created from the very beginning when you set up your ecommerce store, even if it's just to send a confirmation email after payment. More advanced integrations can be considered once you start to see sufficient traffic to your ecommerce store.
Owning your own email list will enable you to build up a new source of traffic as your store grows. This is the perfect complement to Google and social media to drive more people to your store when new products become available.
Depending on your technical expertise and the time that you have to run your email campaigns, you might find different tools to be a better fit for you. We recommend that you read this blog post listing the 9 best email marketing services for an ecommerce store to find the solution that's best for you.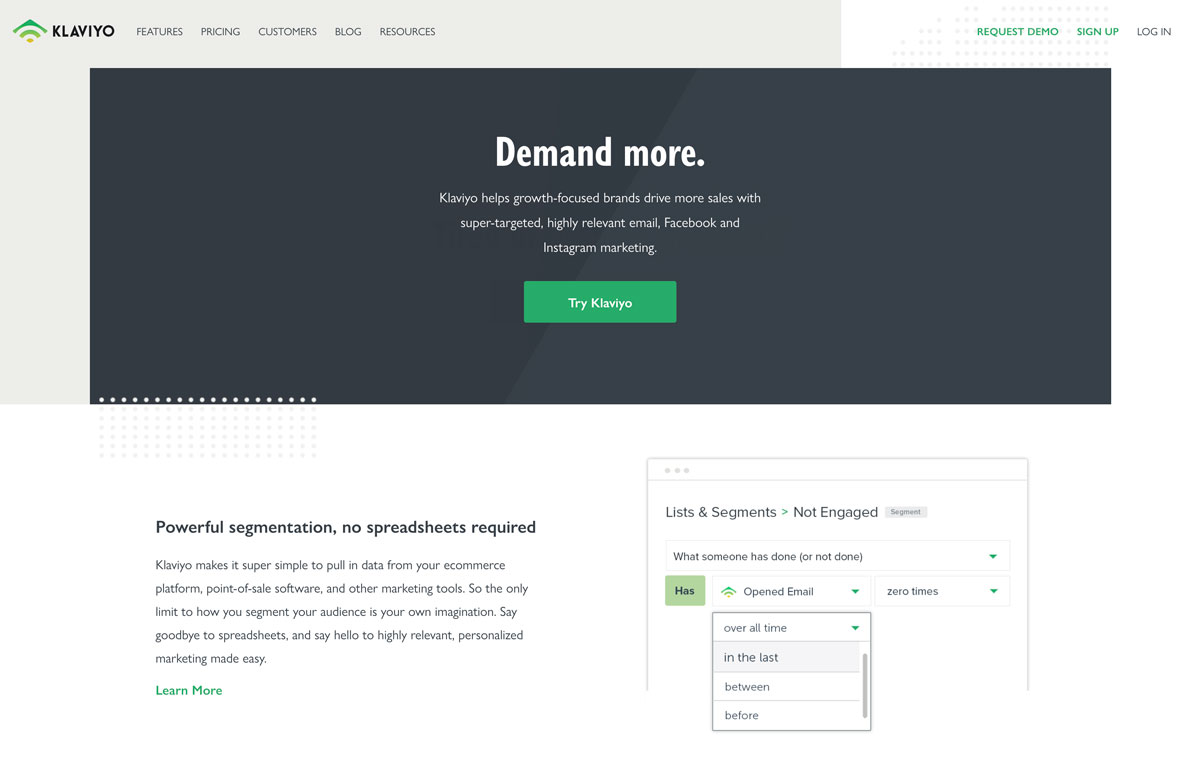 Klaviyo is one of the most powerful email marketing solutions for ecommerce merchants. Its segmentation tools can pull data directly from your store to personalise your email marketing campaigns.
Customer reviews: Build trust through social proof
The last step in your D2C marketing strategy is to collect genuine and valuable customer reviews. This is important for you to understand what your customers think of your products, of course. But also to display on your website as a powerful social proof and reassure future customers that they are making the right choice when buying from your store.
Our preferred tool to collect and manage your customer reviews, but also set up loyalty programs and referral programs, is Yotpo.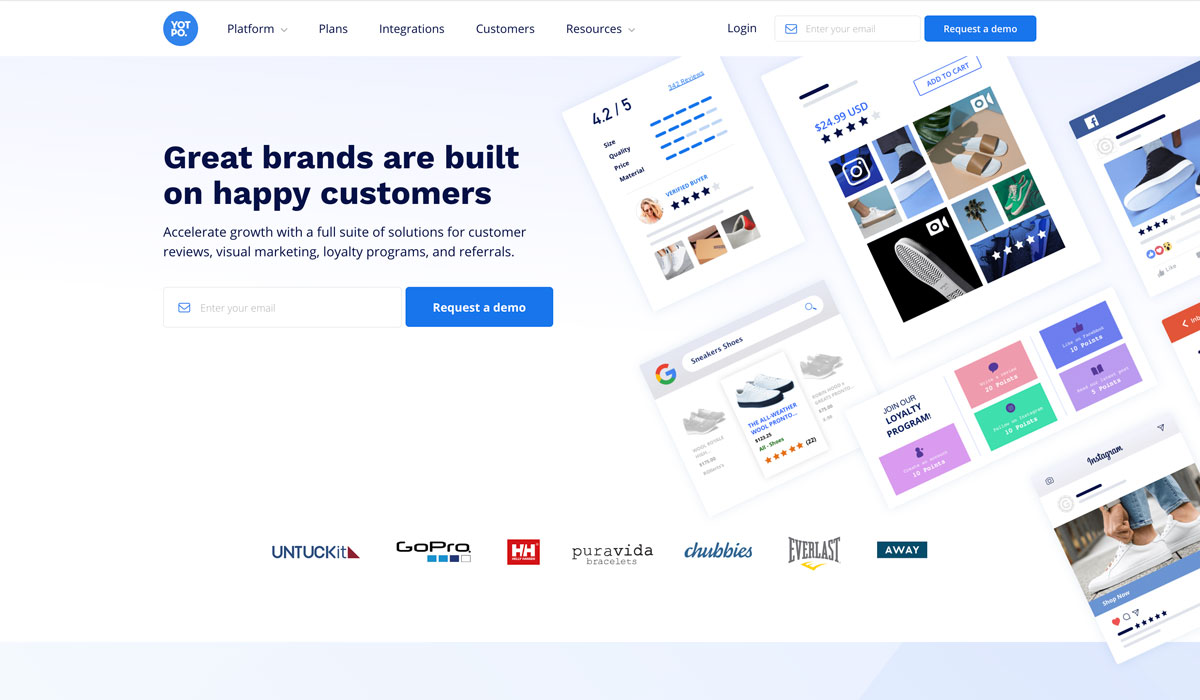 All-in-one UGC marketing platform collects and syndicates every type of customer content (reviews, Q&A, photos and more) to increase trust, social proof and sales.
You can start using Yotpo for free and only upgrade your plan if you need the advanced features at a later stage.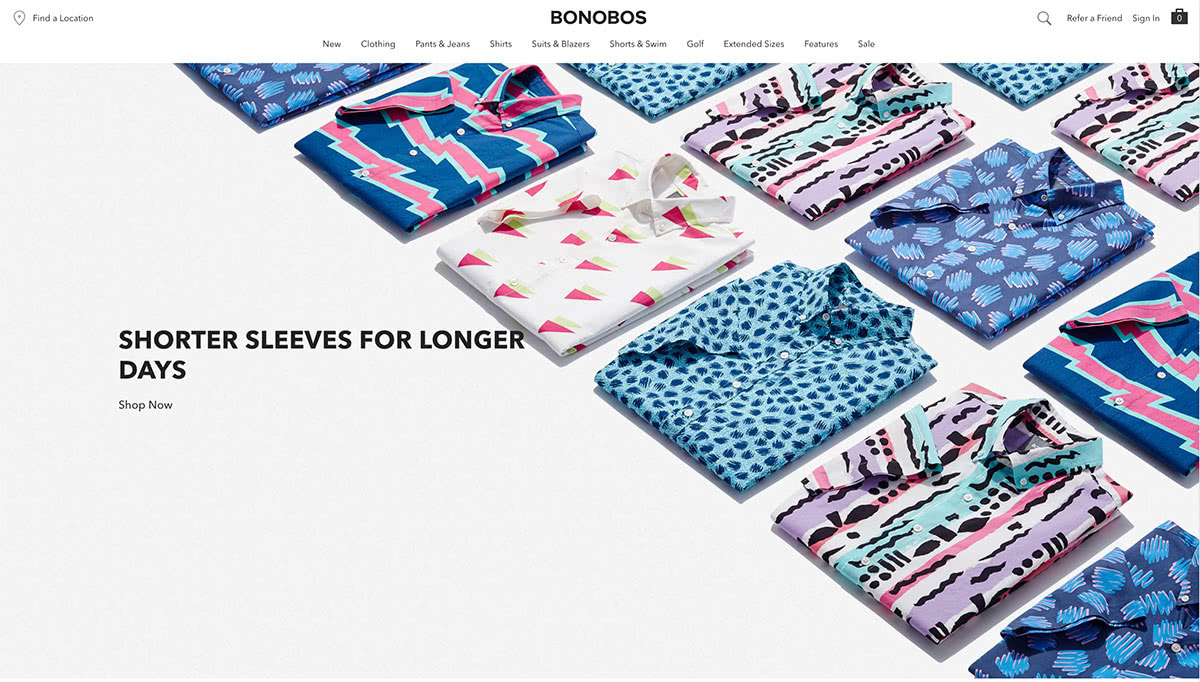 Step 4: D2C retention and customer support
The last step in building your D2C brand for success is to establish strong retention and customer support strategies. While less glamorous than customer acquisition and marketing, retention and support are essential. Fail at this stage and your brand can rapidly burst. Nothing goes viral online as easily as a bad customer experience.
You'll see in this last step how to take advantage of customer relationship management tools to understand and personalise your customer experience. You'll also discover the best customer support platform for an ecommerce store and the best website tracking and analytics service.
Customer relationship management for D2C businesses: Know your customers, personalise their experience
As your customer base increases, their interactions with your D2C brand will become more fragmented. They might start their journey on their phone browsing through your Instagram feed while commuting, continue on their desktop by visiting your website, and finish it the following week by purchasing your product on their iPad. There is nothing more delightful for a customer than receiving timely and personalised recommendations throughout their journey.
A modern customer relationship management tool will enable you to do that. It can become a growth engine behind your business.
The undisputed winner in this category is Drip. Drip is an eCRM that seamlessly integrates with most ecommerce platforms to let you connect, engage, and relate to every customer on a personal level with smarter ecommerce marketing automation.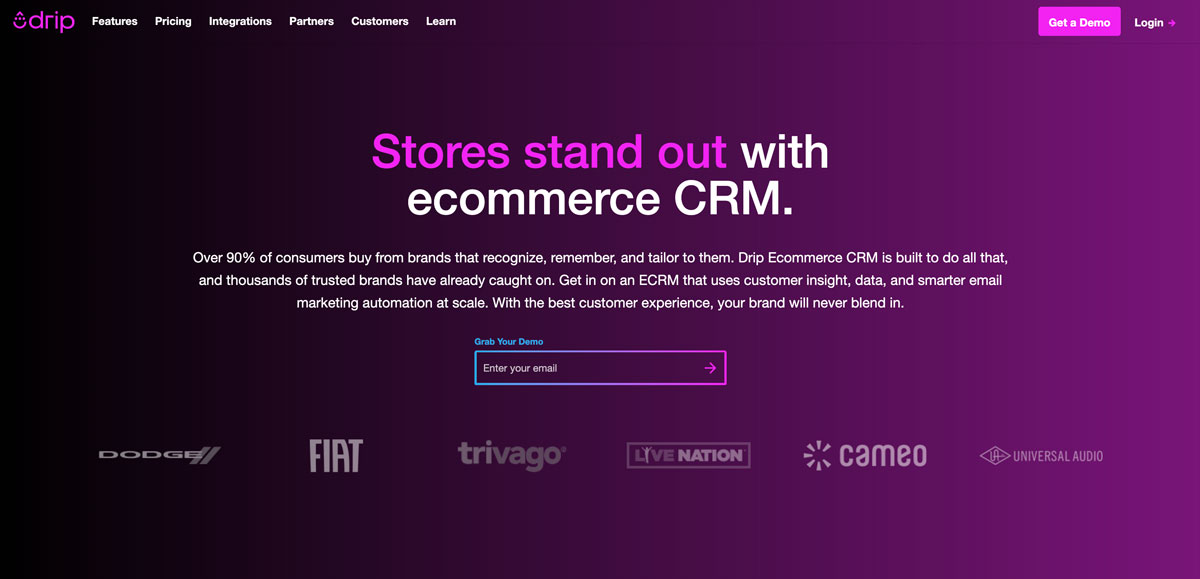 Best of all, Drip includes advanced reporting and analytics tools to help you quickly see which workflows, campaigns, and broadcast emails are making an impact with your customers in an easy to understand eCRM dashboard.
Pricing starts from $49 per month with a 14 days free trial.
Customer support: Every customer interaction is an opportunity to shine
Have an issue with something you recently bought online can be upsetting. Not being able to receive the appropriate support to resolve your issue even more so. Customer support is a critical operation to get right in your business. Fail here and your customers will share their negative experience with everyone around them.
One of the most popular platforms to consistently deliver outstanding customer support across multiple channels is Zendesk. Zendesk helps you coordinate customer interactions across phone, chat, email, social media, and any other channel you might need, all in one place.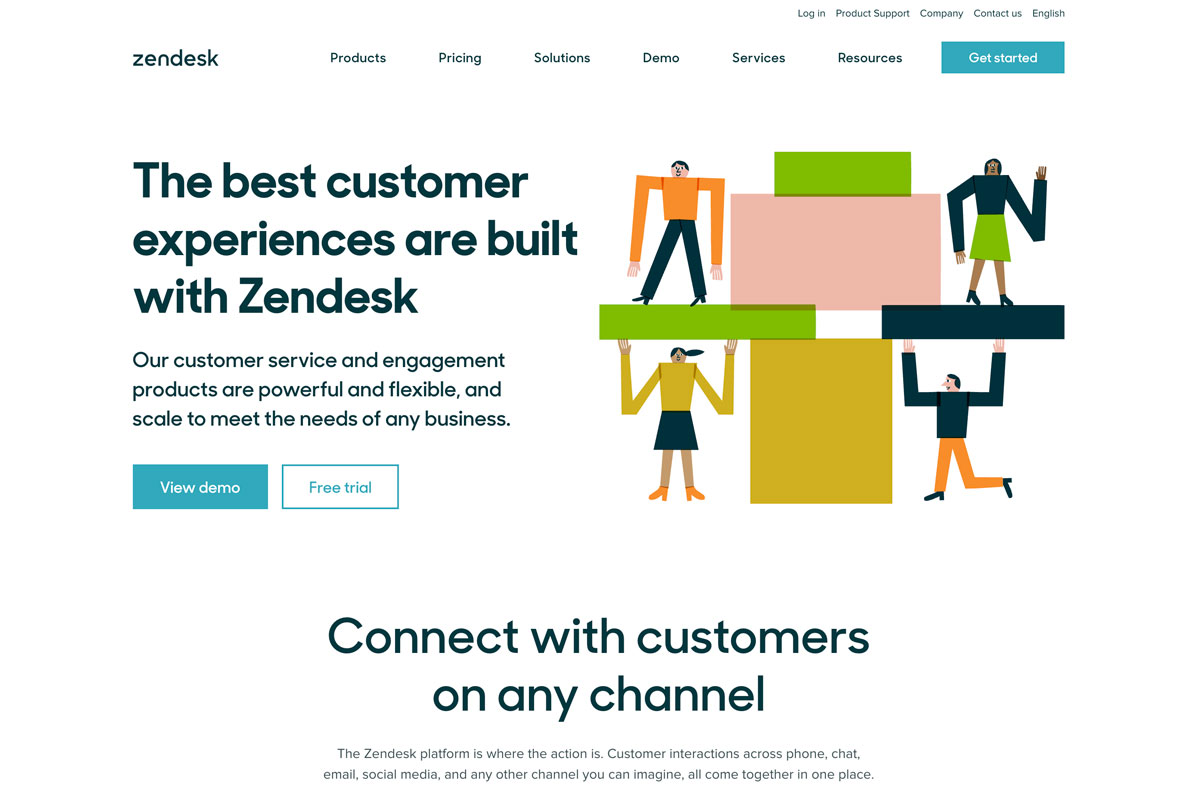 Zendesk shines in its simplicity and integration easiness. Within a single platform, you can manage all customer support interactions and collect valuable insights to improve your business.
Price starts from just $5 per month per customer support agent and you can customise your package depending on the channels that you want to offer support in.
Analytics for ecommerce: Understand what drives your bottom line
The final building block to your direct to consumer online business is to set up a robust tracking and analytics dashboard. This will help you identify opportunities for growth, challenges, and make informed decisions based on data.
There are two main platforms that excel in this regard.
If you're using Shopify, your ecommerce website already comes with a built-in tracking dashboard. Shopify's analytics and reports give you the means to review your store's recent activity, get insight into your visitors, and analyze your store's transactions.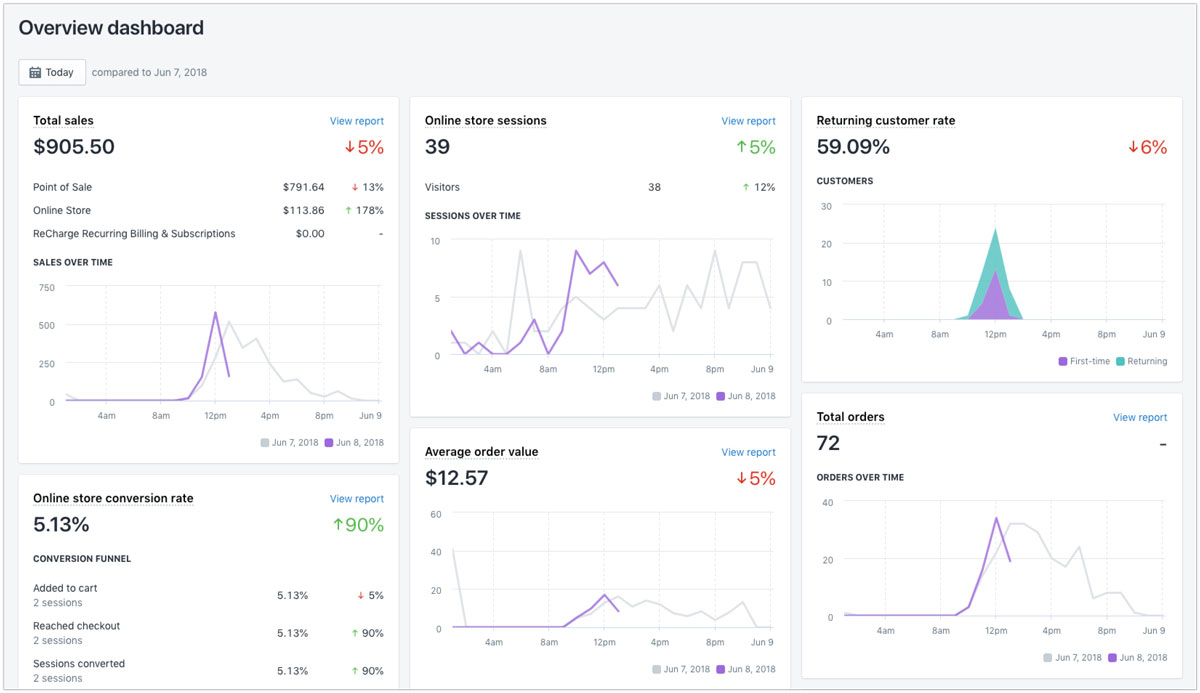 This solution will probably be sufficient for most people. But if you want to go further, you can also integrate your ecommerce store with Google Analytics, the market leader in website tracking. Google Analytics lets you track visitors, sessions, and other customer behaviours on your store. You can also set goals and event tracking to see exactly how your ecommerce is performing.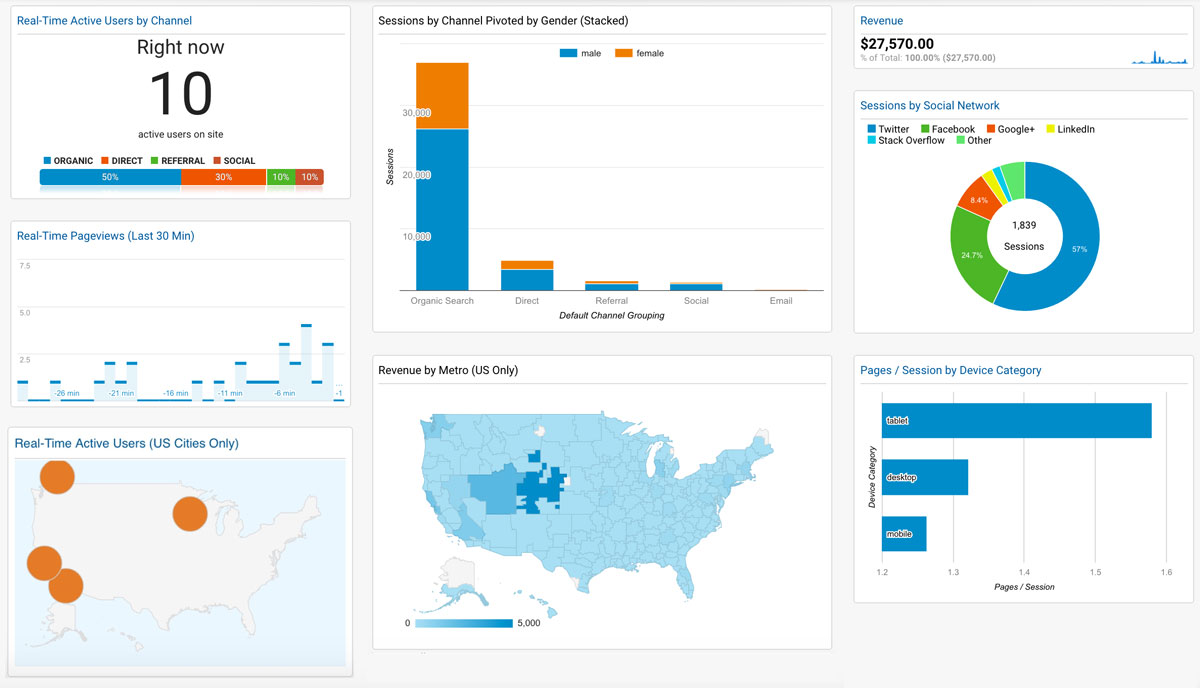 And best of all, Google Analytics is completely free.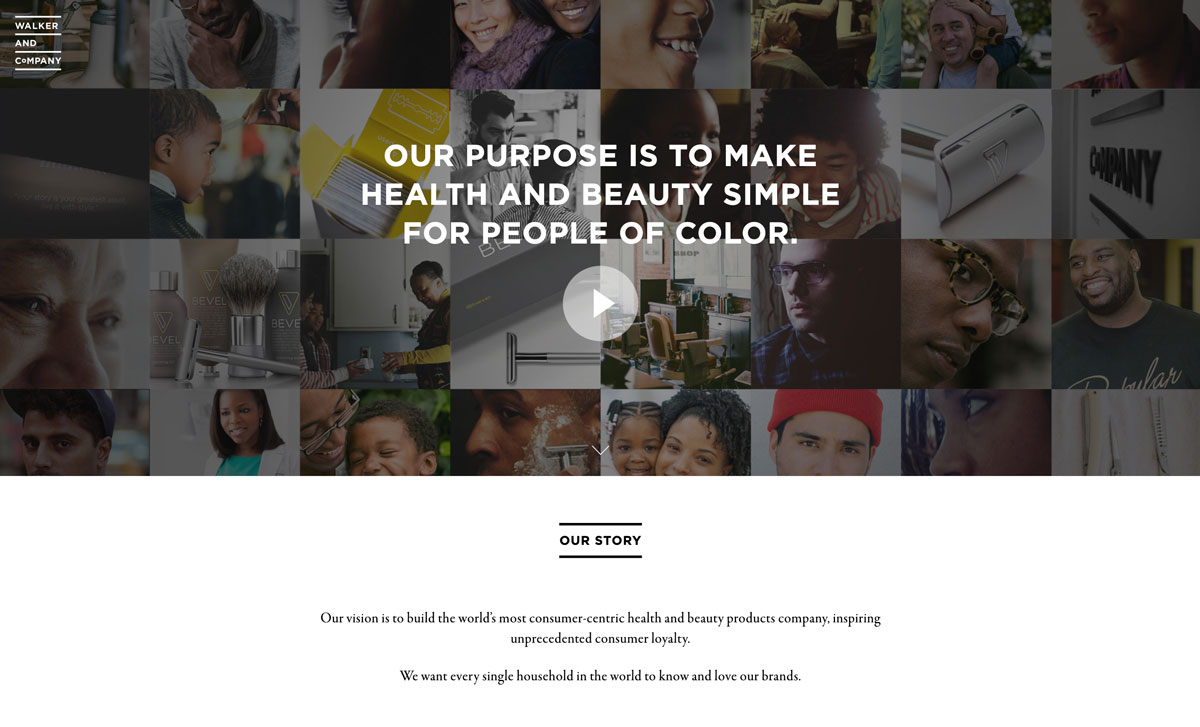 Further reading recommendations about direct to consumer business and ecommerce in general
We used several authoritative sources to help us write this guide to launching a successful direct to consumer brand. We recommend that you read them if you want to learn more about DTC, marketing, and ecommerce. These are also great resources if you want to understand a particular aspect of the direct to consumer model or want to stay up-to-date with the latest developments in the industry.
Market intelligence firm PipeCandy, focused both on eCommerce & DTC brands.
'More like reality': In 2019, hot DTC brands face pressures to prove profitability, by Hilary Milnes, Digiday, January 2, 2019.
DTC gold rush leads to the rise of holding companies, by Hilary Milnes, Digiday, April 5, 2019.
'Adjust your roadmap': DTC brands are stretching into new categories, by Hilary Milnes, Digiday, April 18, 2019.
DTC startups are hiring grown-up retail talent as they mature, by Anna Hensel, Digiday, April 22, 2019.
How Square is taking on Shopify pitching its e-commerce platform to sellers, by Suman Bhattacharyya, Digiday, March 27, 2019.
The Future of Online Luxury Retail, by Samantha Woodworth, Luxe Digital, April 2019.
Direct-to-Consumer (D2C): 21 Ways to Get Started in 2019, by Dennis, coredna, February 13, 2019.
Growing and scaling a successful eCommerce business, coredna, February 13, 2019.
Direct-to-Consumer Marketing Course, YOTPO, 2019.
Why Luxury Brands Build Their Online Retail With Monobrand Platforms, by Samantha Woodworth, Luxe Digital, February 2019.
3 Retail Technology Trends Transforming Luxury, by Samantha Woodworth, Luxe Digital, February 2019.
17 Steps To Take Before You Launch A Product Or Service, by the Forbes Agency Council, Forbes, October 24, 2017.
How to Create, Setup, and Launch a Profitable Online Store (Seriously), by Tracey Wallace, BigCommerce, 2019.
The Beginner's Guide to Direct-to-Consumer Marketing, by Mary Lister, WordStream, April 17, 2019.
We Analyzed 12 Of The Biggest Direct-to-Consumer Success Stories To Figure Out The Secrets To Their Growth — Here's What We Learned, CBInsights, February 6, 2019.
A Growth Hacker's Guide to DTC brands, by David Sanghera, Medium, November 23, 2018.
DTC brands, fueled by Facebook ads, are shifting focus elsewhere, by Hilary Milnes, Digiday, October 11, 2018.
The different playbooks of D2C brands, by Ashwin Ramasamy, TechCrunch, April 18, 2019.
Colin Lewis: The secret of direct-to-consumer success is owning the whole experience, by Colin Lewis, Marketing Week, September 21, 2018.
Going digital, going direct Digital strategies to help brands connect with today's consumer, by Jake Gregory, Adrian Xu, Andrew Cheng, and Liza Turner, Deloitte, 2019.
D2C Strategies: How Direct To Consumer Brands Start Online, Opening Retail Stores Later, by Blake Morgan, Forbes, January 29, 2019.
$1 Billion for Dollar Shave Club: Why Every Company Should Worry, by Steven Davidoff Solomon, New York Times, July 26, 2016.
Cheatsheet: Tracking Casper's path to a potential IPO, by Hilary Milnes, Digiday, March 27, 2019.
Exclusive: Online mattress retailer Casper to hire IPO underwriters, by Joshua Franklin and Harry Brumpton, Reuters, March 27, 2019.
Glossier Tops Billion-Dollar Valuation With Latest Funding, by Katie Roof and Yuliya Chernova, Wall Street Journal, March 19, 2019.
Walmart to Buy Bonobos, Men's Wear Company, for $310 Million, by Michael J. de la Merced, New York Times, June 16, 2017.
Procter & Gamble acquires Walker & Company, Tristan Walker will remain as CEO, by Anthony Ha, TechCrunch, December 12, 2018.
---