We might depend on bras for day-to-day support but that doesn't mean we necessarily like them. They can be a real pain, digging into our skin, creating uncomfortable bulging in all the wrong places, and slipping off our shoulders at inopportune moments. Which is why we're always on the hunt for the most comfortable bras.
And our quest has finally come to an end. We've compiled a list of the best bra brands making the best comfy bras known to womankind. Bras that are game-changers when it comes to support, softness, and smoothness. Bras that you'll immediately want to tell all your friends about and bras that you'll actually look forward to putting on.
From sleek silk bras to classic cotton creations, from push-up bras for Hollywood-style glamour to sports comfort bras, full-figure bras, and nude bras that no one will ever notice, we've picked the best bras for commitment to comfort and the best bra brands for keeping breast-related distress at bay.
The 23 most comfortable bras
Check our special bras buying guide after the list to see exactly what you should pay attention to when shopping for a bra online.
Spanx: Most comfortable bra overall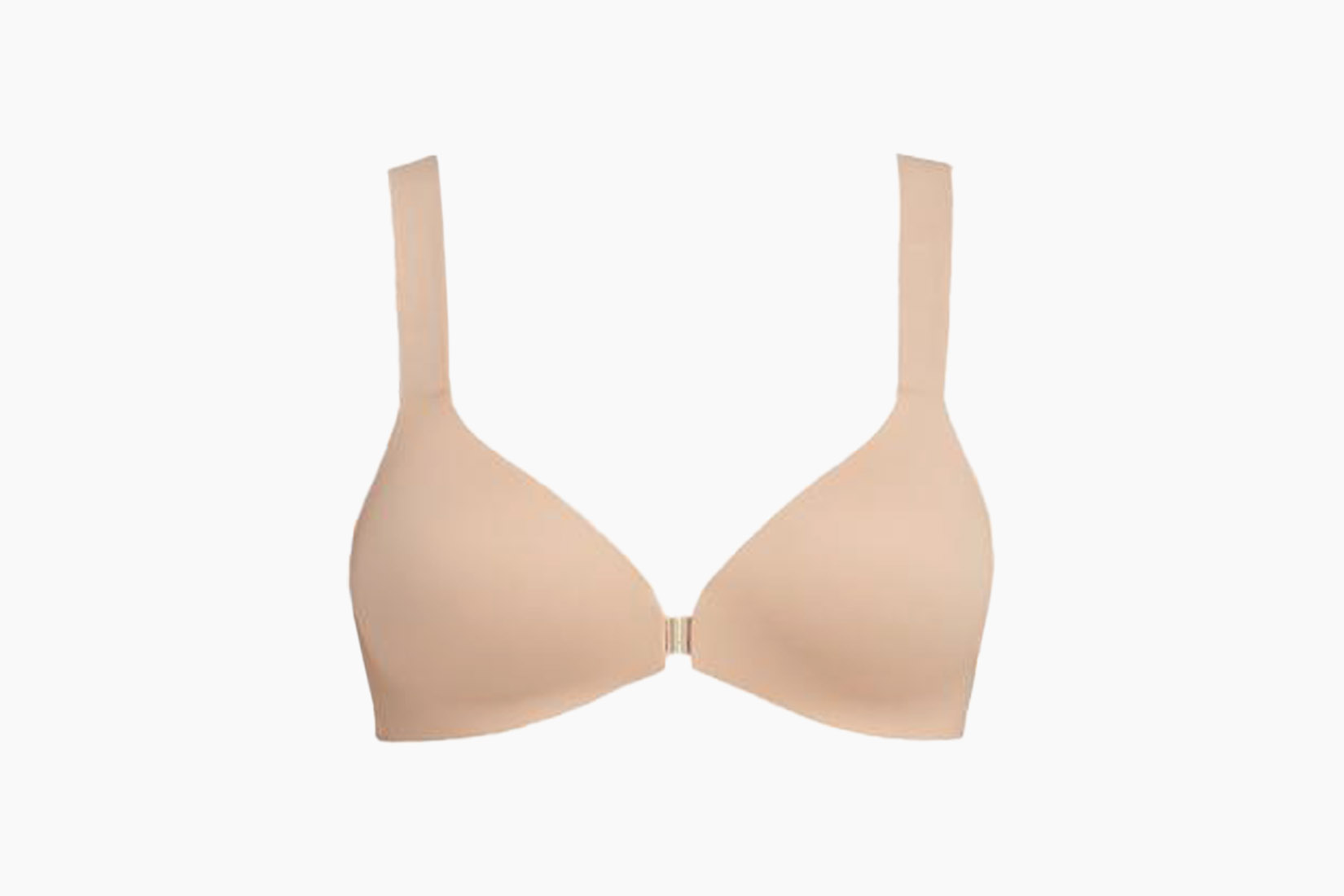 Spanx has become a household name around the world with its undergarment designs especially engineered to solve wardrobe frustrations. From seamless pants to seamless bras, the company is all about giving women the confidence to wear what they want, when they want.
One of Spanx's most revolutionary designs is this Bra-llelujah! Wireless Bra, designed to provide softness, full-bust support, and comfort—all without any wires.
The Bra-llelujah! is one of the best wireless bras around, with a patented all-hosiery back and a front closure. That means no lumps, bumps, or bulk under your clothes. The straps are dig-free for day-to-night comfort and the molded cups empower your breasts to look their best. Believe us when we say you'll never wear another bra again.
Best for: Bras designed to solve pet peeves and beloved by women worldwide.
| | |
| --- | --- |
| Price: | $$ |
| Sizes: | XS-XXL |
| Colors: | Black or nude. |
La Perla: Best luxury comfortable bra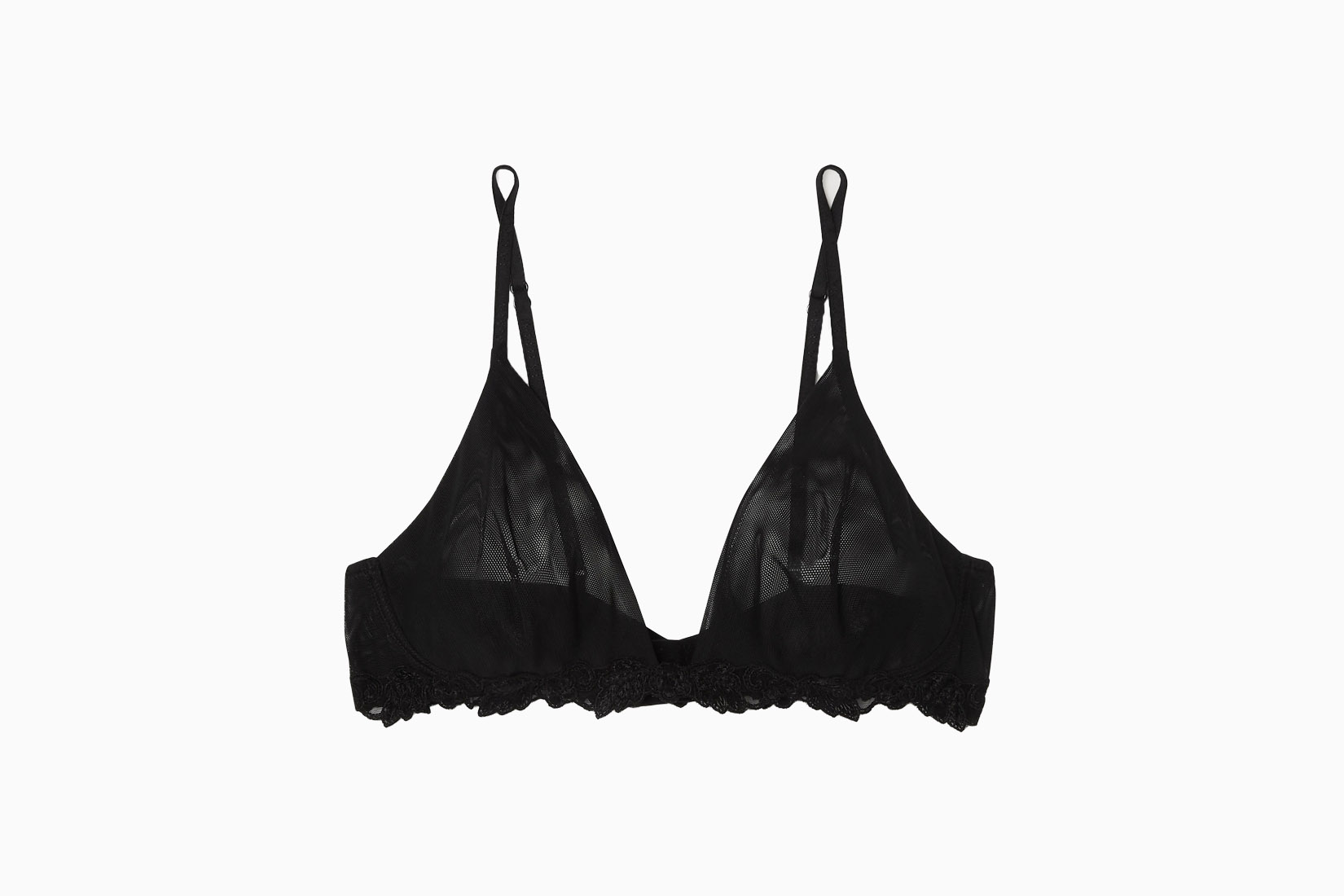 La Perla was launched by Ada Masotti over sixty years ago so you can trust that the company knows a thing or two about crafting exceptional lingerie. With its uniquely Italian dedication to fashion, La Perla has become a go-to brand for any lady seeking timeless elegance, refined sophistication, and a touch of romance and mystery.
Looking for bras featuring lots of silk and lace? Designs that demonstrate serious corsetry skills? Creations that are basically wearable works of art? La Perla is the brand for you.
In this gorgeous triangle bra, your girls will feel like they've died and gone to heaven. Our skin adores the stretchy tulle fabric and our eyes adore the delicate floral embroidery. This La Perla bra will give you a taste of the quality and superb craftsmanship that the brand has become known for.
Best for: Sumptuous undies for those with expensive taste.
| | |
| --- | --- |
| Price: | $$$ |
| Sizes: | XS-L |
| Colors: | Black. |
Hanes: Best value comfortable bra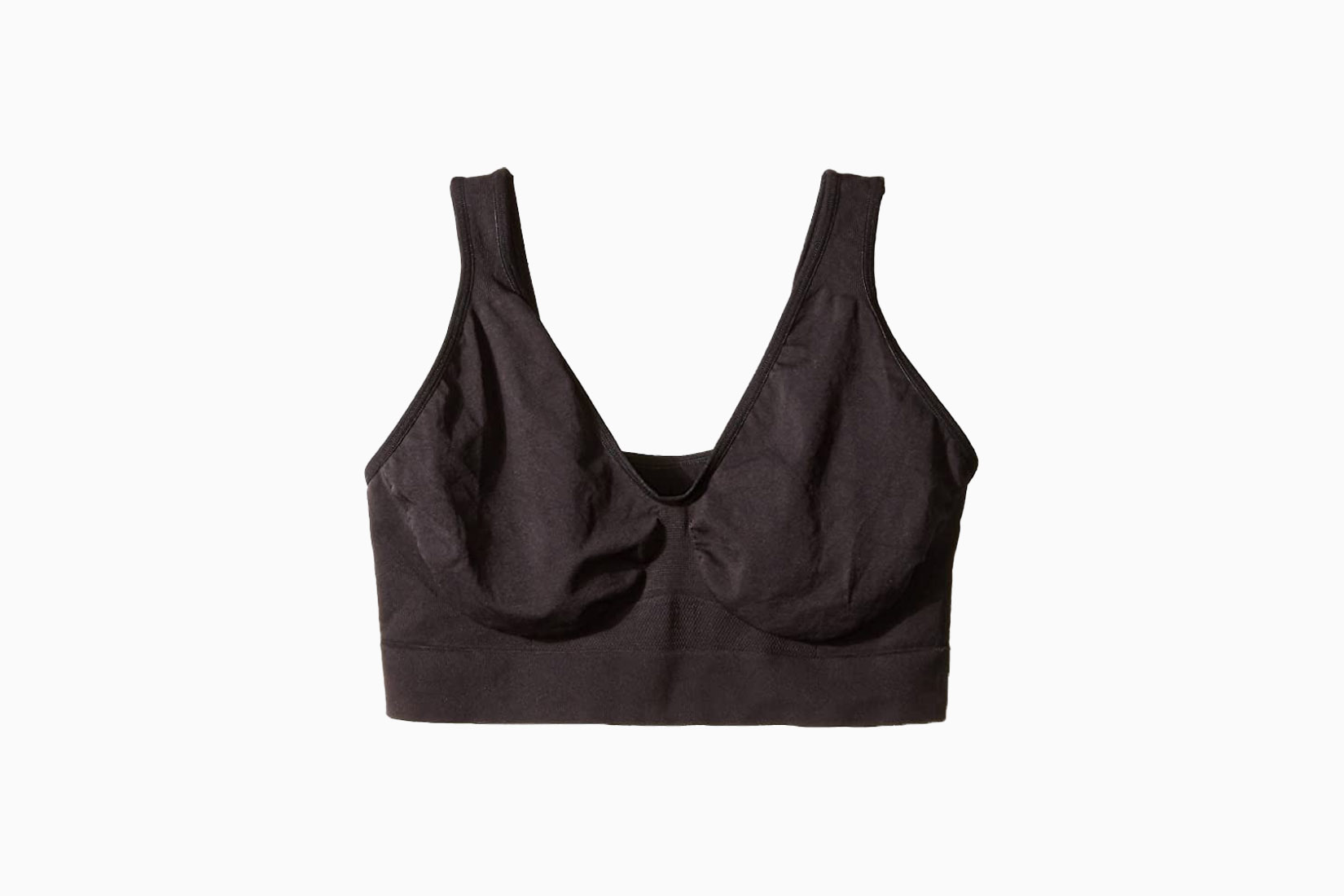 Hanes makes wireless bras that have created quite a splash in the underwear industry with their innovative technology that offers the kind of comfort once considered impossible. These seamless bras use a design known as the Comfortflex Fit which involves a 4-way stretch fabric that flexes to fit your body and moves as you move.
This particular Hanes Get Cozy bra has a seamless lining and pull-on closure. Made of a combination of nylon and spandex, it's stretchy enough to give you a range of movement, whether you're doing the dishes or dancing around the living room. You also have full-coverage cups for a smooth under-t-shirt look while a wide bottom band and wide straps ensure next-level comfort.
The Hanes Get Cozy Seamless Wirefree Bra is just as much a wardrobe staple as your favorite white shirt. It can be worn whatever the weather and will banish all your bra woes.
Best for: Dependable basics from a down-to-earth brand.
| | |
| --- | --- |
| Price: | $-$$$ |
| Sizes: | S-XXL |
| Colors: | A range including black, blue, and pink. |
Cosabella: Best comfortable underwire bra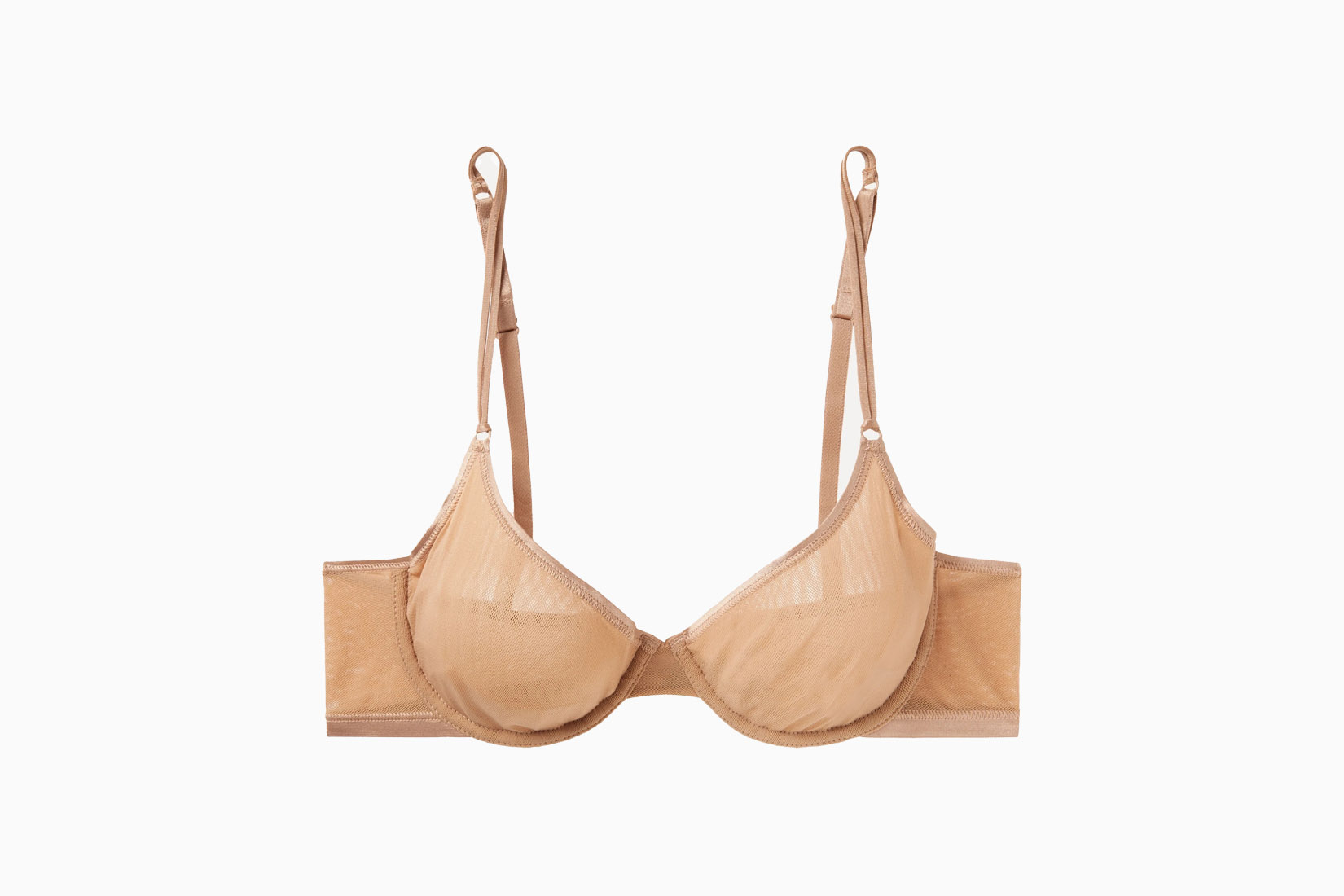 The word 'Cosabella' translates to 'beautiful thing' which nicely sums up Cosabella's products. The brand was founded in 1983 and is proof, yet again, that some of the best bras in the world come from Italy.
One of the brand's most highly-coveted products is this update of the brand's Soiré Confidence bra, which we can hear calling out for a place in your underwear drawer now.
It's made of a lightweight sheer mesh that feels as though you're wearing nothing at all yet provides ample support thanks to the underwiring and adjustable straps. The flatlock seams mean you can wear this bra under the tightest of tops and still be bump and lump-free.
Consider this Cosabella bra a universal remedy for any woman who's tired of looking for a bra that fits properly and is also pretty. You'll want to wander the house in your undies all day.
Best for: Channelling some of that inimitable Italian style.
| | |
| --- | --- |
| Price: | $$ |
| Sizes: | XS-L |
| Colors: | Beige or brown. |
Eres: Best comfortable triangle bra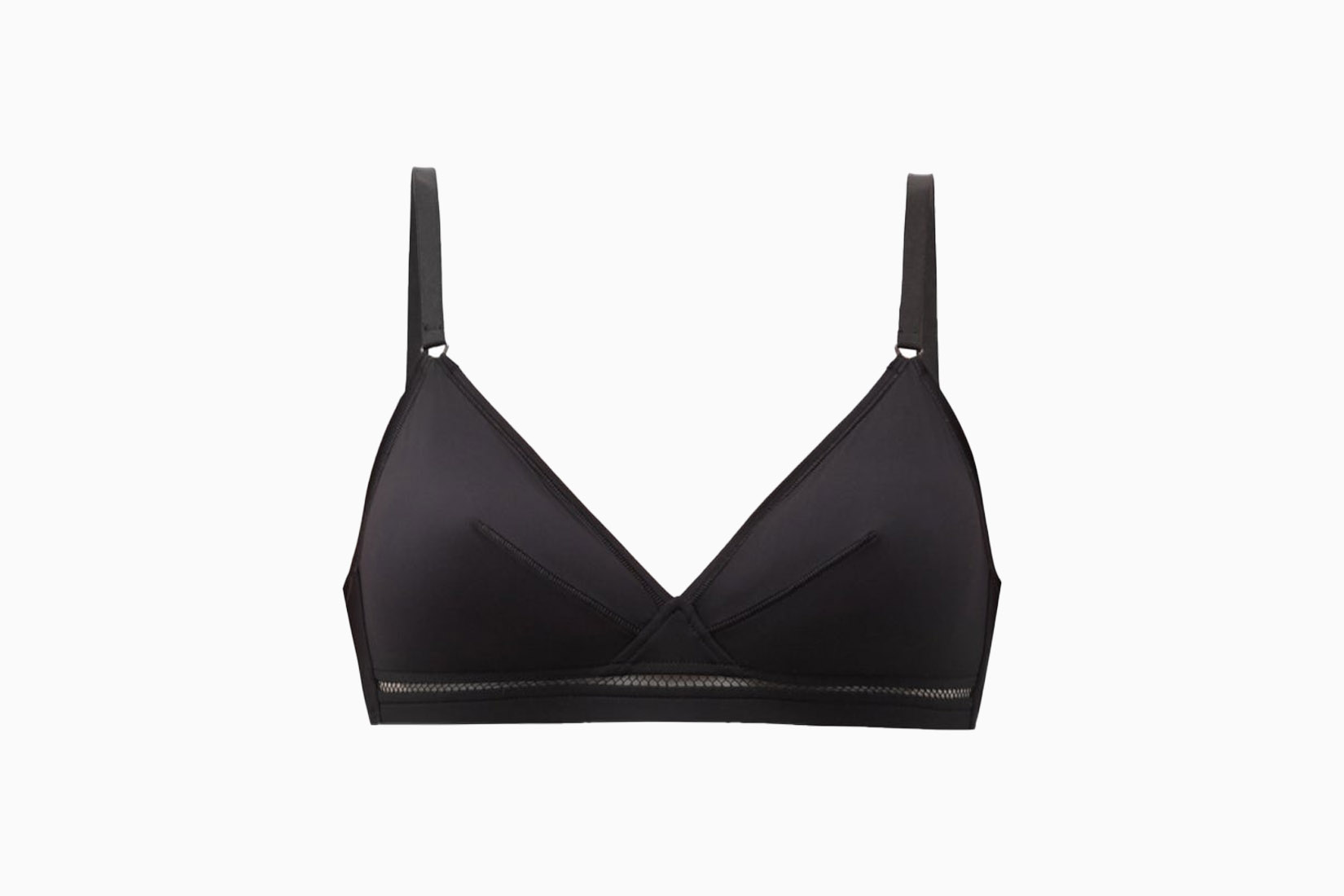 French brand Eres makes lingerie and swimwear that pushes fashion boundaries with its high-tech fabrics, innovative use of color, and dynamic sculptural cuts. Think bold contrasting shades, plunging necklines, and barely-there-bikinis that still manage to be sophisticated. The vibe is laid-back yet luxurious, easygoing yet elegant, and every piece has been crafted with meticulous attention to detail.
The Lydia bra has a sleek and pared-back silhouette that's perfect for layering under an everyday get-up. The triangle cups are soft on the skin and your boobs will enjoy the supportive help of the adjustable straps. An elasticated underbust band further adds to the comfort levels and we like the delicate ladder stitch accents too.
Best for: Intimates that balance iconic and innovative.
| | |
| --- | --- |
| Price: | $$$ |
| Sizes: | XS-L |
| Colors: | Black. |
Alala: Most comfortable sports bra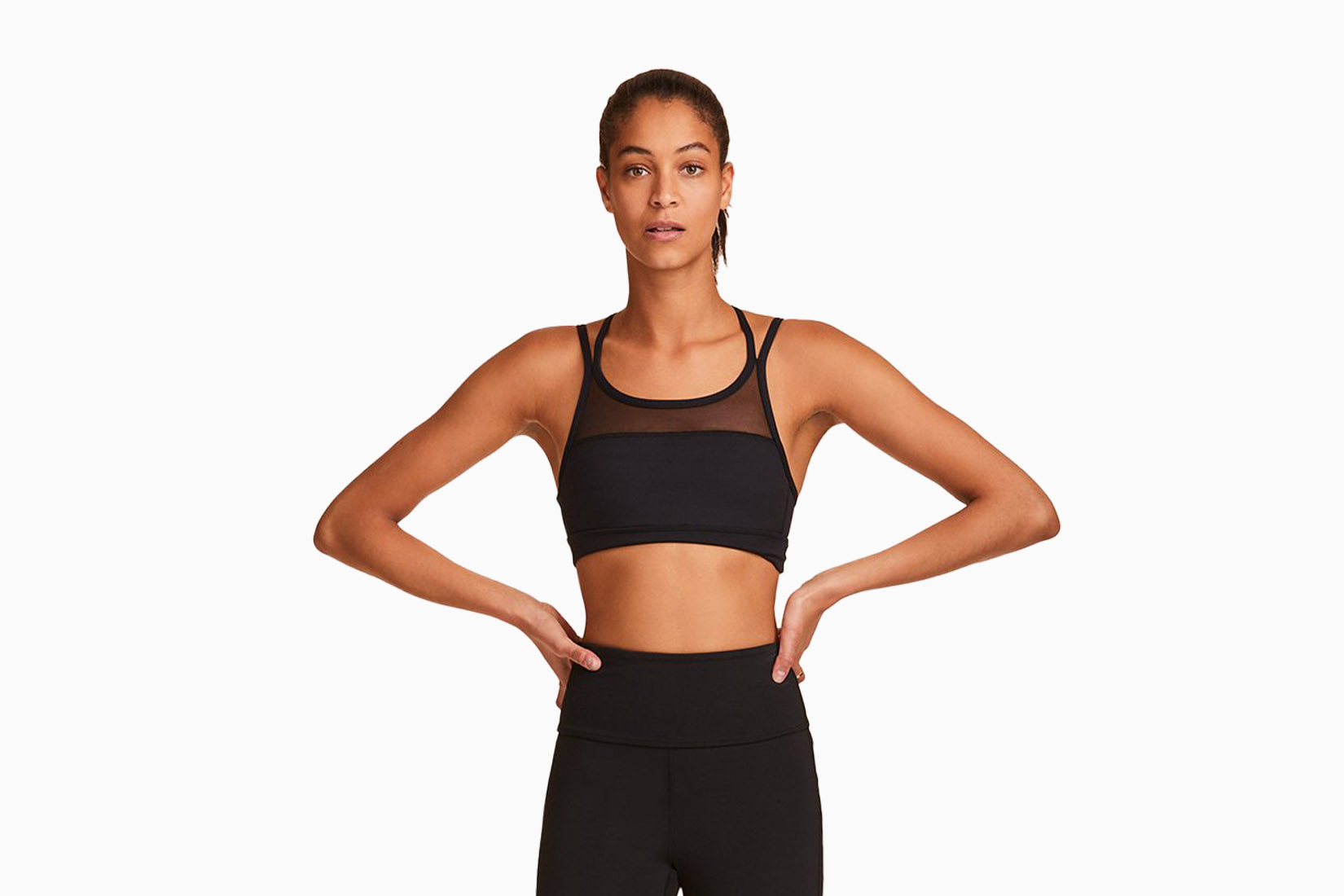 Alala makes athleisure for women who rule, whether that's track-running, on the rowing machine, or your fiftieth rep of the session. Their high-performance sportswear delivers when the sweat starts pouring but looks as edgy as you'd expect from a brand that hails from downtown New York.
And, with the Aurora, Alala has made the most comfortable sports bra in existence, as far as we're concerned.
Designed for high impact sports, it's got flatlock seaming to ensure no rubbing or chafing. The slim fit perfectly hugs your body and moves with you, whether you're doing mountain climbers or your first sun salutation of the day.
And, on top of that, the Aurora bra looks super cool. Inspired by the gritty graphic lines of NYC, it features a sheer mesh front panel and crisscrossed straps.
Best for: Chic activewear with a modern and metropolitan vibe.
| | |
| --- | --- |
| Price: | $$ |
| Sizes: | XS-L |
| Colors: | Black |
Freya: Best comfortable bra for large busts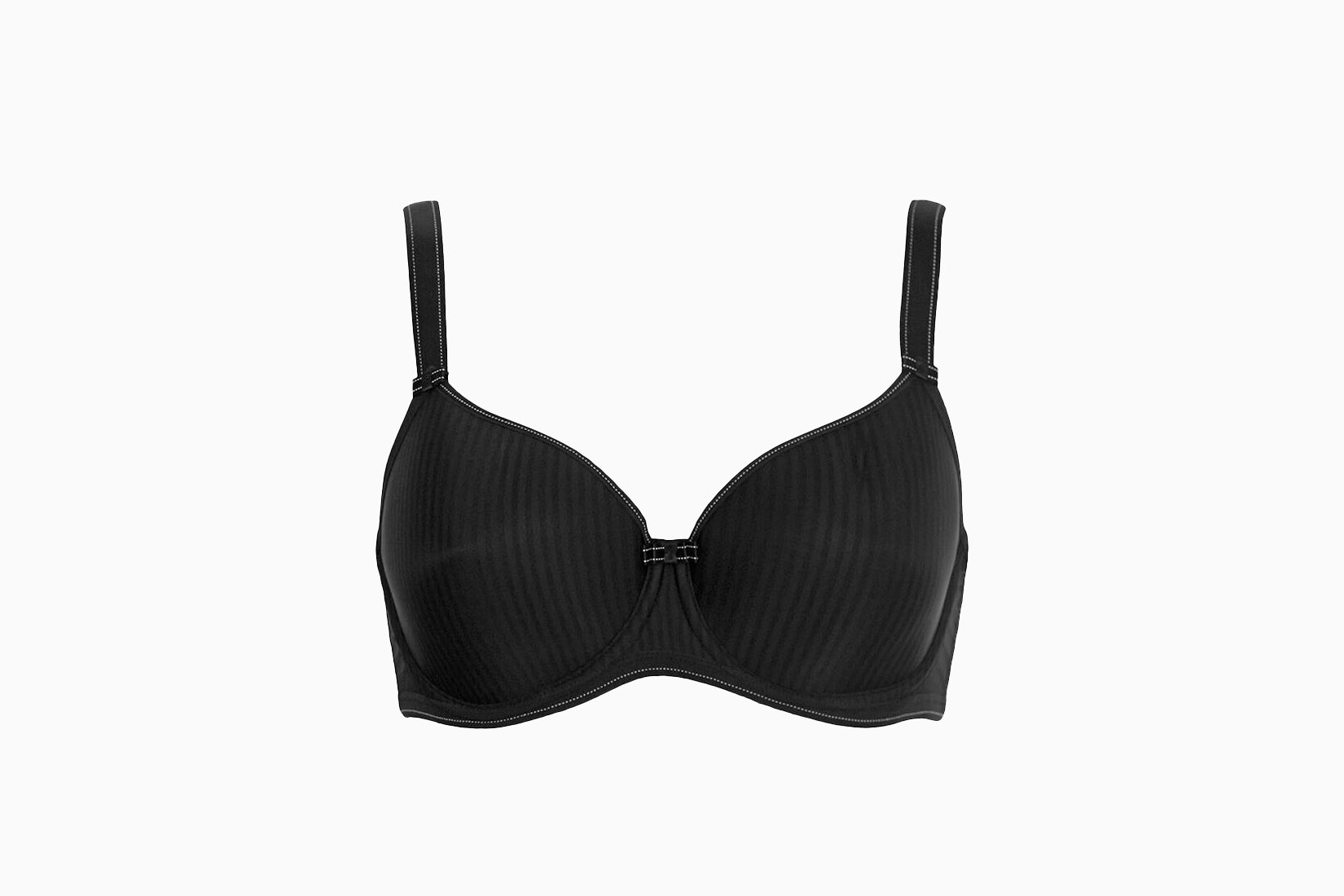 Freya is on a mission to offer women bras that make the most of every moment and never let you down, whether you're working, studying, hanging out with friends, lounging at home, or out on a date. Their lingerie goes right up to a K cup. Women with bigger breasts finally have found their champions.
Freya has managed to design the most comfortable bra for large busts with The Idol Underwire Bra. This T-shirt bra will quickly become your everyday must-have with its seam-free underwire cup to create a natural rounded silhouette.
A balcony bra is always a great choice for women with bigger breasts as it offers coverage and a hint of cleavage. This Freya bra also features adjustable straps to stop slippage.
Best for: Inclusive sizes and fresh designs from a fashion-forward brand.
| | |
| --- | --- |
| Price: | $$ |
| Sizes: | XS-XXXL |
| Colors: | A range including black, white, and red. |
Hanro: Best comfortable bra for small chest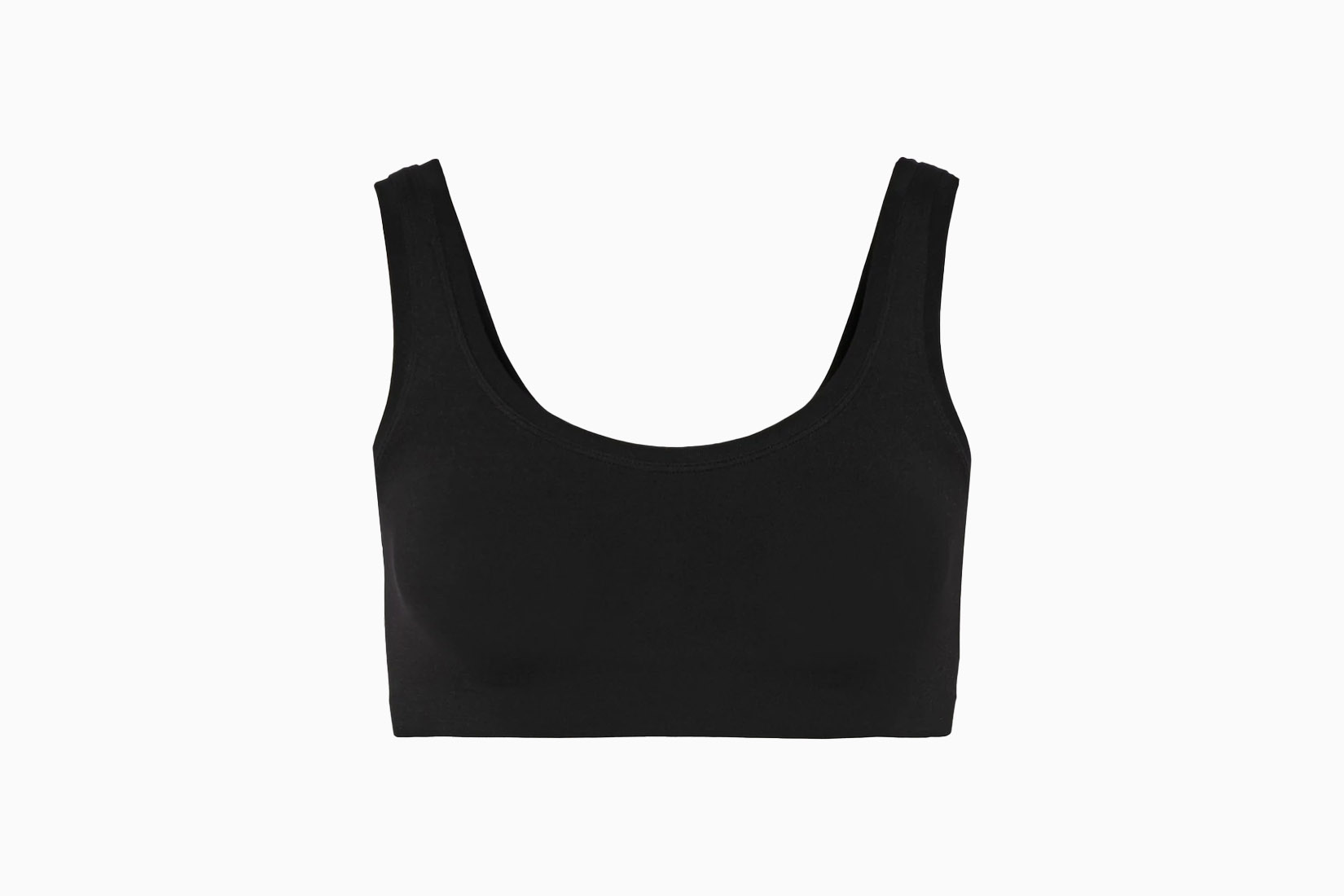 If you're looking for a company that's got over a century of experience making lingerie staples, then Hanro is the brand for you. The label has become known for its luxurious materials and impeccable cuts.
Your skin will soon start to crave the oh-so-soft texture of the aptly named 'Touch Feeling' bra by Hanro. It's made from gorgeously smooth and lightweight stretch-jersey and has no underwiring to poke and prod you.
There's padding to ensure the most comfortable fit and to conceal nipples during colder weather while an elastic underband provides the necessary support and flexibility for women with smaller busts. The fact you can machine wash this bra is just another bonus.
Best for: Premium lingerie that promises luxury in every stitch.
| | |
| --- | --- |
| Price: | $$ |
| Sizes: | XS-L |
| Colors: | A range including black, white, and grey. |
Soma: Best comfortable bra for coverage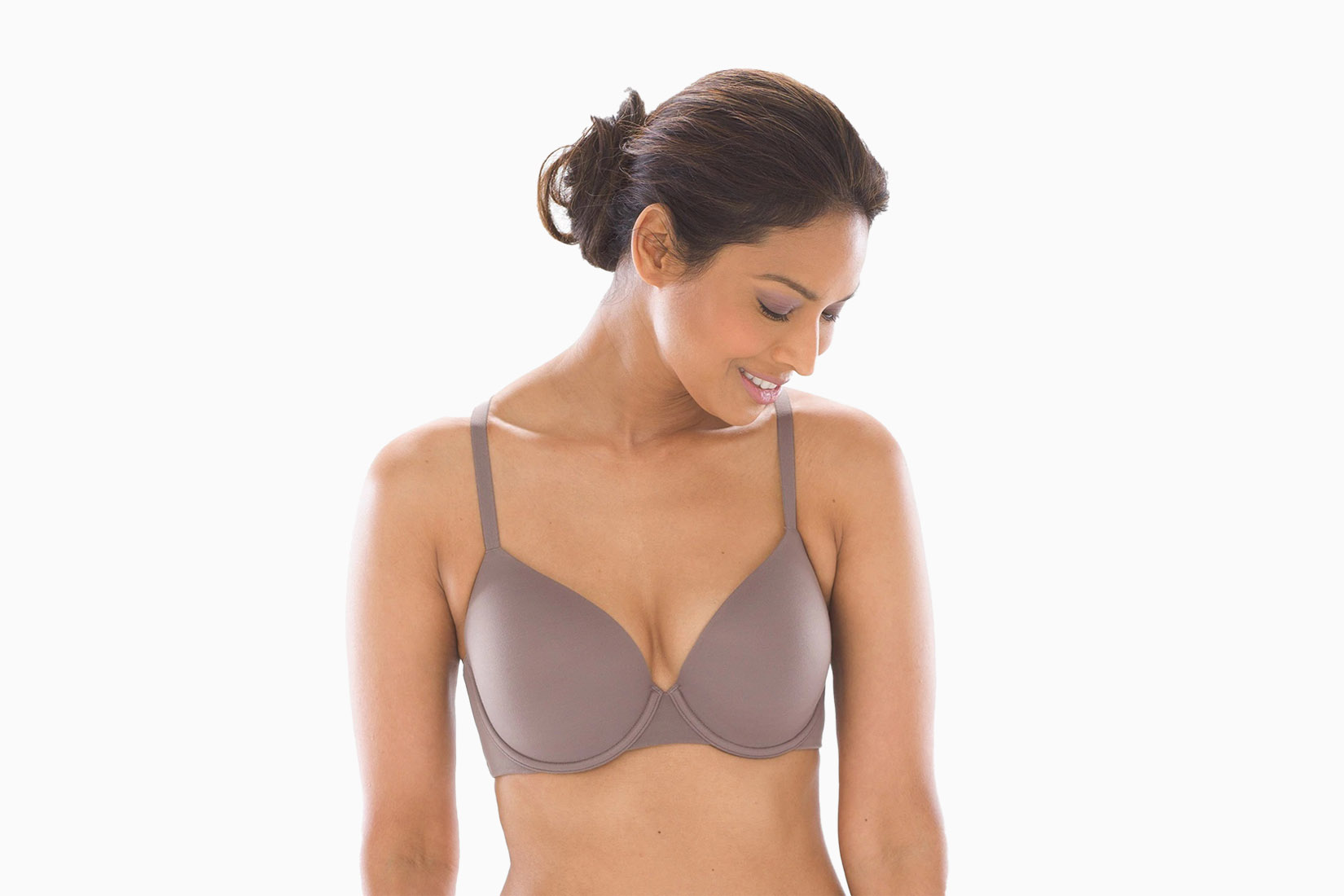 The all-women team behind Soma—one of the best bra brands out there—started the company with the express aim of designing undergarments and loungewear that looked great and made ladies feel great too. Soma designs are thoughtful and well-researched, providing women with dynamic solutions to common wardrobe problems.
Our favorite Soma product is this full-coverage bra. This super-soft bra made from a brushed fabric not only feels heavenly but it gives us a nice and natural shape. Adjustable elastic straps and padded hook-and-eye closures deliver a cloud-like kind of comfort.
The best bra for lift and side support we've come across, the Soma Full-Coverage bra features underwire support with padded foam, so you'd hardly know it was there.
Best for: Diverse designs for beautiful bodies of all sizes.
| | |
| --- | --- |
| Price: | $ |
| Sizes: | XS-XXL |
| Colors: | A range including white, grey, and black. |
SKIMS: Best comfortable nude bra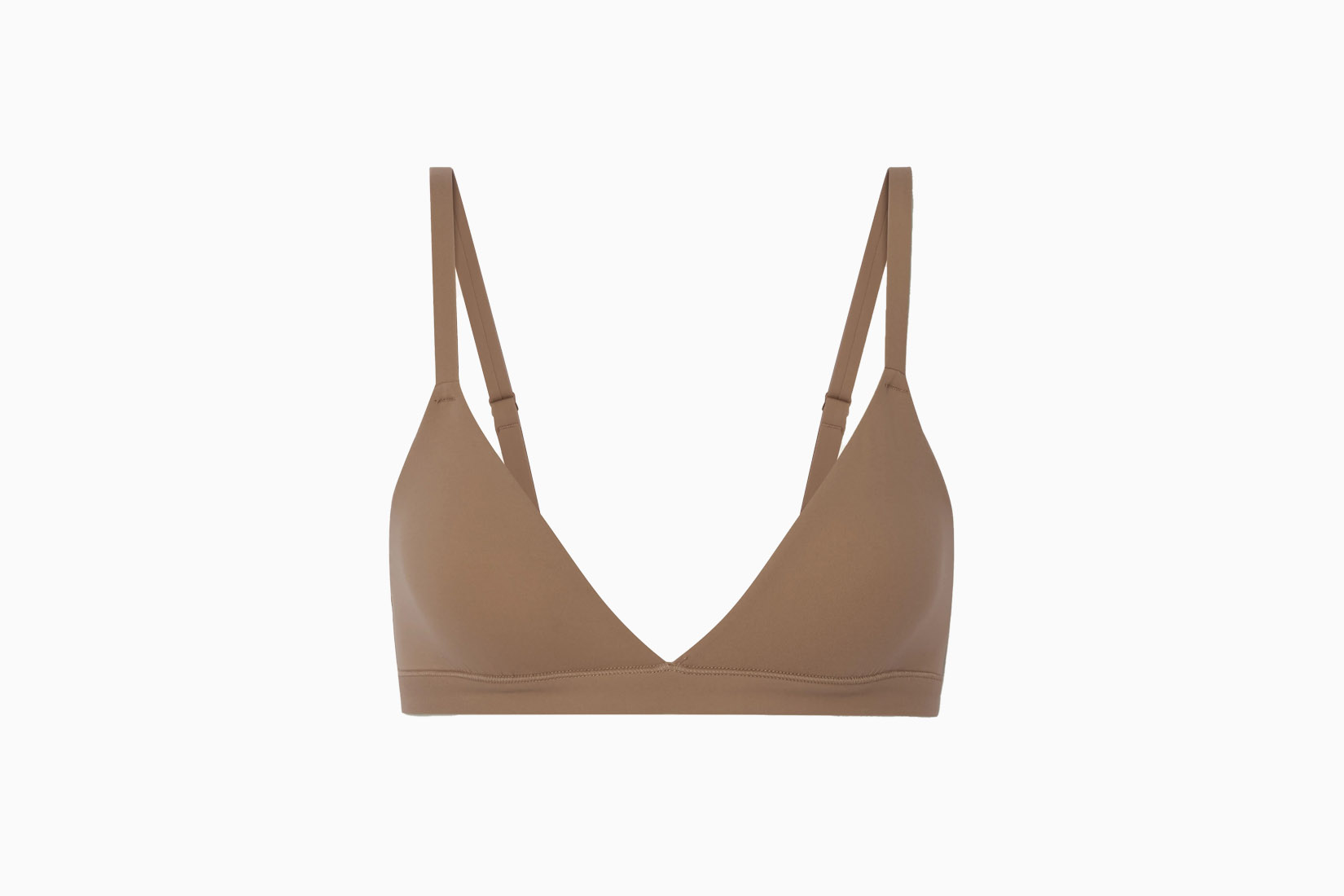 The prize for the best nude bra we've come across goes to SKIMS. In case you missed the memo, SKIMS was started by Kim Kardashian West and its goal is to offer women a more inclusive range of color shades. SKIMS garments are here to enhance and elevate your natural assets and they sell out incredibly fast.
This Fits Everybody triangle bralette comes in various shades so you can find the perfect one for your skin coloring.
The bra is made from a 2-ply stretch fabric for maximum comfort and a no-dig experience. The brand's signature power mesh adds further support while the shoulder straps are fully adjustable so you can personalize the bra to your unique frame. Time to trade sagging breasts for a perfectly sculpted silhouette.
Best for: Bras in a wide range of color shades so that nobody gets left out.
| | |
| --- | --- |
| Price: | $ |
| Sizes: | XXS-XXXXL |
| Colors: | A range including brown, beige, and black. |
Calvin Klein: Best comfortable push-up bra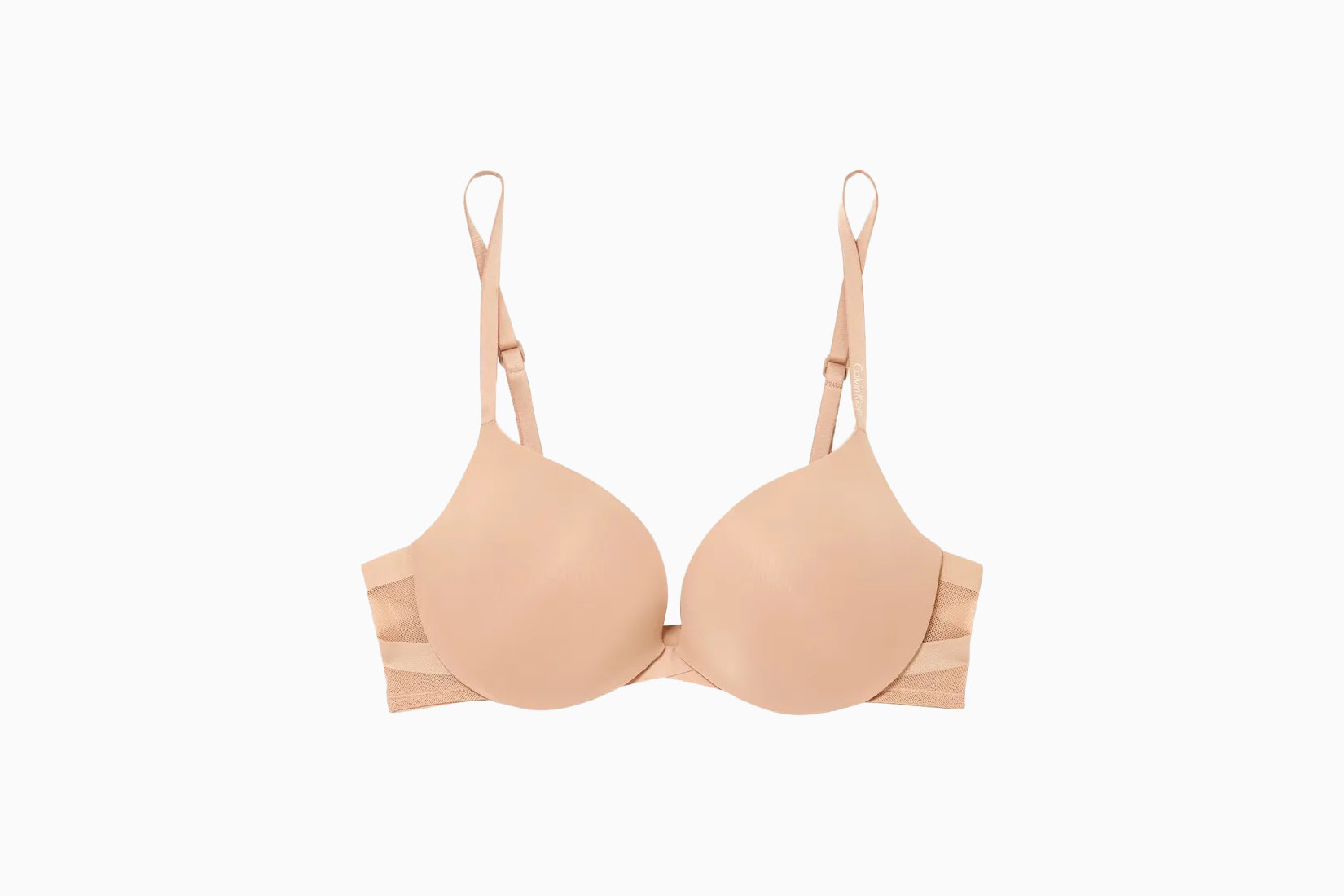 Calvin Klein needs little introduction. This is a brand that has been delivering quality clothing to our wardrobes for so long it's like welcoming home an old friend. What makes Calvin Klein underwear so special? The comfort, quality, and commitment to aesthetics. In other words, the trifecta of undergarment essentials.
And this particular Calvin Klein bra stands out for doing exactly what it promises, sculpting your chest into a perky shape while hardly being visible under a t-shirt or slinky top. The seamless design features featherweight mesh along with the bands for extra support and a perfect fit that leaves no gaps or bulges and the padded cups smooth and boosts your breasts.
The Sculpted bra comes in beige for wearing under paler colored t-shirts or a classic and versatile black.
Best for: Big impact bras from one of the biggest names in fashion.
| | |
| --- | --- |
| Price: | $$ |
| Sizes: | XS-XL |
| Colors: | Beige or black. |
Bali: Best plus size comfortable bra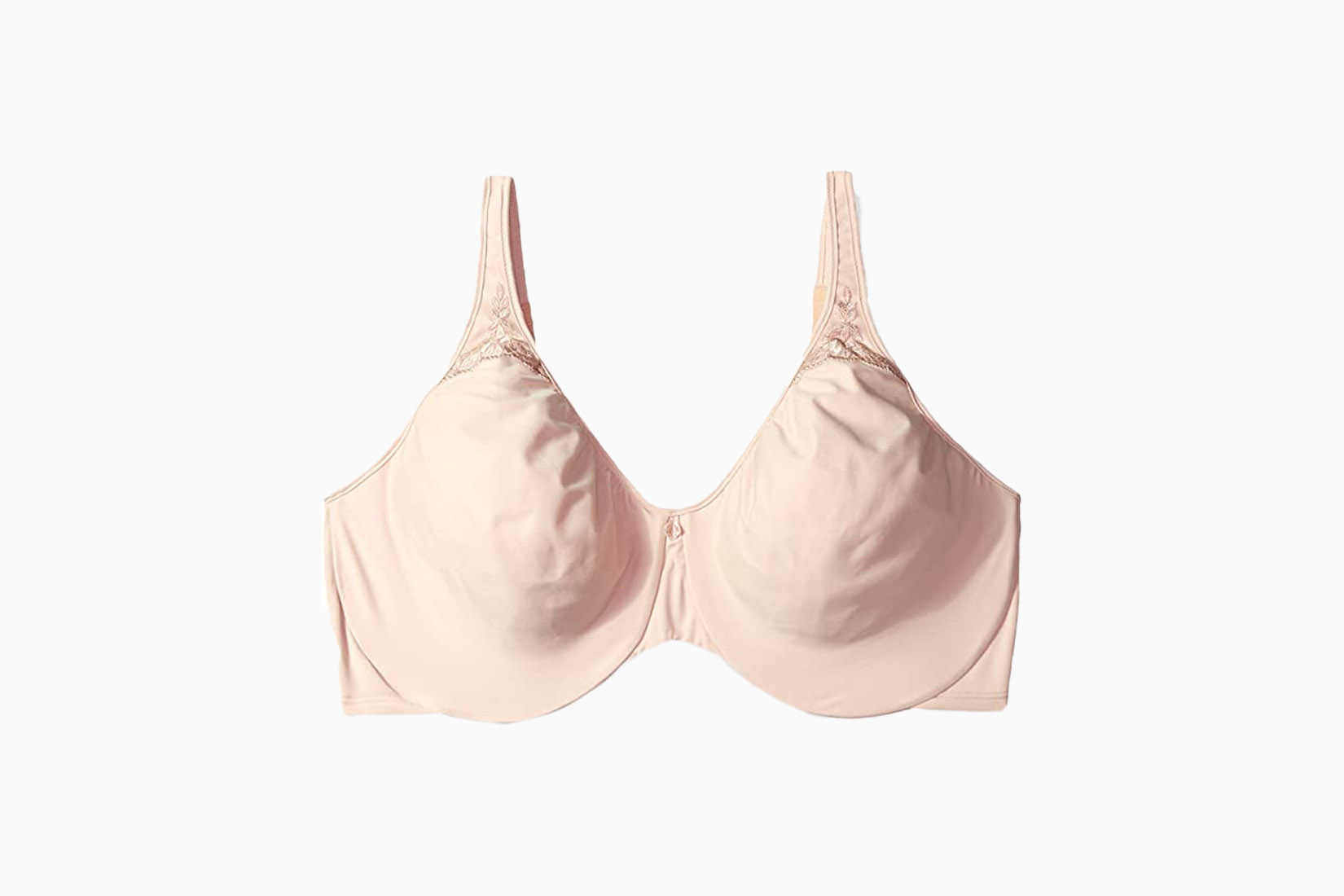 Plus size women are in good hands with Bali, a brand that makes quality bras that give your breasts the support they deserve, ensuring your clothes fit as they should, and even slimming your silhouette by reducing your bust projection.
Bali bras are simple, straightforward, and deliver when it comes to support and security. Sure, you probably won't want to take any sexy selfies in these bras, but when they feel this comfortable, you won't care.
The Bali Women's Passion bra is our favorite for comfort. It has a silky-smooth lining and features hidden and encased underwires so heavy breasts can get all the support they need. The straps can be adjusted while the smooth cups feature elegant lace insets.
Best for: A brand committed to making comfort cool.
| | |
| --- | --- |
| Price: | $-$$$ |
| Sizes: | S-XXXXL |
| Colors: | A range including black, brown, and white. |
Anine Bing: Best sexy comfortable bra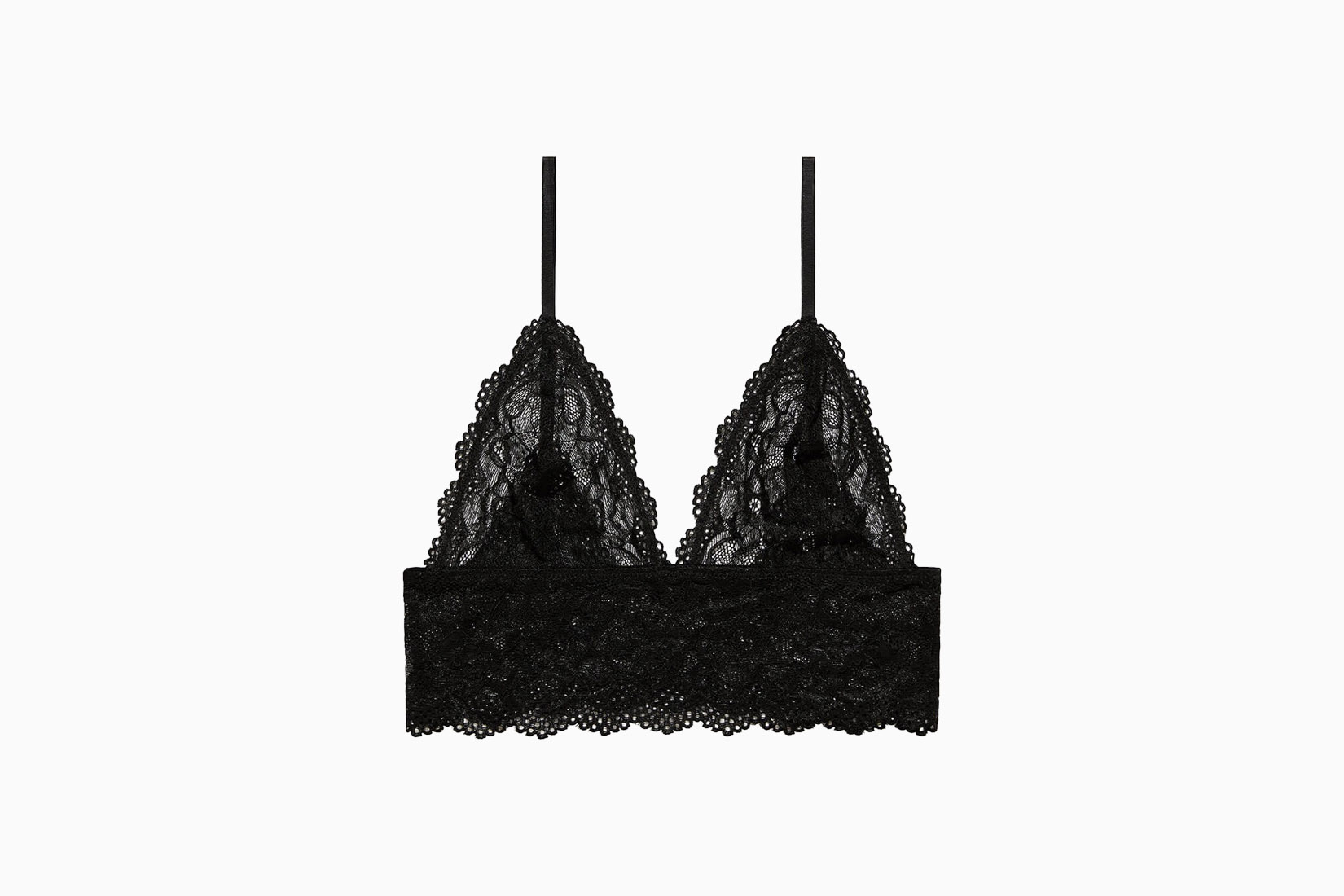 Anine Bing's imaginative and distinct fusion of Scandinavian chic and classic American cool has resulted in a collection that is the very epitome of understated elegance. You get all the sleek lines and simplicity that we've come to associated with Northern Europe and all the energy and dynamism you'd expect of a brand based in Los Angeles.
As well as contemporary wardrobe basics and luxury staples, Anine Bing also makes deliciously decadent underwear. For example, this gorgeous bralette made of delicately scalloped floral lace.
The mood is ultra-feminine, incredibly charming, and, with that seductive shade of black, daring too. Rely on this Anine Bing Marley Bralette to bring the romance on any Friday night date. Or wear it with just your favorite jewelry and a spritz of perfume for the ultimate 'welcome home.'
Best for: Combining Scandi cool and American spirit.
| | |
| --- | --- |
| Price: | $$ |
| Sizes: | XS-L |
| Colors: | Black. |
Carine Gilson: Most comfortable silk bra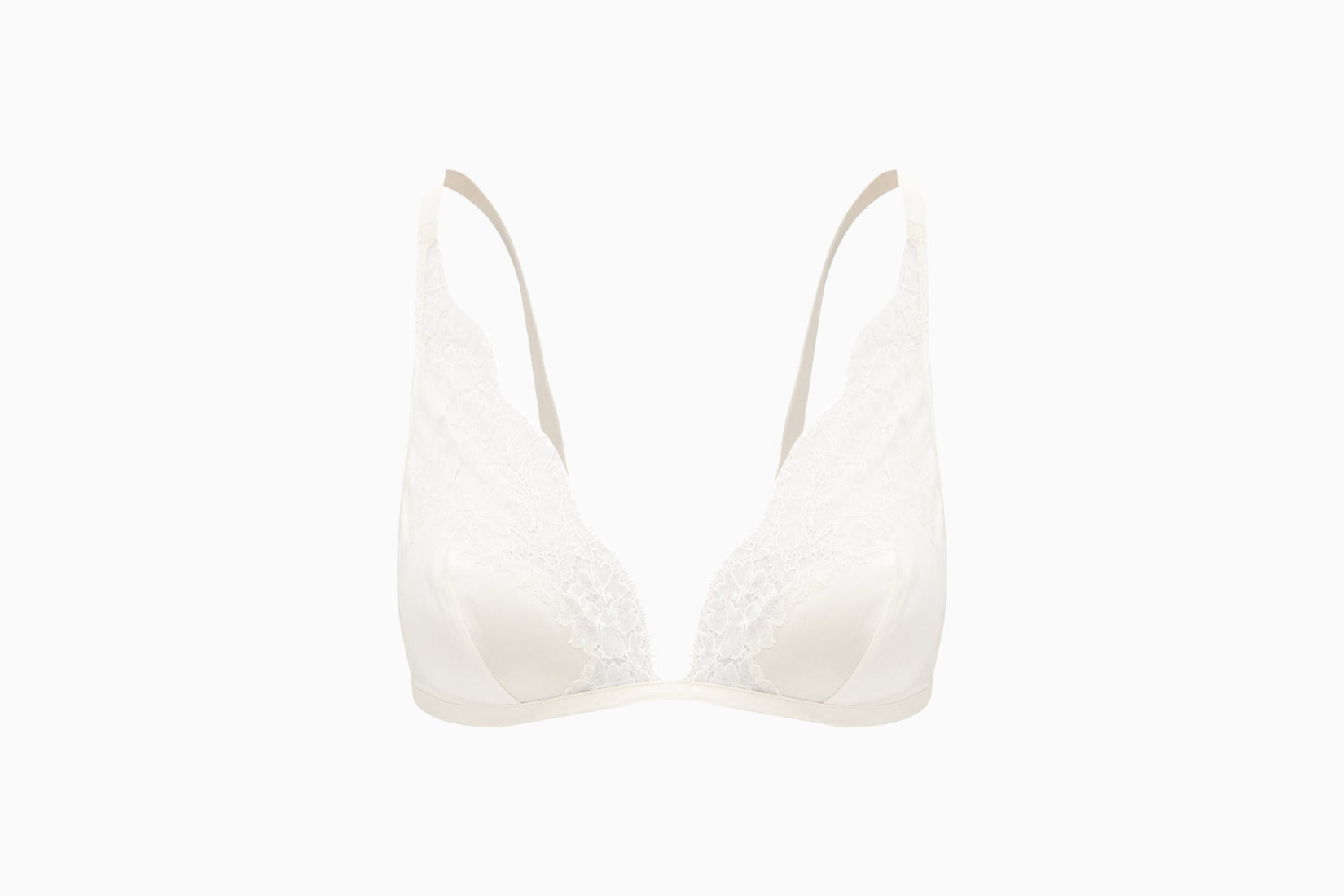 If there are two words that sum up Carine Gilson, it's silk and lace. Which also happens to be the words we like most when it comes to our underwear. Combining sophistication with sensuality, Carine Gilson channels classic Parisian style into all her designs, creating high-end undergarments that bring a new kind of luxury to lingerie.
This Carine Gilson triangle bra was designed in the company's Brussels atelier and comes in an alluring shade of ivory-white. It's made of 100% silk for uncompromising opulence. Hand-washing this bra is totally worth it for the feel of that silk satin against your skin. Floral Chantilly lace is the most exquisite of extra touches.
Best for: Comfort meets haute couture.
| | |
| --- | --- |
| Price: | $$$ |
| Sizes: | XS-L |
| Colors: | White. |
Fashion Forms: Best comfortable plunge bra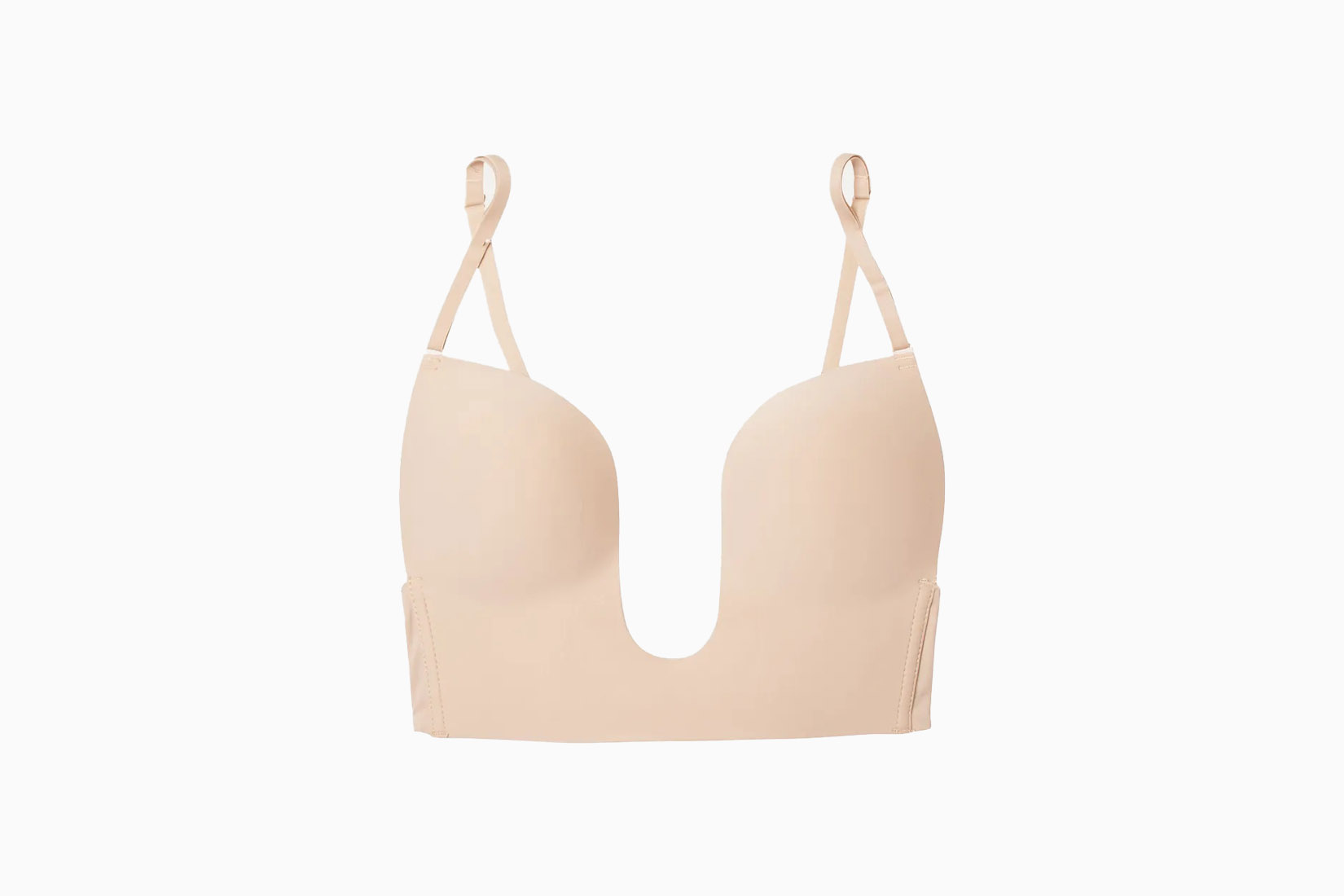 Ann Deal already had 30 years of experience working in the lingerie industry when she started Fashion Forms. Safe to say, this is a woman who understands bras, and her expertise is evident in her use of cutting-edge fabric technologies to give women the bust definition they demand.
If you've got a dress with a wide neckline or a top that's particularly low-cut, don't let the wrong bra stop you from pulling it off. Get your hands on this Fashion Forms bra, the ultimate hero for any woman wanting to give her cleavage some TLC.
This Fashion Forms Seamless U-Plunge Bra features padded cups that sculpt and define your bust into the dream silhouette and you have the choice of nude or clear detachable straps that can both be worn in different ways. Go strapless for sleeveless outfits or opt for the halter neck or crossover for dependable support without straps on show.
Best for: Daring to take the plunge with a bust-enhancing bra from a cult brand.
| | |
| --- | --- |
| Price: | $ |
| Sizes: | XS-XL |
| Colors: | Neutral or black. |
Natori: Best everyday comfortable bra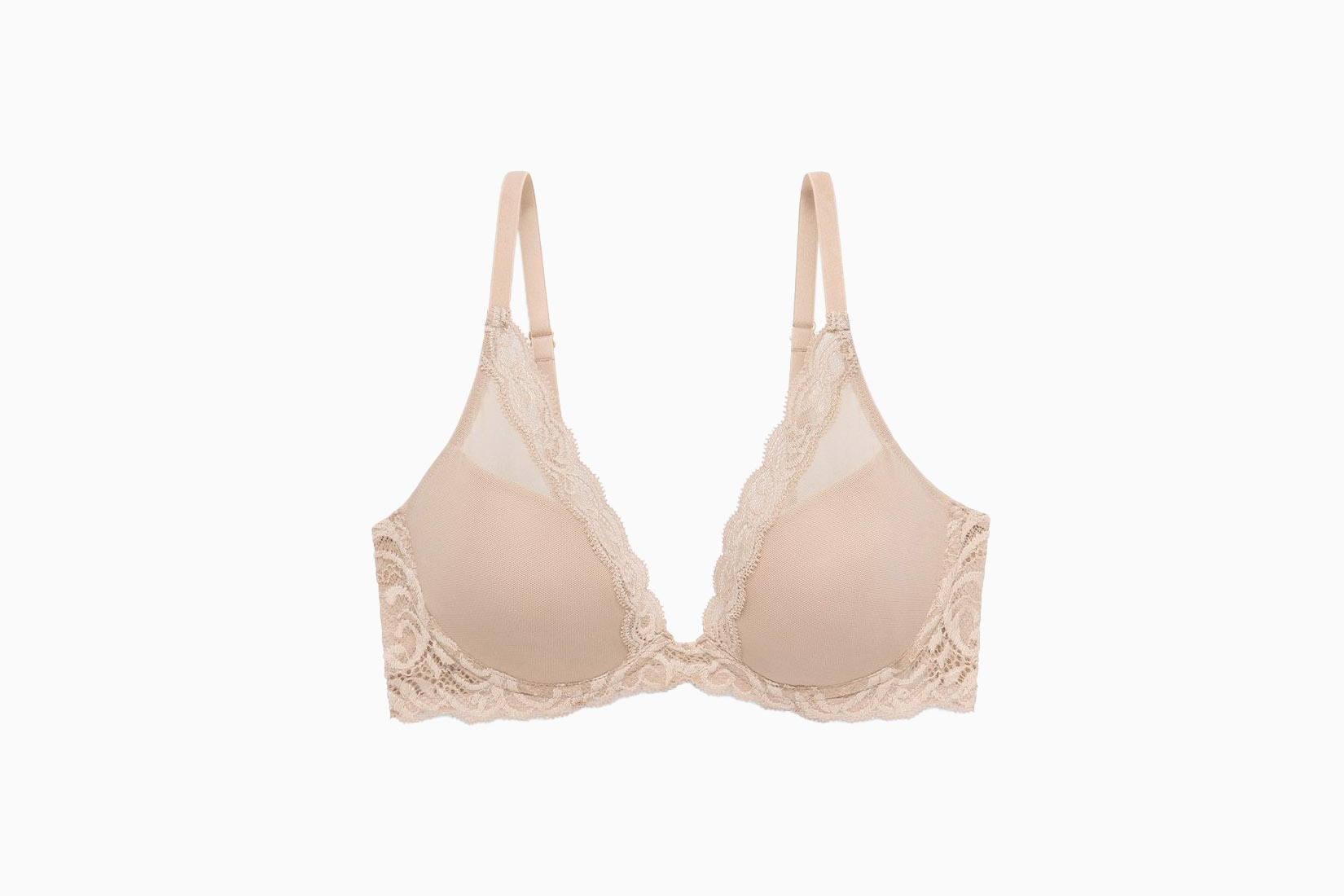 Natori makes bras that are feminine and flattering and won't leave you desperate to get into your pajamas. Discovering Natori's selection of bras is a game-changer for ladies looking for cute bras.
Few bras get the accolade of being described as the most comfortable bras for everyday wear but this Natori bra wins the title, hands-down. It's made of a combination of nylon and spandex for a stretchy fit that doesn't constrict or compress.
But despite the focus on comfort, it's still incredibly aesthetically pleasing, with lace detailing and a plunge neckline. The molded mesh outer cover has a lace trim but doesn't show under clothes. Plus, this Natori Feathers bra supports women of all shapes and sizes as the width of the closure increases for cup sizes D and over.
Best for: A brand that pretty much makes comfortable clothing a religion.
| | |
| --- | --- |
| Price: | $$ |
| Sizes: | XXS-XXL |
| Colors: | A range including black, orange, and pink. |
Alo Yoga: Most comfortable lounge bra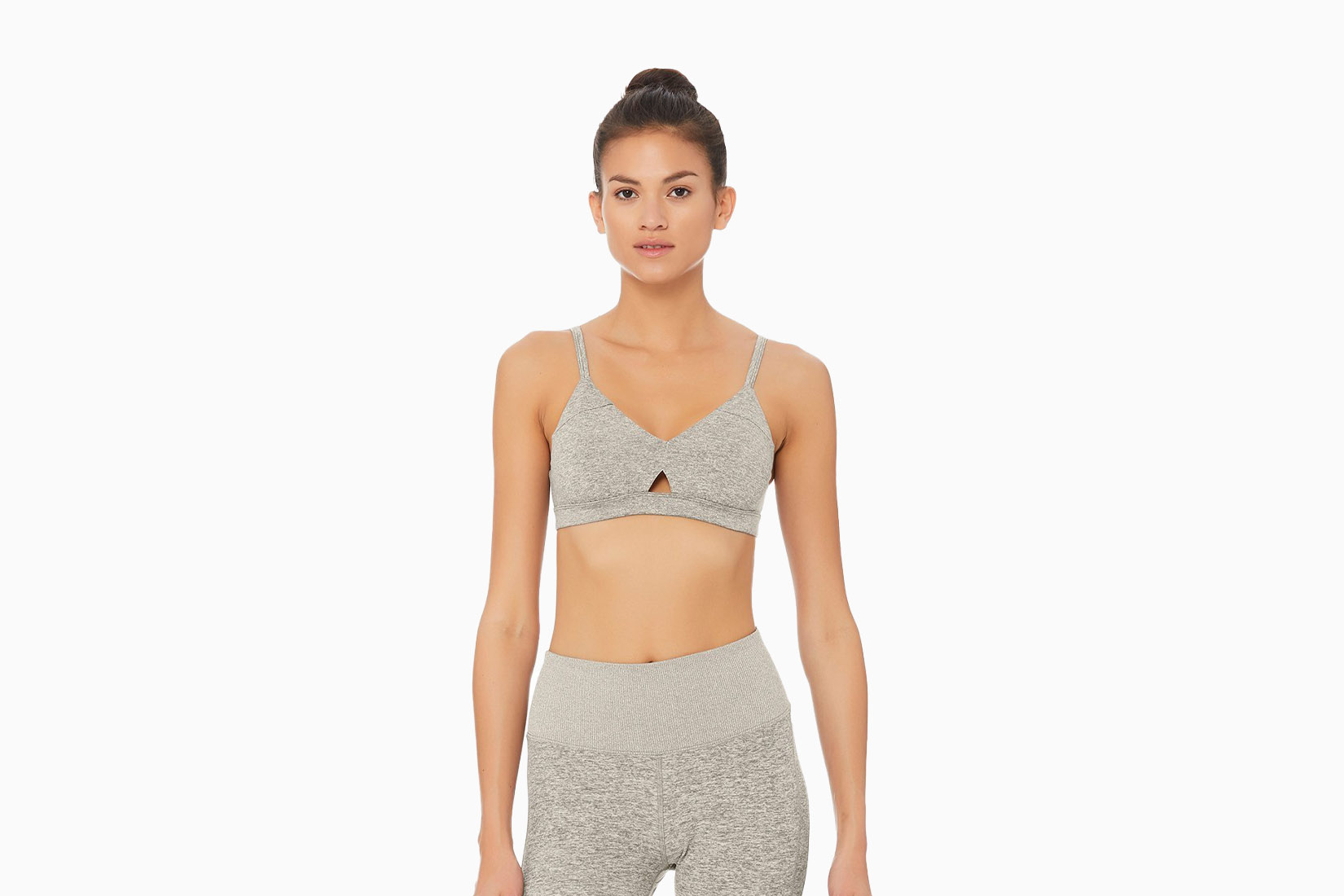 We love Alo Yoga mats and Alo Yoga leggings so it isn't much of a surprise that we also love Alo Yoga bras. Less an activewear brand than a lifestyle brand, Alo Yoga is all about spreading a message of mindful movement and inspiring you to reach peak well-being.
The Alosoft Lounge Bra is the best thing in the world for lazing around at home. Wear under your robe or favorite hoodie for the perfect Netflix uniform.
It's made from the brand's signature Alosoft fabric, which is, unsurprisingly, outrageously soft, offering light support for all-day, everyday comfort, and designed to flatter every shape and size. The little cut-out on the front is a cute extra detail and the thin straps make this Alosoft Lounge Bra ideal for layering.
Learn more about the Alo Yoga brand.
Best for: Delivering wellness to women's breasts.
| | |
| --- | --- |
| Price: | $ |
| Sizes: | XS-L |
| Colors: | A range including blue, green, and beige. |
Wacoal: Most comfortable strapless bra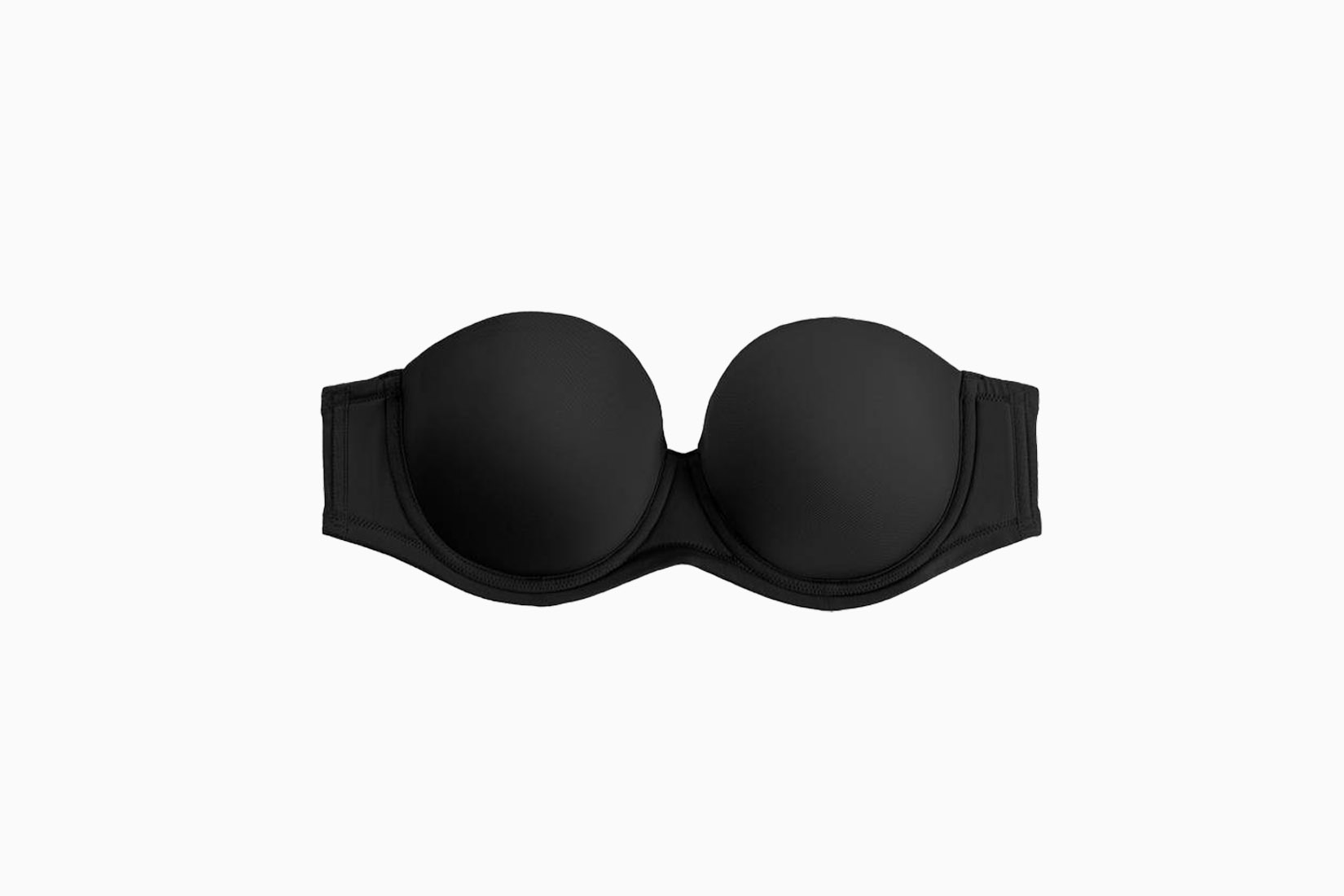 Wacoal was launched in Japan but has since grown into an international brand that's developed a stellar reputation for high-quality lingerie. The company specializes in the A-K cup, crafting intimates with both aesthetic appeal and functionality.
We want our bras to be comfortable but we also want them to look great under even the most impractical outfit, including sleeveless dresses and tops. Finding a good strapless bra can be a challenge but Wacoal's Red Carpet Strapless bra steps up to the plate.
This bra is ideal for when you choose to wear your most glamorous strapless gown. This full-busted underwire bra has a silicone strip along the top and bottom to hold it in place while the seamless fabric stretches over the foam cups for bump-free wear. You can also convert this Wacoal bra to a traditional, halter, criss-cross, or one-shoulder bra, should the mood take you.
Best for: A bra ready to walk the red carpet of comfort.
| | |
| --- | --- |
| Price: | $$ |
| Sizes: | S-XXXXL |
| Colors: | A range including black, white, and beige. |
True & Co: Best comfortable convertible bra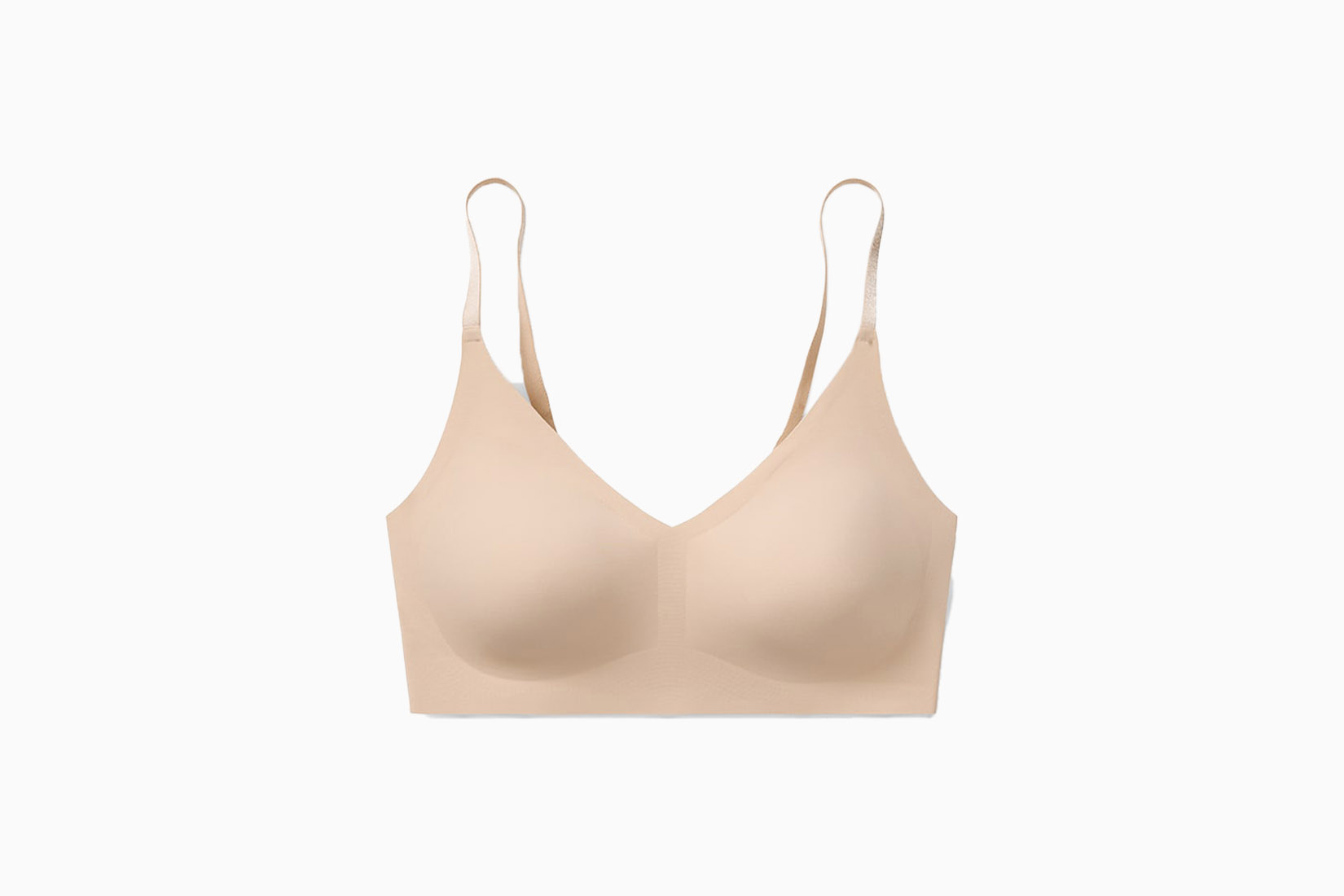 You can't be comfortable in your skin if you're not comfortable in your bra. Which is why True & Co. has taken a new approach to bra design. Their first creations were based on a Fit Quiz taken by 9 million women, crowdsourcing data for their designs. The results were some of the most comfortable bras for everyday wear in the world.
At under $50, True & Co's True Body Triangle Convertible Strap Bra offers great value for money as well as an exceptionally comfortable wear. The slim straps can be converted to racerback for when you don't want them on display and the wire-free style is easy to pull on. Removable pads give you the option of a more sculpted look when necessary.
With its True Body Microfiber material, this True & Co bra is so comfy you'll forget you're wearing it while the plunging neckline is suited to a whole range of outfits.
Best for: Using real women's data to ensure the dream fit.
| | |
| --- | --- |
| Price: | $$ |
| Sizes: | XS-XL |
| Colors: | A range including black, grey, and beige. |
Third Love: Best comfortable T-shirt bra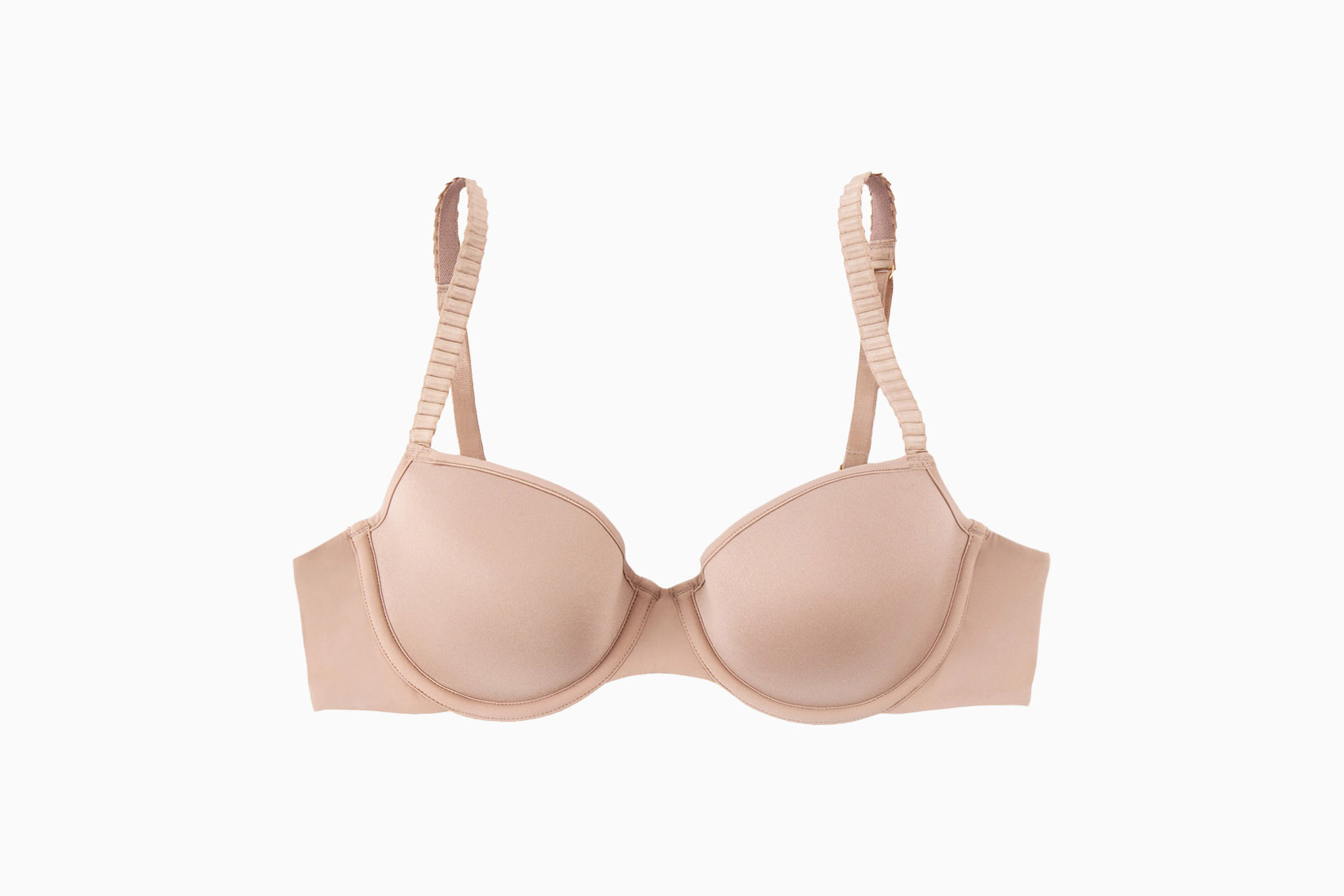 Fed up of bras that didn't deliver, founder Heidi Zak decided to build her own. Together with Ra'el Cohen, she launched Third Love, making bras based on an in-depth understanding of different breast sizes and shapes. Third Love uses real women's measurements and you can use the Fit Finder to find your ideal bra in just 60 seconds.
When it comes to cotton bras, the 24/7 bra may well be the best, as Third Love bra reviews testify. T-shirt bras are the most comfortable style of bra and this bra demonstrates why.
It's got ultra-thin memory foam cups that shape to your unique breasts for a completely smooth silhouette in even the tightest and most unforgiving of tops. Pleated accordion-style straps allow for comfort and support, staying put throughout the day without digging. And the micro-jersey fabric is knitted for ultimate durability and is so soft we don't ever want to take this bra off.
Best for: Bras that manage to be both snug and sexy.
| | |
| --- | --- |
| Price: | $$ |
| Sizes: | XXS-XXXL |
| Colors: | A range including taupe, blue, and pink. |
Fleur Du Mal: Best comfortable spaghetti strap bra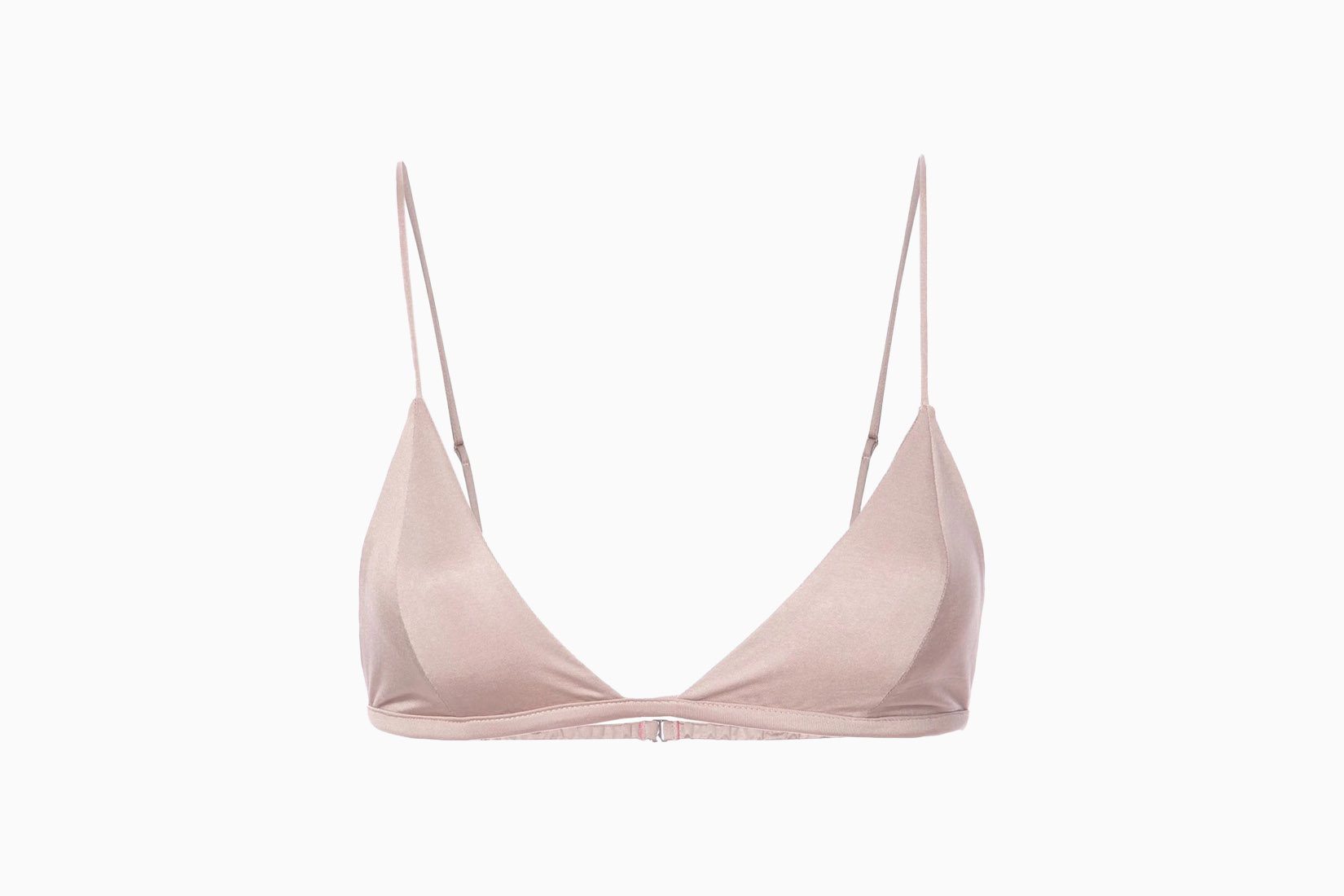 You'd be hard-pushed to find a more provocative and decadent lingerie label than Fleur du Mal. Named after the French poet Charles Baudelaire's infamous collection of erotic poems, the brand entices and arouses with its line of luxury undergarments. From slip dresses to silk robes, every product is a demand for attention.
As you might expect from a brand as effortlessly cool as Fleur Du Mal, this bra is so stylish it's in danger of upstaging the rest of your outfit.
In a classic tan brown, and made of 95% silk, this Fleur du Mal bra features spaghetti straps that are pretty enough for you to keep them on display when teaming the bra with a camisole. The v-neck is flattering and strikes the perfect balance between coverage and cleavage.
Best for: Combining aesthetic allure with an intuitive understanding of comfort.
| | |
| --- | --- |
| Price: | $$ |
| Sizes: | XS-L |
| Colors: | Tan brown. |
Chantelle: Best comfortable bralette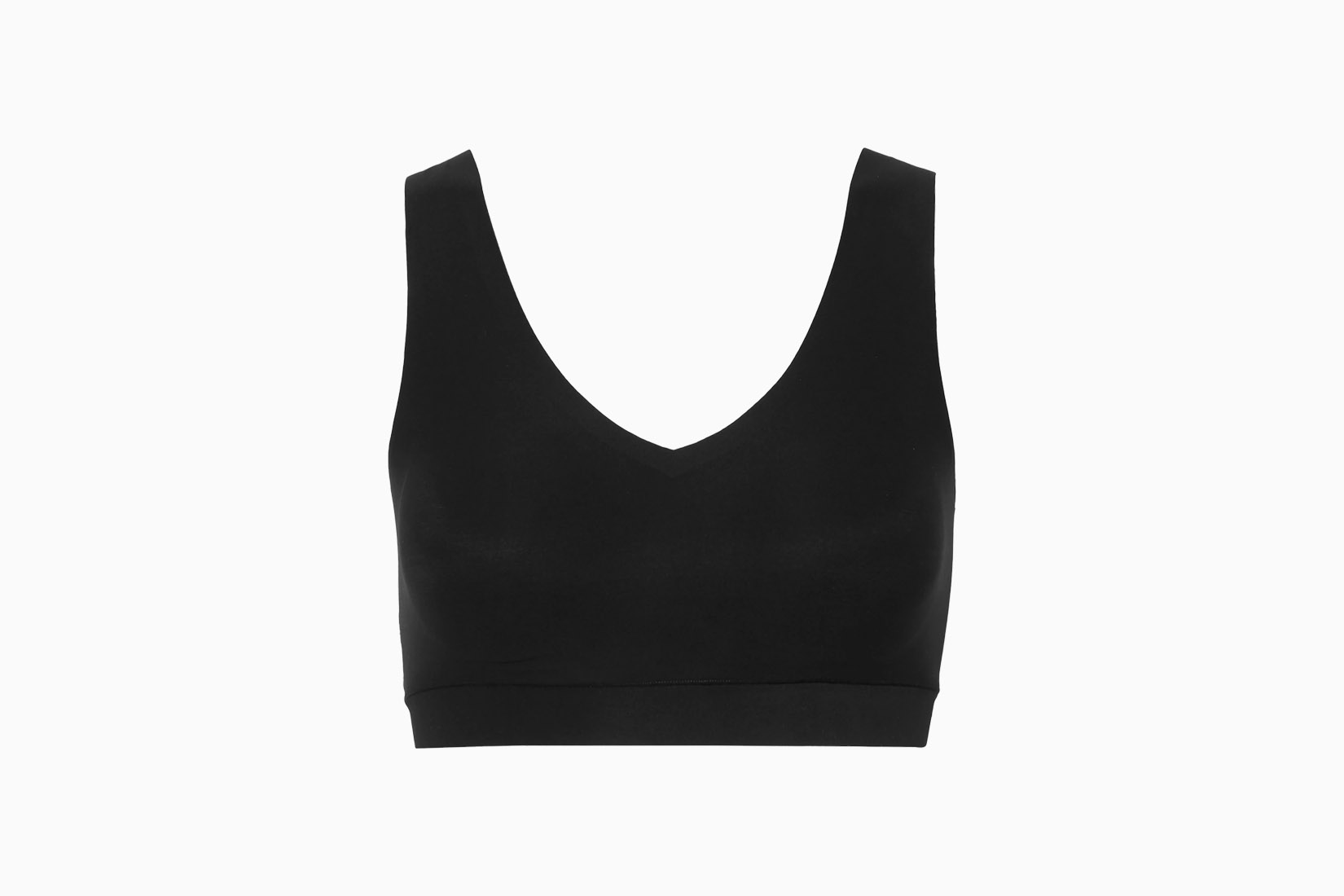 Based in Paris, French label Chantelle has been creating lingerie for over 140 years. With decades of perfecting the art of bra-making, each product is made using generations-old techniques and all Chantelle bras guarantee comfort, fit, and fashion appeal.
Bralettes are the best bra alternatives and this Chantelle crop top-style bra is definitely the most comfortable bralette we've come across. It's made from a soft stretch jersey which is super flexible and there are no fastenings to dig in or rub. The light padding of this Chantelle cropped jersey top gives your boobs a lift and the wide straps and elasticated underband mean no awkward jiggling.
Best for: Bras for every mood and outfit with some extra French oomph.
| | |
| --- | --- |
| Price: | $$ |
| Sizes: | XS-XXL |
| Colors: | Black or neutral. |
Khaite: Most expensive comfortable bra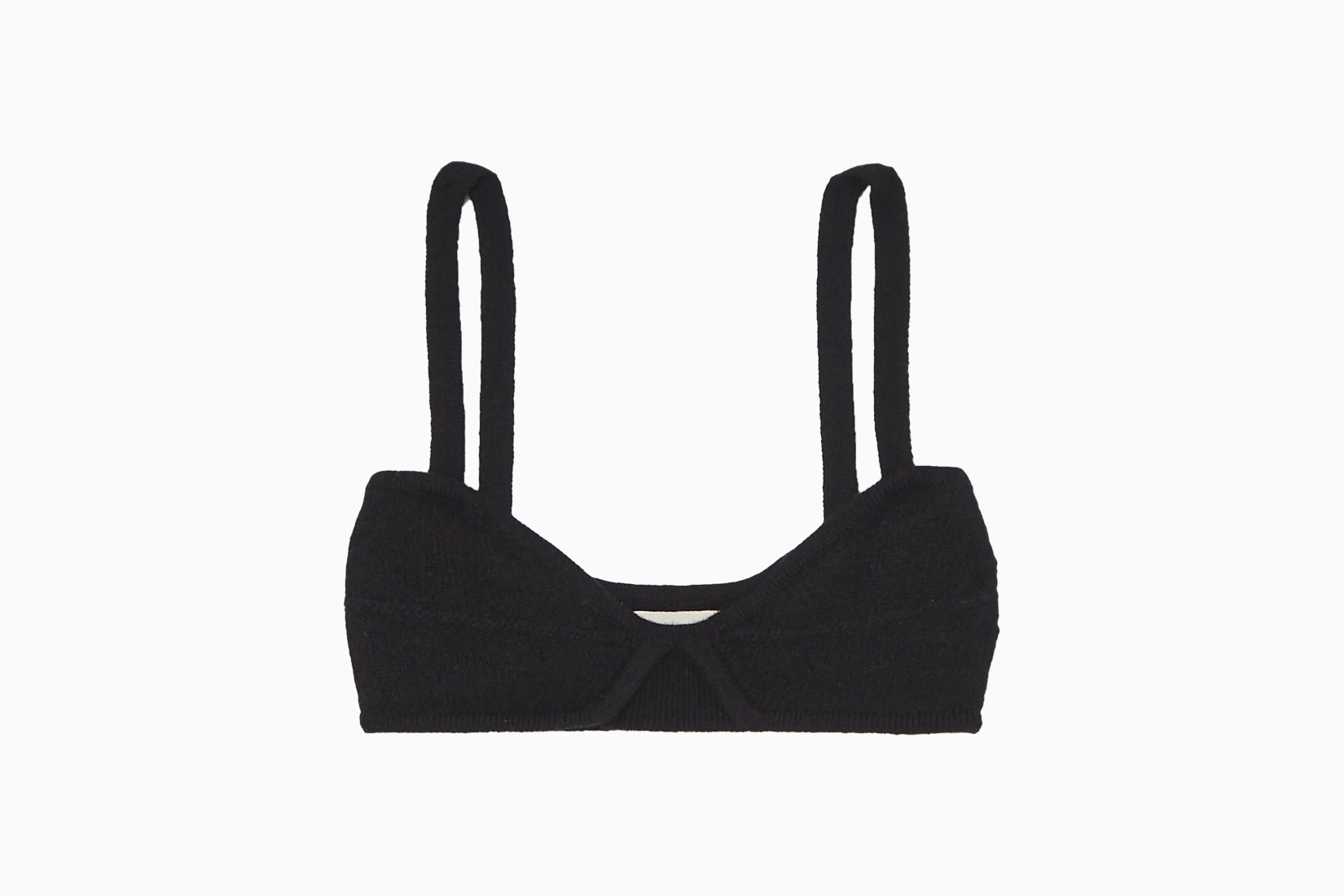 Consider Khaite your fail-safe brand for elevated basics and refined staples. Think timeless designs that transcend fleeting fashion trends with their enduring style and class. From slip dresses to some of the best women's jeans out there, we can't get enough of this New York-based label.
As you might have noticed, this is the bra once snapped being worn by A-lister Katie Holmes, who paired it with a matching cardigan. It's made of gloriously soft cashmere—and, trust us, once you've tried snuggling your boobs up in cashmere, you'll never settle for synthetics again.
Khaite Eda bra's wide shoulder straps and soft seamed cups provide support and a gentle but comfortable lift. Make like Holmes and team yours with a wide-necked jumper or slouchy cardigan for the most luxurious weekend get-up.
Best for: Making your boobs feel like billionaires.
| | |
| --- | --- |
| Price: | $$$ |
| Sizes: | XS-L |
| Colors: | Black, sand, or tan. |
Buyers guide: how to find the most comfortable bra for you
When choosing a comfortable bra, take the time to make sure it's right for you. Here are the most important things to consider:
Make sure it fits properly
How do I know if a bra fits properly? We never get taught this basic information and yet it can make all the difference between a great bra and a terrible bra.
Here's how to determine if your bra fits correctly at home without the help of a store assistant. Remember: different brands have different size standards so you may not be the same size in every store.
Cups – your breasts should fill the cups snugly without any gaps or overflow. If the fabric of the bra is bulging in any place, it's too big.
Band – the band of the bra is the bit that sits around your ribcage. It shouldn't sit too high or low on your back and the center of the bra, between the cups, should be flat across your breastbone. If you go down a band size, go up a cup size, and visa versa.
Straps – adjust the straps of the bra to help get the right fit. If the bra is lifting and supporting you properly, you shouldn't have any back or shoulder pain. Wider straps will offer more support. If your straps consistently slip off your shoulder, opt for a racerback bra instead.
Closure – if the hook-and-eye closure at the back is digging into your skin, it means it's too tight. A front-closure bra can be a comfortable alternative. Women with larger breasts might try a closure with additional hooks and eyes.
Choose the right bra style for comfort
These are the different bra styles and who they're most appropriate for:
Wireless – these are often considered the most comfortable bras for everyday wear as they have no underwires. They won't give you so much shape but can still be supportive.
Soft cup – these provide support without underwiring but may still feature padding.
Bralette – these wire-free bras look more like crop-tops and are designed for comfort rather than support and can be worn as outerwear too.
Racerback – with these bras, the straps join together at the back, making them a good option if you want to conceal your straps.
T-shirt – these are one of the most basic styles of bras and are best for everyday wear, offering comfort and support. Usually, they have underwires and padded cups to give you shape and lift under a t-shirt.
Balconette – these bras offer support without too much coverage. The straps are often set to the side of the cup.
Push-up – these lift and enhance your cleavage using underwired cups and padding.
Strapless – for special occasions when you don't want your bra straps on show, look for a strapless bra.
Convertible – these allow you to wear straps in different ways, whether that's as a racerback or strapless.
Full-figure bras – these are for women with larger breasts and are designed for maximum comfort and support, featuring molded cups, thick straps, and strong closures.
Consider comfortable materials
The best fabric for your bra depends on your needs and preferences. Cotton is a popular material as it's soft, absorbent, and easy to wash. Bamboo is another option, and, like cotton, has moisture-wicking properties.
Synthetic fabrics like lycra or nylon are a good choice for support, stretch, and durability. Silk offers a more luxurious alternative but it can only be hand washed or dry-cleaned.
You might also look for bras featuring memory foam in the cups. This molds to the shape of your breasts for a perfect fit.
Frequently asked questions about comfortable bras
Does a comfortable bra exist?
Comfortable bras do exist and the most comfortable bra out there is the Spanx Bra-llelujah! Wireless Bra. Other very comfy bras include bras by SKIMS, Freya, Hanro, and Soma. Check our full guide to comfortable bras for more inspiration. 
Which bra is best for daily use?
The best bra for daily use is the Natori Feathers which is pretty and practical, offering shaping with padding and adequate cup coverage while still being flattering. Check out our list of the most comfortable bras for more inspiration. 
Are front closure bras good?
Front closure bras are a good choice if you want a bra that's easy to remove and doesn't dig into your back if you're leaning against a chair. They also look good as they pull your breasts forward and together, offering support and lift.