If Luisaviaroma isn't yet on your radar, you need to update your sensors. The online luxury destination—coined the "one-click la dolce vita" by us here at Luxe Digital—already has it made with perfectly curated collections and quintessential Italian flair. We're already heading straight to the site when our closets cry out for chic, effortless style.
Taking the bore out of scrolling endless websites, unsure of what you're truly buying, and wasting precious hours on the process, a virtual totter around Luisaviaroma is the digital equivalent of a stroll down Milan's most elegant shopping streets. Curating your capsule wardrobe has never been easier, whether you're shopping for fall, vacation, or back-to-work essentials. With boutique brands and exquisitely-designed pieces at every turn, Luisaviaroma has already handpicked the best bits, presenting them to you in a neat, chic, package.
LVRSustainable: Consciously chic collection
Join us—and the rest of the world—for the sustainable fashion revolution. Location: Luisaviaroma. Time: Now. So, drop whatever you're doing and clear your schedule; you don't want to miss this.
Scouting, researching, and vetting truly Earth-friendly, sustainable brands can take time—which is something we always find ourselves short of. After all, not all brands that masquerade under the guise of eco-friendly marketing are quite what they seem. If only you could just head to a literal one-stop-shop, knowing that every piece you select is good for the planet—and its people—you'd be there in a hot minute, are we right?
Enter: LVRSustainable, Luisaviaroma's conscious collection. Here, you'll discover extraordinary collaborations with world-famous non-profits and brands to shine a light on our planet's most pressing environmental—and social—issues. A place with the soul of a thrift store but the style of Milan, LVRSustainable is the ultimate alliance.
Placing ethical trade, women's empowerment, upcycling and recycling, organic materials, and community engagement at the heart, this collection is bringing a more sustainable future to our present. Which is great news, because we were all getting rather anxious.
The perfect spot to curate your sustainable capsule wardrobe, you'll find enduring fall trends from transitional trench coats to classic leather bags to cloud-soft knits in which to bundle up. Men and women will find their groove here, with both collections packed with sartorial staples—sewn in with sustainability.
Our handpicked sustainable sartorial staples: for women
The trench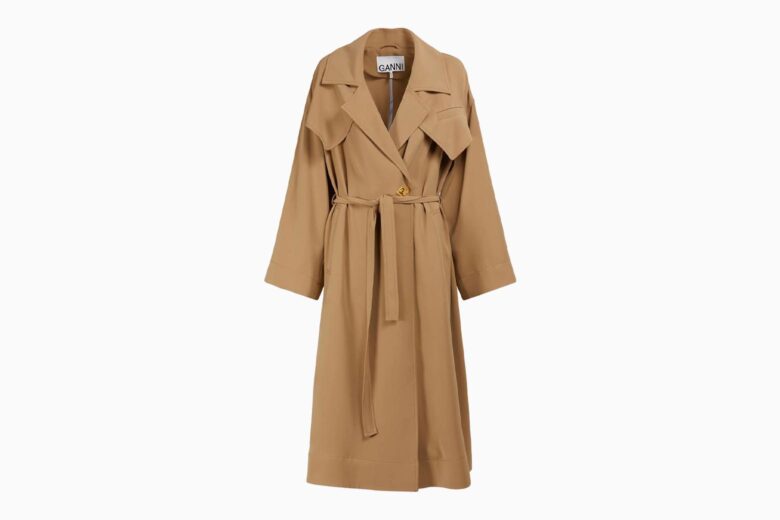 A coat that instantly boosts your confidence just as soon as you throw it on (no matter what you're wearing underneath), the GANNI Drapey Trench Coat is a cornerstone of fall fashion. Woven from 50% recycled polyester, this earth-toned, seasonally-transcendental outerwear will have you strolling into fall with a spring in your step.
Best for: Fall-ready refinement and luxurious layering to wrap up your style.
The LBD
Making a simple switch from "little" to "long", the midi length of the Michael Kors Crepe Cutout Dress brings it swinging into fall with ultimate finesse. The soft wool blend guards against that incoming chill, but the spaghetti sleeves and cutout details keep things fun and fresh. With an elegantly scooped neck leaving space for your favorite necklace, this LBD is a one-and-done fall fashion essential.
Best for: A sultry nod to darker evenings.
The power suit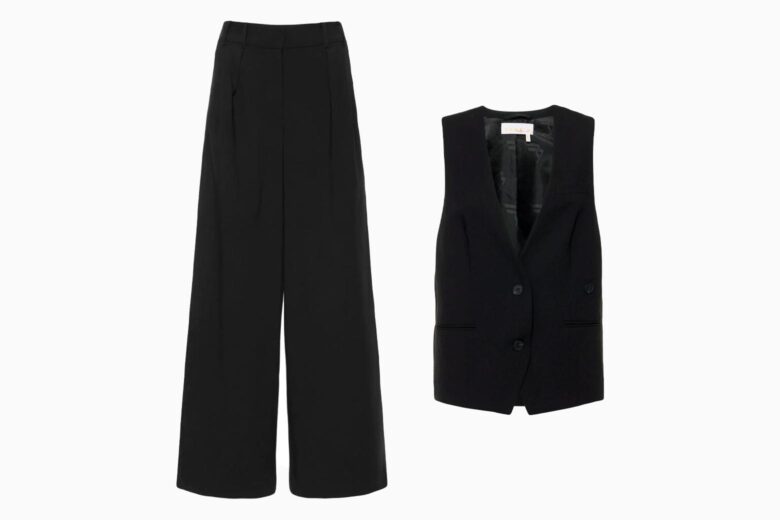 For days when you have to dress for, potentially, all four seasons, the Remain Vest and Trousers set has got you covered. Well, except for your arms, with the chic sleeveless vest letting you fend off winter for a moment yet.
Both pieces are woven from a viscose blend and 100% recycled polyester lining, offering a soft, easy-wear feel for workdays and weekends alike.
Best for: Constant style amidst the highs and lows of fall temperatures.
The loafers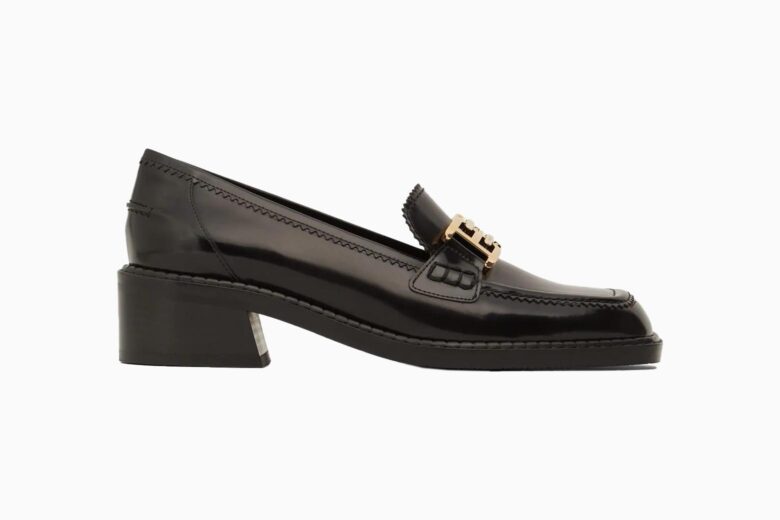 The classic loafer has walked through the decades totally unscathed—the only difference is how we wear it. Pair the Bally Ellyane Brushed Leather Loafers with chunky socks for an on-trend aesthetic, with the preppy style perfect for popping to class or heading up a meeting. The gold-hued logo chain detail keeps things luxe, and like all our favorite leather shoes, they're proudly made in Italy.
Best for: Back-to-school—the grown-up way.
The turtleneck sweater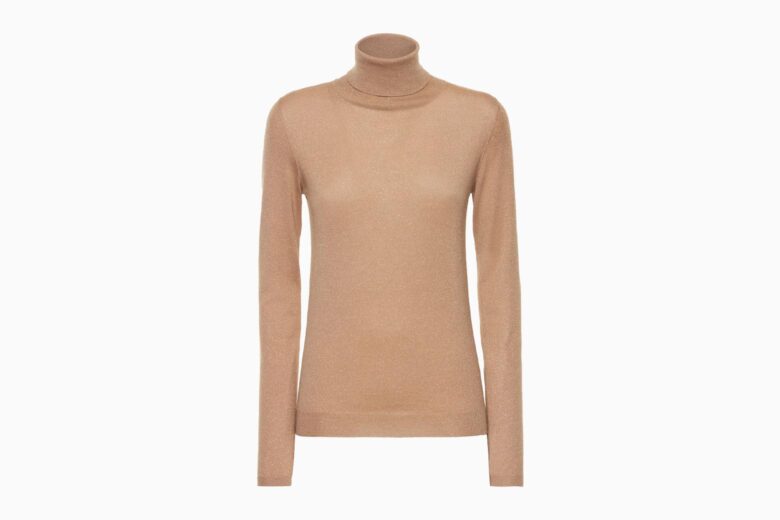 For an effortlessly elegant look, add the Brunello Cucinelli Cashmere Blend Turtleneck Sweater to your sartorial staples. The ultimate in essential basics, this turtleneck is woven from cashmere and silk, wrapping your body in beautiful comfort. Detailed with a ribbed collar, hem, and cuffs, this turtleneck is slimline enough to throw a blazer or coat on over the top without looking bulky.
Best for: Your weekday jeans-and-top vibe.
The oversized blazer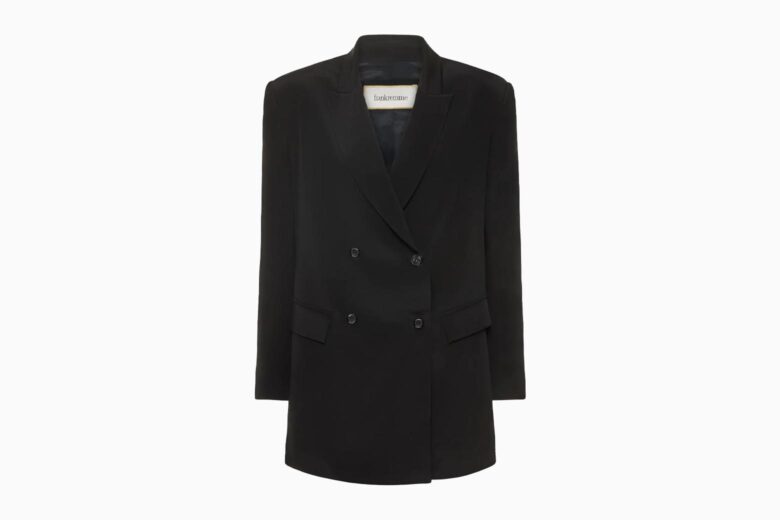 When the leaves turn gold and the days are shorter, you'll want to swap your summer-ready linen for warmer fabrics. The Frankremme Pleun Oversize Blazer is on hand to keep you cozy, magically blending a bundled-up feel with a smart silhouette. The shoulder pads give that powerful aesthetic to combat those blurry-eyed Monday commutes, and the smart collar is nothing if not conference-ready.
Best for: Blending office-ready style and cool-weather chic.
The bucket bag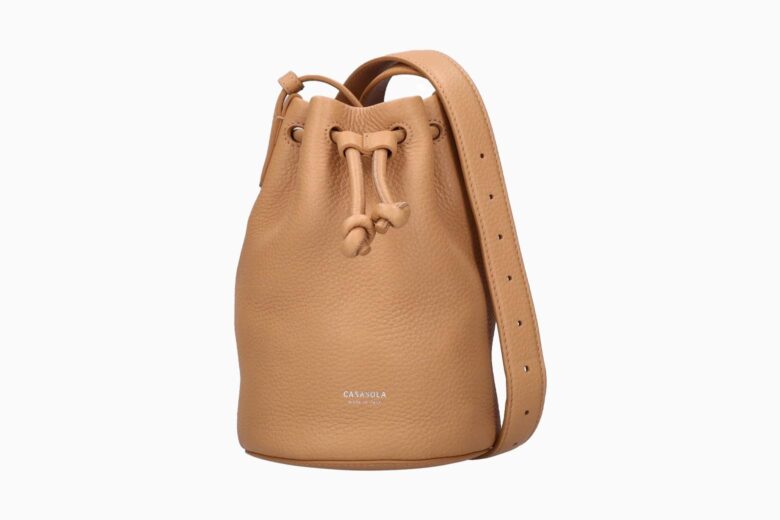 Swap your beach tote for a bucket bag in time for fall; the Casasola Small Leather Bucket Bag is just the thing. Made in Italy from 100% calf leather, this handbag is going to be as essential as your umbrella. We love the adjustable strap feature, giving you the freedom to wear it low and long for casual je ne sais quoi, or close for those crammed-in metro rides.
Best for: Complementing your earthy shades and completing your fashion bucket list.
Our handpicked sustainable sartorial staples: for men
The cashmere sweater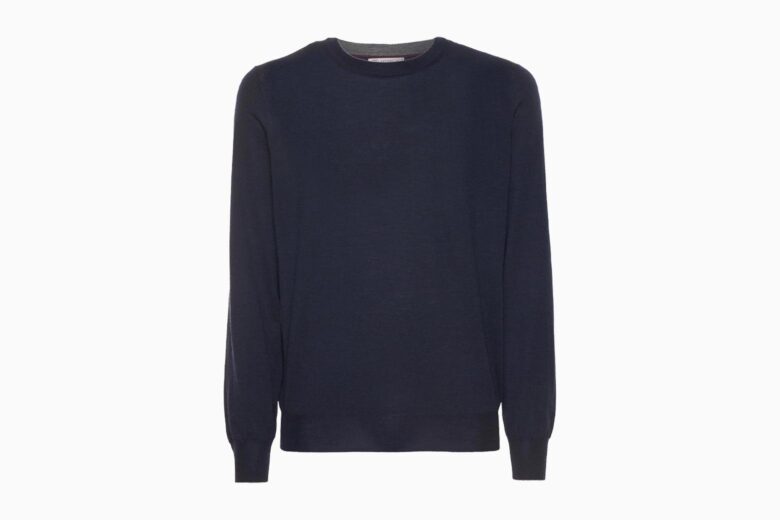 Channeling pure Torino style, the Brunello Cucinelli Wool Cashmere Sweater brings a sartorial slice of Italian pizzazz to your wardrobe. Oozing the softness only a wool-and-cashmere blend can offer, this sweater is smart and relaxed—a match made in heaven. Well, Italy, actually, but what's the difference?
Best for: The ready-in-5 sweater.
The sneakers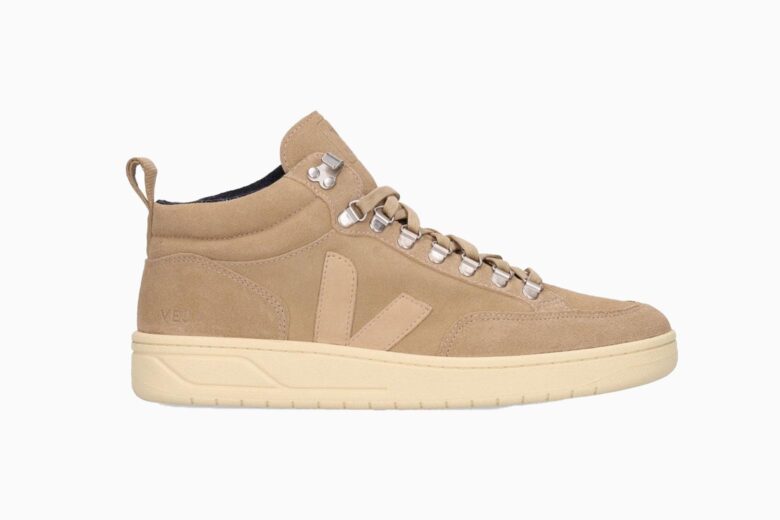 Step (sustainably) into fall in style rocking the Veja Roraima Suede Sneakers. Crafted with raw materials from organic farming practices, these chic sneakers leave no pollution in their wake thanks to their chemical-free manufacturing process.
The insoles are soft organic cotton, while the soles are made from recycled and sustainably-sourced Amazonian rubber. So, if planet-friendly is your preferred MO, you're certainly putting the right foot forward with these sneakers.
Best for: Stepping into the future of footwear.
The cargo pants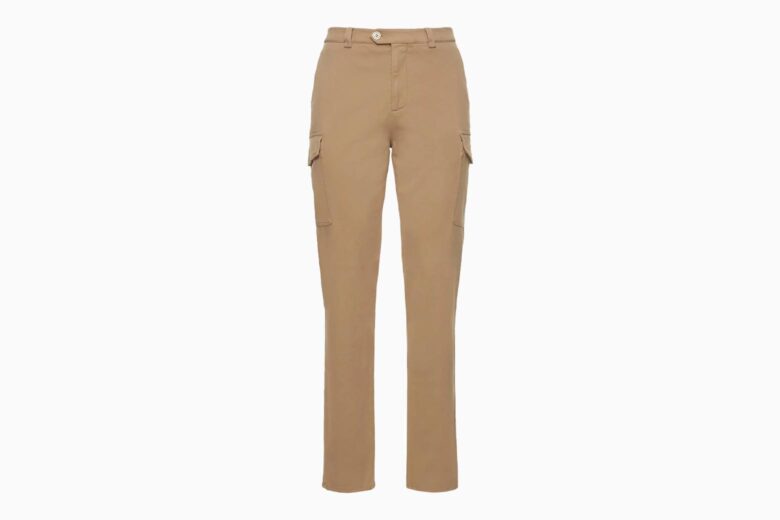 Every fall capsule wardrobe needs a pair of easy-styling cargo pants. Italian designer Brunello Cucinelli's Dyed Cotton Blend Pants are the perfect pairing for your crisp white work shirts, your laid-back tees, and your plush cashmere sweater.
Made in Italy from cotton and a touch of elastane for a nice stretch, you'll also have plenty of pockets for easy access to your essentials.
Best for: A goes-with-everything fall essential.
The bomber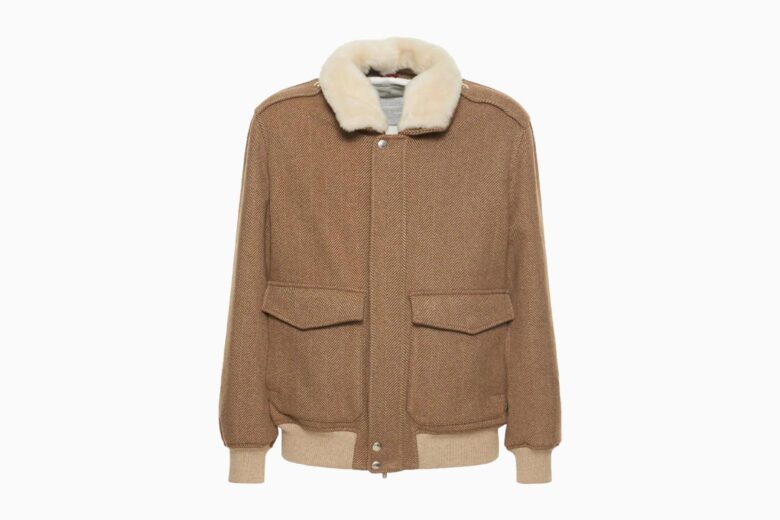 We love Brunello Cucinelli—can you tell? It's no surprise when the brand constantly serves up masterpieces like the Wool Cashmere Bomber Jacket. A quintessential fall style, the lamb fur collar and earthy hues elevate this outerwear piece to maple-tree heights. The main jacket is made from 90% virgin wool and 5% cashmere—the perfect blend to keep you toasty.
Best for: A quirky upgrade of a long-beloved classic.
The beanie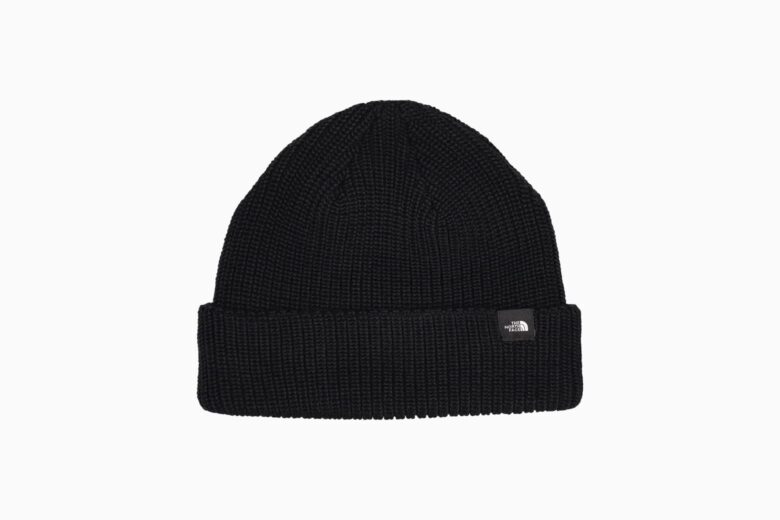 There's no brand quite like The North Face to ward off the chill. Their Fisherman Knit Beanie will see you through leaf-stomping forest walks and cloudy morning commutes in the utmost snugness.
Featuring a subtle logo at the front and a cushty, recycled polyester design, you can adventure into nature knowing you're giving right back to it with this beanie hat.
Best for: Transforming whatever you're wearing into a fall outfit.
The boots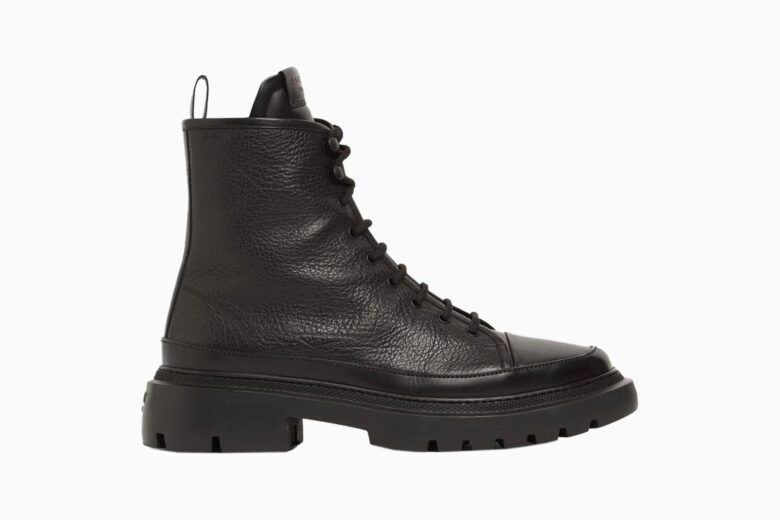 Swish and suave, the Bally Vatiz Combat Boots make dressing for fall a breeze. Slip your feet into the soft, 100% calf leather and feel like you're walking on sunshine—even if the reality is a little more puddle-filled. The treaded rubber sole will see you safely through strolls in the park, but the shape is smart enough to reign supreme at the office, too.
Best for: Streamlining your look for a clean aesthetic.
The shirt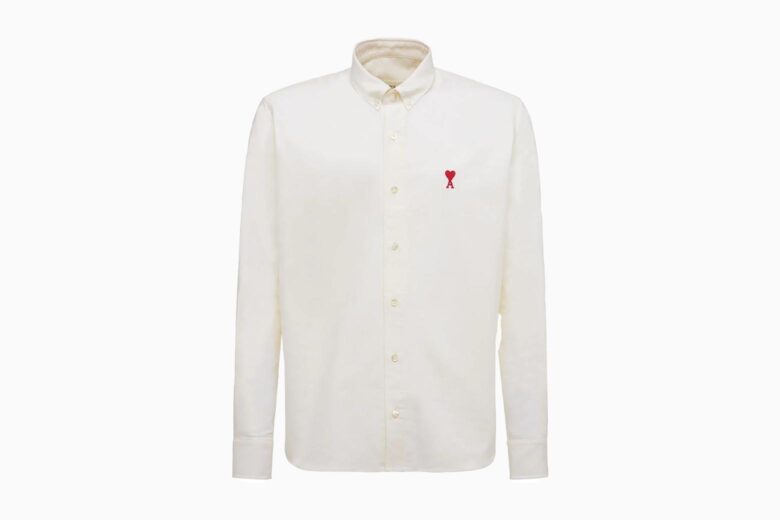 This AMI Paris Heart Patch Cotton Oxford Shirt just hits different. And by different, we mean better.
Outperforming your run-of-the-mill Oxford shirt, this unique piece features contrasting red detail in place of a chest pocket (because who really uses them, anyway?) and a pure cotton weave to keep things classic. The button collar and cuffs are office-ready, but it'll thrive just as well on a night out, too.
Best for: A timeless classic with a cherry-on-top twist.