In recent years, two elements of our wardrobes have received unprecedented spotlight. Firstly, the loungewear revolution, where matching sets in ribbed jersey took the decision-making out of dressing. Then, there was the vacation revival: with our rediscovered zeal for wanderlust, our suitcases overflowed with floaty maxis and crisp linen. But one sartorial segment has gone a little neglected—our office attire.
Depending on where you fall on the introvert/extrovert spectrum, you'll be forlornly—or enthusiastically—waving farewell to the upper-half-only work outfit, which became symbolic of the Zoom conference era. Yes, therein lay an epoche when what you wore out of frame was nobody's business—come baggy sweatpants, pajama bottoms, or simply your birthday suit (hey, you do you—and what your boss doesn't know can't hurt her).
So, like our in-many-cases revamped 9-to-5, our office wardrobe needs a breath of fresh air, too. Wait—someone's calling the work phone, and it's Luisaviaroma. You're going to want to take this.
As you'll know, at Luxe Digital we're big fans of the Italian online shopping destination, where the finest brands are always ready to elevate your wardrobe with a little Italian flair.
Say a cheery Buongiorno to Luisaviaroma's New Formal Edit, a curated collection that'll have you filling your schedule with face-to-face appointments—even if it's just to show off your outfit.
Revive your AM ritual
Indeed, Luisaviaroma's gorgeous edit (men and women are both catered for, don't worry,) eases you back into the office groove with the utmost elegance. Infusing joy back into your morning ritual, their office-ready pieces make selecting your outfit of the day an experience to savor and appreciate.
Whether you're dressing for a Monday chock-full of meetings or prepping for a desk-to-dancefloor Friday, Luisaviaroma has just what you're looking for. Even better: it's all in one place. Being back in the office often means we have less free time to play with (boo), so save precious hours by browsing online, and having your brand-new work wardrobe delivered right to your door.
Echoing the world-famous grace and sophistication of its HQ city, Florence, Luisaviaroma curates the most exquisite pieces. Thus, they generously gift everybody Italy's most coveted export (after wine and espresso, naturally)—and that is: pure, effortless style.
Dress for the job you want
With shades and styles for every taste, you can opt for monochrome pieces with which mix-and-match is always a match, play peacock with patterns, and add layer to your look with textures. And, of course, no outfit is truly complete with carefully-chosen accessories: level-up with statement earrings, go sleek and chic with subtle silver, or cinch in your silhouette with an understated leather belt. The choice—and the day—is yours for the taking.
So, after a shop around Luisaviaroma, you'll be inspired to take the same level of care with your Monday to Friday attire as you do with your Saturday night cocktails get-up. That means you'll strut into the office, mirroring the air of confidence you exude when you enter the party—you'll own the room, and everybody will know it.
Back to the office essentials for the most stylish working women
Isabel Marant Oleaga Double-Breasted Wool Blazer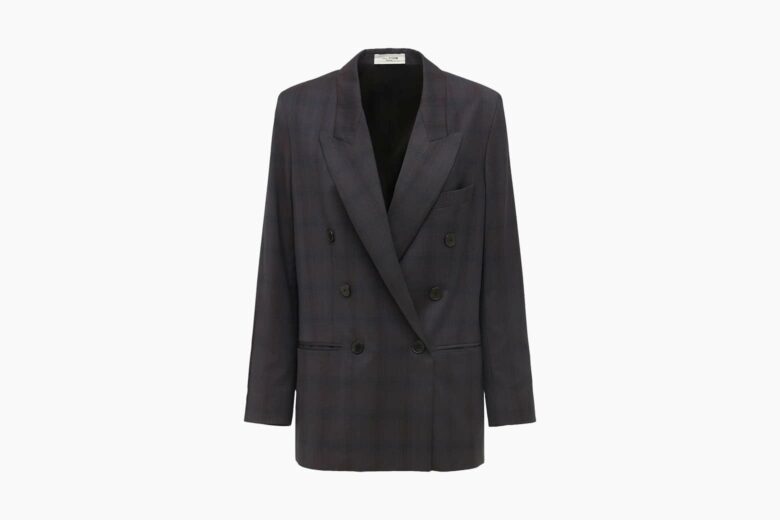 Woven from virgin wool and falling to just the right length, the Oleaga Double-Breasted Wool Blazer is as essential as your Google calendar—and like the latter, it'll see you through the year. Designed by Isabel Marant Étoile, this chic-but-mighty blazer is to your office outfit as your red lipstick is to your LBD—the ultimate reckoning.
Best for: Androgyny and authority in equal measure.
BY FAR Rafael Leather Loafers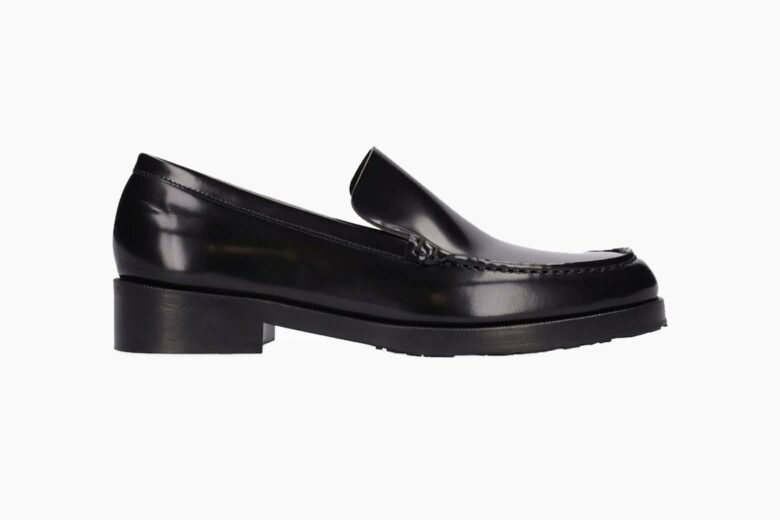 The perfect formula of smart and easy-going, the Rafael Leather Loafers emulate your work ethic. They're chic and understated, with the shiny black leather built to complement everything from Friday-feeling officewear to get-things-done Monday power dressing. The 20mm heel adds a touch of height to your stature, elevating not just your silhouette, but your confidence with it.
Best for: Standing tall and graceful—come conference or coffee break.
MM6 Maison Margiela Cropped Faux Leather Straight Pants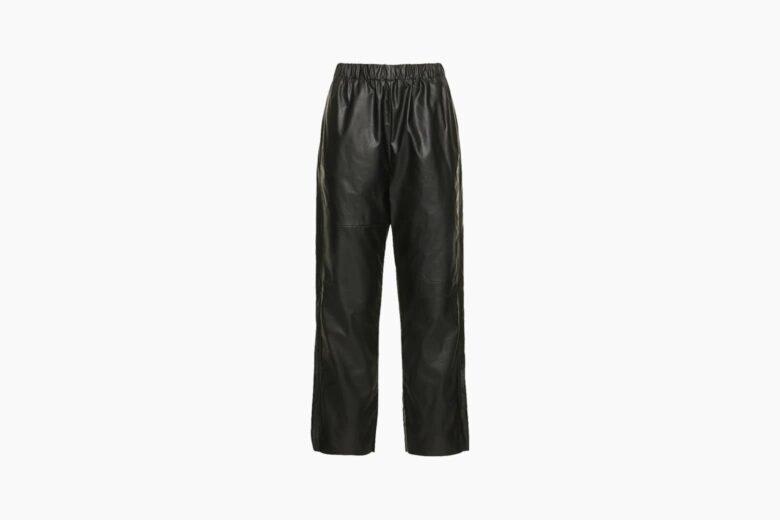 These cropped pants may be faux leather, but the self-assurance (and chic style points) they gift you is real as anything. And guess what? Yes, you can wear leather to work. Made in Italy (of course), these Cropped Faux Leather Straight Pants boast an elasticated waistband for all-day comfort, and an elevated aesthetic to see you through the workday to weeknight drinks with enviable pizzazz.
Best for: A dash of panache to earn you outfit-of-the-week.
Khaite Jo Stretch Cashmere Sweater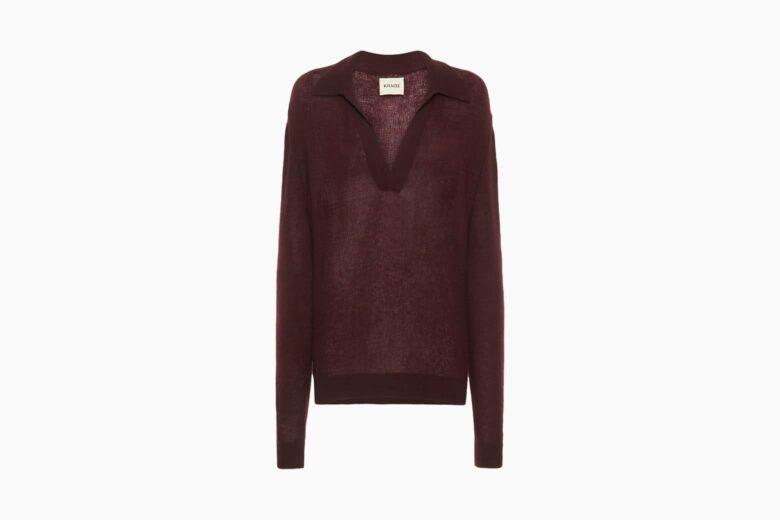 When the weather gets chilly, make sure you're prepped with stylish layers to add to—not take away from—your look. The Nordic-esque Jo Strech Cashmere Sweater by Khaite will do the trick and then some, with its laid-back luxe and bundle-worthy feel. Paired with denim and celebrity-approved cowboy boots made for walking, you'll be the epitome of AW chic in this number.
Best for: Office-ready style with all the snug of #WFH.
The Attico Diana Parachute Canvas Overshirt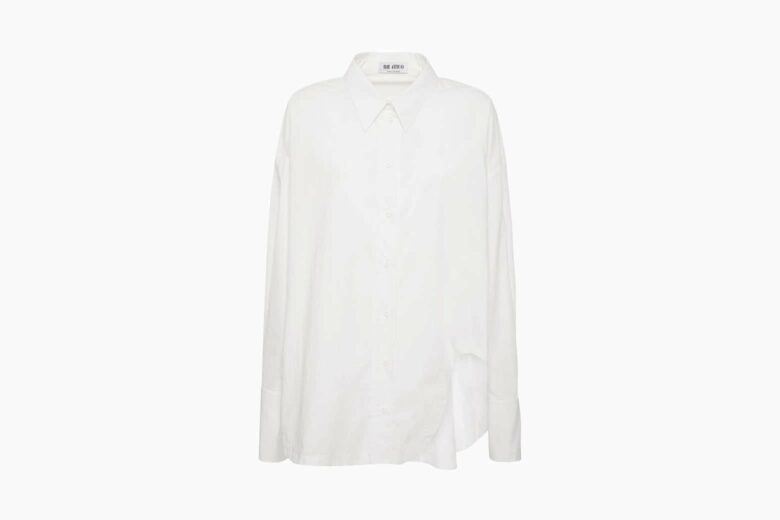 We don't need to school you on the value of a white office shirt. But, the Diana Parachute Canvas Overshirt takes that well-established essential and propels it into the climate of today.
Oozing subtle detailing like button cuffs and an asymmetric hem, this slightly-oversized overshirt is made for layering. Made in Italy, you'll sail through your 9-to-5 with finesse in this one.
Best for: Chic simplicity sew into the seams.
Saint Laurent Baby Sac de Jour Leather Bag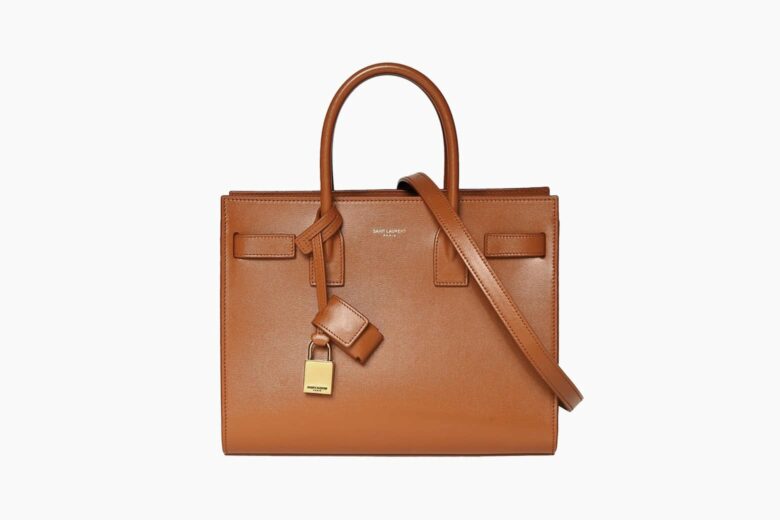 All hail the back-to-office handbag: with space for all your essentials, the Saint Laurent Baby Sac de Jour Leather Bag is perhaps the quickest route to chic at-work style—you need only pop it on your shoulder, and voilá.
Finished with metal feet to keep the bottom spick-and-span, a removable padlock, and an adjustable leather strap, this Saint Laurent beauty is certainly our bag, baby—and it can be yours, too.
Best for: An instant (and exquisite) outfit uplift.
Bottega Veneta Gold Finish Sterling Silver Earrings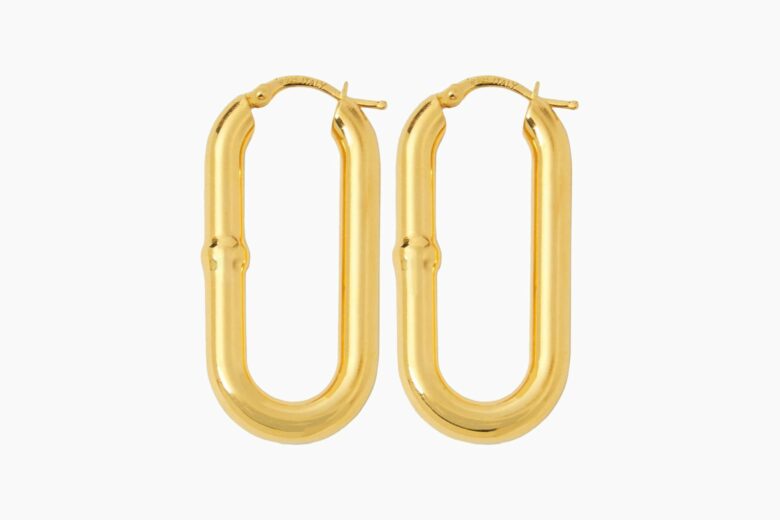 Remember what we said about statement earrings? As if by magic, the Bottega Veneta Gold Finish Sterling Silver Earrings popped to our attention. It's no wonder they caught our eye, either, with their unique shape not adhering to the usual rules.
Made with sterling silver but rocking a gold finish, these luxe-as-anything earrings are the natural partner of your black tee, white shirt, or structured blazer.
Best for: When one accessory is all you need.
And hardworking workwear for him
Zegna Trofeo Cotton Shirt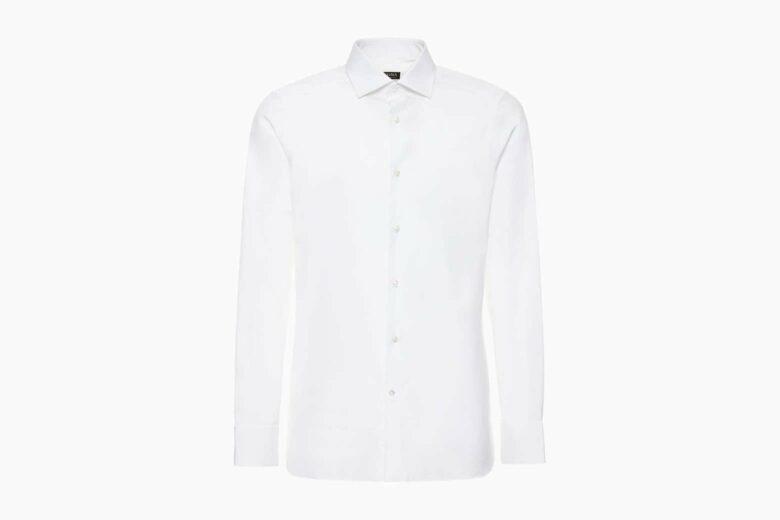 Guys rely on the classic white shirt as much as women do. Need a fresh fit? The Zegna Trofeo Cotton Shirt answers your prayers. Designed with timelessness in mind, this clean-cut shirt is finished with a rounded hem, a slick, neat collar, and buttoned cuffs for days when the boss is in town. Not to mention, it'll look just as good on your girlfriend.
Best for: Through-the-roof suave in an instant.
Burberry Pimlico Cotton Trench Coat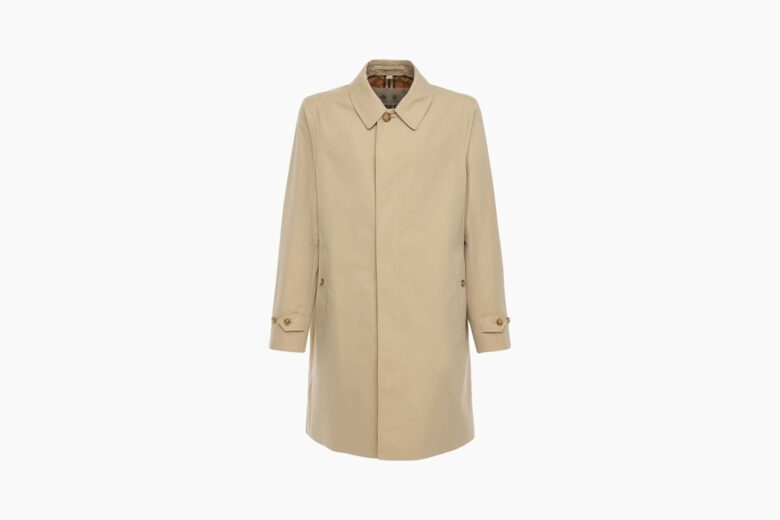 With a fit that states "I'm not like the others," the Burberry Pimlico Cotton Trench Coat echoes British charm. With the belted cuffs, shirt-style collar, and hidden front-button closure, this outerwear piece whirls you away from the far-overdone regular trench look.
It's Burberry, so naturally, it's made in the UK—but no matter, whether you're working in Canary Wharf or heading to a high-rise in Manhattan, you'll carry the London look with you.
Best for: A one-way ticket to office icon status.
Tom Ford Leather Ankle Boots
It figures that the country shaped like a boot is a dab hand at (and, in fact, world-famous for) making them, too. The Tom Ford Leather Ankle Boots are—of course, made in Italy—and ooze the suave style of the fashion capital.
Minimalist and refined, these boots are crafted with premium calf leather, and have an affinity with—well, your entire wardrobe.
Best for: Stepping right into effortless Italian elegance.
Bonsai Wool Blend Formal Pants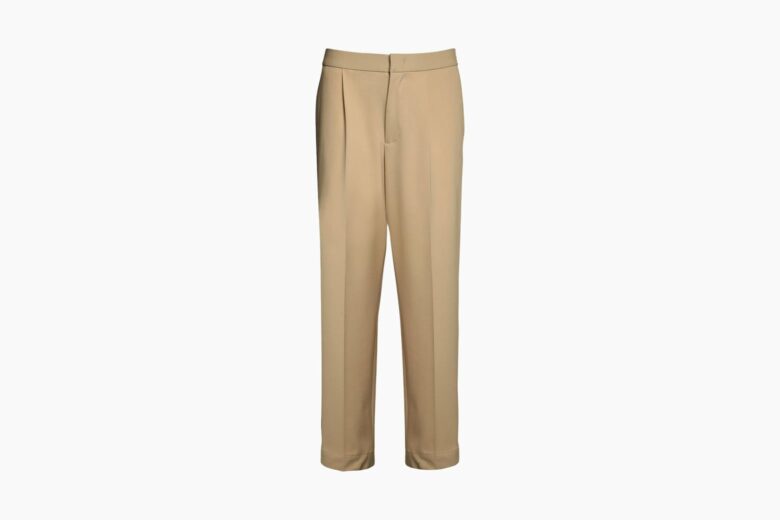 Whether your office style is Wolf of Wall Street or The Big Short—or anything in between (we get it: not everyone works on Wall Street)—the Bonsai Wool Blend Formal Pants will see you through those deals, negotiations, and cheeky lunchtime drinks with pure panache.
Woven from virgin wool with a hint of elastane for desk-chair stretch, these pants offer a looser fit to accentuate your natural charisma.
Best for: Uncomplicated styling to take you from the conference room to the coffee house.
Tom Ford Long-Sleeve Cotton T-Shirt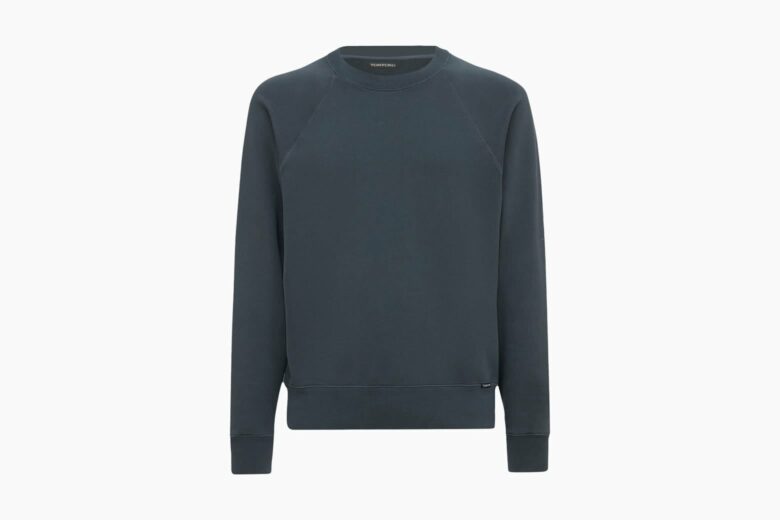 If your workplace is more millennial in its uniform approach (i.e., a little less necktie and a little more slack), the Tom Ford Long-Sleeve Cotton T-Shirt makes the perfect gear. Preppy in cut but smart enough to look polished, this T-shirt will have you calling, conferencing, and coding in comfort. And, if the day calls for more formality, there's nothing stopping you from peeking a collar out, too.
Best for: Start-up sartorial style a la Silicone Valley.
Brunello Cucinelli Crewneck Cotton T-Shirt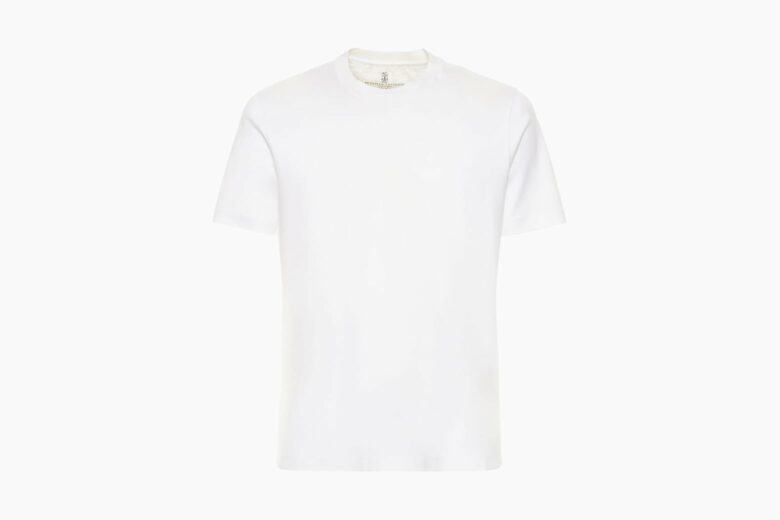 A menswear cornerstone since time immemorial (or last least, the invention of the loom), the white T-shirt has wangled its way into the workplace, and we, for one, are thankful.
The Brunello Cucinelli Crewneck Cotton T-Shirt is crafted in Italy from 100% cotton, gifting it a soft-as-a-cloud feel. So, whether you're toiling over your desk or jetting about for meetings, you'll do so in cool comfort.
Best for: A throw-on piece for those time-is-of-the-essence mornings.