An advance warning: if you're someone who struggles to get out of bed in the morning, you might not want to read on. Because a Cocoon by Sealy mattress might just be the ultimate invitation to stay tucked up in the land of nod all morning.
There aren't many mattress brands that do it all the same way Cocoon by Sealy does. Not only is the brand budget-friendly, but it's also developed a range of mattresses to suit a huge range of sleepers. Back sleepers? Side sleepers? Combination sleepers? You're all invited into this world of serious comfort.
Unique technology combined with a tried-and-trusted formula means a Cocoon mattress is always a good idea. Undeniably one of the best luxury mattresses out there, its super soft memory foam ensures you'll drop off to sleep as soon as your head touches the pillow.
Cocoon by Sealy mattress reviews
It's one of the most popular companies for foam mattresses for a reason, and the endless positive Cocoon by Sealy reviews attest to that.
Not sure which Cocoon mattress is for you? We'll review the two most popular mattresses from the brand: the all-foam Chill mattress and the hybrid Chill mattress.
Read on for our thoughts on the two mattress models to see which one is best for you.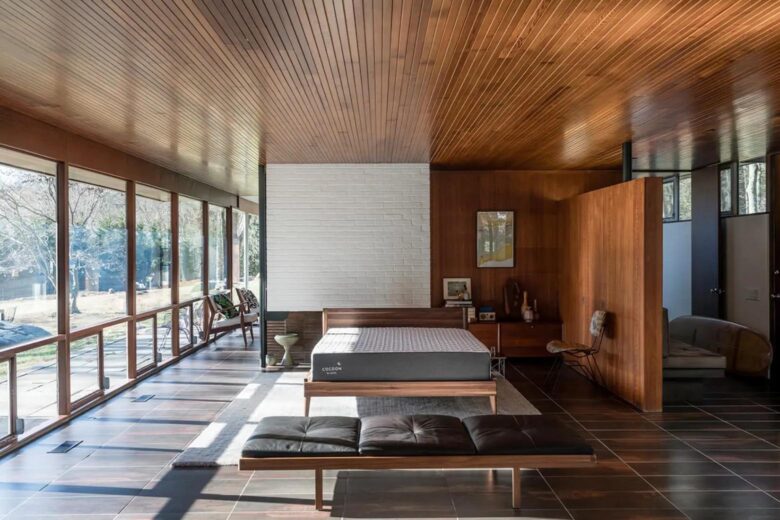 Cocoon all-foam Chill mattress review
Sealy's Cocoon Chill Mattress hits the midpoint for just about all kinds of sleepers. Its medium-firm feel, and the blend of stable support and close-conforming pressure relief is suitable for both back and side sleepers.
It's also a perfect mattress for anyone who gets too hot at night or anyone who struggles with staying asleep if there's disruption from motion transfer. The Cocoon Chill Mattress comes with the brand's proprietary "Phase Change Material", which absorbs and dissipates heat, helping to keep you cool throughout the night. It's one of Sealy's most popular mattresses.
The pros:
Great for keeping you cool overnight
Suitable for a wide range of sleepers
Extra-soft memory foam that prevents disturbances from the other side of the bed
The cons:
Might be a little too firm for side sleepers weighing less than 59kg (130lbs)
Doesn't have as firm edge support as the Hybrid model
Not ideal for sleepers who prefer a springy mattress
The alternatives:
If the highlight of Sealy's Chill mattress is its cooling abilities, a great alternative comes from Tempur-Pedic. The brand's TEMPUR-breeze is made with a pressure-relieving material also used by NASA and uses cooling fibers and PureCool+ Phase Change material to absorb heat and enable airflow. Check our Tempur-Pedic review to see more details.
The Helix Dusk Luxe is another brilliant option for light sleepers who don't want to be disturbed when sharing a bed.
Mattress performance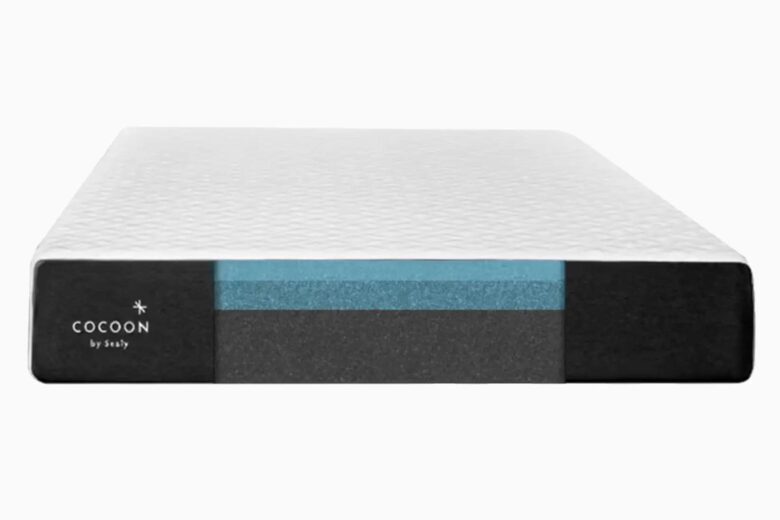 Durability
The Cocoon Chill mattress is made from high-quality materials that promise to see you through years of peaceful sleep. The brand is known for its top-quality choices and bespoke fabrics, and so this top-rated mattress is a great option if you're looking for a durable investment. It's an even better deal when you keep in mind the budget-friendly nature of Sealy. Each Sealy mattress also comes with a 10-year guarantee.
Construction & materials
One of the most impressive features of this Cocoon mattress is its heat-absorbing material. This premium, memory foam mattress comes with a protective layer of Phase Change Material (PCM), which absorbs your body heat throughout the night.
If you find yourself getting too cold overnight, the technology releases the energy back to you for top-notch temperature regulation. Wave goodbye to summer and winter-specific pajamas or having to sleep with the windows open.
We do have round-ups of the best pajamas for women and for men if you do prefer to sleep with one, however.
Underneath the PCM layer, there's memory foam, cushioning support in the form of responsive comfort foam, and finally, a layer of heavier, more robust material, made from dense polyurethane foam, which is highly durable and resilient.
Edge support
While the Cocoon Chill mattress might be renowned for being super comfortable and ideal for couples, it doesn't have the same reinforced edges as some of the brand's other mattresses. This is fine if you're sleeping towards the middle of the bed, but if you're someone who rolls over at night and wakes up to find themselves clutching onto the edge, this may not be the mattress for you.
If you are someone who sleeps like this, a mattress with more reinforced edges, like Sealy's Hybrid model (which kicks it up a notch with Quantum Edge reinforcement) may be more appropriate for an excellent night's sleep.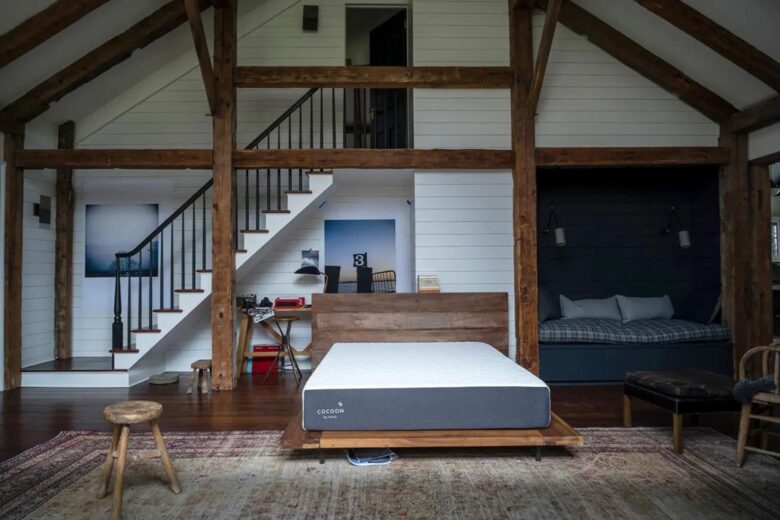 Temperature regulation
Cocoon Chill is renowned for being one of the best of the best when it comes to temperature regulation. While traditional memory foam might be known for heating you up when you need it least, the Cocoon Chill mattress somehow ticks off comfort and heat regulation at the same time. Its innovative material promises a refreshing, cool-to-the-touch surface that's widely recognized as being one of the best in the business.
Motion isolation
The lack of coils in the Cocoon Chill makes it perfect for light sleepers who are easily disturbed by movement. One of the best things about memory foam is its ability to mask movement and keep you fast asleep, and this top-rated mattress perpetually passes with flying colors. It's one of the best in the game for motion isolation.
Features
| | |
| --- | --- |
| Mattress Type | Memory foam |
| Firmness | Medium |
| Thickness | 10 inches (25.4 cm) |
Mattress sizes and prices
Cocoon hybrid Chill review
The Cocoon Chill Hybrid Mattress is the younger sibling of the brand's original famous mattress, but this one comes with a few alterations. The Hybrid model keeps the original cool-to-the-touch cover and conforming memory foam layers but also comes with premium coils for a slightly more structured Cocoon mattress with better edge support.
It's a win-win: the memory foam promises a cushioned feel, supportive spinal alignment and reduced pressure points, while the coils move independently for targeted support and reduced motion transfer. It's best suited to back sleepers or those who sleep on their side but don't require that extra soft, sinking feeling.
The pros:
Great for hot sleepers who can benefit from its heat regulation
Perfect for combination sleepers and especially back sleepers who need to keep a neutral spine
Much more responsive than a typical memory foam mattress
The cons:
Doesn't offer the same motion isolation as the original Chill mattress
Stomach sleepers may feel some lower back pain from sinking into the mattress after a while
Not ideal for side sleepers who prefer an extra-soft mattress
The alternatives:
Loom & Leaf's memory foam mattress is a great option if you're leaning toward the memory foam elements of this mattress.
Saatva's Classic Mattress is another strong option if you're looking for a mattress to soothe back pain. We have an in-depth Saatva mattress review if you want to learn more about the brand. Saatva's Classic Mattress also comes with reinforced edges, like Cocoon by Sealy's Hybrid model, as well as a breathable and hypoallergenic organic cotton top.
Mattress performance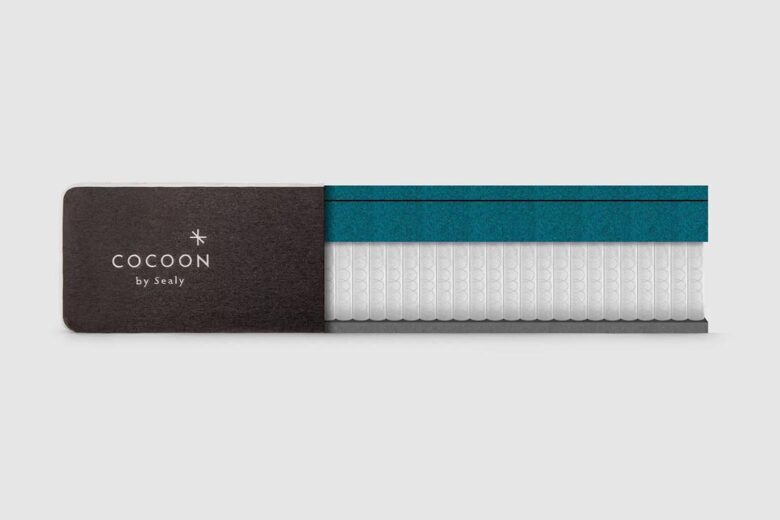 Durability
The Cocoon Chill Hybrid is made from the same premium materials as the rest of the brand's mattresses, which means it's just as durable as its predecessor. The extra edge support of this Cocoon mattress may add an extra layer of durability over time, however, the addition of springs means wear and tear are more noticeable than from the original Chill mattress.
Construction & materials
Four layers of specially selected materials ensure a delicious sandwich of comfort when you're sleeping on the Cocoon Chill Hybrid. A top, cooling cover absorbs and dissipates heat throughout the night, followed by the same Perfect Fit Memory Foam used in the original Cocoon Chill. Next is a layer of fabric-encased coils with a reinforced perimeter for targeted support, which is the hybrid element of this mattress. Finally, the Essential Support Layers add extra durability and structure to keep your mattress perfectly firm.
Edge support
If you're someone who requires more edge support, the Hybrid model may be perfect for you. The addition of springs to this mattress promises a consistent sleep surface, edge-to-edge. Sealy's Quantum Edge technology means no sagging or feeling like you're about to fall off the edge of the bed, mid-dream, in the night. This is one of the many areas where this mattress excels.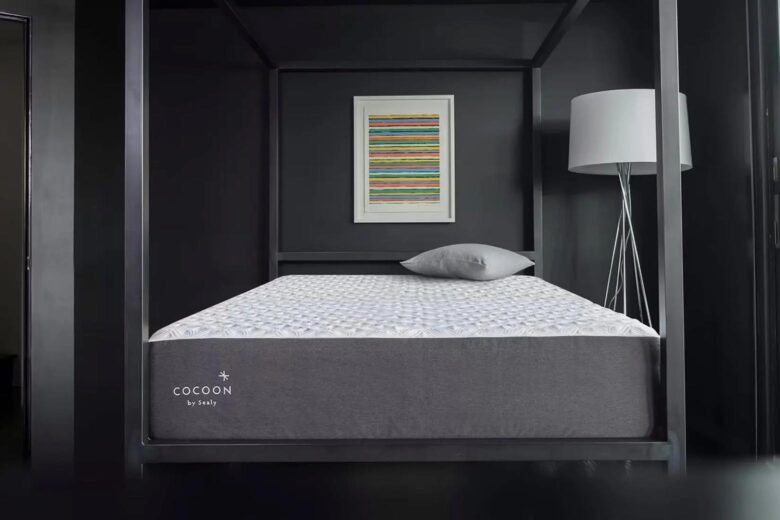 Temperature regulation
As with the original Chill mattress, the Chill Hybrid offers the same unique fabric to encourage temperature regulation throughout the night. This Cocoon Chill Hybrid mattress is cool to the touch and remains that way until you wake up in the morning. The addition of Bolsa coils in the Hybrid mattress also helps to channel the excess heat through breathable springs, keeping you cooler for longer.
Motion isolation
A coiled mattress offers little in the way of motion isolation, and a memory foam offers the complete opposite. This Cocoon Chill Hybrid fits somewhere in the middle, leaning towards the end of that promised motion isolation. While it doesn't offer quite the same level as the original Chill mattress, the thick layer of memory foam at the top masks enough motion to keep you comfortable next to a partner or a pet.
Features
| | |
| --- | --- |
| Mattress Type | Hybrid memory foam with springs |
| Firmness | Medium |
| Thickness | 12 inches (30.5 cm) |
Mattress sizes and prices
Where to buy a Cocoon by Sealy mattress?
All Cocoon mattresses can be bought online on Cocoon by Sealy's official website.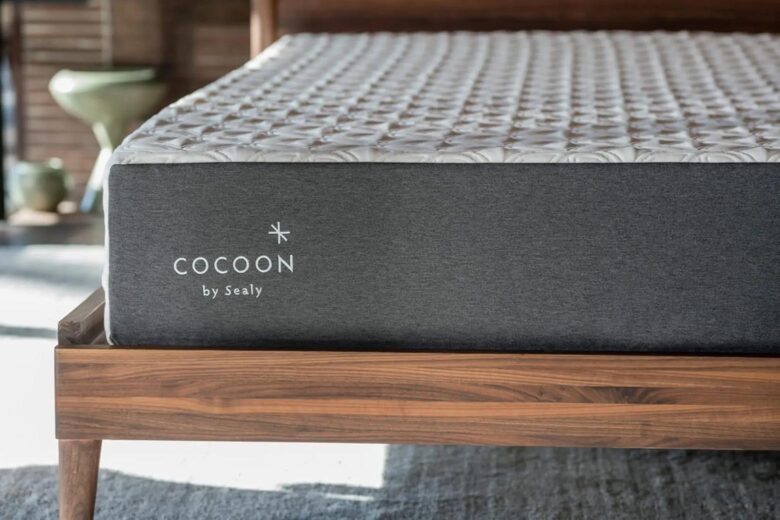 Trials, warranty, shipping policies, and returns
Each Cocoon by Sealy mattress comes with a 100-night sleep trial, which means you've got just over three months to decide whether your new mattress is right for you. If it's not, you can either exchange it for a different Sealy mattress, or you can return it, no questions asked.
The brand will pick up your mattress for free and donate it to a local agency. You also don't need to worry about putting the mattress back in its box. Keep in mind that repeat customers do not qualify for an exchange or return on a model they've previously purchased.
All Sealy mattresses are shipped from the Belmont, Mississippi facility and can be shipped throughout the US, including to Hawaii and Alaska. Shipping is free and comes via UPS Ground. There may be extra shipping costs applied for remote locations in Hawaii and Alaska.
Frequently asked questions about Cocoon by Sealy Mattresses
Is Cocoon by Sealy a good mattress?
Cocoon by Sealy is widely regarded as being a great mattress at a budget-friendly cost. Read our full Cocoon mattresses review to break down which Sealy mattress is best for you.
Are Cocoon mattresses safe?
Yes, Cocoon mattresses are made from premium materials and come with a 10-year quality guarantee. Cocoon by Sealy only uses quality fabrics to ensure a safe and comfortable mattress.
How long before you can sleep on a Cocoon mattress?
Your Cocoon by Sealy mattress should arrive a few business days after being shipped but can take up to seven business days to receive. Once it's safely shipped to you, it's ready to be unfolded, and you're free to sleep straight away!
Is Cocoon by Sealy firm?
Cocoon by Sealy mattresses are medium-firm, scored at a 6/10, leaning closer to the firm end of soft mattresses.