There are a few things in life you should never try to cut costs on: shoes, insurance, and mattresses. And the phrase "buy cheap, buy twice" has never rung truer than in the world of mattresses.
A good night's sleep can't be overstated and, when it comes to the best mattress brands, there's usually one household name that comes to mind: Tempur-Pedic. This memory foam mattress pioneer is a firm favorite (pun intended) across the world, thanks to its incredible foam mattresses, unique designs, and intricately tested materials.
Tempur-Pedic mattresses don't hold back when it comes to ensuring you wake up feeling well-rested and ready to start the day. Their bespoke memory foam fabric, the same fabric used to keep NASA cozy during space expeditions, is a magic carpet that'll transport you to the land of nod far faster than counting sheep ever could.
Better yet? Tempur-Pedic merged with Sealy Corporation in 2012 — bringing together two of the top-rated mattress brands in the world. Together, they're unstoppable and on a mission to fight the evils of cheap, low-quality mattresses once and for all.
Read on for our thoughts on three of Tempur-Pedic's most popular mattresses:
Tempur-Cloud, their most recent and their first bed-in-a-box mattress
Adapt, the classic, forever popular mattress
Breeze, the famed best-selling cooling mattress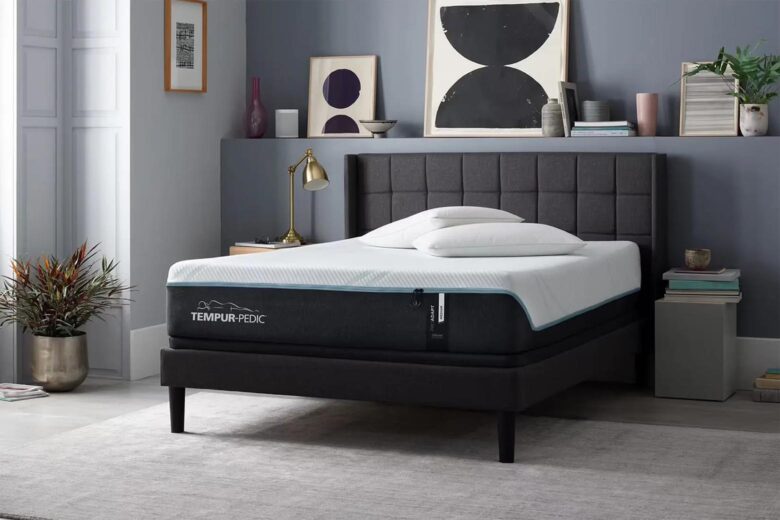 Tempur-Pedic Tempur-Cloud mattress review
Tempur-Pedic's Cloud mattress was named appropriately so. It's the type of mattress on which you wake up wondering whether you really are up floating in the sky. It's a brilliant, premium option for anyone looking to sink into bed with that "ahhh" feeling.
Particularly great for side sleepers, the Tempur-Cloud mattress is one of the most economical Tempur-Pedic mattresses and is the brand's first bed-in-a-box mattress designed to be bought online and shipped compressed to your door.
It's an all-foam mattress and a very popular choice. Couples also tend to love this mattress due to its motion isolation benefits.
The pros:
Great for side sleepers or anyone wanting deep conforming pressure
A brilliant example of a traditional memory foam mattress
Suitable for couples who need motion isolation
The cons:
Its deep contouring properties may be too much for some sleepers
Not suitable for those with mobility issues who might need a more responsive mattress
A more expensive option than other foam mattresses
The alternatives:
If the Tempur-Pedic Cloud isn't quite what you're looking for, the closest alternative on the market is Loom & Leaf's memory foam mattress. Made with premium 5lb memory foam and a high-density foam base, it promises to cradle your body in a similar way to how Tempur-Pedic's Cloud does.
The Saatva Classic Mattress is also another great choice if you're looking for slightly more back support but the same cushioned levels of comfort. You can read our in-depth review of Saatva mattresses for more information on this luxury alternative.
Looking for a cheaper alternative? Check our Cocoon all-foam Chill mattress review. Cocoon and Tempur-Pedic are part of the same company, so you can expect the same quality and attention to details, just a little bit less expensive (see price here).
Mattress performance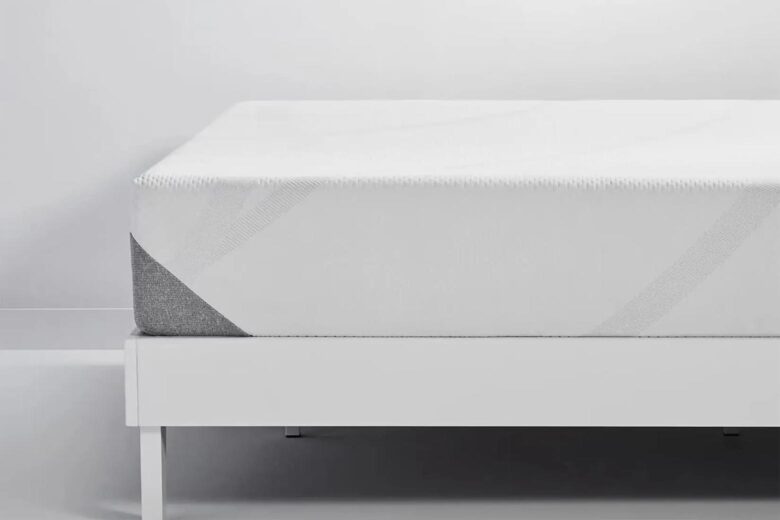 Durability
Every Tempur-Pedic Cloud mattress comes with a 10-year guarantee, which means if you don't get a full decade's worth of great sleep, you get your money back. But that should be given, as the brand only uses premium quality materials for its mattresses and they're known for being long-lasting. The lack of springs in this mattress also helps it to age better.
Construction & materials
One thing to note about Tempur-Pedic is that the brand doesn't reveal the exact makeup of its mattresses. What we do know is that the Cloud mattress is topped with a premium, moisture-wicking cover, followed by a soft, responsive and cushioned layer of the brand's unique fabric. Next is a firmer support layer of Tempur material that slowly adapts and conforms to your body, delivering pressure-relieving power throughout the night. The final layer is made from premium foam.
Edge support
As with any memory foam mattress, edge support isn't the primary goal during its production. This is one area where the Tempur-Pedic Cloud lacks slightly. If you're someone who sleeps towards the edge of the bed, you may prefer a mattress with springs.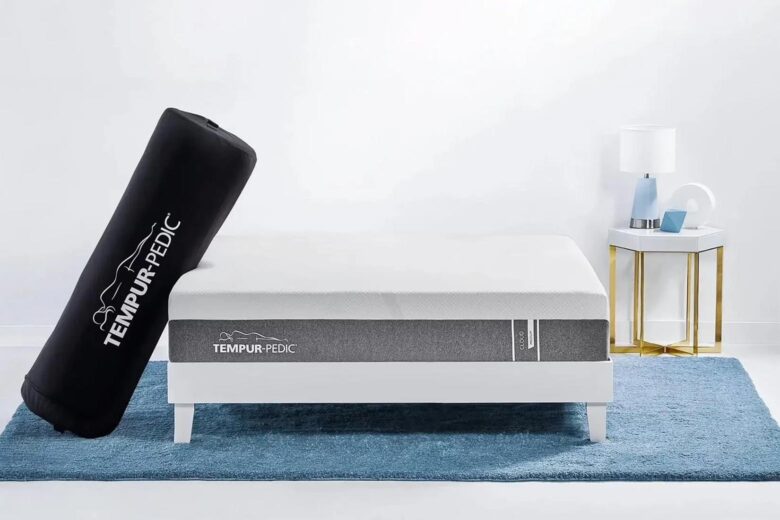 Temperature regulation
Your Tempur-Pedic Cloud may feel a little firm when you first lie on it, but that's all part of the plan: the mattress is designed to slowly shift into your own size, weight and temperature as the night goes on. This mattress also has a moisture-wicking top layer to help with unwanted heat. However, keep in mind that memory foam mattresses as a whole are known for holding their heat.
Motion isolation
Tempur-Pedic's Cloud is renowned for its excellent motion isolation. Its super thick memory foam makes it ideal for sharing the bed with a partner or pet if you're someone who wakes easily from motion disturbance. This is one of the best mattresses out there for motion isolation.
Features
| | |
| --- | --- |
| Mattress Type | Memory foam |
| Firmness | Medium |
| Thickness | 10 inches (25.4 cm) |
Mattress sizes and prices
Tempur-Pedic Tempur-Cloud vs. Casper Original Foam
It can be tricky to know which memory foam mattress to go for when there are so many highly regarded options on the market. The differences between Tempur-Pedic Cloud and Casper Original Foam are minimal but exist all the same.
A leader in using high-quality memory foam, Tempur-Pedic feels softer than the Casper mattress and delivers superior durability. Choose Tempur-Pedic's Cloud mattress if you're someone who appreciates that sinking-into-bed feeling.
Casper's Original Foam is slightly firmer than Tempur-Pedic's, which makes it a great choice for combination sleepers and those who need a little extra spine support. Casper's zoned support system offers different levels of firmness across the mattress, giving a tiny bit of sinkage at the shoulders and a lift at the hips for an overall balanced feel. Casper's Original Foam is also cheaper than Tempur-Pedic's Cloud, you can see its price here on Casper's official website.
Tempur-Pedic Tempur-Cloud vs. Cocoon by Sealy Chill Memory Foam Mattress
We've talked a lot about our favorite Cocoon by Sealy mattresses before, and they stand up pretty strong alongside Tempur-Pedic's offerings, too. Cocoon's Chill Memory Foam Mattress is a cheaper alternative to Tempur-Pedic's, and has the additional benefit of incorporating the brand's "Phase Change Material", which absorbs and dissipates heat, keeping you cool overnight.
Compare the memory foam benefits of each mattress, and you'll realize they're both highly regarded. Cocoon's material dimensions and specifics are detailed on its website, while Tempur-Pedic keeps its exact mattress makeup a proprietary secret. Still, they're both very popular options, and customers don't seem to have been put off by the lack of specific information from Tempur-Pedic. Overall, Tempur-Pedic does a little better when it comes to edge support and motion isolation than Cocoon's Chill Memory Foam.
Check our in-depth Cocoon by Sealy mattresses reviews here if you're interested in the brand. You can also get the latest prices and discounts directly from their official website.
Tempur-Pedic Tempur-Adapt Hybrid mattress review
Much like its name suggests, Tempur-Pedic's Adapt mattress is the best option to adapt to your unique needs. Along with the original Adapt, there's also the ProAdapt and LuxeAdapt, offering higher levels of support with thicker layers throughout the mattress.
The Tempur-Adapt Hybrid is a popular, classic mattress that's suitable for almost all types of sleepers. It's highly conforming, ideal for motion isolation, and is one of the brand's most accessibly priced options. Tempur-Pedic's unique foam material is brilliant for adapting to the shape of your body, promising that extra luxurious sinking feeling.
The pros:
Offers great motion isolation
Ideal for almost all types of sleepers
Highly durable and long-lasting
The cons:
Not suitable for stomach or back sleepers over 230lbs (104kg)
Doesn't have the same edge support as other mattresses
Opt for the Breeze instead if you're a hot sleeper
The alternatives:
The closest alternative to Tempur-Pedic's Tempur-Adapt Hybrid mattress comes from Saatva. Another luxury name in the world of super cozy sleep, Saatva's Classic Mattress is just as soft but equally as supportive, too. It features a plush top layer for targeted back relief and spinal zone technology with memory foam to ensure correct alignment, further reducing pressure on your lower back. Check the latest price and discounts for Saatva on their official website.
Mattress performance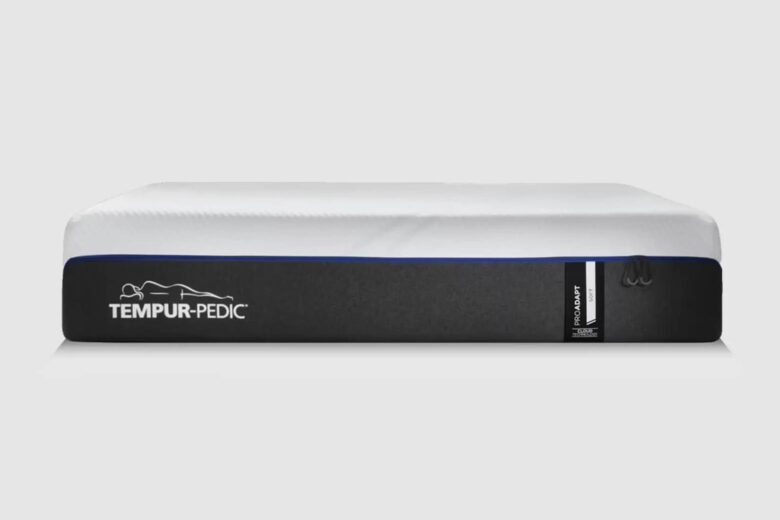 Durability
Tempur-Pedic is a household name for a reason: it's known for being dependable, reliable, and of good quality. This means, regardless of the mattress you choose, you have the reassurance that it'll keep its shape and last for a long time. And, as one of the most popular mattresses Tempur-Pedic produces, there's an added level of security in knowing your mattress has been widely tested.
Construction & materials
Tempur-Pedic's two layers of memory foam were originally designed for NASA to cushion astronauts during space travel, so you know it must be pretty good. The advanced structure of Tempur-Pedic's mattresses is precision-engineered to adapt and respond to your weight, shape, and temperature throughout the night. Superior motion absorption and specific pressure relief are just some of the other qualities the brand's materials promise.
Edge support
The hybrid nature of this mattress gives it extra edge support over traditional memory foam mattresses. However, the seriously soft nature of its memory foam means it's not the best on the market if you're someone who requires rigid edge support. But, if you're sold on a Tempur-Pedic mattress and can't choose which one, the Adapt comes out on top for edge support among the rest.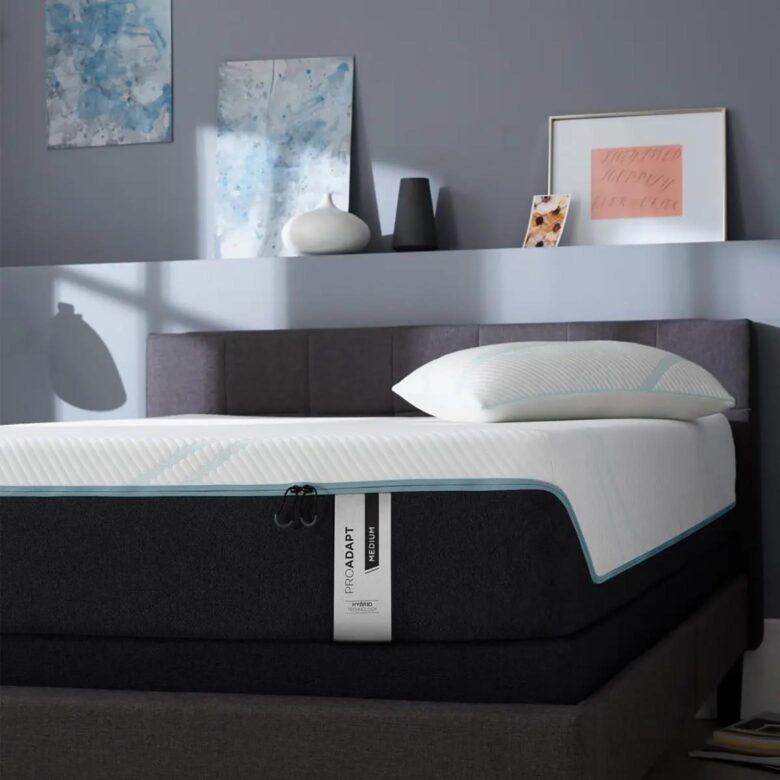 Temperature regulation
The coil system of the Adapt Hybrid mattress is a huge winning factor when it comes to keeping you cool overnight. A huge benefit not seen with traditional memory foam, Tempur-Pedic's unique system promotes strong airflow to help the mattress maintain a comfortable temperature from night until morning.
Motion isolation
The hybrid Tempur Adapt provides above-average motion isolation compared to its non-Hybrid siblings. The thick memory foam lining here ensures a proper night's sleep, no matter how much movement is coming from the other side of the bed. Even though the coil systems promote responsiveness on the surface, the memory foam absorbs any movement.
Features
| | |
| --- | --- |
| Mattress Type | Memory foam |
| Firmness | Medium |
| Thickness | 11 inches (28 cm) |
Mattress sizes and prices
Tempur-Pedic Tempur-Adapt Hybrid vs. Casper Nova Hybrid
The main difference between the Tempur-Pedic Tempur-Adapt Hybrid and the Casper Nova Hybrid is the price. Casper's option is significantly cheaper than Tempur-Pedic's, but keeps a lot of the same features. Those who enjoy Tempur-Pedic's mattress for its traditional memory foam feel would be better off sticking with the brand, while those who are looking for a budget-friendly alternative that doesn't skimp on quality should opt for Casper's Nova Hybrid. You can see its price here on Casper's website.
Tempur-Pedic Tempur-Breeze mattress review
Hot sleepers: assemble. Tempur-Pedic's Tempur Breeze mattress is one of a kind and a brilliant investment if you're fed up with waking up far too warm in the middle of the night. Arguably the only mattress on the market that's consistently strong when it comes to keeping you cool, the Tempur Breeze was designed in a thermal laboratory and has the impressive reviews to match.
It's a suitable mattress for side sleepers especially, but also more generally for hot sleepers. It comes in two variations: PRObreeze and LUXEbreeze.
The pros:
Memory foam softness without the memory foam heat
Consistently recognized as being top of the range for cooling abilities
Great pain relief for those with back issues
The cons:
Lots of different options for cooling levels and mattress types, which can be confusing to prioritize
One of the most expensive options on the market
Doesn't have the best edge support
The alternatives:
Admittedly, there aren't many mattresses on the market with the same level of comfort and cooling ability as the Tempur Breeze. But if you're looking for alternatives, some of the highest-rated ones are the Purple Hybrid 2 and Avocado Green. You can see how they compare in our round-up of the best luxury mattresses of the year.
Mattress performance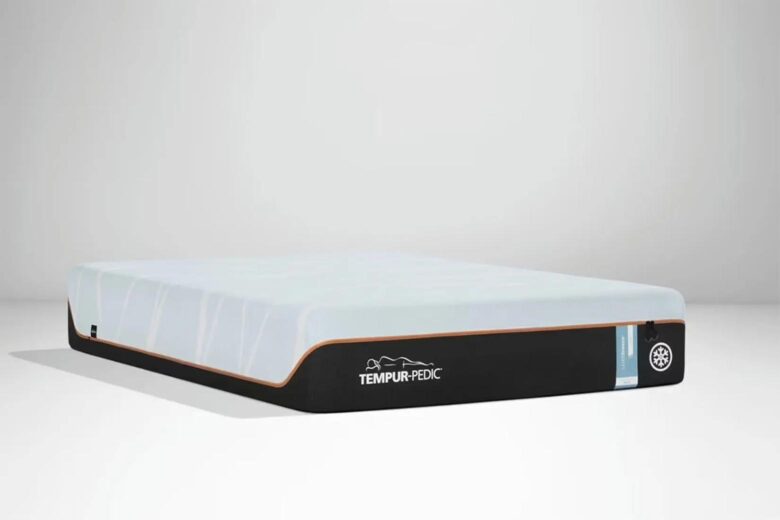 Durability
Much like the rest of Tempur-Pedic's line, the Tempur Breeze is durable and long-lasting, promising a longer lifespan than your average mattress. The Tempur Breeze is also slightly thicker than the brand's other mattress types, which adds even more protection over time.
Construction & materials
The top layer of the Breeze is infused with cooling fibers, promising a cool-to-the-touch start to your night. As you begin to fall asleep, you'll begin to feel the soothing, cooling sensation of the PureCool+ Phase Change Material: a unique addition to this mattress. A deeper layer focuses on drawing out the heat and humidity normally trapped in your covers, and the LUXEBreeze also has an additional ventilated, ultra-breathable layer at the bottom.
Edge support
As a pure memory foam mattress, the Breeze isn't the strongest option in the lineup when it comes to pure edge support. While there are some, from the brand's durable choice of materials, a semi-sprung mattress is a better option if you tend to sleep toward the edge of the bed.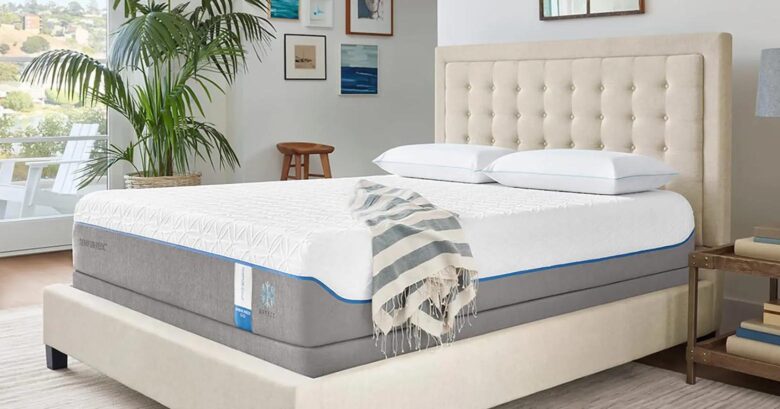 Temperature regulation
This is where the Breeze really shines. The entire unique selling point of this mattress – if you're looking for cooling qualities throughout the night, this is absolutely the option to go for. The Breeze has received almost endless positive reviews about its cooling abilities. The LUXEBreeze in particular uses technology that allows it to feel up to eight degrees cooler, while the PROBreeze offers a three-degree difference compared to your average mattress.
Motion isolation
The sumptuously thick memory foam quality of the Breeze makes it great for motion isolation. Promising maximum pressure relief and motion isolation, it's the thickest mattress type available and therefore arguably the best for motion isolation, if you're sharing a bed.
Features
| | |
| --- | --- |
| Mattress Type | Memory foam |
| Firmness | Medium |
| Thickness | 12 inches (30.5 cm) PRO, 13 inches (33 cm) LUXE |
Mattress sizes and prices
| Size | PROBreeze price | LUXEBreeze price |
| --- | --- | --- |
| Twin XL | $3,499 | $4,499 |
| Full | $3,849 | – |
| Queen | $3,999 | $4,999 |
| King | $4,699 | $5,699 |
| Cal King | $4,699 | $5,699 |
| Split King | $6,998 | $8,998 |
| Split Cal King | $6,998 | $8,998 |
Where to buy a Tempur-Pedic mattress?
All Tempur-Pedic mattresses can be bought online, on Tempur-Pedic's website.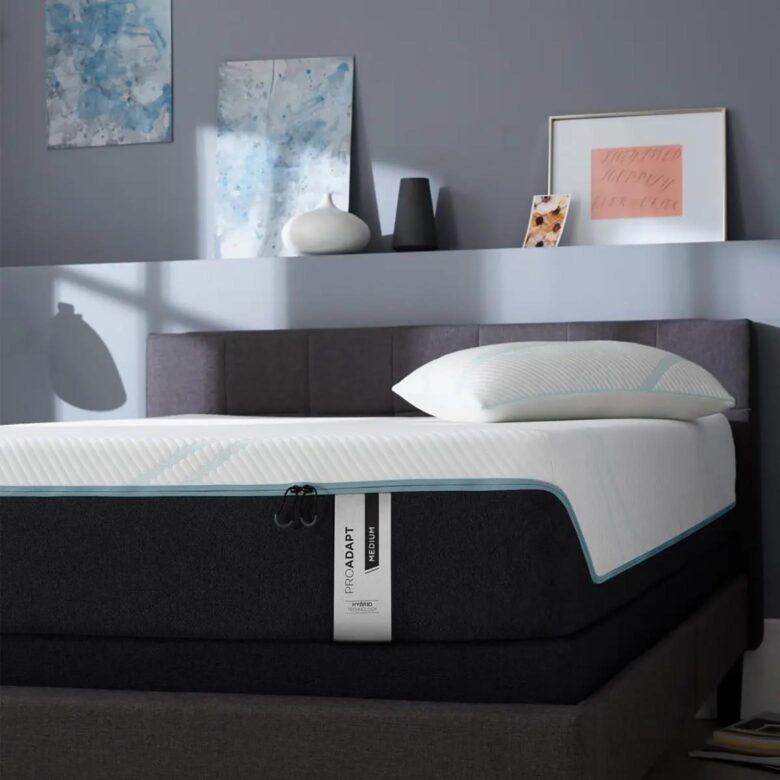 Trials, warranty, shipping policies and returns
Every Tempur-Pedic mattress comes with a 90-night sleep policy, giving you time to figure out whether your new mattress is the right one for you and your sleeping style. If you're unhappy, you can call the brand's customer service team, who will try to find a solution. If not, they'll pick up your mattress and refund the cost of it, minus the initial shipping cost.
Tempur-Pedic ships all over the US, including Alaska and Hawaii. Delivery should take up to 10 days but can sometimes be as long as five weeks. Shipping is free to mainland USA and $25 to Alaska and Hawaii. Expedited shipping is $40 next day, mainland, or $55 to Alaska and Hawaii.
The brand also has a 10-year guarantee policy to replace faulty mattresses if necessary.
Frequently asked questions about Tempur-Pedic mattresses
Is Tempur-Pedic worth the money?
Tempur-Pedic is widely recognized as one of the leading mattress companies in the world. Although its luxury mattresses come at a higher price, they're known for being long-lasting, premium quality, and promising a brilliant night's sleep. Check our in-depth Tempur-Pedic review to see if it's right for you.
Are Tempur-Pedic mattresses good?
Yes, Tempur-Pedic mattresses are known for being top quality and receive consistently good reviews from customers. Their website claims 95% of owners are satisfied with their Tempur-Pedic mattress. Check their latest prices and discounts here.
What's so special about Tempur-Pedic?
Tempur-Pedic's laboratory-tested materials, attention to detail, and extensive history makes it one of the best mattress brands in the world.
Is Tempur-Pedic good for back pain?
Reviews often cite Tempur-Pedic mattresses as being beneficial for those with back pain; particularly the Tempur-Pedic Tempur Breeze and the Tempur Adapt.
How long does a Tempur-Pedic mattress last?
Tempur-Pedic mattresses all come with a 10-year guarantee, so you can sleep easy knowing your mattress will last a long time.