If Pinterest and Instagram are anything to go by, the world has become obsessed with houseplants. And for good reason. Bringing the outdoors indoors with some beautiful indoor plants has heaps of benefits.
Research has suggested that houseplants help improve mood, productivity, and overall well-being. Tending to plants is a great way to relax, while the plants themselves purify the air in your home, absorbing pollutants and toxins.
Not to mention the fact that green houseplants can transform a space aesthetically. Sometimes a room might be full of beautiful luxury furniture—but needs a dash of organic vitality to complete it. Adding lush foliage into your home can complete a sophisticated interior design scheme.
However, we aren't all blessed with green thumbs. Low maintenance plants that are easy to care for are the best options for the time-pressed and horticulturally illiterate.
The best indoor plants are hardy things, just requiring light, the occasional watering, and the bare minimum of attention—save for praise and compliments from guests visiting your home.
Whether you want a desk plant to keep you company as you work, or plan to transform your whole living room into an indoor jungle, these are the 11 best easy-care houseplants that even the laziest botanist can keep alive.
The 11 best indoor plants that are easy to care for
Check below our listing five tips to easily maintain your indoor plants even when you have very little time available.
Snake Plant: Best overall houseplant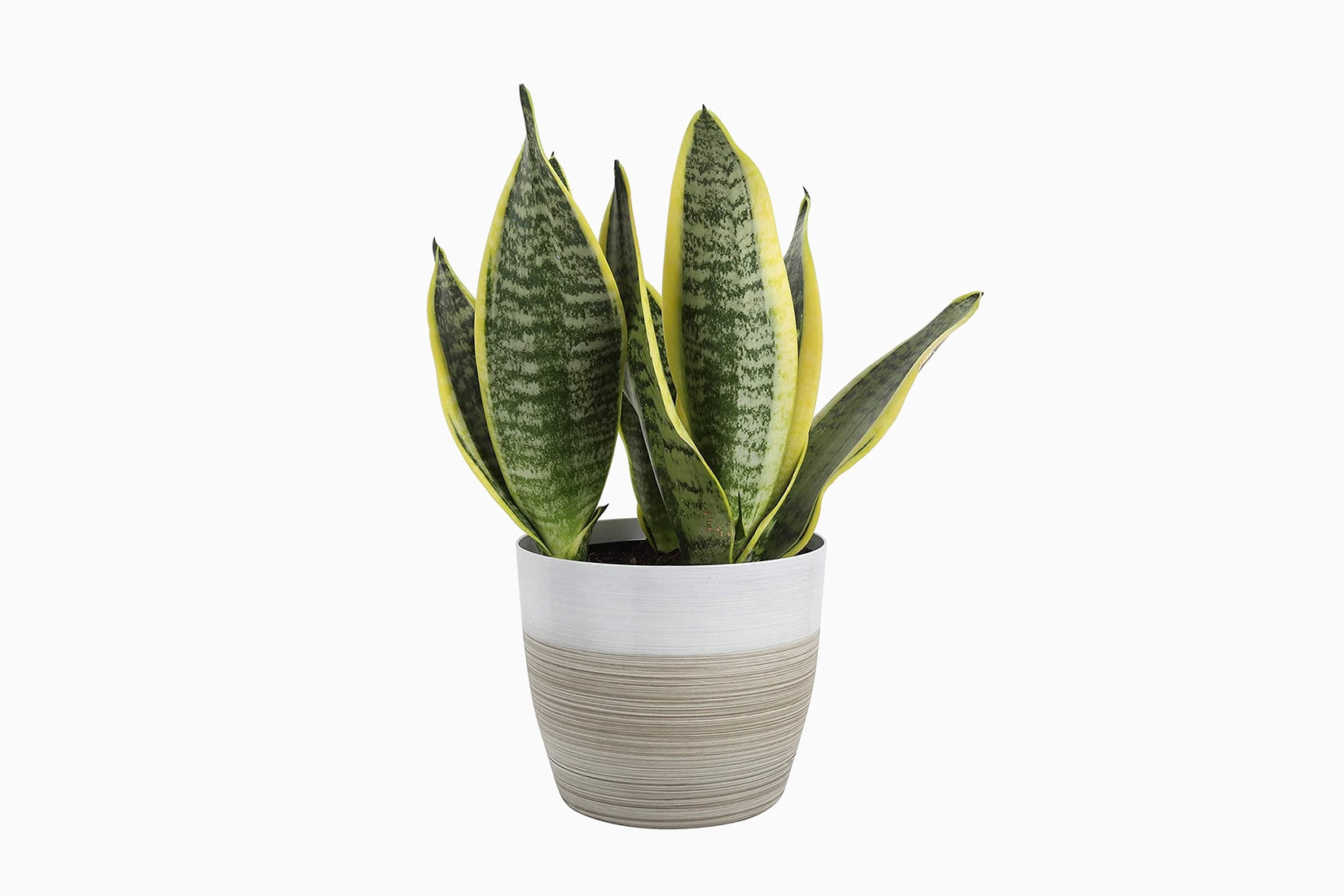 Snake plants, also known as Sansevieria, are some of the most resilient houseplants out there. They can take anything. And so even if the closest you've ever got to gardening is sipping Pimms on a garden lawn, we're confident you can keep this plant alive.
One of the most popular houseplants thanks to their distinctly-shaped leaves and striking colouring, Snake Plants can survive everything from low light to lack of water. NASA research has also shown that Snake Plants can clean the air inside your home.
Fun fact: the Sansevieria is also known as a Mother-in-law's Tongue, due to its sharp and pointed shape. So if you decide you don't like it, you can always give it away as a gift to a certain family member.
With the Snake Plant, there's very little you need to worry about in terms of care. This resilient houseplant just requires fast-draining and sandy soil and a corner that receives indirect sunlight. Avoid over-watering—especially during the winter months. Then sit back and enjoy looking at the newest and greenest addition to your household.
This is one of the best plants for an Instagram backdrop. It's instantly recognisable and one of the most popular houseplants on social media.
Best plant for: people who've killed every previous houseplant they've owned.
Boston Fern: Best high-end houseplant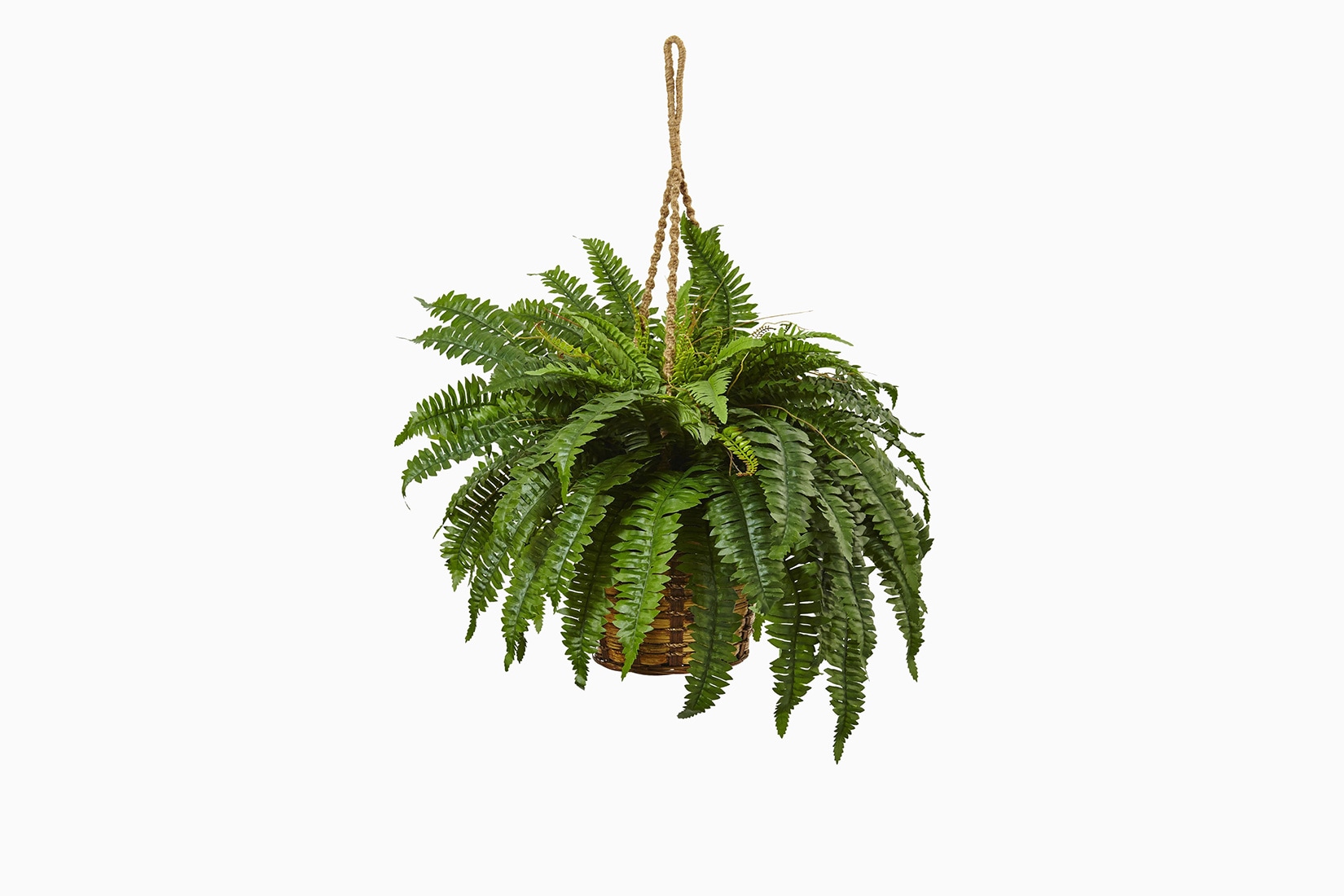 It may be one of the more expensive houseplants on our list but the Boston Fern merits its higher price-tag. For one thing, ferns are bang on-trend, emerging as a popular modern decor choice with their soft silhouette, elegant fronds, and tiny leaves. The fact you can hang them from your ceiling in a hanging basket makes them a versatile addition to a room scheme.
The Boston Fern is an easy-care houseplant that will survive a certain amount of neglect. Choose a corner away from the window that gets sunlight during the day, and spritz once or twice a week with a hand-held spray. To really allow your fern to thrive, why not hang it in the bathroom?
Best plant for: those happy to spend a bit more on spectacular greenery.
Mexican Hat Plant: Best value houseplant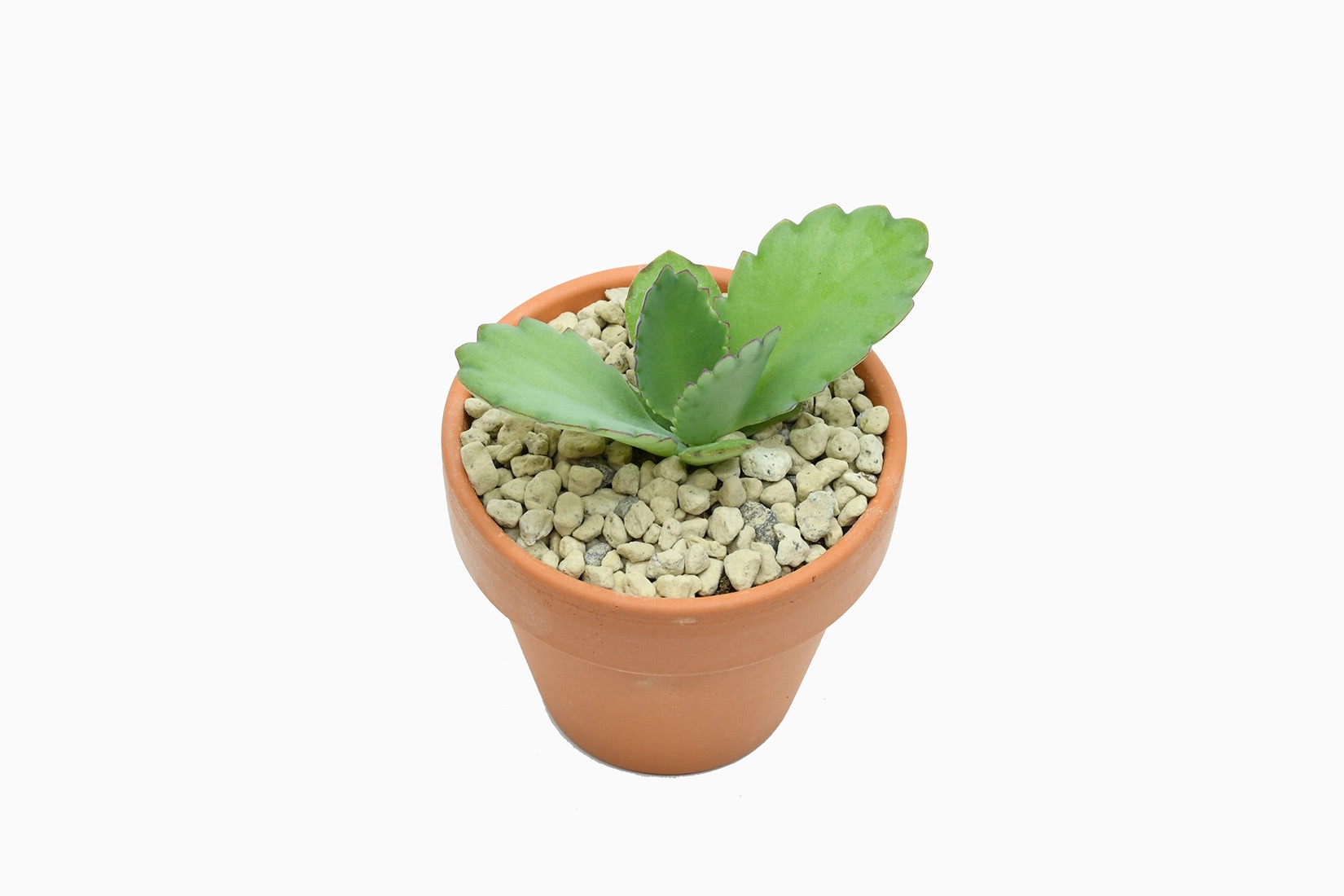 The Mexican Hat Plant, actually native to Madagascar, is also referred to as the Alligator Plant or the Devil's Backbone. All three names make sense when you get a good look at this unique potted succulent.
With the Mexican Hat Plant, the real stars of the show are the plantlets. These tiny babies appear on the tips of the blue-green leaves of the mother and are the reason behind yet another alternative name for this plant—mother of thousands. These little plantlets will take root wherever they fall and so means this plant spreads fast if not grown in a container.
The Mexican Hat Plant requires sandy soil with good drainage. Adding pumice rock can help with aeration. Place in a spot with bright but indirect sunlight. An east-facing window is best.
Thanks to its cheap price-tag—and the fact that you get thousands of additional Mexican Hat Plants for the price of one—this is the best value houseplant on our list. Stick it on your desk in your home office and enjoy some visual relief in between screen time.
Best plant for: those seeking a hard-wearing house-plant that's also budget-friendly
Majesty Palm: Easiest indoor plant to care for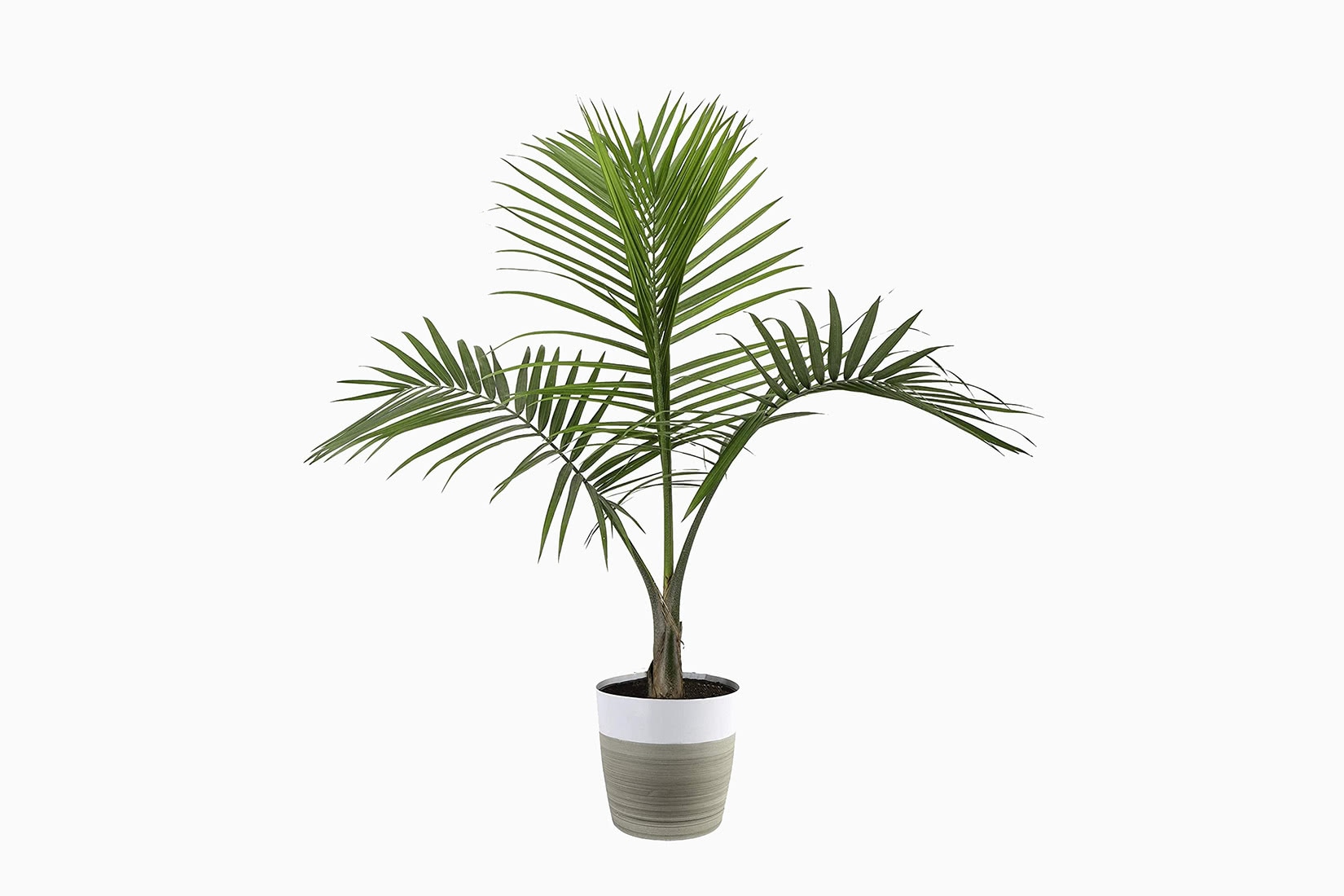 Add a little bit of tropical paradise to your living room by placing a miniature palm tree next to your flat-screen TV. With its lush green foliage and classic palm-tree silhouette, the Majesty Palm would also make for a striking addition to a hallway or kitchen. We can feel the sea breeze on our skin just by looking at it.
The Majesty Palm is one of the most robust houseplants on our list. Temperature-wise, it likes the same climate as you, which makes it simple. Beyond that, simply find a corner with bright but indirect sunlight and water once or twice a week. If the tips go brown, you're not watering enough.
With its iconic feathery fronds, this houseplant can add some quirky and unconventional beauty to your interior. It's the perfect living sculpture. And the fact that it's one of the easiest houseplants to look after is just another bonus.
If you can't escape into nature right this moment, why not make your home a natural escape?
Best plant for: a low-maintenance indoor plant that's resilient and long-lasting.
Baltic English Ivy: Best indoor plant for clean air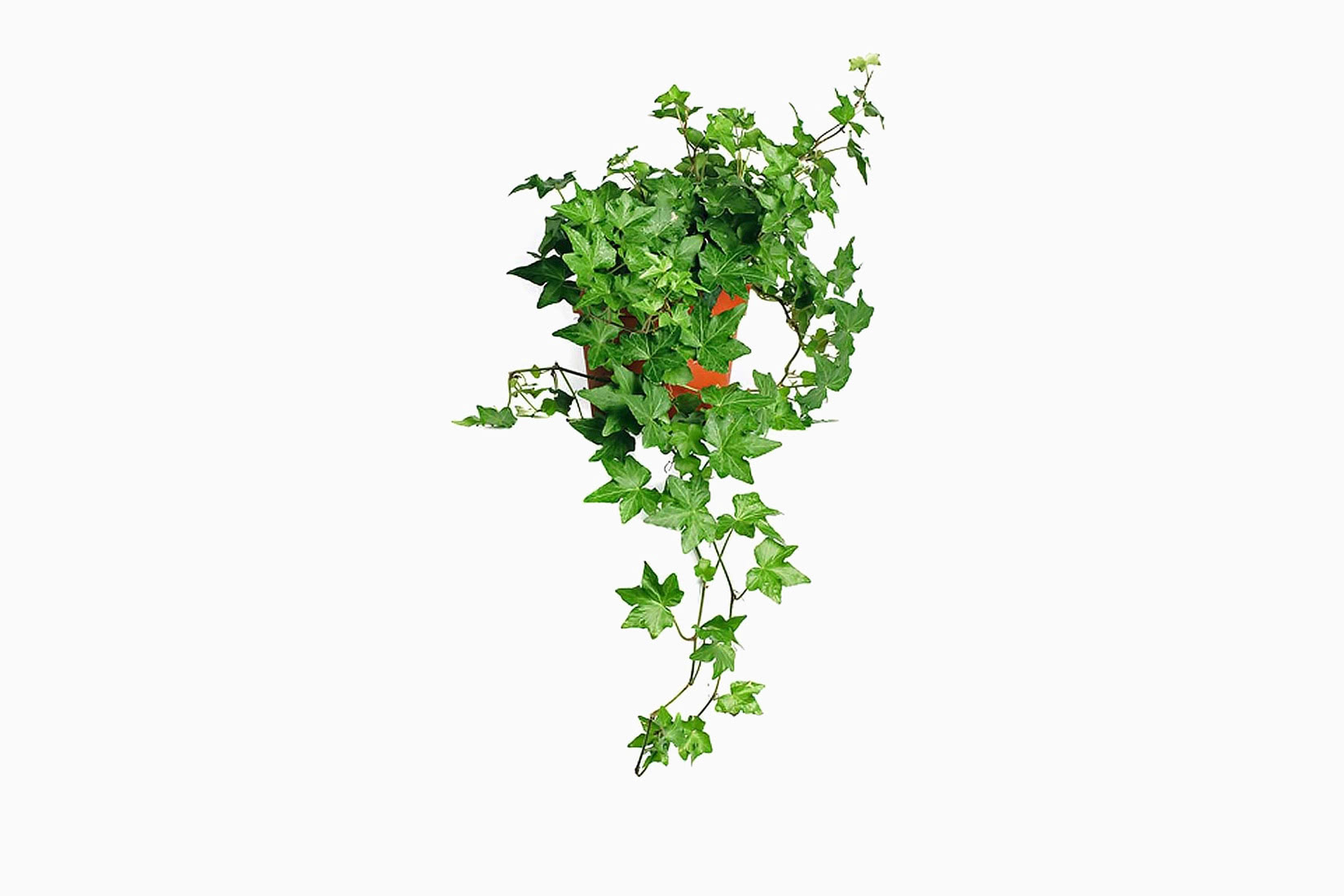 With its glossy green leaves, Ivy is one of the most romantic and mysterious of all green houseplants. It has long been a symbol for love and friendship due to its rather clingy nature, attaching itself obstinately to walls and trees.
English Ivy is also a great air purifier, capable of reducing airborne toxins and even fighting mould levels in the home. This makes it a great addition to your household if you're looking to improve air quality.
English Ivy is fast-growing and simple to care for. You want to keep the soil quite dry and Ivy will get sickly and lanky if it doesn't get enough light. Opt for indirect sunlight in a cool corner.
This evergreen houseplant is a great choice for those who live in chillier climates. A hardy plant that can easily survive the cold, it isn't called Baltic English Ivy for nothing.
Fun fact: the Romans believed ivy stopped you from getting drunk—hence why it was worn by Bacchus, god of intoxication. But we don't recommend testing this theory at home.
Philodendron Hanging Basket: Best artificial plant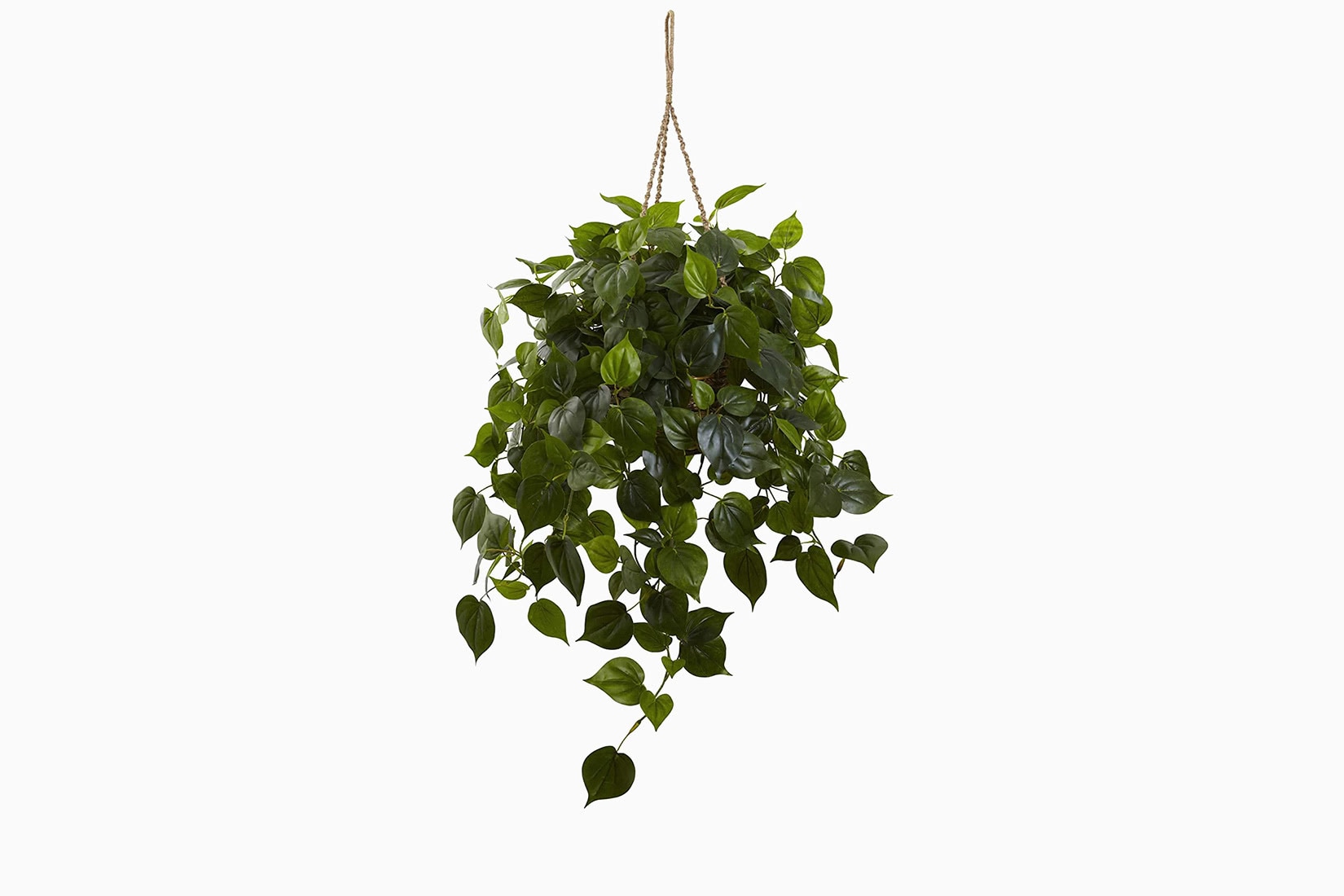 Let's face it. Even the most low-maintenance houseplants require a bit of care and attention. For those with busy lives, keeping an eye on a plant and trying to work out what it might be lacking is just an added chore.
So why not opt for a highly realistic artificial houseplant? This Philodendron hanging basket is the perfect choice for time-pressed individuals who want to add a bit of greenery to their home—but can't be bothered with ailing houseplants.
The bonuses of artificial houseplants are multiple. You get beautiful green leaves year-round. You never need to water them. They are resistant to bugs and pests. You can position them anywhere in the house without worrying about light levels and humidity. You can even put them in rooms without windows.
Best plant for: busy people seeking a zero-maintenance plant resembling the real deal.
Peace Lily: Best indoor plant for low light environments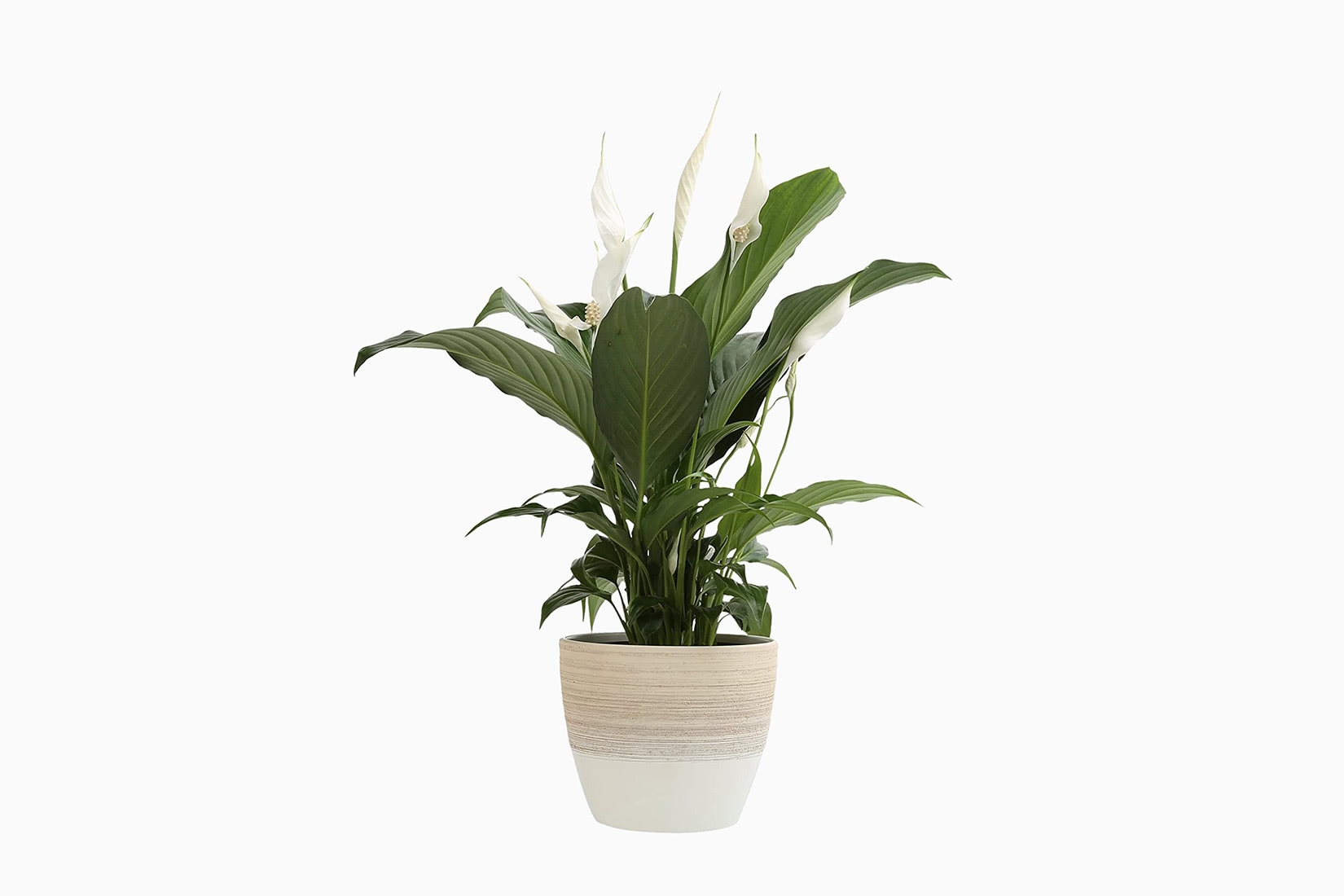 If you're seeking a houseplant that's a little more floral, then it's worth checking out the beautiful blooms of the graceful Peace Lily. This popular houseplant is a winner if you're looking for something to brighten up your interior, with its ornate white flower.
This is also one of the best indoor plants for cleaning the air. NASA studies have shown that peace lilies effectively remove formaldehyde, benzene, and carbon monoxide through their leaves—making peace lilies a great choice for those wanting to create a healthier home.
It's also super easy to care for a Peace Lily. Simply ensure that it's positioned in a spot that receives medium to low light. Unlike many potted plants, peace lilies are actually partial to shade. Yellow leaves are a sign of too much sun.
Beyond that, just avoid overwatering. When the soil feels dry to the touch, then you can do so, but if it's at all damp, keep the watering-can well away.
With a Peace Lily, you also get double bang for your buck, as they often bloom twice a year. Positioned on your desk or on the floor, they can work wonders in transforming a space.
Best plant for: creating a calming atmosphere.
Aloe Vera: Best indoor plant for health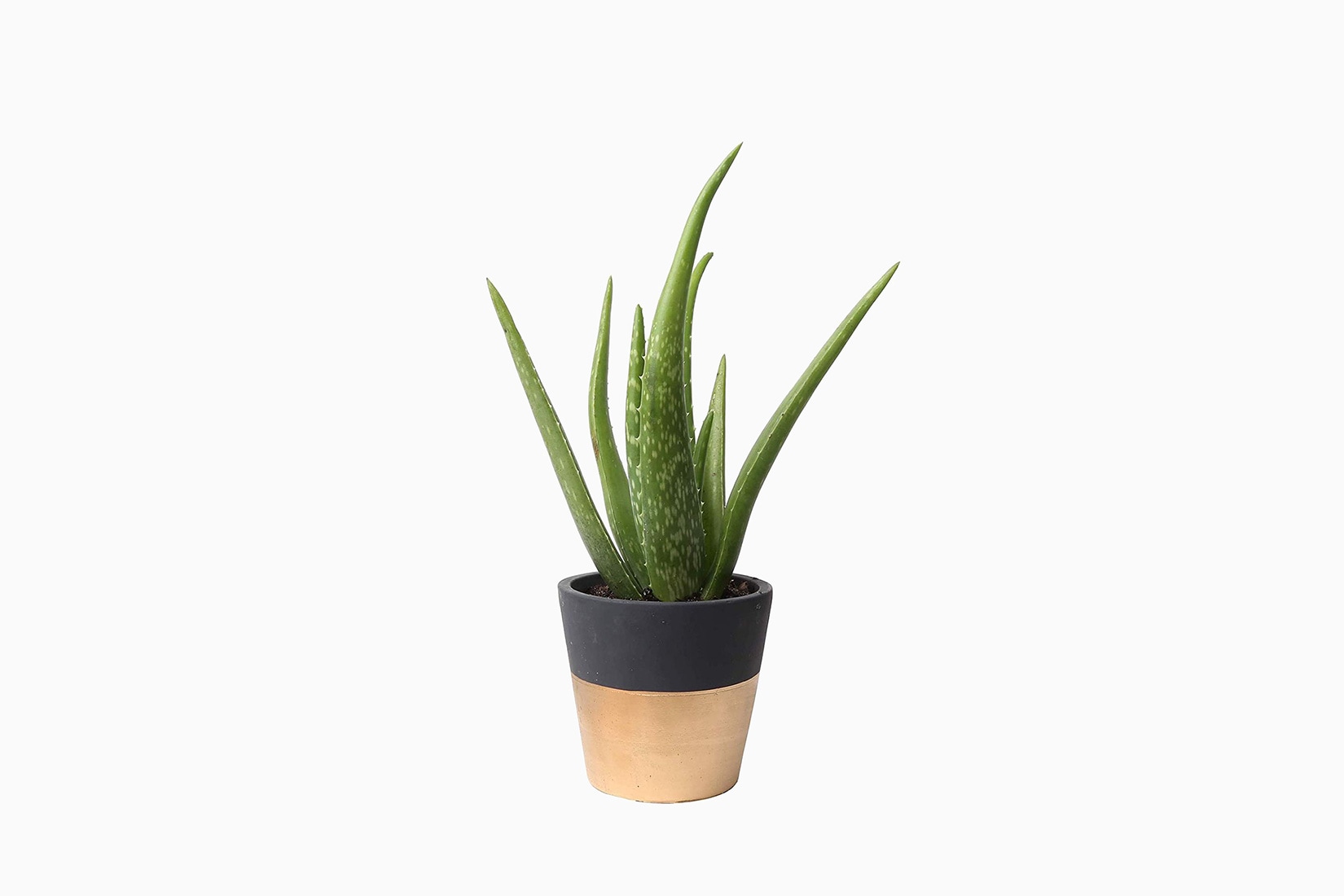 Even if you're not an avid gardener, you've probably heard of Aloe Vera.
With its antibacterial, antiseptic, and antiviral properties, Aloe Vera has been used medicinally and cosmetically since ancient times. Today, you'll find it in everything from dishwashing liquid to laxatives and even in yoghurt. So if you're looking for a houseplant with health-giving properties, there's no better choice than Aloe Vera.
As a decorative addition to your house, maybe next to the coffee maker in the kitchen, Aloe Vera is a great choice and can immediately lend a tropical vibe to your interior.
In terms of care, find a spot with indirect sunlight. South and west-facing windows are a good choice. Water every three weeks or so and ensure the soil is dry before watering again.
And next time you burn yourself cooking, simply cut a leaf of Aloe Vera and apply the juice to your skin. Sorted.
Best plant for: a houseplant that doubles up as a pharmacy.
Air plants: Most popular indoor plant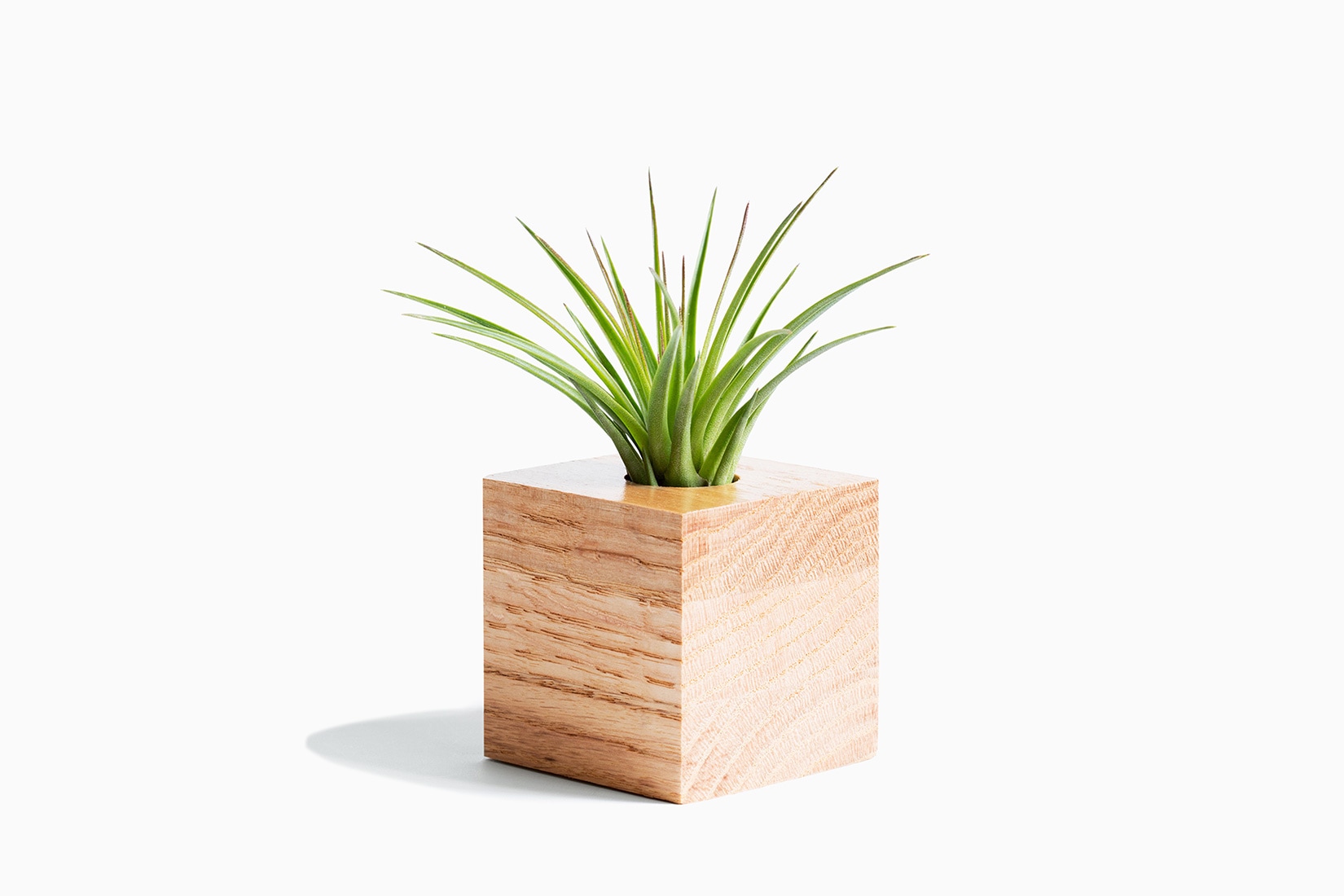 In the last few years, air plants have been popping up all over social media and are a millennial houseplant favourite. It's not hard to see the appeal. This fun and funky flora is great if you're seeking a low-maintenance but eye-catching piece of greenery for your interior.
A good option if you live in a small apartment as they take up very little space, air plants are unusual due to their lack of roots. Instead, they take their nutrients straight from the air, and, as a result, don't require soil, surviving and thriving almost anywhere.
Channel a bohemian 70s vibe by growing them in pieces of coral or on driftwood, especially in the bathroom where they'll love the steam and humidity. In terms of care, they require a moderate amount of light and watering just once a week.
Air plants come in over 500 varieties so you'll want to do some research and choose your favourites. The Tillandsia ionantha is one of the most popular. The Tillandsia ionantha 'druid' turns a peachy-pink colour. Or there's the The Tillandsia maxima coral-red with purple flowers.
Best plant for: a popular houseplant that can grow anywhere.
Ocean Spider Plant: Best small indoor plant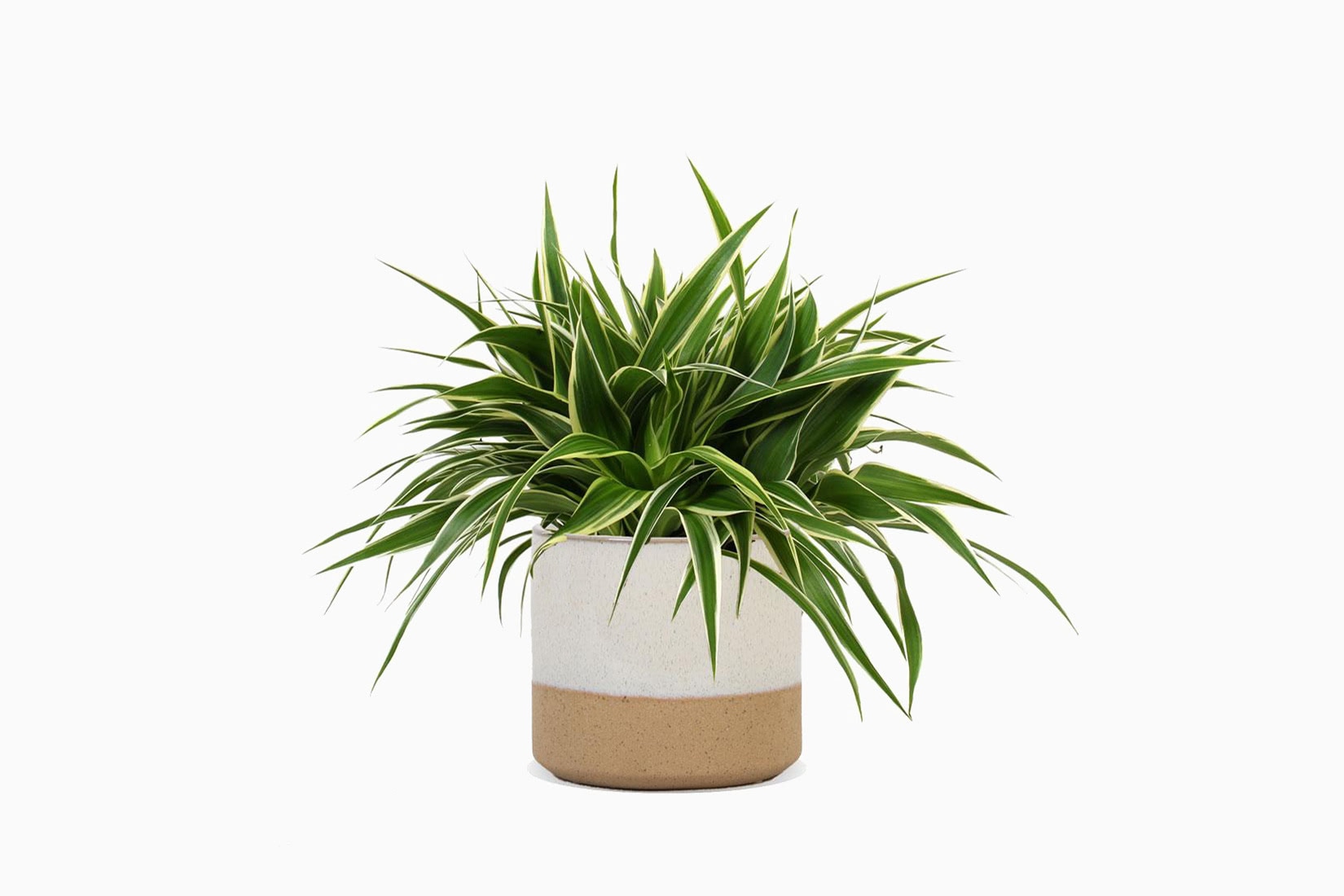 This Ocean Spider plant—or chlorophytum comosum Ocean if you want to impress people—is a cute and compact variety of the popular Spider Plant, a classic and much-loved houseplant thanks to its adaptability, durability, and the fact it looks great in hanging baskets.
The Ocean Spider Plant has bright green leaves with cream margins. During the summer, it produces little white flowers as well as offshoots on the tips. These 'baby spiders' are also known as pups or spiderettes.
Press these plantlets down into the soil next to the mother plant where they will self-root and form another plant—the perfect birthday gift for friends.
Choose a bright spot for your spider plant. Shade will slow its growth and it might lose those distinct striped marks. Water regularly as long as the soil doesn't become soggy.
Fast-growing, the Ocean Spider Plant can reach up to 30cm. They're hard to kill, making them a great choice for total gardening novices and one of the best low-maintenance houseplants on this list.
Best plant for: a small indoor plant for compact apartments and studios.
Queen of the Night White Orchid: Best indoor plant for Instagram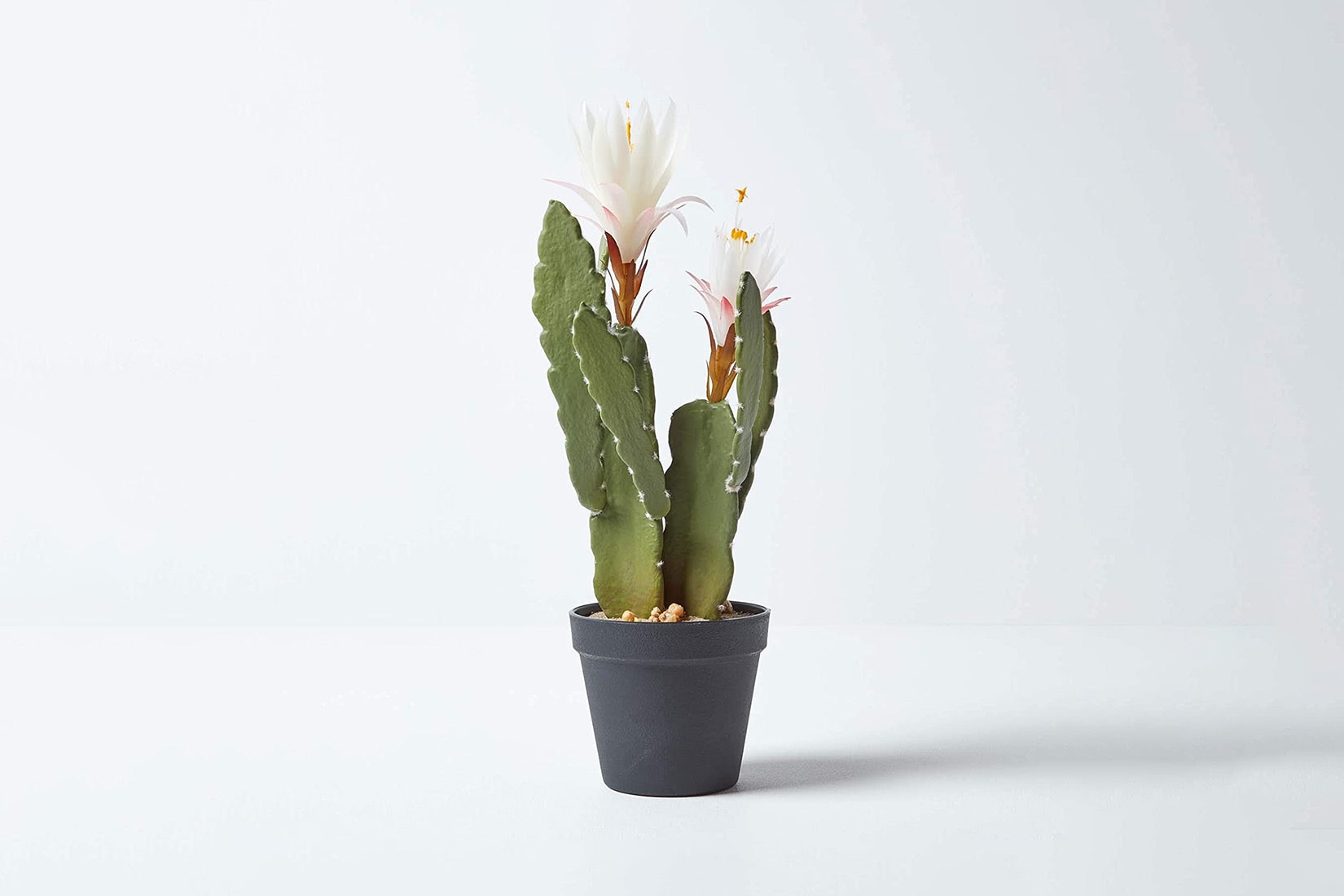 Can you imagine a more glamorous, and dramatic houseplant than one that goes by the name Queen of the Night? This white orchid cactus is easily the most attractive and photogenic houseplant on this list.
Shaped like a water lily, and also known as Night Blooming Cereus, the stunning blooms of this plant open in the late evening rather than during the day.
Come sunset, the plant opens up to release a gorgeously sweet fragrance all through the night, closing up again at sunrise. It's very romantic—and perfect if you're looking for an alternative to scented candles for your dinner or at-home happy hour party.
In fact, the spectacle is so otherworldly that, in some places, people hold parties with the express purpose of watching and experiencing the display.
You'd think a plant of this level of majesty and grace would be difficult to care for, but you're in luck. The Queen of the Night is a low-maintenance houseplant—even easier to care for than your average orchid—and will grow happily indoors throughout the year.
Best plant for: racking up likes on Instagram.
How to care for your indoor plants: 5 tips for easy maintenance
When it comes to caring for your houseplants, maintenance is fairly straightforward. In fact, most houseplant problems occur when people are over-zealous in their care, overwatering plants that should be left to dry out completely.
Most indoor houseplants only require feeding when they are actually growing—usually between March and September. The majority of houseplants shouldn't be in direct sunlight as this can burn the leaves. During the winter months, when there is less sun, you can move them closer to the window.
A daily mist with a hand-held spray is the best way to maintain humidity. Another tip is to group plants together to create a microclimate with the humidity necessary for good plant health. Finally, dust on the leaves can stop plants growing properly, so make an effort to clean them from time to time.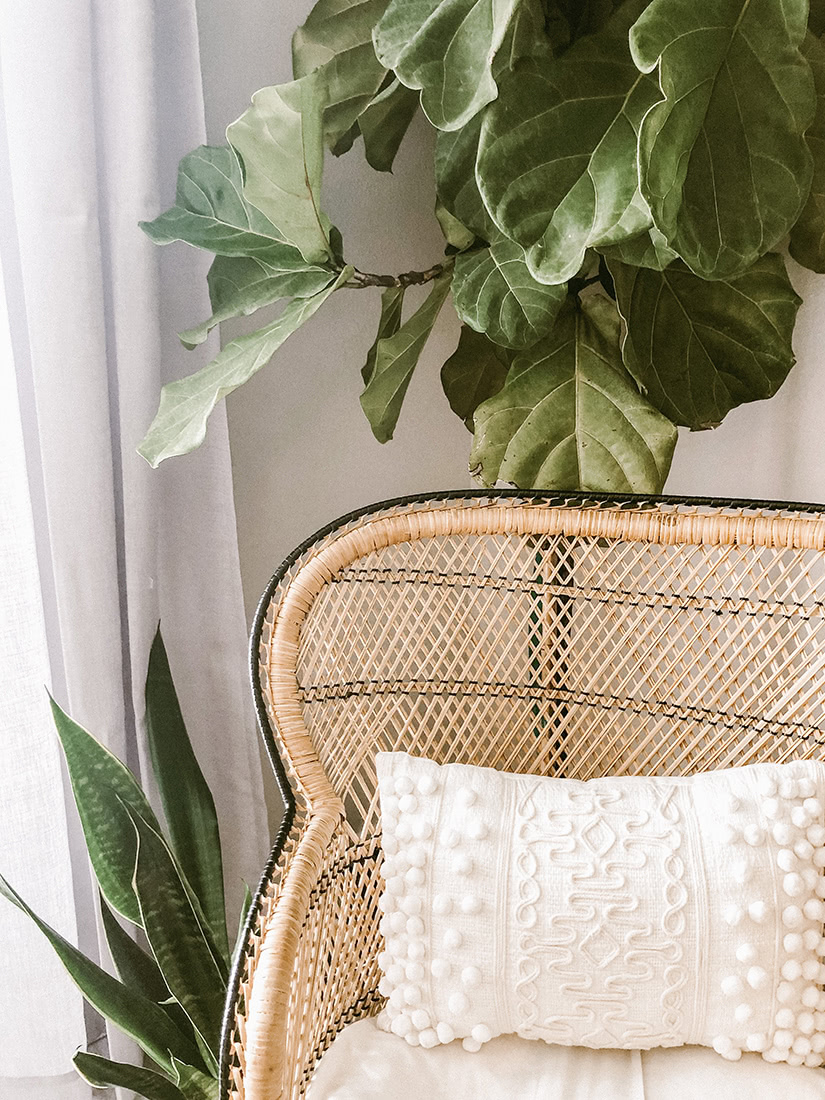 Beyond this, caring and maintaining your indoor plants will depend on the type of plant it is:
Succulents like Aloe Vera need around six hours of light per day. However, they should be kept out of direct sunlight. Having them on the window sill means they could get sunburned, or too cold during the winter months. Rotate the plant frequently to ensure even growth. Keep the soil damp but not soaking. They will also require less watering during the winter.
Cacti demand very little care. All you need to be cautious of is overwatering or over-feeding. Make sure they get lots of sun and that the soil is gritty with lots of space for draining.
Ferns need bright light but should be kept out of the midday sun. Mist regularly if your house is warm and dry. In rooms below 10 degrees, ferns will start to suffer.
Spider Plants enjoy cool corners away from direct sunlight. They will require less watering during the winter but you can mist the leaves to keep them clean.
Peace Lilies require only a little light to flower. In their natural environment on the forest floor, they get dappled sunlight, so if you can replicate something similar in your own home, that would be perfect. These plants often suffer from overwatering, so make sure only to do so when the compost is completely dry. They can also be sensitive to chemicals like fluoride so you might want to consider using filtered water instead.
Snake Plants should be kept out of direct sunlight and watered every 4 to 8 weeks, depending on the environment in your house. Again, ensure the soil is almost totally dry before watering again. Snake Plants are pretty good at tolerating low light—especially the darker leafed varieties.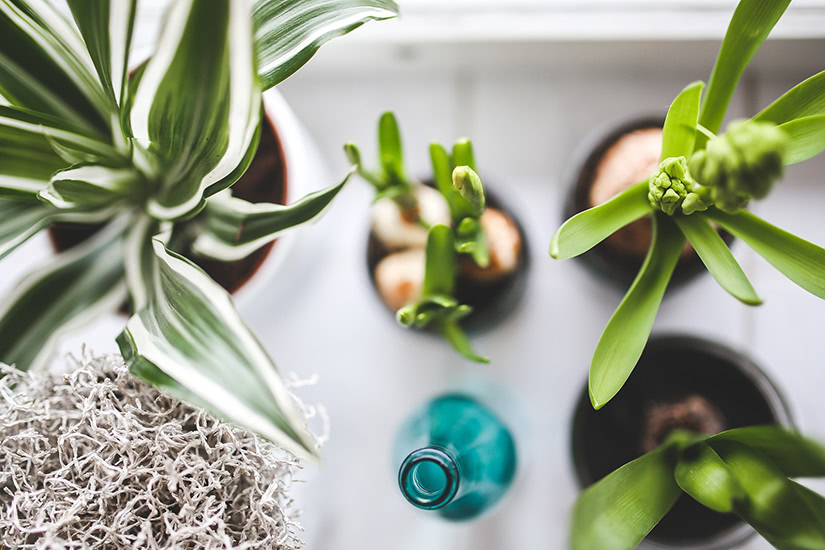 Frequently asked questions about indoor plants