Go on, get out there and tear it up a little, ATV-style. ATVs are mud-stomping fun at its best. And they're also great utility vehicles, letting you haul gear across rugged landscapes where your fast cars or luxury SUVs simply can't go.
If you're just getting into the ATV game, it's perfectly normal to have a mountain of questions. What is the best starter ATV for adults? How about the best ATV under $5,000? If you're willing to spend more, what is the best 4×4 ATV for the money?
Today we're going to take a look at 11 of the best that the ATV world has to offer adults. We'll take into account both the beginners and the motorheads amongst you. From fun to functional ATVs that can haul travel trailers, we'll sift through them all.
And let's not forget about looks. Just because you're going to cover it in mud, it doesn't mean you can' have yourself a good-looking bit of four-wheeler muscle roaring around underneath you. Strap on your helmets boys and girls, this ride is about to get bumpy.
11 best ATVs for adults
Polaris Sportsman 450 H.O.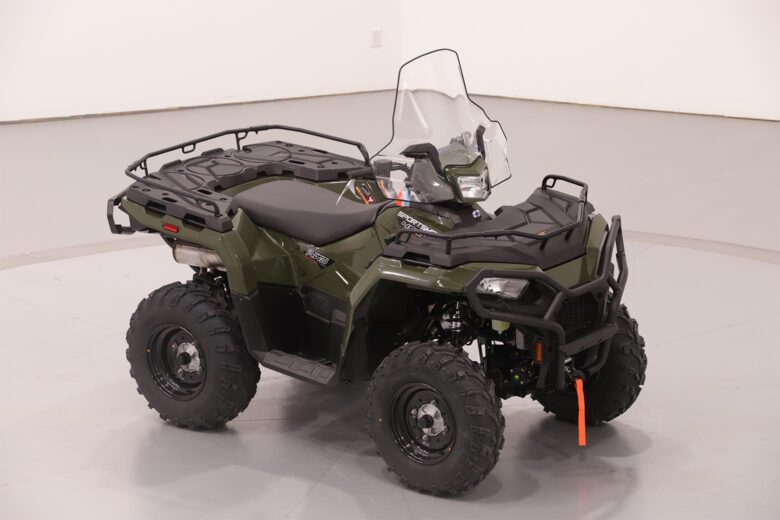 Utility and durability are the first words that come to mind with Polaris' Sportsman 450 H.O.  Able to hump around 270 lb on its rack, and tow 1,350 lb, this guy is a beast of a utility machine. The 25" tires boast 6-ply construction, making it tough for Mother Nature to puncture your wheels. And the boosted ground clearance and sealed suspension bushings mean it's highly unlikely you're going to get snagged up, making this one of the best-handling utility ATVs around. 
Best for: Finishing up without breaking down. 
| | |
| --- | --- |
| Engine Capacity: | 500.00 ccm (30.51 cubic inches) |
| Seats: | 1 |
| Top Speed: | 55/58 mph/ 90km/h |
| Colors: | Sage Green, Zenith Blue |
Yamaha Raptor 700R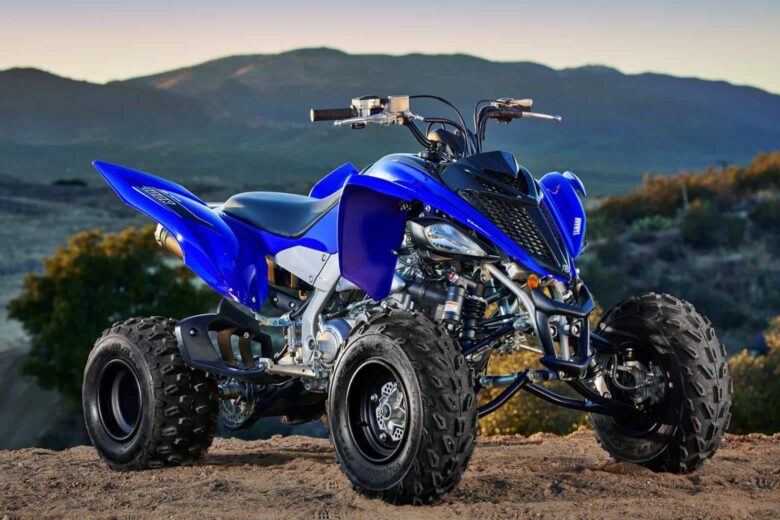 Now here's a sporty little number designed to take you further into the great unknown. Yamaha's Raptor 700R is one of the best sport quads in the game, showing how it's done with its 686cc liquid-cooled SOHC 4-stroke engine. And while yes, it looks sleek and can take off like a mad hornet, it also features ergonomic seating which can be a real blessing after hours on rough outback trails.
Best for: Flicking through the forest in a flash. 
| | |
| --- | --- |
| Engine Capacity: | 686 cc |
| Seats: | 1 |
| Top Speed: | 75 to 85 mph/120km/h to 135km/h |
| Colors: | Yamaha Black/Yellow, White/Team Yamaha Blue  |
Kawasaki Brute Force 300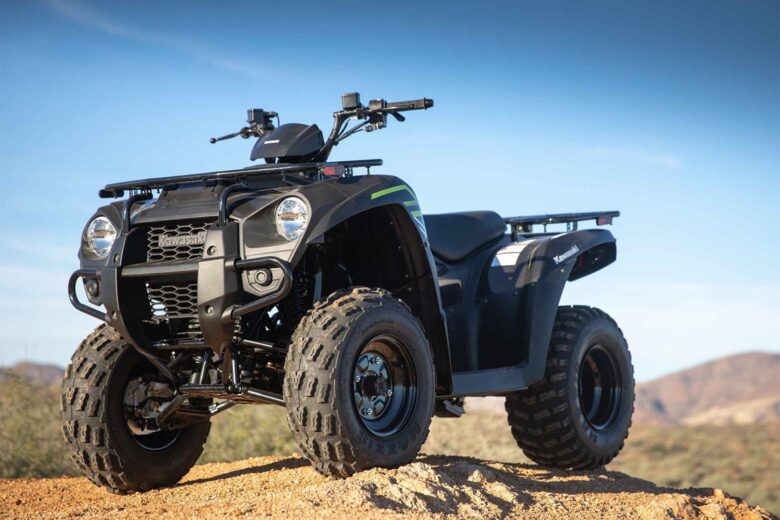 It's called the Brute Force, so you know this budget ATV has got some get-up-and-go. The nimble body is wrapped around a mid-size 271cc engine, which gives you plenty of muscle to get chores done around your property, or get you out into the wild for some fresh air. Considering just how affordable Kawasaki's Brute Force is, it's one of the best sport utility ATVs you're going to find on the market today.
Best for: Adding plenty of muscle for minimal amounts of money. 
| | |
| --- | --- |
| Engine Capacity: | 271 cc |
| Seats: | 1 |
| Top Speed: | 48 mph/77km/h |
| Colors: | Super Black, Bright White  |
Can-Am Outlander X MR 850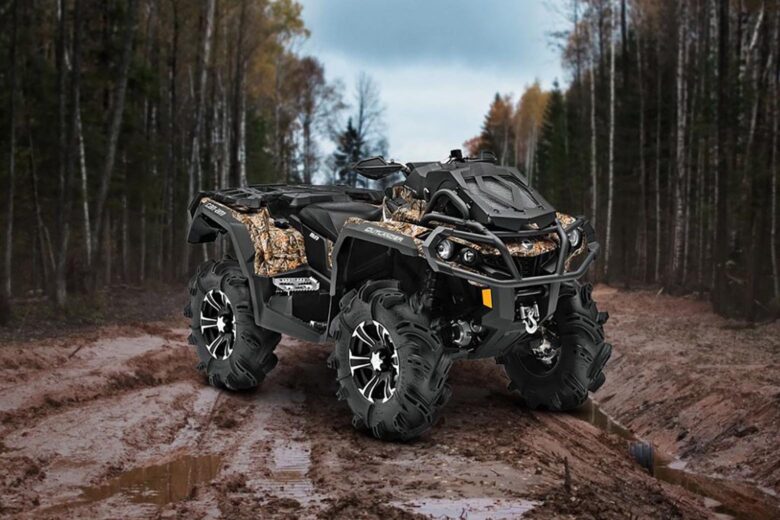 Canadian company Can-Am builds a whole whack of ATVs—one for seemingly every occasion. We're especially enamored with the Outlander X MR 850, which is built with mudding in mind. A 78 hp Rotax 850 V-twin engine is put under your command, with a snorkel to keep the mud out of your works. Sure, it's not as pretty as some of the other models on our list, but once it's covered in muck, are you really going to care?
Best for: Mastering the muddiest terrain. 
| | |
| --- | --- |
| Engine Capacity: | 854 cc |
| Seats: | 1 |
| Top Speed: | 78 mph/125km/h |
| Colors: | Brown  |
Honda Rancher 4×4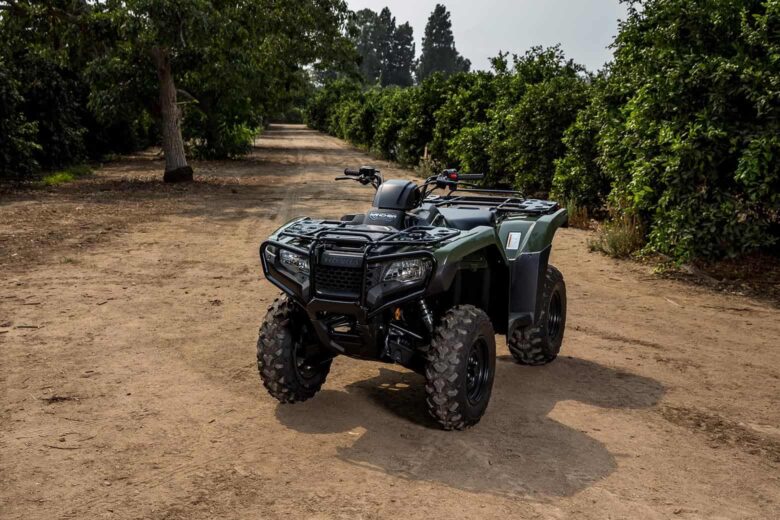 The Honda Rancher 4×4 is one of this generation's leaders in the world of Electric Shift Programs (ESP), allowing drivers to skip trying to change gears with mud-heavy boots, opting instead for doing all the work with the click of an up-shift or down-shift button. That, plus the very easy price, makes this a better choice for those who are making their first venture into the world of adult ATV riding.
Best for: Making rough riding a little less rough. 
| | |
| --- | --- |
| Engine Capacity: | 420 cc |
| Seats: | 1 |
| Top Speed: | 55mph/88km/h |
| Colors: | Olive, Red, Reactor Blue + More  |
Razor Dirt Quad 500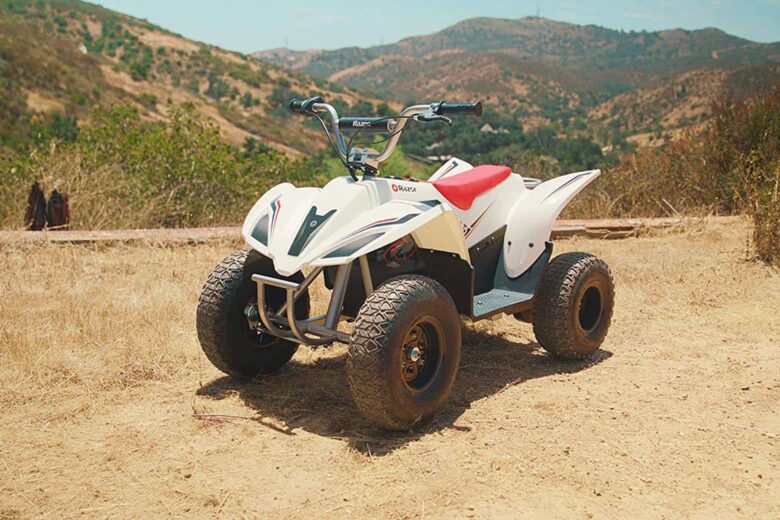 The Razor Dirt Quad 500 joins luxury electric cars and marvelous electric motorcycles in embracing the electric engine. This entry from manufacturer Razor is a perfect transition ATV for teens who are making the move up to solo ATV rides. The speedometer maxes out at a safe 9 mph, and the engine's battery holds about 70 minutes of continuous use. If you're taking your first hesitant step into the ATV world (and you weigh less than the recommended 220 lbs), you might want to consider giving this quad a whirl.
Best for: Easing into the ATV life. 
| | |
| --- | --- |
| Engine Capacity: | N/A |
| Seats: | 1 |
| Top Speed: | 9 mph/14km/h |
| Colors: | White  |
Polaris Ranger 500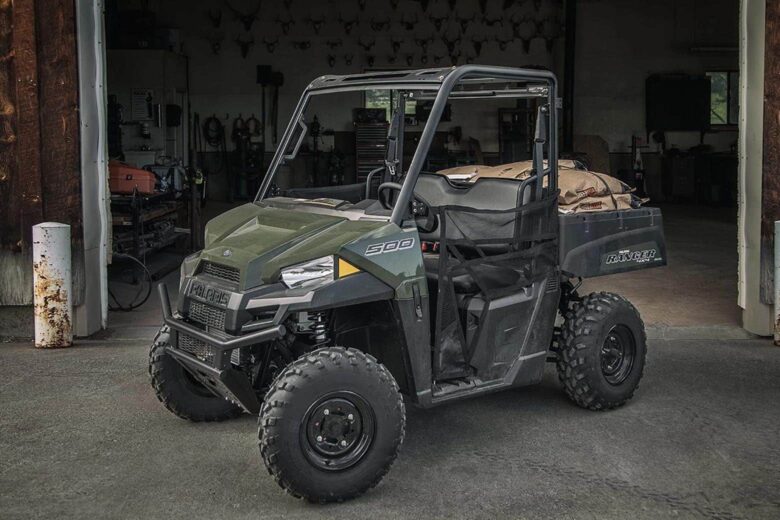 Make way for your new four-wheel workhorse. The Polaris Ranger 500 is built from the ground up around a get 'er done attitude. The 32 HP 500 cc ProStar engine and quick-to-action all-wheel-drive give you carrying power to the whopping tune of 500 lb in the cargo box and 1,500 lb in towing capacity. And since it's a two-seater, you won't be forced to buy another rig if you don't want to tackle tough jobs alone.
Best for: Powering through your property problems. 
| | |
| --- | --- |
| Engine Capacity: | 500 cc |
| Seats: | 2 |
| Top Speed: | 44 mph/70km/h |
| Colors: | Sagebrush Green, Solar Red  |
X-PRO 200 ATV Quad 4 Wheelers Utility ATV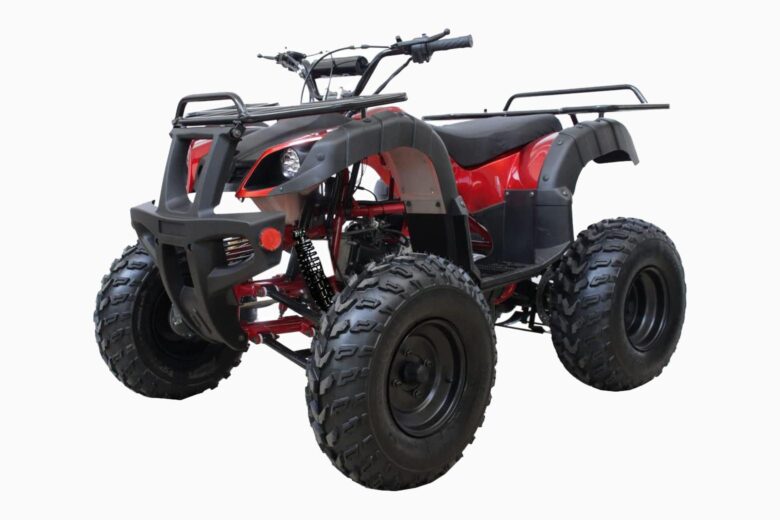 This is one for the DIY-ers amongst us. X-PRO's 200 Utility ATV arrives as a package and requires you to put it together, giving burgeoning mechanics a chance to up their skill level, and making for a good bonding experience between experienced and new riders as they put one of these ATVs together. Set at an astonishingly low price, this ATV will get you into the great outdoors while keeping your financial conscience clear.
Best for: Entering the hobby at a welcoming price. 
| | |
| --- | --- |
| Engine Capacity: | 200 cc |
| Seats: | 1 |
| Top Speed: | 38 mph/61km/h |
| Colors: | Burgundy, Black  |
Eco Charger Pioneer 4WD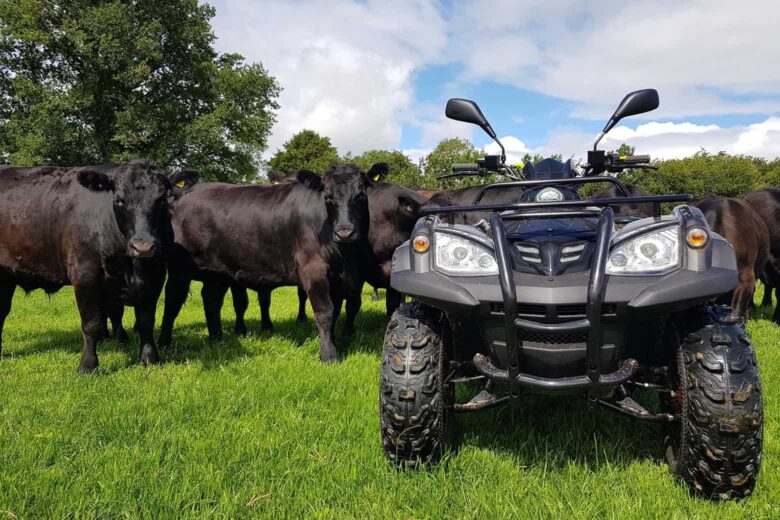 Electric ATVs have come to play with the big boys. The Pioneer 4WD Quad, boasts approximately 25 miles of continuous usage, depending on how much you're hauling and what the terrain is like. The quad is full of go-power, and doesn't waste a volt—as soon as you take your thumb off of the accelerator, the quad flips its motor into regeneration mode, which puts more juice back into your batteries. 
Best for: Fossil-fuel-free fun.  
| | |
| --- | --- |
| Engine Capacity: | N/A |
| Seats: | 1 |
| Top Speed: | 35mph/56km/h |
| Colors: | Black, Green, White  |
Honda TRX250X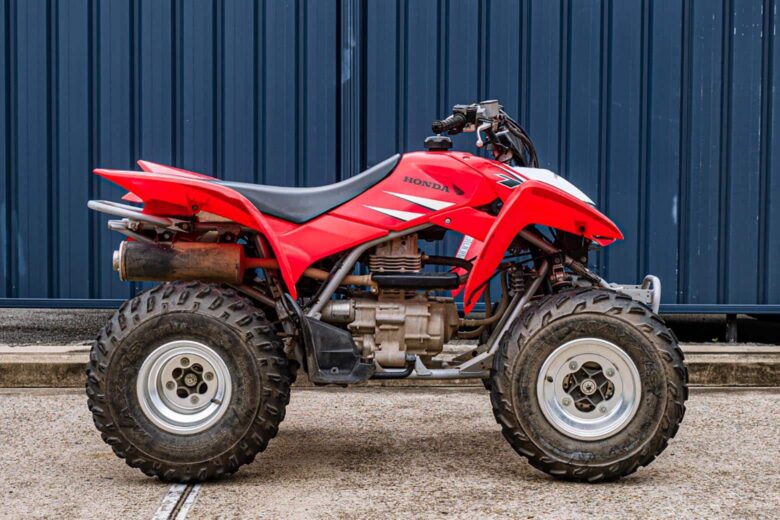 Rocket yourself out to some rough terrain on Honda's TRX250X. This ride is an easy entry into the ATV hobby, and would look just fine sitting next to your favorite 3-wheel motorcycle in your garage. Honda's exclusive SportClutch is forgiving to new ATV-ers, which cuts out stalls caused by mistimed clutching. This one's not a utility vehicle, but it's the perfect ride if you just want to get out into the open air without throwing down a lot of cash.
Best for: All-out free-wheelin' fun! 
| | |
| --- | --- |
| Engine Capacity: | 229 cc |
| Seats: | 1 |
| Top Speed: | 50MPH/80km/h |
| Colors: | Black, Reactor Blue, Magenta  |
Yamaha Grizzly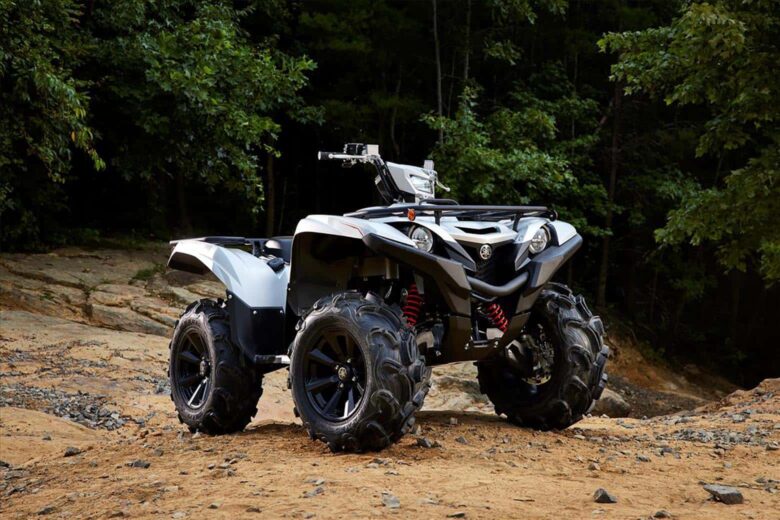 Yamaha's Grizzly puts a lot of power in the hands of the driver. And we're not just talking about the kind of power delivered by its 686cc engine. The Yamaha On-Command system lets you choose between 2WD, fully locked differential 4WD, and limited-slip 4WD, allowing you to adapt to the terrain better than other computer-controlled drive programs on the market. And the EPS (Electronic Power Steering) gives you a fine feel for the trail under you, letting you steer the ATV instead of the terrain steering you.
Best for: Cutting a new path with absolute confidence. 
| | |
| --- | --- |
| Engine Capacity: | 686 cc |
| Seats: | 1 |
| Top Speed: | 64 mph/103km/h |
| Colors: | Armor Grey/Yellow  |
Frequently asked questions about ATVs for adults