Back-to-school shopping is officially over. It's now time for luxury brands to seriously think about the much-anticipated end of the year holidays season!
It may still be a couple of months until Christmas, but luxury retailers need to carefully plan ahead if they want to appeal to the early affluent shoppers, which are expected to begin holiday purchases as soon as October. Many luxury shoppers prefer indeed to get a head start on their gift list.
Multi-touch, omnichannel shopping has become the norm and luxury shoppers are increasingly making purchases online. The modern affluent consumer is always connected, and retailers need to understand where luxury consumers do their research, browse for ideas, and ultimately make their purchases.
Let's take a look at the evolving consumer demands and expectations to help you maximise your holidays' sales. Based on the luxury trends and digital behaviours that we've observed through the year, the Luxe Digital team is predicting some of the trends that will most impact the way luxury shoppers buy this coming holiday shopping season.
Here are the three biggest trends in digital shopping that luxury retailers need to know to successfully reach their full potential during this 2019 holiday season.
1. It's a mobile-first world: for the first time, more shoppers will do their holiday shopping on mobile than on desktop in 2019
Luxury holiday shoppers are increasingly using their mobile phone as the shopping gateway of choice.
When shopping online, consumers seek convenience, cost-effective delivery and a quick and easy purchase process. Luxury consumers, however, also expect a superior, personalised, and frictionless omnichannel experience that both facilitates online sales and encourages boutique visits. Think click & collect and in-store reservations features, for example.
Mobile commerce continues to grow and, for the first time this holiday season, mobile devices are expected to make up the majority of both shopping traffic and orders. A recent report by Salesforce predicts that more orders will occur on mobile than on desktop (46% vs 44%).[1] Additionally, 68 percent of all the traffic for the holiday shopping season will come from smartphones, up 19 percentage points from 2017.
Considering that 98 percent of all luxury shoppers have smartphones and that 55 percent of luxury consumers buying online use their mobile phones versus personal computers[2], the mobile trend is most certainly worth taking seriously.
Set to become the new channel for luxury shopping, mobile commerce is gaining momentum as Millennials and younger generations are accustomed to purchasing online.
McKinsey & Company indicated earlier this year that nearly 80 percent of luxury sales were "digitally influenced".
Note that many shoppers, especially the younger affluent Millennials and Gen Z consumers tend to use their mobile phone inside a retail store to seek guidance and input, compare prices, check item availability, and read customer reviews. We will thus see more retailers leveraging in-store mobile engagement through push notifications and SMS messaging.
Retailers, including luxury retailers, will need to plan for mobile dominating the shopper experience by optimising their site with a number of mobile-friendly touchpoints — from marketing engagement to ease of checkout. Retailers will also need to anticipate and inspire discoveries via location and activity data.
Quick wins:
Luxury retailers with better mobile-friendly websites and easier mobile payment integration will benefit the most. So be sure to optimise the user experience on mobile.
Make sure to check your website's loading time. A website with a laggy load time is an invitation to the visitor to click away before purchasing.
Black Friday and Cyber Week peaks: be ready to cope with traffic surges during these top digital shopping days
The Cyber Week phenomenon has become a worldwide event and is expected to be the biggest shopping week of the holiday season, accounting for 40 percent of all holiday shopping (21% growth from 2017).
For global shoppers, Black Friday (which will fall earlier than usual this year on November 23) will again be the number one digital holiday shopping day, followed by Cyber Monday.
This consolidation of holiday shopping means that retailers must be technically ready to cope with significant traffic spikes over a short period of time. E-commerce platforms such as Shopify can help if you're getting started.
But retailers also need to be ready with compelling and relevant content, up-to-date FAQs and product pages, reviews and customer service features — from inspiring gift guides to customer agents (or bots). Affluent consumers will search products and check prices in the weeks leading up to Thanksgiving. So make sure the information they need to form their purchase decisions is available.
2. Instagram emerges as a key driver of brand awareness and online traffic
The impact of social media on luxury shoppers' buying decision continues to grow. As affluent shoppers will increasingly turn to their smartphones for inspiration this holiday season, social media is expected to play an important role in customers' journey.
Research from Salesforce indicates indeed that social media will drive 5 percent of all online retail shopping traffic during the holiday season — up 17 percentage points from last year.
Instagram emerges as the single most important social channel for luxury brands, with its referral traffic to retail sites expected to climb 51 percent year over year. This is unsurprising considering the 1 billion monthly active users of the platform.
Instagram recently rolled out Shopping in Stories, allowing businesses from 46 countries to add product stickers to Stories. Users can click on those stickers to view and purchase products.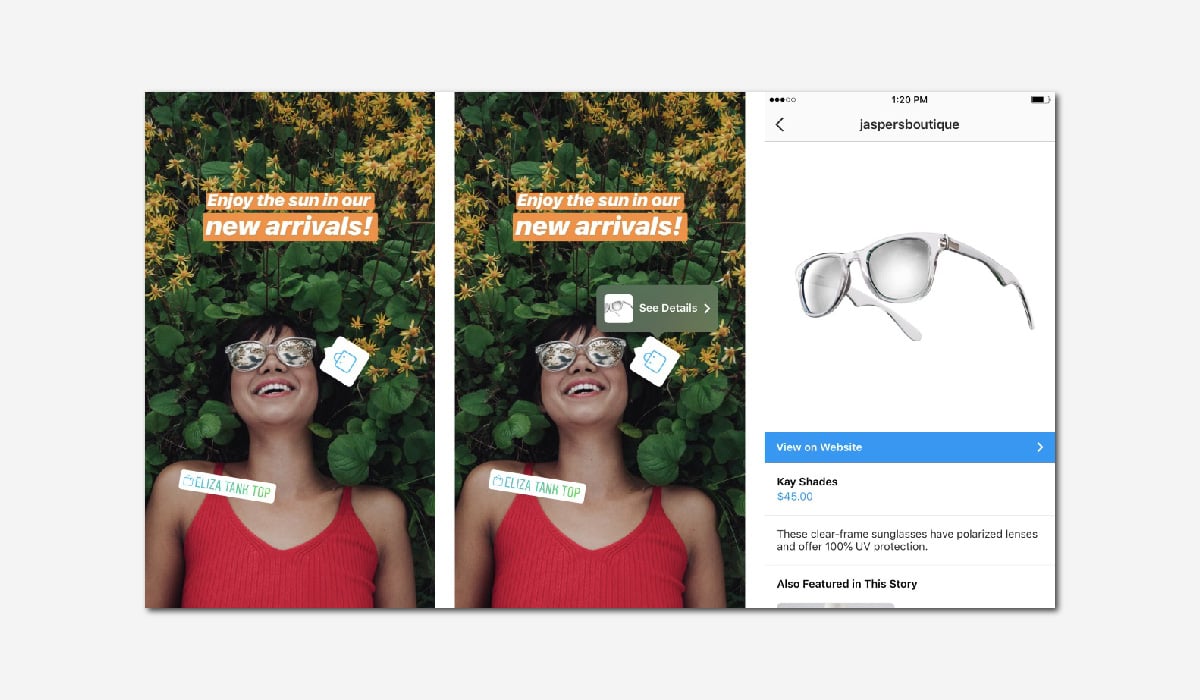 Furthermore, Instagram also recently introduced Shopping in Explore which features personalised shopping recommendations to its users. It's the first dedicated shopping space inside Instagram, which effectively turns Instagram into a marketplace.
The inherently visual nature of Instagram makes it the ideal social media channel to share lifestyle and luxury experiences. It is essential for luxury marketers to embrace the social media channel if they want to capture and engage with affluent consumers throughout the entire holiday shopping season.
Quick wins:
Make sure that your brand is active on social media throughout major holidays.
Consider integrating your social media with your e-commerce experience via Instagram Stories.
3. Artificial intelligence and data-driven personalisation will drive holiday-season spend
With the rise of mobile shopping, it is essential for retailers to provide the right content and product to the right consumer at the right time. Affluent shoppers, in particular, expect personalised and relevant shopping experiences throughout their journey.
Think real-time, dynamically adapted shopping experiences and personalised product recommendations based on data such as the consumer's preferences, geographic location, previous purchases, previous interactions with the brand, and actions.
Using tactics such as artificial intelligence and predictive analytics to anticipate consumers' intent, you can automate data-driven campaigns. The same data can also help you create personalised, targeted and relevant messages, emails and ads that increase the likelihood of converting visitors into buyers.
During the 2019 shopping holiday season, revenue driven by shoppers that tap or click on AI-powered product recommendations (based on consumer's behavioural data) on the website is expected to account for 35 percent of all revenues – a 25 percent increase over last season.
We will also see more AI use cases emerge across the shopping journey, particularly with chatbots which will serve as automated sales agents to instantly answer questions 24/7 but also to support shoppers with a more proactive customer service based on needs, personal taste and buying behaviour experience.
Quick wins:
Run lookalike lead ads on Facebook.
Leverage data such as past purchases and (browsing) behaviours to send customised emails and messages automatically populated with predictive content and personalised product recommendations.
Advanced AI, AR and voice command have the potential to fundamentally change the retail experience
Even though still experimental in nature, voice-activated apps and devices will start to impact online sales this holiday season. We expect to see, for example, interesting new uses of Alexa skills — voice apps that enhance Alexa devices – to help shoppers buy online with just a few words.
Leveraging customer historic data and purchasing habits, AI can make relevant recommendations, while AR will immerse shoppers in premium experiences that connect the physical and digital.
See our story on the future of online retail if you're interested in learning more about AI, AR, and voice-activated e-commerce.
Value in values: modern luxury consumers seek brands that meet their purpose, beliefs and values
In addition to the three essential digital shopping trends to leverage this upcoming holidays season, luxury brands need to keep in mind a few essential underlying consumer behaviour shifts.
Centre of youniverse: holiday luxury shoppers buy luxury gifts for themselves too.
Holiday content should speak to both the needs of gift-givers without forgetting about self-gifters.
Conscious consumption: sustainability is becoming increasingly important for affluent shoppers.
An increasing number of affluent consumers are showing interest in sustainability: sustainable fabrics, more responsible and vegan alternatives have thus become somewhat of a hot topic as of late. This is the age of philanthropic luxury retail and natural beauty with an increasingly strong consumer demand for upscale brands to provide a positive contribution to their ecosystem.
Social self-expression: casual and streetwear luxury allow affluent shoppers to make a statement on social media.
Casual luxury experienced standout growth this year as younger affluent consumers are fast becoming the driving force of modern luxury; mixing and matching individual elements — like T-shirts, designer sneakers and rubber sliders — that appeal to them to create a hybrid style that is both unique and resolutely modern chic.
Streetwear and athleisure wear are well-anchored in the modern luxury fashion vocabulary. This casual luxury trend is helping boost sales of personal luxury items such as high-end apparel, footwear and handbags, to upwards of 281 billion euros globally, up 8 percent from 260 billion euros in 2017[3].
The Instagram effect
Social media sharing and selfies, in particular, are influencing the popularity of certain categories of products. From skincare and makeup to achieve that perfect glow to statement earrings and accessories, dazzling us with bold designs and high-shine materials and taking a cue from decades past.
Affluent consumers are flaunting their individual tastes by pairing and layering things up.
Necklaces, for example, are returning to our Instagram feed – but you now have to layer a range of lengths of finer styles you can build up.
The pyjama category has also upped its game now that social media opens the door to the hotel rooms of the Millennial traveller.
Experiential luxury: affluent consumers are also gifting luxury experiences.
From culinary experiences to luxury travel, affluent shoppers are increasingly buying meaningful experiences as gifts.
From mobile to AI, the 2019 holiday shopping season promises to be rich in experiences and drive a peak in online luxury purchases.
Luxury retailers that offer a seamless and immersive customer experience across channels will be poised to succeed as affluent consumers expect brands to be there at their convenience.
Happy holiday planning!
---
Holiday 2018 Predictions: Mobile Will Ring Up Most Purchases for the First Time Ever, by Rick Kenney, SalesForce, September 12, 2018.
The Key Trends for the Luxury Goods Industry in 2018, by BCG and Altagamma, February 20, 2018.
Global personal luxury goods market expected to grow by 6-8 percent to €276-281b in 2018, driven by strong rebound in China, by Bain & Company, Press release, June 7, 2018.