The online popularity of the best luxury car brands in the world is a reliable predictor of future sales and the trends that are shaping the global automobile industry. Every luxury car brand on our list commands significant customer attention and drives meaningful conversations on social media. They are at the forefront of what matters to affluent consumers.
Powered by consumers' demand for sustainable driving experiences and stricter emission regulations, electric cars are the most important trend affecting the global automobile industry this year. Luxury electric vehicles (EVs) are getting more and more exciting to drive with the Porsche Taycan and Tesla Model S Plaid coming out this year. Electric cars are also enjoying longer range and growing charging station networks around the world.
Digitalization is the second most important trend reshaping the car industry in 2021. Connected cars, autonomous vehicles, and the ever-growing size of digital screens inside the cars are three important areas of investment for manufacturers. Luxury car brands are at the forefront of the digital transformation of our driving experience. The Mercedes-Benz EQS is a prime example of digital innovation brought front and center in the cockpit to enhance the driver's experience.
By tracking online trends and search patterns, this list exemplifies what consumers demand. And it is packed with the best luxury car brands committed to moving forward with ambitious goals and willing to let outdated features stay in the past. These top luxury car brands embrace electric technology and futuristic designs while retaining the elegant ride and incredible performance consumers desire.
You'd expect newcomers like Tesla to be up for the challenge, but what might surprise you are the car makers with a rich history willing to shake things up. Not only are high-volume brands like BMW and Mercedes-Benz taking major steps forward, but they are also followed by the roaring engines of Lamborghini and even the epitome of luxury cars, Bugatti.
This is the first year that we apply our rigorous online popularity ranking to the car market, but the methodology has proven its usefulness with our list of the best luxury brands online.
The 15 Most Popular Luxury Car Brands Online 2021
Questions? See our methodology, definitions, and frequently asked questions at the end of this article.
BMW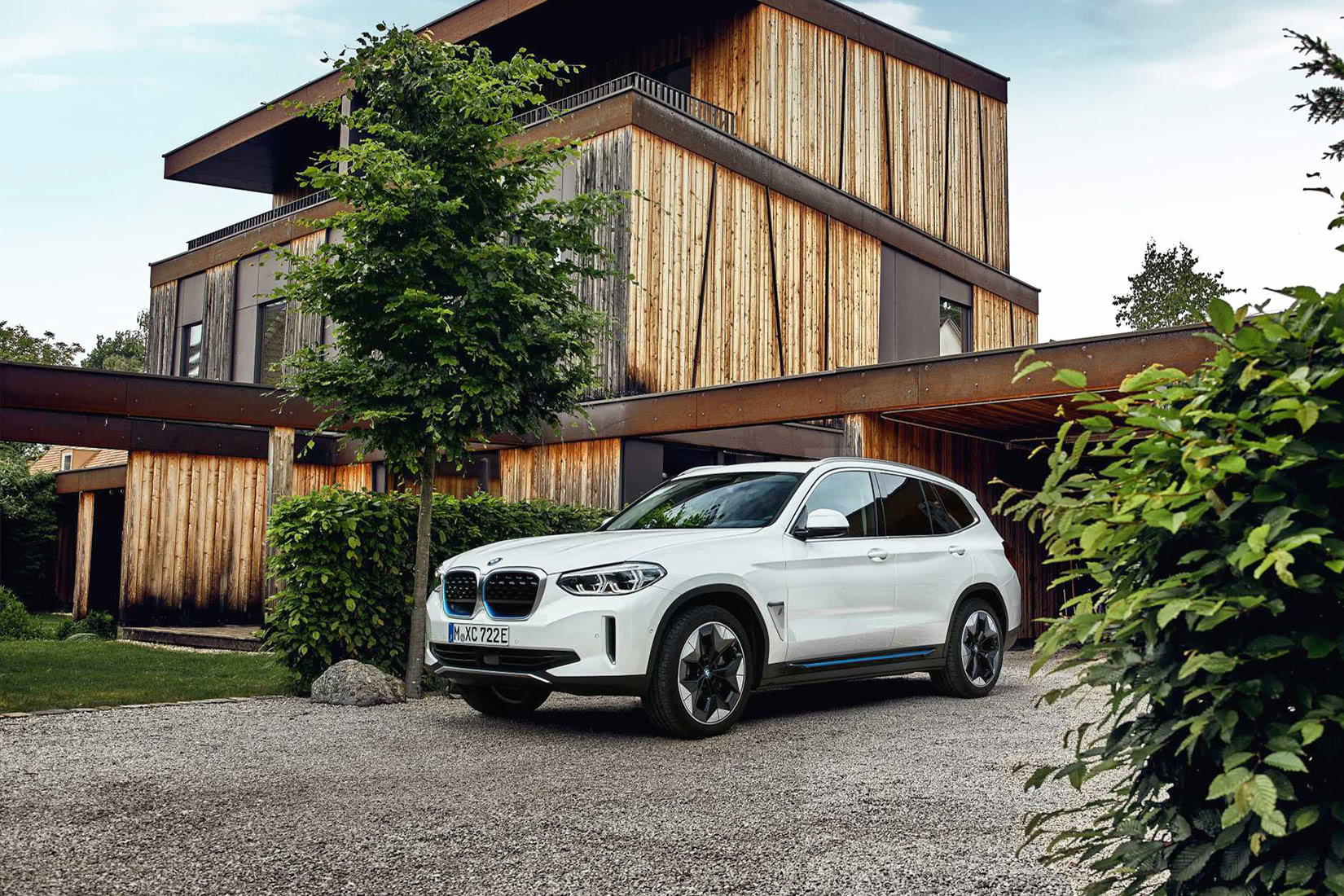 BMW (Bayerische Motoren Werke) is the most popular luxury automobile brand online, taking a 22.8% share of the search interest in 2021 with a range of news-worthy moves that have consistently kept it in conversation. The brand's shift to luxury electric vehicles has certainly helped to drive attention, especially with the announcement of BMW's New Class electric-focused platform, which arrives in 2025. m
The German luxury car brand is also keeping its name at the forefront of the industry with the arrival of its highly anticipated BMW M3 and M4, as well as the upcoming fully-electric iX model.
The brand's electric motors are rumored to rival Tesla. And, as always, the brand's ever-evolving tech contributes to its consistent market share. By 2023, BMW expects to almost double its number of all-electric and plug-in hybrid models to 25.
Country of origin: Germany
Most popular models: BMW 3 Series, BMW X5, BMW 1 Series
Average starting price: $45,600
Online interest for BMW over time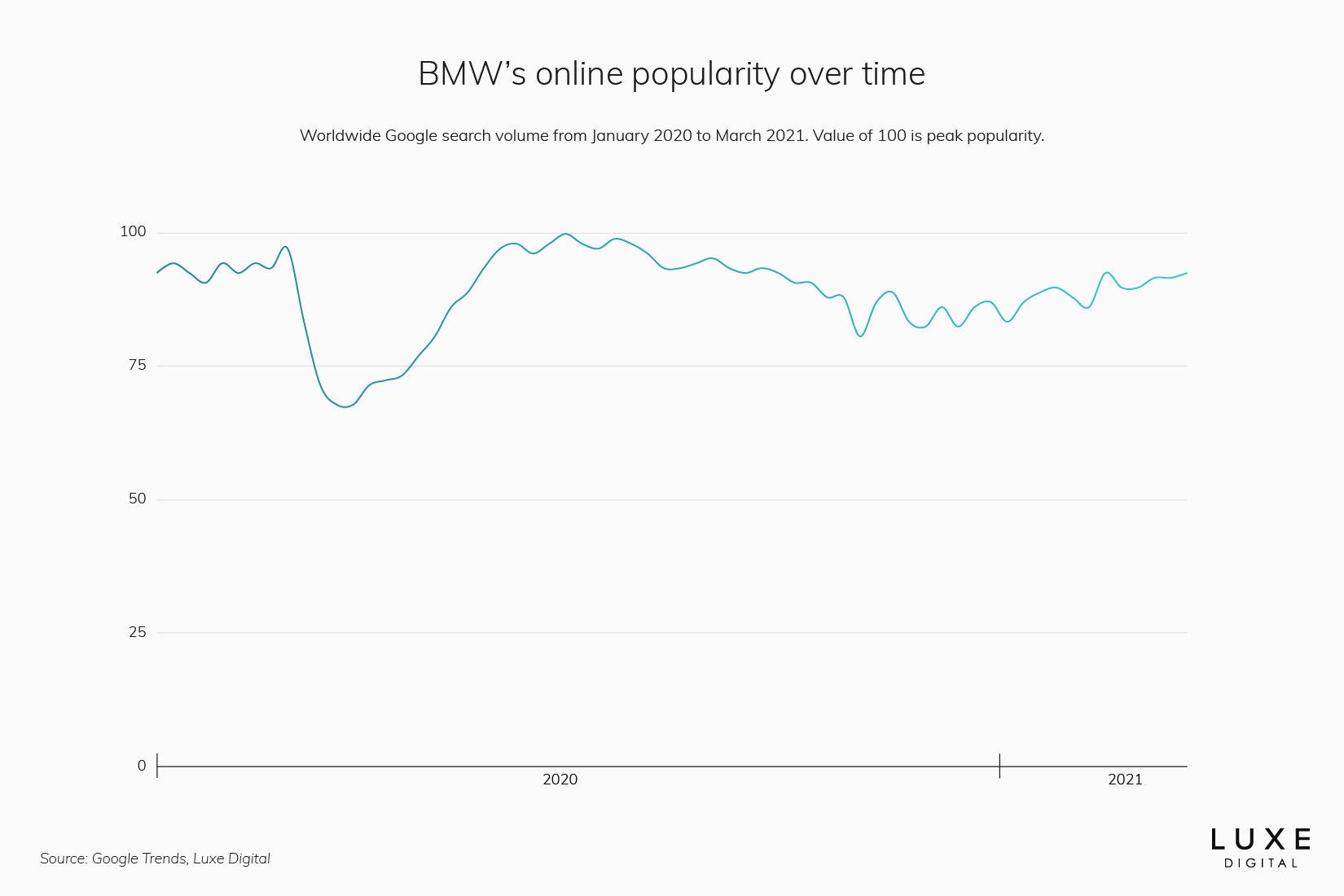 Mercedes-Benz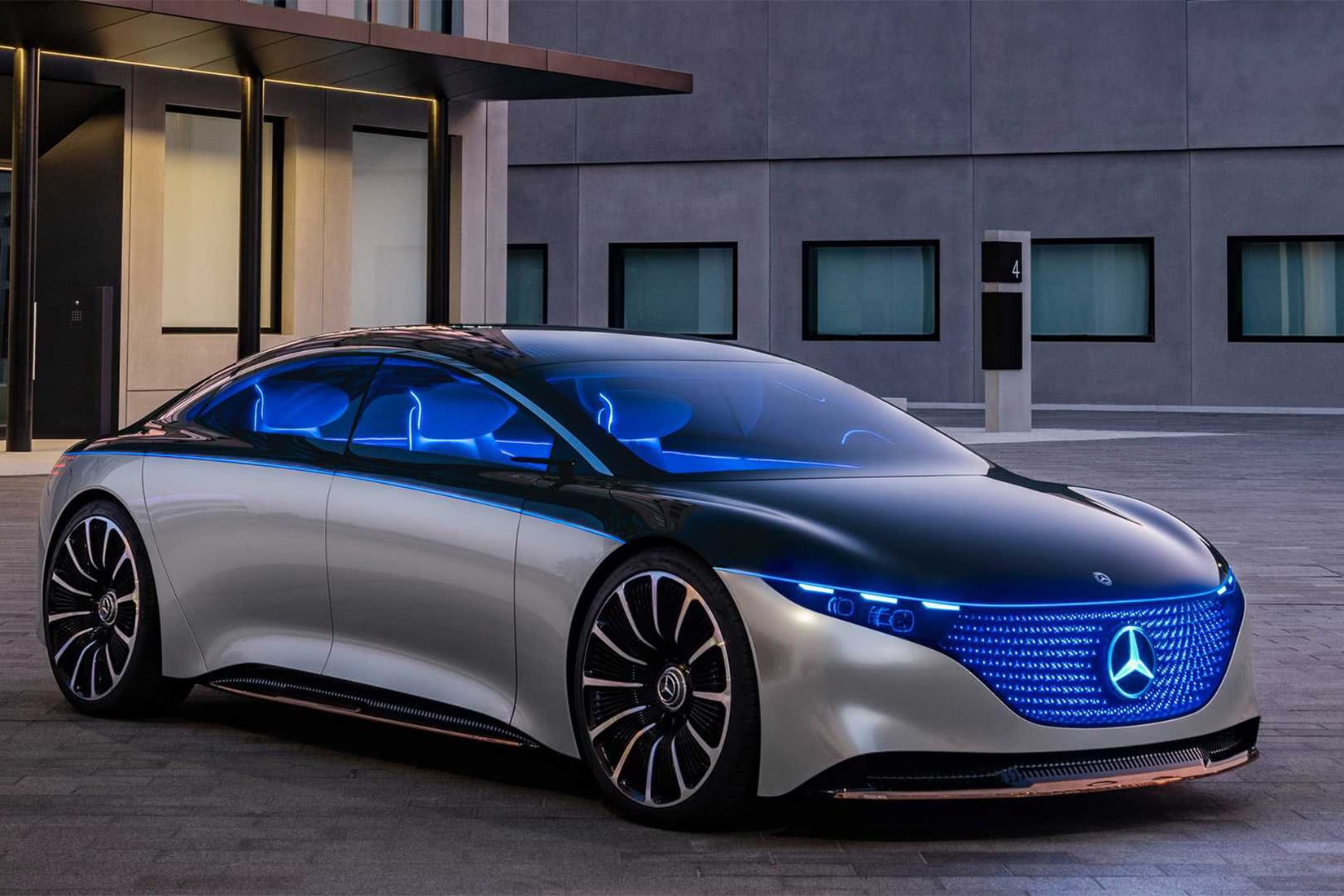 The luxury automotive division of The Daimler Group, Mercedes-Benz takes the second spot on our list of the most popular luxury car brands online and is the most valuable luxury automotive brand in 2021.
Redefining new-age luxury with a range of battery-powered supercars, Mercedes-Benz has kept its position close to the top thanks to its consistent attention to detail and never-faltering breakneck technology speeds.
Mercedes-Benz's EQ battery-electric car lineup has been the subject of attention for the last three years, with a particular focus over the last 12 months thanks to the lineup's approaching release. It's set to be the first model based on the German automaker's dedicated Electric Vehicle Architecture, fusing style and substance in the way that only Mercedes-Benz knows how. The brand's push to add more EV production facilities across the US leads us to anticipate big things in the coming future.
Country of origin: Germany
Most popular models: Mercedes-Benz C-Class, Mercedes-Benz E-Class, Mercedes-Benz A-Class
Average starting price: $60,000
Online interest for Mercedes-Benz over time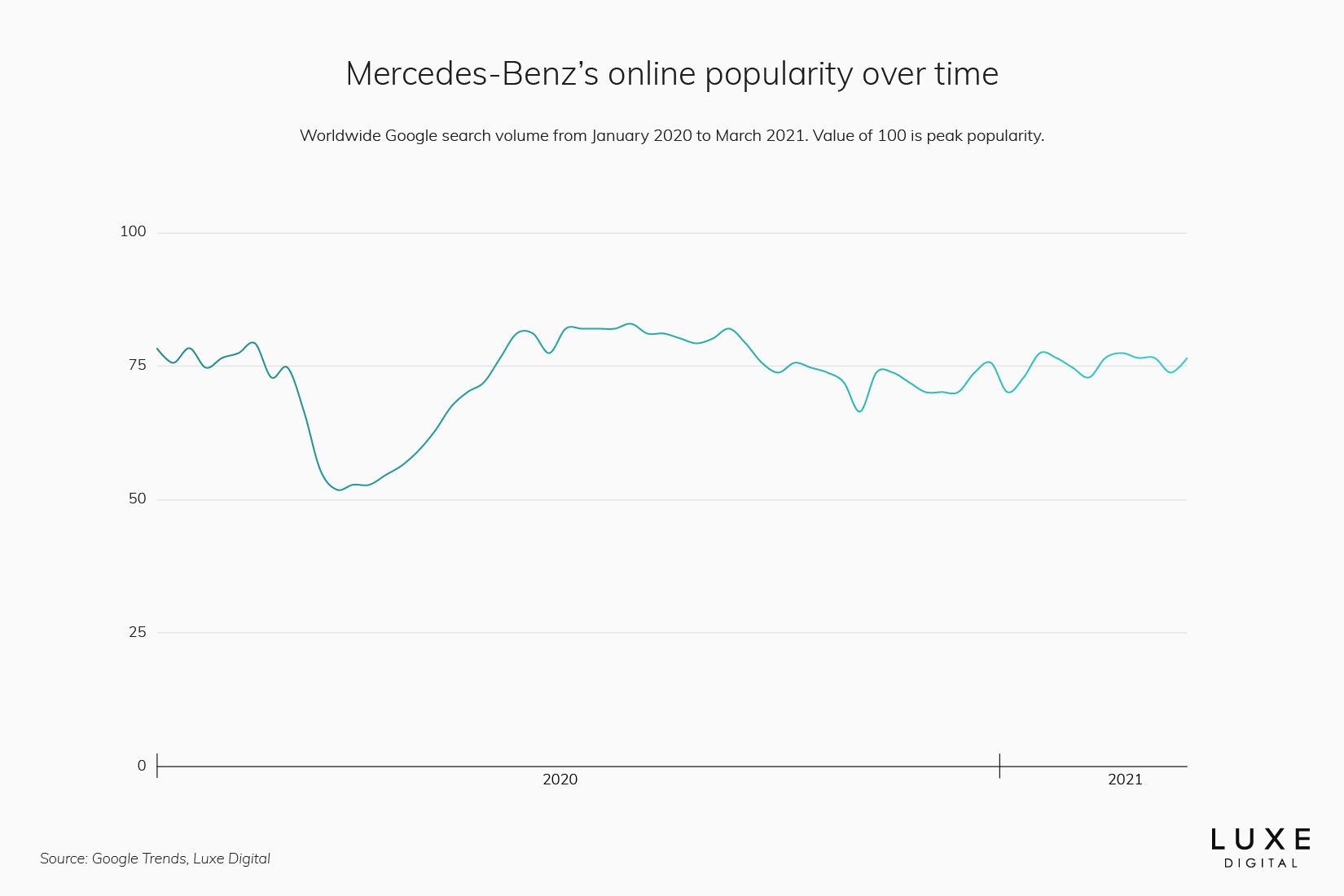 Audi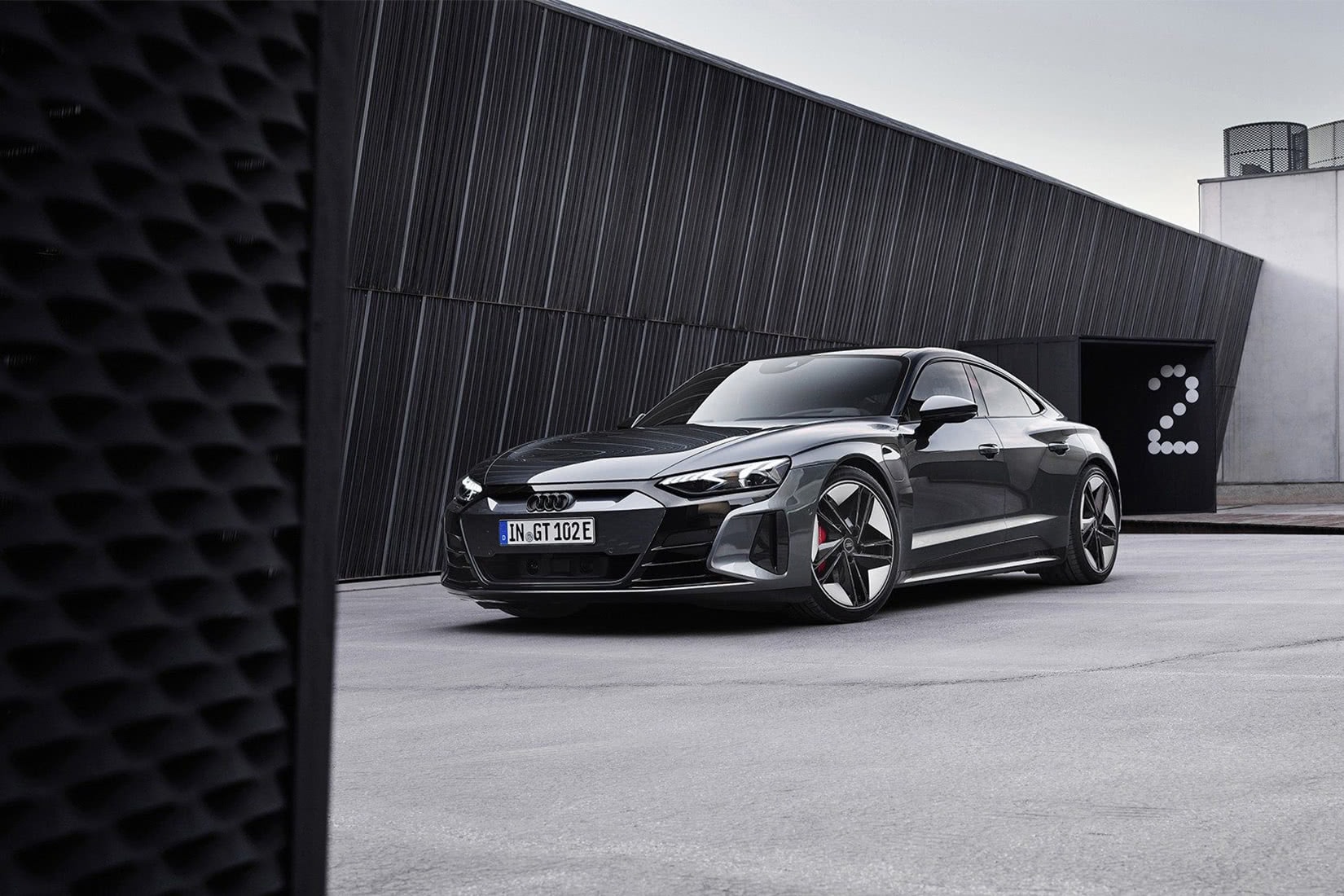 All eyes have been on Audi's innovative technology, from the brand's new Tesla-fighting electric sports car to photographers capturing footage of the long-awaited Audi Q9. Breaking into the electric vehicle market has been a priority for the German luxury car manufacturer in the last few years and, alongside the rumors surrounding the Q9, Audi has edged closer to the top as it elevates its status into the forefront of the E-vehicle industry. The brand even announced a partnership with Amazon to let its customers purchase high-power electric charging station at home from the ecommerce giant.
More recently, Audi's also capitalized on sales of its e-tron SUV and e-tron Sportbacks. Lack of recent competition from neighboring Tesla (while the brand relaunches its models) has offered space in the industry for Audi to rush to the forefront. The brand hopes to unveil its Audi e-tron GT this summer, rivaling luxury car manufacturers with its 15.5% share of search interest.
Country of origin: Germany
Most popular models: Audi A3, Audi A4, Audi Q5
Average starting price: $70,000
Online interest for Audi over time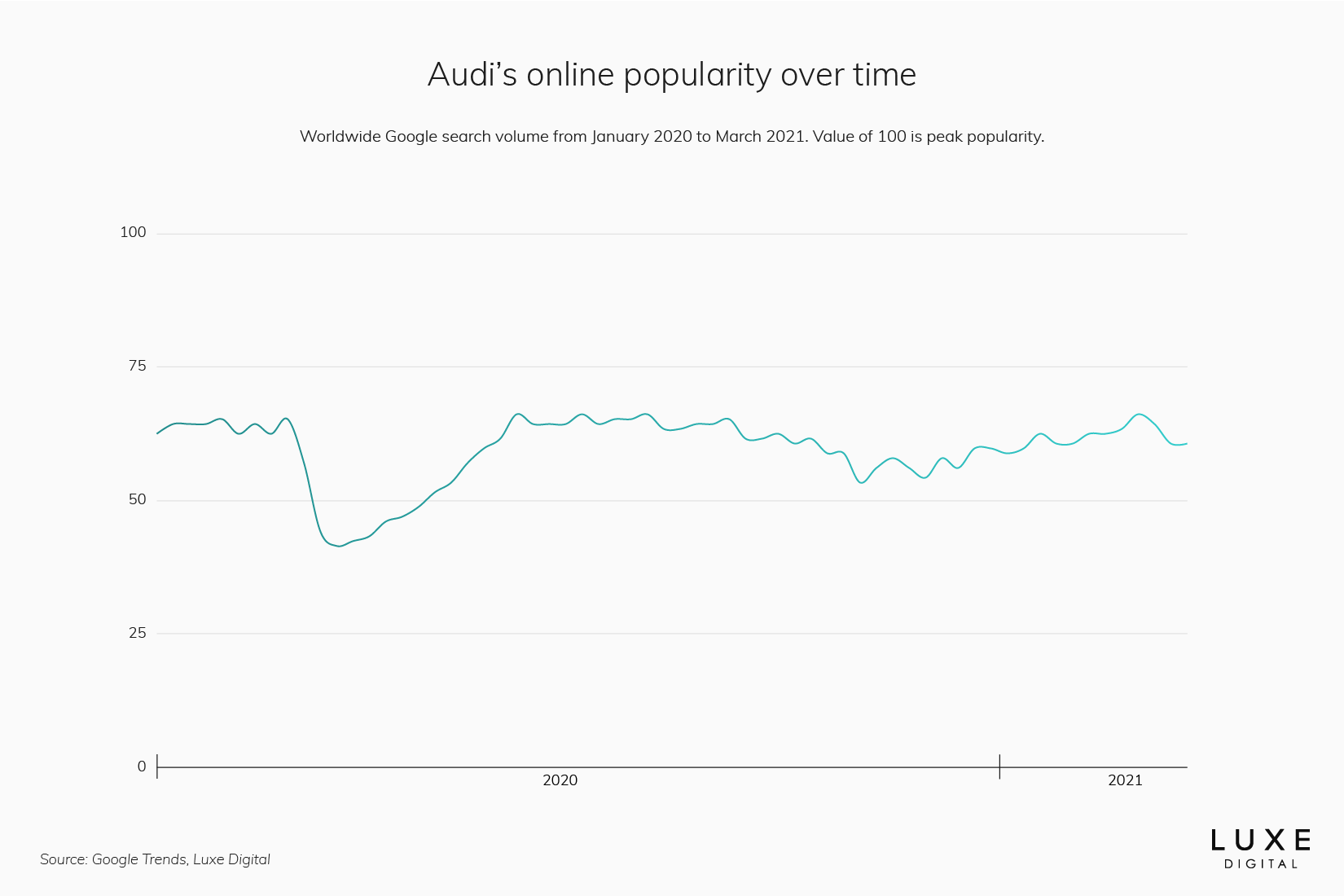 Tesla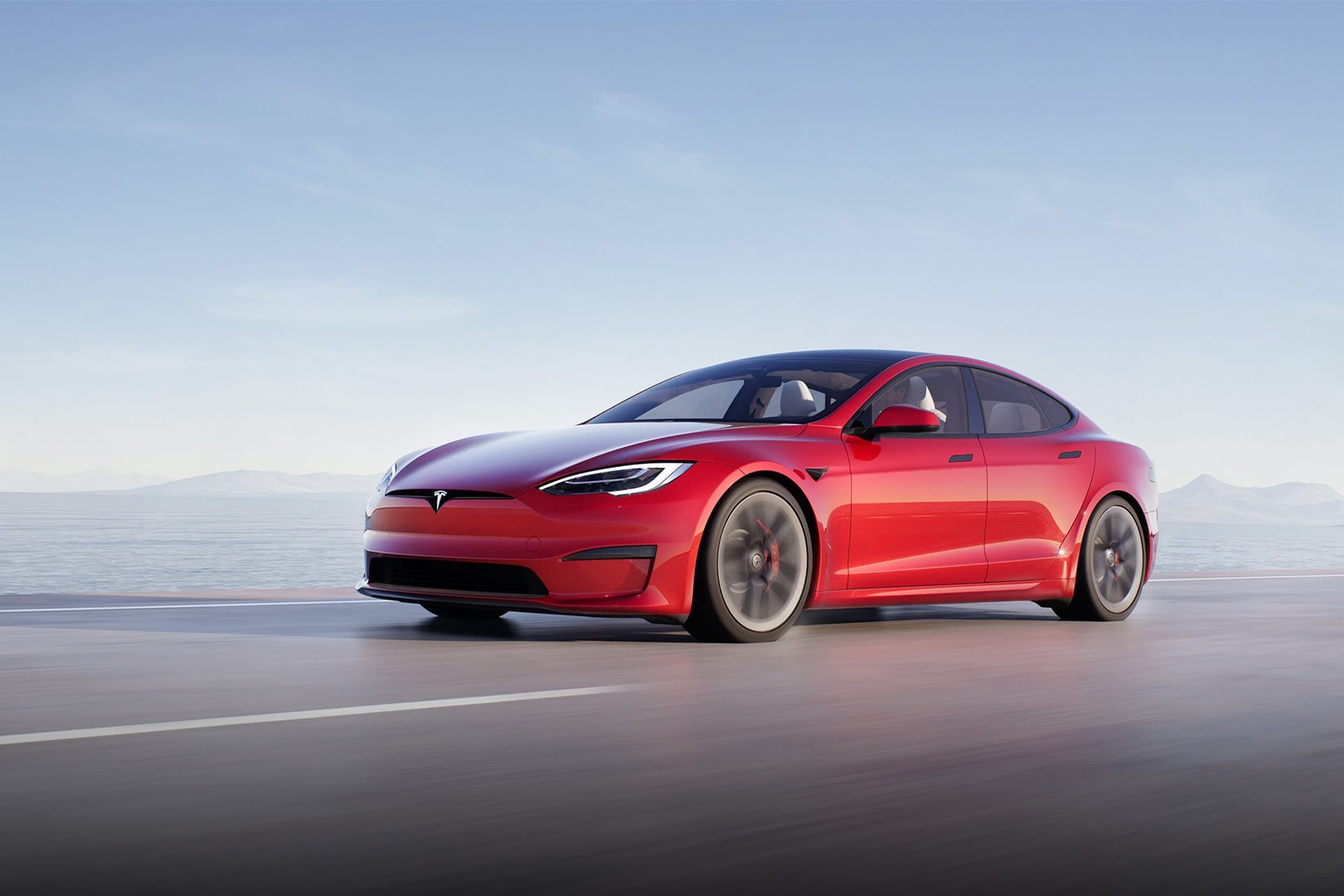 Tesla's cult-like following ensures it sticks around in conversations year after year and, as of 2021, it's number one in online popularity in the U.S. market. Founded in July 2003, Tesla remains the highest valued carmaker in the world and its rising stock prices, thanks to the brand's "home run" of sales in the first quarter of 2021, promise a positive outlook overall. Tesla produced 180,338 vehicles in the first quarter of 2021 alone through its global production expansion across China and Europe.
CEO Elon Musk has also, as always, done his bit to keep Tesla not only popular with industry experts but also with the wider public, thanks to a number of viral social media posts. Mostly recently he garnered attention for announcing 10,000 new jobs in Texas, no college degree or completed high school education necessary.
Country of origin: United States
Most popular models: Tesla Model 3, Tesla Model Y, Tesla Model S
Average starting price: $115,000
Online interest for Tesla over time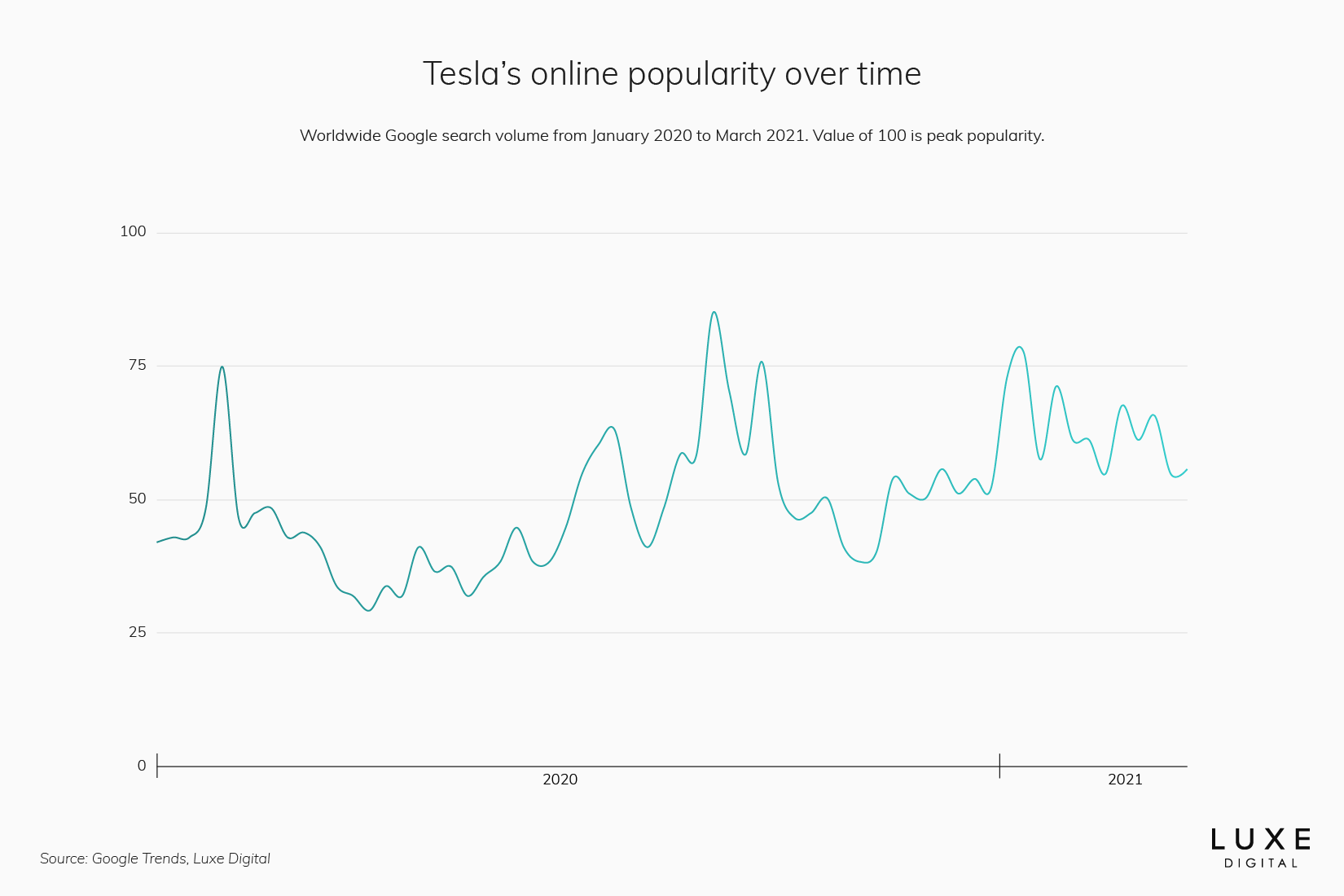 Porsche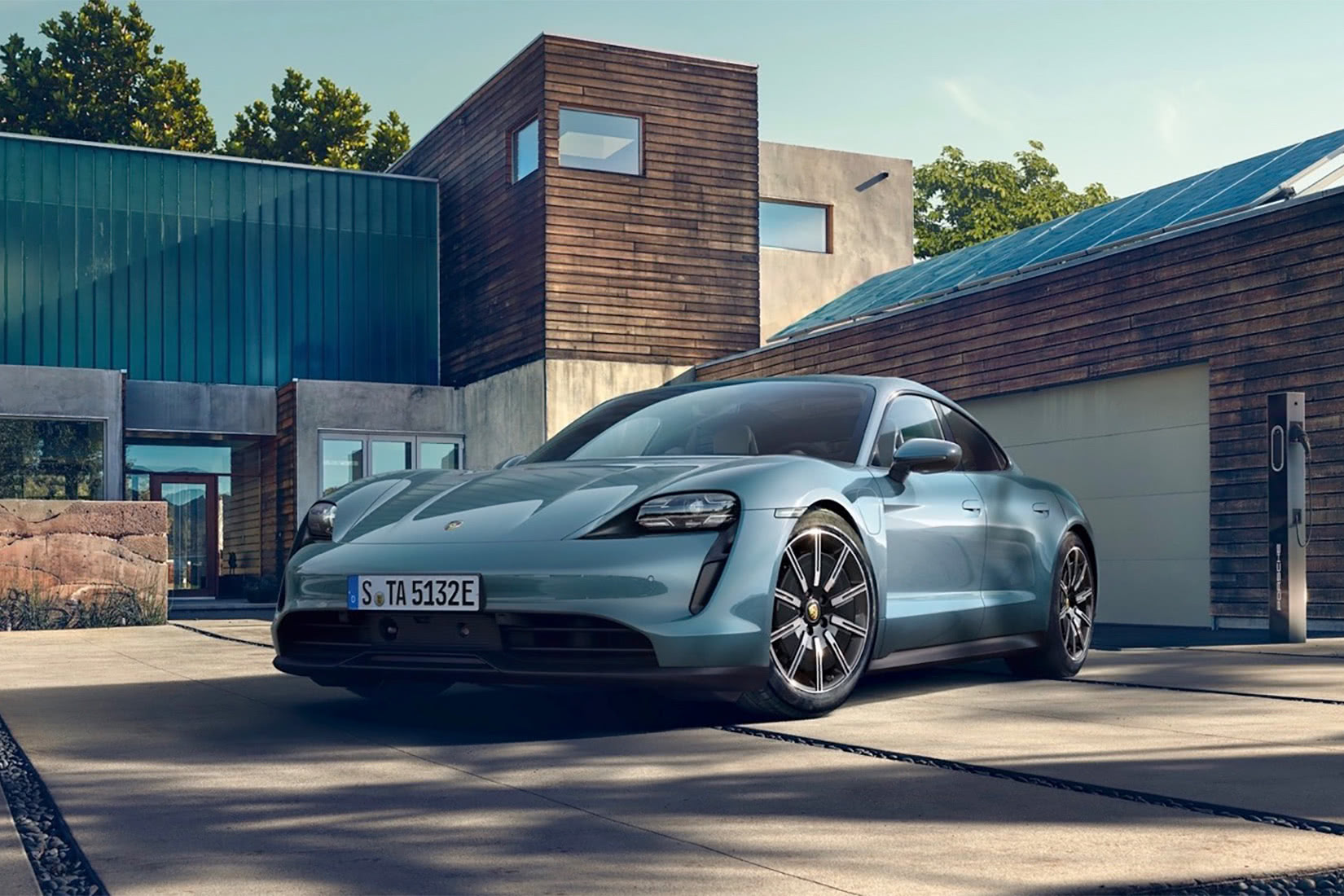 Things are on the rise for all things Porsche, with sales up more than 44% from 2020's Q1. The brand attributes much of this to its ever-growing model range, focusing especially heavily on the first fully electric Porsche. The Taycan, the 4S, the Turbo, and Turbo S were only just hitting the market in Q1 2020 with the Taycan Cross Turismo joining the force in later months.
Better yet, Porsche recently announced the addition of the Taycan to its subscription service. Unlike other manufacturers who've chosen to close down their subscription services – BMW, Mercedes-Benz and Cadillac – Porsche plans to continue its expansion in the United States throughout this year and into 2022.
Country of origin: Germany
Most popular models: Porsche Macan, Porsche 911, Porsche Cayenne
Average starting price: $175,000
Online interest for Porsche over time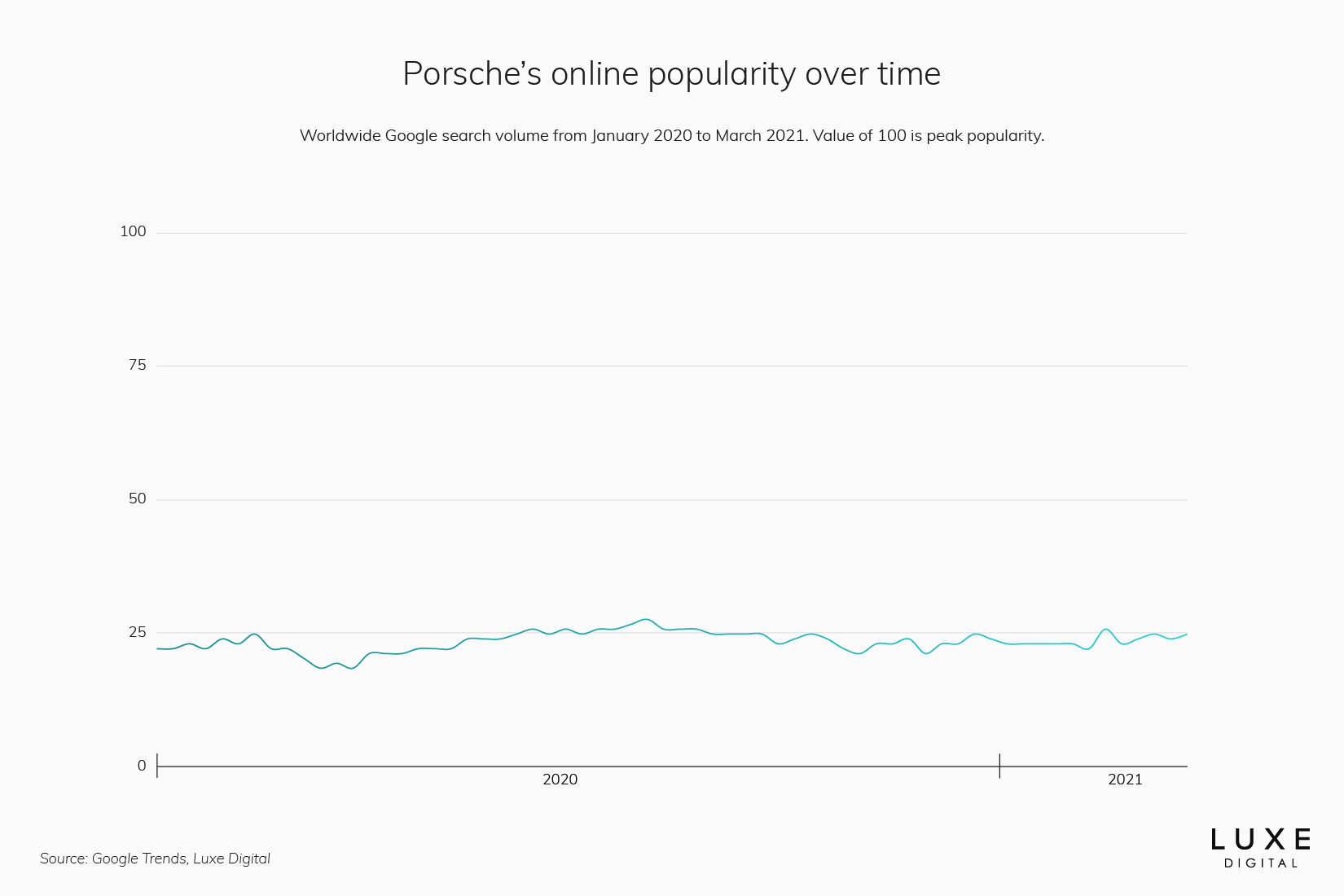 Lexus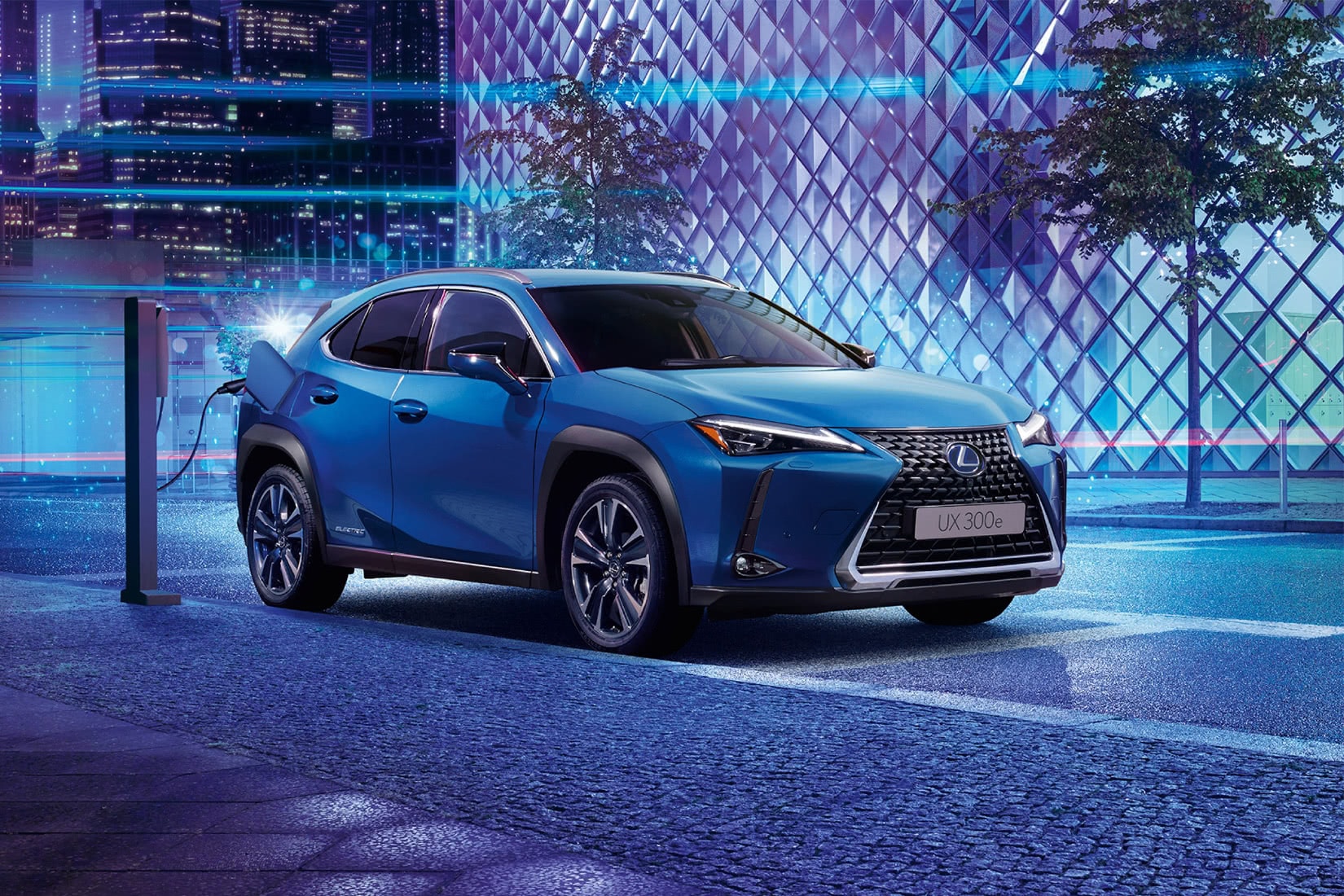 "Tech-laden" is the best way to sum up Lexus' year in the automobile industry. While the brand hasn't quite reached the top when it comes to market share and attention, that's something it's fighting to change before 2025. The unveiling of the LF-Z Electrified suggests big things are coming, along with Lexus' plan to introduce 20 new or redesigned vehicles globally in the next four years.
Toyota's luxury division also hopes to win over the market with a new range of supercar-esque features, like prominent character lines, slim LED lights and performance to match. Lexus has seen a strong start to 2021, with growing market share in the UAE region and the global attention to match.
Country of origin: Japan
Most popular models: Lexus RX, Lexus CT 200h, Lexus LS
Average starting price: $63,000
Online interest for Lexus over time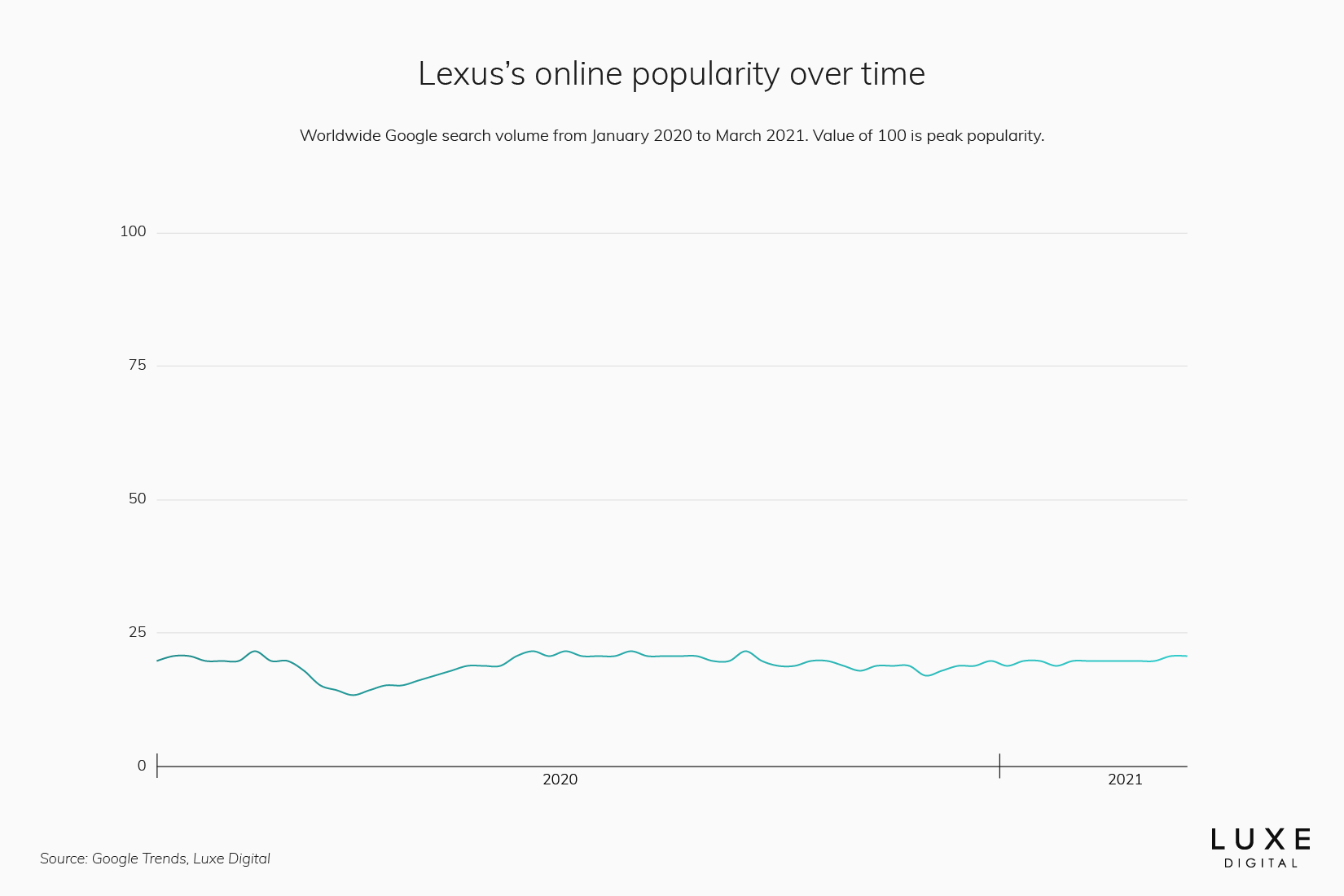 Volvo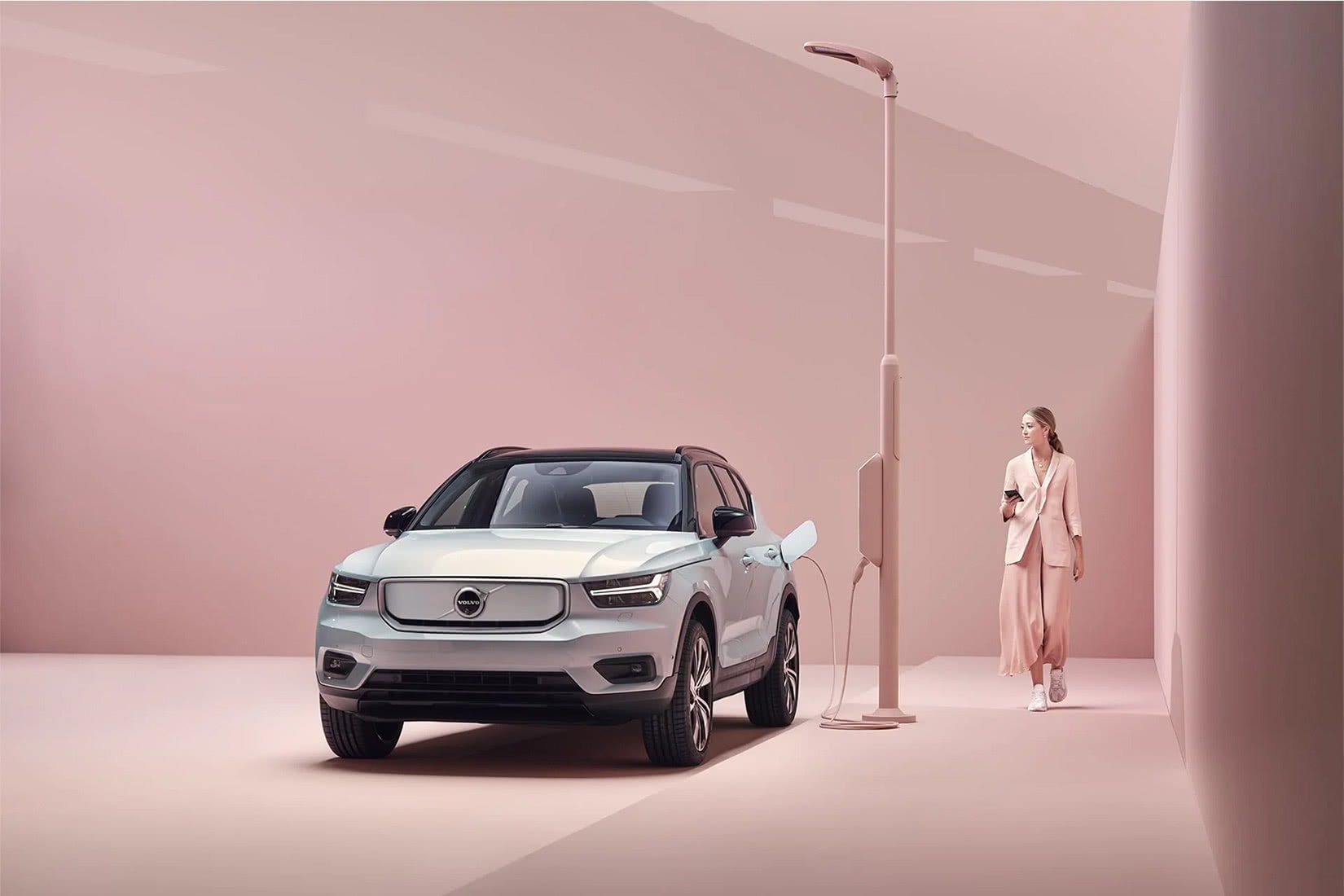 From the addition of five more of its models to the IIHS Top Safety Pick Plus list, to its increased paid parental leave and a strong rise in sales across the first quarter of the year, it's safe to say that Volvo is ticking all the boxes when it comes to starting conversations online. The latter two points are somewhat connected: as Volvo aims to increase its market share in the electric vehicle industry, it also hopes to boost retention rates and talent acquisition through a range of encouraging new policies.
Together, the goal is to become an all-electric vehicle manufacturer by 2030, according to Volvo's CEO. The brand's shift towards the luxury vehicle market, combining Scandinavian minimalism with electric power, encourages a wider conversation about making luxe vehicles environmentally friendly and safe.
Country of origin: Sweden
Most popular models: Volvo XC60, Volvo XC40, Volvo XC90
Average starting price: $45,000
Online interest for Volvo over time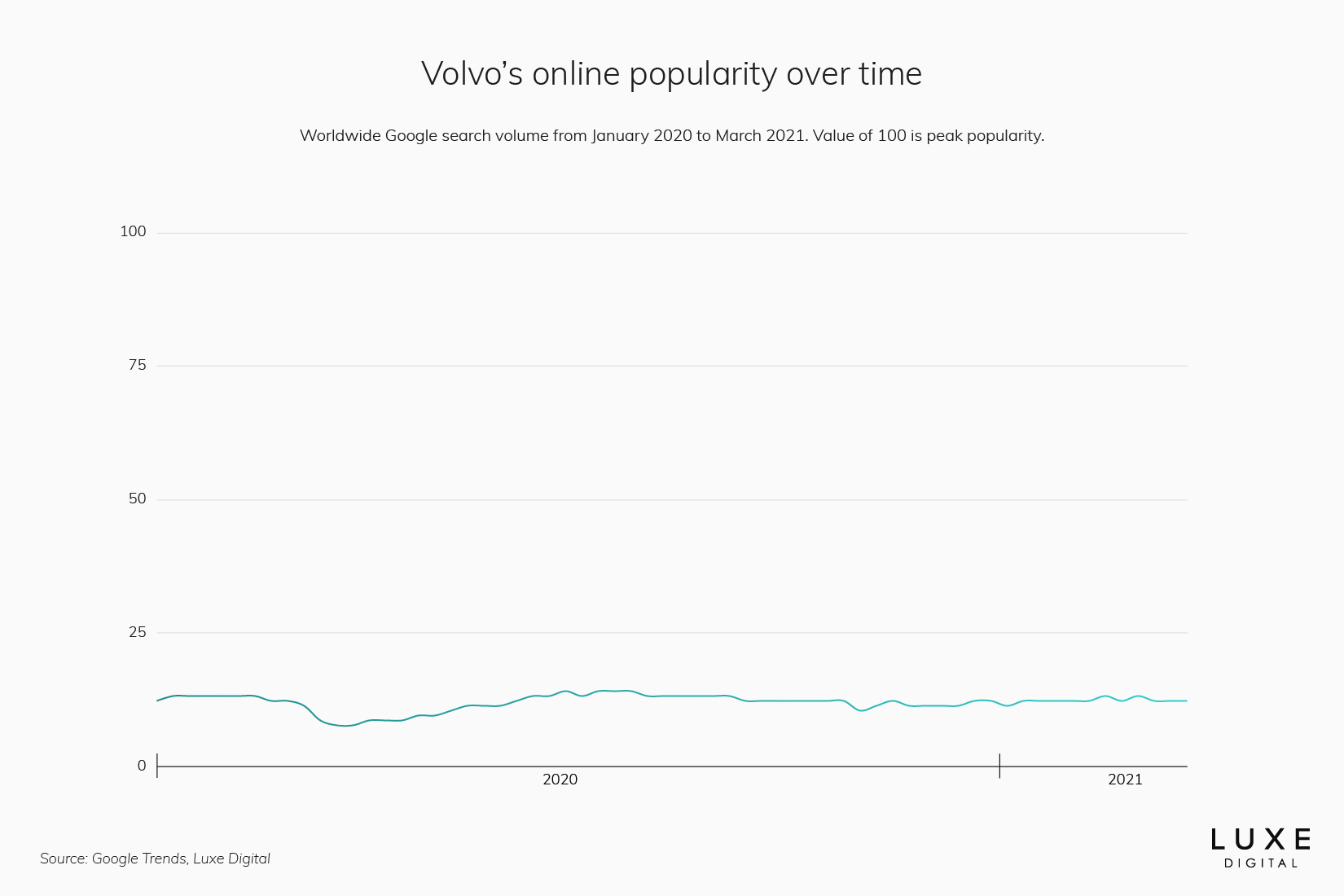 Lamborghini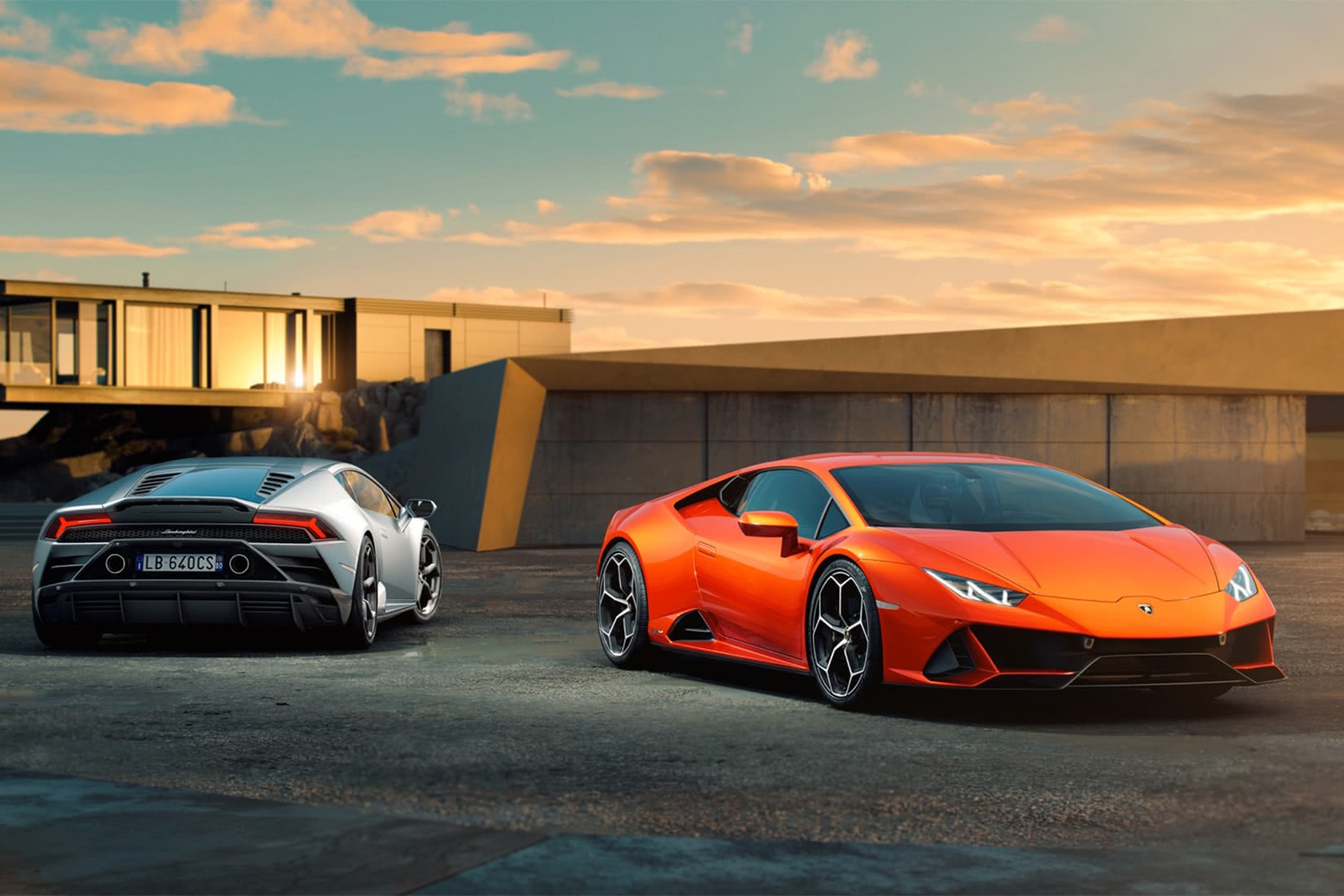 Lamborghini boasted record profits in 2020, delivering 7,430 cars globally with profits of $1.9 billion. Despite a mandatory pandemic shut down for two months, the luxury supercar brand has already reported nine months of orders booked for 2021 and a growing market share in China. Lamborghini's sliding midpoint in the online world could be attributed to its lack of electric vehicles – something CEO Stephan Winkelmann has hinted could change in the coming months.
However, a heavy tech focus has kept the Lamborghini name active on social media, with particular attention on the integration of Amazon's Alexa into Lamborghini's Huracán EVO. The partnership, initially announced in January 2020, has encouraged many a conversation about the automotive industry's switch from physical controls to voice-activated and touch-screen-based solutions.
Country of origin: Italy
Most popular models: Lamborghini Huracan, Lamborghini  Gallardo, Lamborghini  Aventador
Average starting price: $340,000
Online interest for Lamborghini over time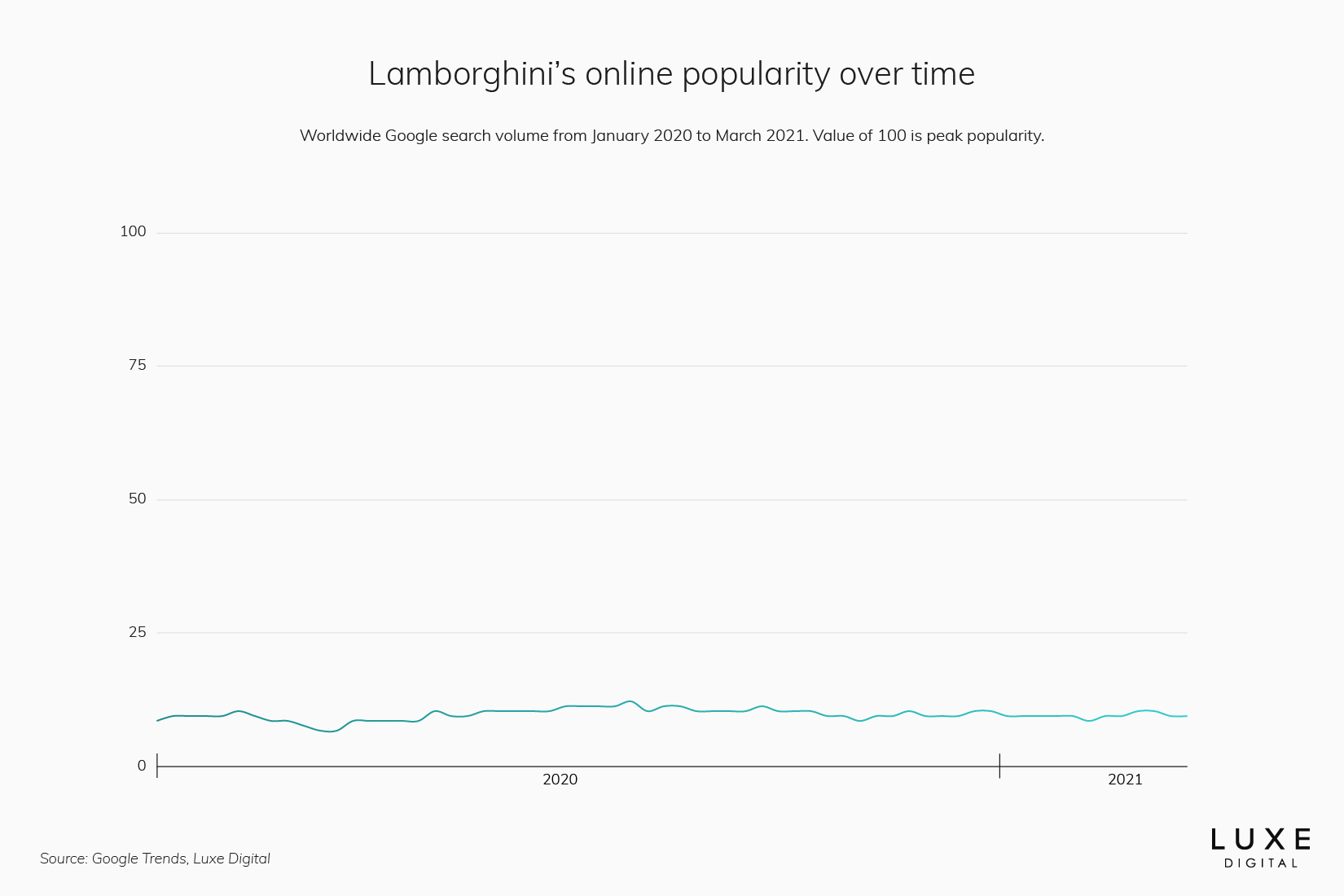 Ferrari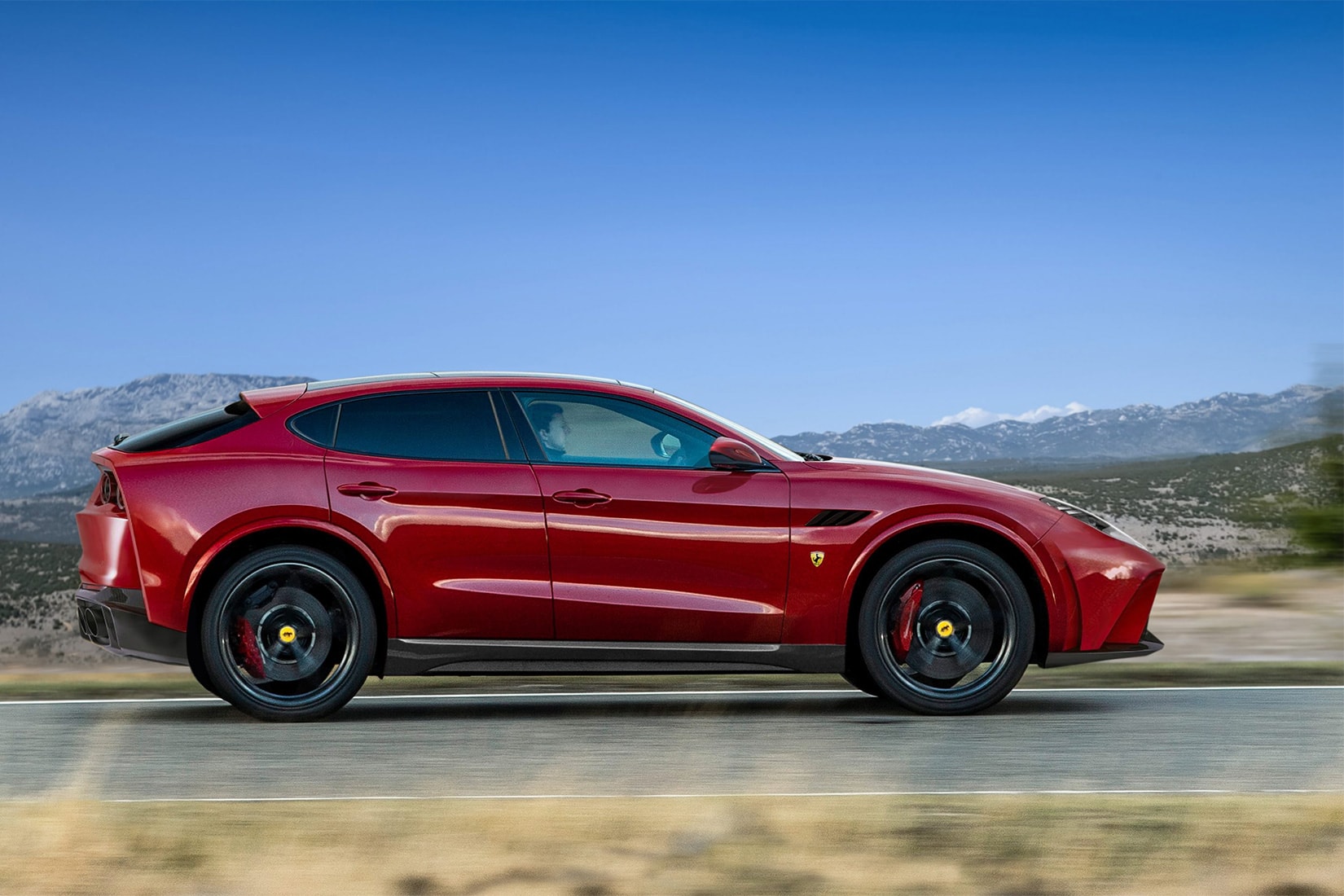 2022 will see the arrival of the Ferrari Purosangue – the brand's first-ever luxury SUV, in a move that came fairly unexpectedly. For the time being, 2021's widespread media attention has focused around car enthusiasts' eager anticipation of the first sightings of the car. Created with the intention of rivaling the Lamborghini Urus and Aston Martin DBX, the Ferrari Purosangue comes around the same time as many other supercar brands release their own variations of a family-friendly car.
While other brands might not have received so much attention for releasing an SUV, Ferrari's came particularly unexpectedly after Design Chief Flavio Manzoni said that patriarch "Enzo Ferrari would turn in his grave" if Ferrari ever did the same thing.
Country of origin: Italy
Most popular models: Ferrari Dino, Ferrari 365 GTB/4 Daytona, Ferrari F40
Average starting price: $410,000
Online interest for Ferrari over time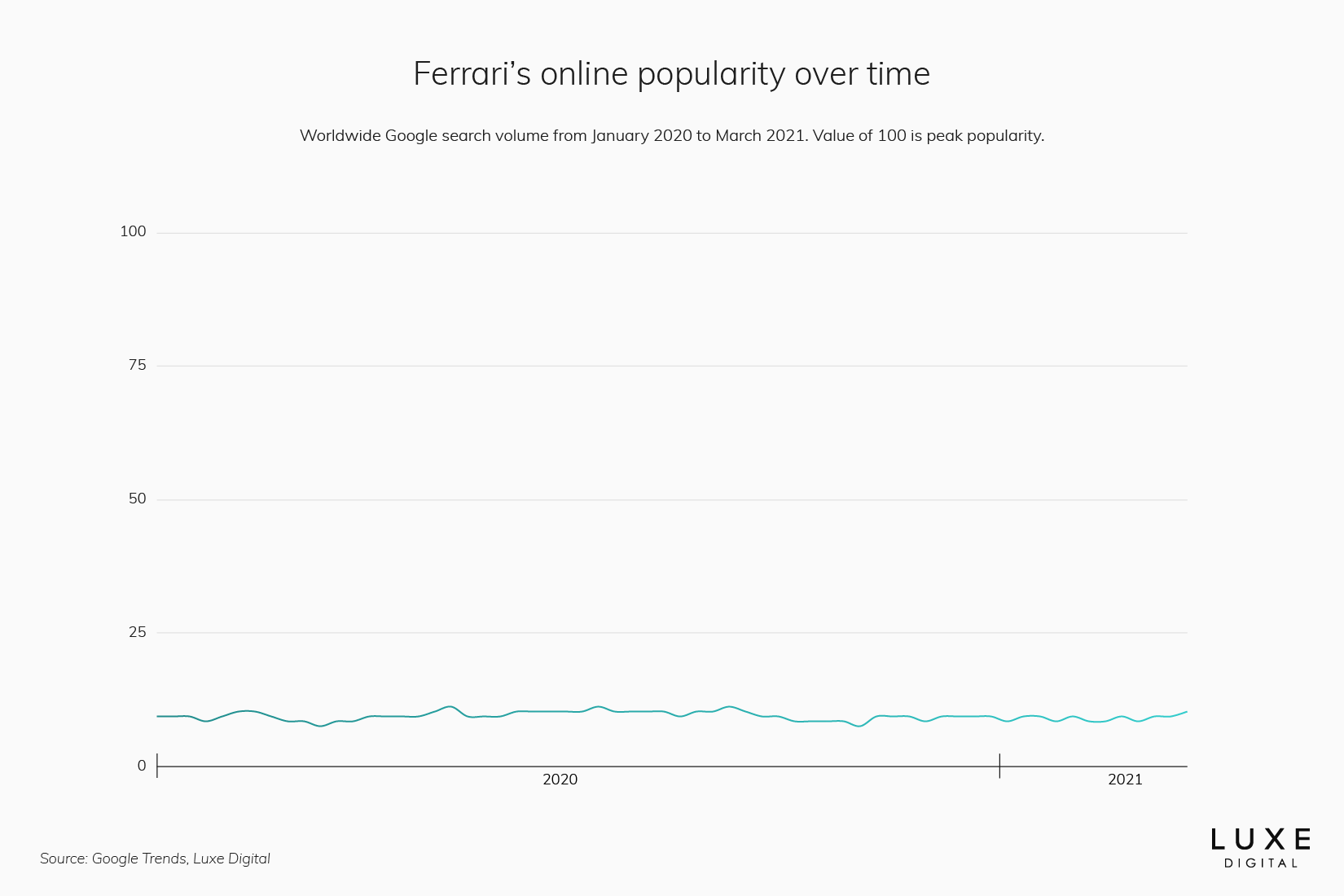 Land Rover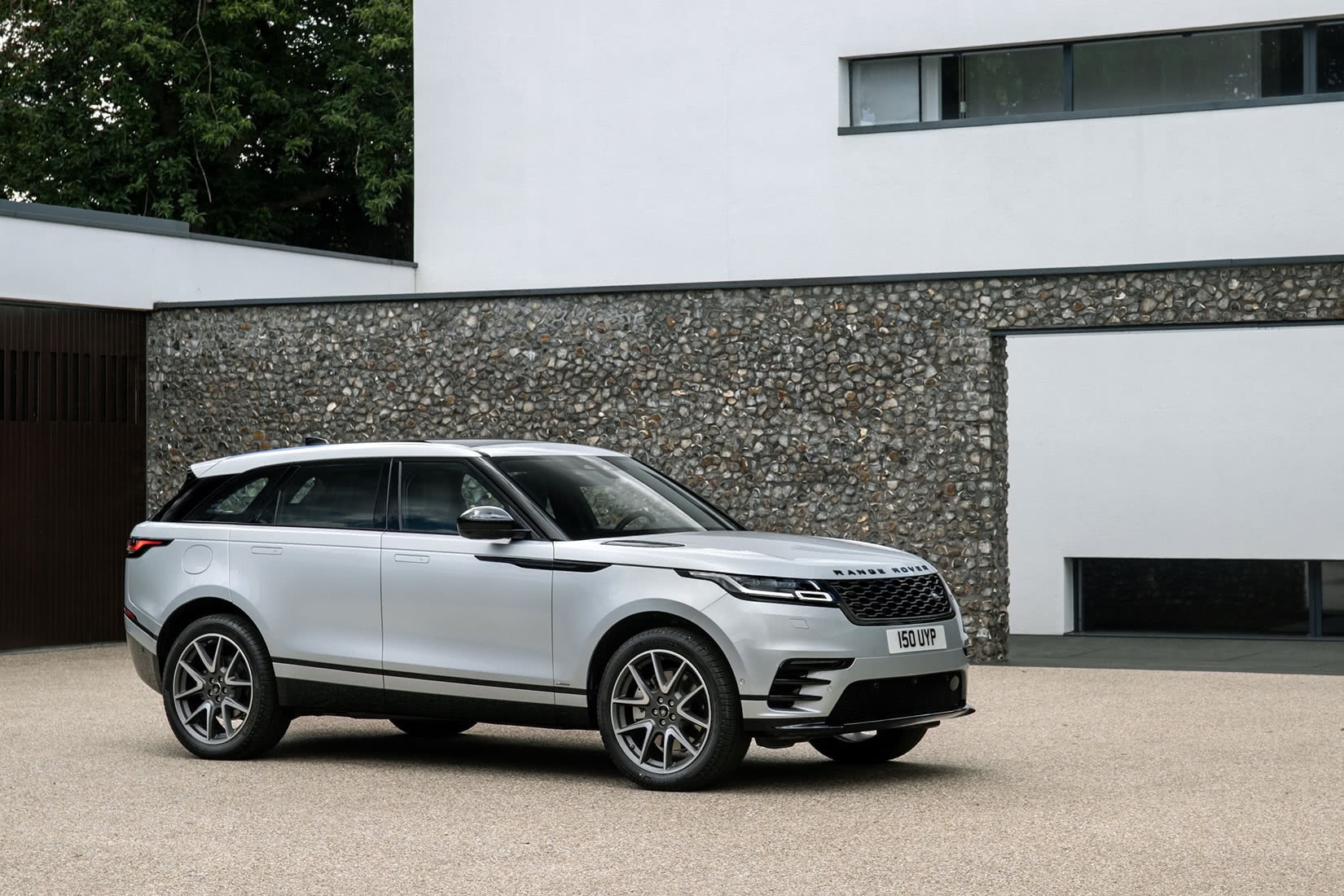 Land Rover is determined to stay one step ahead when it comes to new technology. The British car manufacturer remains one of the most popular luxury car brands online thanks to recent partnerships with commercial spaceline Virgin Galactic and Panasonic's nanoe X virus-busting air conditioning purification technology. Both work to reignite the spark of Land Rover in a move that impresses entirely different groups of consumers.
The latter is something that promises to heighten Land Rover's appeal throughout the year even more, helping to position the brand as an even safer option with this increased level of internal protection. Elsewhere, the release of Land Rover's flagship luxury SUV with matching supercharged features promises more talking points throughout 2021.
Country of origin: United Kingdom
Most popular models: Land Rover Discovery Sport, Land Rover Range Rover, Land Rover Defender
Average starting price: $145,000
Online interest for Land Rover over time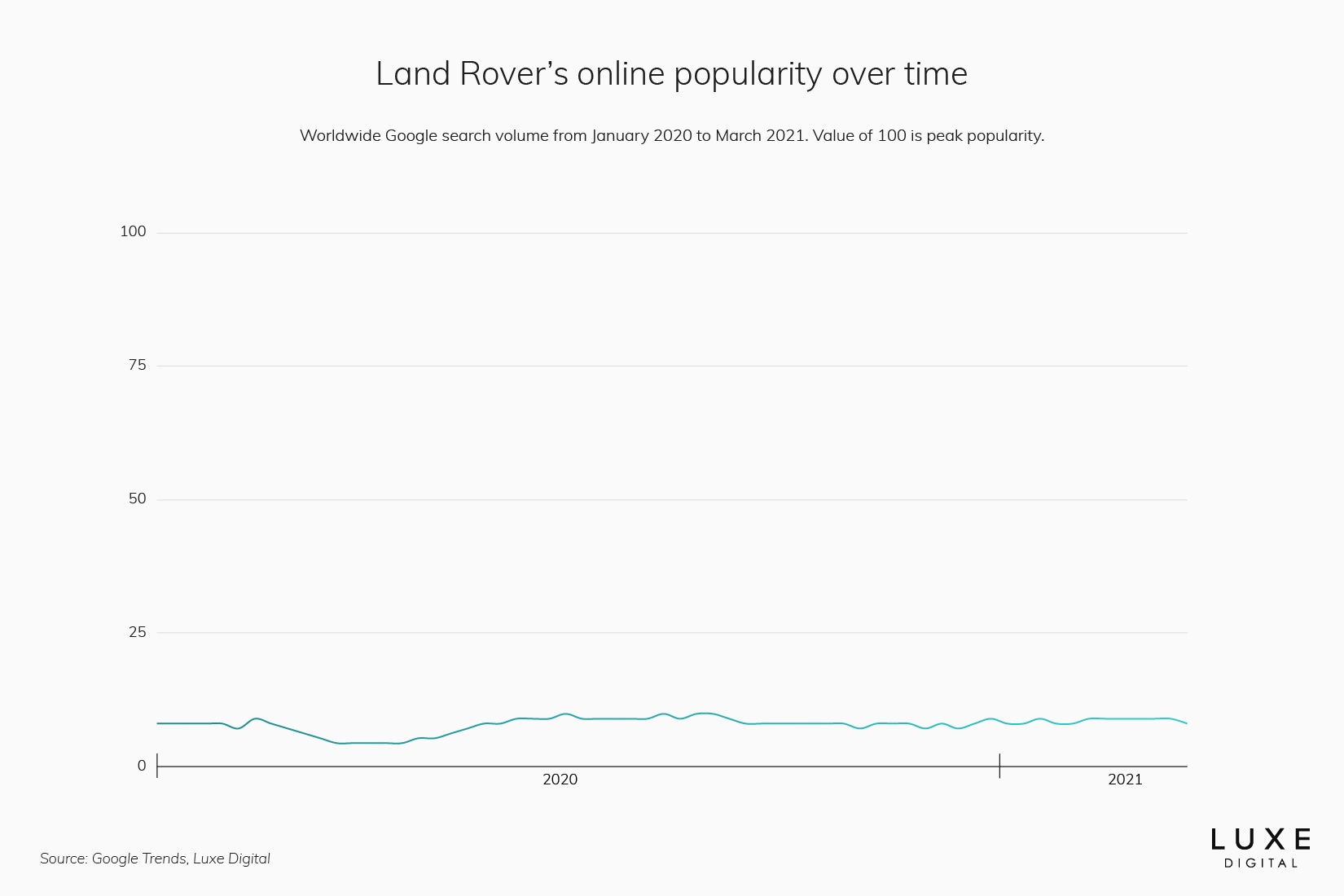 Jaguar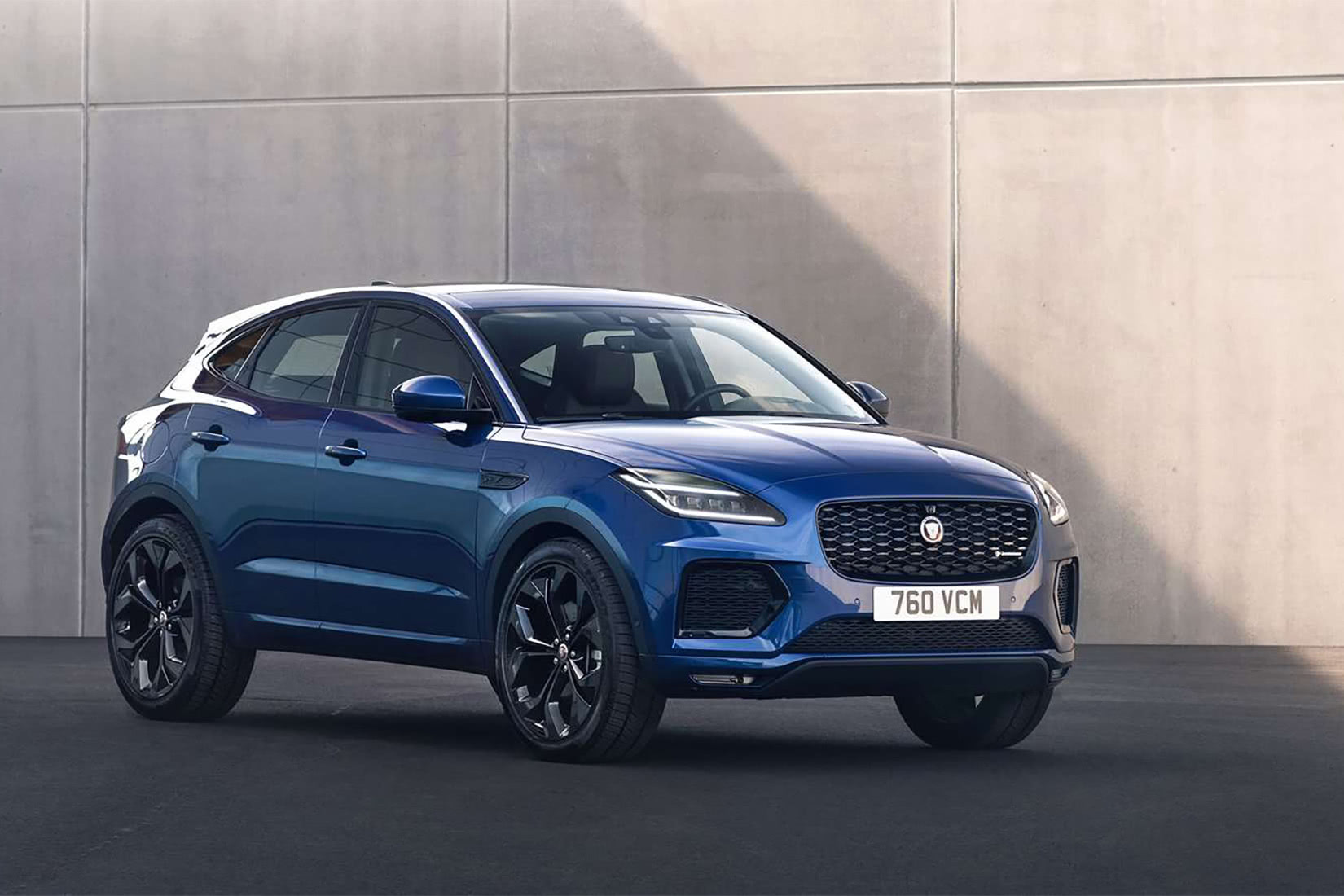 Stylish carmaker Jaguar has more than justified its online position over the last 12 months, with an ever-growing list of announcements and releases keeping it in international conversations. Contactless 'predictive touch' touchscreens, virus-fighting technology across the wider brand and the launch of the Jaguar I-Pace electric SUV in India were just some of the biggest Jaguar-related stories making waves recently.
News of the 2021 F-Type; a smoother, sleeker beast with incredible top speeds of 275 km/h and stylish interiors has impressed Jaguar fans worldwide. Jaguar also introduced its new EV race car, the Jaguar Vision Gran Turismo SV, leading social conversations in the online world for both physical and virtual cars.
Country of origin: United Kingdom
Most popular models: Jaguar F-PACE, Jaguar XF, Jaguar E-Pace
Average starting price: $65,000
Online interest for Jaguar over time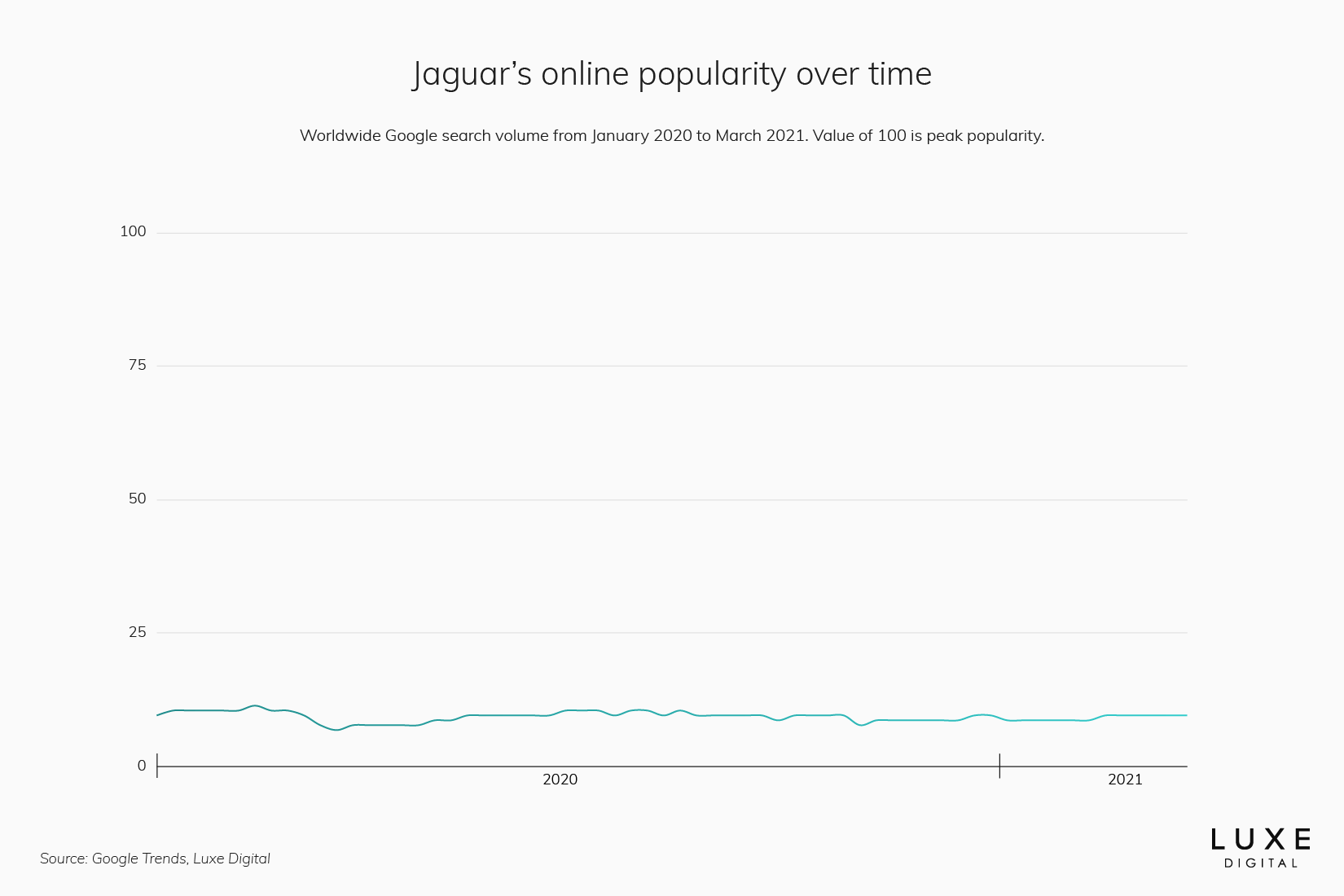 Cadillac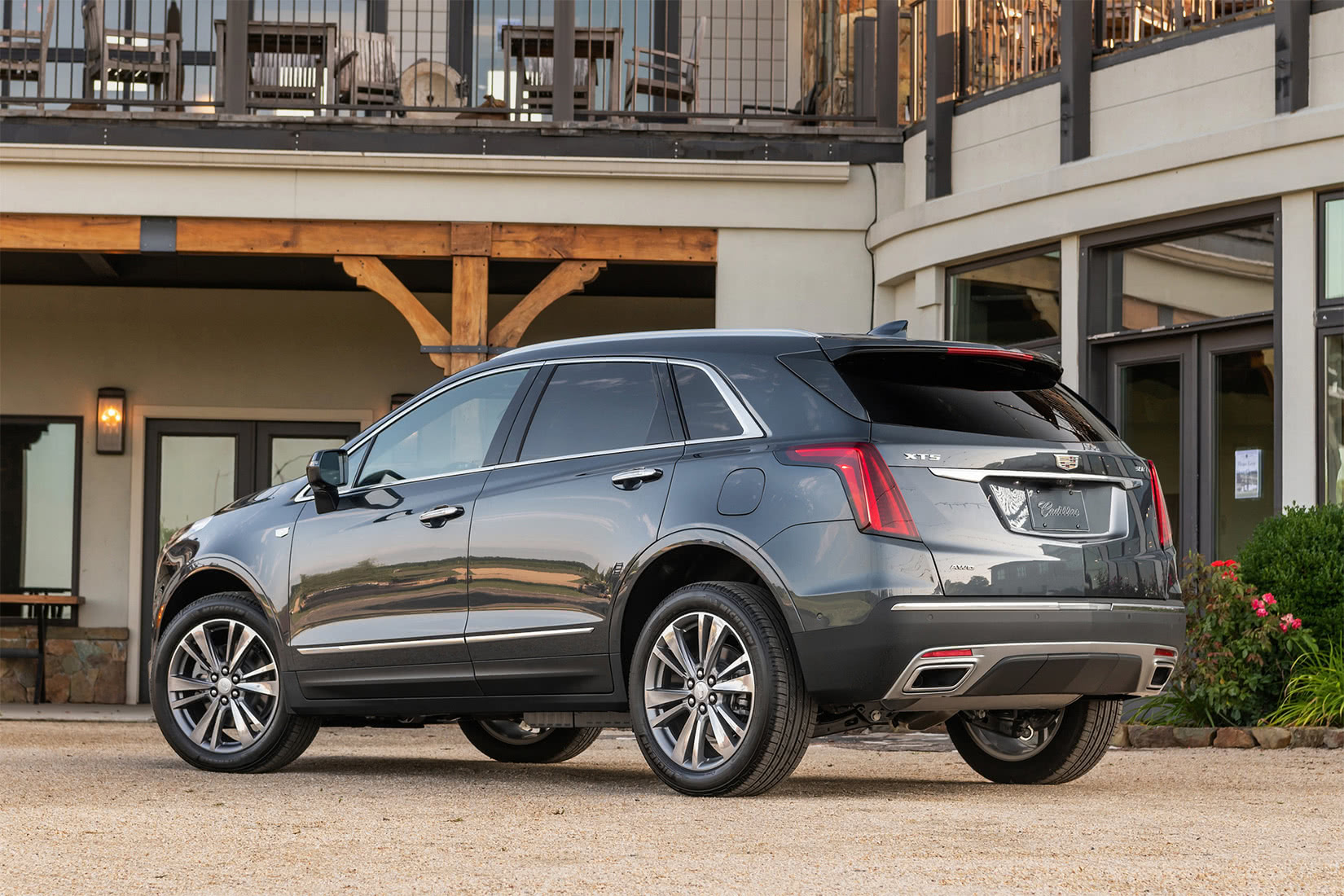 The Cadillac Lyriq is an upcoming vehicle that's renowned for being seen and not heard – except on social media. Likely responsible for a large chunk of the brand's social engagements, the Cadillac Lyriq promises big things in the world of electric vehicles. It's actually Cadillac's first venture into the market, after Lyriq was revealed for the first time in August 2020.
Lyriq hopes to redefine American luxury over the next few years before taking things one step further. Another notable release from Cadillac in January 2021 came in the form of the brand's steering wheel-free and even wheel-free vehicle proposal. Or, as they called it, the "vision of the future of transportation".
Country of origin: United States
Most popular models: Cadillac XT5, Cadillac Escalade, Cadillac SRX
Average starting price: $55,000
Online interest for Cadillac over time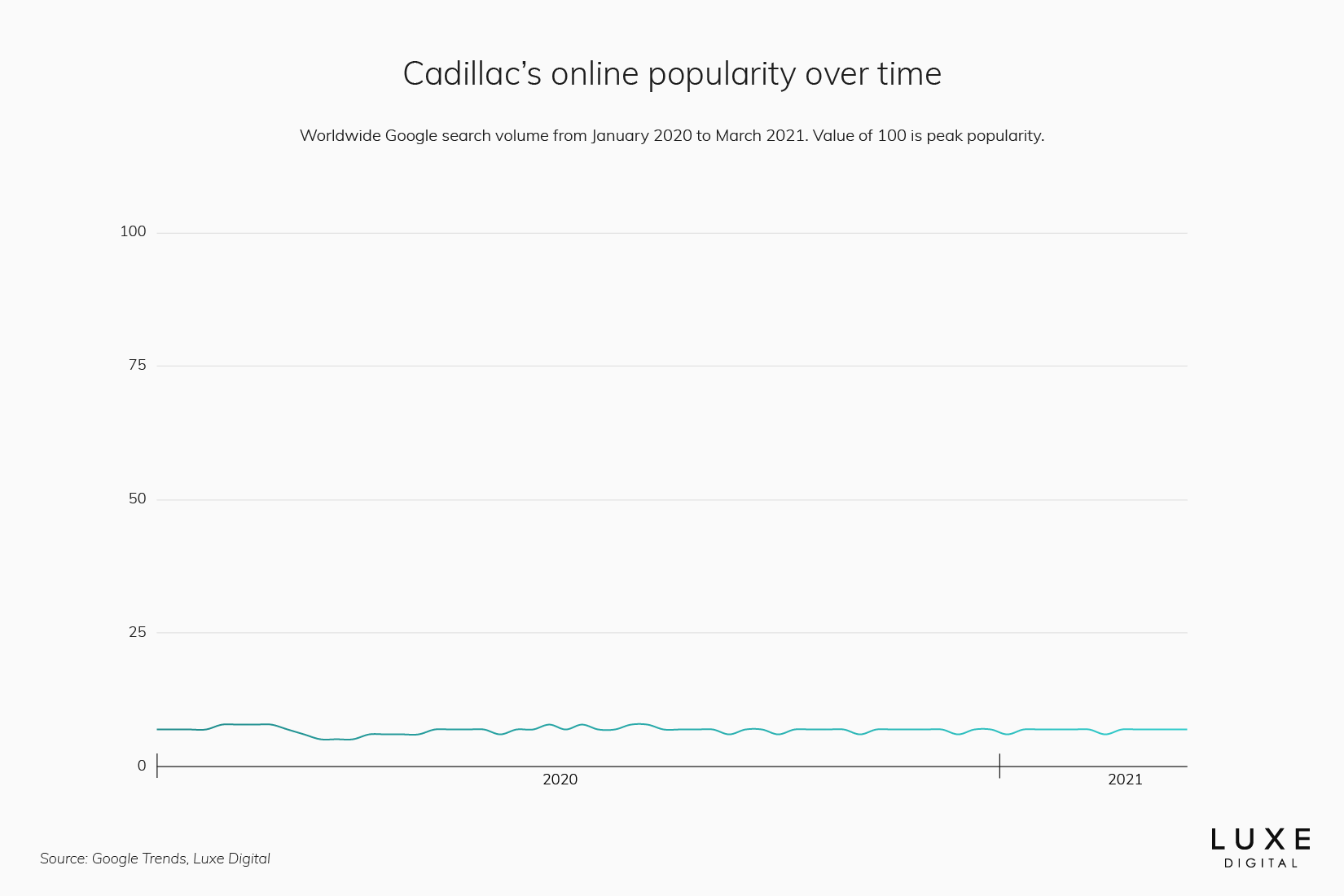 Rolls-Royce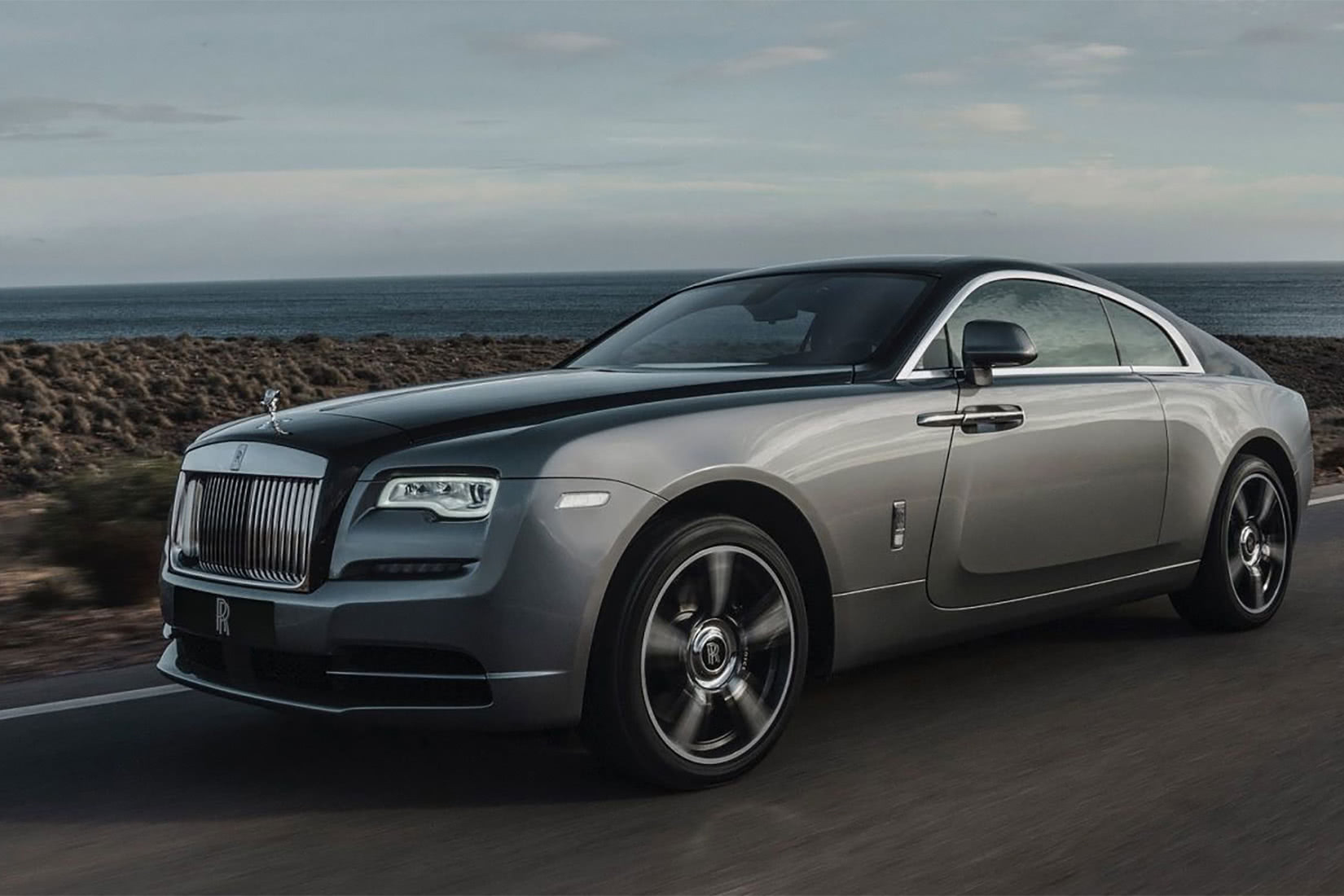 British luxury car brand Rolls-Royce is often seen as the pinnacle of luxury.
The Rolls-Royce Ghost was announced as Top Gear's 2020 Luxury Car of the Year and the brand has reveled in the attention ever since. Thought to be one of the most game-changing luxury supercars released in the last 12 months, Rolls-Royce – and those with an interest in the automobile world – likely anticipated such attention due to Ghost's understated, stylish features.
The limited edition Phantom Tempus Collection was another to draw attention over the last few months, along with the 20 orders of the Rolls-Royce Ghost received within the first day at the Bangkok International Motor Show. It's fair to say that Ghost plays a large role in Rolls-Royce's positioning on our list and for a very good reason.
Rolls-Royce has recorded the highest-ever first quarter sales results in the marque's 116-year history in Q1 2021, with 1,380 vehicles sold (up 62% on the same period in 2020).
Country of origin: United Kingdom
Most popular models: Rolls-Royce Phantom, Rolls-Royce Ghost, Rolls-Royce Cullinan
Average starting price: $410,000
Online interest for Rolls-Royce over time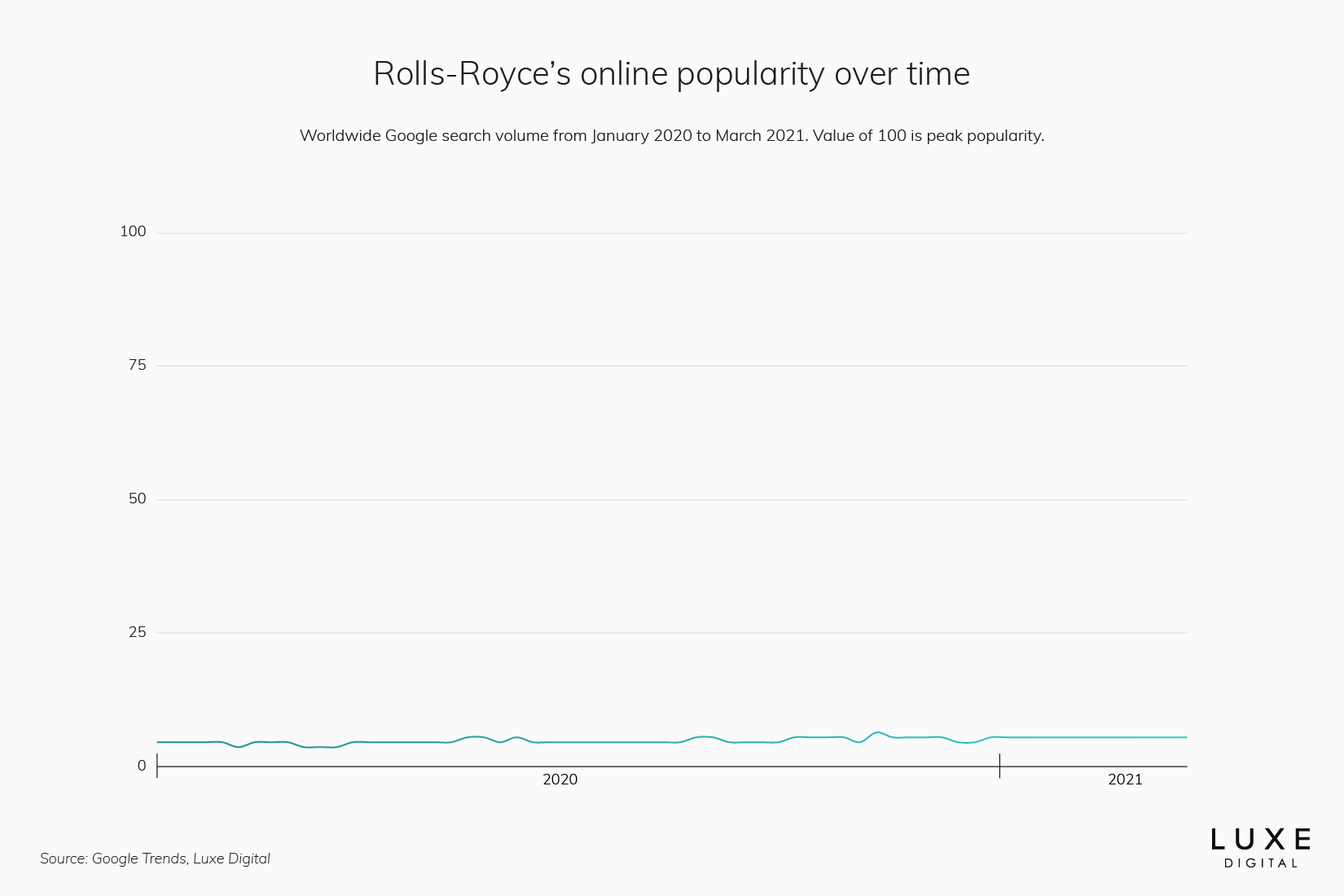 Maserati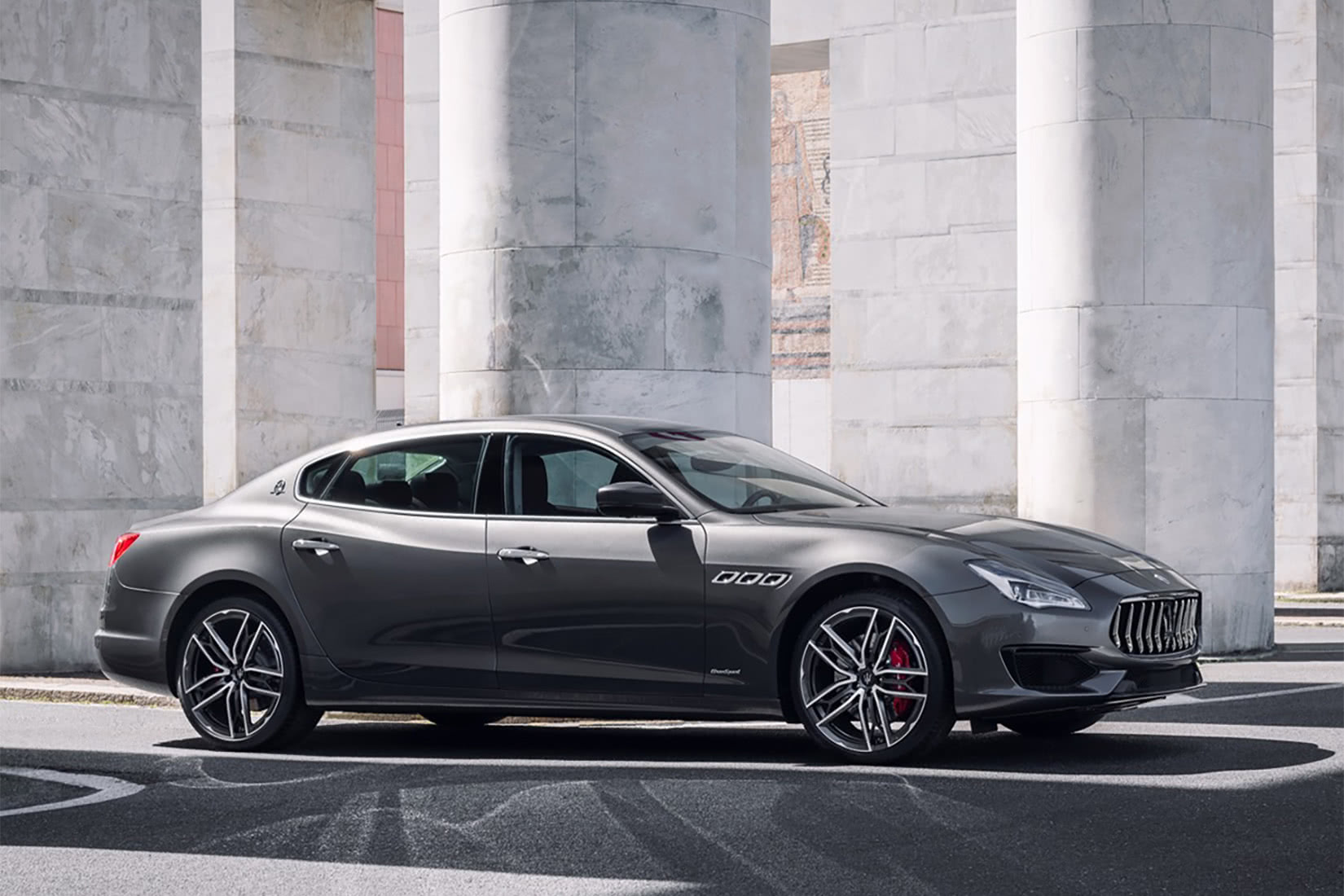 It's a big year for all things Maserati. 2021 marks 50 years of the Bora, one of the brand's most famed and first mid-engine vehicles. Its Golden Anniversary shone plenty of attention on the brand, with many taking the time to reminisce the developments of Maserati since its origins.
It's also the year the new Maserati MC20 received the prize for "Best of the Best" at the Red Dot Awards 2021. One of the biggest announcements for 2021 follows the arrival in July 2020 of Maserati's first hybrid model, the Maserati Ghibli: keeping the unmistakable Maserati sound but paired with a fresh redesign and electric features.
Country of origin: Italy
Most popular models: Maserati Levante, Maserati Ghibli, Maserati Quattroporte
Average starting price: $120,000
Online interest for Maserati over time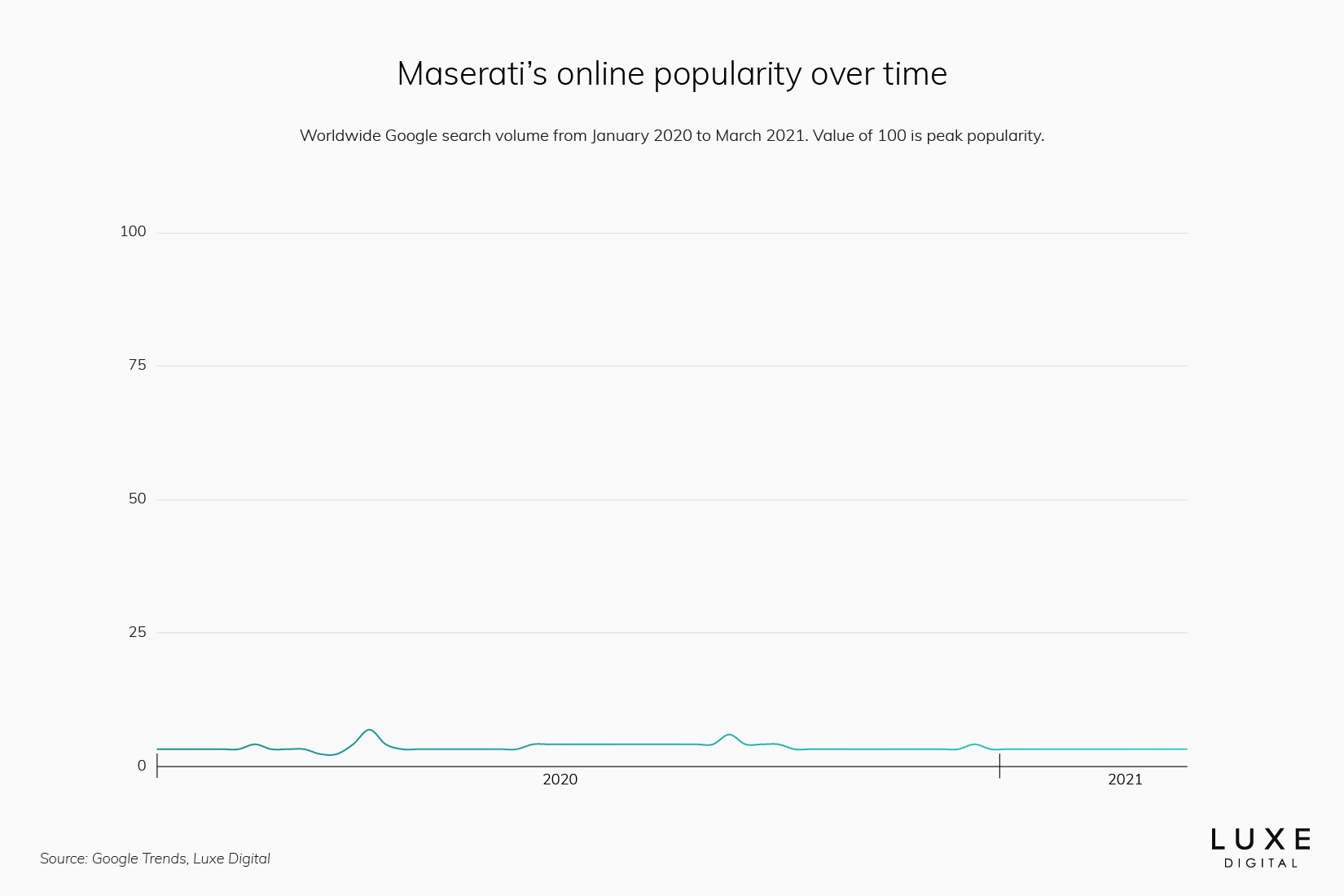 Bugatti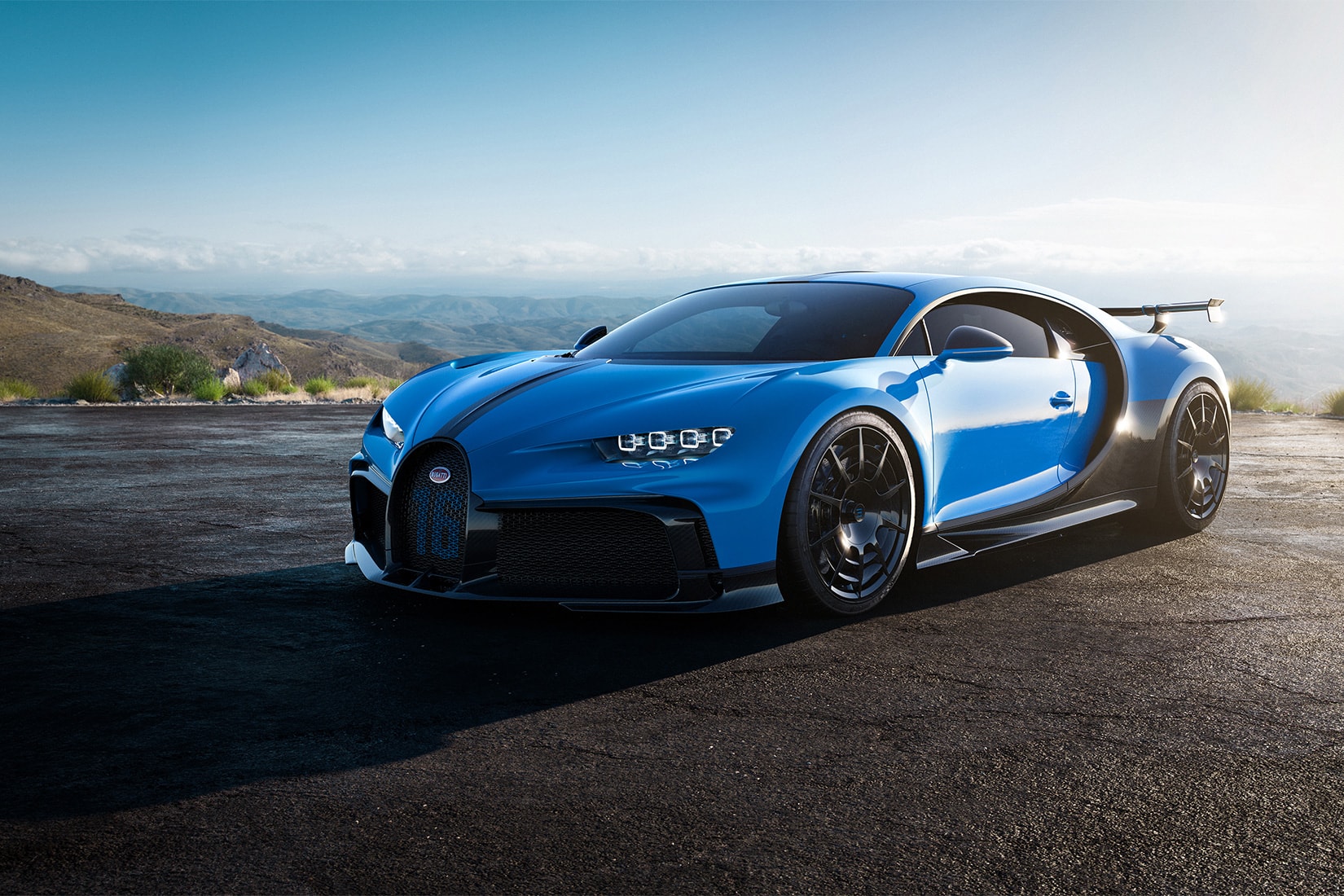 Bugatti already confirmed that it'll continue to grow the Chiron family and a mysterious prototype spied back in July 2020 kept all eyes pinned on social media, waiting for further developments. As of yet, the USP of the latest addition to the family is relatively unknown, after Bugatti confirmed it would rather focus on other elements than top speeds with this new variation.
This is a similar theme to almost all of Bugatti's media attention in recent times, with other notable headlines focusing around the creation and release of the 300th Chiron Hypercar (out of a predicted 500) and the unveiling of the first Centodieci Hypercar. Inspired by the best, Bugatti continues to draw online and offline attention for its seemingly impossible better-than-the-last expensive supercars. So expensive, in fact, that we keep an updated listing of Buggatti's cars prices if you're curious to see how the brand's models compare.
Country of origin: France
Most popular models: Bugatti Chiron, Bugatti Veyron, Bugatti Divo
Average starting price: $7.4 mil
Online interest for Bugatti over time