The rise and growth of digital native DTCs have been a trendy topic in marketing circles lately.
Warby Parker. Bonobos. Glossier. Casper.
You have probably heard of these innovative, digital native brands that have become household names in modern retail.
Some of these digital native brands, such as Glossier, Casper and Away, have reached unicorn status — reaching a $1 billion valuation or more.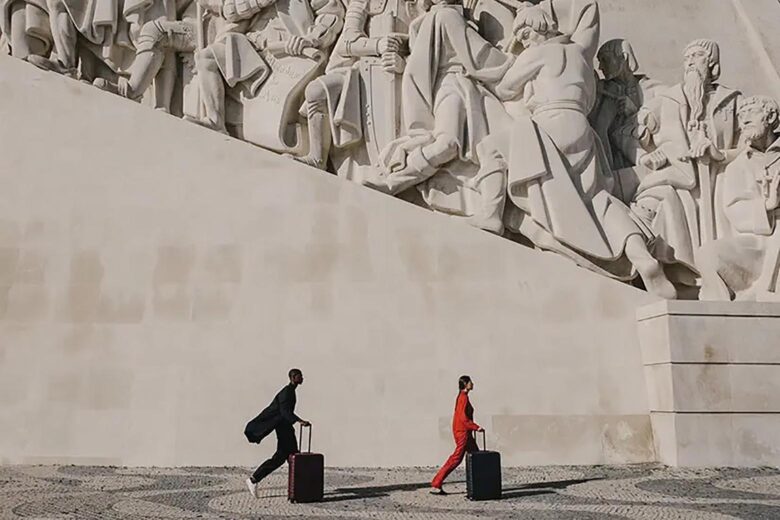 Other digital native brands have been acquired by big corporate companies and retailers (Unilever paid $1 billion for Dollar Shave Club back in 2016, while Walmart acquired Bonobos in June 2017).
A small number of digital native brands even went public. The online luxury resale site The RealReal went public in June 2019, and Casper followed suit with its own IPO in February 2020.
Digitally native brands are reshaping nearly every sector by leveraging a direct-to-consumer (DTC) model, fostering a direct relationship with consumers from the launch — sometimes even building sizable online followings before going to market.
By definition, digital native DTC brands are born online. They usually thrive on social media, allowing them to connect with young, affluent Millennials and Gen Z consumers deeply.
At Luxe Digital, we love to keep a pulse on industry disruptors and the future of luxury retail. So we set to scout the internet in search of the best digital native DTC brands that are disrupting the luxury industry, specifically. If some readers might argue that these brands are not "luxury" per se, these disrupting brands are taking a piece of luxury sales, nevertheless.
For this ranking, we looked specifically at the digital native DTC brands that launched their own products online. We deliberately did not include service-based digital native DTC brands.
To rank the digital native DTC brands, we took into account a combination of online traffic, social media audience, and social media engagement to create this list. You can read more details about our methodology and terminology at the end of this article.
Check also our key findings after analyzing all these fast-growing luxury digital native brands. Our research gave us a good idea of the common traits of successful luxury digital native DTCs.
The 15 best luxury digital native brands
1. Away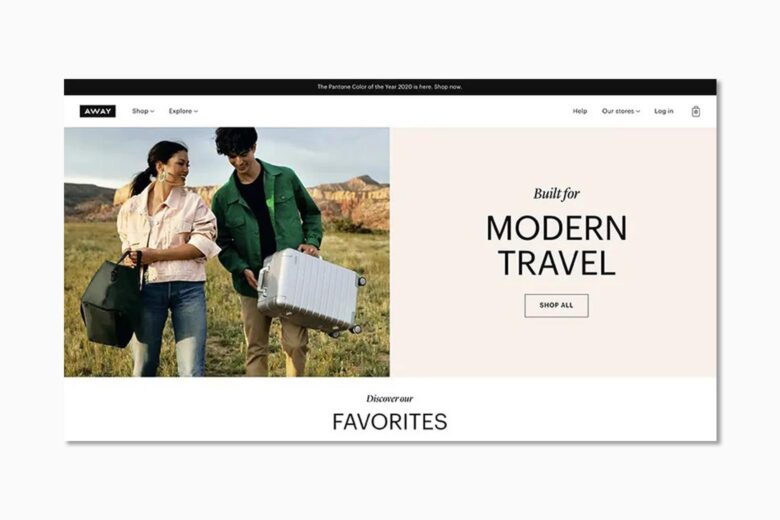 Category: Travel / Lifestyle
Founded by two former Warby Parker's executives, Away is a high-end travel and lifestyle brand. Away produces and markets travel gear, using a direct-to-consumer business model.
Key to Away's success: content and more content.
From the start, Away positioned itself as a travel-focused lifestyle brand, with its luggage being only a part of the experience.
Away continuously showcases stories of travel and provides its online community with travel-related content such as city guides, must-see checklists, and inspiration from around the globe in its digital magazine, Here.
Away built a presence on social media and began building its storyline on Instagram before the products were even launched.
Away also partnered up early on with highly curated travel bloggers and Instagrammers, celebrating and nurturing the creation of UGC. The brand's hashtag, #travelaway, currently has over 78,378 posts on Instagram.
Product-wise, Away launched in 2016 with a single product, The Carry-On suitcase, which was "thoughtfully designed for modern travel" based on extensive user testing, focus groups, and survey responses from hundreds of travelers.
Built with Shopify.
2. Parachute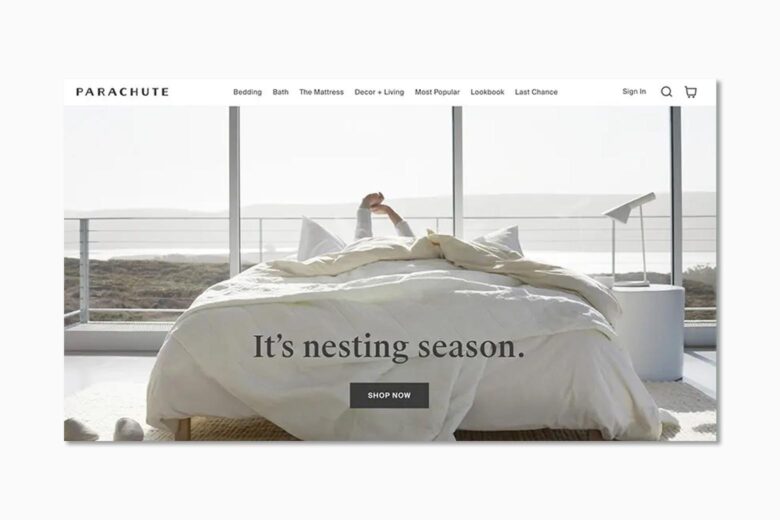 Category: Home
Parachute Home is a lifestyle brand of premium quality, non-toxic home essentials responsibly manufactured by artisans.
Launched in 2014 as an online-only, direct-to-consumer bedding brand, Parachute Home has since expanded its product assortment beyond the bedroom to become a full-scale home brand. Parachute Home opened several brick-and-mortar retail spaces across the U.S. – starting with Venice, California in 2016.
Parachute Home's Instagram feed has a distinctive look and feel, displaying its products in authentic home spaces. Parachute Home also promotes its "Instagram Shop" (powered by its #MyParachuteHome hashtag) within its eCommerce site for customers to directly shop the looks they love. From the start, Instagram has played a vital part in Parachute Home's marketing mix to drive brand awareness, acquisition, and retention.
Built with Shopify.
3. Brooklinen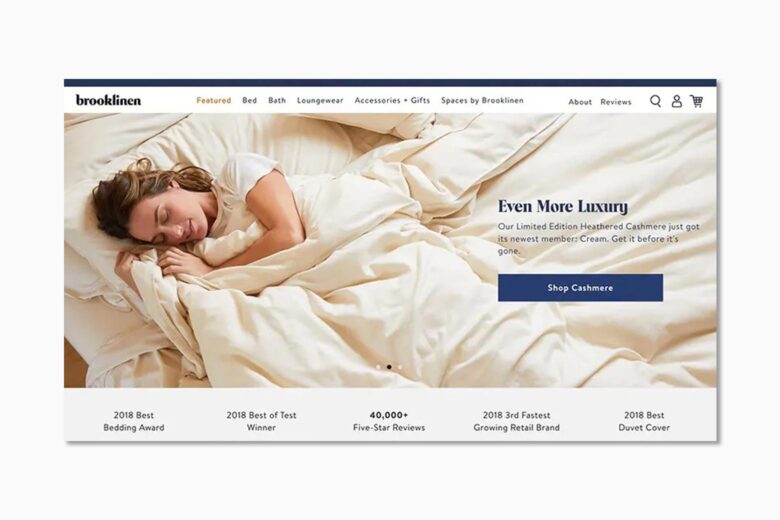 Category: Home
Brooklinen is a Brooklyn-based direct-to-consumer luxury bedding brand selling stylish, luxury-grade linens.
Brooklinen first validated its idea with a successful campaign on Kickstarter in April 2014 that raised $237,000 in pre-orders, from 1,733 backers.
Brooklinen partnered with top home design and lifestyle influencers, to showcase how they integrated Brooklinen's luxury linens into their stylish homes.
Brooklinen recently launched Spaces by Brooklinen, a highly curated marketplace for quality home goods from partner brands.
Built with Shopify.
4. Shinola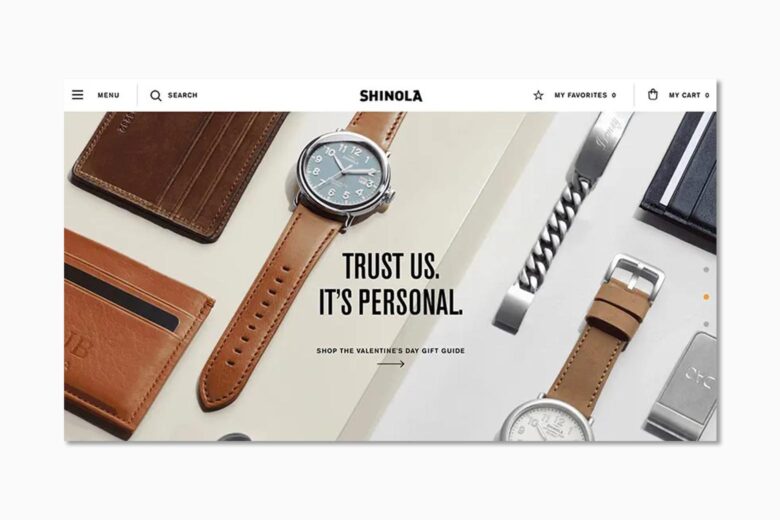 Category: Watches & Accessories
Shinola is a Detroit-based luxury-crafted goods brand that manufactures and sells timepieces, leather goods, bicycles, jewelry, and more. Unlike most of the other DTC watch brands on the market, Shinola designs and manufactures its own watches in-house using Swiss movements.
Shinola's design is a timeless testament to the American way of life. The company is now also selling other accessories, such as bags and jewelry.
Built with a custom platform.
5. Anine Bing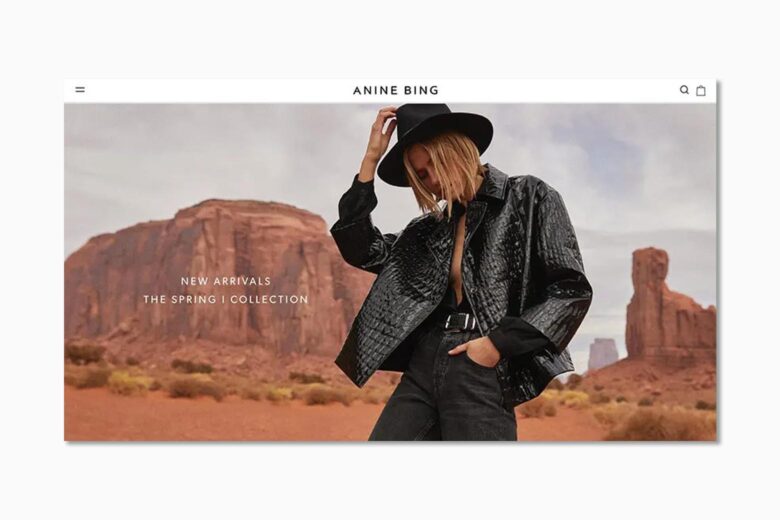 Category: Apparel/Fashion
In 2012, blogger-turned-influencer Anine Bing launched her eponymous line of luxurious wardrobe basics. Today, Anine Bing is a popular digital-first clothing line based in Downtown Los Angeles.
The brand takes inspiration from Scandinavian design and the American spirit. The result is a collection of luxurious staples, wardrobe basics, and statement pieces that are current and timeless.
Built with Shopify.
6. Boll & Branch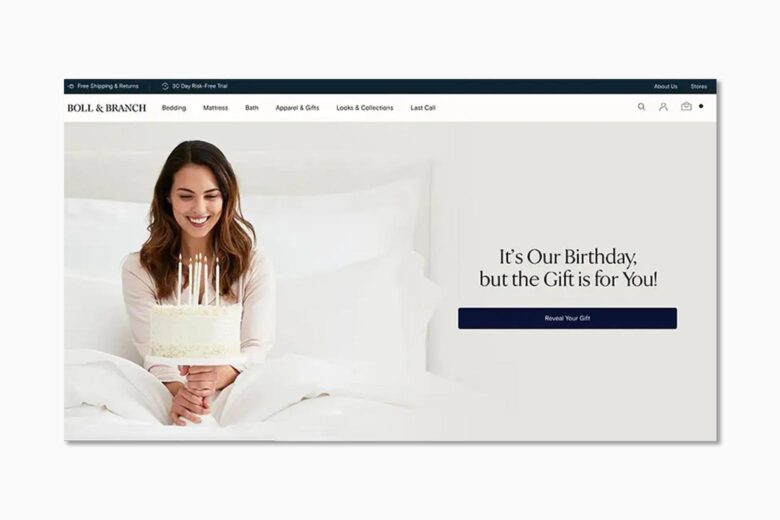 Category: Home
Boll & Branch is a digitally native, vertically integrated brand (DNVB) that designs, manufactures, and sells socially conscious luxury bedding, bath, and apparel goods. Their luxury home textiles are all made from 100% GOTS-certified organic cotton in Fair Trade-certified mills.
Boll & Branch first launched with a line of ultra-luxurious, ethically sourced, certified organic cotton sheets and blankets.
Built with Shopify.
7. Summersalt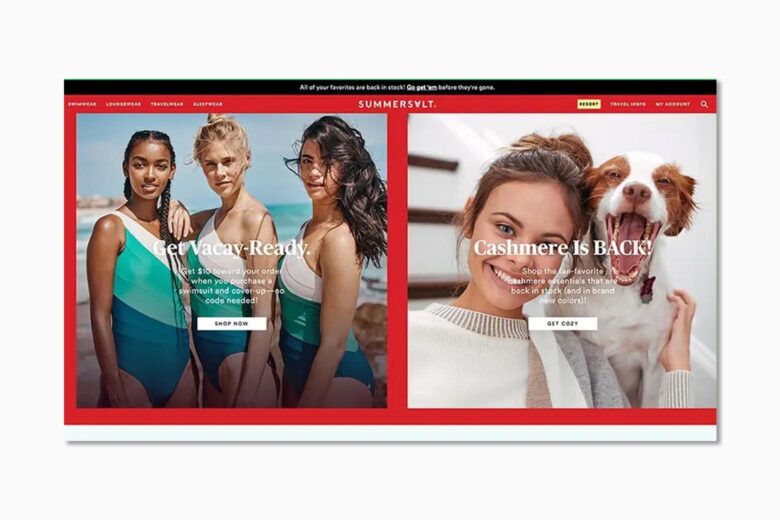 Category: Fashion
Summersalt is a direct-to-consumer swimwear and travel wear brand. In 2017, Summersalt launched a line of designer swimwear and has now expanded to include travel essentials that are equal parts fashion and function. Summersalt has a dedicated hub for travel content, The Forecast, its travel content platform to inspire female travelers.
Summersalt claims to have developed its swimsuits and travel wear after taking 1.5 million measurements from 10,000 women.
Built with Shopify.
8. Senreve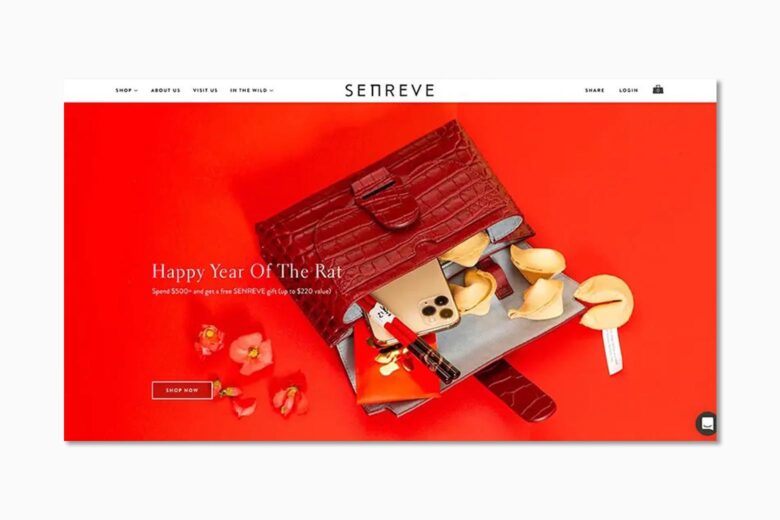 Category: Accessories / Fashion
Senreve is a women-founded lifestyle brand selling luxury handbags for the multifaceted, modern woman. Senreve started as an online-only and direct-to-consumer brand.
Senreve uses a data-driven, customer-centric approach to product development: Senreve conducted focus group interviews, surveys, and user testing with hundreds of women. They iterated their prototypes to produce thoughtfully designed handbags that are handcrafted by artisans in Florence from Italian leather.
Senreve partnered with different social media influencers and traditional Hollywood celebrities. The launch consisted of two styles, the Doctor and the Maestra.
Built with Shopify.
9. M.Gemi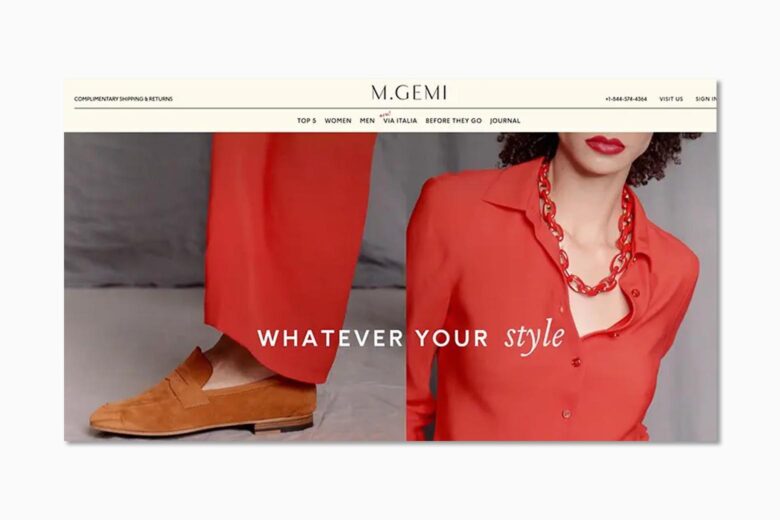 Category: Footwear / Fashion
M.Gemi is a luxury footwear brand selling well-crafted, high-end shoes inspired by the best of Italian fashion. The luxury footwear brand works with small artisanal workshops across Italy to produce handmade shoes by families who have been honing their craft for generations.
Every Monday, the brand drops limited quantities of new shoe styles. This helps create buzz and excitement with product scarcity. M.Gemi also expertly leveraged Instagram to build brand awareness during its initial launch phase.
Built with Shopify.
10. Aurate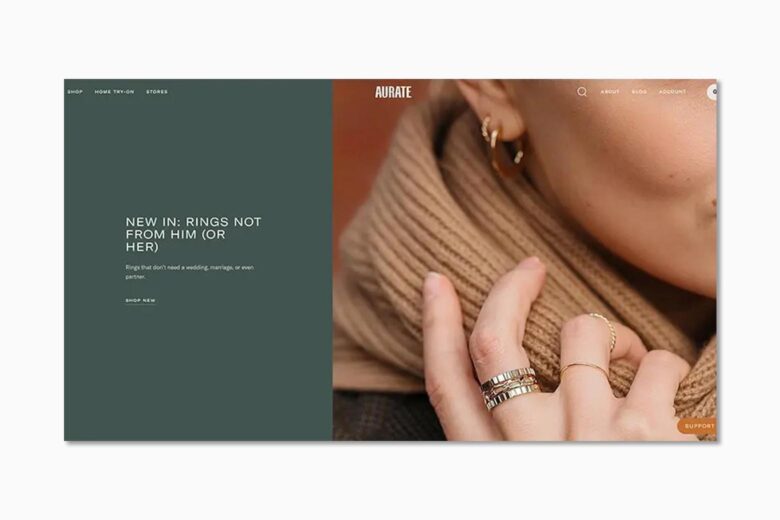 Category: Jewellery
Aurate is a direct-to-consumer fine jewelry brand. Noteworthily, Aurate adopted an omnichannel strategy from its conception. The brand decided to focus from day one on delivering jewellery with durable materials, transparent pricing, sustainable production, and giving back to their community.
Each of Aurate's pieces is designed and handmade using ethically sourced and sustainably made 14K gold, 18K gold, and 14K gold-plated vermeil. Their entire sourcing and production process ensures that their final products are of the highest quality.
Built with Shopify.
11. Koio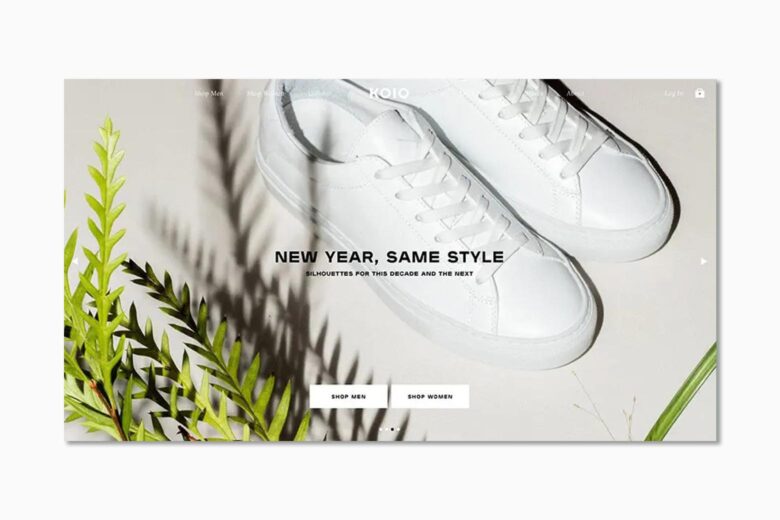 Category: Footwear
Koio is a luxury, made-in-Italy sneaker brand. The founders launched the brand after finding the right craftspeople in Italy to work with their vision for Koio: versatile style, impeccable quality, and kickass design.
The debut collection focused on a single high-top pebbled calf leather sneaker in four colors. Since its launch, Koio has now evolved into selling a range of shoes for men and women.
Collaborations are key to Koio's strategy — there is even a dedicated Collabs section on their website. The brand has partnered with disruptors from many industries (from tattoo artists to pastry chefs, and even Game of Thrones) to create limited-edition sneakers.
Built with Shopify.
12. Saatva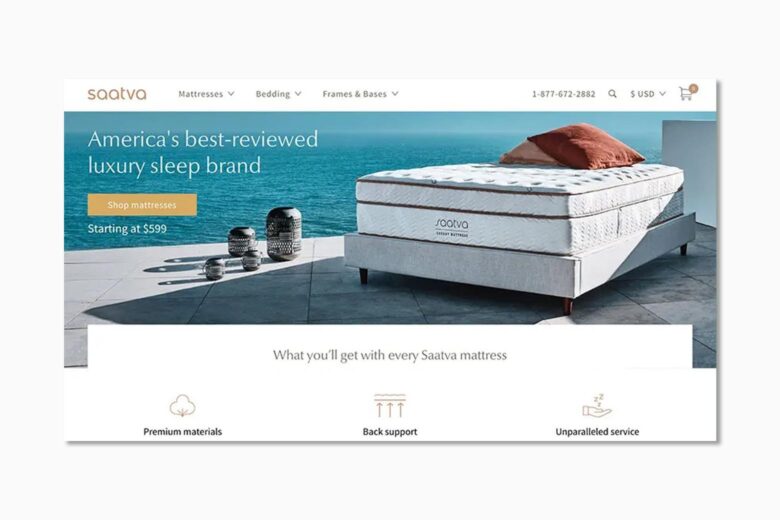 Category: Home
Saatva is an online direct-to-consumer lifestyle brand that specializes in luxury mattresses and home furnishings. The company sells three brands of bedding: Saatva, Loom & Leaf, and its premium category Zenhaven.
The luxury mattress brand offers high-quality products designed with care and backed by thorough research. They also provide premium white glove delivery service, with their mattress being hand-delivered and set up for their customers.
Built on a custom platform.
13. Burrow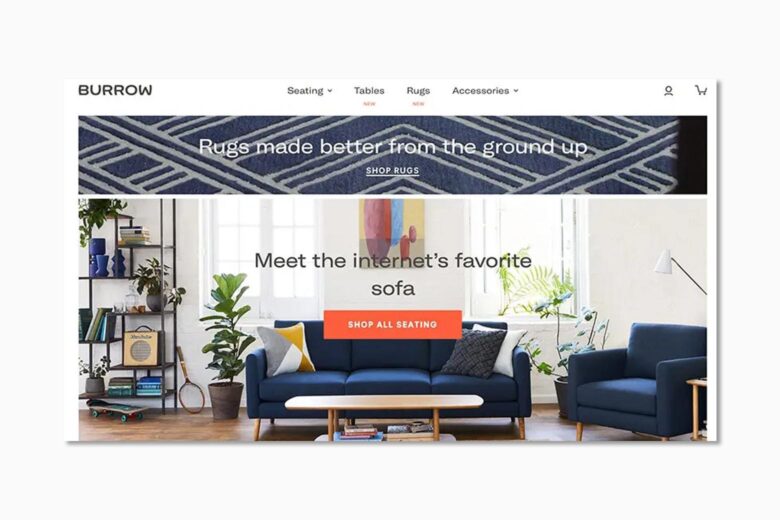 Category: Home
Burrow is a digital native DTC brand of easy-to-assemble and modular high-end sofas. It's making a big bet to go against Ikea in the furniture market by upping the quality of its products. Burrow offers smart design and timeless designs to fit Millennials' lifestyles.
The brand manufactures all its furniture in the US and ships directly to consumers, avoiding middlemen costs.
Built on a custom platform.
14. The Clear Cut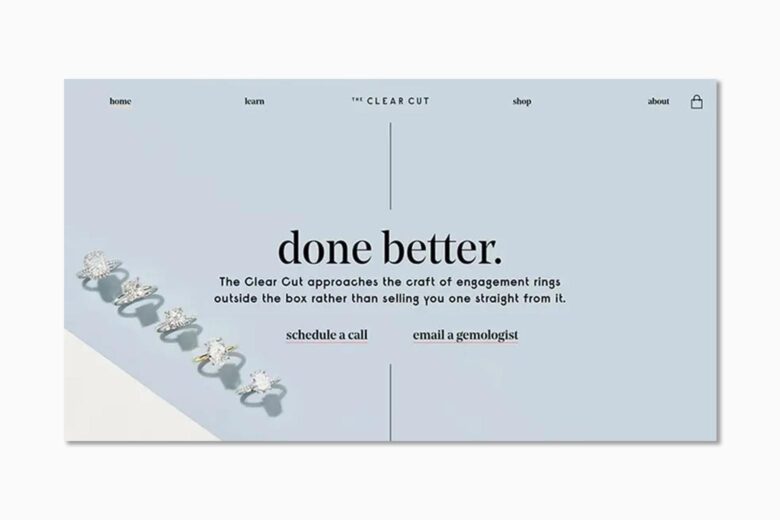 Category: Jewellery
The Clear Cut is a New York-based direct-to-consumer diamond ring platform disrupting the way millennials are shopping for high-quality engagement rings and fine jewelry.
What started as an informative jewelry blog and side hustle, making rings for friends and acquaintances, quickly evolved into a thriving online business.
The Clear Cut demystifies the buying process for couples through expert educational content. The DTC brand deeply connects with its audience by sharing real-life customer proposal stories. The Clear Cut has a dedicated Learn section on its website and hosts regular Q&As on Instagram stories.
Built with Shopify.
15. Snowe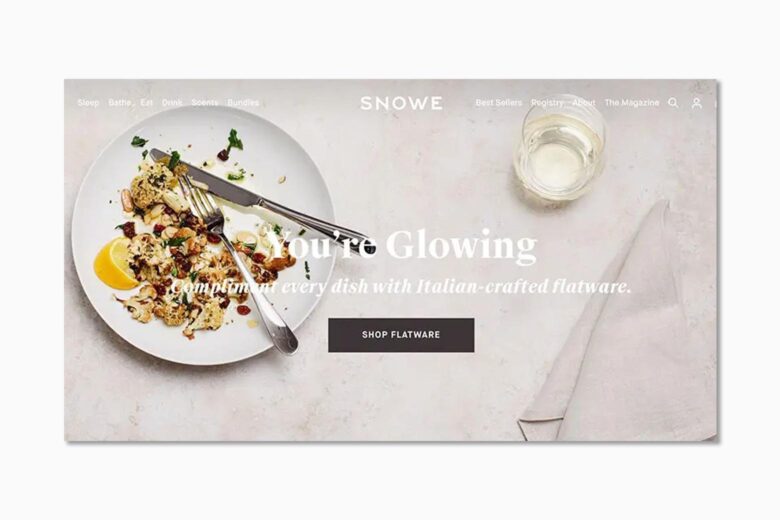 Category: Home
Snowe is a timeless direct-to-consumer home brand. The DTC company offers a collection of luxury-quality, thoughtfully designed home essentials that are manufactured in Europe and the United States.
Snowe first launched in 2015 with "The Foundation Collection", an initial collection of versatile dinnerware, drinkware, bedding, and bath linens.
Built with Shopify.
Key findings: Common Traits of Successful Luxury Digital Native DTCs
After compiling this list of the 15 best digital native luxury brands, seven key factors seem to support their fast-growing success.
Story matters
Social and environmentally-conscious values are key for digital native DTC brands. Digital native DTC brands often build their values and ethos into the business from the get-go.
Brand purpose (whether it's an emphasis on ethically sourced goods, local manufacturing, etc.) is prominent in digital native DTC brands' marketing playbook. Not surprising considering that affluent consumers, especially Millennials and Gen Z consumers, increasingly favor brands that drive positive change.
More than high-quality products, these brands are selling being part of a meaningful social movement or lifestyle. Many brands thus invest heavily in experience-led branding and editorial lifestyle content.
Transparency is trending
A message of transparent production and pricing is a hallmark of digital native DTCs. Digital native DTC brands strive to cultivate an authentic brand image.
Digitally native brands tend to emphasize the transparency of their sourcing and manufacturing processes. Most brands document their product development and brand journey. Some even go as far as sharing business information, such as their production costs.
Social is currency
Digital native DTC brands are fluent in social media and influencer marketing. Most digital native DTC brands invest heavily in social media as both a marketing tool (to showcase their values and brand voice) and sales channel.
Clicks to bricks: Digital native doesn't mean digital-only
Most of the digital native DTCs are no longer pure online players. They are strategically opening not only temporary pop-ups but also permanent showrooms and physical stores, but with a twist. They are reimagining the purpose of physical stores by bringing their digital DNA and brand experience into the physical space.
People product
DTC businesses are experts at leveraging customer data to inform product development.
Every single successful DTC company has adopted a data-backed, customer-centric approach to product development.
A championed aspect of digital native direct-to-consumer brands is their ability to create tailored products by collecting these first-party data. Many DTC brands have started with thoughtful prototyping vetted by their online community and continuously elevated by first-party data.
They leverage data to power laser-focus their marketing efforts, deploy highly personalized messaging, and make meaningful connections with their customers.
Minimal offerings
Most of the successful digital native DTC brands made it big by selling just one product or at least a very lean product portfolio that they eventually grow as they scale.
Interestingly, as these digital native brands enter new phases of growth, they are investing in traditional marketing. They are opening their own physical retail stores and even moving into wholesale, disrupting in a way the very definition of their origins — more on this in our speakeasy.
Shopify is the platform of choice
80% of the DTC brands featured on our list are built on Shopify. The eCommerce platform is incontestably the content management system (CMS) of choice to rapidly launch and scale digital native brands. And it's easy to see why. With a rich ecosystem of apps and an efficient core offering, Shopify is the best option on the market at the moment.
See how you can launch your own brand on Shopify with our step-by-step guide.
Methodology: How we ranked the best luxury DTC brands?
We started by gathering a fairly comprehensive list of DTC brands from IAB 250 Direct Brands To Watch 2019, The Lead's Foremost 50 2019 as well as those brands our team knew from other sources.
That gave us an extensive list of potential brands to work with.
Next, we reviewed each brand to select only those that offer genuine and original products with a level of craftsmanship that meets our definition of luxury.
With our list of potential brands now smaller, we manually analyzed their online traffic and social media performances using tools such as SimilarWeb and RivalIQ.
We created a custom ranking system by weighting data as follow:
50% for the traffic
25 % for the size of their social media audience
25% for the level of social media engagement
| | | | | |
| --- | --- | --- | --- | --- |
| Rank | Brand | Average Website Monthly Visits | Social Media Audience | Social Media Engagement |
| 1 | Away | 1,225,000 | 679,188 | 1,923,222 |
| 2 | Parachute Home | 346,667 | 495,178 | 1,106,021 |
| 3 | Brooklinen | 681,667 | 423,605 | 184,109 |
| 4 | Shinola | 295,000 | 387,793 | 266,602 |
| 5 | Anine Bing | 125,000 | 856,182 | 6,394,222 |
| 6 | Boll & Branch | 373,333 | 225,749 | 40,984 |
| 7 | Summersalt | 231,667 | 187,960 | 298,727 |
| 8 | Senreve | 251,667 | 145,529 | 262,974 |
| 9 | M.Gemi | 201,667 | 279,434 | 248,178 |
| 10 | AUrate | 103,333 | 156,101 | 342,840 |
| 11 | Koio | 73,333 | 169,013 | 356,824 |
| 12 | Saatva | 236,667 | 111,452 | 24,557 |
| 13 | Burrow | 166,667 | 60,252 | 132,743 |
| 14 | The Clear Cut | N/A | 104,138 | 276,313 |
| 15 | Snowe | 106,667 | 62,201 | 58,481 |
Terminology
Our summary table at the top of this article refers to the following terms:
Website monthly visits are calculated as the average of 6-month data from SimilarWeb for the second half of 2019 (July 2019 – December 2019) worldwide, using the primary brand domain.
Social media audience is calculated based on Rival IQ reports for each brand as of 17th January 2020. It represents the sum of Facebook Fans, Instagram Followers, Twitter Followers, and YouTube Subscribers.
Social media engagement is calculated based on Rival IQ reports for each brand between 1 January 2019 and 31 December 2019. It represents the total number of engagement actions across all tracked social channels, combining comments, likes, and shares.
Sources: