Watch aficionados or not, most people have heard of Seiko watches: quality Japanese timepieces at bargain prices. Fewer have heard of Grand Seiko watches, the company's younger brother brand and high-achieving sibling, which has been turning out an array of exquisite luxury watches since 1960.
Grand Seiko is on a quest for the 'perfect' watch, one that meets and exceeds existing expectations of precision, durability, and beauty. Redefining the meaning of hand-made with its team of highly skilled craftsmen, Grand Seiko's commitment to quality surpasses that of nearly all other luxury watch brands. We doubt this company has ever cut a corner in the entirety of its short but illustrious history.
At a glance
| | |
| --- | --- |
| | |
| Industry: Watches | Founded: 1960 |
| Headquarters: Japan | Founder: Daini Seikosha and Suwa Seikosha |
| Watch Collections: dress watches and sport watches | Parent organization: Seiko Corporation of America |
| Annual Revenue: $9 million USD | Website: grand-seiko.com |
Grand Seiko watch price
How much does a Grand Seiko watch cost?
Starting prices for an entry-level Grand Seiko watch are around $2,530 for some Grand Seiko Heritage models. Grand Seiko prices for watches from the Grand Seiko Evolution 9 collection begin at $9,220. At the other end of the price spectrum, some Grand Seiko Masterpiece watches cost over $200,000.
What is the most expensive Grand Seiko watch?
The most expensive Grand Seiko watch is the Grand Seiko Kodo Constant-force Tourbillon, which sold for $478,000, the highest price ever for a Grand Seiko sold at auction. The watch was also awarded the Chronometry Prize at the Grand Prix d'Horlogerie de Genève for its high-precision timekeeping abilities.
See how this compares to the world's most expensive watches.
What is the cheapest Grand Seiko watch?
The cheapest Grand Seiko watch is a Grand Seiko Heritage, with some models on sale for $2,530. You can also pick up watches from the Grand Seiko Elegance collection for $3,850 and models from the Grand Seiko Sport collection for around $3,550.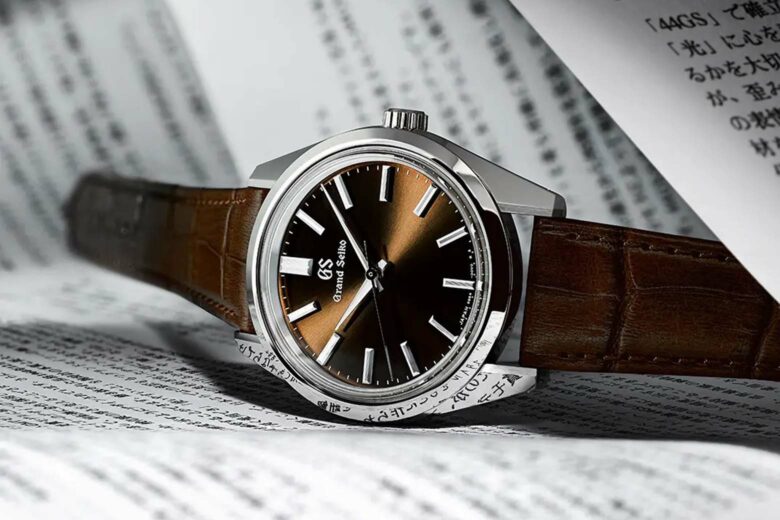 About Grand Seiko
History of Grand Seiko
Grand Seiko began life as a watch series by the watch company Seiko, best known for creating accessible priced Japanese quartz watches.
Launched by Daini Seikosha and Suwa Seikosha in 1960, two subsidiaries of Seiko Corporation, it quickly made headway creating high-quality watches for men on par with the luxury watches coming out of Switzerland.
The first generation Grand Seiko watches were made by Suwa Seikosha and were fitted with Calibre 3180. This was the first Japanese watch to be compliant with the standards of the Bureaux Officiels de Contrôle de la Marche des Montres and had a power reserve of 45 hours.
In 1964 came the Grand Seiko Self-Dater featuring a calendar function and water resistance of up to 50 meters. Three years later came the first automatic Grand Seiko: the 62GS.
1967 saw the launch of the Grand Seiko 44GS, which had the highest levels of accuracy of any manually wound 5-beat watch in the world. The design has gone on to influence subsequent Grand Seiko watch models with its multi-faceted hands, inward-slanted bezel, and semi-recessed crown.
In 1968 came the Grand Seiko automatic 10 beat 61GS as well as the manual 10 beat 45GS. That same year, the company released the first Grand Seiko watch for women.
In 1969, Grand Seiko released the 61GS V.F.A. and the 45GS V.F.A., both high-precision watches with an accuracy rating of one minute per month.
The Grand Seiko 56GS came out the following year with a caliber that was only 4.5 mm in height.
Then, in 1988, the first Grand Seiko quartz watch was released, known as the 95GS and offering a superior accuracy of ±10 seconds per year.
Ten years later, in 1998, the brand launched its first mechanical caliber in twenty years. This was followed by the 9256 series with a GMT function in 2002.
In 2004 came the Grand Seiko Spring Drive movement, a quartz-regulated mechanical movement that would go on to feature in most of the brand's most popular watches. It was designed to tell time the way nature does, continuously and silently, without ticking.
In 2006 the Grand Seiko 92G6 series was launched with a power reserve of 72 hours. New Spring Drive calibers followed, offering both GMT and chronograph functionality.
Interesting facts about Grand Seiko
In 2014, Grand Seiko won the Petit Aiguille award at the Grand Prix d'Horlogerie de Genève with its Calibre 9S86 and, in 2021, won the Men's Watch GPHG prize with the Grand Seiko Hi-Beat 36000 80 Hours.
In 2016, Grand Seiko launched its first all-ceramic case.
Grand Seiko is known for its Zaratsu polishing, which involves using a lapping machine to polish cases for a smooth and distortion-free mirror polish. Grand Seiko craftsmen train for around five years in Zaratsu before working on cases to be sold.
Famous Swiss watchmaker Philippe Dufour shared his finishing techniques with the watchmakers at the Grand Seiko Micro Artist Studio.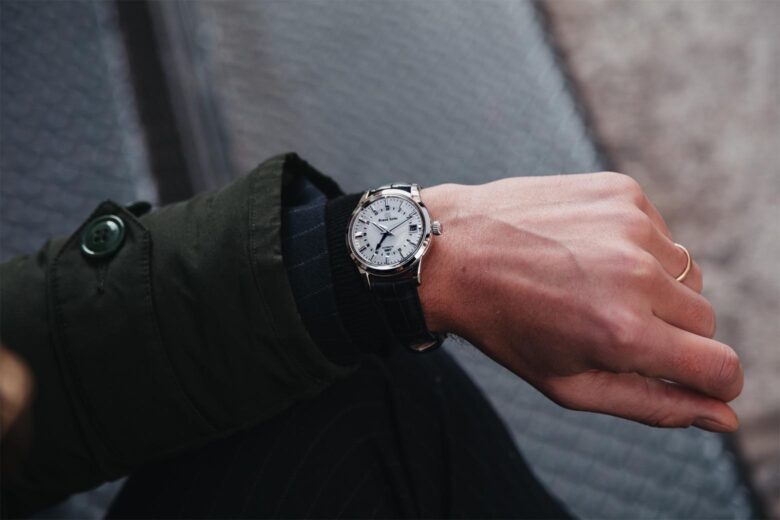 Grand Seiko product range
Grand Seiko's watch range currently falls into five collections.
First, there's the Grand Seiko Evolution 9 series, offering classic Grand Seiko style and craftsmanship and including the famous Grand Seiko White Birch.
The Grand Seiko Masterpiece collection is where the watch brand really shows off its horological prowess with timepieces created by the very best of its craftsmen.
Grand Seiko Elegance is as it sounds: elegant and timeless watches for special occasions. Meanwhile, the Grand Seiko Heritage collection offers contemporary re-imaginings of classic Grand Seiko timepieces.
Finally, there's Grand Seiko Sport: durable, legible, and ultra-accurate.
Signature materials and craftsmanship
At Grand Seiko, attention to detail and commitment to quality is second to none. This is partly because virtually every component is manufactured in-house and partly because every watch is assembled by a single watchmaker. Hand-crafting is taken to the next level inside the Grand Seiko factory, from hand-applied indexes to the hand-assembly of movements.
The company also prides itself on constantly raising the benchmark for watchmaking. The 1988 Grand Seiko 95GS, for example, far exceeded regular quartz watches in terms of performance and accuracy, accurate to ±10 seconds per year and featuring quartz crystals grown in the company's own facilities.
And, in 2003, Grand Seiko launched a new quartz watch with a remarkable 40,000 A/m of magnetic resistance with new casing techniques so that it is unaffected by proximity to computers, mobile phones, and other electronic devices.
But one of Grand Seiko's most famous innovations is the Spring Drive, created by engineer Yoshikazu Akahane. It took twenty years and 600 prototypes before he and his team launched the Spring Drive, combining a traditional mainspring with an electronic regulator. The result was a watch powered by the wearer's movement but with a level of accuracy on par with quartz watches.
That wasn't the end of the Spring Drive story. Grand Seiko extended the power reserve first from 55 to 72 hours and then to 82 hours. Some Grand Seiko Masterpiece watches have a power reserve of 192 hours or 8 days.
Grand Seiko's dedication to creating beautiful watches is also unparalleled. Dials are designed to reflect the natural beauty of Japan, inspired by seasonal changes and iconic Japanese flora. For example, the watch brand's 'white birch' dial, with its unique textured surface inspired by the bark of the birch tree. It took nearly six months to produce the metal molds for the birch patterning alone. Or there's the iconic Grand Seiko SBGA011, nicknamed the Snowflake for its textured dial, made to resemble snow.
Where is Grand Seiko made?
Mechanical Grand Seiko watches are assembled at the Shizuku-ishi Watch Studio in Morioka in Iwate Prefecture in northern Japan. Quartz and Spring Drive Grand Seiko watches are made at the Shinshu Watch Studio in Shiojiri, Nagano Prefecture. This is also where Grand Seiko cases, hands, and dials are made.
What is the relationship between Grand Seiko and Seiko?
Grand Seiko is a line of luxury watches made by watch company Seiko, designed to compete with high-end Swiss watches. This watch series was first launched in 1960 by Daini Seikosha and Suwa Seikosha, two subsidiaries of the Seiko Watch Corporation. While Seiko is known for making affordable quartz watches, Grand Seiko has built a reputation for delivering superbly high-quality luxury timepieces with a price tag to match.
Brand values
| | |
| --- | --- |
| Vegan options: | No |
| Carbon-neutral: | No |
| Gives back: | Yes |
Grand Seiko watches
Grand Seiko Evolution 9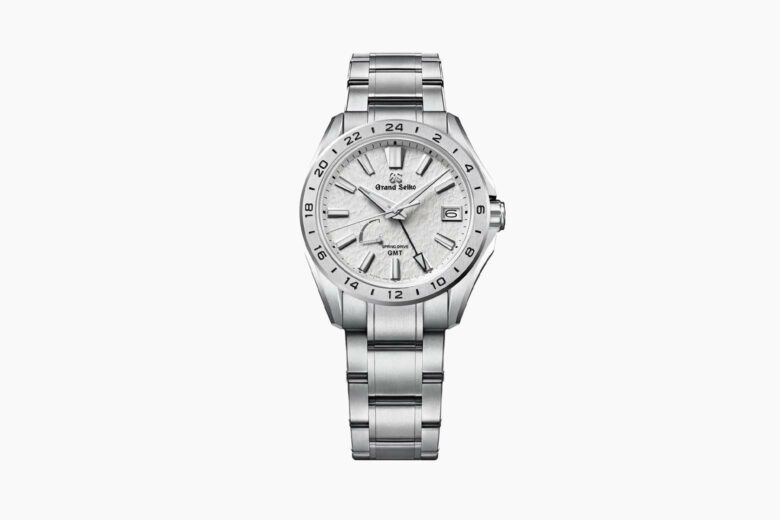 Sleek, assertive, and modern in outlook, yet drawing on traditional Japanese cultural influences, the Grand Seiko Evolution 9 collection features the brand's famous commitment to precision, legibility, and aesthetics but there is a new look to both the shape of the case and the chunkier bracelets. Look out for the Evolution 9 White Birch models with their textured dials.
| | |
| --- | --- |
| Price: | $9,220 – $65,310 |
| Current case size: | 40 mm – 45.3 mm |
| Movement: | Automatic with manual winding and Spring Drive |
| Water resistance: | 100 m |
| Crystal: | Sapphire |
Grand Seiko Masterpiece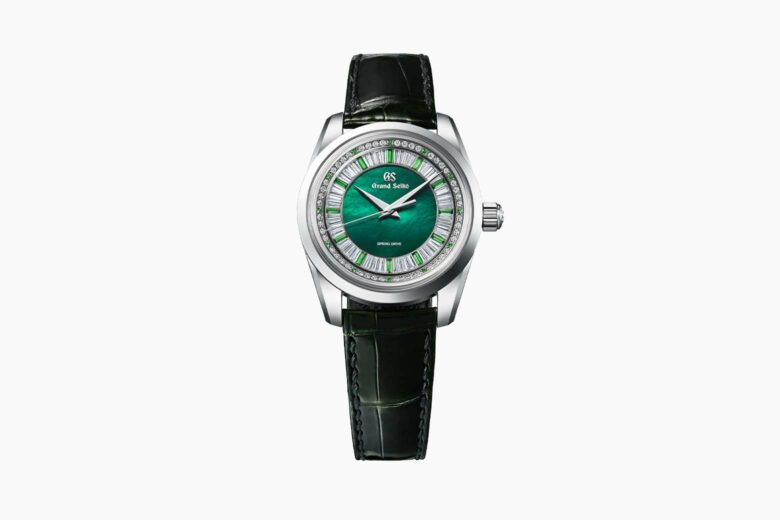 The Grand Seiko Masterpiece collection is where the watch brand truly embodies its philosophy of excellence with a series of watches crafted by an elite team of the company's most skilled watchmakers. This is where Grand Seiko really goes above and beyond in the pursuit of precision and perfection. Components are made entirely in-house and designs are inspired by nature and landscapes, such as the skies above the mountains of Shinshu.
| | |
| --- | --- |
| Price: | $57,000 – $212,260 |
| First release year: | 2016 |
| Current case size: | 37.5 mm – 43 mm |
| Movement: | Spring Drive and |
| Water resistance: | Splash resistant up to 100 m |
| Crystal: | Sapphire |
Grand Seiko Elegance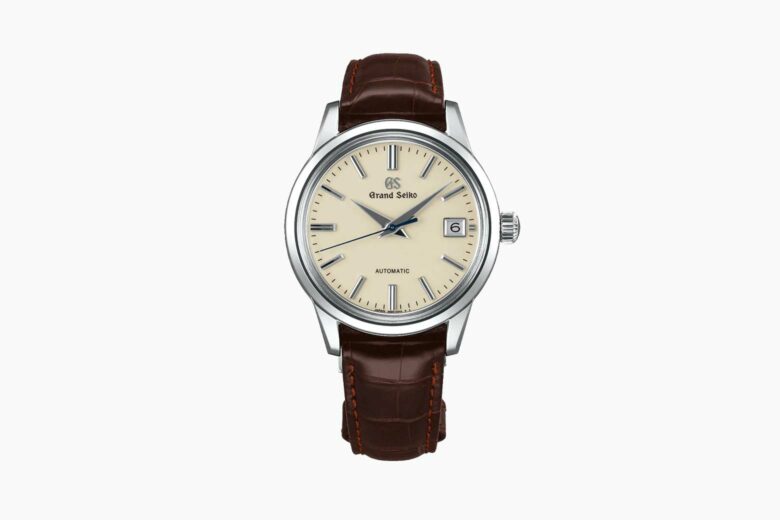 The Grand Seiko Elegance collection are dress watches that one would wear to any important occasion, whether it's a wedding, party, exclusive dinner, or business event. Demonstrating the brand's quintessentially Japanese aesthetic with a purity of design and timeless style, perfect black-tie attire, they are refined, understated, and, unsurprisingly, incredibly elegant. You'll find mostly leather straps in this collection and a range of dial colors and designs.
| | |
| --- | --- |
| Price: | $3,850 – $104,850 |
| First release year: | 2019 |
| Current case size: | 34 mm – 40.2 mm |
| Movement: | Quartz, automatic, manual, and Spring Drive |
| Water resistance: | Splash resistant to 100 m |
| Crystal: | Sapphire |
Grand Seiko Heritage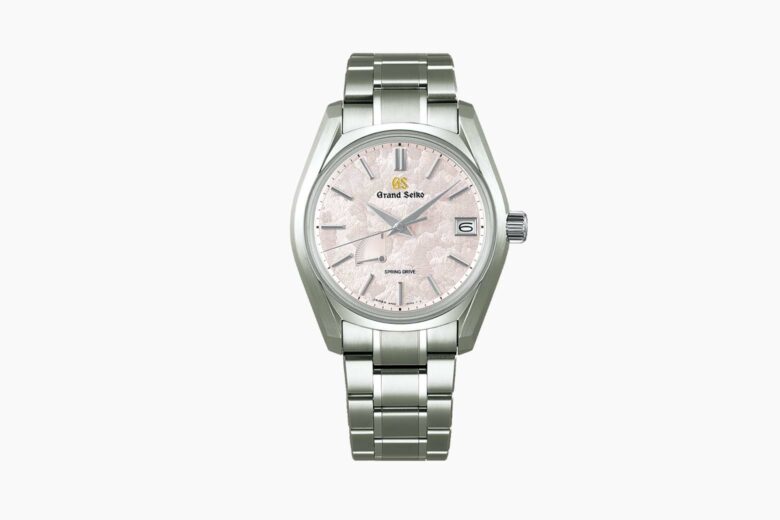 A series of classic watches that epitomize Grand Seiko style, the Heritage Collection includes re-creations of the earliest Grand Seiko timepieces such as the iconic Grand Seiko 44GS and 62GS from 1967, combined with state-of-the-art movements and exhibiting the latest manufacturing techniques. Stand-out models include the 60th Anniversary Limited Edition Mechanical Hi-beat 36000 80 Hours, featuring the precise, powerful, and incredibly slim caliber 9SA5 with a bridge inspired by Mount Iwate and the Shizukuishi River.
| | |
| --- | --- |
| Price: | $2,530 – $30,130 |
| Current case size: | 28.9 mm – 41 mm |
| Movement: | Quartz, Spring Drive, automatic, and manual |
| Water resistance: | 100 m |
| Crystal: | Sapphire |
Grand Seiko Sport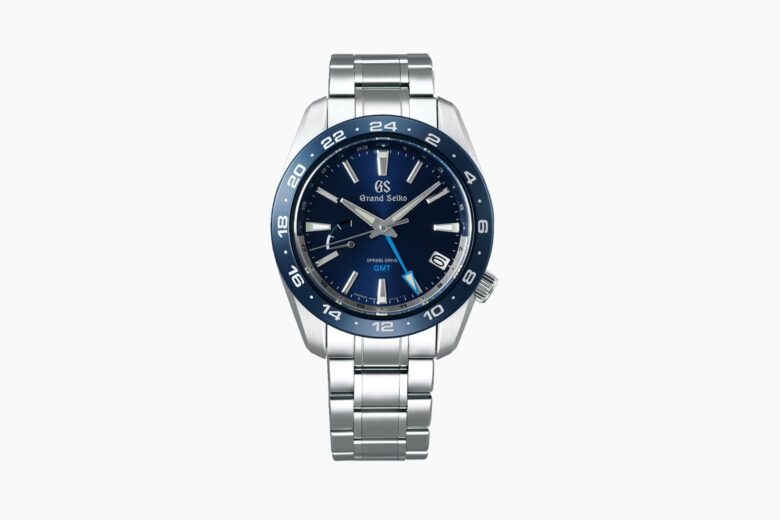 The best sports watches are highly legible and robust enough to withstand wear and tear. These are the qualities that you'll find in the Grand Seiko Sport collection, which includes diver's watches with the necessary water resistance, ultra-accurate spring-driven chronographs, as well as watches with a GMT function. Materials include ceramic and titanium and dials are eye-catching enough for these timepieces to double as dress watches too.
| | |
| --- | --- |
| Price: | $3,550 – $48,860 |
| Current case size: | 39 mm – 46.4 mm |
| Movement: | Quartz, automatic, manual, and Spring Drive |
| Water resistance: | 100 m – 200 m |
| Crystal: | Sapphire |
Where to buy Grand Seiko watches
You can buy Grand Seiko watches from one of the watch brand's authorized retailers or online from the company's e-boutique. All Grand Seiko watches have a 5-year warranty. You can also find Grand Seiko watches for sale via trusted third-party retailers such as Jomashop, Mr Porter, and FARFETCH where the authenticity of your timepiece is guaranteed.
For more about buying a luxury watch, see our watch guide.
Grand Seiko shipping
Grand Seiko offers a complimentary shipping service and orders must be signed for on delivery. Jomashop offers international shipping for a set fee of $150 while Mr Porter and FARFETCH offer international shipping for different fees depending on the country.
Grand Seiko return policy
For any problems with your watch, contact online@grand-seiko.com for help. If your issue cannot be resolved, Grand Seiko provides a full money-back guarantee on watches as long as they are in their original condition.
FARFETCH accepts returns within 14 days for a full refund and Mr Porter allows returns within 28 days. Jomashop has a 3-day refund policy.
Grand Seiko customer service number
For help with your Grand Seiko watch order or answers to any other queries, contact the watch company's customer service department on 1(800) 722-4452.
Grand Seiko social media profiles
Frequently asked questions about Grand Seiko watches