How many times have you looked on in envy while the person in the neighbouring seat enjoys an in-flight slumber? For a lucky few, the purr of the plane's engines is enough to send them safely to dreamland. But, nine times out of ten, that peaceful nap is down to owning a comfy travel pillow.
Yes, the very same plane pillow that you bypassed in the departure lounge store thinking "Sure, I'll get one next time".
Well, intrepid ones, that time has come. Join the flocks of travellers who awaken at the end of a long journey, well-rested and miraculously lacking in that neck ache.
Whether you're a frequent flyer or an occasional globetrotter, investing in an airplane pillow could seriously change the way you travel. Forever.
Our guide to the best travel pillows will have you catching those precious forty winks. So, next time you take a road trip, fly, sail, or train, you can (smugly) reach for your neck pillow, close your eyes, and wake up at your destination feeling fresh.
The best travel pillows
MLVOC Travel Pillow: Best overall travel pillow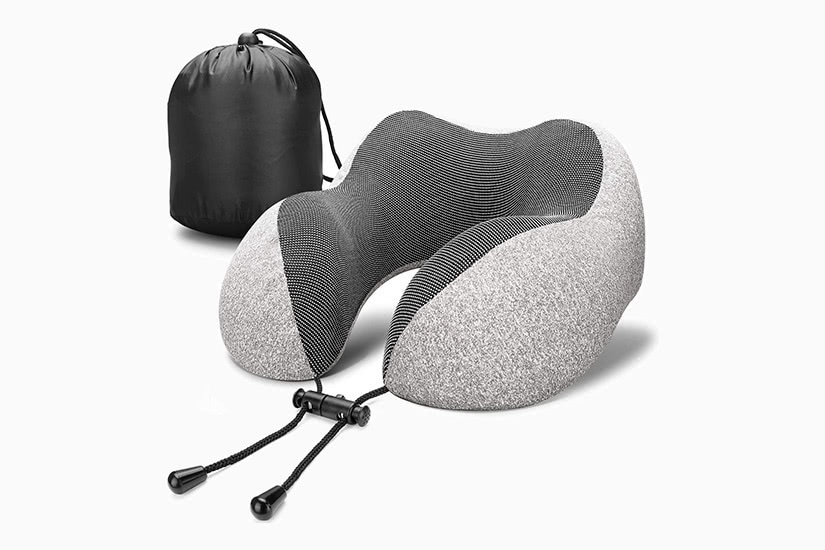 Allow us to state the obvious for a second: We're all different shapes and sizes, and a travel pillow is certainly not a 'one-size-fits-all' situation.
That's where the MLVOC Travel Pillow comes in: the adjustable rope lock allows you to adjust the angle and size to suit your exact needs. So, you can let your head rest at the most optimally comfortable height and angle for a better chance of some shut-eye.
Aside from having a machine-washable cover for renewed freshness on every flight, the pillow itself is made from high-quality memory foam which relieves pressure points and encourages an ache-free journey. Plus, it squashes down to half its size when not in use.
Additionally, the sweat-resistant, breathable cover fabric on the MLVOC Travel Pillow should stay dry throughout your voyage whether you're hopping on a short domestic flight or crossing the Atlantic.
Best for: Travellers seeking a high-performance, cushy-as-a-cloud travel pillow for both long and short flights.
Colours: Grey, Blue or Black.
Cabeau Evolution S3 Travel Pillow: Best high-end travel pillow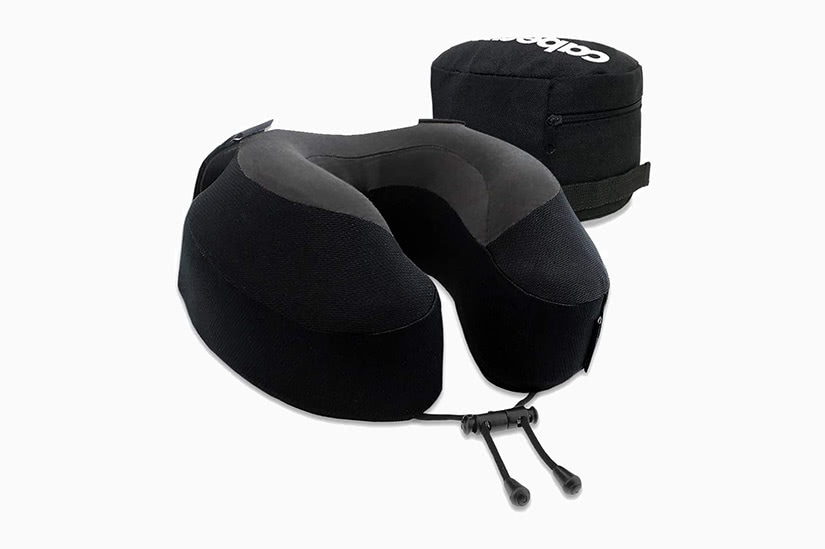 The Cabeau Evolution S3 Travel Pillow aims to identify and conquer all of the common ails of spending hours sitting on a plane.
The unique Seat Strap System prevents the dreaded 'head-dropping', which is awesome for you (not to mention your dignity), and definitely more pleasant for your neighbours.
Far superior to one-sided pillows, the Cabeau Evolution S3 Travel Pillow comes with a doctor's recommendation, no less: The flying pillow is crafted with a front-opening, which allows heat to escape and discourages sweating. Besides being super comfortable, there's no risk of compression to the neck, which can be dangerous.
Featuring an adjustable strap, so all necks are catered for, it also has a washable cover stretched snugly over memory foam. So, you might just feel like this pillow was made especially for you.
Best for: Travellers who adore the finer things in life, and wish to arrive feeling gorgeously fresh and well-rested.
Colours: Steel, Cardinal, or Galaxy.
Classic Brands Travel Pillow: Best value travel pillow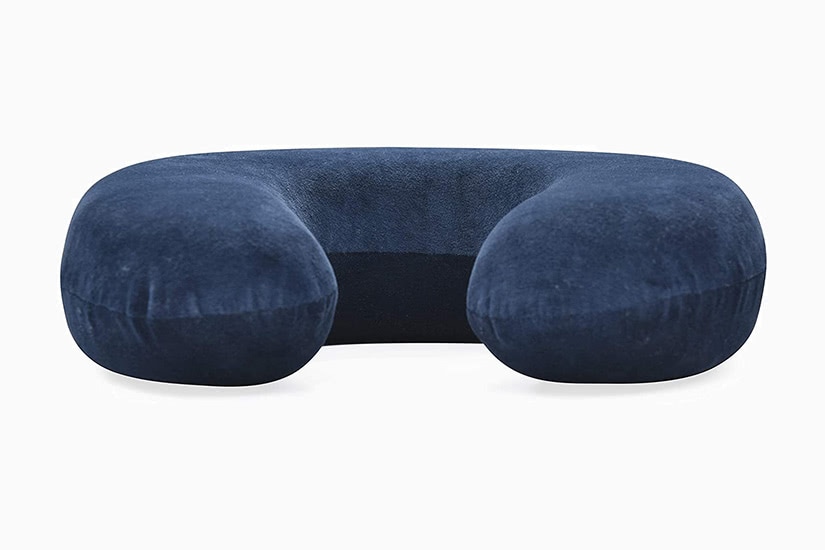 If you've got an imminent upcoming flight, or you know you're going to be stuck in the back of a car for longer than is comfortable, the Classic Brands Travel Pillow is an excellent choice.
Simple in design, this memory foam travel pillow conforms to your head and neck shape, so you can sink nicely into it for a little shut-eye. Plus, it regulates your temperature, so could go a long way in getting shot of that sweltering airplane vibe we all know too well!
It's lightweight, and has a convenient strap that attaches to your luggage. So, you can reap the benefits of a travel pillow while hardly noticing the extra addition to your suitcase.
The removable cover can be machine-washed, so you can easily freshen up the Classic Brands Travel Pillow, even after it's been well acquainted with the back of your seat.
Best for: Travellers who want to save some pennies but still rest their head on a supersoft sky pillow.
Colours: Blue.
Trtl Travel Pillow: Best packable pillow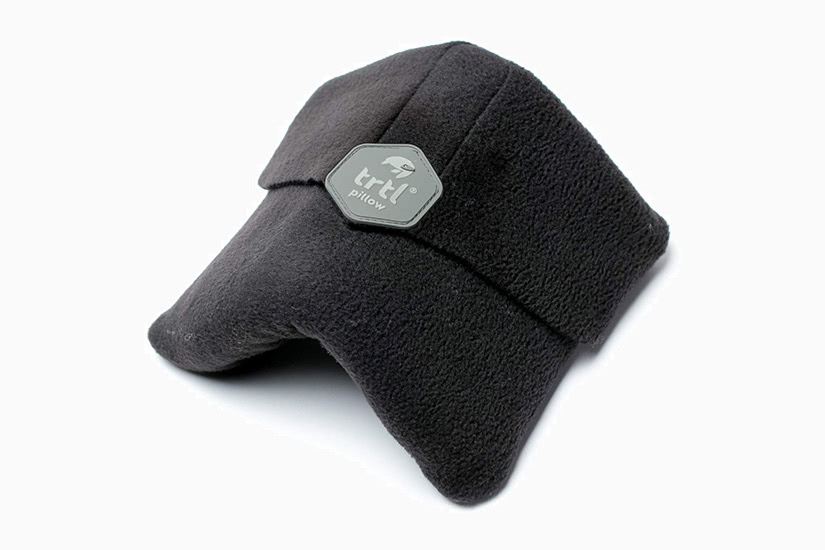 With over a million of trtl's Travel Pillows sold, that's presumably one million happy travellers. With its super soft fleece fabric, this flying pillow provides a cosy, but firm place to rest your weary head when you're traversing the skies.
This ultra-lightweight packable pillow is uniquely scarf-like in appearance. Plus it's scientifically proven to hold your head in a pleasantly ergonomic position throughout your flight. So, it'll keep your neck aligned and that head-nodding at bay!
With the trtl Travel Pillow, you won't find yourself waking up to an irritated stranger whose shoulder you've unwittingly appropriated during the flight (unless you're really trying). Seriously, the only difference between you and being that person, is a simple, unassuming travel pillow.
Plus, it's machine-washable, so you can start and finish every flight nicely fresh and fragrant. Your fellow passengers will thank you.
Best for: Those who have total wanderlust– who travel heaps and want to enjoy every one of their many flights, and save a bunch of space in the process!
Colours: Black, Coral or Grey.
BCOZZY Inflatable Travel Neck Pillow: Best inflatable travel pillow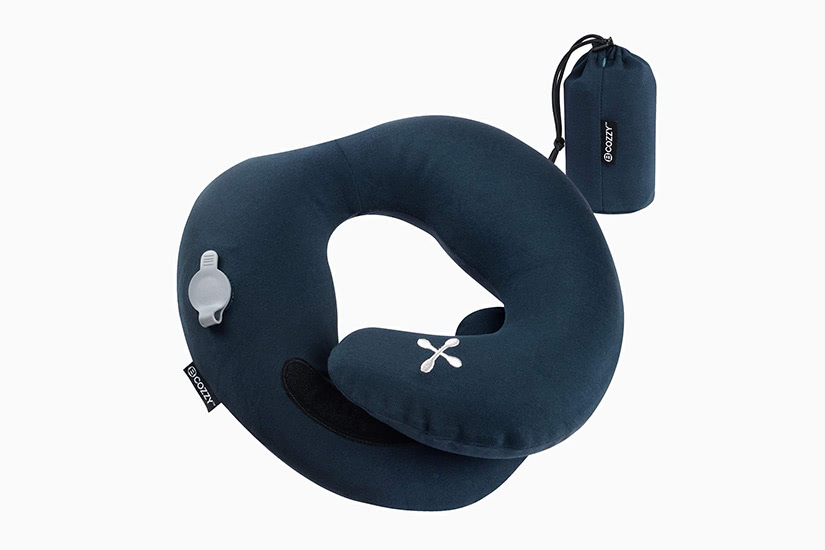 Ultra-compact and lightweight, the BCOZZY Inflatable Travel Neck Pillow is easy to inflate, with a handy valve which allows you to adjust the firmness of your pillow.
The innovative overlap design wraps snugly around in a 360° style, so your chin benefits from as much support as your head and neck.
The light velcro closure allows you to adjust the pillow to suit your individual preferences, and keeping your sleepy flight head nice and supported.
Of course, by keeping your head secure and comfortable, you're also 100% reducing the risk of any inappropriate personal space invasion of your unsuspecting neighbouring passenger.
Once deflated, you can throw the BCOZZY Inflatable Travel Pillow in the washing with your crumpled flight clothes. When it's nice and clean, you can simply roll it up and pack it away in its impossibly tiny bag.
Best for: Travellers who love to catch up beauty sleep on their flights, but hate sacrificing precious luggage space.
Colours: Grey, Navy or Purple.
AILUKI Travel Pillow: Best cooling travel pillow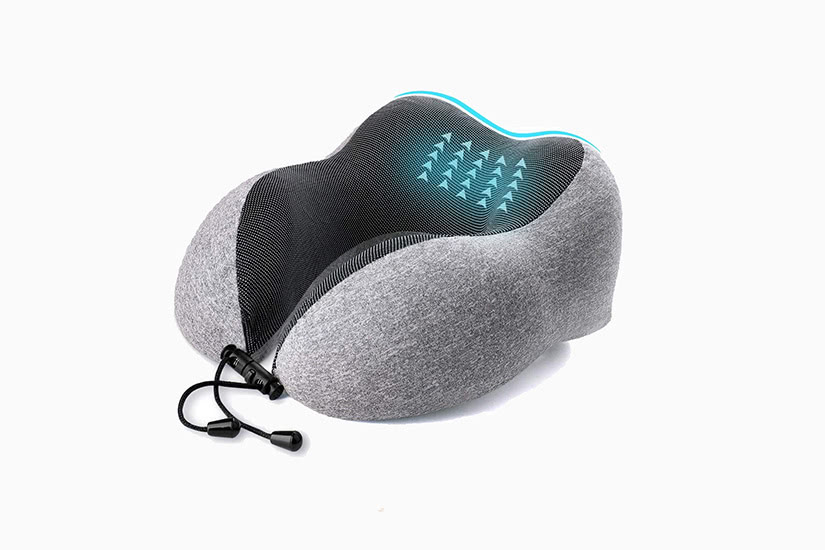 More than simply a memory foam travel pillow, the AILUKI Travel Pillow seems to offer more innovative technologies than the airplane you'll be flying in.
The anti-sweat magnetic therapy cloth is soft and comfortable, offering an itch-free experience while keeping your neck and head cool as a cucumber throughout your flight.
Plus, the U-shape and flat back design are crafted to deliver ultimate support to the back of your neck while preventing accidental head-rolling when you're out for the count.
This same ergonomic design promises to relieve the burden on the shoulders by matching the natural curves of the spine. So, just what the doctor ordered for that multi-layover!
While we like to pretend that airports and planes are totally hygienic, deep down, we know the less stomachable truth. The AILUKI Travel Pillow helps to minimise germ contact by having a machine-washable pillowcase, so you can always feel safe and clean.
Best for: Those for whom 'hot and sweaty' feels are the absolute worst, and like to keep totally chill in-flight.
Colours: Grey. 
Huzi Infinity Pillow: Best warming travel pillow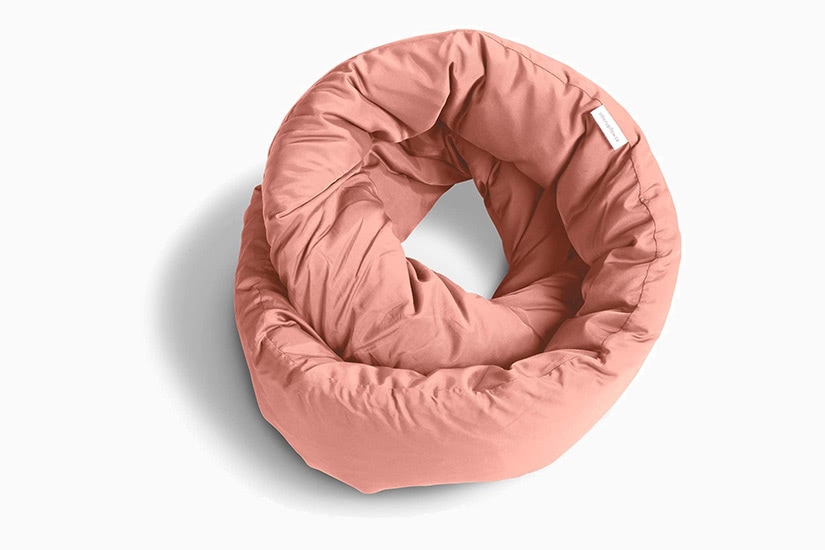 Unlike many travel pillows, the Infinity Pillow by Huzi is crafted with bamboo fabric, which aside from being breathable, is gorgeously comfortable to snuggle into on a long flight.
The true beauty of this top rated travel pillow is that it's infinitely soft and pliable. Essentially, whichever position you choose to lay your head, this sky pillow will acquiesce to your needs– simply adjust it to how you like it.
The Infinity Travel Pillow possesses thousands of layers of microfibres, so its comfort could truly rival even your most luxurious home bed sheets, providing support the whole time.
With several strings to its bow, this fluffy-cloud travel pillow can function as both an eye mask, and a noise-cancelling pillow. You can literally wrap it right around your head and neck, and pretend you're in a floatation tank.
Simply put the entire Huzi Infinity Pillow in your washing machine for a squeaky clean feel on every flight.
Best for: Those who love to tune out completely, while getting down and restful in a soft, fluffy dreamworld, however they're travelling.
Colours: Pink, Navy, or Burgundy.
J-Pillow Travel Pillow: Best window seat travel pillow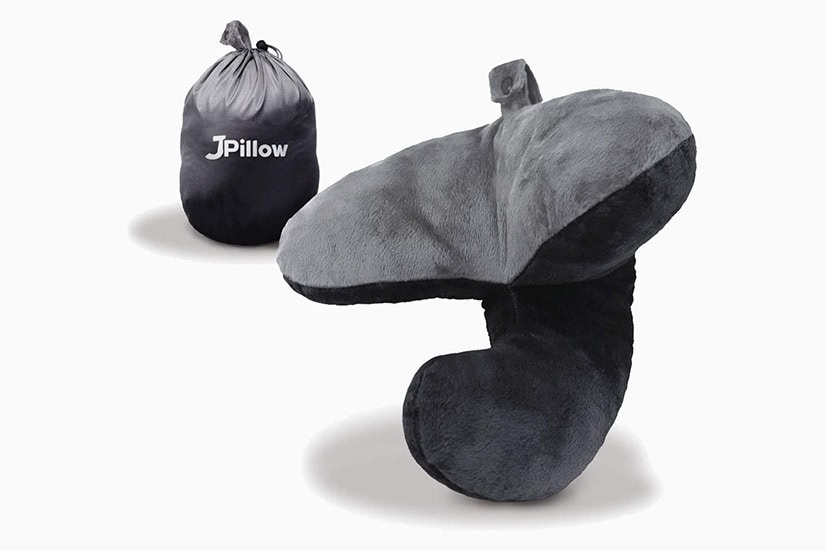 The award-winning travel pillow by J-Pillow is one of a kind: it caters specifically for the heads and necks of those who prefer a window seat (um, most of us, then!).
The innovative shape features a three-way support system that fills the gap between your head and shoulders, including chin support to stop your head from rolling forward. Because besides being bad for your neck, it's not a good look.
So, you can nestle snugly into its cushiony softness while you snooze, while benefiting from the proper amount of support.
In fact, this pillow was designed by a former flight attendant, who had spent endless flights observing distressed passengers fail to find the sweet spot for their flight nap.
Both the pillow and cover can be put through the washing machine, and the snap-loop fastener allows you to fix the J-Pillow Travel Pillow easily on to your luggage when you land.
Best for: Travellers who are always fighting for that coveted window seat, and want a super comfy corner to sit back and enjoy the journey.
Colours: Grey, Dark Blue, or Black and Grey.
BCOZZY Kids Travel Pillow: Best travel pillow for kids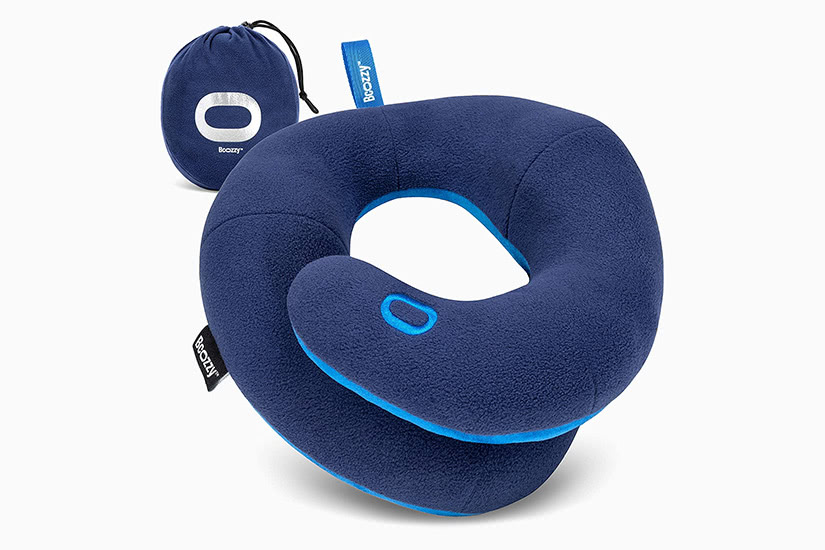 How great is it when you find time to take the kids away for a nice, relaxing holiday? Well, that's what you keep telling yourself as your little ones are restless and uncomfortable during the flight or in the car. So, start enjoying your holiday a little earlier with the BCOZZY Kids Travel Pillow.
Perfectly sized for your tiny travellers, this travel pillow features overlapping arms which allow you to adjust it to the ideal fit for your child.
The ergonomic design provides comfort for the small people of your household, with support for their necks, heads and chins.
The BCOZZY Kids Travel Pillow is 100% lump-free and machine-washable, so whether your child is a little prone to travel sickness, a less-than-immaculate eater, or it's simply gotten a little worse for wear, you can simply throw the whole thing in the wash.
Best for: Parents who'd love to maximise their chances of a stress-free journey, and keep their little ones calm and dreamy in the process.
Colours: Blue Navy, Cherry Pink, or Grey.
SAIREIDER Travel Pillow: Best budget travel pillow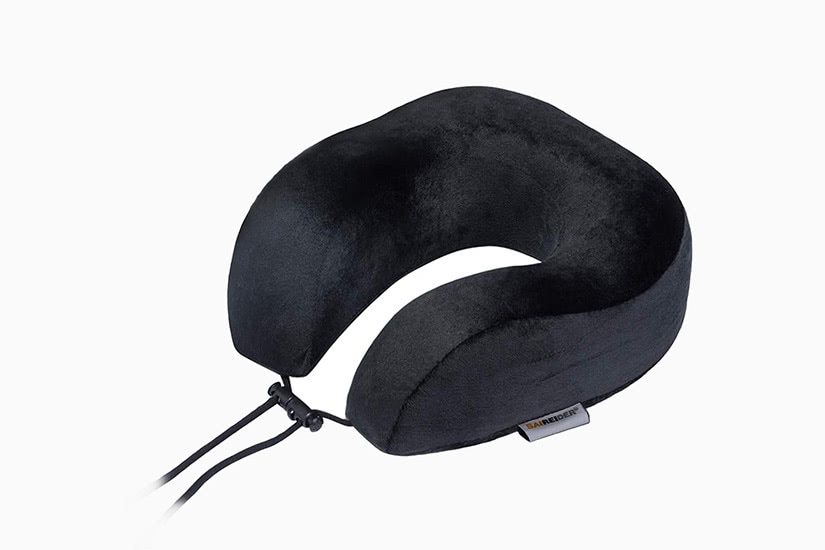 Perhaps you don't fly too often, or you've already splashed your budget on a fancy hotel or villa. Either way, you don't have to go without a good quality travel pillow to help keep you comfortable along the way.
The SAIREIDER Travel Pillow ticks all the boxes of a premium travel pillow, without the expense. The 360° support is bolstered by memory foam, so you benefit from the support no matter what angle you prefer to rest in.
The contoured design allows adequate space for headphones, and the flat-cut back means your head will still rest comfortably against the back of your seat. In fact, this travel pillow comes with an eye mask, earplugs, and a storage bag, so you can tune out and find your happy place before you even land!
Obviously, not all necks are created equal; so, the SAIREIDER Travel Pillow offers a handy buckle so you can fully adjust the size to suit you.
Best for: Travellers who always watch their purse-strings, but who don't want to miss out on a super comfy travel pillow
Colours: Black, Navy, or Grey.
Loro Piana Travel Pillow: Most expensive travel pillow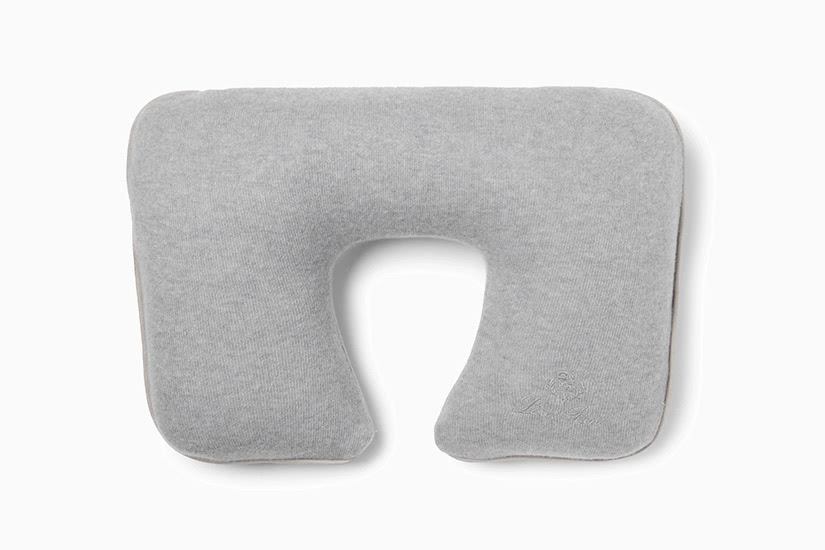 Imagine if you could fly First Class, without actually flying First Class (or paying the price of the ticket). Good news: with the Loro Piana Travel Pillow, you totally can. Of course, if you treat yourself to both this luxury travel neck pillow, and a First Class ticket, you probably won't ever want to get off the plane.
The extra-soft cashmere blend and ample padding promise to supply exceptional comfort and support, whether you're binging on blockbusters or putting your head down for a nap.
The suede piping and Loro Piana emblem embroidered tastefully on the pillow both contribute to the feeling of ultimate luxury, while the protective cover will see you through when you get a little over-excited with the duty-free champagne.
The light grey colour of the Loro Piana Travel Pillow is totally versatile and should complement your chosen flight outfit, while subtly emanating an air of sophistication and luxury.
Best for: Those who infuse a little First Class into everything they own, and desire a gorgeously luxe travel pillow.
Colour: Grey.
Buyers guide: Find the best travel pillow for you
So, you've decided to take the simple step in making all of your journeys (apart from when you're the driver, of course) much, much more relaxing! Well done, you won't regret it. A good travel pillow will free you from the aches and pains we so often associate with travelling. So, you can start enjoying your trip before you even arrive.
Here are just a few little things to look out for when you're scouring the market for the best plane pillow:
To inflate, or not to inflate?
For many, that is the question. Inflatable pillows are a saviour when it comes to saving luggage space. And, typically, once you've gotten shot of that plane, you may not need to use your pillow until you're back in the sky.
So, inflatable pillows will take up extremely little space in your luggage, allowing space for more important items (and yes, we mean shoes).
However, what the inflatable travel pillow offers in packing convenience, it seriously lacks in comfort and ergonomics. Of course, an air-filled pillow will gradually flatten with pressure, which on a long flight could get seriously annoying.
On the other hand, non-inflatable travel pillows (typically made from memory foam) are vastly superior to their inflatable contemporaries when it comes to support and general comfort. But of course, they're a pain to transport when not in use.
Essentially, it's a case of deciding what is more important to you– portability or in-flight comfort and support, because unfortunately, you can't have both! Boo.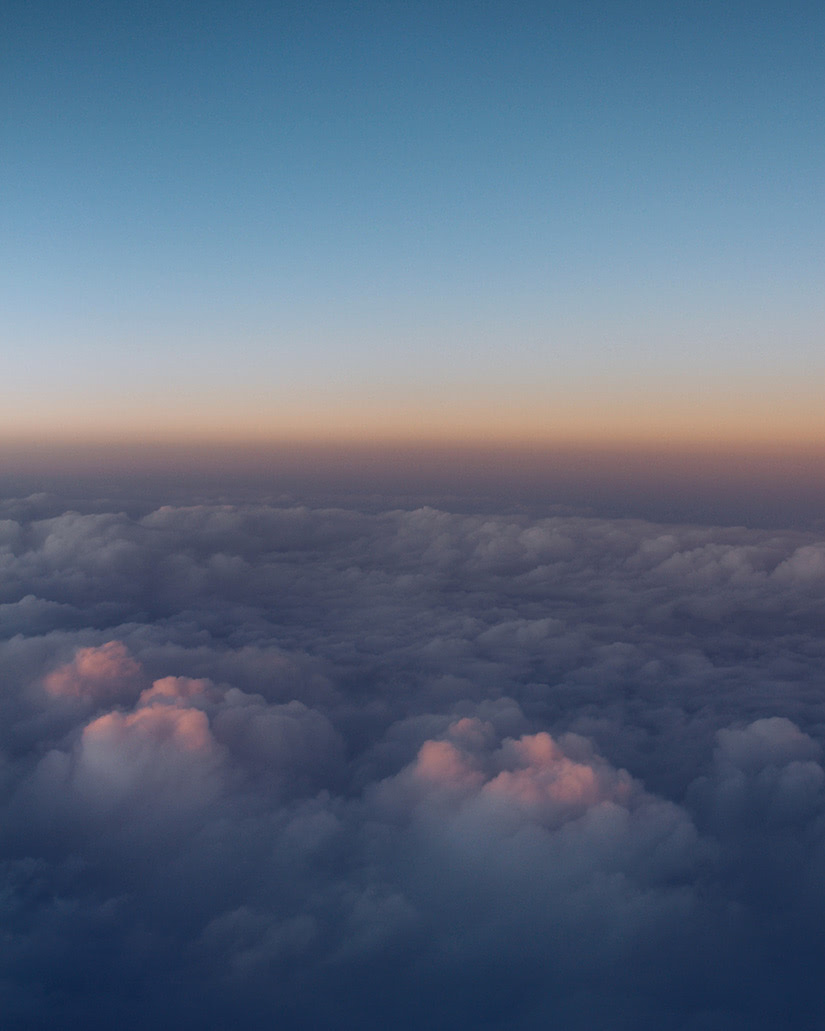 What's your sleeping position?
On an airplane, you're free to sleep in any position you like, so long as it's upright.
However, there is some freedom of choice (thankfully) if you're a little creative with your limited seat space:
Leaning to the side
If you prefer resting by tilting your head to the side, keeping close to your seat, a classic U shaped travel pillow will most likely be sufficient for your needs. Pick a good, memory foam, contoured pillow, and you'll be able to lean your head painlessly on to its comforting snugness.
Leaning forward
Others like to utilise their pull-down table for a more forward-leaning nap. If this is you, it may be wise to select a slightly more versatile travel pillow that can wrap in a multitude of ways.
Some of these are styled a little like scarves, so you're free to alter and arrange them to suit your desired position.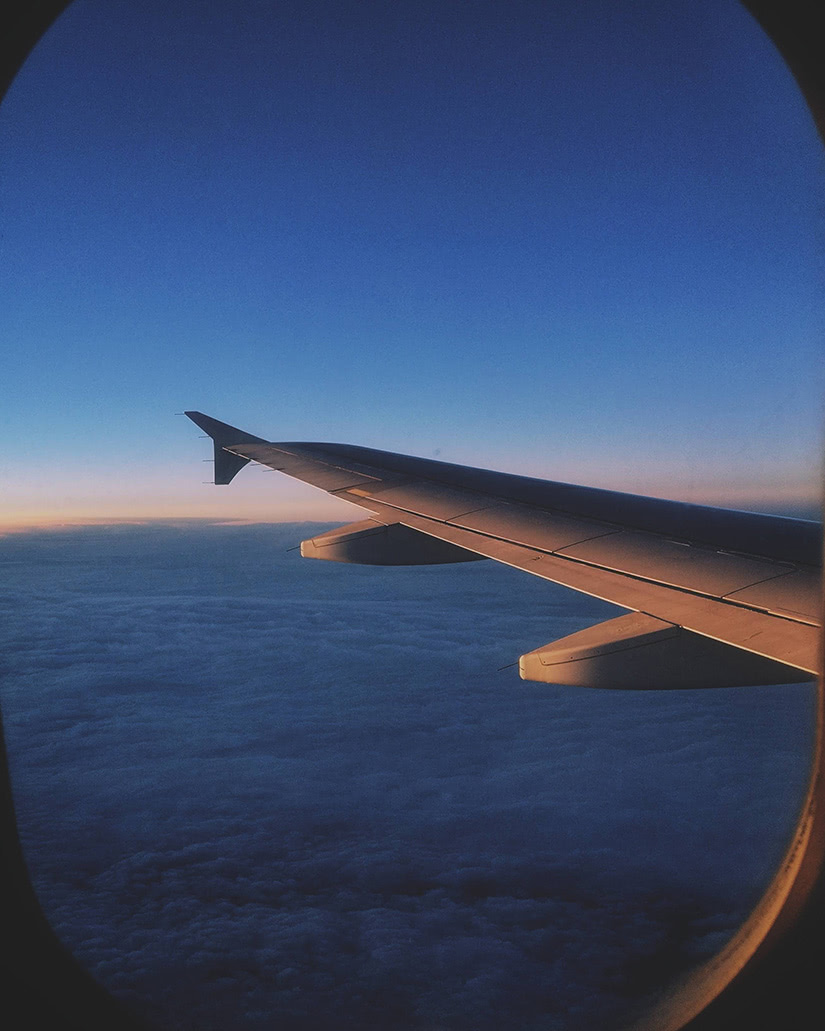 Window seats
If you're always fighting for the window seat (because OMG, those views), then you're best seeking out a J shaped travel pillow. Like the J-Pillow, this design is crafted to fit neatly in the corner of your seat and the sidewall of the plane, with chin support to prevent any dreamland head rolling.
Must-have features of a good travel pillow
Once you've decided on your personal preferences, make sure your new travel pillow possesses these two features, no excuses:
Adjustable
Make sure your travel pillow allows you to adjust the size to fit your neck. There'll be nothing worse than settling down to realise your new pillow is either too large or stiflingly small.
Machine-washable
When you travel, you eat, drink, and fidget, just as in your normal life. The best plane pillow is washable (ideally machine-washable) so you can freshen it up in between flights.
Frequently asked questions about travel pillows
What is the best travel pillow for long flights?
If you're embarking on a long haul flight, it's important to pick a non-inflatable, memory foam travel pillow with appropriate neck support. The J-Pillow ranks extremely well in travel pillow reviews and was created by an ex airline attendant who was familiar with the comfort issues travellers experience when flying.
Is a travel pillow worth it?
Whether you fly regularly or just once in a blue moon, a good travel pillow can be invaluable in contributing to a positive flight experience. If you are a frequent flyer, you'll certainly benefit from the ability to enjoy a proper nap in-flight, thereby reducing the need for recovery upon landing.
Which neck pillow is best?
The best neck pillow for you depends on how much you'd like to spend, how long you spend travelling, and whether you have any particular physiological needs. The best overall travel pillow is the MLVOC Travel Pillow, which is reasonably priced and ticks all the boxes in terms of comfort and support.