Whether steering a course across turbulent seas or navigating personal challenges, humans have always looked to the stars for guidance. Now the Australian brand Aesop is bringing the light and solace of stars to your home with their expertly formulated and irresistibly fragrant candles.
Designed in collaboration with French perfume mastermind Barnabé Fillion—the same nose behind Aesop's Marrakech Intense, Hwyl, and Rōzu fragrances—these new arrivals to the Aesop Universe take inspiration from the allure of ancient astronomy and its associated mythologies. Just as the stars burning above us have long brought comfort to weary hearts, the flickering flame of these candles instills a similar sense of serenity and sanctuary.
To say Aesop's distinctive line of luxury skin-, hair-, and body care is loved the world over would be an understatement.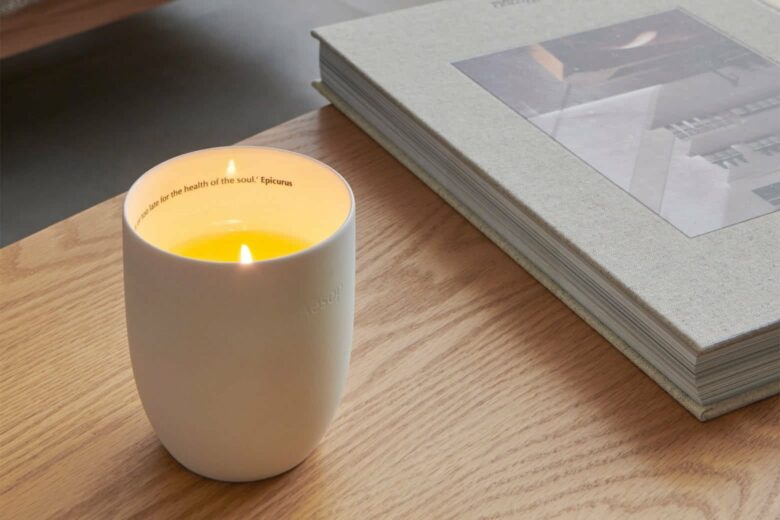 Aesop has garnered a devoted following with its richly aromatic scents and minimalist apothecary-chic aesthetic and earned its place pretty much everywhere, from Instagram feeds to just about every luxury home and upscale restaurant bathroom (looking at you, status soap, and hand balm).
In keeping with the company philosophy, each candle has been made with vegan-friendly and cruelty-free ingredients and comes in a sleek alabaster ceramic vessel with an inspiring quote on the inner lip—because everything benefits from a bit of poetry. Once finished, you can repurpose the vessel as a cup or a container for makeup brushes or similar.
As with its line of popular skincare, the company brings scientific precision and intellectual daring to its scented candles, balancing tradition with creativity to create gender-neutral fragrances that are sophisticated yet subtle.
Similar to the best perfumes or colognes, these scented candles are layered and lingering and have an almost supernatural ability to lift moods.
With a swipe of a match, you can alter and enhance the atmosphere of a room. Melt away the troubles of the day with this candle collection—available in Aesop stores and online.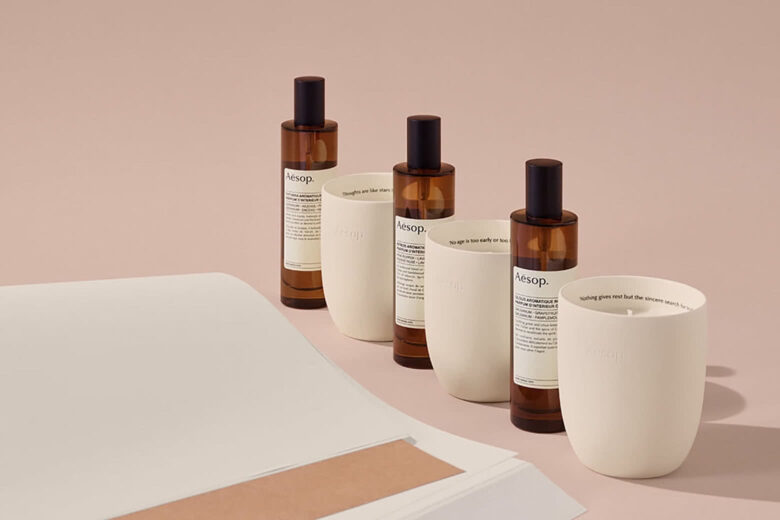 Talk about burning an eternal flame. These candles are already a firm team favorite and the perfect year-round gift.
The collection of scented candles spans three intriguing fragrances, each named after a noteworthy stargazer of antiquity: Ptolemy, Aganice, and Callippus.
Aganice Aromatique Candle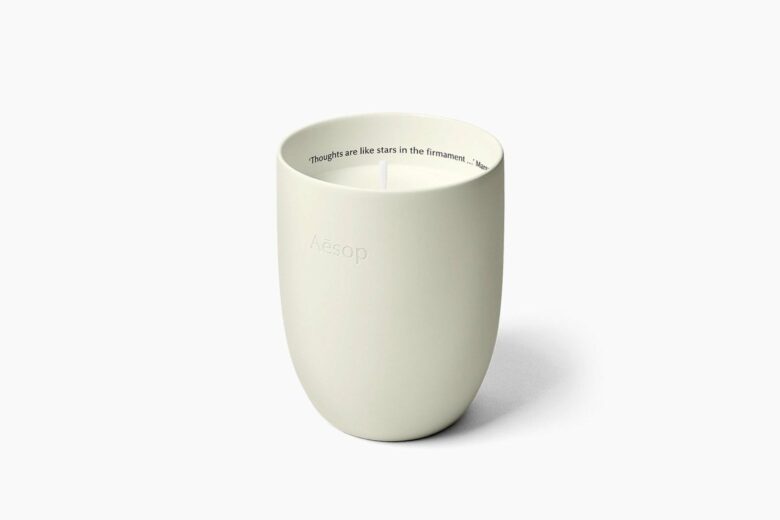 Aesop's Aganice candle is here to spirit you away to Cape Spartel in Tangier, Morocco, with its heady aroma of Cardamom, Mimosa, and subtle but distinct notes of Tobacco. A candle to instill a sense of inner calm while simultaneously arousing the senses.
Cape Spartel is situated 1,000 feet above sea level at the place where the Mediterranean and the Atlantic Ocean meet. Sitting in a spot where two colossal bodies of water collide, it possesses certain magic, and we find that same sense of nature's power in Aesop's Aganice candle. 
The candle's aroma is floral and fresh but with a hint of spice too—a distinct aromatic blend that balances gentle sweetness with zing and punch. The Mimosa is green and grassy, while the Cardamom feels instantly exotic. The addition of Tobacco brings sultry smokiness, making this candle perfect for after dark. 
As with the other candles in the trio, this one takes inspiration from the night skies and is named after one of Ancient Greece's female astronomers. Aganice was renowned for her knowledge of the moon cycles. Capture that ineffable lunar allure with this scented candle by Aesop.
Smells like: Faraway lands, clear starry skies, and the bustling backstreets of Tangier.
Best for: Bringing moonlight mystery to intimate evenings.
Callippus Aromatique Candle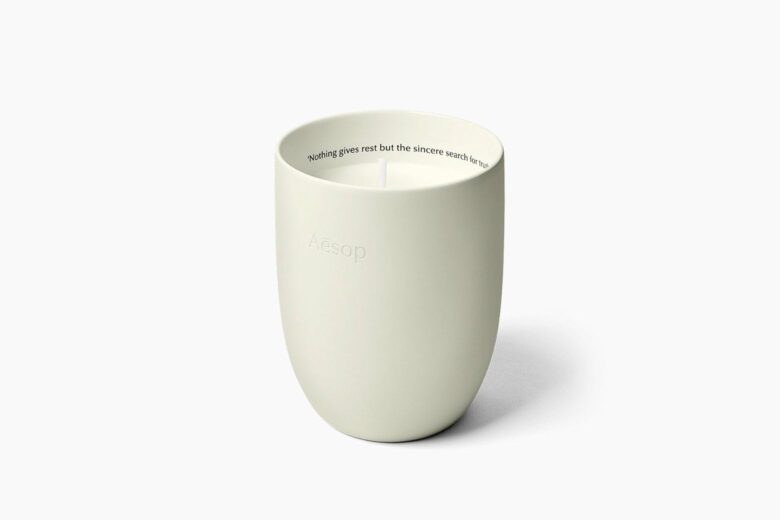 For pure spiritual succor in candle form, choose Aesop's Callippus. Candles have always had a special role in human rituals and ceremonies. Callippus by Aesop captures this mood of ancient rites and divine worship.
If sorcery had a scent, it would smell something like this. First to initiate you into this otherworldly realm is Frankincense with its earthy, woody, and honey-like aroma—a welcoming and wise presence. Next comes Guaiacwood from the heartwood of the Palo Santo tree, aka the tree of life, long used to heal ailments. Finally, to balance out all the solemnity comes fresh and delicate Shiso, suggestive of morning light and new beginnings.
Create a palpable energy shift in your home with this candle, designed to create a mood of reverence and devotion—whether you're saying prayers, practicing yoga, or indulging in some well-deserved self-care.
Named after Callippus, the Greek astronomer who accurately calculated the length of the seasons, the candle takes inspiration from this ancient savant's awe for the Earth and Universe.
Smells like: Invocations, incantations, inner powers, and potential.
Best for: Casting a spell and making your home a sacred space.
Ptolemy Aromatique Candle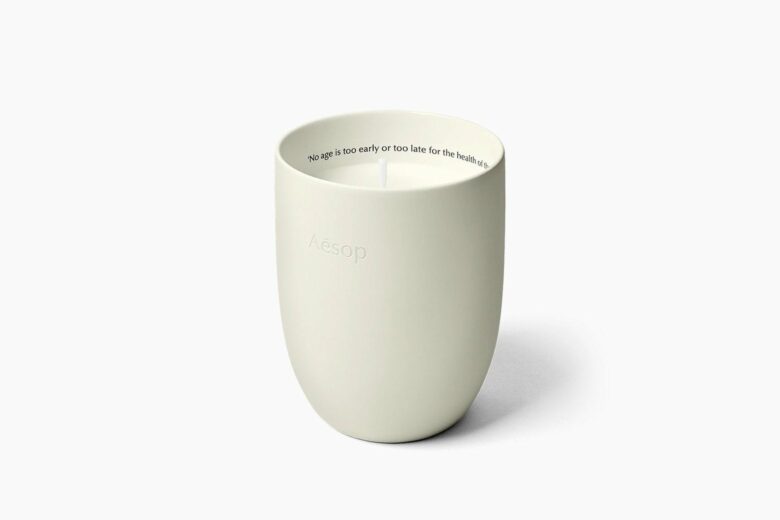 Imagine strolling through an ancient forest. Towering trees sway in a gentle breeze. Shafts of light twinkle through the canopy. Smell the soft scent of Cedar and Cypress and the earthy and smoky notes of Vetiver. It's instant tranquillity and calm.
This is the power of Aesop's Ptolemy-scented candle. Ptolemy was an ancient Greek-Egyptian who made major contributions to medieval astronomy. With the unique aroma of this candle, Aesop invites you to step into the shoes of this ancient stargazer, pausing in your hectic day to contemplate the Universe and its endless skies. 
With its woody aroma, almost resinous in scent, this candle's fragrance has been formulated to transport you away to the heart of a dense old-growth Japanese forest, full of ancient trees whose outstretched arms speak of centuries of watching over humankind.
Feel yourself standing below the boughs of these benevolent giants as you light up Aesop's Ptolemy candle. Just as the ancient astronomer found inspiration and wonder in the stars, feel your own soul stir with the dancing light of its flame.
Smells like: Standing amidst a majestic forest and spotting the radiant stars above.
Best for: Conjuring the comfort and calm of nature without stepping out of your slippers.