Swish, swish, swish. That's the sound of you leaving the hairdresser's, admiring your silky smooth locks and wondering just how long you can keep them looking so magical before you're forced to wash your hair at home and go back to your usual look.
Feeling deflated? You shouldn't, and neither should your hair. Those women you see walking around with salon-ready volume every single day are just part of the seriously smug club you're about to join: the club of devotees of the hair dryer brush.
Because the best blow dryer brush does more than simply dry your hair. It's a secret weapon of the haircare industry, promising that just-left-the-salon look straight from your bathroom, bedroom floor, or wherever you usually find yourself struggling to capture volumized locks with a normal hair dryer.
A heated hair brush takes the stress out of styling and the energy out of the usual military precision that's required when drying long, thick, unruly hair. Wave goodbye to your hair dryer and send your love to your straighteners—there's a new hair tool in town.
A lifesaver for anyone who struggles to style in time and the answer to looking 10/10 even when traveling: we're not exaggerating when we say a hot air brush might just revolutionize your mornings.
The 13 best hair dryer brushes
To help you find the hair dryer brush that's best for you, check our buying guide to choose the best hair dryer brush after the list.
InStyler Maven: Best overall hot hair brush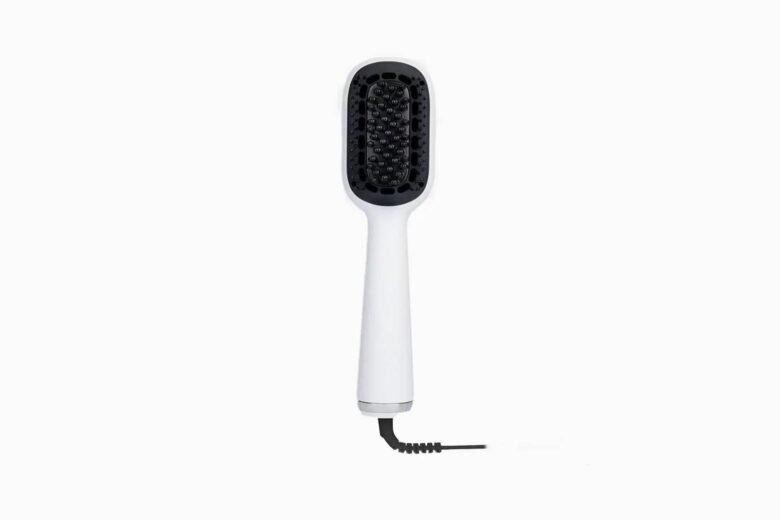 Maven's Ceramic Hot Air Brush looks a little like your standard hair brush at a first glance. But take a closer look—and run it through damp hair—and you'll realize this isn't anything like a mere brush but actually a small miracle in hairbrush form.
An unmissable purchase for anyone with long, thick, or curly hair who doesn't have the time for a traditional blowout, the Maven Ceramic Hot Air Brush uses two heat sources—hot air and heated bristles—for unparalleled drying power. When your hair is mostly dry, switch over to the gentle cool air setting, which promises to keep all loose ends neatly in place for the whole day.
Dyson Air Wrap: Best high-end hair dryer brush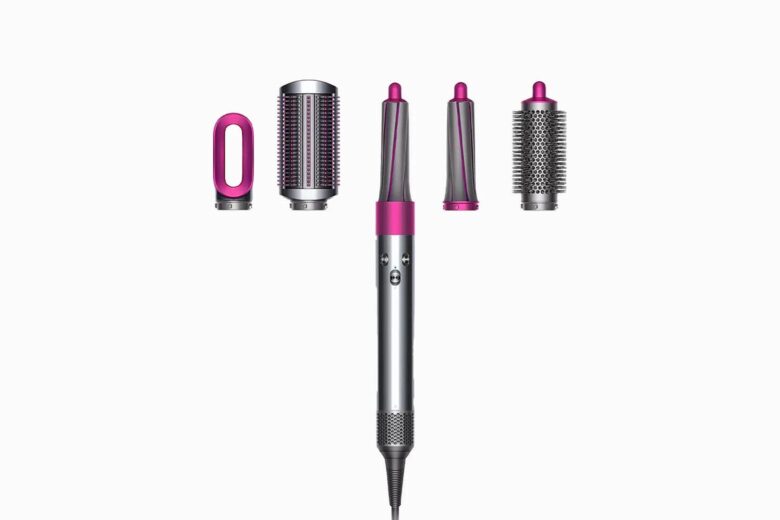 Ask anyone for a recommendation for a hair dryer brush and they'll almost definitely recommend the Dyson Air Wrap. A cult favorite in the world of hair care, this hair dryer brush is well worth the investment if you're someone who spends a lot of time drying your hair. And the coolest thing about this dryer brush? Its use of intelligent heat control.
While some drying brushes might hit high temperatures and damage your hair over time, the Air Wrap uses its own particular method of science for silky smooth locks without any damage. A variety of different brushes ensure picture-perfect hair no matter your usual style.
Revlon One-Step: Best value hot hair brush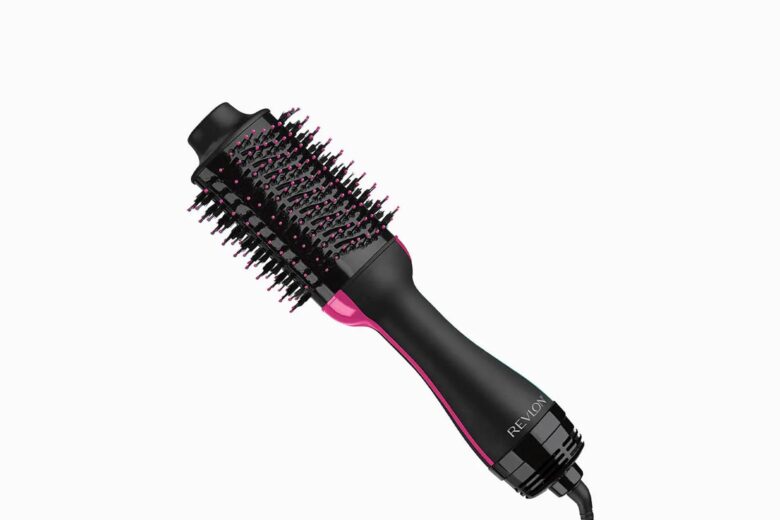 Staple brand Revlon has been around for years and there's a good reason as to why it's always stayed at the forefront of the industry. Some of Revlon's products might make good use of traditional methods but the One-Step Hot Air Brush looks to the future with a modern style and a large range of colors to match the rest of your styling products.
With three different heat and styling settings, it's ideal for dealing with all sorts of hair. It also utilizes a unique non-detachable oval brush design, which is sleek enough for smaller hands without any kind of adjusting.
T3 AireBrush: Most versatile hair dryer brush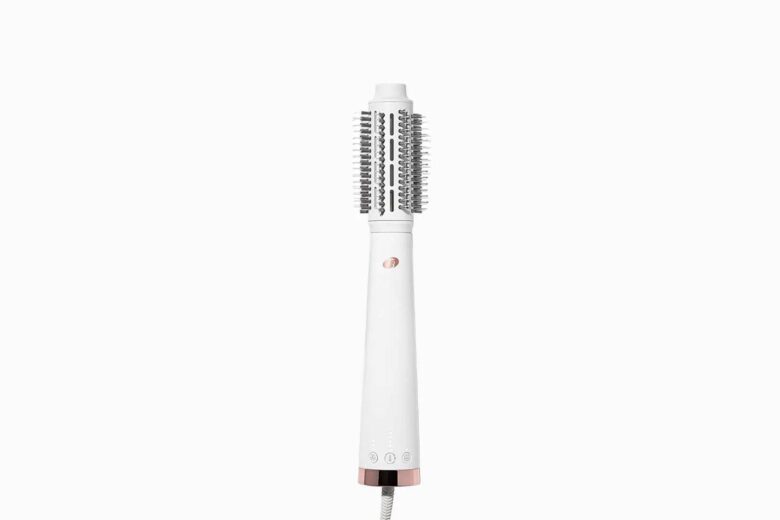 15 heat and speed combinations puts the T3 AireBrush Hot Air Blow Dry Brush right at the top if you're looking for a drying brush that encompasses a little of everything. If you're buying one brush for multiple people to use or just want to spare a helpful thought for friends who may wish to borrow it, the AireBrush is your best bet.
T3's IonFlow technology is renowned for its ability to deliver shiny, frizz-free results in a short period of time. This also means a consistent heat flow, for consistent styling all over. A white and rose gold design makes it a pretty addition to your current setup. The only issue? You'll find everyone wants to borrow it.
Drybar Double Shot: Best blow dryer brush for damaged hair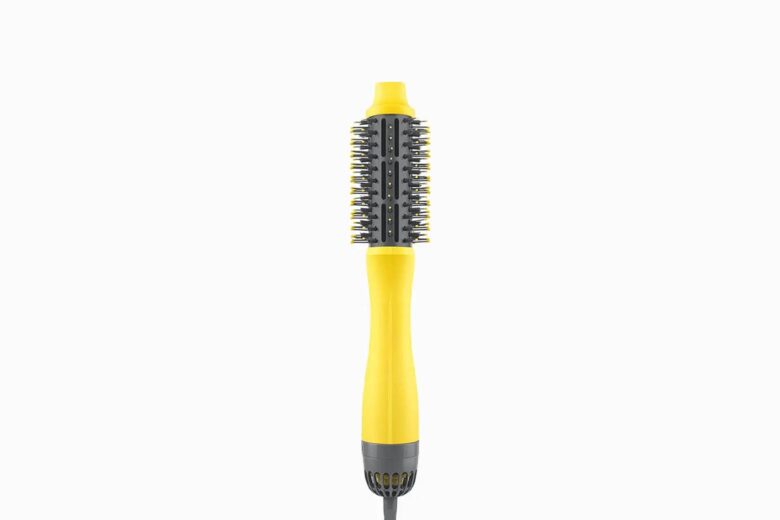 You might have sadly waved goodbye to heated styling products if your hair is a little damaged and in need of some TLC. The trick? Instead of blasting your hair with scarily high temperatures, opt for a hair dryer brush that sticks at a comfortably low temperature, without waving goodbye to results.
Our favorite for that exact issue comes from Drybar. The Double Shot Oval Blow-Dryer Brush comes in a vibrant yellow shade that promises to cheer you (and your hair) up as soon as you're out of the shower. Its effectiveness and ease of use, thanks to its gently curved edges, ensures you're feeling even happier at the end with a smooth, shiny blowout.
L'Ange Hair Le Volume: Best lightweight hair dryer brush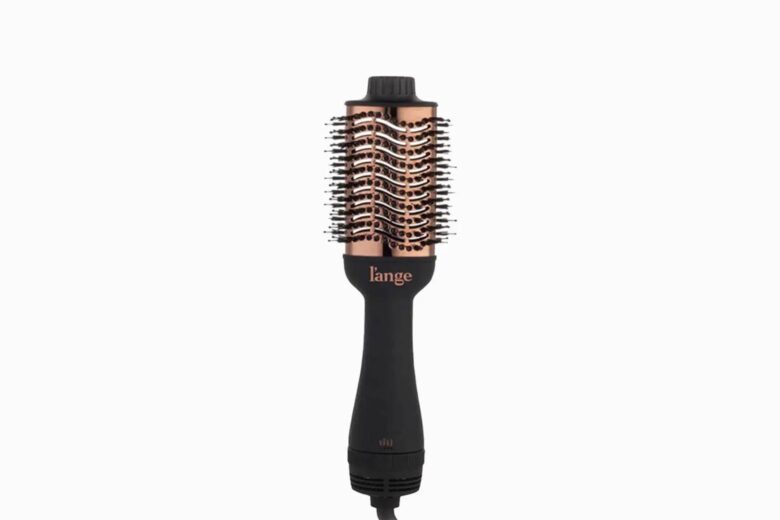 Heading off for a weekend away, fancy wedding, or otherwise important occasion? The L'Ange Hair Le Volume 2-in-1 is your new BFF if you're looking for consistently sleek, smooth hair even when you're not at home with your usual products.
Lightweight enough to slip easily into your travel tote without taking up too much space, you'll start to second guess whether you've forgotten this item without even wondering about your passport or other essentials. A nine-foot cord and unique oval-shaped barrel with a 360° airflow and titanium plates mean perfect hair is only a few minutes away, no matter how uncomfortable your temporary getting-ready setup is.
Babyliss Nano Titanium: Best hair dryer brush for fine hair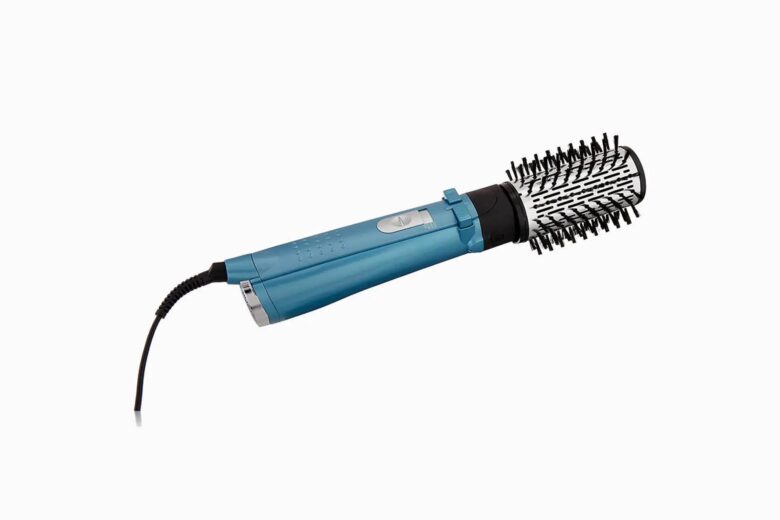 While most hair dryer brushes show off about their abilities to work through thick, long hair, Babyliss does things a little differently. While the Nano Titanium Rotating Hot Air Brush is known for being one of the finest on the market—at a deliciously friendly price, too—it's actually one that excels more so for those with finer hair. Its delicate nature promises the same volumized results, but without too much overwhelming power.
And how does it do this? A very scientific sounding precisely calibrated warm airflow, which combines with the brand's antistatic bristle mix. Even if you're not entirely sure exactly what that means, you can rest assured your hair will look incredible when you've finished drying with this hot air brush.
John Frieda Salon Shape: Best hair dryer brush for short hair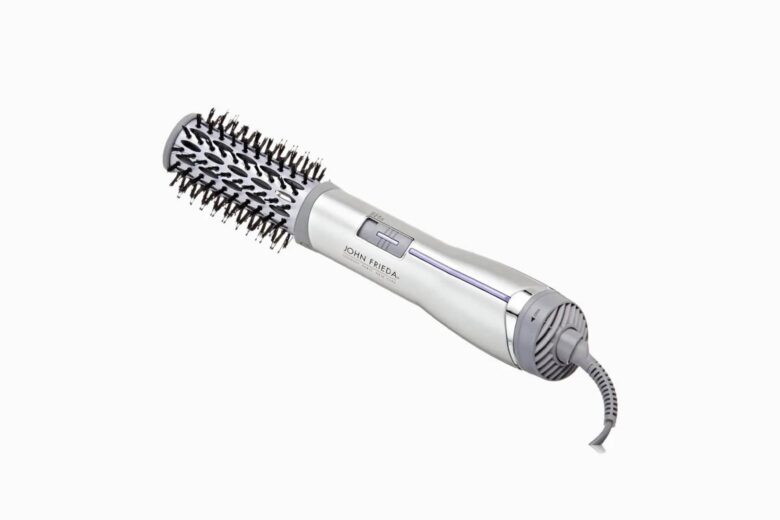 John Frieda products perfectly fuse the gap between affordable high-street prices and salon-approved techniques, which makes it a great brand to choose when searching for your new hair dryer brush. Especially if you're someone with short hair. The smaller design of this brush makes it easy to style shorter hair without any fears of burning your fingers or being stuck with larger-than-life curls.
Advanced ionic power and enhanced air control work together to provide a brilliant foundation for sleek locks by the time you're finished. While it's best for short hair, it's also a firm favorite for longer hair if you're looking for more technical or detailed end results.
Hot Tools Professional One Step: Best hair dryer brush for thick hair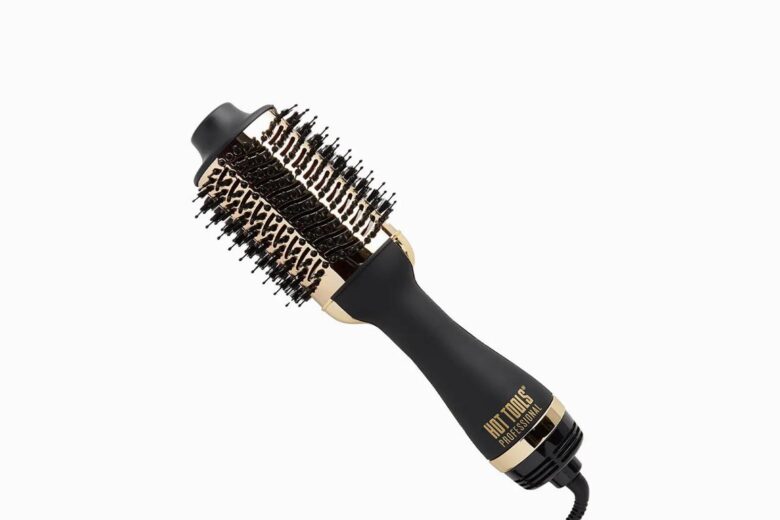 One brief look at Hot Tools' wide barrel and sleek design, and you know you're on to a winner, no matter how thick your hair. The Professional 24K Gold One Step promises faster dryer and salon-ready results in half the time it would usually take you, rolled up into an ergonomic design that you'll enjoy using time and time again.
If you're someone who usually sets an alarm 60 minutes earlier on hair washing days or who just accepts defeat and leaves the house with wet hair, you'll love this hair dryer brush. The 24K gold adds to the prestige nature of this dryer brush.
Amika Polished Perfection: Best hair dryer brush for curly hair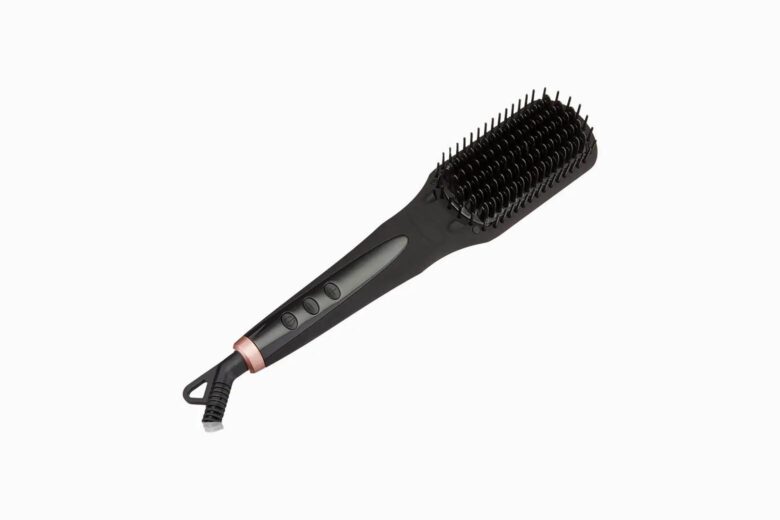 The Curly Girl Method might usually disregard the idea of hair dryer brushes. But that was a rule quite clearly made before the arrival of the Amika Polished Perfection Straightening Brush. Somehow perfectly drying each strand of hair while letting it keep its natural bounce and flow, this hair dryer brush ticks all the boxes for anyone who might have reached the point of giving up when searching for an appropriate hair dryer brush.
Fusing the power of a straightener with the ease of a hairbrush, the Amika Polished Perfection Straightening Brush ensures salon beautiful hair without having to spend hours patiently running both pieces of equipment through your locks. Your curls will thank you.
Conair Infinitipro Spin: Best rotating hair dryer brush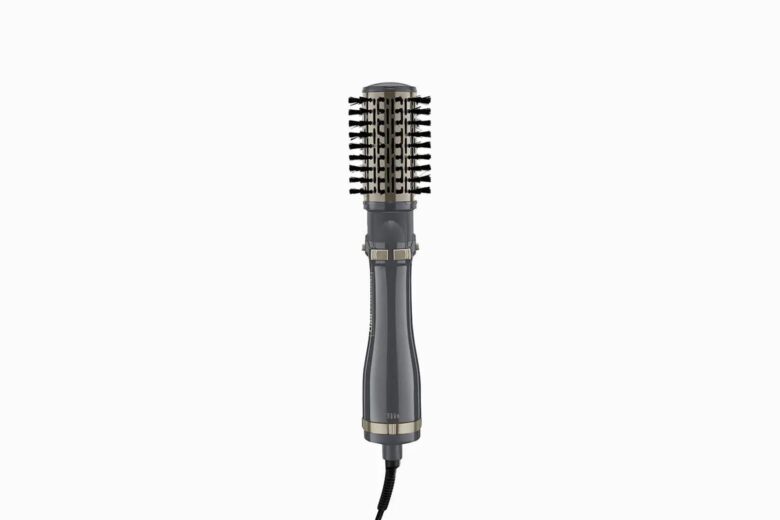 A rotating hair dryer brush does the hard work without any kind of readjusting or figuring out the best angles. Taking the stress out of hair drying while still promising impressive results, the INFINITIPRO By CONAIR Hot Air Spin Brush is perhaps the easiest tool on the market for salon-ready locks, but none of the stress or money that usually comes with them.
This multi-directional Hot Air Spin Brush shows off the most when it comes to building volume, adding shine, and overall creating silky, full-bodied curls. By rotating in both directions, it maximizes potential styling techniques in ways you didn't even think could be achievable.
GHD Glide & Rise: Best round hair dryer brush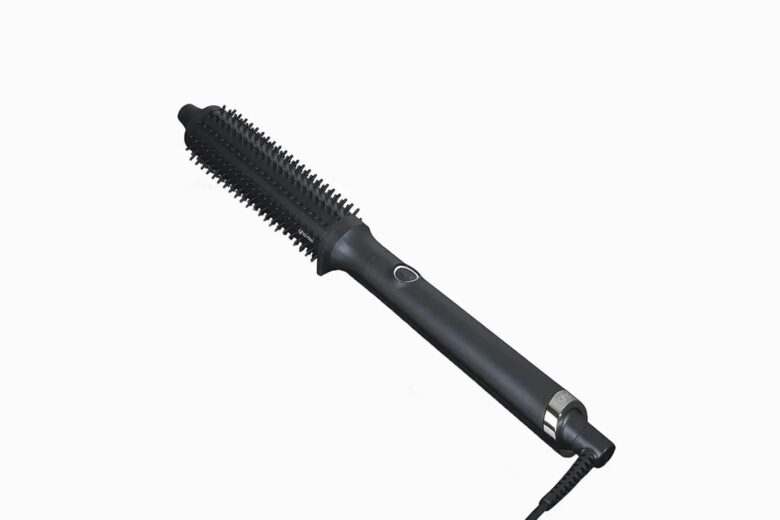 GHD is top of the game when it comes to hair straighteners, so it makes sense that the brand's hair dryer brush wouldn't be too far behind. Bringing together everything we know and love GHD best for—stylish designs, impossibly quick results, and hairdresser-approved methods—the Glide & Rise Hot Brush is a necessary addition if you're looking for top results in a short period of time.
This is the brush to use if you're looking for a flawless body and lift from root to tip. It promises double the amount of volumizing, which means pretty impressive results for even those who may struggle with fine, flat hair.
Conair Titanium Ceramic: Best budget hot hair brush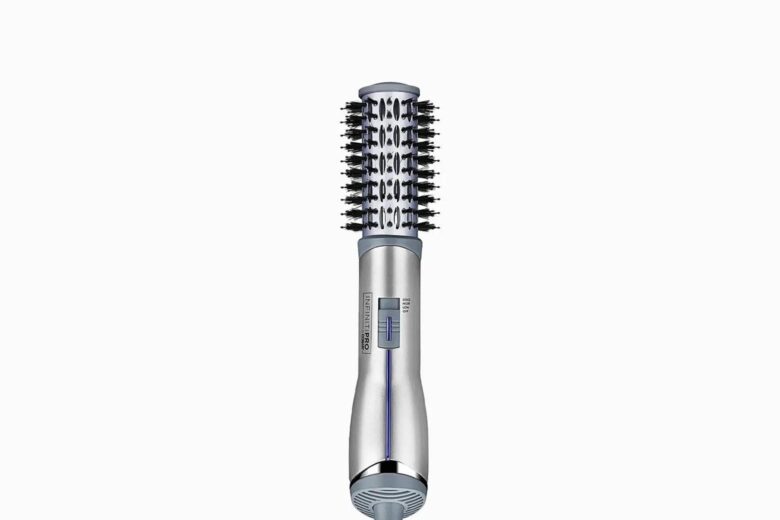 Hair dryer brushes don't have to be a luxurious purchase. Sure, you can spend hundreds of dollars, but search hard enough, and you'll find a hidden gem of a hot brush that does the work without costing you a fortune. Enter: INFINITIPRO By CONAIR's Titanium Ceramic Hot Air Brush.
Available in two different sizes, it's just as capable of providing incredible results on long hair, short hair, thick hair, or thin hair. Its most impressive feature is the large titanium ceramic barrel, which gives fullness and body as you style. To round it all off, the soft bristles create the ultimate combination of shine and smoothness. It's a hidden gem in the haircare industry.
Buyers guide to the best hair dryer brushes
Only a few years ago you would have struggled to find a hair dryer brush on the market if you had one particular type in mind. Nowadays, you're closer to having the opposite problem, with such a large number available that it can be difficult to pinpoint exactly which hot hair brush is best for you.
Not sure where to start? Here's everything to take into consideration when buying your next hair dryer brush.
Your hair type and length
This is the factor that'll really decide which brush you choose. While some hot air dryer brushes are useful for all hair types, many work the most efficiently when paired with hair of a particular type.
For example, if you have short hair, you'll probably want a smaller brush. If you have thick hair, you'll want a wider barrel so you're not spending hours styling each time you use your brush. If you have damaged hair, you'll also want to keep an eye on the temperature and material of your dryer brush.
Style
Most hair brush dryers come in a round brush form, but you'll also occasionally see paddle brush or comb styles. The round brush is by far the most popular, as it's the most user-friendly and promises great volume.
Paddle brushes are more designed for smooth and sleek hair rather than volumized hair. Used incorrectly, they can result in smooth but flat styles, which probably isn't what you're looking for.
Comb-style hot air brushes can be useful if you have fine hair or you're trying to style a fringe or other individual part. If you have long, thick hair, you'll want to opt for a round brush for ease and speed.
Rotating vs. non-rotating barrel
A rotating hair dryer brush is set to become your new best friend if you're someone who struggles with an achy arm or neck by the time you're done styling your hair. The beauty of the rotating brush is that you can sit still while the brush moves around you, rather than having to re-position yourself in front of the mirror to ensure even volume.
The only exception to this rule is if you've got a particular style in mind, which a rotating brush may not be able to cater for. If you're looking for something specific, a non-rotating barrel ensures you have full control over styling from start to finish.
Barrel Size
Much like a standard hair brush, the bigger the barrel, the faster the action. If you have long, thick hair, you'll likely want to choose a hair dryer brush with a large barrel. Medium barrels are a great midpoint if you like precision and enjoy attention to detail when it comes to hair styling.
Those with short hair should choose a small barrel, which allows for the same amount of volume, but in an ideal ratio to the rest of your hair. Looking to straighten your hair? Large brushes are better for straightening curly hair in a short period of time.
Type
You'll find lots of different materials available when it comes to choosing a hair dryer brush. While all of them do the job, different materials may perform better for your hair type. Chrome stylers tend to be the most budget-friendly, but can result in frizzy hair if not styled correctly.
Ceramic and titanium stylers are more expensive but promise hotter temperatures and a more even spread of heat. It's important to note that, while the barrel gets hotter, most of these brushes are equipped with internal sensors that stop that heat radiating onto your hair.
Heat settings
As with all kinds of heat-based styling tools, you'll want to choose one with lower heat settings. The higher the heat, the more potential damage to your hair. Good quality dryer brushes should come with multiple heat settings.
And, like with straightening or curling, ensure you use a good quality heat protection product before styling to ensure your hair doesn't get damaged.
Frequently asked questions about hair dryer brushes
Can you use a hair dryer brush on wet hair?
Hair dryer brushes are designed to be used on damp hair, which means you should let your hair dry between 30-50% before you start using the heated brush. While you can use them on fully wet hair, it's not advised for the amount of heat required.
Are hair dryer brushes good for your hair?
Hair dryer brushes aren't good for your hair when used all the time, but when used with heat protection spray beforehand, they can give excellent results without long-term damage. They're better for your hair than using multiple heat sources one after the other.
Do hair dryer brushes damage hair?
If you use heat protection products and wait for your hair to dry slightly before using, a hair dryer brush won't cause much damage. You should aim to use no more than twice a week to ensure no long-term damage to your hair.