It's more important than ever to take advantage of the Internet to grow your retail store online. With the flexibility and universality of e-commerce and online storefronts, even if your brick and mortar doors are closed, you can continue to serve your customers and build a more resilient business.
But it's more than that: launching an online storefront opens the door for the digital expansion of your brand. It shows that you have your customer's experiences and needs first in mind, as you're able to meet your customers where they are.
22%

Of global retail sales will take place online by 2023
If you can establish a process to effectively sell online, you and your customers will both benefit. Efficacy, however, is the name of the game: you need to select the right tools and platforms to ease online ordering and delivery without taking up too much of your valuable time.
In this step-by-step guide, we will show you exactly how to launch your online store. We'll start by looking at why it's so important, before walking you through a roadmap to make you a successful e-commerce entrepreneur.
This guide is part of a series on online business and digital transformation.
Our objective is to help business owners transform their brick and mortar business to sell online with a roadmap to launch, the right questions to ask, and case studies to find inspiring success stories.
We also want to help anyone start an online business today by explaining how you can make money online, sharing ideas and inspiration, and talking you through a step by step guide to launch your online business.
Why is it important to offer an online delivery option to your store
E-commerce is growing rapidly. Recent research estimates that ecommerce will make up more than 22 percent of all worldwide retail sales by 2023. That number will be even higher in developed economies in North America, Europe, and Asia.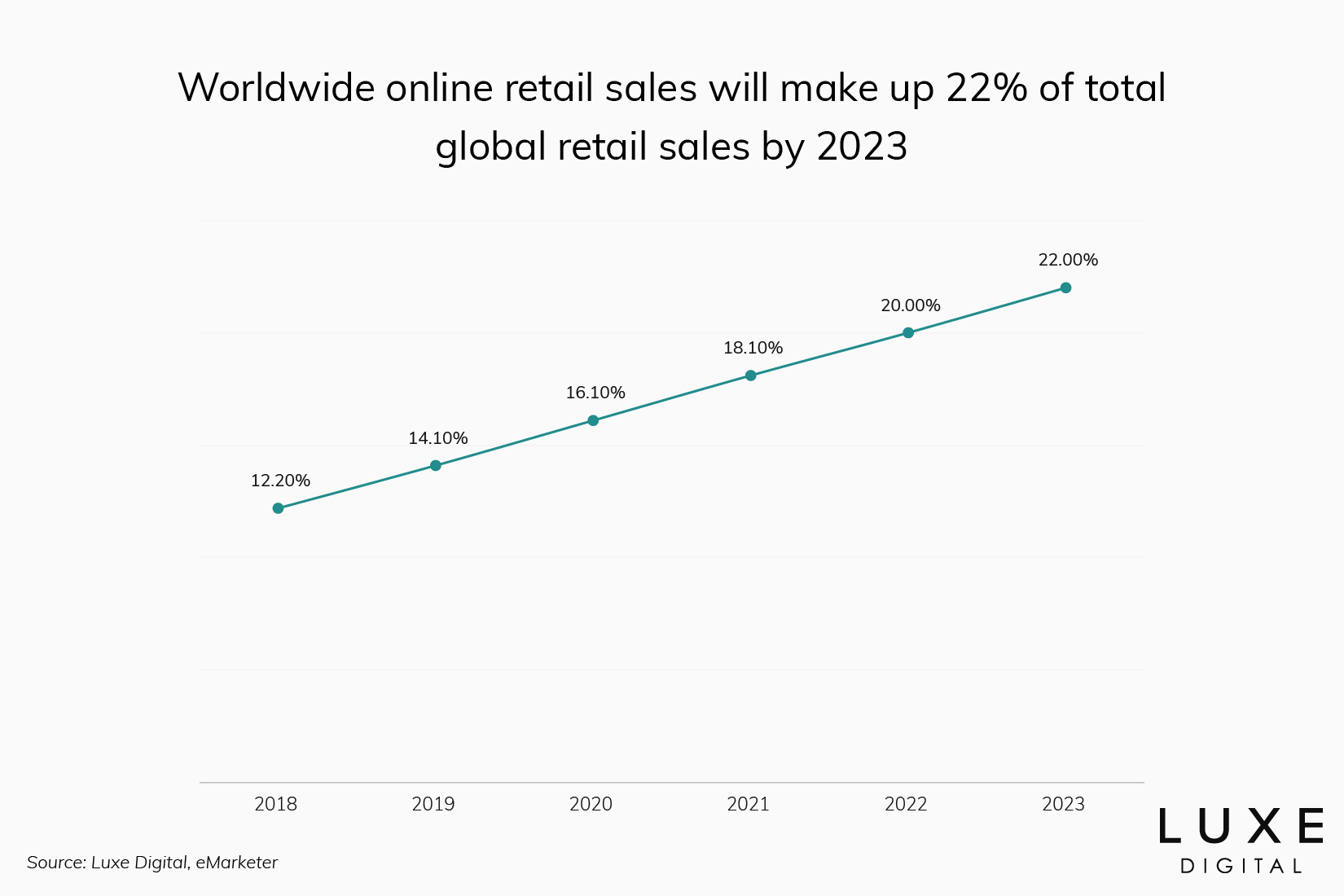 Offering an online ordering option is more than just good for business. It's good for your customers too.
With an online storefront, you'll be able to pass on savings to your customers due to your reduced necessity for on-site personnel and real estate costs. As an added benefit, you'll also be available to your customers 24/7/365 — accessibility which your worldwide audience will surely appreciate.
With the growing options available in e-commerce, your brick-and-mortar can overcome geographical limitations and gain new customers through the right online marketing strategy.
Establishing a strong e-commerce foundation for the next phase of your business is a simple yet impactful way to power your brand and grow your revenue. Simplicity, however, does not mean ease!
Next, we'll discuss just how to make that happen.
How to take your retail store online
To get started with e-commerce, you need to find a way to start accepting online orders—and a way to fulfill those orders by delivering the requested goods or services to your customers.
Finding the right tools and platforms for your venture can be overwhelming. Fortunately, we've done much of the work for you—you'll find in this guide our practical recommendations for e-commerce marketing, logistics, ordering and fulfillment.
We'll also walk you through the three stages of a successful e-commerce launch to ensure that you have all of the information you need:
1. Planning: What to consider before you begin accepting online orders
Most e-commerce failures are due to poor planning. Taking the time now to put together a business plan is a necessary step that will have incredible benefits; you'll thank yourself later.
A good plan will include time for you to assess the market potential and properly price your products. It will identify opportunities for developing your brand and allow you to prepare for challenges during your launch.
Our team put together a roadmap to help you brainstorm a plan for your online business launch. As you begin to put together your e-commerce playbook, start by asking yourself these three crucial questions.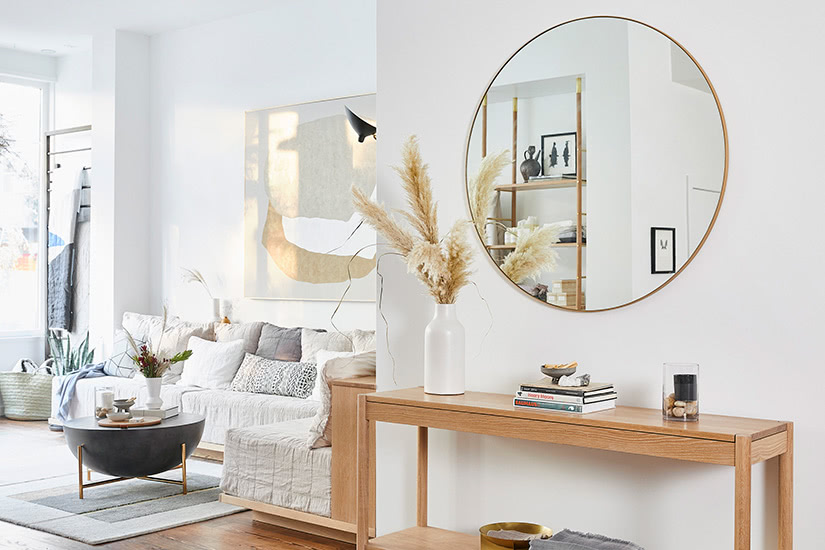 1. How will you accept orders?
You have two options for accepting orders online: managing them through a website or app that you own, or entrusting your ordering system to a third-party platform. Let's walk through the benefits and disadvantages of each option.
Hosting and managing your own ecommerce: The first option is cheaper but more time-consuming and technical. It's more work upfront, which will cost you in time and headspace; but, as you won't have to pay a third party a monthly fee for processing orders, this choice may lower your costs over the long run.
If you prefer a DIY option for order management, there are several good tools at your disposal. Our preferred option is to launch a WordPress website with the extensive WooCommerce suite of plugins and add-ons to run your entire online store.
Working with a Third-Party Ordering System: alternatively, you can select to pay a monthly fee to use an existing solution that's built from the ground up to make it easier to start selling online. This will dramatically speed up the launch of your online store. You will have to pay a higher monthly fee, however.
Shopify is our recommended solution for online retailers. It's the most popular ecommerce platform on the market, used by the majority of digital-native direct-to-consumer brands. The platform comes with a large number of themes to choose from. You also have access to a broad range of plugins to enhance your online store and connect it to whatever other tools you're using to manage inventory or deliveries, for example.
Pro tip: Shopify offers a two-week free trial if you'd like to try before you buy.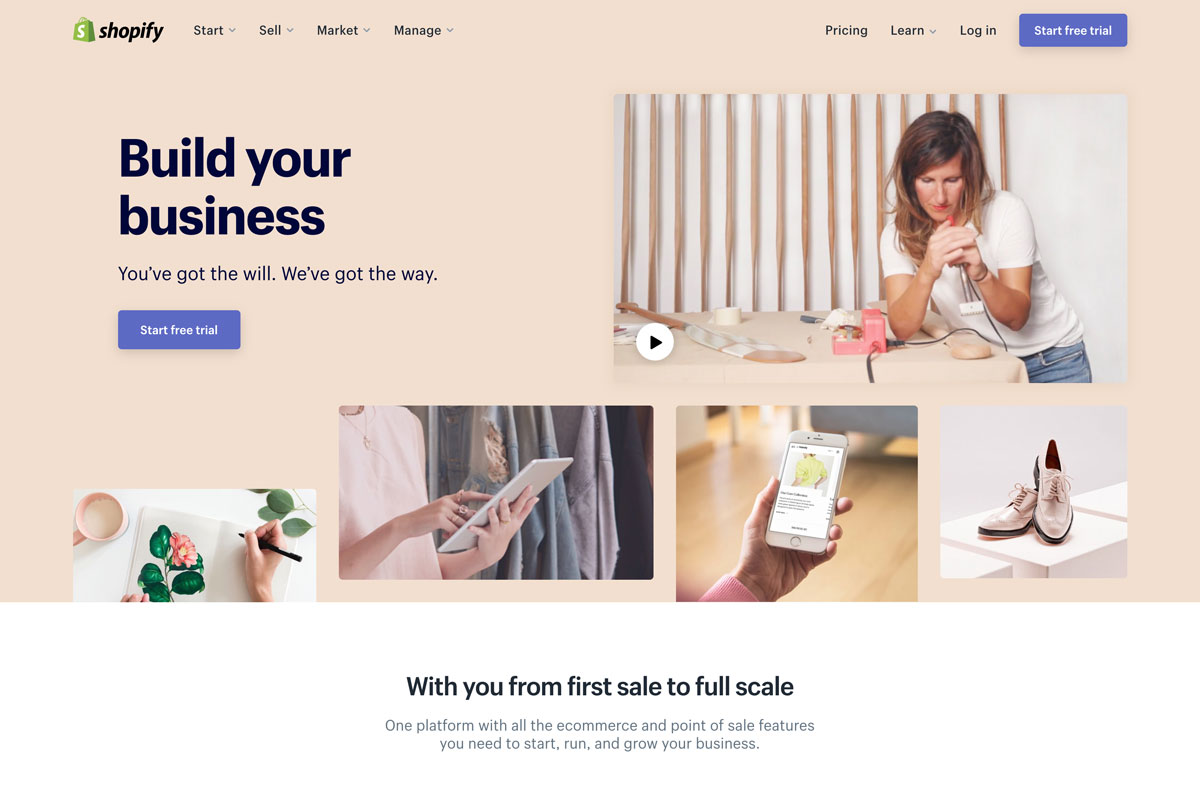 2. How will you deliver the orders?
Once the orders start coming in, you have to figure out how to fulfill and deliver them. You can do this personally, order by order, envelope by envelope—or you can work with a third-party system for online order fulfillment, taking a large part of your business off your hands.
However you plan it, shipping is a key part of your business, so it's definitely a priority. Let's discuss your options:
Managing Delivery Yourself: Processing and shipping logistics can be complex, but if you break it down, it's more easily manageable. You will need to begin by setting shipping rates and methods for your customers. For example, will you offer free shipping as an incentive, or will you charge a flat rate for shipping?
After you manage your shipping options, you'll have to consider your packaging and marketing strategy. The customer unboxing and unwrapping experience is often valued nearly as much as the product itself—or, at the very least, interesting or high-quality packaging materials can set you apart from the competition. However, investing in branded or luxurious packing materials will be costly, so this is a decision you'll have to make with your business in mind.
Lastly, you'll have to determine the radius of your delivery zone—whether you'll be able to deliver locally, domestically, or internationally. If you're managing the delivery system yourself, you can make these choices, but if you're working with a fulfillment center you will have to abide by their rules.
As you can see, there are at least four steps and options to consider when managing shipping and delivery!
Working with a third-party order processing and shipping platform: Alternatively, you can work with a vendor to take care of all that for you. It will save you stress and ensure that your customers receive their products in a timely fashion. Our recommendation for order fulfilment and product shipping is Fulfillrite integrated with Shopify.
With Fulfillrite, your products will be picked up, packed, and shipped straight to your customers; it'll all be taken care of for you expertly, and efficiently. They'll also manage returns—and the service integrates seamlessly with Shopify, if that is your e-commerce platform of choice.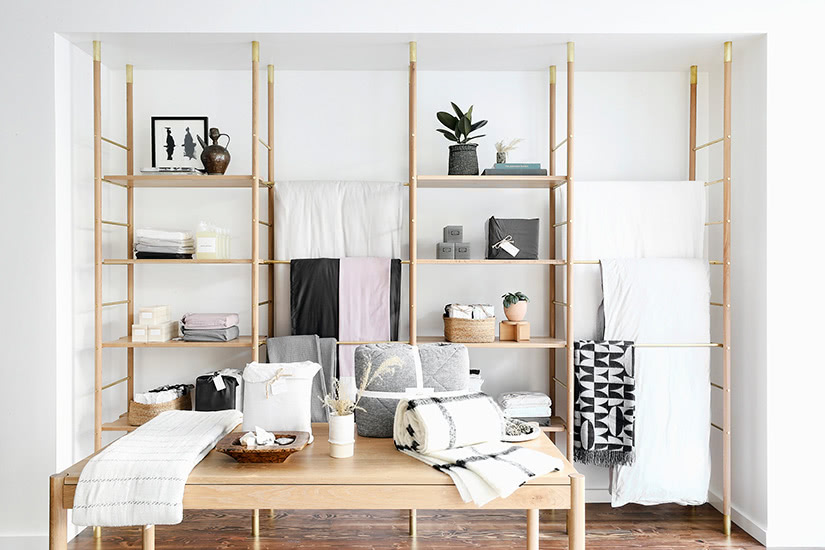 3. How will you market your store online?
After your online storefront is up, you have to drive traffic to it!
Have a plan and a budget in place for marketing your store. Remember that launching a retail front online makes giants like Amazon your direct competition, so having a cogent marketing plan in place upfront is key. Here are three steps you can take to prepare for this in the planning phase of your business launch:
Analyze the market: Determine your target audience, the ways in which they can best be reached; research the other SMBs selling similar products who may be your competition, and the ways in which they are reaching new customers.
Decide how to introduce your services: If you haven't yet brainstormed the logistics as to how you'll reach new audiences, now may be a good time to do so. Will you reach out to potential customers via email campaigns or social media? Will the voice of your brand be sophisticated and smooth or friendly and funny?
Put together a budget: Running ads on social media will cost money; producing branded materials, speaking to marketing agencies, and hiring creative consultants will require investments. As in earlier categories, this can be as DIY as you please—but knowing yourself, where your strengths lie, and where it would be prudent to delegate are all crucial business decisions.
We'll discuss more concrete methods for marketing your wares and growing your brand shortly, but having some of these decisions in place early on would be wise.
Ultimately, it's a good idea to figure out how to automate your business as much as possible. As an entrepreneur, your time is precious; spend it on high-level organisation and brainstorming and managing your products and offerings, not on everyday logistics, as much as you can!
If it helps, Shopify has put together a free start-to-finish business plan template, which may be of use. Whatever your decisions may be, taking the time to thoroughly plan out your venture before you launch is the best thing you can do to ensure success.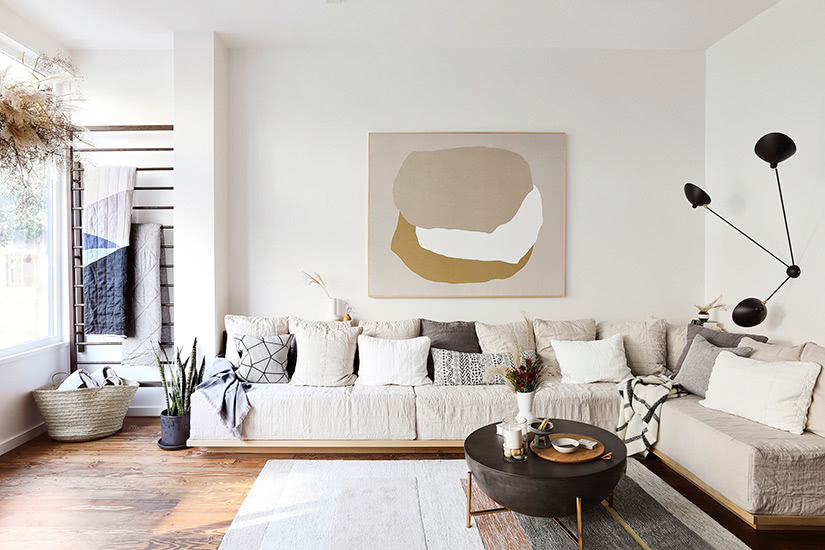 2. Launch: Get your retail store online
You've done the hard work; you've brainstormed a launch plan and you're ready to set it in motion. It's hardly time to relax, however; a successful launch will take careful monitoring and execution to get just right.
Start by registering with the order management platform you've selected to launch your website. If you're in need of a new website, Shopify has easy-to-use, gorgeous templates that make website building easy; or you can always get in touch with our own marketing agency, mOOnshot digital, for reliable expertise and marketing strategies.
For a truly effective launch sequence, you could consider events to introduce your brand to your audience—and potential clients. Here are a few ideas to get you started:
Creating a pre-launch landing page: Simply putting up a 'coming soon' website and posting on social media about it—perhaps with hints of what is to come—may help build a sense of excitement among your followers about your impending launch.
Running a giveaway: To celebrate the launch of your e-commerce site, host a giveaway. This can help create interest in your brand, collect information about potential clients, and inform your audience about the value your products and services can offer.
Queueing content and posting sneak peeks: If your business has a blog or social media accounts, prepare content showcasing your products for publication just before or after your launch to help drive traffic to your site or create interest.
In the meantime, ensure that your ordering and shipping logistics are set in place. If you're working with third-party management solutions, this may be as simple as listing your products and publishing your website. Pick a launch date, and when that day comes, make sure your new online storefront is live.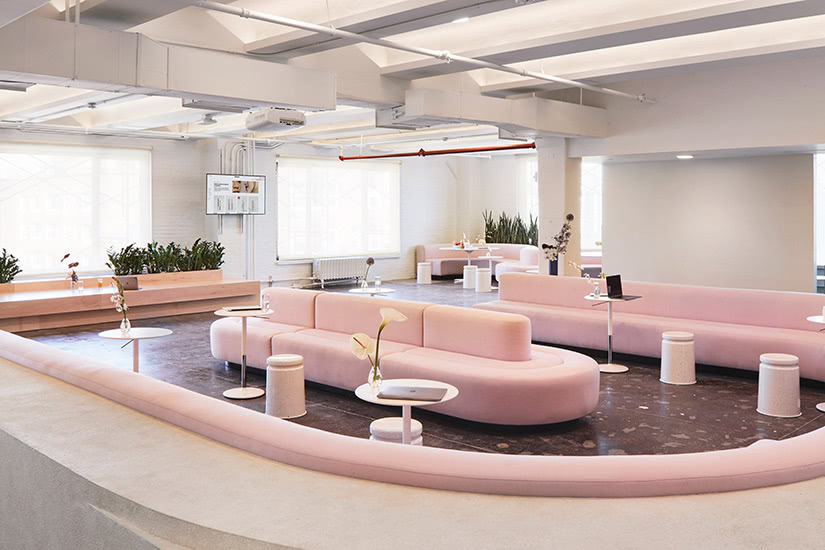 3. Growth: Improve your digital customer experience
After your online storefront's doors are open, the fun can truly begin. The seeds you planted by announcing and celebrating your business launch with the world are growing; it's time to make your venture thrive. Here are four essential best practices to ensure long term growth.
1. Market your store
Online Advertising: It's time to ensure that your content and products are seen by manys. Gradually increase your ad budget as you begin to see good results. If you're working with Shopify, you'll benefit from their built-in ad platform, Kit. This may include promoting posts about your products and services on social media.
Optimised Content Marketing: Publish content that's optimised to drive organic traffic to your website. Investing in search engine optimisation (SEO) will pay for itself over the long run.
Email Newsletter: If you collect your customers' emails—or the emails of anyone who goes to your site—you can send them content that makes them feel like they're part of your community. Whether it's information about upcoming product launches, behind-the-scenes images or videos, or educational and entertaining copy you write to support your brand, reaching out to your followers with an email newsletter is a powerful way to retain users and customers. Services like Constant Contact are great resources for small businesses to use!
Customer Reviews: Request reviews from each of your satisfied customers to create trust through social proof. A great platform for managing customer satisfaction is Yotpo. This all-in-one tool doesn't just manage customer reviews—it can launch loyalty programs and manage incentives for referrals as well.
2. Engage with your customers
If you're running an online business, you will need to manage customer responses—there will, hopefully be many. As with many other facets of owning a business, you can do this yourself: simply list your store's phone number or main email address and make yourself available to review incoming messages.
It may be helpful to use a platform to manage all responses. Some great options to help mitigate the amount of time you'll spend on customer support are Drip and Zendesk.
Be proactive about customer messaging when you experience delays or if there are updates to your product lines—they'll appreciate the personal touch. Build a rapport and a relationship with your customers. Make this connection part of your brand—whether you're friendly and accommodating or sophisticated and knowledgeable, ensure that your customers feel like they're part of your team.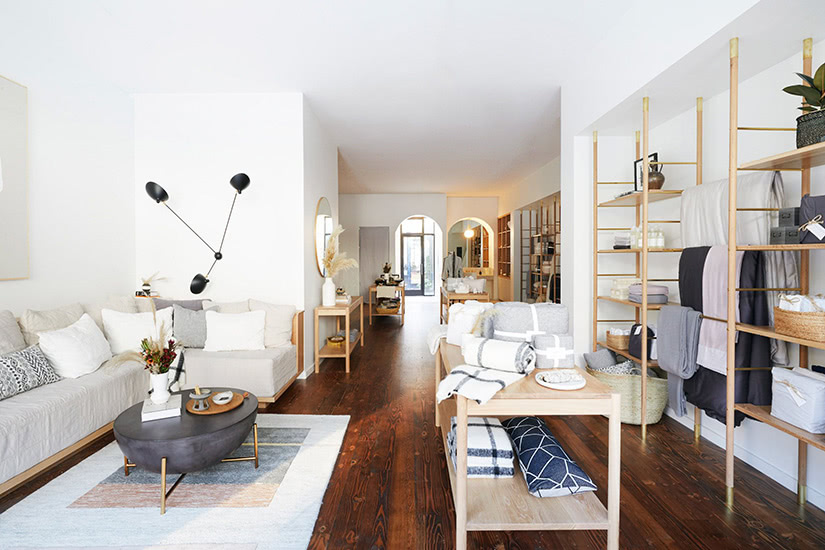 3. Understand how you're growing—so you can grow more
Using real-time data to see how your customers are finding your store and what they're searching or buying on your store will help you optimise your digital marketing efforts. If you're working with Shopify, Shopify Analytics is a great way to glean information from your transactions and traffic.
Google Analytics is another fantastic tool to use to track your users, the time they spend on your site, and other conversion data so you can make informed decisions regarding the future of your business.
4. Stay ahead of the curve
As e-commerce grows, the tech involved is evolving. Remember, every other online storefront is your direct competition as you move your business online—so if your customers are beginning to see these emerging trends elsewhere, they will expect the same from your own store.
Augmented Reality: Increasingly, online retailers are offering their customers ways to feel as if they're in a brick and mortar store—when they're not. As one of the main benefits of going to a physical store for shoppers is so that they can see the product 'in person', online retailers are offering ways to visualize their products in consumer's homes.
Leveraging Artificial Intelligence: When shopping in-store, customers can be assisted by a helpful service associate who can make personalised recommendations based on customer feedback. Many e-commerce businesses have begun to leverage artificial intelligence to help make product recommendations to their customers and help them target their digital ad revenue.
A Focus on Sustainability: A growing trend points to consumers being more aware of what their purchases do to our environment; consumers would pay more for a product from a brand that is publicly committed to sustainability.
Launching your store online: Frequently asked questions
How do you go from brick and mortar to online?
To go from brick and mortar to online, you first need to set up your digital sales strategy. Our guide to take your brick and mortar retail store online talks you through the process, step by step, to start selling your on the Internet.
How do I open an online store?
You open an online store by putting together a business plan, deciding how to accept orders on your site, building an order fulfilment process, and marketing your product to drive traffic to your site.
What is the best online store to open?
The best online store to open is one that's focused on your customers and sells products that are easy for you to obtain. Analysing your potential market, doing research on your competitors, and opening a store that satisfies an unmet need will yield good results.
How much does it cost to set up an online store?
Because the barriers to entry are lower than ever, you can set up an online store from start to finish for an investment of about $25,000. However, if you do it right, you'll likely recoup some of that capital before long.
How do I get products for my online store?
You can get products for your online store by purchasing them at low prices from a supplier, making them yourselves, or offering services (such as writing or design) in strategically-priced packages.
What can I sell online to make money?
You can sell anything online to make money. To bolster your financial gains, it's best to find an unmet need within a niche market which you can fill with products or services you can easily obtain.
What are the top 10 e-commerce building solutions?
The top 10 e-commerce building solutions are:
1. Shopify
2. BigCommerce
3. Magento
4. WooCommerce
5. Squarespace
6. Wix
7. BigCartel
8. Salesforce Commerce Cloud
9. Volusion
10. 3DCart