Improving the online luxury retail offerings from traditional high-end brands to answer the needs of the modern affluent customers has become critical. But the luxury sector has yet to fully embrace selling online.
Luxury brands have been slow to embrace eCommerce and digital innovation.
The situation is, however, starting to change. High-end eCommerce is an important growth engine for both luxury digital-native brands and traditional luxury brands — from Cartier to Louis Vuitton. This marks a significant attitude shift towards eCommerce for the traditional luxury industry.
Consumer expectations from a luxury retail experience are changing. In this article which is part of our series on the Future of Online Luxury Retail, we will look at the specificities and the growing importance of brand-owned eCommerce for traditional luxury powerhouses.
Traditional luxury brands are the latecomers of eCommerce retailing
Traditional luxury brands have long shied away from eCommerce, fearing online retailing would dilute the luxury brand's image and reduce its sense of exclusivity.
Another reason that drove traditional luxury brands to stay away from eCommerce has been the perceived lack of control (quality of the sales environment and pricing, on third-party multi-brand online pureplay platforms in particular).
But if traditional luxury brands have been hesitant to fully embrace eCommerce, the sustainable growth of online pureplay luxury retailers has demonstrated that affluent shoppers are willing to purchase luxury goods online.
Today, traditional luxury brands are stepping up the digital side of their business and have taken tentative steps in selling online on their own eCommerce platforms. So, why are some of the world's biggest luxury brands finally investing in brand-owned online retailing?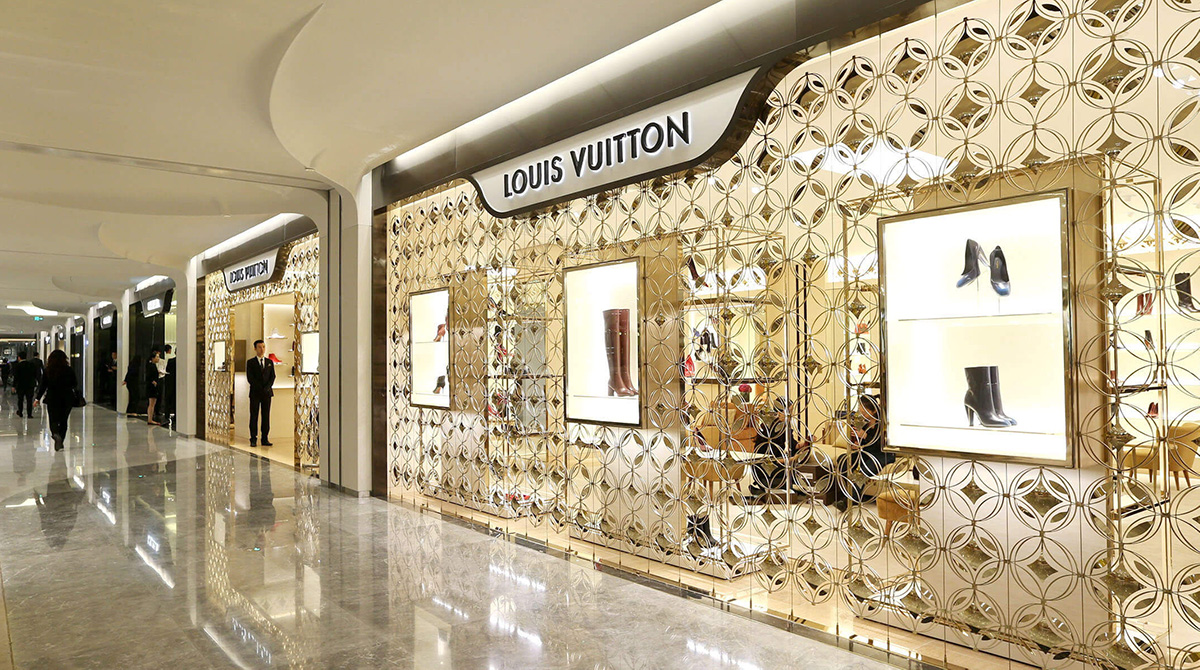 Why LVMH launched its proprietary multibrand luxury online store 24 Sèvres
In June 2017, global luxury goods company LVMH launched its own multi-brand eCommerce portal, 24 Sèvres, named after its Paris address (24 rue de Sèvres) and inspired by its Parisian luxury department store Le Bon Marché.
Featuring not only LVMH's own portfolio of brands (including Louis Vuitton and Christian Dior) the eCommerce site also curates luxury fashion, accessories, and beauty products outside of the Group.
Despite launching more than a decade after competing with multi-brand online luxury retailers, LVMH remains optimistic about 24 Sèvres' chances. While established luxury multi-brand online pure-players such as Yoox Net-a-Porter and Farfetch invest heavily on glossy editorial content and fast delivery, 24 Sèvres is trying to differentiate itself by focusing on visually-led digital "storefront" windows (as we can observe from the site homepage) and interactive customer service technology. 24 Sèvres' decidedly Parisian-themed site and its French curatorial experience aim at replicating online the experience of shopping at its physical luxury department store.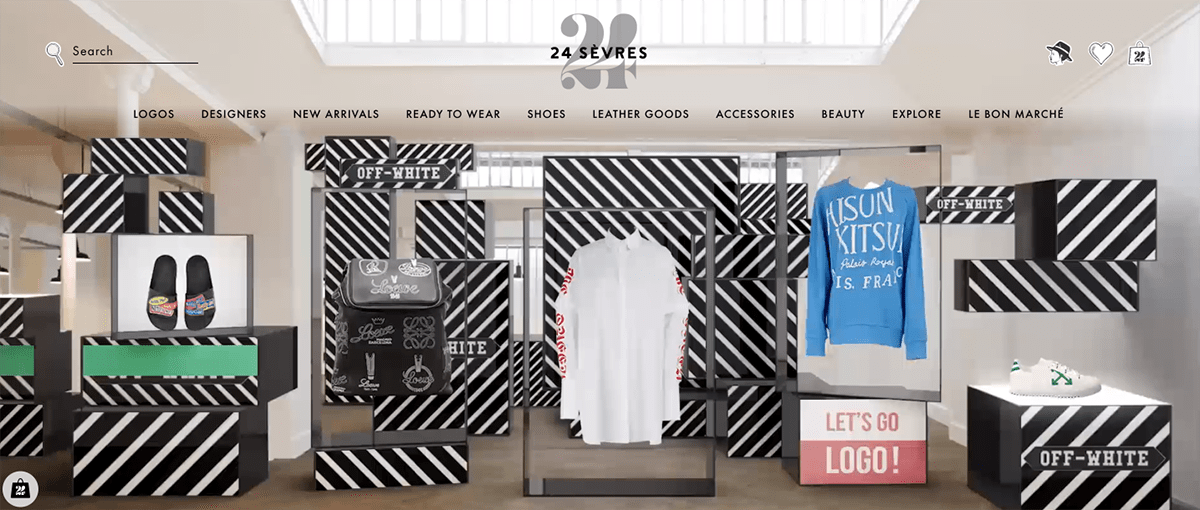 "Products are grounded and contextualized using props and backgrounds," explains Eric Goguey, chief executive of 24Sèvres.com. "It's a reimagined visual shopping experience."
Speaking to The Financial Times, the chief digital officer of LVMH, Ian Rogers, described 24 Sèvres as the "shopping experience of the future.[1]"
"The combination of online and offline communication and experience has not been brought to the market by anyone yet. The internet has evolved from a text-driven editorial medium to an imagery and video-based one. We felt it was time to take our expertise in visual merchandising in the offline retail world and transform it online."
But in many ways, 24 Sèvres shares characteristics with its more established multi-brand online pureplay competitors, including international delivery services, chatbots or stylists-on-demand, and a glossy look-and-feel.
What is most important to notice however is that the launch of 24 Sèvres marks a step forward towards a more consolidated approach to digital for LVMH, away from its past highly fragmented approach to eCommerce across the Group (Louis Vuitton, for example, sells online on its own website, while Marc Jacobs and Fendi are available on Net-a-Porter).
Why are traditional luxury brands investing in their own multi-brand eCommerce platforms? It certainly is a big step from the siloed world to which they have become accustomed.
According to recent research, modern affluent consumers are naturally inclined to shop in a multi-brand environment. Deloitte finds that multi-brand stores for luxury goods now account for 78 percent of online purchases.[2]
Recognizing the need to capitalize on this growing appetite (and unignorable rise) for luxury online, traditional luxury groups follow suit.
Richemont — owner of luxury brands such as Cartier, Van Cleef & Arpels, Piaget, Vacheron Constantin, and Jaeger-LeCoultre — announced in January 2018 its intention to acquire the Yoox Net-A-Porter Group.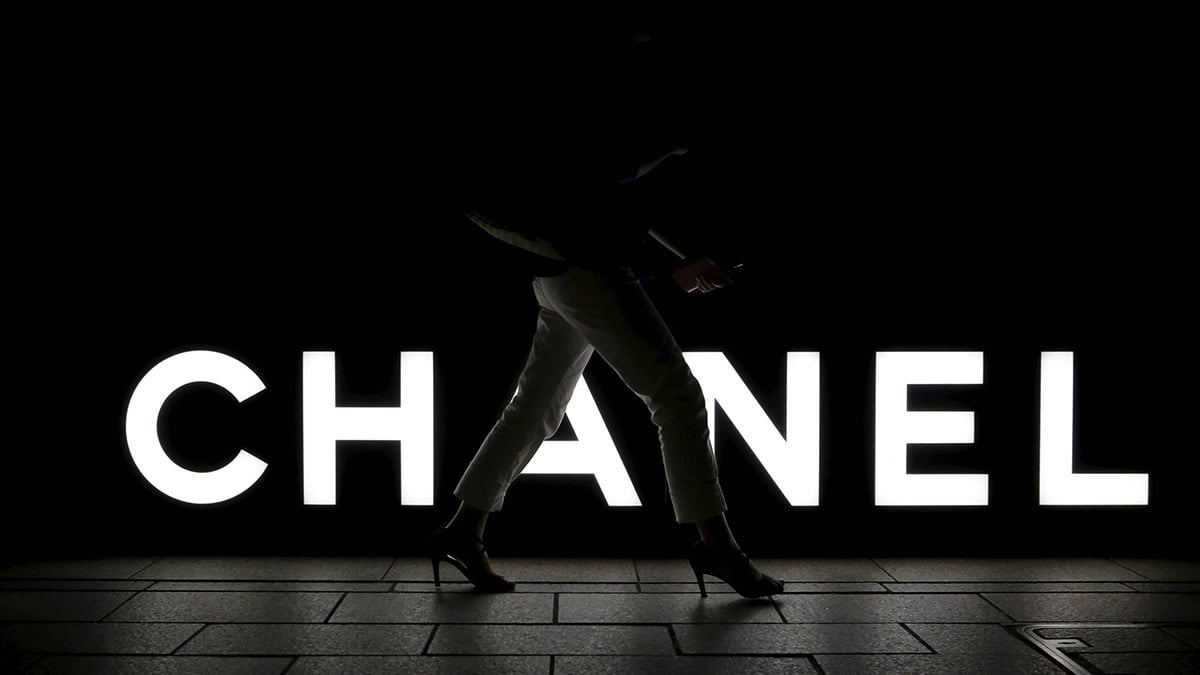 The rise of luxury eCommerce: traditional luxury brands selling online on their own transactional websites, well almost
High-end retailers have been some of the slowest to embrace eCommerce as a distribution channel. The traditional luxury industry is now playing catch up to answer affluent consumers' evolving digital habits.
Some traditional luxury brands are not ready (yet) to make the leap to fully selling online. Known for its reluctance and extreme caution towards eCommerce, French luxury house Chanel has recently announced a strategic partnership with global luxury eCommerce platform FarFetch to develop new digital initiatives in an attempt to make its physical stores attractive to the well-connected younger affluent consumers.
"We are not starting to sell Chanel on the Farfetch marketplace" Bruno Pavlovsky, Chanel's president of fashion, explained to Business of Fashion.[3] "Our position on e-commerce is the same. We want to connect our customers with our product and our boutiques are the best way to do so. We are very consistent in our strategy, but we are using Farfetch's know-how to accelerate this."
But the long-awaited launch in December 2017 of Céline's e-commerce site in France hints at the inevitable acceptance of online sales as a serious distribution channel by traditional luxury brands (Céline was the last of LVMH's fashion houses to move into e-commerce). The rollout across Europe and USA is expected for 2018.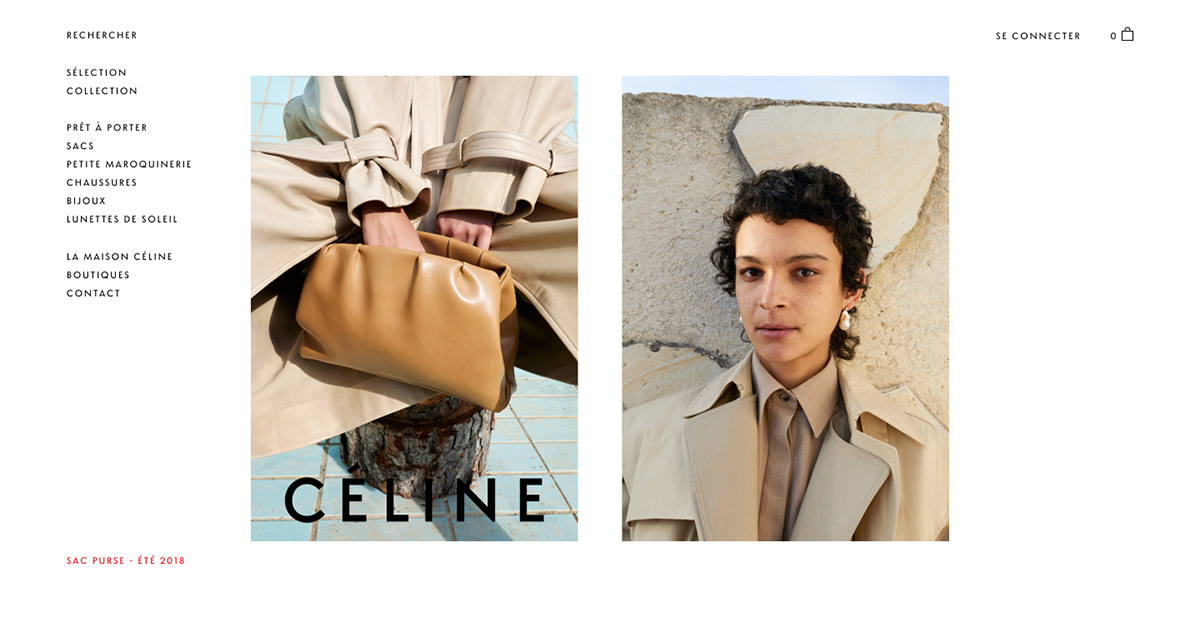 Digital experience and personalisation are now essential to luxury eCommerce success
"Consumers are clear that they see the future of luxury as digital," Deloitte highlights in his recent Global Powers of Luxury Goods research. The research finds that "the essence of luxury is changing from an emphasis on the physical (products) to a focus on the (digital) experiential." Over 37% of consumers feel that luxury products and technology will become more closely linked.
The rise of eCommerce and digital channels for luxury brands are also "creating a need for large-scale, high-quality personalized content" notes Deloitte.
Net-a-Porter's "You Try, We Wait" initiative calls upon personal shoppers to deliver orders to EIP (Extremely Important People) clients' homes, wait until the pieces ordered have been tried on, and collect anything that needs to be returned. EIP customers account for 2 percent of Net-a-Porter's customer base and generate 40% of sales.
24Sevres.com takes on a different approach by enabling a personalized shopping experience through technology. Through a live video chat, shoppers can experience a bespoke style consultation tailored to their individual needs. On the 24Sèvres app, customers can chat with a stylist and browse the store at the same time. In addition, LVMH is launching a Style Bot on Facebook Messenger. Whether it's help navigating the site or making product recommendations for an upcoming occasion, such new channels of interaction enable constant connectivity and conversation and allow customers from all walks of life access to its team of Parisian fashion experts.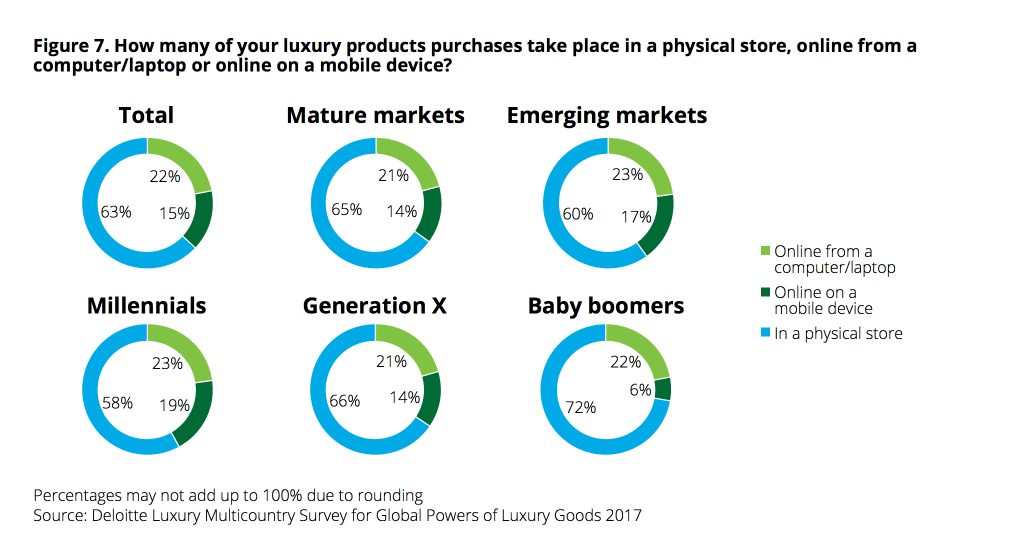 In conclusion: Online luxury retail convergence
Following the shift of consumer power to younger generations (the highly-connected Millennials and Generation Z consumers are fast becoming the largest segment of luxury shoppers), it has become crucial for traditional luxury brands to update their legacy structures to offer a seamless shopping experience online. Deloitte finds that 42 percent of luxury purchases by Millennials are made either by computer or via mobile devices.
Whether it is through investing resources into developing their own online operations or selling through third-party luxury online pure-plays, eCommerce as a channel is no longer optional. As consumer expectations are changing, an omnichannel strategy is emerging as the model of choice for modern luxury retail.
---