Malibu Rum's history covers almost as much of the world as the lengthy trip you'll end up planning after you've taken a few sips of this holiday-in-a-bottle liquor.
Basically, the bottled equivalent of sunshine, Malibu Rum (which, spoiler, can't technically be called a rum due to its 21% ABV, falling short of "official" rum's 40%) is the most popular Caribbean coconut rum in the world and effortlessly adds a touch of holiday spirit to whatever you're drinking.
Palm trees, sunsets, and those hazy orange and yellow tones might not scream British summers but Malibu was actually first developed by an Englishman called Thomas Jago in 1982. Its production was quickly transferred over to the far sunnier Barbados, which is where it's called home up to the present day.
It was at this point when Malibu swapped the original recipe (fruit spirits, coconut flavoring, and rum mixed with Curacao) for a new and improved variation. Now, it's made by the West Indies Rum Distillery Ltd, using higher quality ingredients and the famous molasses syrup.
And, just to tick another continent off of the list, Malibu was named after a place in California, rather than the Caribbean region.
Whether you know it as a coconut flavored liqueur, a flavored rum, or something else entirely, the one thing that's not up for debate is this spirit's seemingly magical ability to make the sun come out, the palm trees rustle in the wind and the sand gently caress your toes, no matter where in the world you're sipping it.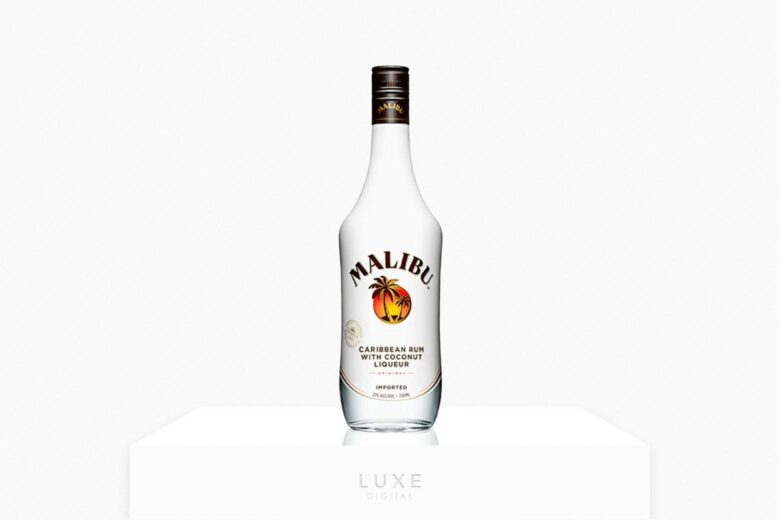 Malibu Rum price and bottle sizes
| Bottle | Size | Price (USD) |
| --- | --- | --- |
| Malibu Passion Fruit Rum | 750ml | $17 |
| Malibu Banana Rum | 750ml | $17 |
| Malibu Mango Rum | 750ml | $17 |
| Malibu Pineapple Rum | 750ml | $17 |
| Malibu Lime Rum | 750ml | $17 |
| Malibu Island Spiced Rum | 750ml | $16 |
| Malibu Original Caribbean Rum | 750ml | $18 |
You might have already made this assumption based on its summary and laid-back nature, but Malibu Rum was designed to make life easier. Originally launched to simplify the making of piña coladas by bartenders, Malibu Rum quickly took the world by storm and rose up through the ranks, one coconut flavored cocktail at a time.
This sweet and fruity drink is hugely popular in the Northern Hemisphere and sold almost four million bottles in the world in 2019.
Malibu Rum types: Branch out from all things coconut
Along with being a top choice for coconut lovers, Malibu also has a wider range of deliciously fruity flavored rums. Other favorites include the brand's spiced rum, pineapple-flavored rum, passion fruit rum, and mango rum. Think of your favorite tropical fruit, and Malibu has likely released a bottle-themed around exactly that.
And, always the innovators, Malibu also stepped things up a notch with a stronger version of its original rum (although still not strong enough to be an official rum): Malibu Black. It's made up of a mix of dark rum and coconut-flavored rum-based liqueur, resulting in a sweet, dark, and almost tangy bottle that's excellent in small helpings and verging on dangerous when you've realized how tasty it is.
If you fancy stepping away from the tropical theme while remaining loyal to the Malibu brand, surprise your tastebuds with the mint-flavored Malibu Fresh or, take it one step further, and sample Malibu's first tequila —Malibu Red. The latter, which combines tequila with coconut flavorings and Caribbean rum, is one you'll probably sample in a club rather than stocked on your home bar cart.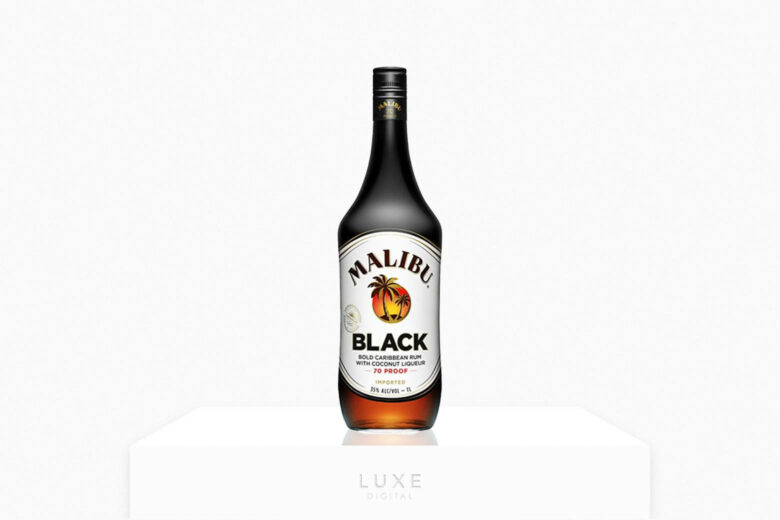 But back to the original Malibu Rum…
Enjoy it in a range of sweet, sour, and fruity cocktails for an easy summer win, sip it by itself for a quick burst of holiday buzz, or bring it along on a picnic in Malibu's handily sized cans. Even if you haven't got a holiday planned yet this year, there's a high chance you'll start Googling tropical destinations and flight prices once you're one or two cocktails down.
Malibu's all about having fun: The company has joked in the past that if people in the Caribbean took life as seriously as people in the western world, then Malibu Rum would never have been invented. And who wants to imagine a world like that?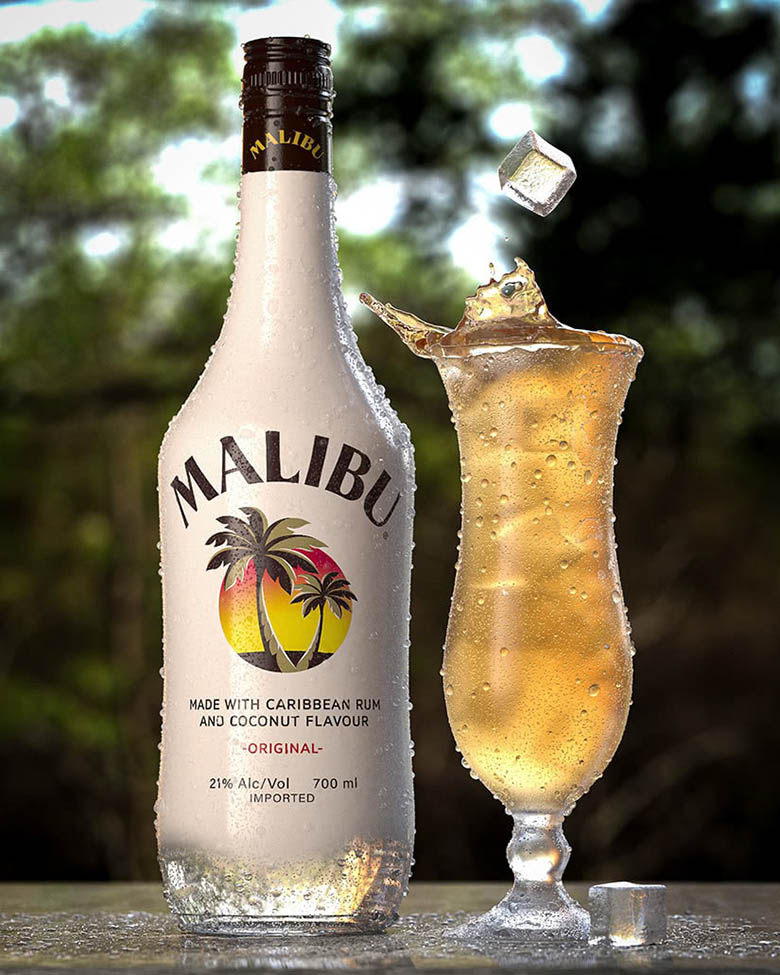 How to drink Malibu Rum
There's nothing stopping you from drinking Malibu Rum straight — and, at 21% ABV it wouldn't go down too badly — but the best way to enjoy this spirit is mixed into cocktails. This low ABV means that, technically speaking, Malibu Rum can't officially be considered a rum, which gives you far more room for experimentation.
There's no need to stick to 'proper' rum methods and requirements with Malibu Rum, so play around and use it to your advantage. Bring out Malibu's tropical notes by combining the coconut flavor with fruity mixers like pineapple juice. For a creamy drink that's sure to go down easily, consider mixing your Malibu with an indulgent helping of coconut cream.
You can't go wrong with a simple Malibu and lemonade for a feel-good holiday drink or add a Caribbean splash to a typical rum and coke by replacing the standard rum with Malibu. This flexibility also means you can experiment with different glassware and serving options. The one rule you'd want to stick to though is temperature: serve your Malibu ice cold for best results.
Malibu Rum cocktail recipes
The rich coconut taste of Malibu Rum makes it the perfect base for summery cocktails. Here are our three favorite Malibu cocktail recipes to get you started.
Pina Colada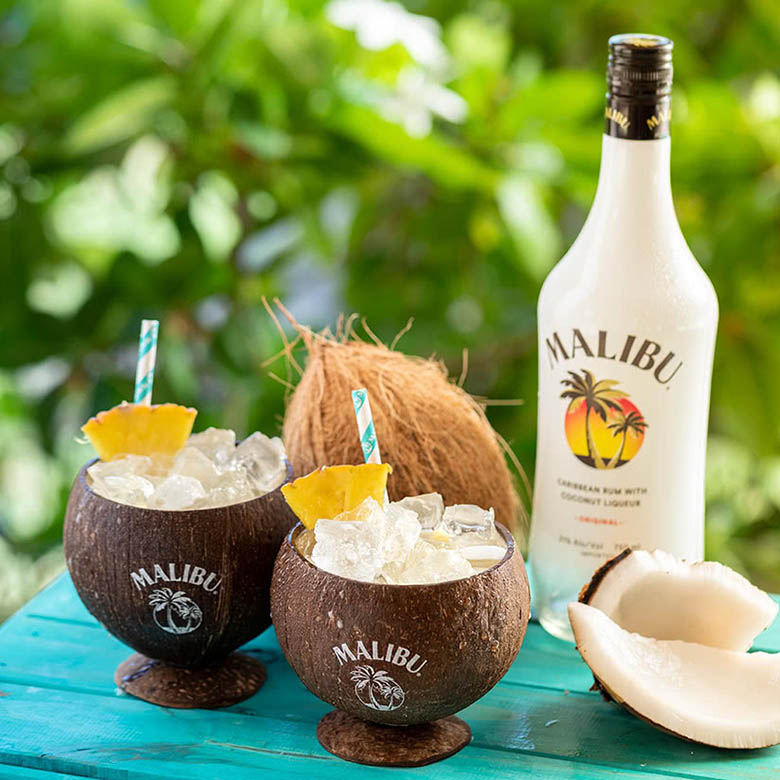 Ingredients:
50 ml Malibu Original
75 ml Pineapple juice
25 ml Coconut cream
Chunk of pineapple
Ice
Cocktail recipes: Sweet, creamy, and a favorite in beach bars everywhere, a Pina Colada adds an instant burst of summer to any occasion. Make it by combining all of the ingredients into a cocktail shaker with plenty of ice, before pouring into a Poco Grande glass and garnishing with a chunk of pineapple. 
Coconut Rum Punch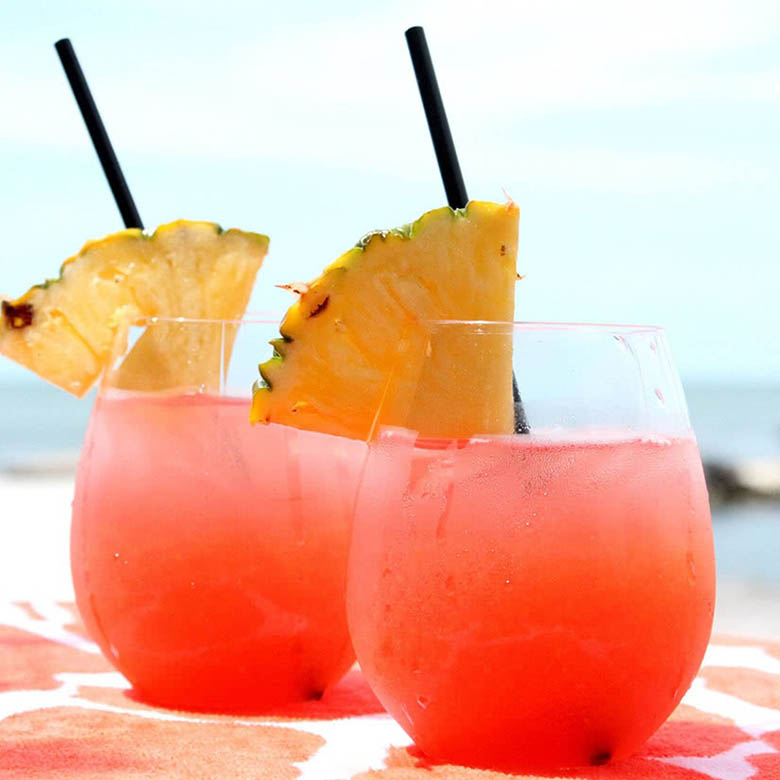 Ingredients:
45 ml Malibu Original
120 ml Pineapple juice
60 ml Orange juice
25 ml Ginger ale
15 ml Grenadine
Chunk of pineapple
Maraschino cherries to garnish
Ice
Cocktail recipes: This tropical cocktail is sure to transport you to the Caribbean in a sip or two. To make a Coconut Rum Punch, fill a hurricane glass with ice before pouring in the grenadine, orange juice, pineapple juice and Malibu. Pour in this order to keep the ombre effect. Then, top with ginger ale and garnish with a pineapple wedge and maraschino cherries.
Bay Breeze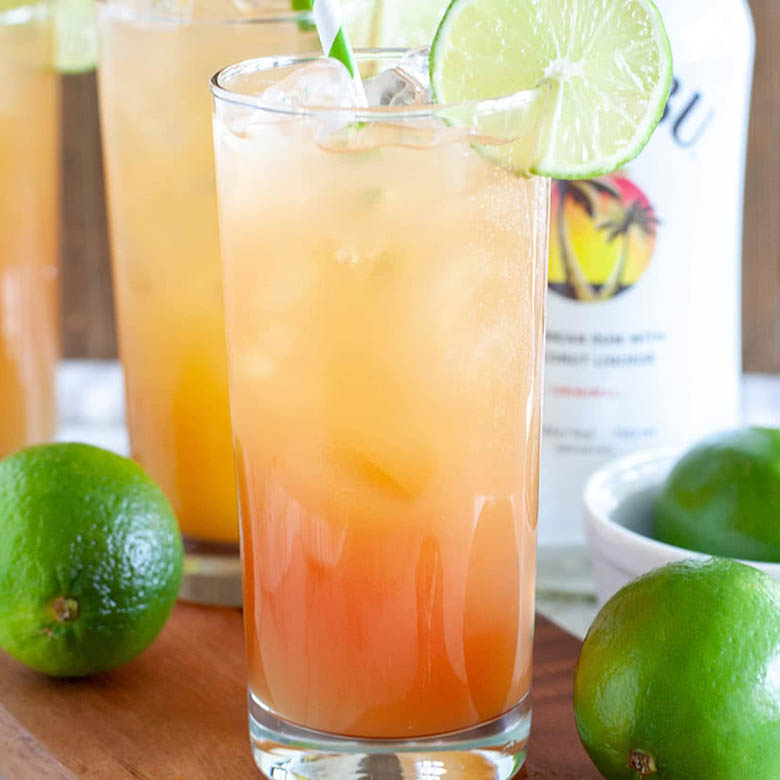 Ingredients:
45 ml Malibu Original
45 ml Pineapple juice
45 ml Cranberry juice
ice cubes
Cocktail recipes: Brightly colored and almost effortless to create, a Bay Breeze is fruity, joyful and refreshing. Pour Malibu into a wide brim glass followed by pineapple juice and cranberry juice to create a subtle layered effect. Don't stir — simply add a couple of ice cubes and serve immediately.
Frequently asked questions about Malibu Rum
How much is a bottle of Malibu?
A bottle of Malibu Caribbean Original Rum costs around $17.22 for a 750 ml bottle. Malibu's fruit-flavored bottles are slightly cheaper, with Malibu Passion Fruit Rum being the cheapest at around $15.56 for a 750 ml bottle and Malibu's Pineapple, Lime and Island Spiced bottles costing around $15.99 per 750ml bottle.
Is Malibu rum expensive?
Malibu rum is a budget-friendly rum thanks to its lower ABV and fruit flavorings. A 750 ml bottle of Malibu Caribbean Original Rum costs around $17.99. However, despite its low price, Malibu rum is still a smooth, sweet and tropical drink that's perfect for mixing into a round of summery cocktails.
What mixes good with Malibu rum?
Malibu's Caribbean Original Rum goes well with a range of fruity mixers which draw out the tropical flavors of the spirit. Keep it simple by combining Malibu with lemonade or Coke or step things up a notch by mixing with pineapple juice, ginger ale or coconut cream for a quick burst of summer in a glass.
Is Malibu a good rum?
Malibu is an extremely popular flavored rum around the world and is a favorite spirit on bar carts, in restaurants and is the perfect accompaniment to a holiday. It's known for its smooth, tropical taste and its ability to transport you to the Caribbean as soon as you've taken a sip.