Whether you use your computer for work or play, having a truly immersive sound system can truly take your tech to the next level. The best computer speakers can do that. Games, movies, Zoom calls, and more: When you can hear everything perfectly, it all just seems more real.
It's surprising how much of a life upgrade the best desktop speakers can be. When you're gaming, you want the effects to blow you away. When you're working, you need a lush soundtrack to keep you energized and upbeat. When you're talking to someone, ideally, it'd sound like they're in the room with you.
Get ready for the sonorous respite of your dreams — these speakers are ready to enhance your computing experience, no matter what you need.
11 best computer speakers
In our computer speakers review, we've figured out the best balance of features and ease of use. We've read through specifications to understand the decibel levels and wireless connectivity settings that will mesh into your life seamlessly. The result? The best-sounding computer speakers you'll find.
Creative Pebble Plus Desktop Speakers: Best overall computer speakers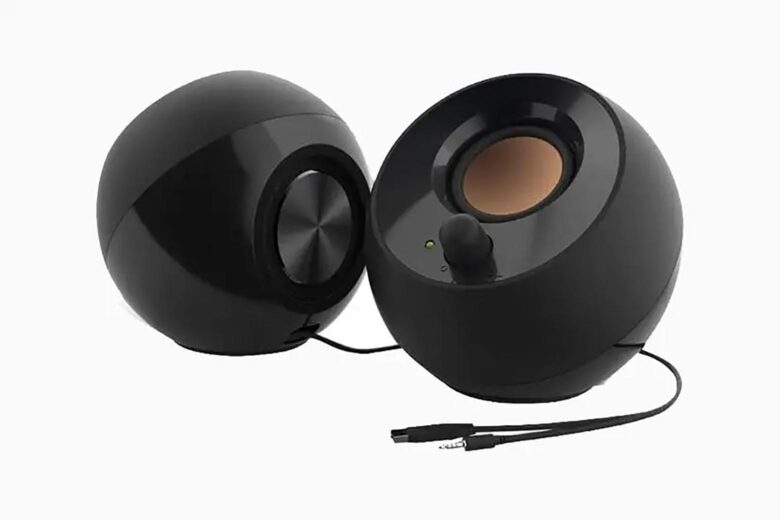 If you're looking for simplicity, convenience, and reliability all wrapped in a sleek package, Creative Pebble makes a speaker that speaks to your style. (If you don't know what specifically you're going to use it for, or if you're gifting these speakers, this is an excellent choice.)
These Creative Pebble Plus Desktop Speakers represent the sweet spot between ease of use and power. With a 4" subwoofer, 2" elevated (and strategically-angled) drivers, and simple controls, you'll find yourself on an easily-operable soundstage designed for your everyday enjoyment.
For Zoom calls and normal audio, these speakers deliver crystal-clear sound. If you'd like to really amp up the bass or enjoy the full resonance of a movie or game soundtrack, a simple switch of a button enables High Gain Mode. These speakers are economically sized, but they can fill a room with high-quality audio.
The circular shape of the drivers was also inspired by a Japanese rock garden — if that isn't a beautifully serene and zen accessory to add to your office, we don't know what is.
Best for: Those seeking a timely upgrade for their everyday soundscapes.
| | |
| --- | --- |
| Dimensions: | 4.5 x 4.8 x 4.5 inches (10.16 x 10.24 x 10.16 cm) |
| Output: | Up to 16W in High Gain Mode |
| Connectivity: | USB, headphone jack |
| Colors: | Black and white |
Audioengine Wireless Desktop Speakers: Best high-end computer speakers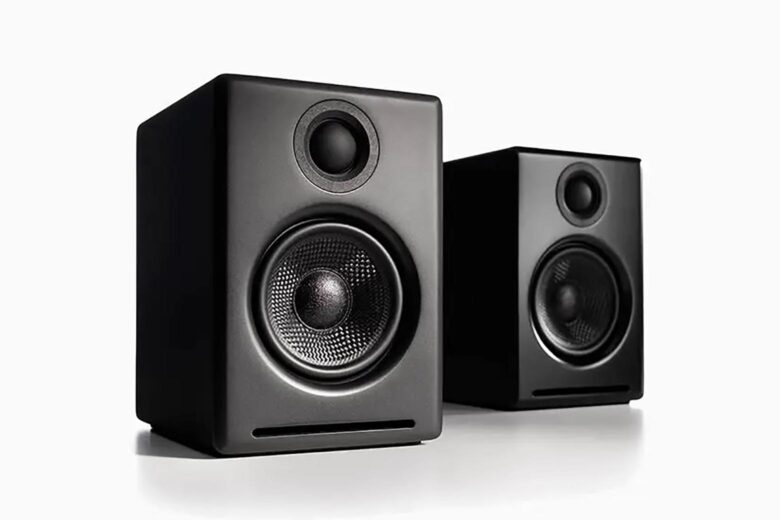 Superior audio may be one of the best investments for your at home technology. Why? When you're able to focus on more power for your speakers, you'll enjoy clearer, fuller sound. You'll be able to connect with convenience (and, often, without any annoying cords or wires.)
High-end speakers, such as these Audioengine desktop ones, also tend to look more sophisticated. The hand-finished wood cabinet appearance of this system is gorgeous: It'll be a subtle upgrade to your home office.
Along with performance and beautiful looks comes ease of use. The Audioengine Wireless Desktop Speakers are easy to connect (wirelessly and wired) with laptops, TVs, CD and DVD players, video game consoles, and more. Basically, whatever you need to hear, these speakers will be able to make it happen. Mix this convenience with the full, lush sound of the high-quality subwoofer and drivers for a truly immersive experience.
Best for: True audiophiles looking for speakers that feel as exquisite as they sound.
| | |
| --- | --- |
| Dimensions: | 14.96 x 11.02 x 7.17 inches (38 x 28 x 17.78 cm) |
| Output: | 60W (at peak) |
| Connectivity: | USB, headphone jack, Bluetooth |
| Colors: | Red, black, white |
Bose Series III Multimedia Speakers: Best value computer speakers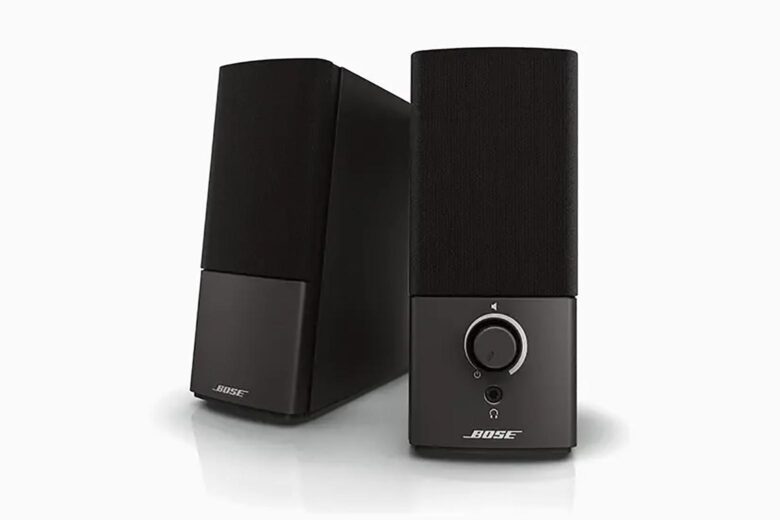 If you're looking for more of a compromise between high-end quality and budget-friendly value, these Bose speakers are the best computer speakers for the money.
Bose is a well-known name in the audio world, and these speakers make it clear just why that is. The sound these efficiently-sized speakers deliver is nothing short of lifelike. The Bose team has also managed to make using these computer speakers easy: You can connect via USB, auxiliary cord, or both (if, for example, you need to connect a phone and a computer at the same time).
Accessible volume control, powerful sound that you can feel throughout your bones, and a ported cabinet design for each speaker that delivers more crisp, detailed sound: These Bose Series III Multimedia speakers are ready to deliver what you need.
An upgrade that's still affordable: That's what we like to hear (pun intended).
Best for: Savvy tech enthusiasts seeking a sound investment (pun also intended) for their audio system.
| | |
| --- | --- |
| Dimensions: | 5.90 x 3.10 x 7.50 inches (15 x 7.62 x 18 cm) |
| Output: | 20W |
| Connectivity: | USB and headphone jack |
| Colors: | Black |
Logitech Compact Laptop Speakers: Best small computer speakers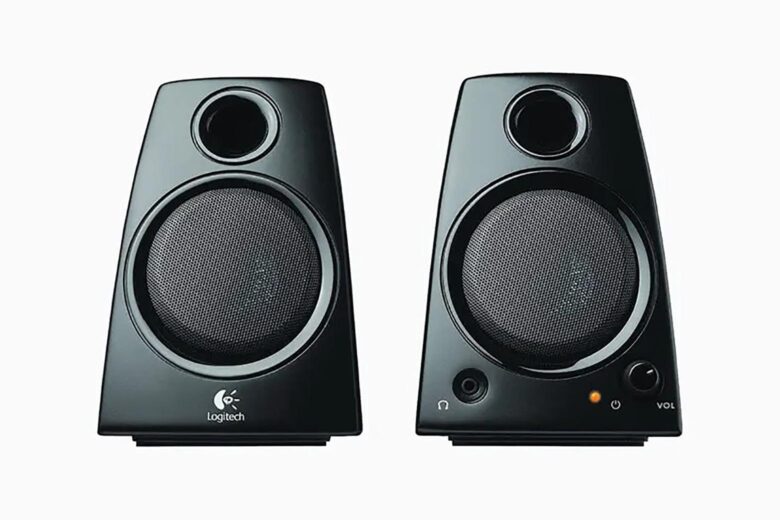 For when you don't have much room on your desk to spare, these compact computer speakers are up for the task. These Logitech Compact Laptop Speakers may be small, but they deliver a strong, rich stereo sound.
Whether you're looking for low-profile computer speakers or you're truly in need of something tiny, these speakers are simple to use and pack quite a punch.
You'll find that the sound is clear, detailed, and deep. They're incredibly easy to set up and connect to. And, because they're small, you can bring them with you if you need an outstanding audio experience in a secondary location.
Best for: Owners of petite computers and compact desk spaces who still need big, bombastic sound.
| | |
| --- | --- |
| Dimensions: | 8.94 x 5.87 x 5.00 inches (20.32 x 12.7 x 12.3 cm) |
| Output: | 5W |
| Connectivity: | Headphone jack |
| Colors: | Black |
Maboo Soundbar: Best PC gaming speakers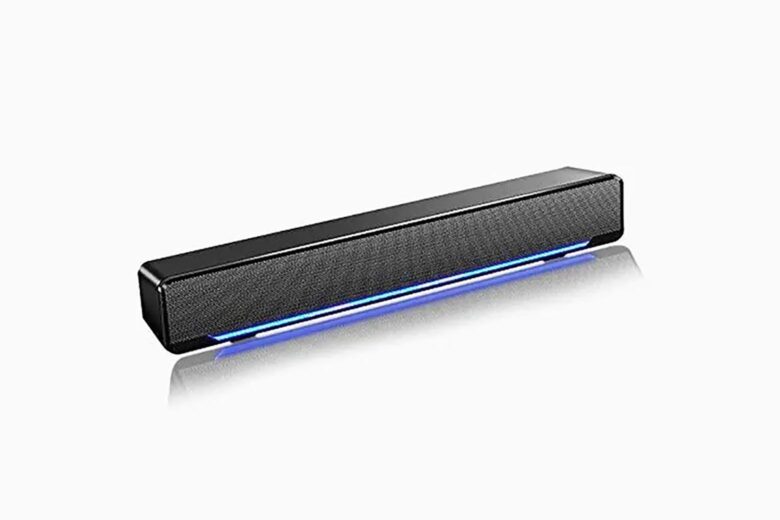 When you're gaming, you want an immersive experience. You want to feel like you're in the game. You want instant sound, sweeping bass, and detailed effects to build your interactive gameplay.
The Maboo Soundbar can go a long way toward making that happen. It is an excellent choice that's USB-powered, easy to install, and has a prominent volume dial that's intuitive to use.
These speakers boast a unique design and a smooth, stylish appearance that lends itself to a minimal, organized desk aesthetic. With a large 6W drive unit delivering high high-quality sound synced to your favorite challenge or adventure, the Maboo Soundbar invites you to relax and have fun. You'll be able to hear your games better than ever before.
Best for: Gamers who seek a truly all-encompassing experience for their immersive gameplay.
| | |
| --- | --- |
| Dimensions: | 13.00 x 3.70 x 3.00 inches (33.02 x 7.62 x 7.2 cm) |
| Output: | 6W |
| Connectivity: | USB and headphone jack |
| Colors: | Black |
Cyber Acoustics Sound System: Best computer speakers with subwoofer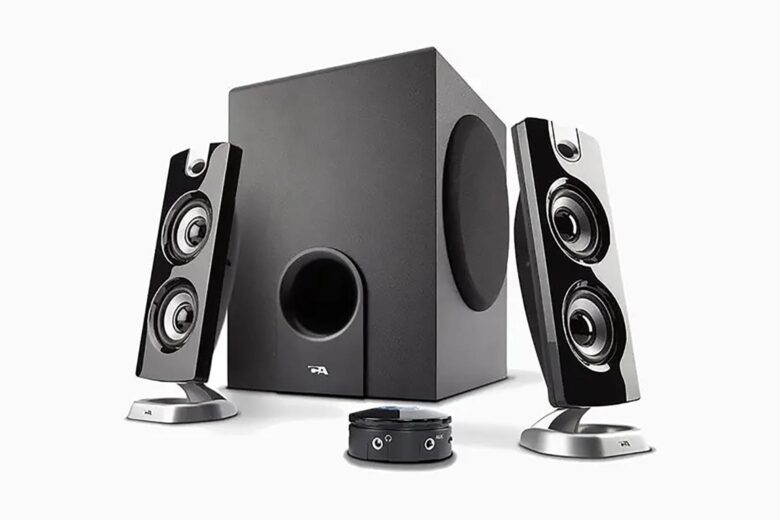 Looking for the best computer speakers for music? You can stop reading right now — these are the speakers you need. Whether you work in the music industry or craft meticulous playlists as a soundtrack for your daily tasks, the Cyber Acoustics Sound System will help your songs resound through your room.
Featuring over 60 watts of power, this speaker and subwoofer set will fill a house with beautiful music.
The Cyber Acoustics team harnessed the power of engineering to deliver incredibly deep bass. You'll be able to hear bass lines in your songs that you've never heard before. These are true audiophile computer speakers if we've ever seen them (…or, heard them).
A piano-black finish gives this set the polished, sophisticated gleam it needs to be a statement piece in your home. You can always expect crisp, clean sounds for your music with the Cyber Acoustics Sound System.
Best for: Anyone who wishes to feel their music resonate through their very bones.
| | |
| --- | --- |
| Dimensions: | 12.00 x 11.50 x 9.50 inches (30.48 x 30 x 3.54 cm) |
| Output: | 62W |
| Connectivity: | Headphone jack |
| Colors: | Black |
Audioengine Bookshelf Speakers: Best computer speakers for bass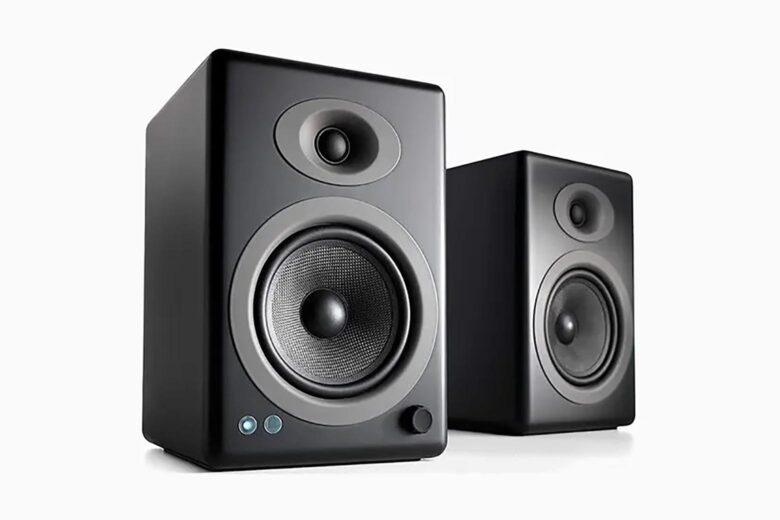 The distinctive bass line of many pieces of music fails to come through on most computer speakers. When you're listening to music that has these features, you're going to want the best computer speakers for rap music with bass.
Featuring a pounding 150W of output, these speakers also have very convenient connectivity, so you don't even have to think about it—before you know it, your music will already be resonating through the air. With both headphone jack and Bluetooth ability, you can even connect multiple devices for extreme ease of use.
With all the power these speakers boast, you'd think they might distort the sound. This is not so. The Audioengine Bookshelf Speakers have the deftness to relay delicate music with respect for its texture and sound — and the power, at the other end, to make your rap music crescendo as much as you like.
Best for: Music lovers who truly appreciate a resounding bass line.
| | |
| --- | --- |
| Dimensions: | 22.00 x 11.00 x 15.00 inches (55.88 x 28 x 38 cm) |
| Output: | 60-150W |
| Connectivity: | Headphone jack and Bluetooth |
| Colors: | Black, bamboo, and white |
TaoTronics Computer Speaker: Best wireless computer speakers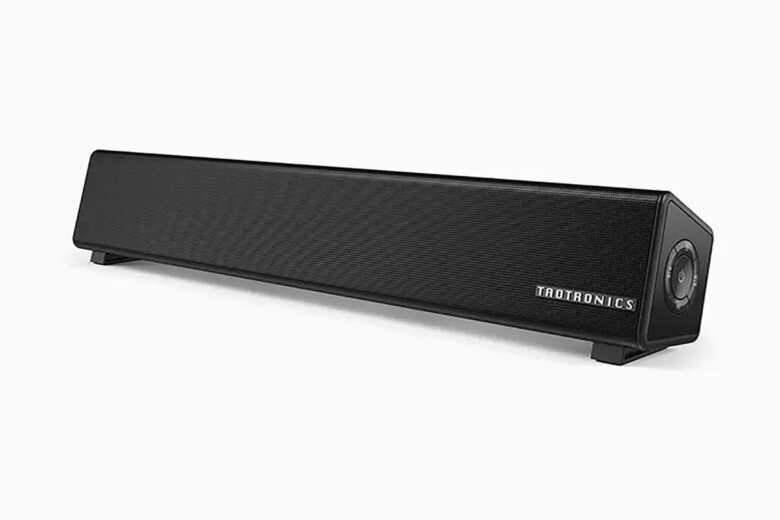 If getting various cables tangled together in an irreversible mess is your worst nightmare, the TaoTronics Computer Speaker System are the speakers you need to cut the cords. The team behind these speakers prioritizes the convenience of wireless streaming. The only cord is one for electricity: Everything else is wire-free.
Of course, that's not where the benefits of this speaker system end. Two powerful speakers help make your sonic experience immersive, while a central sound-bar gives you detailed, crisp audio.
(We should note that you do have the option of using auxiliary cables, if that's what you'd prefer—or if you have friends or family who would appreciate the option.)
The same minimalism that inspired the wireless setup guided the product design. The speakers and soundbar are slim, sleek, and geared to save you desk space. If you're looking for an uncluttered setup, select the TaoTronics Computer Speaker System. It's the best computer speaker with fewer cables.
Best for: Minimalism-minded music enthusiasts who can't be bothered with tangled-up cords.
| | |
| --- | --- |
| Dimensions: | 16.14 x 2.17 x 2.64 inches (41 x 5.08 x 6 cm) |
| Output: | 10W |
| Connectivity: | Bluetooth, wifi, headphone jack |
| Colors: | Black |
Kanto Gaming Desktop Speakers: Best computer speakers with headphone jack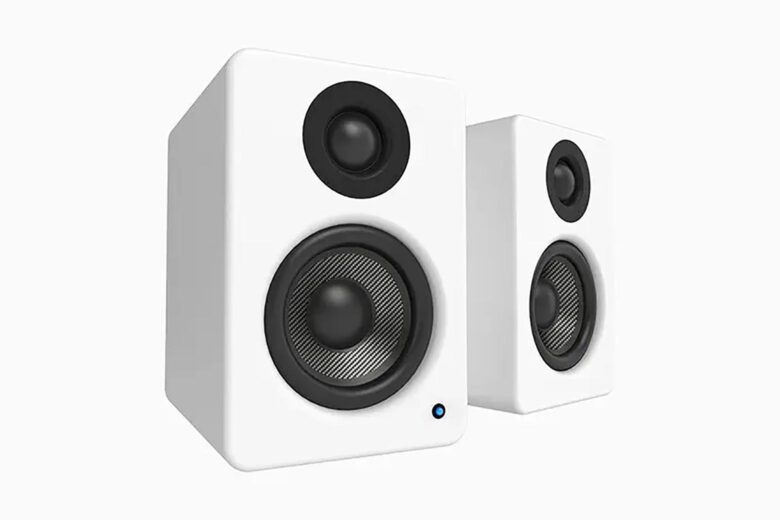 If you'd rather not mess with connectivity and prefer the simplicity of a headphone jack instead, this speaker is an excellent choice.
These drivers offer very clear, distortion-free sound. They're also adorably small — under 6 inches (15 cm) tall! — which means that they can fit almost anywhere. However, they pack a lot of power in their small frame.
This speaker is also available in eight different colors. If making your tech match your taste is important, one of the stylish hues the Kanto team offers will speak to you.
Everything that you need to connect the Kanto Gaming Desktop Speakers to your computer comes right in the box —including an auxiliary cable to help you connect to any other devices, such as smartphones, tablets, or additional computers.
Best for: Those in need of a reliable wired system that looks as great as it sounds.
| | |
| --- | --- |
| Dimensions: | 3.90 x 5.30 x 5.90 inches (7.62 x 12.7 x 13.1 cm) |
| Output: | 100W |
| Connectivity: | USB, headphone jack |
| Colors: | Matte black, gloss black, matte white |
Razer Nommo Gaming Speakers: Best computer speakers under $100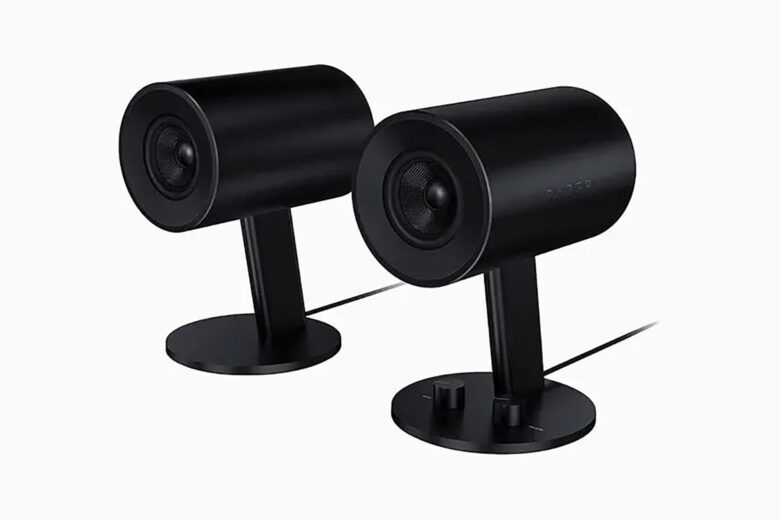 The Razer Nommo Gaming Speakers produce such extreme clarity and a full-bodied sound that, frankly, we're surprised the cost is less than $100.
The secret is the custom glass-fiber drivers that the Razer team has perfected. They deliver a light, detailed sound that has all the layers of the music, soundtracks, or other audio you love.
You'll have the ability to fine-tune the bass output easily. These Razer Nommo Gaming Speakers can give you a ground-shaking bass experience — or the same power funneled into a low hum so you don't disturb your neighbors!
The unique modular look of these speakers can lend quite an aesthetic to your office space.
Best for: Anyone designing a new office look on a budget–who still needs their new setup to sound top-tier.
| | |
| --- | --- |
| Dimensions: | 5.52 x 6.70 x 8.67 inches (12.9 x 15.24 x 20.32 cm) |
| Output: | 10W |
| Connectivity: | USB, headphone jack |
| Colors: | Black |
AmazonBasics Computer Speakers: Best budget computer speakers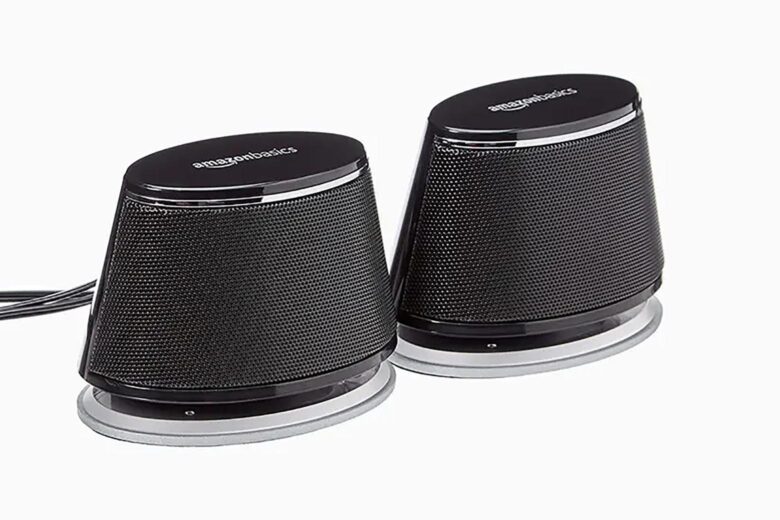 Let's go further: For a true budget option, really the most value for your investment, we present the AmazonBasics Computer Speakers. Their sound is described as 'springy' and full of life; they're easy to set up, and they have a professional-looking finish. What more could you want?
For people looking for a true plug-and-play option, this system will be a great option. These speakers offer a padded base to protect your desk, a brushed black metal surface to blend in well with your technology, and easy in-line controls for mixing the sound to your heart's content.
There are some blue LED lights on the front that inform you as to volume and power levels, if that is a consideration. Otherwise, these AmazonBasics Computer Speakers are certainly cost-effective, convenient, and reliable — a great option for a best cheap, affordable budget buy!
Best for: Those in need of a basic set of speakers that do the job well…but won't break the bank.
| | |
| --- | --- |
| Dimensions: | 3.9 by 2.6 by 2.8 inches (7.5 x 5.08 x 5.2 cm) |
| Output: | 2.4W |
| Connectivity: | Headphone jack |
| Colors: | Black |
Buyers guide: Choosing the right computer speakers to amplify your tech
If you're wondering 'how do I choose computer speakers', you're in the right place. Here are the different types of computer speakers on the market, as well as features you should keep an eye on during your search.
Popular types of computer speakers
Bluetooth computer speakers: These types of speakers take advantage of the latest wireless tech to bring you a convenient cord-free experience. If that sounds good to you, you'll need to make sure that your computer or other device is Bluetooth-capable.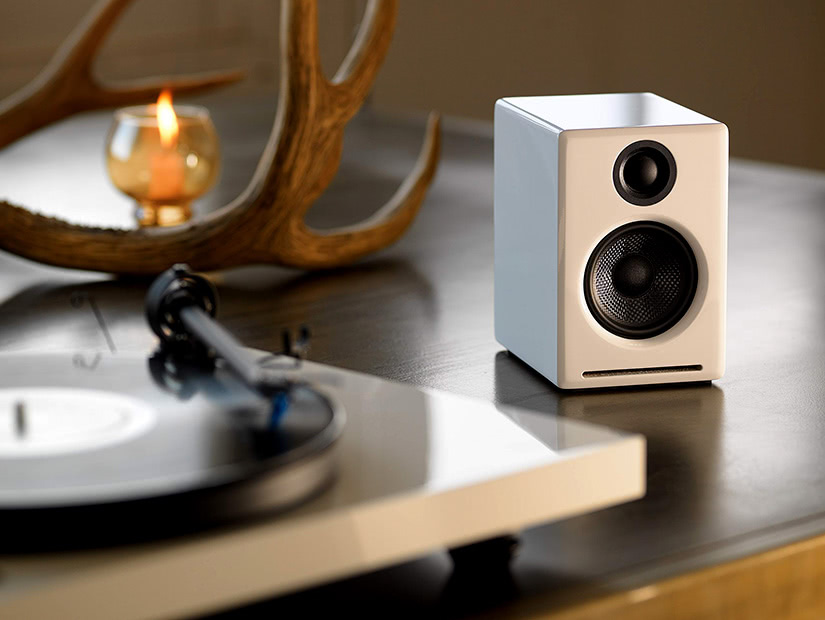 Wired computer speakers: If you're setting up a designated work station and you don't believe you'll be moving around much, wired devices may provide a lot of value. These types of speaker systems tend to be compatible with a wider range of devices by jack or USB. However, you might have to sacrifice being able to connect to your phone: Most modern smartphones have ditched the headphone jack, so that's something you'll need to double-check.
2.0, 2.1, and 5.1 systems: These numbers represent the number of speakers and subwoofers your computer speaker system will include. Modern surround-sound systems, for example, will generally include five satellite speakers and one larger subwoofer for a 5.1 immersive experience. (To continue the analogy, 7.1 computer speakers would have 7 satellites, for example.) When you're selecting the sound system that's right for you, think about how much room you have on your desk — and how rich and surrounding you want your audio to be.
Features to look out for in your new computer speaker system
Sound quality: This may seem obvious, but you don't want to get so caught up in aesthetics or connections that you don't end up with a good-sounding product. Fortunately, all of the options we have vetted have stellar sound. You're looking for a decent amount of output in watts, and you'll also want the option to manage the bass levels so the sound rings right for you.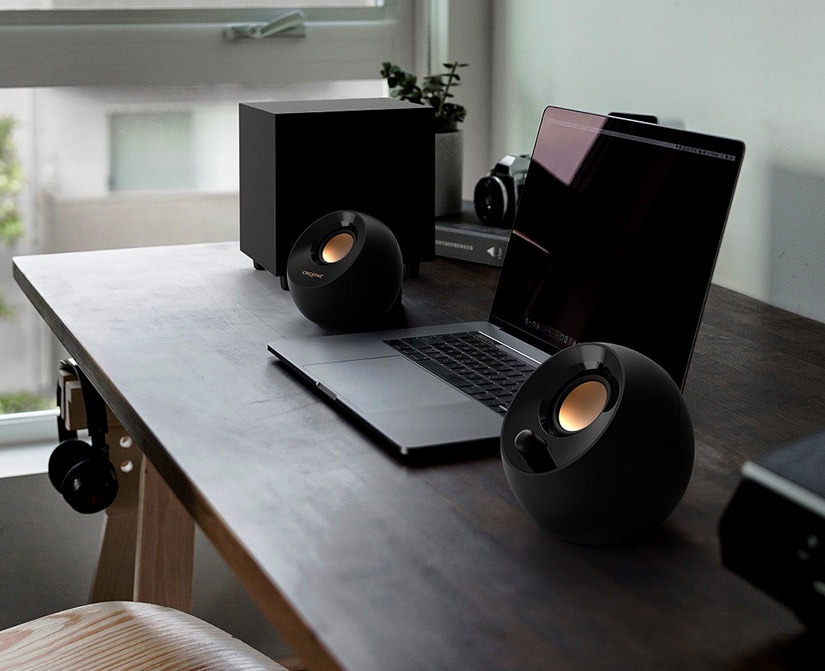 Desk presence: With every investment you make in your home or office, you build the surroundings for your daily success and happiness. Your speakers are a part of that! While you may not expect utilitarian objects like technology to necessarily be pieces of art, they shouldn't be eyesores. Select speakers with style: you'll thank yourself later.
Ease of use and control: Check to make sure that your speakers have easy dials for volume, and have the other connection options that you need. Ultimately, you need these speakers to amplify your life—not confuse it. You want to be able to press 'play' and enjoy your time, not troubleshoot your tech!
Frequently asked questions about computer speakers