You probably already have a favorite wine or a failsafe pair of shoes that, when push comes to shove, you'd choose over anything else. Get ready to extend the same level of confidence into a mechanical pencil: the missing piece of stationary in your life that promises to elevate everything from your pinpoint-sharp calculations to your whimsical sketches and your breakthrough novel.
Those days of frantically hunting around for a sharpener are long gone: the addition of a mechanical pencil to your life will take away any and all distractions from completing your next project or tackling those intricate measurements.
Sleek to the touch, sufficiently weighted, and with a pleasing, concentrated line as your hand dances across the page: you'll never go back to the humble traditional pencil after you've made the change. Expect your creativity to thrive like never before.
The 11 best mechanical pencils
To help you find the mechanical pencil that's best for you, check our buying guide to choosing the best pen after the list.
rOtring: Overall best mechanical pencil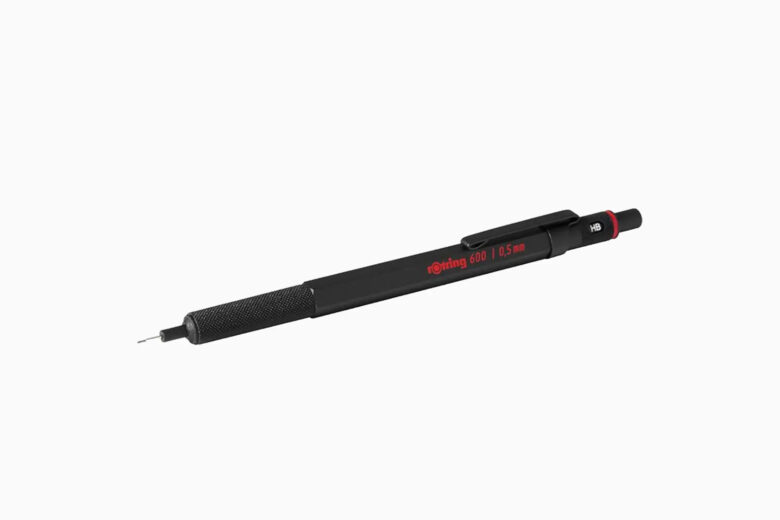 From drawing up floor plans, calculating precise mathematical equations, measuring lines, writing novels, and practically anything else that involves putting a pencil to paper, rOtring's 600 0.5mm Mechanical Pencil manages to casually do it all. A pencil that's somehow a jack of all trades without sacrificing quality, if there's one mechanical pencil that can do it, it's this one. rOtring's tools are meant to be pushed to the limit. 
With a perfectly weighted body and hexagonal shape, the only thing that'll put an end to your day of writing or drawing will be the grumbling of your stomach rather than any aching in your wrist. If you're looking for stationary that'll let you focus 100% on your project with no distractions, rOtring's mechanical pencils are the tool that'll make the hours fly by while your drawing comes to life in front of you. A crucial tool of the trade, expect your standards to be raised exponentially as soon as you've made the transition to this sublimely precise pencil.
| | |
| --- | --- |
| Best for: | Hours of uninterrupted creativity. |
Montblanc: Best luxury mechanical pencil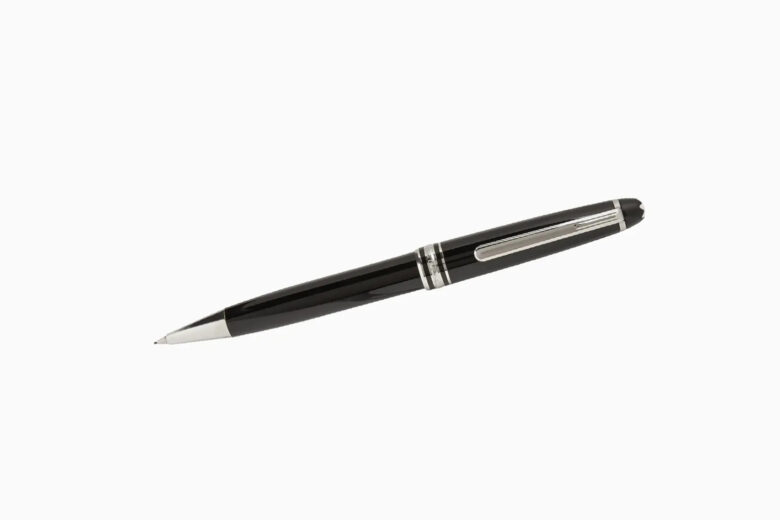 The crème de la crème of mechanical pencils, Montblanc's Meisterstück Platinum Classique Mechanical Pencil is the Little Black Dress or Rolex watch of your pencil case.
You might not have considered keeping something like a pencil reserved for special occasions but you'll find yourself subconsciously doing just that when you've treated yourself to one of these. Far too superior to be used for simple tasks like drawing lines or plotting marks on a wall: this is the mechanical pencil that will be responsible for your wildest projects and most adventurous missions. Platinum-plated inlays and black resin combine to make sure you look suitably suave while drawing up that career-making plan.
| | |
| --- | --- |
| Best for: | Adding a touch of pageantry to everyday tasks. |
Uni: Best value mechanical pencil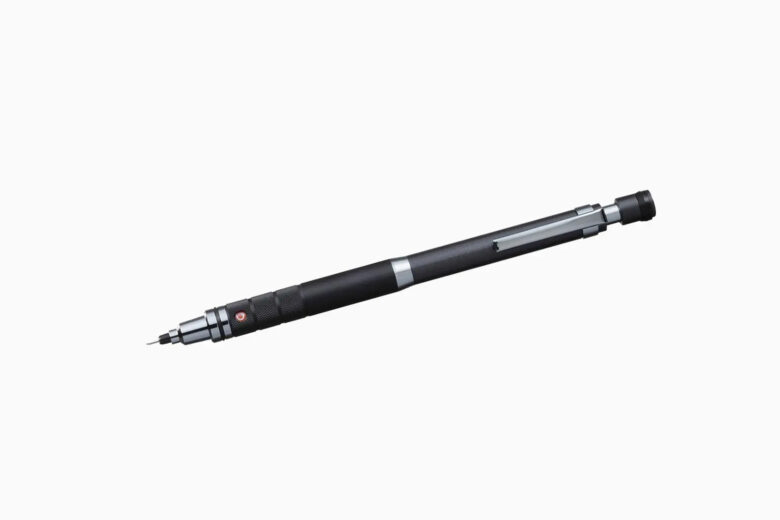 A good quality mechanical pencil that won't let you down is the secret to finishing even your most intricate projects without going mad. And, sure, you can find plenty of mechanical pencils with all of the bells and whistles included and for infinite sums of money. But sometimes it's better just to go back to basics with a versatile pencil that fits your needs without being overly shiny or expensive. The best mechanical pencil for the job? Uni's Core Keeps Sharp Mechanical Pencil.
As the name suggests, this is a pencil that'll make the process of writing and drawing a thing of beauty, with a consistently smooth and sharp lead that's the perfect thickness. Combining accuracy with a nib that refuses to break or go blunt, this is a pencil that will nonchalantly sit back in your pencil case, waiting for you each and every time you briefly consider branching out and trying something new.
| | |
| --- | --- |
| Best for: | The latest addition to your everyday carry essentials. |
Pentel: Best mechanical pencil for drawing and architects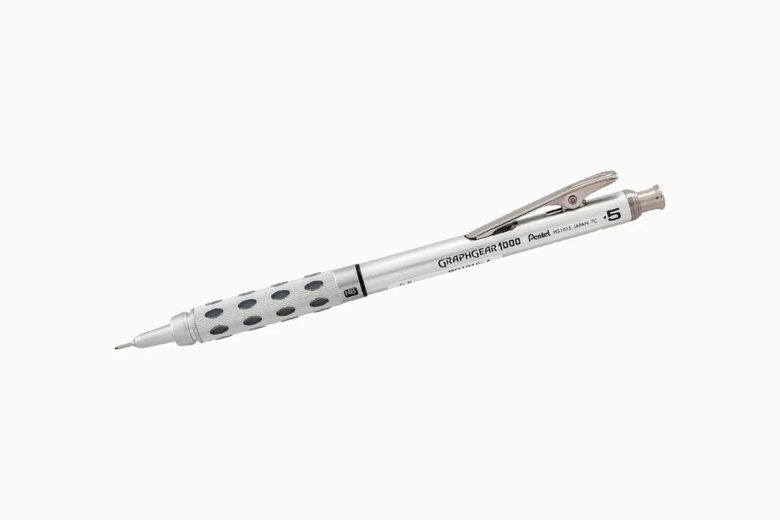 Even if you're just at the beginning of your career as an architect, you'll find yourself drawing up extensive houses, beautiful bridges, and huge, artistic buildings when you've finally got yourself a Pentel GraphGear 1000 Mechanical Pencil. A brilliant investment that will only set you back around $10, this mechanical pencil breezily waves away any notions of inaccurate drawings or off-center markings. 
Its 0.4mm tip means there's no room for hesitation when it comes to marking down fine lines and a built-in lead hardness indicator helps you to easily identify your lead type as you're drawing. In short, as the best mechanical pencil for drawing, it promises to make your drawing experience immensely easier than it was with anything you were using before. This mechanical pencil might not be quite as rigid as others, but it allows for an extra level of fluidity that you won't find with many other brands. This makes it perfect for writing, drawing, and diagramming alike.
| | |
| --- | --- |
| Best for: | Crafting your most impressive projects. |
Caran d'Ache: Best mechanical pencil for writing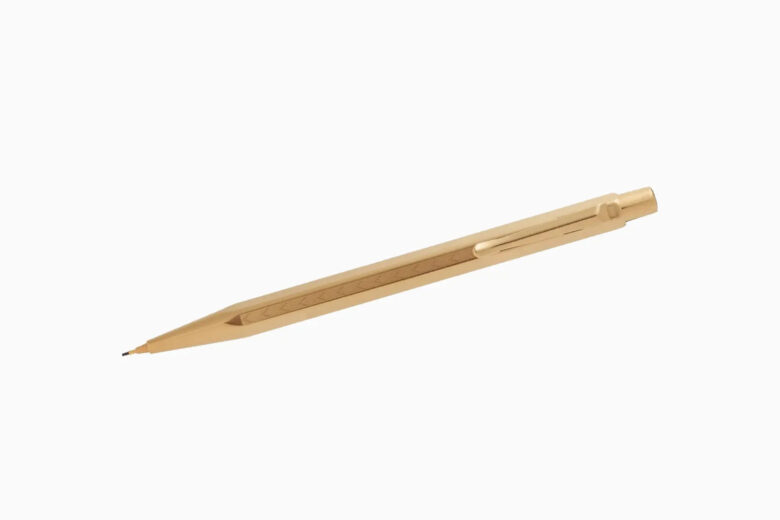 You'll find your hand flowing like something out of a traditional novel when you're working with Caran d'Ache's Ecridor Gold-Plated Mechanical Pencil. Truly a work of art in the world of stationery, this is the pencil that'll stop you from giving pens a second look ever again. You'll find words dancing through your fingertips and prose streaming out from the lines on the page as soon as you've picked up this mechanical pencil and put it against a clean sheet of paper. 
That inspirational feeling you get whenever you treat yourself to a new journal? Expect that but multiplied when it comes to using this pencil – undoubtedly the best mechanical pencil for writing. And, if you weren't convinced by its quality, consider the fact that Caran d'Ache is the only Swiss manufacturer of writing instruments. And we all know the Swiss are the experts when it comes to luxury goods. Along with chocolate and cheese, it seems stationary should be added to the list of what this country does best. 
| | |
| --- | --- |
| Best for: | A pencil that's noteworthy in every sense of the word. |
MUJI: Best mechanical pencil for students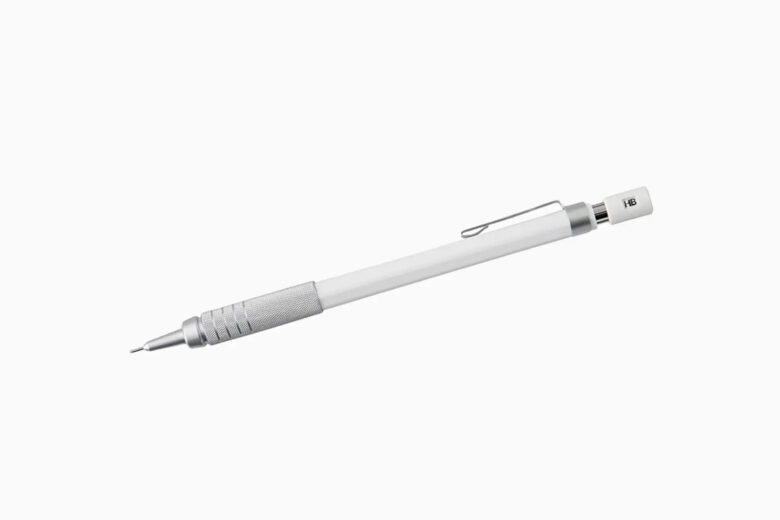 It doesn't matter how quickly your lecturer is talking or how many words you're trying to hurriedly write down – a good quality mechanical pencil will effortlessly carry you along the way, proving itself to be your best friend no matter what subject you're tackling. And the perfect mechanical pencil for the job comes from MUJI. The Low Center of Gravity Mechanical Pencil will set you back less than $10 and proves itself a more than a worthwhile companion to your studies. 
Its weighted design offers an extra level of support even when you're scribbling away at a hundred words a minute. The difference between this mechanical pencil and others is that its shape, width, and weight is pretty much designed with speed in mind, making writing notes something to almost look forward to rather than stress over. This is the pencil that you'll want to buy a reserve for, to avoid any fears of having to use a lesser tool for your studies.
| | |
| --- | --- |
| Best for: | An A+ student in pencil form. |
Staedtler: Best mechanical pencil for engineers and math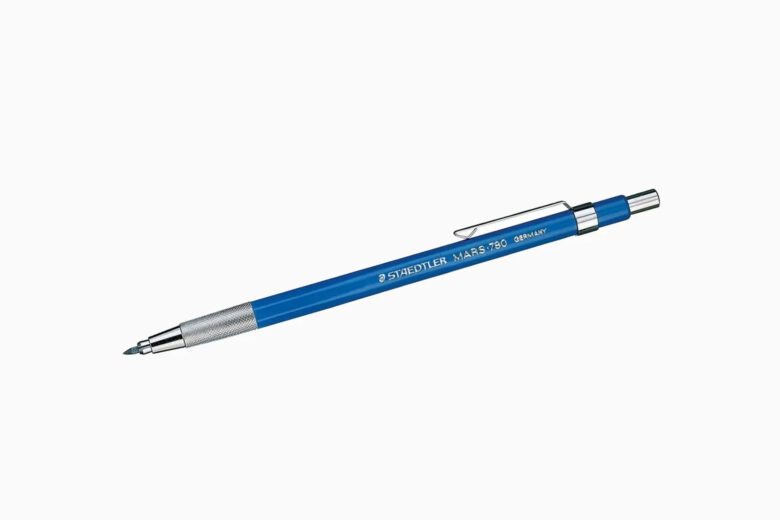 Stationary junkies will know Staedtler to be one of the traditional leaders in the game and that's something that will likely never change. So if you're on the hunt for a technical mechanical pencil with unfaltering accuracy and unflinching precision, Staedtler is the obvious choice. There are plenty of mechanical pencils designed specifically with engineering or maths-related projects in mind but, in our opinion, the most pleasing mechanical pencil means going back to basics. Staedtler's Mars 780 Technical Mechanical Pencil will find its way into your shirt pocket, thrown into your bag, and spontaneously tucked behind your ear as the day progresses. 
You'll find yourself reaching for it for all and any purpose, from writing a shopping list to drawing up technical measurements. But it's the latter where this pencil truly shines, with its consistent ability to draw thin, sharp lines with its premium quality lead. A built-in sharpener on the cap means if you ever do find yourself needing a sharper-than-a-knife line, it's easily doable.
| | |
| --- | --- |
| Best for: | Making those intricate calculations a little smoother. |
Zebra: Best compact mechanical pencil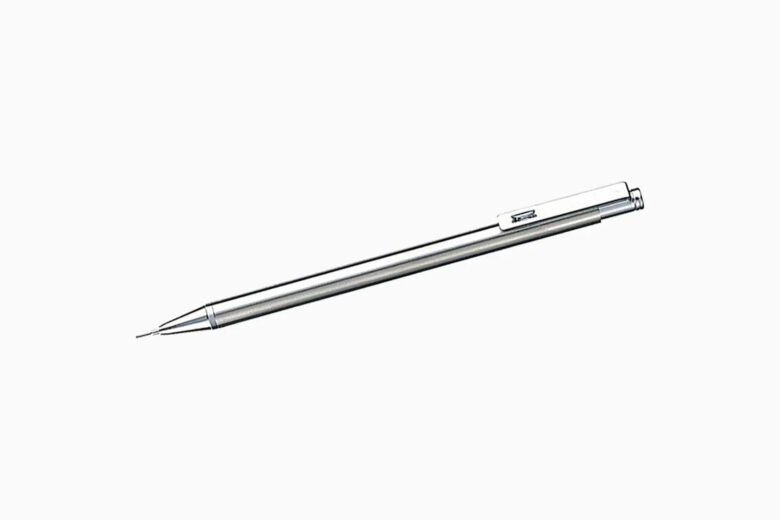 Having a reliable pen or pencil with you at all times is one of those simple but satisfying things that'll make life endlessly easier. That fleetingly-captured business plan you had that could change the world? Next time, you'll be able to pull out your pencil and jot it down before it escapes your memory. Or the notes you wanted to take that didn't translate quite as easily to your iPhone app? Captured on paper forevermore.
The mechanical pencil for the job that promises to be your trusty companion whenever inspiration may strike comes from Zebra. The Mini Mechanical Pencil is the trusty little friend you'll stash in your pocket, your wallet, or your bag, ready for action the next time it's needed. With a 0.5mm lead, it's perfect for note-taking and is slim enough to even keep tucked between the pages of a book. Don't be put off by its minute size though, because this pencil is durable enough to withstand plenty of accidental drops. 
| | |
| --- | --- |
| Best for: | Being ready to go on literally any occasion. |
Rite in the Rain: Best mechanical pencil for woodworking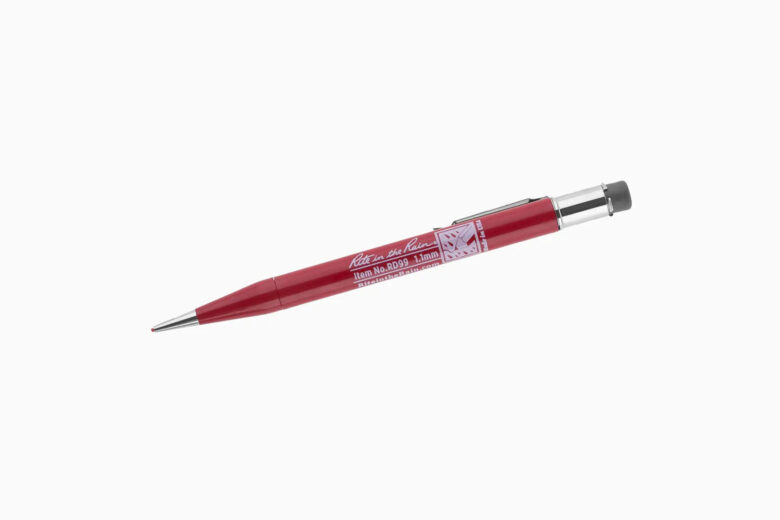 The very specifics of woodworking means there's no room for hesitation or inaccuracies. So it's absolutely crucial to work with a mechanical pencil that understands this, from marking the exact point you're aiming for, to staying loyally sharp and unbreakable when you're preparing your next piece of material. Of course, there are plenty of impressive mechanical pencils available but what makes Rite in the Rain's All-Weather Mechanical Pencil the best for woodworking is simply how unshakable it is. 
You could practically throw this pencil down the stairs or give it a good stamp and its strong barrel and patented tip means it would be just as ready for your next project as you are. A 1.1mm thick lead promises bold enough lines that are strong and firm enough to read while being thin enough to mark out your specifics. Woodwork just got a whole lot easier with the addition of this pencil in your toolkit.
| | |
| --- | --- |
| Best for: | Finally starting that wooden furniture side hustle. |
Ystudio: Best metal mechanical pencil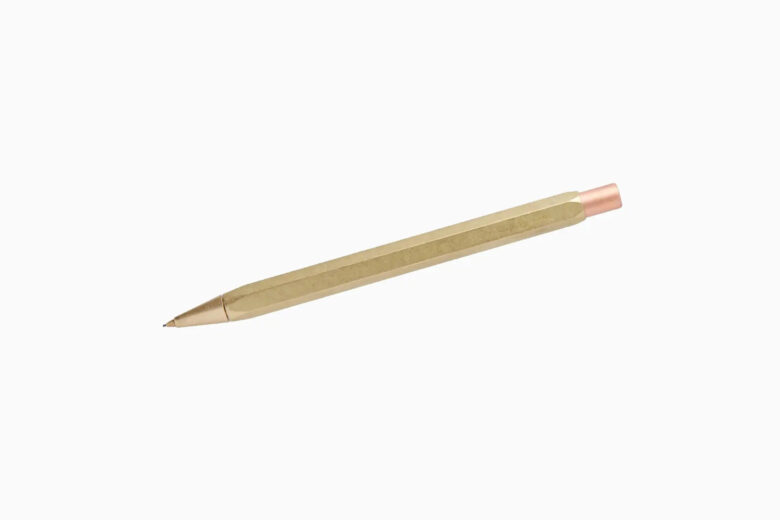 Let's get one thing straight: if you're on the hunt for a metal mechanical pencil, you're not here to mess around. You know what you're looking for (quality, durability, style) and you're not prepared to cut any corners. Which means the ideal mechanical pencil for you must come from Ystudio. Famed for its sleek and suave designs, Ystudio's mechanical pencil elevates your everyday writing experience into something new and exciting.
The weekly shopping list? Suddenly a pure joy to put together. The shelves that need measuring against the wall? You'll be first to offer to assist – it's another excuse to pull out your fancy mechanical pencil, after all. If ever there were a pencil to make you look forward to mundane elements of your lifestyle, it would be Ystudio's Brass and Copper Mechanical Pencil. Expect to carefully keep this one on your person at all times, just in case any potential to use it comes up.
| | |
| --- | --- |
| Best for: | Being the reason why you treat yourself to that matching high-quality paper. |
Zebra 54012: Best budget mechanical pencil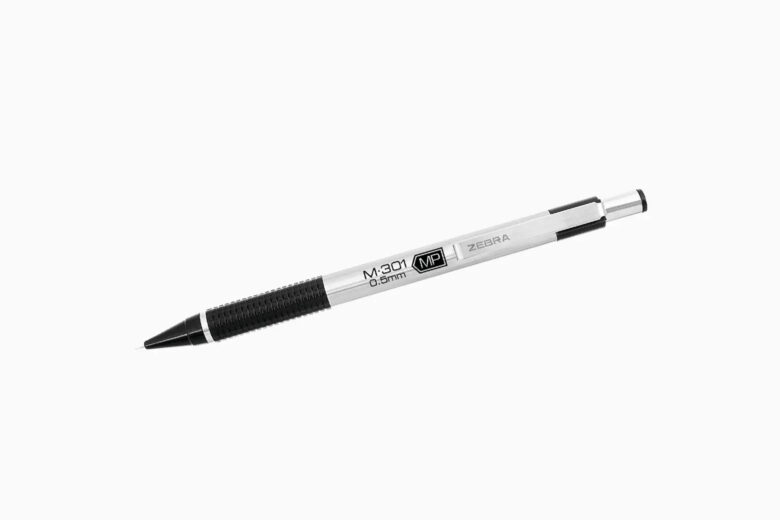 Writing on a budget doesn't mean you have to forfeit comfort and go back to traditional pencils. And a good quality mechanical pencil doesn't have to come at a high price – as proven with Zebra's 54012 Stainless Steel Mechanical Pencil. An edgy design on the outside and smooth, effortless quality on the inside, this is a mechanical pencil that'll keep your attention for all the right (and write) reasons.
If you're looking to upgrade your writing experience from traditional pencils to a mechanical version, this is a great starter choice to go for. Its lightweight, non-slip design promises to stay in your hand no matter whether you're writing, measuring, or drawing, and its replaceable eraser means any mistakes can be forgiven quickly and easily. Basically: it's hard to fault this mechanical pencil and it'll quickly become your go-to tool in place of any other traditional pencil you've got lying around the house.
| | |
| --- | --- |
| Best for: | Seamless writing experiences without breaking the bank. |
Buyers guide to mechanical pencils
You might have an idea in mind of what sort of mechanical pencil you're after, based on what you'll be using it for. But, before you dedicate yourself to a new pencil, here's everything to take into consideration.
Purpose
If you'll be using your pencil exclusively when sitting at a desk and keeping it safe inside a pencil case at all times, it doesn't matter too much if it's a fragile model. But, if you'll be out and about and drawing as you go, you'll want a mechanical pencil made of a more durable material with a metal outer that'll withstand the occasional fall from your pocket. A thicker outer material also lessens the chance of the lead inside breaking, too.
Price
You'll find mechanical pencils at almost every price point. While some of that cost factors into the quality of lead as well as the makeup of the pencil itself, it's definitely possible to find good quality mechanical pencils at a low price.
Lead thickness
You'll want a different mechanical pencil for sketching than for detailed, architectural designs. The more intricate your project, the thinner lead you'll want. As a rule of thumb, if accuracy is important, a 0.3mm lead is best. You can choose thicker leads up to around 0.7mm if you'll be sketching or writing, for example. If you're someone who hurriedly scribbles away, choose a thicker lead to prevent breakages.
Extra features
Some mechanical pencils come with in-built mechanisms that take away the need to click a button each time you run out of lead. Others come with erasers at the top, which are handy if you're drawing on the go. Some come with sliding lead sleeves, that stop your pencil from catching on the paper each time you top up with more lead. If you're working on a slanted surface, choose a mechanical pencil with a triangular outer, to stop it rolling off the page.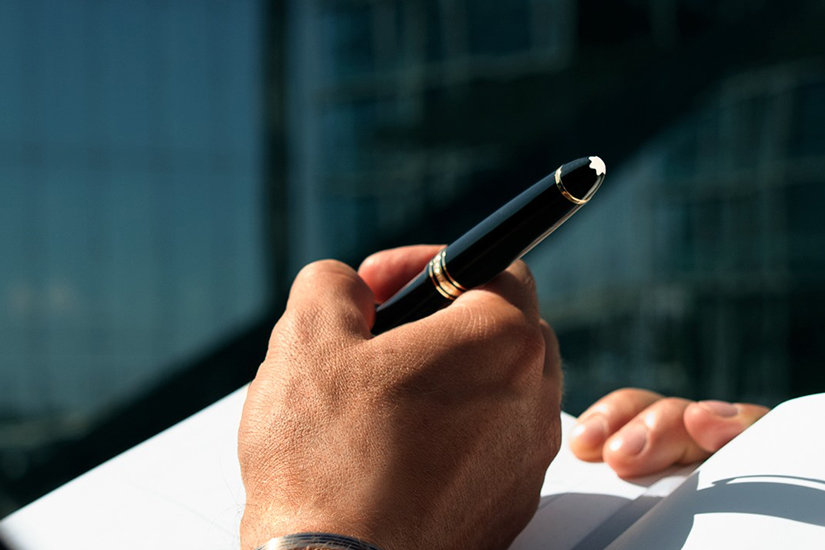 Frequently asked questions about mechanical pencils
Why are mechanical pencils the best?
Mechanical pencils are far superior to traditional pencils thanks to their consistent fine points, quality of lead, ease of travel without needing to sharpen, and higher-quality grip. Anyone who uses pencils regularly for writing, drawing, diagrams, or architectural work should consider making the change from a traditional pencil to a mechanical one. Not sure where to start? Our guide breaks down everything you need to know about choosing a mechanical pencil best suited to your needs.
What are the best quality pencils?
The best mechanical pencil for everyday use is the rOtring 600 Mechanical Pencil. Suitable for technical writing, drawing, and sketching, this is a versatile mechanical pencil with a full metal body, comfortable non-slip knurled metal grip, and a precise tip for accurate results. Check out our guide for our full breakdown of the best mechanical pencils.
Do mechanical pencils use real lead?
The "lead" inside most mechanical pencils is actually made from graphite. Although it's known as "lead", actual lead is a toxic chemical element and isn't used in mechanical pencils. As well as graphite, the lead inside mechanical pencils can be made using clay or plastic polymers.
What lead size is the best?
Lead thickness depends on what you're using the pencil for. If you're drawing thin lines or using the pencil for engineering purposes, you'll want a 0.3mm lead for accuracy. If you're drawing with the pencil, a 0.5mm lead is more suitable. Or, if you'll be sketching or using your pencil for non-detailed drawings, a 0.7mm will be best.