Aside from food, water, and shelter (fine, and your iPhone)—friendship is an absolute essential in order for us to live happy, fulfilling lives. It's an often-quoted fact that those with a good handful of healthy friendships live longer, are happier, and tend to thrive in other areas of our lives. And, don't get us wrong: it's about quality, not quantity—so your 2000-strong Facebook friend's list doesn't make the cut, we're afraid.
But how do we express the dear value in which we hold our most beautiful and true friendships? In a heartwarming quote about friendship (and sometimes love quotes), of course:
Thankfully, it's a subject well-explored, not to mention happily immortalised in the treasure trove of quotes about friendship to be found online, in books, and on t-shirts on market stalls across the world. It's handy to have a few best friend quotes up your sleeve—though not to proclaim at random (which is cute, but let's face it—totally weird), but to prepare for an upcoming birthday, a friend moving away, or to celebrate a friend-iversary.
As they say, 'the friends are the family we choose for ourselves'. It's true: our friends are there with a bottle in hand when (this month's) love of our life goes off-radar, when our childhood cat passes into the next life, and when you simply need to chat. Whether you seek inspiration for your own forever friend quotes or you need a short and sweet soundbite for that birthday card, we've got your back:
So, let's pay our friends the homage they deserve with the best quotes about friendship, from short friendship quotes to quirky BFF quotes, and plenty more.
67 quotes about friendship
"Friendship is the only cement that will ever hold the world together."
— Woodrow Wilson
"A real friend is one who walks in when the rest of the world walks out."
— Walter Winchell
"If I had a flower for every time I thought of you…I could walk through my garden forever."
― Alfred Tennyson
"What is a friend? A single soul dwelling in two bodies."
― Aristotle
"The language of friendship is not words but meanings."
— Henry David Thoreau
"Be slow to fall into friendship; but when thou art in, continue firm & constant."
— Socrates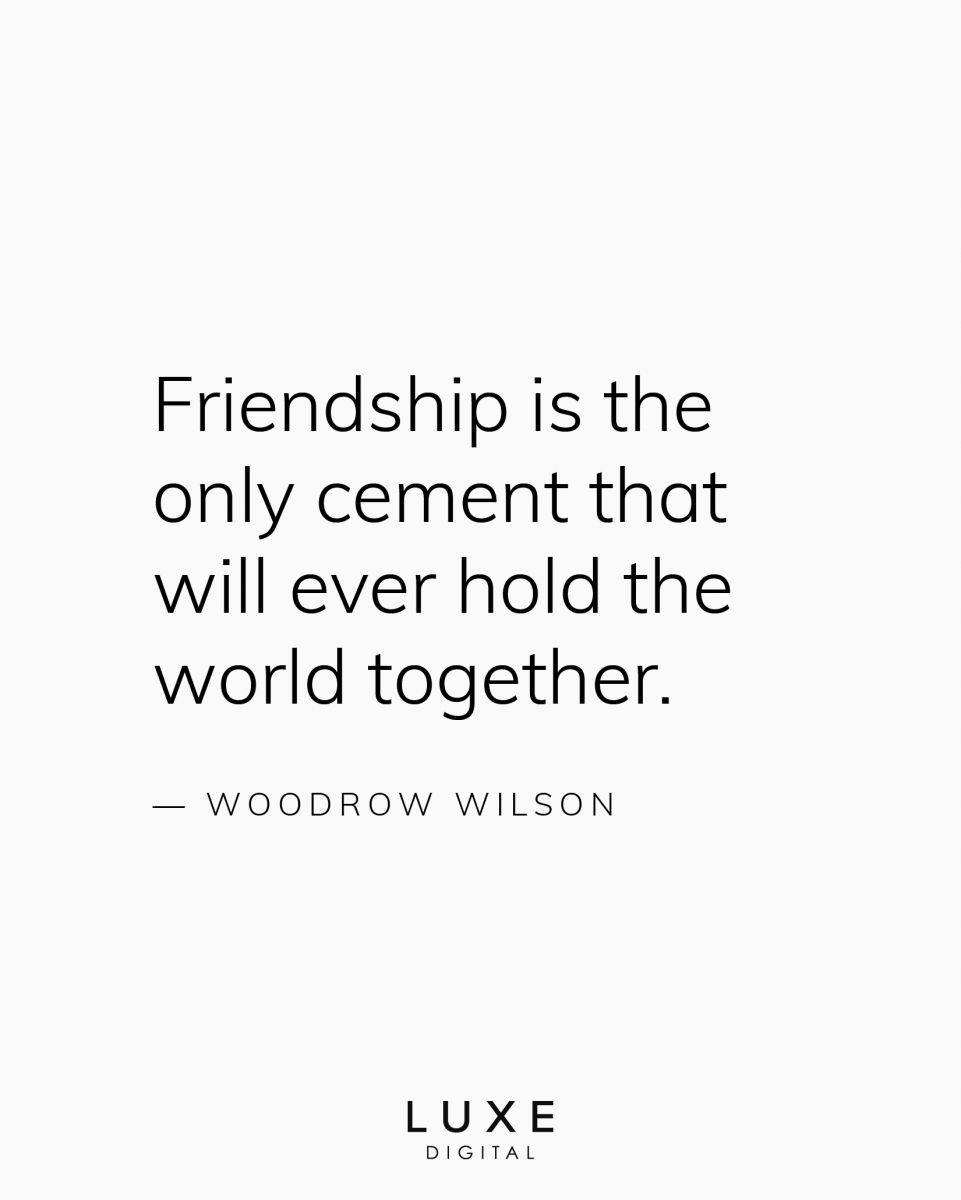 "A friend is one that knows you as you are, understands where you have been, accepts what you have become, and still, gently allows you to grow."
― William Shakespeare
"Try to be a rainbow in someone's cloud."
― Maya Angelou
"Friendship's the wine of life."
— Edward Young
"Friendship multiplies the good of life and divides the evil."
— Baltasar Gracian
"Rejoicing in our joy, not suffering over our suffering, makes someone a friend."
— Friedrich Nietzsche
"True friendship comes when the silence between two people is comfortable."
— David Tyson
"Silences make the real conversations between friends. Not the saying but the never needing to say is what counts."
— Margaret Lee Runbeck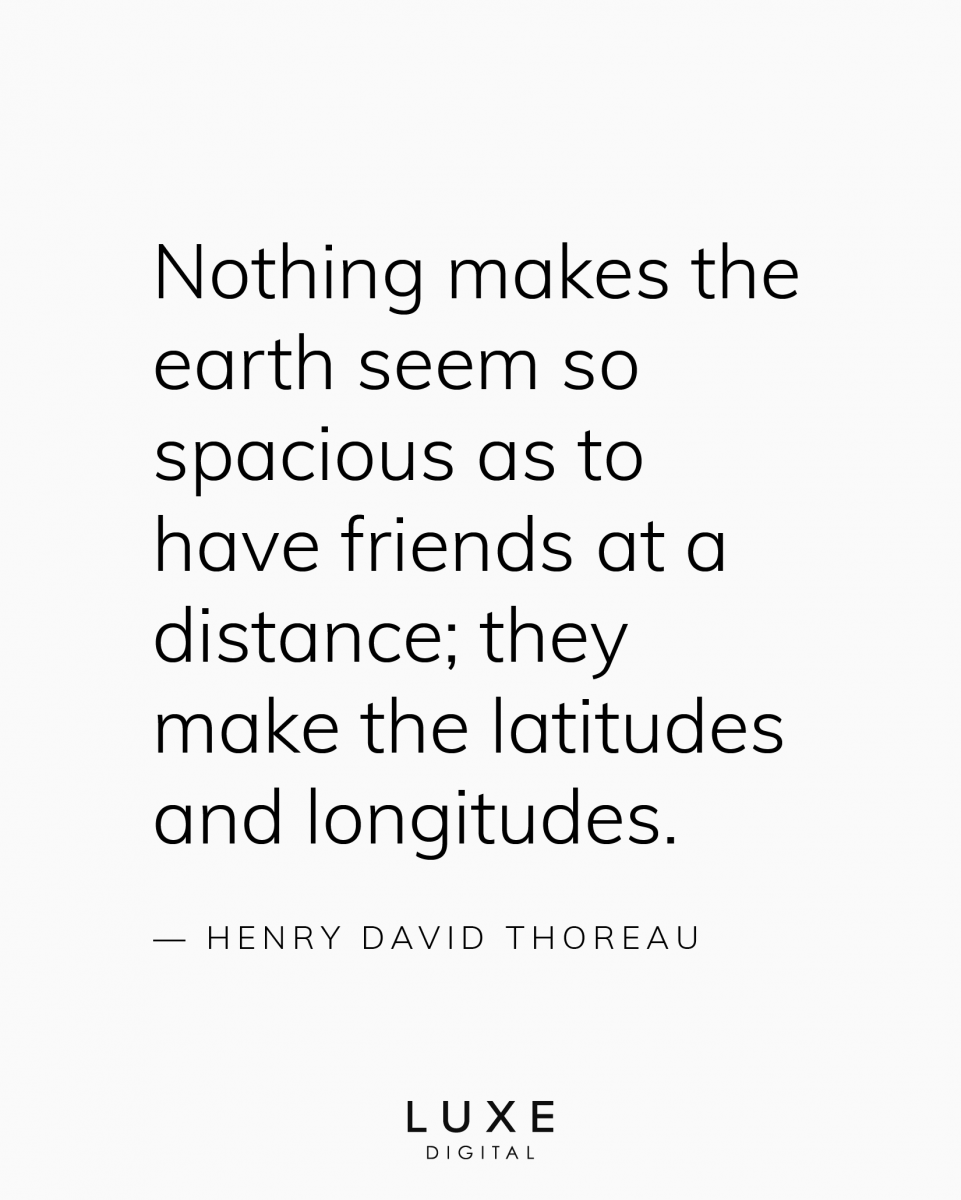 "When the world is so complicated, the simple gift of friendship is within all of our hands."
— Maria Shriver
"One of the most beautiful qualities of true friendship is to understand and to be understood."
— Lucius Annaeus Seneca
"A friend knows the song in my heart and sings it to me when my memory fails."
— Donna Roberts
"There is nothing better than a friend, unless it is a friend with chocolate."
— Linda Grayson
"Friendship is a wildly underrated medication."
— Anna Deavere Smith
"Friendship is the golden thread that ties the heart of all the world."
— John Evelyn
"Rare as is true love, true friendship is rarer."
— Jean de la Fontaine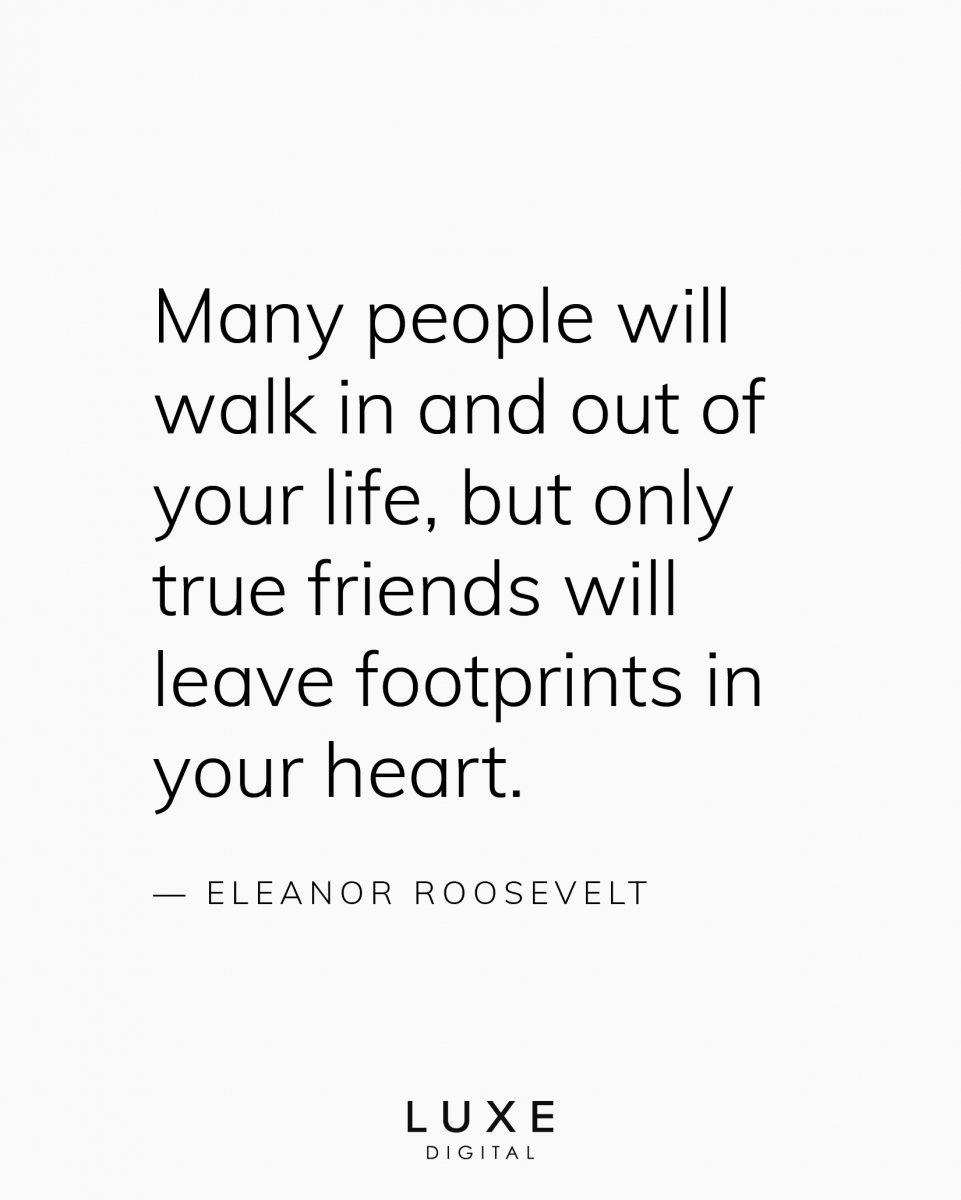 "A friend is an emotional bond, just like friendship is a human experience."
— Simon Sinek
"Tis the privilege of friendship to talk nonsense, and to have her nonsense respected."
— Charles Lamb
"The most beautiful discovery true friends make is that they can grow separately without growing apart."
— Elisabeth Foley
"Friendship is a strong and habitual inclination in two persons to promote the good and happiness of one another."
— Eustace Budgell
"Friends are those rare people who ask how we are and then wait to hear the answer."
— Ed Cunningham
"Many people will walk in and out of your life, but only true friends will leave footprints in your heart."
— Eleanor Roosevelt
"I would rather walk with a friend in the dark, than alone in the light."
— Helen Keller
"Friendship is the hardest thing in the world to explain. It's not something you learn in school. But if you haven't learned the meaning of friendship, you really haven't learned anything."
— Muhammad Ali
"A good friend is like a four-leaf clover: hard to find and lucky to have."
— Irish Proverb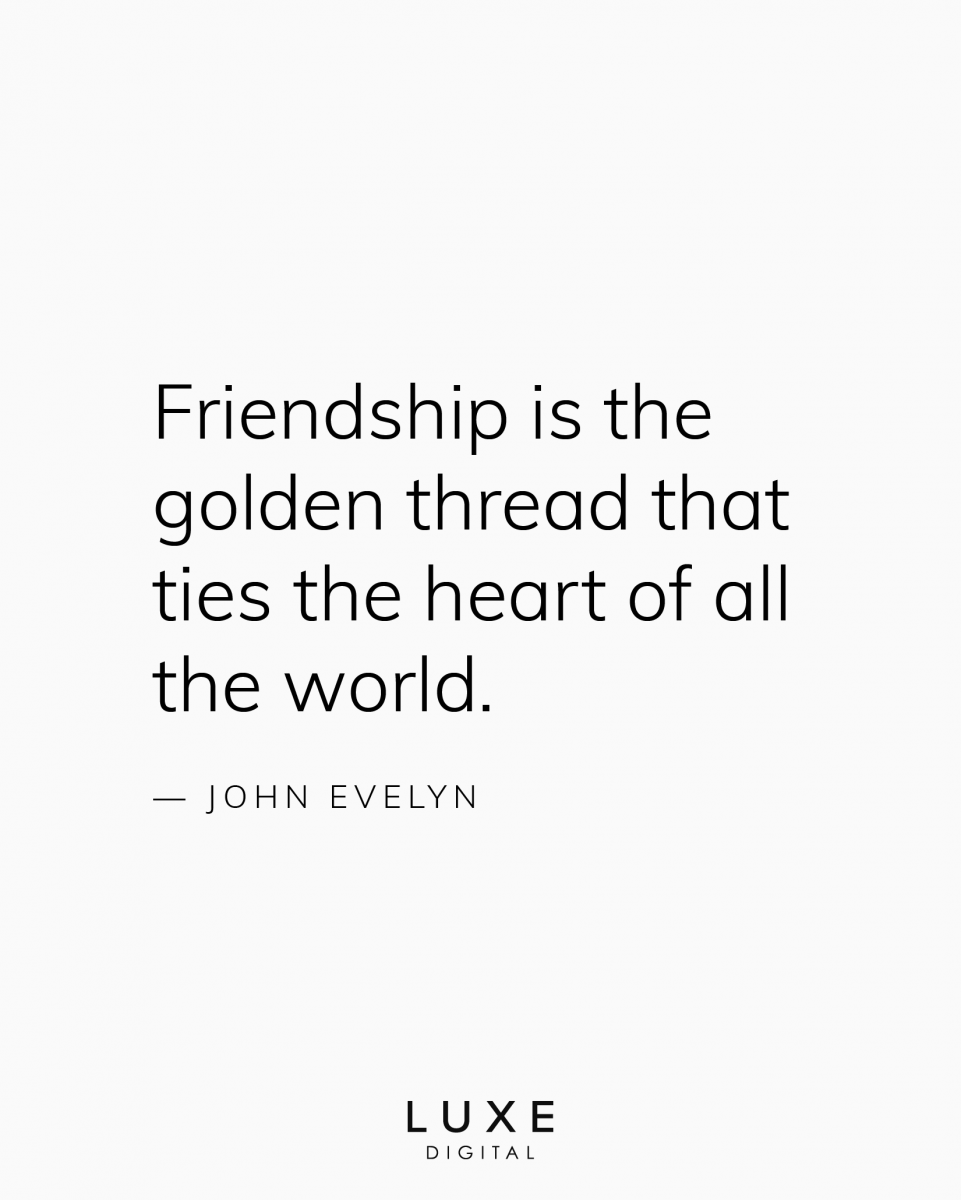 "There's nothing like a really loyal, dependable, good friend. Nothing."
— Jennifer Aniston
"Awards become corroded. Friends gather no dust."
— Jesse Owens
"A single rose can be my garden… a single friend, my world."
— Leo Buscaglia
"There are three things that grow more precious with age; old wood to burn, old books to read, and old friends to enjoy."
— Henry Ford
"A good friend is a connection to life — a tie to the past, a road to the future, the key to sanity in a totally insane world."
— Lois Wyse
"Your friends will know you better in the first minute you meet than your acquaintances will know you in a thousand years."
— Richard Bach
"Don't walk behind me; I may not lead. Don't walk in front of me; I may not follow. Just walk beside me and be my friend."
— Albert Camus
"True friends are always together in spirit."
— L.M. Montgomery
"It's the friends you can call up at 4 a.m. that matter."
— Marlene Dietrich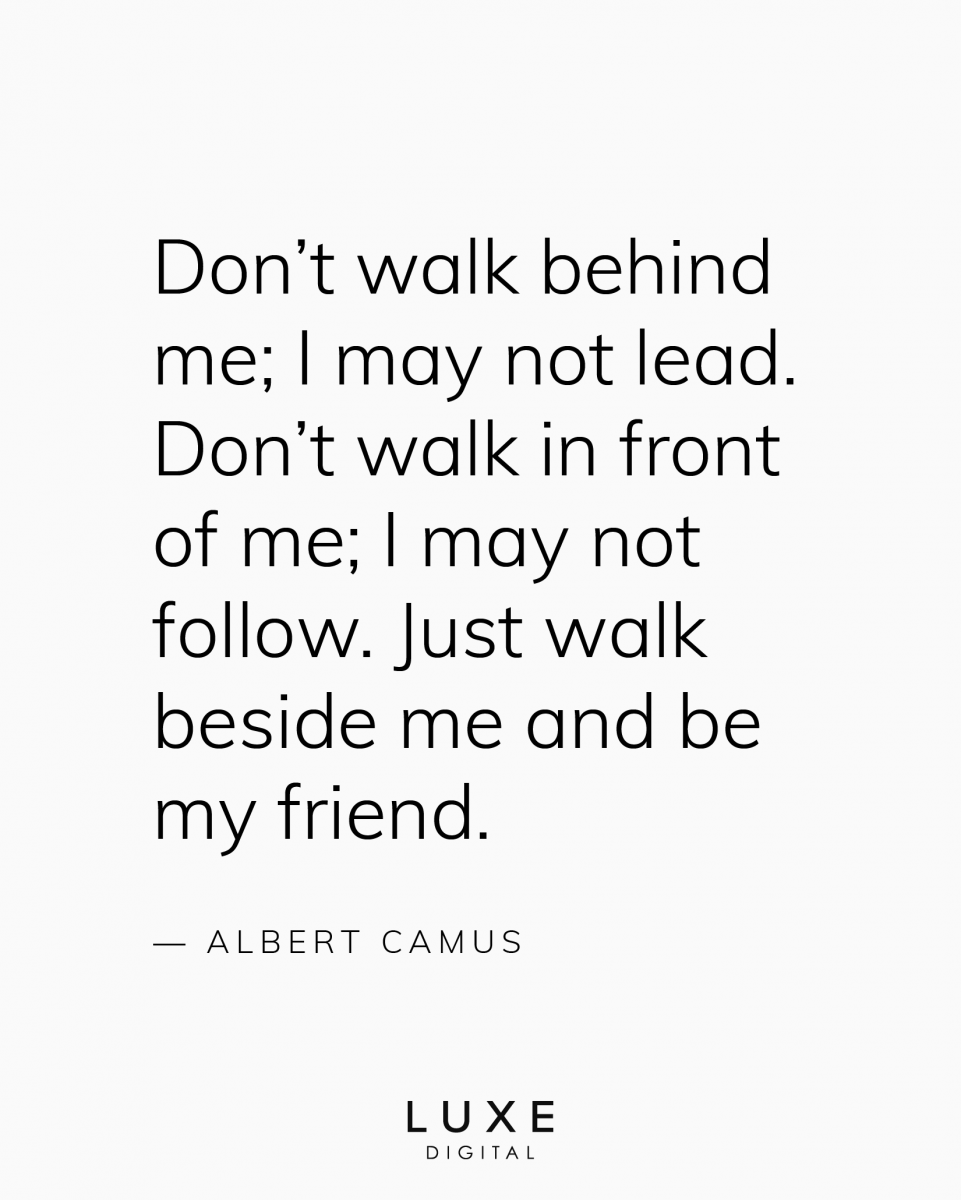 "Surround yourself with only people who are going to lift you higher."
— Oprah Winfrey
"The only way to have a friend is to be one."
— Ralph Waldo Emerson
"There's not a word yet for old friends who've just met."
— Jim Henson
"A true friend never gets in your way unless you happen to be going down."
— Arnold H. Glasgow
"Friends and good manners will carry you where money won't go."
— Margaret Walker
"There is nothing on this earth more to be prized than true friendship."
— Thomas Aquinas
"The real test of friendship is: can you literally do nothing with the other person? Can you enjoy those moments of life that are utterly simple?"
— Eugene Kennedy
"Friendship is a sheltering tree."
— Samuel Taylor Coleridge
"A friend can tell you things you don't want to tell yourself."
— Frances Ward Weller
"The greatest healing therapy is friendship and love."
— Hubert H. Humphrey
"Accountability in friendship is the equivalent of love without strategy."
— Anita Brookner
"The love that comes from friendship is the underlying facet of a happy life."
— Chelsea Handler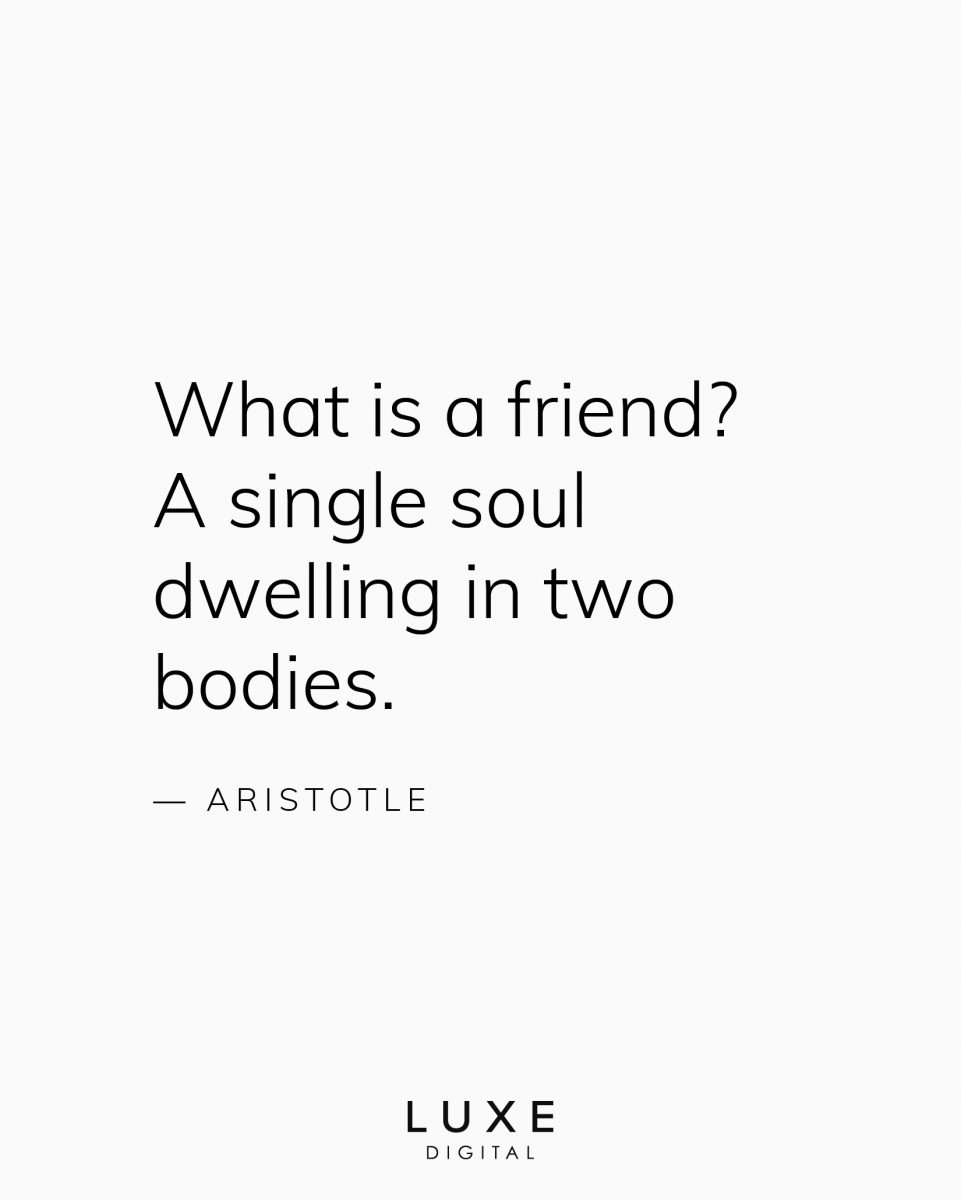 "I found out what the secret to life is—friends. Best friends."
— Fried Green Tomatoes
"In my friend, I find a second self."
— Isabel Norton
"True friends are like diamonds — bright, beautiful, valuable, and always in style."
— Nicole Richie
"A true friend is someone who thinks that you are a good egg even though he knows that you are slightly cracked."
— Bernard Meltzer
"What draws people to be friends is that they see the same truth. They share it.
— C.S. Lewis
"Some people arrive and make such a beautiful impact on your life, you can barely remember what life was like without them."
— Anna Taylor
"The best gift anyone can give, I believe, is the gift of sharing themselves."
— Oprah Winfrey
"Keep away from those who try to belittle your ambitions. Small people always do that, but the really great make you believe that you too can become great."
— Mark Twain
​​"We're sisters. You're my family. What is you is me. There's nothing you could ever say to make me let go."
— Blair Waldorf in Gossip Girl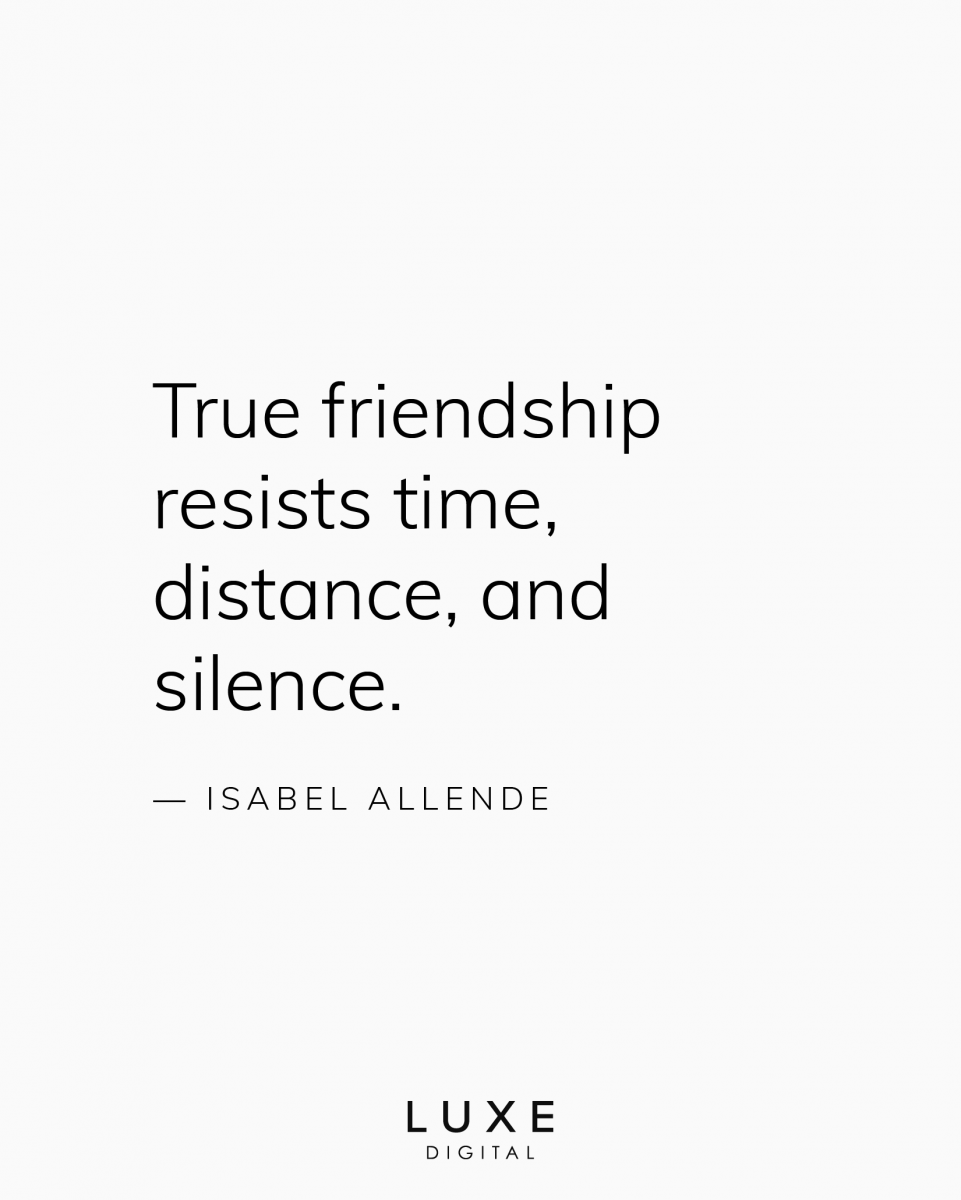 "There is magic in long-distance friendships. They let you relate to other human beings in a way that goes beyond being physically together and is often more profound."
— Diana Cortes
"If you live to be 100, I hope I live to be 100 minus 1 day, so I never have to live without you."
— A. A. Milne, in Winnie the Pooh
"Nothing makes the earth seem so spacious as to have friends at a distance; they make the latitudes and longitudes."
— Henry David Thoreau
"Life is partly what we make it, and partly what it is made by the friends we choose."
— Tennessee Williams
"True friendship resists time, distance, and silence."
— Isabel Allende
"Don't make friends who are comfortable to be with. Make friends who will force you to lever yourself up."
— Thomas J. Watson
"Friendship marks a life even more deeply than love. Love risks degenerating into obsession, friendship is never anything but sharing."
― Elie Wiesel
"Friends are relatives you make for yourself."
— Eustache Deschamps