Fresh air. Lake views. Unblemished stars. A big breath of relief. For some people, getting away from it all isn't just a treat, it's a treatment, a prescription for better mental health. And while time away in the great outdoors will always take some preparation, it doesn't have to be a trial.
Picking the right off-road camper trailer early on in your camping campaigns can help reduce a lot of packing paranoia when it's time to actually head out. Like their big brothers elite travel trailers and all-in camper vans (albeit a little more minimalist), off-grid trailers can reduce the amount of packing and planning you have to do for your trip.
So, since relaxation is the ultimate goal of an off-road trip, which of the many camper trailers on the market is going to do the most to ease your mind? Let's go through the best off-road camping trailers out there, and what the top tier off-road campers have to offer in amenities. We'll take a look at off-road campers with bathrooms, extreme off-road campers, and a variety of 4×4 off-road camper trailers for sale. We'll have you out enjoying the sweet relaxing embrace of Mother Nature in no time.
The 11 best off-road camping trailers
Black Series HQ21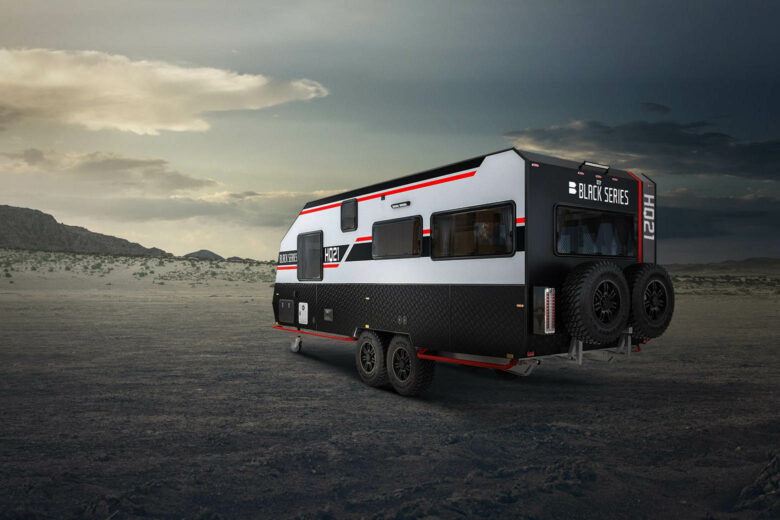 Here's a full-bodied big boy for when you're looking for a lot of interior space. Sleeping four with room to spare, Black Series' HQ21 is a modern-styled trailer with lots of trimmings. A pull-out high-heat burner? Check. Remote-control electric awning? Check. Interior kitchen with a microwave and three-burner stove, separated toilet and shower, and an ergonomic mattress? Check, check, and check again. And that's just the start. If your idea of roughing it is living in minimized luxury, the HQ21 is the way to go.
Best for: Pulling high-class living to the hills.
| | |
| --- | --- |
| Colors: | Black and White |
| Length: | 28 ft 2 in |
| Dry weight: | 6,482 lbs |
Opus OP15 Hybrid Caravan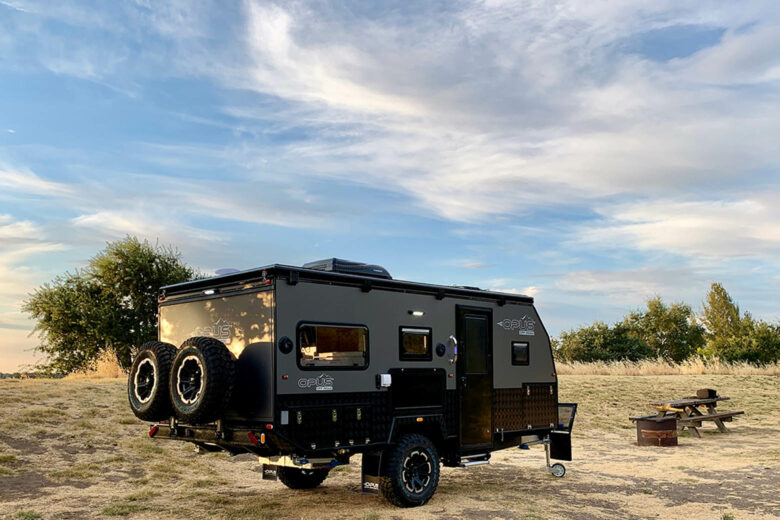 Here's one for you Australians and Downunder fans out there. A home-grown product, Opus' OP15 hybrid caravan is an off-road trailer that packs a lot of options into its smaller profile. Unpacked and set up, you're all set to enjoy the Outback vistas from your cafe dinette with its optional bunk beds, and the pull-out fridge and pantry will keep you fueled up. With three base configurations and a bevy of add-on options, you can set up your OP15 how you want. It's your off-road experience, after all.
Best for: Getting back to nature in the Outback.
| | |
| --- | --- |
| Colors: | Grey |
| Length: | 15 ft |
| Dry weight: | 5,159 lbs |
Bruder EXP-6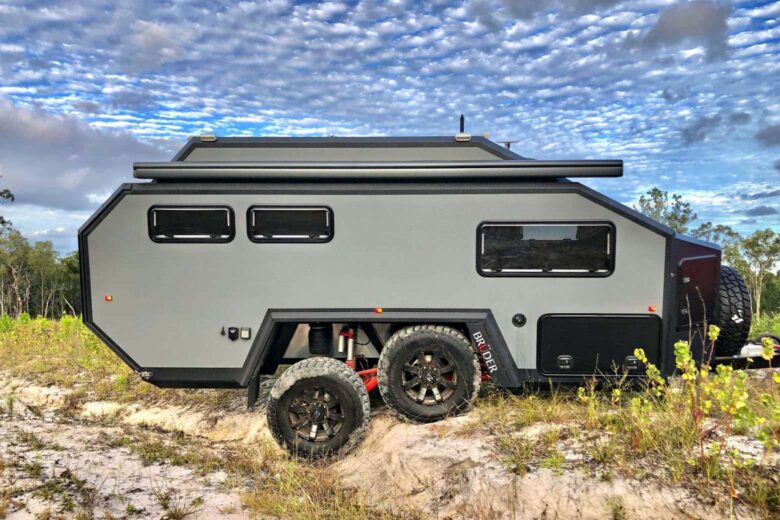 Built in Australia and available around the world, the highly-customizable EXP-6 from Bruder can sleep up to six. Whatever options you load up the EXP-6 with, you can control the whole shebang with a handy-dandy app.
The EXP-6 comes in two main configurations. The EXP-6 PT has a lifting roof, which allows you to collapse it when you're on the road or store it when you're home.
On the other hand, the EXP-6 GT's roof is fixed and overall taller than the PT. Additionally, it has more insulation than the PT, making it more suitable for colder environments. Plus, it has extra storage space, allowing you to bring along bigger packing cubes for all your gear.
Best for: Rigging up your off-roader your way.
| | |
| --- | --- |
| Colors: | White, Blue, Green + More |
| Length: | 22.05 ft |
| Dry weight: | 3,704 lbs |
Conqueror UEV-25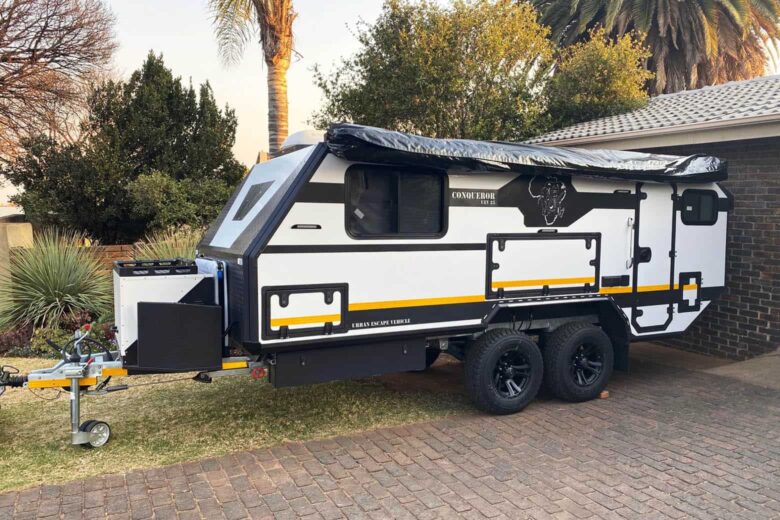 Conqueror is known for making rugged off-road camping trailers based on military designs. But with Conqueror's UEV-25 (Urban Escape Vehicle), the designers have really upped their reach into the luxury trailer arena. First of all, they've boosted the suspension with aeronautical industry materials. And the side-bed design is an innovation new to the industry, letting you set up in minutes. The real oh-la-la luxuries include an upright fridge, an optional media center, interior fans, and plenty of storage space for your luxury luggage.
Best for: Putting your luxury off-road rig through its paces.
| | |
| --- | --- |
| Colors: | White |
| Length: | 23 ft |
| Dry weight: | 4,122 lbs |
BRS Offroad Pursuit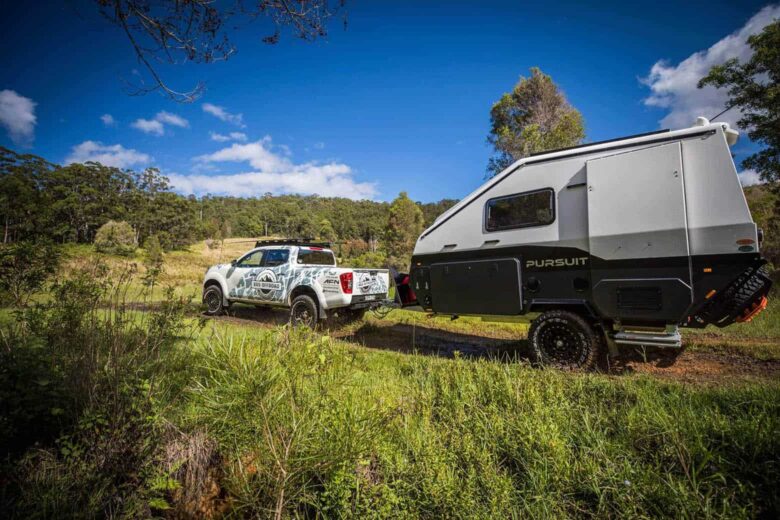 BRS Offroad's Pursuit is a sneaky little beast. Compact and snug-looking in travel-mode; once you settle it into place and start pulling out the options, you suddenly find yourself with a lot of luxuries on your hands. Maybe the most stellar feature is the oversized stargazing window above the queen-sized mattress. Also on the list: a fully enclosed slide-out shower, mounts for an exterior awning, a slide-out outdoor kitchen, and options for storage space for your weekender bags.
Best for: Shipping out with a surprising amount of luxury stuff.
| | |
| --- | --- |
| Colors: | White |
| Length: | 18.7 ft |
| Dry weight: | 3,627 lbs |
Airstream Basecamp 16X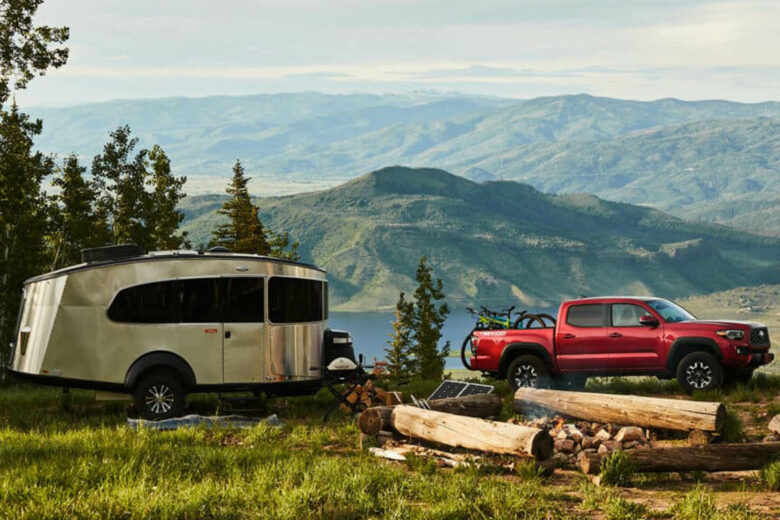 Airstream is a giant in the industry for a reason. They've made a promise to their clientele: that they would not make changes for the sake of changes, but only improvements. This ideology shows in Airstream's Basecamp 16X, which combines its classic, streamlined lines with modern metallic looks. The almost 100 years of Airstream's experience carry on into the 16X's interior, which also has a clean, modern look, and offers plenty of space for your top-tier duffel bags or luxury-level dopp kits.
Best for: Living in decades worth of luxury experience.
| | |
| --- | --- |
| Colors: | Silver |
| Length: | 16 ft 2 in |
| Dry weight | 2,635 lbs |
TC Teardrop ORE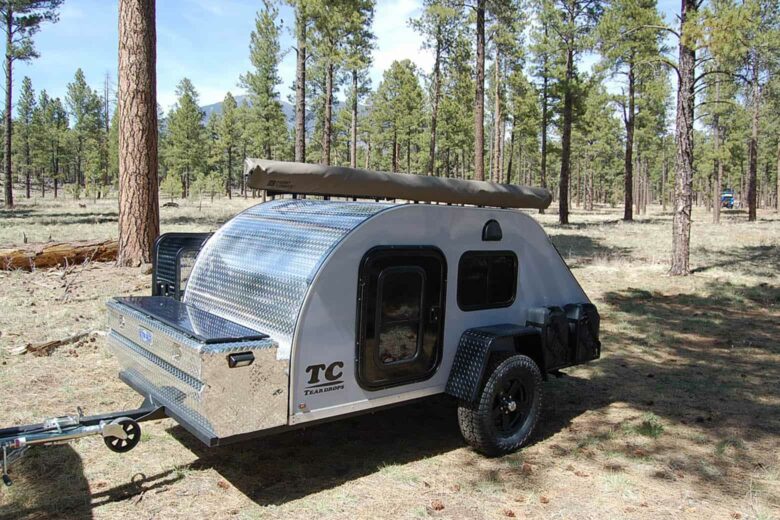 One of the very best off road camper trailers under $15,000, TC Teardrop's ORE (Off-Road Expedition) is highly customizable. Be warned, if you visit their website, you're going to become addicted to trying out different combinations of sizes, colors, and accessories, all of which start at the very affordable price of $9,800. Don't be fooled by the size or price, though, this little fellow packs in quite a bit of accessories and features, making for a cozy but luxurious nature-loving set-up.
Best for: Spending a little to get so much.
| | |
| --- | --- |
| Colors: | Green Beige, Signal Yellow, Vermillion + More |
| Length: | 10 ft |
| Dry weight: | 750 lbs |
Patriot Off-road Camper X3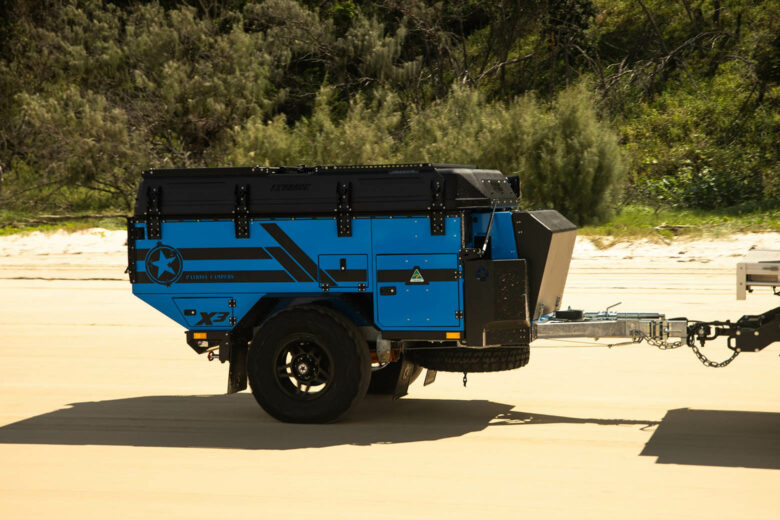 If you're going rugged… like, really rugged, you should consider a unit like Patriot Campers' Off-road Camper X3. It's almost like the engineers at Patriot Campers' are daring campers to throw everything they can at this sturdy little camper trailer. Tough as nails, it pops open to surprise you with a pleasant interior, including the 100mm pocket sprung gel-top mattress, with room for an optional bunk to be included in the lounge area.
Best for: Taking everything Mother Nature can throw at you, then sleeping it off in luxury
| | |
| --- | --- |
| Colors: | Blue, Graphite |
| Length: | 12 ft |
| Dry weight: | 2,470 lbs |
Taxa Outdoors Woolly Bear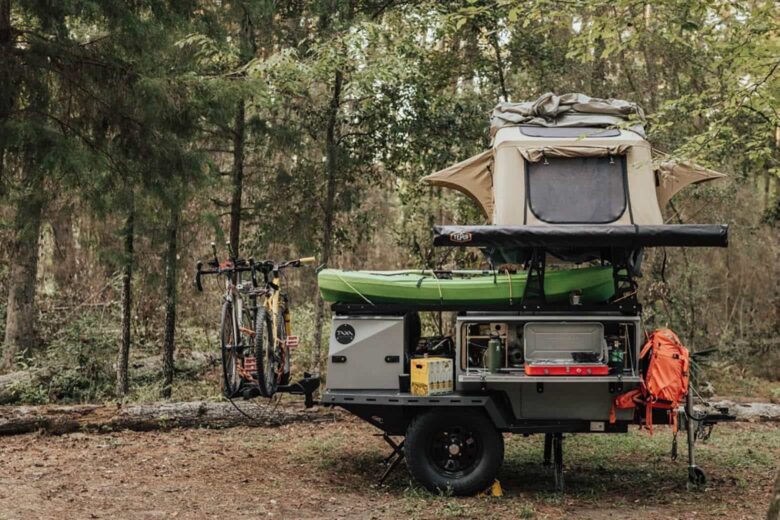 Let's get minimalistic. It's one heck of an engineering job to design an off-road trailer this small, and yet still deliver all the essentials (and then some). Yet the gang at Taxa Outdoors has pulled it off with the Woolly Bear. There isn't an inch of wasted space as this tiny trailer unfolds to provide a kitchen space, storage options, privacy tent for a WC, and a top-deck tented sleeping area. A fantastic way to experience the wilderness.
Best for: Putting as little between you and the wild as possible.
| | |
| --- | --- |
| Colors: | White |
| Length: | 10 ft 4 in |
| Dry weight: | 1,270 lbs |
Escapade Backcountry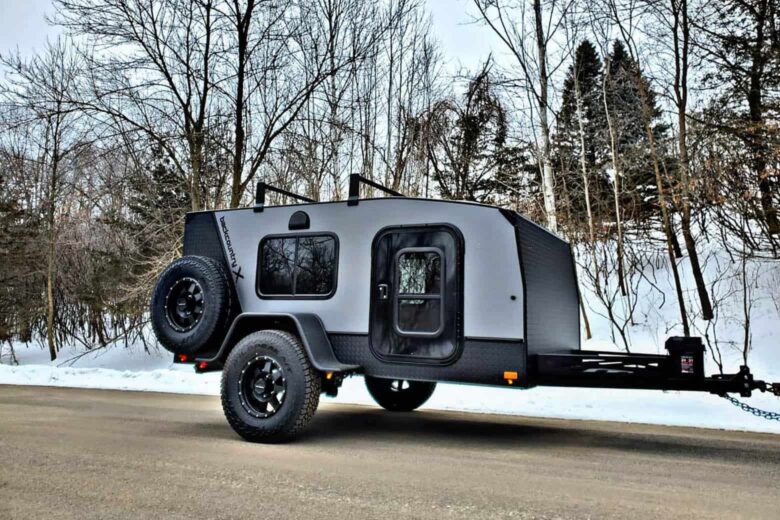 Perhaps the best off road camper under $20,000, Escapade ' Backcountry is a rugged little delight. Get yourself lake-side with the canoe/kayak mounts, and set up your trailer the way you want with its long list of add-on options. The base level operates on the KISS (Keep It Simple, Stupid) principle, but allows you so many configuration options that it's likely that no two Backcountry trailers are going to be exactly the same. 
Best for: Options, options, and even more nature-loving options.
| | |
| --- | --- |
| Colors: | Grey |
| Length: | 16 ft 7 in |
| Dry weight: | 1,940 lbs |
Sunnyside Offroad Boony Stomper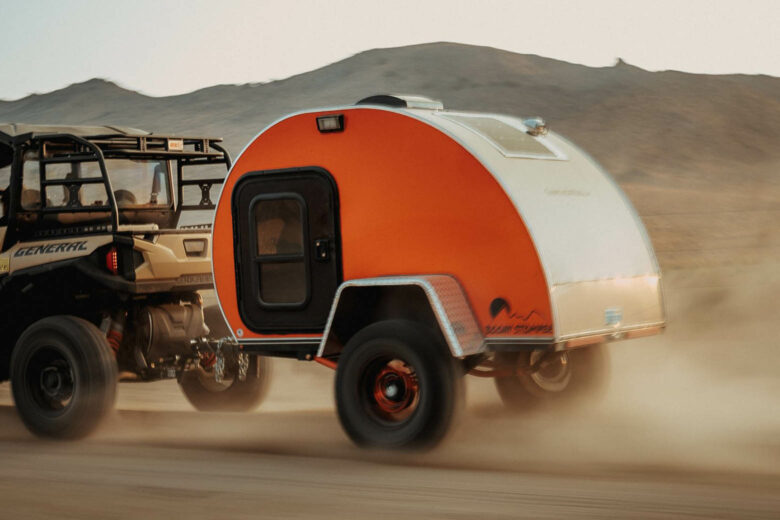 Cute as a bug, isn't it? Sunnyside Offroad's Boony Stomper is adorable for sure, and happily still gets the job done. Drag this little fella as far out into the wilderness as you want, it can take it. The custom fabricated load-adjusting shocks were a major focus of the designers, delivering one of the smoothest rides ever seen in an off-road trailer. And at such a lightweight, it can be pulled merrily along by your favorite off-road four-wheeler. Once you're wherever you're going, the 50W solar panel will keep your electronics alive (if you care to bring them, that is).
Best for: A smooth ride with a cute look.
| | |
| --- | --- |
| Colors: | Yellow, Orange, Grey + More |
| Length: | 9.9 ft |
| Dry weight: | 580 lbs |
Buyers guide to off-road camping trailers
Types of trailers
Camping trailers come in five broad categories: off-road, on-road, teardrop, pop-up, and expedition.
Off-road versus on-road camping trailers
On-road camping trailers have lower clearance profiles, and are the more streamlined of the two, since they are meant to stay on paved surfaces, which allow for higher speeds.
Off-road camping trailers are usually built higher up from the ground, allowing you to clear roots, rocks, and small creeks or shallow rivers.
Pop-up camping trailers
Pop-ups, usually a rectangle or square in their travel configuration, have roofs and side-panels that extend to provide a sleeping space, a kitchen area, storage space, and other utilities. Pop-up trailers are the trailers you want for a fuller "camping" experience.
Teardrop camping trailers
Teardrop camping trailers like Sunnyside Offroad's The Boony Stomper are usually fixed in an aerodynamic shape, without expanding sides or tops. The sleeping area is built-in (no need for a tent).
Expedition camping trailers
Expedition camping trailers, like Bruder's EXP-6, are bigger versions of the Teardrop camping trailers. These are the units you want if you want to camp out in luxury, or you plan to be out for extended periods of time.
Customizable options and accessories for off-road camping trailers
There are three main categories for camping trailer options. The first category deals with options that make the trailer easier to get from civilized location A to wild and rugged location B, like an independent suspension system for improved shock resistance, or raised axles for added clearance over rougher terrain.
The second category deals with amenities. Do you want a kitchen? How many bunks? A built-in WC?
The third category is all the other bells and whistles like solar panels and surround sound speakers.
Care and maintenance of off-road camping trailers
Batteries
During the off-season, remove your batteries from your trailer and store them in a warm and dry spot.
Clean your awning and tent attachments
Some plants create acids that can slowly eat away at plastics or other awning and tent materials. Wash them with mild soap and water before storing them.
Cover openings
The outlets and vent openings are an invitation to critters to move in during the storage months. Plastic bags or covers will do for most openings, but you should buy a proper air conditioning cover for your AC unit to avoid a build-up of condensation.
Protect your roof
In the summer, the sun can bake off protective spray-coatings. In the winter, ice and snow can take a toll. If possible, store your trailer under a roof. If not, cover it with tarp, but leave a bit of room between the tarp and the roof to allow air to circulate in order to prevent condensation.
Water damage
Since you're dragging your camping trailer over some rough roads (or no road at all), the trailer can twist and jostle, which can lead to seals cracking and breaking over time. Water can seep through those cracks and cause interior damage. Once a year, give the seals around your windows, solar panels, and trailer corners a good going over to make sure they're intact.
Water health
Make sure you drain your fresh-water reserve after every trip, or at least once a month if you're on extended trips. Fresh-water can become not-so-fresh after a while, and can grow microscopic critters that can make you sick if it isn't changed out.
Frequently asked questions about off-road camping trailers
What makes an off-road trailer?
Off-road trailers are distinguished from other recreational, living trailers by their raised clearance, allowing for the trailers to go over rough terrain that might have protruding roots, rocks, and waterways.
What travel trailers are the most durable?
Airstream trailers, like the Basecamp 16X, have almost one hundred years of design experience behind them, making for some very durable camping trailers. If you prefer a pop-up configuration, take a look at Taxa Outdoor's Woolly Bear.
What is the most aerodynamic shape for a travel trailer?
Teardrop-shaped camping trailers, like TC Teardrop's ORE, are much more aerodynamic than their more rectangular counterparts. Check our selection of the best off-road camping trailers to find the perfect one for you.
What are the most common problems with travel trailers?
Water leaks from poorly-maintained seals are a common source of trailer breakdowns. Rooftops are often neglected, which can become another source of water intrusion. Toilet clogs can cause problems when the water-to-solids level isn't watched.