Electrical power is sweeping the automotive industry. Hybrid and all-electric powertrains are meeting the demand for more fuel-efficient and sustainable vehicles across the globe. People who need to haul cargo used to be stuck in the past with internal combustion engines. That's no longer the case. Now, the best hybrid pickup trucks bring a taste of electrical power to the road, construction site, and campground.
The latest hybrid trucks for sale provide more power and better mileage. And they don't stop there. They also utilize their massive battery packs to power your plug-in devices. So you can leave the generator at home, lighten the gas-pump expenses, and bring the electrical revolution forward with your full-size truck.
Some popular brands have released hybrid pickup trucks, including the insanely popular Ford F-150, the reliable Toyota Tundra, and the HEMI-powered Ram. There are also moderately sized hybrid pickups on the market and more coming down the pipeline, including many fully-electric models.
Are you ready to electrify your truck? Let's review the best hybrid pickup trucks of 2022 and see how they stack up. We'll also let you know what to expect in the world of electric pickup trucks and how to select the hybrid pickup to meet your needs.
The 7 best hybrid pickup trucks
Ford F-150: Best overall hybrid pickup truck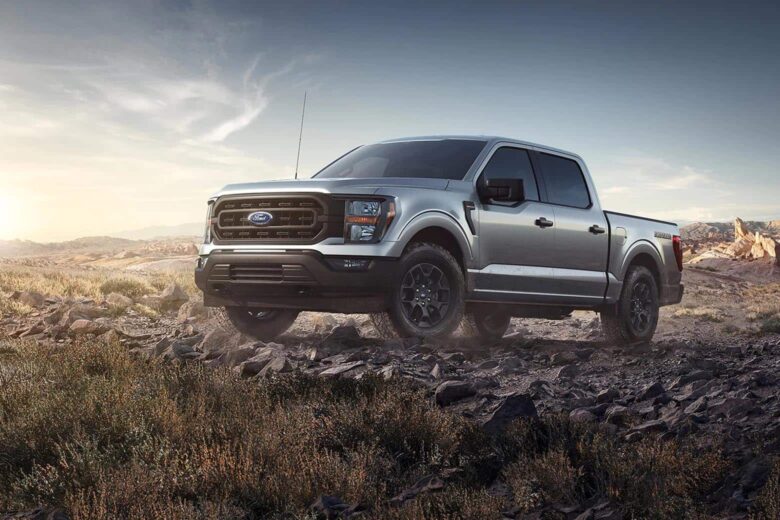 When it comes to creating universally-loved pickup trucks, Ford knows what it's doing. The Ford F-150 is the most popular vehicle in the United States, and with the addition of the Ford hybrid truck, sales are certain to remain high.
As one of the best 2022 hybrid trucks, the Ford F-150 Hybrid can operate in fully electric mode, gasoline-only mode, or a combination of the two. Ford also includes the ability to use your truck as a mobile generator with an unbelievable 7.2kW of available power. You could charge your kid's electric car or be the hero of the job site with this.
Those looking for a fully-electric truck can opt for the now-available Ford Lightning, if you can find one in stock.
Price: starting from $50,980
Engine: 3.5L V6
Power: 430 hp and 570 lb-ft of torque
Towing Capacity: 12,700 lbs
Payload Capacity: 2,120 lbs
Miles-Per-Gallon: 24 combined
Ford Maverick: Best compact hybrid truck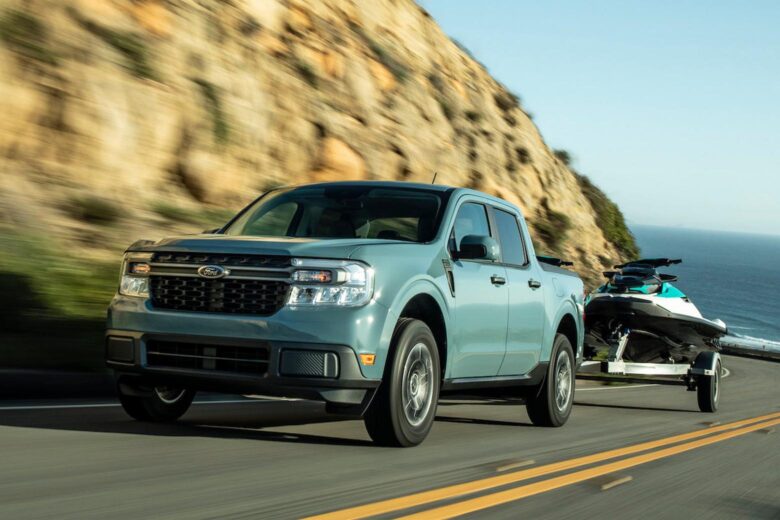 Some people don't need extreme power or a large pickup truck. If that's the case, the Ford Maverick is a compact pickup that still packs a punch and achieves an incredible 37 miles per gallon.
It comes with a reasonable price tag and enough towing capacity to handle an electric motorcycle or ATVs for adults. The Ford Maverick Hybrid is available with advanced driver assistance features, including lane-keep assist and blind-spot monitoring, plus a wide array of options such as a sunroof and spray-in bed liner.
Price: starting from $21,490
Engine: 2.5L I4
Power: 191 hp and 277 lb-ft of torque
Towing Capacity: 2,000 lbs
Payload Capacity: 1,500 lbs
Miles-Per-Gallon: 37 combined
Toyota Tundra: Most powerful hybrid pickup truck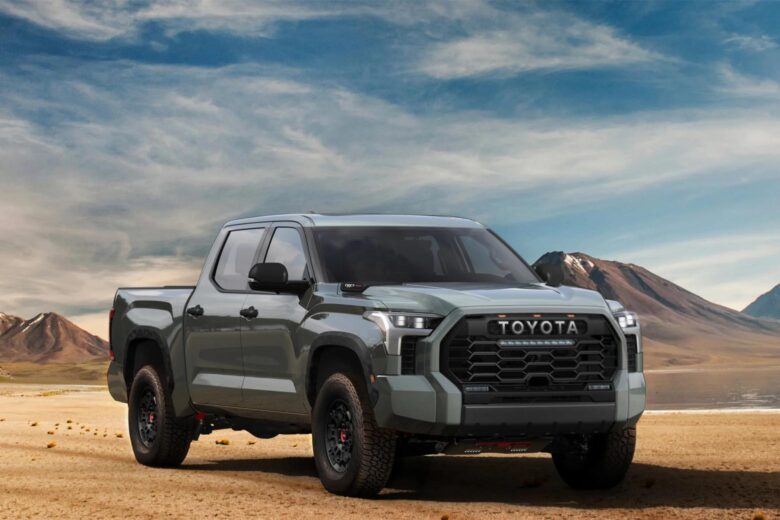 The Toyota brand has an incredible reputation for reliability. And now it's pushing technology forward by providing fully-capable Toyota hybrid trucks with an impressive 583 lb-ft of torque, allowing you to charge up any road with confidence.
The 2022 Toyota Tundra Hybrid comes with an i-FORCE twin-turbo 3.5L V6 engine with a 1.5 kWh battery pack in the top-of-the-line TRD Pro model. It's not one of the most expensive cars out there, but the price tag is a bit higher than other 2022 hybrid trucks. Fully-electric Toyota trucks are expected to be available by 2025.
Price: starting from $67,505
Engine: 3.5L V6 
Power: 437 hp and 583 lb-ft of torque
Towing Capacity: 11,175 lbs
Payload Capacity: 1,600 lbs
Miles-Per-Gallon: 19 combined
Ram 1500: Best value hybrid pickup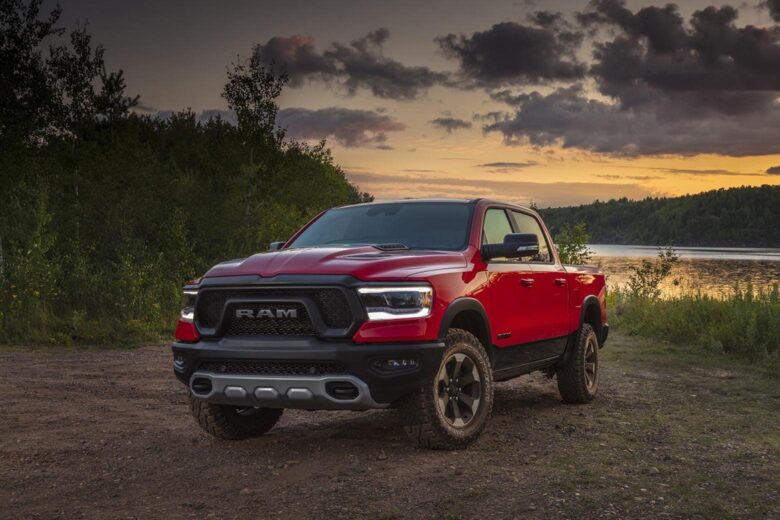 If you need to tow a travel trailer or side-by-side UTV, the Ram 1500 Hybrid truck and its nearly 13,000 lbs. towing capacity is an excellent choice.
As one of the best hybrid pickup trucks of 2022, the Ram 1500 uses an eTorque mild hybrid system, integrating the starter and alternator into one unit. The additional electric power provides a significant boost off the line with 90 lb-ft of torque. A fully-electric version is expected in 2024.
Price: starting from $40,090
Engine: 5.7L HEMI V8
Power: 395 hp and 410 lb-ft of torque
Towing Capacity: 12,750 lbs 
Payload Capacity: 2,300 lbs 
Miles-Per-Gallon: 26 combined
Chevrolet Silverado: Best used hybrid truck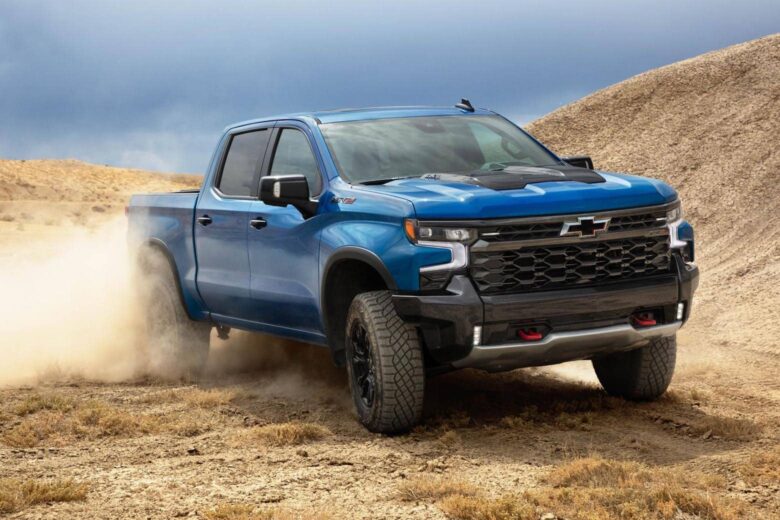 If you'd rather purchase a used hybrid pickup truck, the Chevrolet Silverado or its closely-related GMC Sierra counterpart are worth checking out. These hybrid trucks pushed the technology long before others.
The massive 6.0L V8 engine outsizes most hybrid trucks, yet it still achieves combined fuel consumption of over 21 mpg. While not as efficient as the best electric cars, the Chevrolet Silverado Hybrid pickup truck was ahead of its time.
Chevrolet is focused on bringing a fully-electric truck to the market by 2024.
Price: starting from $41,555
Engine: 6.0L V8
Power: 332 hp and 367 lb-ft of torque
Towing Capacity: 6,100 lbs
Payload Capacity:  1,527 lbs
Miles-Per-Gallon: 21 combined
Hyundai Santa Cruz: Most affordable hybrid truck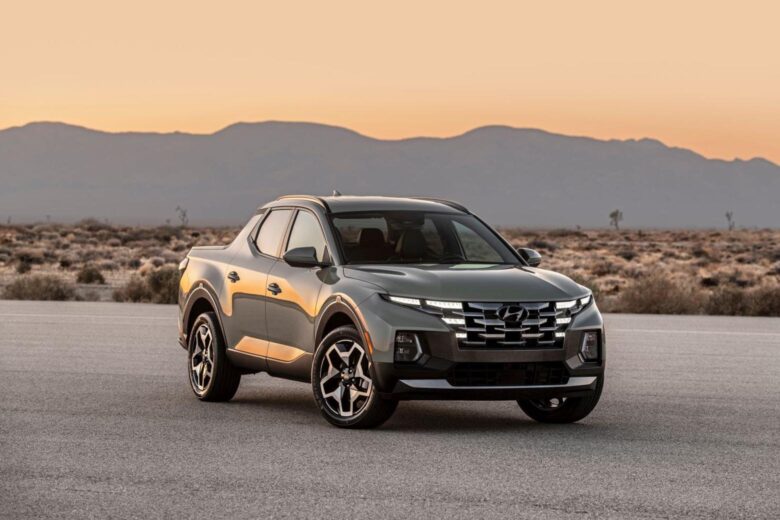 Camper vans are all the rage right now, but the next generation of hybrid pickup trucks in compact designs are certain to boom in popularity as well.
The Hyundai Santa Cruz is expected to be one of the best hybrid trucks of 2023. It uses a unibody construction shared with the Tucson crossover SUV.
The addition of a durable open bed and power outlets turn this undersized beast into a very capable truck. A fully-electric version is reported to be in the works but does not yet have an expected release date.
Price: starting from $25,385
Engine: 2.5L I4
Power: ~290 hp and 310 lb-ft of torque
Towing Capacity: 5,000 lbs
Payload Capacity: 1,568 lbs
Miles-Per-Gallon: >23 combined
Honda Ridgeline: Most anticipated 2023 hybrid pickup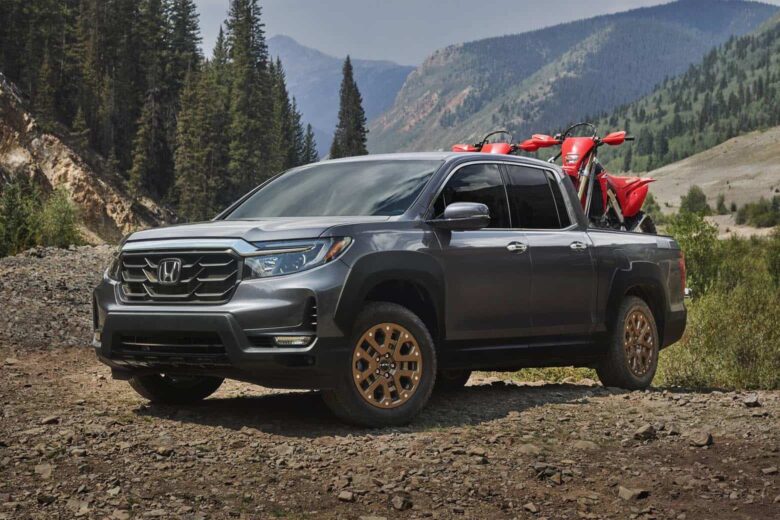 Honda might not be the first brand that comes to mind when thinking of pickup trucks. But that might be changing dramatically.
The 2023 Honda Ridgeline is expected to be an affordable and powerful hybrid truck. Most reports also indicate that an exterior redesign will bring sharper lines and an overall more aggressive look. An updated infotainment system and advanced driver assistance functions turn this hybrid pickup into a highly anticipated model.
Honda expects to release 30 new electric vehicles before 2030, including a fully-electric pickup truck.
Price: starting from $40,000
Engine: 3.5L V6
Power: ~300 hp and 300 lb-ft of torque
Towing Capacity: 5,000 lbs.
Payload Capacity: 1,509 lbs.
Miles-Per-Gallon: >25 combined
Buyer's guide for hybrid pickup trucks
Purchasing a new vehicle is a major decision with lasting consequences. It's crucial to select a model that fits your needs, has the looks you want, and doesn't add financial strain. Sometimes the process can be overwhelming, but we're here to help. Let's take a step back and identify what you should look for when considering a hybrid pickup truck.
Trucks are insanely useful vehicles. They can bring you and others from point A to point B, of course, but that's far from their only use.
One of the most distinctive features of any truck is the bed. Unlike the best SUVs with covered cargo areas, truck beds are open-top and can haul all sorts of cargo. Maybe it's only a few times a year to spruce up your yard or garden. Perhaps it's a daily grind of bringing your tools to the worksite. Or maybe it's loading up all your toys to hit the open road.
Whatever the case, you want to select a truck with an appropriate sized bed and payload capacity. Full-size beds can be up to 8 feet in length and often have higher payload ratings, while shorter options can cut the bed length down to around 4 feet, allowing for a more maneuverable vehicle. Stick to a size and payload capacity that meets your needs.
You should carefully review the towing capacity as well. Smaller trucks can't handle heavy loads like the biggest camping trailers. If you plan on towing, understand how much weight you expect to pull when fully loaded, and buy a truck capable of towing that weight.
Another factor to consider is the type of hybrid technology featured in the trucks you're considering. Most come with true hybrid designs where a battery pack powers an electric motor throughout the whole power range. But some, like the Ram 1500, use a more simplistic mild hybrid design which mainly provides an electrical boost from a stop.
The true hybrids are likely to produce increased horsepower and torque which are useful in many driving situations. For tough mountain climbs, towing larger items, and getting increased fuel efficiency, true hybrids are usually superior to mild hybrid systems. On the other hand, mild hybrid systems are often lower cost and can give a much-needed bump when driving in stop-and-go city traffic.
Most trucks can be separated into two classes. Those with the largest payloads and towing capacities will come in full-size trucks such as the Ford F-150, Toyota Tundra, and Ram 1500.
But if you don't need that much power or capability, then compact trucks will provide better fuel efficiency while still offering a lot of utility. These are often built using unibody construction, where the frame and body are fused in one unit, as compared to frame-on-body designs of larger trucks. Compact hybrid truck options include the Ford Maverick, Hyundai Santa Cruz, and Honda Ridgeline.
There's one final characteristic to consider for any truck purchase. And that's the passenger capacity. Some trucks come with a single bench and only hold three people. Others have two rows of luxury seating for up to six people.
Consider these options carefully before committing to your next purchase and you can ensure your new hybrid pickup truck will perform exactly how you need it to.
Frequently asked questions about the best hybrid pickup trucks
Is a hybrid truck worth it?
As the cost of hybrid systems decreases while fuel prices increase, hybrid pickup trucks are becoming an attractive option for many. The addition of electrical systems not only increases fuel mileage and saves you money at the pump, but also brings significant gains to the power and performance.
Is there a hybrid truck available?
Yes, there are many hybrid trucks for sale. You can find options from most top brands, including Ford, Toyota, Ram, and Chevrolet. Other brands such as Hyundai and Honda are releasing new hybrid trucks as 2023 models. Ford also has an all-electric Lightning for sale, and many truck manufacturers are releasing fully-electric models soon.
Does Toyota have a hybrid pickup truck?
Toyota does offer a hybrid pickup truck. The full-size Toyota Tundra is available with an i-FORCE twin-turbo 3.5L V6 engine paired to a 1.5 kWh battery pack in the top-of-the-line TRD Pro model. It has an incredible 437 hp and 583 lb-ft of torque, showing how hybrid vehicles can bring some serious power to the world of pickup trucks.