Face oils are an under appreciated skincare saviour. As well as being perfect for adding a boost of hydration to dry skin, they can also nourish and calm irritated skin, take the energy and anger out of acne-prone skin, and regulate oil production in oily skin.
Old habits die hard, and it's only in recent times that optionally adding oil to your skincare routine is something encouraged rather than frowned upon. But, ask any dermatologist about the benefits of beauty oil and they'll invariably wax lyrical about combating dryness, reducing redness and creating the perfect canvas for your makeup.
So, if you're not currently incorporating one of the best facial oils into your skincare regime, it could be the ideal antidote to your skin woes. Face oils are not to be dismissed so quickly: No matter what skin type you have, we guarantee there's a face treatment oil for you.
Not sure where to start? Read on to discover the best oils for skin, no matter whether you're searching for an oil for face glow, oils for oily skin or something in between.
Your face will thank you for it.
The 19 best face oils
Take a look at our face oils buyers' guide after the list to see exactly what you should pay attention to before purchasing a premium face oil online.
RMS Beauty: Best overall face oil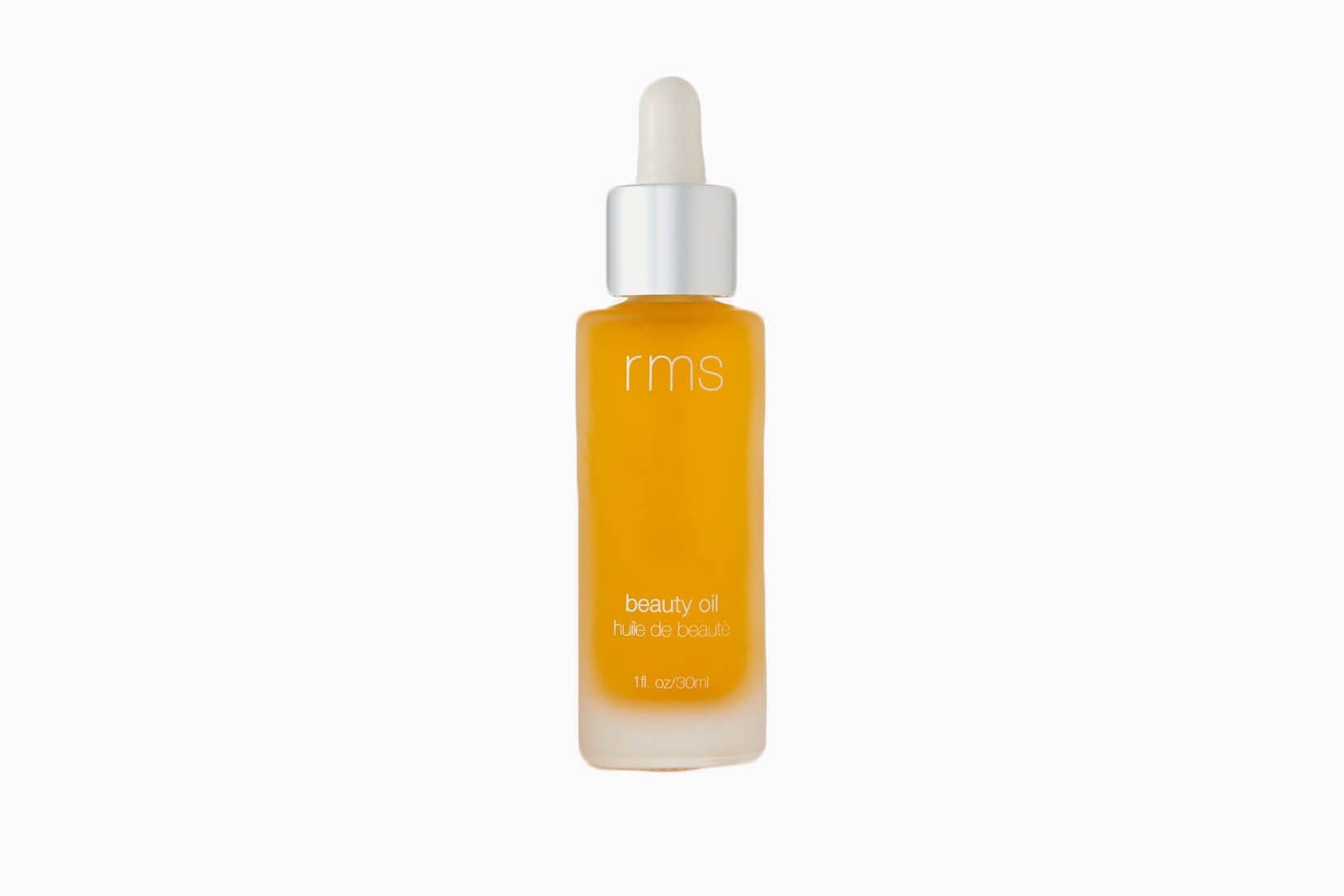 It's virtually impossible to fault RMS Beauty's Beauty Oil. From the understated bottle to the nutrient-rich oil inside and the incredible effects your skin will feel as soon as you've blessed your face with it a few times. Blending all of the best oils for a lightweight yet concentrated finish, this miracle bottle is prepared to fight any and every battle on your behalf.
A quick application of wildcrafted Brazilian Buriti Oil, firming rosehip and antioxidant-rich jojoba will do the face oil equivalent of brushing all of your worries under the carpet. There are some face oils that hydrate and some face oils that fight the signs of ageing. There are others that promise to balance your complexion. And then there's this Beauty Oil, which seamlessly does all of the above and then some.
Best for: Being more than just a pretty face (oil).
Augustinus Bader: Best luxury face oil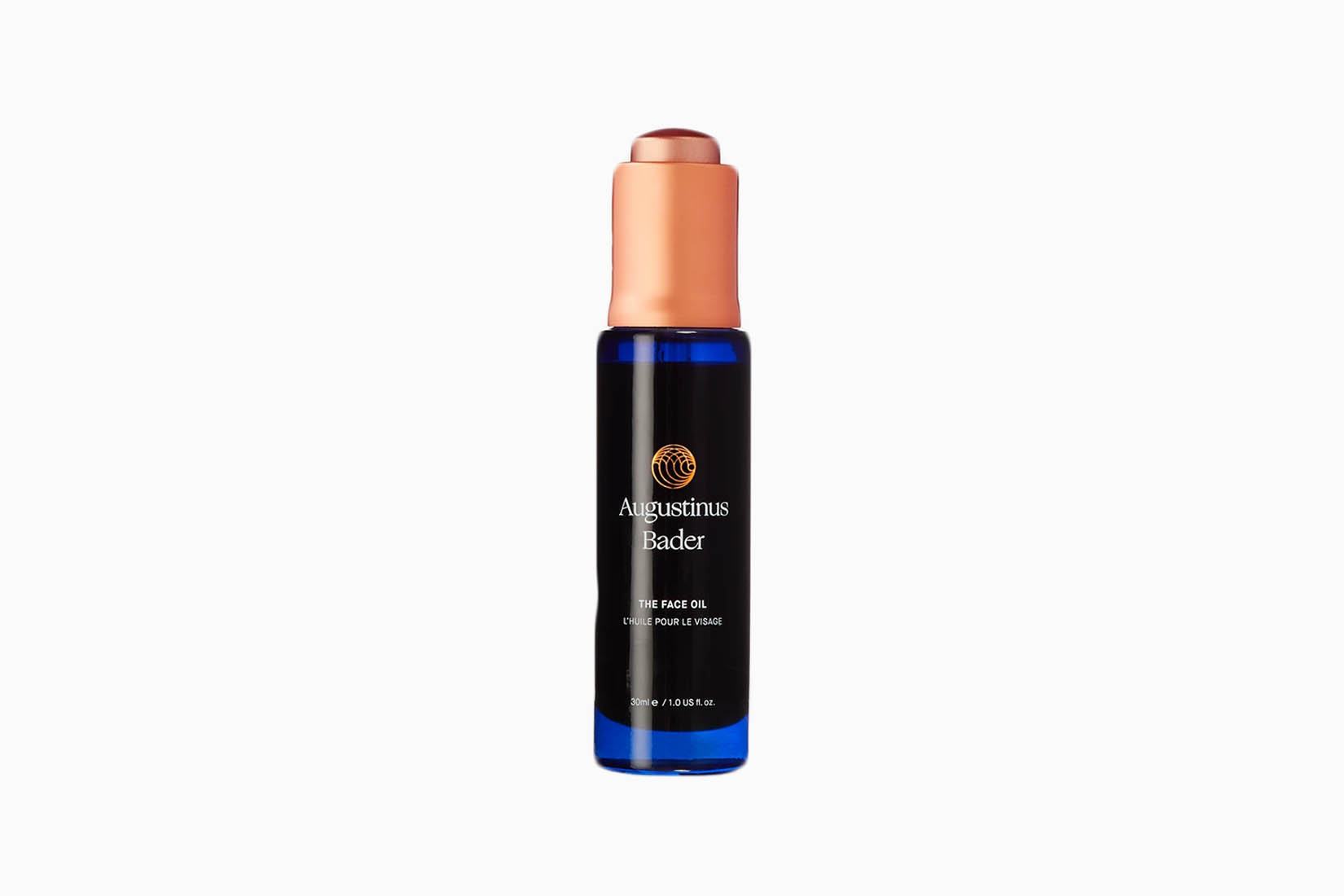 Those days when your hair looks sleek and well maintained, your eyeliner matches perfectly and you're wearing your favourite outfit? Augustinus Bader's The Face Oil will bring on the feeling of all of the above happening simultaneously. Throw in a gloriously sunny day, a free coffee from your favourite spot and the last meeting of the day cancelled and you'll feel a similar sort of glee. This premium face oil might have a higher cost than others but it's well deserved.
Combining TFC8 – a complex of amino acids and vitamins – as well as Babassu, Argan, Hazelnut and Karanja oils, it manages to sink deeply into the layers of your skin while feeling almost weightless immediately after application. A quick one-off application has the ability to brighten your day; longer term usage promises to also brighten your skin, reduce pigmentation and promote elasticity.
Best for: A five star luxury skincare staple that's worth every penny.
Honest Beauty: Best value face oil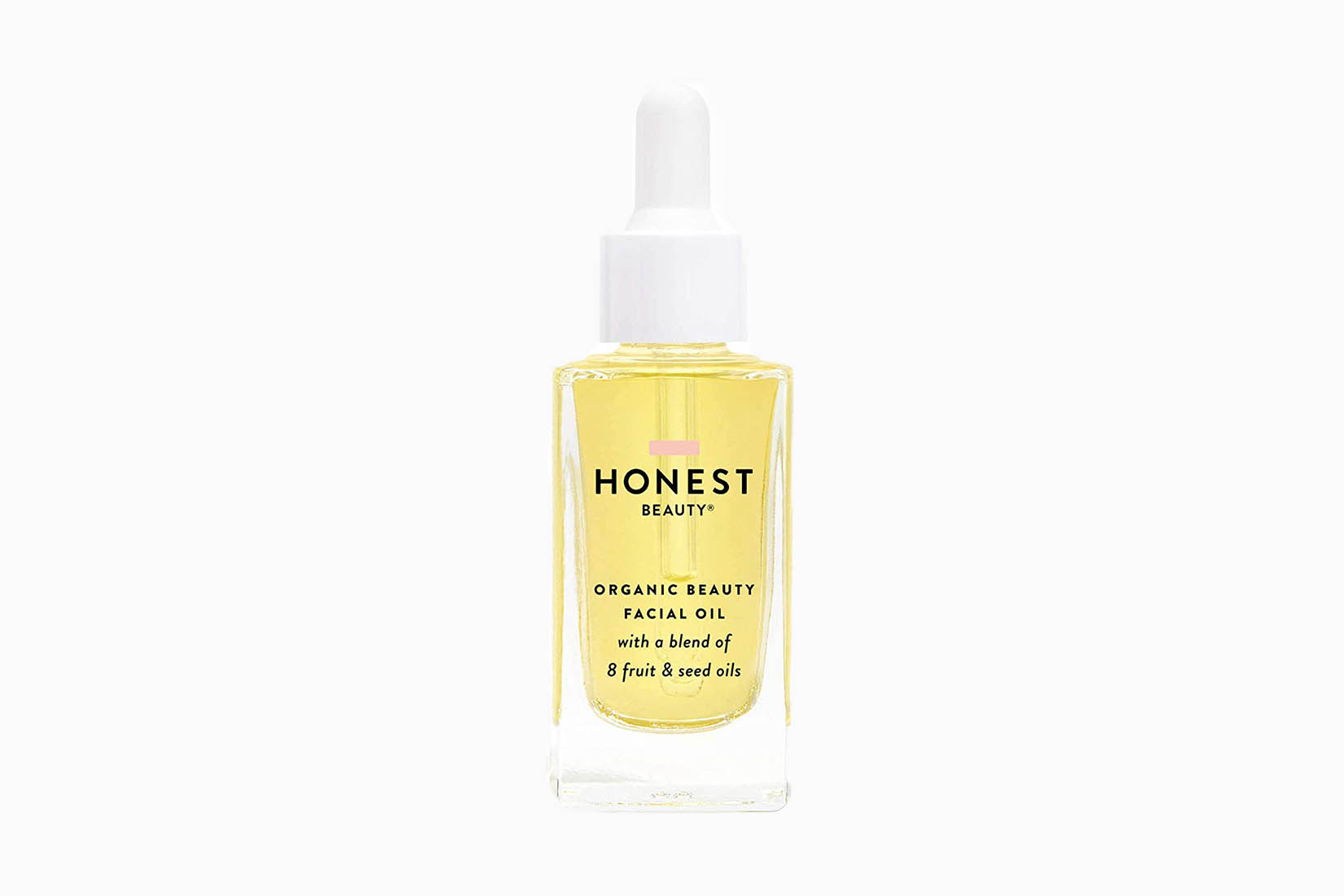 Face oil might seem like a luxury addition to your toiletry bag but some of the best options come without the scary price tags attached. Enter: Honest Beauty's Organic Beauty Facial Oil. A mixture of premium quality pure seed and fruit oils including apricot, avocado, jojoba, lavender and lemon peel, this moisture-rich face oil replenishes skin almost immediately without being overbearing or sitting on top of the skin.
It also comes with a gentle scent of botanicals, infused with a beautiful bouquet of rose, ylang-ylang and clove oils that's reminiscent of your favourite afternoon at the spa. Better yet: Honest Beauty is also a vegan skincare brand, and this face oil is free of parabens, silicones, paraffins, dyes and synthetic fragrances, which makes it ideal for those with sensitive skin. Add this award-winning bottle into your standard makeup routine for an elevated upgrade without breaking the bank.
Best for: Being the skincare product on everybody's lips once word gets out.
Nuori: Best natural face oil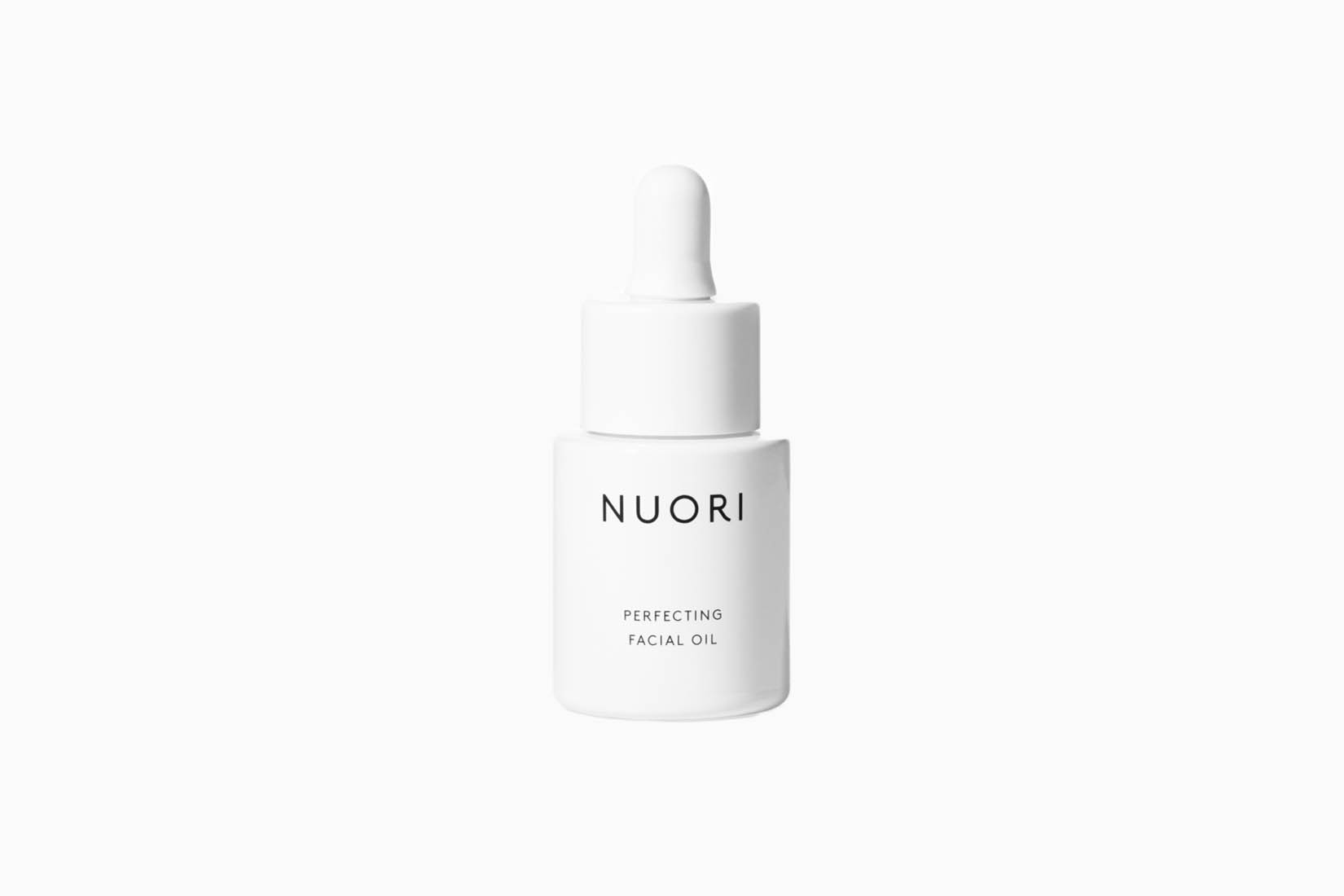 Proving once and for all that it's possible to inject a burst of moisture into your skin without resorting to unnatural ingredients, the Perfecting Facial Oil by Nuori isn't an exaggerated name for this product.
This is a bottle that does it all no matter what sort of skin you might have: its unique formulation means it effortlessly blends in with your skin's natural lipid balance, whether you have oily or dry skin. Once it's figured out your skin's natural level of oil, it works to nourish, hydrate and balance from the inside out. Get into a routine of using this facial oil and expect to start each day feeling a little brighter and fresher, thanks to this oil's vitamin E and beautiful rosehip scent.
Best for: Convincing you to swap out your makeup bag for all-natural equivalents.
Lancer: Best moisturising face oil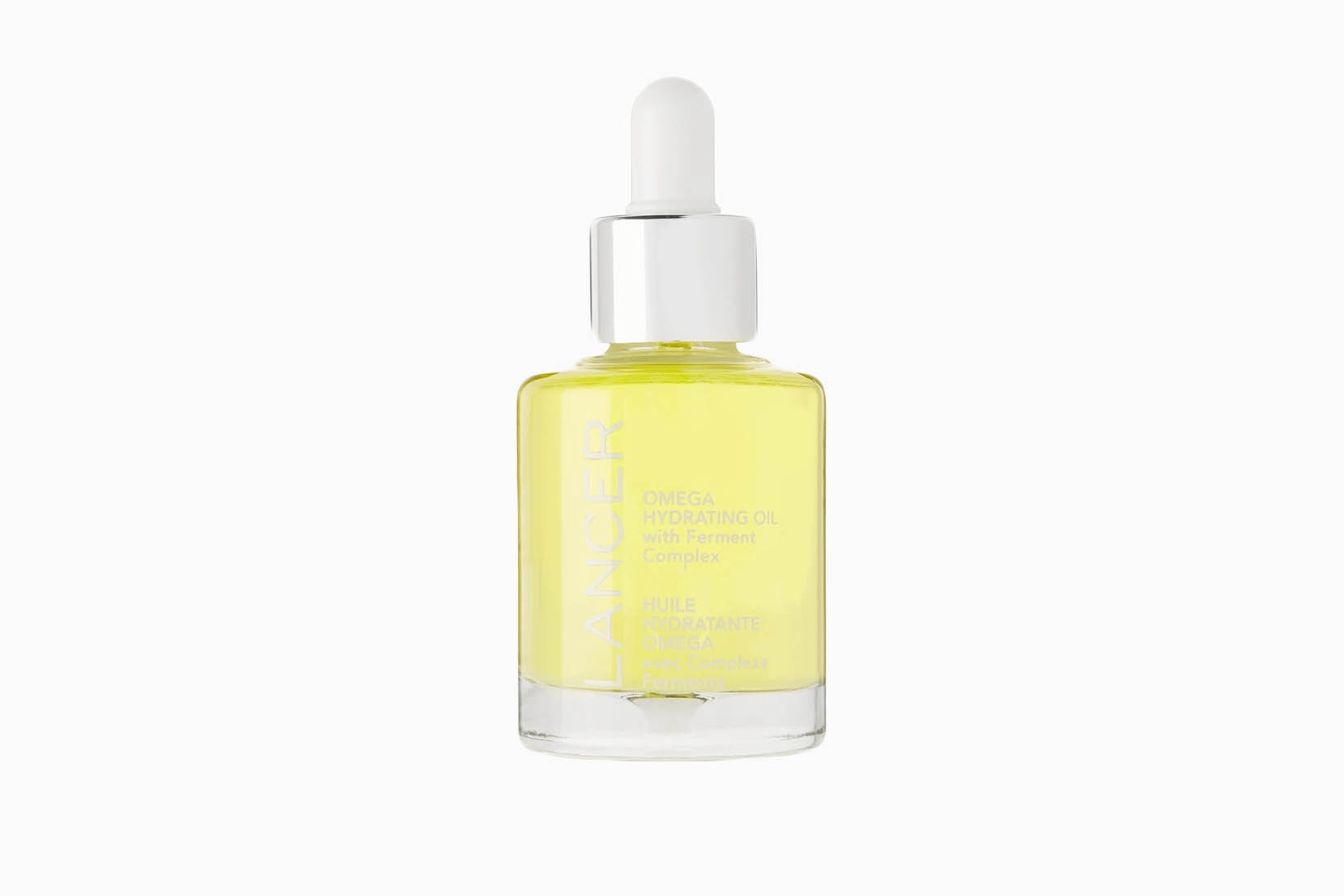 Although you might think the whole point of a face oil is to add moisture to your skin, it's important to choose a high quality oil made up of small molecules in order to penetrate the top layer of skin. Choose an oil made up of too large molecules and you might discover the opposite problem: blocked pores and blemished skin. Lancer's Omega Hydrating Oil with Ferment Complex manages to hit the sweet spot of bursting through that top layer of skin with a silky smooth formula.
Beautifully hydrating, this is a lightweight cream that'll sink into your skin almost immediately, adding a dose of both turmeric and a Chlorophyllin-Copper Complex to really make you glow from within. Suitable for all skin types, this is a face oil you'll buy for yourself before quickly gifting to everyone you know at any opportunity.
Best for: Feeling like a gentle hug for your skin.
Uma Oils: Best anti-ageing face oil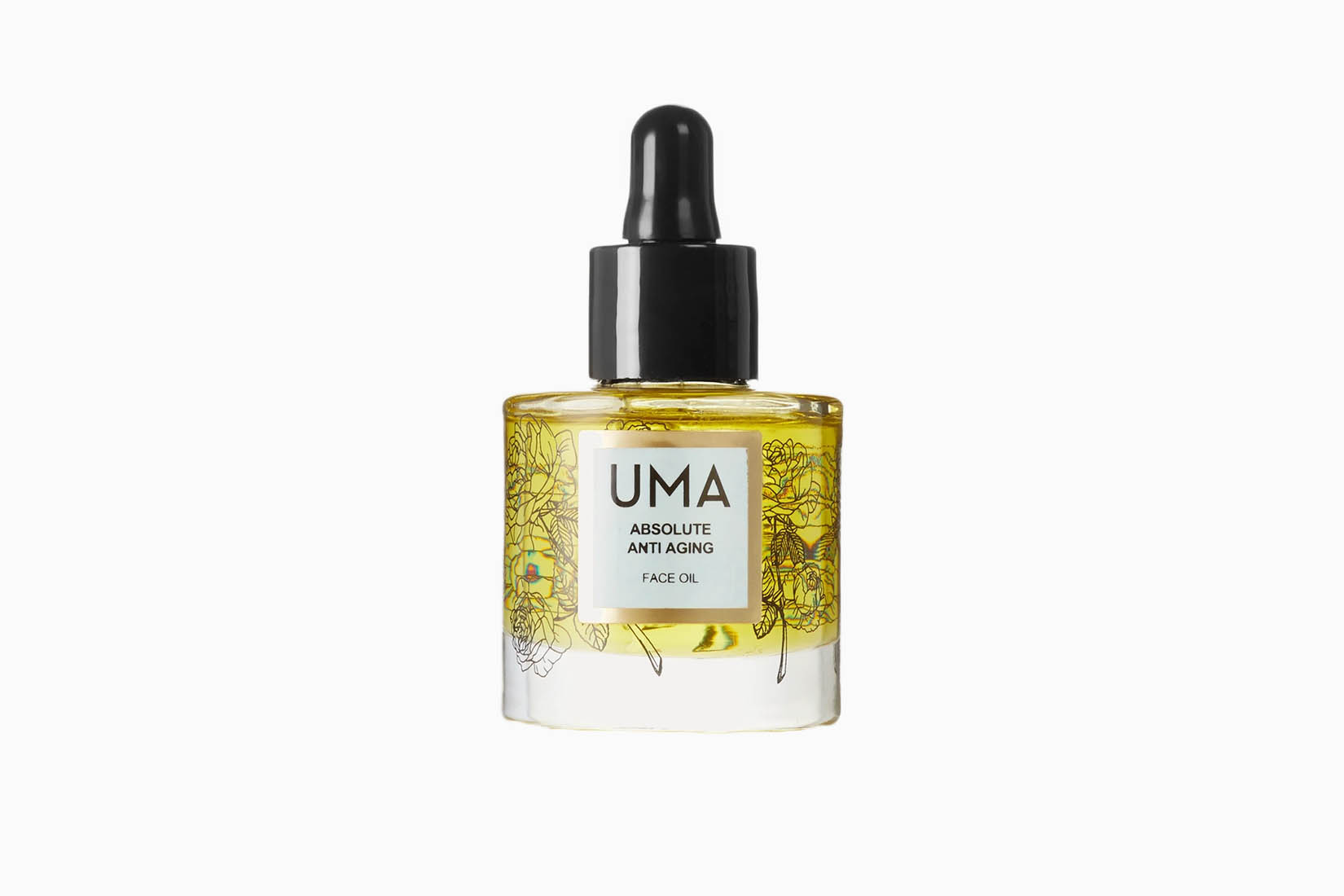 Uma Oils produces the sort of face oils that you'll read about, lust after, hint at for the perfect birthday present and then eventually give in and buy for yourself. And then, once your skin has greedily sampled it, you'll find yourself stuck in the best sort of curse: repurchasing again and again for the magic seemingly tucked away inside each bottle. The Absolute Anti-Aging Face Oil comes with perhaps a higher than average price tag: but it's an example of a small but mighty skincare product that you can use sparingly forever.
Combining neroli, rose, geranium and lavender among many others, this face oil hits straight at the target to fight off the signs of ageing with a gorgeous scent along the way. These botanicals are also grown and hand-harvested on the brand's 100-acre estate, which are then combined with frankincense essential oil, juniper berry and vitamin C-rich orange to create an all-in-one miracle product.
Best for: Resulting in the right kind of addiction.
Votary: Best face oil for acne-prone skin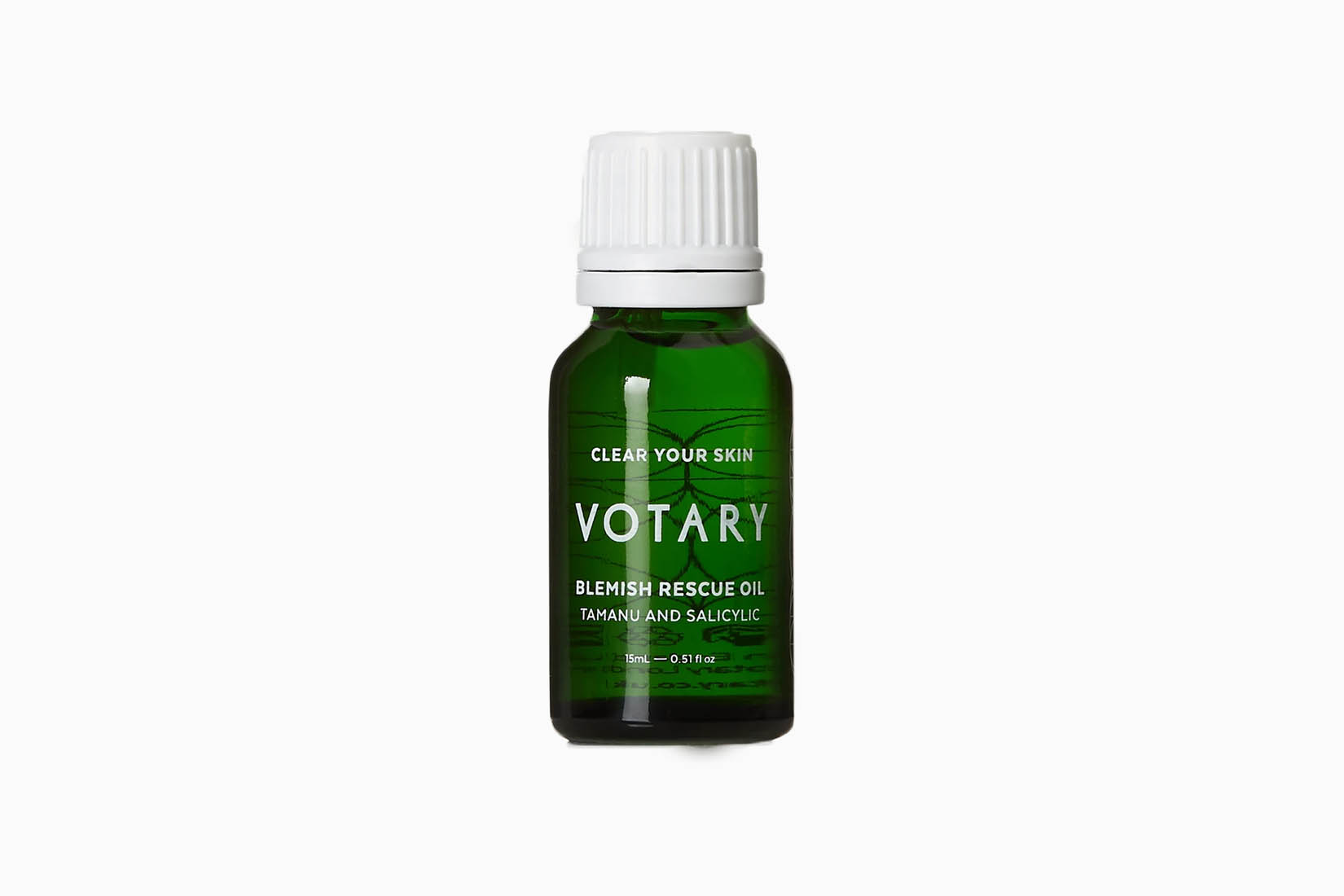 There are gambles in life and then there's using a face oil when you already struggle with acne-prone skin. But avoiding oils can actually make skin that loves to stay in attack mode even worse. Acne-prone skin is often a sign that your oil to water ratio is off, which means that adding a healthy supplemental oil might seem counterproductive but could actually be a straightforward solution to overactive glands.
The best face oil for acne-prone skin, Votary's Blemish Rescue Oil, contains Tamanu and Salicylic, which together do the job to moisturise your skin while keeping irritated skin out of the picture. Tamanu works to calm angry skin from the inside out while a powerful 2% Salicylic Acid Concentrate does the job to heal existing scars and signs of damage. The molecular makeup of this oil also helps to keep skin clean and disinfected without being overpowering. The best oil for acne: it's a one-stop shop to improve your irritated skin.
Best for: Quickly calming down even the angriest of angry skin.
ELEMIS: Best face oil for dry skin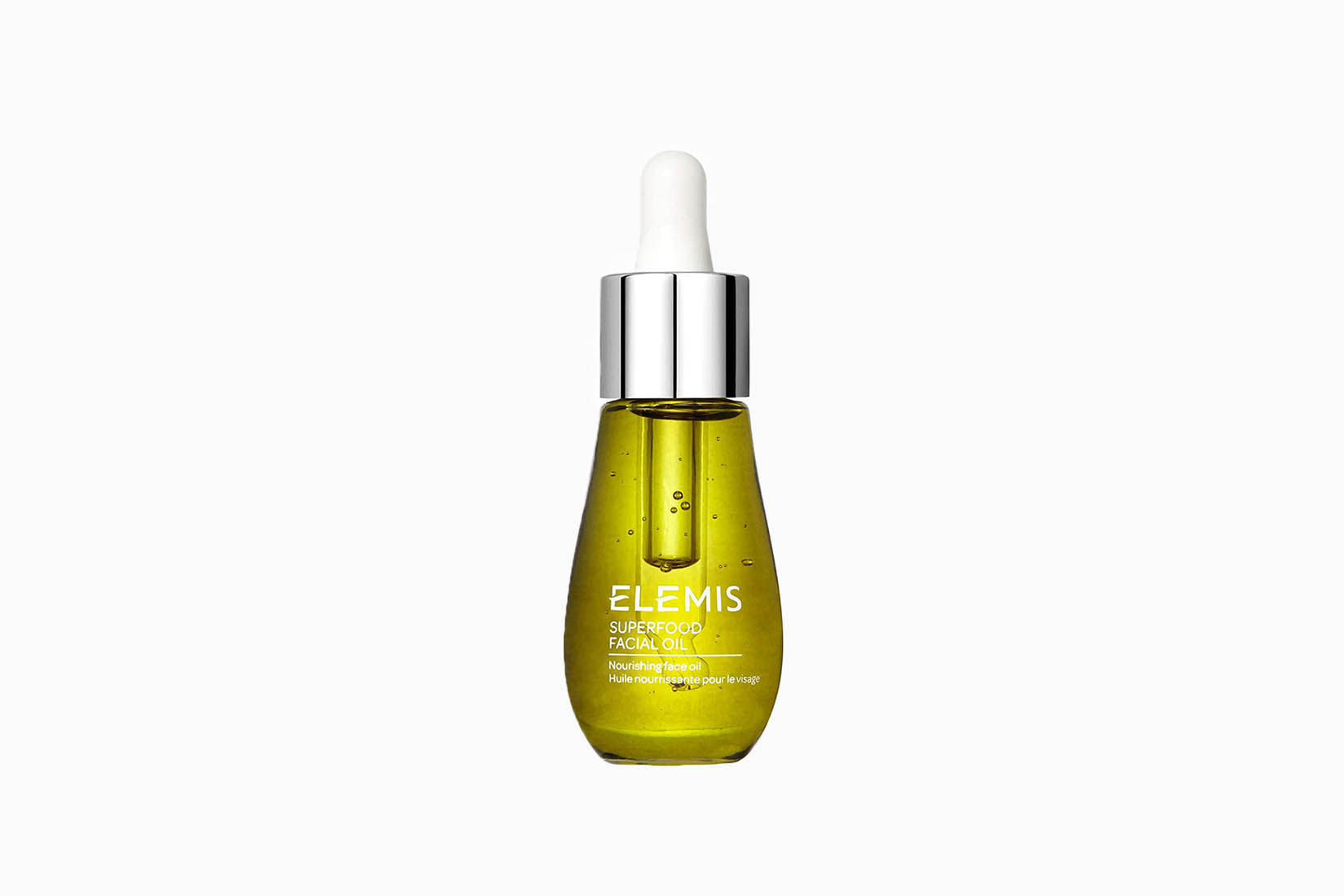 You'll want a face oil that delivers an instant burst of hydration if you're someone who suffers from dry skin. A skincare staple for those whose oil glands are known for acting a little lazy, a high quality face oil can make all the difference when it comes to replacing taut, flaky skin with something supple and rejuvenated. ELEMIS' Superfood Nourishing Face Oil is the perfect choice for anyone with dry skin, somehow managing to smooth and hydrate your face while adding a subtle, radiant glow.
Lightweight and non-greasy, you can apply a few drops in the morning and go about your daily life without even remembering you've applied an oil to your face. Broccoli, rosehip, flaxseed and daikon radish might not sound like the most delicious combination to put on your skin but this mixture of nine superfoods does the job when it comes to plumping and enhancing your face.
Best for: Eating your greens – via your face.
Pai Skincare: Best face oil for sensitive skin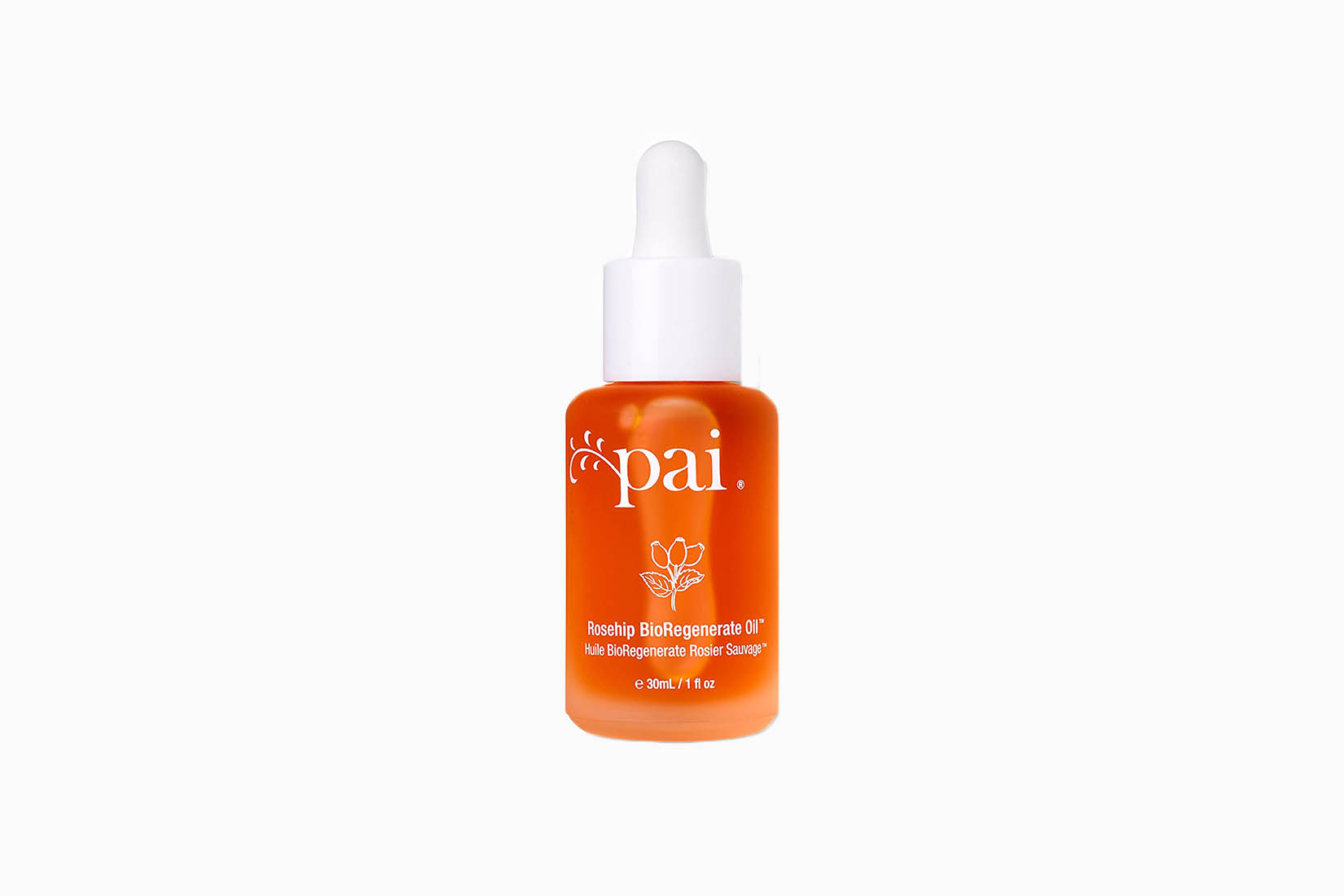 It's always a risk trying out a new product if you're someone who struggles with sensitive skin. While it might be a gamble that pays off, there's a very fine line between discovering your new miracle product and something that'll undo all of your hard work, sending you straight back to square one. Luckily, Pai Skincare's Organic Rosehip BioRegenerate Oil is the former: a gentle face oil filled with the most concentrated rosehip oil on the market.
Known for this super high potency, this oil is designed to improve the appearance of scars, stretch marks, sun damage and fine lines while adding an extra boost of moisture to your skin. After you've got into a good routine of using it regularly, you can expect firmer skin with renewed levels of elasticity thanks to its concentrated Omega 3 and 6 inclusions. For best results, use at night just before you go to sleep so your body can throw maximum energy into healing.
Best for: Being the light at the end of the flaky-skin tunnel.
Herbivore: Best face oil for oily skin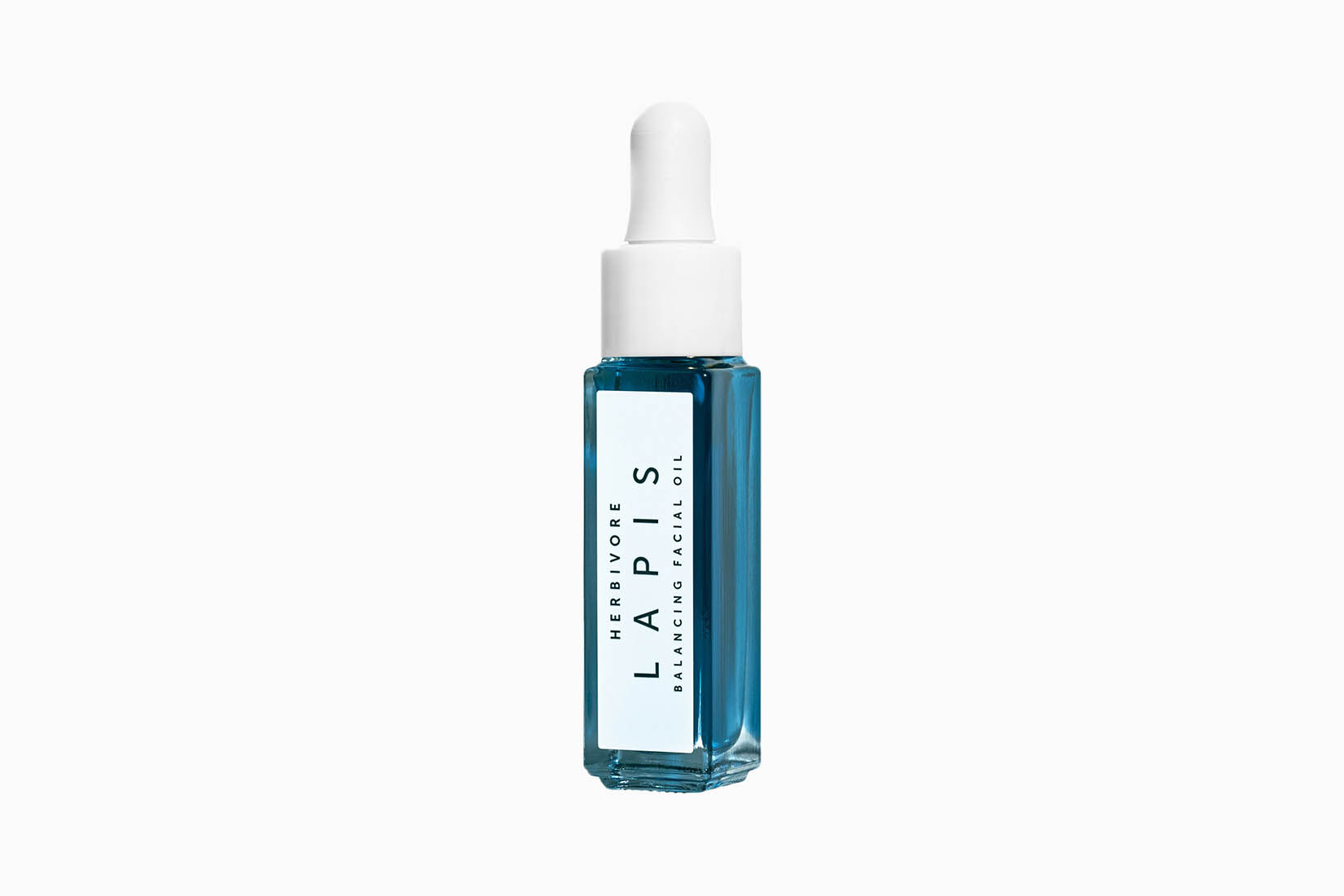 Your first reaction to a suggestion of combating oily skin with a face oil might be one of disbelief, or shock, or downright refusal. Which, on the surface, seems completely justified. But when you dig a little deeper — both metaphorically and through the layers of skin — it starts to make a little more sense. Oily skin can be caused by overactive oil glands, which happens as a result of the skin thinking it's not producing enough oil in the first place.
But by rejuvenating your oily skin with a product like Herbivore Natural Lapis Facial Oil, you should find the perfect medium that leaves you with soft, hydrated skin with no unnecessary oil in sight. The best face oil for oily skin, Herbivore works by using oils like Kukui nut, jojoba, squalane and jasmine sambac to nourish and balance the skin while reducing inflammation and penetrating deeply. Got friends with acne-prone skin? This is a skincare product they'll be able to rave about, too.
Best for: Fighting fire with fire in the best way possible.
Indie Lee: Best face oil for combination skin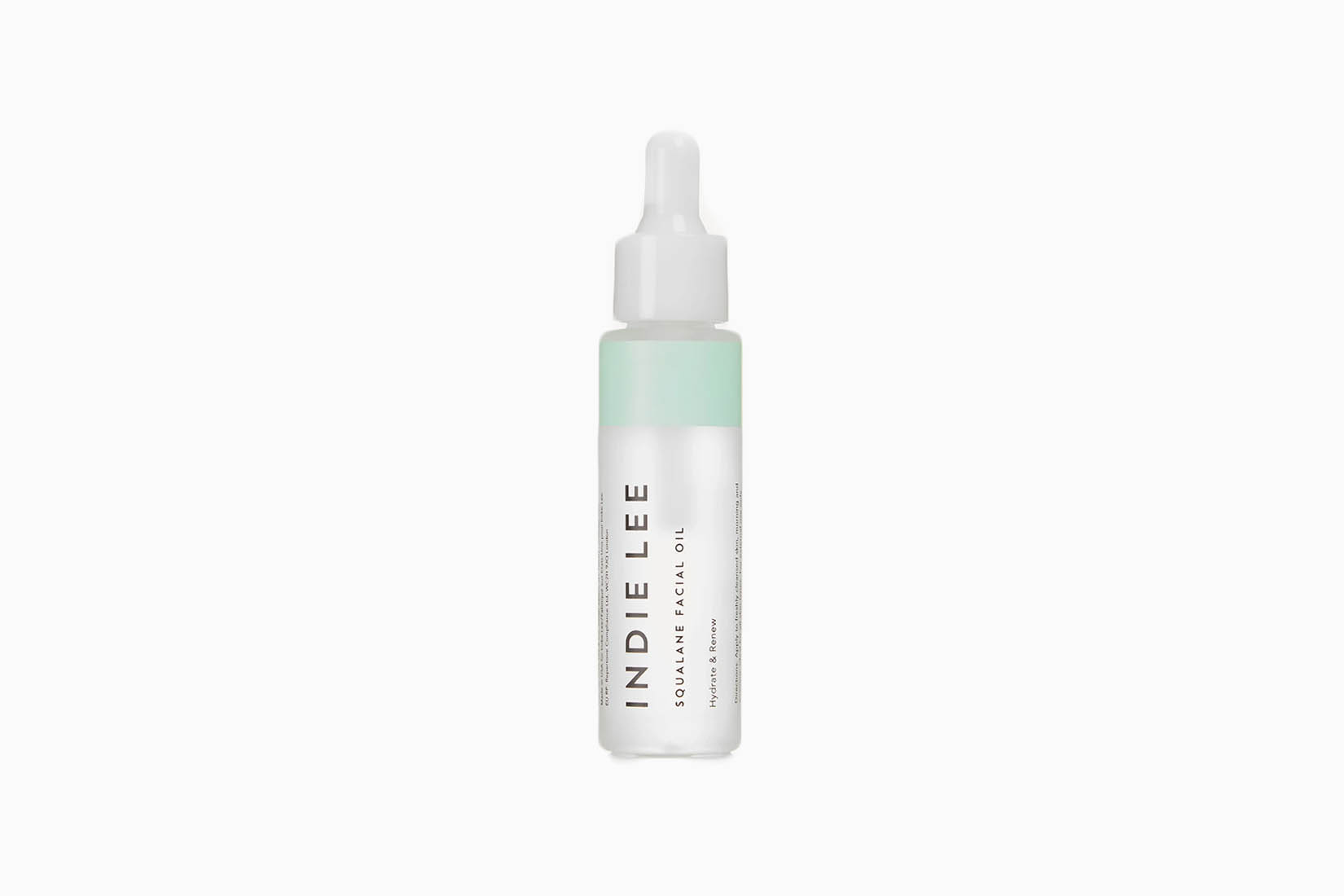 For something that can be so tricky to tackle with endless trial and error in place to hit the sweet spot, finding a face oil suitable for combination skin couldn't really be much easier. And it comes from a brand that keeps that very motive in mind, as Indie Lee's Facial Oil contains only one ingredient: Squalane oil. Derived from olives, this miracle product manages to add hydration to dry skin while balancing out the effects of extra oil in oily skin.
The skincare equivalent of that friend who manages to simultaneously succeed in all areas of her life, this product will quickly find its place in your makeup bag and will only be removed for application or to be replaced with a fresh bottle. By its very definition of including one sole product, this face oil is free from parabens, sulfates and aluminium, which also makes it suitable for anyone suffering with sensitive skin.
Best for: Causing reactions of disbelief at its short ingredients list.
Sunday Riley: Best face oil for wrinkles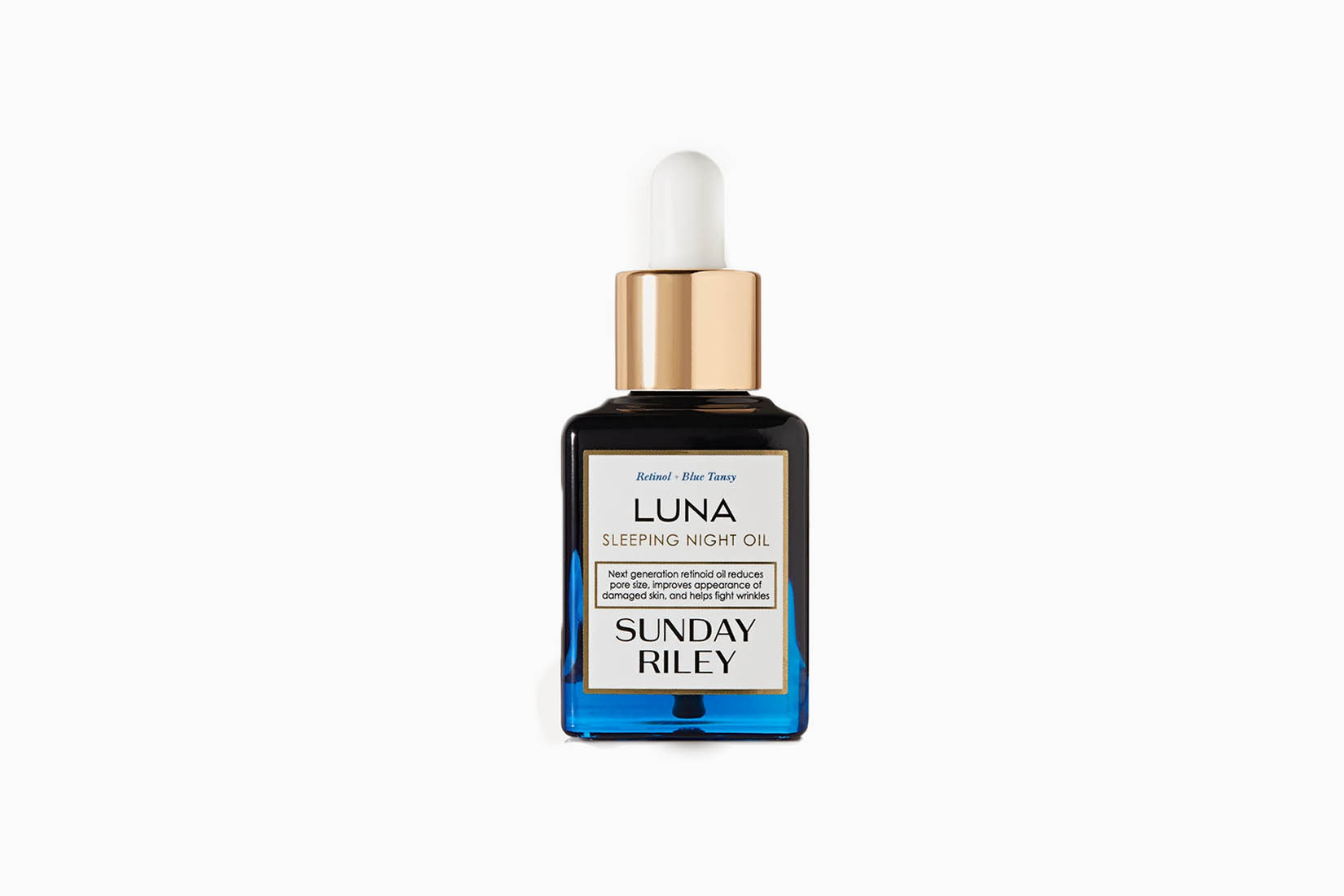 Taking the title of Best Face Oil for Wrinkles and keeping it is somewhat of a challenge, but we're proud to stand firmly behind one bottle again and again: the Sunday Riley Luna Sleeping Night Oil. Even if you wouldn't call yourself a skincare fanatic, you've likely heard of Sunday Riley before and if there's one product that'll convert you to the rest, it's this one. Taking the idea of beauty sleep and elevating it hugely, you'll carefully apply a few drops of this face oil just before you say goodnight and wake up feeling lighter, fresher and younger-looking almost instantly.
The Luna Sleeping Night Oil contains a derivative of trans-retinoic acid, which is common across anti-ageing products but not so much in face oils. Combined with the nutrient-rich density of the oil, this acid works to reduce the development of wrinkles and to minimise your pores at the same time.
Best for: Being a real life Sleeping Beauty.
Biossance: Best face oil for brightening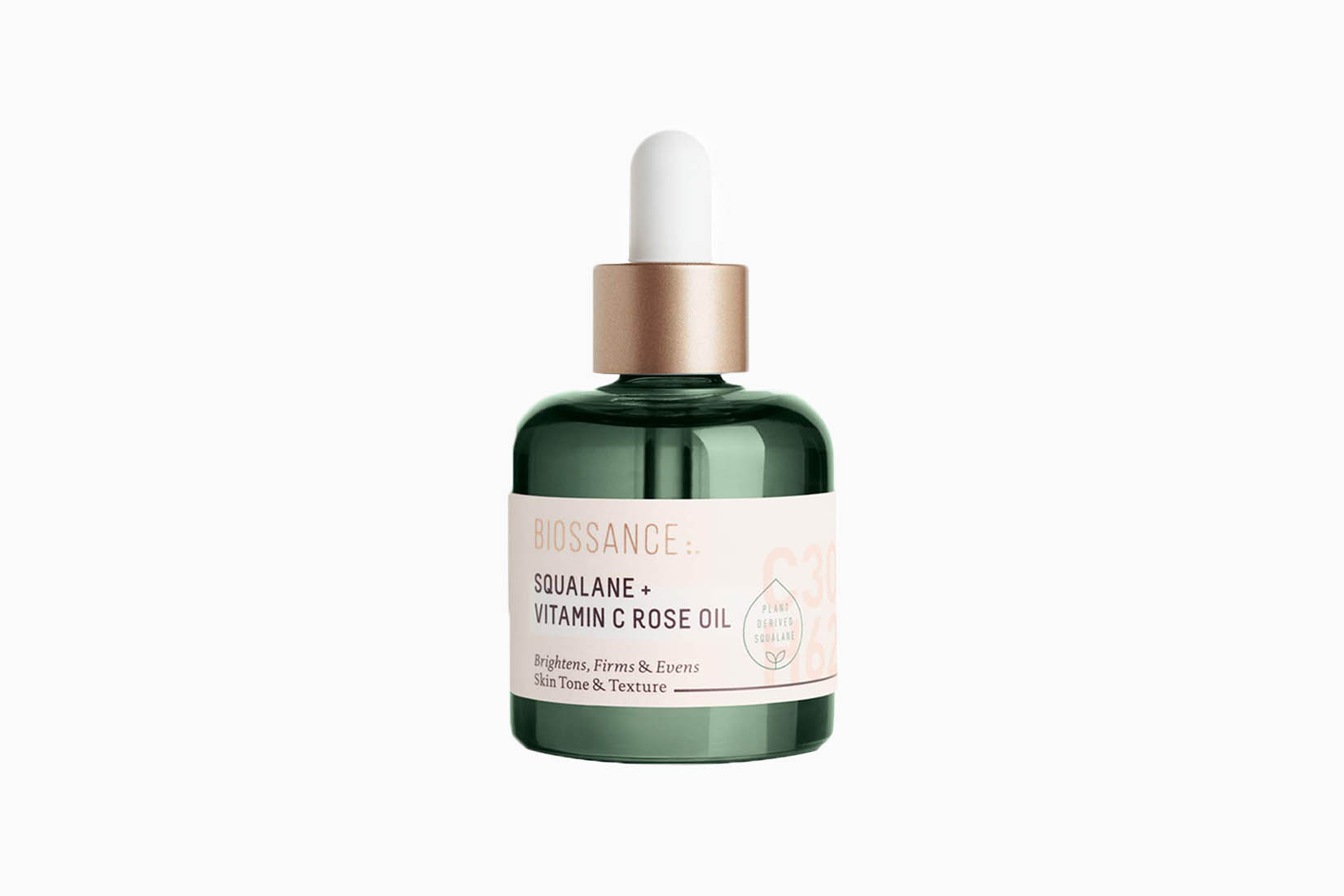 It's not only your face that will seem a little brighter after using this product a few times but also your day in general. You know the feeling of wearing a new favourite outfit, hearing some good news or discovering some extra money in your purse? This brightening face oil manages to give off the effect of doing all of the above at the same time. Even if your day isn't especially going according to plan, your face oil will give off the impression that everything is running smoothly.
And the face oil in question? Biossance's Squalane + Vitamin C Rose Oil. The magic ingredient here is Vitamin C, which acts as a natural brightener without adding in the effects of any artificial ingredients. When combined with Chios crystal oil and Damascus rose petal extract, you can expect to leave the house with glowing, taut, hydrated and revitalised skin, each and every day.
Best for: Humming "Walking on Sunshine" while you apply it.
Kora Organics: Best face oil for glow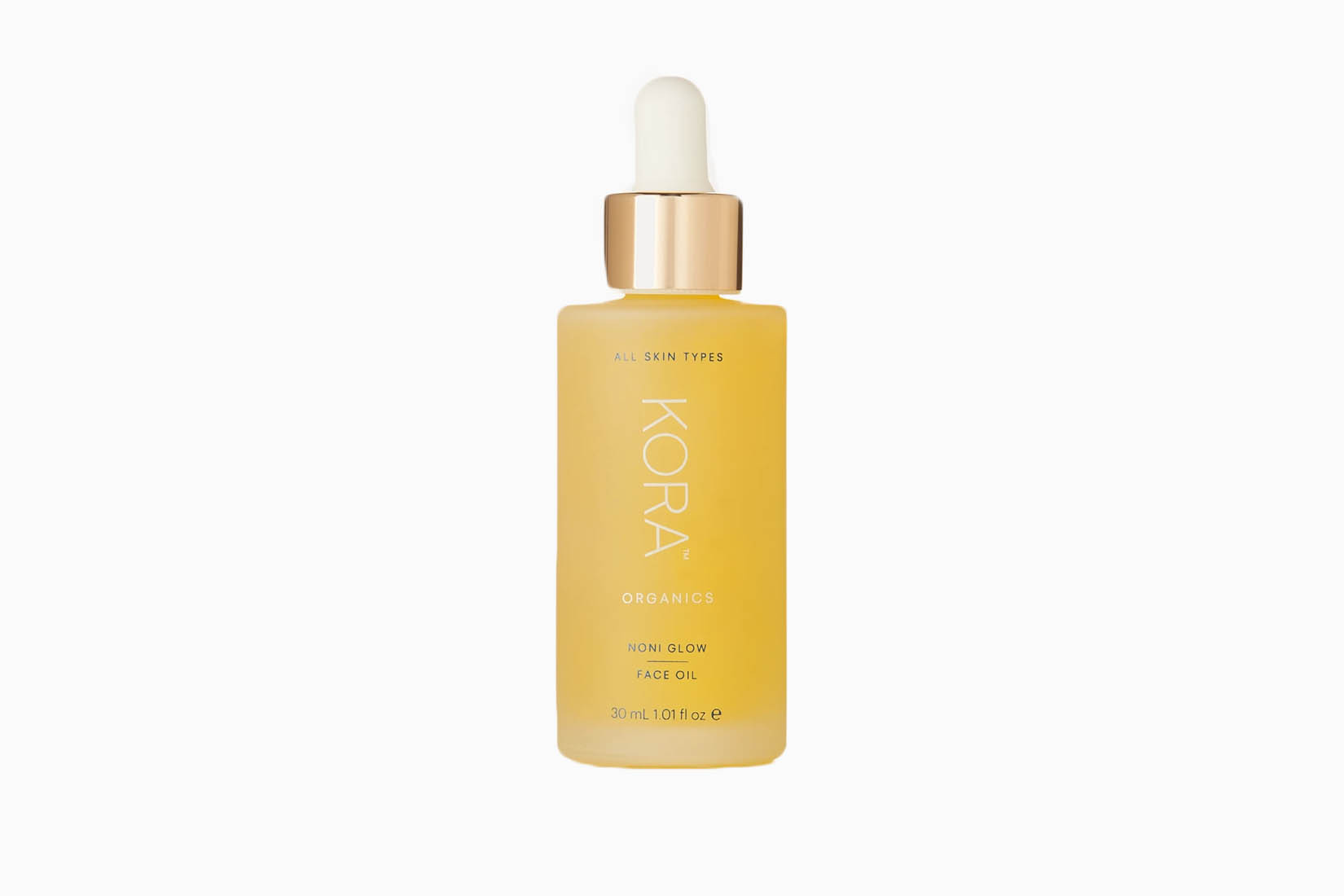 There's a glow up and then there's a glow up with Kora Organics' Noni Glow Face Oil. If ever you're looking for a product that tricks everyone into thinking you're fresh out of bed after a solid eight hours of sleep, this is the one to choose. Favoured among supermodels for its ability to keep you looking hydrated and refreshed even after long haul flights, the Noni extract gives this face oil an impressive extra boost.
The Noni Glow face oil combines antioxidant-rich rosehip, pomegranate and sea buckthorn oil to give you a model-worthy complexion every time you apply it. Free of parabens and fragrance and also certified-organic, you'll have no problem recommending this bottle far and wide to anyone who's interested…and a few who didn't think they were.
Best for: Becoming a suitcase essential for every long journey.
111Skin: Best face oil with retinol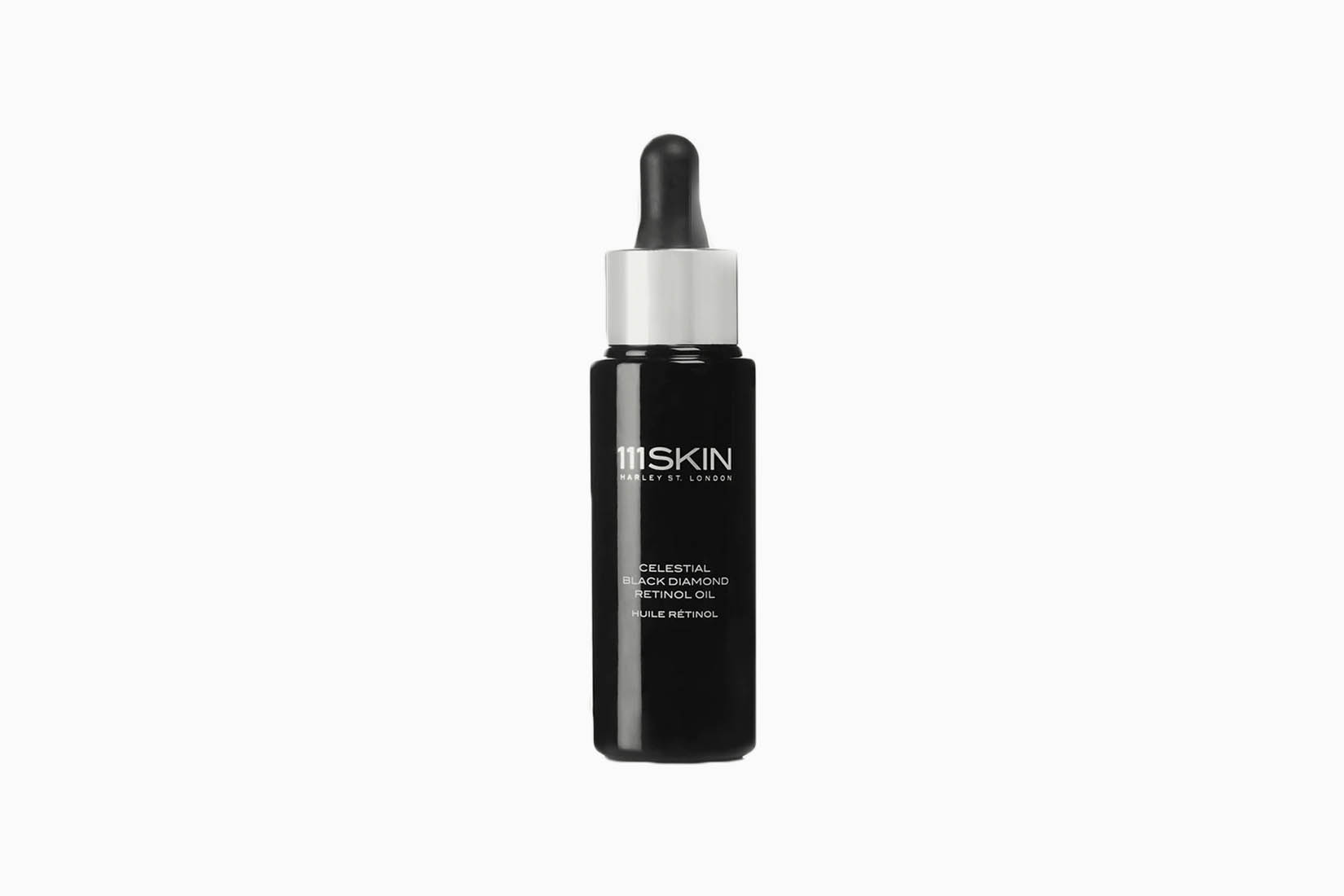 It might seem counterintuitive at first to combine a face oil – famous for hydrating your skin – with retinol: a product known for gently stripping skin to encourage regeneration. But, actually, if you can find a face oil that combines the two, you've saved yourself the money and time from hunting down a purely retinol based product as well as keeping your skincare routine a little more streamlined. Retinol isn't for everyone, but it's a brilliant addition to your makeup bag that's a little less intense when paired with a face oil.
111Skin's Celestial Black Diamond Retinol Oil contains maximum strength 1% pure retinol, which is suitable for those looking for an anti-ageing skincare product that's nourishing at the same time. Reducing the appearance of wrinkles, fine lines and age spots, this face oil includes black diamond particles for an especially luxe product that you'll feel fancy using every day.
Best for: "Two birds with one stone"… and every similar metaphor.
Caudalie: Best overnight face oil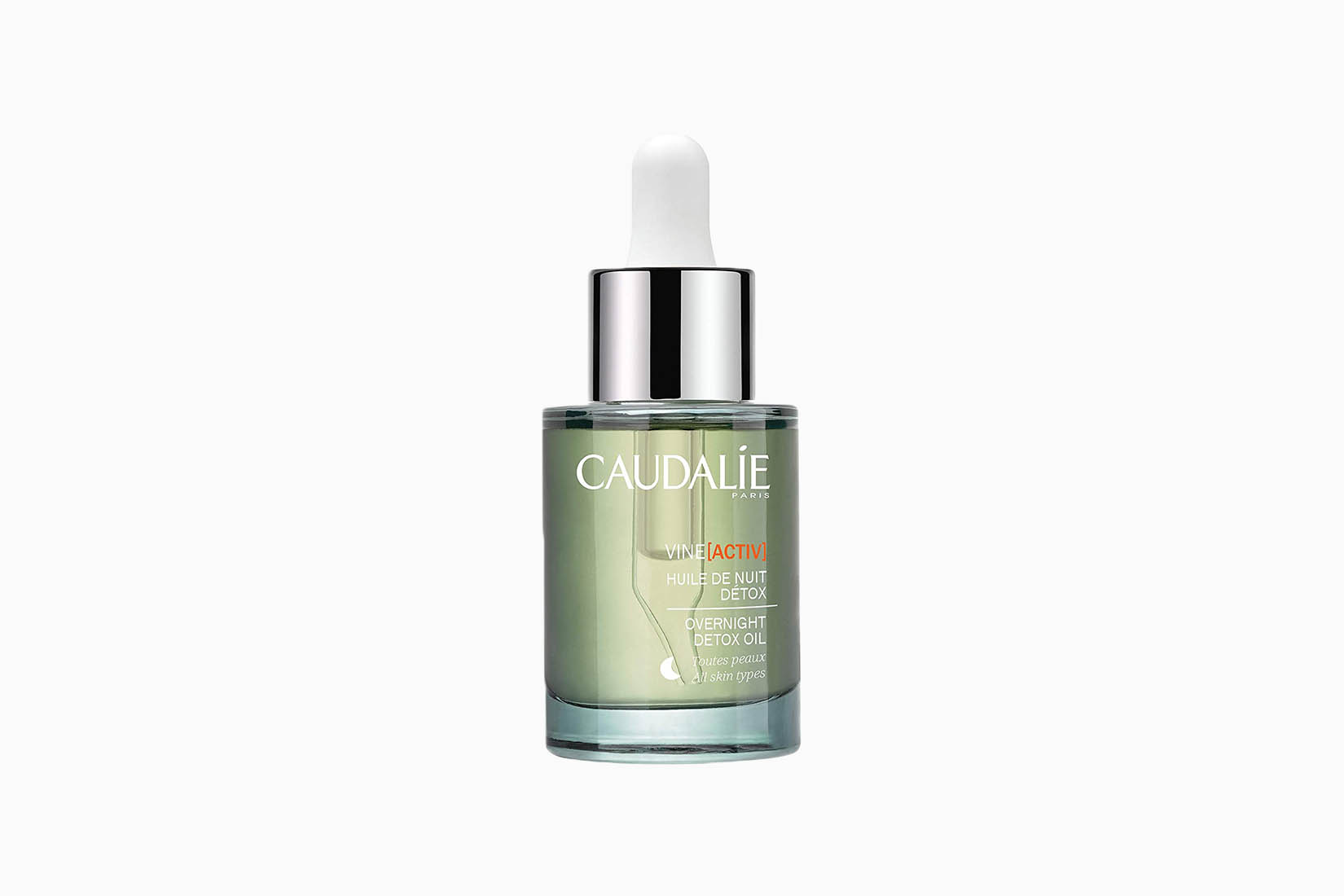 Brush your teeth, put your pyjamas on, take off your makeup and apply a couple of drops of Caudalie's VineActiv Organic Overnight Detox Oil. Your new bedtime routine only takes a few seconds longer but is well worth the effort to wake up with gloriously hydrated skin. While most facial oils can benefit from being left on overnight, Caudalie's takes it one step further with a moisturising face oil that essentially marinades your skin with all things good. As well as giving your skin a boost of nutrients, it also works to detoxify and purify the top levels of your skin.
Grape seed, sweet almond and rosemary oil all combine to give a gently scented, entirely natural face oil that will start to feel as comforting as that pillow spray you keep by your bedside table. You might sleep even better at night knowing that Caudalie, as a sustainable brand, also supports plenty of environmental causes and plants millions of new trees with the money from each product sold.
Best for: Promising the very sweetest of sweet dreams.
Alo Glow System: Best multi-use face oil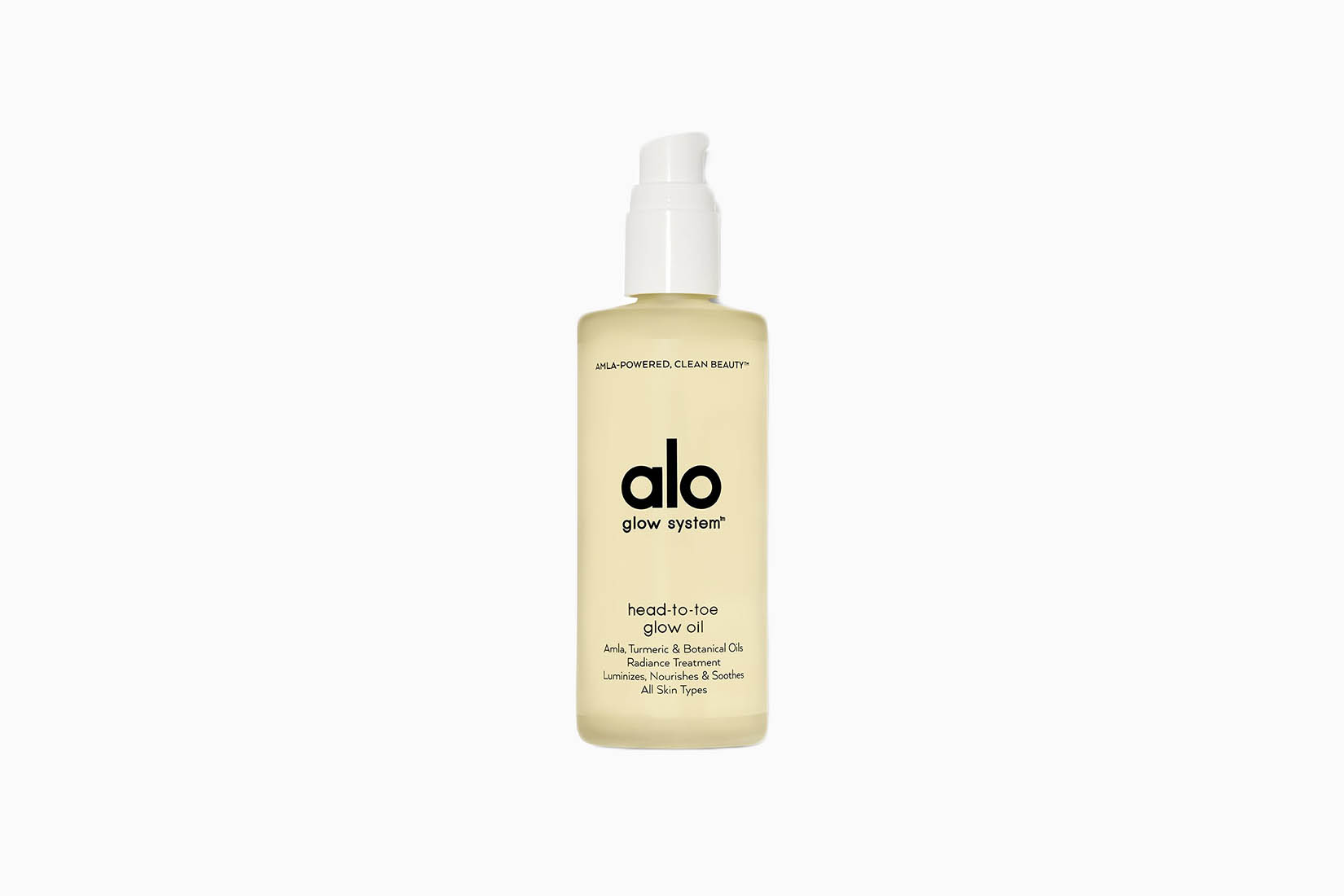 For those with less time, less energy or just less desire to have an overstocked skincare cupboard of differing products, a multi-use face oil is the secret weapon to looking incredible without much effort at all. And that's where Alo's Head to Toe Glow Oil comes in. It does everything a traditional face oil should do: hydrates and nourishes, adds a burst of moisture and keeps your skin supple – but it also covers plenty of other bases along the way.
Glow Oil works its magic not only on your face but also on your body and the lengths of your hair. Quite literally locking in moisture from head to toe, this product uses Vitamin C-rich amla, calming turmeric, soothing marula oil, aloe vera, avocado oil and other potent botanicals to ensure you don't ever need to search for an oil-based product again.
Best for: Otherwise known as liquid gold for your body.
Tata Harper: Best antioxidant face oil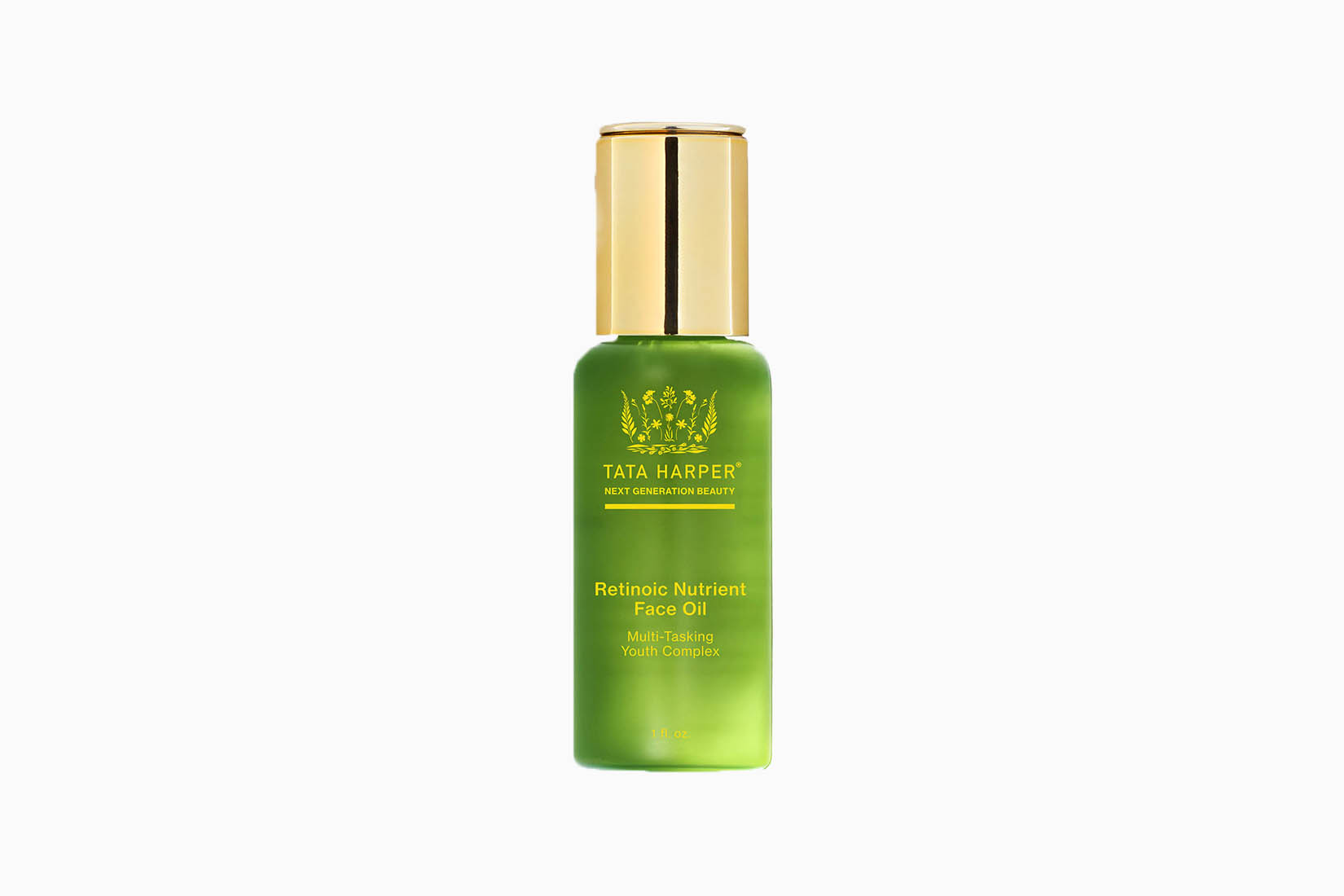 An anti-oxidising, brightening and moisturising face oil might seem like one too many good things rolled into one or a sort of "jack of all trades, master of none" type scenario. But such a thing does exist, and it comes in the form of Tata Harper's Retinoic Nutrient Face Oil. The sleek packaging opens up to an even sleeker oil, formulated with essential vitamins, amino acids, minerals, and antioxidants that all come together to deliver a healthy dose of goodness straight into your skin.
Thick and nourishing, you can apply this oil just before bed to wake up with deliciously smooth skin. And, if you wake up craving another dose of moisture, you can apply another drop or two to keep your skin hydrated throughout the day. This almost weightless product also manages to control breakouts and ease irritated skin, rightfully earning its place at the top of your makeup bag.
Best for: Feeling fresh and rejuvenated on a 24/7 basis.
Palmer's Cocoa Butter Formula: Best budget face oil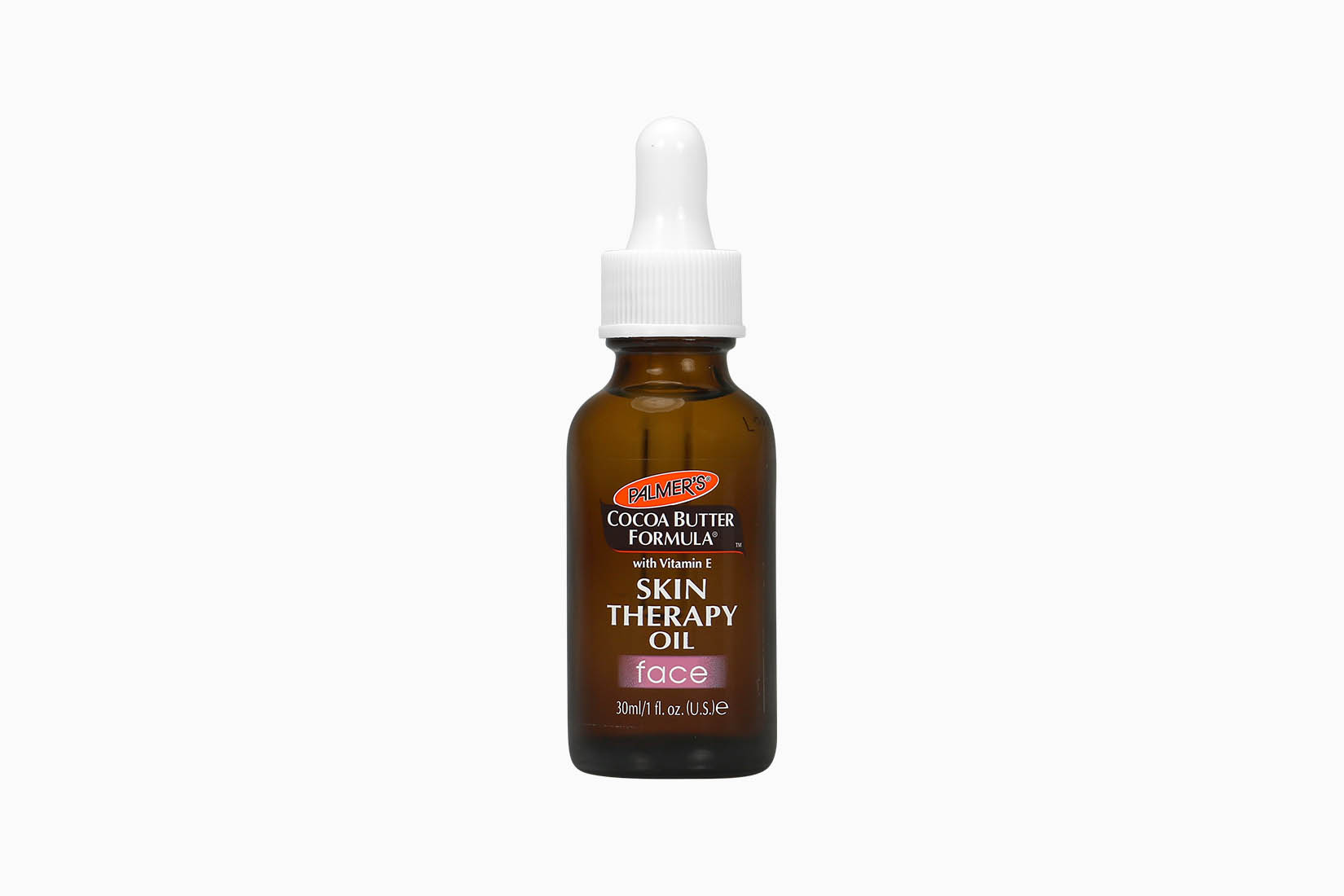 Palmer's Cocoa Butter might remind you of your youth, but it does so in that reminiscent, "remember when…" kind of way, rather than bringing back memories of questionable makeup looks and arguing with your siblings. A household staple that surpasses any number of generations, Palmer's Cocoa Butter was likely one of the products you initially played around with when first getting into the world of skincare.
So it probably won't come as too much of a surprise to hear that the brand's face oil is pretty impressive, too. And, in true Palmer's form, it smells incredible and is widely available in supermarkets, drugstores and online. The Cocoa Butter Formula Moisturizing Skin Therapy Oil is specially formulated as a face oil, bringing that sweet scent back once again with hints of rosehip oil and vitamin C. A dash of Retinol and Cetesomate Complex gives this childhood favourite a grown-up upgrade, that'll brighten skin and dark spots while reducing the appearance of fine lines and wrinkles.
Best for: Making you as baby-faced as those memories suggest.
Bonus: Glossier: Best hybrid face oil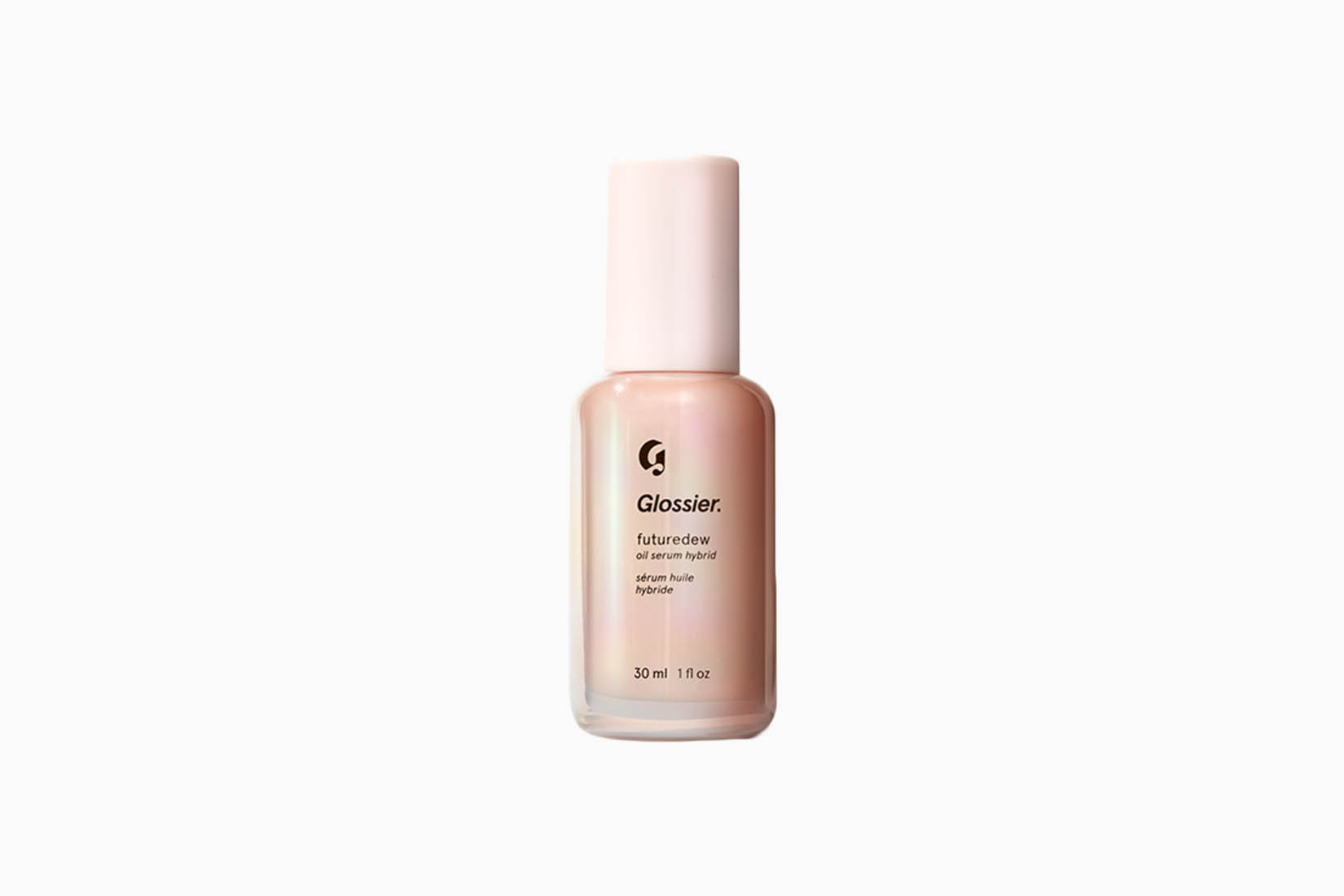 A quick and easy way to add a dash of cool-girl-chic to your bathroom cabinet, Glossier rightfully deserves its spot as a bonus on our roundup. A brand focusing around barely-there looks unsurprisingly perfects the face oil and serum sweet spot, and this bottle with its dewy, lightweight finish and gentle scent is definitely a Glossier star product.
Expect increased radiance, instantly brighter skin and the boost of confidence that comes from owning anything Glossier. Futuredew is suitable for all skin types, but you'll want to hide it away when overeager friends have their hands on your beauty supplies.
Best for: Giving re-found appreciation for the barely-there look.
Beauty guide to face oils
How to use face oils
Face oil should be the last thing you apply and can usually replace your moisturiser. Start with your standard skincare routine and, as the final step, apply a drop or two of oil and gently pat into the skin. Patting is thought to be more effective than rubbing and use sparingly so as not to clog the pores. You'll see stronger results if you use your face oil at night, as SPF can break down the potent oils throughout the day.
The benefits of face oils
This almost effortless last step in your skincare routine can make a huge difference to your face long term. Not only do face oils add an extra layer of protection from the effects of the outside world, they also encourage your skin to flourish at its best level. The best face oils will create a barrier to protect the skin and will help to reduce water loss this way. And, of course, there are the specific benefits that each oil details: brightening, hydrating, anti-ageing, toning, smoothing and more.
Popular types of oil: Which base oils to choose?
You'll feel the effects of a face oil more if you use one best suited to your skin type. Generally speaking, look for oils with luxury oil bases like avocado and almond. Jojoba is also a great and popular choice, as it's the closest replica to the sebum that your skin naturally produces. Those with oily skin should opt for grapeseed or jojoba, while those with dry skin should choose almond or marula. If you suffer from acne-prone skin, look for pomegranate or rosehip.
The difference between oil and serum
Both products are effective at tackling skin issues and, if there's one particular problem you're targeting, using an oil and a serum could be more effective. However, if you're just adding this step into your skincare routine for general improvements, one or the other would likely be enough. The difference between oil and serum is essentially that most oils are created to tackle general skincare woes, while serums are formulated for specific issues. Serums are usually also a little more expensive as a result.
Frequently asked questions about face oils
What is the best oil to use on your face?
Our favourite face oil is RMS Beauty's Beauty Oil. Rich and nourishing, this oil features wildcrafted Brazilian Buriti Oil, firming rosehip and antioxidant-rich jojoba to offer a real treat for your skin. Check out our full guide to discover your new favourite face oil.
What is the best face oil for anti ageing?
The best face oil for anti-ageing is Uma Oils' Absolute Anti-Aging Face Oil. It combines neroli, rose, geranium and lavender with other hand-harvested botanicals to fight off the signs of ageing with a gorgeous scent.
Do facial oils really work?
When used regularly, face oils do really work. They can be a quick and effective addition to your skincare routine. Depending on the oil you choose, a face oil can add hydration, smooth your skin, regulate your complexion, fight the signs of ageing and brighten your skin, too. 
Which oil absorbs best into skin?
Oils with smaller molecule sizes tend to absorb best into skin. As these can sink through the skin barrier easier and faster, they are therefore more effective. However, different oils are best for different types of skin. Read our guide to discover the best face oil for your skin type.