As part of Luxe Digital's series on the The Future of Luxury Online Retail, this article explores the online retail model that third-party monobrand platforms offer. You'll learn what monobrand eCommerce is, why some luxury brands decided to invest in such solutions, and what it means for the future of online luxury retail.
What are third-party monobrand ecommerce platforms?
Ever heard of Yoox Net-A-Porter, Farfetch Black & White, or even Shopify? They are the technology partners of high-end brands such as Armani, Alexander Wang, Moschino, Valentino, Manolo Blahnik, and Thom Browne. Working in the background, third-party monobrand platforms offer a compelling technology solution to luxury brands eager to tap into the online growth of high-end retail.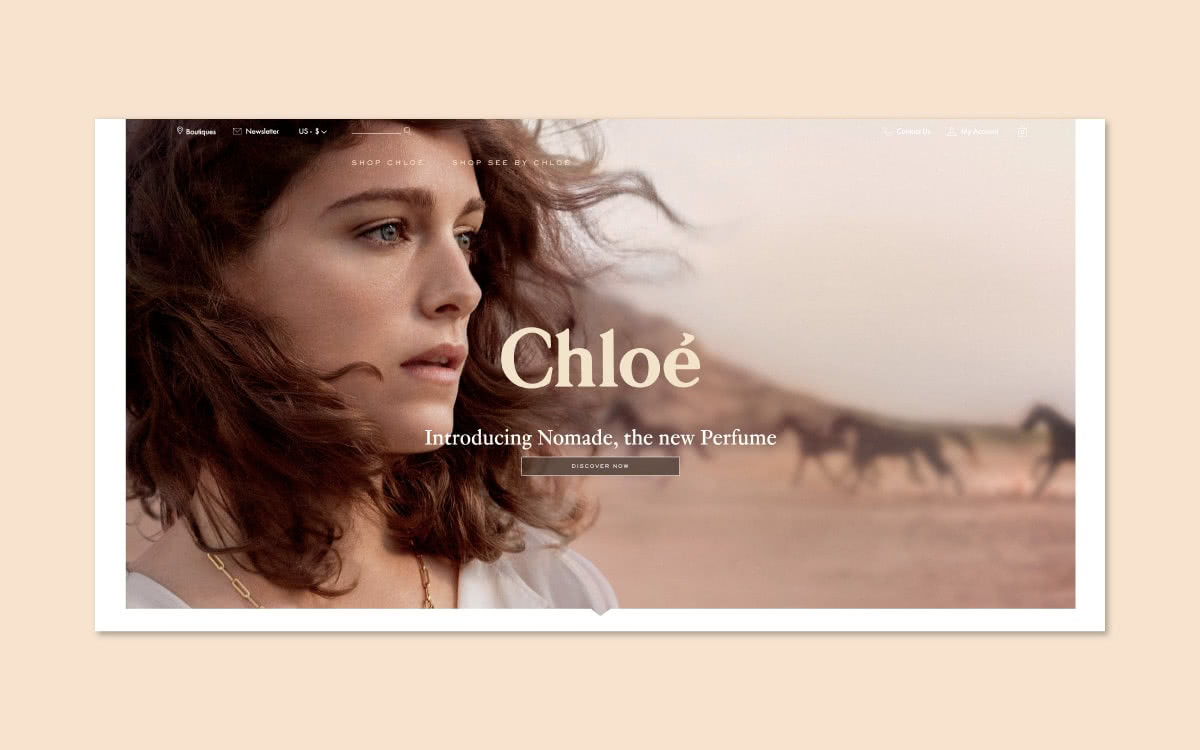 Milan-based Yoox Net-A-Porter operates monobrand store websites for 41 luxury brands, while Farfetch Black & White currently runs digital retail operations for eight clients. This is in addition to the large multibrand websites that both companies are well known for.
Why luxury brands partner with monobrand platforms?
As illustrated in our introduction on the The Future of Luxury Online Retail, digital is driving the growth of luxury sales, and the trend is expected to accelerate in the coming years. McKinsey predicts that online retail will make up 20% of all luxury sales by 2025.
The strong growth of online pure-play luxury retailers has demonstrated that affluent shoppers are willing to purchase luxury goods online. A survey by Bain & Co recently found that younger consumers were far more likely to make their first luxury purchase via an online channel than older generations. Indeed, among those aged 18 to 24, 14% said their first luxury purchase was made online.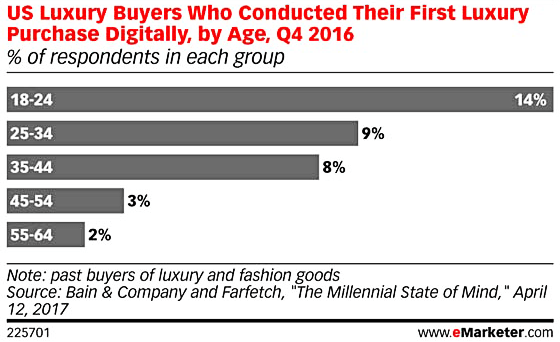 Meanwhile, traditional luxury department stores and offline high-end retailers including Neiman Marcus and Ralph Lauren are in decline. Once the second largest sales channel after luxury brands' boutique stores, the physical multibrands stores are seeing their contribution to total luxury sales decline from 23 percent to 13 percent.[2]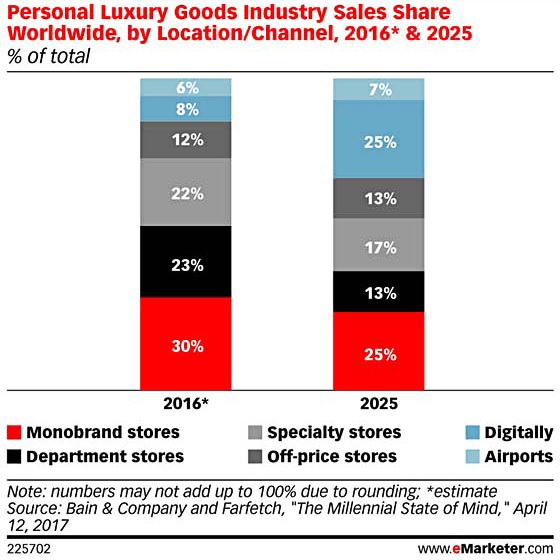 While multibrand luxury retail currently dominates the online sales – Deloitte found that multibrand e-stores for luxury goods account for 78 percent of online purchases – luxury brands tend to favor the level of control that a monobrand solution can provide. Online luxury monobrand websites can indeed guarantee that a brand's look and feel remain consistent with its values and that the premium aspect of each product is maintained. Luxury brands can indeed decide how and where to position their products in a way that multibrand stores never could.
While larger groups, such as LVMH, may have the resources and scale to launch their own in-house online luxury retail websites, boutique high-end brands will often decide to partner with a technology platform to outsource most of the digital legwork. Boutique luxury brands often don't have the technical know-how to compete online. By working with digital-first companies, such as Yoox Net-A-Porter and Farfetch Black & White, luxury boutiques can benefit from a digital expertise at a lower short-term cost.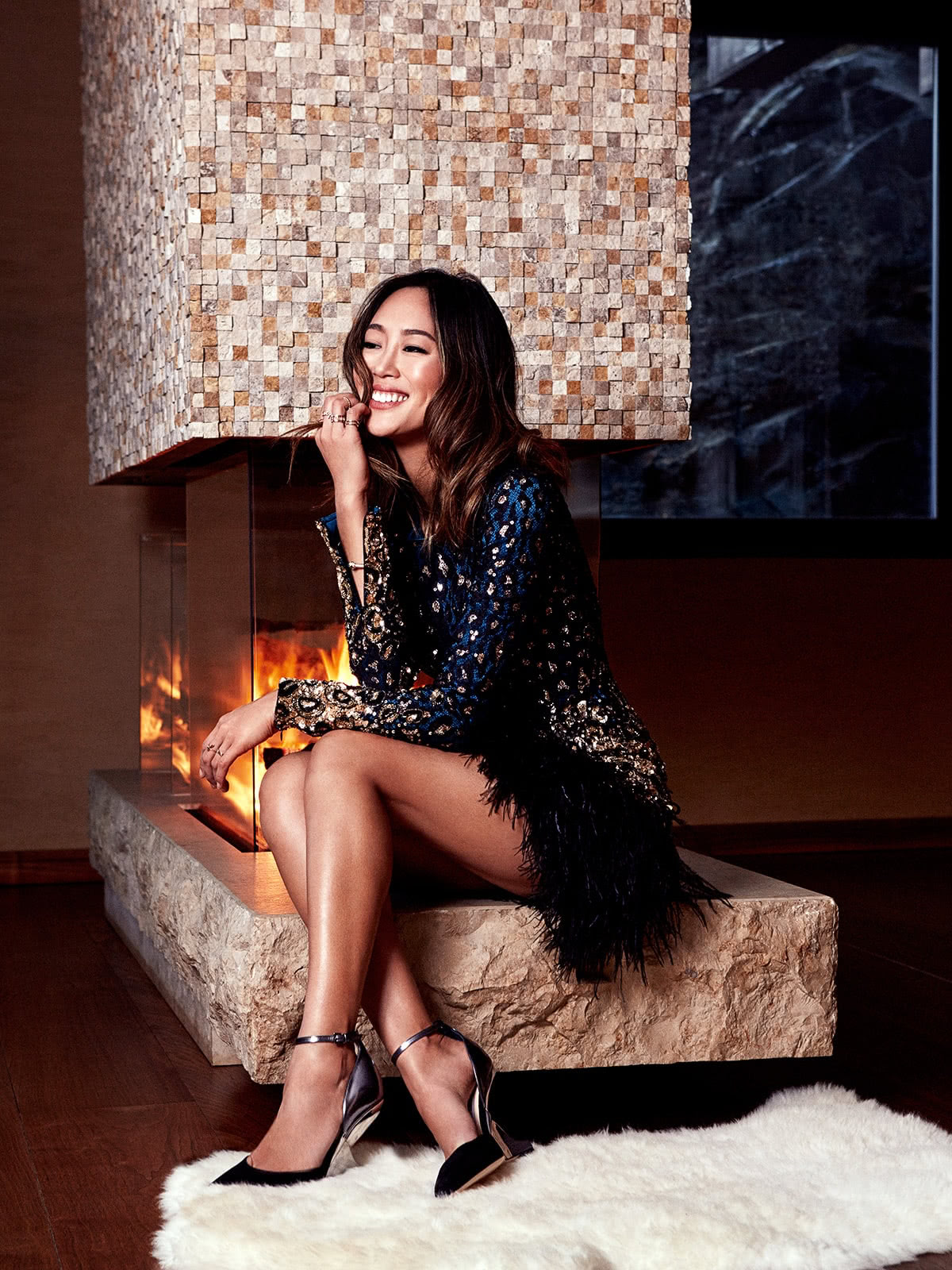 With online monobrand platforms, luxury brands get access to technological advances such as customer support, click and collect, international payments and return in-store options at a fraction of the cost of developing those capabilities in-house.
Case study: the Farfetch Black & White appeal
Farfetch Black & White, part of the Farfetch Group, is an independently run business unit and eCommerce platform that works with luxury fashion brands to create bespoke online retail websites. Farfetch Black & White takes care of all aspects of eCommerce shopping on behalf of their luxury clients. Farfetch describes its high-end shopping platform as an "omnichannel out-of-the-box" solution to power eCommerce sites for luxury brands.
"This is a fully-fledged agency and white-label solution for brands, where we can make use of our platform to build another website and then deploy in a modular way whatever services or infrastructure they want to use," explains José Neves, founder of Farfetch. "Some brands will want to have complete control over design, build and day-to-day operation of their website, while others can ask us to manage everything for them, from customer service to payment to online marketing."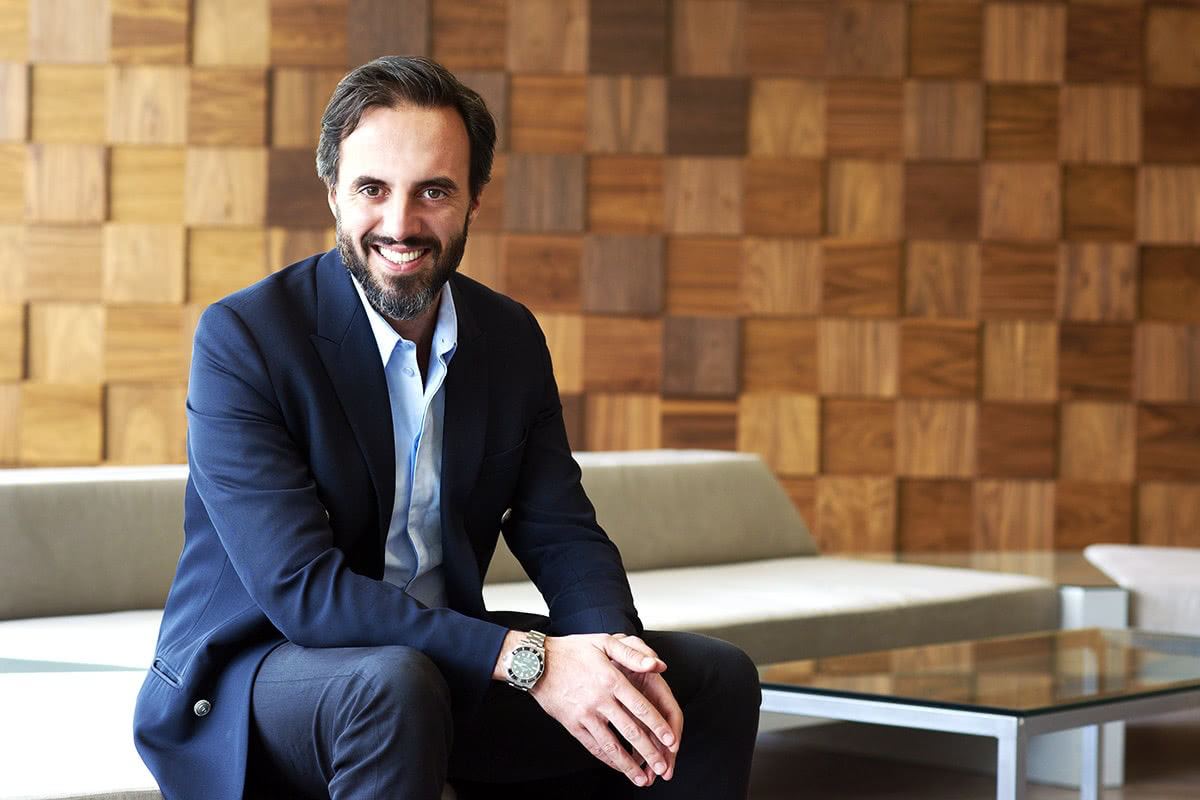 With the Farfetch Black & White platform, luxury brands gain access to the necessary tools and features to sell online. This includes international payments, customer service, and international delivery with click-and-collect and in-store returns. Launched in September 2015, Farfetch Black & White now has eight clients including Manolo Blahnik, Christopher Kane, and Thom Browne.
For boutique luxury brands, the online monobrand retail offers several advantages. Luxury brands can leverage the Farfetch Black & White platform to connect their offline retail store inventory directly to their websites and deliver services like click-and-collect and in-store returns. "By using our API, the brands, even on their own websites, can offer inventory from their physical stores," Neves continues. "Customers can also collect from physical stores or opt for same-day delivery, which will launch very soon in multiple cities. If you have an amazing flagship store in Los Angeles, why do some customers have to wait one week for something to be delivered from a warehouse in Europe? It doesn't make any sense."
Using Farfetch Black & White, high-end brands can also rapidly deploy localised versions of their eCommerce across 9 languages and provide international delivery to strategic markets, such as China, Japan, Brazil and Russia. "If a brand wants to sell on WeChat in China, they just need to use our API code and integrate their operations," explained Neves.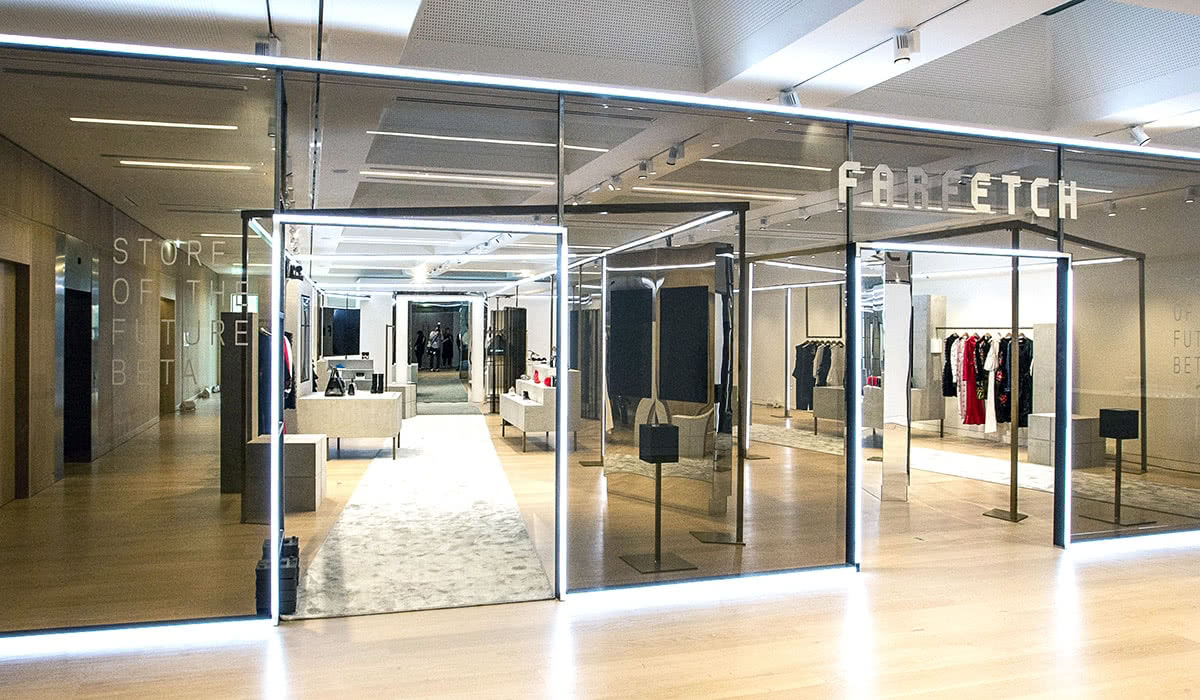 Furthermore, Farfetch announced in August 2017 a strategic partnership with Certona, the global leader in real-time omnichannel personalization for luxury retailers. With this partnership, Certona provides its patented artificial intelligence (AI) software and personalization capabilities to all Farfetch Black & White's clients. This will enable fashion brands to make sophisticated product suggestions in real-time, across all customer touchpoints, ultimately driving higher engagement, conversion rates and customer lifetime value.
"Humanising retail is at the heart of our strategy. We focus on delivering best in class experiences, with a customer-centric approach, putting the needs of the customer first," says Kelly Kowal, Managing Director of Farfetch Black & White. "Certona's advanced AI solutions has been a key technology differentiator for Farfetch, boosting both engagement and revenue. We're confident that our Black & White brands will see equally impressive results from embracing digital as a seamless part of their customer experience."
---
Luxury Goods Worldwide Market Study. Millennial state of mind: the tailwind behind consumer behaviors and winning strategies, Claudia d'Arpizio and Federica Levato, Bain & Company, October 2017.
For Luxury Industry, Ecommerce Is No Longer a Luxury, By 2025, online will represent 25% of luxury goods sales, study projects. By Andria Cheng, April 2017.
Cover photo by Candice Lake.