The Opportunity
The high-end hospitality industry continues to grow exponentially, with an estimated US$528B of direct spending on worldwide hotel reservations in 2017, and is projected to grow by over 50% by 2026.
Digital brings scalable means at very low cost to all players, accelerating the industry shifts between OTAs and hotel groups, but also between the winners and the losers of the digital transformation.
The Problem
The ability to adapt and evolve digital strategy has become essential in increasing online profits, especially as OTAs are now the fastest growing yet least profitable revenue stream for luxury hotels. Meanwhile, affluent travellers have been empowered with choice. Expectations are changing when it comes to showcasing authenticity, digital user experience and the seamless integration of mobile into every step of the traveller's journey.
The Solution
In order to remain competitive, luxury hoteliers must be flexible and forward thinking in their digital approach. Hotel groups need to take back control of their clients acquisition flow by forming new partnership and alliances to benefit from large customer data, articulating an authentic brand through content marketing, leveraging user generated content, and creatively optimising their online reservation process, particularly for mobile devices.
More than 1.18 billion people traveled internationally last year, and Asia-Pacific cities collectively claimed almost 25% of those arrivals. This year, growth rates are expected to be 5% to 6%[1] and the total spending on travel and tourism should grow by over 50% over the period from 2015 to 2026, according to the World Travel & Tourism Council.[2] The upward volume in travel comes with an intensification of digitally-powered customer engagement and decision making. Digital has become a borderless fact of life for luxury hotels in Asia and around the world, but most are still struggling with turning their customer's online habits into a profit.
With this article, we'll dive into the rising importance of direct online bookings for luxury hotels. We'll see in particular how best to create differentiated digital experiences and remain relevant in an ever-increasingly competitive industry.
The Importance of Luxury Hotels Brand Sites and Direct Online Bookings
It has become clear within the last few years that the relationship between hotels and online travel agencies (OTAs) may not be mutually beneficial. While the contribution of OTAs to hotel sales have continued to increase, making up 12% of all reservations last year, the OTAs commissions have substantially increased in parallel, from 4% in 2010 to 15% on average in 2018, going up to 30% in some instances.[3]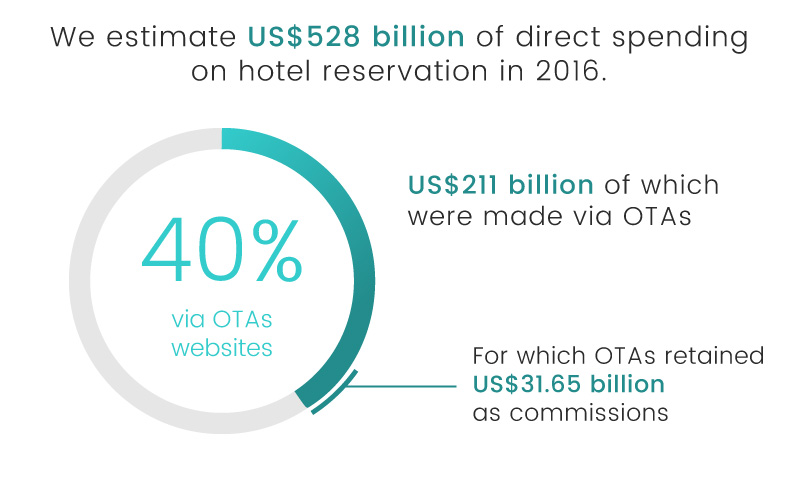 OTAs are effectively the most costly booking channel for luxury hotels. But OTAs also offer high-end hotels a significant exposure to their affluent audience. From a hotel customer behavior point of view, the OTA model seems to be preferred, especially for millennials who are used to aggregate sites.[4]
Recently, however, there has been noticeable push back from luxury hotels as significant efforts have been made to drive direct bookings on their own hotel brand sites. Most notoriously, Hilton launched a campaign aptly called "Stop Clicking Around," alluding to the well-known statistic that global travelers browse an average of 38 websites before actually booking.[5]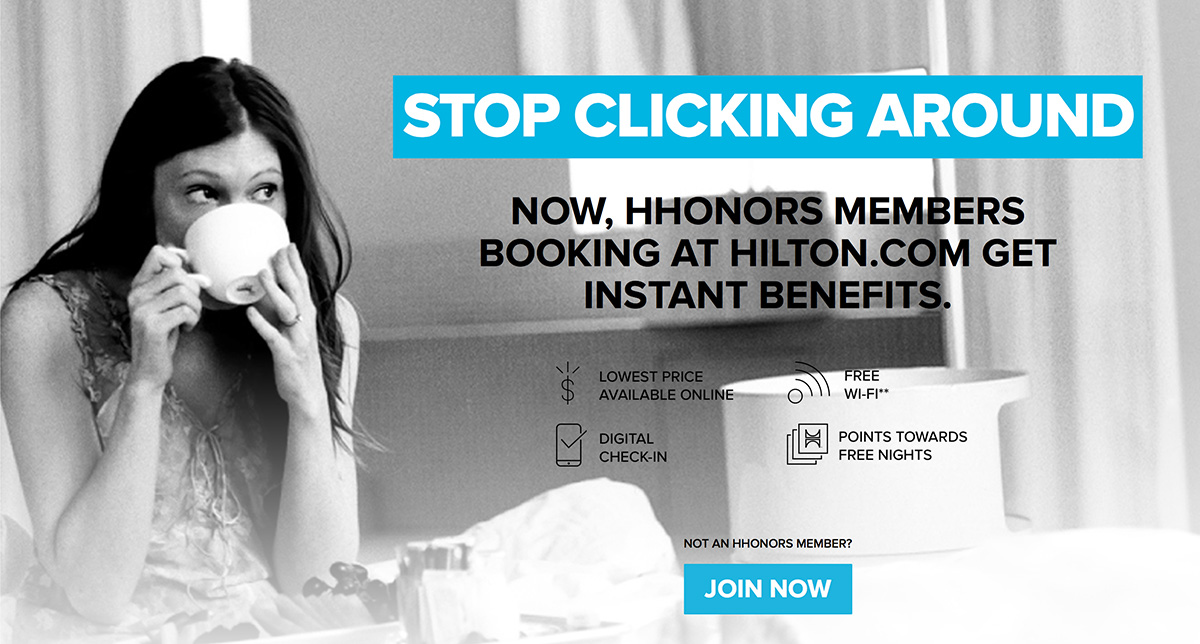 The battle between OTAs and hotels is expected to come to a head in the next few years. In the meantime, as many digital marketers scramble to increase direct online bookings, and thus profitability, the question of how luxury hotels can differentiate themselves and remain competitive is more important than ever.
Luxury Hotels Are Creating Opportunities Through Global Networks and Strategic Partnerships
Increased competition has spurred the formation of new alliances. Last year saw a few bold moves from the biggest players in the hotel industry. Marriott announced it would acquire Starwood Hotels and Resorts Worldwide for $14.4 billion, while AccorHotels purchased Fairmont Raffles Hotels for approximately $2.9 billion.[6]
Newly formed networks signify the start of global partnerships that come hand-in-hand with opportunities to revamp outdated digital capabilities, consolidate reservation systems, expand global customer databases for CRM, as well as enrich hotels' loyalty programs.
The ability to engage, acquire and retain hotel guests by utilising data on customer's unique preferences may be one of the most significant advantages that hotels have over OTAs. Aggregate insights combined with real-time travel trends will help luxury hotels better define customer segments, create targeted digital campaigns, and propose differentiated offerings that meet, perhaps even exceed, guest expectations for personalisation at every touchpoint.[7]
Boutique hotels can also benefit from this same approach in thinking. Symbiotic partnerships with luxury hotel groups, but also high-end businesses (retailers, restaurants, transportation services) along every touchpoint of the guest's journey will be essential in gaining access to valuable customer data that, in turn, will shape communications, offerings and services.
Opportune alliances that enable consolidation, aggregation and management of valuable customer data will be a powerful tool in the battle with OTAs.
Establishing Authenticity for Luxury Hotels Through Digital Storytelling
The need to stand out and connect with travellers through authentic and digital storytelling has never been direr for high-end hotels. Now more than ever, besides factual data and price points, travellers are looking for inspiration when booking luxury holidays online. In fact, 65% of leisure and 69% of business travellers from the U.S. search online before they decide both where and how they want to travel.[8]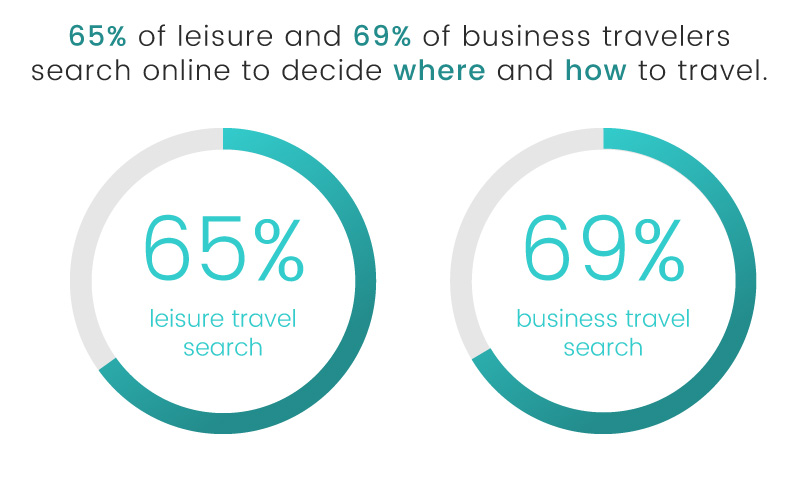 Not surprisingly, affluent travellers today are expecting value-rich content that speaks to a hotel's backstory, everything from its design to the people, the local community to the uniqueness of the experience. The notion of luxury is no longer as simple as hitting a thread count number. Ironically, it's come down to the showcasing of personalisation — purpose, craftsmanship, community, even artistry — through a mass medium.
The high-end hotel brand website is oftentimes a customer's first impression of a hotel and it is an essential platform in which to appeal, engage and communicate a unique experience. Only then can a brand hope for conversions.
As savvy as today's affluent travellers are, any sign of generic, gimmicky or bland content on a hotel's website is likely to pull the property out of the running. Additionally, as travel and hospitality providers become more digitally sophisticated, the competition is shifting to highlight bespoke experiences upon arrival. Content that offers a digital sneak-peak into potential activities is fast becoming a go-to differentiator for luxury hotels.[6]
An example of a luxury hotel engaging in authentic digital storytelling is Marriott. The brand published a "city guides" series featuring local destinations alongside its own properties. A collaborative effort with photographers and travel writers, Marriott was able to position its properties at the centre of culture, community and a host of exciting experiences. The brand also cements its authenticity by encouraging user-generated content (UGC) from social media followers, showcasing the best of the best on a microsite called "Travel Brilliantly".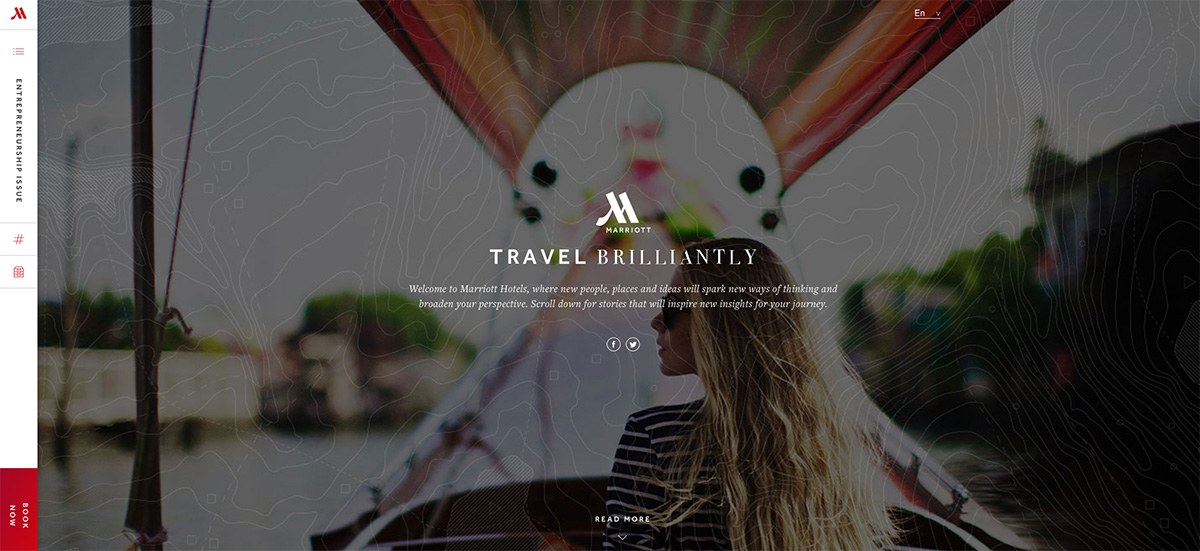 Pitfalls to watch out for:
As important as it is to bring the brand to life, it is even more important to be truthful to the experience. The bigger the gap between expectation and reality, the more disappointment a customer experiences.[13] Particularly for high-end and boutique hotels. Keep in mind that the more platforms there are that encourage travellers to share the good, the bad and the unheard of, the more pressure there is for luxury hotels to walk the walk.
High-End Hotels User Generated Content For The Win
As we briefly illustrated with Marriott, user-generated content (UGC) is poised to become a cornerstone in a luxury hotel's content arsenal. Content created outside the hotel brand by OTA reviews, digital influencers and guests are increasingly swaying travellers' opinions and decision making. With UGC, there is an opportunity to leverage the momentum of an existing customer trend, while showcasing authenticity directly from the perspective of hotel guests.
Social media has become instrumental for luxury hotels not just as a way to connect and nurture relationships with customers but also as a way to get deep insights – through systematic listening – into what customers are into, what cultural experience they expect and the stories they may want to hear when traveling.
David Dubois, Associate Professor at INSEAD in Paris
Perhaps most importantly, the integration of UGC (photos, videos, reviews) on the hotel's brand site, as well as within social media channels is effective in driving both brand engagement and online bookings. To explain, statistics show that overall brand engagement increases by 28% when customers are exposed to a mix of both brand content and UGC.[9] Specifically, in the world of social media, luxury hotel brands that feature UGC in their Instagram posts see six times more interactions per post.[10]
When it comes to high-end hotel brand sites, studies show that when potential guests interact with UGC, the conversion rate increases by 9.6%.[10] The strategic usage of UGC is undoubtedly beneficial. Not only does it increase engagement and conversions by telling the story through the guests themselves, but it also helps keep customer acquisition costs low. Embracing UGC also has the added benefit of providing luxury hotels with valuable data and insights into their customers. "Social media has become instrumental for luxury hotels" explains David Dubois, Associate Professor at INSEAD in Paris, "not just as a way to connect and nurture relationships with customers but also as a way to get deep insights – through systematic listening – into what customers are into, what cultural experience they expect and the stories they may want to hear when traveling."
However, despite obvious benefits, hotels have been slower than anticipated in integrating UGC within their online channels. According to L2, a New York-based consultancy, an overwhelming 60% of luxury hotel brands do not use UGC on branded pages or sites, and 86% of high-end hotels do not have UGC on their site landing pages.[6] As the global hotel industry works to improve engagement and conversions on their own channels, UGC will become even more important as an authentic source of information, affirmation and inspiration for travelers.
In order to keep up with the pace of digital transformation in this disruption-prone industry, luxury hotel marketers need to pick up the pace or risk being left behind.
Rethinking The High-End Hotels Reservation Process
On one hand, there's compelling content, and on the other hand, there's convenience and usability. An intuitive user experience is, and will remain, essential to generating direct bookings for luxury hotels. Although a prominent and omnipresent Book Now button has become widely adopted, ease of booking still remains inconsistent amongst hotels websites.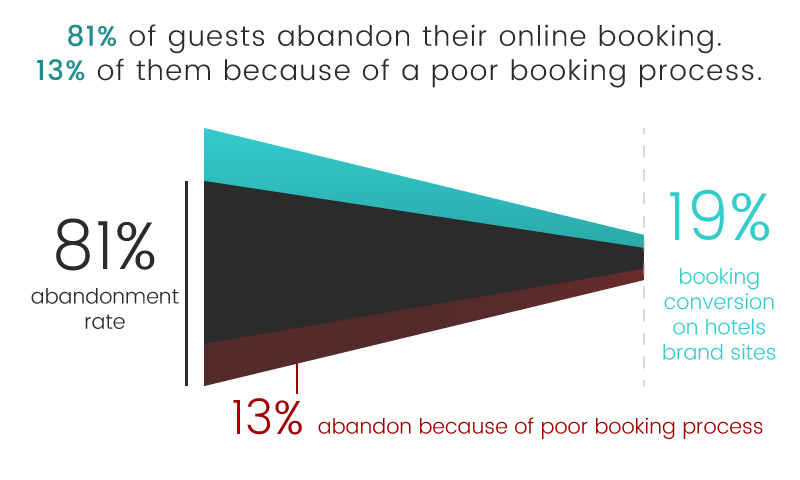 This has noticeable implications. A staggering 81% of potential guests booking travel online abandon their reservation. And 13% of these potential guests point to the hotel booking process as their main pain point.[6] That comes as no surprise when affluent travelers hold hotels to the 2-clicks-to-purchase transaction standards they're used to when dealing with beauty or luxury fashion e-commerce sites, for instance.
However, as of today, there is still a significant portion of luxury hotel sites that require 4 or more clicks and multiple page loads before a successful booking. Expectedly, extraneous clicks and pop-ups detract from the user experience, and only increases the likelihood of user abandonment. More so than ever, streamlining and innovating at every step of the conversion funnel is key for luxury hotels to remain competitive
Relais & Châteaux Boutique hotels and gourmet restaurants have demonstrated innovation throughout their conversion funnel. The property incorporates functionality that users have become accustomed to in their booking process. An example of this is the concept of the "basket". To explain, Relais & Châteaux attempt to prevent booking abandonment by letting guests add rooms to their "basket", favourite and share properties (similar to Airbnb) and access the last set of properties viewed. All of these features are not only aligned with digital behavioural trends but also reduce the amount of time a potential customer has to spend restarting their search on the brand site.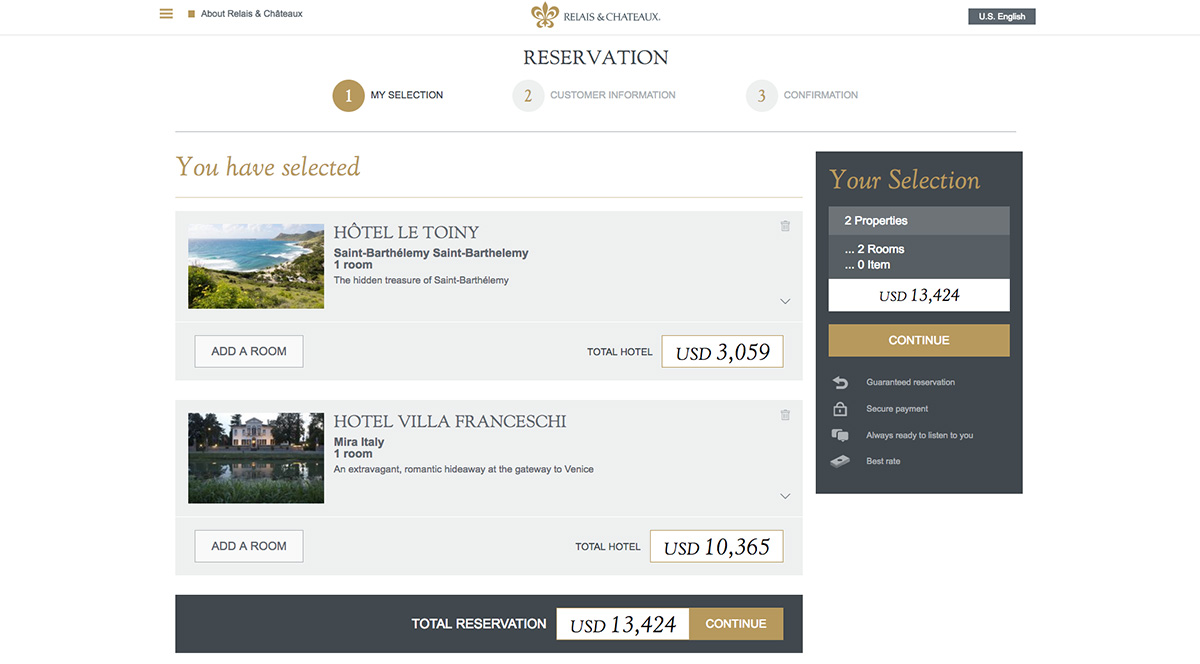 Additional food for thought:
To generate more direct sales, luxury hotels certainly need to rethink the booking conversion funnel, but they can also innovate around creating another stream of e-commerce revenue altogether. For instance, a regional trend in Asia Pacific has emerged around high-end hotels and homeware. Coupled with the rising expression of "luxury" through thoughtful design and local craftsmanship (think hand-dyed indigo robes), luxury and boutique hotels are becoming shoppable. The Banyan Tree, for instance, sells its toiletries and accessories. Micro-Luxe in Melbourne blurs the lines between the virtual and physical hotel experience further by allowing guests to purchase everything in the room — from the bed linen to the furniture and artwork.
It's time to get creative. The blurring between retail and hospitality, physical and virtual all allow diversified streams of revenue and new opportunities to drive conversion.
The Unstoppable Power of Mobile for Affluent Travelers
A stellar mobile-optimised website has become an inescapable mandate for luxury hotels. According to eMarketer, travel bookings made on mobile grew 26.7% year-over-year from 2016 to 2017, across all markets. Furthermore, eMarketer estimates that transactions booked via mobile will grow to almost 70% of total digital travel sales by 2019.Figure 1 With this in mind, mobile experiences offered by luxury hotels are not exempt from usability standards that are commonplace in other e-commerce driven industries. The ever-picky user has little to no patience for anything else: Out of 83% of leisure travellers that encountered a travel site that was not mobile optimised, more than 60% left the site immediately.[8]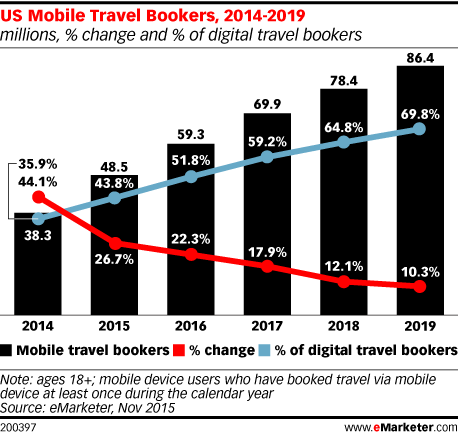 Another important factor to consider when evaluating the prominence of mobile usage is device switching behaviour, as discussed by author Florine Eppe Beauloye in her book "Shine – Digital Craftsmanship for Modern Luxury Brands. Research has revealed that 46% of travelers who perform search via a mobile device move to a different device to book, thus making the full impact of mobile on decision making difficult to capture.[11]
Device switching behaviour constrains the share of mobile sales captured by the industry and minimises the true impact on the customer booking experience. Perhaps the statistical underestimation of this powerful platform is reflected in the fact that although over 90% of high-end hotel brands offer a mobile optimised website, there is a considerable drop off in functionality when compared to the desktop version of the hotel site. However, we predict the mobile experience for hotel brand sites in 2018 will catch up to, and perhaps even surpass, that of the desktop experience.
Digitally sophisticated high-end hotels are already beginning to utilise the possibilities of mobile. A prime example is Virgin's hotel app "Lucy." The app truly lives up to its branding "Makes Things Happen," enabling guests to perform a myriad of tasks including order room service, book spa appointments, control room temperature and even text with hotel staff and guests.[12] In many ways, the integration and innovation of mobile is the next wave of transformation that holds serious implications should hotel brands fall behind this unstoppable force.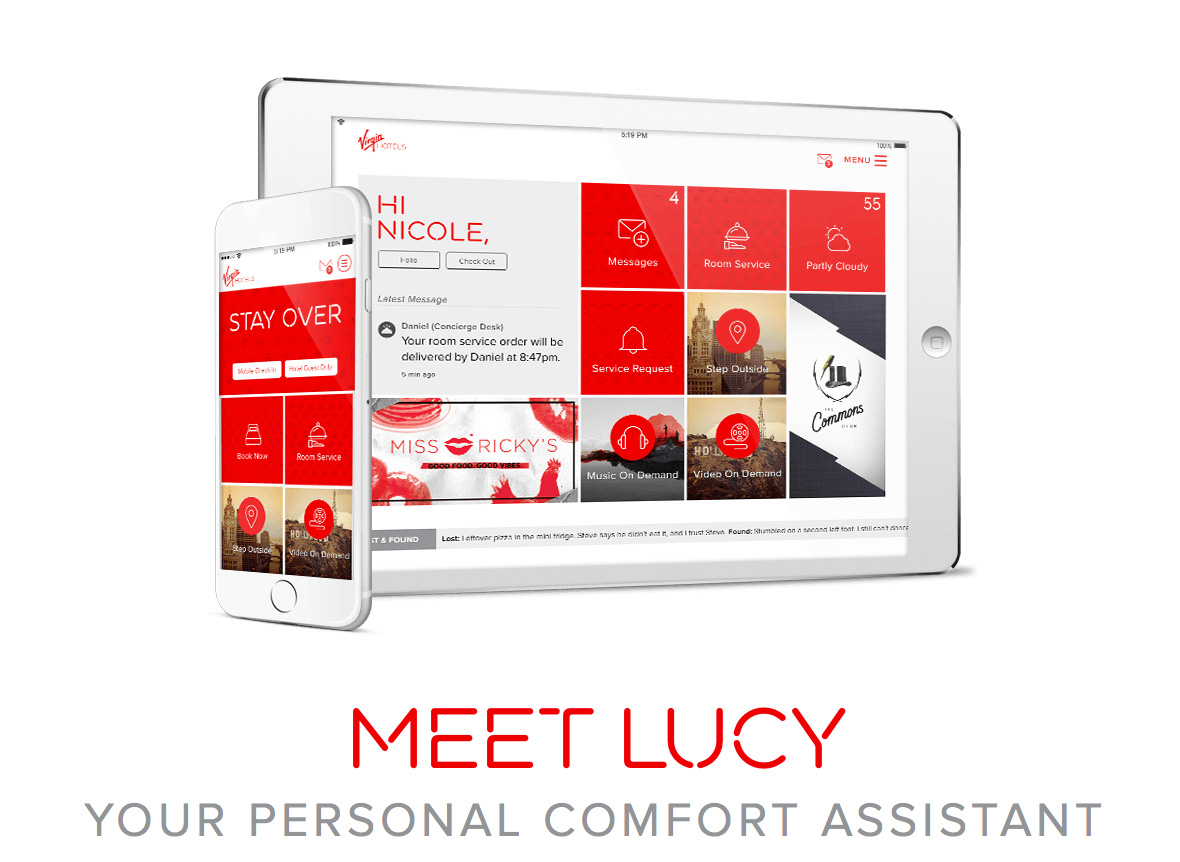 Digital Has Become A Fact Of Life In Luxury Hospitality
The high-end hospitality industry has been fraught with transformations in the past few years, demanding that luxury hotels adapt and evolve their digital strategy and implementation at every customer touch point. The emergence of review websites, the continued tug of war with OTAs and fierce competitors, has only empowered the affluent traveller with more choices. In order to remain competitive, luxury hoteliers must be flexible and forward thinking in their approach to content, user experience, and multi-channel presence.
---
MasterCard Asia Pacific Destinations Index 2016. MasterCard, 2016. PDF.
World Travel & Tourism Council. N.p., n.d. Web.
Marvel, Macy. The Hotel Distribution Report. Hotel Analyst, Oct. 2016. PDF.
Hotels vs OTAs. Morgan Stanley, 23 June 2016.
Smart Hotelier's Guide To 2017 Digital Marketing Budget Planning. HeBS Digital, 2017. PDF.
Digital IQ Index: Luxury Hotels 2016. L2, 2016. PDF.
5 Big Ideas To Master Digital In Hospitality. Accenture, 2015. PDF.
The 2014 Traveler's Guide Road To Decision. Think With Google, 2014. PDF.
Why Successful Hotels Prioritize Visual UGC Marketing. Digital Doughtnut, 25 May 2017.
Luxury Hotels Are Missing an Opportunity With User-Generated Content. Skift, 13 Sept. 2016.
Shine – Digital Craftsmanship for Modern Luxury Brands. Florine Eppe Beauloye, 2017.
2017 Travel and Hospitality Industry Outlook. Deloitte, 2016. PDF.
The Study Of Factors Affecting Customer's Satisfaction. ResearchGate, 2016. PDF.