Yes, we are all for a splurge in the world of exceptional craftsmanship and luxurious materials. But, let's face it, whatever our shopping budget may be, who would be opposed to spending less?
Private sale websites offer limited access to exclusive deals and discounts on premium and luxury brands. From designer fashion to beauty, there is a luxury private sale website that can cater to people looking for genuine luxury products without the premium price tag. If you know where to look.
And that's not all, with a luxury private sale website, you also get to skip the queue and avoid the risk of a tug of war to snatch the luxury piece of your dream. In short, there are outlet stores, only online and more convenient.
To help find you great deals on luxury goods, we rounded up the best sites to shop for less on designer clothes and luxury accessories.
Fair warning: you are about to enter an impulse buyers zone. Time is running out. Going, going, gone.
The 13 best luxury private sales websites
Wondering what a luxury private sales website is or how to get an invitation to a private sales websites? Check our detailed explanation after the top 13 list.
1. Rue La La
With a focus on young, affluent brand-conscious consumers, Rue La La offers both high- and low-end products. The site caters to women, men, and children, but also offers home decor, travel experiences and more at up to 70% off retail prices through their "Boutique" sales — flash sales (with a countdown clock) for specific designers.
New sales launch daily. You have to sign up via email to receive alerts on their flash sales. Membership is always free.
Founded by Ben Fischman in 2008, Boston-based luxury sale site Rue La La was acquired by e-commerce tech company Kynetic in 2011.
Why you'll love it: The "Coming Soon" page gives you sneak peeks into upcoming deals.
Website: www.ruelala.com
2. Nordstrom Rack
Built on a shared platform with HauteLook, Nordstrom Rack is basically Nordstrom's online outlet store. Nordstrom Rack offers reduced prices on both everyday brands and high-end designer clothing, shoes, handbags, home decor, and more.
Why you'll love it: Nordstrom Rack offers a wide selection of brands for men, women, and children. The website also shows how much you're saving when compared to the original retail value of the given item. Their Fit Predictor helps you calculate your size for the selected item.
Website: www.nordstromrack.com
3. Gilt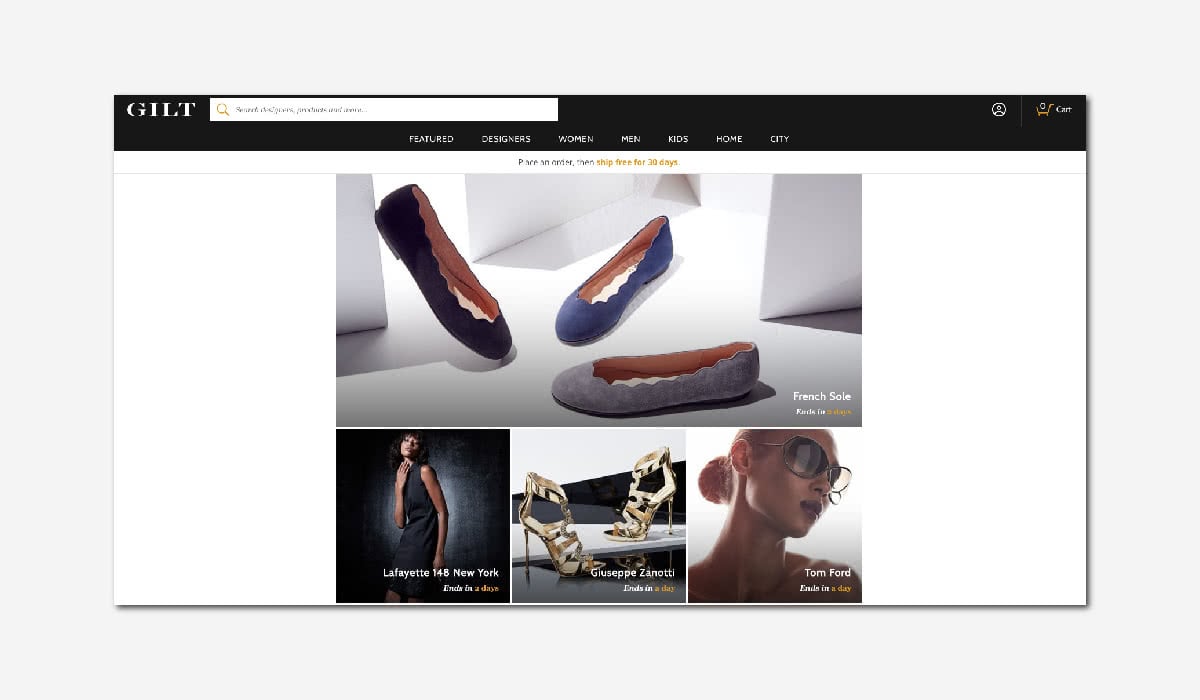 Founded in New York, in 2007, Gilt is an online retailer that sells luxury items and designer apparel at steeply discounted prices.
Considered to be the American grande dame of flash sales online, Gilt offers an amazing selection of "members only" rotating sales at up to 70% off, from luxury apparel and accessories for women, men, and kids, to home goods (Living), luxury lifestyle and travel experiences (City).
Today, Gilt has evolved into an e-commerce destination that does more than just flash sales; it also offers full-price merchandise and (non-flash) discounted items, in addition to daily deals.
Stock typically flies off the shelf quickly, so if you want it, buy it now.
Gilt was acquired earlier this year by fashion flash sale site Rue La La (more on them below) to create a larger flash sales entity — reaching 20 million registered customers combined — called Rue Gilt Groupe. But Rue La La and Gilt still operate their websites independently, with Gilt reaching more affluent, urban consumers.
Why you'll love Gilt: The sale boutiques are updated every day with new brand additions. Plus, Gilt's sleek black and gold website is user-friendly and reminiscent of a New York VIP Club.
Website: www.gilt.com
4. HauteLook
HauteLook is a flash sale site offering its members well know brands at discounted prices up to 75% off original prices. Membership is free and everyone is welcome.
HauteLook is specialised in fashion for the whole family as well as beauty and home decor and launches limited time sale daily. Once you add an item to your cart, you get to entertain indecision for maximum 15 minutes, after which the item expires. HauteLook launched in 2007 in Los Angeles and was acquired by Nordstrom in 2011.
Why you'll love it: HauteLook features a Live chat for instant customer support and a Fit Predictor to help you calculate your size for the selected item.
Website: www.hautelook.com
5. What Goes Around Comes Around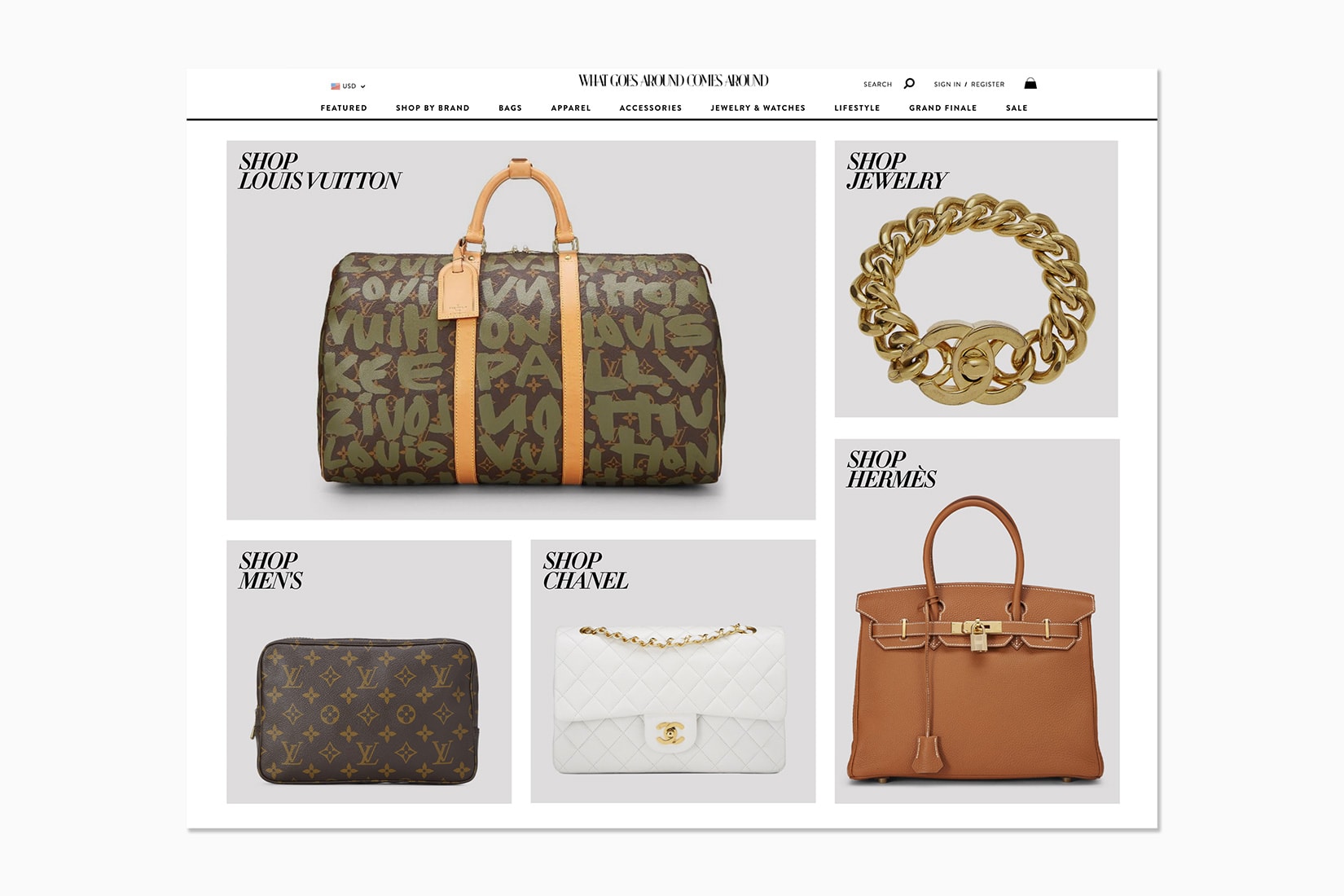 What Goes Around Comes Around has been around (pardon the pun) since 1993. It started off as a store in New York City's Soho neighborhood with a simple mission: elevate traditional vintage shopping into a high fashion experience. The brand rapidly expanded with additional flagship stores in Beverly Hills and online. What Goes Around Comes Around is now an international destination for tastemakers, industry insiders and celebrities alike.
You can buy luxury fashion clothes and accessories from brands such as Gucci, Dior, Balmain, Chloe, Dries Van Noten, and many more at incredibly competitive prices.
The secret? The team behind What Goes Around Comes Around continuously search for highly sought-after fashion items ready to be sold at a discount. They then pass on the savings directly to you!
No wonder the site is a celebrities favourite with Kim Kardashian and Danielle Bernstein among their regular customers.
New discounted designer pieces drop weekly on the site with a huge range of variety to appeal to every style. We'll be visiting this site on repeat —There are always hidden gems and surprise treasures in their collection. But don't take too long to "add to cart", their pieces never stick around long!
Why you'll love it: genuine designer clothes at a discounted price.
Website: www.whatgoesaroundnyc.com
6. Saks off 5th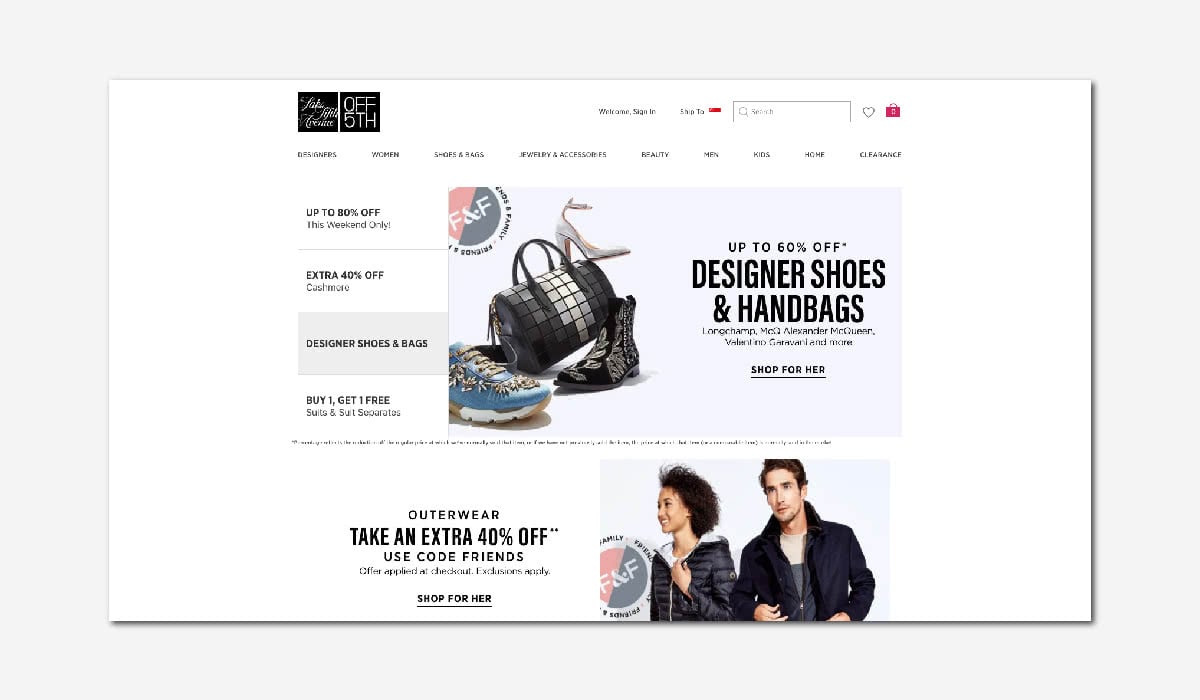 Saksoff5th.com is essentially the online outlet store for luxury department store Saks 5th ave. Saks off 5th has a nice range of both affordable everyday pieces and high-end designer pieces for men, women, and children. Saks off 5th also sells beauty and home goods. Saks off 5th features flash sales, designer spotlights, and trend selections.
Why you'll love it: Despite being an outlet store, the site has super trendy pieces on sale. They even have a "New & Trending" category so you can search for up-to-date designer pieces.
Website: www.saksoff5th.com
7. Barneys Warehouse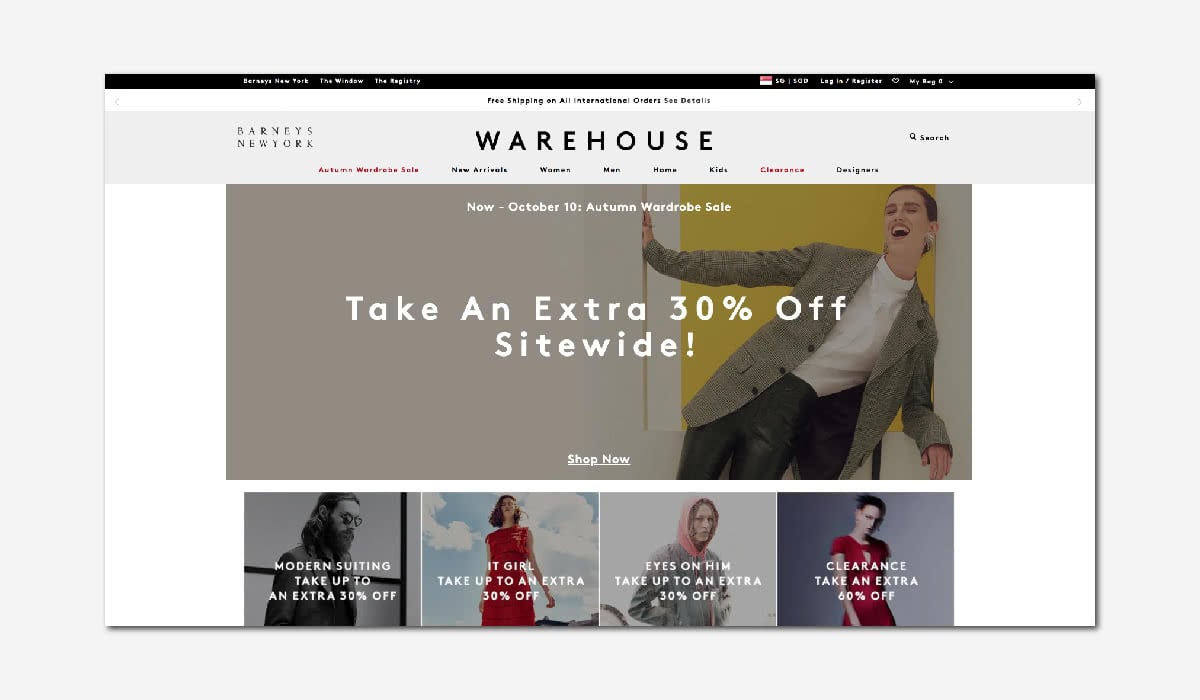 Initially a semi-annual sale event in a brick-and-mortar store in New York, Barney Warehouse has taken its concept online, offering exclusive discounts on the same luxury brands you would find at Barney's.
Why you'll love it: Great selection of brands. With offerings for women, men, children, and home, you really can find a designer deal for anyone.
Website: www.barneyswarehouse.com
8. 6pm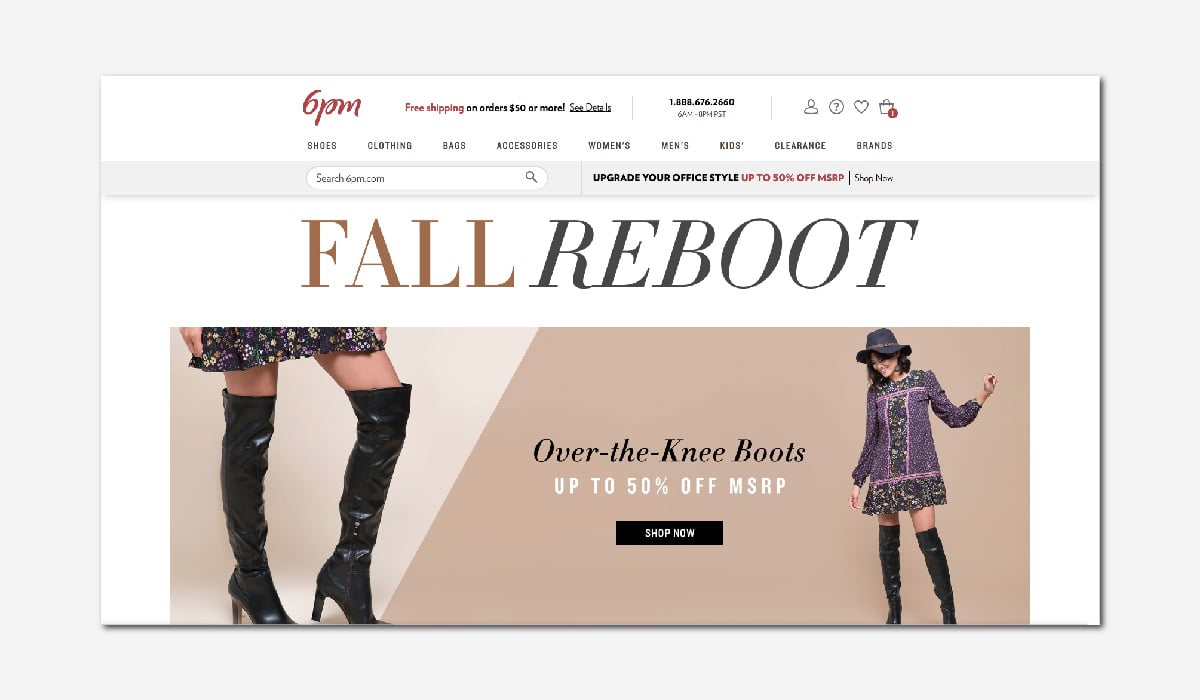 6pm is the discount retail division of Zappos IP, Inc. Launched in 2007, 6pm sells all sorts of clothes, shoes, bags, accessories and more for the whole family at deep discounted prices, including an entire section dedicated to luxury brands.
6pm carries a wide range of styles and authentic fashion brands, however, items come in limited sizing (but you can easily sort products by size to find the right fit).
Why you'll love it: It's easy to find exactly what you're looking for. You can sort through the selection by price, occasion and brand. 6pm offers a huge variety of fashion items.
Website: www.6pm.com
9. Neiman Marcus Last Call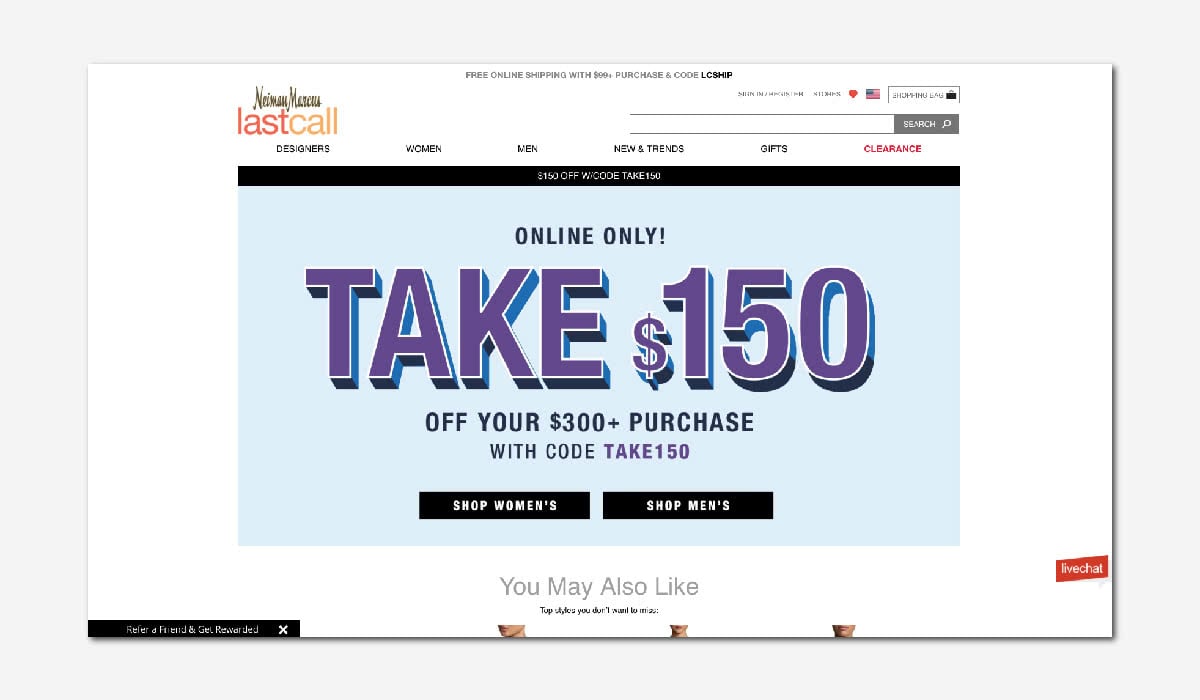 Last Call is Neiman Marcus' outlet counterpart that offers discounts on designer goods from Neiman Marcus, Bergdorf Goodman, and Cusp.com.
Why you'll love it: The site offers many different ways to shop – such as by price, by percentage off, or by designer. They also have a "Direct from Neiman Marcus" section, which includes the exact items you would find on a clearance rack at Neiman's.
Website: www.lastcall.com
10. Bluefly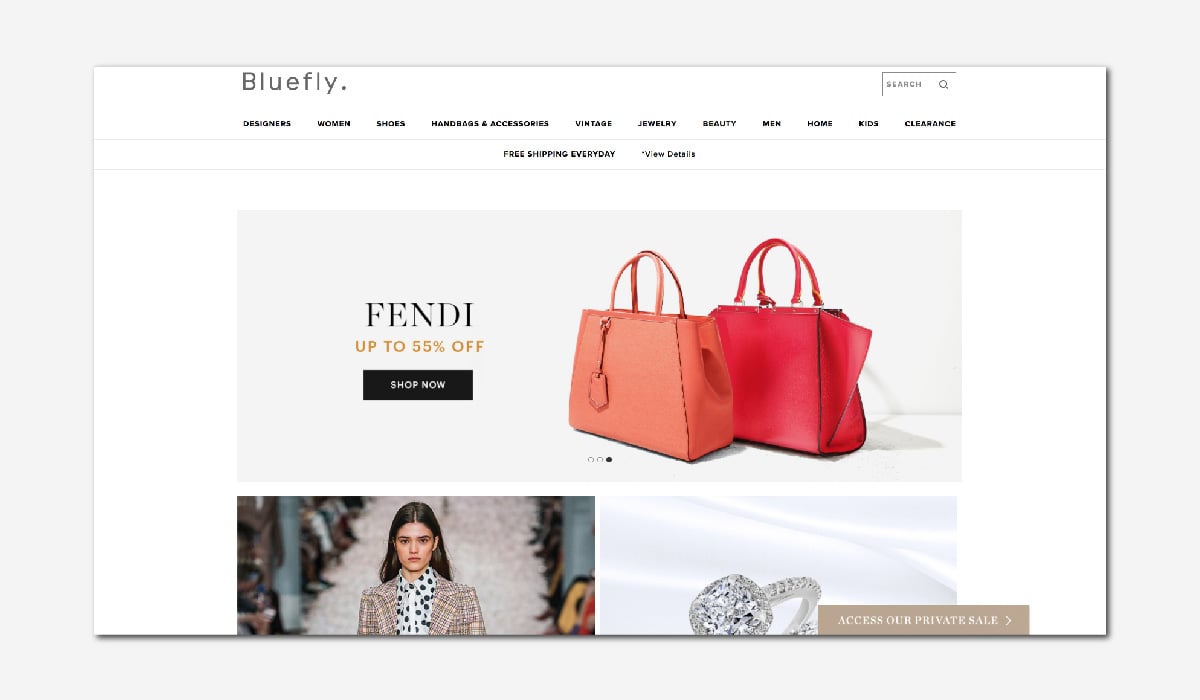 Founded in 1998, Bluefly is a fashion online destination selling designer shoes, handbags, clothing, accessories and home decor. Bluefly's email-only exclusives include brands such as Gucci, Prada, Fendi, Christian Louboutin, Celine among many more. Shop by designer in their "Boutiques" section or by clothing type.
Why you'll love it: Bluefly's fresh interface and search functionality make it a breeze to browse through. The zoom feature offers detailed close-ups of even small details. Bluefly offers an extremely large collection of coveted designer brands and contemporary labels.
Website: www.bluefly.com
11. United Apparel Liquidators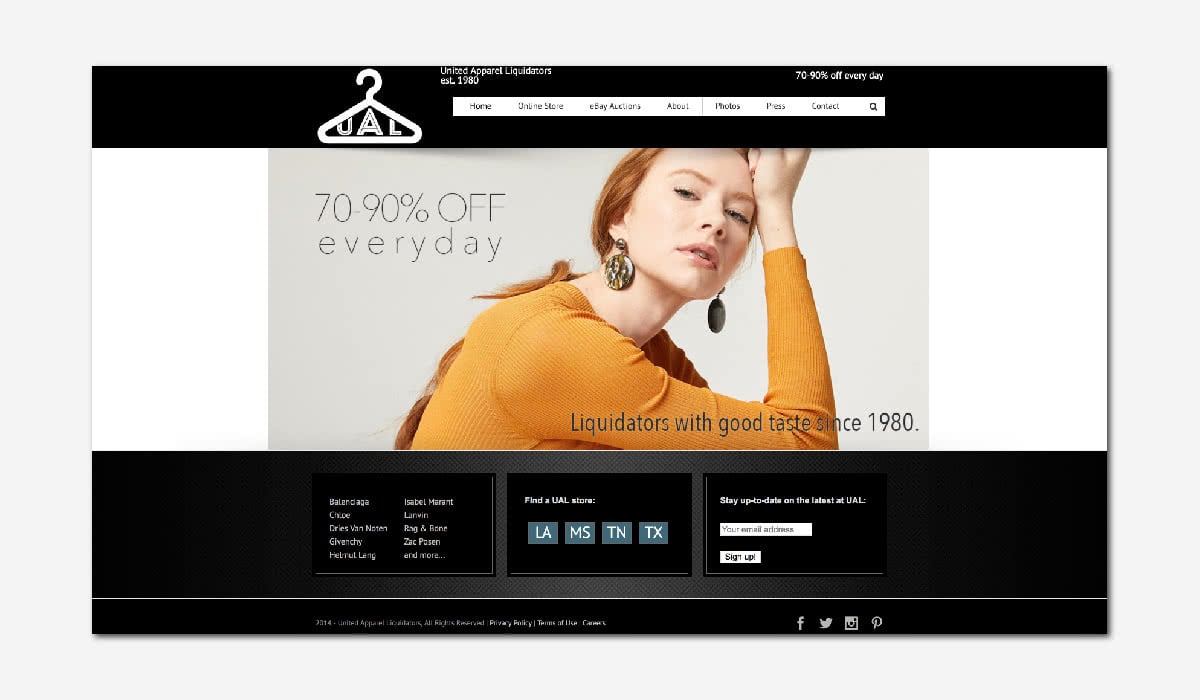 Founded in 1980, United Apparel Liquidators (aka UAL) is a best-kept secret off-price fashion retailer boasting several physical locations in the US and an online site. Its shopUAL.com site features high-fashion designer brands at 70 to 90% off retail prices.
Don't let its unsexy name and low profile fool you, United Apparel Liquidators does offer a well-curated selection of high-end goods, from cool young labels to well known European luxury brands (think Chloé, Céline, Balenciaga, Chanel, Givenchy and the likes).
Why you'll love it: The stock is constantly refreshed with a dizzying label lineup at knockout prices.
Website: shopual.com
12. Century 21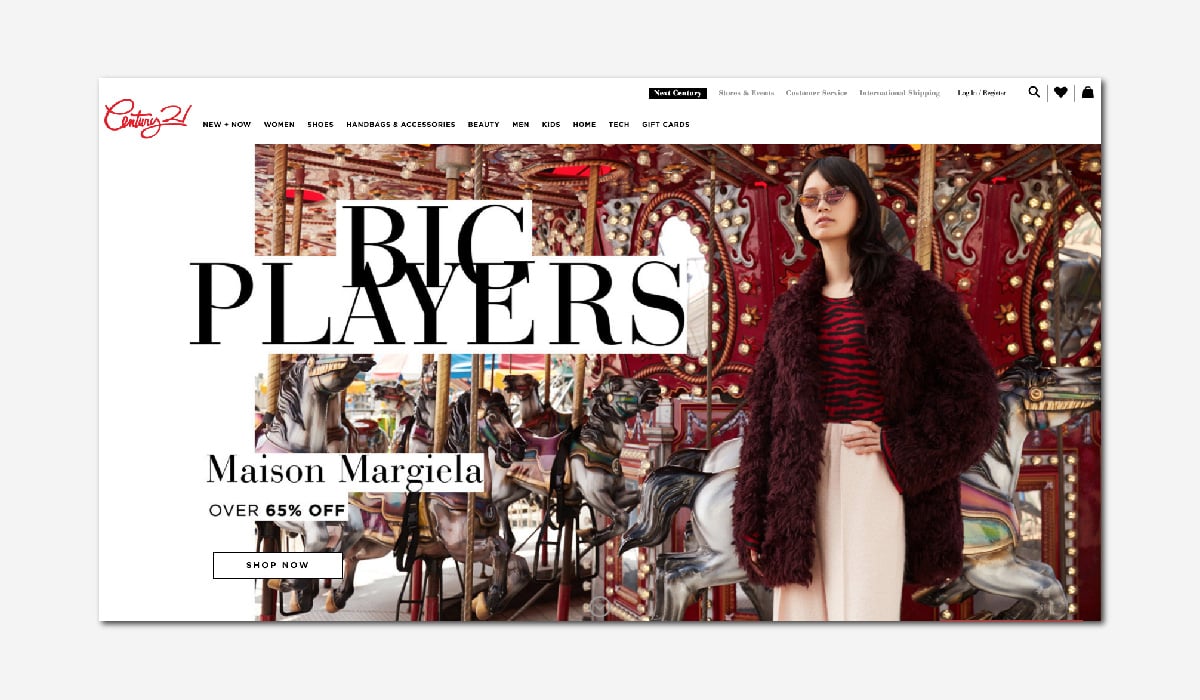 Derived from its eponymous department store concept, c21stores.com is an online outlet offering a huge selection of both designer and non-designer goods for women, men, and children at heavily discounted prices.
Why you'll love it: It was once THE shopping destination for Carrie Bradshaw from Sex and the City.
Website: www.c21stores.com
13. Burlington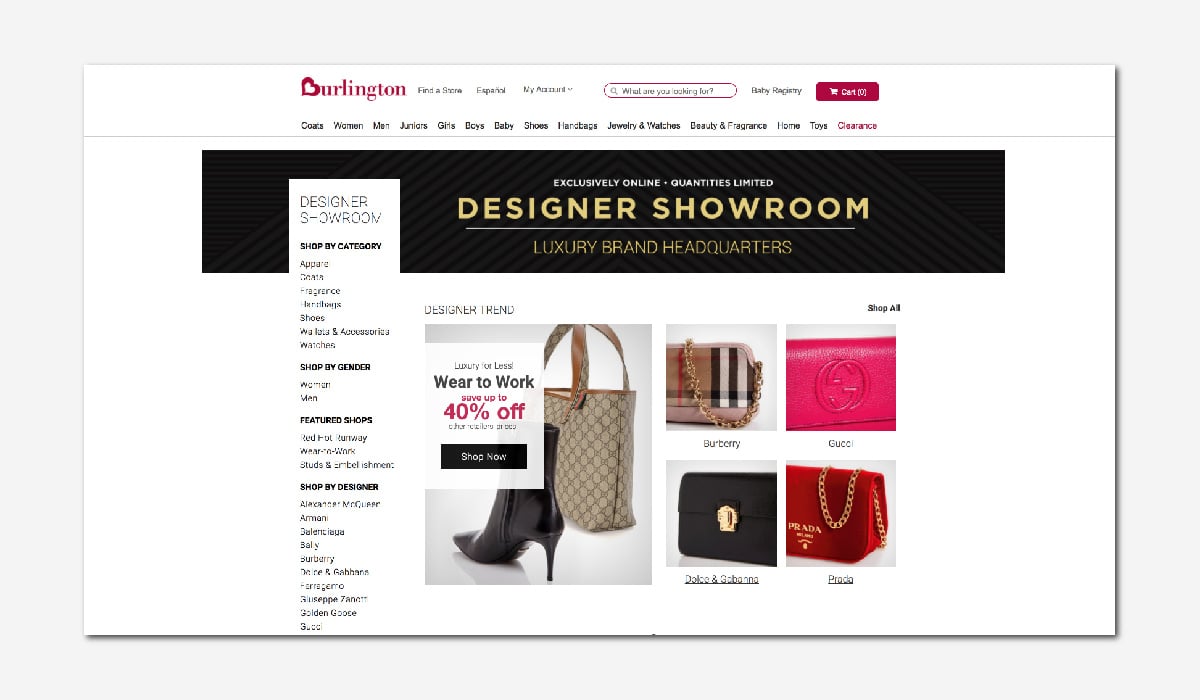 Formerly known as Burlington Coat Factory, Burlington is an online store with a large assortment of in-season, high-quality designer and name-brand merchandise at up to 65% off department store prices.
Why you'll love it: The selection includes clothes for the entire family, baby gear, beauty, footwear, accessories, home décor, and more.
Website: www.burlington.com
What's an online private sale website ?
Whether you call it a members-only shopping site, flash sale site or online sample sale site, a private sale shopping site typically refers to discounted branded merchandise by an e-commerce store for a limited time.
Members Only: How to get an invitation to join a luxury private sales community?
Once exclusively reserved to the most in-the-know and well-connected of luxury fashion insiders, off-mall, off-price private sales and are now more accessible than ever.
Private sale sites offer short-duration, online events (read, sales) and exclusive privileges online to a members-only community. The good news is most of these members-only shopping clubs now offers free, instant membership to anyone who signs up. Visitors to the sites simply need to register as a member with their email address to view and buy merchandise. SOLD!
Private sale sites allow shoppers who register access to exclusive online sales events — sales of a wide range of end-of-the-season closeouts but also trendy goods and runway samples from coveted brands at desirable pricing. With new names continually added to their inventory.
In a less systematic manner, some luxury retailers organise their own clearance and exclusive private sales. The select invitations are usually sent to their email list.