Introducing our new culinary queen bee, Caraway Home. Their mission? To serve up beautifully-designed homeware goods—making culinary pros of us all. With a reputation for selling out like hotcakes (hint: get in quick), Caraway offers a veritable feast of homeware pieces. Yes, they'll have you bound to the kitchen as if your in-laws have dropped by expecting lunch.
From stylish cookware to cute-as-a-button bakeware, premium linens like tea towels, oven mitts, pot holders, and aprons, no (pizza) stone is left unturned at Caraway. Launched by entrepreneur Jordan Nathan, online-only Caraway was conceived to fill the gap in the market for non-toxic, contemporary kitchenware. The MO is to elevate your recipes and help you enjoy every second spent in the kitchen.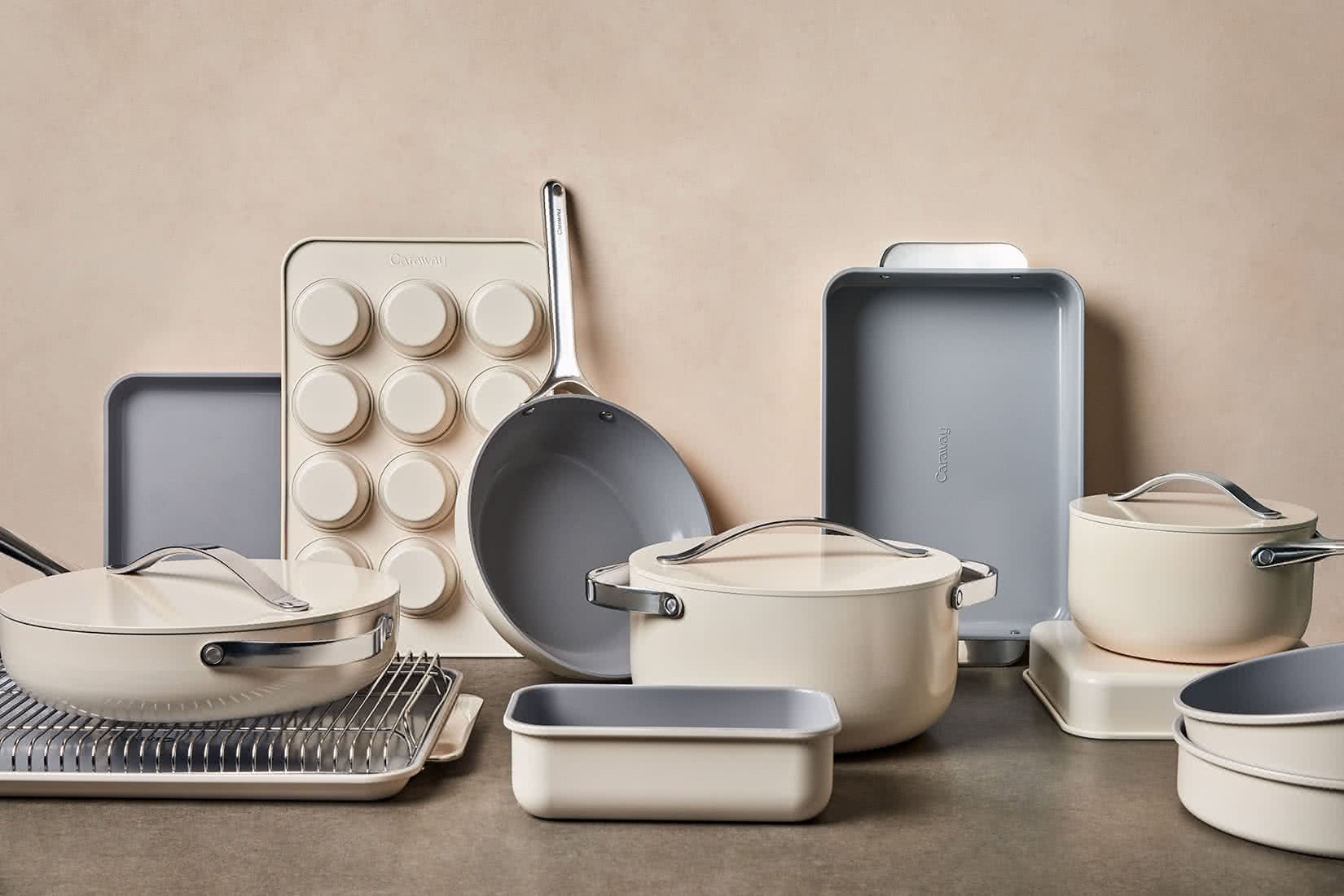 Indeed, before Caraway, it was nigh-impossible to find a non-Teflon-coated pan. Now? We've got a regale of choice, with each piece being the cookware equivalent of a Michelin-star Kobe rib-eye. In line with our thirst for all things non-toxic, Caraway wants to see our kitchens reinvented—with our health, ease-of-use, and minimal-chic style at the core of its design.
Counter-ready aesthetics
It's time to stir up your kitchen and give it that all-important seasoning of contemporary style. Alas, in the kitchen as in fashion, one no longer needs to sacrifice style for comfort—or in Caraway's case, functionality—now, we really can have it all. Identify as an Insta-chef? Join the club. Well, our IG-inclined home cooks, this is your lucky day: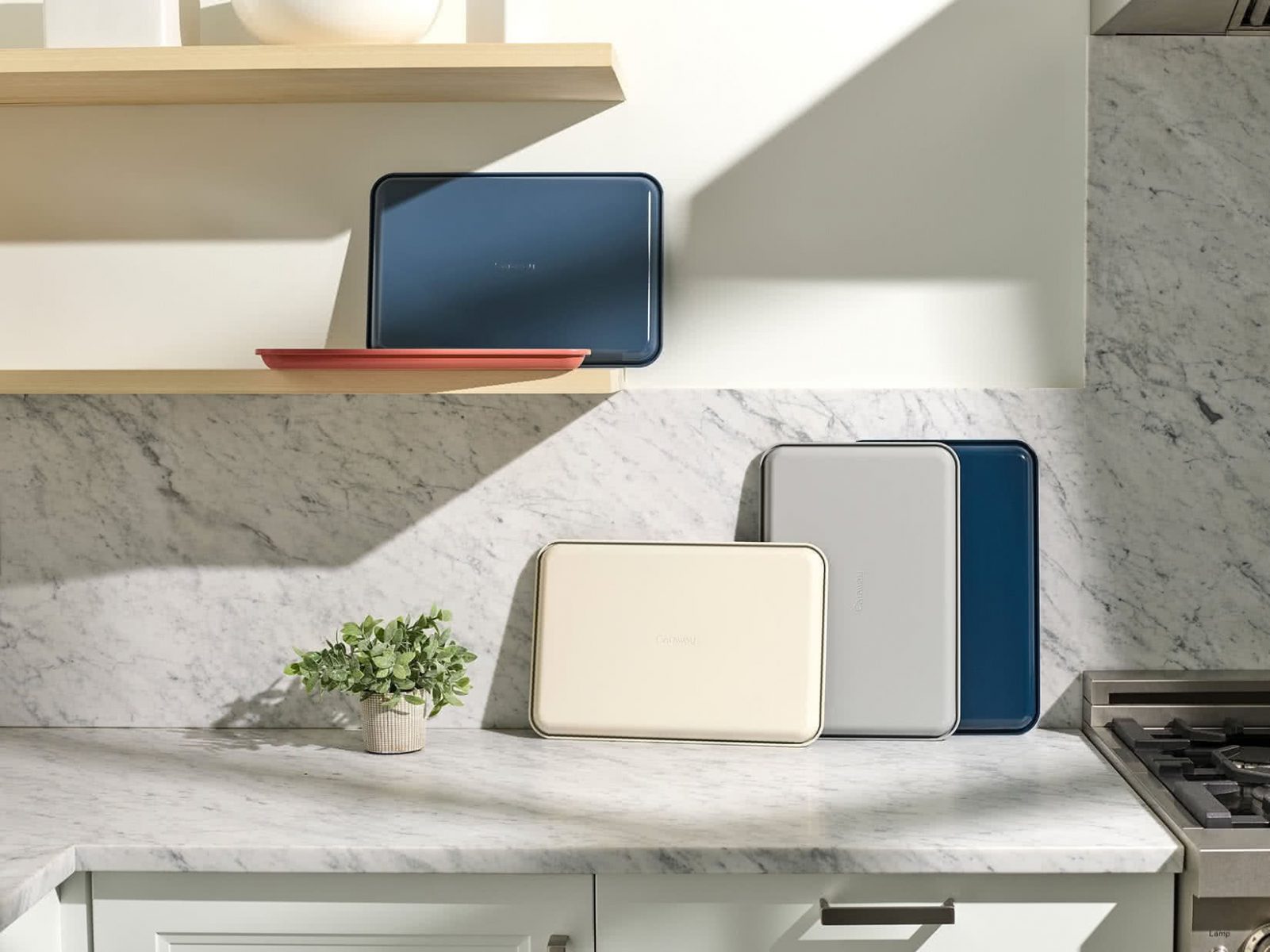 Discover an artist's palette of Insta-ready hues, chic neutrals, and colour pops, ready to transform your kitchen counter into a photo-ready set. Simply select your favourite ceramic casserole dish, cooking pots, and saucepans in the best shade to complement your kitchen interiors, and cook up a feast for the eyes that'll have your DMs popping off.
And, while Caraway pans ooze panache if displayed on open shelves (or left on the draining board—guilty as charged), you can opt for the magnetic pans racks and canvas lid holders to keep things neatly tucked away, too.
Chemicals? Not on the menu
Non-stick cookware is typically coated with Teflon, an ingredient we've yet to encounter on any recipe. Thankfully, Caraway has found a coating that does the trick with their ceramic cookware, bypassing the need for extraneous chemicals.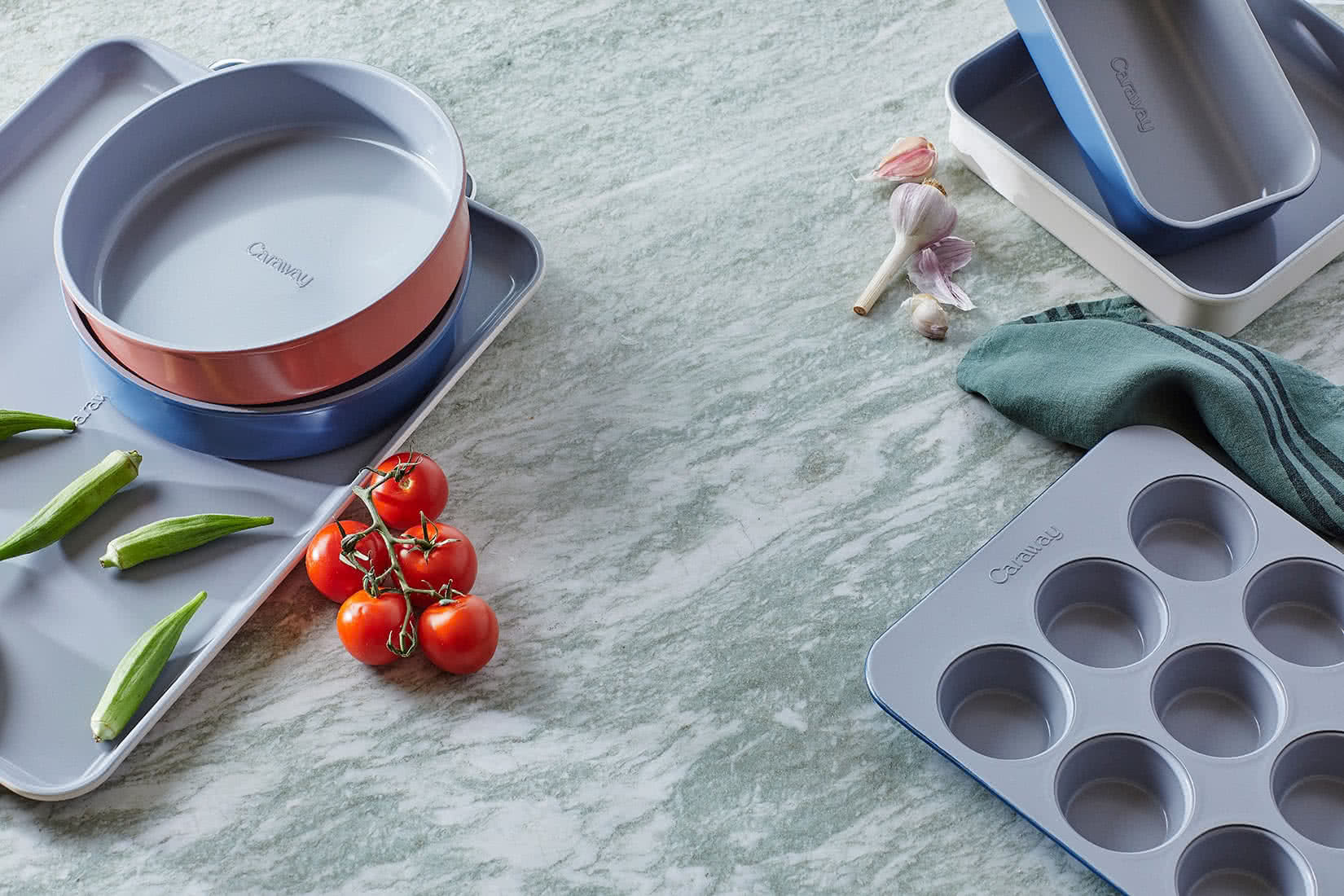 Yes, by using non-toxic ceramic coatings that don't seep into your food, Caraway ensures the only ingredients in your culinary creations are the ones listed in the recipe. Finished with stainless steel bases and handles for long-term durability, these cookware pieces are truly a worthy investment.
Savour your kitchen-time: Easy cooking and cleaning
Granted, while most of us are partial for an elongated, flour-and-milk-everywhere home-cheffing bonanza from time to time, we mostly need to cook up our storms fairly pronto (because life, right?). So, forever making our kitchen-time easier—not to mention, healthier—Caraway's pieces require minimal oil or butter thanks to the naturally slick surfaces. Plus, any heat will be evenly distributed, so you can cook your recipes on a steady flame without needing to crank up the temperature. So, juicy stews, succulent steaks, and chunky chillis, eat your heart out.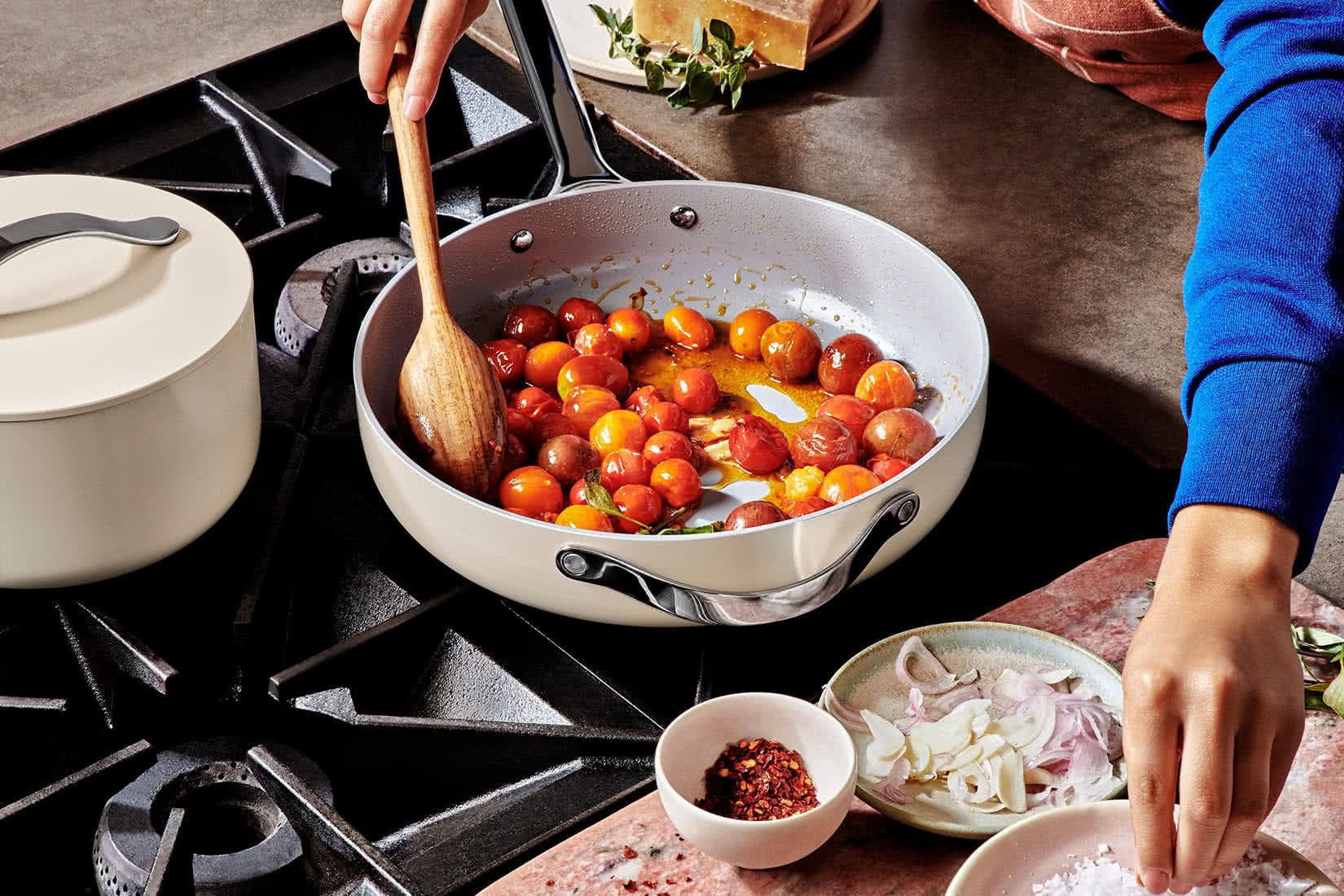 And, when it's time to clean up, your kitchen will be show-home ready in a hot minute. That non-stick coating we've been raving about? It has a secret talent: making washing your pans an absolute breeze. So, you can spend less time scrubbing and more time sipping that well-deserved glass of wine with the ones you love.
Whether you're seeking a few individual pieces to elevate your cookware, or it's time for a total makeover, Caraway has you covered. Pick up single ceramic non-stick pans and pots, or opt for conveniently bundled sets, opening the gilded door to your future culinary success.
Sustainability: The dish du jour
Did you think for a minute we'd sing any brand's praises if they didn't align with our sustainability values? Of course, we wouldn't. Indeed, Caraway employs ethical manufacturing, with New York-born designs brought to life in factories adhering to strict ethical practices and Fairtrade principles.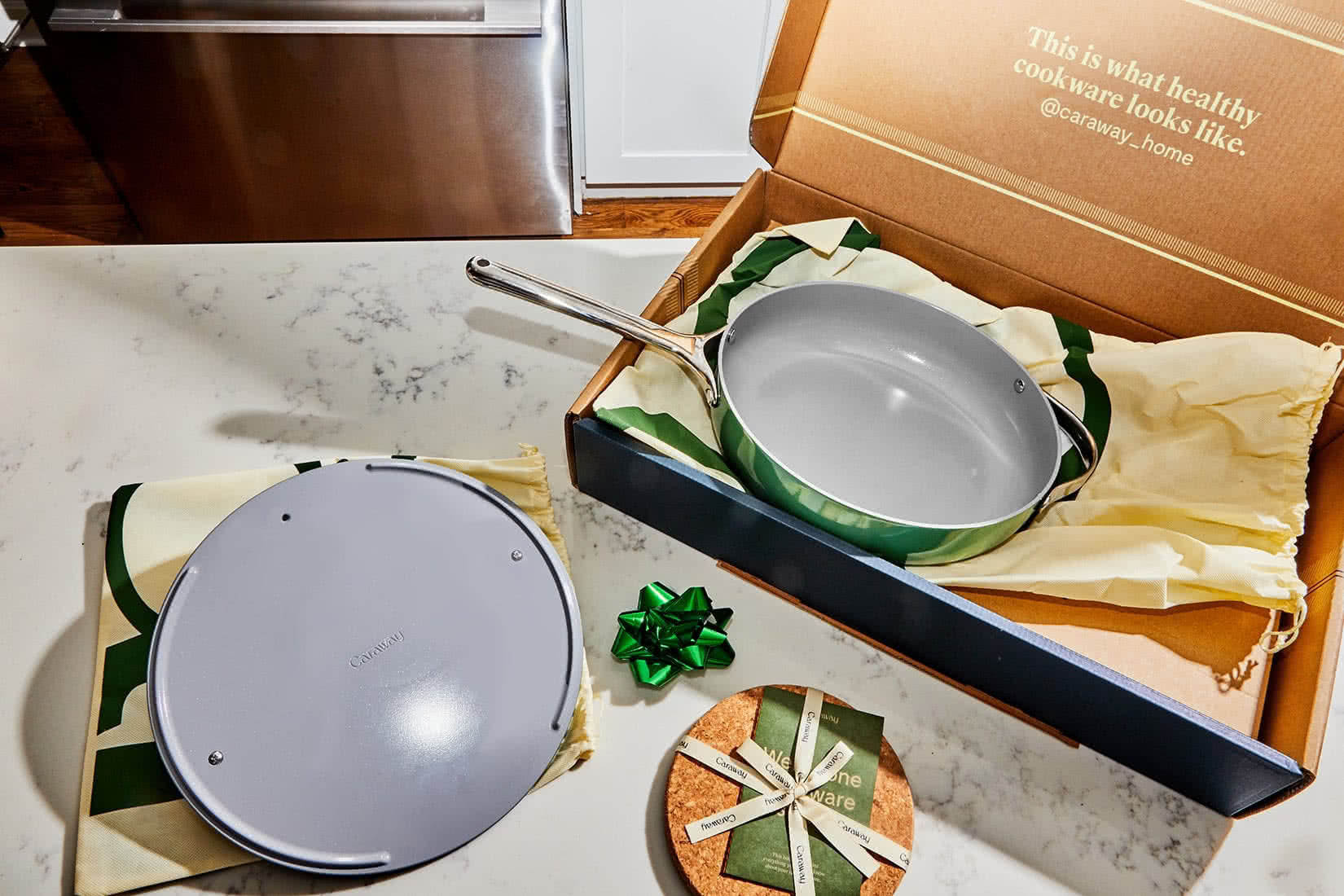 As kind to the Earth as they are to those who make the magic happen, Caraway ship their goods in recycled cardboard happily sans plastic bags, use low-impact print dyes, and 100% biodegradable cork trivets. So, wholesome through-and-through, Caraway is truly geared to become your not-so-guilty pleasure.
Chef's specials: Spotlight on our favourite cooking ware
Cookware Set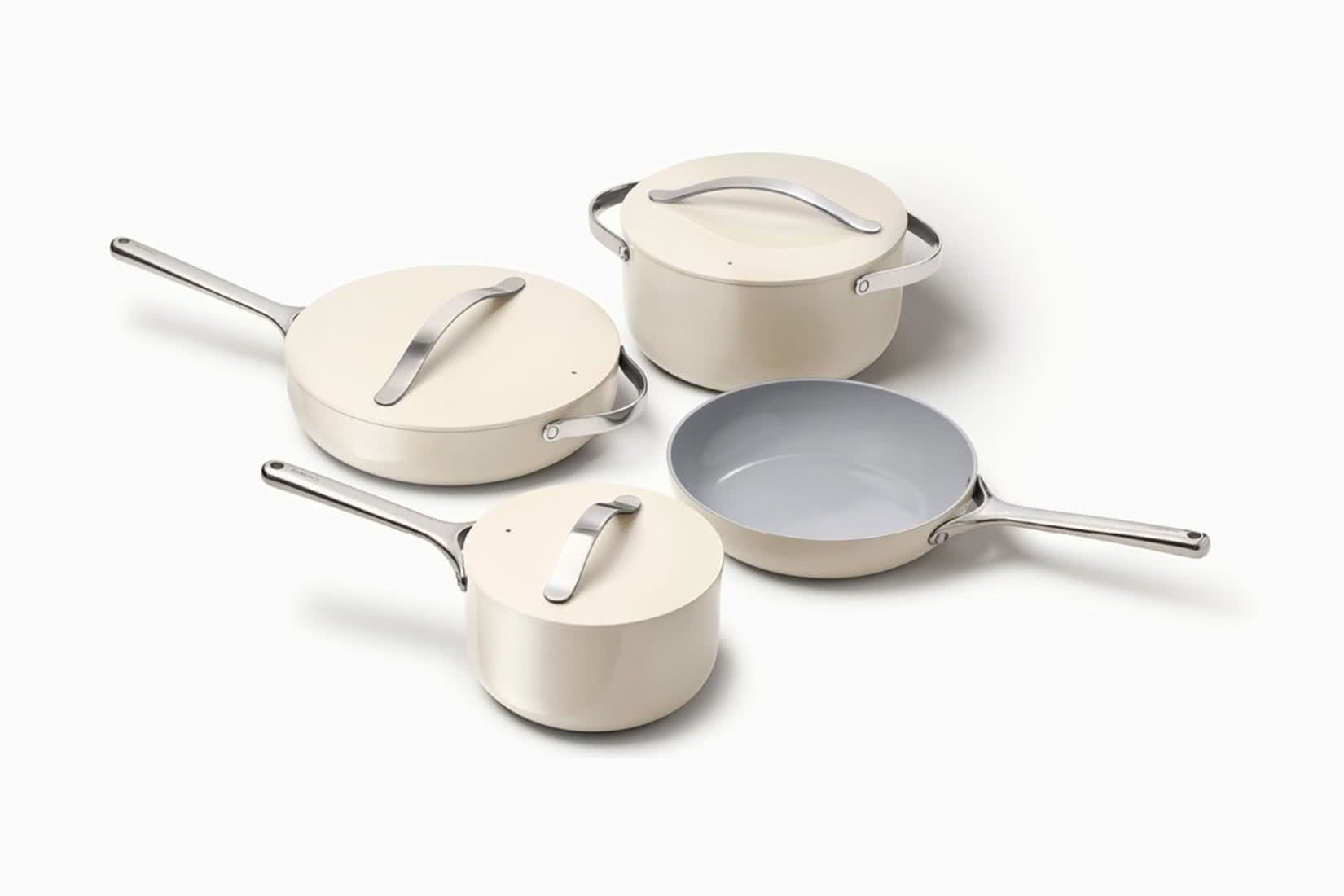 Say goodbye to your scratched-up, chemical-coated cookware—the Caraway one-and-done ceramic Cookware Set is oh-so-ready to spice up your kitchen more than a ghost pepper. Coming with a 10.5" frying pan (perfect for those breakfast eggs), a saucepan, a sauté pan, and a Dutch oven, you'll be set to whip up whatever feast you have in mind.
They'll find a safe home in the included canvas lid holder and magnetic pan racks, so you can proudly display your new kitchen assistants. Of course, the whole set is non-toxic, and you can safely use your Caraway Cookware Set on your hob, no matter whether it's electric, gas, or induction. Available in 7 chic shades, you're free to stay as muted or vibing as you like.
Bakeware Set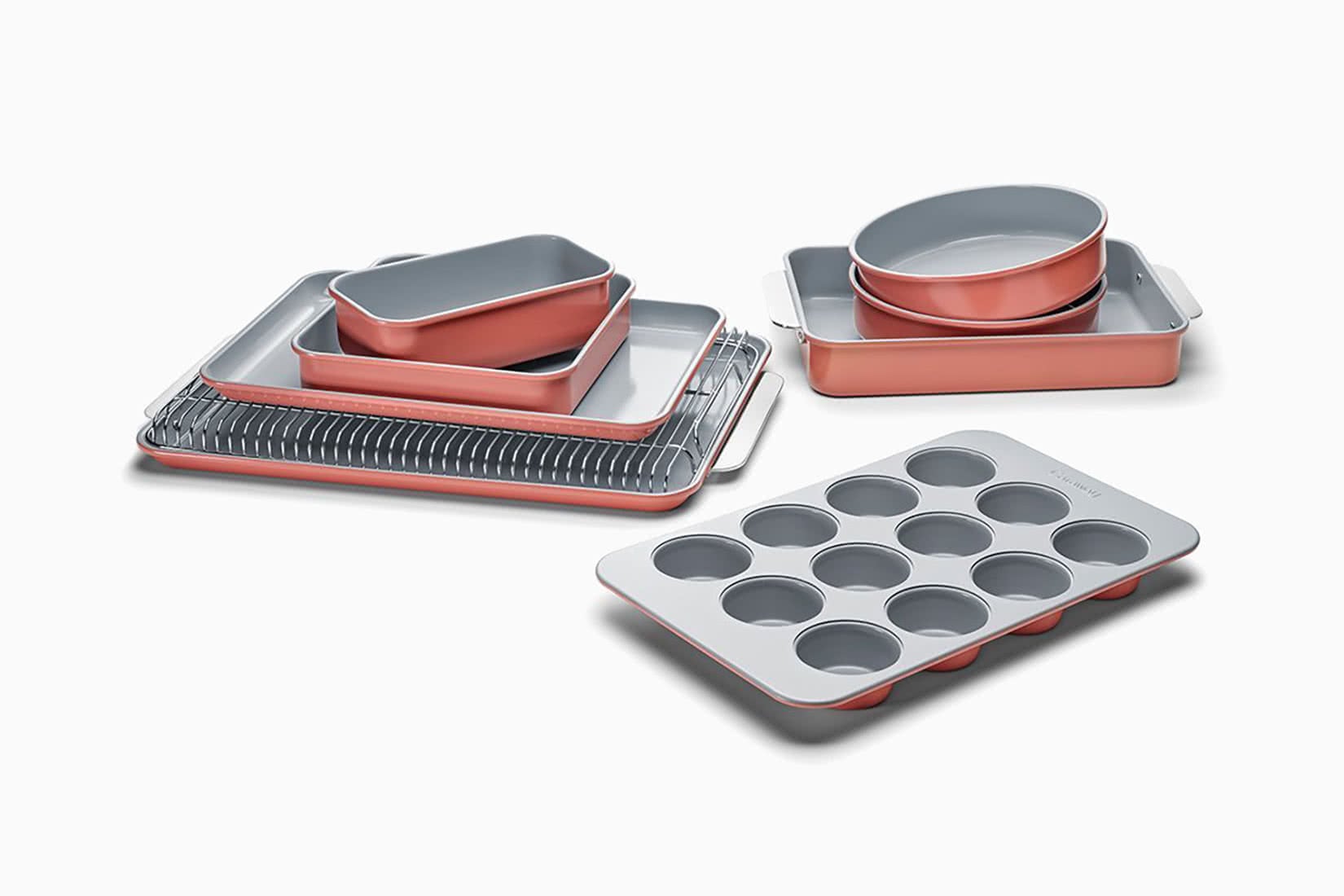 Love to spend your free time channelling your inner baker? With the Caraway Bakeware Set, the eye candy begins long before your treats emerge from the oven. The ceramic-coated set features 2 baking sheets, 5 different pans for those tantalising traybakes, a 12-cup muffin tray, a cooking rack, and 2 handy cabinet organisers to keep things chic and tidy.
Be aware: your Instagram stories will see more activity than ever with the Bakeware Set in hand. With an array of 5 understated shades that make a statement while graciously letting your bakes take centre stage, you'll be aching to grab your wooden spoon anytime you have an hour spare. So, grab your recipe book and tie on that apron, you're in for a tasty ride.
Linens Set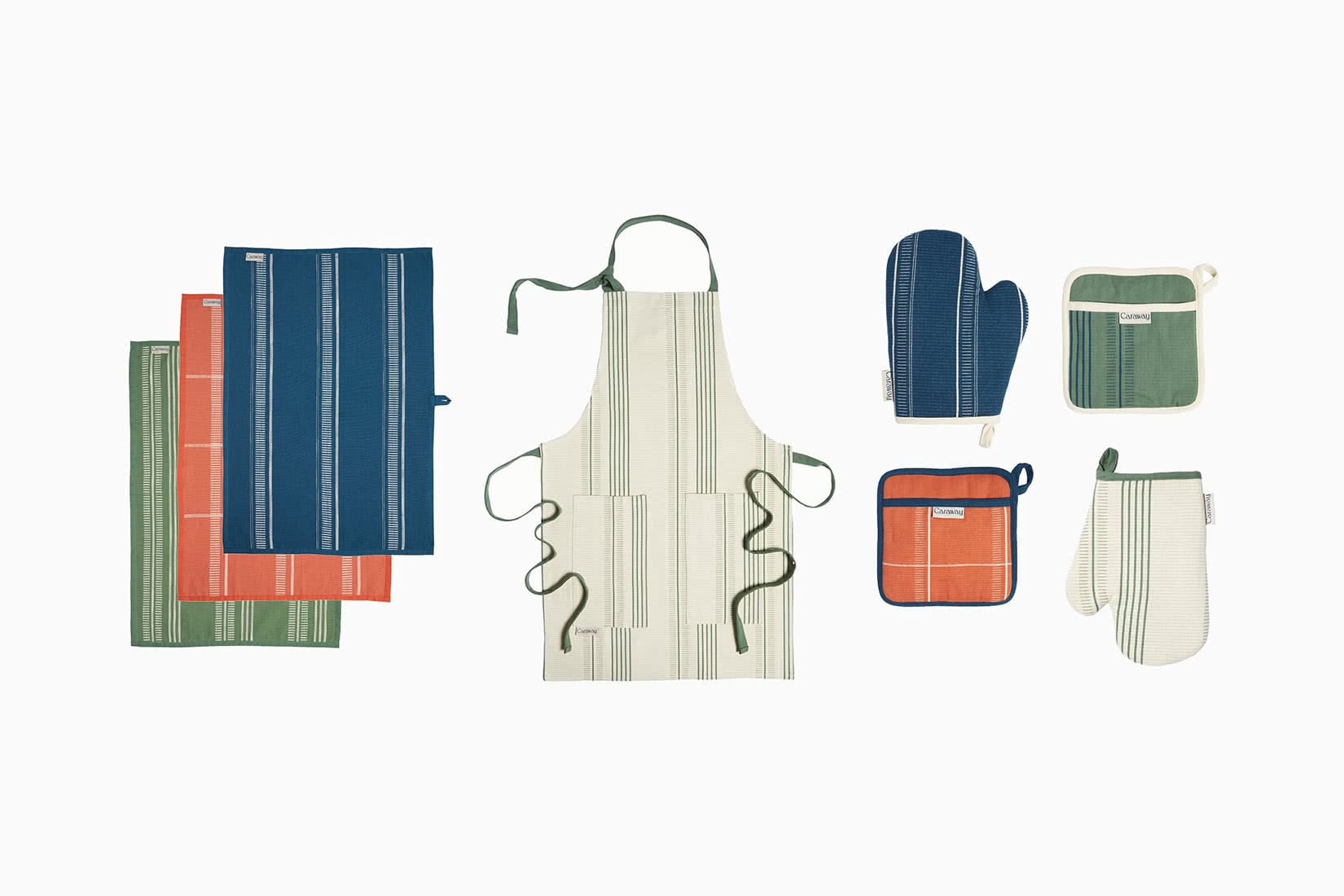 Speaking of aprons: you've got to look the part, right? Yep, upcycle those tattered tea towels and old-school apron, and treat yourself to the Caraway Linens Set, instead. Newbie cook? These linens will have you faking it till you bake it. And seasoned chefs, you'll look restaurant-ready. Coming with a chic linen apron (vertical lines FTW, thank you very much), 3 tea towels, 2 oven mitts, and 2 pot holders, you're all set to be safe, chic, and efficient in the kitchen.
Woven from premium lightweight fabric that literally gets softer with every wash, you'll fall in love with the vintage-inspired designs, too. Experts in attention to detail, the Linens Set boasts handwoven patterns reminiscent of vintage flour sacks of bygone times. With each piece crafted in a complementing hue, you can mix and match your equipment and get it right, every time.
Frequently asked questions about Caraway Cookware
Is Caraway cookware made in China?
Designed in the Big Apple, Caraway manufactures its cookware in China and India. Each factory adheres strictly to a set of ethical standards, ensuring workers are paid fairly while working under safe conditions.
Is Caraway really safe?
Yes, Caraway is safe. Free from Teflon, plus a host of other acronyms that we certainly don't want in our food, Caraway cookware uses mineral-based coatings, instead. This ensures their wares remain non-stick, while avoiding any unsafe chemicals seeping into our recipes as we cook.
Are Caraway pans oven-safe?
Yes, Caraway pans are 100% oven-safe up to 550°F. So, casseroles, slow-roasts, and bakes will all fare just fine in a piping-hot oven, with your cookware emerging damage-free every time.
Is Caraway cookware good quality?
Good quality? How about exceptional. Totally worth the hype, Caraway lives and breathes high-quality cookware, bakeware, and linens, passing on their innovations and expertise to keen cooks everywhere.
Is Caraway really worth it?
With its good manufacturing ethics, premium fabrics and materials, and a focus on chemical-free cookware, Caraway is definitely worth it. Not only will it elevate your cooking, but it will have you savouring your kitchen time more than ever.