Body hair is a fact of life—whether you are TeamHair (love it, leave it) or TeamBare (hate it, remove it). But if you fall into the latter camp of women who want silky smooth, hairless skin, chances are your hair removal routine is a continuous cycle of shaving, waxing, and plucking. And for those of you willing to shell out a little extra for more permanent results: laser hair removal treatments at your local beautician.
For anyone hoping to get rid of unwanted body hair effectively and effortlessly, the picture is too often, well, fuzzy.
The good news is: we found the device you need for a radically smoother hair removal process. A safe and more permanent hair removal method that you can DIY any time, in the privacy and comfort of your own home: The Kenzzi IPL Handset.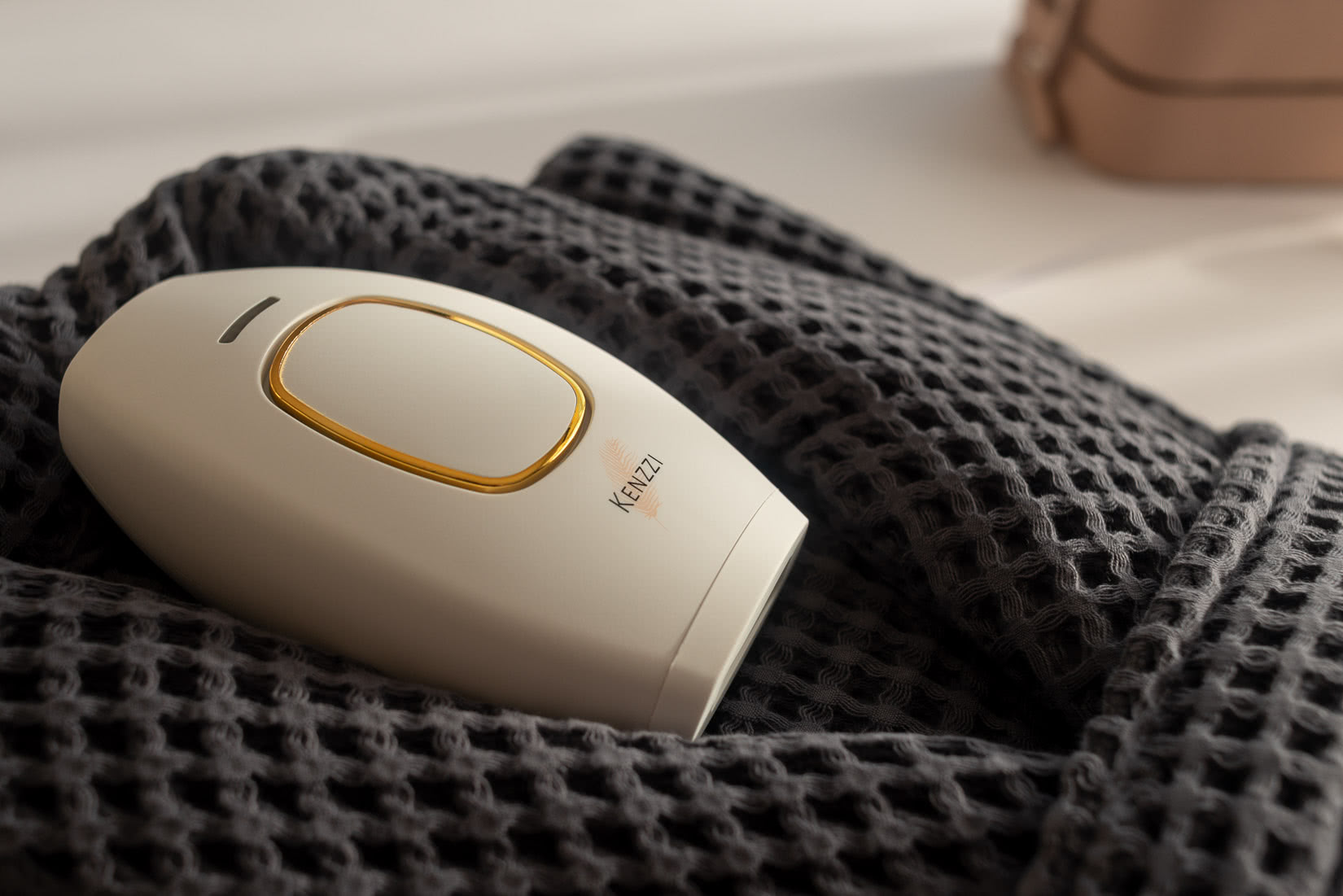 This at-home IPL machine is a game-changing addition to your skincare armoury, offering effective home hair removal and enduring smoothness.
If you're just about done with the hassle (and agony) of at-home waxing kits and the stresses of razor burn and pesky in-grown hairs, the Kenzzi IPL Handset is the handy answer you've been looking for.
If you are new to the world of home laser hair removal, IPL stands for Intense Pulsed Light and is a broad-spectrum visible light. The way it works is like this: The light is absorbed by the melanin in the hair or the pigment that gives hair its colour. This damages the hair follicle. As a result, intense pulsed light machines can, with regular use, stunt hair growth, preventing it from reaching the surface.
They say it's cutting edge technology—we call it flashes of genius.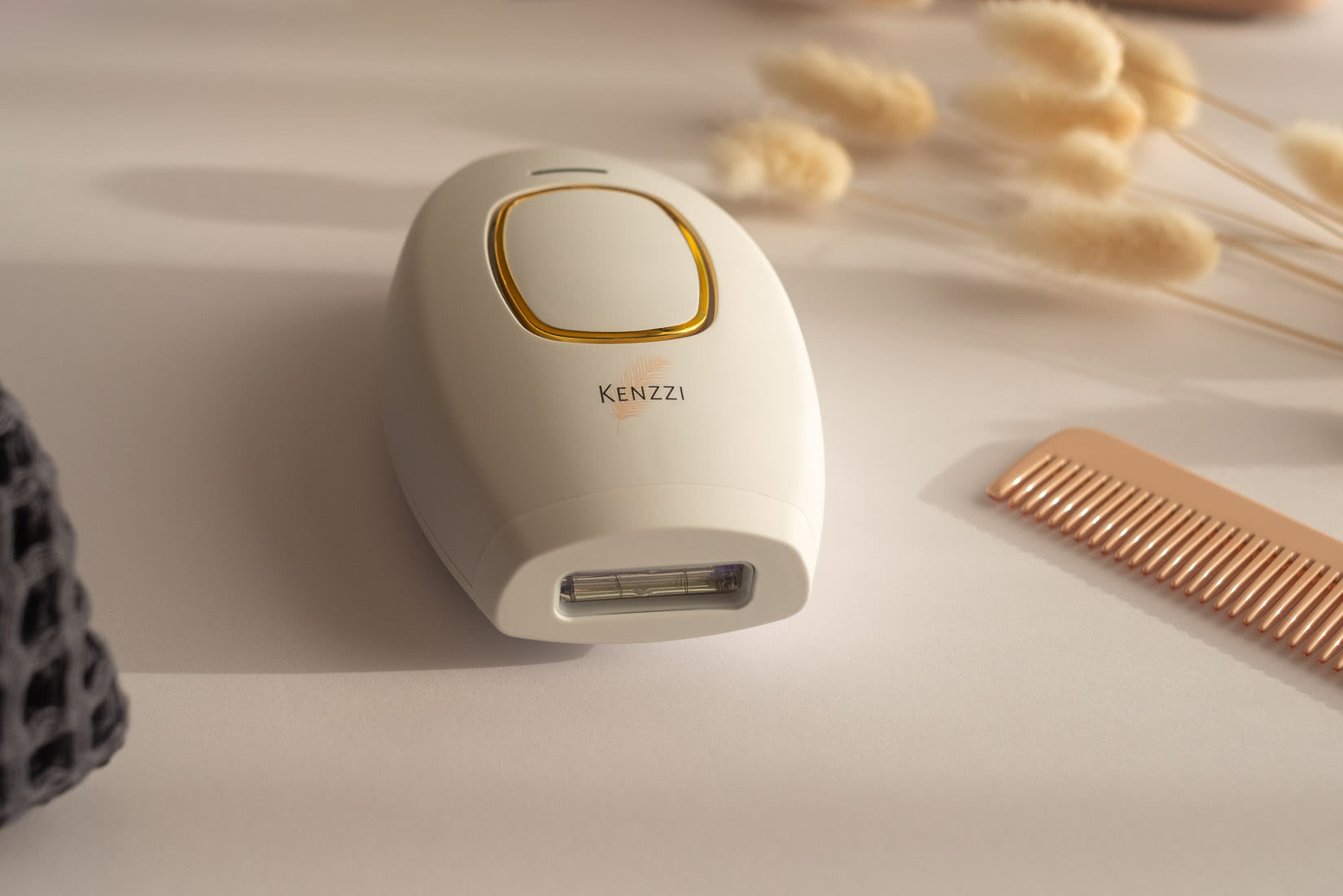 Say hello to the smoothest skin of your life.
An important clarification: While IPL has some similarities to laser hair removal, it's not exactly the same. Both are a type of advanced light technology, and both target hair pigment. However, laser treatment uses a single spectrum of light with a higher energy level for a more powerful approach, and so is both faster and more efficient. However, it can only be done by trained professionals.
IPL, meanwhile, uses light with a lower energy level. So if this all sounds a little too sci-fi for you, don't panic. An IPL hair removal device is safe for you to use at home.
Why we can't get enough of the Kenzzi IPL Handset
First up, it's about convenience. You can use the Kenzzi IPL Handset in the privacy of your bathroom without having to tolerate a stranger getting close and personal with your body parts.
Plus, you don't have to have a qualification in beauty therapy to use this IPL device—or even be particularly tech-savvy. It's incredibly intuitive to handle. You'll quickly wonder why you ever considered shelling out so much money on pricey laser treatment.
Plus, unlike many other at-home IPL hair removal devices, Kenzzi IPL Handset has virtually unlimited flashes – and should last over 10 years if you use it according to the instructions. So that's all your hair removal sorted for at least a decade.
What's more, this at-home laser hair removal is very effective. Harnessing the power of intense pulsed light, the Kenzzi IPL eliminates the need for salon appointments yet allows you to achieve professional-level results with minimal effort. Unlike some other IPL devices, you don't have to wear eye protection when using the Kenzzi handset. Just don't look directly at the flashing light.
Use a gliding motion over large areas of the body and a stamping technique on small areas requiring greater precision. It feels tingly and hot but not exactly painful—similar to having a rubber band snapped against your skin. If you can survive epilation and waxing, IPL will feel like nothing in comparison.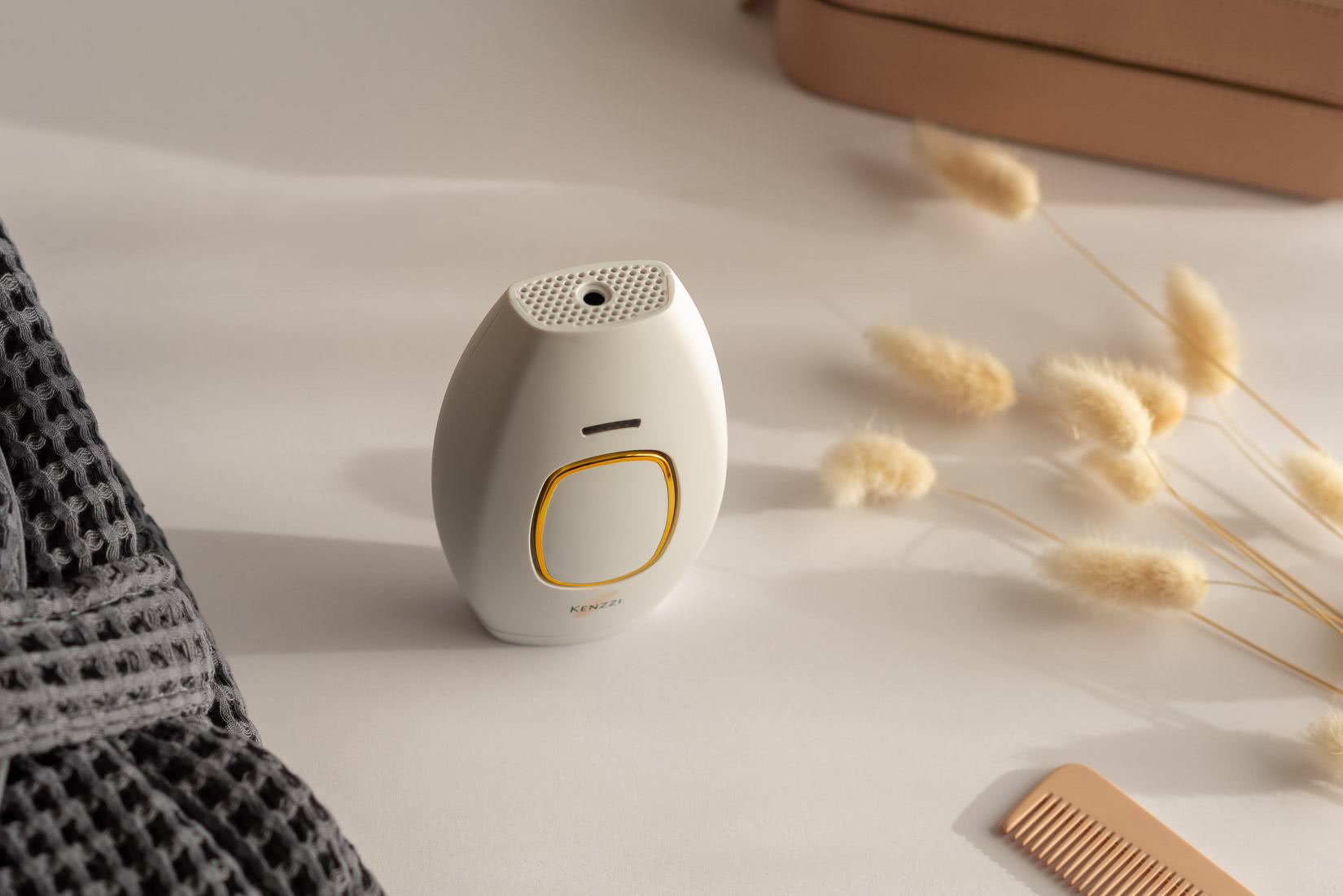 The Kenzzi IPL features five different energy settings so you can adjust the light intensity according to your skin tone or pain tolerance. Those with lighter hair or darker skin will want to use a less intense setting. You'll also want to reduce the intensity when it comes to particularly sensitive areas. In fact, that's another bonus feature of this Kenzzi IPL Handset. This capable all-rounder can be used anywhere from your face to your bikini line—to remove upper lip fuzz or give yourself a DIY Brazilian.
And while most hair removal treatments require you to wait for hair to grow back before you remove it, this hair removal machine actually works better on freshly shaved hairs, allowing the light to reach the follicle more directly. This is excellent news, given that the worst part about waxing is having to wait two weeks between sessions.
The IPL device is corded, so you'll never have to worry about it dying mid-session. Not at all bulky, its compact size fits easily into luggage for travelling so you can maintain that bikini-ready smooth skin even away from home.
All you have to do is use the device once a week for 12 weeks (but you'll already notice improvements after just three or four treatments) to experience slower regrowth. And when it does grow back (if at all), the hair will also appear finer. At this point, you just need the occasional top-up home hair removal session to enjoy lasting smoothness.
Simply glide or stamp the Kenzzi IPL Handset over your skin and let it work its magic.
It is important to note that IPL is best for those with all but the darkest skin tones. Hair colour will also impact how effective it is. IPL hair removal doesn't work well on grey, white, red, or particularly light blonde hair. The greater the difference between the skin colour and the hair colour, the better it is likely to work. Always read the instructions and use the device as directed.
Kenzzi is a brand that should definitely be on your radar if you care about cost-effective solutions to common body woes. As well as the innovative Kenzzi IPL Handset, the company also makes an At-Home Microdermabrasion Handset, designed to exfoliate and suction away skin impurities for clearer and smoother skin. Like a body scrub on steroids.
Intensities: 5 power settings
Flashes: 10+ years of flashes
Usage: Once a week for three months, then top-ups every 2-3 months or as needed to maintain results
Modes: Glide and stamp modes
Cordless: No
In the box: IPL handheld device, charging cord and instructions manual
Frequently asked questions about Kenzzi IPL
What is an IPL handset?
An IPL handset uses IPL technology—intense pulsed light—to reduce hair growth by damaging the hair follicle. IPL can be used for hair removal at home, and, with regular use, allow you to enjoy less and finer body hair.
Does Kenzzi remove hair permanently?
Kenzzi won't remove hair permanently, but it offers long-lasting results. It will reduce the hair by minimising regrowth speed. The hairs that do grow back will also be finer. The more you use the Kenzzi IPL Handset, the more effective the device will be.
Is Kenzzi safe?
Like all IPL devices, Kenzzi is safe to use. Global studies have proven its safety and effectiveness. However, it's not appropriate for darker skin types or people with a recent tan. Nor should it be used by people with epilepsy.
Does Kenzzi hair removal hurt?
Kenzzi hair removal doesn't hurt but can feel a bit uncomfortable. It has a tingly or hot sensation that some users compare to an elastic band being pinged against the skin.