Digital. Luxury. Two words. Countless challenges. Endless opportunities. Yet, there are very limited current titles that cater specifically to digital marketing for premium and luxury brands and the special attention these brands require.
SHINE: Digital Craftsmanship for Modern Luxury Brands is written for the forward-thinking business leaders who seek clarity on how to move from an OOPS – Overwhelming Online Presence and Stress – situation to a WOW – Wonderful Online Wonderland – state. It meets the rising demand from premium and luxury brands for a simple and concrete framework that demystifies digital marketing.
Because marketing has changed and continues to change… fast. This constant digital innovation raises new challenges for businesses who are struggling to keep up with the latest technologies.
SHINE: Digital Craftsmanship for Modern Luxury Brands is a great source of inspiration and learning, as it sets the digital foundation. This is not a technical book, nor it is about providing a magic formula for digital success. However, its recommendations and insights will lead readers through the right digital mindset for sustainable business growth. The book was written with several people in mind; CEOs, marketers, entrepreneurs, students, startups, luxury leaders who are accountable for change in their organisation and need strategic guidance on how to effectively leverage digital marketing to deliver on their business objectives.
Although dedicated to premium and luxury brands, any business can benefit from applying the digital principles contained in this book to increase their brand's online desirability and offer a more polished and first class user experience.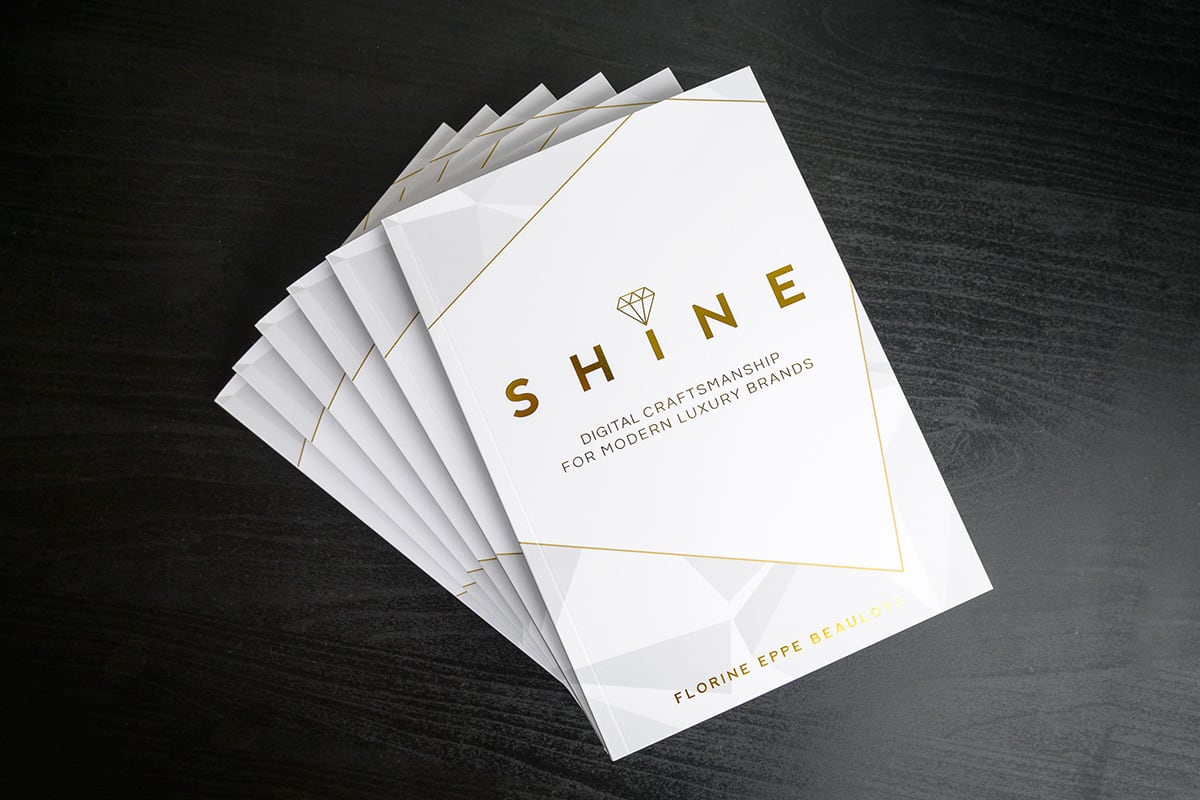 SHINE: Digital Craftsmanship for Modern Luxury Brands is divided into two main parts: 'The Why' and 'The How'.
Part I, 'The Why', sets out the rationale behind the importance of digital for the luxury sector and explains the new and uncertain territory in which luxury now finds itself.
With the rise of a younger, highly connected generation of affluent consumers who are quickly becoming the most important luxury segment, there's clearly a (generational) shift happening. To stay relevant in the modern context, luxury brands must lean in and transform from a brand-centric and traditional model to a seamless and more customer-centric organisation. The expression of luxury has become less ostentatious, more subtle and understated, more individualistic and intimate. Luxury is now about inclusivity and this authentic connection between brand values and the consumers' own personal stories.
Part II, 'The How', provides insights, strategies and a simple framework that you can use to move your business forward. Every business has its own path to becoming digitally successful, depending on its unique set of needs and priorities. But the fundamental attributes are all the same. The prerequisites to adopting the right mindset for digital success can be illustrated as a constellation connecting five key pillars:
plan and have a clear vision (Strategy),
adopt an integrated approach when executing your plan (Holistic implementation),
make sense of data to make informed decisions (Intelligence),
stay agile and be ready to react and adapt quickly (Nimbleness)
connect with your audience and engage in conversations (Engagement).
And of course, at the heart of it all, luxury brands must emphasize the niche they are serving.