An electric bike offers the chance to explore from a whole new perspective.
The best electric bikes in the world come with the chance to speed up your commute or cycle around your local area and beyond without breaking a sweat. An e-bike can open up all sorts of possibilities. Today, you can even find some of the best electric bikes under $1,000.
Distances that might have previously seemed tough become easy with an e-bike. Plenty of 2020's best electric bikes come complete with high-rise handlebars allowing you to tackle any kind of terrain or go off-road without having to swap wheels.
There are so many reasons to invest in an electric bike this year.
Perfect for commuting, these bikes can make the journey to work an almost effortless one and can, in particularly busy city centres, even be faster than driving. In London, the average speed a car travels is 7.4mph. It's easily possible to hit speeds of 15mph on an electric bike, halving the time spent on the road. And that's without having to bring a change of clothes.
It's also a great chance to squeeze in a quick workout. Many electric bikes allow you to switch up the power from a relaxing jaunt with top level of assisted pedalling to a building-up-a-sweat level of exertion for a new challenge.
And, of course, it's a far more sustainable option for getting around. More and more people are switching to electric bikes in urban areas to do their bit for climate change. Swapping from four wheels to two is an easy way to do just that.
The 15 best luxury electric bikes of 2020
Priority Embark: Best overall electric bike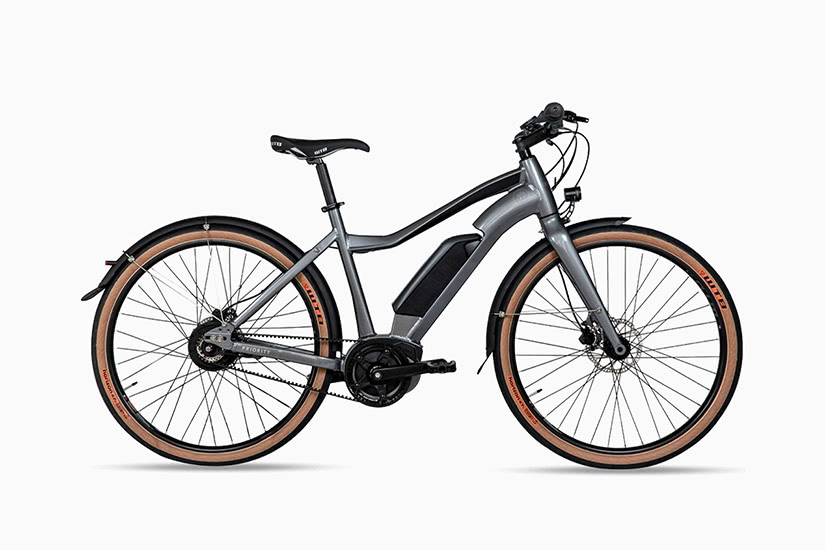 A smooth and quiet ride is exactly what you'll get from the Priority Embark electric bike. Much like many other bikes produced by the brand, the focus is on ease of riding and low maintenance while offering a high quality journey and a sleek look.
The Embark is a sporty e-bike that combines features from a mountain bike and a commuter's bike. It's a great allrounder that feels light when accelerating and is easy to peddle, even when doing most of the manual work.
The frame is made of Hyfromed aluminum tubing, making it a sturdy choice without being too heavy. Its central motor position allows for easy balancing and offers a lower centre of gravity. It comes in 3 different size options: 17″, 19″, or a 21″ frame size making it a satisfying option that's comfortable for many riders.
It's possible to ride this e-bike in two different styles: comfort or performance. The latter offers a longer stem for a more efficient riding experience while the former has a more comfortable and upright stem, suitable for shorter distances.
It has four different levels of pedal assist and can hit speeds of up to 20mph.
Website: www.prioritybicycles.com
Stromer ST5: Best premium electric bike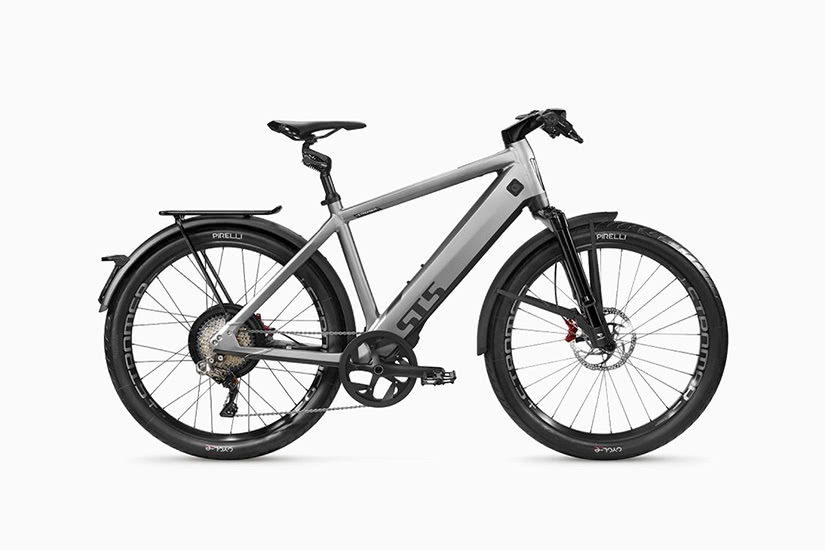 Known as "the Tesla of e-bikes", the Stromer ST5 is more than deserving of words like "premium" and "top quality'. It's a bike made with extreme attention to detail, with a similar setup to a motorcycle and fast acceleration to match.
The ST5 was designed almost as a car replacement, offering up to 115 miles on a single charge using the higher levels of pedal assist. It can reach speeds of 28mph – higher than most electric bikes – and can recharge using solar energy while pedalling.
With a cost of $10,000, it's full to the brim with impressive features like a custom-made tubular alloy fender and a battery capacity twice as powerful as most on the market. It's heavier than average, at 30kg, but makes up for that weight with plenty of innovative elements.
The ST5 has a powerful gearless SYNO Sports hub motor and uses its own system to reduce wear on the brake pads. The battery is positioned in the frame, boasting a stealthy look with no exposed wires. It easily journeys up hills and its built-in wireless technology allows the bike to receive software updates while on the move.
If that wasn't enough, it also comes with a touch screen with GPS tracking and anti-theft software.
Website: www.stromerbike.com
Gtech eBike City: Best value electric bike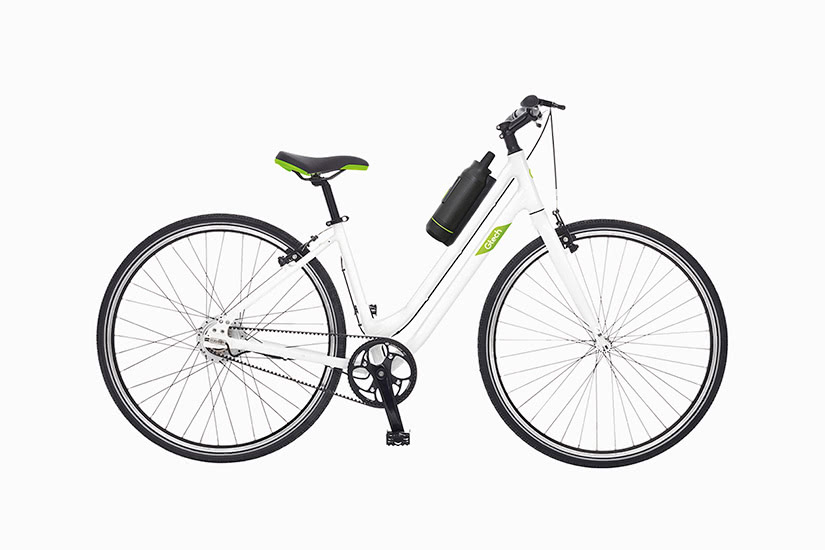 Gtech's electric bike is known for its simplicity in the best way possible. With a price tag of just over $1,000, it's an affordable e-bike that's not without plenty of attractive features. The eBike City offers a smooth and clean journey, powered with a rear drive motor and two different pedal assist settings.
It looks just like a standard bike with a straightforward battery and motor system that's easy to control. Its understated aluminium frame can easily be assembled and the removable battery doubles as the bike's controller.
When fully charged, the battery can last up to 30 miles and only takes three hours to recharge to 100%. Its lightweight design makes it ideal for commuting and there are plenty of optional extras to add if desired.
For those who are looking for a slightly more athletic model, the eBike City also comes in a Sport version, with a slightly different saddle and a 20" frame instead of the standard 17". It's an agile bike that's easy to navigate up hills with a powerful motor for its size and price point.
Website: www.gtech.co.uk
Specialized Turbo Levo Comp: Best electric mountain bike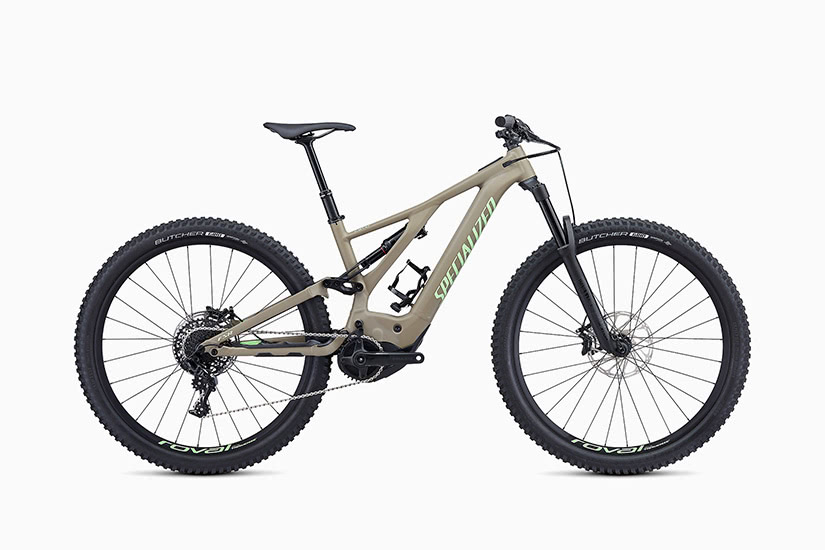 It can be hard to find an electric bike that fits the brief of combining all of the top features of a traditional e-bike with all of the additional features of a mountain bike. But Specialized's Turbo Levo Comp does just that, pulling together all of the factors to create a top quality electric mountain bike.
With a powerful electric motor and a class-leading range, the Turbo Levo Comp allows any mountain biker to sail through the more strenuous parts of the journey while making the fun parts all the more interesting.
It's a popular choice on the market that's known for its outstanding battery life, whisper-quiet motor and climbing performance. It offers great control on uneven terrain with a reputation for helping bikers climb uphill and descent back downhill with ease.
"Innovate or Die" is Specialized's motto and it proves just that with the arrival of the Turbo Levo Comp. The low centre of gravity and position of the motor allow for stability and agility when travelling downhill and the weight of the bike helps when cycling on particularly loose conditions.
It uses kinematics and design cues for trail cycling conditions and offers a genuine, comfortable mountain bike experience.
Website: www.specialized.com
Gocycle GX folding e-bike: Best foldable electric bike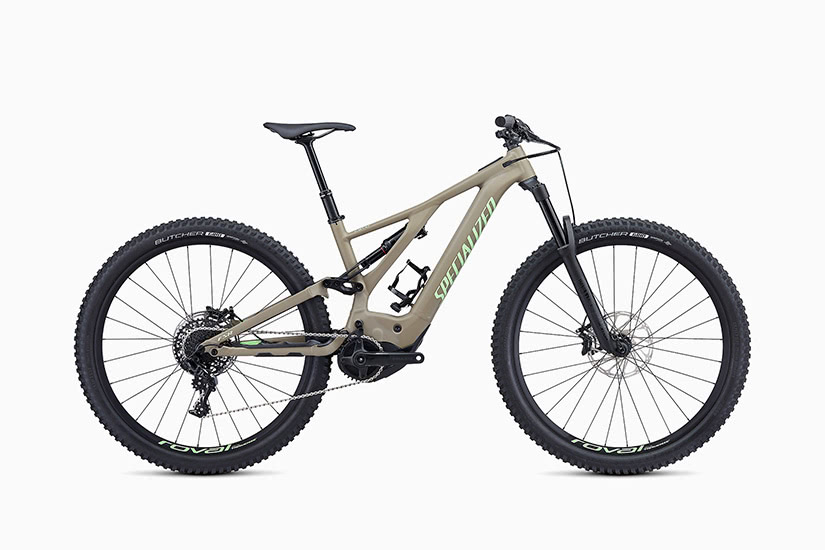 Gocycle's GX folding-ebike offers everything you could want from an electric bike with the added bonus of it being easily portable. Gocycle as a brand was launched by one of McLaren's designers, promising expertise with a history of successful vehicles.
It's an incredibly easy bike to own, from its 17.8kg frame to its "neutral" balance, making it simple to carry up a flight of stairs. It's a great starter bike for someone branching into the electric bike world who wants something easy to manoeuvre and equally as easy to ride.
The geometry of this bike means virtually anyone between 4ft 10in and 6ft 7in can ride it comfortably. It's lightweight but durable, combining a smooth and stable journey with a clever design.
It can reach speeds of 15.5mph and easily packs into a compact bag. It folds up small without any exposed pieces, meaning there's no chance of accidentally smearing oil as it's transported. With most components and connections integrated into the frame, it's a great urban bike and perfect for commuting. Gocycle claims it can be folded away in a mere 10 seconds.
Website: www.gocycle.com
Budnitz Model E: Best lightweight electric bike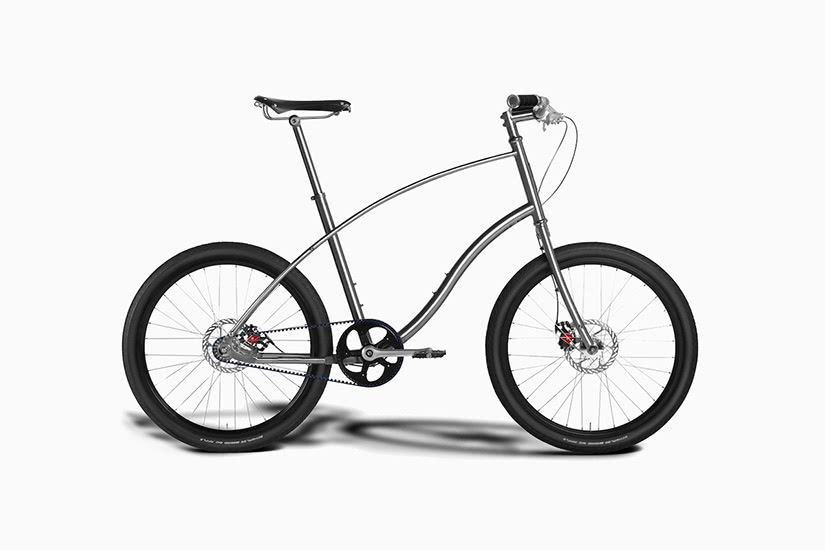 With an aluminium frame and a removable battery and motor, the award-winning Budnitz Model E is the perfect e-bike for those who don't want to lug a heavy bicycle around. Many bikes may offer a removable battery, but a removable motor is a far rarer sight. The Budnitz Model E starts at 17kg but this drops to a tiny 13.4kg when the battery and motor are removed.
Budnitz is known for being a boutique brand and offers a stylish bike with plenty of impressive features. It boasts electrical assist up to 20mph and a Shimano Alfine 8-speed internal gear hub for an almost-maintenance-free drive system.
It's a fairly unique offering to the e-bike market that recharges when pedalled backwards or cruising downhill. There are also the benefits of it having no visible chain or complex gear system.
When the battery and motor are removed – easily, by dropping out of the downtube – the bike can be ridden as a standard model. It's a great option for those who want a versatile bike both with and without power.
Website: www.budnitzbicycles.com
SwagCycle EB5: Best budget electric bike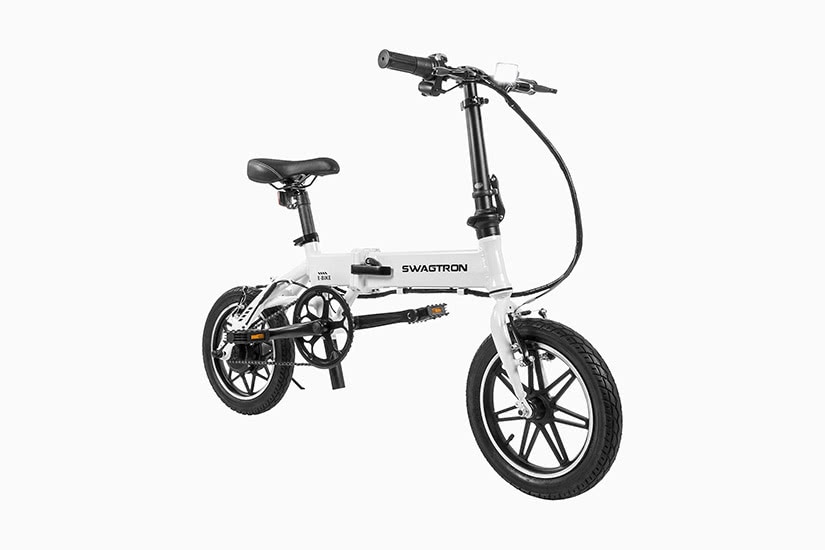 At $499.99, the SwagCycle EB5 comes in at a far more accessible price point than most on the market. But its low price should all but be ignored when it comes to the quality and versatility of this e-bike, which boasts a lightweight frame and convenient design.
The EB5 looks very similar to a standard bike due to the battery being hidden inside of the main frame. Ride it in pedal assist or full throttle mode to hit speeds of 15.5mph or around 20mph if pedalling alongside the motors.
While the EB5 only has one gear, the gearing ratio is so low that there are no problems climbing hills. It's a bike that's easy to control and straightforward to engage with multiple riding modes.
Alongside its low cost, this bike combines comfort, range, compatibility and size, making it a strong choice for a first electric bike without investing too much money. It's thought to be the best-balanced model in the brand's electric bike collection and could be the ticket to an easy commute.
Website: www.swagtron.com
Bianchi Aria E-Road: Best electric road bike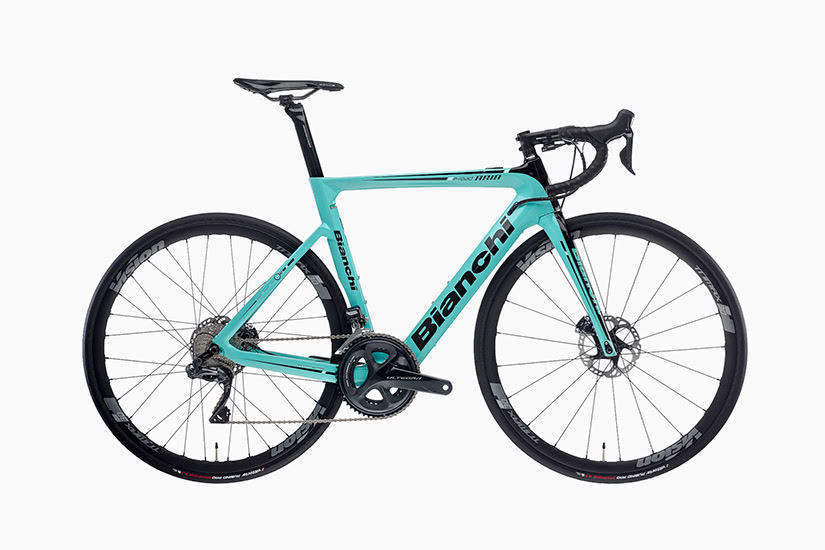 If there's one brand known for its superb road racing, it's Bianchi. With a great range and plenty of power, the Aria E-Road offers one of the best-looking road bikes on the market that promises equally as strong performance.
The Aria looks like many of Bianchi's other road bikes but comes with a few extra features to position itself at the very top of the ladder. It features multiple gears and serious assistance when driving, with one of the least bulky motors on the market and a long-lasting battery, too.
Its pedal assist function works up to speeds of 20mph and it's a bike almost as suitable for hills as it is flat roads. The Aria packs a punch on all five motor modes, partially thanks to its relatively low weight. Complete with mudguards and racks, it has the potential to be a great commuter bike.
The battery takes around four hours to charge to full power and its versatility makes it ideal for a range of riders.
Website: www.bianchi.com
Tern GSD S10: Best electric cargo bike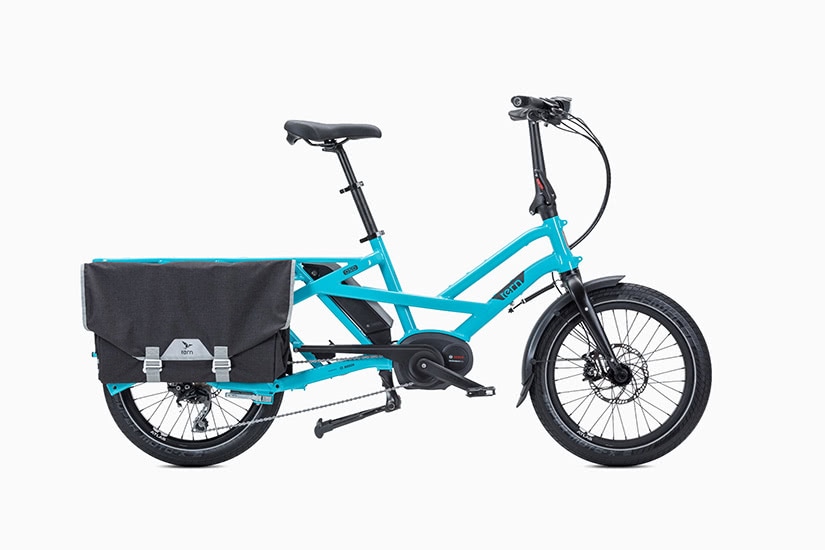 Tern's GSD S10 manages to bring together all the features of a traditional cargo bike with almost all of the attractive qualities of an electric bike. In contrast to many, typically lengthy cargo bikes, the GSD is only about as long as a traditional city bike. It weighs a little extra, but has the ability to carry up to 400 pounds.
It's a bike that's shorter than many cargo bikes, which makes it easier to transport and navigate tight places. The Bosch mid motor and (optional 2nd) batteries which are set under the rack, offering a lower center of gravity and therfore enhance its ride performance.
It can reach a maximum speed of 25km/h (the maximum speed legally allowed for a Pedelec in the EU) and offers a 10spd derailleur system and four different levels of pedal assist. For longer distances, it's possible to upgrade to a double battery system. Importantly, there's also a walk assist mode if the bike has to be pushed up a slope.
The GSD weighs 27kg; a bit more than a standard city e-bike (average 23-25kg) but a reasonable amount considering its purpose and abilities.
Website: www.ternbicycles.com
Vintage The Cafe: Best vintage electric bike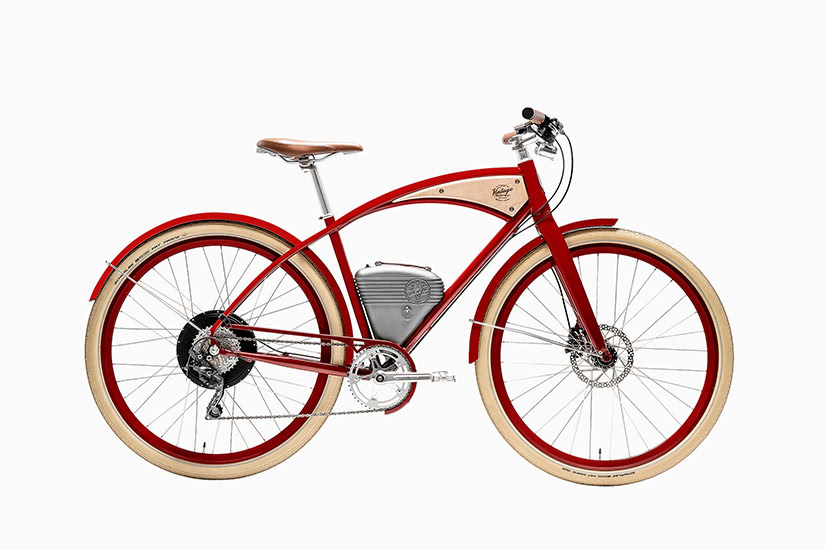 Electric bikes can be quirky as well as being technologically jam-packed. Combining the past and the future on two wheels, The Cafe offers all of the features of a standard e-bike but with kitsch aesthetics and a vintage colourway to create an electric bike with a difference.
Outfitted with beautiful laser etched wood inlays, The Cafe has five different levels of pedal assist and can travel up to speeds of 28mph. It has a top-of-the-line 750-watt rear-hub motor that promises power almost instantly.
Along with being one of the most unique looking electric bikes on the market, The Cafe is a great option for commuters with its quiet motor, bluetooth-enabled controller and seamless journey on the road.
It offers speed and confidence with a 50 watt drivetrain that delivers nearly three times the power of the average electric bike on the market. It comes in three sizes and includes the versatility of a removable battery for easy transportation.
Website: www.vintageelectricbikes.com
VanMoof S3: Most versatile electric bike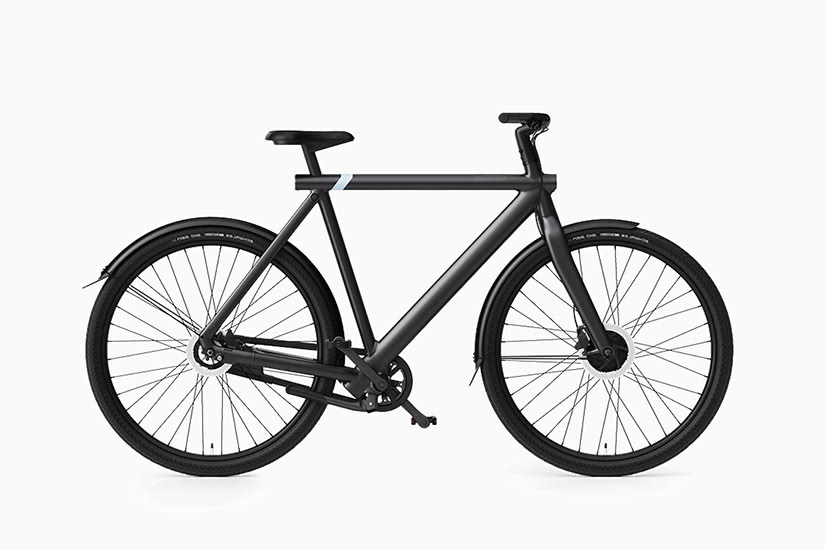 The VanMoof S2 was already regarded as one of the best electric bikes on the market and its successor, the S3, has somehow improved on that. Its advanced electronics and sleek design make it one of the best picks on the market for those looking for a strong allrounder for endless occasions.
The VanMoof S3 comes in slightly cheaper than the S2 and the brand claims it's "an upgrade to the S2 in every way." It offers smooth automatic shifting, a near-silent front motor engine and built in anti-theft software. And, of course, it's hundreds of dollars cheaper than its predecessor.
Its edgy design is complemented by its tech-heavy features, with a screen implanted into its crossbar, a loud alarm and a built in GPS.
Ride it in Turbo Boost mode to hit top speeds of 20mph with minimum effort or cycle without pedal assist fairly easily, despite the 19kg frame. It promises a range of 93 miles when riding in Economy mode or 37 miles when riding with full power. It has a Boost button for tackling hills or getting started pedalling. It also only takes about four hours to fully charge.
Website: www.vanmoof.com
Giant FastRoad E+ Pro 2: Best electric hybrid bike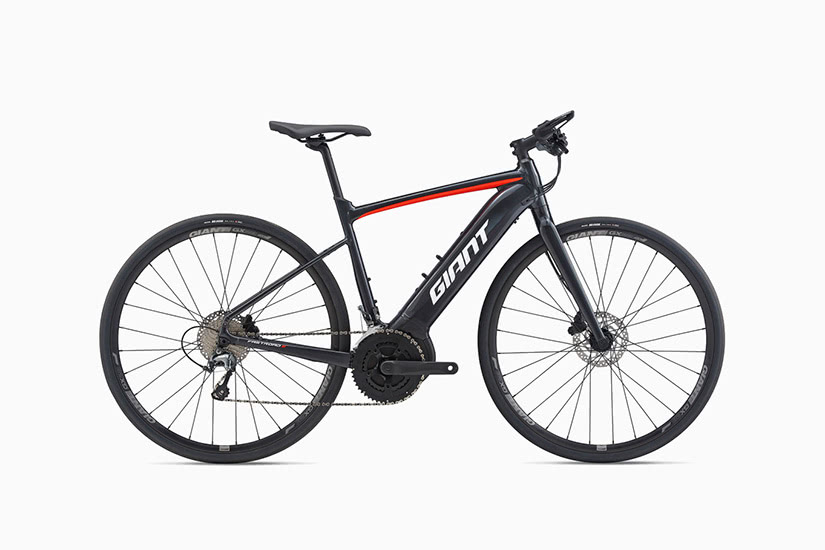 Hybrid bikes bridge the gap between standard bikes and mountain bikes. Add some electricity to the mix and the result is an e-bike that can tackle almost every terrain. The best on the market is Giant's FastRoad E+ Pro 2. With great styling and an integrated battery, it's a bike that's not intimidating for beginners with a variety of driving modes.
It boasts a 150km range when used with the ECO mode or up to 70km on the Sport+ mode. The hybrid nature of the bike means its brakes are incredibly responsive and it's a smooth and balanced bike to ride on long distances.
Giant's FastRoad E+ looks almost indistinguishable from the brand's non-powered counterparts, making it the perfect choice for anyone who would prefer to ride a more understated vehicle. It features one of the best e-bike motors currently available on a production bike with a powerful SyncDrive Pro motor.
Its inbuilt technology makes climbing hills an easy task and the motor will cancel out any wind resistance when pedalling into a strong headwind. It reaches a maximum speed of 15.5mph and remains relatively easy to cycle once the battery runs out.
Website: www.giant-bicycles.com
Cowboy: Best electric bike for commuting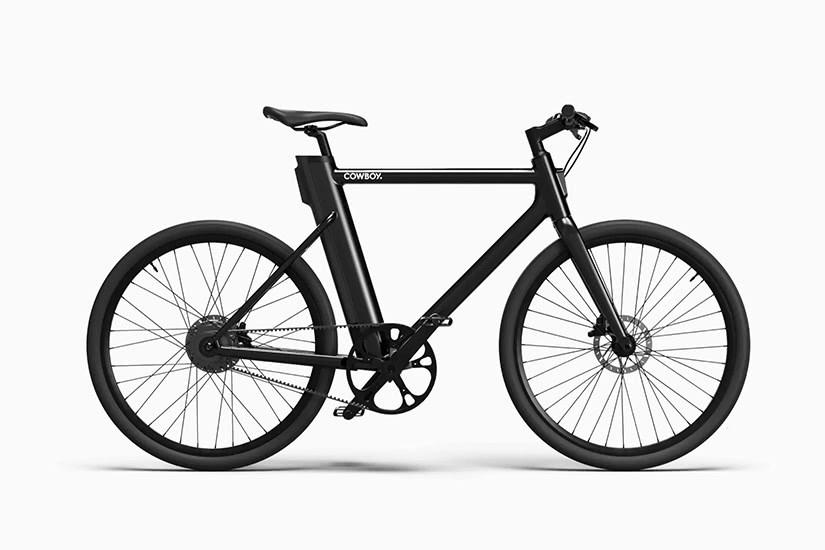 With everything from anti-theft protection to a sleek design, Belgian brand Cowboy has created an electric bike that's become many a commuter's best friend. This smart, light bike runs smoothly on the road and has plenty of commuter-friendly features while remaining at an accessible price point.
One of the most innovative features of the Cowboy is its GPS security feature and added layer of smartphone-connection protection. The electric motor of the bike can only be turned on when synced with a paired smartphone; an extra layer of security allowing commuters to lock the bike up with peace of mind throughout the day. The bike is linked using a SIM card, meaning it's trackable at all times.
The Cowboy is compatible with a wide range of third-party hardware and has a removable battery for easy transportation. Even with the battery included, the bike only weighs just over 16kg. It's a seamless transition between standard cycle and pedal assist, with a smooth ride and a quiet motor.
It's capped at an EU-regulated 15.5mph and has a range of around 43 miles, meaning it only requires charging once or twice a week for the average commuter.
Website: www.cowboy.com
Bulls Desert Falcon EVO: Best electric bike for the money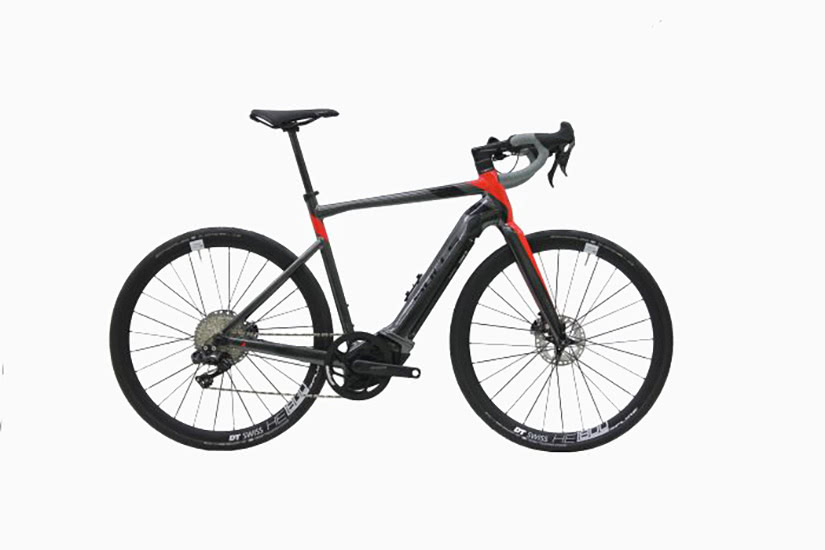 Known as the Ferrari of ebikes, Bulls' Desert Falcon EVO is built for speed and performance. Equipped with everything a cyclist could want and more, it's a solidly-built aluminum alloy road bike with a great design.
The Desert Falcon EVO features a fourth generation Bosch Performance Line Speed motor, allowing for assisted speeds of up to 28mph. Its innovative battery installation makes this bike easy to manoeuvre and balancing a straightforward act.
Shifting gears is a crisp process, as is the general movement of the bike. It's one of the few electric road bikes that comes with drop bars, providing a comfier position while cycling and allowing for faster speeds. Connect the Bluetooth app if you'd like to use your smartphone to navigate while cycling and keep an eye out for the helpfulness of the Bosch motor controller.
This controller measures rear wheel speed, pedal cadence and pedal torque over 1,000x per second to ensure a smooth ride and fluid shift detection in order to reduce wear. While it might be slightly heavier than others on the market, this works to its advantage when it comes to feeling secure on the road.
Website: www.bullsbikesusa.com
Greyp G6X: Best for tech lovers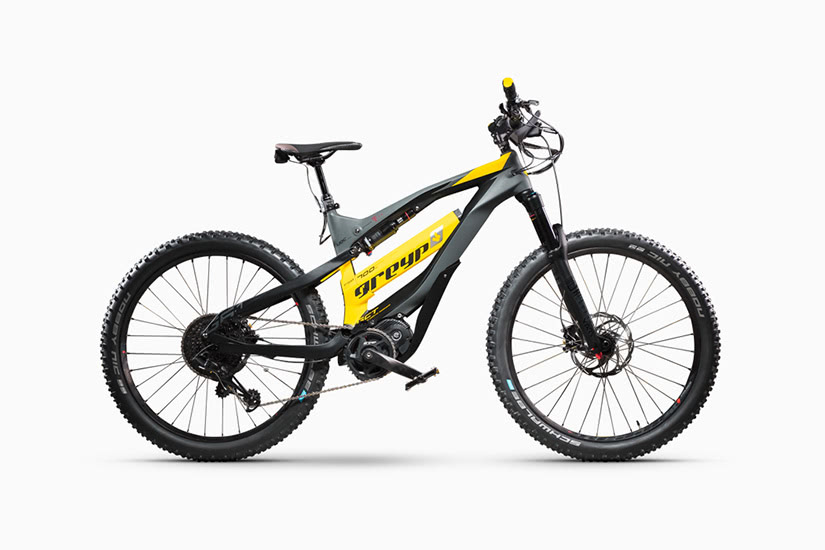 Greyp Bikes is a Croatian brand owned by the founder and CEO of Rimac Automobili, a company that produces hypercars to rival any Ferrari or Lamborghini. So it's a brand that has tech at the forefront of its business; a decision that's produced perhaps the most tech-heavy electric bike on the market.
The G6X combines everything from a Robot Operating System and a software framework for personal robots, to a 3G-module and an eSIM, allowing the bike to be permanently connected to the internet. It's also possible to wirelessly update the bike using this (free) method. It uses Bluetooth to process and stream any data as well as for a security protocol.
When connected to a smartphone, the e-bike sends this data to an app, where a user can track their fitness, navigate a route and calculate range. When disconnected, the app turns into a remote control, showing battery power, remote camera access from the multiple inbuilt cameras, an alarm system and a kill switch in case the bike is stolen.
The statistics of the bike itself are just as impressive. The motor is almost vibration free and hits speeds of 15.5mph. It's a bike that could easily shake up the world of tech.
Website: www.greyp.com
Which electric bike is best for your lifestyle?
Whatever your lifestyle demands, there's an electric bike on the market for you. Perhaps you want an easily liftable bike for commuting or one that's fast and can tackle hills without a problem.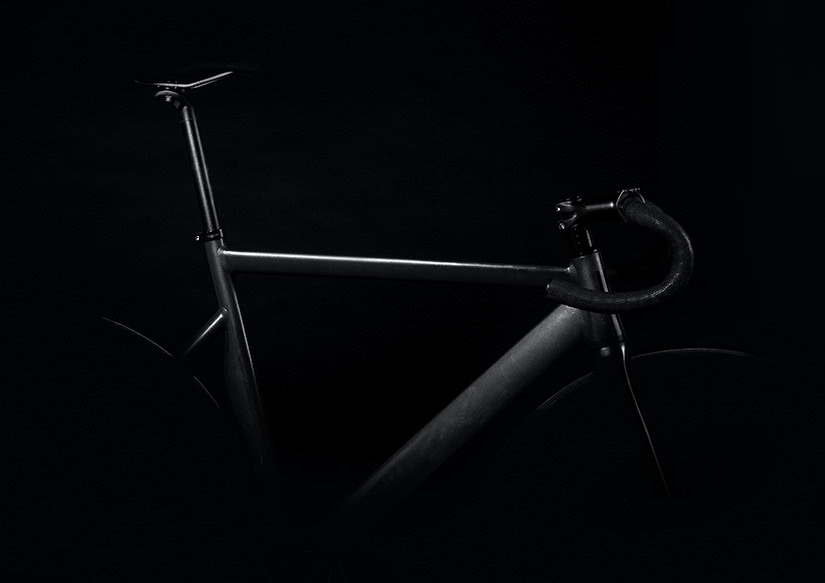 When choosing the e-bike that's perfect for you, take into account factors like:
How often will you be using the bike? Daily? Weekly? Every so often?
What will you primarily be using it for? Commuting? Exploring? Or something else?
What speeds are you hoping to hit? With this in mind, make sure to research the maximum legal speed in your country.
What sort of terrain will you be cycling on?
Do you want a front or rear motor drive e-bike?
Do you need a bike that folds and is easily portable?
Our methodology to select and rank the best electric bikes of 2020
Although the best electric bike is the one that suits you and your lifestyle, there are a few different factors to take into consideration when choosing a list of strong contenders.
Firstly, we looked at the offerings of some of the most popular cycling companies in the world. Then, we branched out our search to take into account other companies that might not specialise in electric bikes, but had released one or more highly ranked vehicles.
We also looked at the range and charging time of each e-bike, the quality and positioning of its motor, the variety of sizes and heights available and also the price of each bike.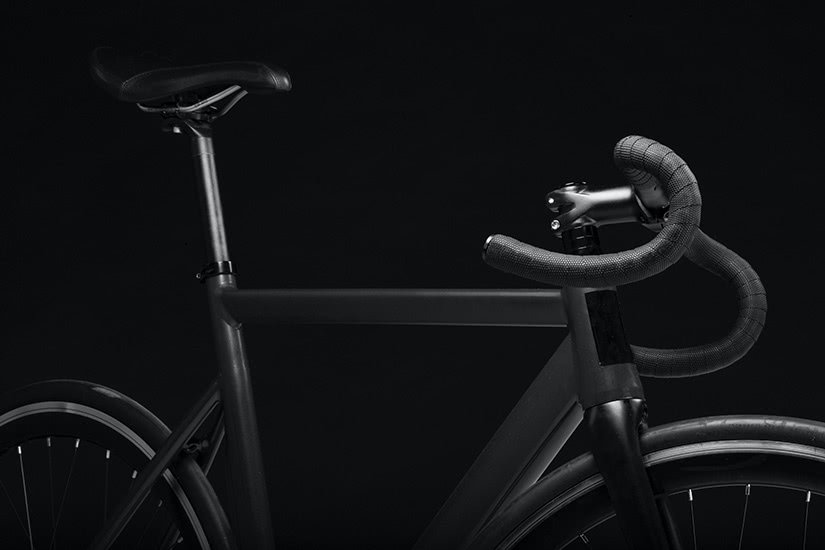 Frequently Asked Questions about electric bikes
What are the best electric bikes?
The best electric bikes are those with a long range, powerful motor, strong battery life and lightweight body. Most popular electric bikes have a rear or centre drive motor and offer the ability to remove the battery for easy transportation.
Who makes the best electric bikes?
The overall best electric bikes are made by Priority. These bikes are often in high demand and offer smooth Bosch motors and seamlessly shifting gears. Despite their impressive power, they're low maintenance bikes that are great for everything from commuting to weekend cycles.
Are front or rear drive electric bikes better?
Rear drive electric bikes are generally better than front motor drive electric bikes as the drivetrain directly connects to the rear motor. This offers a better-positioned centre of gravity and more power behind the wheel. Front drive e-bikes can struggle climbing hills and tend to have traction problems at low speeds.
What are the best brands of electric mountain bikes to buy?
Some of the best electric mountain bike brands to buy include Specialized, Giant, Bulls and VanMoof. These brands are all renowned for their top quality components, high-speed motors and ease of riding.