An electric bike offers the chance to explore from a whole new perspective.
The best electric bikes in the world come with the chance to speed up your commute or cycle around your local area and beyond without breaking a sweat. An ebike can open up all sorts of possibilities. Today, you can even find some of the best electric bikes available for under $1,000.
Distances that might have previously seemed tough become easy with an e-bike. Plenty of 2021's best electric bikes come complete with high-rise handlebars allowing you to tackle any kind of terrain or go off-road without having to swap wheels.
There are so many reasons to invest in an electric bike this year.
Perfect for commuting, the best ebikes can make your journey to work almost effortless and can, in particularly busy city centres, even be faster than driving a car. In London, the average speed a car travels is 7.4mph. It's easily possible to hit speeds of 15mph on an electric bike, halving your commuting time. And that's without having to bring a change of clothes.
It's also a great chance to squeeze in a quick workout. Many electric bikes allow you to switch up the power from a relaxing jaunt with the top level of assisted pedalling to a building-up-a-sweat level of exertion for a new challenge.
And, of course, it's a far more sustainable option for getting around. More and more people are switching to electric bikes in urban areas to do their bit for climate change. Swapping from four wheels to two is an easy way to do just that.
In a rush? Here's our selection of the top three best electric bikes available right now:
OVERALL BEST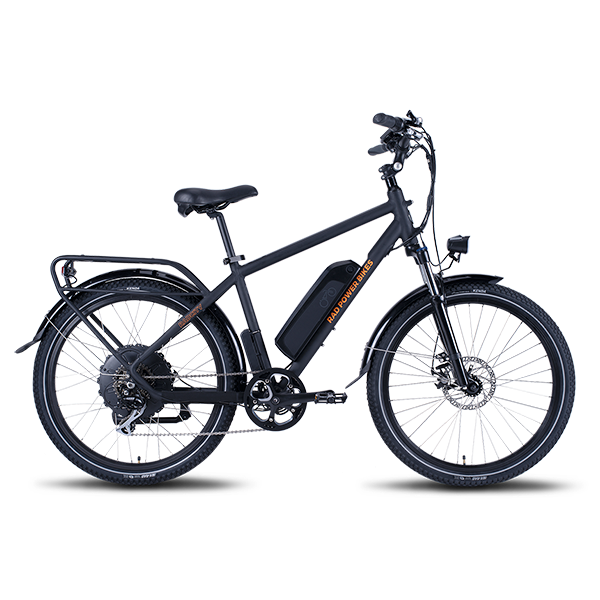 BEST VALUE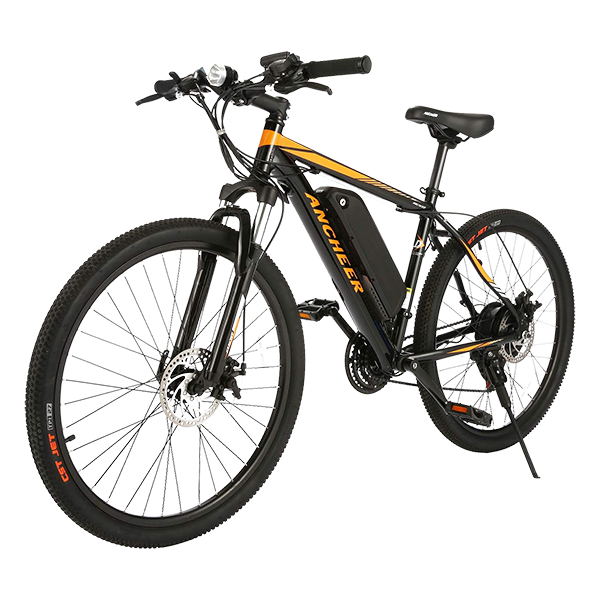 BEST PREMIUM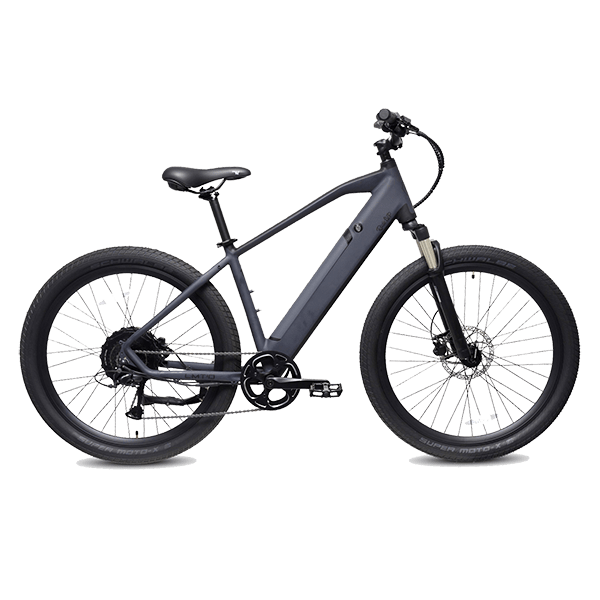 If you want something even more nimble for short distances, check our round-up of the best electric scooters of the year. Want something that can take you further? Check our selection of the best electric motorcycles or the best electric cars instead.
The 15 best luxury electric bikes of 2021
Check our special electric bicycle buyers' guide after the list to see exactly what you should pay attention to before purchasing an e-bike. We also share our editors' methodology to test and review the best electric bikes of the year, so you can shop with confidence.
RadCity 4: Best overall electric bike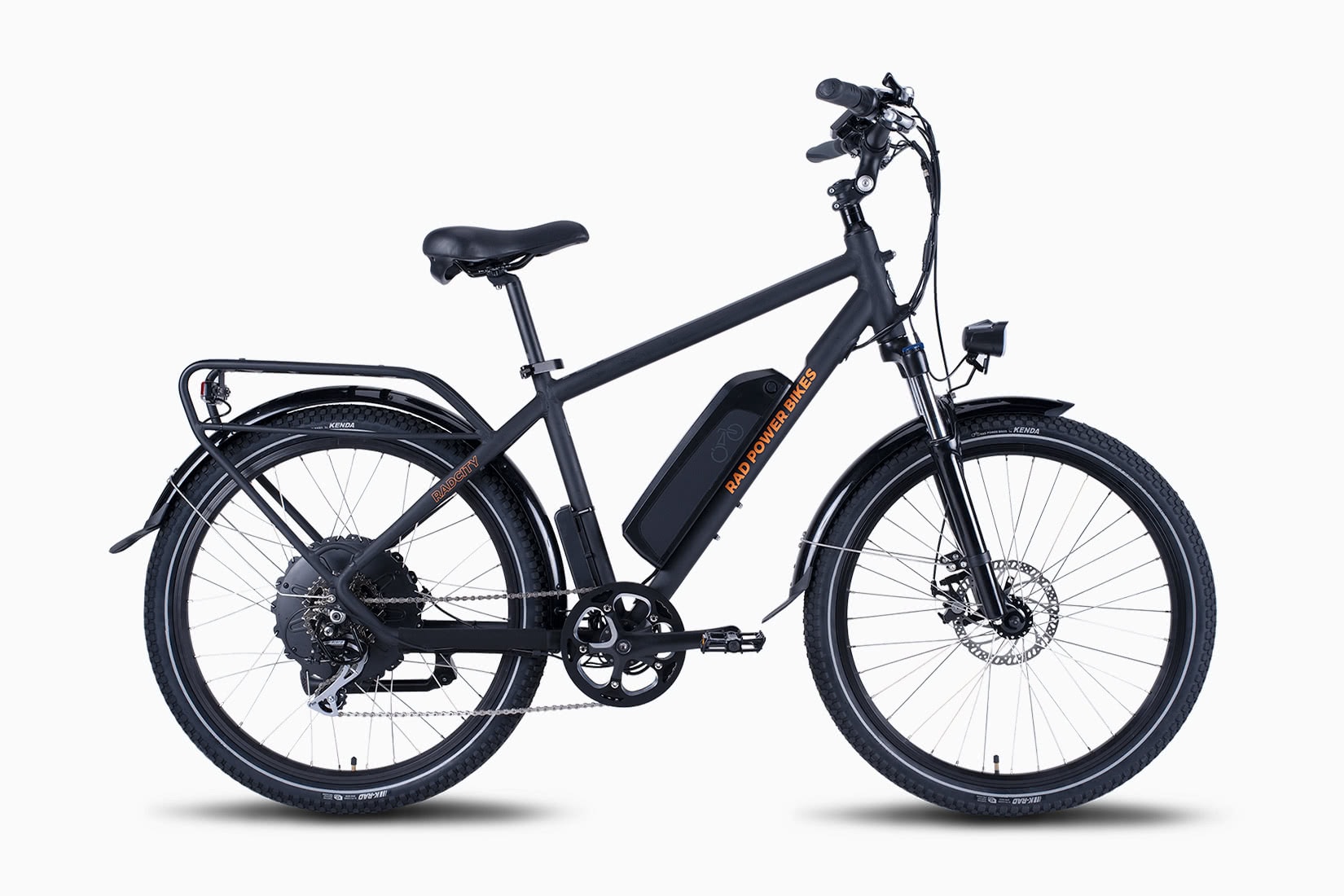 Smooth yet powerful ride. Easy on the road yet very capable on rugged terrain. The RadCity 4 Ebike easily wins over the overall best electric bike of 2021 category.
For its latest version, the RadCity 4 has been upgraded with a single 18.5" frame size to fit a wider variety of riders. Making it a great choice for a wide variety of riders and terrains. The updated handlebars are designed to keep you comfortable on longer rides, and it has mounts on its frame for an optional wheel lock.
Among the main highlights of this year, the RadCity 4 comes with puncture-resistant tires. A padded line of defence inside the tire provides extra protection against punctures from thorns, glass, and other small materials. The 7-speed gear gives you more torque when climbing hills and more speed when cycling on flat terrain. And an integrated rear brake light keeps you safe and visible on the road.
Check the full bike technical description on Rad Power Bikes' website for more information and the latest price.
Best for: The RadCity 4 is ideal for your daily commute and general road cycling
Motor: 750W brushless Shengyi direct drive hub motor with regenerative braking
Battery: 48V, 14 Ah (672 Wh) with Lithium NMC Samsung 35E cells
Range: Up to 45 miles per charge
Ancheer 26" Electric Bicycle: Best value electric bike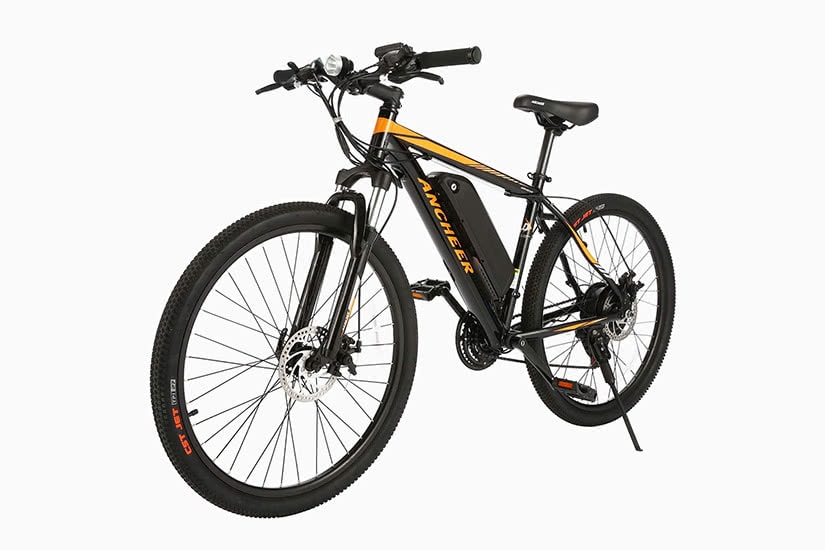 As the winner of our best value electric bicycle of the year, the ANCHEER 26″ Electric Mountain Bike comes in at a far more accessible price point than most on the market. But its low price should all but be ignored when it comes to the quality and versatility of this e-bike, which boasts a lightweight frame and robust design.
No wonder it's currently the best selling electric bike for sale on Amazon!
The Ancheer 26" ebike comes equipped with a 350W high-speed brushless motor. That's more than enough power for your daily commute, a cruise on the mountain, or a meander along your favourite trail.
On full ebike mode, the motor reaches an average speed of 20 mph. You can also select an assisted mode with four different power options, or a normal bike mode with the electric motor fully off. A small controller on the bike's handlebar lets you easily change modes according to your needs.
The ANCHEER 20MPH Ebike has a 36V 10.4Ah Lithium-Ion battery attached to its frame. The battery is removable and can reach a range of up to 40 miles per charge. You can recharge the battery on or off the bike.
The entire bike is made of high-quality Aluminum Alloy. The frame is lightweight and easy to manoeuvre yet solid and durable. The rims are made of double-walled Aluminum Alloy to offer greater durability and a faster ride with less drag. On the front wheel, you'll find a powerful suspension fork to ensure riding comfort across all terrain.
Best for: everyday use at a great price
Motor: 350W high speed brushless motor
Battery: Removable 36V 10Ah Lithium-Ion
Range: Up to 40 miles per charge
Ride1Up LMT'D: Best premium electric bike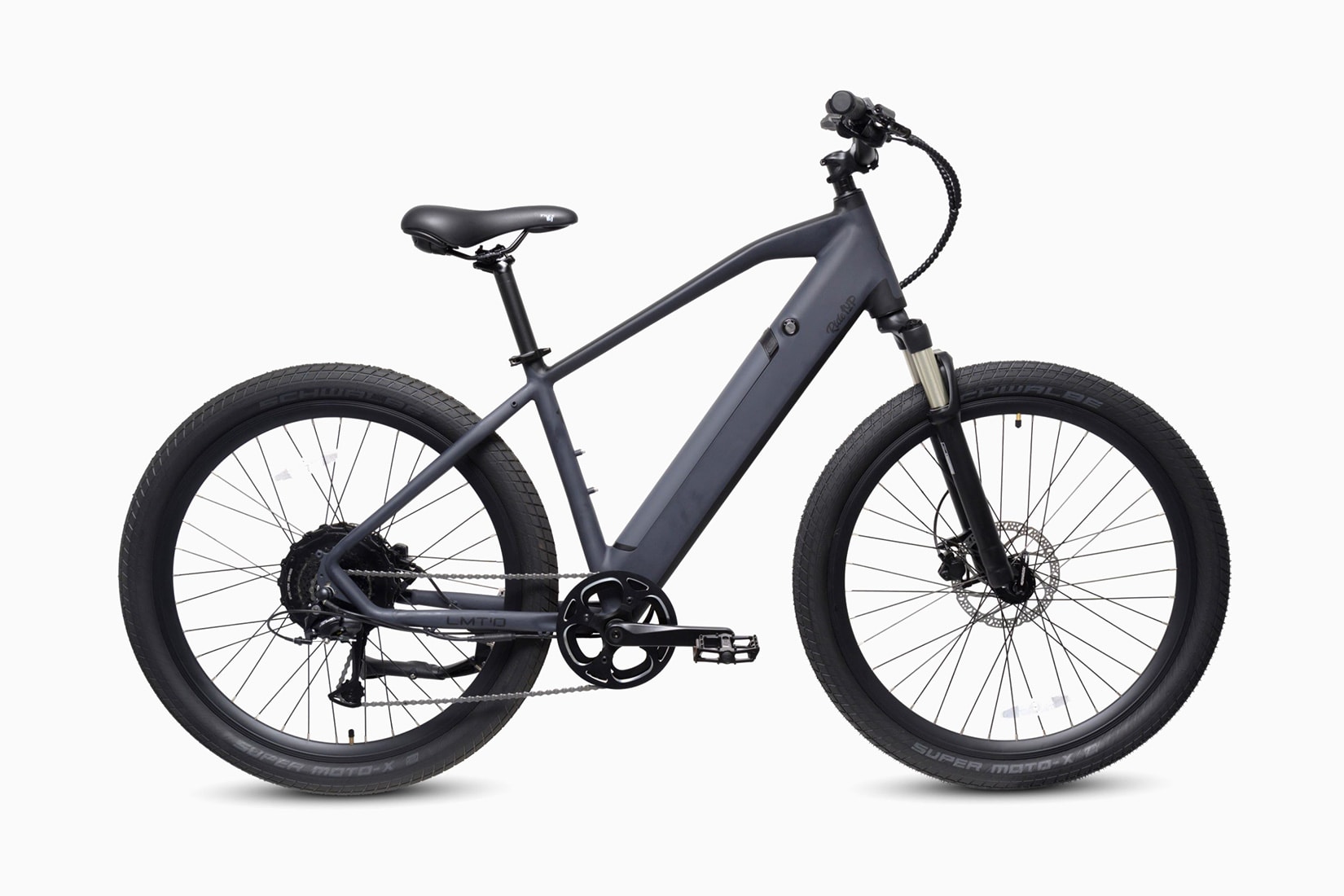 We like to call the Ride1Up LMT'D "the Tesla of e-bikes". With its powerful 1000W peak electric motor, upgraded LCD display, and high-quality materials throughout, the Ride1Up LMT'D is more than deserving the premium electric bike category title. You'll be surprised that its price remains affordable for the segment, however. Ride1Up is indeed known for designing some of the best value electric bikes on the market, and the LMT'D is no exception.
The LMT'D was designed almost as a car replacement, offering up to 50 miles of pure electric ride on a single charge using the higher levels of pedal assist. It can reach speeds of 28mph. It's a bike made with extreme attention to detail, with a similar setup to a motorcycle and fast acceleration to match.
Costing just a little over $1,000, it's full to the brim with impressive features like a high-speed brushless motor and a battery capacity twice as powerful as most of the other bikes on the market. The large capacity Samsung Lithium battery is hidden inside the bike's frame, boasting a stealthy look with no exposed wires.
The Ride1Up LMT'D's body is made of a lightweight alloy, all the internal circuits are protected and the electronics are locked in. The ebike also comes with Schwalbe Super-Moto X tires, an RST Asteria air fork, dual-piston Tektro Hydraulic brakes, and a comfortable silicone saddle. It's available in midnight grey or desert and sand.
Best for: Regular riders looking for the absolute best premium ebike on the market today
Motor: 48V 750W Geared MXUS Motor
Battery: 48V14ah Reention Eel Pro Samsung Cells
Range: Up to 50 miles per charge
Lectric XP 2.0: Best foldable electric bike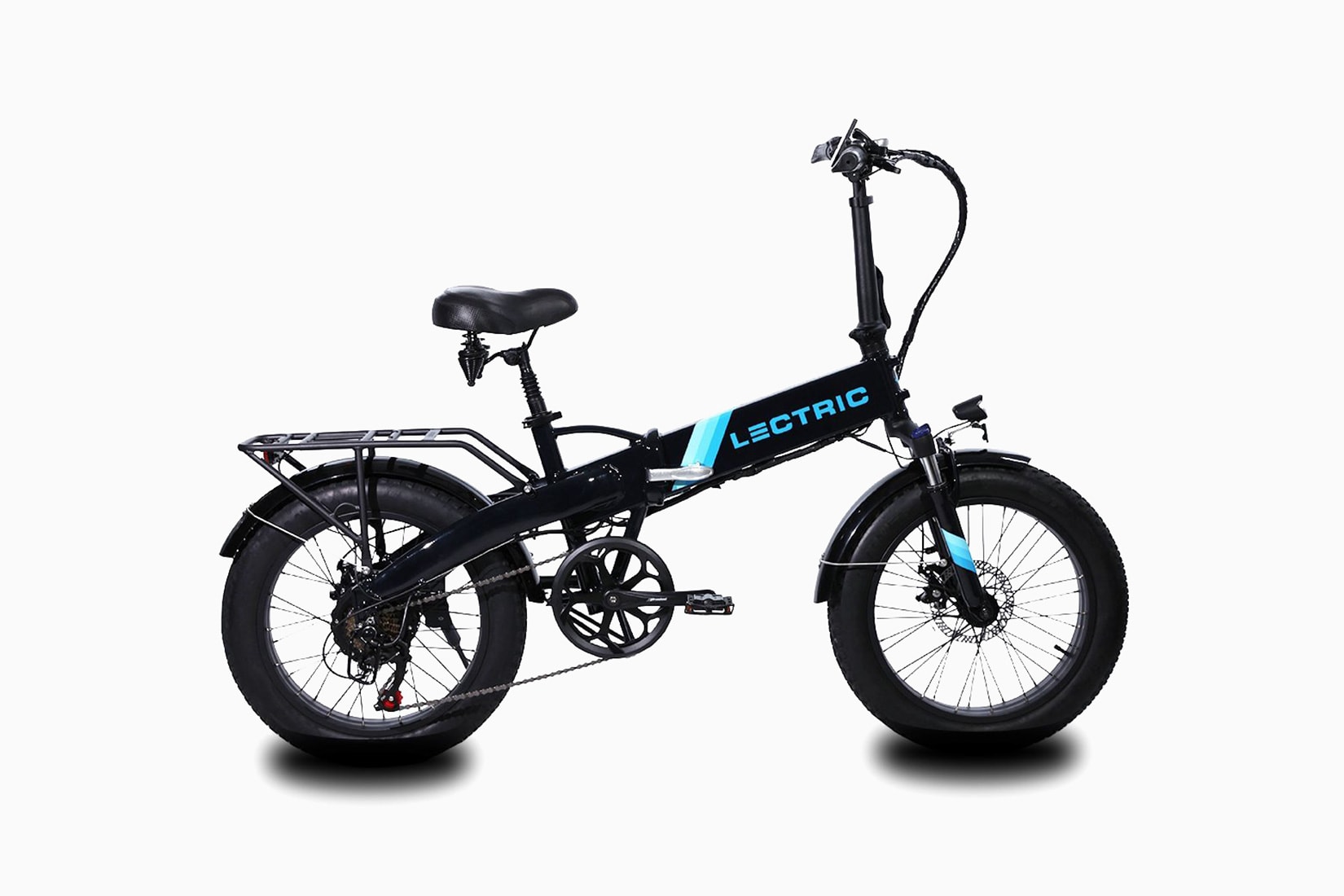 Lectric XP 2.0 folding ebike offers everything you could want from an electric bike with the added bonus of it being easily portable. Lectric is a brand known for making some of the best selling electric commuter bikes online. With the Lectric XP 2.0, they're applying their expertise to upgrading the best foldable electric bicycle with great effect.
It's an incredibly easy bike to own, from its lightweight frame to its "neutral" balance, making it simple to carry up a flight of stairs. It's a great starter bike for someone branching into the electric bike world who wants something easy to manoeuvre and equally as easy to ride.
The geometry of this bike means virtually anyone between 4ft 10in and 6ft 7in can ride it comfortably. You can also select a step-thru frame if you prefer.
Another bonus: The Lectric XP 2.0 is so compact that it comes pre-assembled. No need to figure out how to build it yourself. Unpack it and it's ready to ride right away.
Best for: Daily commuting in the city
Motor: 500W brushless geared rear hub
Battery: Lithium Ion 48v 9.6ah
Range: Up to 45 miles per charge
Ancheer Hummer: Best electric road bike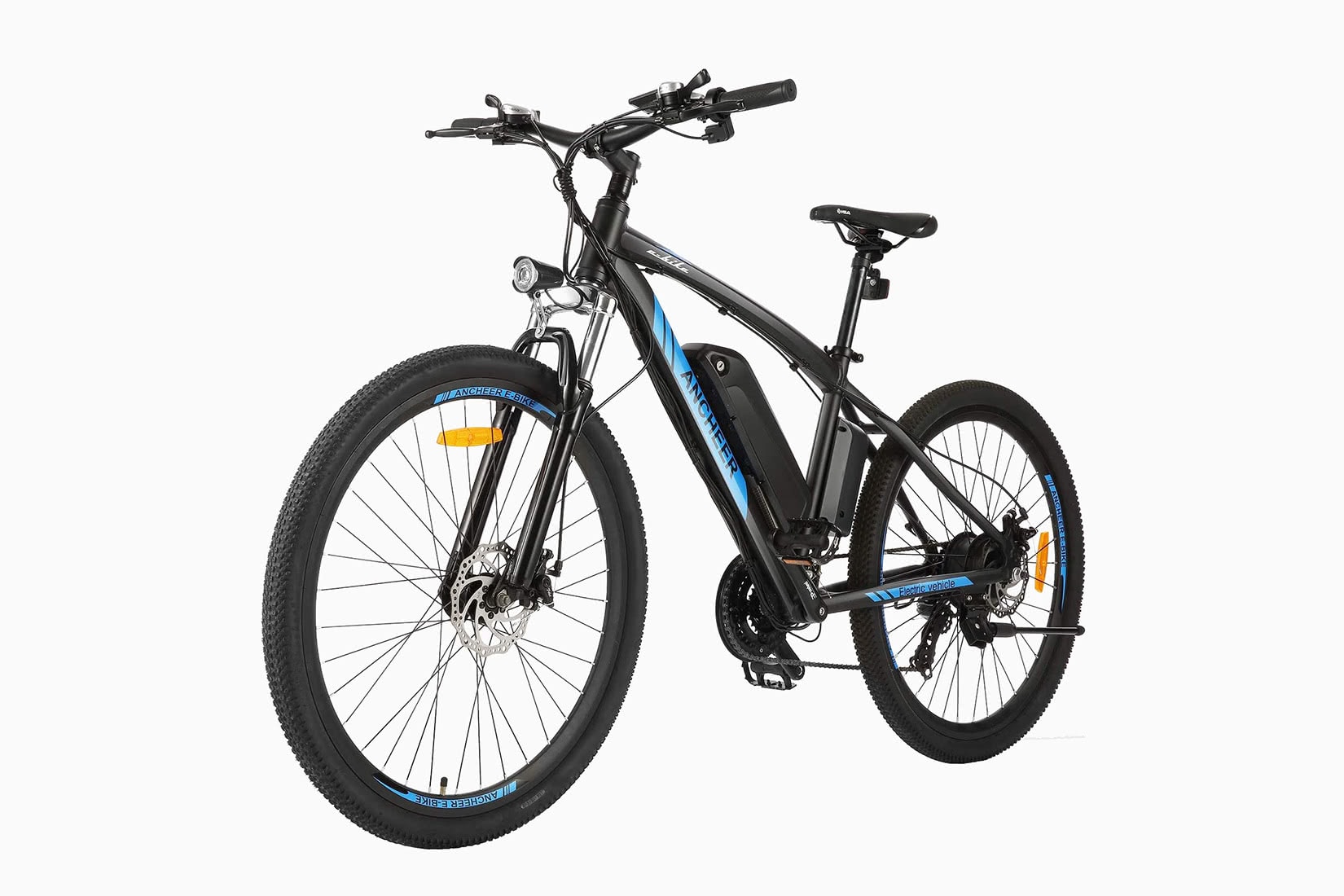 A smooth and quiet ride is exactly what you'll get from the Ancheer 27.5" Ebike. Much like many other bikes produced by the brand, the focus is on ease of riding and low maintenance while offering a high-quality journey and a sleek look. Perfect for your next road trip!
The Ancheer 27.5" Ebike is a sporty e-bike that combines features from a mountain bike and a commuter's bike. It's a great allrounder that feels light when accelerating and is easy to peddle, even when doing most of the manual work.
The Aluminum alloy frame is a sturdy choice without being too heavy. Its central motor position allows for easy balancing and offers a lower centre of gravity.
It has 21-speed gears and can hit speeds of up to 22mph (35km/h).
Best for: Out of the city cycling
Motor: 48V 500W high speed brushless gear motor
Battery: 48V 10Ah Lithium-ion
Range: Up to 38 miles per charge
RadRover: Best fat tire electric bike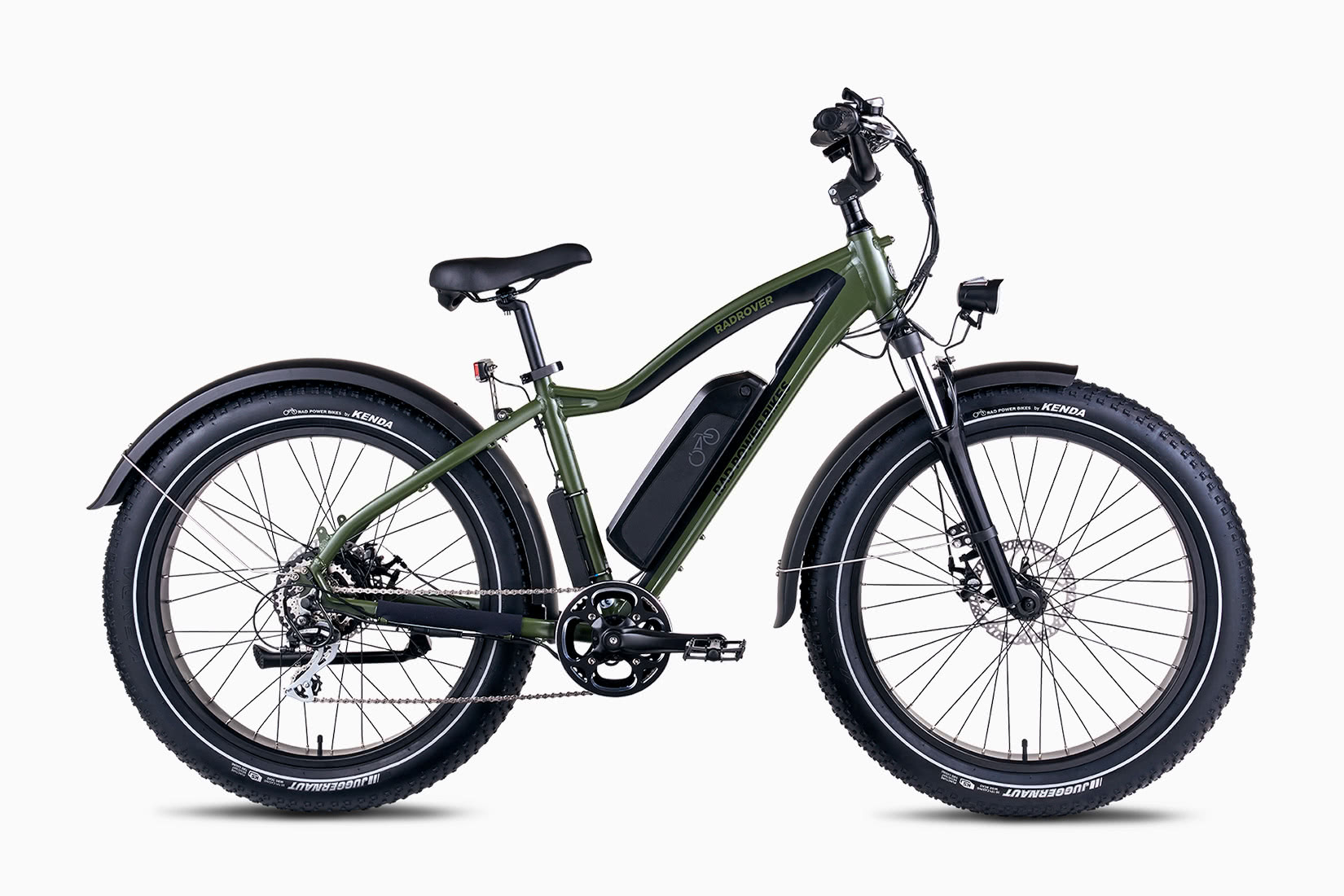 Rad Power Bikes strikes again with the RadRover easily winning the crown for the best fat tire electric bike of the year.
Looking for the riding comfort of a fatbike with the assistance of an electric motor? Check the RadRover fat bike. With its powerful 750W electric motor, 4" fat tires, upgraded LCD display, and high-quality materials throughout, the RadRover fatbike easily wins our best fat tire electric bike award — no wonder the model is currently the best-selling electric fat bike in North America.
The RadRover was designed to ride effortlessly through snow, sand, or muddy terrain.
Costing less than $2,000, it's full to the brim with impressive features like a 48V high-speed brushless motor and a Samsung battery capacity twice as powerful as most on the market. It's heavier than average, at 69 lb (31 kg), but makes up for that weight with plenty of innovative elements.
Best for: All-terrain comfortable electric cycling
Motor: 750W Geared Hub Motor
Battery: 48V, 14 Ah (672 Wh) Lithium NMC Samsung 35E cells
Range: Up to 45 miles per charge
Ride1Up 500 Series: Best lightweight electric bike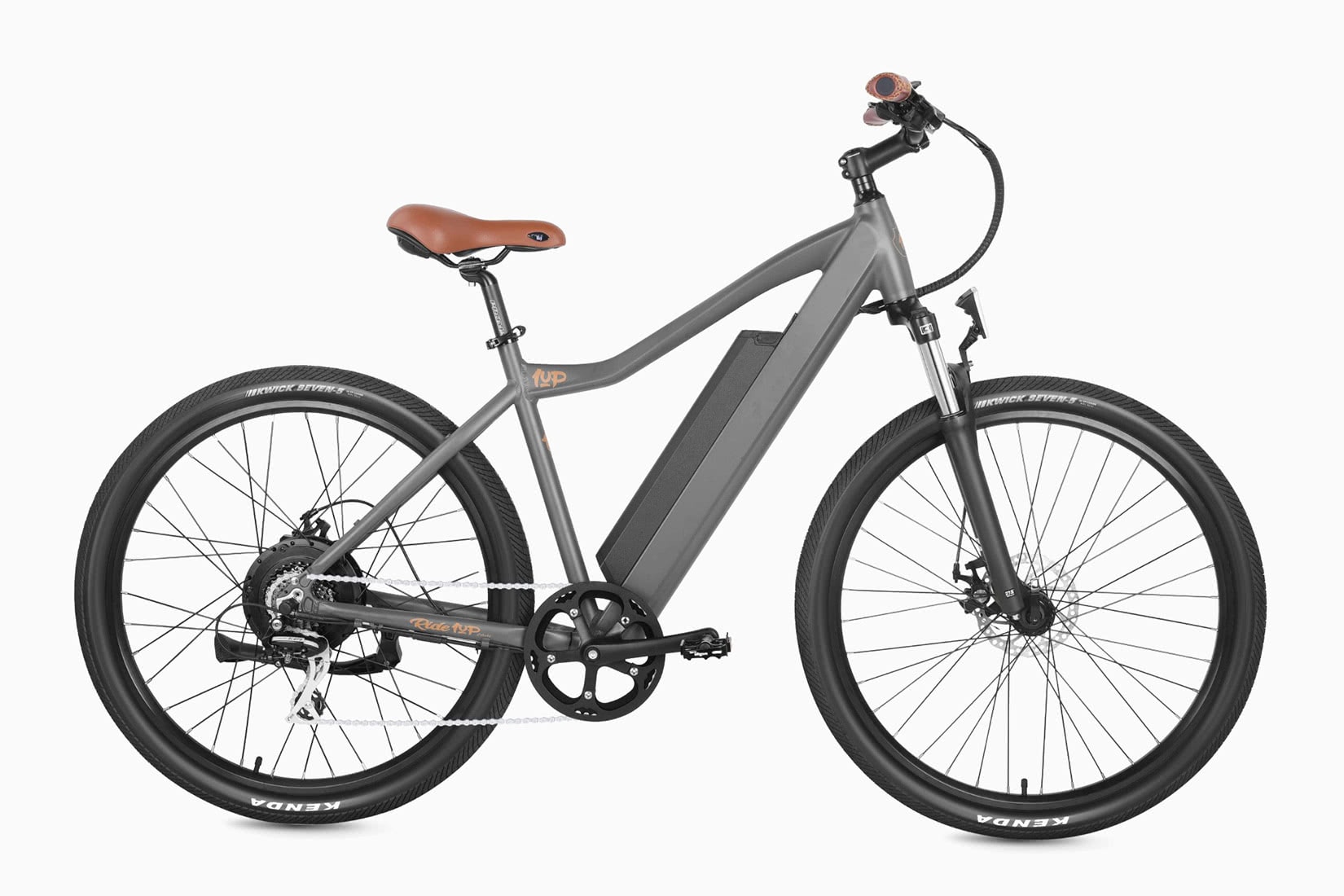 With an aluminium frame and a removable battery, the Ride1Up 500 Series is the perfect e-bike for those who don't want to lug a heavy bicycle around. The 500 Series weighs just about 55lbs with the battery.
Ride1Up is one of the best electric bike manufacturers online with a reputation for style, durability, and generous features. The 500 Series is the original best selling model from the brand. It has been updated with improved tires, a greater LCD display, and an upgraded gearbox for an almost-maintenance-free drive system.
Best for: Easy going all-surface at a great price
Motor: 750w geared hub motor
Battery: 48V 13AH Reention Dorado ID Plus with LG cells
Range: Up to 45 miles per charge
Eahora AM100: Best electric mountain bike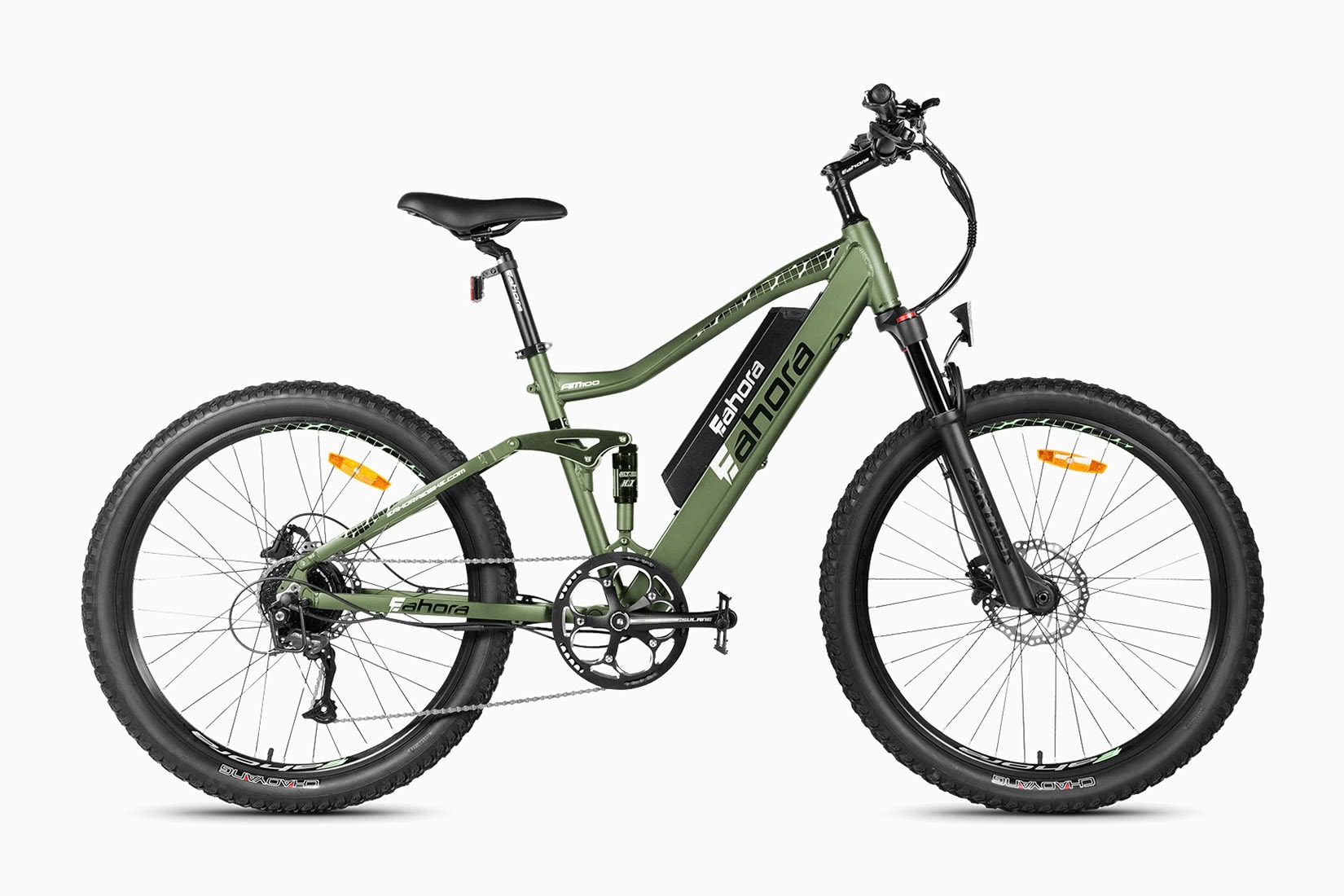 It can be hard to find an electric bike that fits the brief of combining all of the top features of a traditional e-bike with the additional features of a mountain bike. But Eahora's electric mountain bike does just that, pulling together all of the factors to create a top-quality mountain e-bike.
With a powerful electric motor and a class-leading range, the Eahora AM100 allows any mountain biker to sail through the more strenuous parts of the journey while making the fun parts all the more interesting.
It's a popular choice on the market that's known for its outstanding battery life, whisper-quiet motor and climbing performance. It offers great control on uneven terrain with a reputation for helping bikers climb uphill and descent back downhill with ease.
The low centre of gravity and the position of the motor allow for stability and agility when travelling downhill and the weight of the bike helps when cycling in particularly loose conditions. The Eahora AM100 mountain ebike comes with adjustable air suspensions to match your weight and riding style for more comfort. It's available in a range of colours, including green, black, blue, and red.
Best for: easy riding on rough terrainx
Motor: 350W power brushless
Battery: 48V 10.4Ah Samsung Lithium
Range: Up to 55 miles per charge
Ride1Up 700 Series: Most versatile electric bike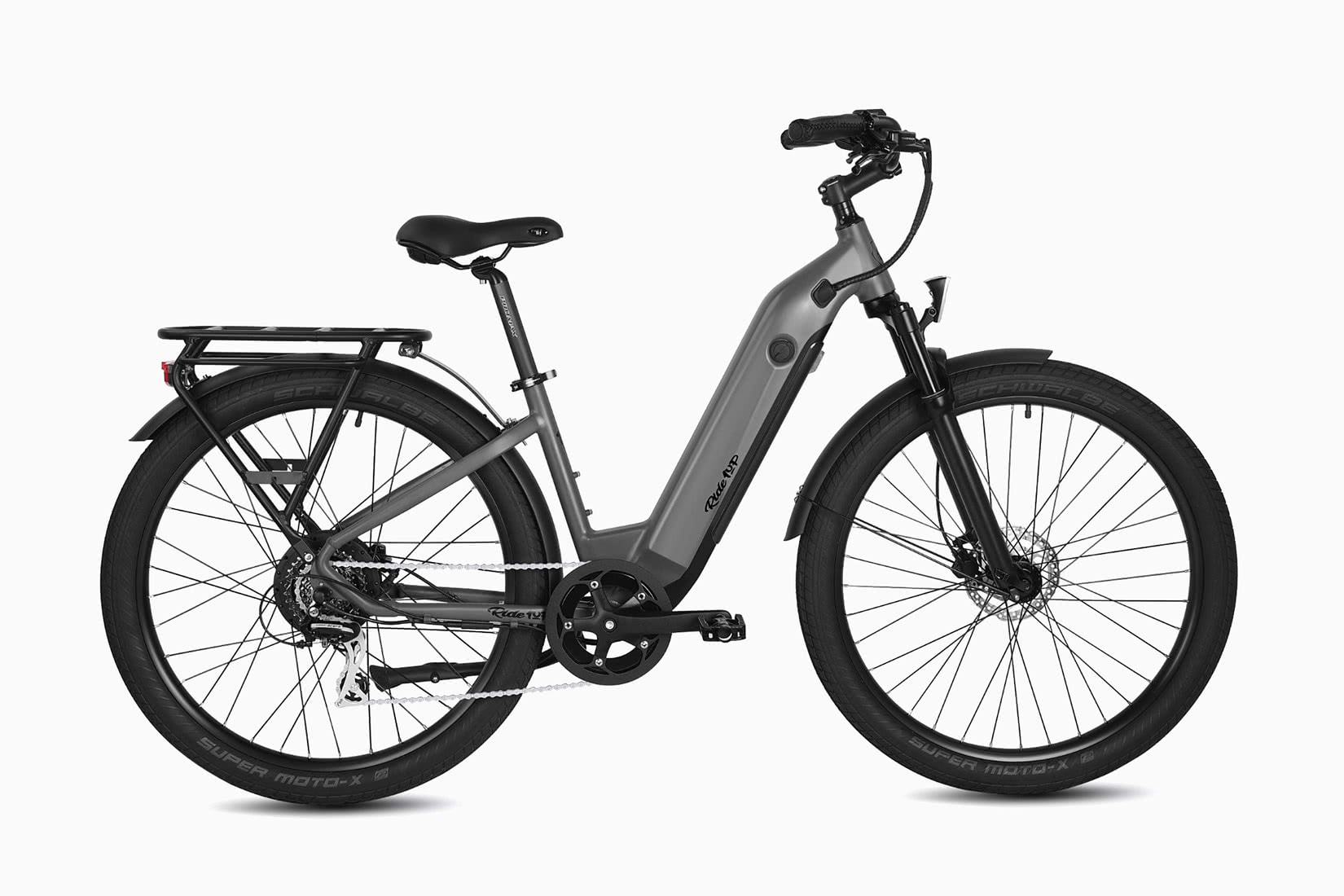 The Ride1Up 700 Series bicycle offers advanced electronics and a sleek design at the perfect price point. Priced in the middle of the range, the 700 Series is the best pick on the market for those looking for a strong allrounder electric bike.
The Ride1Up 700 Series offers smooth automatic shifting, hydraulic front and rear disc brake, and a 8-speed Shimano professional transmission system. Its edgy design is complemented by its tech-heavy features, with a monitor implanted into its crossbar, and integrated LED headlight and taillight, operated from the display.
Ride it in high-power mode to hit top speeds of 28mph with minimum effort or cycle without pedal assist fairly easily, despite the 62 lbs frame (which comes together with complimentary rack and fenders). It promises a range of up to 50 miles per charge, well above the industry standard. No wonder Ride1Up calls it their ultimate electric bike.
Best for: allrounder electric bike
Motor: 750w geared hub motor
Battery: 48V14ah Reention Rhino, 52x Samsung 35E Cells
Range: Up to 50 miles per charge
RadMini 4: Best beach electric bike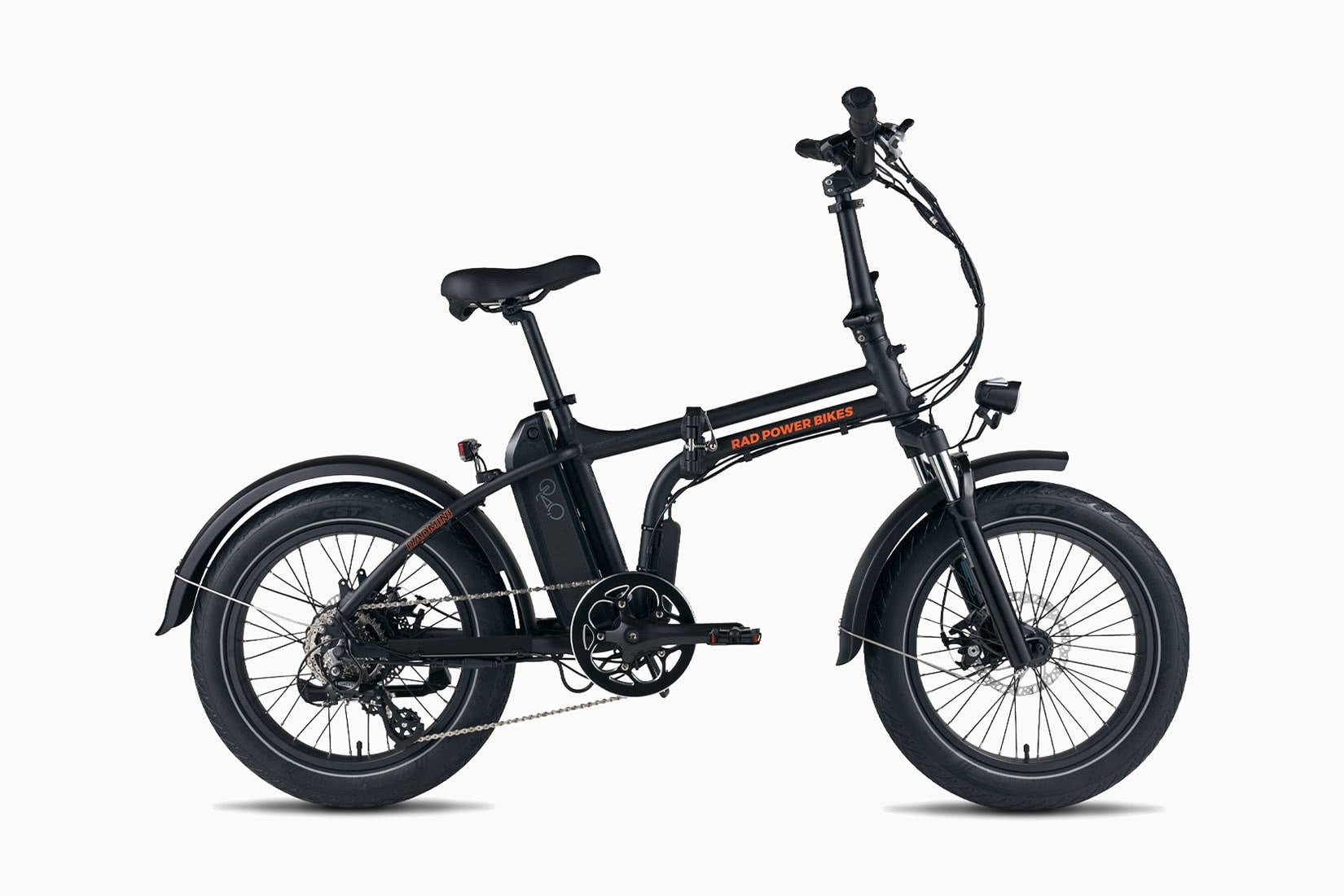 Another winner in the fat tires category, the RadMini 4 is our favourite electric bike to ride on the beach or any other sandy surface.
With its powerful 750W electric motor and extra-large tires, the RadMini 4 is easy to ride on the road too if you want. It's a great all-weather bike that can be used even throughout the winter in snowy conditions. Make sure to pull on extra layers to keep you warm, however, as you might get cold driving at 20+ mph on pure electric power.
On the handlebar, you'll find an extra-large display to show your speed and the mode in which you're engaged. You can easily switch between the three different assist modes with a dedicated button.
Best of all, the RadMini is also a foldable ebike, so you can easily fold it when you put it in your car's booth and gain some extra room.
Best for: difficult terrain
Motor: 750W brushless geared hub
Battery: 48V, 14 Ah (672 Wh) with Lithium NMC Samsung 35E cells
Range: Up to 45 miles per charge
Ride1Up Core 5: Best snow electric bike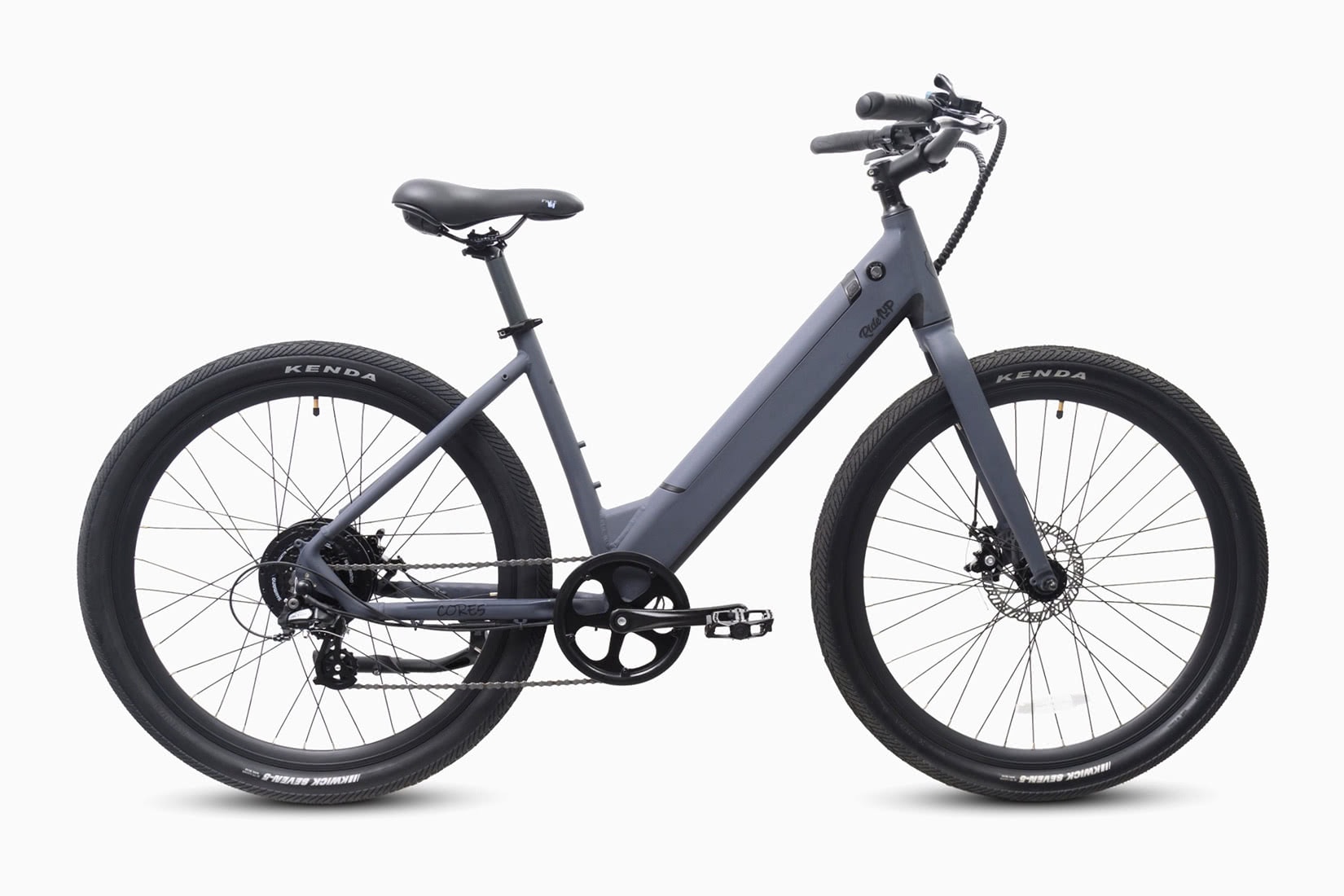 At a price slightly lower than other top electric bikes from Ride1Up, the Core 5 brings a stylish look in midnight grey or slate blue and all the power you need to ride in winter with its 750W electric motor.
The manufacturer's ambition with the Core 5 is to create the perfect electric bicycle to replace your car all year round.
Ride1Up Core 5's electric bike brings reliable shock-absorbing suspension and robust Kenda Kwick Seven tires to go off-road or to the office. When fully charged, the battery will easily take you over 40 miles. The exact range will vary based on how much assistance you require from the electric motor.
Best for: all year round riding, including through the winter months
Motor: 750w geared hub
Battery: 48V10.4ah Reention Eel Pro LG Cells
Range: Up to 40 miles per charge
Ride1Up Roadster: Best electric bike for the money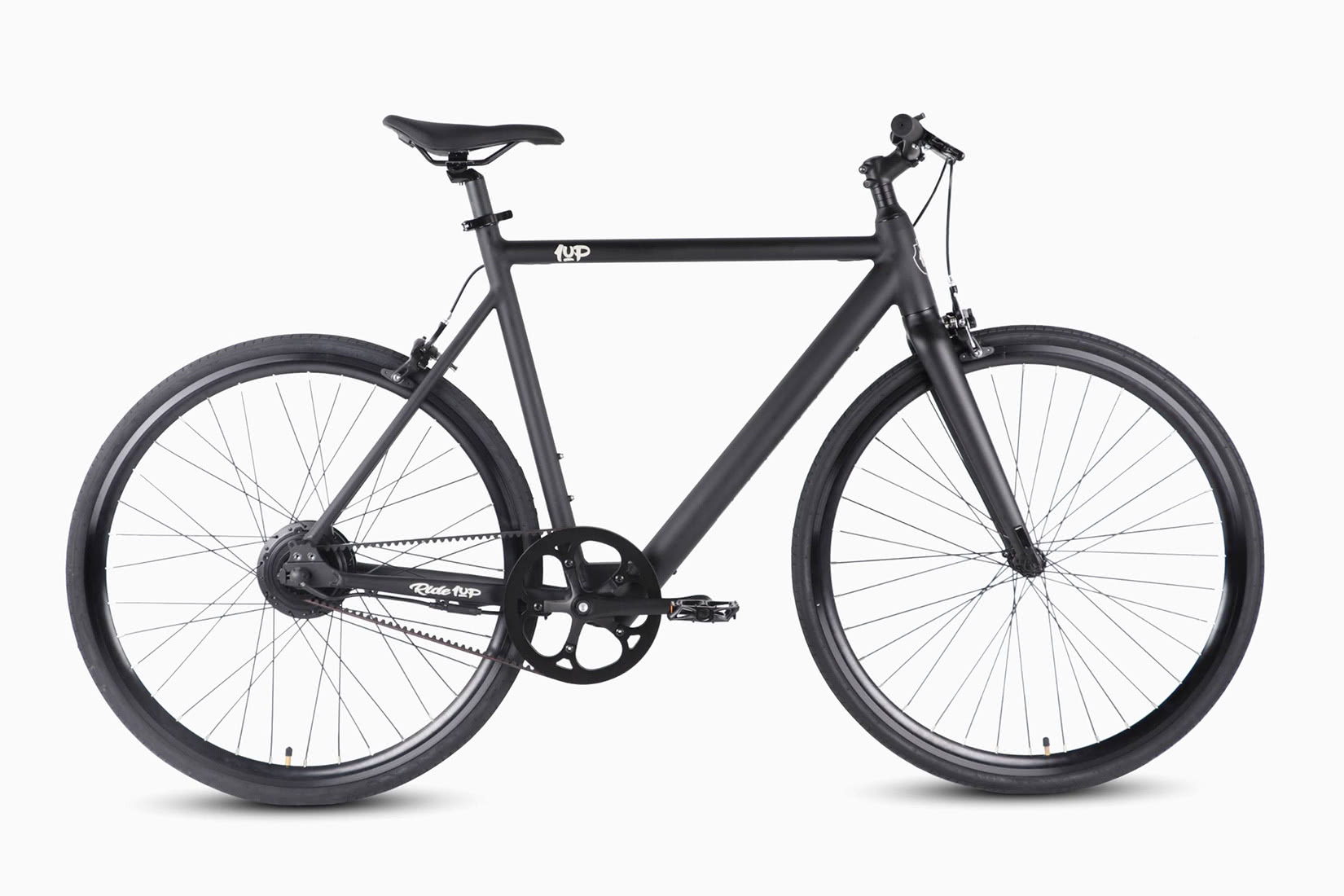 This is the cheapest electric bike from one of the best brands on the market. You couldn't tell by the look of it that it's just above the $1,000 mark though. The Ride1Up Roadster has been updated and improved to deliver a simple, fast, and fun experience. The design is as clean as it gets.
We think it's also amazing value for money. It offers all the essential features you would expect from an expensive electric bike but at a fraction of the price.
First, you can buy with confidence knowing that the Ride1Up brand is the top-rated bicycle brand online. Reviewed by thousands of cyclists, Ride1Up's bikes are among the best electric bikes on the market today.
With this model, you're not sacrificing quality for the price, though. The bike is made of high-quality materials that are lightweight yet durable. With a completely concealed battery and a barely audible motor, your friends will think you have superpowers to climb those hills effortlessly.
Best for: flat surfaces and urban commutes
Motor: 350w geared hub
Battery: 36V 7.0ah Samsung 35e Cells
Range: Up to 30 miles per charge
Ancheer Blue Spark: Best electric hybrid bike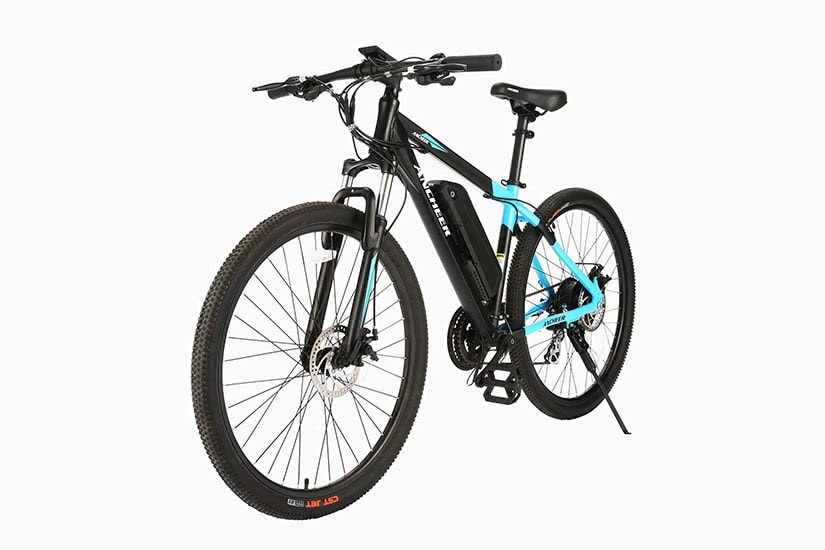 Hybrid bikes bridge the gap between standard bikes and mountain bikes. Add some electricity to the mix, and the result is an e-bike that can tackle almost every terrain. The best on the market is ANCHEER's 27.5″. With great styling and an integrated battery, it's a bike that's not intimidating for beginners with a variety of driving modes.
It boasts a 30 miles range when used in assist mode. The hybrid nature of the bike means its brakes are incredibly responsive, and it's a smooth and balanced bike to ride on long distances.
ANCHEER's 27.5″ looks almost indistinguishable from non-powered counterparts, making it the perfect choice for anyone who would prefer to ride a more understated vehicle. It features one of the best LCD displays with an upgraded panel for more readability while riding.
Its inbuilt technology makes climbing hills an easy task, and the motor will cancel out any wind resistance when pedalling into a strong headwind. It reaches a maximum speed of 20mph and remains relatively easy to cycle once the battery runs out thanks to its lightweight frame.
Best for: full mechanical or electric cycling
Motor: 350W brushless gear
Battery: 36v 10.2ah Lithium-ion
Range: Up to 30 miles per charge
RadRunner: Best electric bike for commuting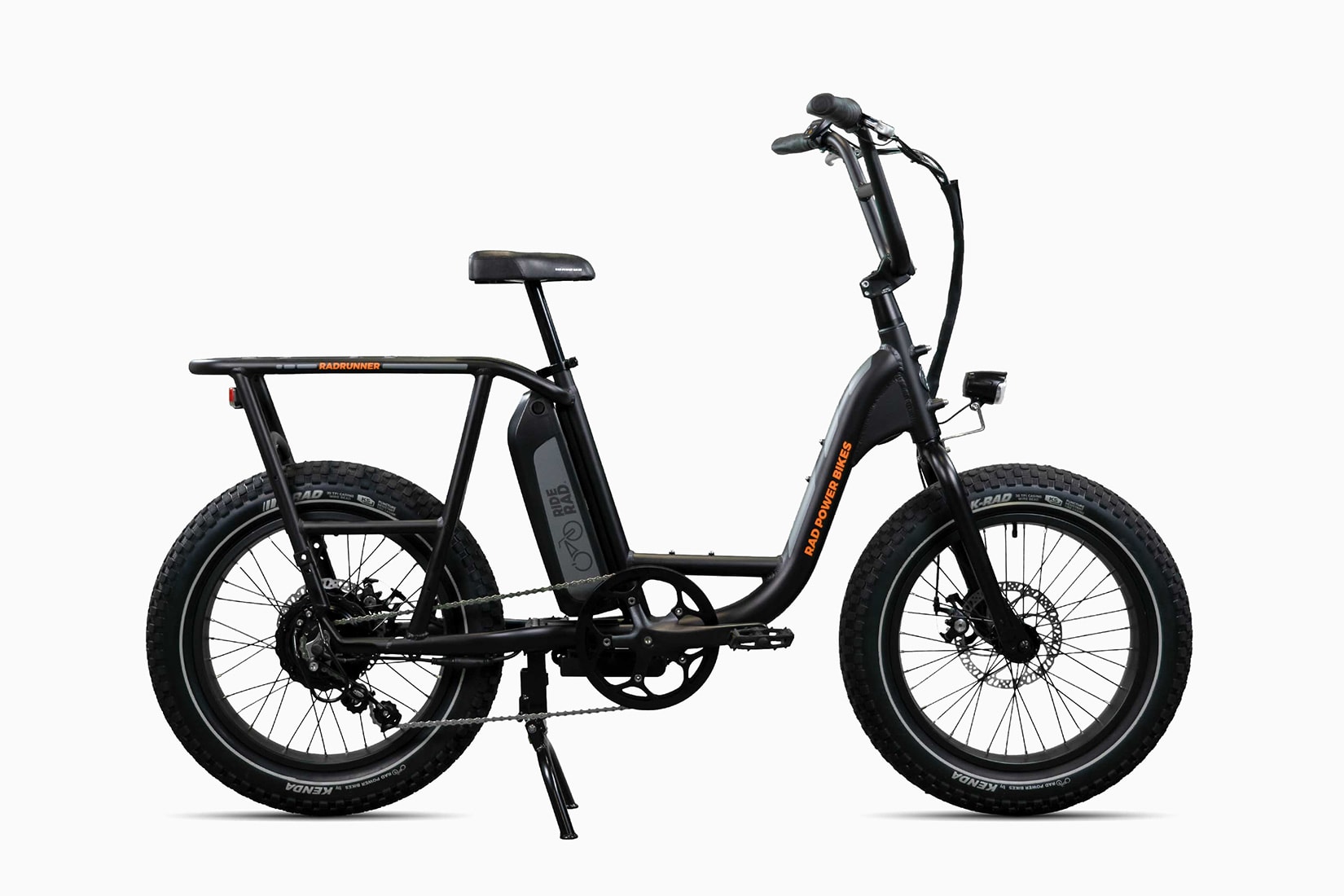 With everything from a powerful 750W motor, large capacity battery, and a sleek and total of 330 accessory combinations, the RadRunner is an electric bike that's become many a commuter's best friend. This smart, light bike runs smoothly on the road and has plenty of commuter-friendly features while remaining at an accessible price point.
With speeds up to 22 mph, you can ride in all-electric mode to your office in the morning or use the electric motor to get an extra boost when powering through traffic jams.
Commuters stuck in their cars will look at you with envy.
The RadRunner is also the first electric bike to offer an adjustable driver's seat that can either be completely flush with the passenger's seat, so it's awesome if you want to take a friend with you. The brand also sells tons of pouches and bags to let you expand the bike's functionality exactly as you want them.
Best for: daily commute and carrying an extra passenger
Motor: 750W brushless geared hub
Battery: 48V, 14 Ah (672 Wh) with Lithium NMC Samsung 35E cells
Range: Up to 45 miles per charge
Ancheer E-Cruise: Best vintage electric bike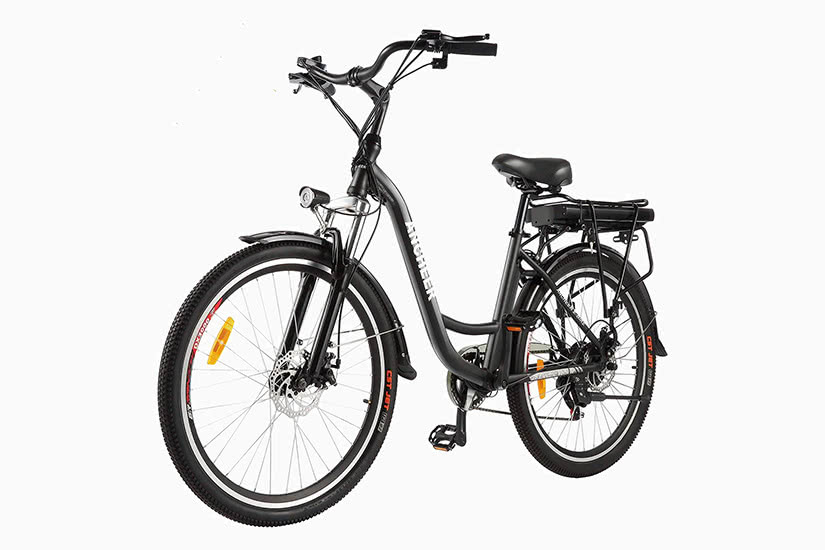 Electric bikes can be quirky as well as being technologically jam-packed. Combining the past and the future on two wheels, the e-cruiser by ANCHEER offers all of the features of a standard e-bike but with kitsch aesthetics and a vintage colourway to create an electric bike with a difference.
The battery is smartly tucked away underneath the rear shelf. You wouldn't know it's an electric bicycle by looking at it. It also makes it even easier to remove the battery if you prefer to charge it off the bike.
Along with being one of the most unique looking electric bikes on the market, the ANCHEER e-cruiser is an excellent option for commuters with its quiet motor for a seamless journey on the road.
It offers speed and confidence with a 250-watt drivetrain. It comes in two colour options (black or white) and a standard 26 inches aluminium frame.
Best for: classic vintage look and smooth riding
Motor: 250W brushless gear
Battery: 12.5 AH lithium-ion
Range: Up to 35 miles per charge
Which electric bike is best for your lifestyle?
Whatever your lifestyle demands, there's an electric bike on the market for you. Perhaps you want an easily liftable bike for commuting or one that's fast and can tackle hills without a problem.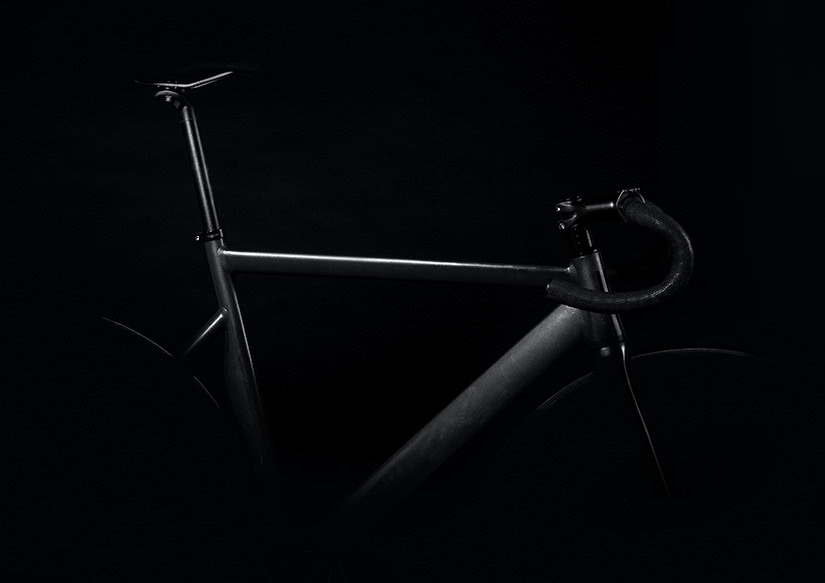 When choosing the e-bike that's perfect for you, take into account factors like:
How often will you be using the bike? Daily? Weekly? Every so often?
What will you primarily be using it for? Commuting? Exploring? Or something else?
What speeds are you hoping to hit? With this in mind, make sure to research the maximum legal speed in your country.
What sort of terrain will you be cycling on?
Do you want a front or rear motor drive e-bike?
Do you need a bike that folds and is easily portable?
Our methodology to select and rank the best electric bikes of the year
Although the best electric bike is the one that suits you and your lifestyle, there are a few different factors to take into consideration when choosing a list of strong contenders.
Firstly, we looked at the offerings of some of the most popular cycling companies in the world. Then, we branched out our search to take into account other companies that might not specialise in electric bikes but had released one or more highly ranked vehicles.
We also looked at the range and charging time of each e-bike, the quality and positioning of its motor, the variety of sizes and heights available and also the price of each bike.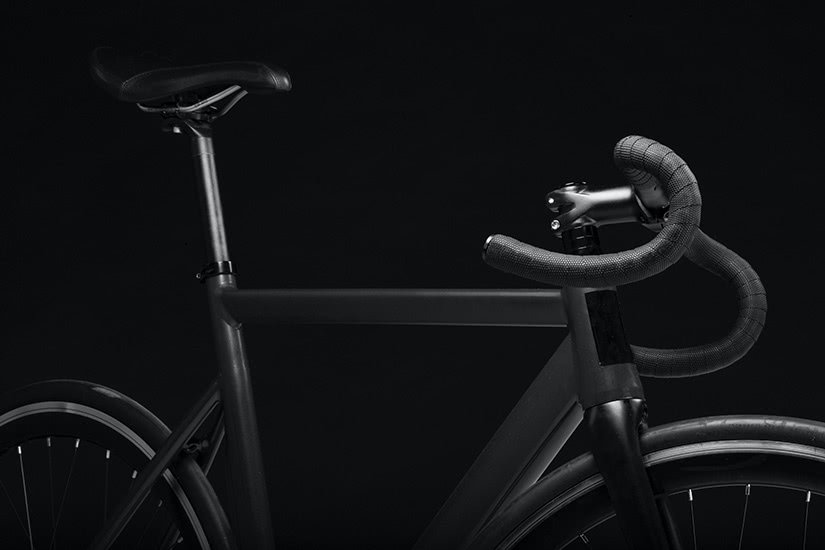 Frequently asked questions about electric bikes