In the market for a slim, smart, and eco-chic bike? Here's the thing: A good electric bike can be hard to find. Until now. It's time to introduce you to one of our favorite e-bike brands: Ride1UP.
Since 2019, Ride1Up has electrified the e-bike world with a range of truly accessible, affordable, and aesthetic bike models. Their lineup includes urban and off-road e-bikes perfect for beginners, commuting, touring, and for when you just want to have a little fun.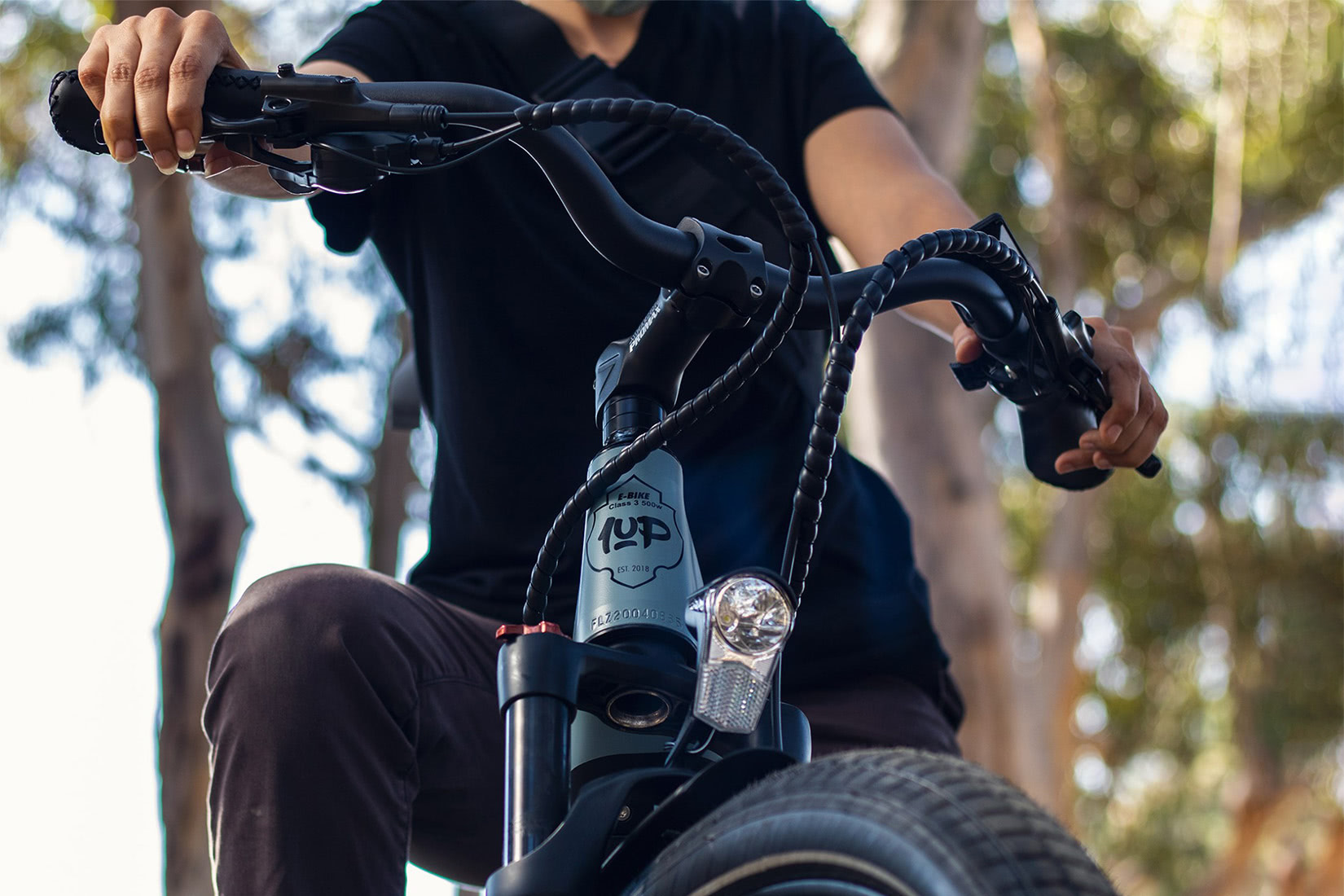 Ride1UP's founder Kevin Dugger was looking for a real-deal Class 3 electric bike: Something stylish, efficient, and fast. He didn't see one out there. So he made it himself. This Californian DIY startup swiftly grew into a go-to US-based brand. Now, Ride1UP offers e-bikes so good they can—just like the best electric scooters—easily replace commuter cars, offering you unprecedented levels of independence and versatility.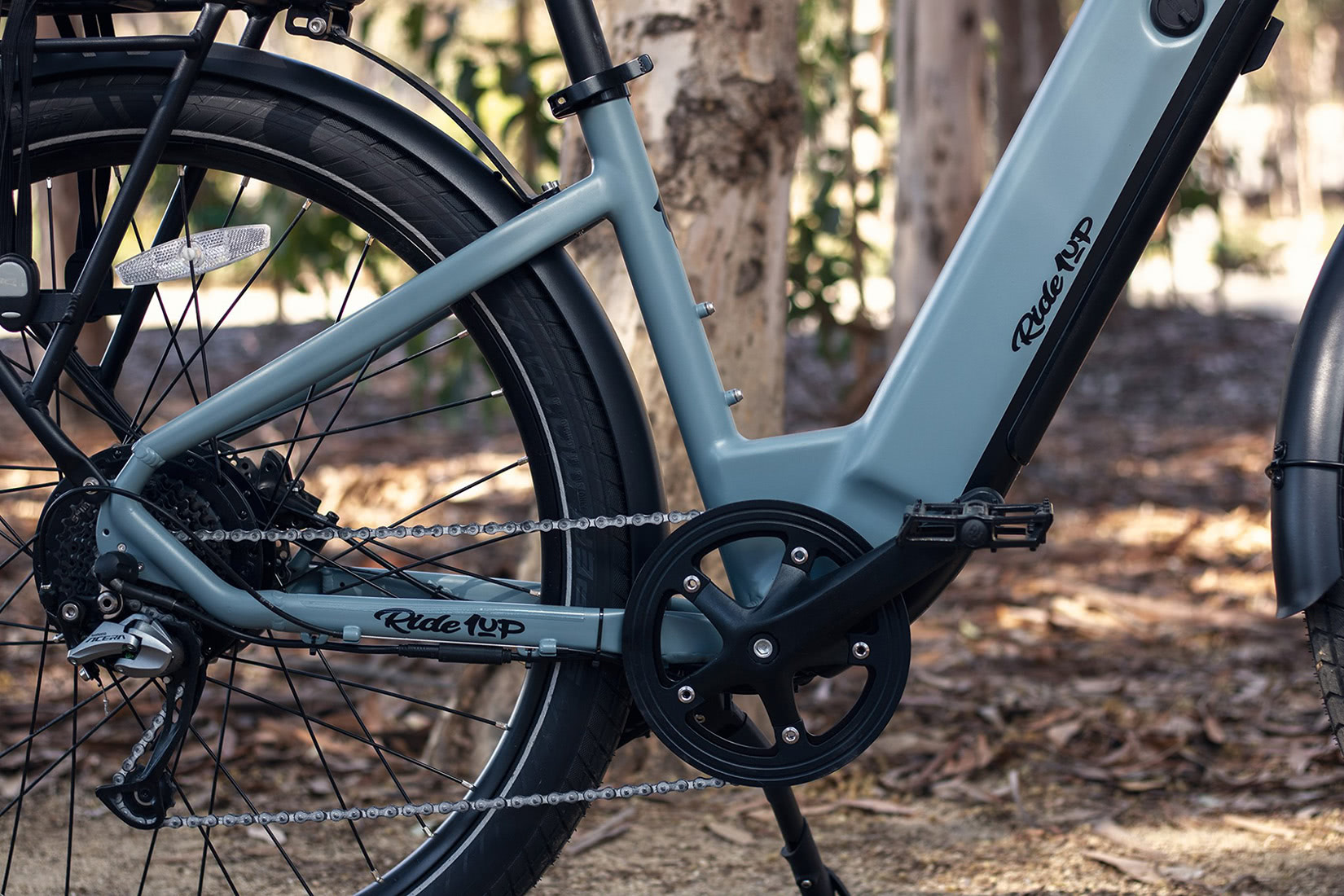 We got our hands on the latest e-bikes from Ride1UP, and it's safe to say that we're hooked. Let's go for a ride.
The best electric bikes from Ride1UP for every kind of ride
In addition to its popular electric bikes line-up, Ride1Up also launched the REVV 1 in 2023. The REVV 1 is a cross between an ebike and an electric motorcycle. They call it a moped-style electric bike. The REVV 1 is pre-programmed as a class 2 (pedelec) ebike which enables speeds of up to 20 MPH on pedal assist and throttle. The speed system lets you switch between Class 2, Class 3, and 'Off-Road' mode, however, giving you the option to unlock speeds of 28+ MPH (for private road use only).
Check our full round-up of the best electric motorcycles if you're interested in that space. We also have a short guide on electric bike classes.
Ride1UP review: find the best electric bike for your lifestyle
Ride1UP 500 series review: A value electric commuter bike for comfortable touring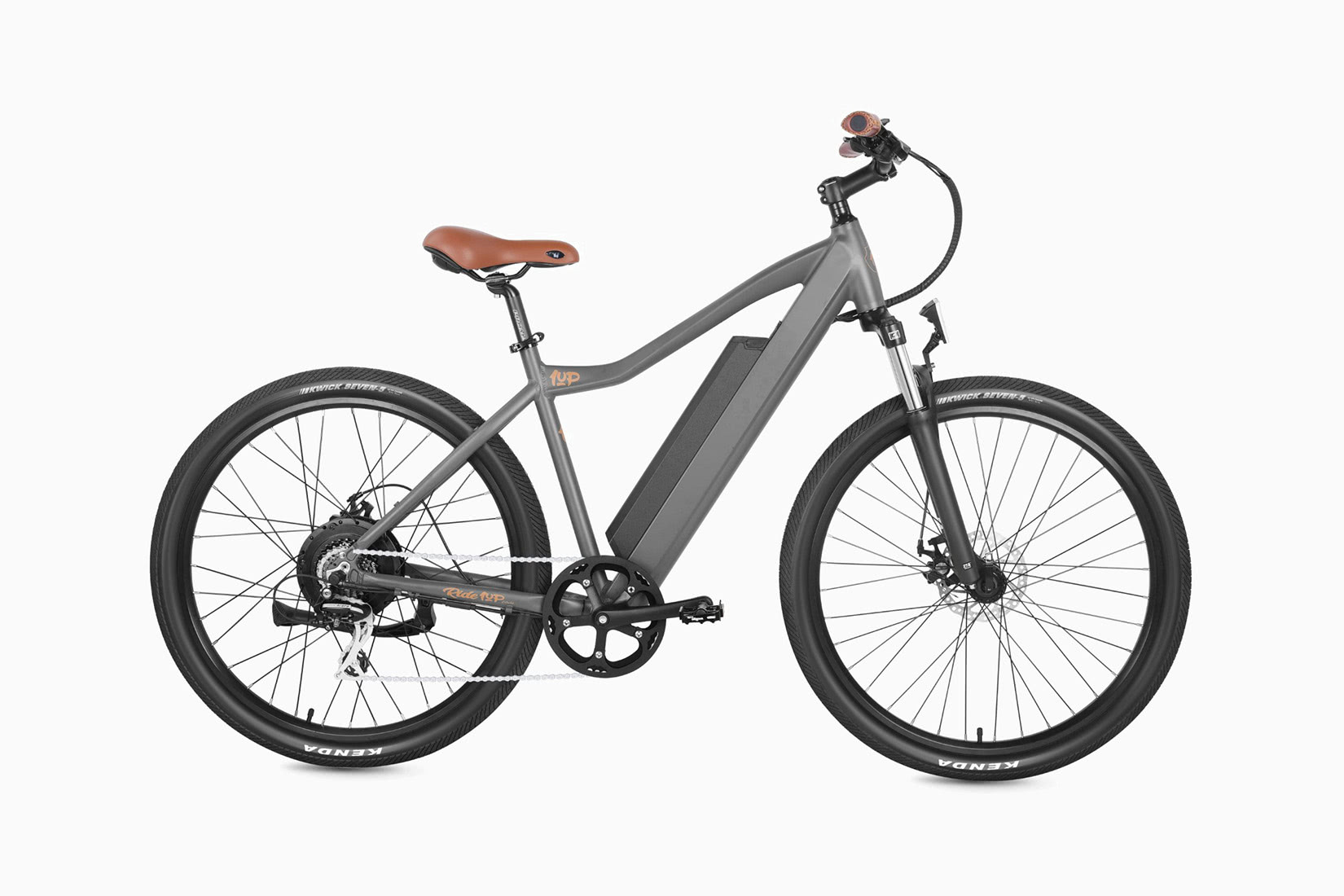 Let's start with the model that first took the world by storm: the Ride1UP 500 Series.
It's attractive. It's affordable. It's reliable—and it features an extremely comfortable Selle Royale saddle. (Trust us—we've tried a lot of bikes. If a slim bike saddle is truly comfortable, that's something to consider.)
Ride1UP equipped their flagship model with 9 levels of pedal assist, a walk-assist, and a throttle mode—making it a great option for city cycling. The included Kenda tires are wide enough for gravel, and the e-bike includes fenders and racks for safe year-round riding. Plus, we found that the display on the dash was very simple to read.
What more could you want? While Ride1UP has since released a range of e-bikes, this is the original bestseller that started it all. The Ride1UP 500 Series is best for those who need an all-around high-performing electric bike.
| | |
| --- | --- |
| Range: | 24-45 miles (38-72 km) |
| Power/Motor: | 750 watts |
| Top Speed: | Up to 28 mph (45 km/h) |
| Battery: | 625Wh |
| Price: | starting at $1,395 |
Ride1UP 700 series review: A versatile, all terrain ebike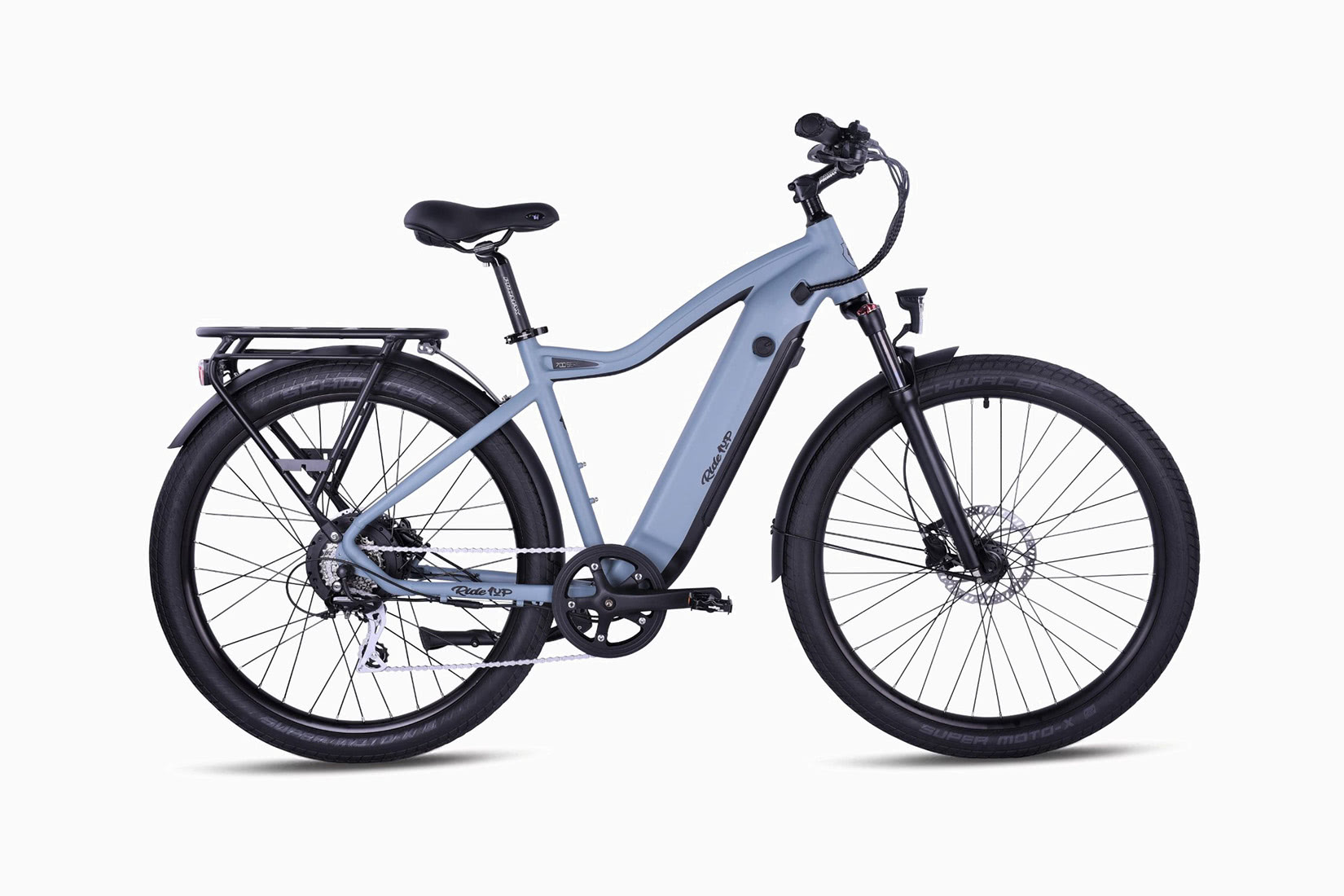 We love the 500; but if you're looking for a true car replacement for short errands and more, the 700 is the way to go. The Ride1UP 700 series is an urban beauty that features handy accessories (like a very capable carrying rack), a front suspension that will never jolt you around, and front and backlights to provide needed visibility.
It's clear that the Ride1UP team considered practicality with every moving part. For example, putting these bikes together was a breeze—Ride1UP provides detailed videos for easy assembly.
As a true car substitute, too, it's hard to beat the price on the 700 series.
The Ride1UP 700 series is best for those who need a bike for a range of activities. It's simple: This e-bike will get you wherever you need to go.
| | |
| --- | --- |
| Range: | 30-50 miles (48-80 km) |
| Power/Motor: | 750 watts |
| Top Speed: | Up to 28 mph (45 km/h) |
| Battery: | 675Wh |
| Price: | $1,695 |
Ride1UP Core-5 review: A subtle and stylish entry level ebike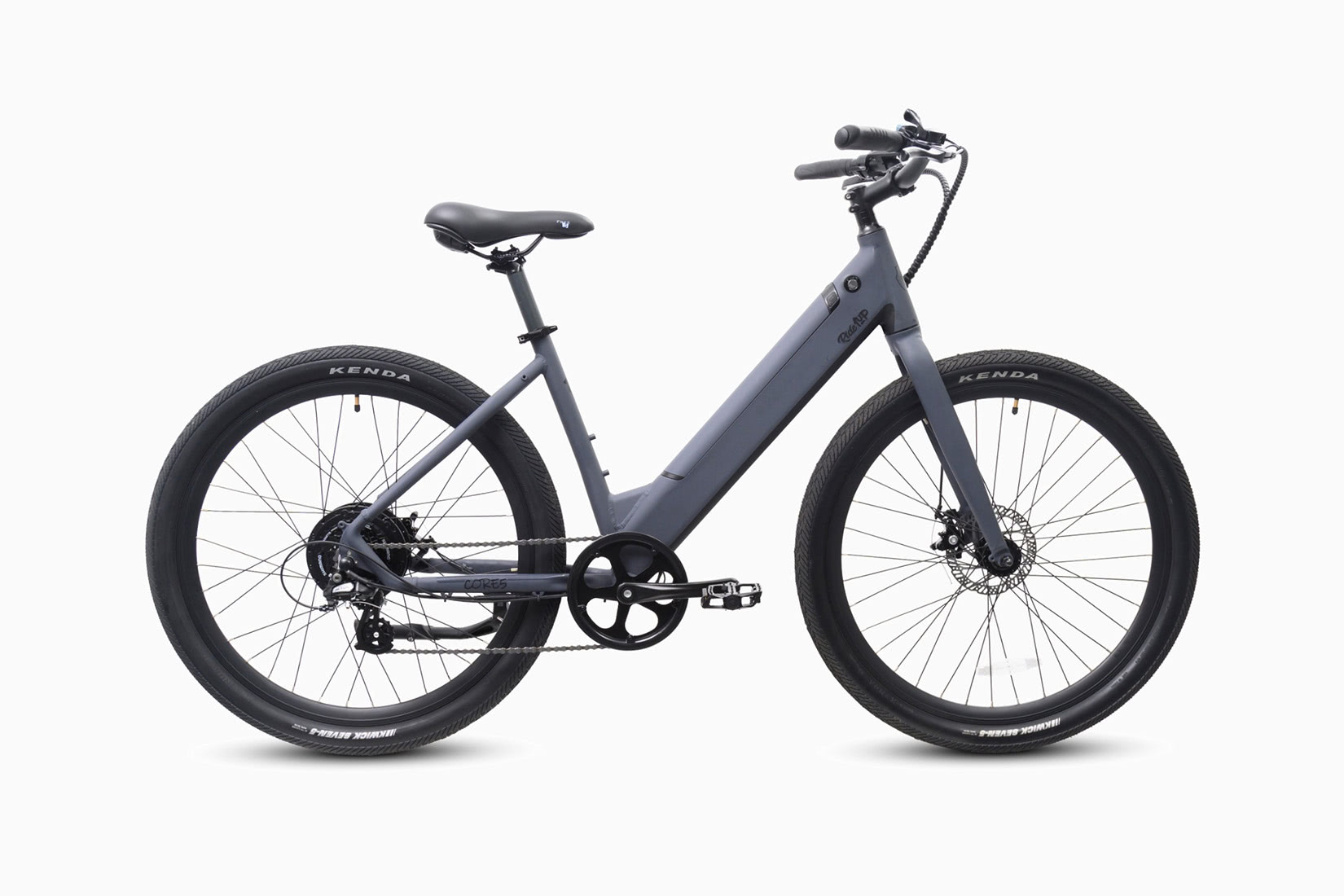 We get it: Sometimes, the transition to a powered bike can be a daunting one. You want to feel safe. You want the riding experience to be simple. You don't need all the bells and whistles—you just need something that performs.
Well, you're in luck. The Core-5 e-bike is simple and efficient. It has all of the essentials an e-bike needs: All-terrain tires, responsive suspension, a lightweight frame, and a powerful motor.
It's entry-level yet completely capable. And, if you're not a fan of the sometimes-bulky look of a battery-powered bike, you'll love the slim, uncomplicated lines of the Core-5.
We appreciated how simple it was to get set up; with the Ride1UP Core-5, we felt capable of going the distance in minutes. This e-bike is best for those who need something as easy as—well—riding a bike.
| | |
| --- | --- |
| Range: | 20-40 miles (32-64 km) |
| Power/Motor: | 750 watts |
| Top Speed: | Up to 28 mph (45 km/h) |
| Battery: | 500Wh |
| Price: | $1,195 |
Ride1UP Roadster V2 review: A lightweight ebike for urban cruising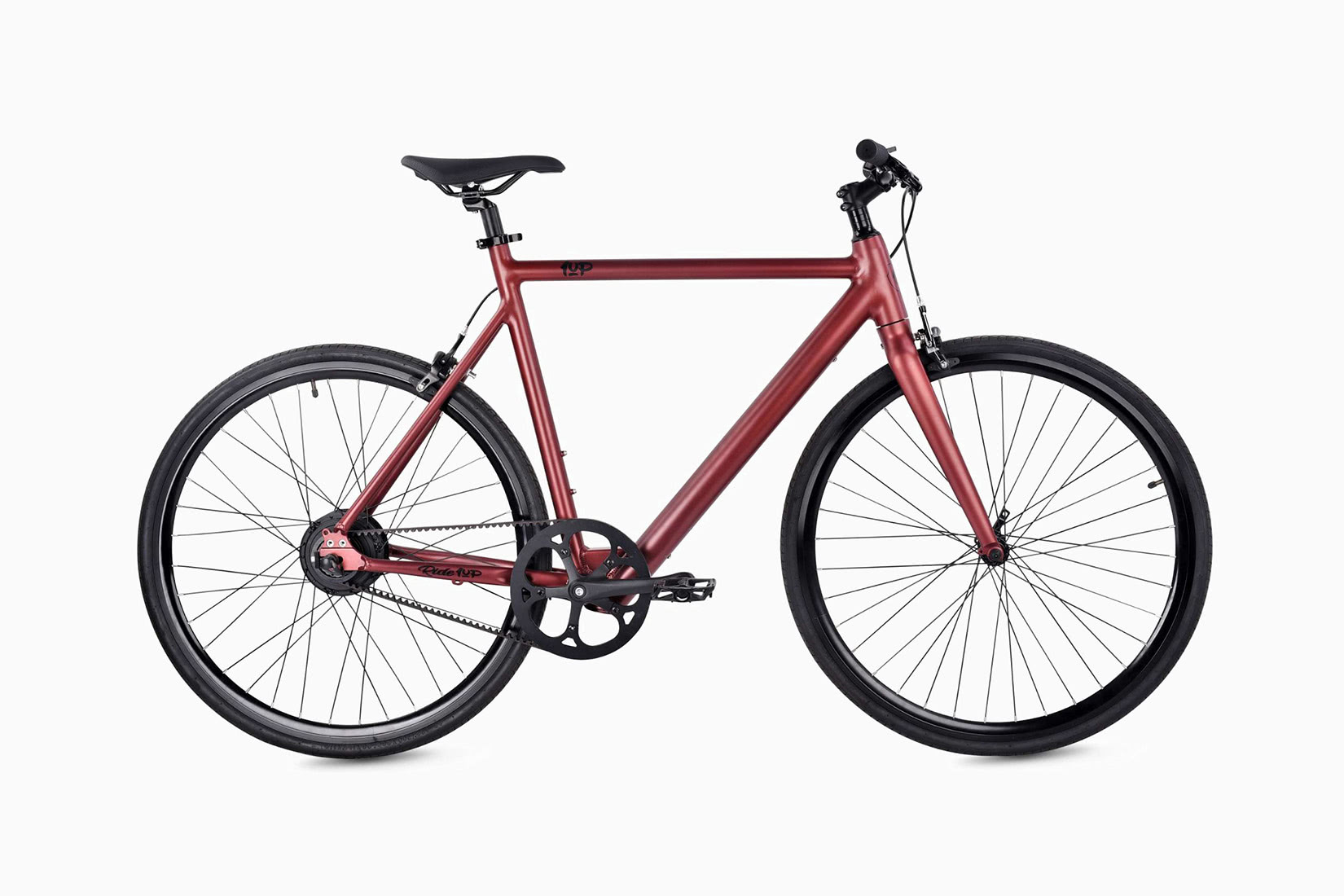 Need a bike with a super-clean look for your commute? The Ride1UP Roadster V2 is the newest bike in the lineup.
It's quiet, it's powerful, and—somehow—it doesn't even look like an e-bike; the Ride1UP team managed to hide all of the electric components inside the Roadster V2, making the fact that it's powered a delightful surprise.
With one of the lowest price points of the range and thoughtful updates (such as a carbon belt drive which pretty much makes maintenance a thing of the past), the Roadster V2 is an excellent choice for those who want a practical, unassuming e-bike for daily use.
You're going to love making onlookers wonder just how you're pedaling so fast.
| | |
| --- | --- |
| Range: | 20-30 miles (32-48 km) |
| Power/Motor: | 350 watts |
| Top Speed: | Up to 24 mph (38 km/h) |
| Battery: | 250Wh |
| Price: | $1,045 |
Ride1UP LMT'D review: A power-packed lightweight electric bike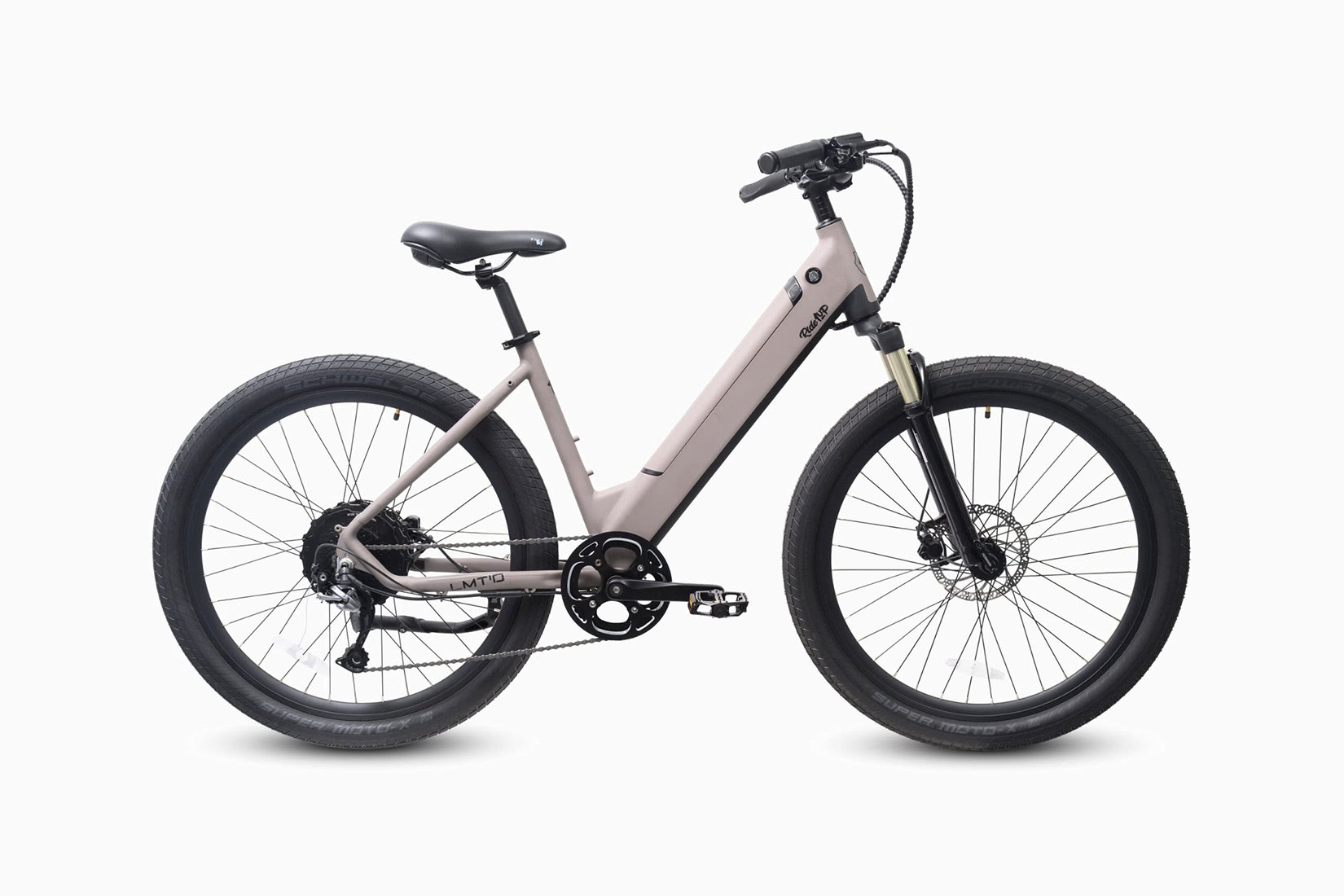 Ready to kick it up a gear? We thought so. When you're looking for a heady thrill, it's time to check out the Ride1UP LMT'D.
Ride1UP's highest-powered bike has a lot going on. Max performance. Max speed. An easy to carry weight, despite how much power it's got. And unbelievable acceleration, thanks to a higher-end electric motor.
The quality tires provide good traction, the brake components work quickly, and the bike has mounting points for a rack—making it easy to store at home.
The Ride1UP LMT'D is best for those who want the most pre-motorcycle power possible…in a more sustainable package. When power is what you want, this is the e-bike you need.
| | |
| --- | --- |
| Range: | 30-50 miles (48-80 km) |
| Power/Motor: | 750 watts |
| Top Speed: | Up to 28 mph (45 km/h) |
| Battery: | 672Wh |
| Price: | $1,895 |
Ride1UP Prodigy review: A premium class 3 electric bike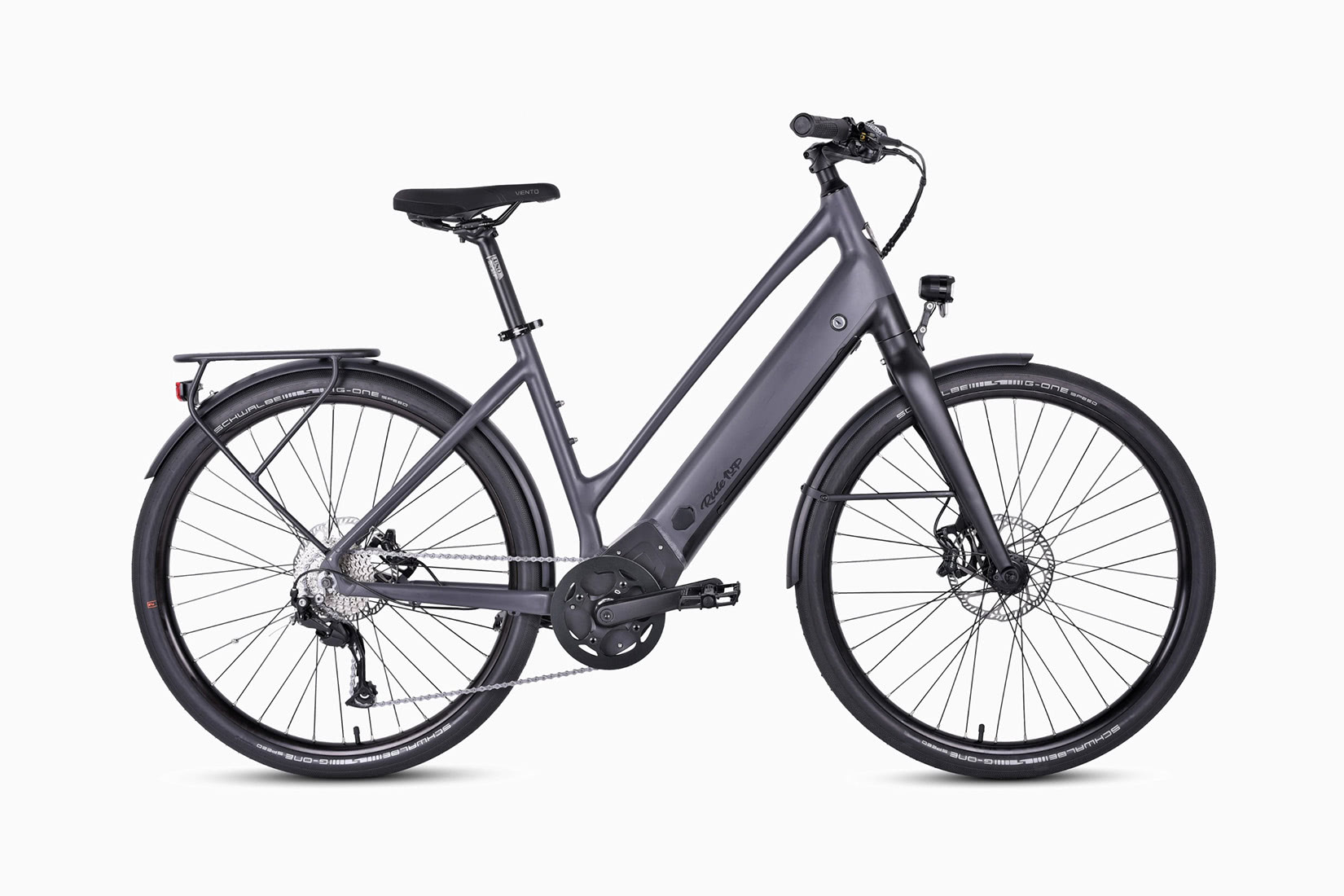 Ride1UP's Prodigy model deserves its name: It's the creme-de-la-creme of commuter e-cycles.
We're happy to report, however, that this premium bike offers a luxurious feel without a sky-high price tag. With a mid-drive motor, a refined control system, gorgeous frame geometry, and a leveled-up saddle for exceptional comfort, the Ride1UP Prodigy has everything you need to ride in style.
(Get it while you can—this bike's so popular that it's often only available for pre-order.)
The Ride1UP Prodigy is best for those who don't want a budget bike; instead, they want something that's premium, powerful, and, well, truly prodigious.
| | |
| --- | --- |
| Range: | 30-50 miles (48-80 km) |
| Power/Motor: | German-made mid-drive motor with 90 nm torque |
| Top Speed: | Up to 28 mph (45 km/h) |
| Battery: | 504Wh |
| Price: | $2,295 |
Ride1UP ebikes comparison
Need to know at a glance which e-bike is the best for you? We've done the work for you.
| Bike | Range | Power | Top Speed | Price |
| --- | --- | --- | --- | --- |
| 500 Series | 24-45 miles(38-72 km) | 750W | 28mph(45km/h) | $1,395 |
| 700 Series | 30-50 miles (48-80 km) | 750W | 28mph(45km/h) | $1,695 |
| Core-5 | 20-40 miles(32-64 km) | 750W | 28mph(45km/h) | $1,195 |
| Roadster v2 | 20-30 miles(32-48 km) | 350W | 24mph(38km/h) | $1,045 |
| LMT'D | 30-50 miles (48-80 km) | 750W | 28mph(45kph) | $1,895 |
| Prodigy | 30-50 miles (48-80 km) | 250W | 28mph(45kph) | $2,295 |
Size chart of Ride1UP ebikes
| Bike | Small | Large |
| --- | --- | --- |
| 500 Series | 5'1"-6'2" | 5'6"-6'4" |
| 700 Series | 5'0"-6'2" | 5'5"-6'4" |
| Core-5 | 5'0"-6'1″ | 5'6"-6'4" |
| Roadster v2 | 5'3"-5'8" | 5'7"-6'2" |
| LMT'D | 5'1"-6'2" | 5'6"-6'4" |
| Prodigy | 5'1"-6'2" | 5'6"-6'4" |
The alternatives to Ride1UP ebikes
If you need something that Ride1UP doesn't quite yet have, you have options.
Purchasing Ride1UP ebikes online
This company keeps it simple: You can buy Ride1UP's range of electric bikes on their website.
Ride1UP warranty and returns
Ride1UP is all about making your ride a good one. One of the things we like best about this brand is its confidence—and the way it backs its products.
Ride1UP believes in its build quality and respects the customer experience. Every Ride1UP e-bike comes with a 1-year warranty. As long as you buy from their website, are the original owner, and you follow all the instructions for regular use, Ride1UP will cover any manufacturing defect.
There's more.
Ride1UP knows you need to feel how a bike works to know it's going to work out.
To help, Ride1UP offers a 30-day trial period. Don't like the bike in 30 days? Send it back; they won't ask questions.
Now, that's the type of customer service we like.
Frequently asked questions about Ride1Up ebikes
Is Ride1UP worth it?
Yes, Ride1UP is worth it! Ride1UP's electric bikes are durable, value-packed, powerful, sustainable, and budget-friendly. Check our in-depth Ride1Up review to see if their electric bikes are right for you.
Where are Ride1UP Ebikes manufactured?
Ride1UP Ebikes are manufactured on the West Coast of the United States. The company has locations in California and Nevada.
What motor does Ride1UP use?
Ride1UP's bikes use motors with a variety of wattages—from 350W in their most efficient model, to an incredibly powerful 750W.