If you've been waiting for an affordable and capable ebike, the time has come. The Lectric XP 2.0 combines the long-distance range of an ebike, the all-road confidence of fat tires, and quality craftsmanship from a company that stands behind their product, all at a rock-bottom price. There's no wondering why Lectric electric bikes are sweeping the market by storm and have become one of our favorite electric bikes of the year.
Even with the incredibly low price, Lectric packed this ebike with full features. The Lectric XP utilizes a powerful 850W peak-power motor paired with a robust 48V 9.6aH battery. It has a range of up to 45 miles and recharges in a quick 4 to 6 hours. As if that's not enough, the Lectric ebikes incorporate 3" fat tires ready to conquer any terrain from slick city streets to rugged trails.
The Lectric XP comes in two models: (1) the standard step-over style and (2) the step-thru version, utilizing a proprietary easy-entry frame engineered to accommodate all mobility levels. And the company stands behind its product with a comprehensive one-year warranty and lightning-fast customer service. It even shows up to your doorstep fully assembled.
The foldable design means this ebike is best for commuters or those with limited storage space. After reading this Lectric ebike review, you'll be eager to order yours before supply dries up!
Lectric XP 2.0 review
Our verdict: If you're looking for a foldable ebike with fat tires, you simply can't find a more capable, comfortable, and functional option than the Lectric XP 2.0 at this price level. No wonder is a Luxe Digital's readers' favorite.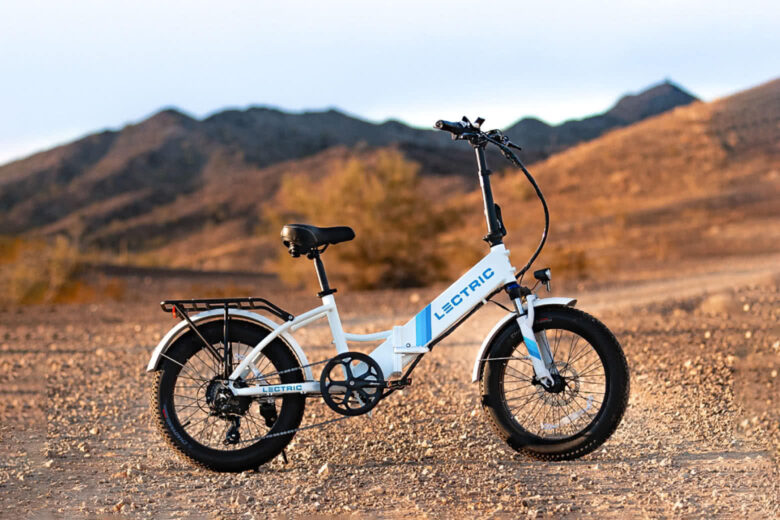 The pros:
330 lbs payload and a 45-mile range, providing power where it counts
Complete capability with an adjustable-suspension front fork and 3" wide fat tires
Incredible price without sacrificing quality
The cons:
64 lbs is a bit heavy, but the centrally-placed handle makes transporting it a breeze
Foldable design is great for commuters and saving storage, not so much for mountain terrain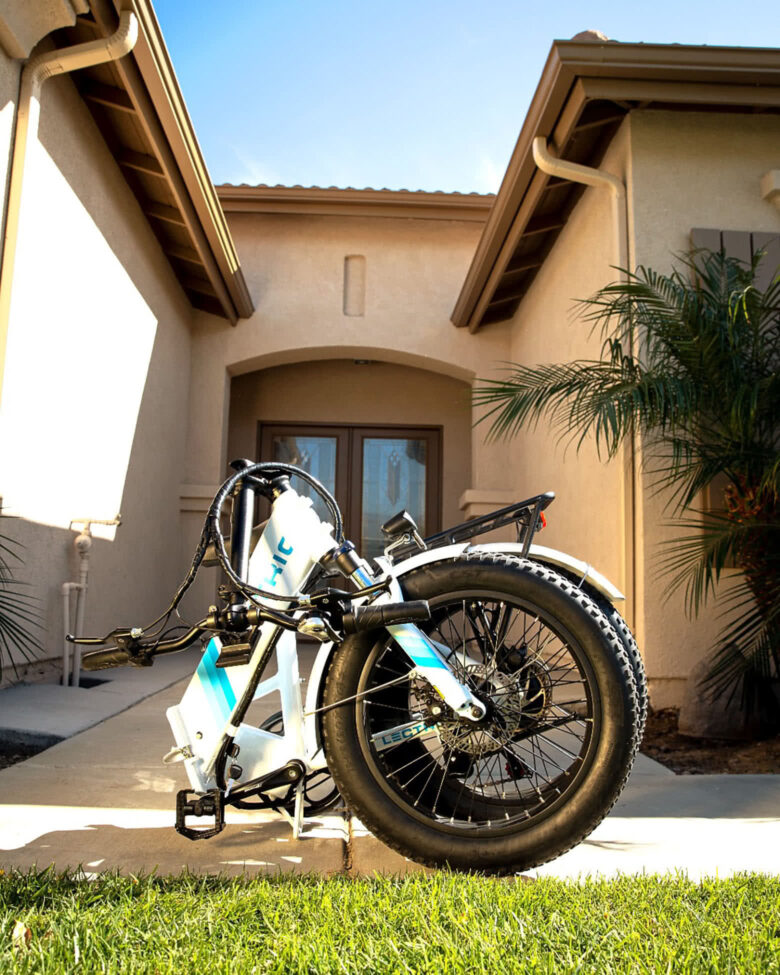 Hands-on experience and benefits
When the fully-assembled Lectric XP 2.0 arrived, the build quality and sleek design really caught our attention. Unlike some of the cheaper ebikes out there, the Lectric bike feels sturdy and the paint's finish is clean. Unfolding it was easy and this Lectric bike is instantly ready for the road.
A bike priced around $1,000 usually doesn't get you much. We're happy to report in this Lectric XP review that your dollar goes a long way. Taking it out for the first spin, the speed was exhilarating and the powerful motor pushed my 200+ pound frame around without a problem. Lectric's ultra-wide handlebars and suspension front fork felt great in hands, while the sizable 160mm Tektro disc brakes allowed us to stop on a dime.
The battery on this Lectric bike lives up to the hype. On easy-going rides through the city, the range kept up with its lofty 45-mile promise. And when pushed hard on hilly off-road terrain, the 850W motor was plenty enough to throttle through, while the 9.6aH battery consistently left us with charge to spare. The estimated 4-6 hour recharge time was often much shorter, while the ability to swap out additional batteries in mere seconds provides additional peace of mind.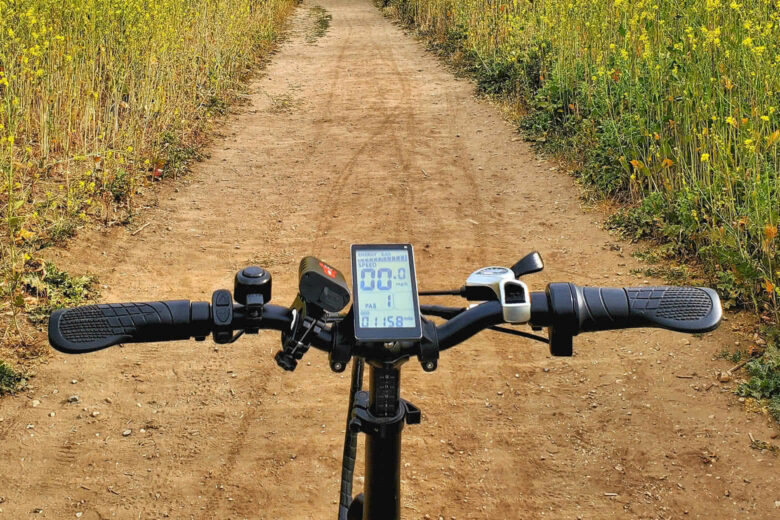 Acceleration from a complete stop was sufficient to keep up with the cars for a moment. Once it got up to speed, finding the right gear was never a challenge, thanks to 5 pedal-assist levels and 7-gear drivetrain.
The 3" fat tires is one of our favorite features in this ebike review. We travel frequently, so riding on many types of terrain is important. The fat tires on the Lectric XP 2.0 easily handled sandy beaches, rugged forest trails, and even a few snowy roads. Although this 64-pound ebike isn't likely to win any downhill mountain bike races, it is still an incredible adventure machine.
Simply put, the Lectric XP 2.0 never let us down and continued to surprise us around every corner. A downright incredible package at this price.
Price
The Lectric XP 2.0 ebike is available in black step-over, black step-thru, and white step-thru.
$999 (down from $1,099)
Add $99 to get the comfort pack with a giant seat and suspension seat post
Add $149 to get the cargo pack with front rack, small basket, large basket
Or add $248 to get both comfort and cargo packages
Free shipping in the US ($200 to Canada, including duties and taxes).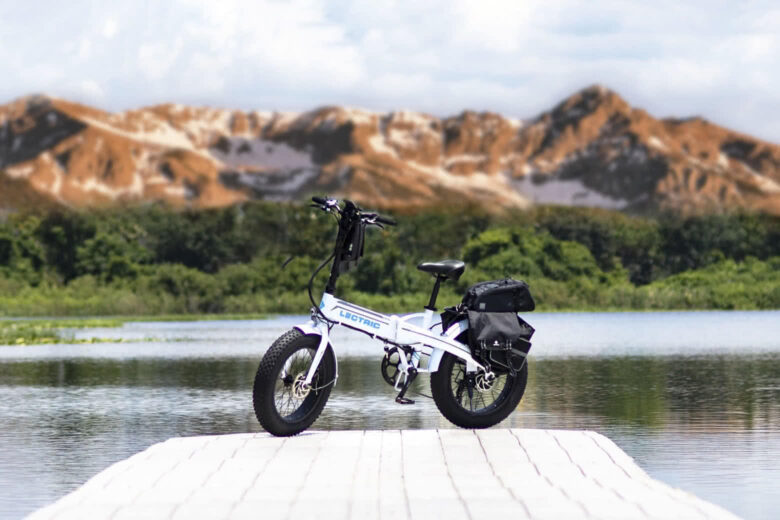 Who the Lectric XP 2.0 is best for
The Lectric XP 2.0 ebike is great for commuters or those who want a space-saving affordable ebike with a long-range and powerful motor. The 3" wide fat tires and step-thru model provide a lot of capability in an easy-to-use design.
Where to buy Lectric ebikes?
Get your Lectric XP 2.0 with free shipping directly from Lectric's official website. The bike comes fully assembled with a one-year warranty.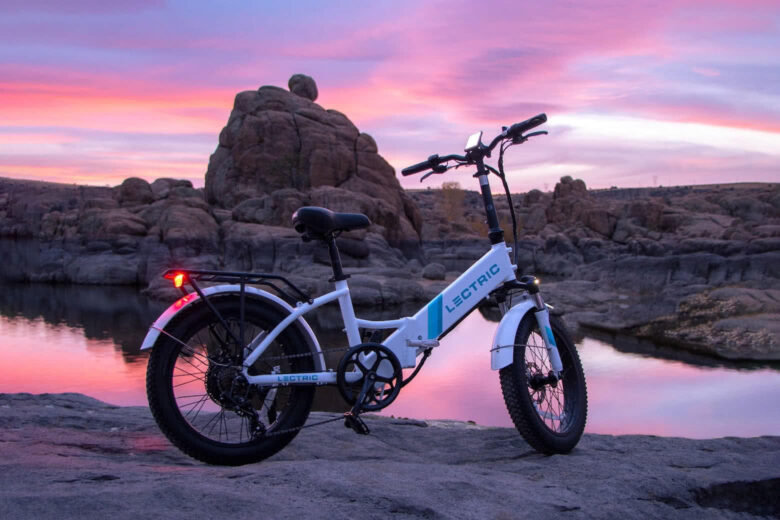 Frequently asked questions about Lectric bikes
Are Lectric bikes reliable?
Lectric ebikes receive rave reviews and are quickly building a reputation as reliable and durable. The IP-65 rating means that the electronics are well protected against water and dust. By sourcing well-known components, Lectric creates a package you can depend on—Lectric stands behind what they sell with a full one-year warranty. Check our in-depth Lectric XP review to learn more about the bike.
Where are Lectric bikes made?
The headquarters for Lectric ebikes are in Phoenix, Arizona. Lectric sources products from various Asian countries, including South Korea for the LG battery cells and Japan for the Shimano drivetrain. Everything is assembled in their China-based facility, where each Lectric ebike receives a full inspection before being sent to the United States.
Is the Lectric XP worth it?
The Lectric XP is definitely worth it. It's nearly impossible to find a comparable foldable ebike in the same price range. Lectric has done a phenomenal job at combining capability and affordability, without compromising on quality or features. Read our in-depth Lectric XP review to see if it's the right bike for you.
How fast do Lectric 2.0 bikes go?
With a class 3 designation, Lectric ebikes can go up to 28 mph (45 km/h).