"You will die but the words you speak or spoke, will live forever." — Auliq Ice. Yep, that's a quote about quotes. How very meta. And he's right. Well, so long as your words are profound enough to be worth remembering.
When we're seeking guidance, we look to inspirational quotes for wisdom and advice. The right positive quotes can turn a sour mood into a joyful one with just a few profound words. Thoughtful, inspiring quotes can help you gain motivation (also, don't forget to read our motivational quotes), succeed in your professional life, turn a stagnant mindset right around, or just offer a little pick-me-up (we all need them sometimes!). Yes, positive messages can be the light to guide you to success—you simply have to apply them to your situation.
These snappy one-liners have an uncanny ability to turn a mood around, help us focus, and feel inspired. Pinterest, Instagram, and even the walls of our gyms are jam-packed with uplifting quotes. Of course, the best ones are the ones that we want to print out and keep glancing back at. Who doesn't love a calendar, journal, T-shirt, or a post-it note with a great inspirational quote scribbled on it? It's a quick fix for a worried mind (also check out the best love quotes, friendship quotes, and life quotes for more inspiration).
Ancient Greek philosophers, famous authors, successful business leaders, and modern celebrities have offered their two cents when it comes to inspirational sayings. Thankfully, there was always somebody around with a notepad to jot down the sage advice, so we can continue to benefit from them.
We've thoughtfully curated the very best inspirational quotes to live by. Take a look through and find the quotes that feel special; the quotes that truly resonate with you. Because those are the quotes you need in your life.
101 inspiring quotes
"You define your own life. Don't let other people write your script."
— Oprah Winfrey
"Be the change that you wish to see in the world."
— Mahatma Gandhi
"If I cannot do great things, I can do small things in a great way."
— Martin Luther King Jr.
"Success is not final, failure is not fatal: it is the courage to continue that counts."
— Winston Churchill
"When you have a dream, you've got to grab it and never let go."
— Carol Burnett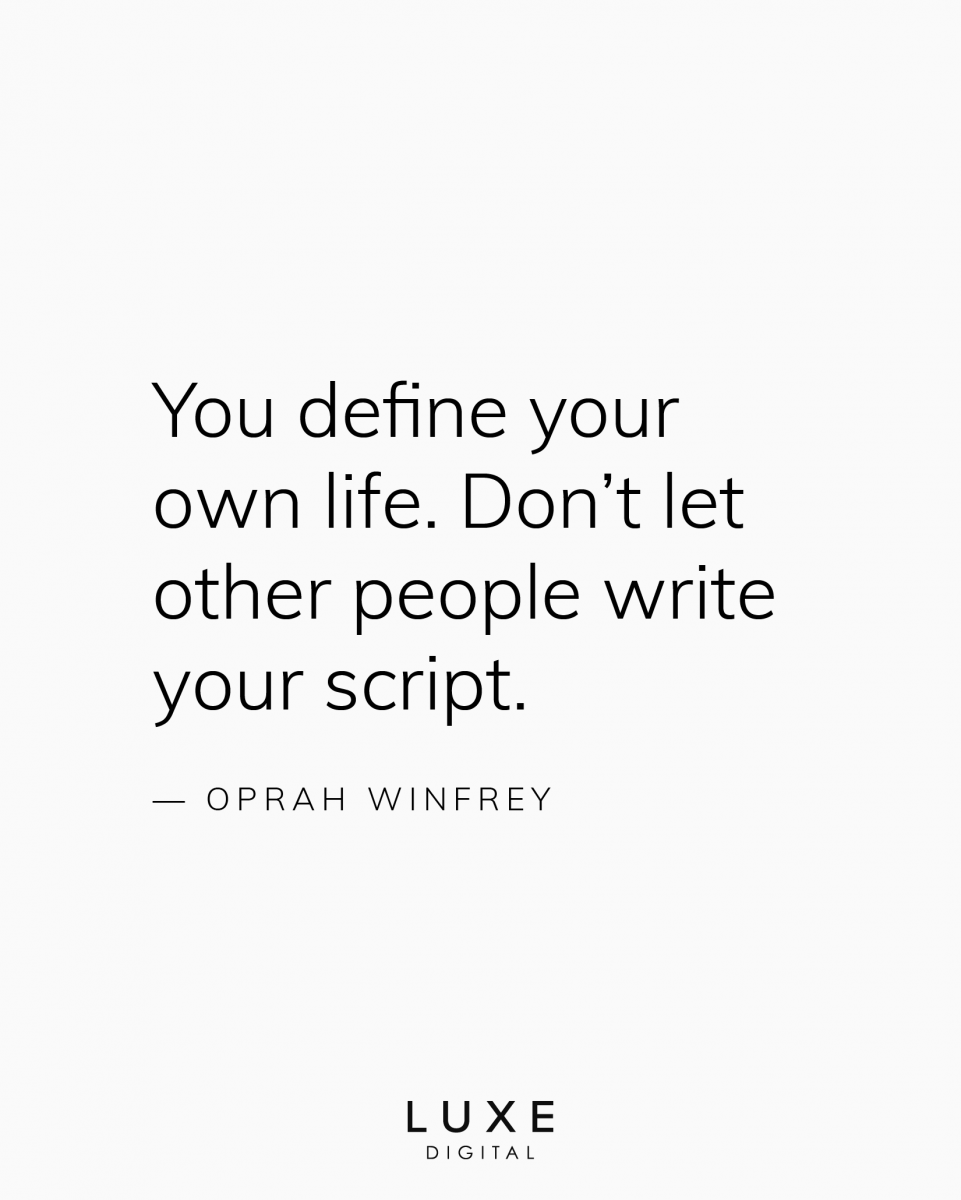 "Act as if what you do makes a difference. It does."
— William James
"Do not allow people to dim your shine because they are blinded. Tell them to put some sunglasses on."
— Lady Gaga
"Believe you can and you're halfway there."
— Theodore Roosevelt
"My mission in life is not merely to survive, but to thrive."
— Maya Angelou
"Happiness is not by chance, but by choice."
— Jim Rohn
"If my mind can conceive it, if my heart can believe it, then I can achieve it."
— Muhammad Ali
"You gain strength, courage, and confidence by every experience in which you really stop to look fear in the face. You are able to say to yourself, 'I lived through this horror. I can take the next thing that comes along.' You must do the thing you think you cannot do."
— Eleanor Roosevelt
"I can't change the direction of the wind, but I can adjust my sails to always reach my destination."
— Jimmy Dean
"Be courageous. Challenge orthodoxy. Stand up for what you believe in. When you are in your rocking chair talking to your grandchildren many years from now, be sure you have a good story to tell."
— Amal Clooney
​​"Find out who you are and be that person. That's what your soul was put on this earth to be. Find that truth, live that truth, and everything else will come."
— Ellen DeGeneres
"Our lives are stories in which we write, direct and star in the leading role. Some chapters are happy while others bring lessons to learn, but we always have the power to be the heroes of our own adventures."
— Joelle Speranza
"Whatever you think the world is withholding from you, you are withholding from the world."
— Eckhart Tolle
"We are not our best intentions. We are what we do."
— Amy Dickinson
"You do not find the happy life. You make it."
— Camilla Eyring Kimball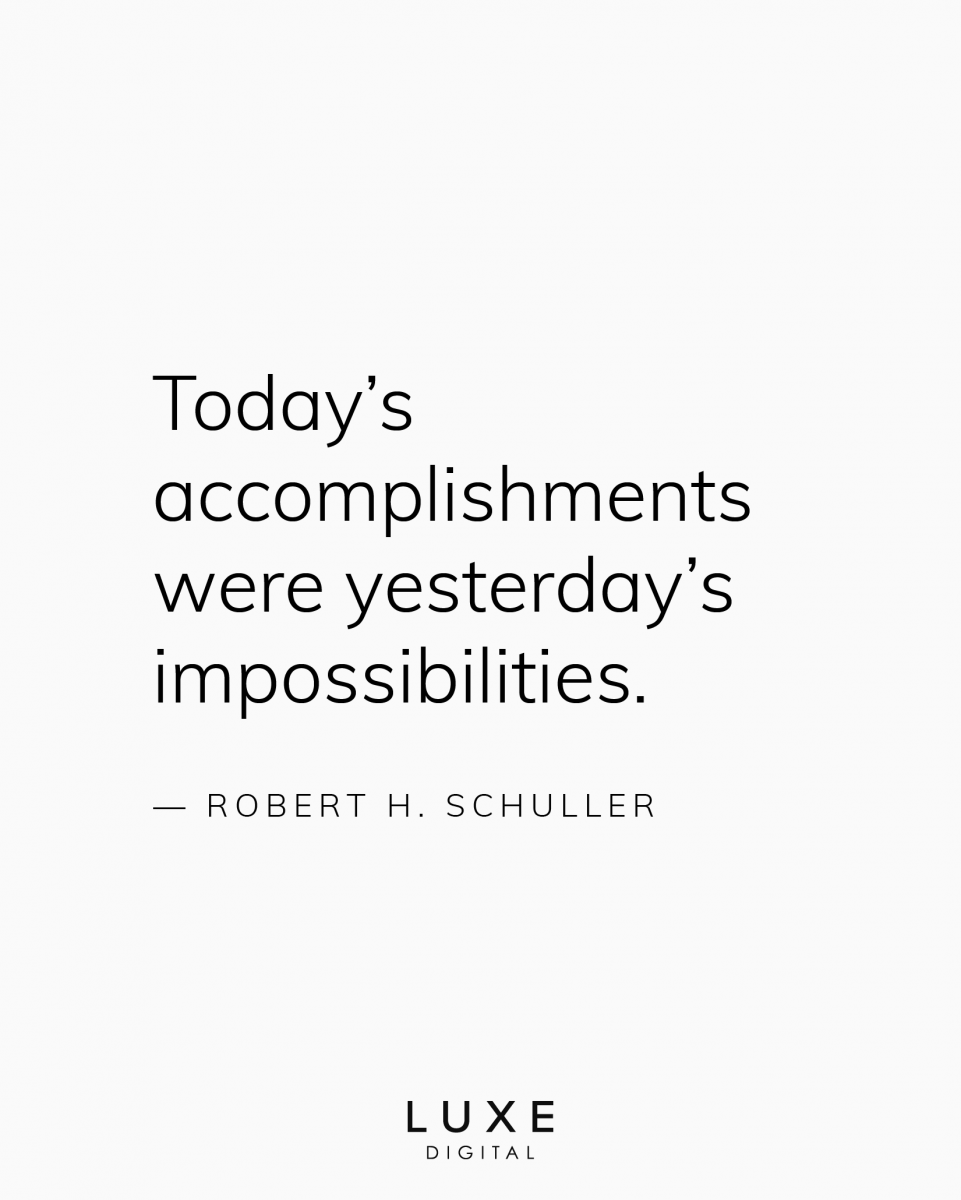 "You are never too old to set another goal or to dream a new dream."
— C.S. Lewis
"Spread love everywhere you go."
— Mother Teresa
"Let us make our future now, and let us make our dreams tomorrow's reality."
— Malala Yousafzai
"For me, becoming isn't about arriving somewhere or achieving a certain aim. I see it instead as forward motion, a means of evolving, a way to reach continuously toward a better self. The journey doesn't end."
— Michelle Obama
"Life is like riding a bicycle. To keep your balance, you must keep moving."
— Albert Einstein
"Limit your "always" and your "nevers."
— Amy Poehler​​
"Nothing is impossible. The word itself says "I'm possible!"
— Audrey Hepburn
"Definitions belong to the definers, not the defined."
— Toni Morrison
"You must do the things you think you cannot do."
— Eleanor Roosevelt
"It isn't where you came from. It's where you're going that counts."
— Ella Fitzgerald
"The only journey is the one within."
— Rainer Maria Rilke
"Keep your face always toward the sunshine, and shadows will fall behind you."
— Walt Whitman
"Failure is the condiment that gives success its flavor."
— Truman Capote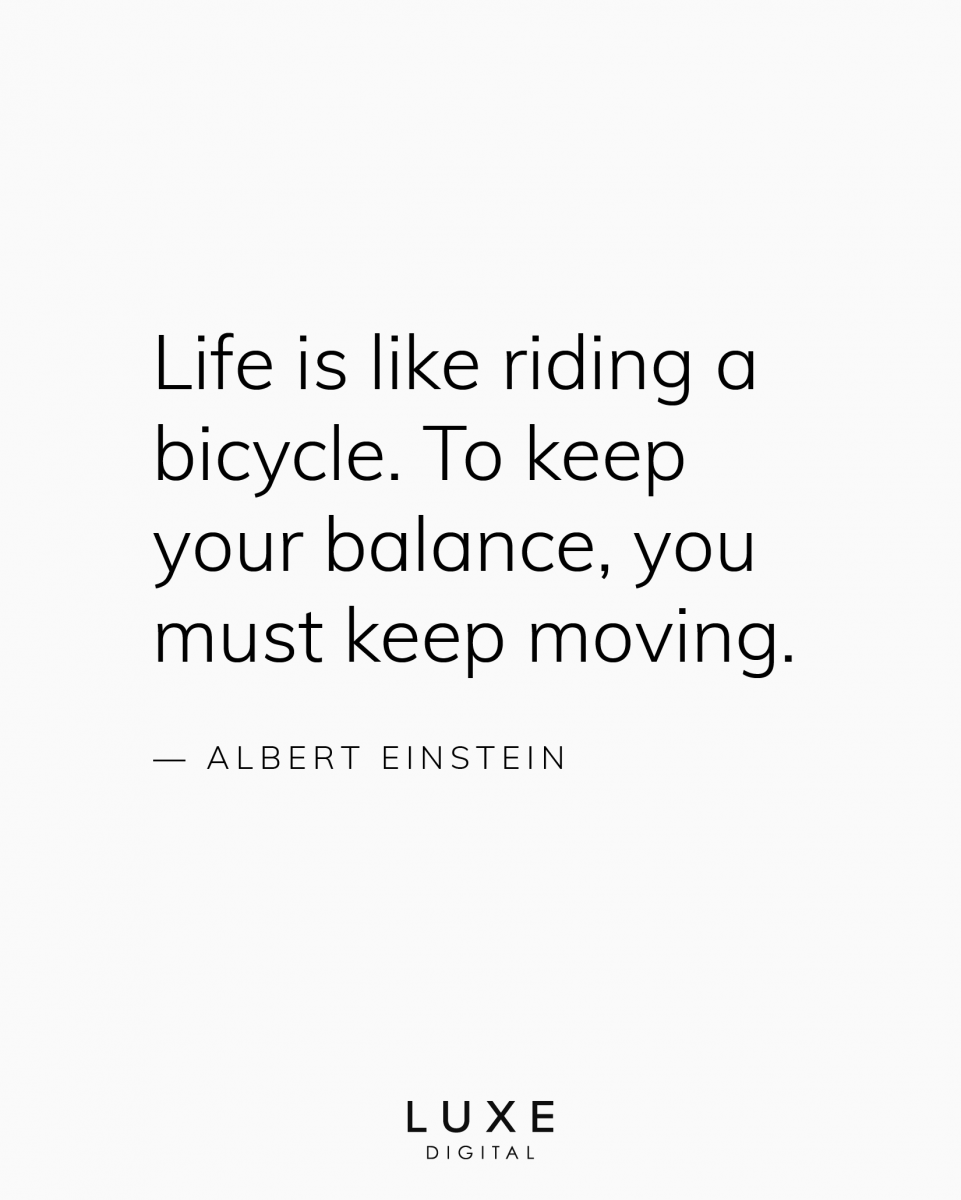 "Never limit yourself because of others' limited imagination; never limit others because of your own limited imagination."
— Mae Jemison
"You are enough just as you are."
— Meghan Markle
"The bad news is time flies. The good news is you're the pilot."
— Michael Altshuler
"The best way to get started is to quit talking and begin doing."
— Walt Disney
"It is never too late to be what you might have been."
— George Eliot
"People who are crazy enough to think they can change the world, are the ones who do."
— Rob Siltanen
"Real change, enduring change, happens one step at a time."
— Ruth Bader Ginsburg
"It is our attitude at the beginning of a difficult task which, more than anything else, will affect its successful outcome."
— William James
"We have to let go of who we think we should be and embrace what is."
— Achea Redd
"Out of the mountain of despair, a stone of hope."
— Martin Luther King Jr.
"You don't have to be defined or confined by your environment, by your family circumstances, and certainly not by your race or gender."
— Mariah Carey
"Being vulnerable is a strength, not a weakness."
— Selena Gomez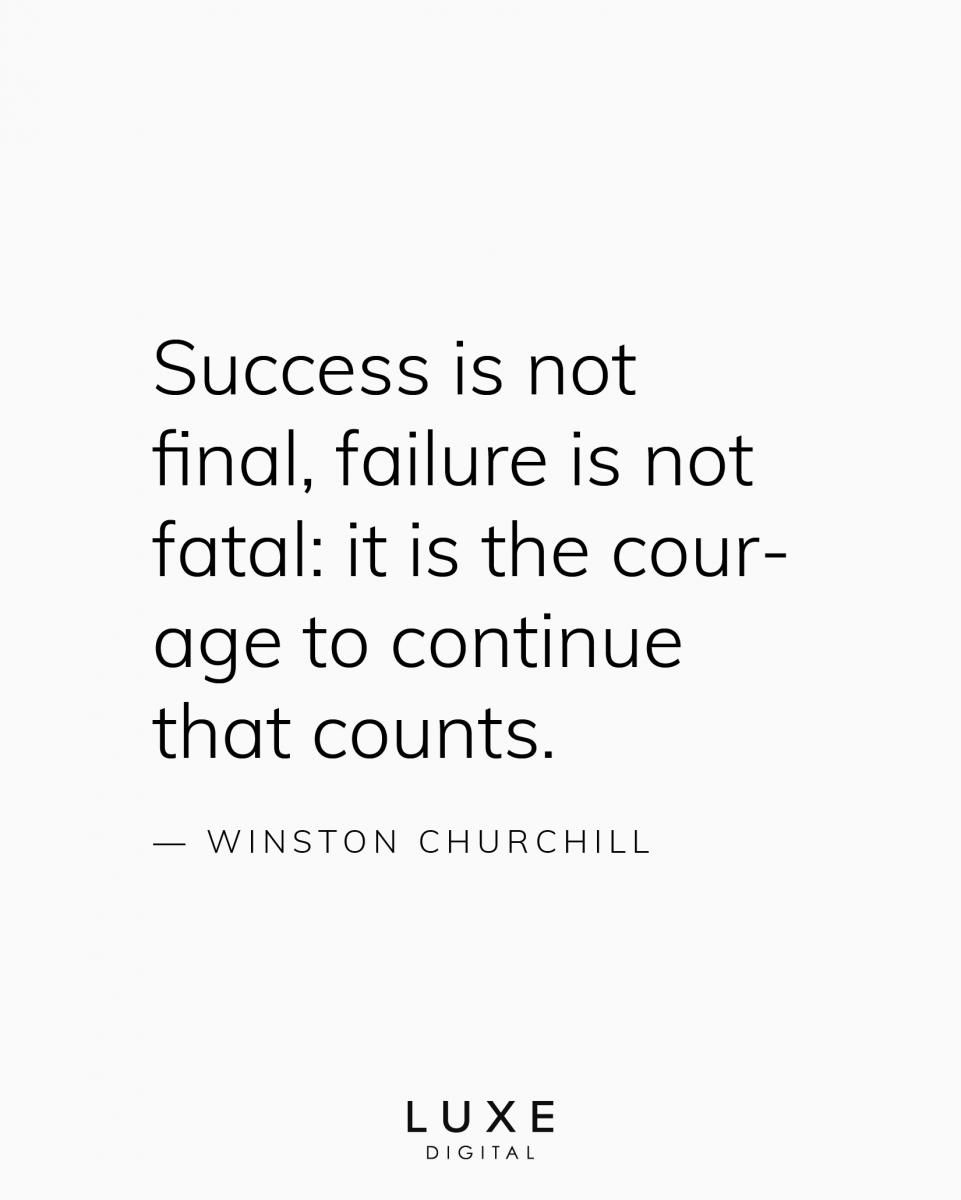 "When we let fear be our master, we cannot be happy and free as a butterfly. But when we choose to trust the journey and embrace love and joy, we are free to fly."
— Annicken R. Day
"Success is the sum of small efforts repeated day in and day out."
— Robert Collier
"When it comes to luck, you make your own."
— Bruce Springsteen
"You have to be where you are to get where you need to go."
— Amy Poehler
"Perfection is not attainable, but if we chase perfection we can catch excellence."
— Vince Lombardi
"Silence is the last thing the world will ever hear from me."
— Marlee Matlin
"Happiness often sneaks in through a door you didn't know you left open."
— John Barrymore
"Let love rule."
— Lenny Kravitz
"In a gentle way, you can shake the world."
— Mahatma Gandhi
"Everyone has inside of him a piece of good news. The good news is that you don't know how great you can be! How much you can love! What you can accomplish! And what your potential is!"
— Anne Frank
"Never give up on a dream just because of the time it will take to accomplish it. The time will pass anyway."
—Earl Nightingale
"Build your own dreams or someone else will hire you to build theirs."
— Farrah Gray
"Wake up determined, go to bed satisfied."
— Dwayne "The Rock" Johnson
"The only way to do great work is to love what you do. If you haven't found it yet, keep looking. Don't settle."
— Steve Jobs
"Very often a change of self is needed more than a change of scene."
— Arthur Christopher Benson
"Don't count the days, make the days count."
— Muhammad Ali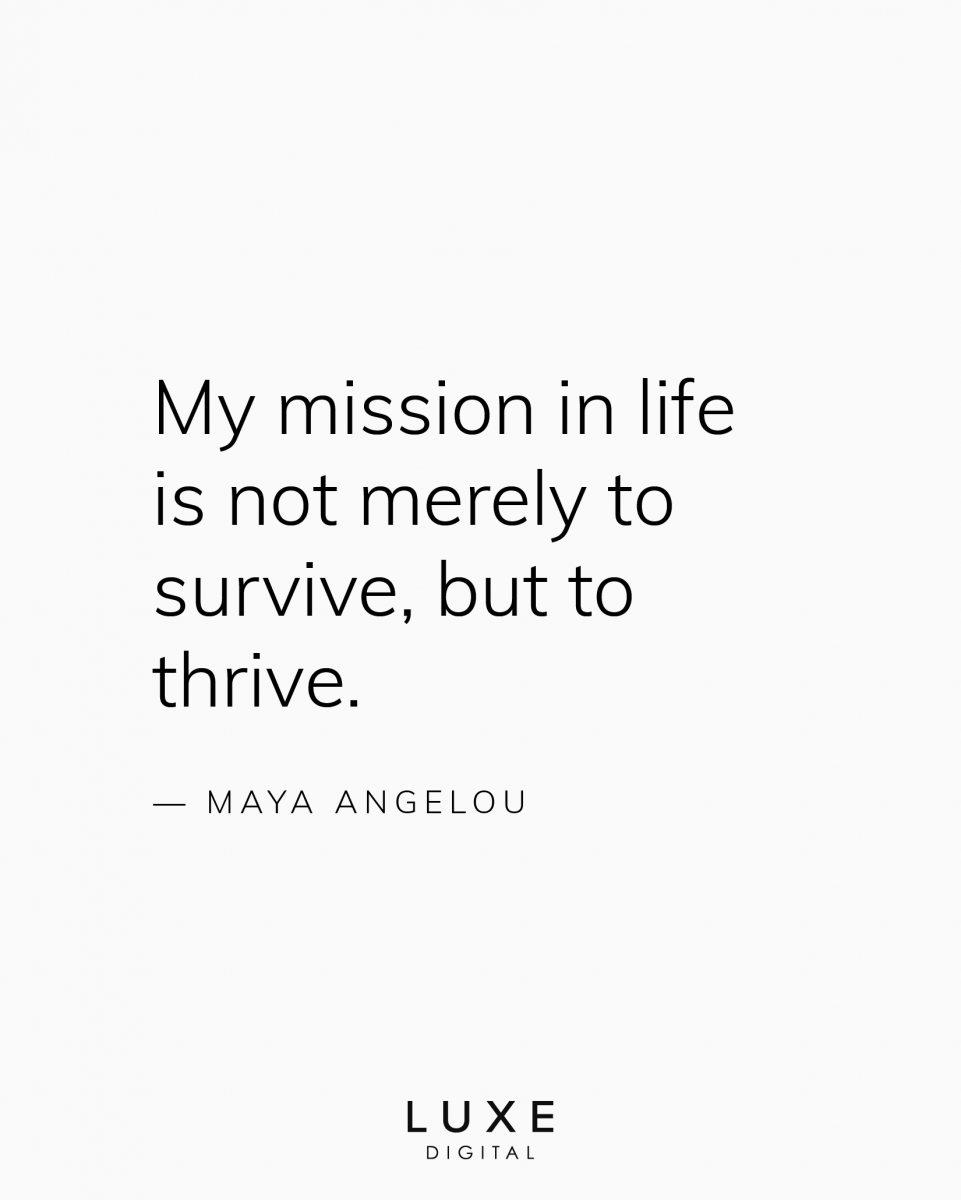 "Go as far as you can see; when you get there, you'll be able to see further."
— Thomas Carlyle
"Never bend your head. Always hold it high. Look the world straight in the eye."
— Helen Keller
"I will not let anyone scare me out of my full potential."
— Nicki Minaj
"Someday is not a day of the week."
— Janet Dailey
"A lot of people are afraid to say what they want. That's why they don't get what they want."
— Madonna
"The power of imagination makes us infinite."
— John Muir
"We need to take risks. We need to go broke. We need to prove them wrong, simply by not giving up."
— Awkwafina
"We all have problems. But it's not what happens to us, [it's] the choices we make after."
— Elizabeth Smart
"It ain't about how hard you hit. It's about how hard you can get hit and keep moving forward."
— Sylvester Stallone
"Weaknesses are just strengths in the wrong environment."
— Marianne Cantwell
"The only limit to our realization of tomorrow will be our doubts of today."
— Franklin D. Roosevelt
"I have not failed. I've just found 10,000 ways that won't work."
— Thomas A. Edison
"Don't try to lessen yourself for the world; let the world catch up to you."
— Beyoncé
"There are two ways of spreading light: to be the candle or the mirror that reflects it."
— Edith Wharton
"You can be everything. You can be the infinite amount of things that people are."
— Kesha
"Make each day your masterpiece."
— John Wooden
"What you get by achieving your goals is not as important as what you become by achieving your goals."
— Zig Ziglar
"Someone is sitting in the shade today because someone planted a tree a long time ago."
— Warren Buffett
"You make a choice: continue living your life feeling muddled in this abyss of self-misunderstanding, or you find your identity independent of it. You draw your own box."
— Meghan Markle
"All you need is the plan, the road map, and the courage to press on to your destination."
— Earl Nightingale
"When you've seen beyond yourself, then you may find, peace of mind is waiting there."
— George Harrison
"We must let go of the life we have planned, so as to accept the one that is waiting for us."
— Joseph Campbell
"Faith is love taking the form of aspiration."
— William Ellery Channing
"I'm not going to continue knocking that old door that doesn't open for me. I'm going to create my own door and walk through that."
— Ava DuVernay
"If you make your internal life a priority, then everything else you need on the outside will be given to you and it will be extremely clear what the next step is."
— Gabrielle Bernstein
"I'm realizing how much I've diminished my own power. I'm not doing that no more."
— Alicia Keys
"Belief creates the actual fact."
— William James
"It is during our darkest moments that we must focus to see the light."
— Aristotle
"Life has got all those twists and turns. You've got to hold on tight and off you go."
— Nicole Kidman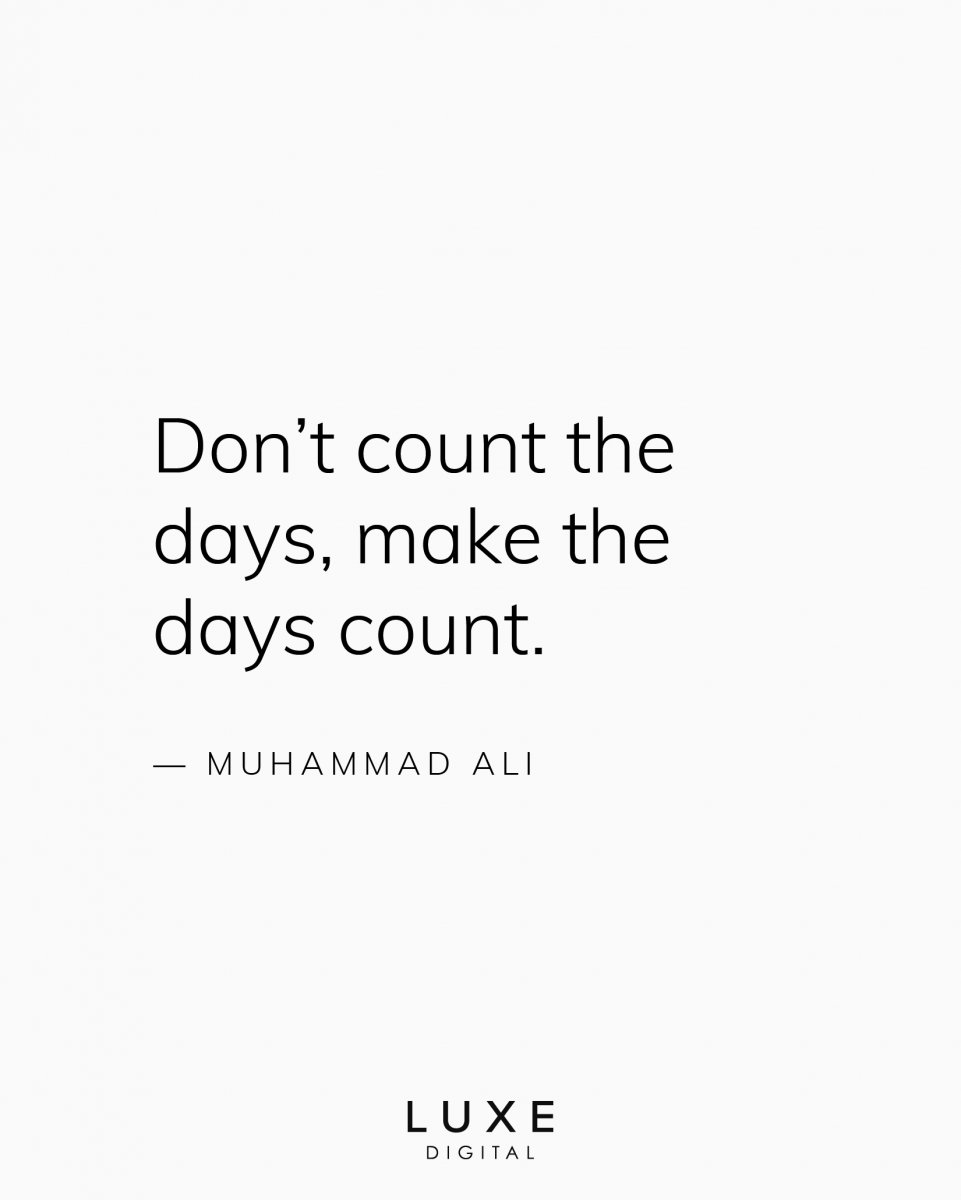 "Inspiration comes from within yourself. One has to be positive. When you're positive, good things happen."
— Deep Roy
"Not having the best situation, but seeing the best in your situation is the key to happiness."
— Marie Forleo
"If you don't like the road you're walking, start paving another one!"
— Dolly Parton
"Don't aim for success if you want it, just do what you love and believe in and it will come naturally."
— David Frost
"You don't always need a plan. Sometimes you just need to breathe, trust, let go and see what happens."
— Mandy Hale
"It is better to fail in originality than to succeed in imitation."
— Herman Melville
"What lies behind you and what lies in front of you, pales in comparison to what lies inside of you."
— Ralph Waldo Emerson
"The size of your success is measured by the strength of your desire, the size of your dream, and how you handle disappointment along the way."
— Robert Kiyosaki
"There is nothing impossible to they who will try."
— Alexander the Great
Out of difficulties grow miracles."
— Jean de La Bruyère
"The best and most beautiful things in the world cannot be seen or even touched – they must be felt with the heart"
— Helen Keller
"Today's accomplishments were yesterday's impossibilities."
— Robert H. Schuller