Many of us enjoy a good tequila.
The smooth, agave-based spirit has come to encapsulate all things Latin America—throw in a quality bottle of tequila (and some amigos) and you've got yourself a fiesta.
And, what better choice than one of the oldest tequila brands in the world?
Since 1795, José Cuervo has been distilling the sugary, citrus-and-pepper laced spirit, and it's been omnipresent on the liquor shelves of all self-respecting tequila lovers ever since.
Providing a fifth of the world's total tequila supply, and selling 3.5 million cases in the US annually, it's quite clear that when it comes to the best tequila accolade, the people have spoken.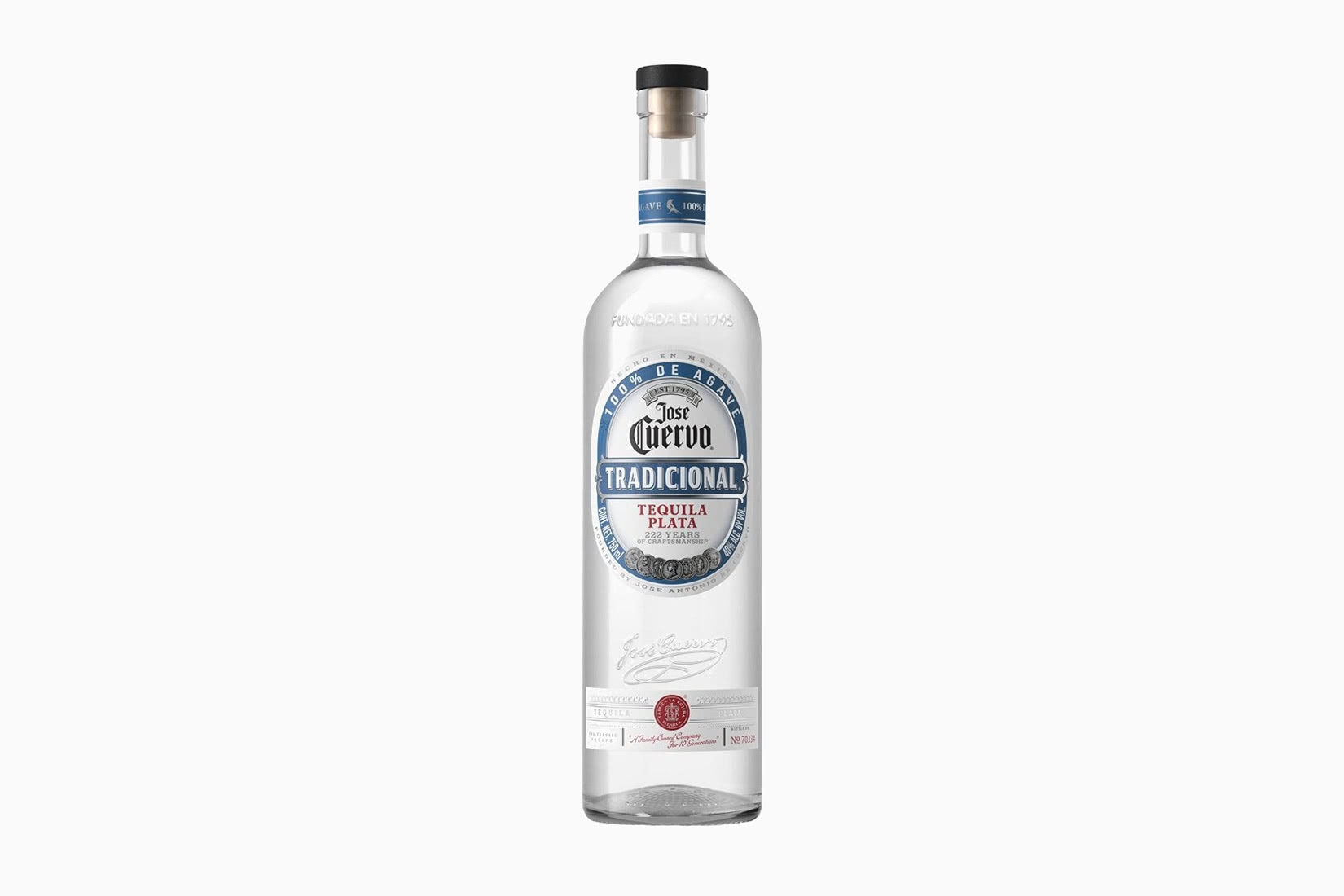 José Cuervo bottle prices and sizes
| Bottle name | Size | Price |
| --- | --- | --- |
| José Cuervo Especial Silver | 750ml | $35 |
| José Cuervo Especial Gold | 750ml | $35 |
| José Cuervo Tradicional Añejo | 750ml | $40 |
| José Cuervo Reserva de la Familia Platino | 750ml | $65 |
| José Cuervo Reserva de la Familia Reposado | 750ml | $120 |
José Cuervo history: The beginning of Casa Cuervo
Like many of the best and most well-regarded alcohol companies, José Cuervo was and remains a family-run business.
In fact, Jose Maria Guadalupe Cuervo y Montana received the first license to produce and distribute tequila by royal decree. His family had been cultivating the flowering blue agave plant on their land since 1758. (For those not yet in the know, the blue agave succulent plant is the raw plant which is distilled, to then become tequila).
After receiving the go-ahead from King Carlos VI of Spain, the Cuervo distillery began to legally produce tequila commercially.
And so, it is said, the tequila industry was born.
The business is currently run by the Beckmann family, who are direct descendants of Don Jose Antonio de Cuervo.
Evidently, 'keeping it in the family' can be a recipe for success. Of course, it helps if that recipe is for one of the world's most popular tequilas.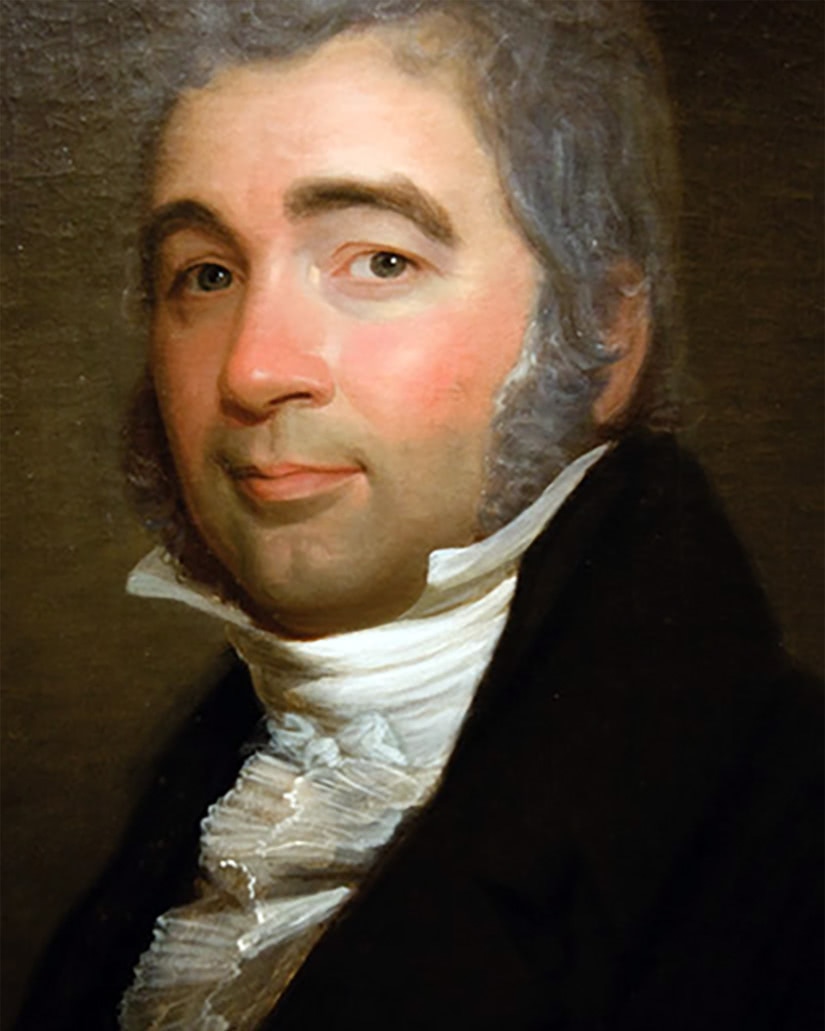 Origin matters
As we know, there is a requirement that Champagne, Cognac and Scotch whiskey be produced in specific regions in order to be classified as such.
In 1974, tequila gained the same prestige. The legislation, named Destination of Origin, dictates for tequila to be called tequila, it must be made in Jalisco, Mexico.
If you spotted the inconsistency there ("Um, why is it called tequila and not Jalisco, then?"),
therein the state of Jalisco lies a town named… Tequila, of course. The sprawling town lies on the foothills of the dormant Tequila Volcano and produces 99% of all tequila on the market.
Thus, Tequila, Jalisco is where you'll stumble across the La Rojeña distillery (which you can visit and tour around), which produces José Cuervo tequila.
For a totally integrative experience, you can even travel on the Cuervo Express on the 60km journey between Guadalajara and Tequila town.
The two-hour journey steams steadily through fields of blue agave and under the shadows of the numerous surrounding volcanoes. One for the bucket list, we think!
Barrel to bottle
The first barrel of José Cuervo tequila arrived in California from San Blas in 1800. The subsequent boom (it was hugely popular from the get-go) led to the company pioneering individual bottling of the spirit, as opposed to larger, unwieldy barrels.
However, prior to the revelation glass bottles, the tequila was housed in rope-covered jugs called damajuanas, before moving on to glass for ease of international transportation. In 1873, the first export of three glass bottles was shipped across the Mexican border.
How José Cuervo tequila is made
Cultivating agave plants, whose hearts or 'piñas' are the core ingredient of tequila, is definitely a long game. Each shoot requires roughly seven years of maturation, and it's certainly worth the wait.
Fortunately, José Cuervo possesses the largest agave holdings in the world, and they're perfectly located, too:
On the foothills of the Tequila Volcano with its rich, volcanic, and therefore highly arable soils, you'll find endless rows upon rows of the spiky, blue-hued plant.
After growing for seven years, swathes of the blue agave plants are harvested. Their piñas are removed and duly transported to La Rojeña distillery.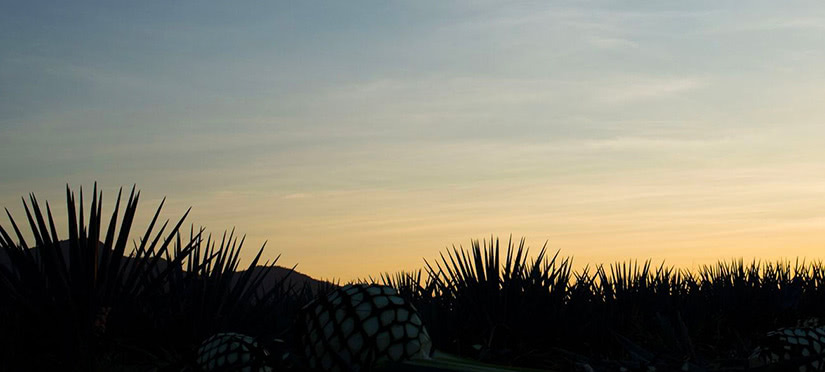 Arriving at the distillery
Between 200 to 300 tonnes of agave piñas darken the doorstep of the distillery every single day. For perspective, the Sphinx in Egypt weighs around 200 tonnes. So, it's quite a lot.
The piñas are cooked in the traditional artisanal method, which takes around 36 to 40 hours. The drawn-out cooking element of the process is crucial to refining the taste of the resulting tequila.
A four-part milling process then takes place, which reduces the whole piñas to, ultimately, a potent juice.
Fermentation and distillation
The raw 'must' (tequila-speak for 'juice) is then placed in tanks in order for the fermentation process to take place; this takes 50 to 60 hours.
What follows is the distillation, which brings the whole concoction much closer to the spirit we call tequila. At this point, it's a white tequila that's tenuously drinkable (but certainly not yet at its best!).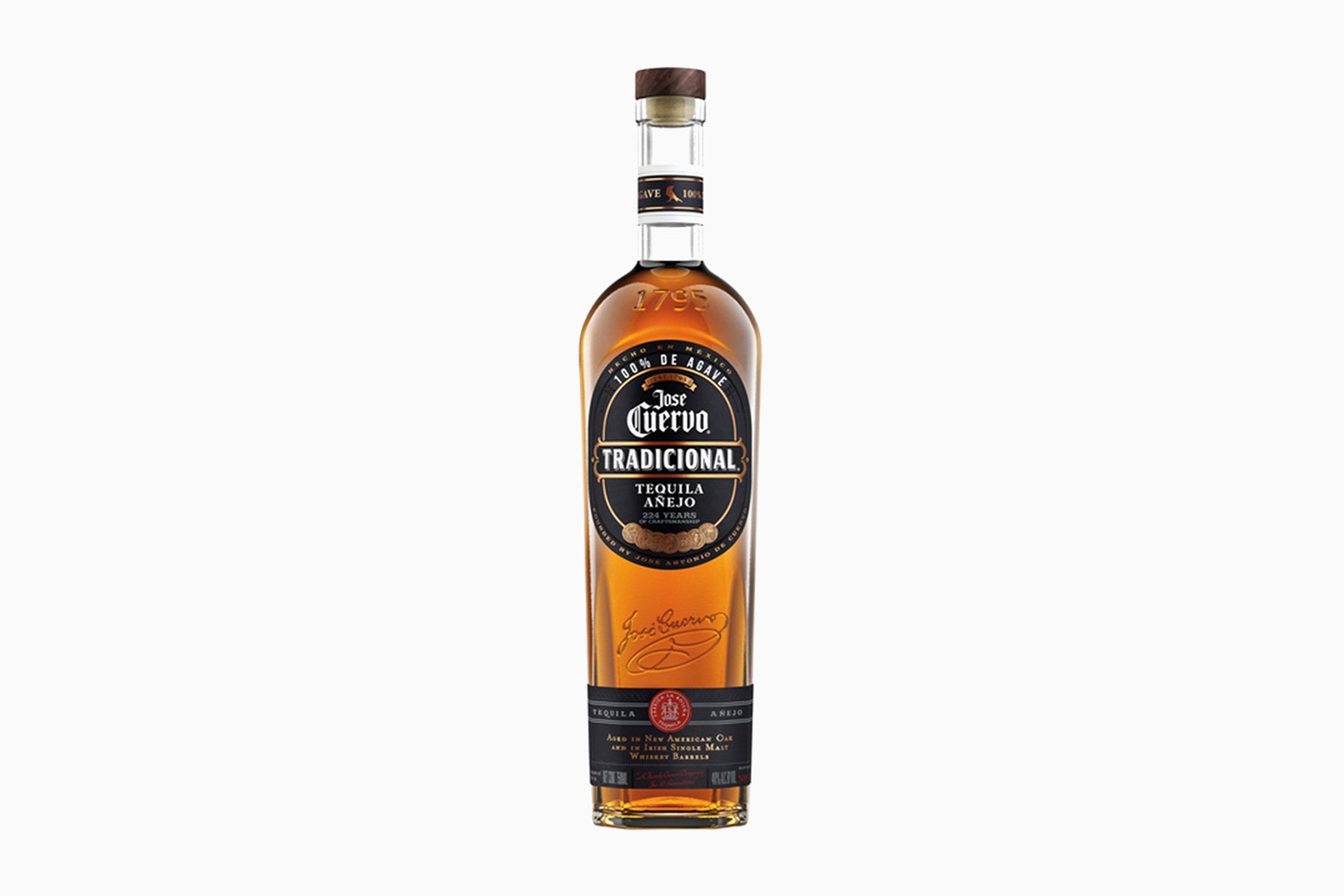 Ageing
As with countless others of our favourite alcoholic beverages, the ageing process is absolutely crucial to refining the complex balance of flavours we so enjoy.
As is typical in all alcohol ageing, the wood of the barrels plays a hugely important part in developing the flavour profile of the tequila within. The wood is toasted in three degrees; light, medium, and strong.
The specific toasting degree then determines the ultimate flavours and aromas of the final, perfected tequila.
After all of this is done, it's finally time to raise a glass, and say Salud!
How to drink a José Cuervo tequila
Contrary to popular belief, the traditional way to drink tequila is not by downing it 'shooter' style, with lime and salt. That is categorically and unsurprisingly a Western approach.
Treat tequila like you would a good Scotch.
It's best enjoyed sipping from a short glass, at room temperature, in order to savour the flavours.
And, if you prefer to sweeten the deal, so to speak, the best way to proceed is to add sangrita. This is a Mexican chaser-type mix of citrus juice, hot sauce and tomato juice.
Serve this in a separate glass, and sip in between sips of tequila. The flavours of the sangrita highlight the peppery, citrusy undertones of the tequila.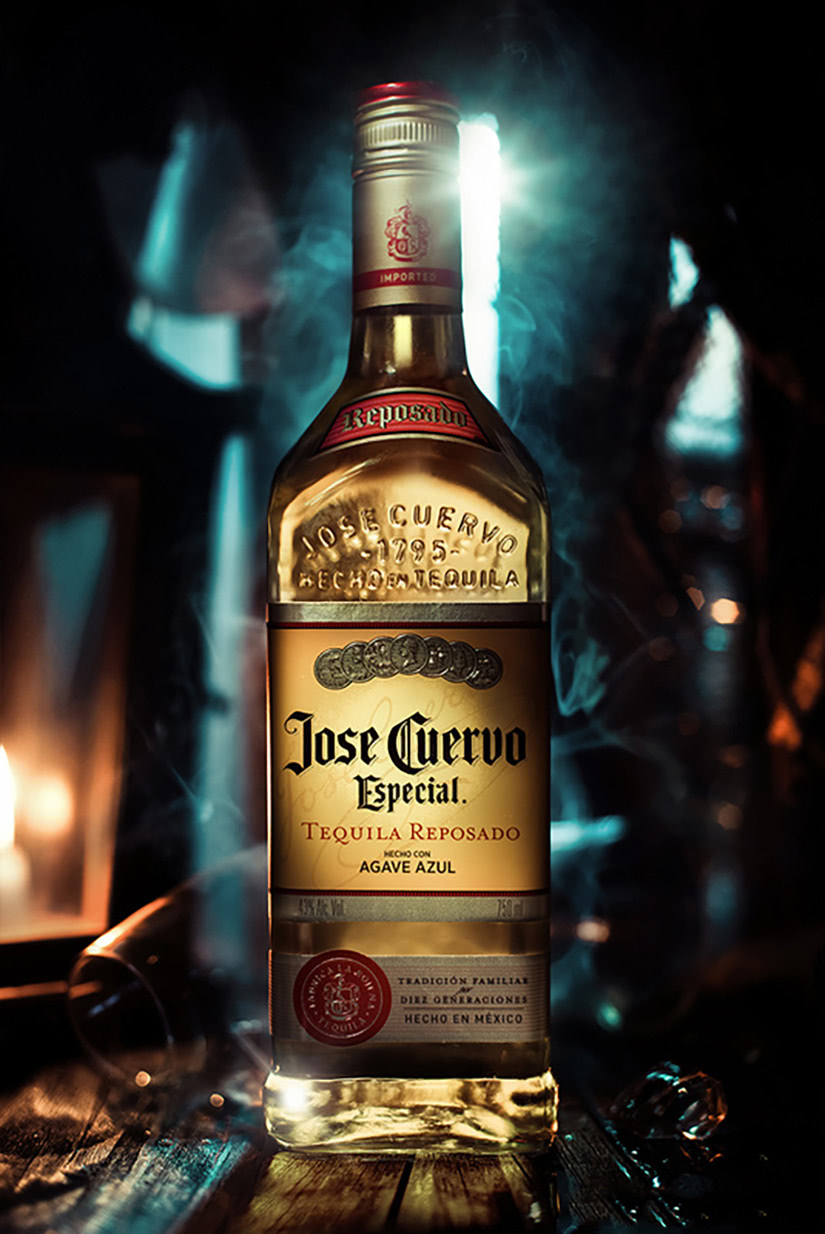 The best cocktails to make with José Cuervo
For a gentler consumption, José Cuervo tequila is widely enjoyed as a central ingredient in Margaritas, Tequila Sunrises and many other classic cocktails.
Reposado Old Fashioned
Ingredients:
60ml José Cuervo Tradicional Reposado
10ml sugar syrup
2 dashes Angostura bitters
Blood orange twist and cinnamon stick, to garnish
Cocktail recipes: Add the bitters and sugar syrup into an Old Fashioned glass, then add ice and tequila. Stir well, and garnish.
Tequila Sunrise
Ingredients:
60ml José Cuervo Especial Silver
120ml orange juice
10ml grenadine
Orange wedge and maraschino cherry, to garnish
Cocktail recipes: Take a tall glass and add a handful of ice. Pour the tequila and the orange juice and stir. Slowly pour in the grenadine, and add orange wedge and cherry to garnish.
The Cuervo Margarita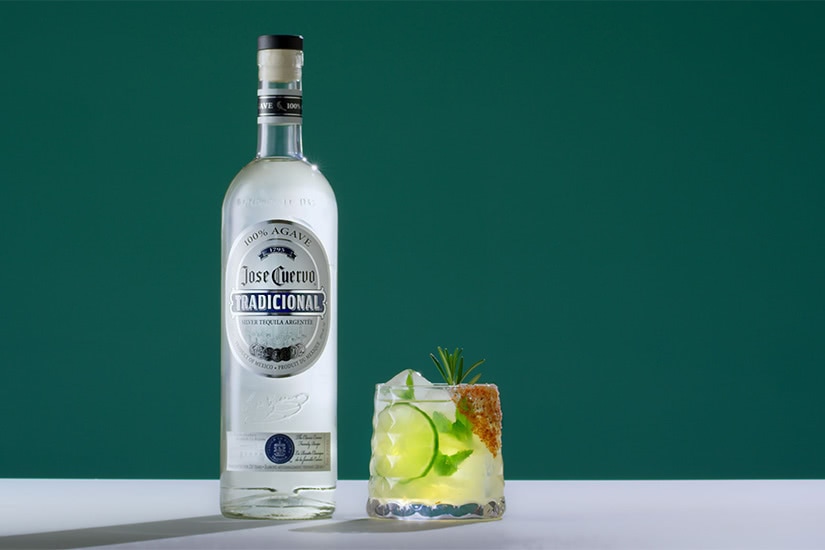 Ingredients:
60ml José Cuervo Tradicional Reposado
30ml fresh lime juice
30ml triple sec
Lime wedge, to garnish
Salt for rim
Cocktail recipes: Add ice, tequila, triple sec and lime juice to a cocktail shaker and shake well. Lace the edge of your classic cocktail glass with lime juice, then press into prepared salt. Strain over ice, and garnish with lime.
Frequently asked questions about José Cuervo tequila
Is José Cuervo a good tequila?
José Cuervo is the bestselling tequila in the world. It's produced in Tequila, Mexico, and crafted from blue agave plants, both of which are imperative for it to be named a 'tequila'. It accounts for a fifth of the world's tequila consumption.
Is José Cuervo real tequila?
Yes, all José Cuervo tequilas are considered 'real' except the Especiale. It is not quite considered 'real' tequila, as it's 51% tequila and 49% sugarcane spirit, and it hasn't been aged. Although, like all of the company's tequilas, it is made in the correct region and with the necessary blue agave plant.
What is good to mix with José Cuervo?
José Cuervo is excellent neat, as it's traditionally enjoyed that way. However, it pairs very well with sweet, citrus juices such as orange or grapefruit, or simply soda water.