If life is like riding a bicycle, we want it to feel like LeMond's racing days: a genuine tour de force.
Or, rather, a Tour de France—minus the sweat.
Founded by American former pro road cyclist and Tour De France three-time winner Greg LeMond, LeMond electric bikes are some of our favorite lesser-known luxury e-bikes.
Best described as the Apple of ebikes, LeMond ebikes are just as fun to look at as they are to ride. And while you could find an ebike brand that gets the job done at a lower price tag, you won't find one that makes your daily commute and weekend adventures feel as thrilling as this one does.
How?
According to Greg LeMond, you can't beat carbon fiber (a proposition proved by his many victories and yellow jerseys back in the day). And after trying the carbon fiber ebikes for ourselves, we can confirm that you don't have to be a peloton alumni to get the most out of LeMond's incredibly light electric bicycles.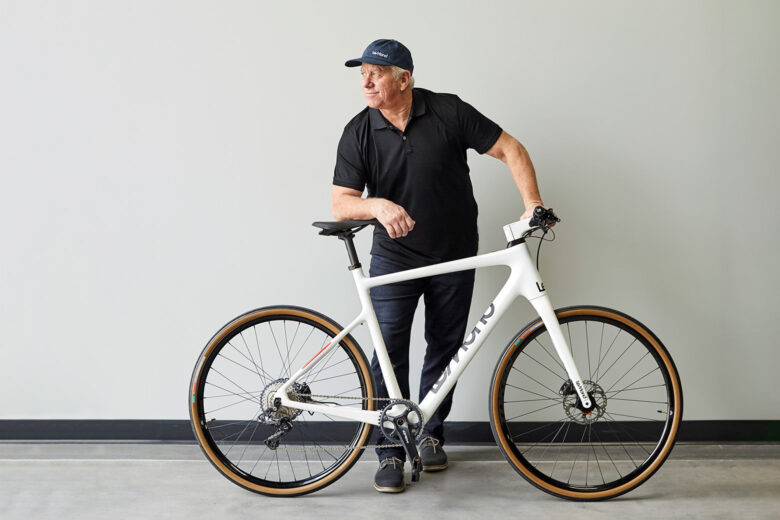 There aren't many ebikes you can carry up a flight of steps or down to the subway as easily.
Plus, a lighter bike means the battery power lasts much longer, making it much less disastrous when you forget to put it on charge (guilty as charged).
After reading dozens of ebike reviews, it appears that the rest of the world agrees with us: LeMond ebikes are some of the best electric bikes for commuting–or wherever the road takes you. Especially if you're a design aficionado or a velocity addict who appreciates superior materials and the small-but-significant details.
The LeMond range consists (so far) of the sporty and speedy high-step frame Prolog and the Dutch, a fun and stylish take on (you guessed it) the classic step-through Dutch roadster.
Spoiler: you really can't go wrong with either.
Both are extremely lightweight and undeniably attractive. Relaxed racing or chic comfort? That is the question…
Let's take a ride on both of these sleek and stealthy pedal-powered ebikes so you can pick the best one for you.
LeMond Prolog review: Pedal to the metal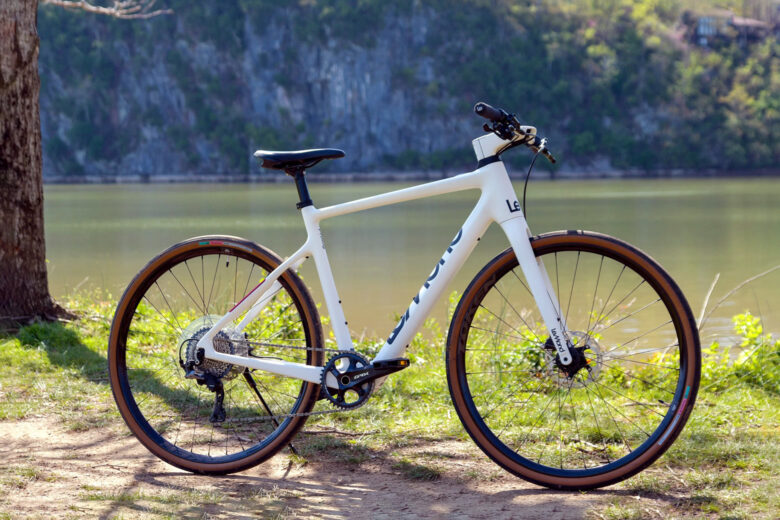 Our verdict
Style, speed, and sporty attitude in an ultralight pedal-assist e-bike that feels like a traditional bike albeit with superpowers (a hidden Panasonic battery and a 250-watt rear hub).
The LeMond Prolog focuses as much on the "e" as it does on the "bike", making it effortless to ride even with no assist. We love the lightweight nature and nimble handling of the race-capable everyday carbon fiber ebike. Perfect for office commuters and weekend wanderlusters alike, it is also speedier uphills and easier to carry up the stairs than most other ebikes we tested.
| | |
| --- | --- |
| Power: | Pedal assist |
| Range: | 40-70 mile (64-97 km) |
| Motor: | Mahle M1; Rear hub; 250W – Max. Torque: 40Nm |
| Battery: | 250Wh Panasonic (removable) |
| Frame material: | Carbon fiber |
| Weight: | 26 lbs (11.8 kg) |
| Maximum rider weight: | 250 lbs |
| Recharge: | 4 hours |
| Lights: | Integrated LEDs |
| Max assist speed: | +20mph (32 km/h) |
| Price | $5,495 |
The pros:
The lightweight silhouette and nimble handling make it easy to maneuver.
The sleek design exudes modern minimalism, with no visible motors or batteries.
The light weight makes it a breeze to carry up the stairs.
The aerodynamic design reduces drag, helping you ride faster and further.
It comes in 3 sizes, and upgrades are available to customize the ride to your liking.
The cons:
Not as widely available as some other ebike brands, which could make it more difficult to find at a local dealer or test ride the bike before purchase (however, online orders are easy to return, so you can always test the bike at home).
The LeMond Prolog ebike is quite expensive (even more so if you include the upgrades).
The alternatives:
Ride1Up Prodigy: The Ride1Up Prodigy isn't quite as sleek and chic as the LeMond Prolog, but it's a close runner-up. As a more affordable alternative, the minimalist frame is designed to ride up to 28km/h for up to 50 miles, making it a great budget-friendly option for everyday commutes. Check our hands-on Ride1Up review to learn more about the brand.
Rad Power RadCity: More functional than fashionable, Rad Power ebikes are some of the most affordable quality ebikes for day-to-day use. Especially the RadCity, which we consider an excellent value-for-money alternative to the LeMond Prolog. Check out our hands-on Rad Power Bikes review to learn more about the brand.
Hands-on experience and benefits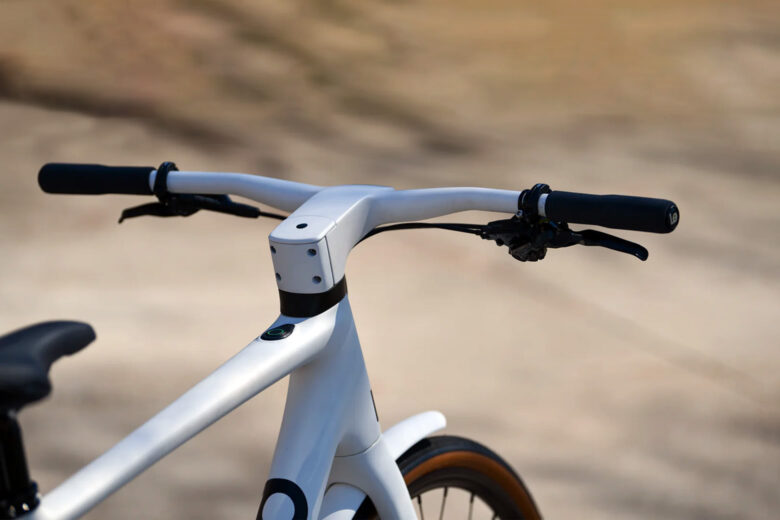 Unboxing
Named after the Prologue—a short individual time trial at the beginning of a cycling race—the Prolog by LeMond knows how to make a first impression.
Making the unboxing experience as electrifying (pun intended) as possible, the Prolog arrives on your doorstep in a premium branded box. The bike arrives pre-tuned and almost fully assembled, with clearly labeled steps to finish it off.
There's also an easy-to-follow online tutorial if reading instructions isn't your thing.
All the tools required are included in the box, and it only took us a couple of minutes before we were testing out the bike's velocity.
You can watch the assembly instructions below:
Materials and build quality
The Prolog showcases precision engineering, ensuring that every detail is considered.
The LeMond Prolog is the lightest e-bike we've ever tested at 26 lbs (11.8 kg).
That's half the weight of most ebikes on the market (the average weight for a commuter ebike is 55lbs).
How is that even possible, you ask?
Carbon fiber.
And we are not just talking about the frame, but also components like fork, fenders, seatpost, and the monocoque handlebar-stem. There's even the option for a carbon wheel upgrade.
Guided by the founder—a World Champ cyclist—the lightweight carbon-fiber electric bicycle is made to go the extra mile, keeping weight down and strength high.
Performance and ride quality
We expected this illustrious e-bike to fare well in an urban setting, which it did, but we were also pleasantly surprised by just how well it performed off the beaten track.
Don't let the lightweight frame fool you; this ebike is much stronger than it looks. The speedy silhouette is easy to maneuver through varied terrains, including dirt and gravel—yep, we had fun testing LeMond bikes out in a couple of interesting locations.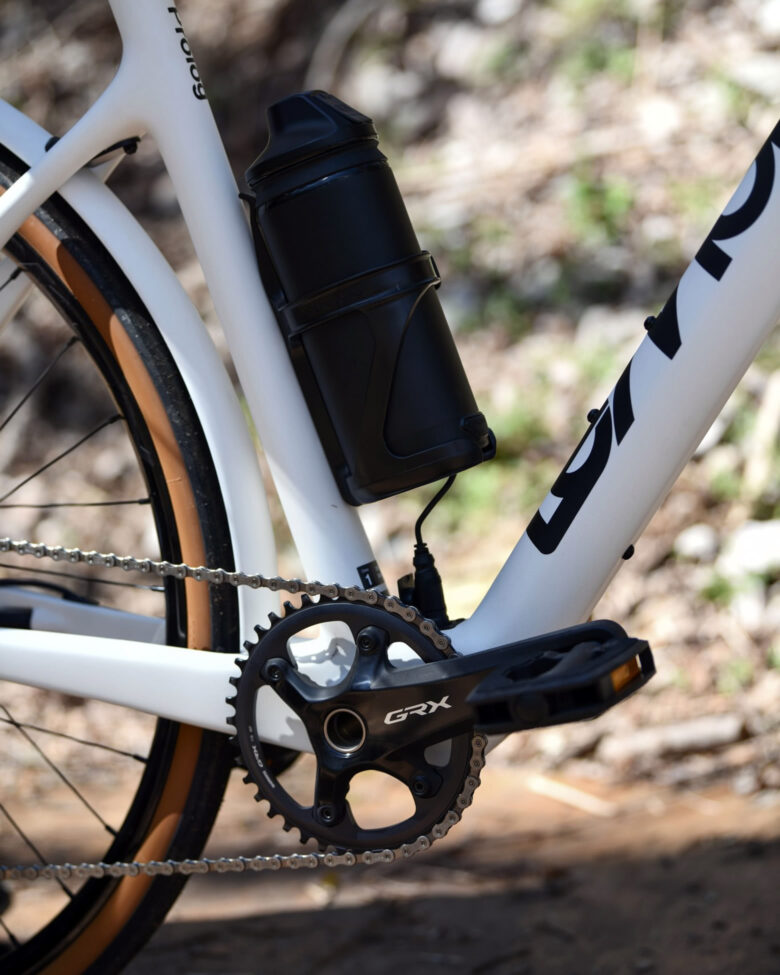 The integrated headlight provides great visibility. The handlebars are effortless to steer, thanks to the featherlight frame. And the smoothness of the pedaling experience is as close to the natural feeling of riding a traditional bike as it gets.
The Prolog is powered by the German-engineered Mahle X35 rear hub system with a 36-volt, 250-watt motor with 40 newton meters of torque hidden inside the rear wheel. It is so well integrated that it's difficult to tell that the Prolog is an ebike at all.
We won't tell if you don't.
The subtle power delivery made us feel like cycling legends, traveling further and riding faster, far beyond our normal limits. And it's no wonder—it has been designed by one of the greatest American cyclists of all time after all.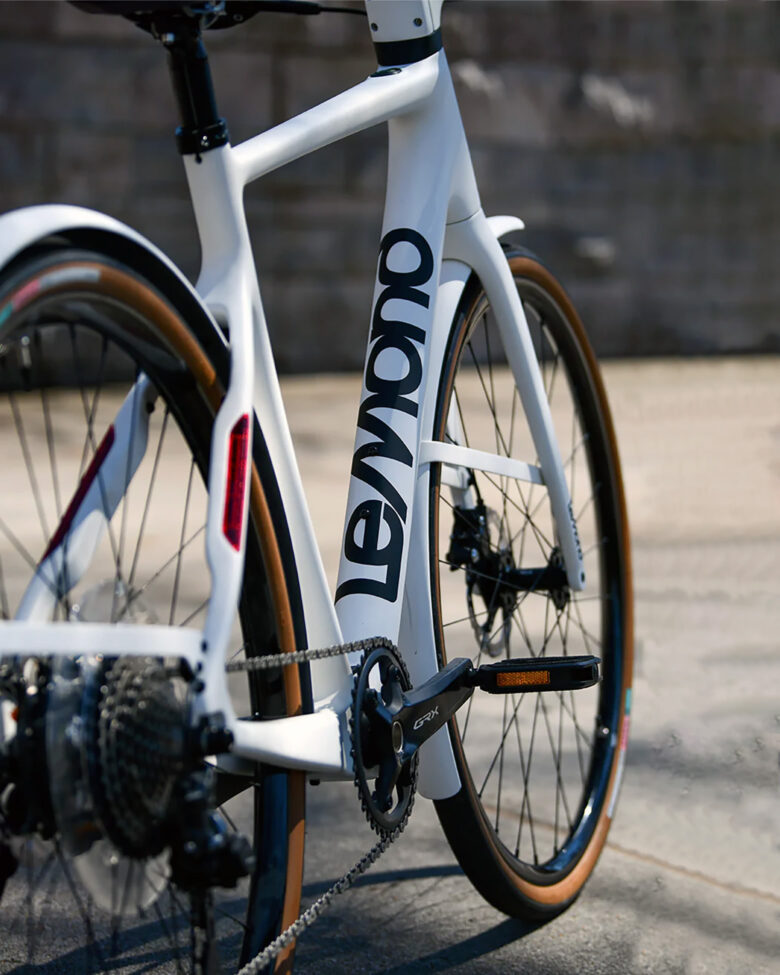 The bike is also very pedal-able without any power assistance thanks to the 11-speed Shimano GRX drivetrain (especially handy if you get carried away and ride past the miles stored in the battery).
And yes, for the serious cyclists among us, the lean-forward, relaxed racing geometry, and lightweight frame mean it can match advanced non-electric bicycles on the road if you want to.
One of the best aspects of LeMond bikes is that they can be customized to suit the rider's preferences.
Small, medium and large frame sizes accommodate different heights and body types. And although it comes at an added cost, we recommend adding the rear rack for frequent commuters or a cargo basket for groceries.
| | | | |
| --- | --- | --- | --- |
| | Small | Medium | Large |
| Height | 5'2"- 5'10" / 158cm – 178cm | 5'8″ – 6'2″ / 172 cm – 187cm | 6'0″ – 6'6″ / 182 cm – 198cm |
| Standover height | 767mm | 818mm | 842mm |
You can also make the ebike even lighter by adding carbon fiber wheels, and you can increase the bike's lifespan by adding a second battery—although we found the bike to be lightweight enough and long-lasting enough without these additions.
Aesthetic and design
Smarts aside, the real appeal of the Prolog lies in its delightfully minimalist aesthetic.
We know looks aren't everything—and they're certainly no reason to buy a bike—but it's almost impossible to resist when a design is this sleek and chic.
Everything from the battery to the motor and lighting system are integrated, maintaining the seamless look of a traditional bike.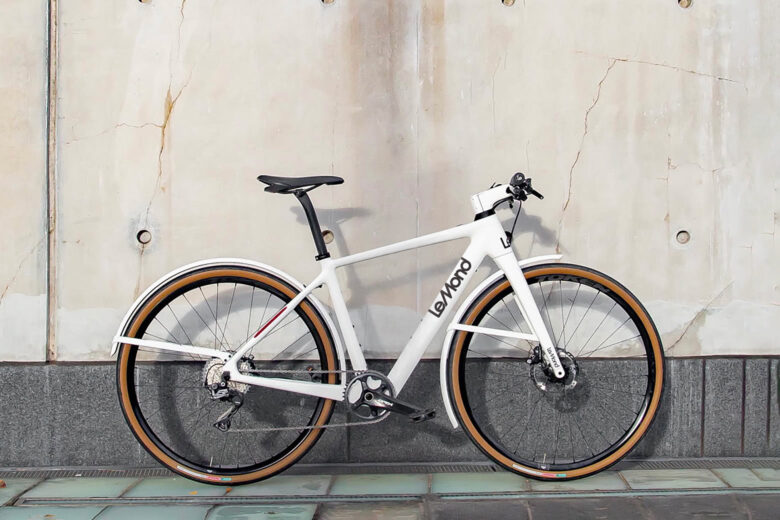 Like many of you, we ummed and aahed over the three distinctly beautiful matte colors: Blanc, Noir, and Rosa. The Blanc—a clean white—gives off a slightly retro-yet-contemporary feel that you can never tire of. The Noir—a matte black—is unapologetically stealthy and sophisticated with contrasted light gray lettering. And the Rosa—a soft pink with red lettering—hints to our
love for cycling. For the more casual cyclists among us, we are referring to the Giro d'Italia, one of cycling's prestigious Grand Tours, and its pink jersey.
We love how the tech almost completely disappears from view—no visible display on the bike.
Designed for cyclists who appreciate design as much as they do new PBs, the streamlined silhouette features a single button (surrounded by an LED ring) on the top tube to turn on the bike and select the level of assist you wish to use. It may seem daunting initially, but we quickly got the hang of it with minimal effort.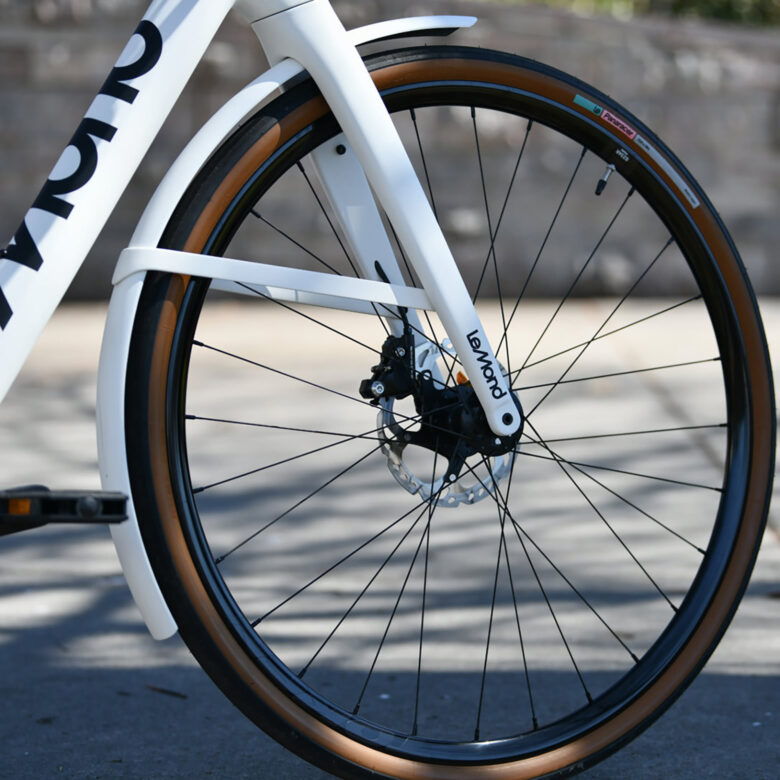 The only downside to this gorgeous design is that we feel too nervous to lock it up on the street, as it is instantly recognizable as a high-end ebike.
Care and maintenance
Like all ebikes, you can significantly increase the lifespan of your LeMond ebike through proper care and maintenance. Clean the bike regularly with a soft cloth and mild detergent to remove dirt, dust, and grime, and be careful to avoid using high-pressure washers or harsh chemicals that could damage the bike's components.
It is also important to charge the ebike properly. Try not to overcharge the battery or let it run down completely.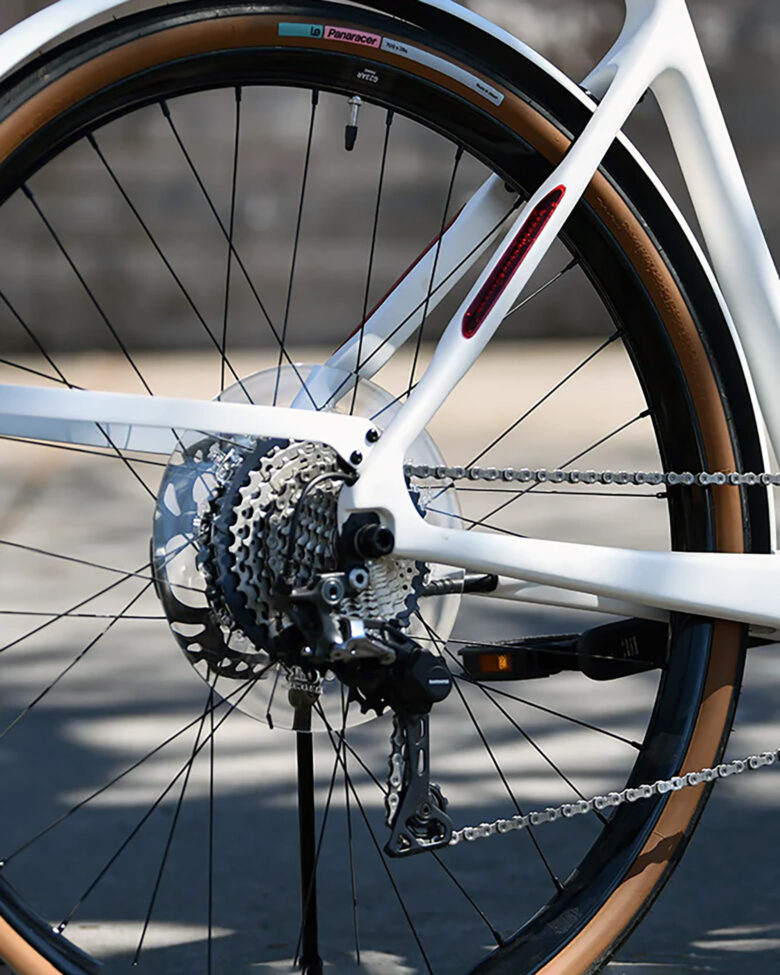 LeMond Prolog bike price
At $5,495, the Prolog is a top-of-the-range ebike—though for a carbon fiber bike, it is in fact reasonably priced. There are many more affordable options for less-frequent cyclists. But if you want a lightweight bike with a long battery life that can handle varied terrains faster, we recommend investing in the LeMond Prolog.
The Prolog bikes are currently available to order in the USA, though be warned that there's a wait time of two to four months for some size and color combinations.
Who is it best for?
The LeMond Prolog ebike is designed for enthusiastic cyclists looking for an everyday electric bike that is sleek and sporty and that secretly offers a little boost when you need it.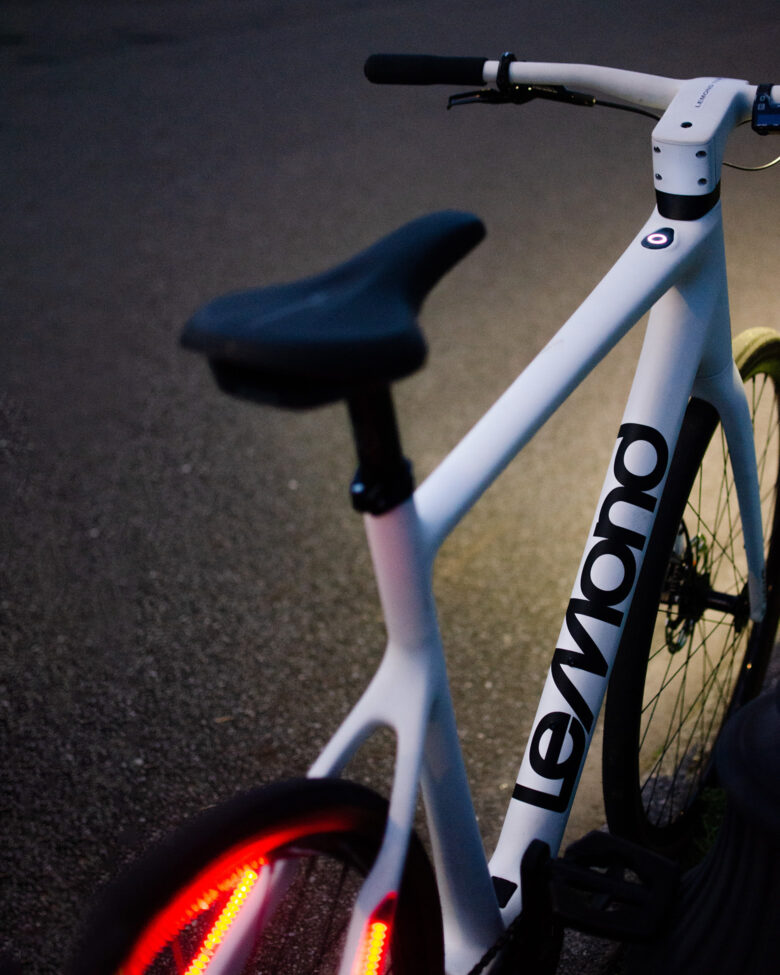 Lightweight and long-lasting, the LeMond bike is well-suited for riders who want to maintain speed while riding longer distances or tackling challenging hills.
If you're looking for a utility ebike to pop to the shops occasionally, you are probably better off purchasing a more affordable, less-fashionable ebike.
LeMond Dutch review: The allure of Amsterdam in an American bike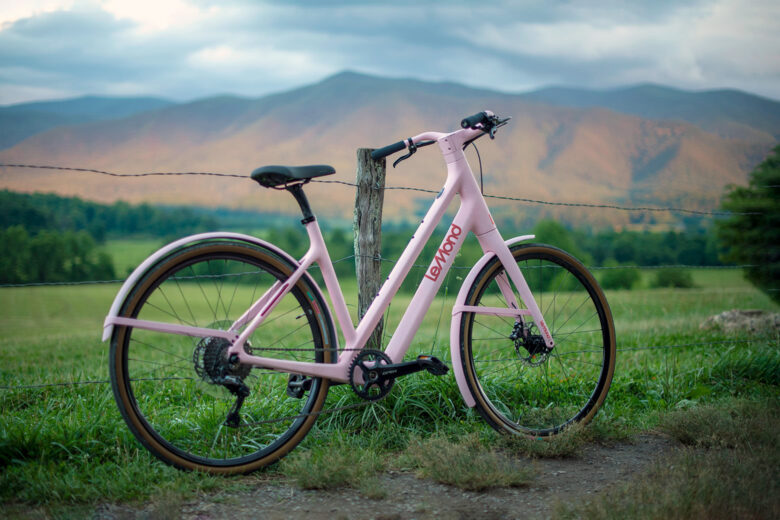 Our verdict
The LeMond Dutch ebike rides like a traditional upright-style bicycle–only better. The hidden smarts, integrated lights, and comfort saddle make this step-through electric bike fun to ride, with just the right amount of assistance. It is lightweight and easy to maneuver around town and carry up the stairs. The Dutch is also incredibly versatile and designed to go the extra mile during out-of-office excursions.
| | |
| --- | --- |
| Power: | Pedal assist |
| Range: | 40-70 mile (64-97 km) |
| Motor: | Mahle M1; Rear hub; 250W – Max. Torque: 40Nm |
| Battery: | 250Wh Panasonic (removable) |
| Frame material: | Carbon fiber |
| Weight: | 27 lbs (12.2 kg) |
| Maximum rider weight: | 250 lbs |
| Recharge: | 4 hours |
| Lights: | Integrated LEDs |
| Max assist speed: | +20mph (32 km/h) |
| Price | $5,495 |
The pros:
The lightweight carbon frame makes it easy to ride with or without pedal assist.
The slightly stronger frame makes it perfect for hilly outdoor excursions.
It comes in 3 sizes, and upgrades are available to customize the ride to your liking.
Smooth, comfortable ride even for long distances.
Easy to control thanks to its upright riding position and wide handlebars.
Doesn't look like an e-bike.
The cons:
You have to pay for the added features, such as a rack and basket, that make the bike more practical for daily use.
Kickstand doesn't come standard but can be purchased as an add-on.
The alternatives:
Ride1Up 500: As our best value bike for comfortable touring, the Ride1Up 500 ebike is the creme de la creme of affordable high-performance ebikes. While it may not be much to look at—compared to the beauty of the LeMond ebike—it gets the job done. And for many, that's enough.
Rad Power RadRover: If you're looking for a serious off-road ebike, you can't beat the RadRover by Rad Power. With behemoth tires and a 750W hub motor, it can go just about anywhere. Just don't expect a slick, urban-inspired aesthetic.
Hands-on experience and benefits
Unboxing
You know that you've purchased a premium product from the minute this LeMond ebike arrives on your doorstep. Like the Prolog, the LeMond Dutch comes in a beautifully branded box. And making the assembling process as seamless as possible, the ebike arrives 95% made-up, with just a few simple steps to complete.
Again, all tools are included, so you don't have to delay your ride by nipping out to the shops. And all instructions (written or video) are quick and easy to follow.
The most noticeable aspect is just how lightweight the frame is, making it as fun to assemble as it is to ride.
Materials and build quality
LeMond ebikes are distinguished by the brand's incredibly lightweight aerospace-grade carbon frame, inspired and endorsed by Greg LeMond himself.
Weighing only a pound more than the 26lb Prolog, the Dutch is still the second lightest ebike we've tried (we mean, can you really tell the difference that one pound makes)?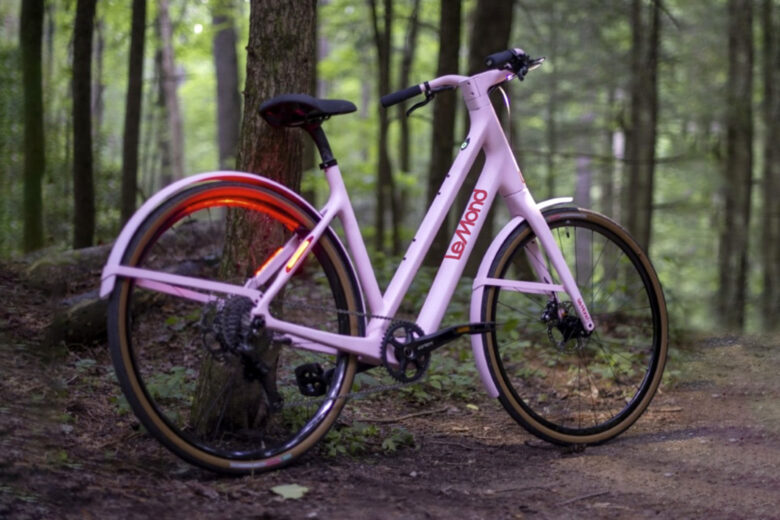 Aesthetic and design
Trading in an element of fashion for added functionality, the strong build is designed to tackle hilly landscapes and varied terrain with precision and ease. While the lightweight, streamlined silhouette simultaneously caters to everyday office commutes. Basically, the Dutch is the ultimate versatile ebike—perfect for those with more than one purpose.
The LeMond Dutch comes in three colorways: Ice Blue, Noir and Rosa.
All three colors are equally exquisite and feature the brand's signature contemporary branding. Naturally, black is the most neutral and timeless. But the pink and blue hues are a fun way to brighten up your daily commute or weekend adventures.
Performance and ride quality
Picture this: Canals, cobbles, comfort and… carbon fiber.
The allure of Amsterdam with just the right amount of Silicon Valley innovation.
Riding the LeMond Dutch ebike feels exactly like riding a bike in the world's cycling capital: fun and friendly. (Yep, the stereotype is true!)
At first glance, one would hardly notice it is an ebike. The slim battery is hidden away in the down tube. One simple button controls it all: Turn your Dutch on and then press again to cycle through the color-coded levels of power assistance, which can propell you forward up to 20 mph effortlessly.
But the focus of this ebike is very much on comfort, not speed.
The step-through frame makes it easy to hop on and off the bike, even when wearing skirts or dresses. While the swept-back handlebars and Selle Royal Saddle optimized for upright position make the Dutch a very comfortable bike to ride.
The LeMond Dutch comes in three sizes—small, medium and large—making finding a frame tailored to your body size easy.
| | | | |
| --- | --- | --- | --- |
| | Small | Medium | Large |
| Height | 5'2"- 5'6" / 158cm – 171cm | 5'6″ – 5'11″ / 171 cm – 156cm | 5'10″ – 6'5″ / 155 cm – 198cm |
| Standover height | 767mm | 818mm | 842mm |
The slightly sturdier composition feels more robust to ride. The subtle differences with the Prolog, such as a little bulkier frame and larger seat make all the difference when riding through grassy parks or gravel paths.
We would have loved a kickstand to be included, especially when loading our groceries.
Care and maintenance
Like all ebikes, looking after the bike's battery life is important. To make it last, we recommend fully charging the Dutch before using it without overcharging it too much. It's also best to keep it from running down completely. Besides battery life, the Dutch is easy to maintain. Try to rub it down regularly with a soft cloth and avoid using harsh chemical detergents.
Price
With a price starting at $5,495, the LeMond Dutch falls in the upper-tier price bracket of ebikes. But if you need an ebike that can handle rough terrains and out-of-city escapes and that you can actually carrry, the high price tag is totally worth it.
There is also a range of upgrades that will make the bike even fancier. 
Who is it best for?
If you're looking for an ebike that is lightweight enough to carry upstairs daily, streamlined enough for frequent commutes, strong enough to handle tough terrains, and good-looking enough to impress your cycling group, the LeMond Dutch is for you.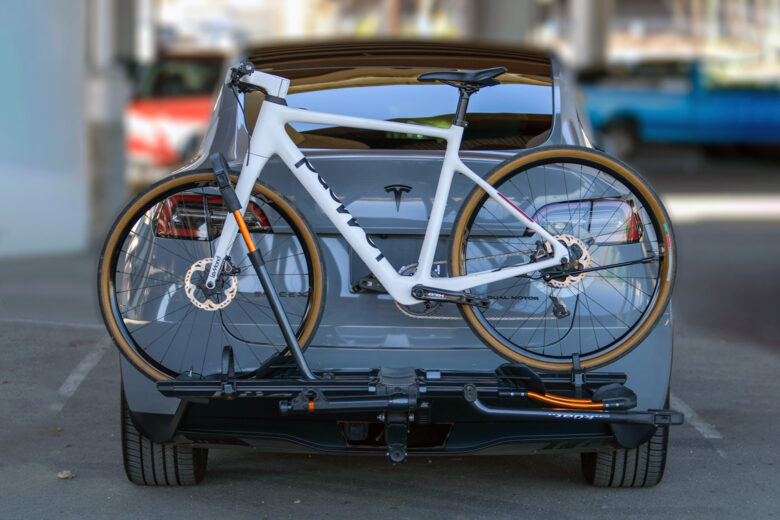 Where to buy the LeMond Dutch?
The best place to buy a LeMond bike is directly from the brand's official website.
The bike arrives on your doorstep promptly with minimal assembly. It comes with a 14-day return policy and a limited lifetime warranty.
Delivery in the USA for the Dutch is estimated at one to two weeks.
Frequently asked questions about LeMond
Who owns LeMond?
LeMond is owned by Greg LeMond, a former professional road racing cyclist and three-time winner of the Tour de France.
Are LeMond bikes any good?
LeMond bikes are considered high-quality bicycles with excellent performance and innovative features. LeMond bikes are designed with input from professional cyclists and are known for their advanced lightweight frame, superior handling, and sleek design. See Luxe Digital's hands-on LeMond bike review for more on LeMond bikes.
Where are LeMond bikes made?
LeMond bikes are designed and engineered in the United States. The frames are produced in Asia, then the complete bikes are assembled, tested, and packaged at LeMond's facility in Knoxville, Tennessee.  LeMond also owns a carbon fiber technology company in Tennessee, applying the latest in composites technology to their bikes.
Who is Greg LeMond?
Greg LeMond is a former professional road racing cyclist from the United States. LeMond began his professional cycling career in 1981 and quickly became known for his impressive climbing ability and time trial skills. He won his first Tour de France in 1986, becoming the first American to win the race.